Week 41 started in Alicante, continued in Amsterdam and finished in Taipei. So this week's blog is longer than usual.
41_1
Sunday 9th October was election day in Poland, so my visiting sister, brother-in-law, and I drove the 80 km to Murcia to cast our votes. Murcia has an honorary Polish consul, and while he cannot help with passport matters etc. (only the consulates in Madrid and Barcelona can do that), at least they do organise a polling place for Polish elections. This is my sister and brother-in-law after casting their vote at a local school: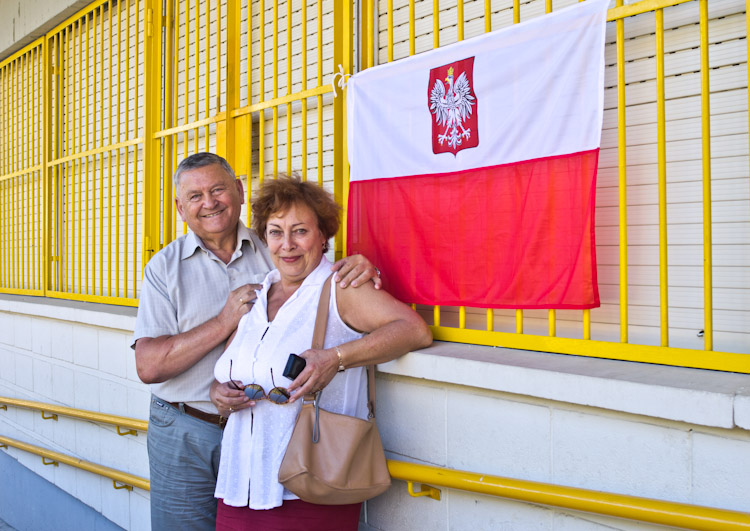 41_2
In the afternoon we stopped for a beer at a beach bar in El Campello. It is now autumn but the weather was still very nice; the difference is that the hordes of tourists are largely gone, so the beach is for the locals and some "snowbirds" from Northern Europe. It is a very enjoyable time of the year: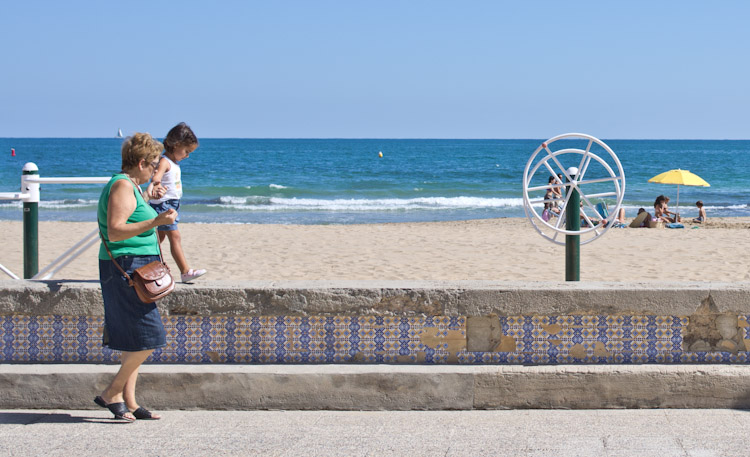 Then Monday afternoon I flew to Amsterdam, from where I was going to fly to Taipei the following day.
41_3
I stayed at the Ibis next to the Central Station, and when I got to my room, I noted this little plaque on the door. I thought it was a nice touch to name the rooms after employees: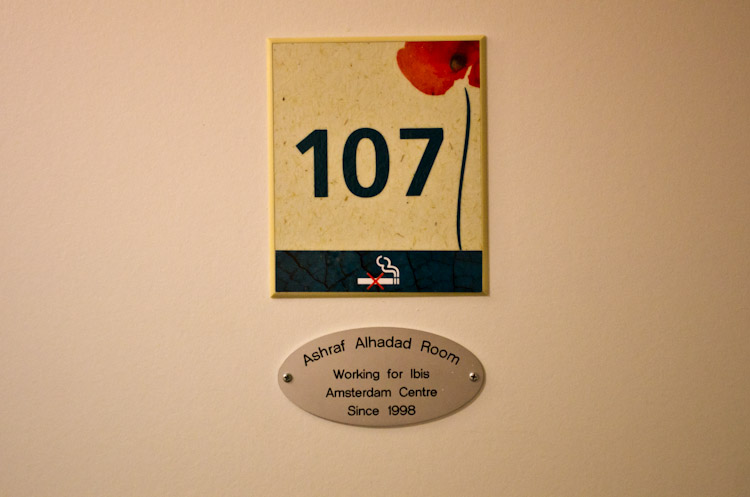 41_4
This building stands on the edge of the red light district, definitely just the place to spread the Word: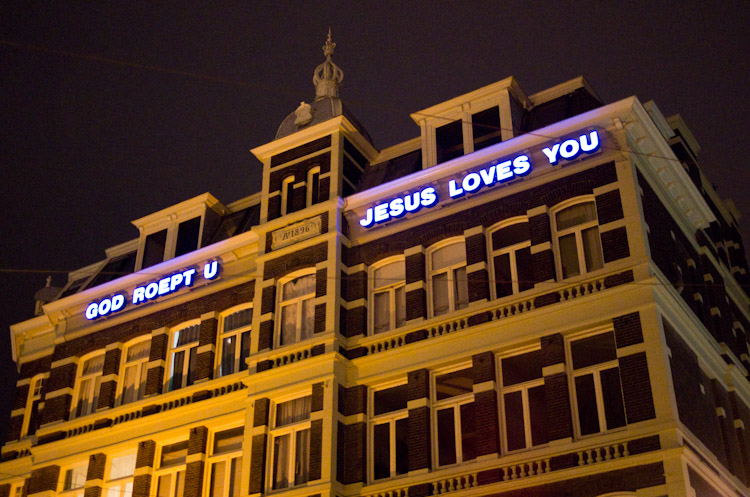 41_5
I walked down the Damrak, taking in familiar sights: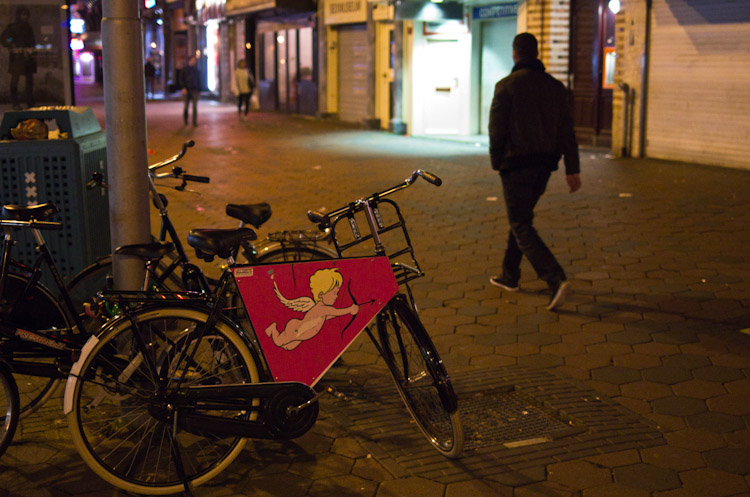 41_6
Entrance to a hotel of ill repute, no doubt: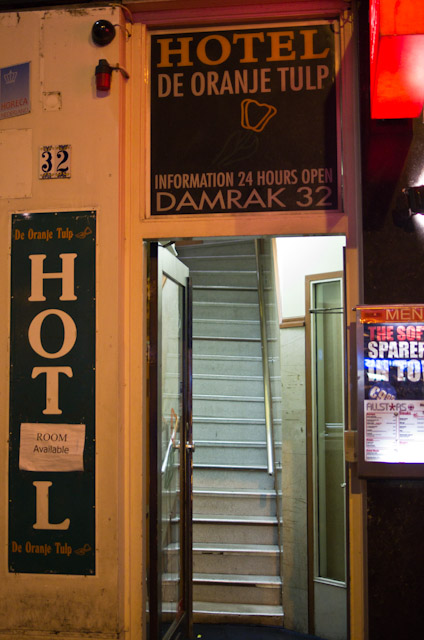 41_7
In the morning I went for a little walk too. This is the bicycle parking outside Central Station: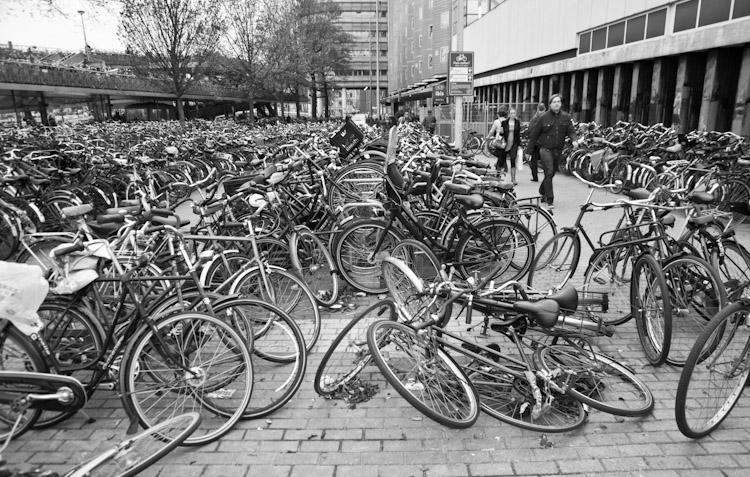 41_8
And here are some bicycles parked next to the entrance to my hotel. Notice the "no bicycles" sign in the background: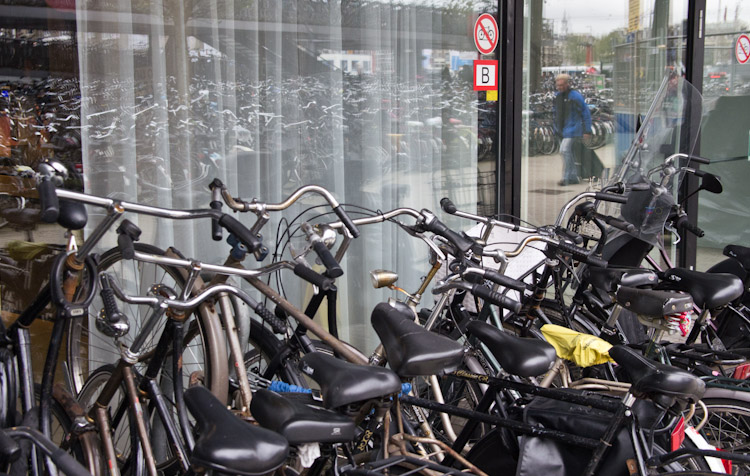 41_9
Staying with the bicycle theme, ever wondered where some of the stolen bikes in Amsterdam end up? – Yes, in the canals, and so the city has to conduct periodic fishing expeditions like this: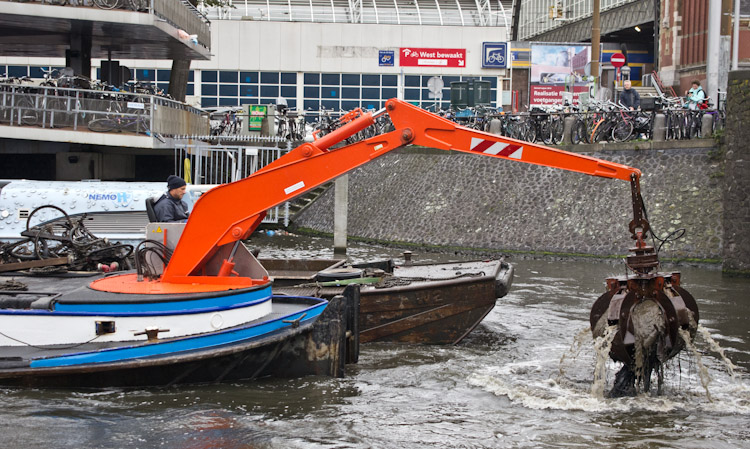 41_10
Here is another catch:

Afterwards, I made my way back to Schiphol airport and spent the next many hours on an Air China flight to Taipei via Bangkok.
41_11
My hosts, the Taiwan Intellectual Property Office, had booked me into the Taipei Grand Hyatt, a veritable palace: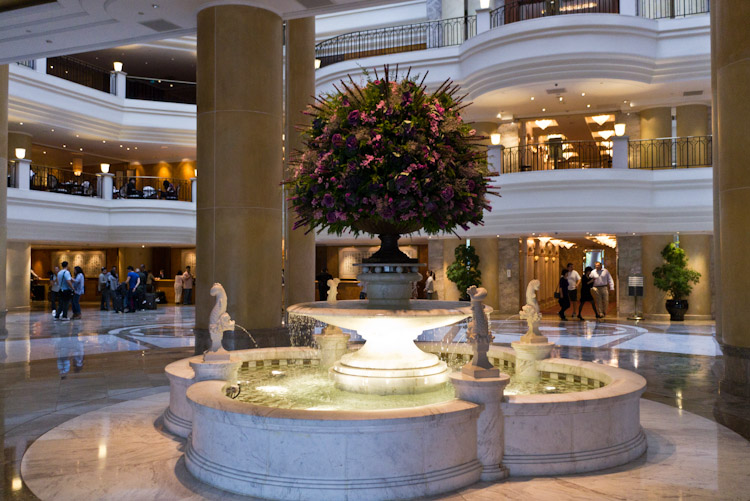 41_12
I went to check out the fitness centre (which was very nice indeed, and which I used later in the week). On the way I passed a cleaning supplies room and saw this sign. Nice with a bit of local colour: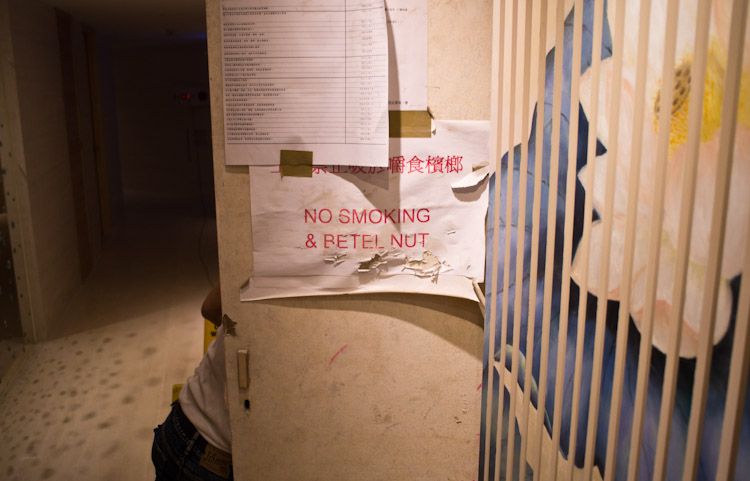 41_13
After relaxing for a couple of hours, I headed out for my first taste of Taipei. It was Wednesday evening by now. I ended up in a street with lots of camera shops. As it was, I was not really in the market for anything except possibly a 200mm lens for my Pentax. But the prices were no better than at B&H, so I confined myself to window shopping:

41_14
The trip to Taiwan was not a vacation; I was there to participate in a seminar on trademarks hosted by TIPO at National Taiwan University. Here is yours truly holding forth, as captured by the TIPO photographer: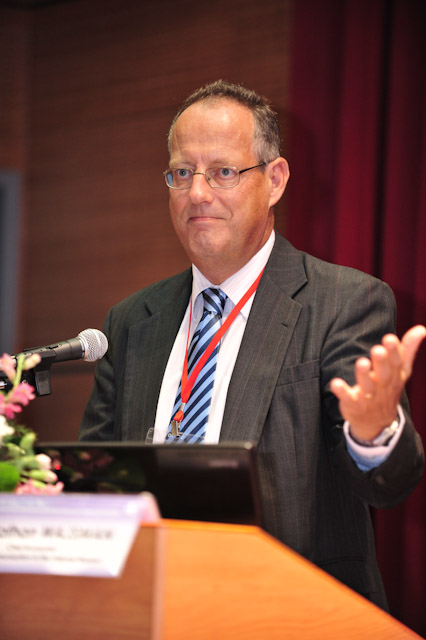 41_15
Thursday night TIPO hosted a banquet for us at the World Trade Center in Taipei, a magnificent location. The group consisted of people from the intellectual property offices of the EU (me), Japan, the US, Taiwan, Singapore and Australia: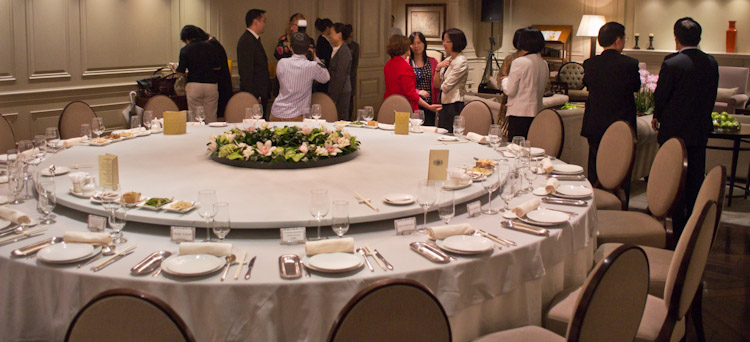 41_16
The lady standing is the head of the Taiwan office, having fun with Hiroko from the Japan Patent Office. A large number of senior executives in the various IP offices are women, on both sides of the Pacific and increasingly in Europe as well: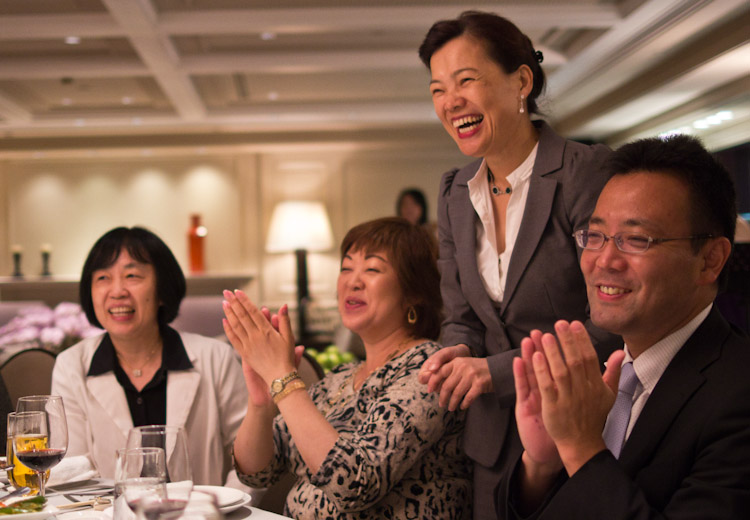 41_17
One of the more spectacular dishes at the banquet. On the advice of my Taiwanese table companion, I had some of the cheek which was delicious: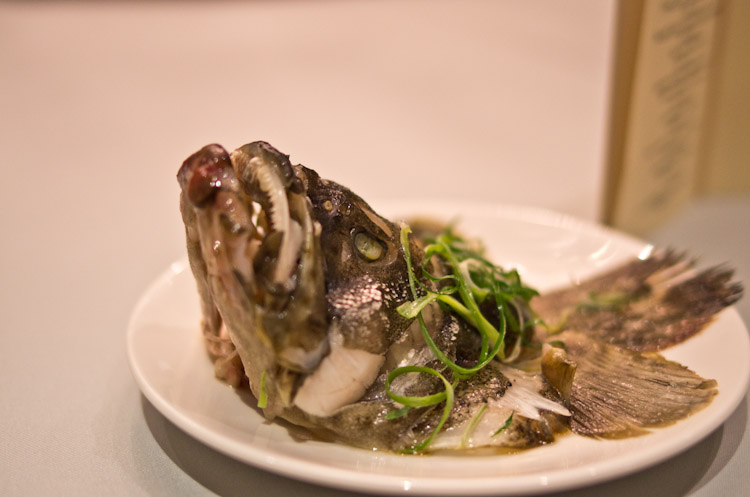 41_18
The conference ended Friday at lunchtime, and TIPO had arranged a bus tour of the city for us. Not my kind of thing in general, but given that it was raining, it was not a bad way to spend the afternoon. This is our guide: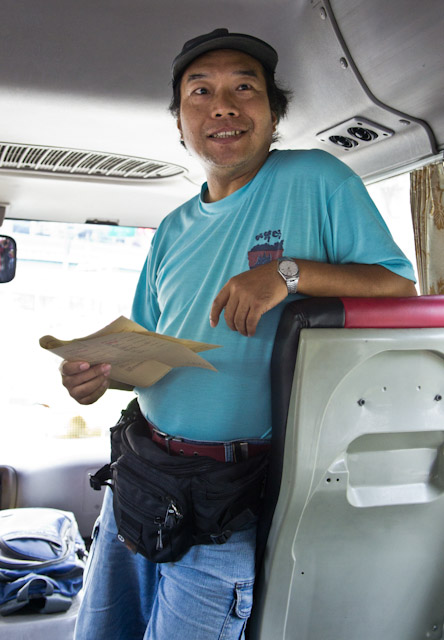 41_19
We started the tour at the National Palace Museum, one of the must-see places in Taipei. It contains some of the best artifacts from 5000 years of Chinese culture. No photography allowed there, so my only pictures were of my companions during lunch at the adjacent Silks Place restaurant: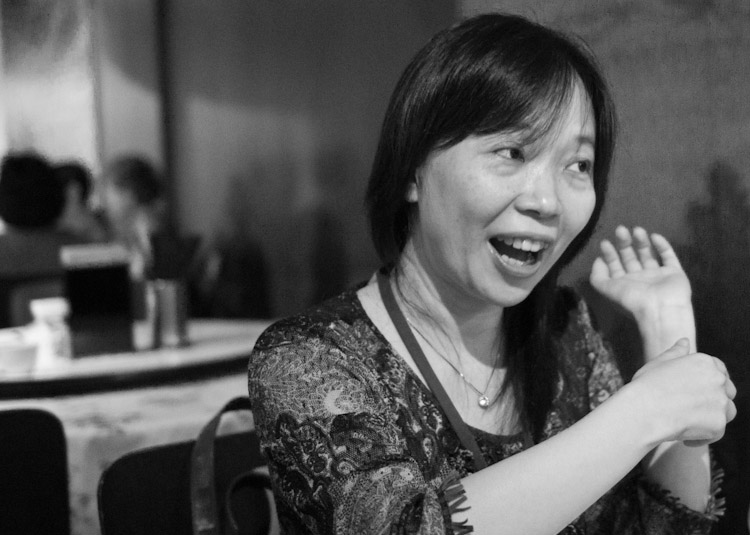 41_20
Our next stop was the Taipei 101 building. It was the world's tallest until 2010, when it was surpassed by a building in Dubai. I have pictures in my Taiwan gallery (see link at the bottom of this blog entry). Here is a scene of loneliness from the shopping mall at the ground floor of the 101 tower: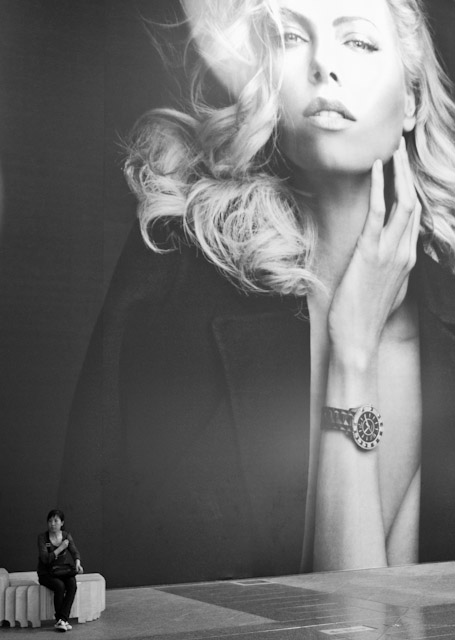 41_21
Our final stop on Friday was one of Taipei's famous night markets, on Raohe Street. The night markets have what is possibly the best street food in the world: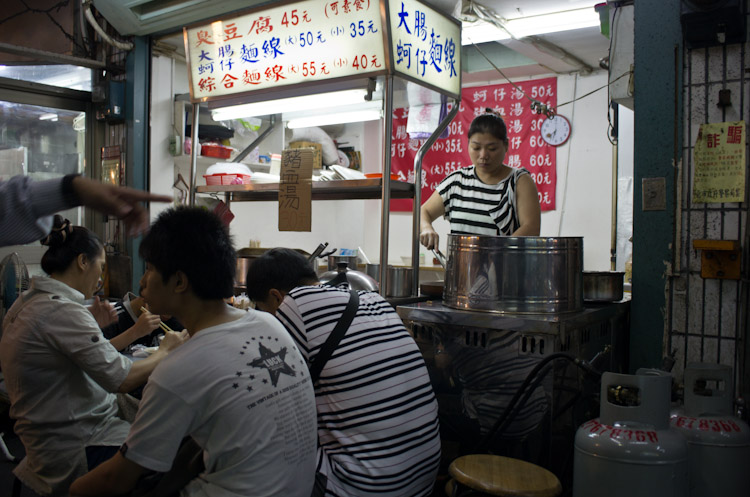 41_22
I got my first taste of chou doufu, or stinky tofu, that evening, here in a fried version: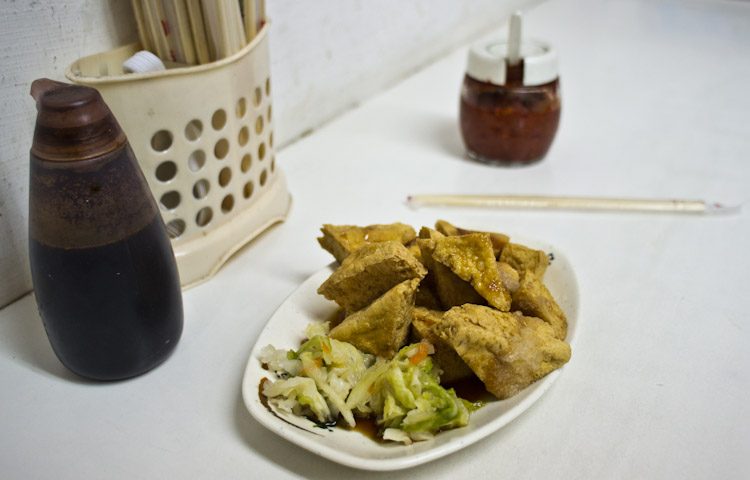 41_23
This lady is serving steamed stinky tofu in a spicy broth: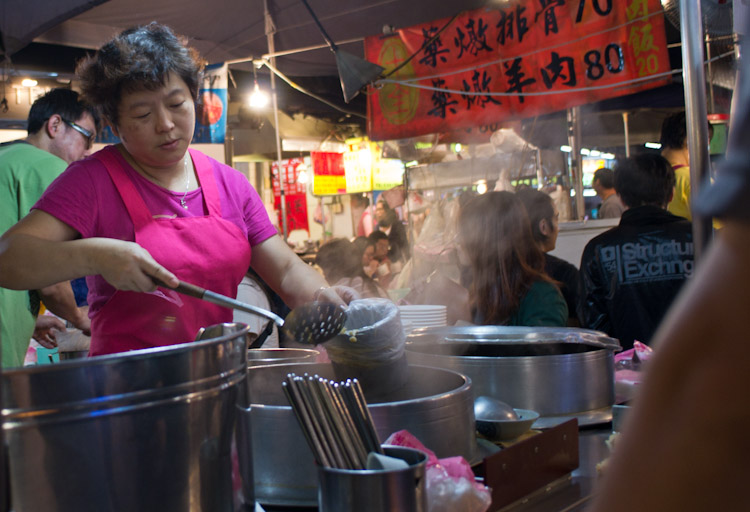 41_24
While the night markets are primarily about food, there is also some merchandise: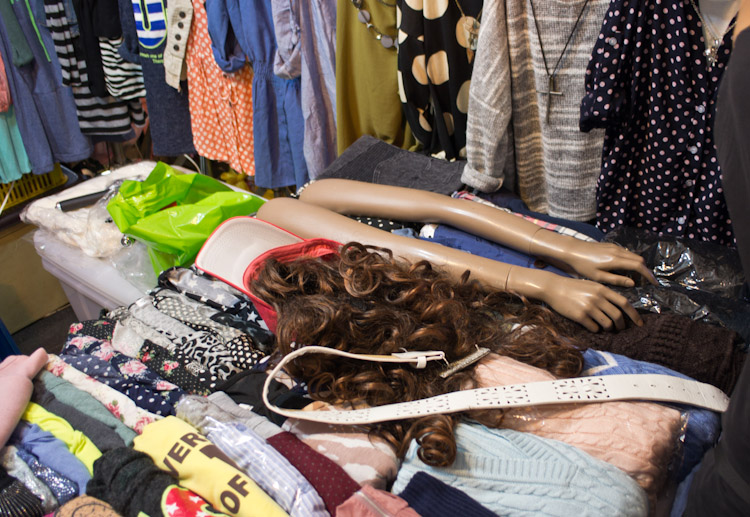 41_25
Here is one of the TIPO trademark examiners, Jeffrey (most of the people we met used English in addition to their Chinese names), posing for me with the Taiwanese flag: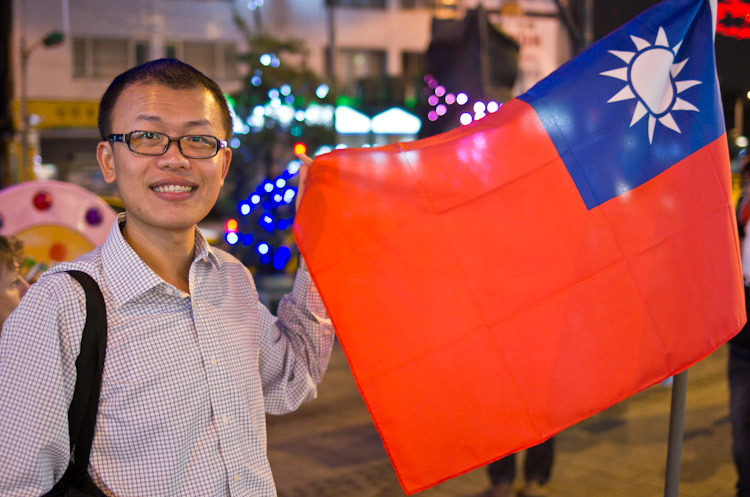 I stayed in Taipei Saturday and Sunday, exploring the city on my own, using information from a Lonely Planet guidebook and Taipei excellent and inexpensive metro system.
41_26
Financial crisis? What crisis? A somewhat surprising display in this day and age, outside a shopping centre near my hotel: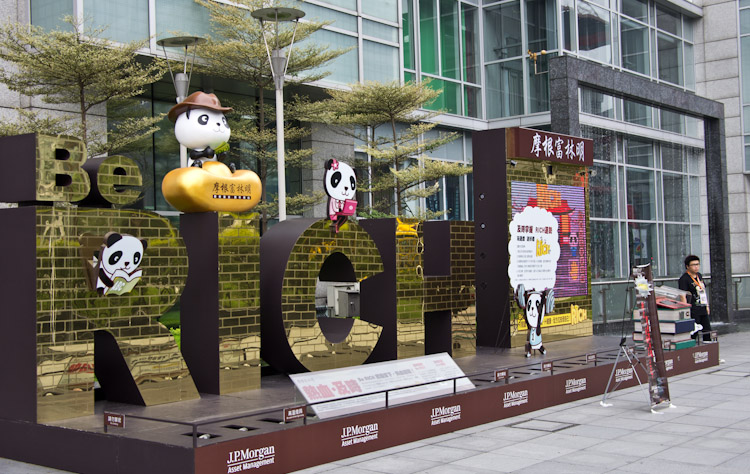 41_27
One of my stops on Saturday was the Hello Kitty Sweets Café on Da An Street. I was not going to eat there, I just wanted to see it and take some pictures to show my daughter:

41_28
A customer at Hello Kitty Café asking about a table. The place is popular and a wait is always required: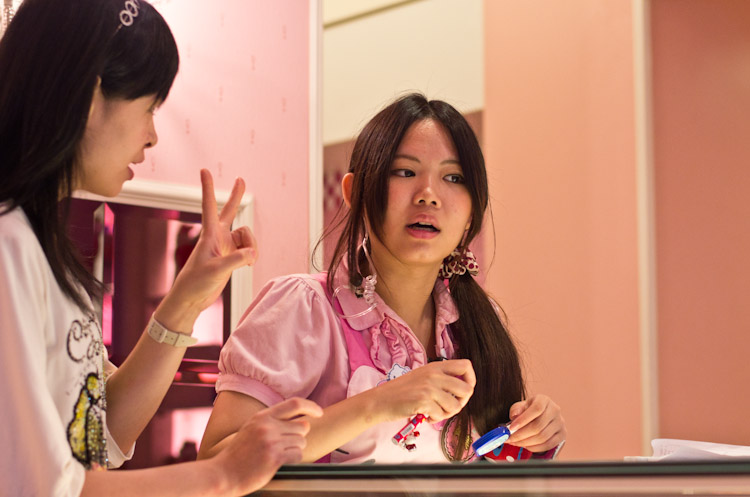 41_29
Father and daughter waiting for a table: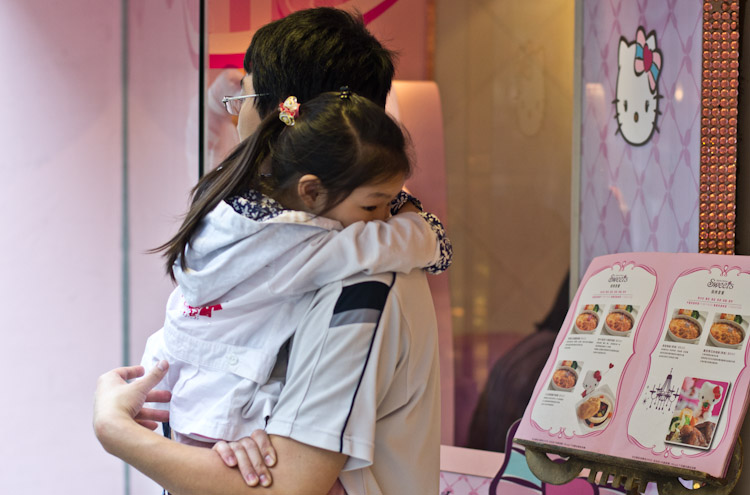 41_30
A scene from a metro station shopping arcade. Decisions, decisions: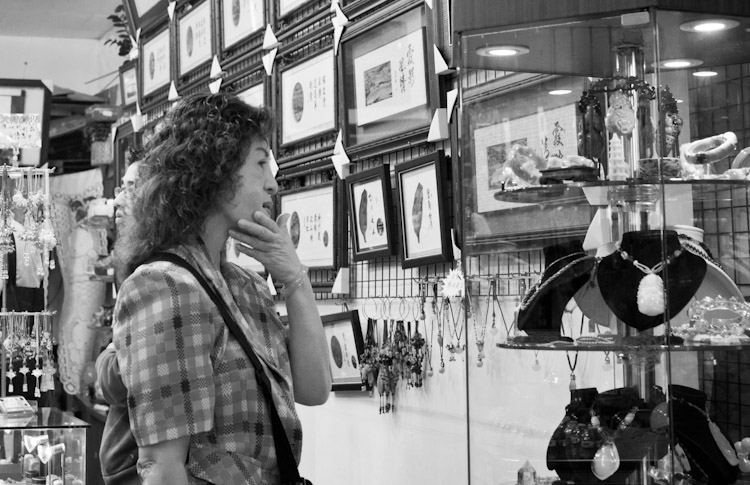 41_31
Offerings at the Longshan temple. People bring all manner of food and drink to the temples. I suspect some of it is eaten by the monks and much is handed out to the many down-and-out types who seem to hang around the major temples. In some cases, I think that people place the offerings on the table while they pray to the deities and then retrieve them when leaving: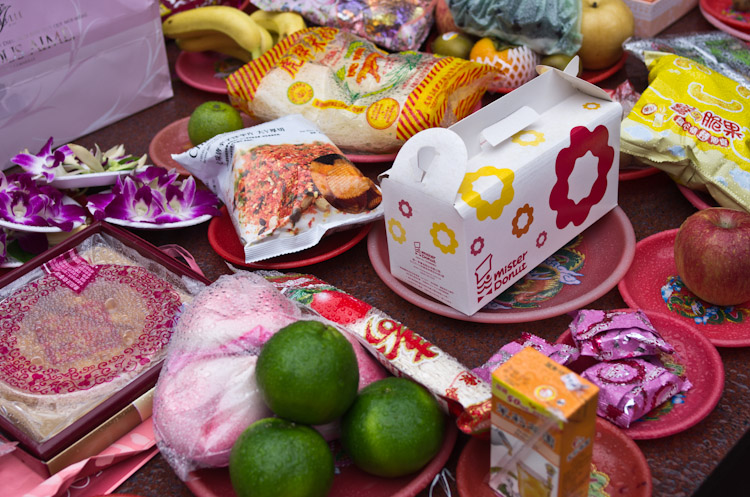 41_32
This deity likes drink offerings, evidently: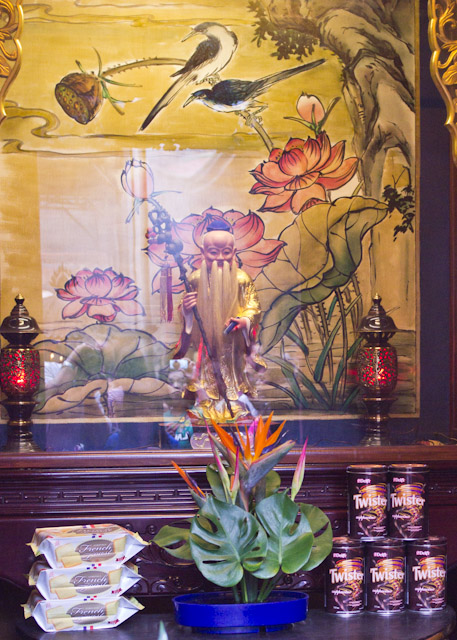 41_33
7-11 is a major presence in Japan, and also in Taiwan. Here two cultures meet. On the left is the rack for hot dogs, as can be seen in every US or European 7-11; on the right is a local snack, hardboiled eggs in a dark sauce. They are almost leathery: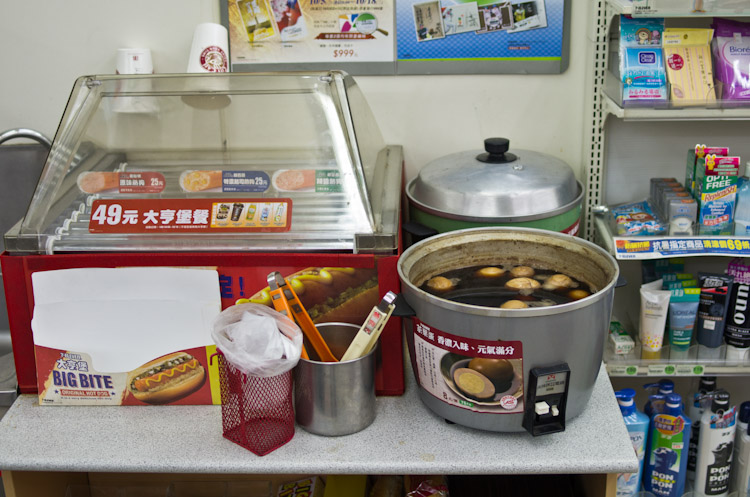 41_34
But most Taiwanese fast food is served in the street: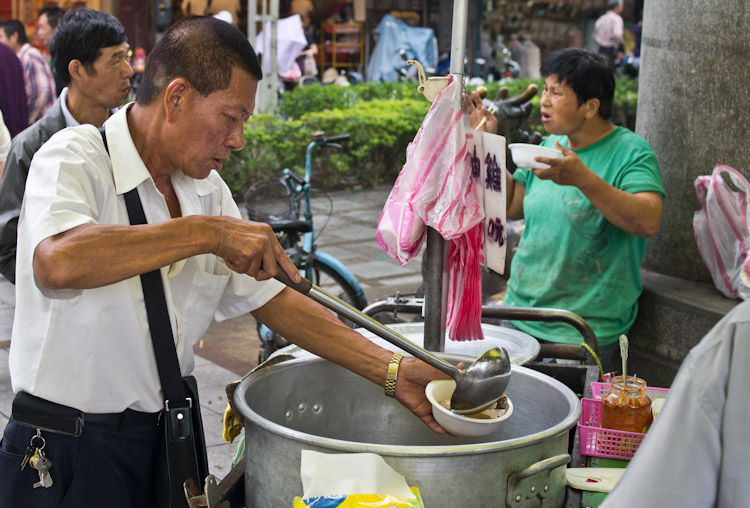 41_35
Finally, an amusing scene from the metro. Like elsewhere in Asia, education is very important in Taiwan, and evidently they start them young: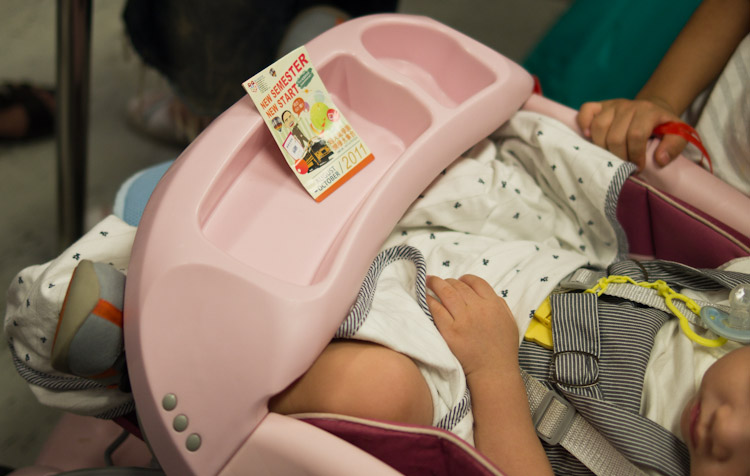 More pictures from Taipei are here.