Last week was a four-day week, since Monday was Pentecost. I also had to take Wednesday off to go to Valencia to take care of some administrative stuff. Between the extra free time, and a couple of nice events, there were quite a few photo opportunities.
22_1
To start, another dog-walk picture, a backlit leaf early in the morning: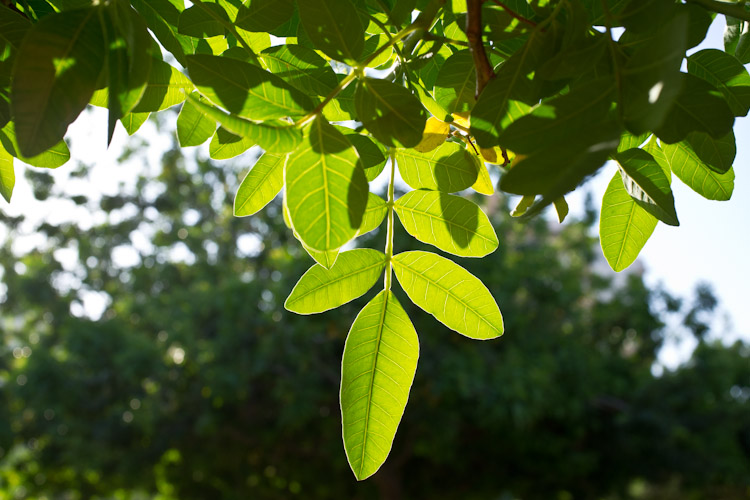 22_2
On Sunday, we drove down to Hostal Maruja for lunch. This is the setting: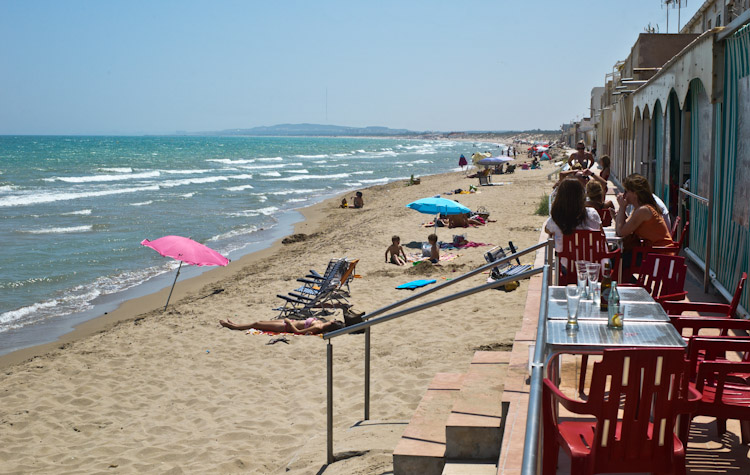 22_3
And this is the kind of food one eats there: chorizo a la sidra, patatas bravas and chipirones: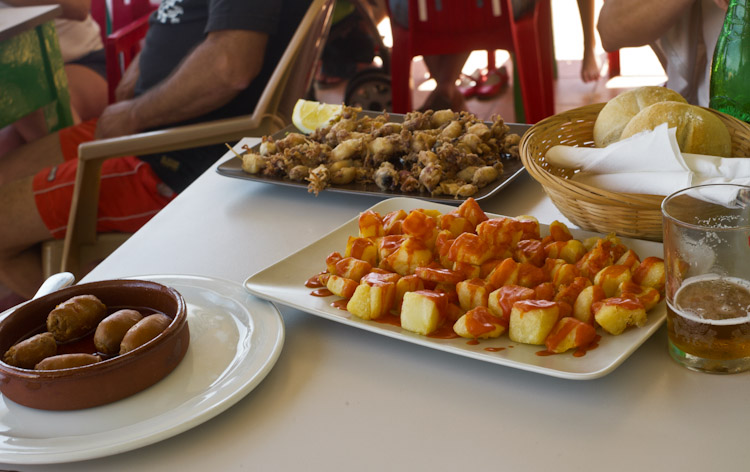 22_4
Monday evening my daughter and I made sushi; I prepared the ingredients while she did the rolling, cutting and serving. Step 1 is to smile at the photographer: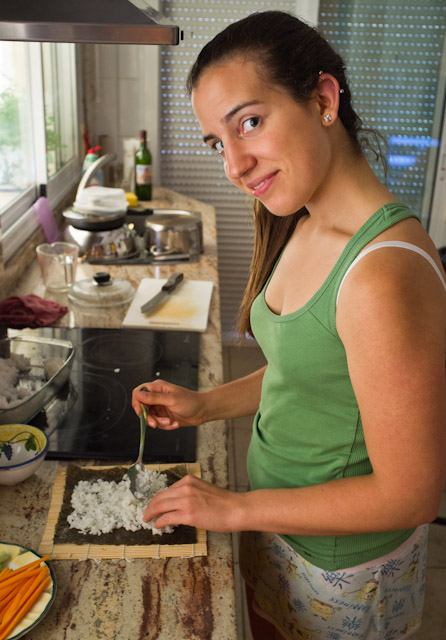 22_5
Step 2 is to put the stuff (in this case, only vegetables) in the middle: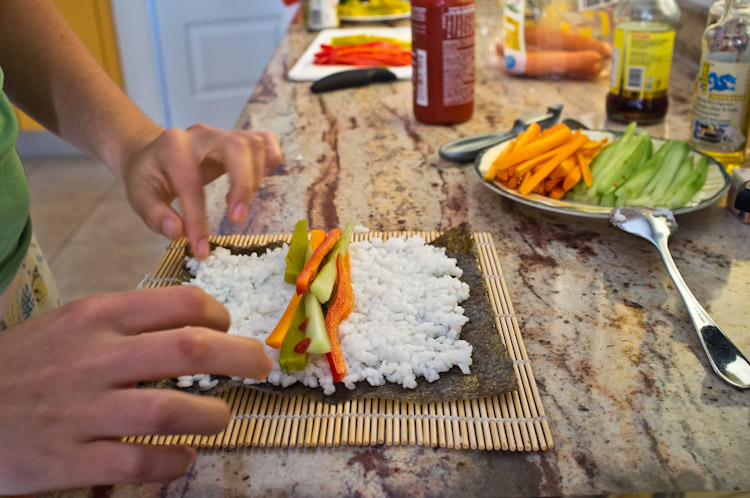 22_6
Then you roll: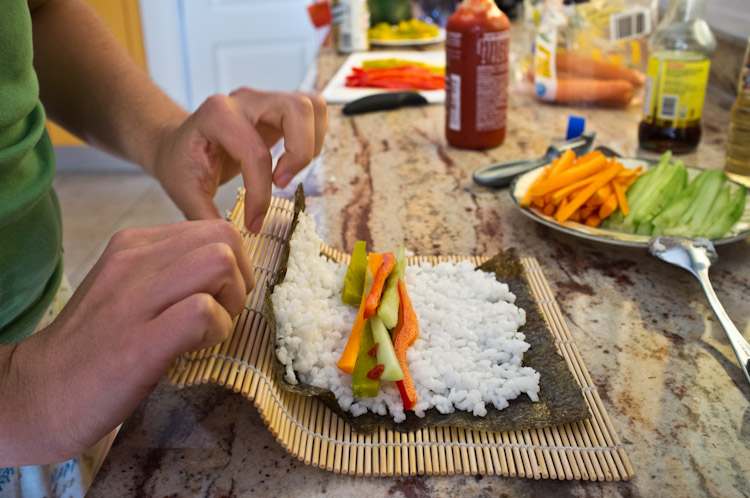 22_7
You keep rolling: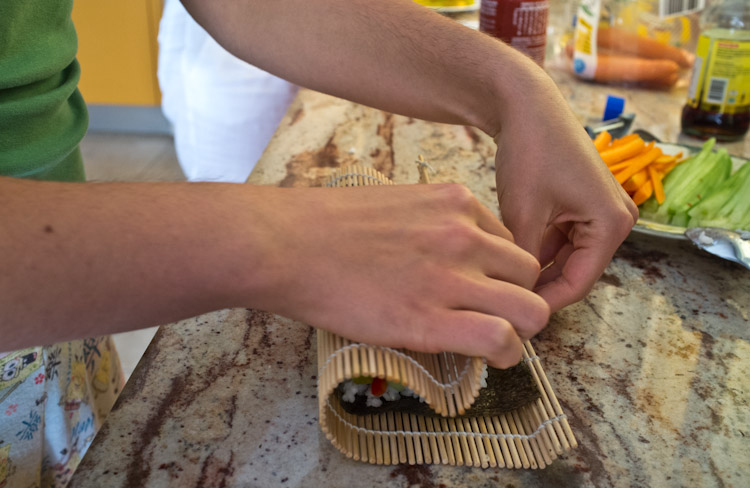 22_8
The end result: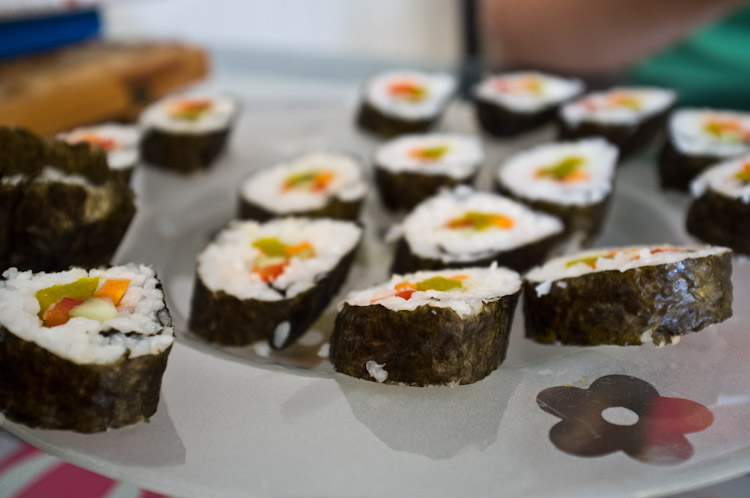 22_9
A portrait of Cheeta immediately after returning from a walk. She is closely following the reflection of something on the wall. She may be an old lady by dog standards, but she is still crazy: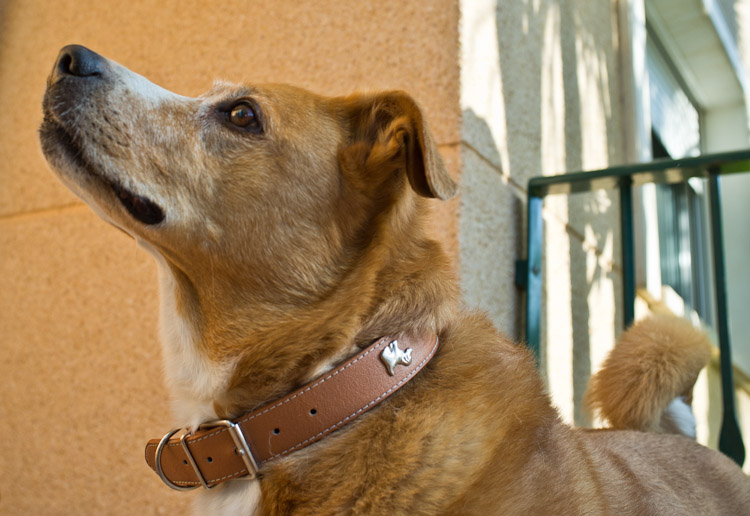 22_10
The business in Valencia took about 20 minutes, so we had plenty of time to walk around and enjoy the good weather. Valencia is Spain's 3rd city and has many ornate buildings. Here is the HQ of Banco de Valencia, a smallish bank that was taken over by the Spanish government last year, succumbing to big losses on real estate loans. But its own real estate is certainly impressive: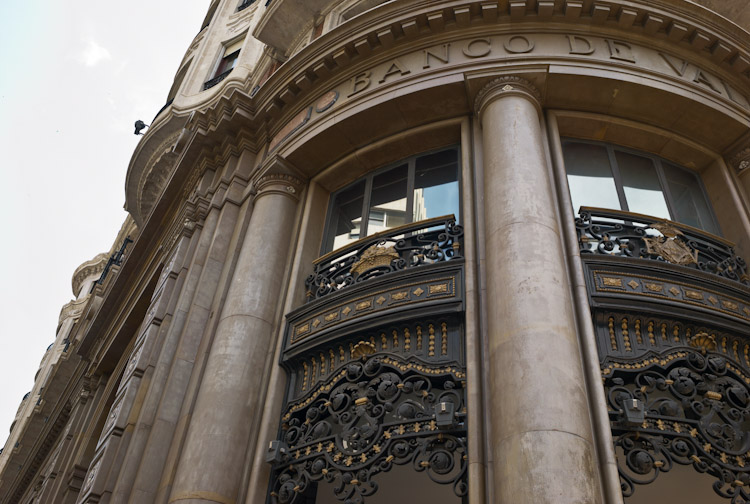 22_11
Another ornate building is the association of notaries, a parasitic profession that only exists because of stupid government rules about certain documents needing their stamps and such: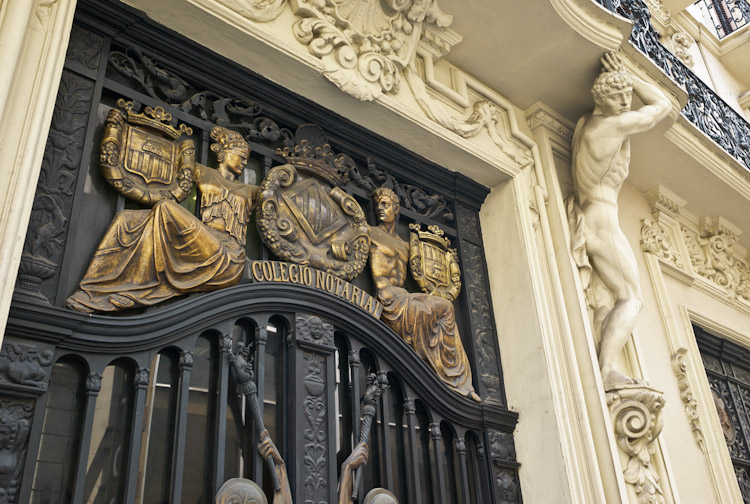 22_12
Reflections on a Valencia street: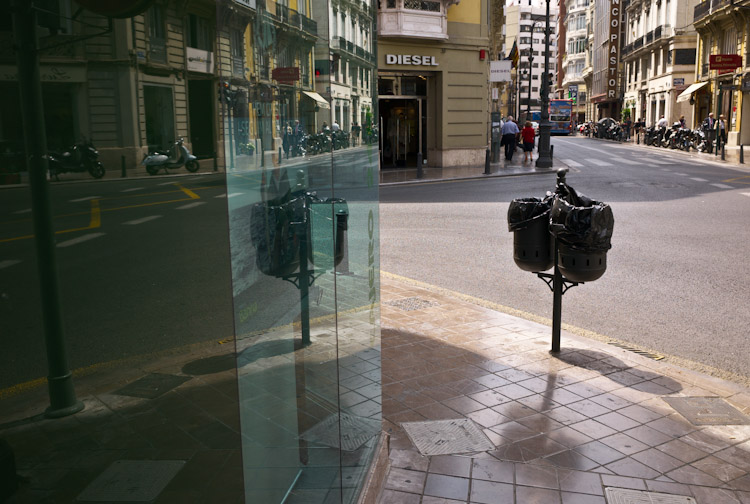 22_13
A rather striking window display: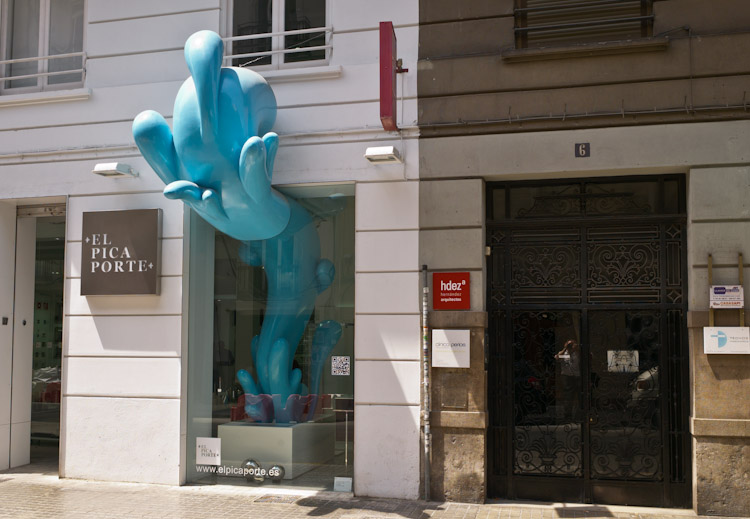 22_14
It seems that the guy is saying, "look at that guy across the street taking pictures of us" while his girlfriend is busy studying the blue hand:

22_15
Back at the office. Claire has recently been promoted, and to celebrate, she invited a group of us for wine and cheese from her native France, served in our VIP room (the VIP room is also available for employees when not being used for official functions):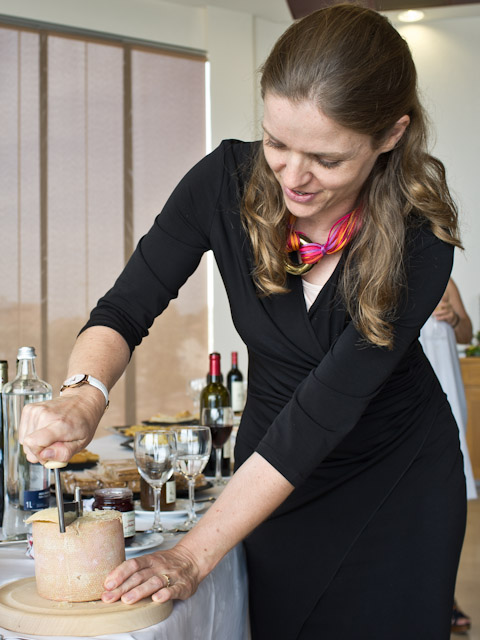 22_16
The cheeses. I loved them all, and Claire had bought a generous quantity, so I ended up taking some home. French food at its best: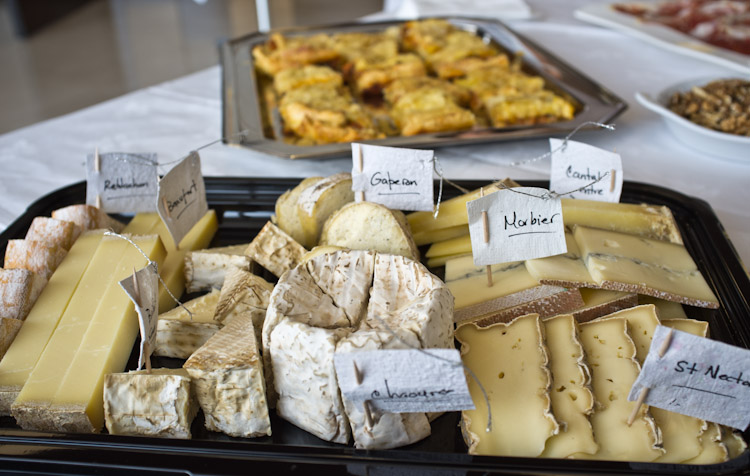 22_17
Thursday evening I stopped in the old part of town on my way home to attend a gallery opening. On the way, I saw this little dog, patiently waiting for its human outside a small grocery shop: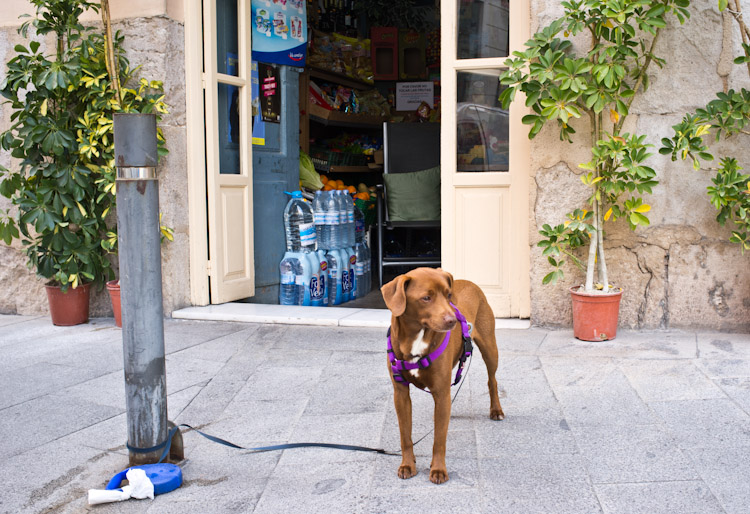 22_18
A medieval market was being set up for the weekend: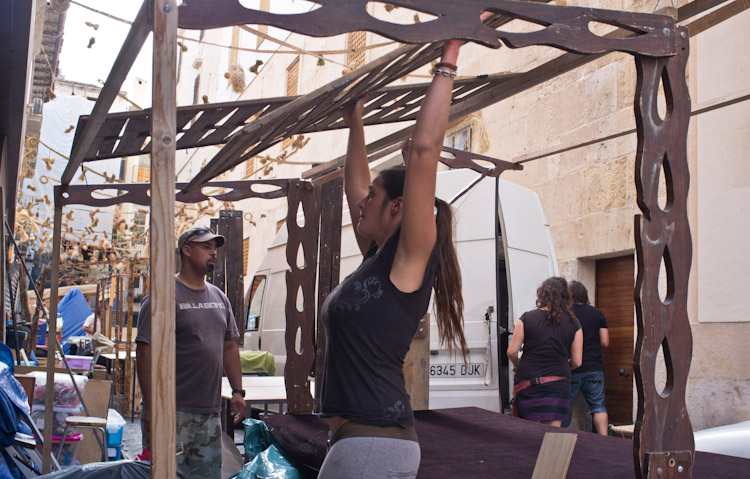 The exhibition I was going to see was at the office of the wine regulator for Alicante province wines (Denominación de Origen Alicante, similar to the French appellación controlée system). It consisted of sculptures made of vines and other wine-related items by Jenny, the daughter-in-law of our friends Carmen and Hilarión, proprietors of Vinospe, a winery in Almoradí, an inland town.
22_19
Bottle and bottles: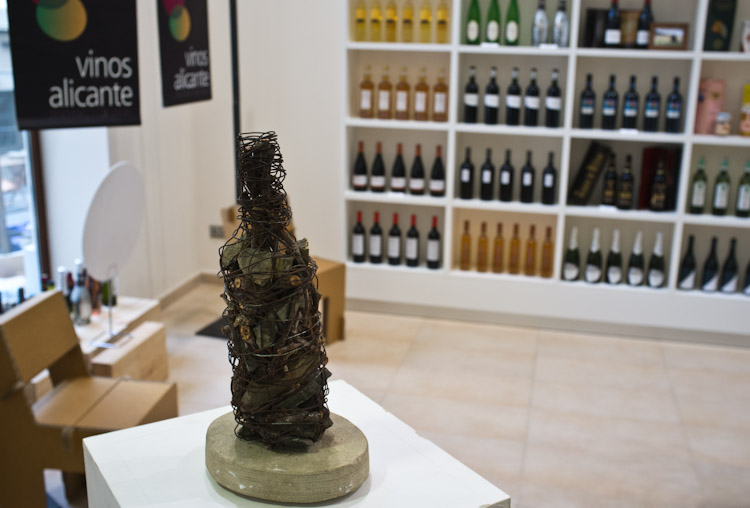 22_20
"Retsina":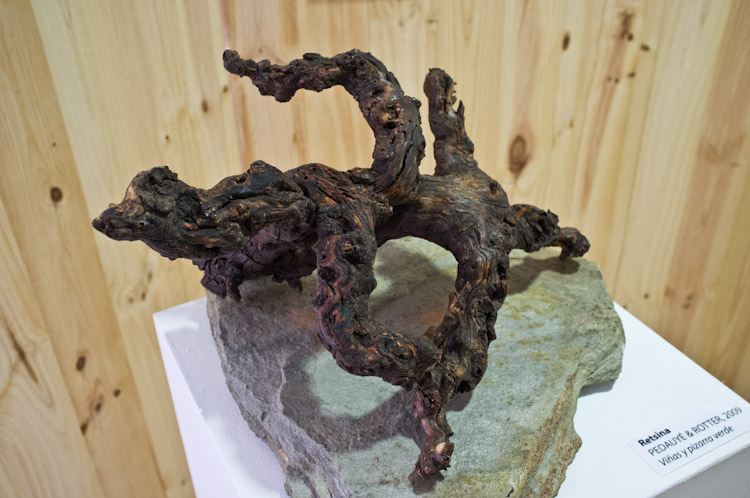 22_21
Jenny being interviewed by the local TV station, Canal 9. Jenny does not look particularly Spanish–because she is German: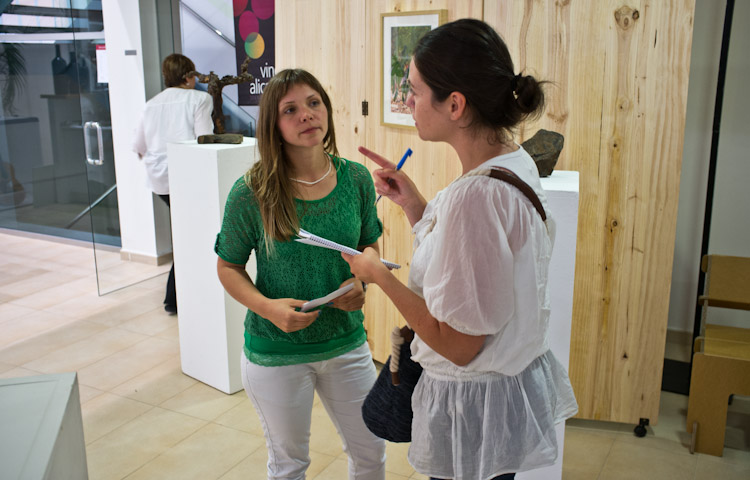 22_22
There was flamenco music, too. This is Jenny's husband talking to the guitarist: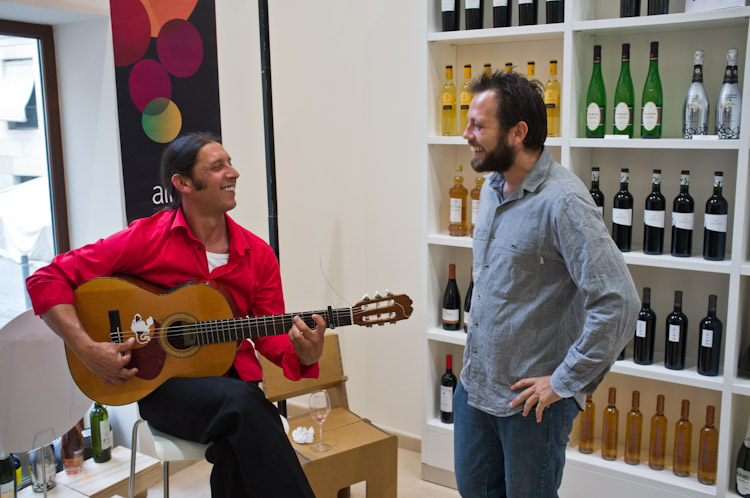 22_23
And of course, there was wine, provided by Bodega Finca Collado, of course also from Alicante province, and absolutely delicious. Here is Maricarmen from the bodega, pouring a glass: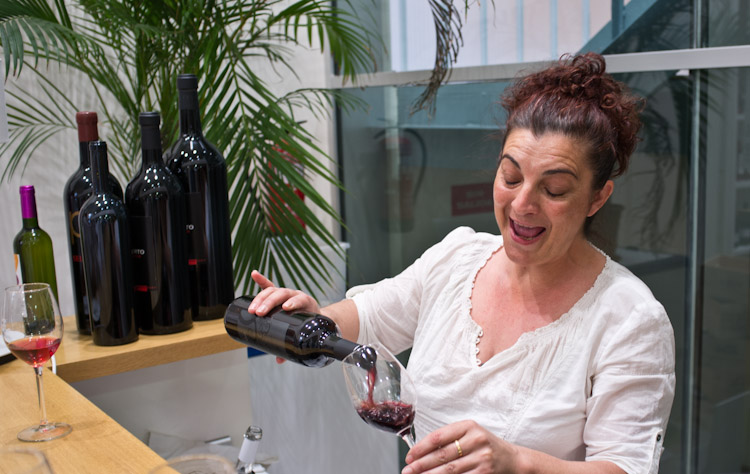 22_24
Hilarión senior talking to the wine maker from Finca Collado: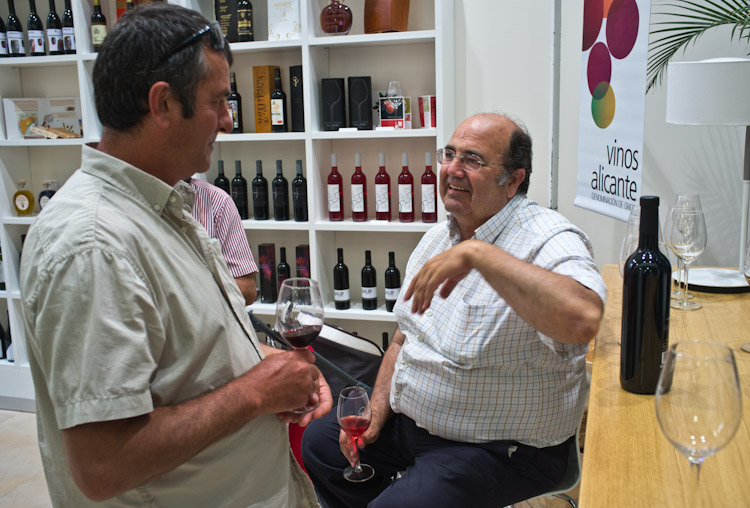 22_25
A local wine and restaurant critic also stopped by, apparently not to look at the art but to taste the Finca Collado wines. He seemed rather full of himself, as such people tend to be: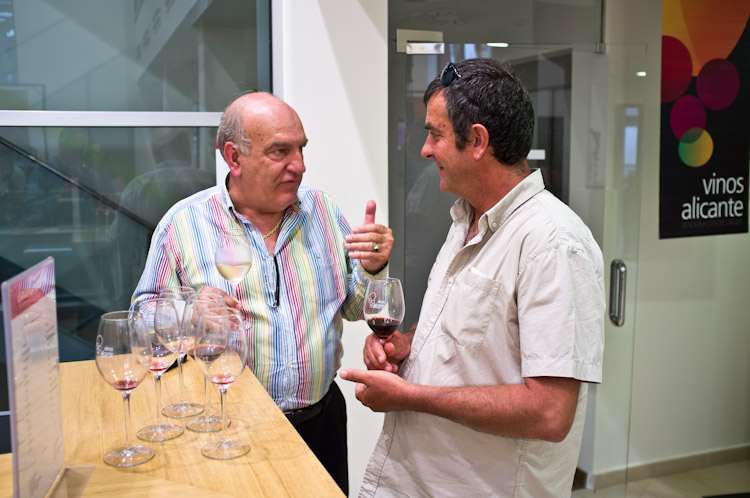 Jenny's web page is here, and more information about Finca Collado here.