The week began in Aarhus and ended in Alicante. My friend Lars and I had to cut short our cycling tour of Jutland and came back to Aarhus Saturday afternoon instead of Monday afternoon. This meant that I had a couple of more days in Aarhus than planned, which was not a bad thing, in the circumstances. I always enjoy being in my hometown, and even after all these years, I discover new places and details to photograph.
31_1
On Sunday we drove to the town of Holstebro, about 100 km west of Aarhus, which had been on our planned cycling itinerary. We went to see a photography exhibit at the local art museum but took in the rest of the place as well: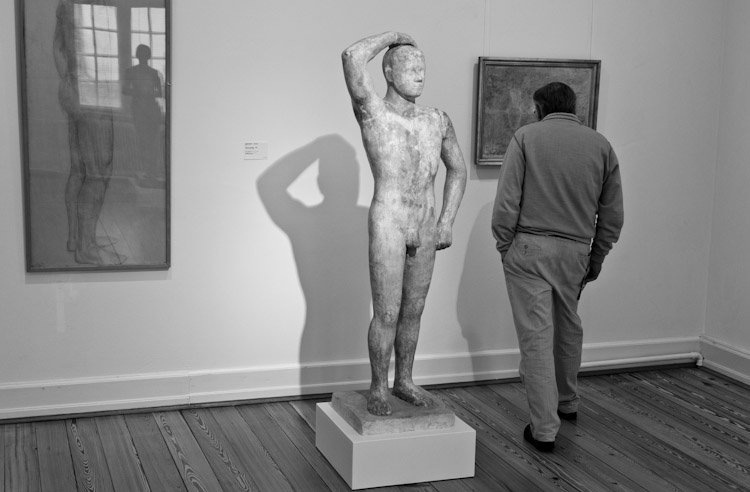 31_2
Lars teaches ceramics and photography at an art school, so he knows a thing or two about the piece here: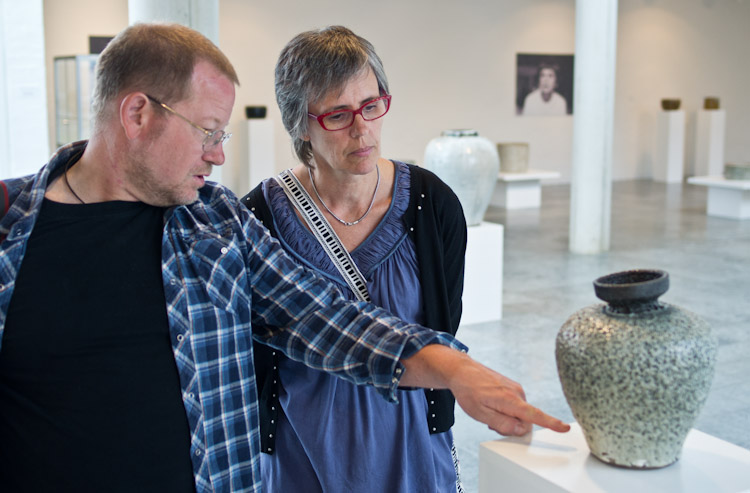 31_3
Here he is in photo teacher mode, explaining something to Gertrud: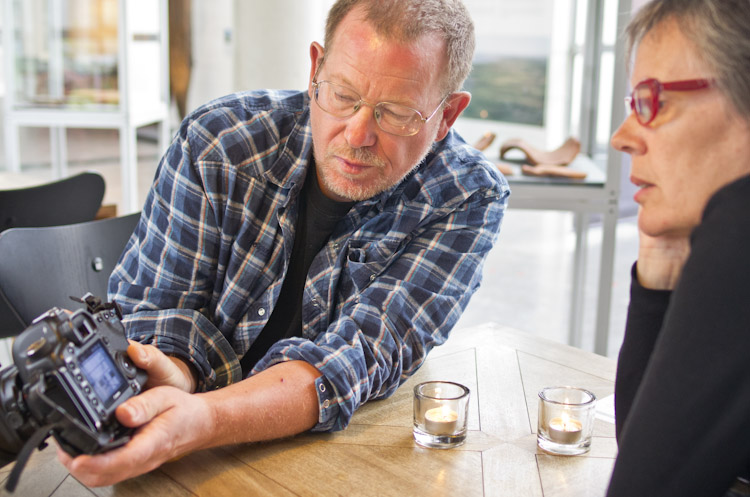 31_4
On the way home, we stopped at a supermarket, and Lars and Gertrud performed an impromptu dance: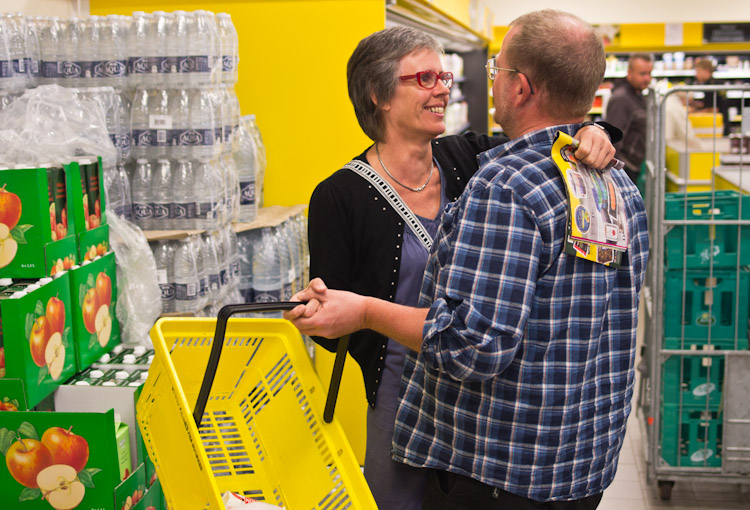 31_5
Monday morning, Lars set about a project he had been thinking of, namely to produce photographic commentary on the commercialism surrounding the Olympics, especially when it comes to the extremely vigorous trademark enforcement by the organising committee and the IOC. Here he is setting up the lights and the camera: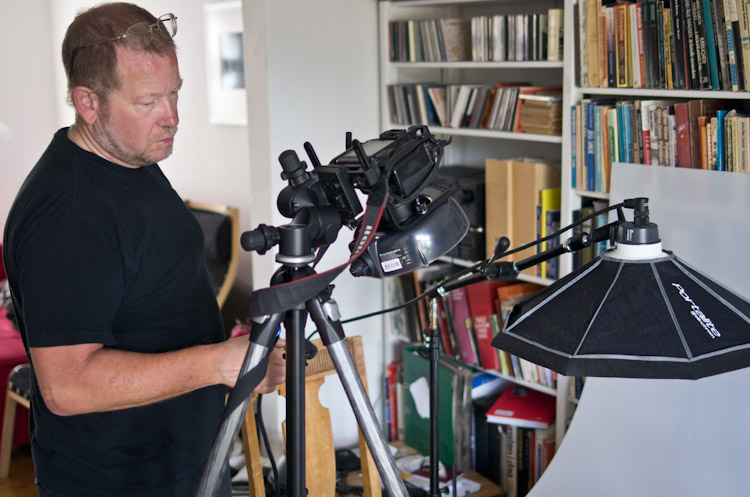 31_6
Here is a dry run of the setup, using some crackers that were at hand: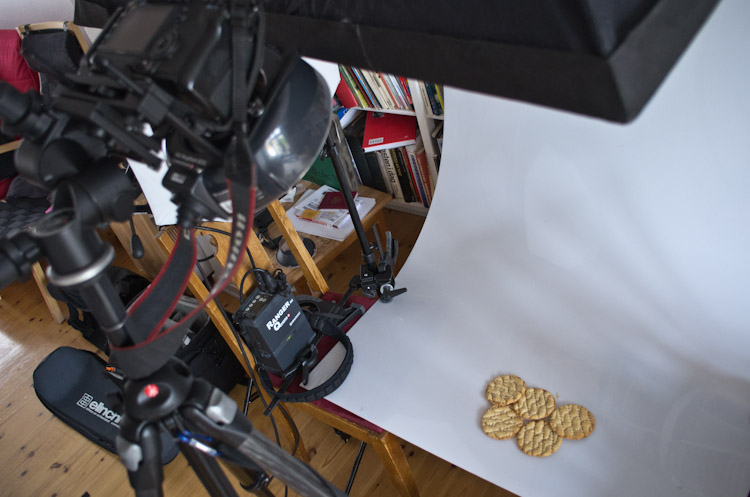 31_7
And here is the real thing. Lars sacrificed the five McDo hamburgers, since neither of us eats them. He took many pictures, also in various stages of decomposition; this one I just lifted from his Facebook page: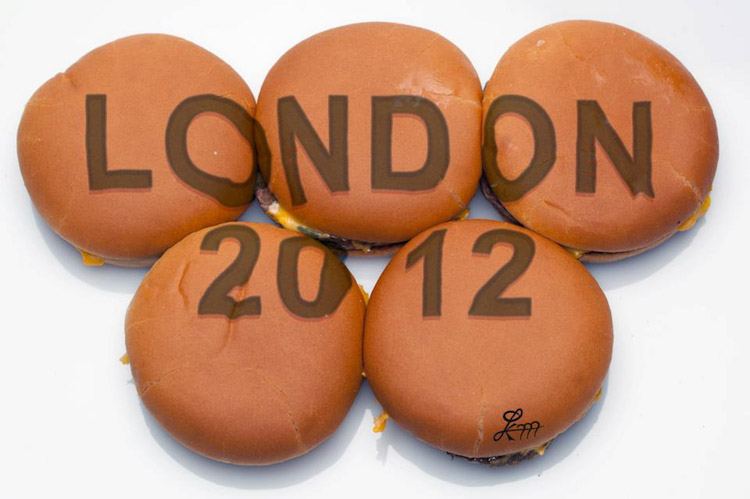 31_8
Monday afternoon I went to meet up with some classmates from primary school. On the way, I stopped at this urban garden: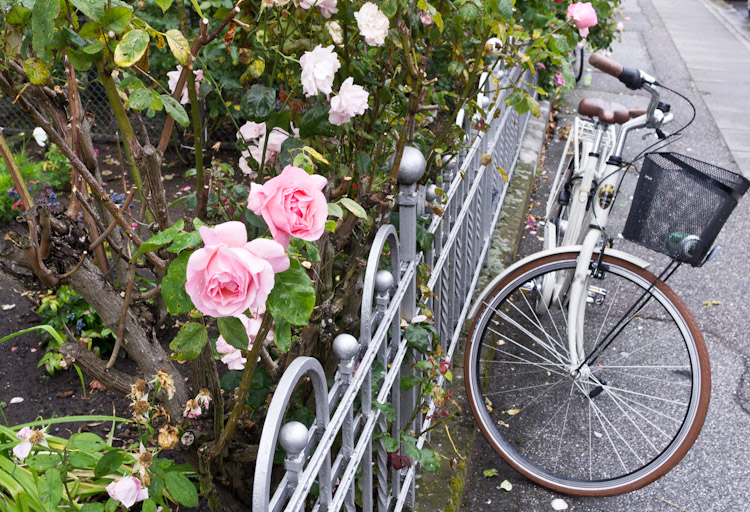 31_9
And also this building detail: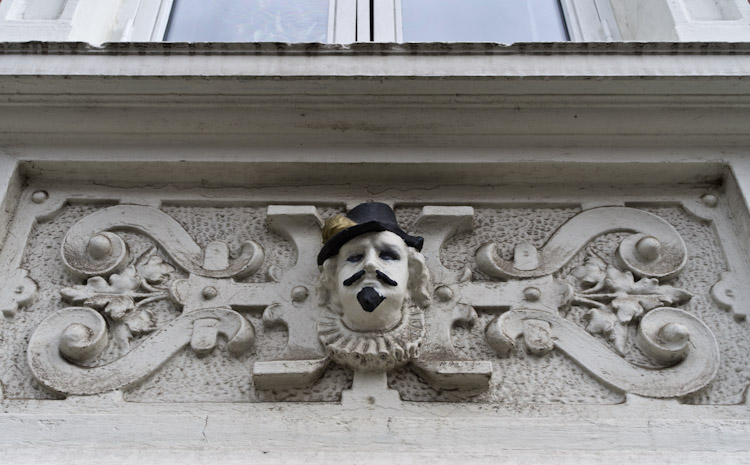 31_10
On Tuesday we went to see the old freight train station, which has now been converted into a huge culture and arts centre, with performance halls, café, and especially many workshops that are accessible to everyone: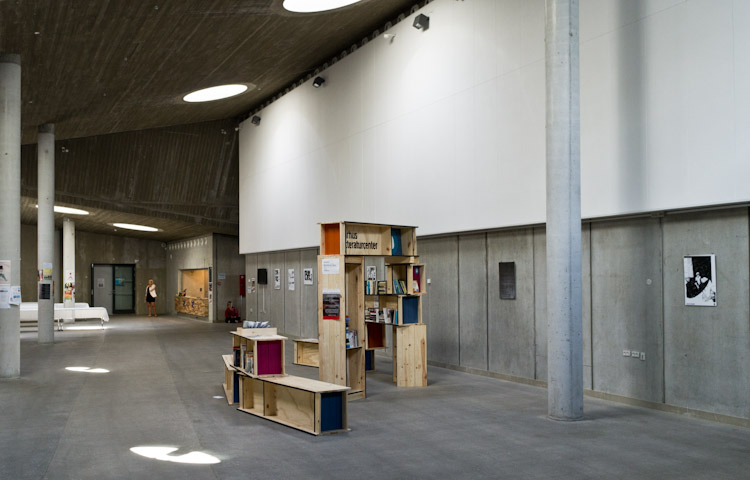 31_11
Lars got excited about some fancy huge lathe that the workshop was about to acquire. Here he is discussing it with the man in charge. The centre is run by the municipality of Aarhus: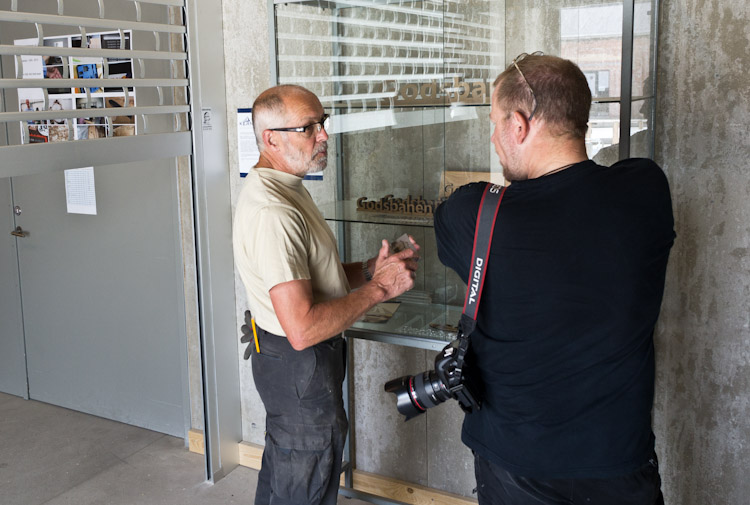 31_12
I suppose they are serious about enforcing the "no food" rule: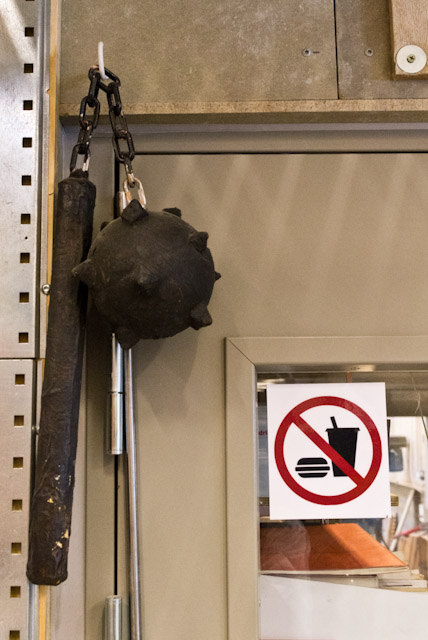 31_13
The roof terrace of the train station is a striking piece of architecture: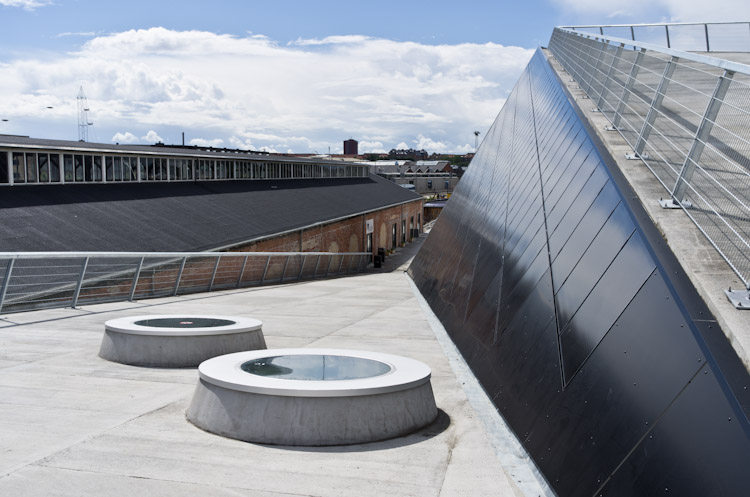 31_14
Another rooftop scene: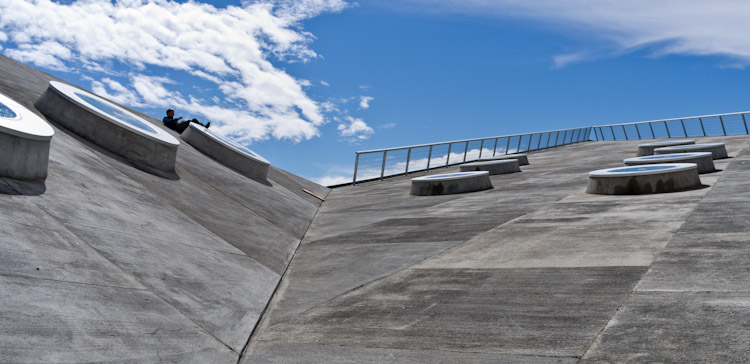 31_15
Tuesday afternoon the sunny weather disappeared, rather forcefully: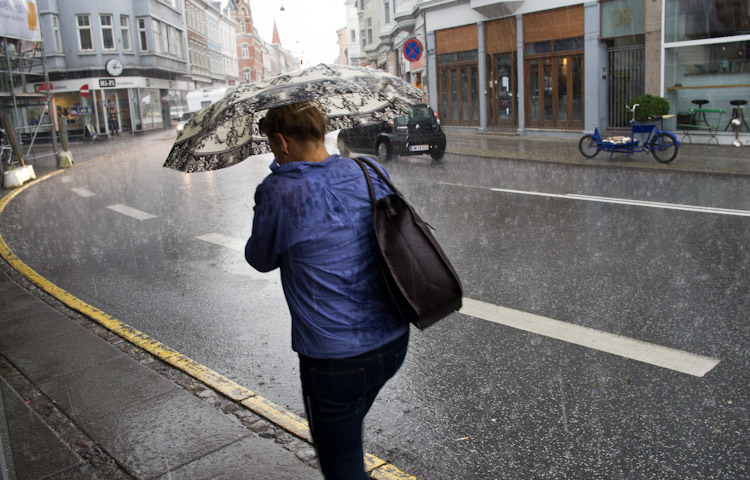 On Wednesday I flew home to Alicante. The remaining three pictures are from my dog walks on Avenida Vicente Ramos.
31_16
Surveying the local real estate market: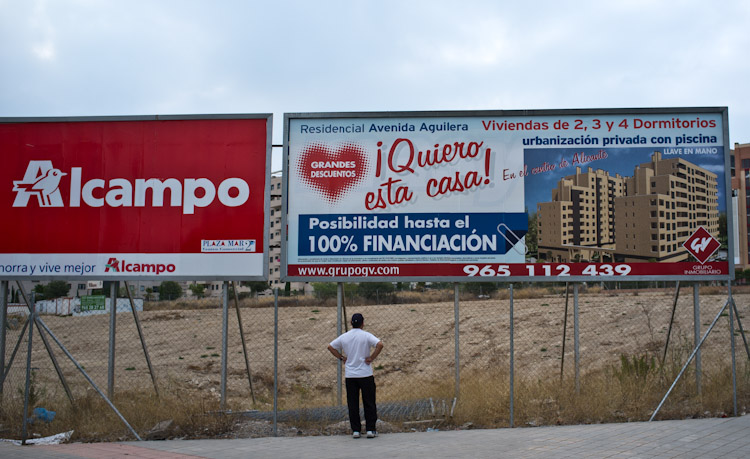 31_17
Well-dressed man and dog: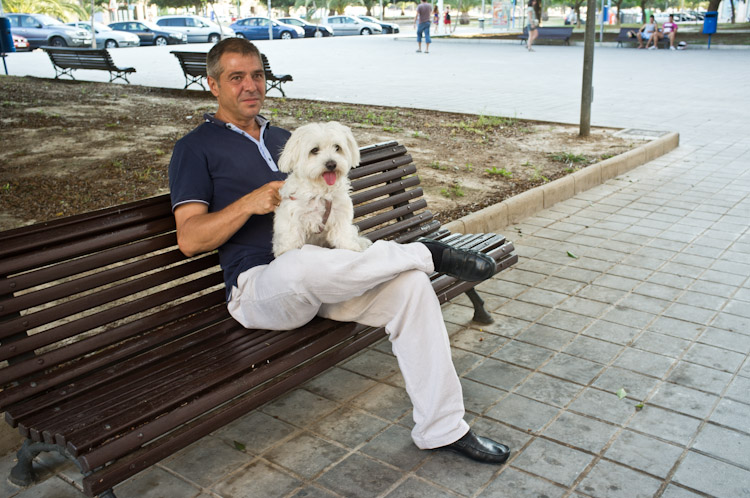 31_18
My colleague Mark Kennedy with friend and baby outside the 4 Estaciones bar: