The week was above all about my spring trip to Denmark, which began on Thursday. But during the preceding days I did some of the usual cycling and walking on the beach, and there was some nice light to be enjoyed.
16_1
On Sunday afternoon I stopped by the pet memorial tree to check on my ribbons in memory of Cheeta and Taco. The tree is getting seriously crowded–the idea of honouring departed pets in this way clearly has caught on: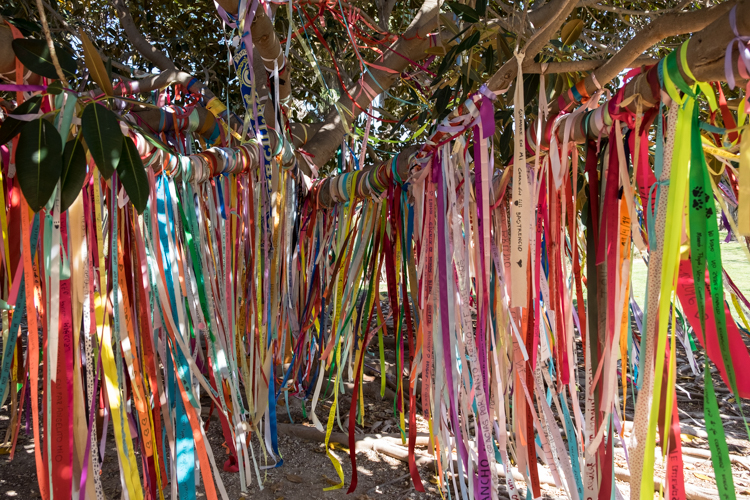 16_2
My two ribbons are still there: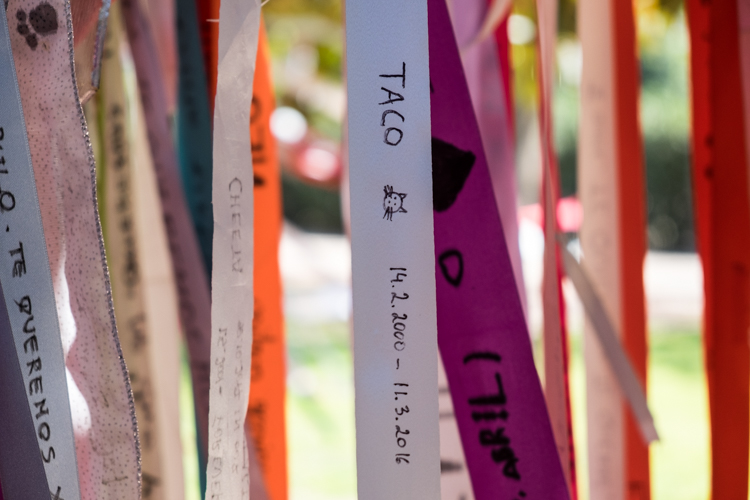 16_3
I cycled to Jijona on Palm Sunday. Along the way, I stopped at an abandoned restaurant to explore it a bit with my camera: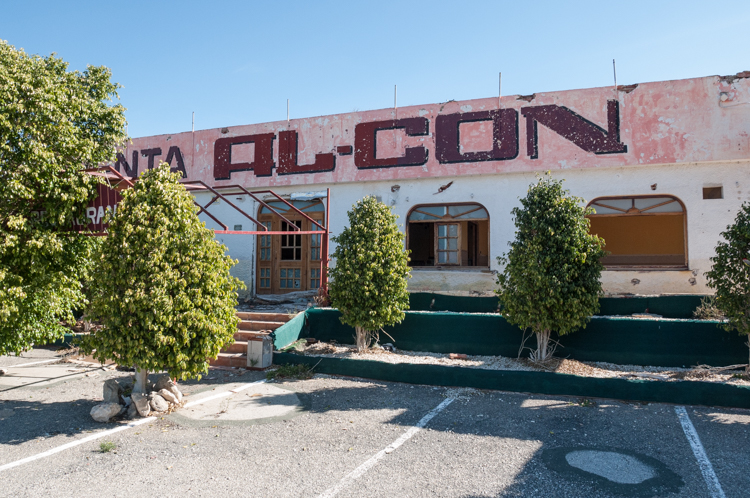 16_4
A stop sign, out of place seemingly: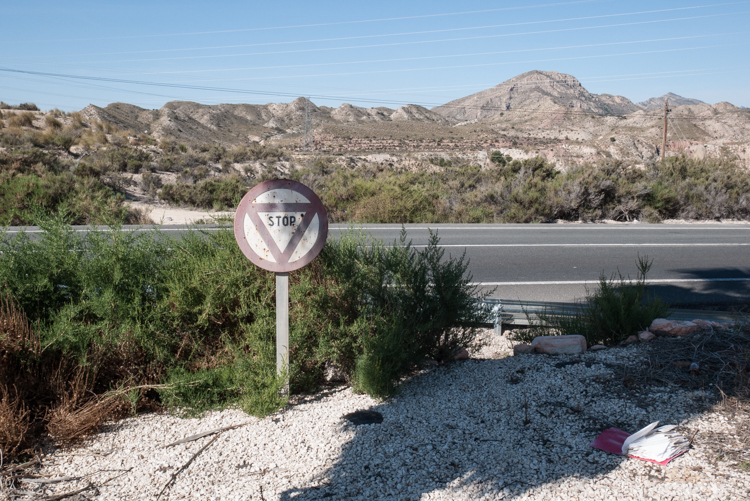 16_5
I then noticed that the guardrail has recently been replaced, and a new cross has been added. Clearly, something bad has happened here recently. This is a road on which one can drive fast, too fast (nevertheless, I feel safe cycling on it because I only do it during the day on weekends, and there is a generous shoulder):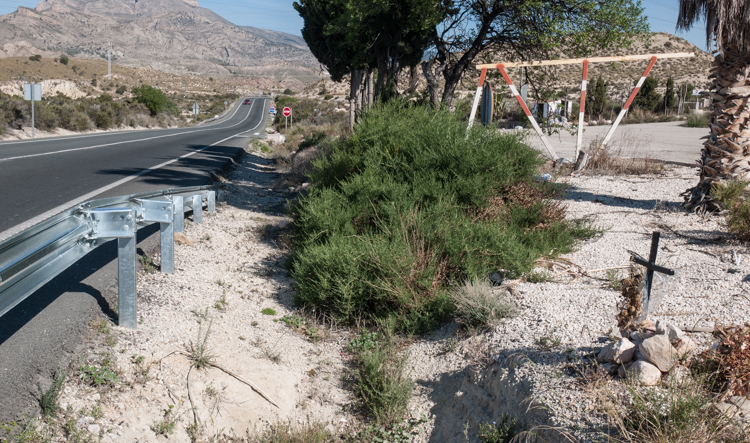 16_6
In Jijona, it seemed as if the whole town had gathered on the main street for the Palm Sunday celebration:

16_7
Everybody, especially the women and girls, were in their Sunday best: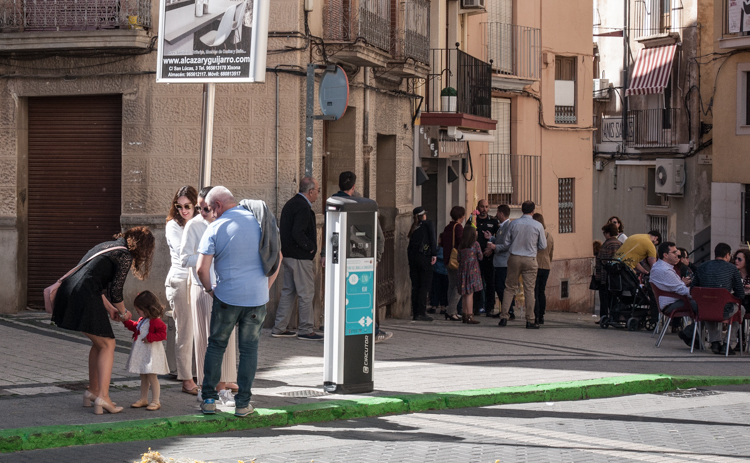 16_8
Family photo: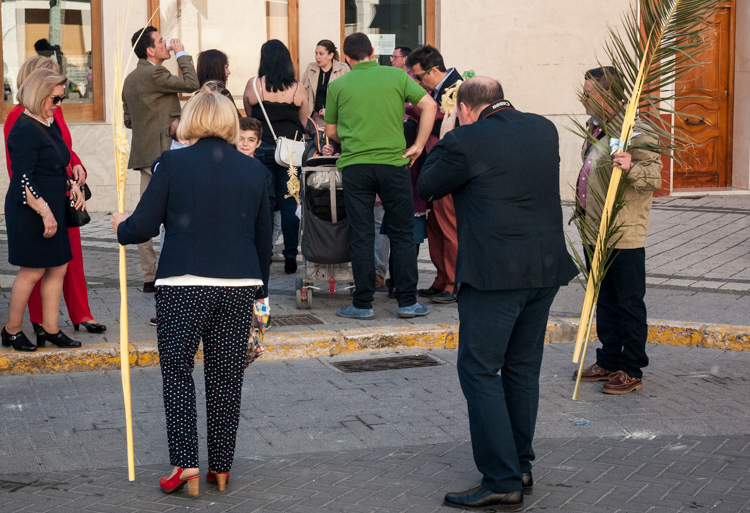 I have added some more photos from Palm Sunday in Jijona here.
16_9
On the way home, I stopped in Busot for a little break on a small square in front of the church: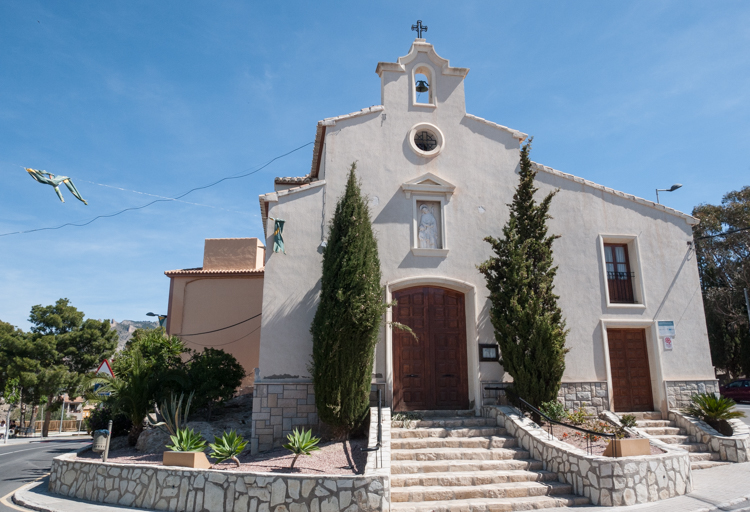 16_10
Across from the church was the usual small mercadillo: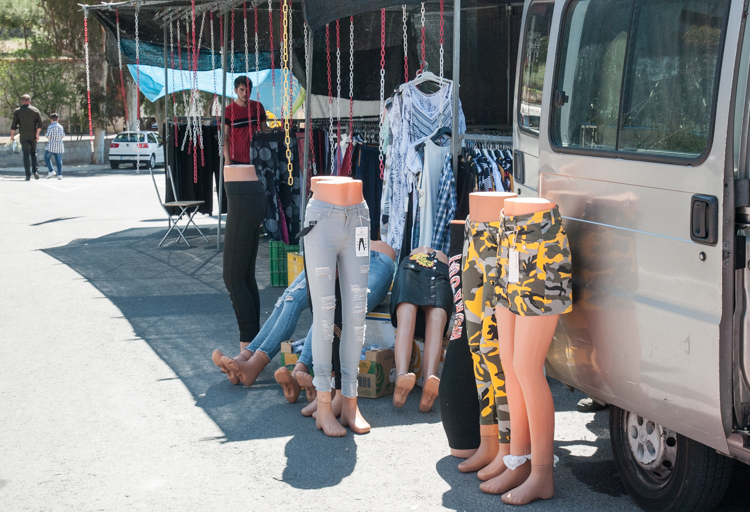 16_11
In late afternoon I stopped by the beach. The weather was nice, and there were quite a few people around the chiringuito: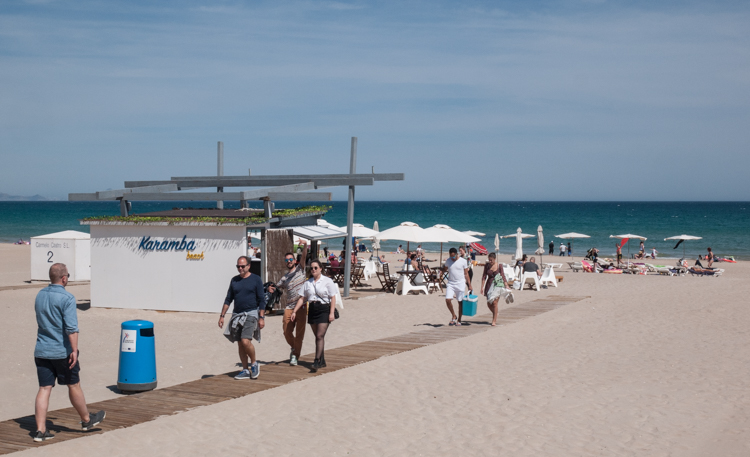 16_12
Two dogs and their humans meet: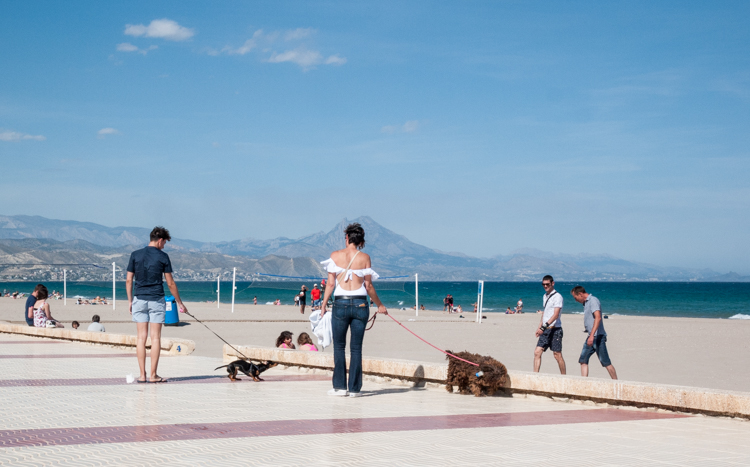 16_13
On Tuesday morning I walked down to the beach, passing this election poster board outside an apartment building. Spain held a general election on 28 April. Election campaigns are low-key affairs here. There is not a lot advertising on TV; each party gets some free time slots on the radio, and there are a couple of debates among party leaders. Election posters are only allowed on these wooden boards that are put up for this purpose and taken down after the election: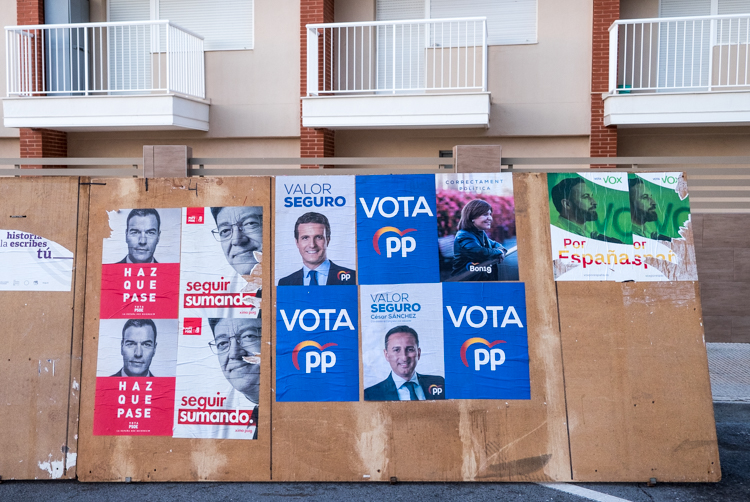 16_14
Down on the beach, the rising sun was still fighting against the fog: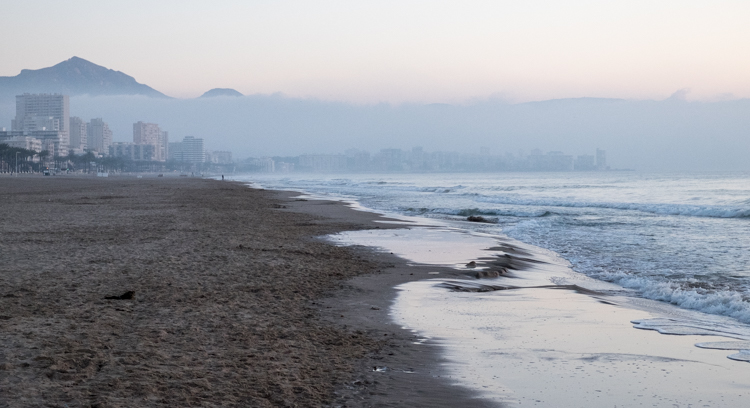 16_15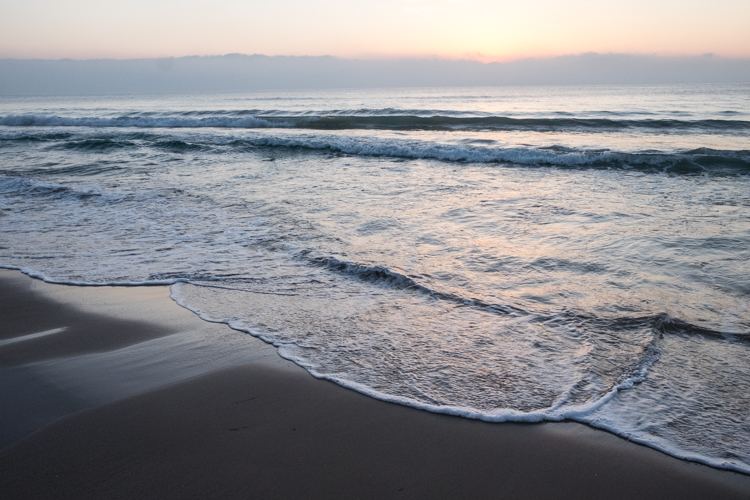 16_16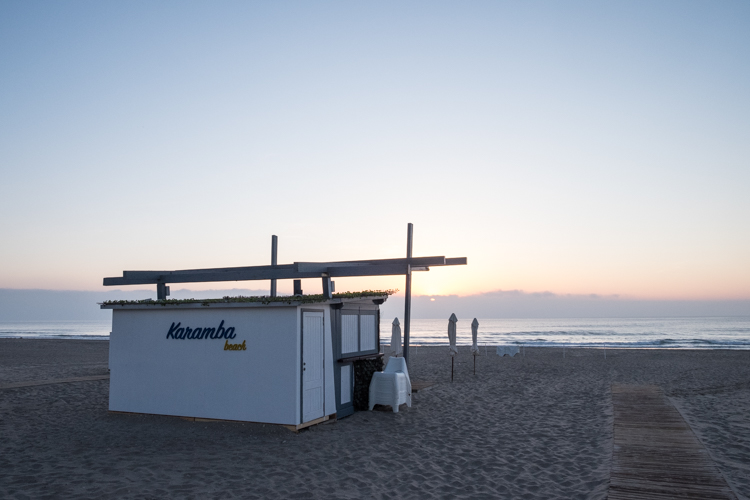 16_17
On Thursday morning I woke up very early to catch a 7 a.m. flight to Billund and start my annual spring visit to Denmark. This time my sister (who lives in Poland) was going to join me in Copenhagen later in the week, so it was even more exciting than usual. After landing in Billund around 10:30, I did what I often do as soon as I arrive in Denmark–eat a Danish sausage with bread, the traditional Danish fast food–something I craved during the entire 3-hour flight: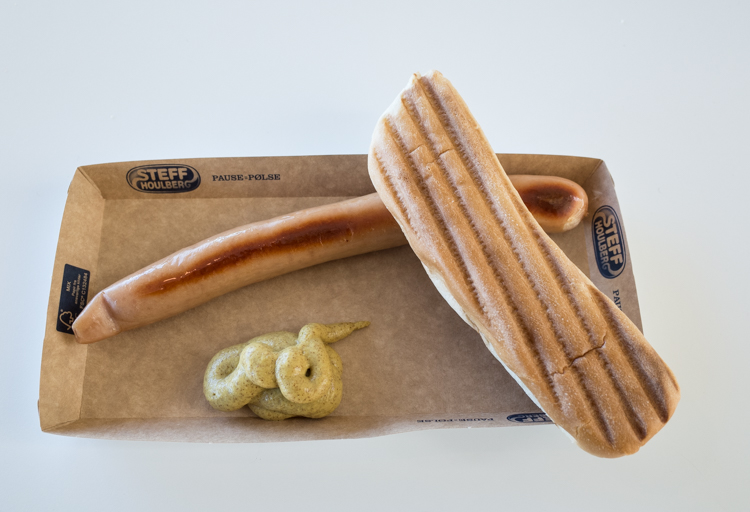 16_18
I picked up my rental car in Billund airport and set out for my hometown Aarhus to spend a day there with my friend Lars. It is a pleasant 90 km drive; along the way, I stopped to have a look at Ejer Bavnehøj, the highest point in Denmark–which is not saying much, as it is only around 170 meters above sea level. At the top stands an observation tower: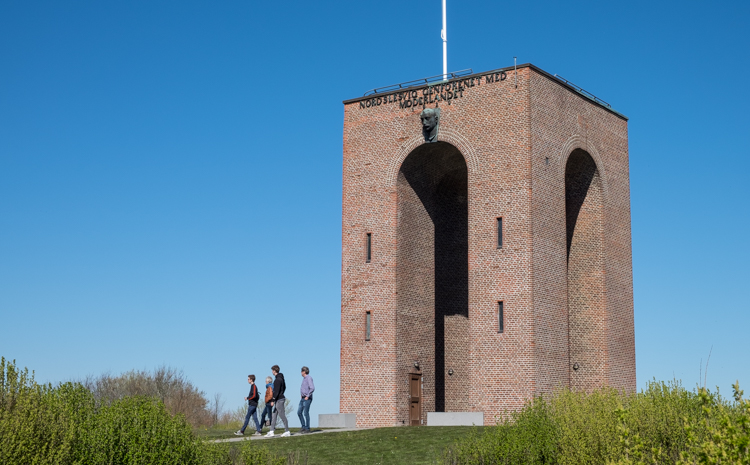 16_19
The observation tower is also a monument to the reunification of North Slesvig with Denmark in 1920 (the territory in southern Jutland had been lost to Germany in 1864):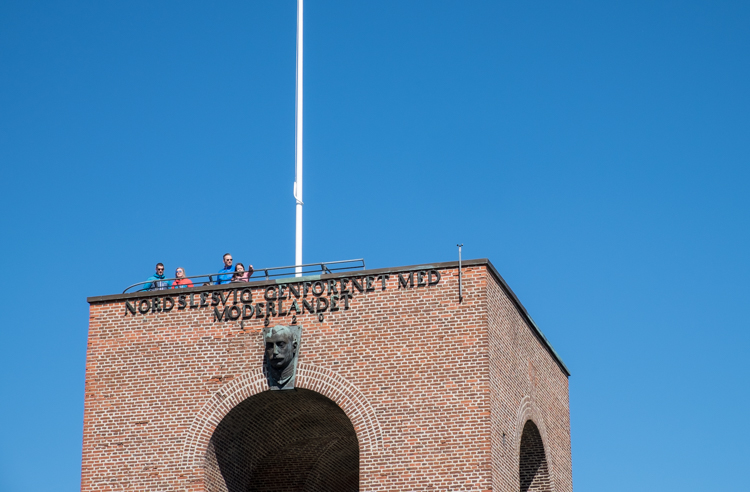 16_20
As this view shows, while Denmark has no mountains, this part of Jutland is certainly not flat like the Netherlands: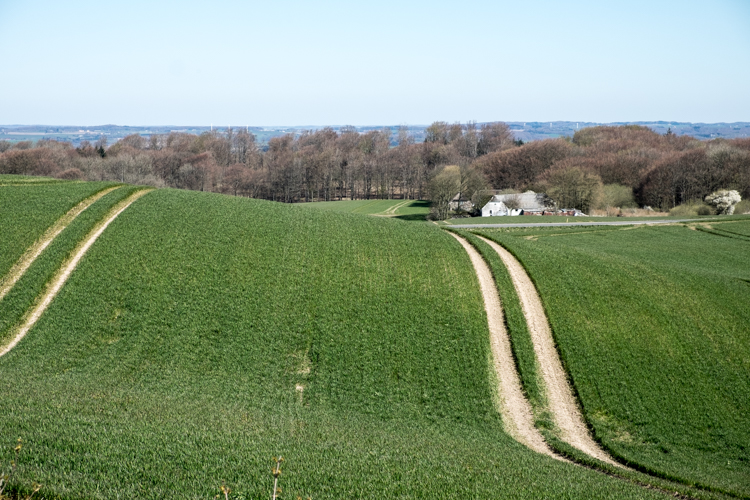 16_21
A wooden statue on Ejer Bavnehøj, with no explanation: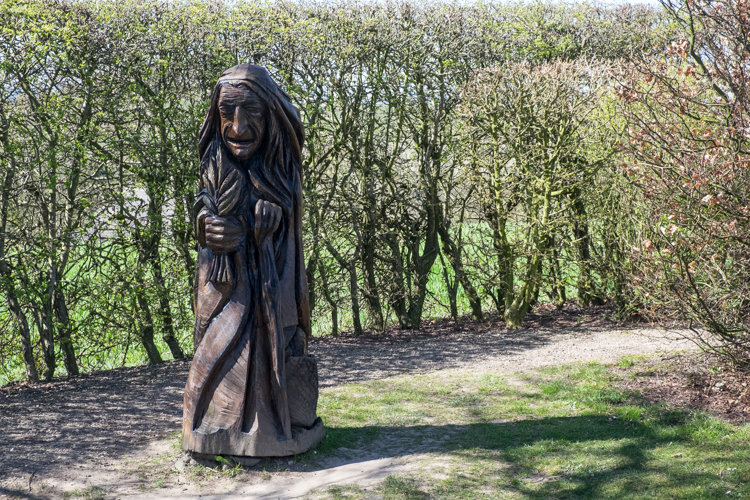 16_22
I arrived in Aarhus, Lars and I had lunch at his apartment, and then we set out on foot to enjoy the nice afternoon. Of course, we went to the ARoS art museum, a fixed point on my itinerary in Aarhus. The building is crowned with the beautiful Your Rainbow Panorama installation by Olafur Eliasson: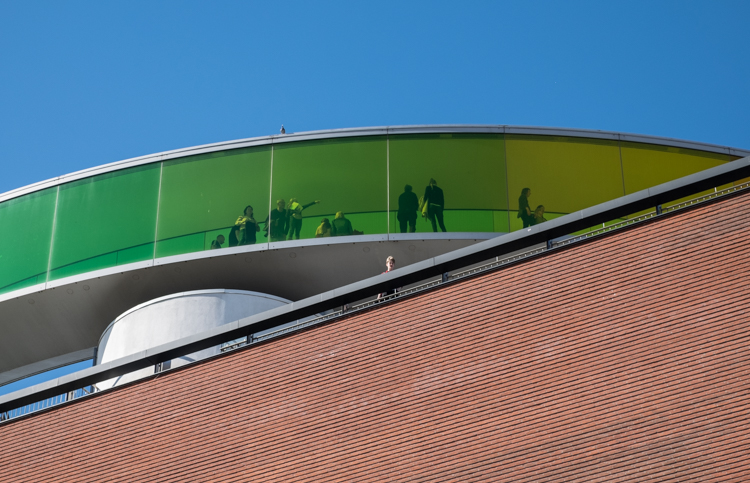 16_23
Of course, we visit ARoS to see the art, but the building itself is also a feast for the eyes:

16_24
There are always several interesting exhibitions at ARoS. This time the main one was called "The Dream of Denmark", focusing on the 19th century national-romantic movement which very much manifested itself in the paintings of the time: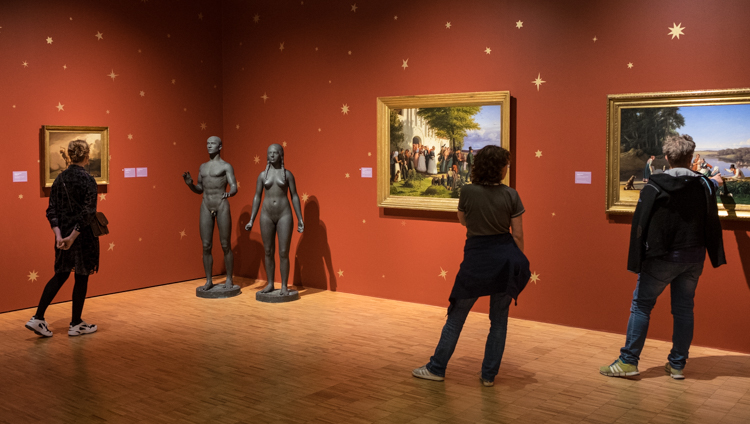 16_25
Eva and the Snake, by Joakim Skovgaard (1909):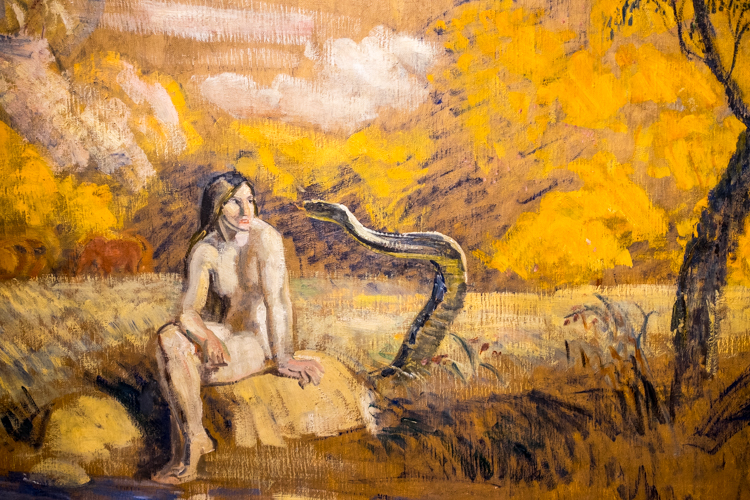 16_26
A summer day at sea, by Michael Anker (1894). Anker was one of the many painters who lived and worked in Skagen, the northern tip of Jutland, a place blessed with very special light. This is a typical painting of the national-romantic movement, with its emphasis on idyllic Danish seascapes and landscapes and a sanitized vision of the life of peasants and fishermen; the country looked inward following the traumatic events of the first half of the 19th century, when Norway was lost to Sweden and later almost half of Jutland to Germany. Denmark was suddenly very small, and its regional power aspirations were definitely a thing of the past. The slogan of the times was "what we have lost to the outside, we must regain inside":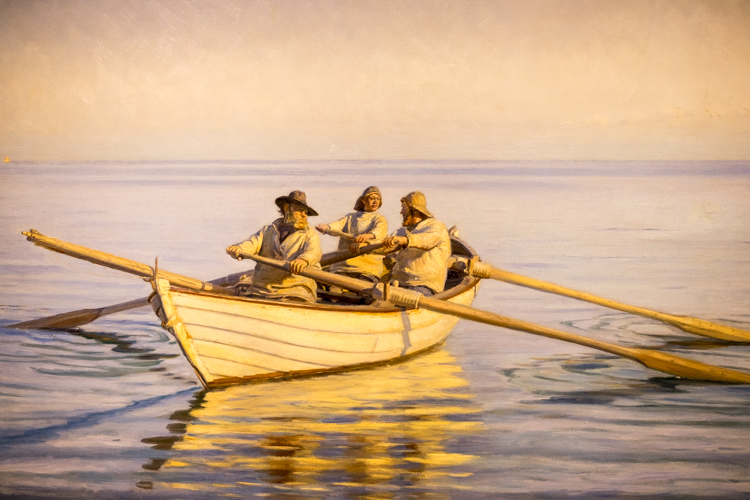 16_27
Skagen hunters, by P.S. Krøyer (1898):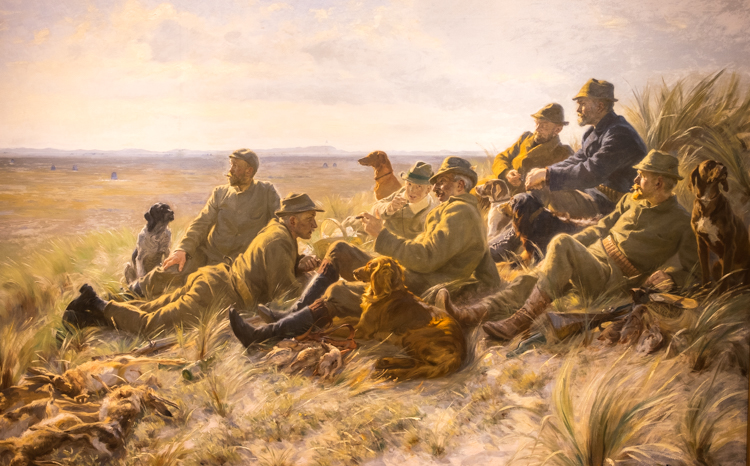 16_28
I did not write down the painter here, but the scene depicts a peasant boy playing the violin for a visiting teacher. Notice the bare feet. One of the main ideas of the time was that education and culture should be extended to the entire population, and especially to the rural areas: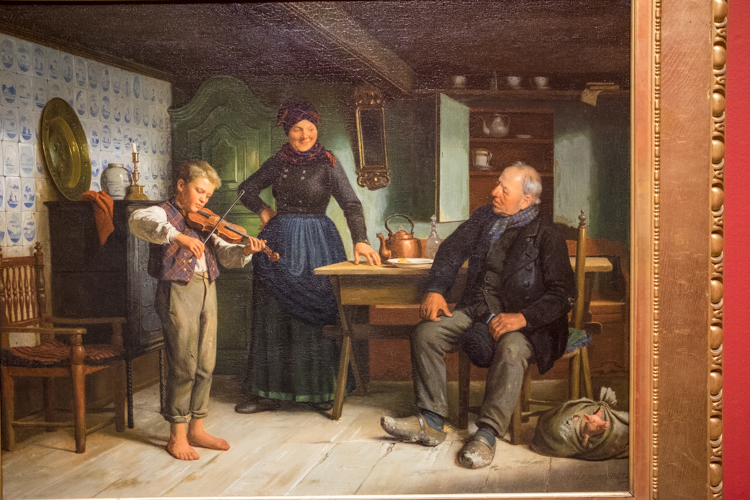 16_29
Lars with his camera at ARoS: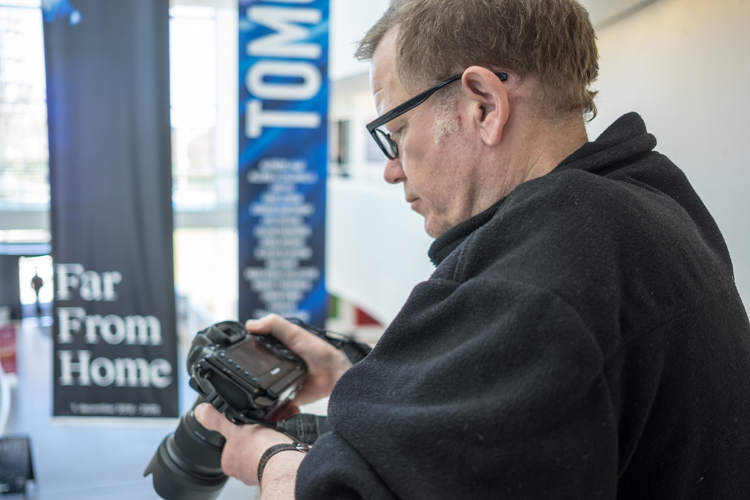 16_30
After our walkabout, we went back to Lars's place, and he made us an early dinner. We both like to cook, but Lars is the champion of quick and wholesome meals: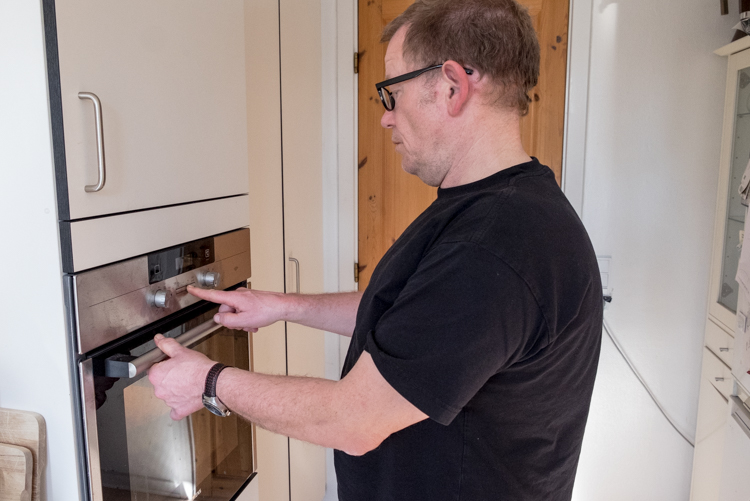 16_31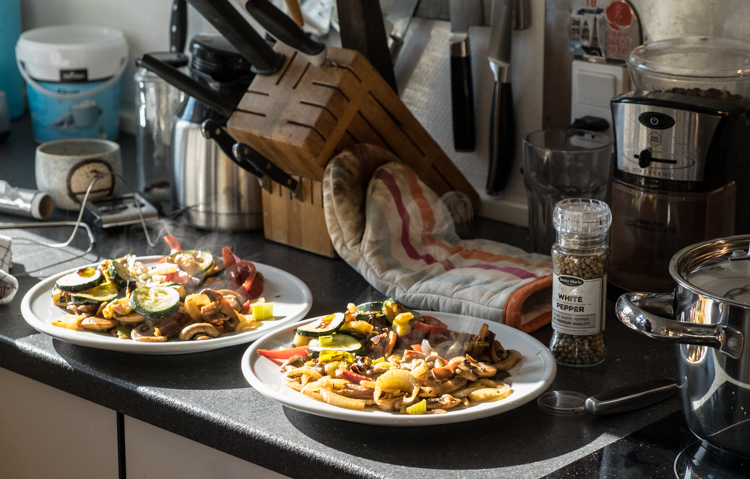 16_32
After dinner, we walked to a nearby cinema, Øst for Paradis (East of Paradise), a wonderful place. It was the first arthouse cinema in Aarhus, opening some time in the 1970s, and it keeps going with quality films from all over the world. We went to see a German film, Werk Ohne Autor (the English title is Never Look Away). It was film art of the highest order: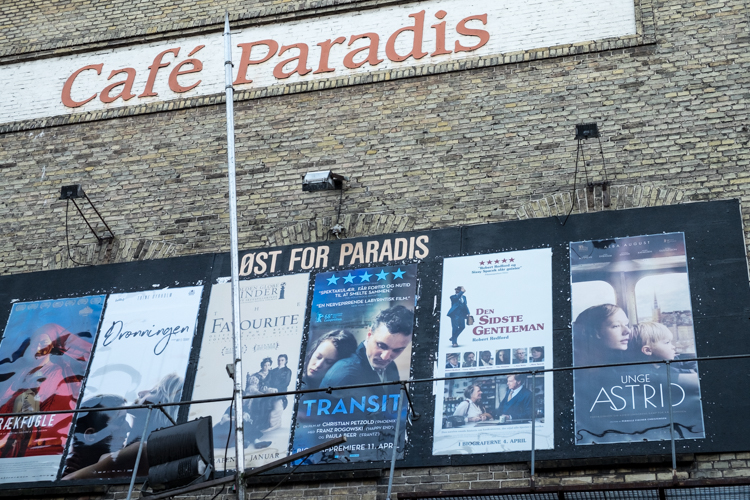 16_33
Friday morning I went out to look for a bakery that was open–not an easy task, as most shops were closed for Good Friday. But I did find one, with a cute doggie waiting outside as a bonus: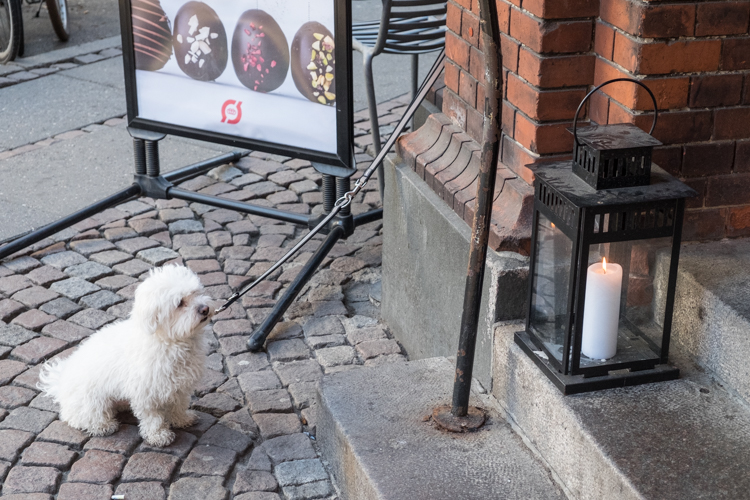 16_34
Lars is an artist and a photography teacher, and he always has some project going on. So after breakfast, he set up his 4×5 camera to take some pictures of my hands: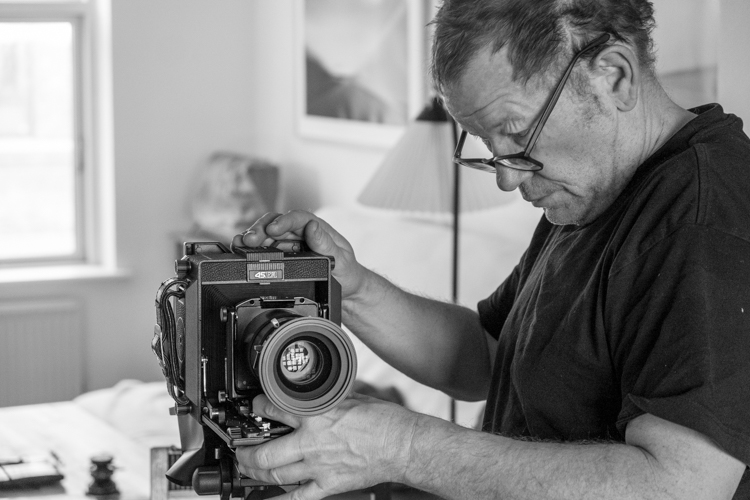 16_35
Loading 4×5 film holders using the changing bag: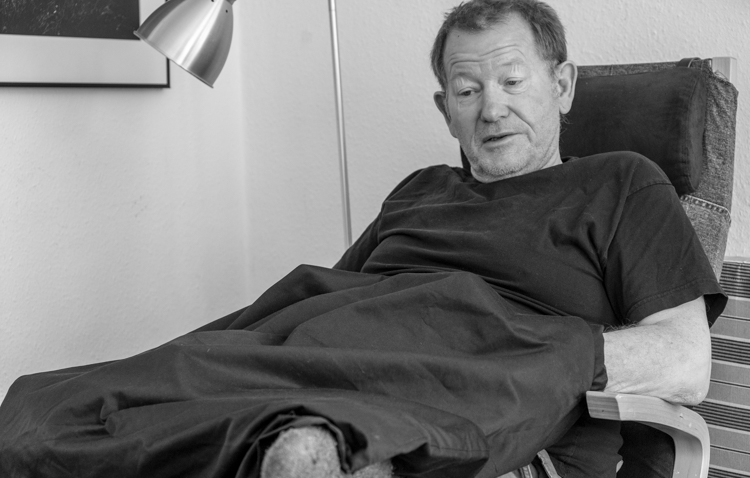 16_36
Then we went for another walk, visiting the nearby Aarhus Cathedral, a church whose origins go back to the 12th century: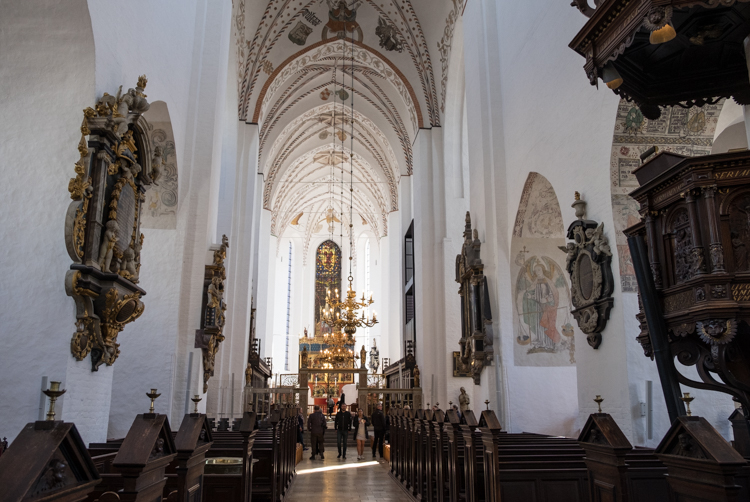 16_37
After lunch, I drove down to the harbour to take a ferry to Sjællands Odde, a peninsula that juts out of Zealand, the big island on which Copenhagen is located. The trip from Aarhus to Zealand is just 1 hour 15 minutes. I looked at the changing skyline of my hometown as the ferry departed: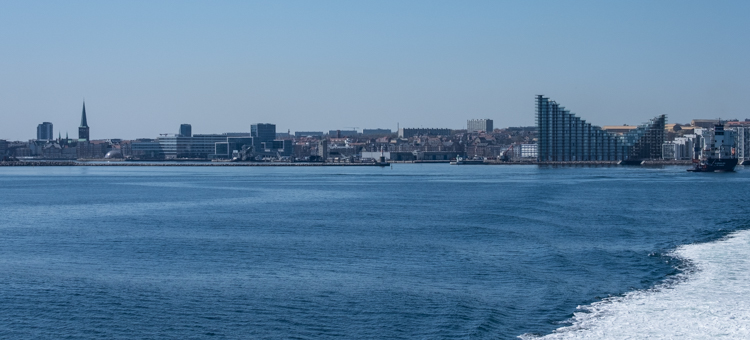 16_38
Out on the open sea: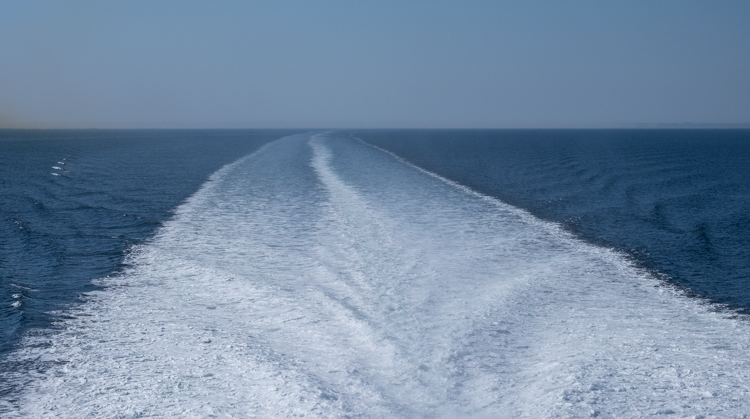 More images from Aarhus can be seen here.
16_39
From Sjællands Odde it is about 100 km to Copenhagen. I drove to the hotel I had reserved in Ishøj, a suburb to the south of the city, checked in, and then drove towards the city, stopping at Vallensbæk, another coastal suburb where I used to go for walks with my parents, and from where I have many fond memories. Looking north from the beach, the apartment buildings of Brøndby Strand, the next suburb, are visible in the distance. My parents lived in one of those buildings until their deaths in 2001 and 2004, respectively: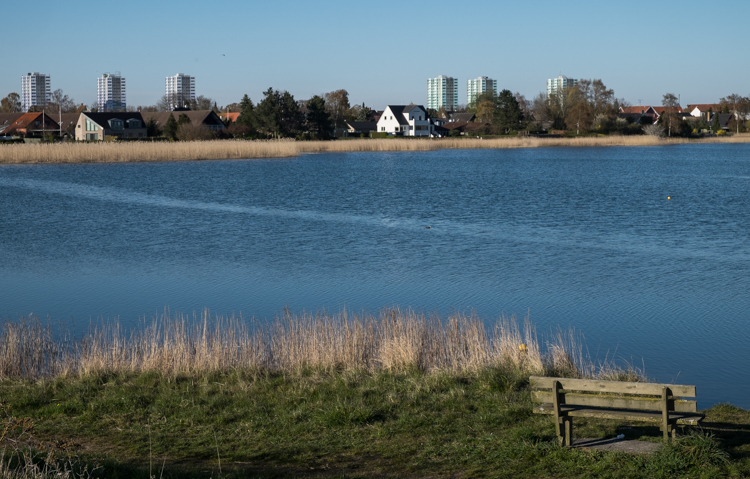 16_40
I walked to the beach, following a path I have walked many times in the past: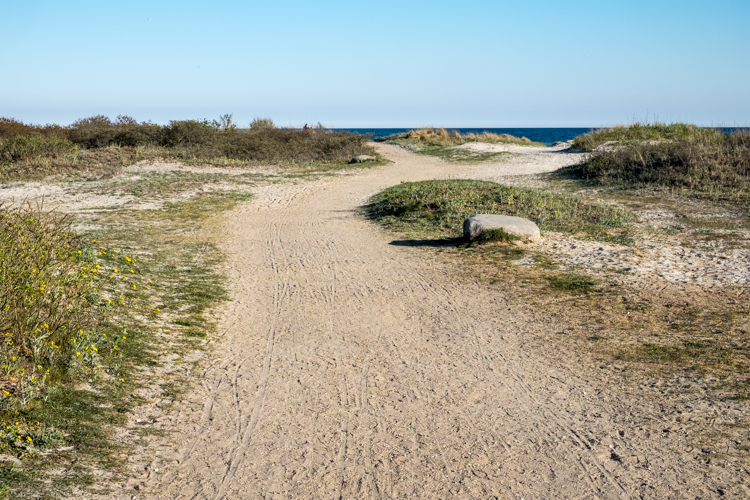 16_41
And the bench where I used to take a rest with my mother: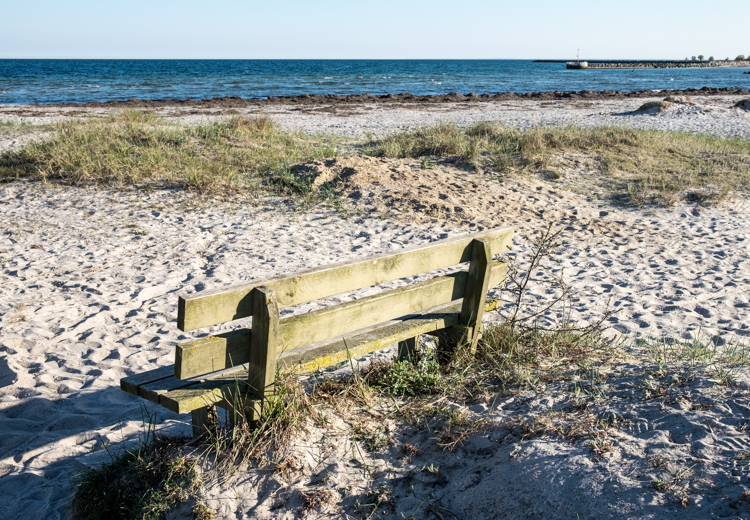 16_42
The boat harbour at Vallensbæk. This is not a wealthy area like the towns north of the city, so the boats are small and modest for the most part: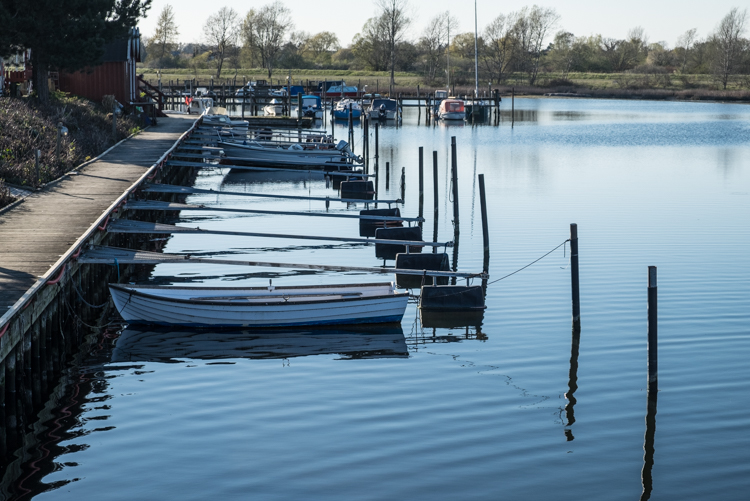 16_43
Water, weeds and trees: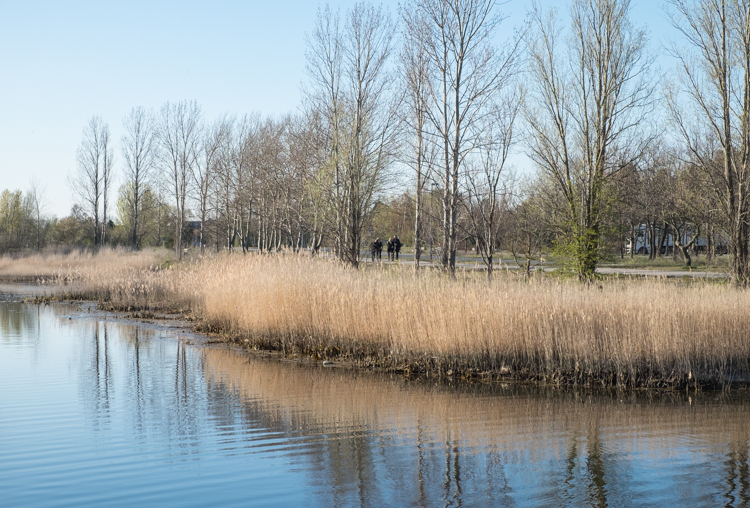 16_44
I then drove to the apartment building in Brøndby Strand where my parents used to live, partly for sentimental reasons, but also because I wanted to buy some beer, wine and snacks to have at the hotel at the Turkish grocery that I knew would be open even on Good Friday: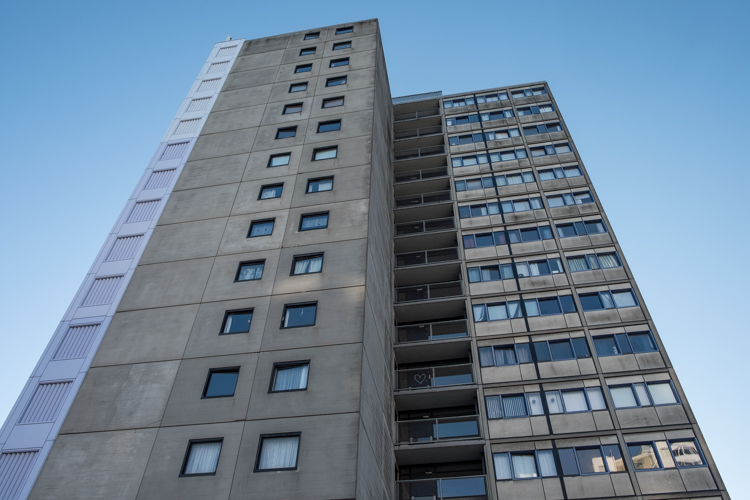 16_45
Someone had drawn a heart on the building's gallery, close to the floor where my parents lived–a happy coincidence:

16_46
My sister was supposed to arrive in Copenhagen around 7 pm, but on checking her flight on the web, I saw that it was almost 3 hours late. So I had some time to kill before going to the airport to pick her up, and I chose to spend that time in Nyhavn, Copenhagen's main bar district in the centre: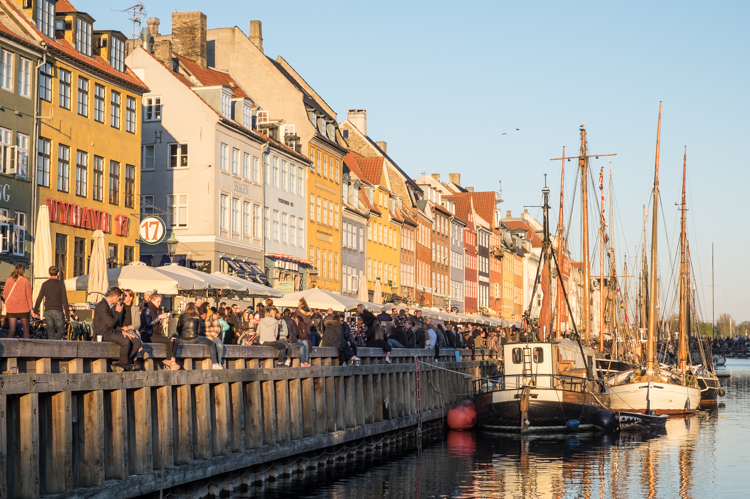 16_47
On a warm sunny day, Nyhavn is very crowded. People who are not prepared to pay the high prices in the bars, or cannot get an outside table, sit on the edge of the canal: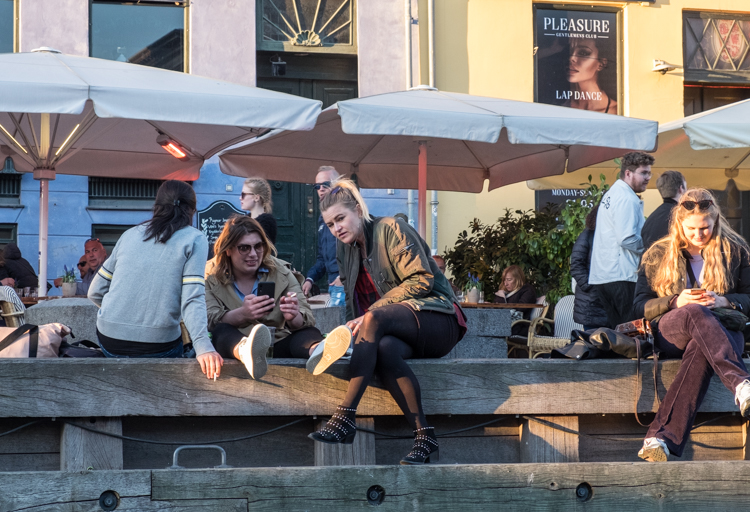 16_48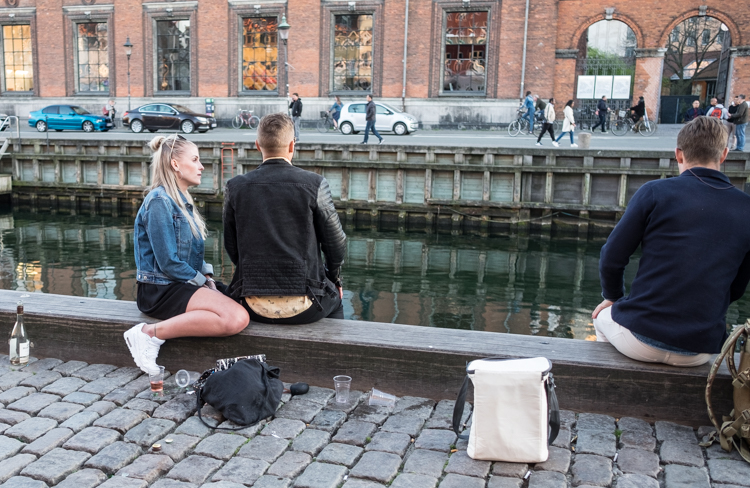 16_49
Posh couple: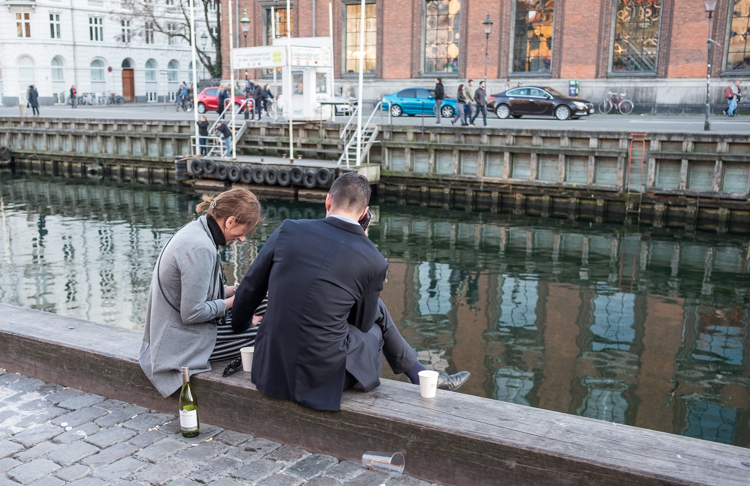 16_50
A funny restaurant sign; the text on top means "we also speak Danish", reflecting the fact that Nyhavn is a major tourist attraction (with prices to match) but it is also popular among the locals: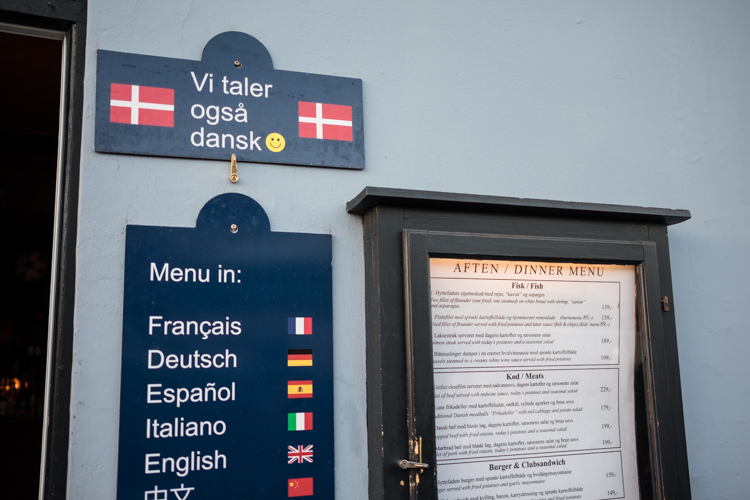 16_51
At one end of Nyhavn there is a sausage cart which provided me with that evening's small dinner: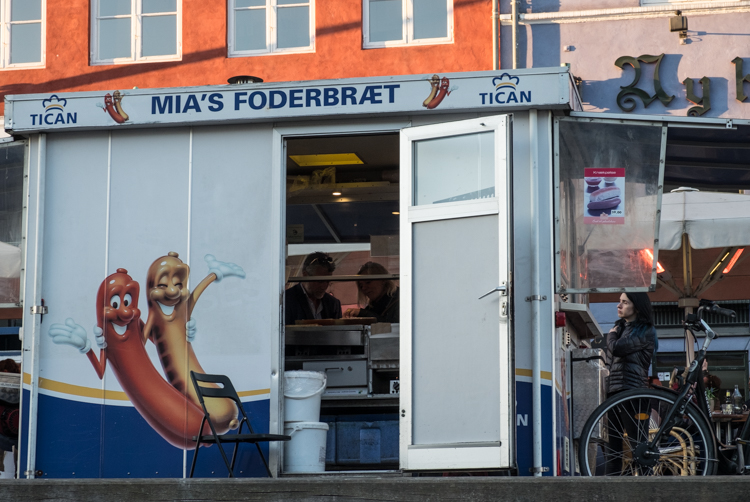 16_52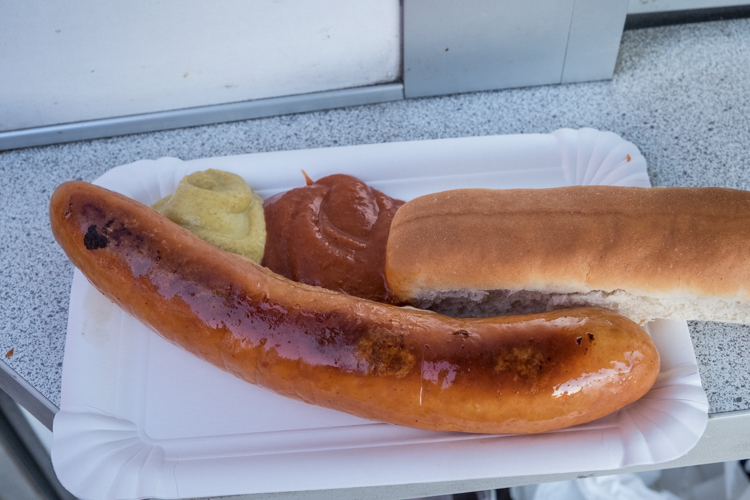 16_53
Then night fell, and Nyhavn looked magic: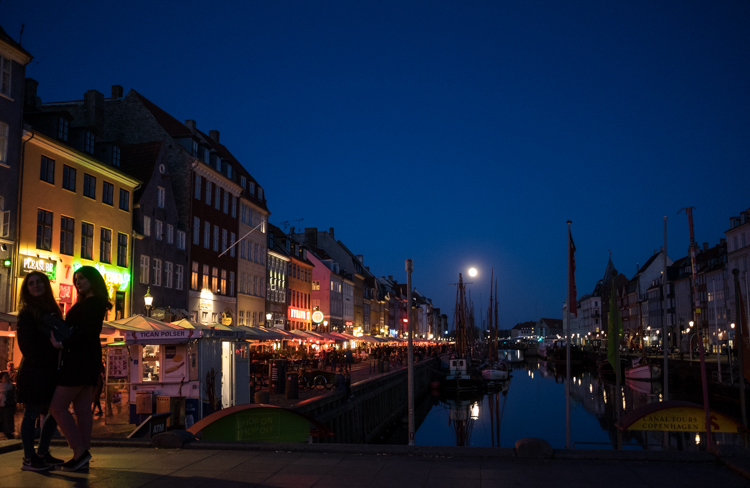 16_54
Finally it was time to go to the airport to meet my sister. While waiting for her in the arrivals hall, I took the last picture of the day. A typical airport scene, the joy of seeing each other again: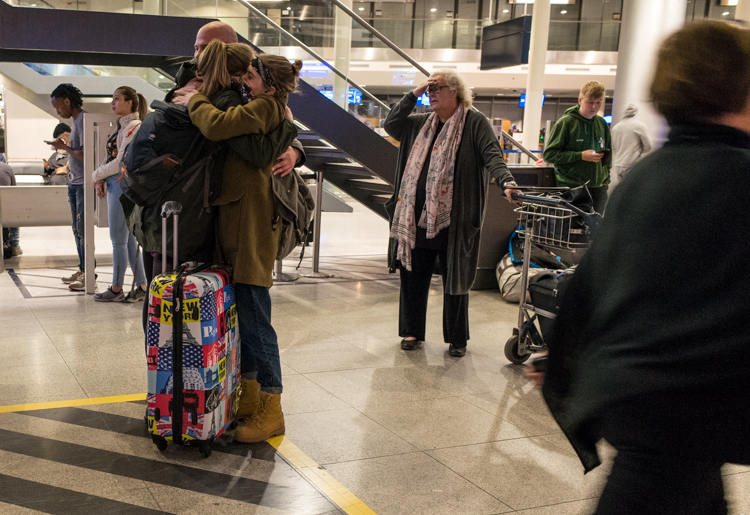 More Copenhagen photos are here.