Most of this week's blog is from Poland, more precisely the city of Wrocław where I was born and where my sister still lives. My uncle from Florida and his wife were visiting some relatives in the area, which provided us with an excuse to take a few days' vacation there. This way we could have a little break, see my uncle and of course also my sister (although seeing her was less important since she and her husband are coming to visit us for two weeks in October). I present the images chronologically.
36_1
We arrived in Wrocław Sunday night; my sister and brother-in-law met us at the airport and drove us to our hotel in the centre. It turned out to be very nice, and in a nice neighbourhood, close to the main square and right next to the city's main synagogue. The Jewish community has the good sense to rent out part of its property to a couple of restaurants, so we settled down at this outdoor bar called Mleczarnia ("the dairy"). The synagogue is in the background: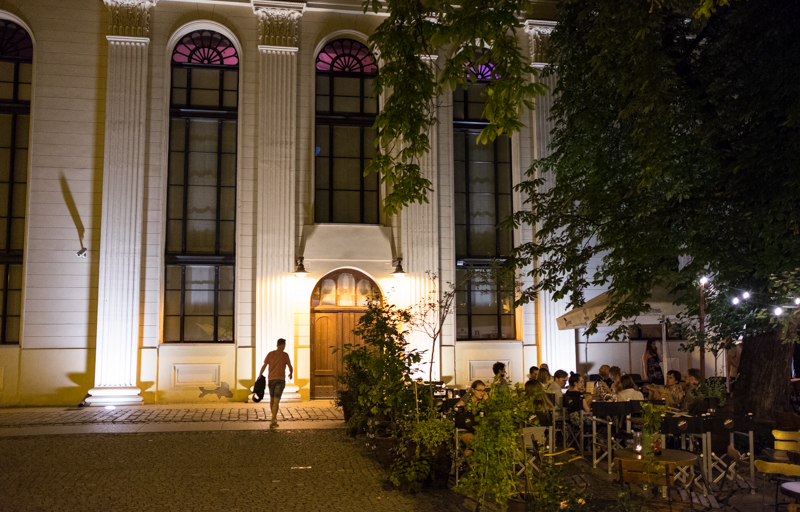 36_2
I really liked Mleczarnia–good beer, reasonable prices, and self-service at the bar, which I actually prefer to having to wait at my table for a server to come out and take my order and then wait for it to be brought to me: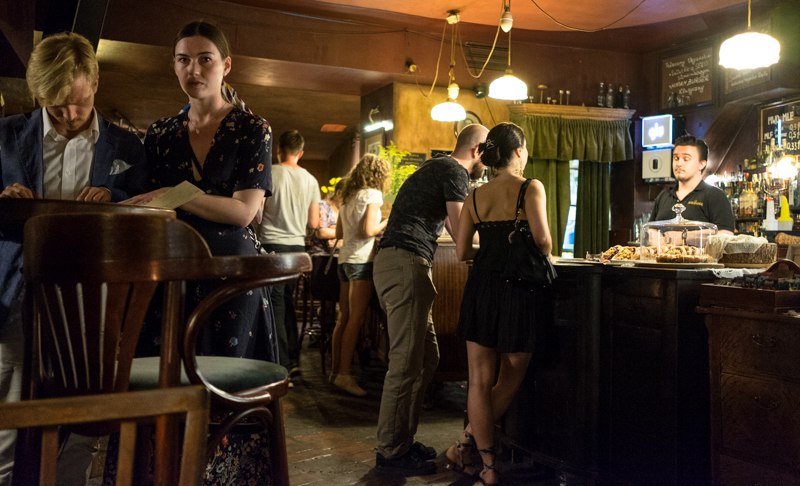 36_3
After a beer at Mleczarnia, we went for a walk. Wrocław's main square, Rynek, with its German-style architecture (the city was German for the last couple of hundred years until 1945) and the magnificent Gothic 13th century town hall, is a true jewel:

36_4
Big bubbles: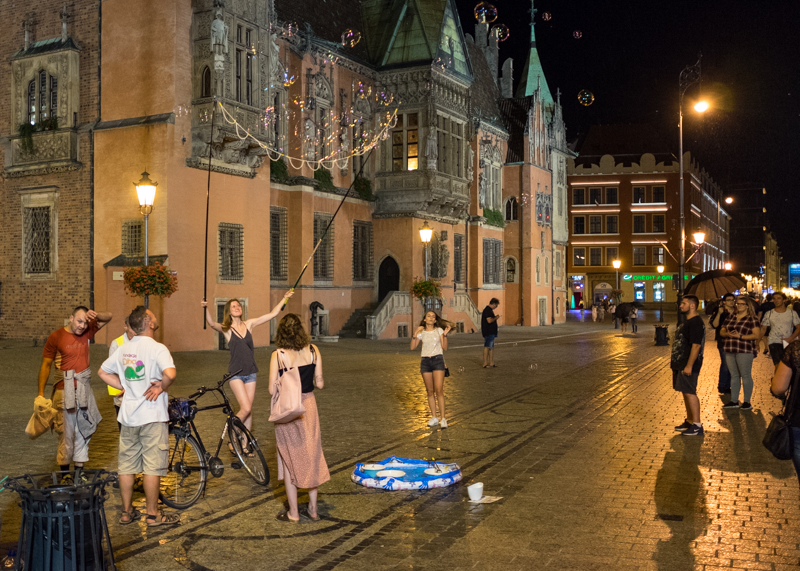 36_5
Next to Rynek is another large square call Plac Solny ("salt square", site of the medieval salt market). It has many offices and some bars (including a nice Irish one where I introduced my sister to Irish coffee many years ago), but the main feature is the flower market in the centre of the square which remains open late into the evening: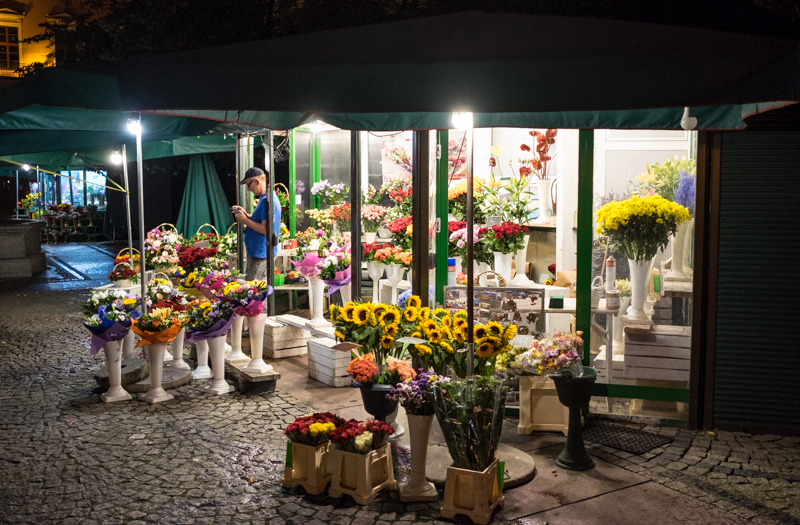 36_6
On Monday morning, we went to my sister's apartment and had breakfast with her and my brother-in-law. It is not normal to have vodka with breakfast, not even in Poland, but when you are celebrating a reunion, then yes: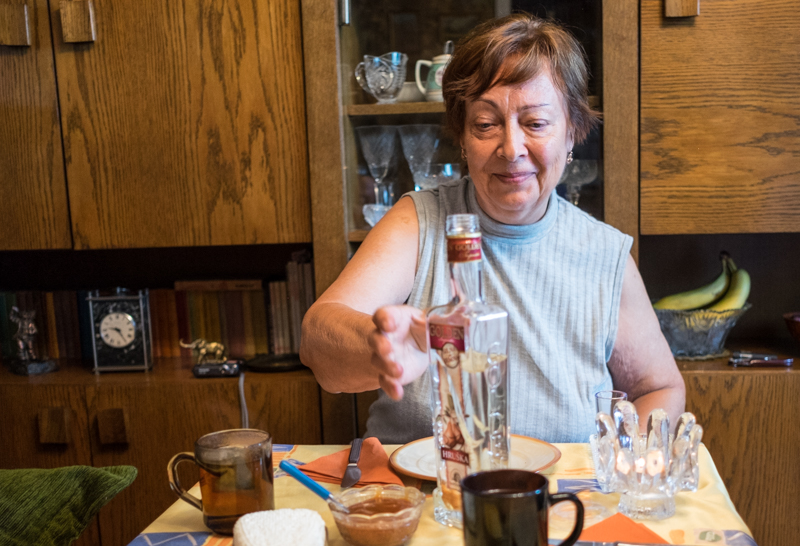 36_7
At lunchtime it is another matter: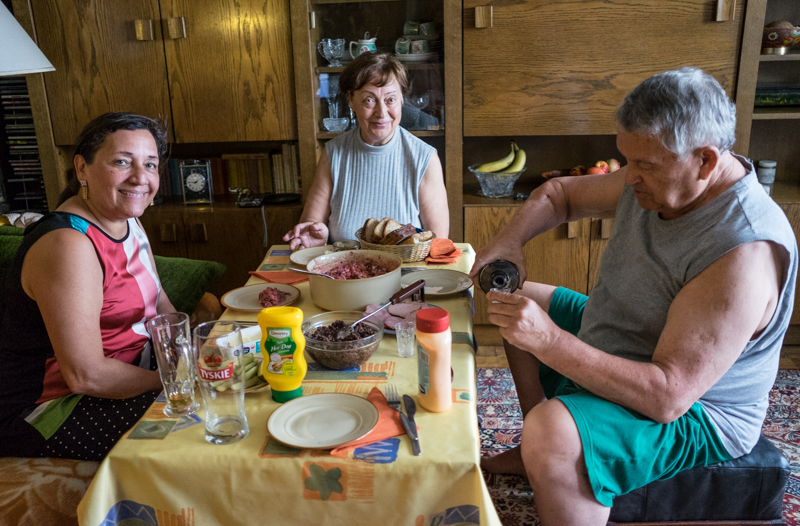 36_8
Typical Polish lunch food–good bread, ham, a salad made with beets, eggs, herring and other goodies, blood sausage fried with onion, pickles, ham and other cold cuts: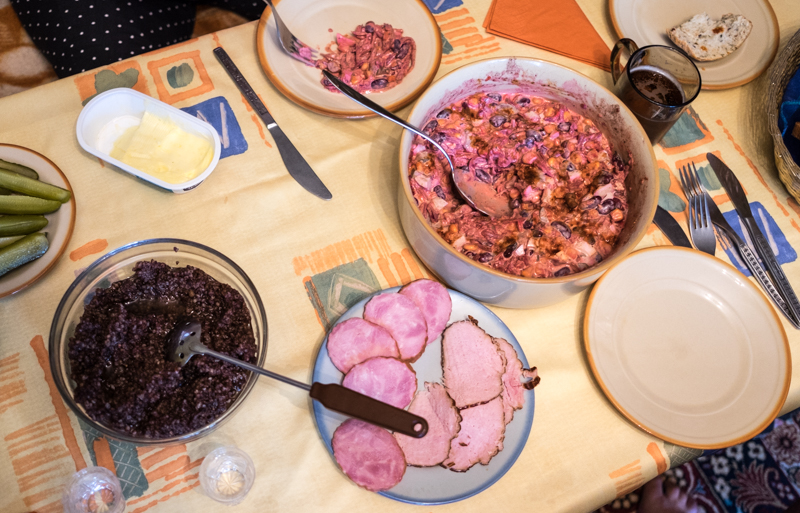 36_9
Monday evening we met up with my uncle Zev from Florida. He and his wife were visiting Poland for a few days to visit some of her relatives in a town about 70 km from Wrocław and to meet up with some of his friends at the medical faculty at the university. They left Poland in the late 1950s but have maintained connections to the country. Zev and my wife share a passion for bridge and as we sat down for a beer, an animated discussion about some obscure bridge tactics ensued: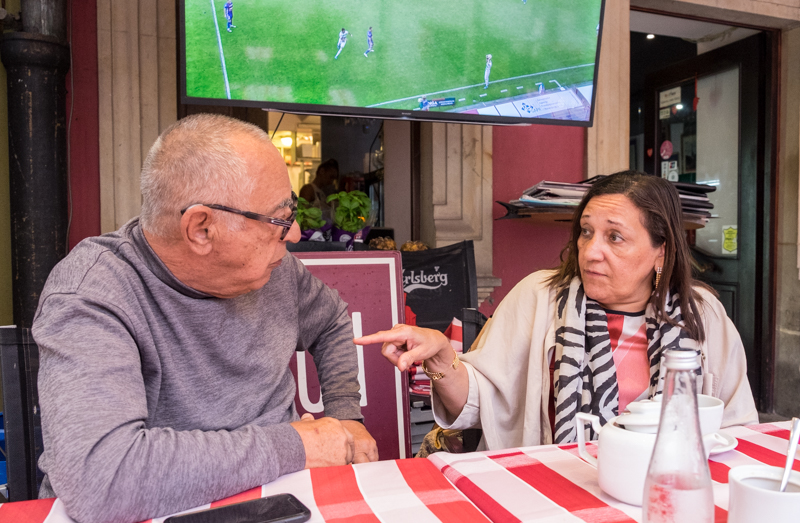 36_10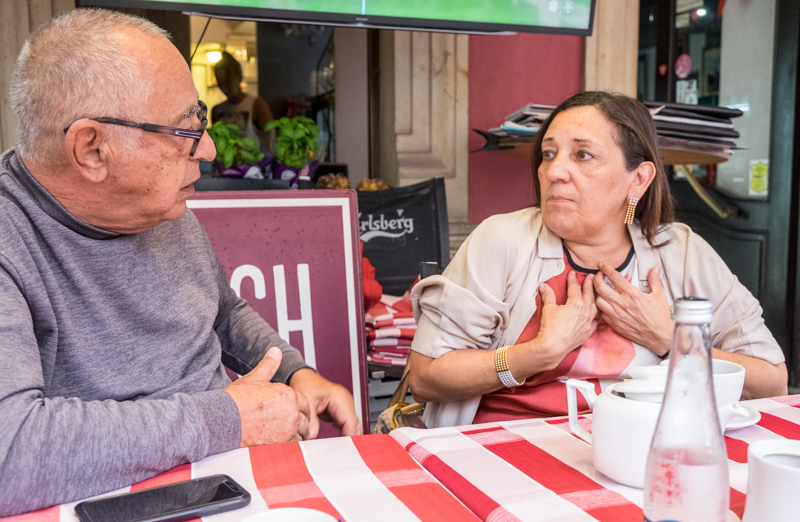 36_11
On the way back to the hotel after dinner with my uncle, I stopped to photograph this Spanish bookshop and café, right next to Plac Solny: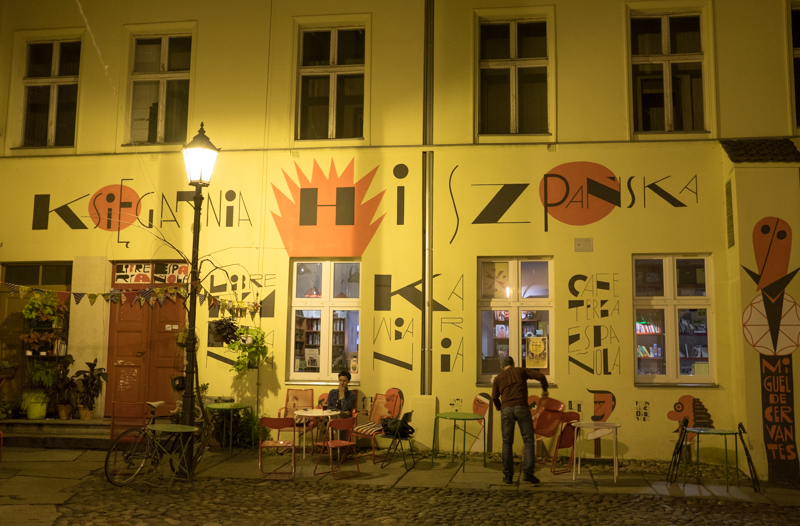 36_12
Tuesday morning, and we are on our way to my sister's place again. At home in Alicante we hardly ever use public transport, but in Wrocław the tram was the best way to get from our hotel to Plac Grunwaldzki where my sister lives, a couple of km outside the heart of the city: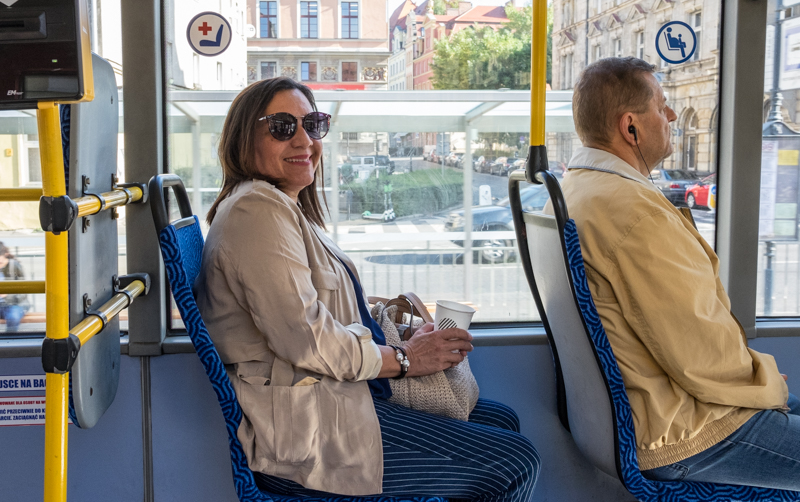 36_13
Tuesday evening, we are again on our way back to the hotel, passing Plac Solny. One of the offices on the square belong to Gazeta Wyborcza, Poland's leading liberal newspaper, tracing its roots to the Solidarity movement in the 1980s. In the window there is a large portrait of Stanisław Dróżdż, a local artist whose works I had seen in various modern art galleries. He died ten years ago, and I suppose this is why the newspaper put his portrait in its window: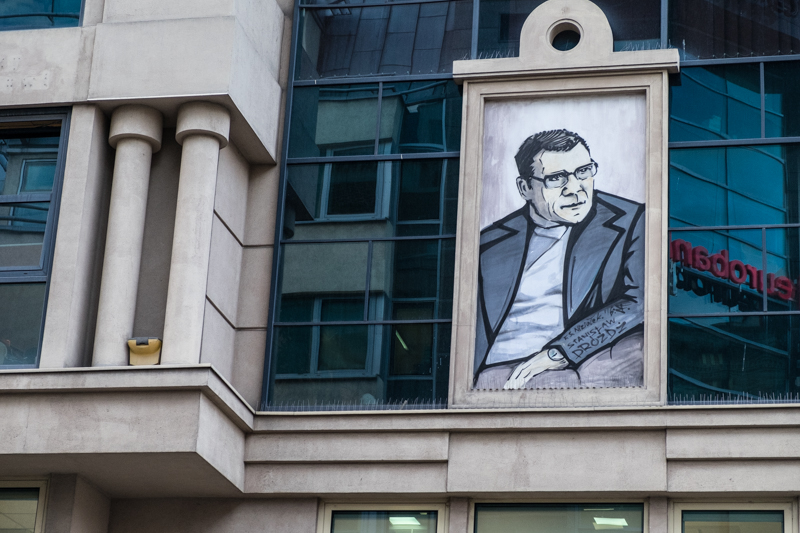 36_14
Tuesday evening, a couple kissing in the street. Such public display of affection is not as common in Poland as here in Spain: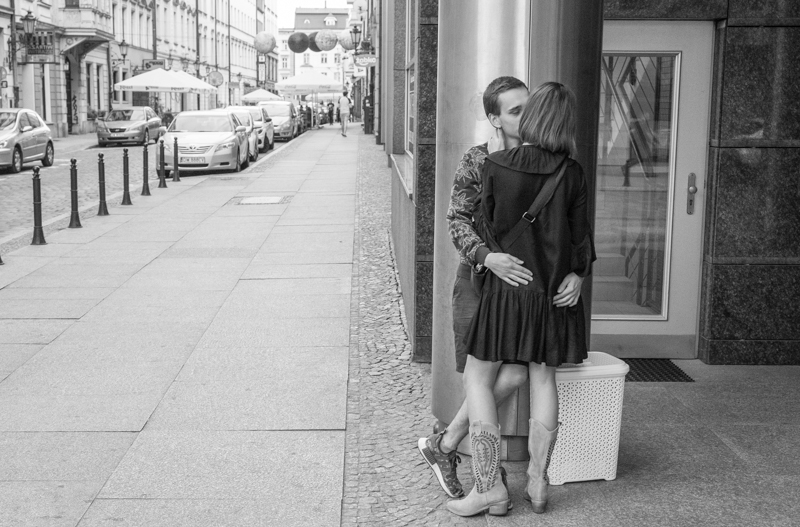 36_15
On Wednesday morning, I woke up early and went for a walk in the neighbourhood. The area around the hotel is known as the "four faiths quarter" because it contains within close proximity of each other, the city's main synagogue, the main Lutheran church, the Russian Orthodox temple and of course a large Catholic church as well. This statue, called Kryształowa Planeta ("crystal planet") symbolises the unity of humankind, despite cultural and religious differences:

36_16
A plaque representing the four faiths: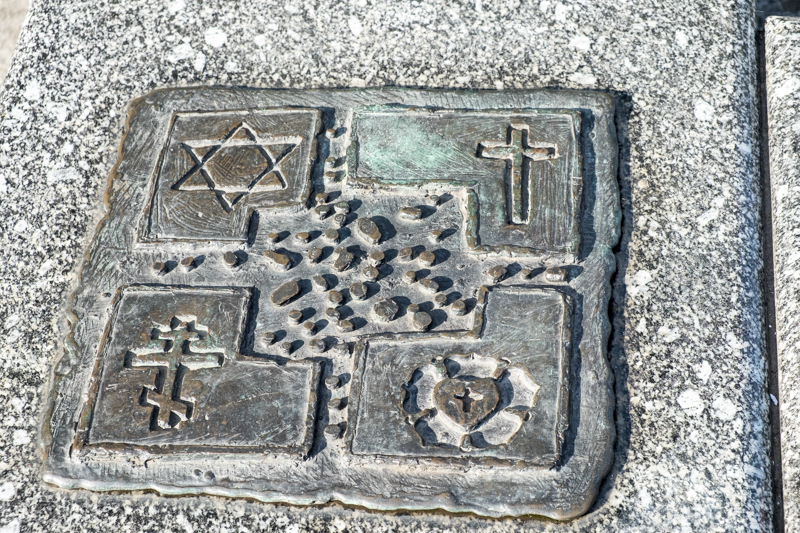 36_17
After breakfast, we visited the White Stork synagogue. This beautiful building is a reflection of the history of Wrocław and its Jewish community. It was originally built in 1847, when the city was German, on the site of a bar called the White Stork. It was initially a Reform synagogue, but was taken over by the Conservative congregation in 1872. In November 1938, during Krystallnacht, it was spared (as opposed to other Jewish places of worship which were destroyed), because the Nazis feared that burning it down would endanger adjacent (non-Jewish) buildings. Instead, the synagogue was desecrated and became a storage depot. After the war, Jewish life in Wrocław continued until the big wave of emigration in the late 1960s and early 1970s, and at that point the synagogue stopped functioning and was left to decay. The building was given back to the Jewish community in 1996 and a thorough restoration was completed in 2010. Today, it is a fully functioning synagogue, with a shul and community centre next door: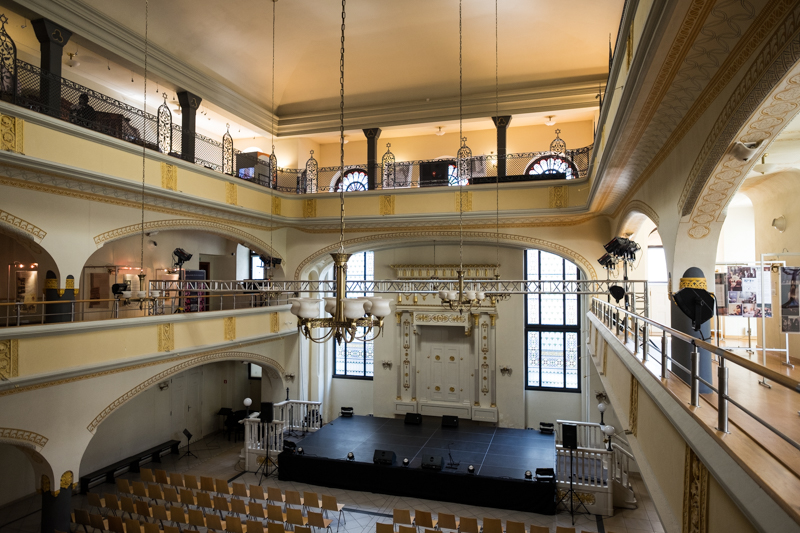 36_18
In the afternoon, my sister and I drove out to another iconic building, Century Hall. This building also reflects Wrocław's history. It was built in 1913 to commemorate a Prussian victory over Napoleon in 1813. At that point it was called Jahrhunderthalle (German for "Century Hall"). It was an important venue for various events, including a campaign rally by Hitler in early 1933. Miraculously it survived the war and was renamed Hala Ludowa ("People's Hall") by the new Communist authorities. After 1989 the building reverted to its original name, but now in Polish and English–Hala Stulecia or Century Hall: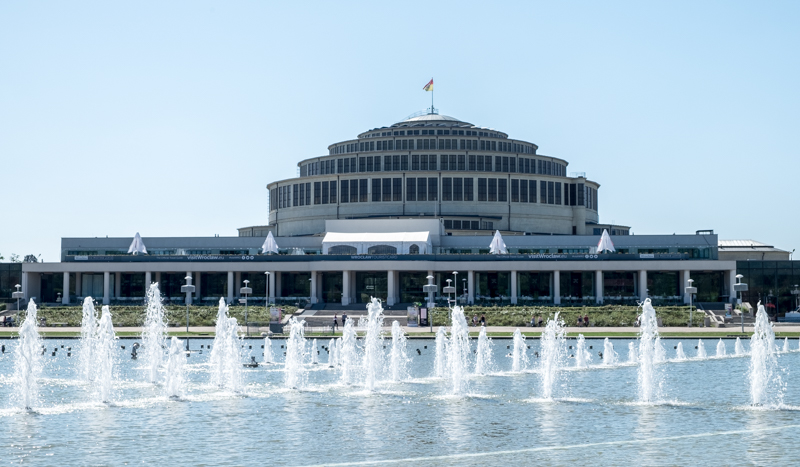 36_19
Later in the afternoon, I went for a walk alone while my sister and brother-in-law did their siesta and my wife raided a large shopping mall across the street. My destination was Ostrów Tumski, an island on the Odra river which houses Wrocław's cathedral, the residence of the city's archbishop and many other Church properties. I took the lift to the top of the cathedral tower and enjoyed the view. Wrocław is built on the Odra river and its numerous tributaries which converge there, and so there are many bridges crossing these various bodies of water. The two most important ones are here–the closer one is Most Pokoju ("Peace Bridge") and the suspension bridge in the background is Most Grunwaldzki ("Grunwald Bridge", named after a town in northern Poland where the Polish king defeated the Teutonic Knights in 1410; when it was built by the Germans in the early 1900s it was called Imperial Bridge, Kaiserbrücke, and was opened by Emperor Wilhelm II in 1910). The tall white apartment buildings to the left of the bridge are known as "Wrocław's Manhattan" and my sister lives in the second building from the bridge: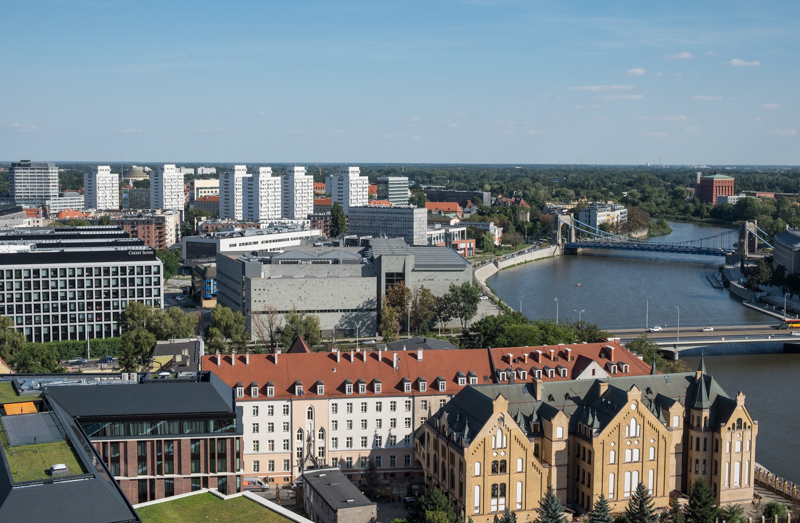 36_20
I traversed yet another bridge, a small one linking Ostrów Tumski with the mainland: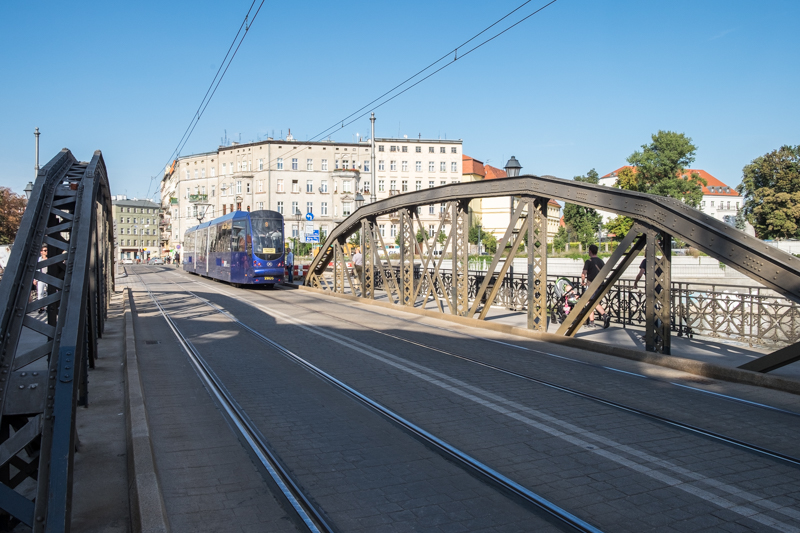 36_21
Thursday was our last day in Wrocław. As I had done the day before, I woke up early and went for a walk, this time following the old city moat which today is a beautiful park: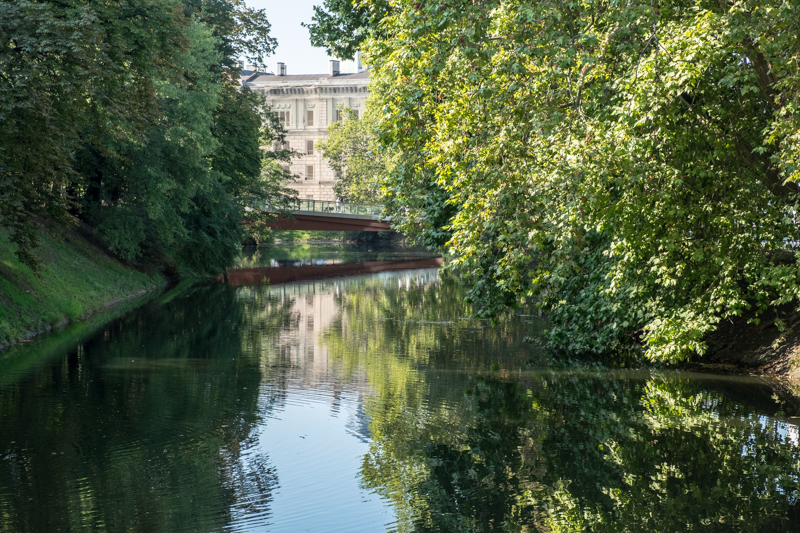 36_22
A sign of the times. Wrocław is a vibrant city with many young people, and as elsewhere, there are more and more vegetarian and vegan restaurants and shops, something the Poles would consider wildly exotic just 20 years ago: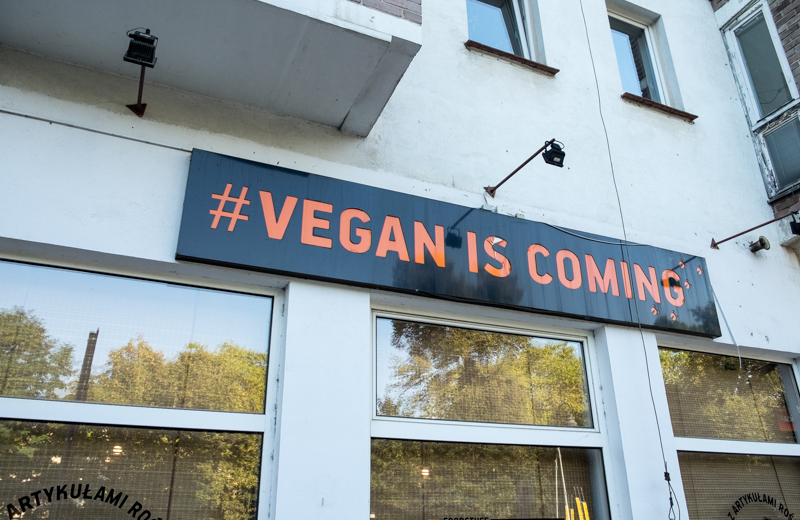 On Thursday afternoon my sister and brother-in-law drove us to the airport and we flew home (direct Ryanair flight, just over 3 hours, very convenient).
36_23
At home, we had some much needed rain Friday night, and I explored our garden a bit on Saturday morning: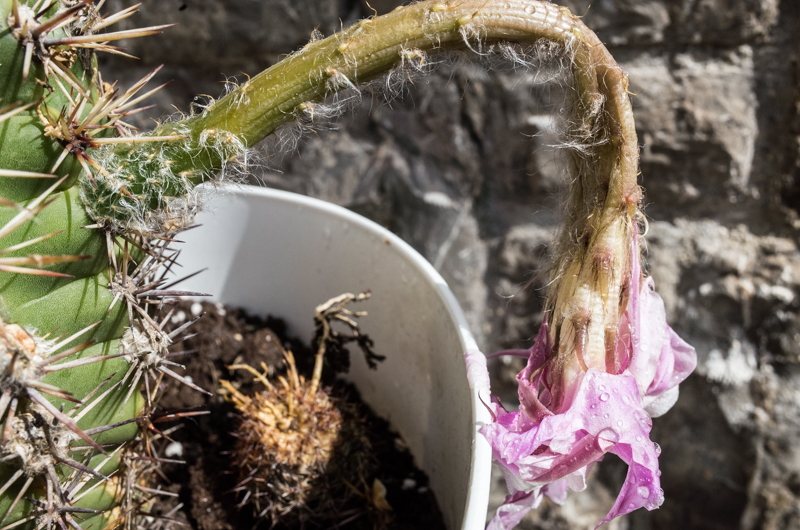 36_24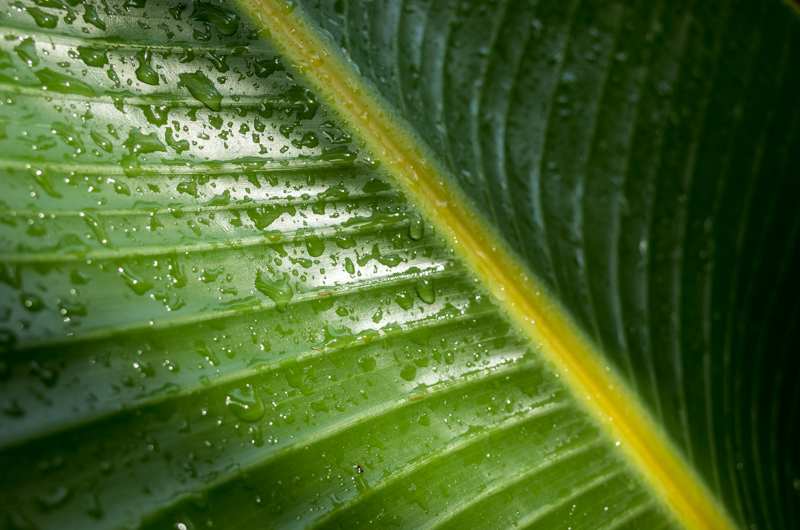 36_25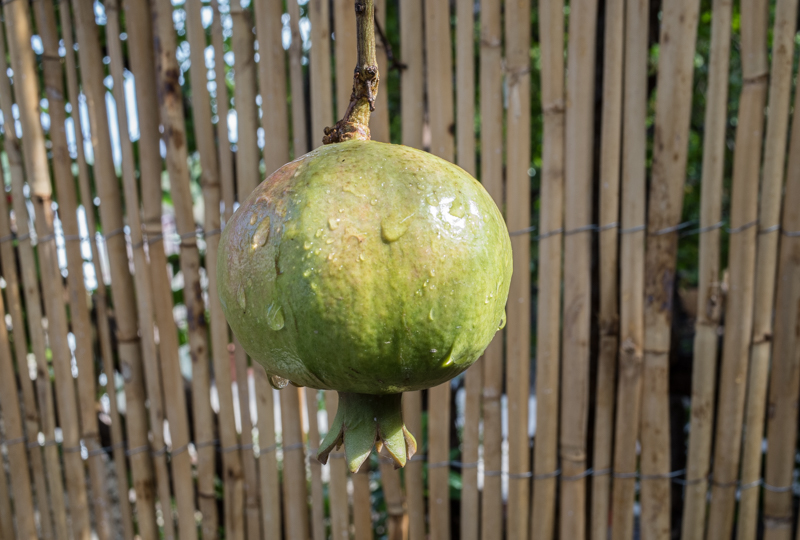 36_26
On Sunday morning, I was back on two wheels in my mountain playground. Here I am taking a break in Busot, next to a municipal spring where many cyclists stop to refill their water bottles: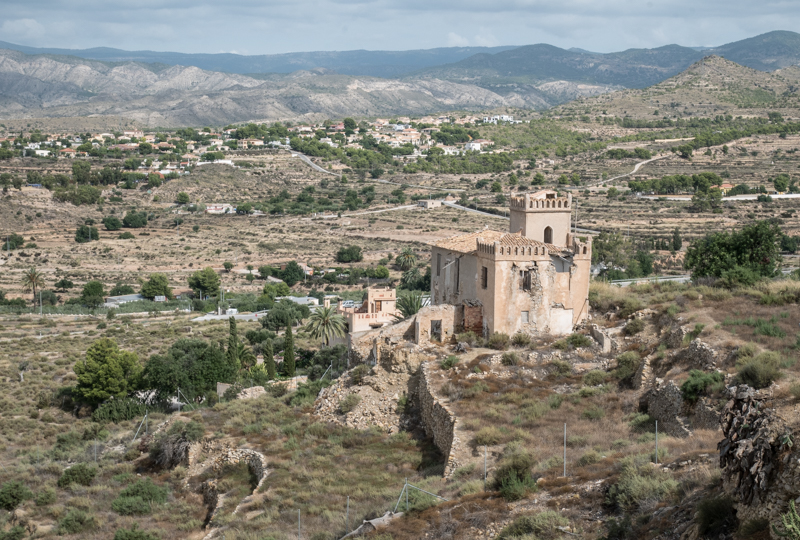 36_27
It was a bit cloudy but perfect cycling weather: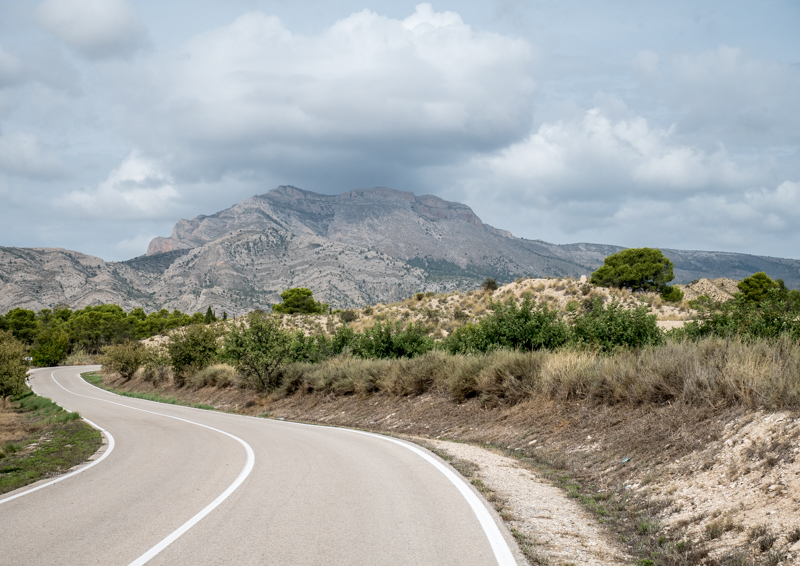 36_28
I went to Jijona and took another break, drinking a Coke on a bench on the main street while observing life in the town. My last photo in this week's blog is this very typical scene. Spanish women do not give birth to enough babies to maintain the population of the country (but immigration does a nice job of topping it off), but they do adore the ones they do have: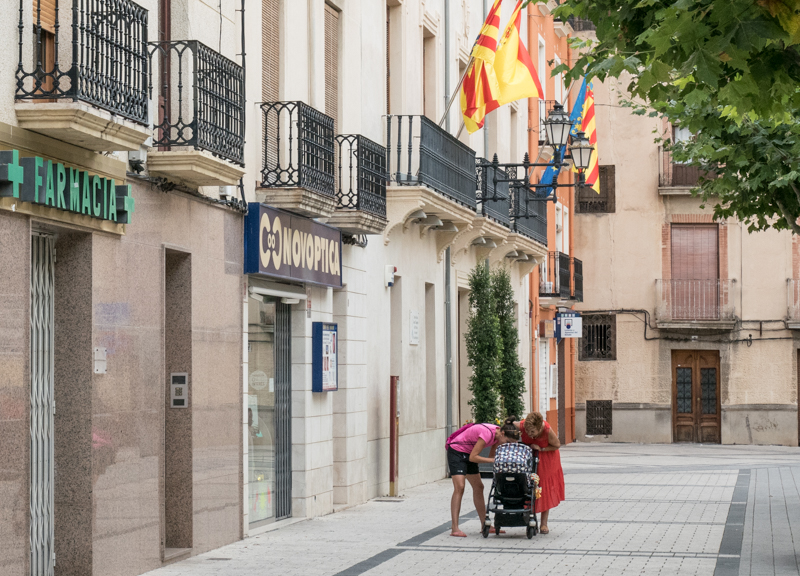 More photos from Wrocław can be seen here.