My friend Lars was visiting us during the week, so his delicious homemade pizza and pasta feature prominently in this blog. And at the end of the week we went to Mallorca to participate in a 400 km brevet, a type of long-distance cycling event. So there are a few images from there as well.
14_1
My wife, our son and I went to play a round of golf on Sunday. Moses has never had any instruction in the sport, but he has a good swing: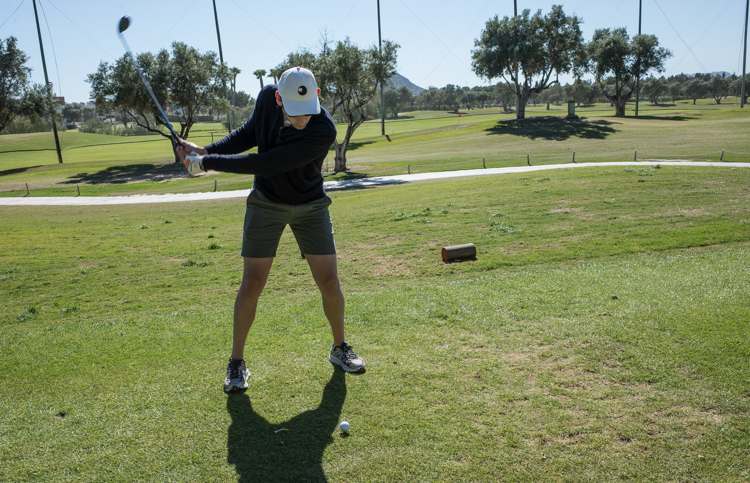 14_2
Lars works on setting up "his" bike. It is a Boardman that I bought three or four years ago, deliberately choosing a slightly smaller frame size than I would for myself, since the idea was that this would be the bike Lars uses when he is here. And it works out well. I do use it during the year too, but when Lars is here, it is his ride: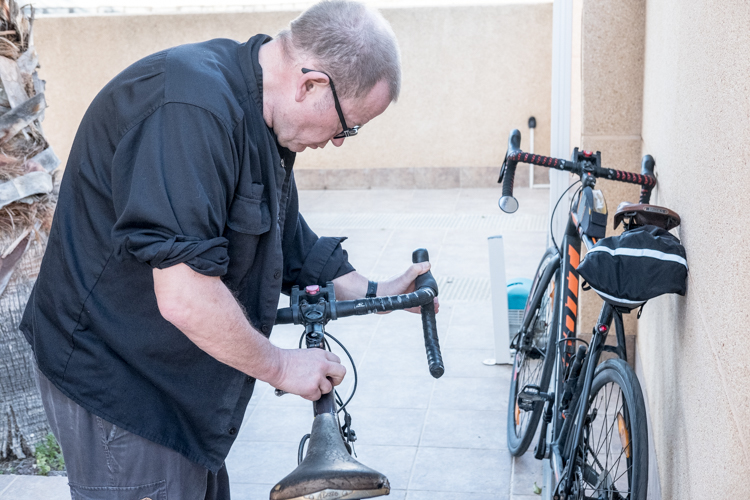 14_3
Then we put Lars to work, as usual. Monday night was pizza night. Everything is made from scratch. This is a world away from Pizza Hut, both in terms of taste and nutritional value: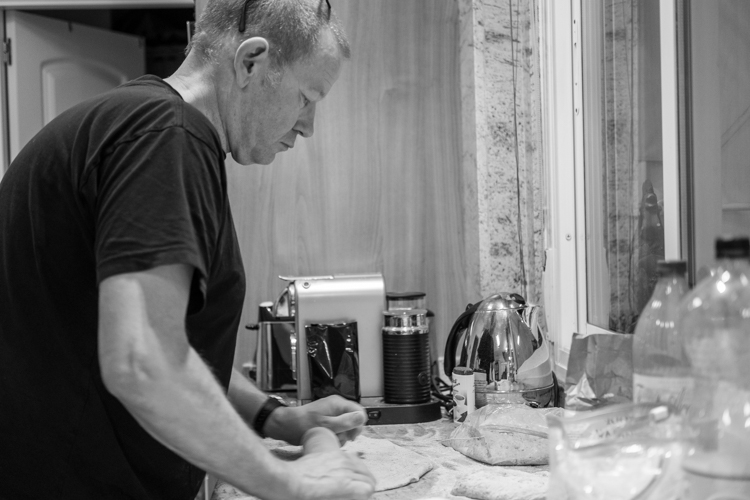 14_4
The pies, rolled out and ready to receive the toppings: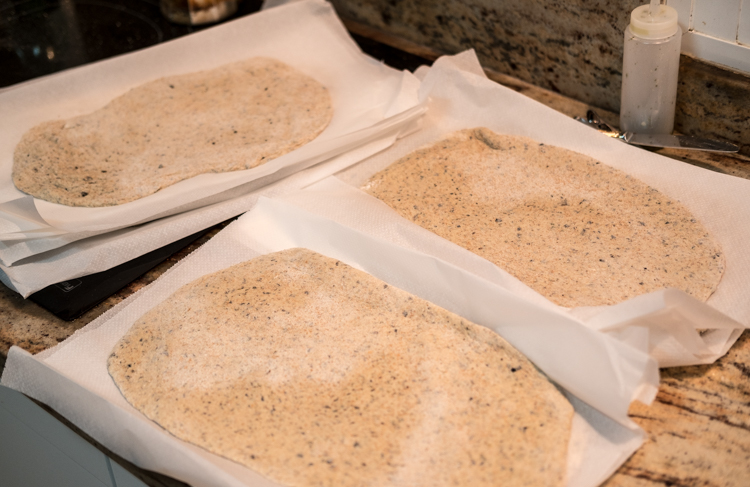 14_5
Putting on the toppings: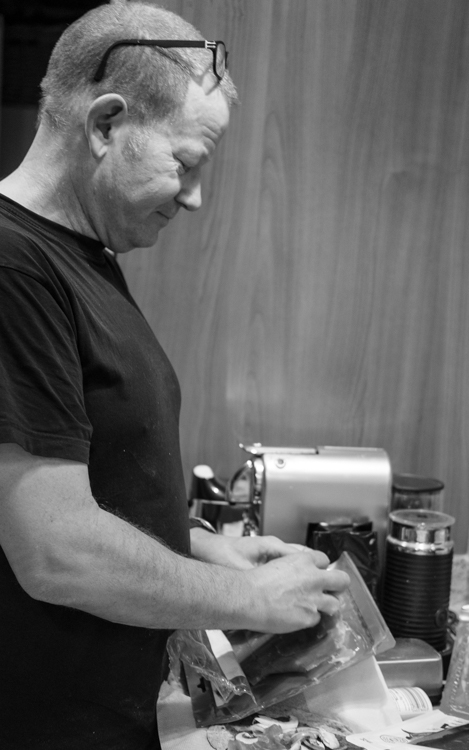 14_6
The ingredients: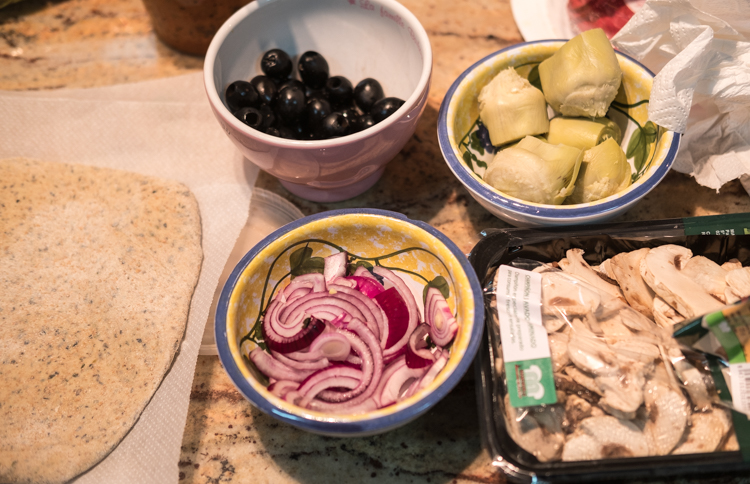 14_7
Two toppings I do not believe you get at the pizza trough–potatoes and goat cheese: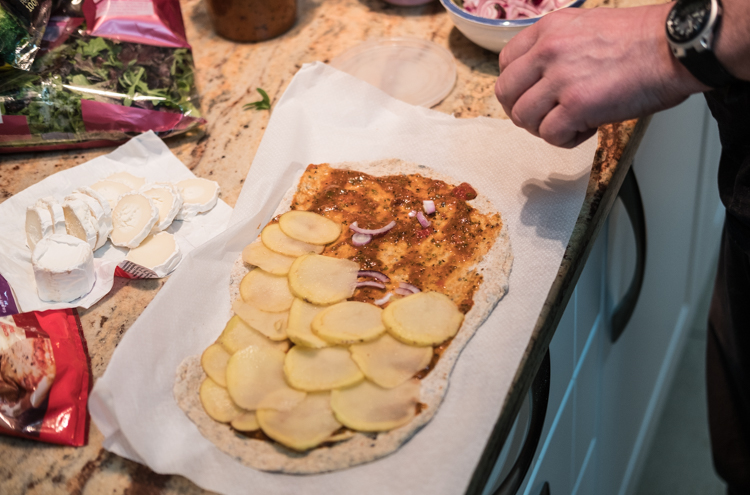 14_8
Ready for the oven: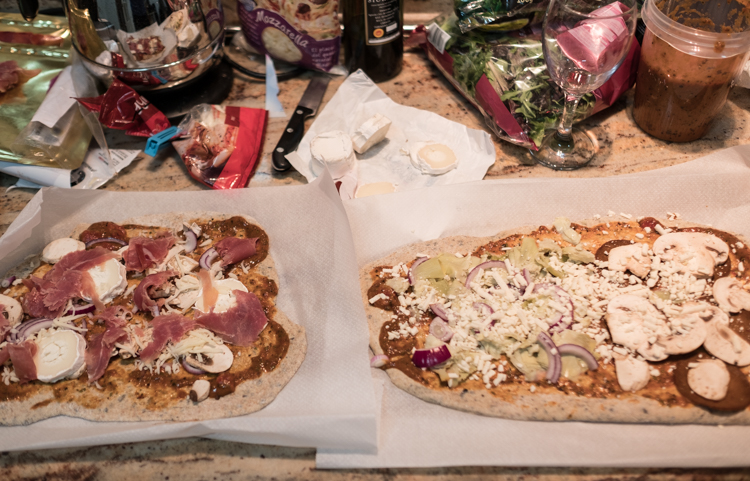 14_9
Moses checks the bouquet of an ale. Good food requires good beer. No standard swill here: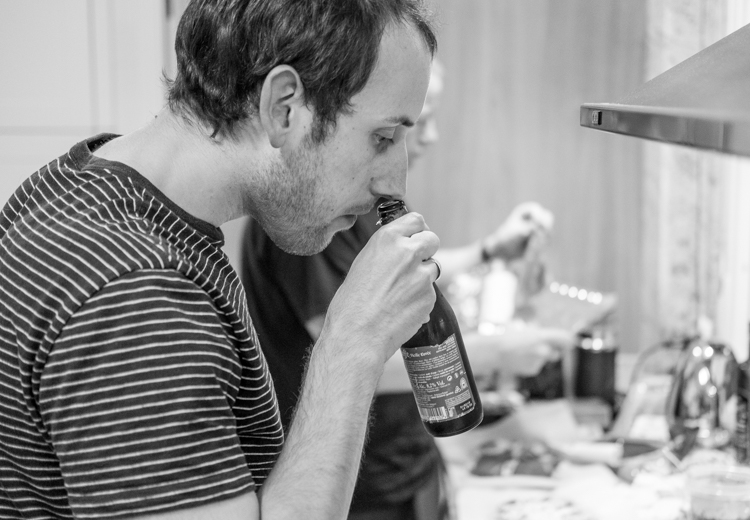 14_10
Satisfied diners: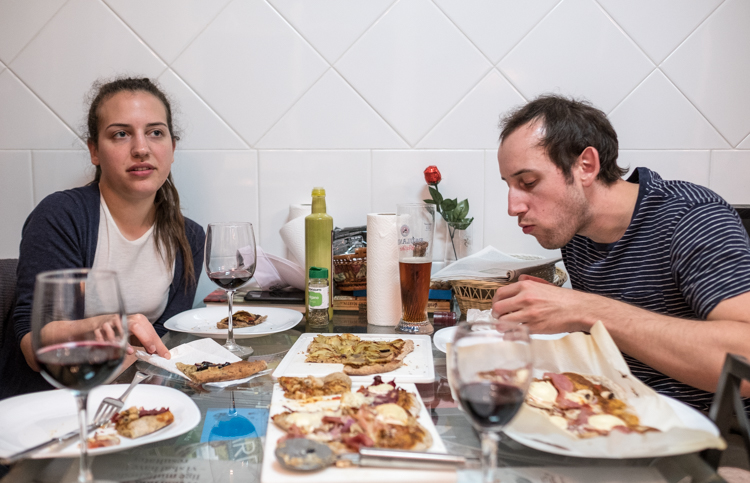 14_11
Cheeta, as always, hangs around when food is involved: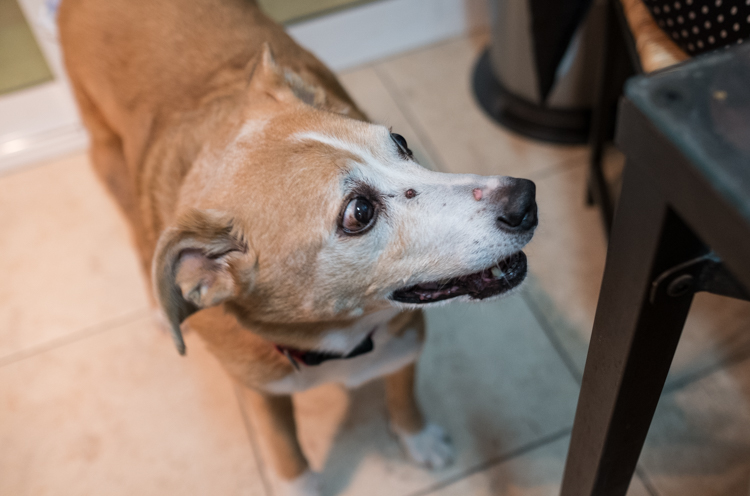 14_12
All good things come to end; it is Tuesday morning, and Moses is going back to New York. He has a morning flight to Amsterdam, so I will take him to the airport before going to work. A goodbye hug from his sister: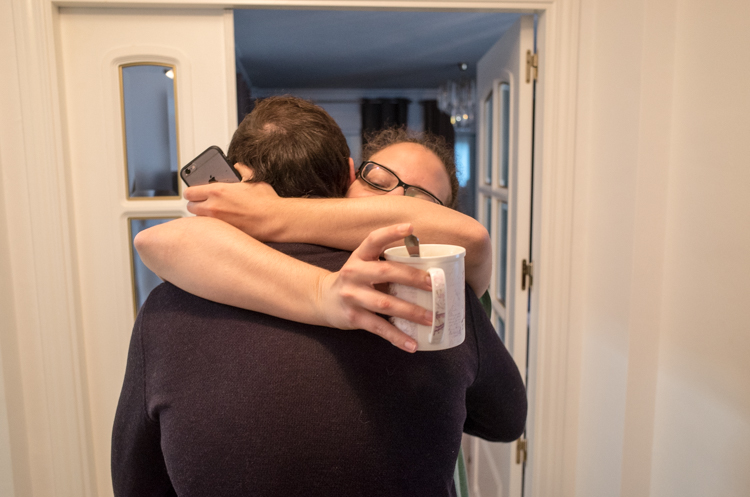 14_13
A goodbye pet for Cheeta, who has always been Moses's dog more than anyone else's. She is old now, and wears a nappy because just like some old humans, she is a bit incontinent (in case you wonder, the nappy is a normal human one with a hole cut out for the tail):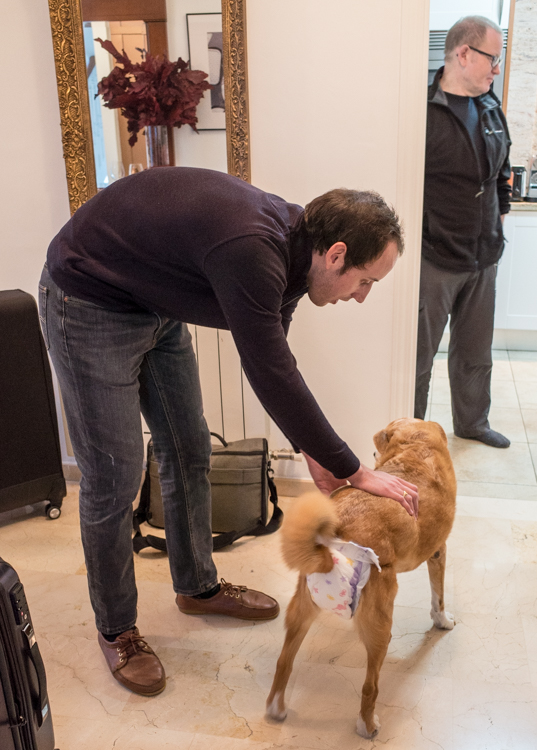 14_14
Lars took this goodbye picture of the four of us: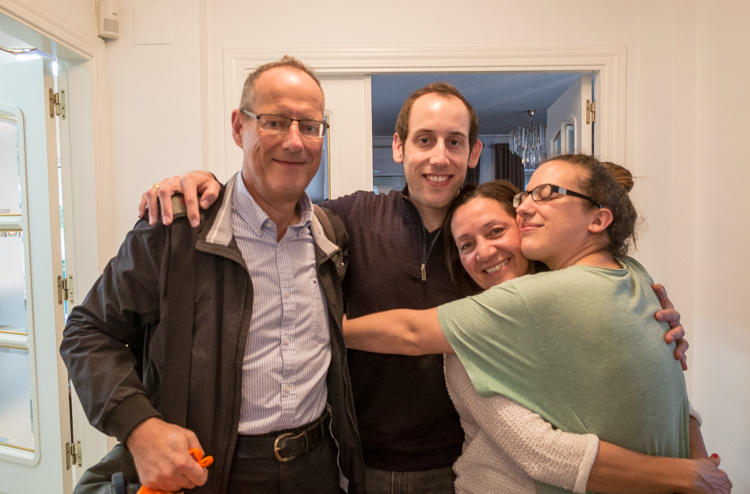 14_15
After dropping off Moses, I stopped by the beach in Urbanova on my way to the office. It was around 8 a.m. and the sun had just risen over the Mediterranean: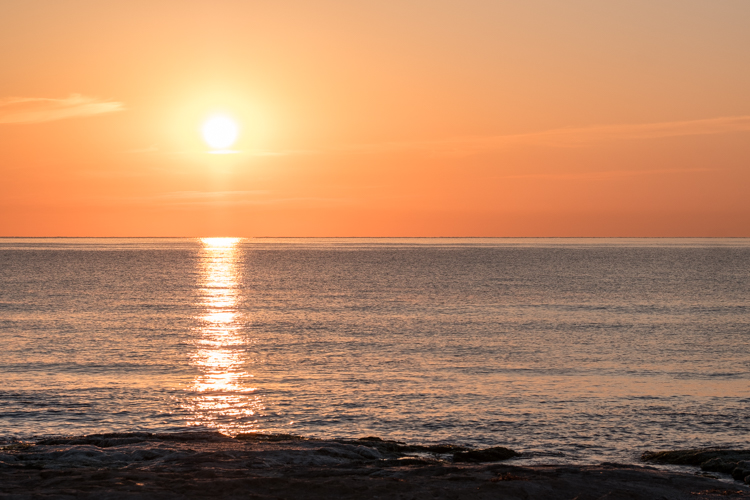 14_16
Alicante in morning light: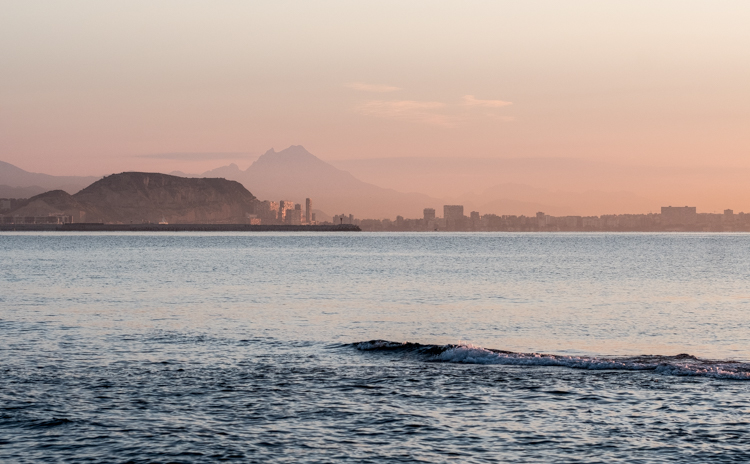 14_17
Even the harbour looks pretty in this kind of light: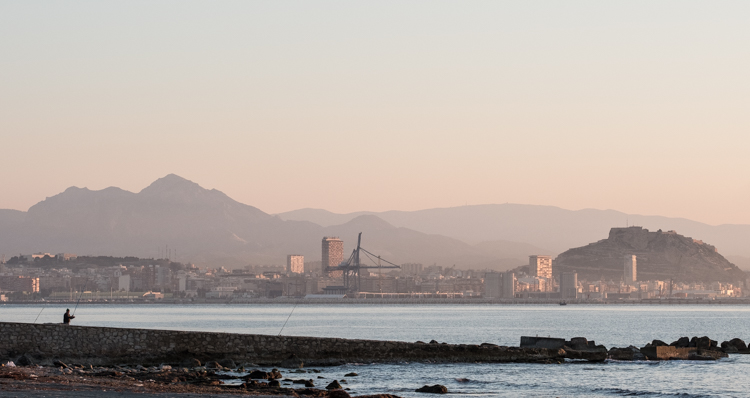 14_18
I then turned my attention to the rocks and waves, illuminated by the low sun: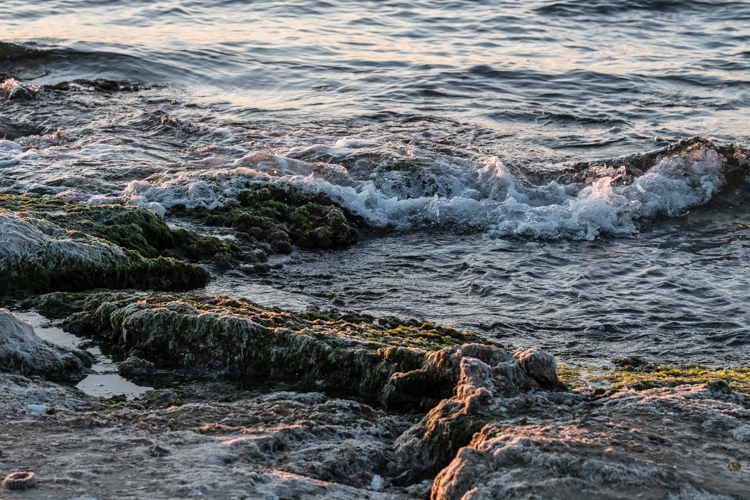 14_19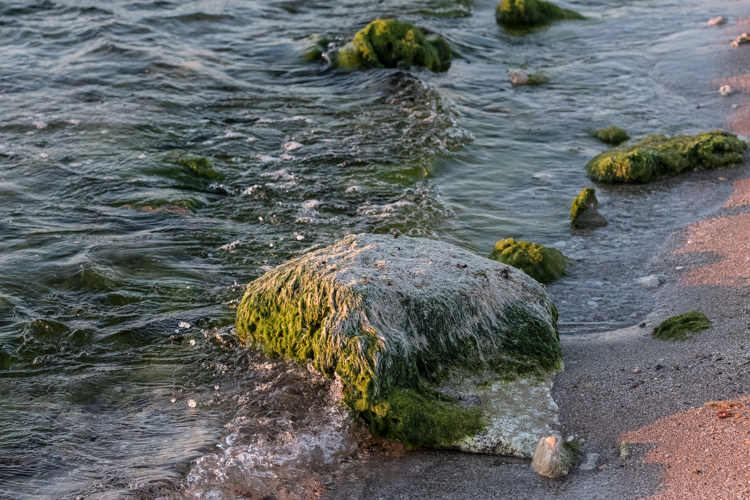 14_20
Later in the week, Lars was back in the kitchen, this time making fresh pasta: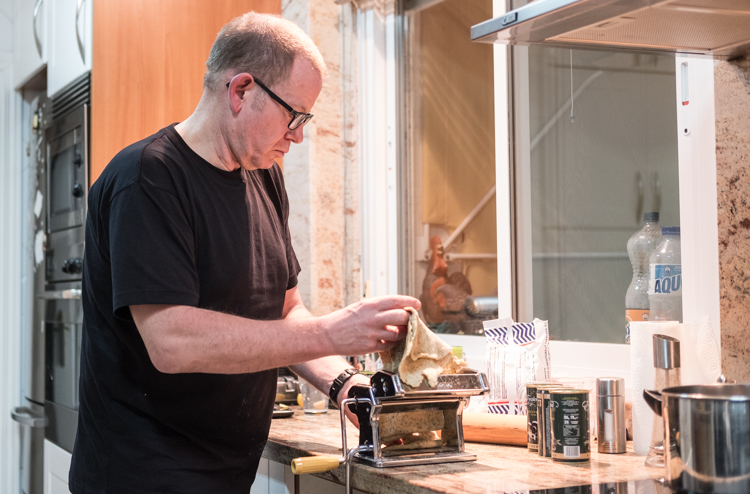 14_21
Our pasta-making machine is only in use when Lars visits: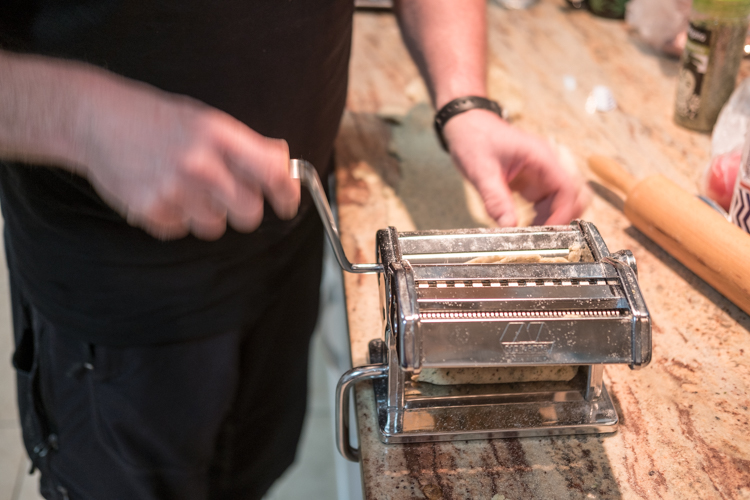 14_22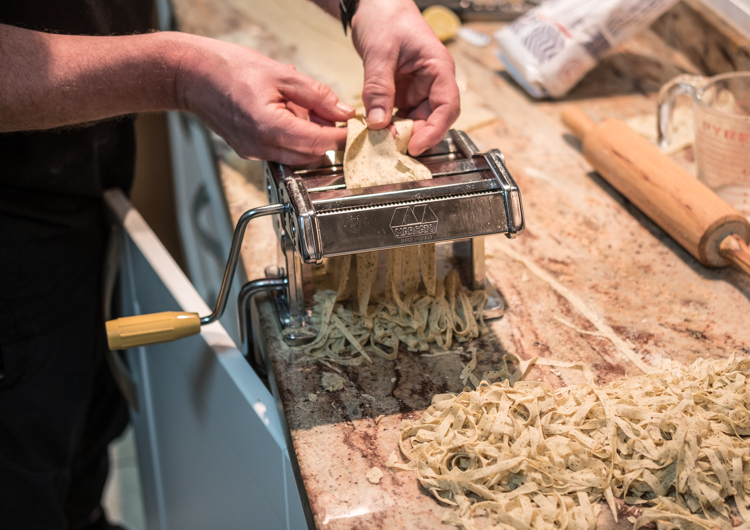 14_23
On Friday, Lars and I had a ferry reservation from Valencia to Palma de Mallorca, departing at 10:30 p.m. I had taken the day off for some final preparations and just to relax. We went for lunch at Moments on the beach: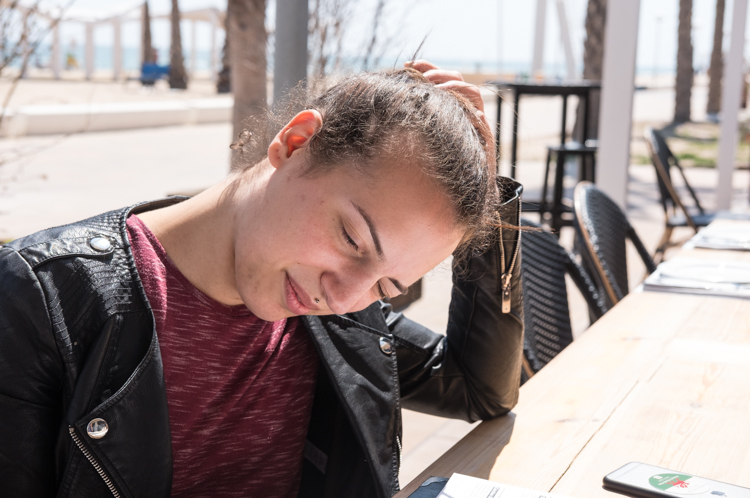 14_24
The beach at Urbanova as seen from our table: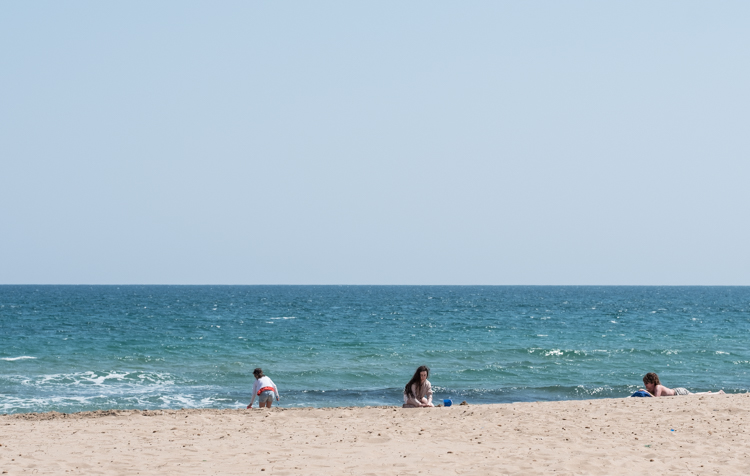 14_25
One of the pleasures of eating at a restaurant like Moments is that you can look at the human traffic passing by on the beachfront promenade: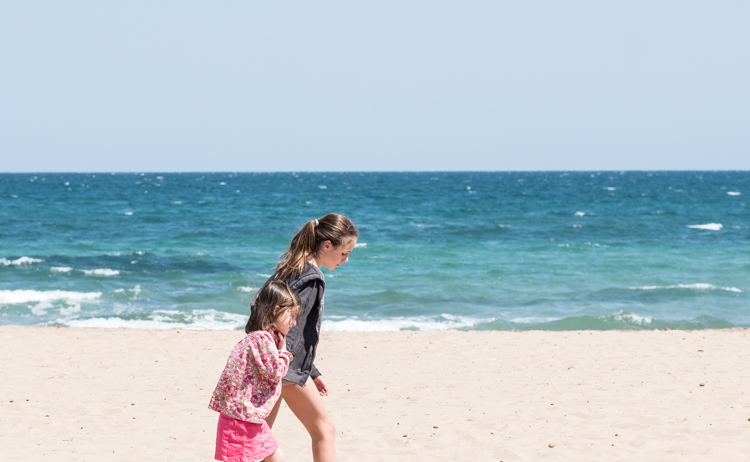 14_26
A very unhappy passenger: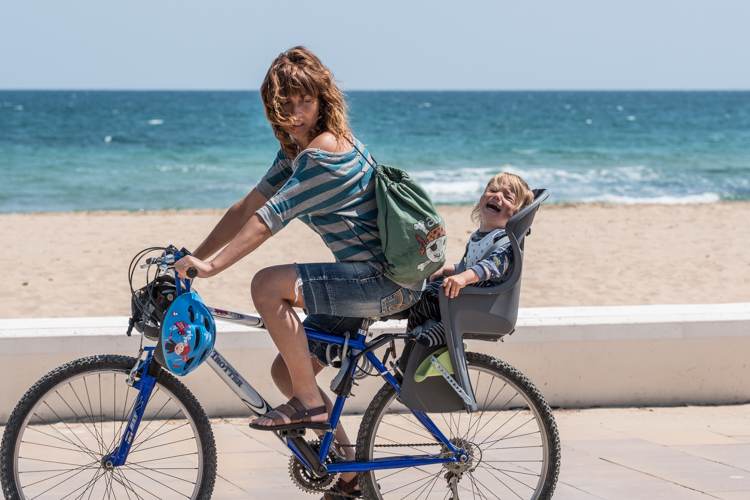 14_27
Trying to keep up with his humans:

14_28
On the way home, we stopped at the Tres Semillas vegan bakery for some dessert: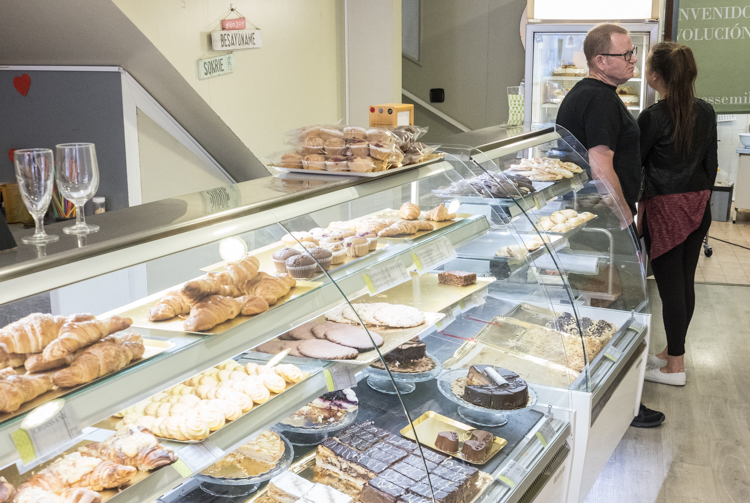 14_29
Finally, it is Friday evening, and my wife's car is loaded with our bicycles and all the other stuff we need for the weekend in Mallorca: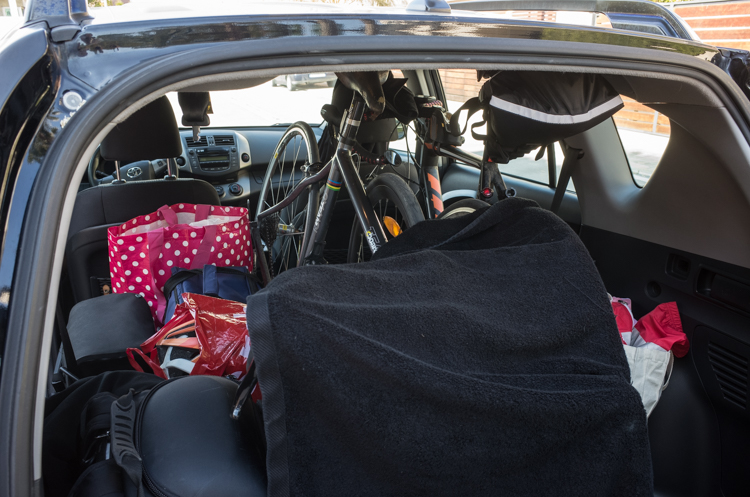 14_30
Around 9 p.m., we are in Valencia harbour, waiting to drive onboard the ferry: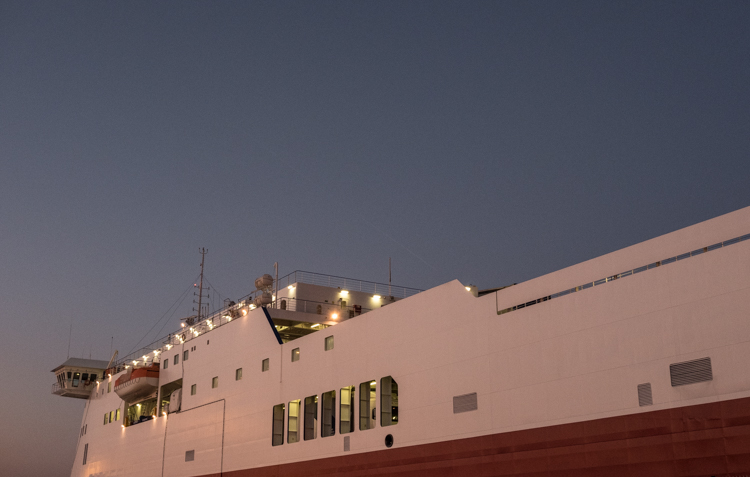 14_31
Evening sky over the harbour: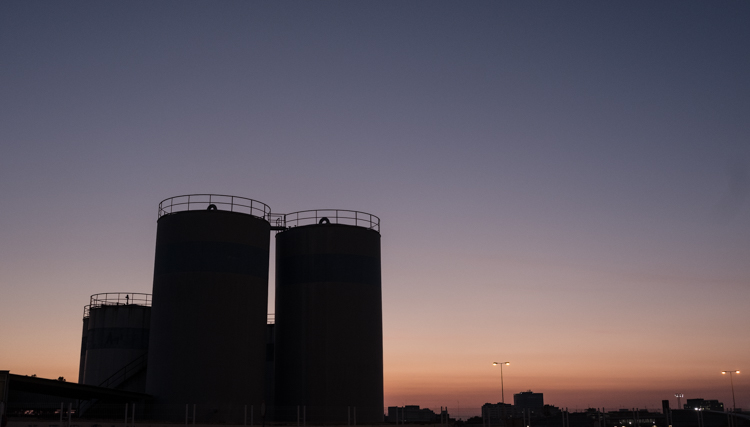 14_32
Finally we are onboard, as are a lot of other cars and trucks: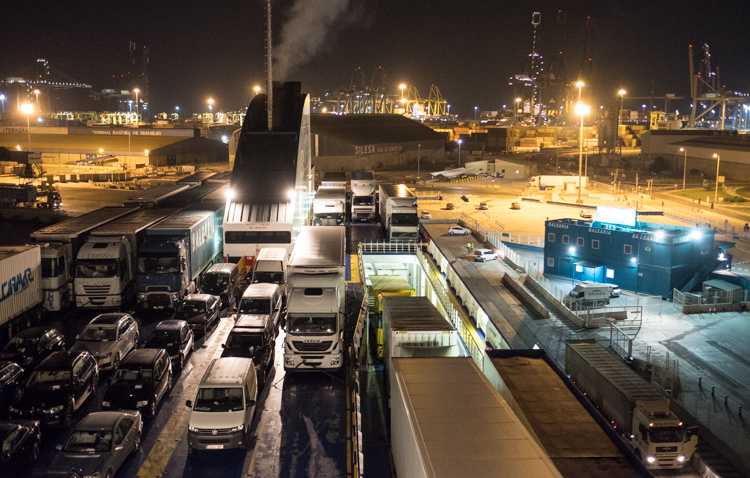 14_33
Once the ferry started moving, I took some photos of the harbour. Together with Barcelona, Valencia is one of Spain's main entry and exit points for all manner of goods: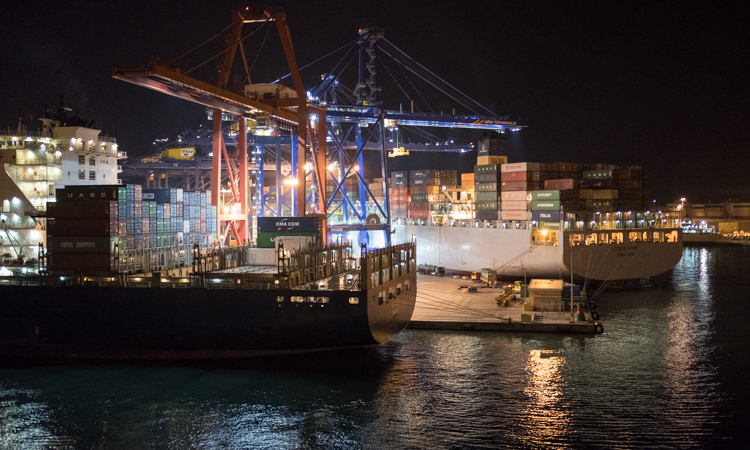 14_34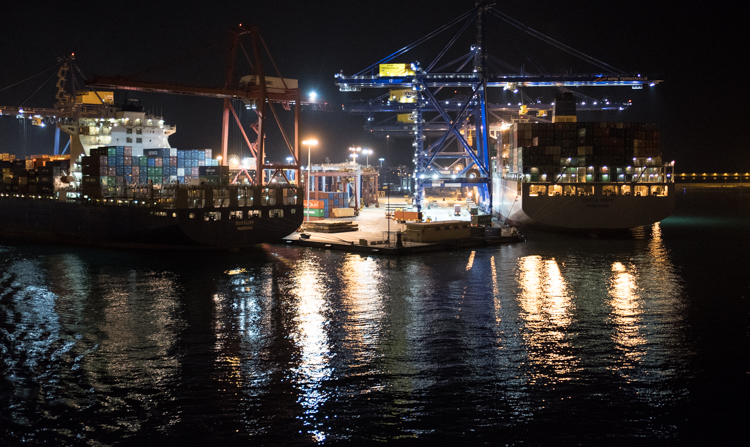 The ferry took about 7 1/2 hours to arrive at Palma de Mallorca at 6 a.m. Saturday morning. The hotel from where the cycling started was just a few minutes from the harbour, so we had no problem with making it there on time for the 7 a.m. start of the brevet. The organisers had arranged for a generous breakfast at the hotel, so I was properly fuelled for the ride.
14_35
Alas, this part of our trip ended in failure. Lars had come down with bronchitis earlier in the week. We had visited my doctor on Thursday; he happens to be a keen cyclist and hiker, so he understood the importance of the event in which we were going to participate. He prescribed some medications, and we hoped that Lars would be well enough by Saturday. But after about 40 km of cycling, it became clear that Lars's lungs simply were not up the task of providing enough oxygen to climb the hills which in normal circumstances make Mallorca cycling so enjoyable. He simply could not breathe even on mild climbs. So I informed the organisers that we were abandoning, and we cycled back to Palma. Once we had reached the beach area, we stopped for a coffee. Here is Lars the stricken warrior: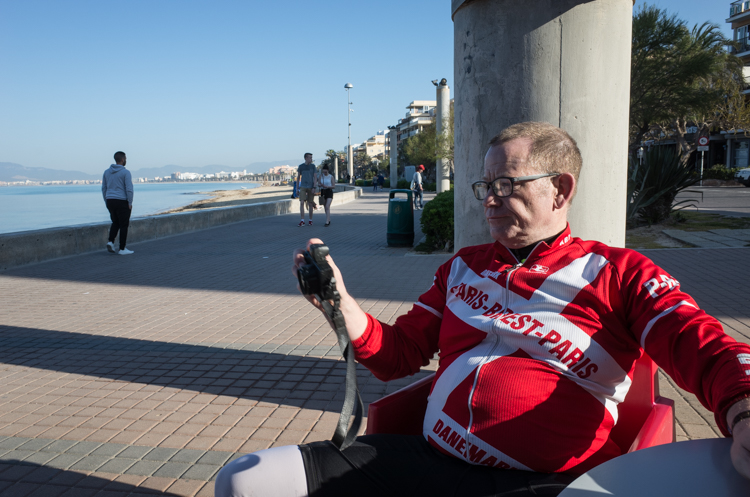 14_36
We decided to make the best of the situation. We rode back to the hotel which was able to give us our room even though it was only 11. After showering and changing, I called the ferry company to change our return to the mainland from Monday morning to Sunday morning, and then we set out to explore Mallorca a bit, this time on four wheels. Our first stop was an area on the beach which I had noticed while cycling. It is one of the most kitschy places I have ever seen. We sat down for lunch and looked around with our cameras: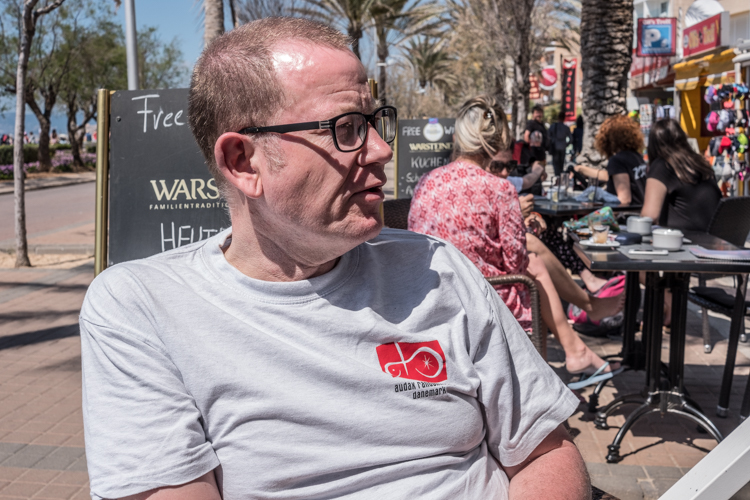 14_37
Typical on Playa de Palma. The menu sign is in a mix of English and German but not in Spanish: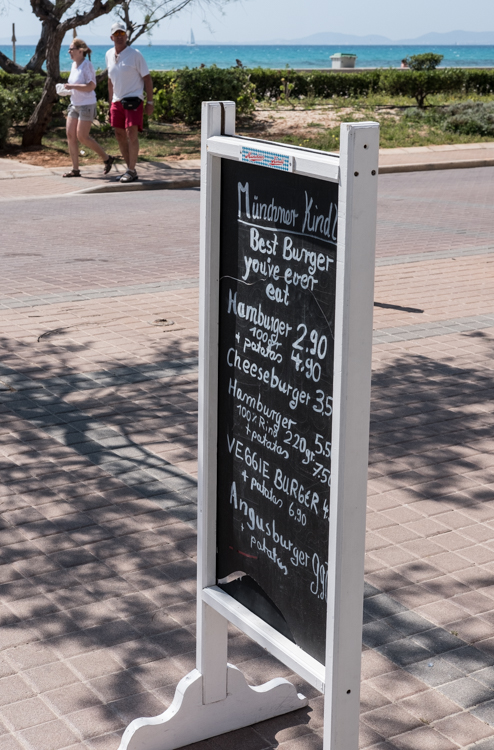 14_38
After lunch, we drove to the interior of the Island, a completely different world from the coast. The roads are good, the terrain hilly, the landscapes pretty. In short, a cycling paradise. This sign, encouraging drivers to give cyclists a wide berth when overtaking, is an amusing typo; the rule in Spain is 1.5 metres, not 5 metres as stated here (which, given the width of the mountain roads, would mean that the overtaking car would end up in the ditch on the left side):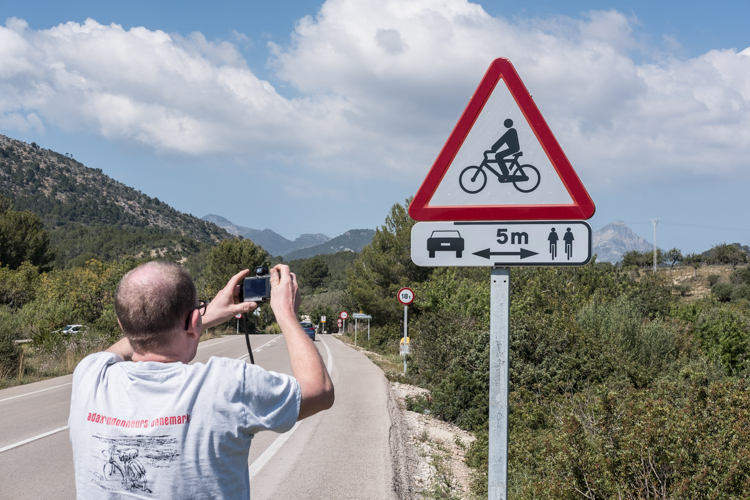 14_39
Early Sunday morning, we took the ferry back to the mainland. Departure was at 8, but you are supposed to be there 1 1/2 hour before (if coming by car), so it was still dark when we were at Palma harbour: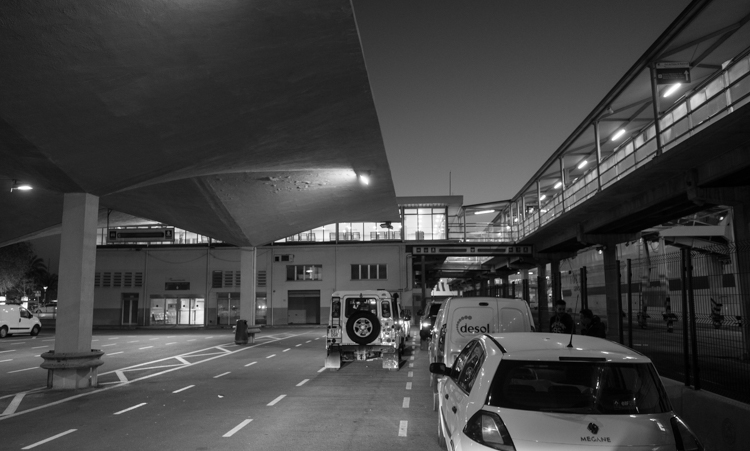 14_40
Sunrise is beautiful, even in these rather mundane surroundings: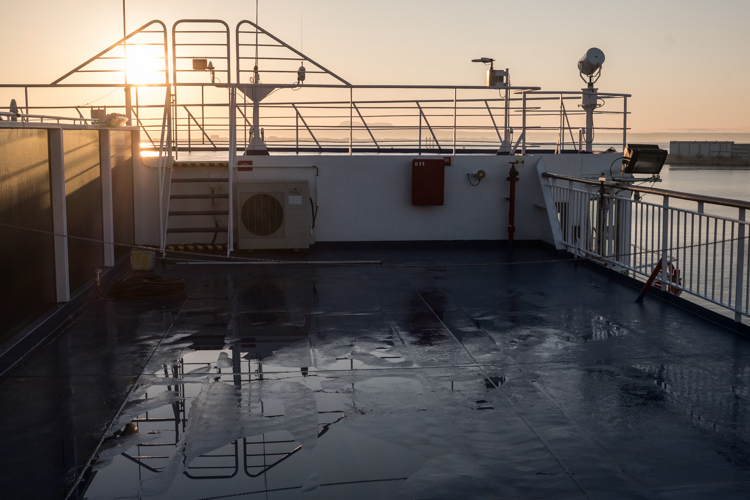 14_41
Burning diesel: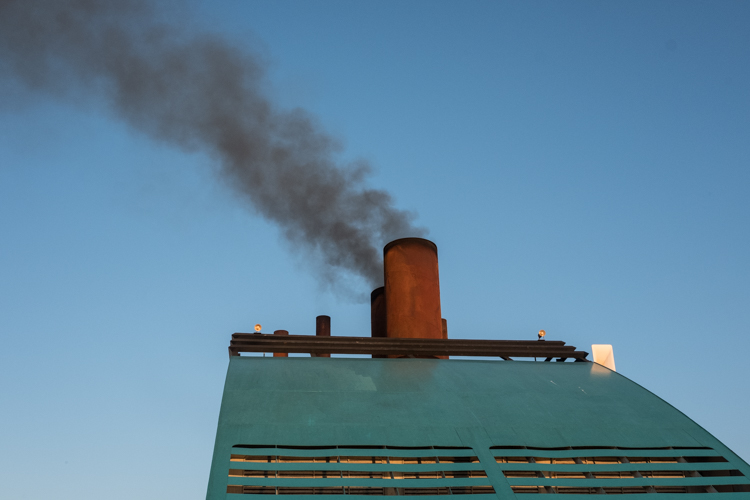 14_42
Contre-jour: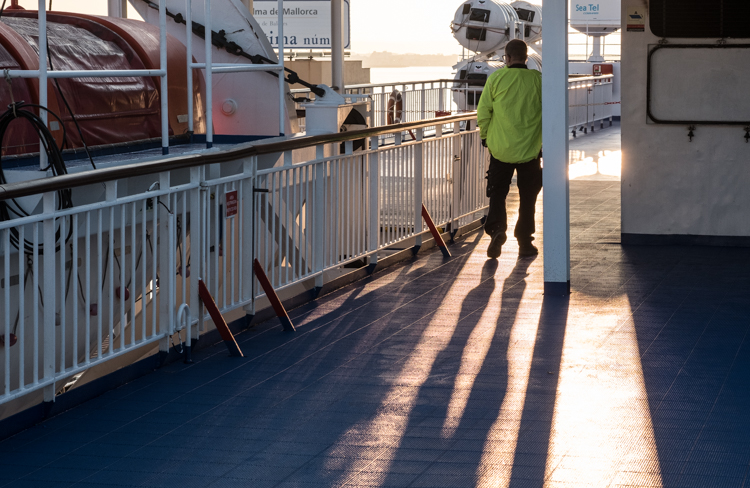 14_43
One last look at Palma while departing: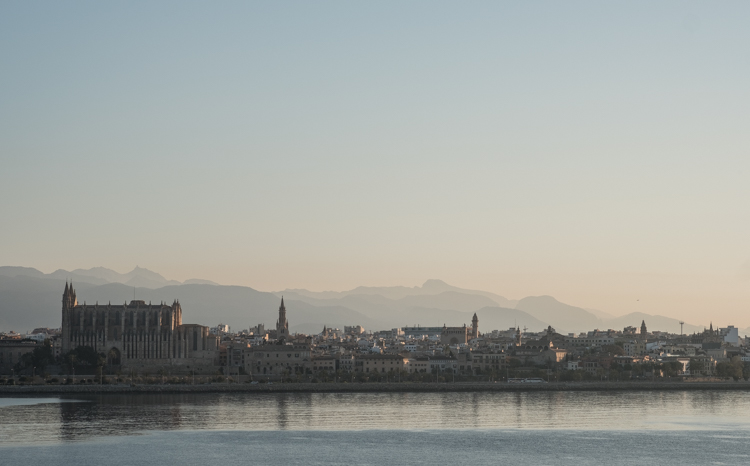 14_44
After about 3 hours, the ferry makes a stop in Ibiza. This adds about 1/2 hour to the total journey time but it has two benefits. This port on the mainland where the ferry arrives is not Valencia but Denia which is a lot closer to Alicante. And it allows for a brief look at Ibiza:

14_45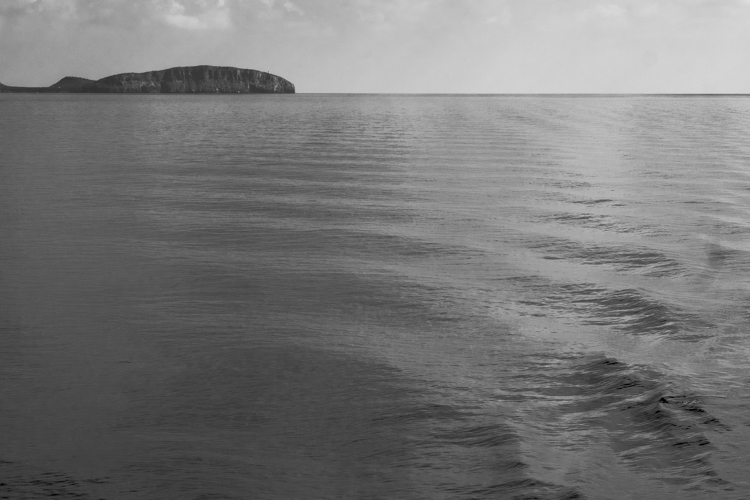 14_46
Travelling on the cheap, or did he indulge at the bar in the background?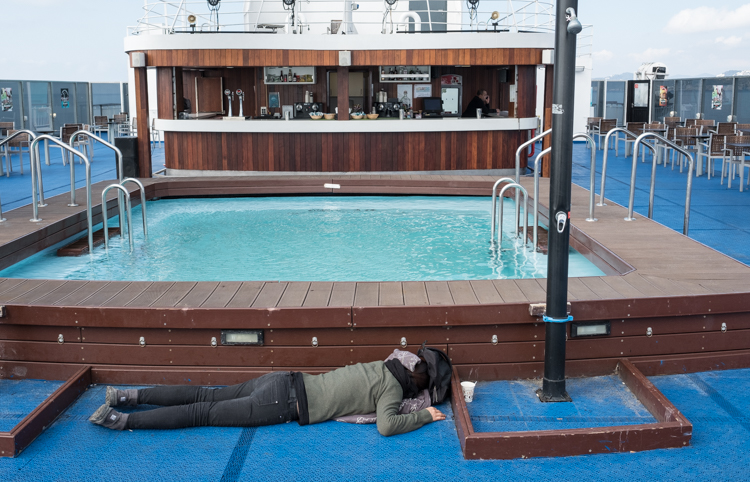 More pictures from Mallorca can be seen here.