The most important event of the week was the arrival of my children who will be with us for a couple of weeks. Given that one of them lives in Cardiff and the other one in Colorado Springs / New York, we only have them together a couple of times a year. This was also a week when I went back to shooting film with a classic Leica M2, and attended a birthday party at the house of a friend in Benidorm. So a very mixed bag for the week.
28_1
On Sunday afternoon, I went to the golf course to watch my wife play. No pictures of her (censorship), but instead you get the overall view and the resident fowl: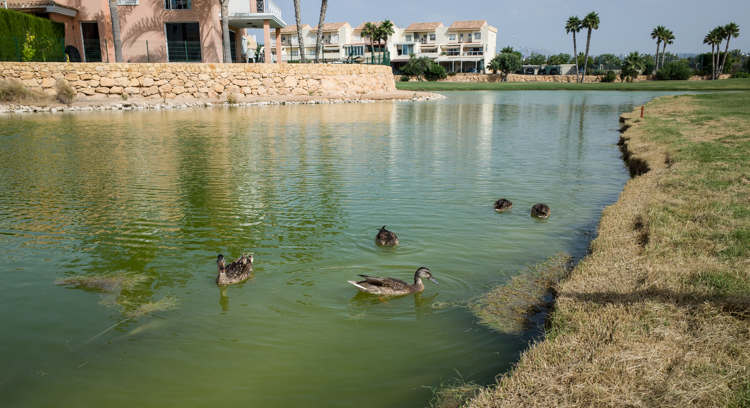 28_2
The birds assume that when someone approaches the edge of the water, it is to feed them, even if there is a golf ball that needs to be hit:

28_3
Afterwards, I went cycling and stopped to take a picture of the kites on Playa Muchavista: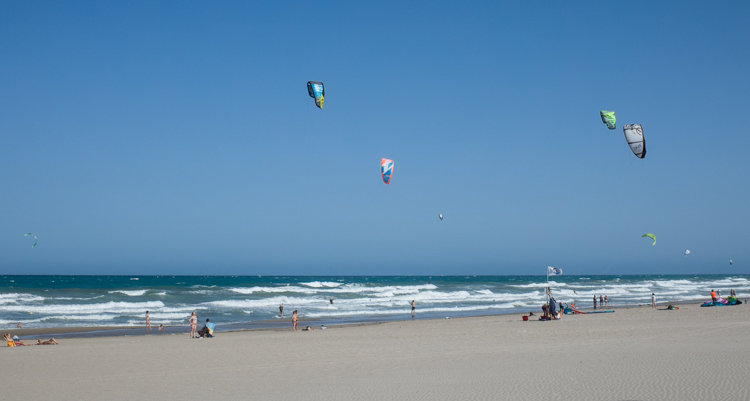 28_4
Some dog walk pictures, the first of which is a close-up of one of the many flowers along Avenida Vicente Ramos: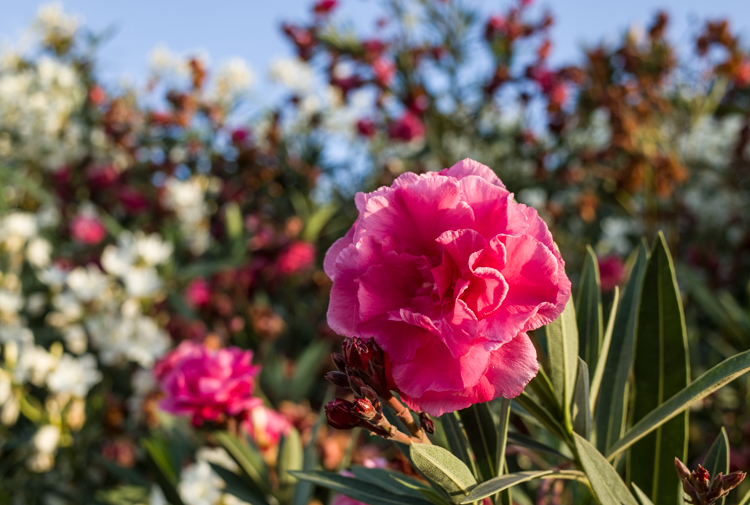 28_5
Morning sky over our urbanización: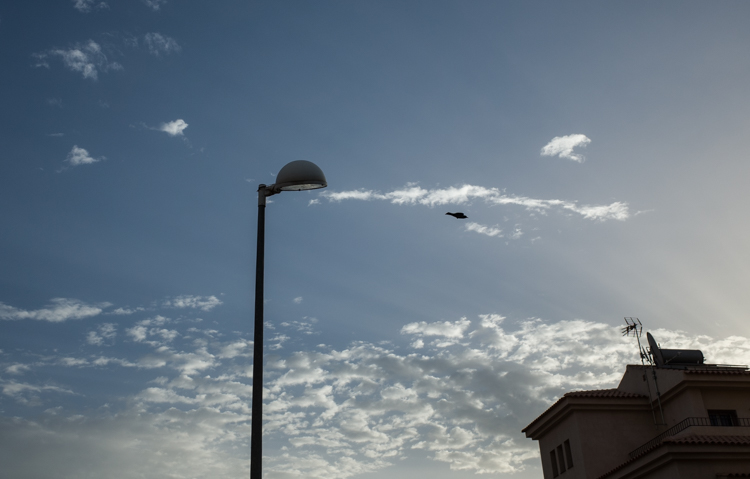 28_6
My car and every other car in the neighbourhood look like this right now. This is dust from the Sahara, blown up here by a southerly wind, and brought down by a brief period (less than an hour) of rain, the first in more than a month: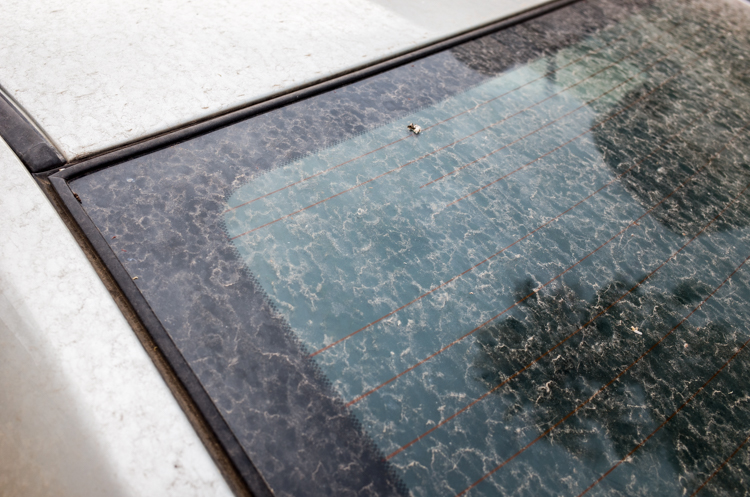 The next nine photos were made on film (Fuji Acros), using my newly acquired classic Leica M2.
28_7
Tree roots in the park: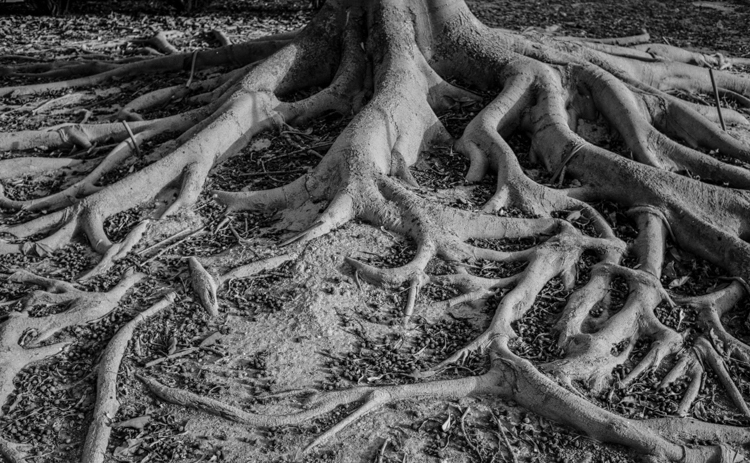 28_8
Morning sun: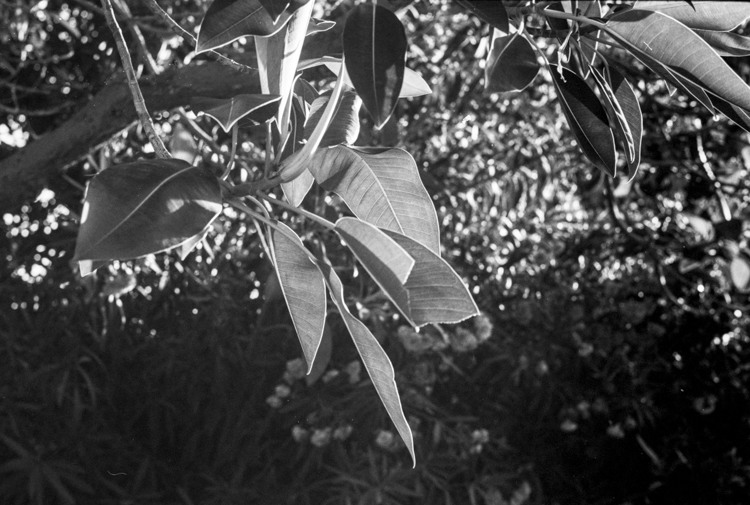 28_9
"Have you smiled today?":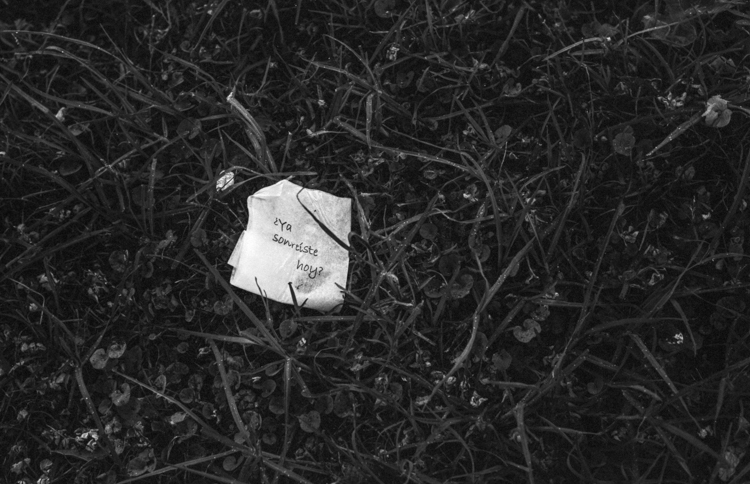 28_10
Flags in the wind, El Campello harbour: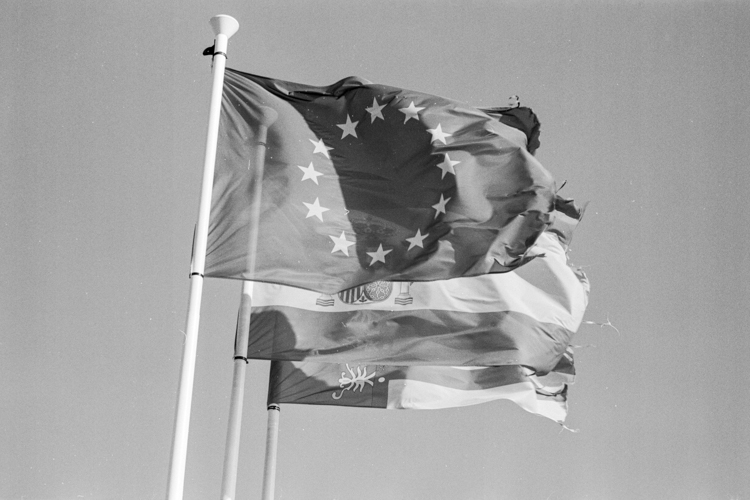 28_11
Inspired by Jim Shulman, El Campello harbour: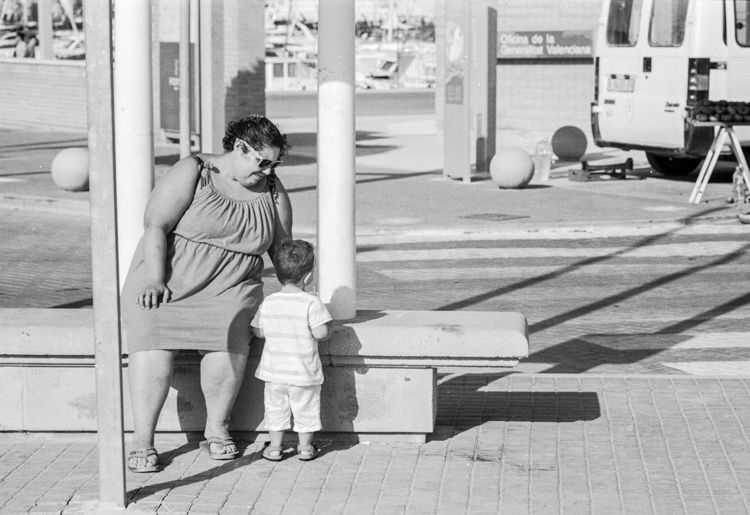 28_12
Under the table, El Campello beach promenade: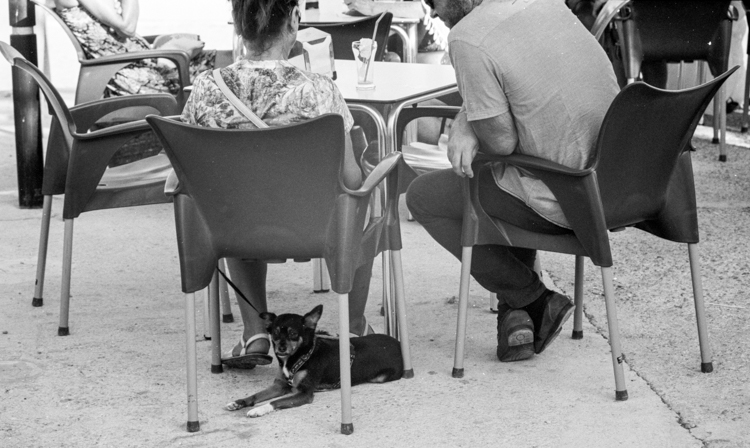 28_13
Fountain with reflection, centre of Alicante: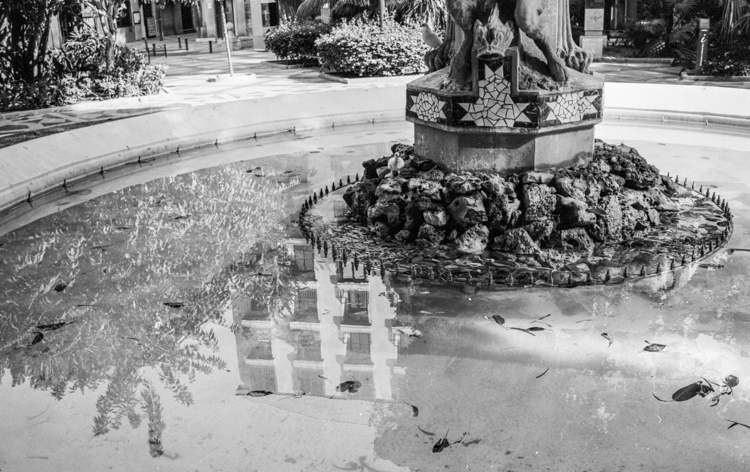 28_14
Documenting a dress, centre of Alicante: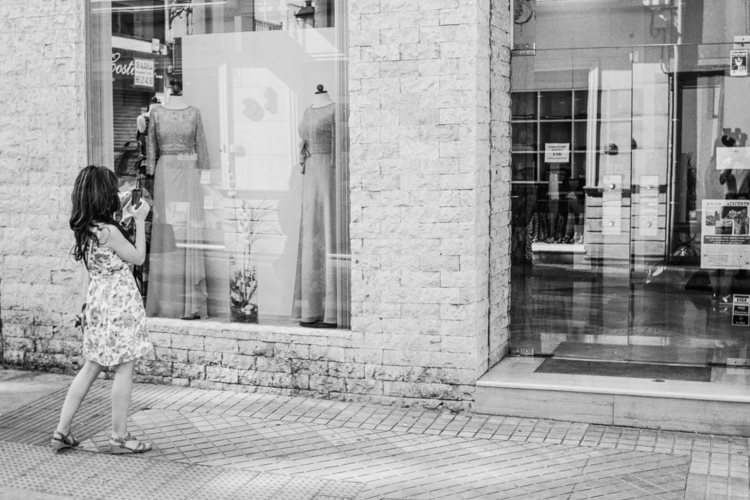 28_15
Admiring the parking garage, centre of Alicante: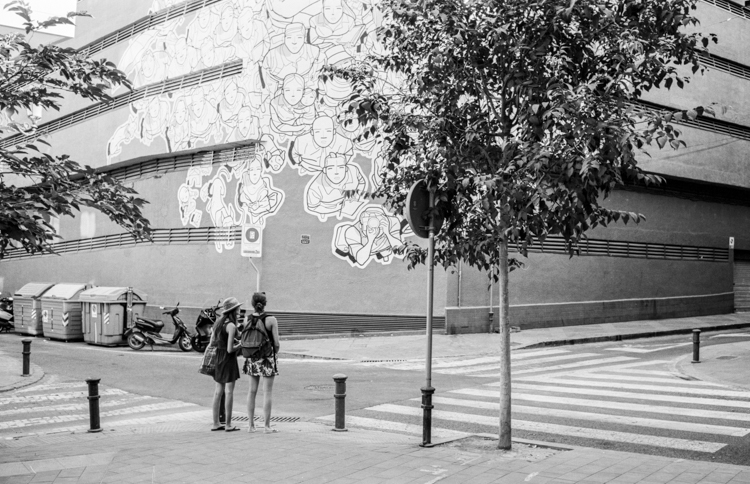 28_16
Sunset over El Campello, seen while returning from my bike ride in those mountains: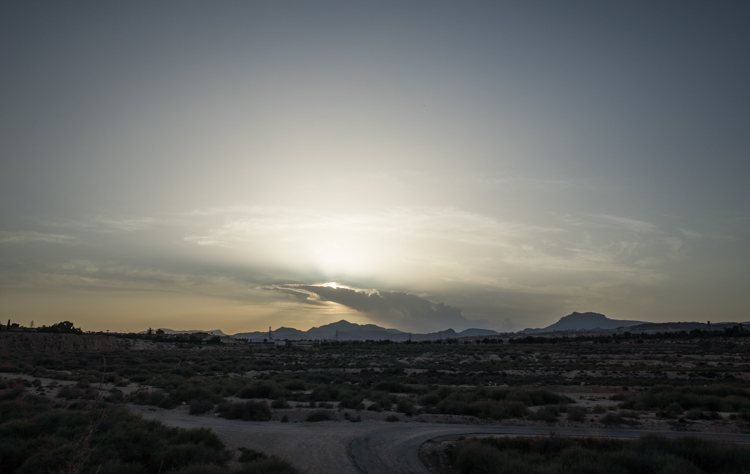 28_17
On Saturday morning, I cycled to Relleu, a sleepy town in the mountains. As usual, I bought a drink from a convenience store and sat down on a bench on the main square to drink it. This is a typical scene from that square on Saturday morning. The men on the bench look and comment, the small vegetable market attracts its customers, and the people on the left are enjoying their morning coffee: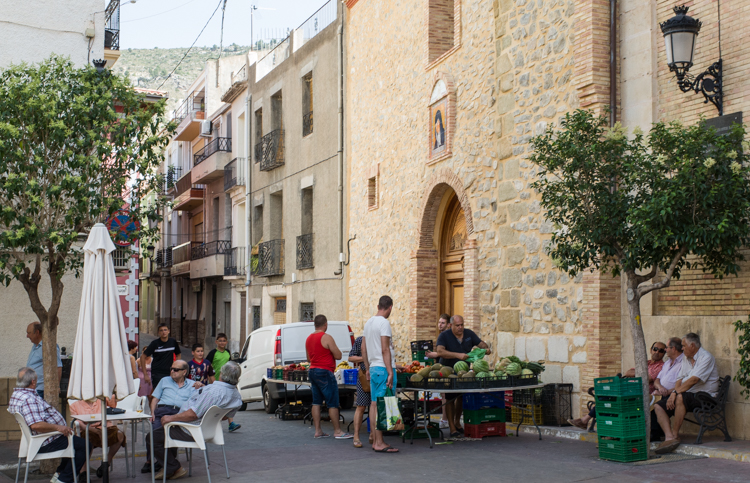 28_18
Looking for customers, perhaps?: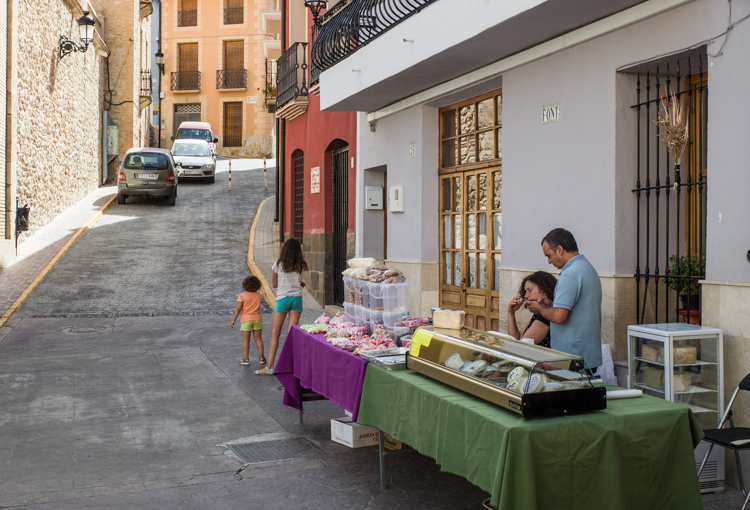 28_19
Jesus watches over it all: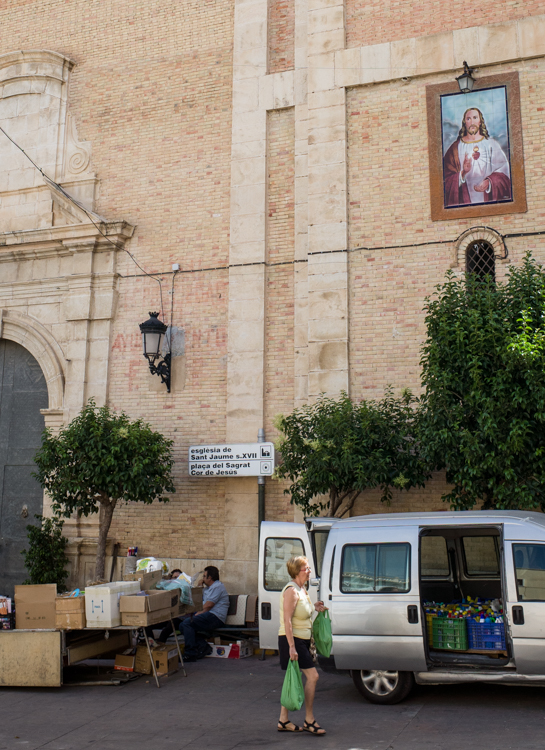 28_20
On the way home, I stopped for a moment at this reservoir, Embalse del Amadorio. Reservoirs like this one provide most of Alicante's drinking water: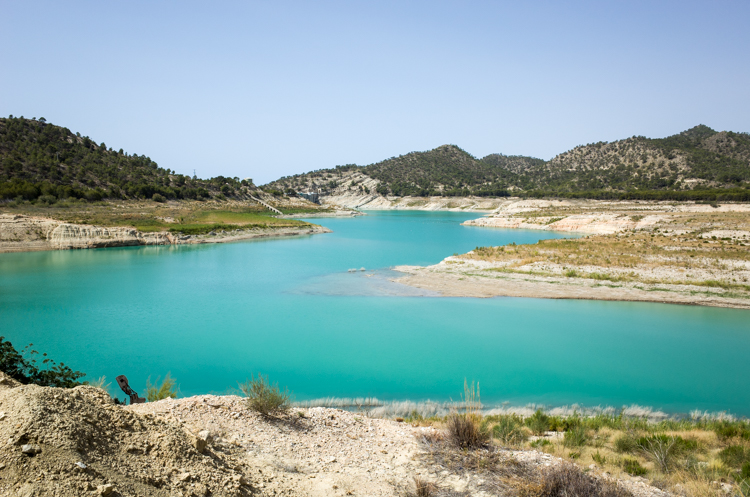 On Saturday afternoon our friend Iñaki celebrated his birthday with a pool party at his house in Benidorm. Since I had to drive back the 45 km, and since both children were arriving that evening, I spent the entire time drinking water, a very unusual experience. But I did take pictures.
28_21
Salvatore with the ladies: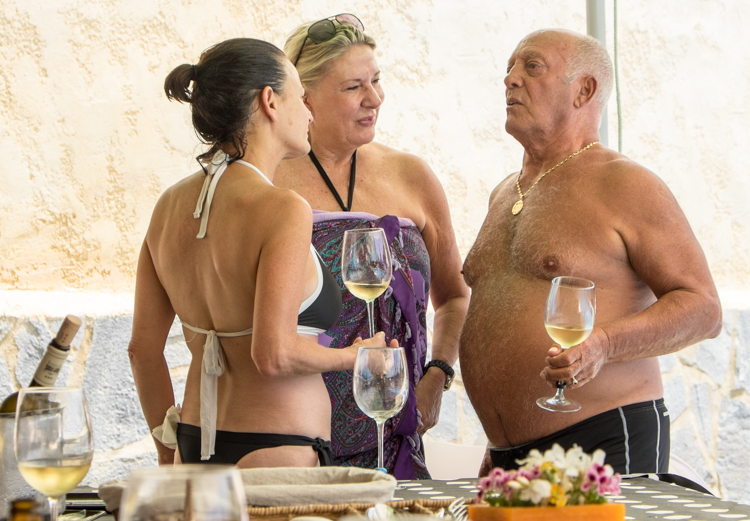 28_22
Mid-flight: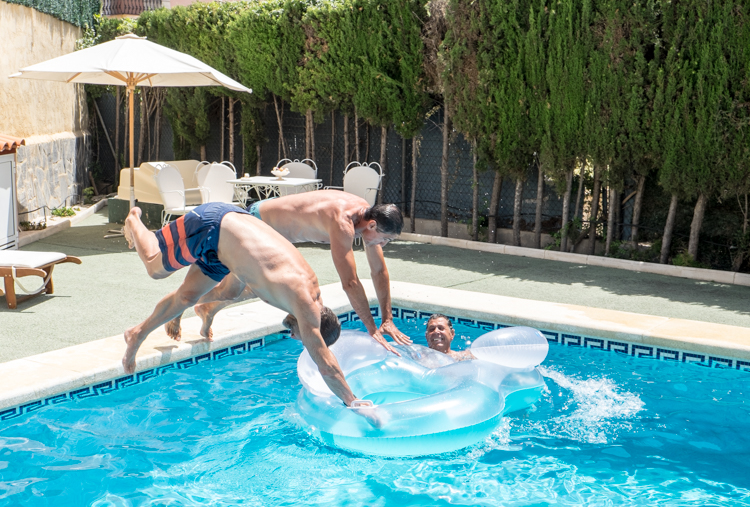 28_23
Iñaki tells his little dog to calm down:

28_24
The grill masters at work: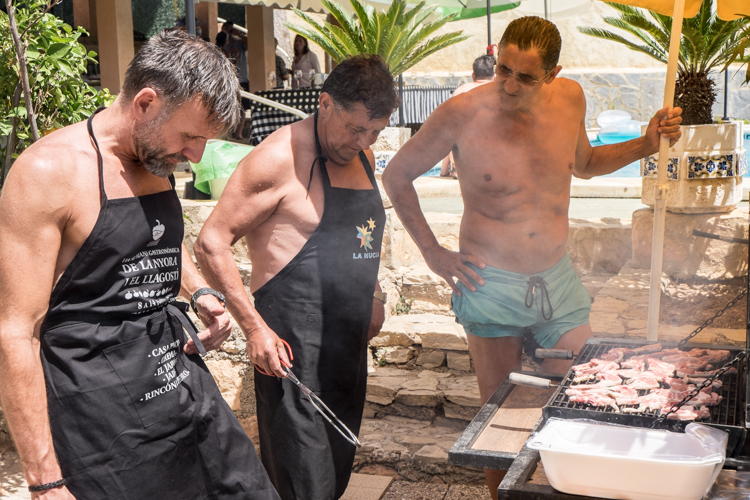 28_25
Engulfed in smoke: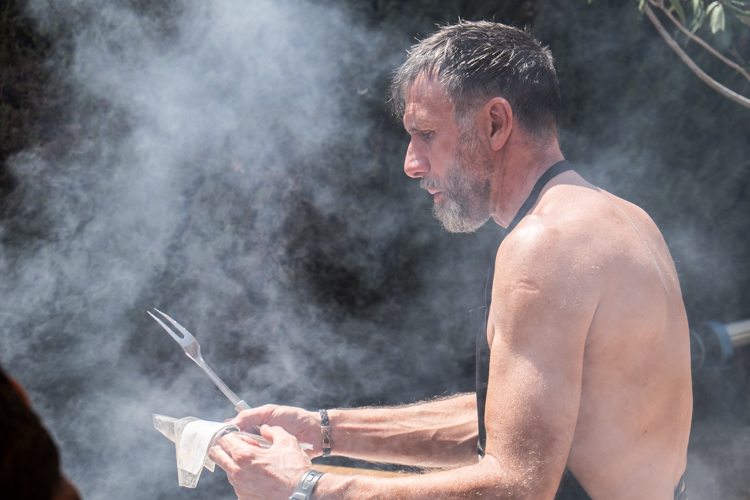 28_26
Lamb: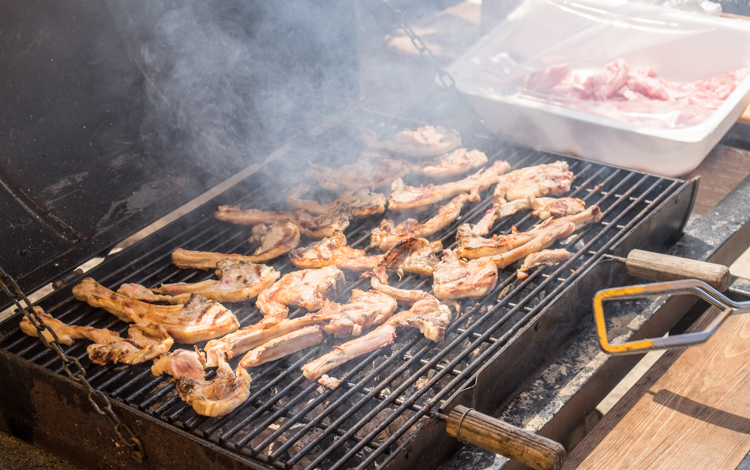 28_27
The grill chef takes a deserved break: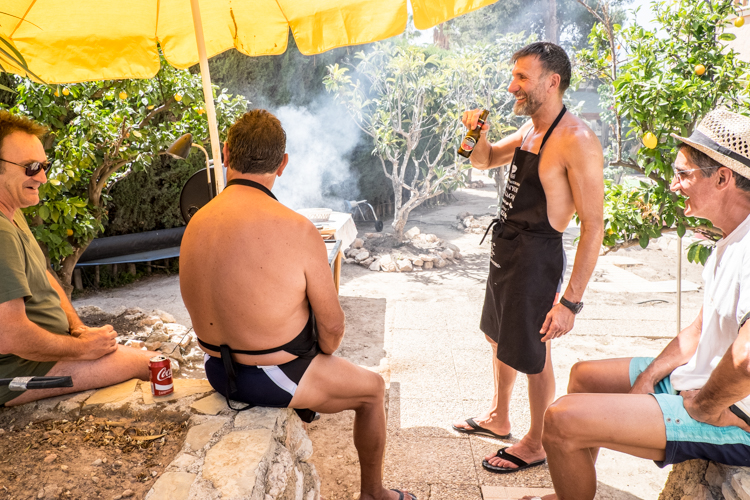 28_28
In addition to the meat, people brought a variety of salads, homemade gazpacho, and tapas such as this aubergine delight brought by Nereida: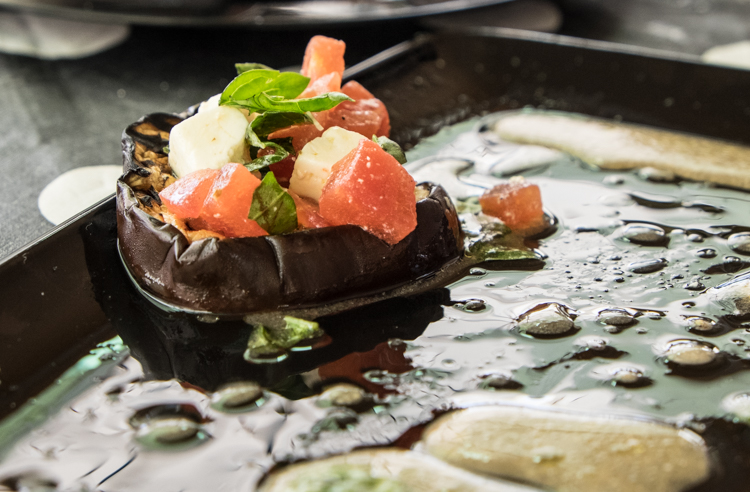 28_29
The doggie looking for "accidents":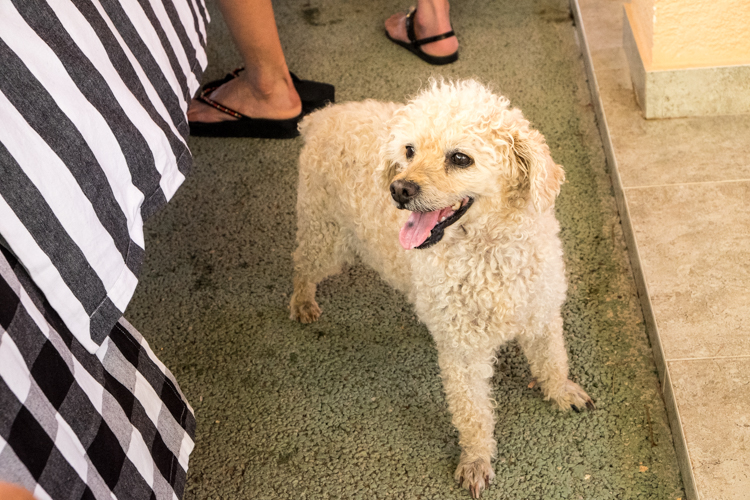 28_30
These parties go on for a long time, so at various points people take their siestas: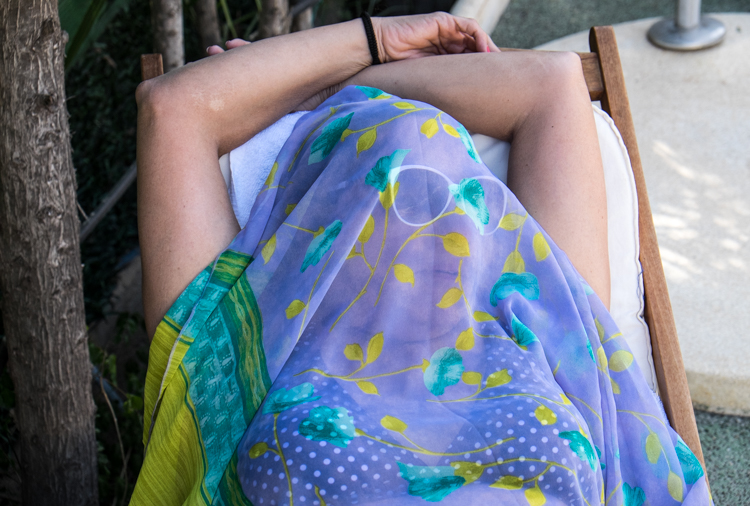 28_31
Iñaki has a new partner. She is pretty and also very expressive during conversations: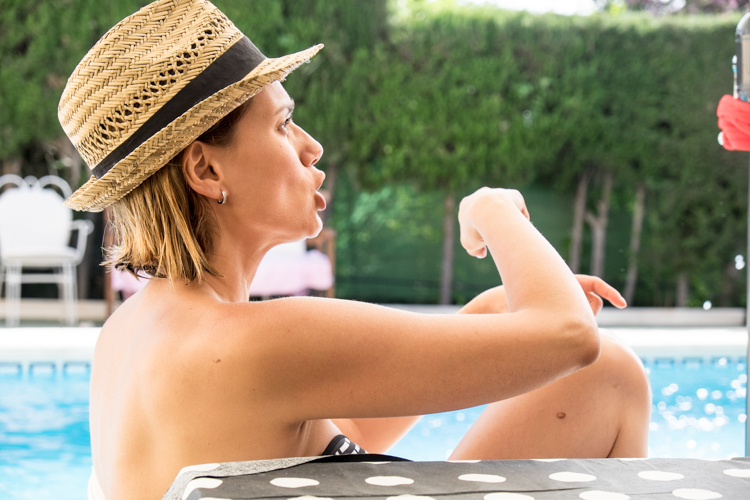 28_32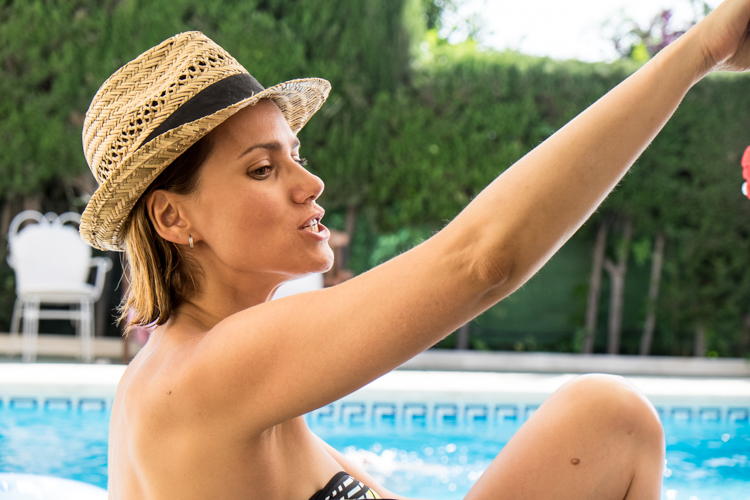 28_33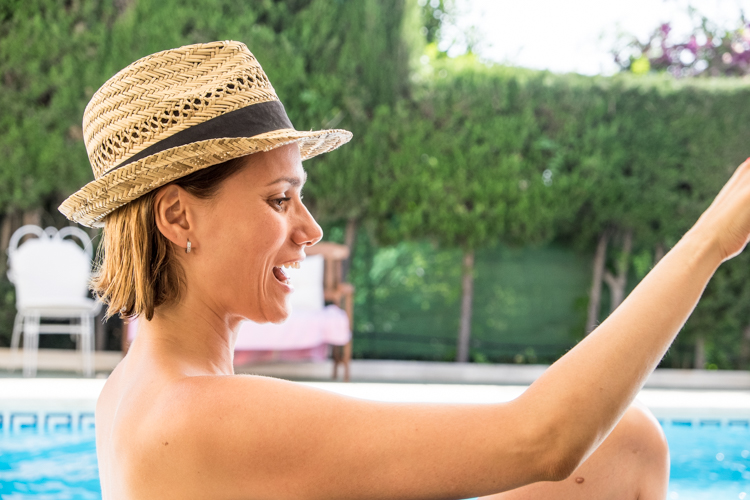 I left the party around 6:30 p.m., and drove straight to Alicante airport to pick up my son, who was arriving from New York via London.
28_34
Lots of people were meeting friends and family at the airport, including this little boy who could barely restrain himself:

28_35
Moses arrived safely, and 20 minutes later this joyful reunion took place:

28_36
We walked to a nearby restaurant, L'Arruz, for dinner. This was the overall scene. On a warm summer evening, nobody wants to sit inside: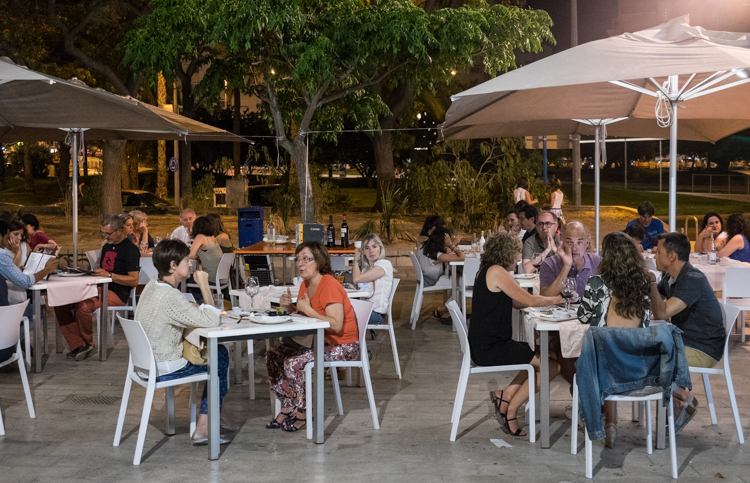 28_37
Moses was hungry after the long trip, and he certainly enjoyed the appetizers and the atmosphere: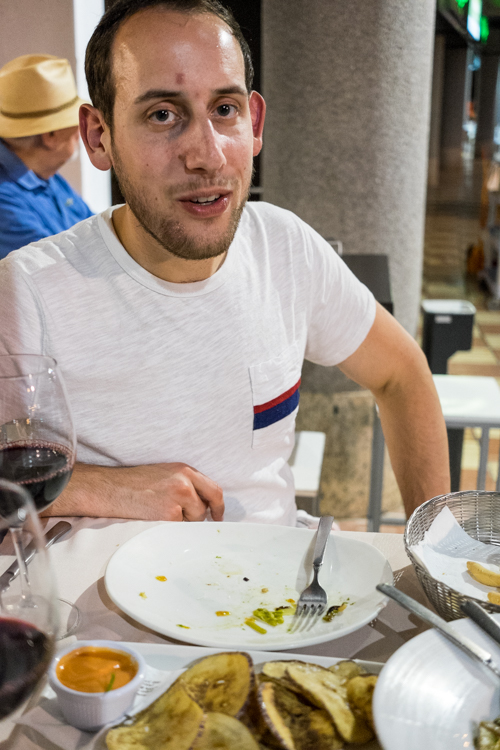 28_38
Couple at the neighbouring table:

28_39
L'Arruz is very much a neighbourhood restaurant, and we witnessed several chance encounters between friends and neighbours: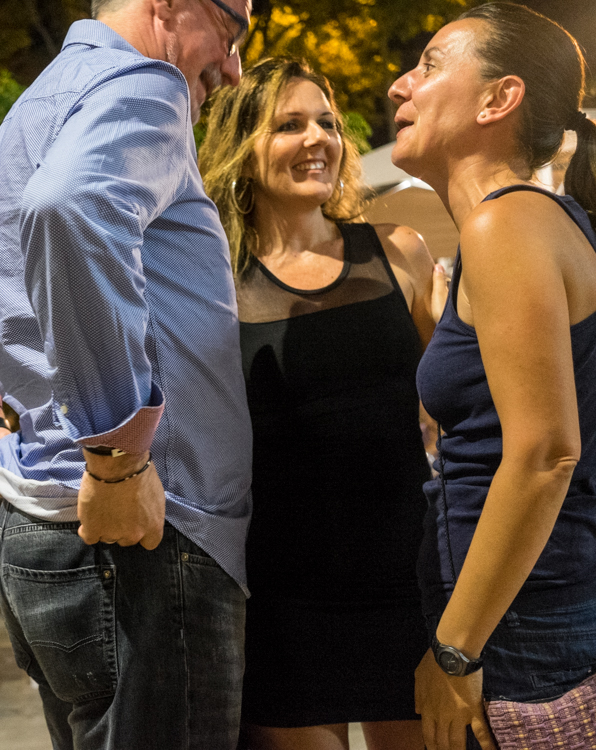 28_40
After dinner we walked home and toasted the reunion with good Belgian beer. Happy days are here again: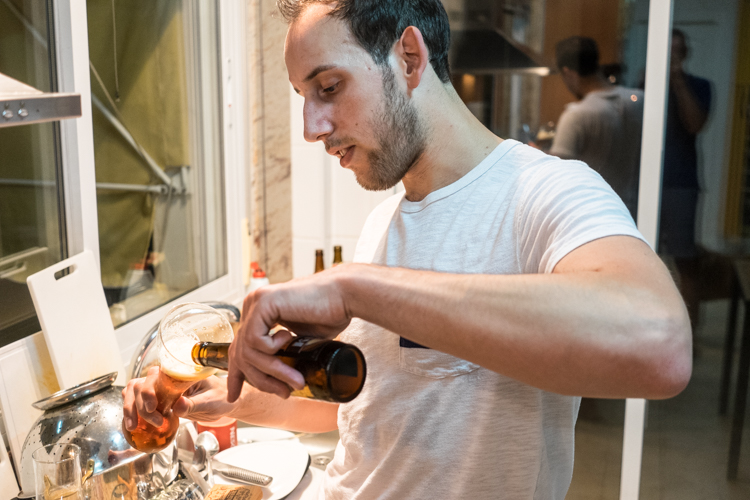 28_41