Another week of work and cycling, but also a walk in central Alicante, and the year's first visit to Hostal Maruja–a sure sign that spring is here.
10_1
The first few pictures are from Sunday morning's bicycle ride to Tibi, a small town in the mountains. For a long stretch, the road follows the A77 motorway, with a sign warning about snow, seeming out of place on this sunny morning: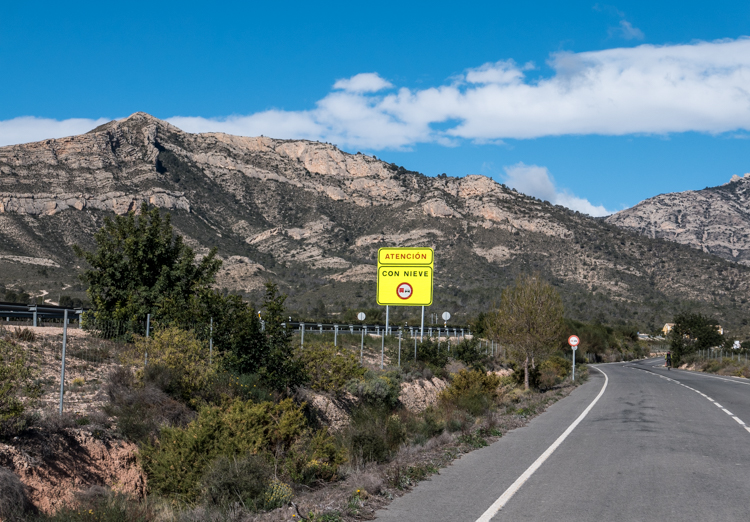 10_2
The landscape in monochrome: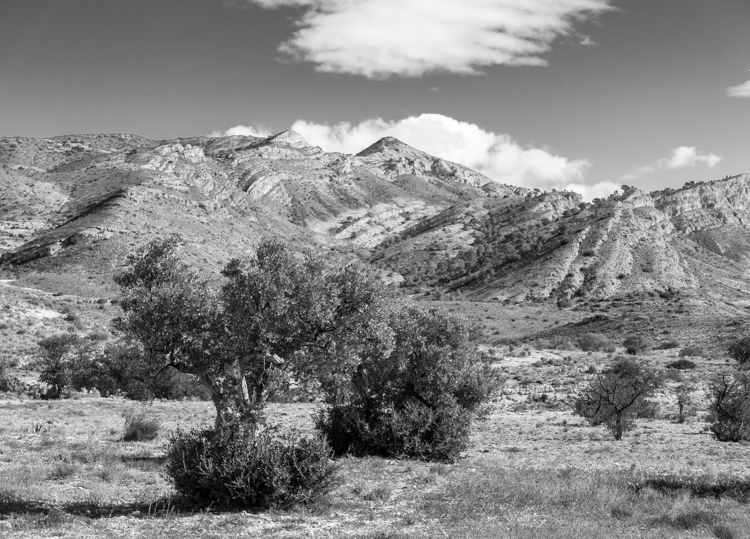 10_3
Mar y montaña: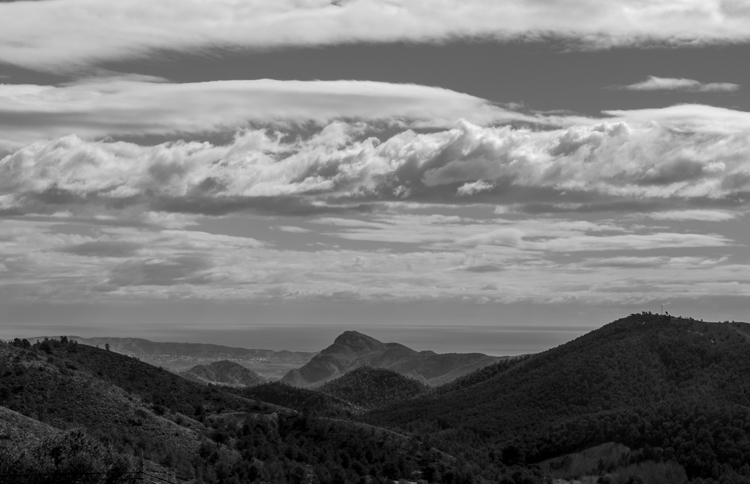 10_4
A few km outside Tibi there is evidence of some ambitious plans from the past. A large industrial park was going to be constructed here. However, besides this billboard there is no evidence that there was ever any economic activity: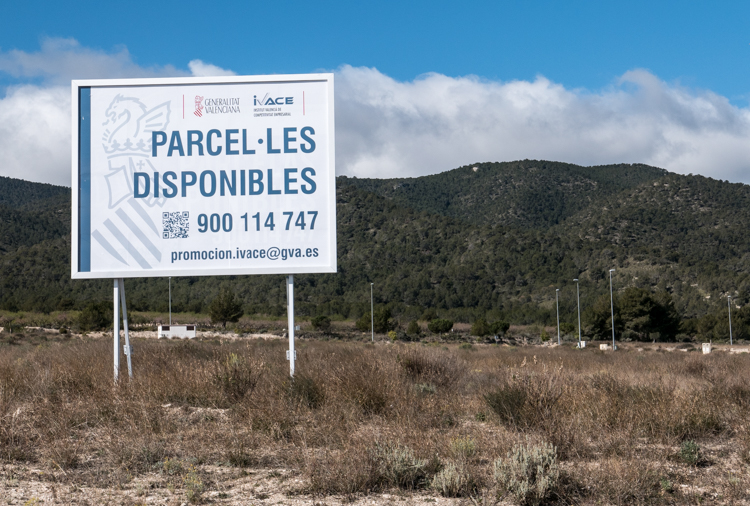 10_5
The road to nowhere: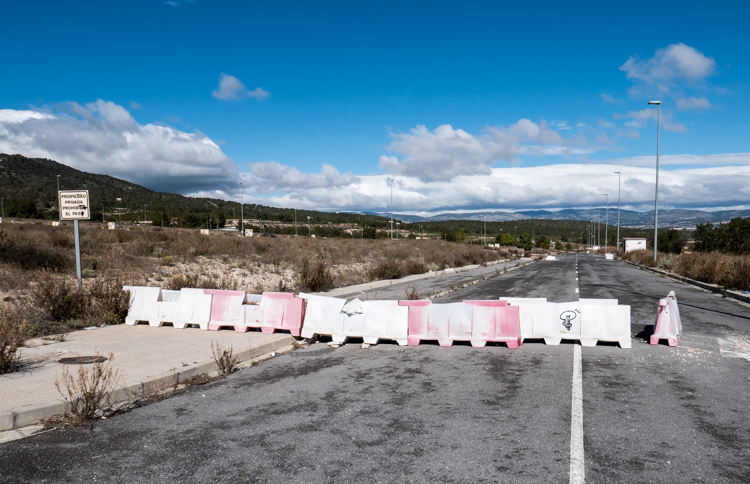 10_6
Idle infrastructure: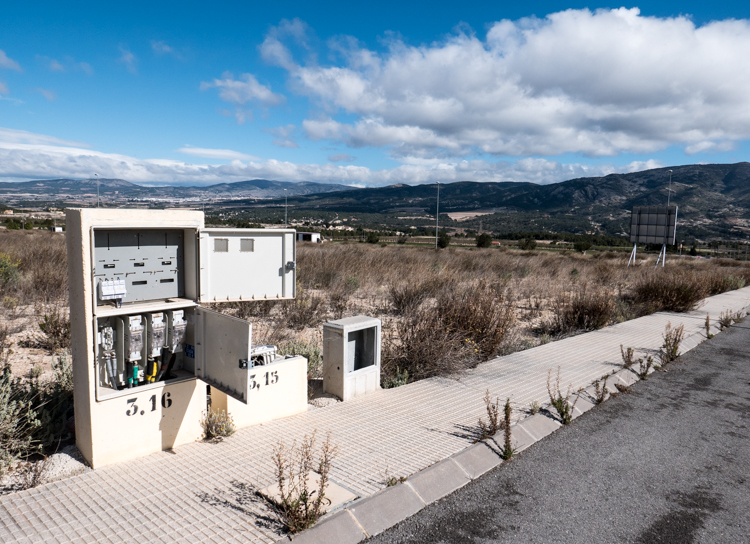 10_7
Later on Sunday afternoon, I went to the Eden Bar in El Campello to watch the League Cup final between Liverpool and Manchester City. The outcome of the match was not what I wanted, but it did give me an opportunity to take a walk on the nearby beach and enjoy views like these, thanks to the very clear air that day: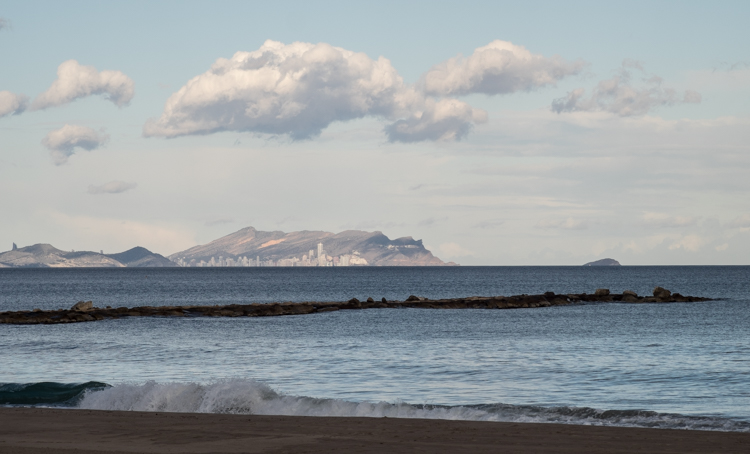 10_8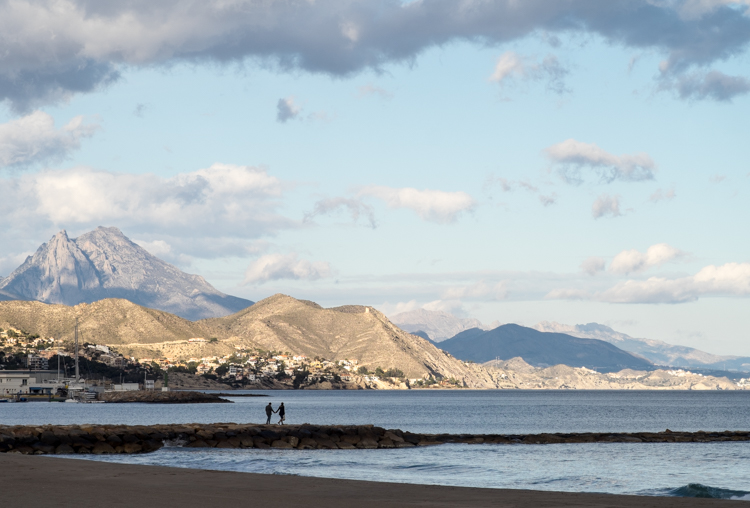 10_9
It was not that warm, but there were some children playing on the beach: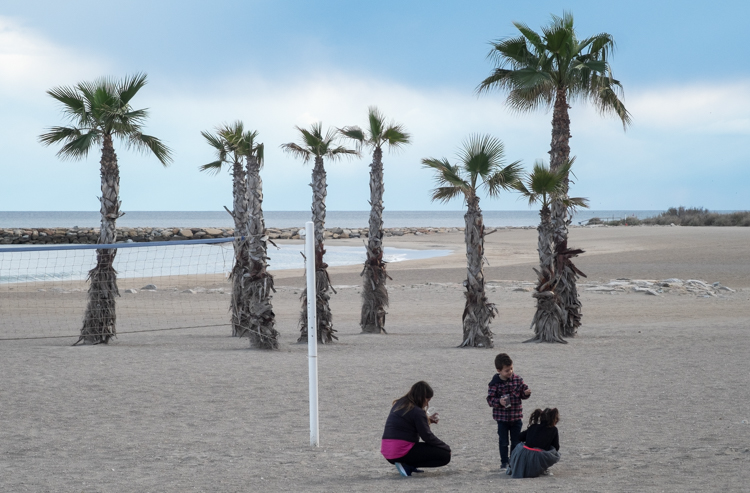 10_10
Parked vehicles: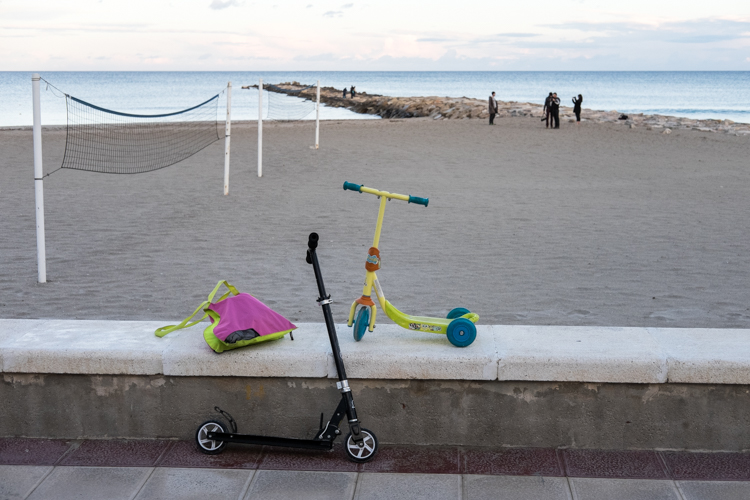 10_11
Emptiness: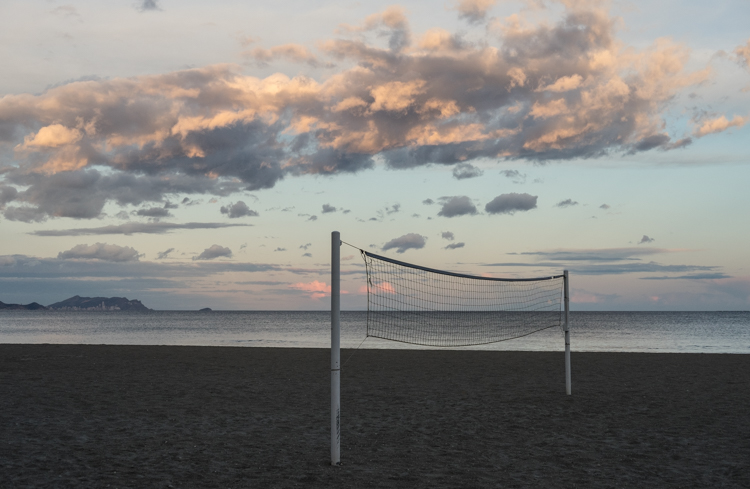 10_12
Policy disagreement: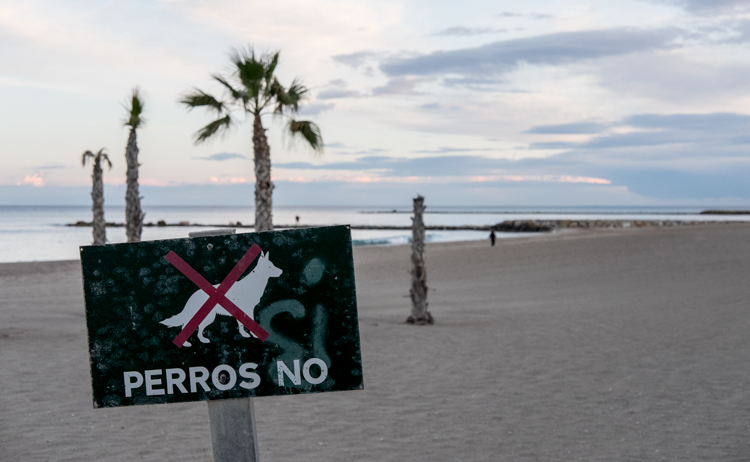 10_13
A snippet of my daily life. Every morning I walk the dog, and swing by one of the local bakeries to buy our bread for that morning's breakfast: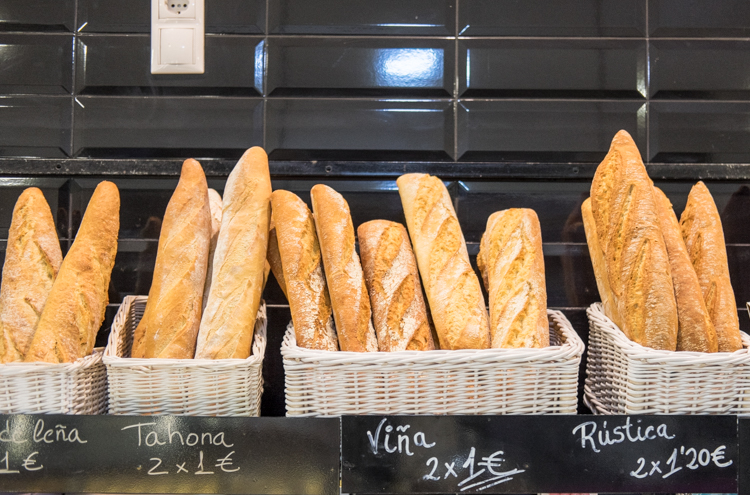 10_14
Another snippet of my daily life, this time from the office. Tamara has been on maternity leave for the past several months, but now she has come back to work: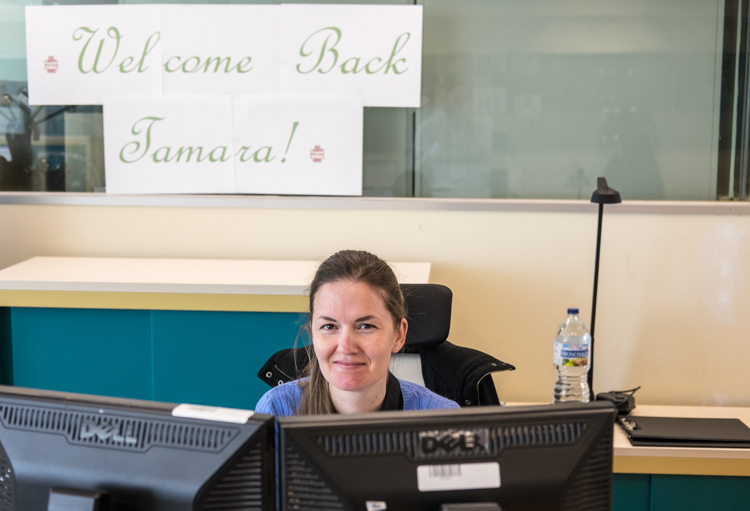 10_15
During the week we hosted 3 days worth of meetings of public and private stakeholders and various experts. One of my colleagues, Alexandra, is holding a giant printout that was made for a meeting she chaired. Paperless office, indeed: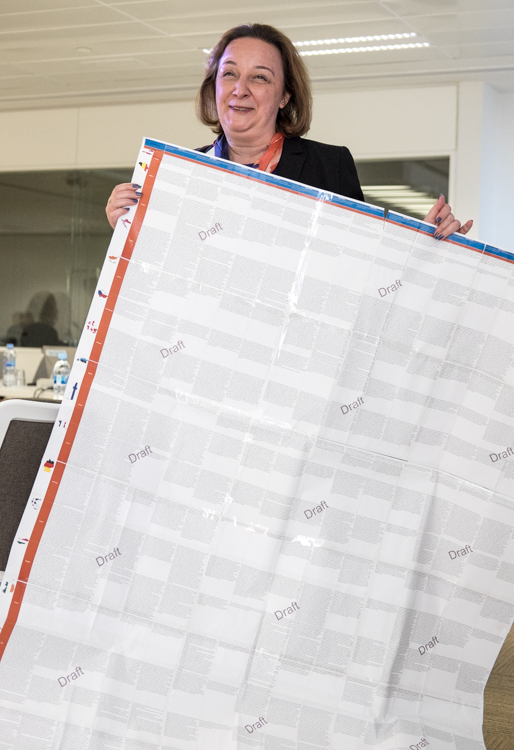 10_16
As is customary on such occasions, one of the evenings we hosted a dinner at a local seaside restaurant for more than 100 guests from all over Europe. Here is one of them, one the left, Ilja, a senior economist from the European Patent Office in Munich. The other two are my collaborators Carolina and Michał: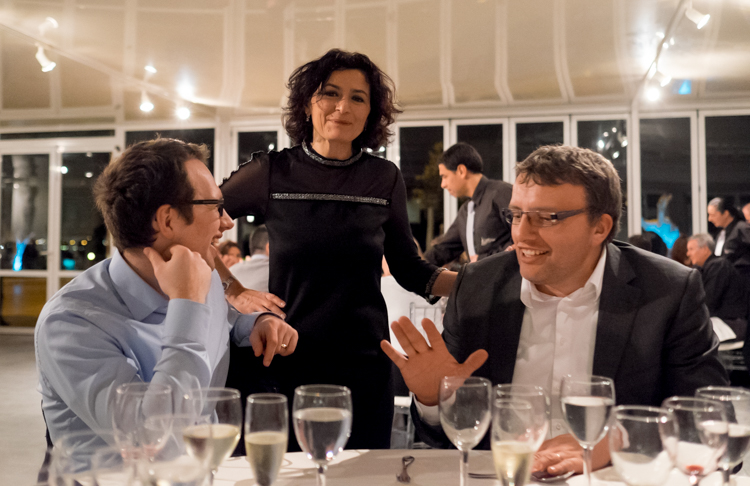 10_17
We work hard to prepare and run these meetings (they take place twice a year), so on Friday, when it was all over, I took my team out for lunch at Hostal Maruja. It had re-opened for the season a week earlier, thereby signalling the arrival of spring: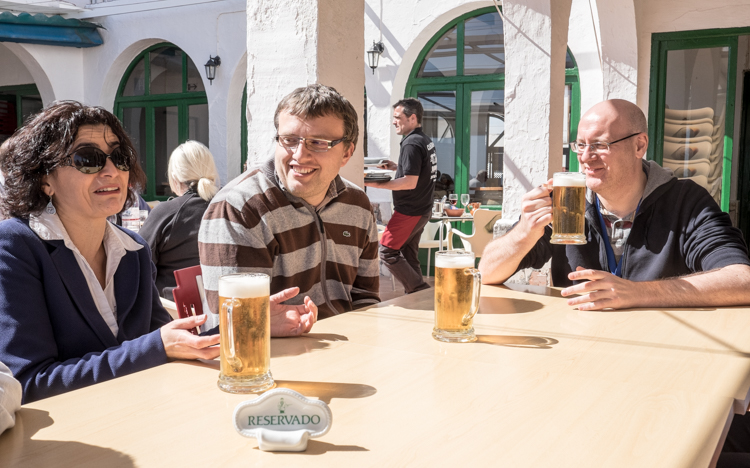 10_18
Our Czech trainee Adéla helps herself to some boquerones fritos (fried anchovies):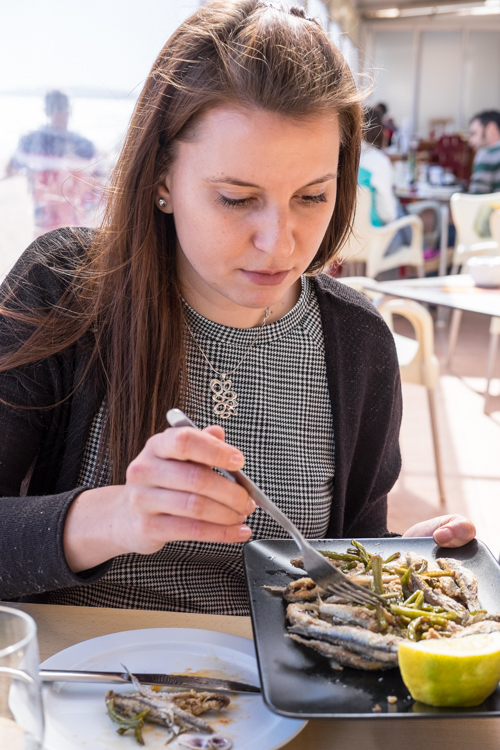 A bit of food porn in the next four images. Hostal Maruja is a modest-looking establishment, but the location is wonderful and the seafood is some of the best anywhere.
10_19
Patatas bravas (a staple of Spanish tapas, fried potatoes with a spicy sauce):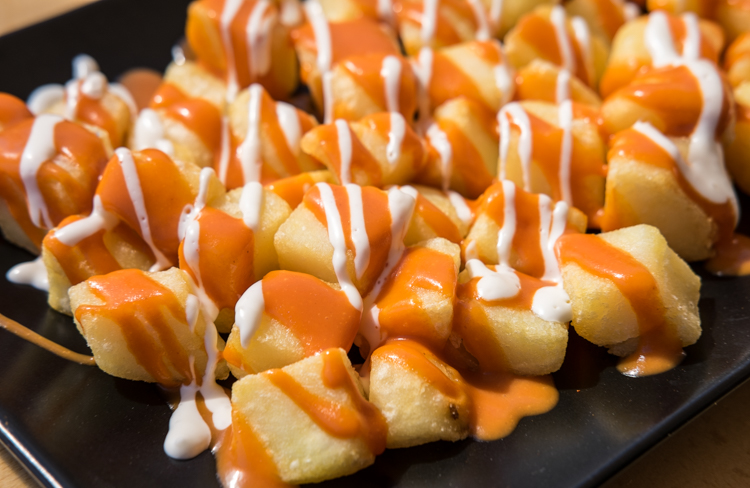 10_20
Pulpo a la plancha (grilled octopus):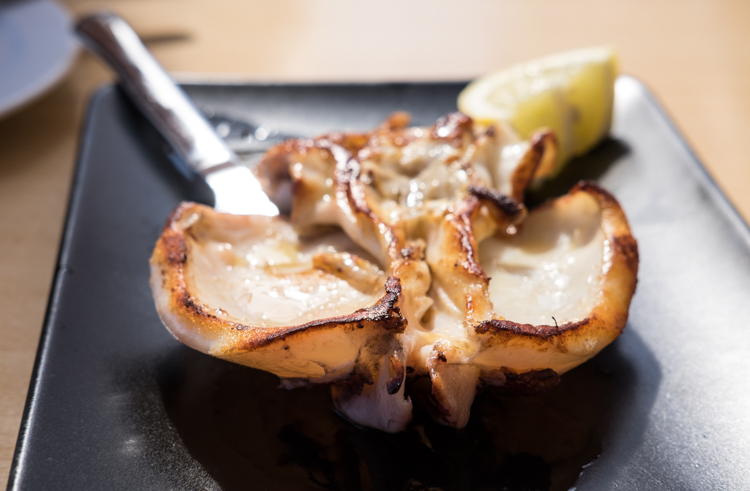 10_21
Pulpo a la gallega (Galicia-style octopus):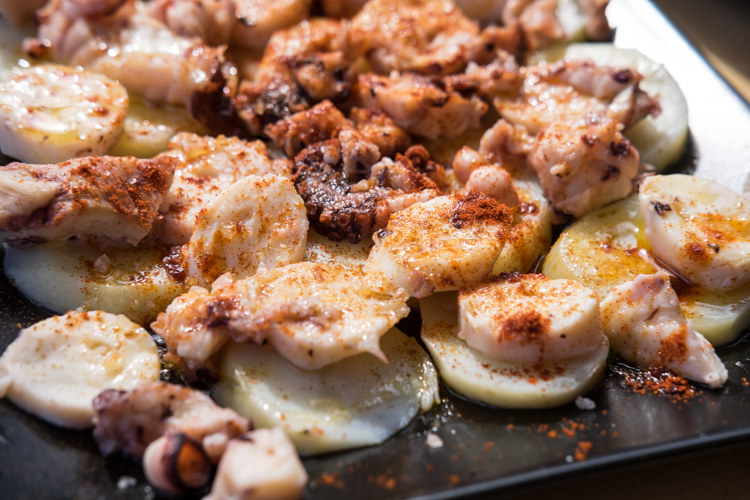 10_22
Sardinas a la plancha (grilled sardines):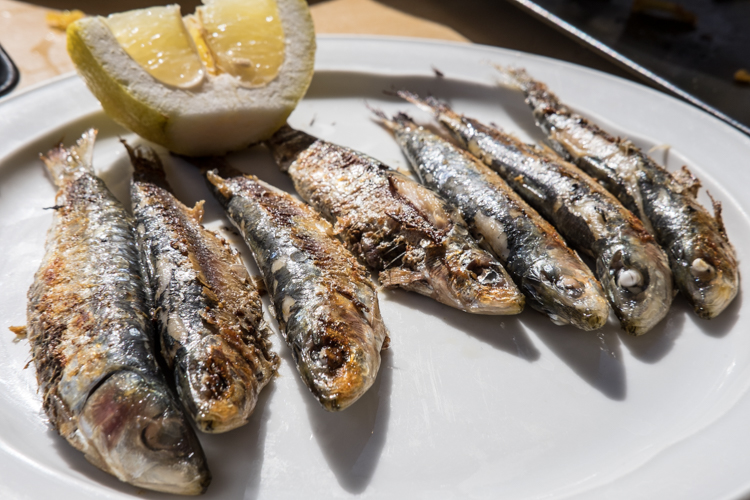 10_23
Juxtaposition of messages, entrance to Hostal Maruja: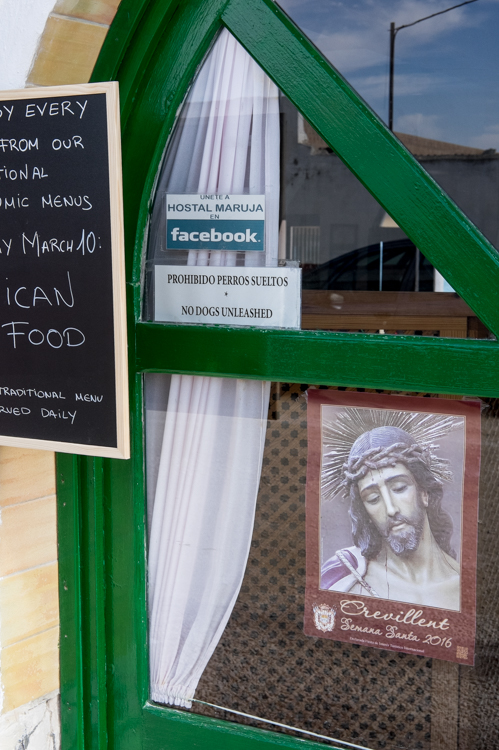 The rest of the pictures are from the centre of Alicante. My wife is away visiting our son in Colorado, so on Saturday afternoon I drove downtown to walk around a bit and to buy some good beer in a specialty shop I frequent there.
10_24
Walking her dog on Esplanada de España (this picture is from earlier in the week):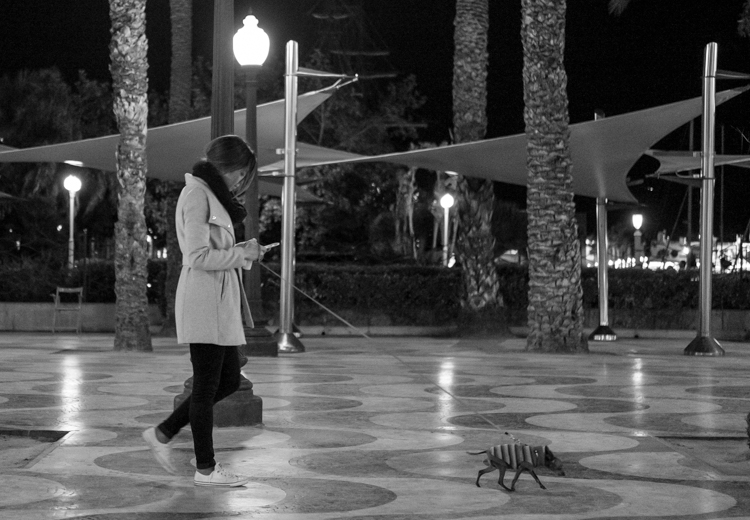 10_25
Alicante harbour. Most of the fancy boats belong to foreigners or wealthy people from Madrid: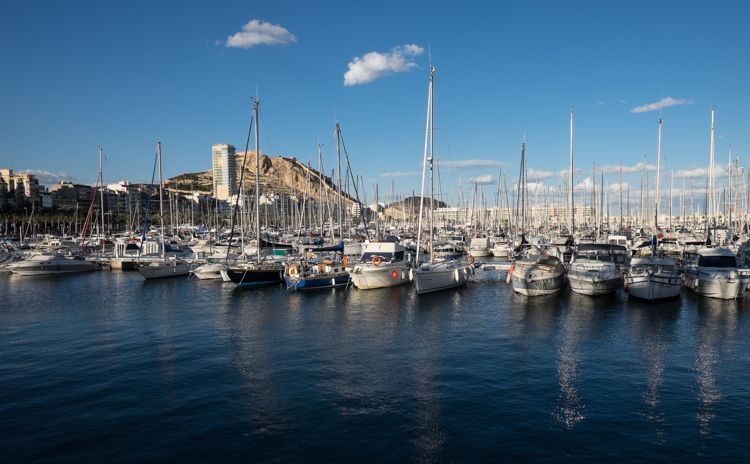 10_26
The spot from which I took the preceding picture is called Panoramis. It is now an essentially abandoned shopping centre. It has steadily declined during the eight years I have lived in Alicante, a victim of its location (not as convenient as the suburban shopping centres and somewhat removed from the main central shopping district) and the lack of an anchor tenant. Today, there is a small movie theatre, a low-end American restaurant (Foster's Hollywood) and an indoor playground. Most of the shops and restaurants are closed: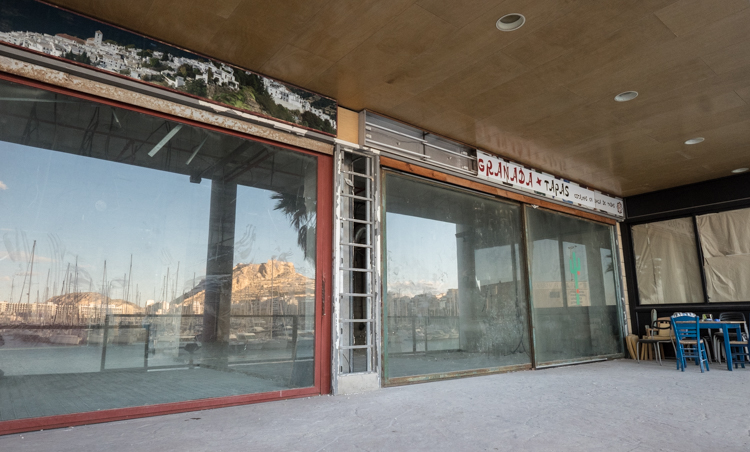 10_27
Next to Panoramis is the Lonja de Pescado, the building which housed the fish auction back when Alicante was a fishing port. Today, it is an exhibition centre, and I had gone there to look at a couple of photography exhibitions: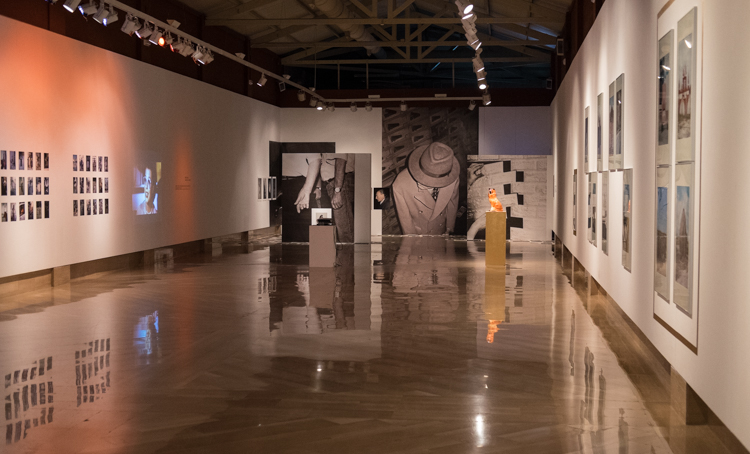 10_28
One of them was a series of portraits of people and other images from the photographer's travels around the US: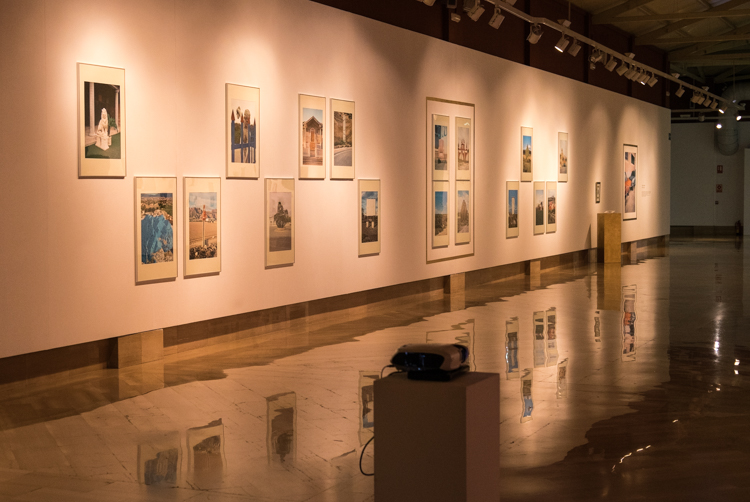 10_29
In the adjacent exhibition, the photos were arranged in a somewhat unusual fashion: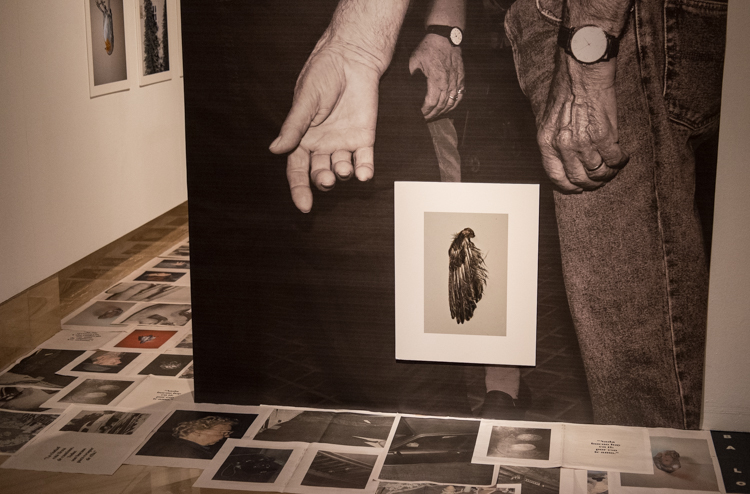 10_30
Afterwards, I walked to the beer store, passing this hair salon sign: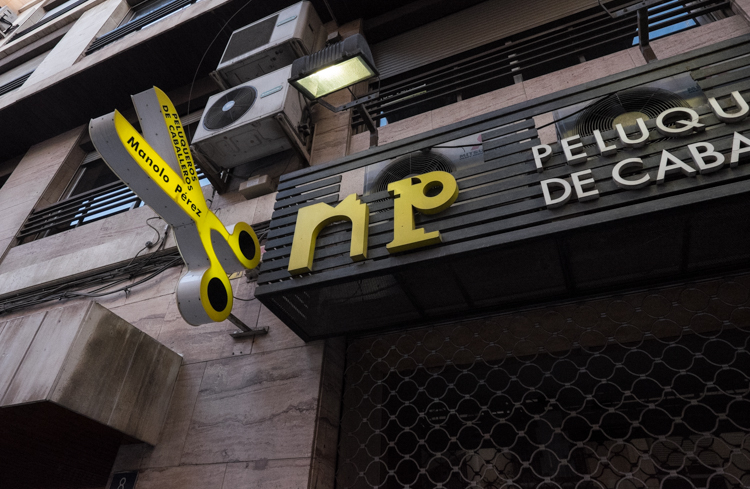 10_31
This is the entrance to Plaza Gabriel Miró, a nice little oasis in the old centre. Because the square contains the city's main post office, everyone calls it Plaza de Correos: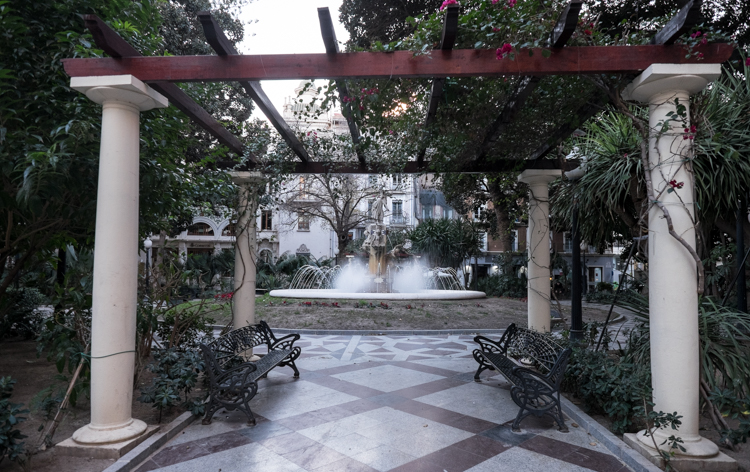 10_32
The fountain at the centre of the square: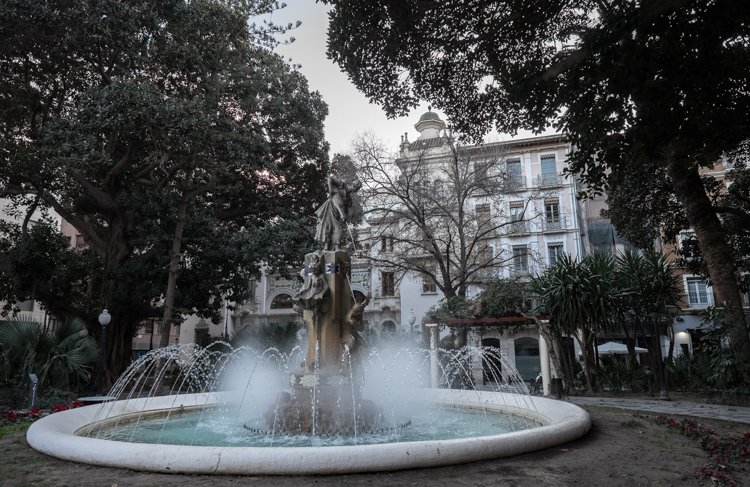 10_33
The grand old post office that gives the square its common name: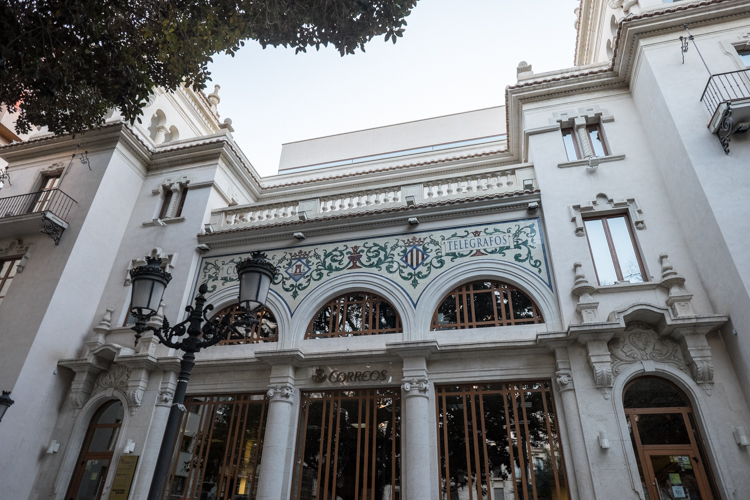 10_34
People eating and drinking and smoking and just talking outside one of the many bars and restaurants lining the Plaza de Correos: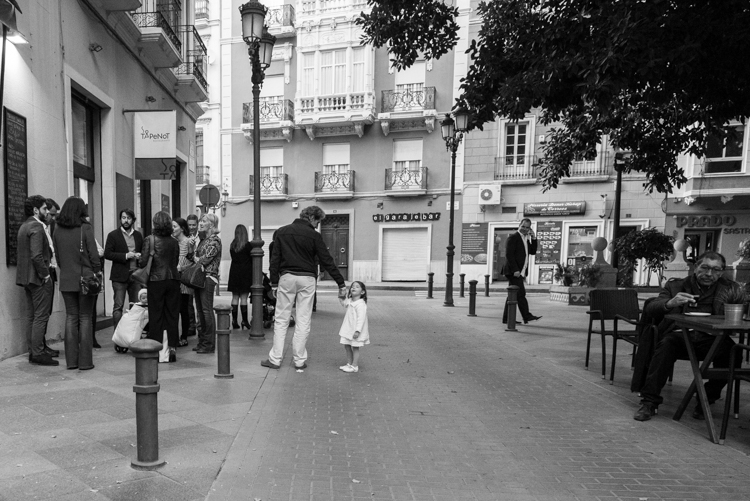 10_35
People and their dogs outside a restaurant on Calle Castaños. I think their companion went inside to make a reservation for later that evening: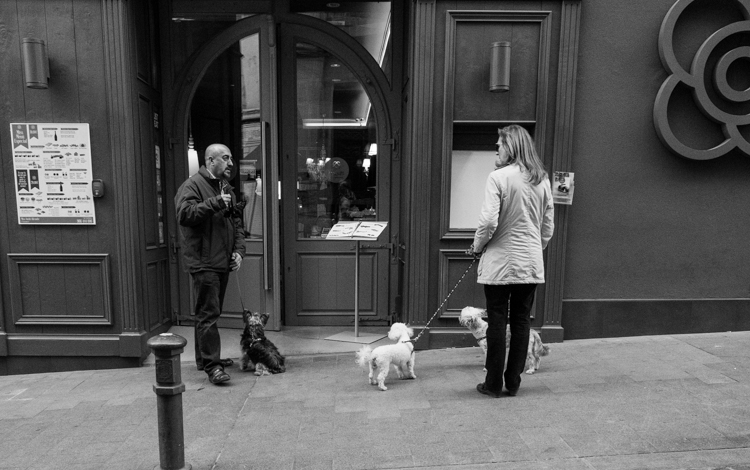 10_36
I have no idea why this woman was taking a selfie at this particular spot. She is standing right outside the Habemus Birra beer shop but is pointing the other way: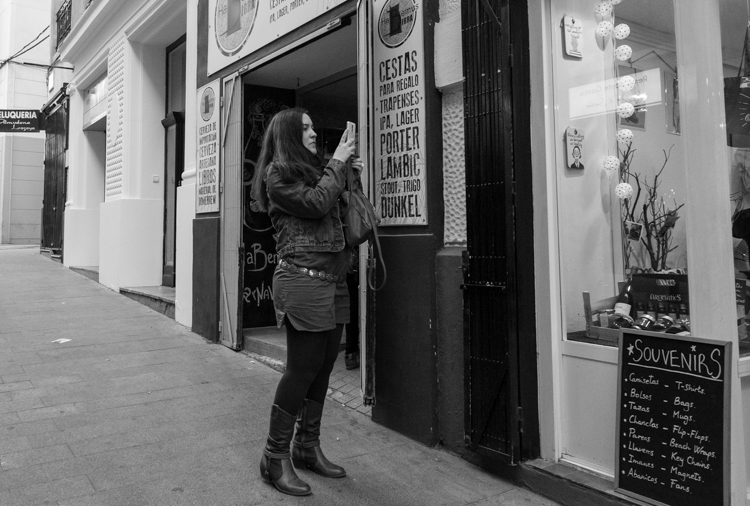 10_37
Finally, an attempt at a mysterious and somewhat menacing self-portrait, using the late afternoon sun and some urban grit: