After finishing 2021 in New York/New Jersey, we flew to Puerto Rico on New Year's Day and spent the first week of 2022 there.
1_1
The flight from New York to San Juan is about 4 hours; then a queue for some Covid-related formalities (Puerto Rico requires a negative test from arrivals from the mainland), and then a long fight with a crooked car rental company. But we finally had a car and drove to my wife's hometown, San Lorenzo, about 45 minutes away, arriving around 8 p.m. My wife's parents were waiting with dinner. This is one of my very first photos in Puerto Rico, my daughter with her grandfather: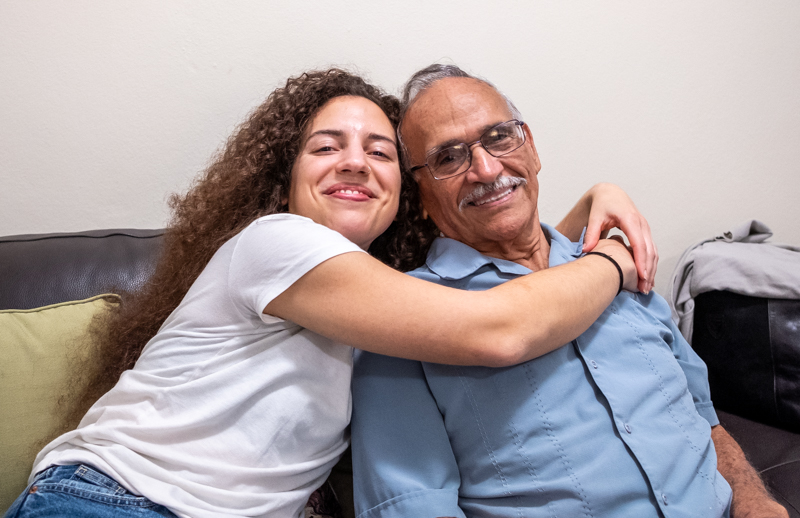 1_2
The beer situation in my in-laws' fridge was approaching critical, so I went to buy some at the gas station across the street. Crossing the street proved a bit challenging because some young guys were having fun doing burnouts. My father in-law told me that this is the first time he had seen this in their neighbourhood: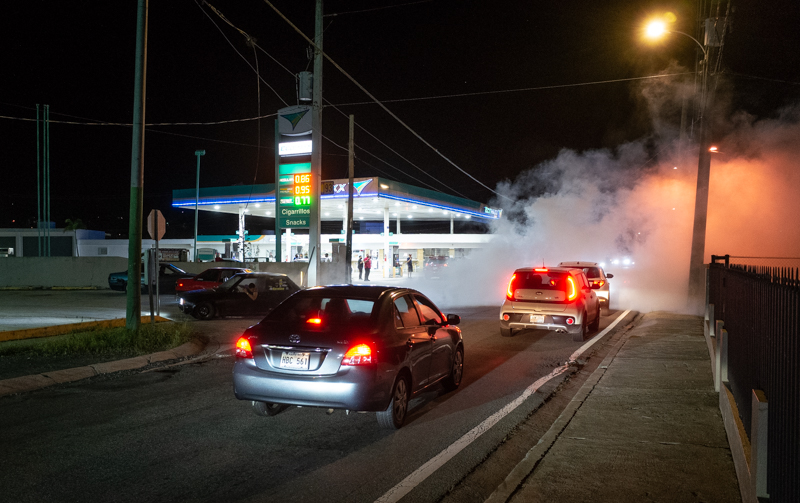 1_3
The next morning I got up early, as I usually do, and explored the garden a bit. My in-laws live outside the town in a house which they have owned for 60 years and have added to over the years. There is also a large garden in which my father-in-law has several animals, starting with the little dog called Pepsi. He was quite shy initially but during my stay we developed a close relationship: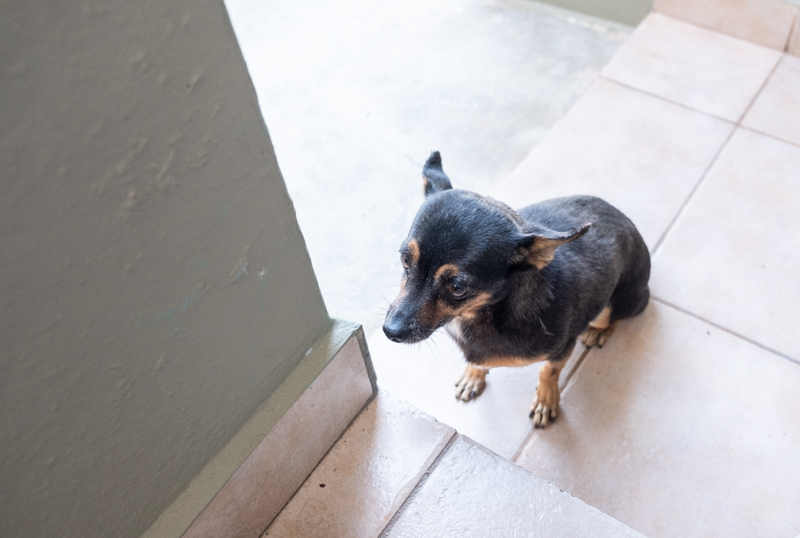 1_4
There are a couple of cats, too:

1_5
And hens and roosters–my father-in-law has always kept them, ensuring a steady and generous supply of fresh eggs: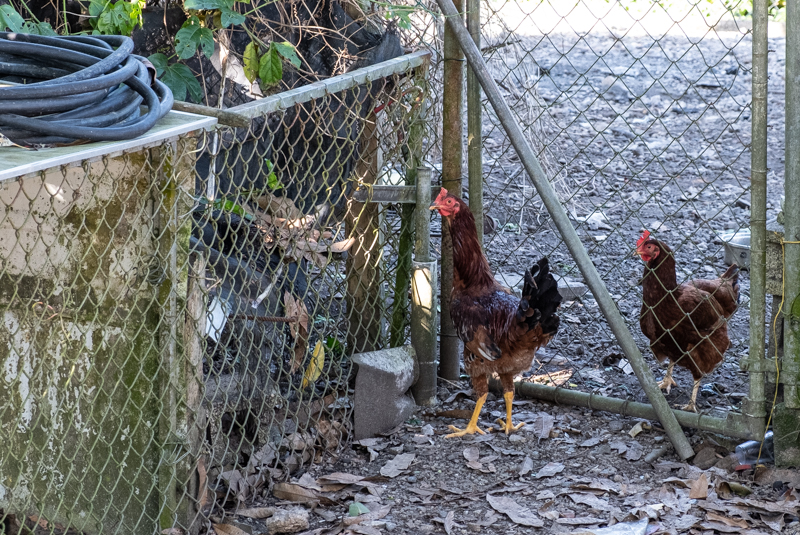 1_6
He also has some fruit trees, with fruit that I have no idea how to eat: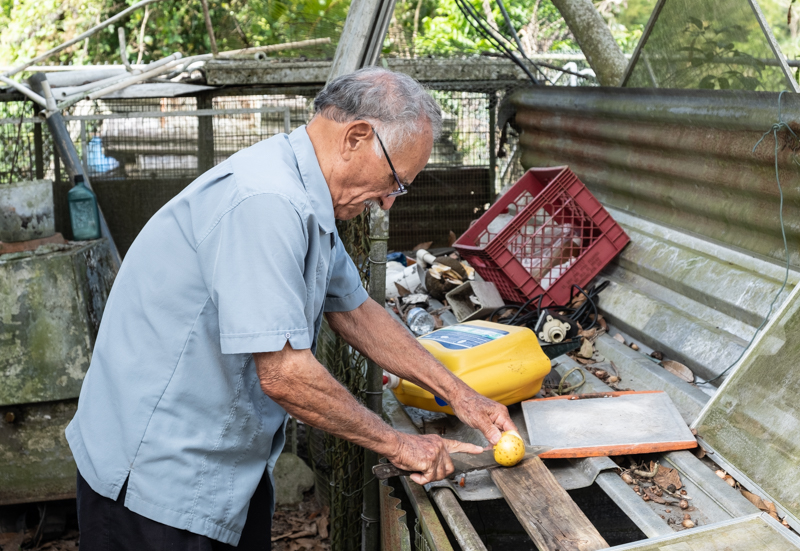 1_7
But he does: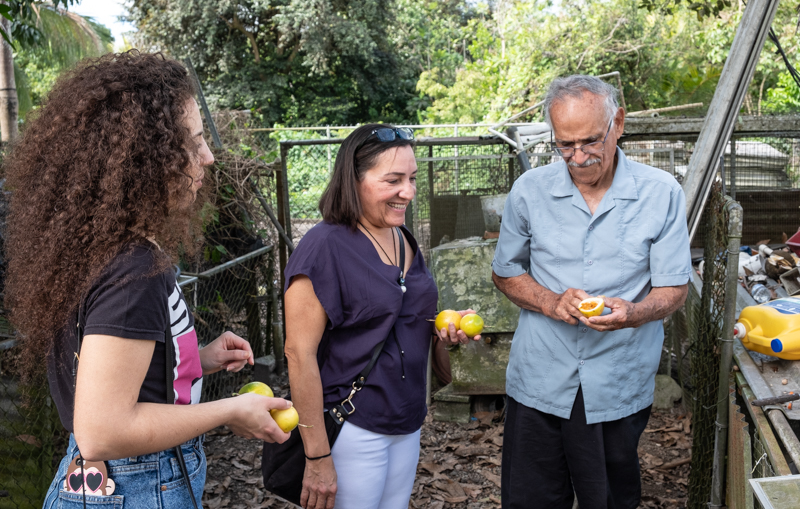 1_8
Later, we enjoyed our first lunch in Puerto Rico, made by my in-laws. The classic combination of plaintains, ñame and bacalao: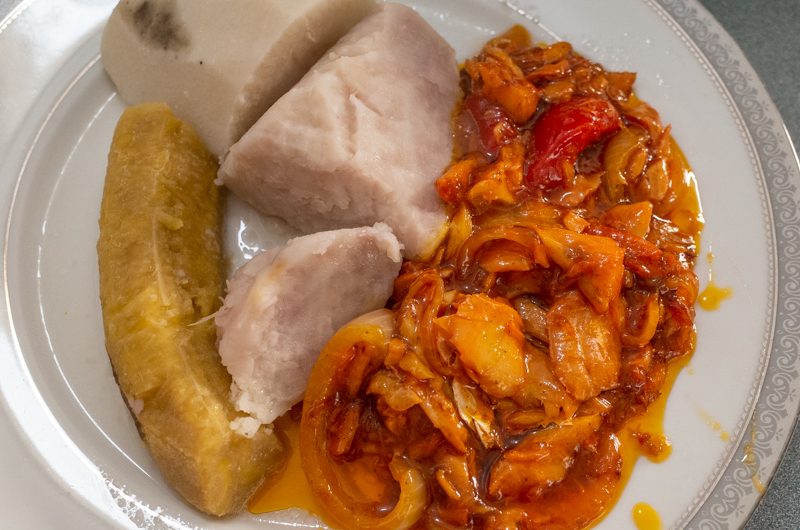 1_9
On the southern coast is the town of Humacao; the beach there is my wife's private paradise. She says that when she dies, she just wants her ashes scattered in the sea there: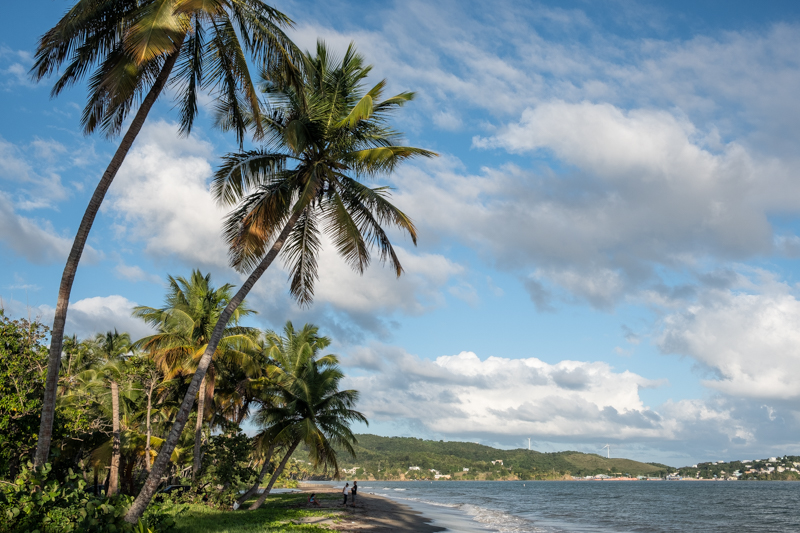 1_10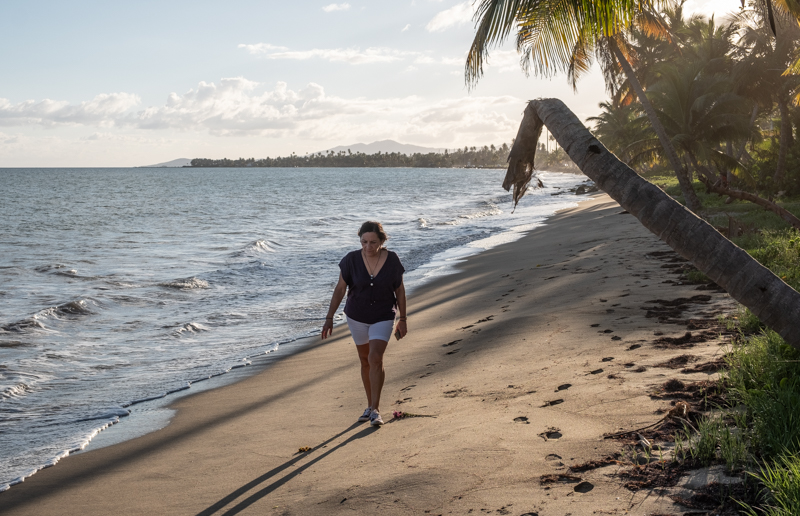 1_11
On the way back, we passed some unusual (for us) traffic: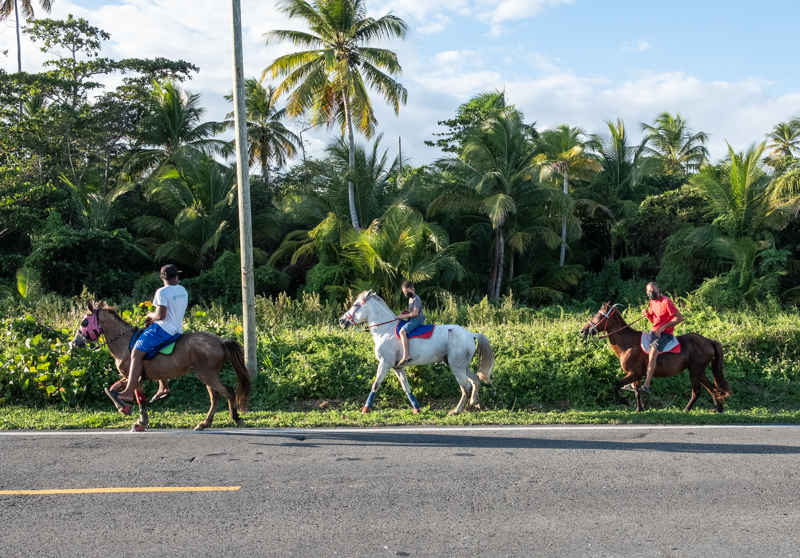 1_12
Part of the joy of visiting Puerto Rico is to see my daughter reconnect with her cousins there, like Lismari here (who actually lives in Maryland but had come down to the island for the holidays):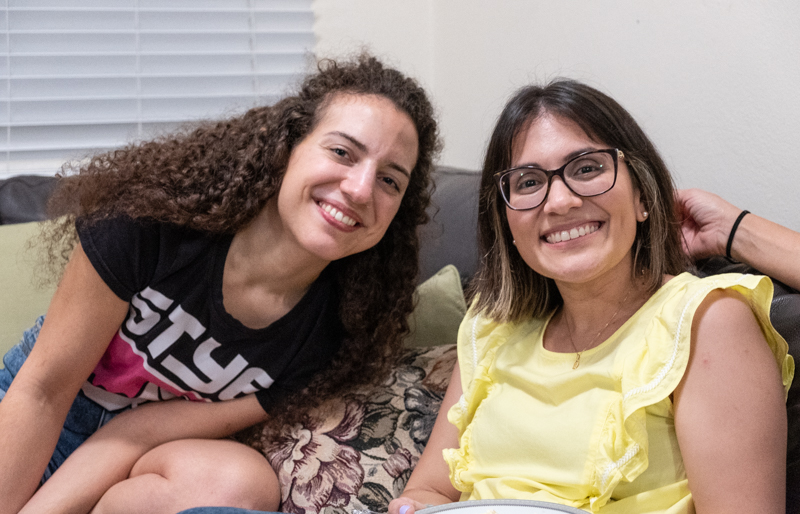 1_13
One day my wife and I drove to the centre of San Lorenzo and walked around a bit. This is the primary school she attended back in the 60s and 70s: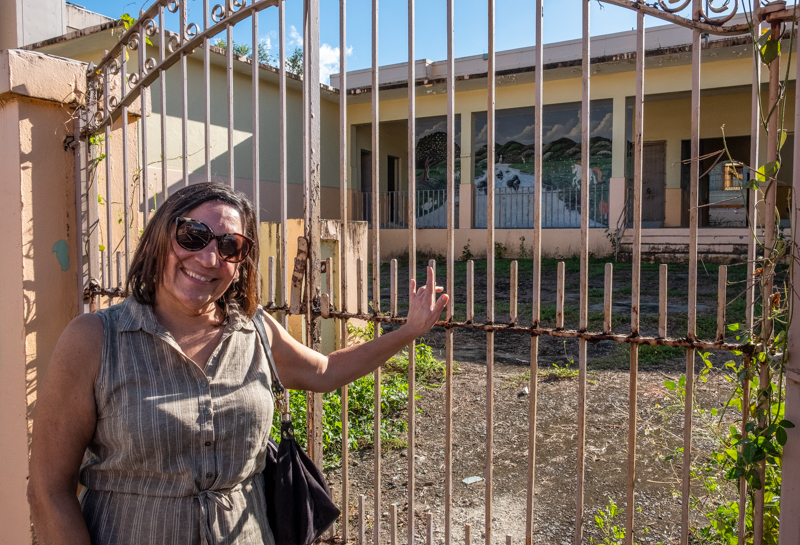 1_14
This old-timer came out and started talking to us; he has lived in the neighbourhood for many years and even knew some of my wife's teachers from a long time ago: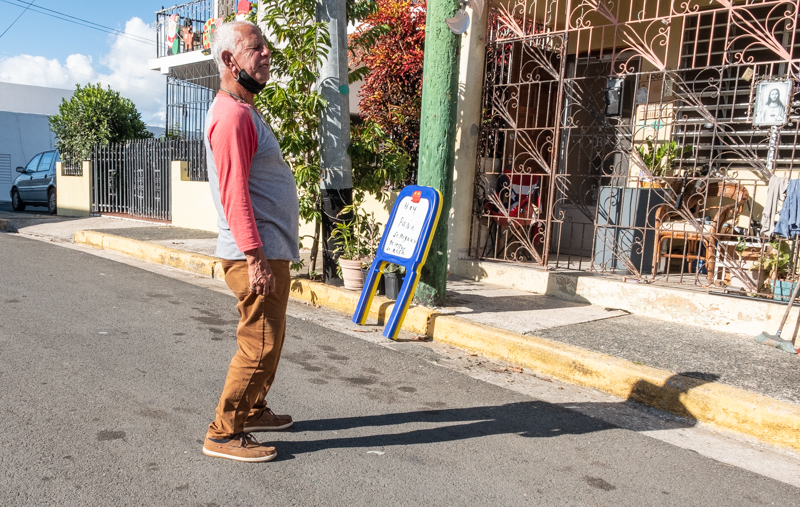 1_15
One of my wife's sisters lives in the capital San Juan with her son Fabian and her little doggie (her husband died a few years ago). Monica loved the doggie…: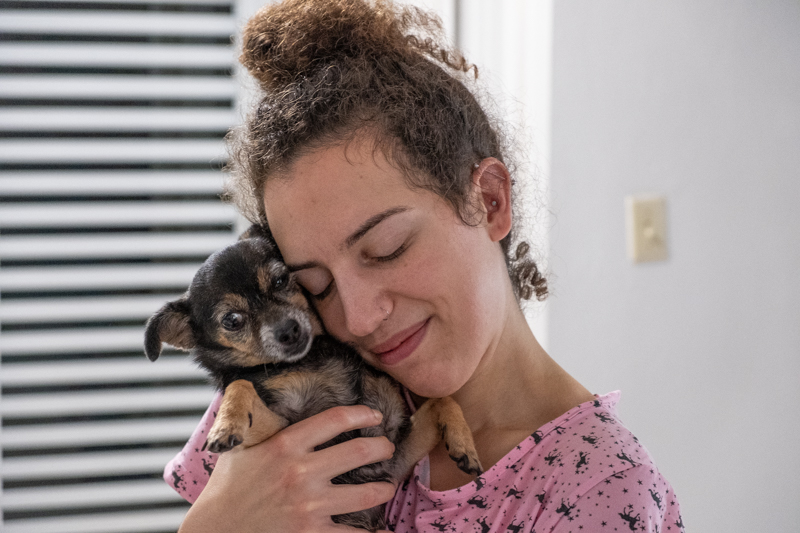 1_16
…but then she discovered the bad breath: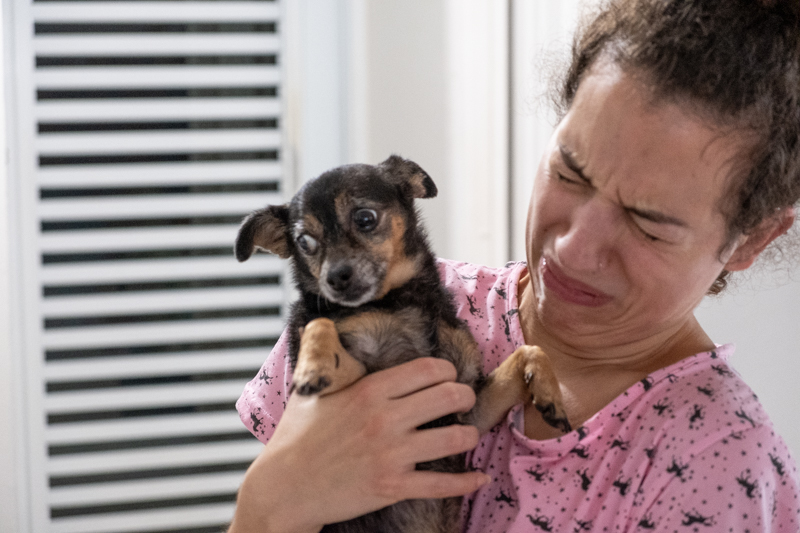 1_17
Fabian has a small company making various kinds of relaxed clothing. He buys the shirts etc. wholesale, and finishes them in his workshop. Everything is made in Puerto Rico: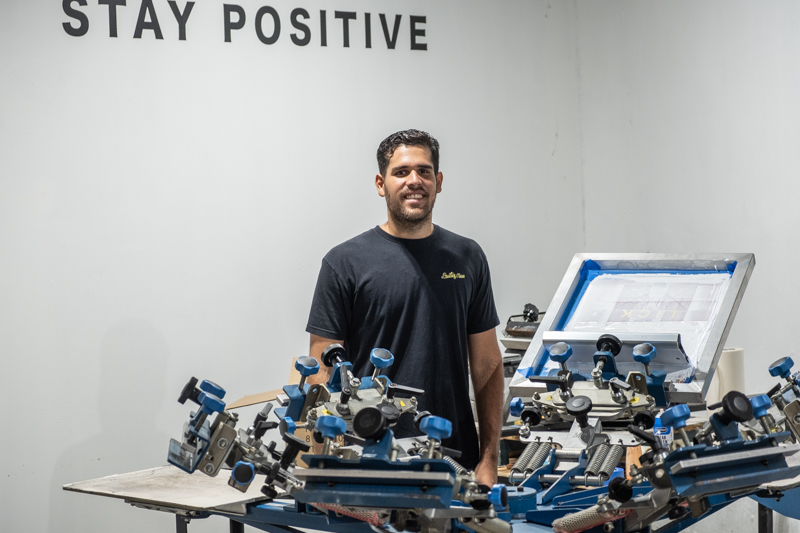 1_18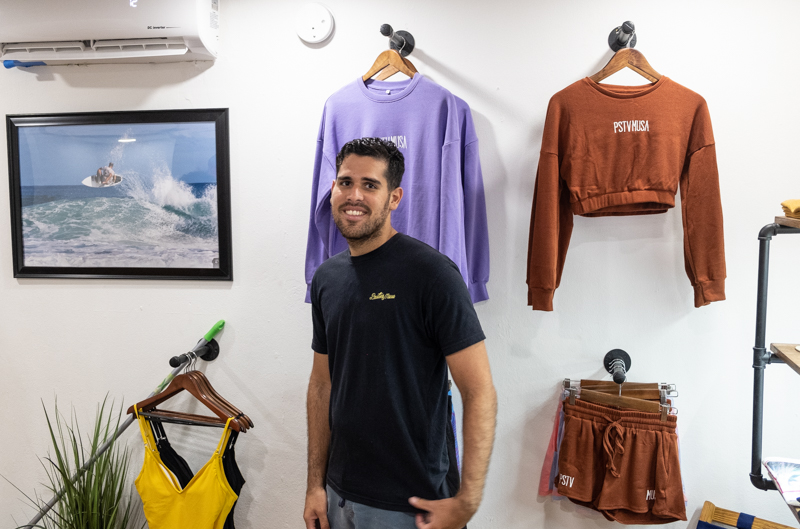 1_19
Monica models one of Fabian's creations: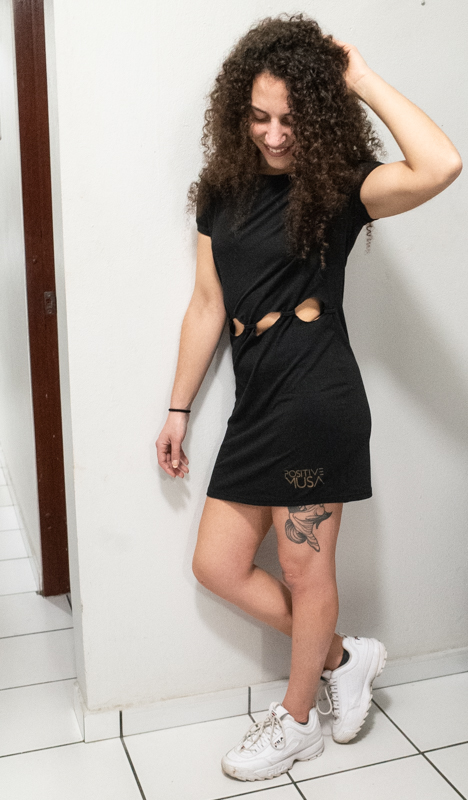 1_20
We spent a half-day walking around Old San Juan, Puerto Rico's main tourist attraction besides the beaches. Still, it is a beautiful place. There is a cemetery in front of El Morro, the fort built by the Spanish in the 16th century: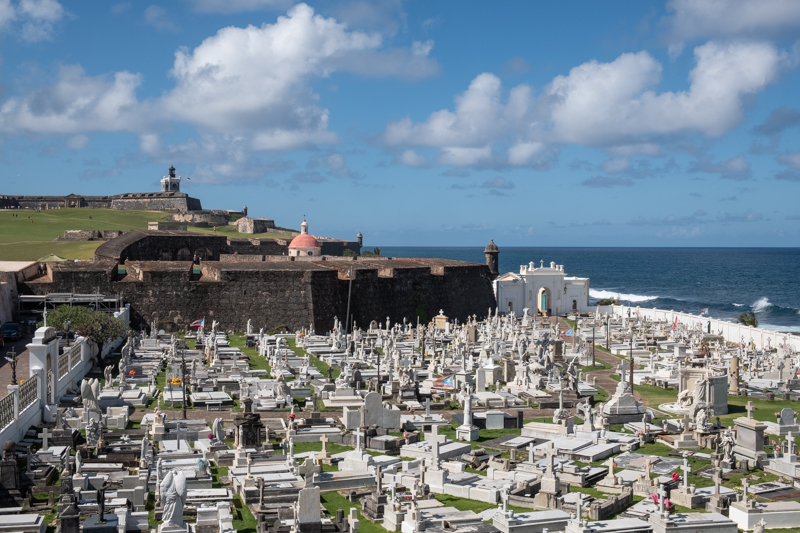 1_21
The woman photographing the cemetery has a cute Hello Kitty tatoo: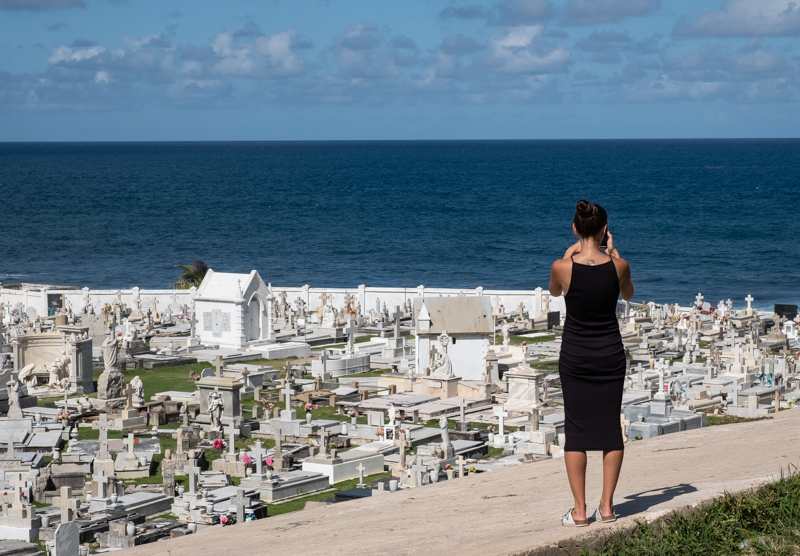 1_22
This is one of the classic postcard views from El Morro: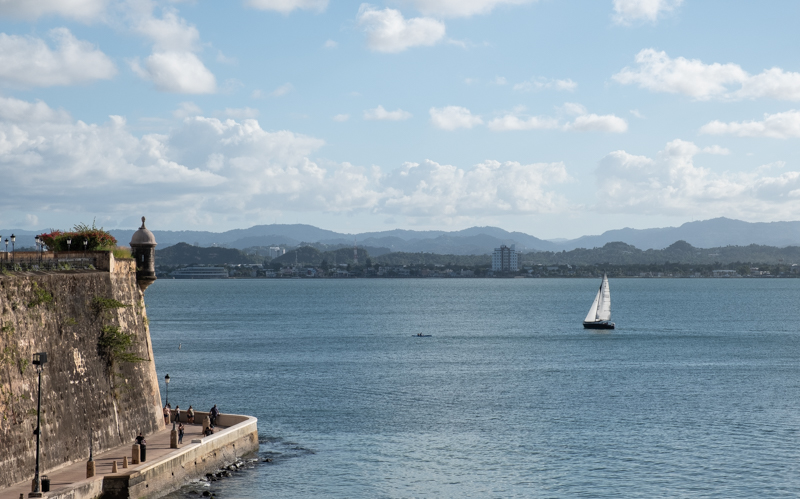 1_23
Ponce de Leon, the first Spanish governor of Puerto Rico from 1508 onwards. This statue was pulled down last week by activists protesting the visit of Spain's king Felipe VI: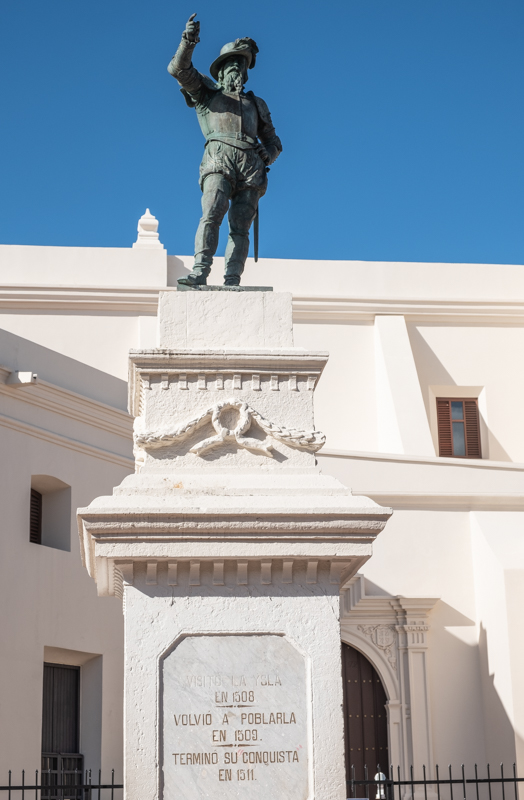 1_24
There are lots of kitties in Old San Juan: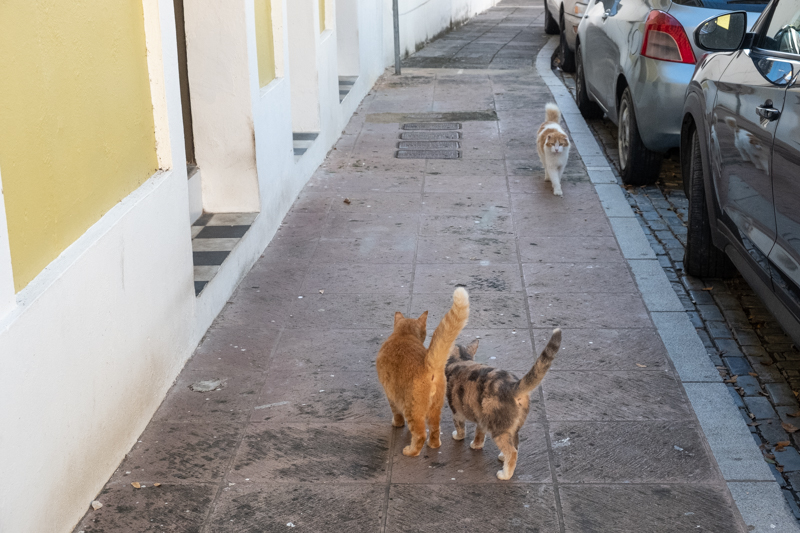 1_25
In the evening, my wife and I went to have some drinks at Placita de Santurce, a popular bar-hopping square with a bit of a dodgy reputation. But we enjoyed it very much: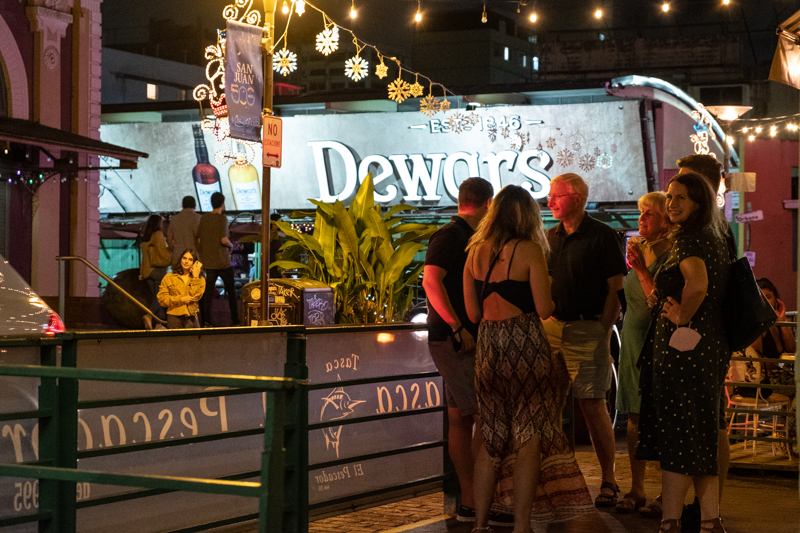 1_26
Live music, too: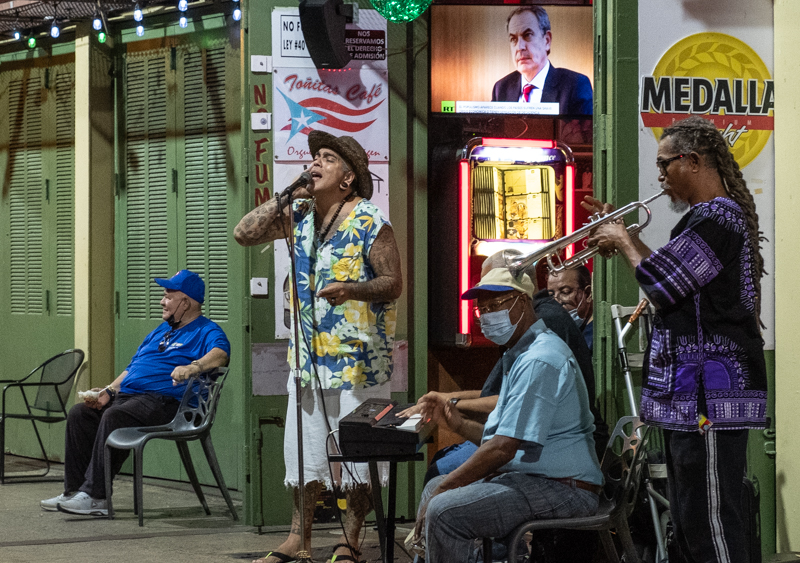 1_27
Back in San Lorenzo, Grandma is making a traditional Puerto Rican snack, sorrulitos de maiz (corn fritters):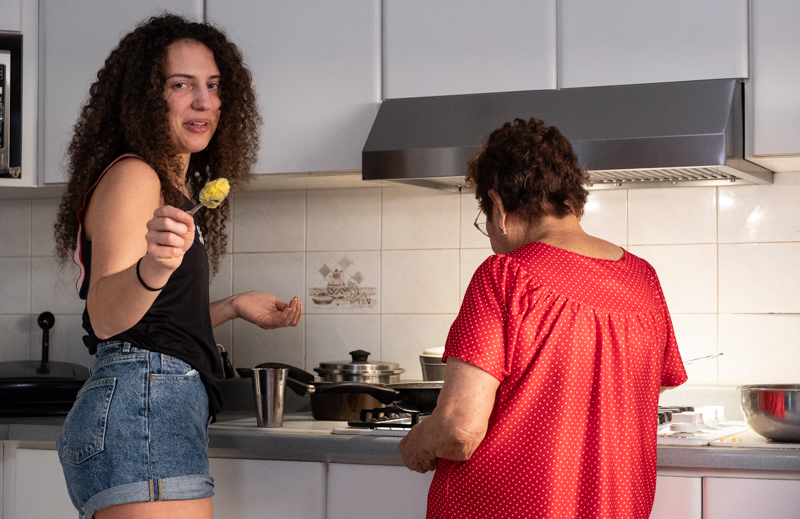 1_28
Three generations: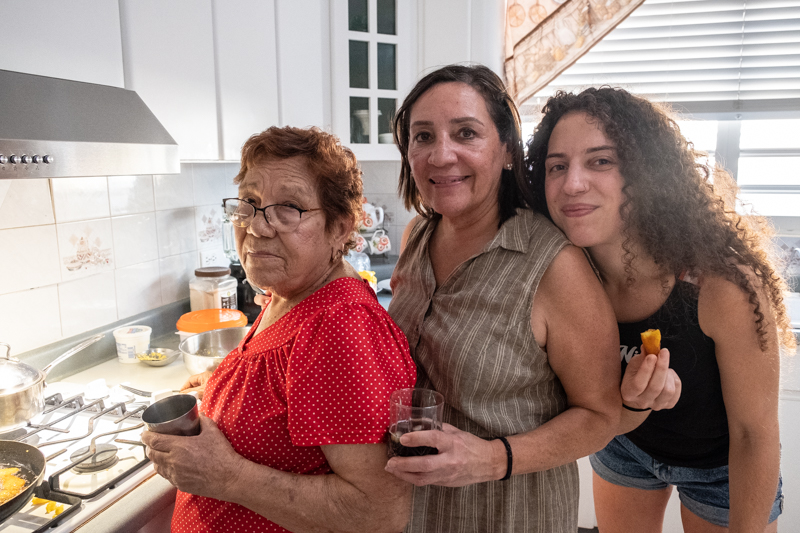 1_29
The weather in Puerto Rico is very consistent. Winter (such as it is) is the rainy season. Every morning there would be 1-2 hours of rain, with sunshine the rest of the day. This kind of weather means that much of the island is lush and green, like this landscape in the hills above San Lorenzo: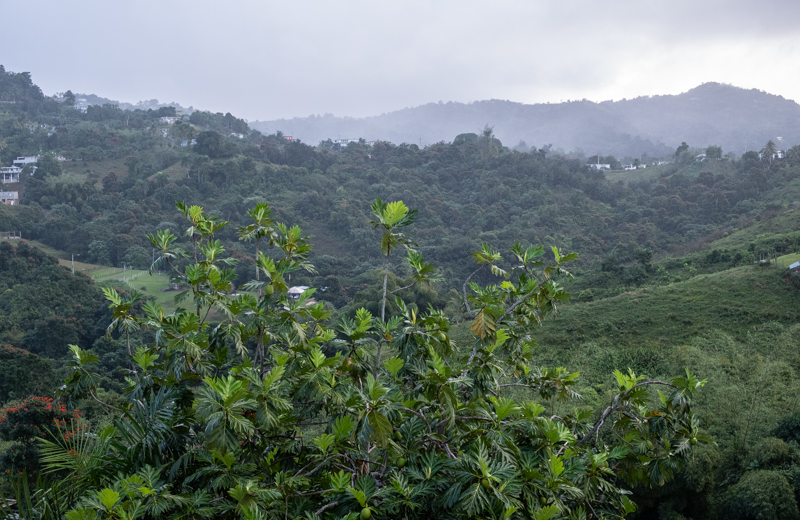 1_30
January 6th, Three Kings' Day, is in many ways the highlight of the Christmas season in Puerto Rico (just as it is in Spain). When my wife's nephews and nieces were children, the day was mainly about them and the presents they received. Now that all are adults but have for the most part not yet procreated, the holiday was going to be celebrated with a backyard BBQ at my in-laws. We started the day by driving to another relatively unspoiled beach, at Maunabo: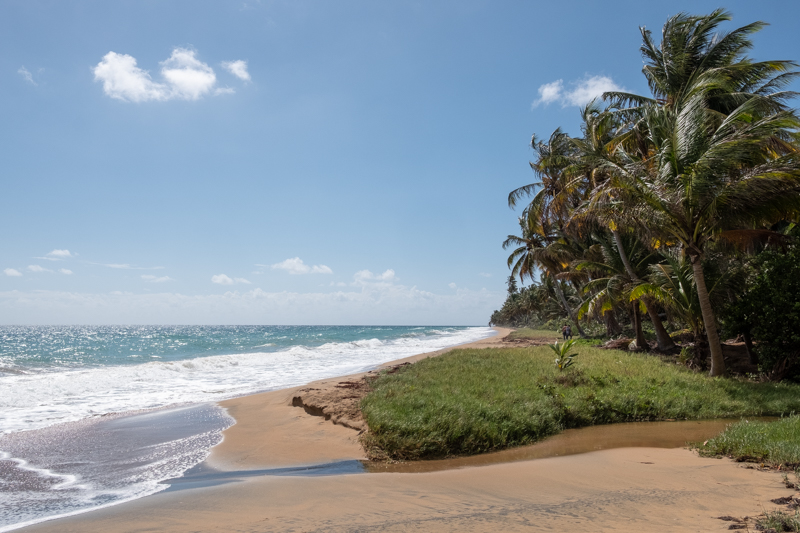 1_31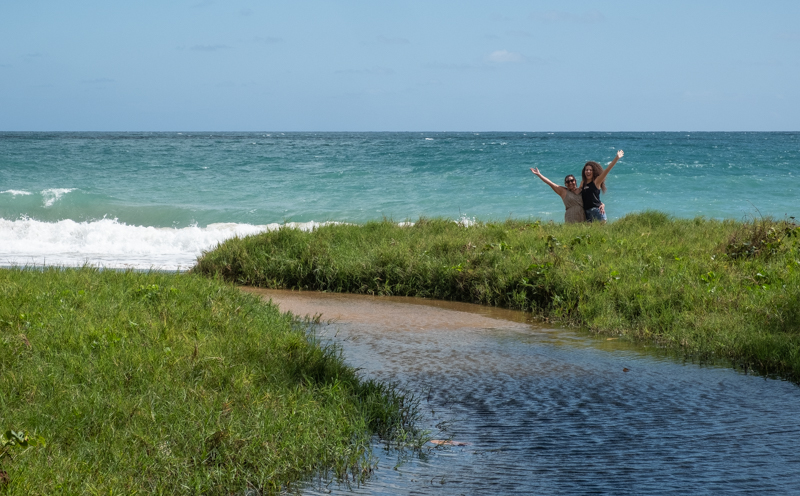 1_32
The beach is beautiful, located at the mini-delta of the Maunabo river. Sadly, some human pigs have been having picnics in the area, dumping the resulting garbage as they see fit:

1_33
Meanwhile, in San Lorenzo, preparations were going on. We were going to have turkey, but prepared very differently from the usual US or UK turkey. My father-in-law prepared an adobo of tropical vegetables and some herbs and spices and gave the turkey a generous coating, after which the entire bird would be grilled:

1_34
My mother-in-law peeling something, with the helper at her feet:

1_35
Pedro is my wife's youngest sibling but the age difference is only 5 or 6 years–her mother had 5 children in quick succession. He lives close to his parents and was helping a lot with the party, both the preparations and the cooking. Here he is making chicharrones, basically deep-fried pieces of pork: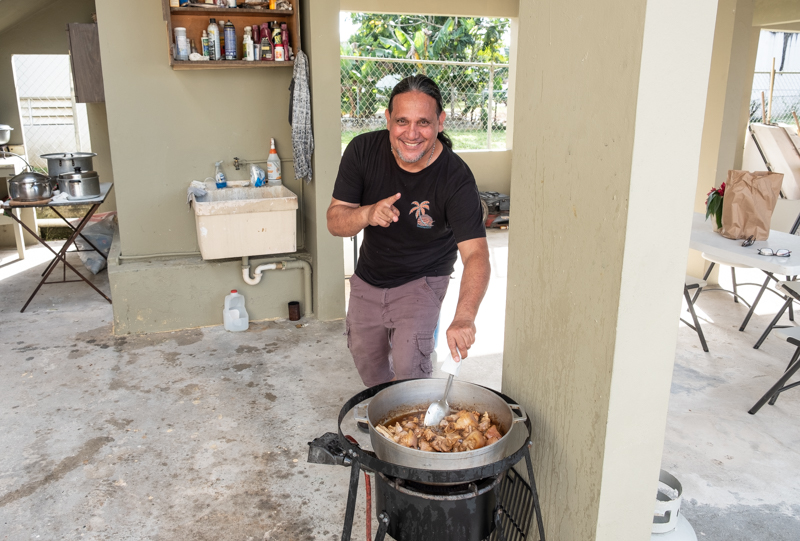 1_36
Pedro and his wife, with a batch of chicharrones, ready to eat. They are delicious but not something I would want to have as a part of my daily diet: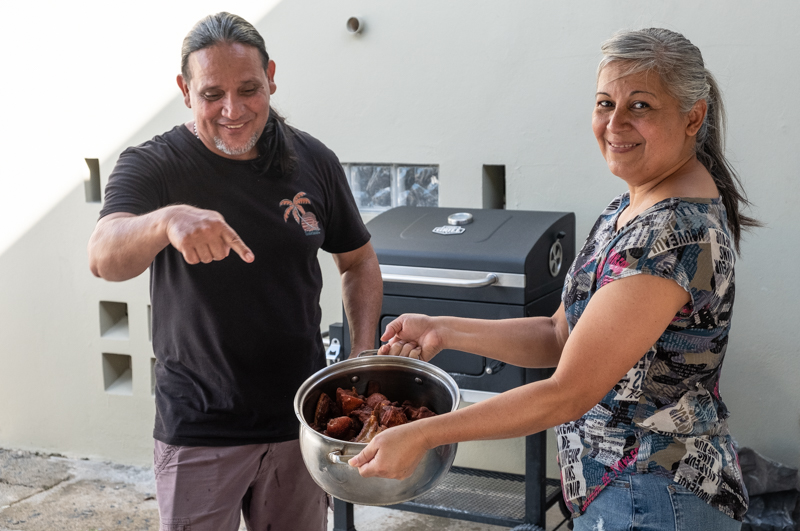 1_37
Pedro also looked after the turkey, fuelled by the local beer: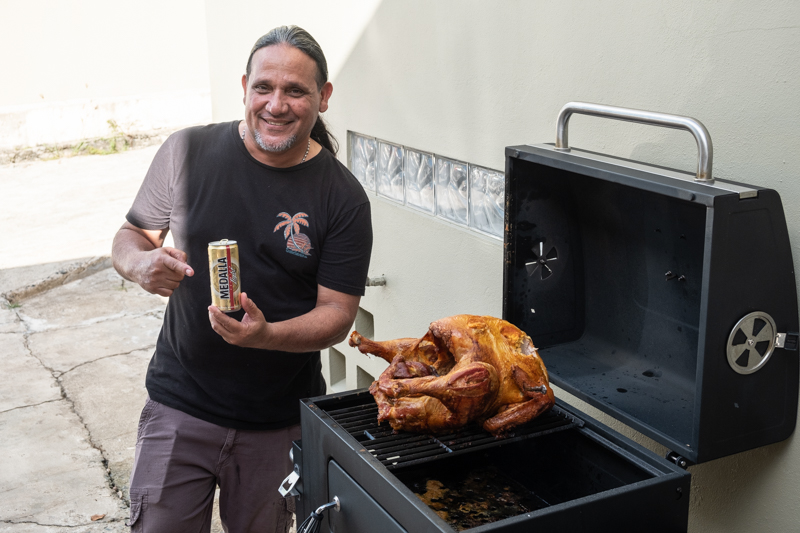 1_38
The turkey was brought inside the kitchen for some preliminary carving: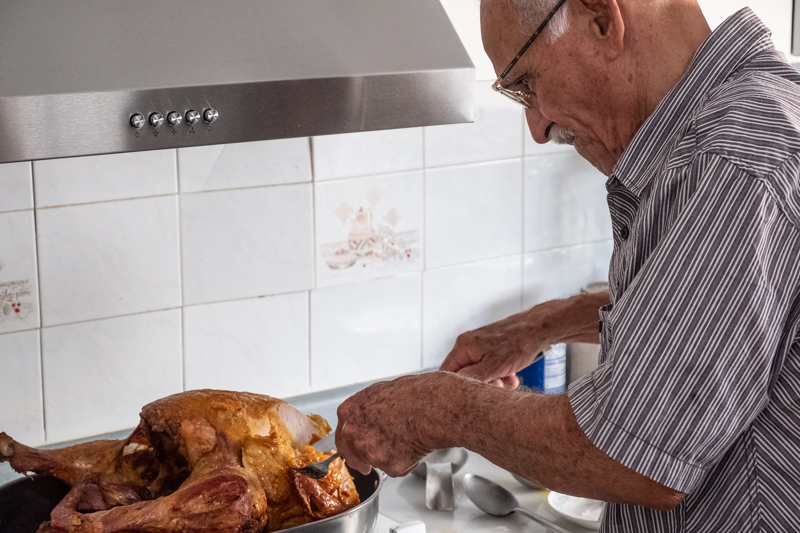 1_39
Father and son: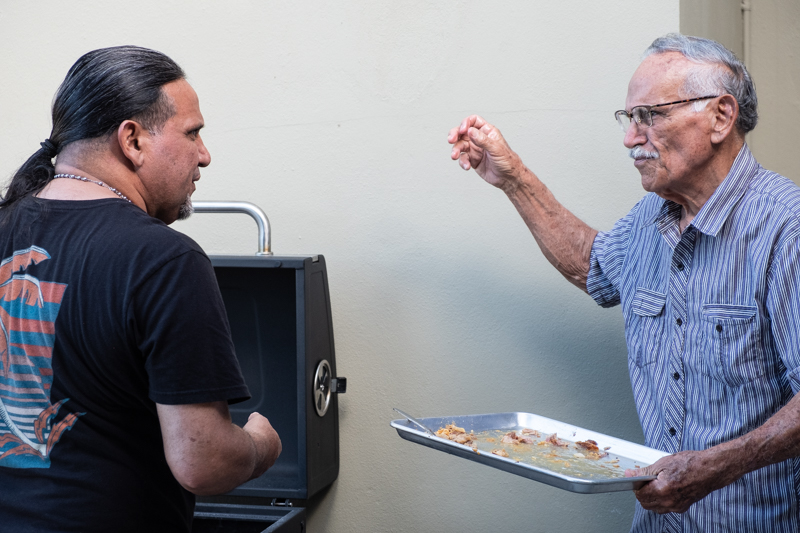 1_40
Fortunately, it was not all about meat. In many ways, I enjoy the Puerto Rican vegetables more–plaintains, yucca, ñame, and here breadfruit (called pana in Puerto Rico) in the neighbour's garden: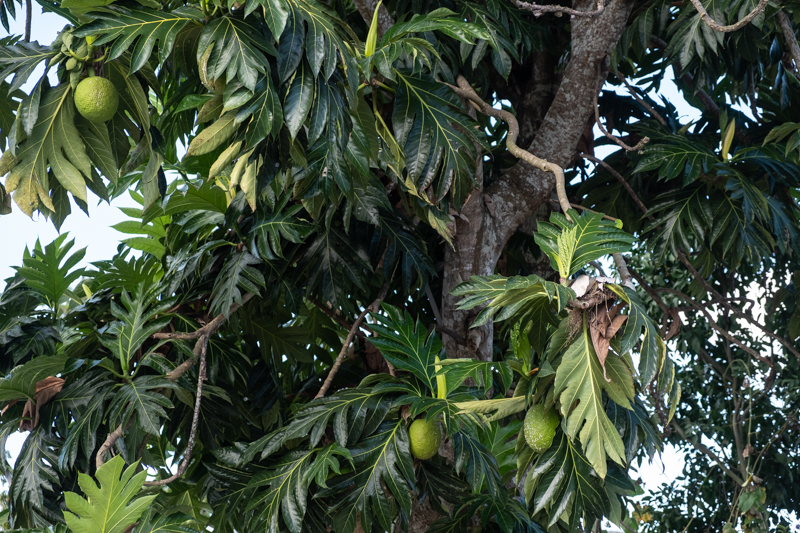 1_41
A bit later, pana and ñame in the pot, a delicious side dish to the turkey and pork: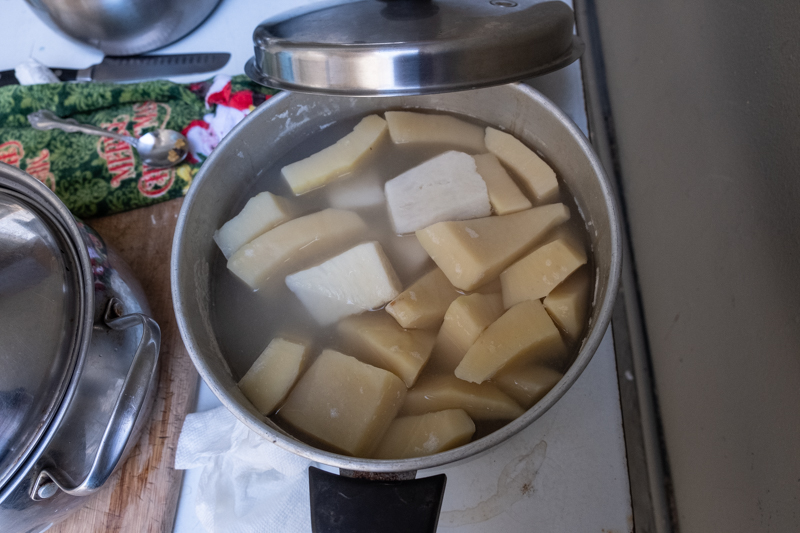 1_42
My wife's sister Noemi also lives in the same town. She is very lively, and I have always really liked her, every since meeting her for the first time 40 years ago. She was the driving force behind the karaoke, here with her nephew Fabian: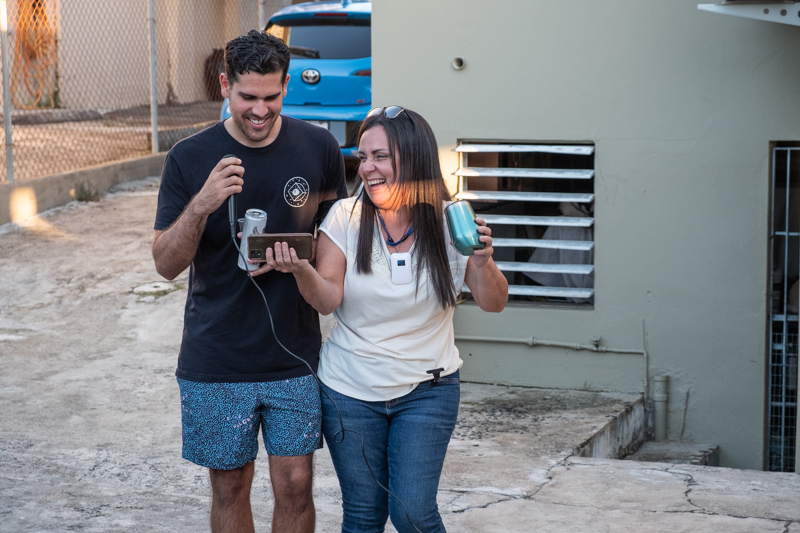 1_43
My two sisters-in-law, Noemi and Damarys:

1_44
Brother and sisters:

1_45
My daughter also joined in, and for the first time in many years, I post a photo taken using flash (the little flash that came with one of my Fuji cameras, at the bottom of my camera bag):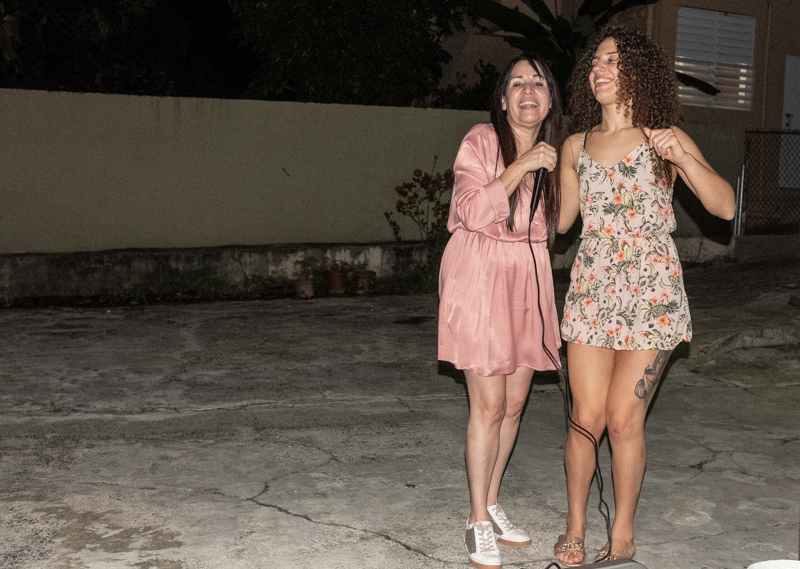 1_46
Some group photos were also taken. Here, most of the Reyes-Montañez family: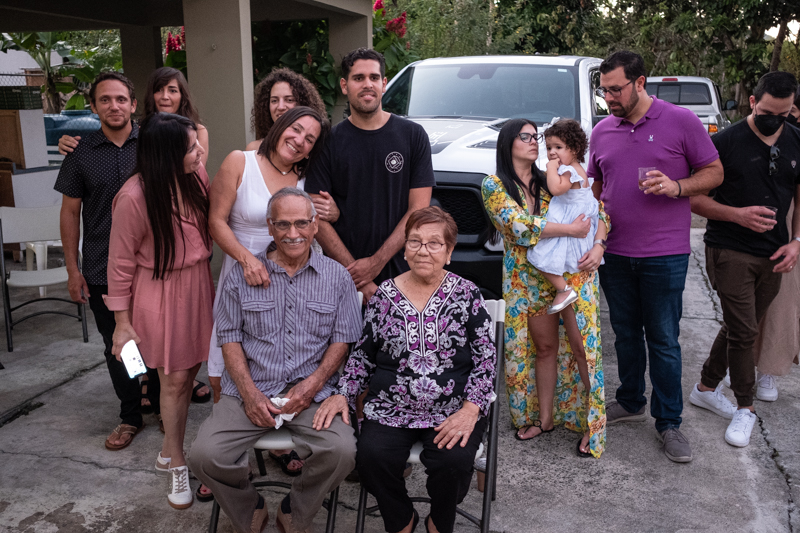 The next day, Monica and I flew back to Spain, while my wife stayed in Puerto Rico a few days longer. A full gallery of Puerto Rico is here.