I spent the first part of the week in my hometown Aarhus in Denmark, where my best friend Lars turned 60 on Monday. And in Denmark round birthdays are celebrated in a serious manner, Monday or not. The weather was not the best, but this did not stop me from walking around in the town that is my spiritual home, and we even managed a bike ride despite the rain. We are hardy MAMILs!
45_1
I got up early on Sunday and went for a little walk in the neighbourhood where Lars lives, right in the old heart of Aarhus. One place I like to pass by is the Aarhus Art Academy because I like to look at their courtyard and windows: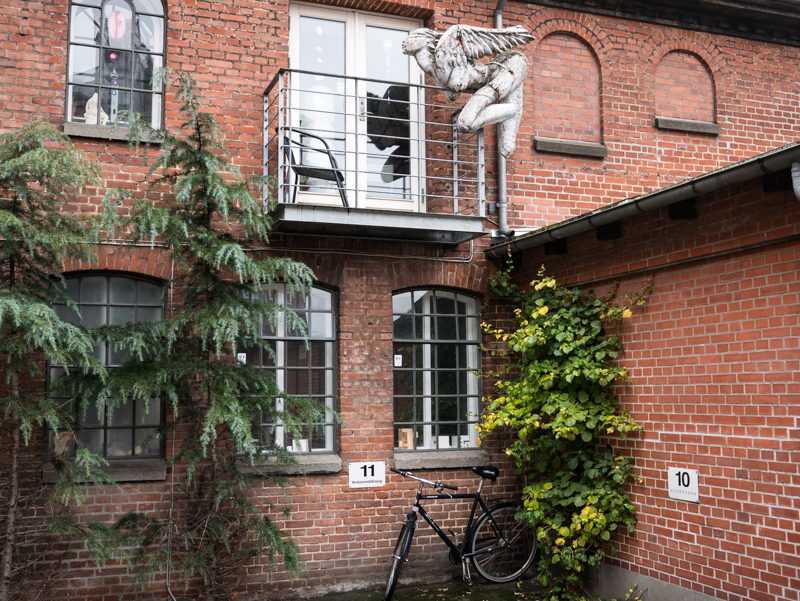 45_2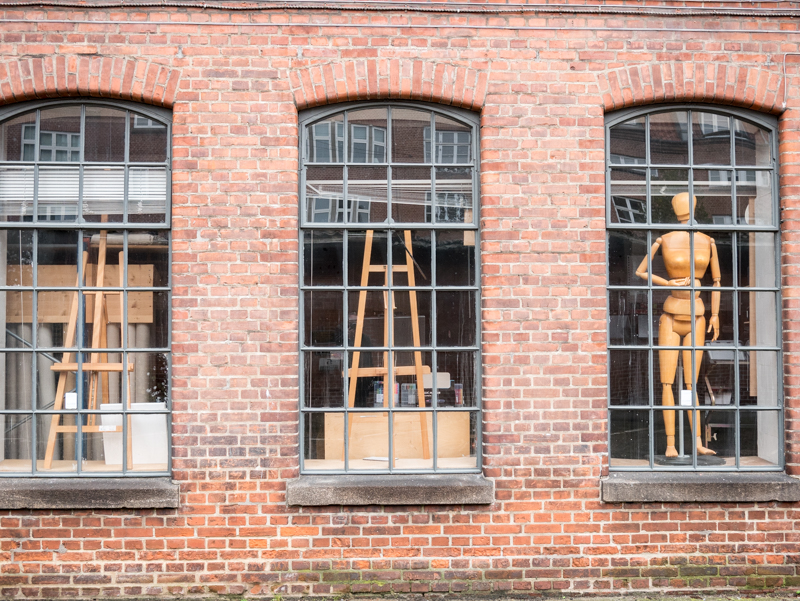 45_3
A little snippet left over from Saturday night; it is not clear whether this was a prank or a genuine attempt by a drunk person to lock his bicycle: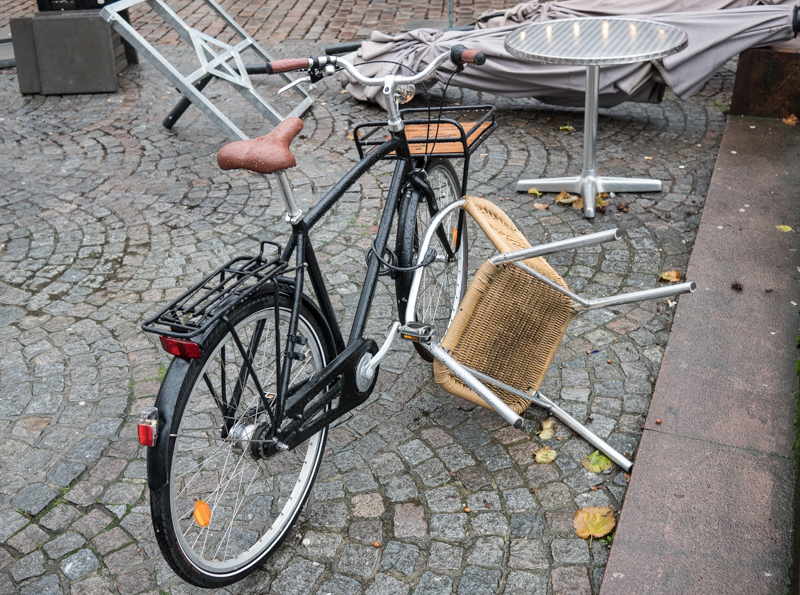 45_4
Later in the morning, Lars and I went out for a bike ride; just 40 km since the weather was ugly, but a pleasure nonetheless. This was a bit of a ritual. Since I had turned 59 on Friday and Lars was turning 60 the following day, it was my first ride as a 59-year old and Lars's last ride as a 59-year old: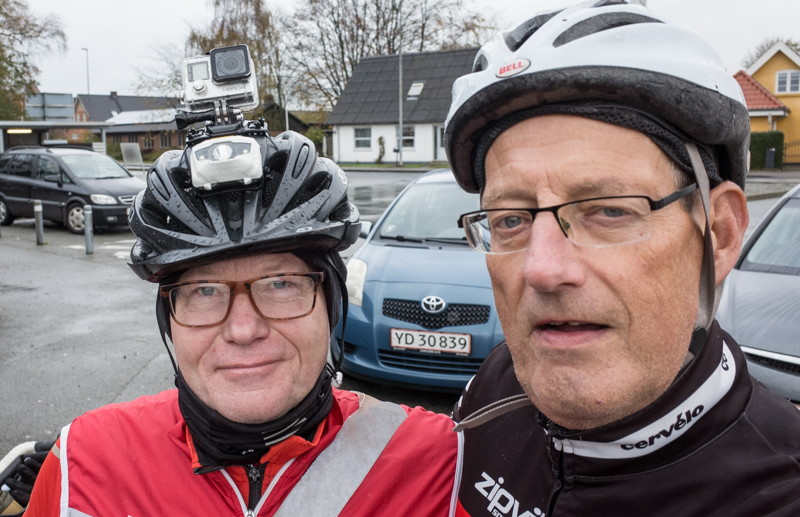 45_5
This was the landscape we cycled through, just north of Aarhus:

45_6
The weather had not improved by Monday morning. This was the view from my bedroom at Lars's place. You can just about make out a person with an umbrella scurrying by down on Norsgade: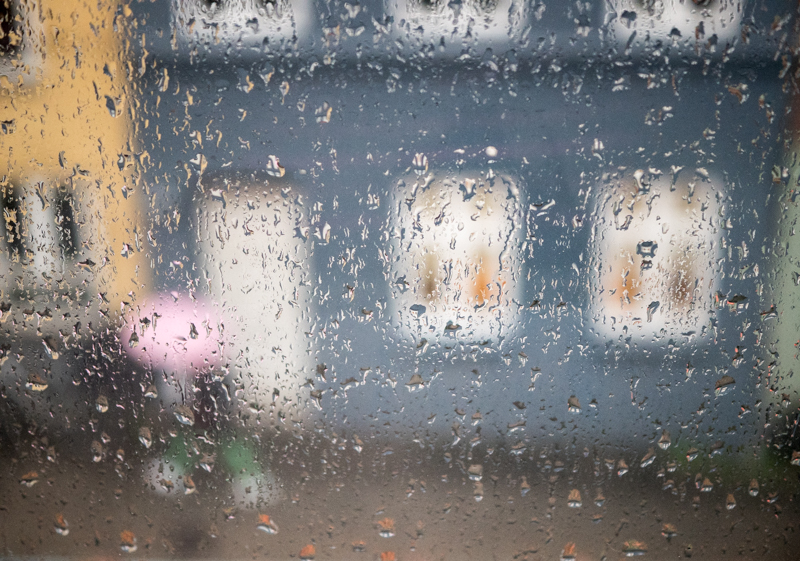 45_7
Lars's partner Winnie and her daughter Dagmar had come over from Copenhagen, where they live, to celebrate Lars's big day. We started with a nice birthday breakfast: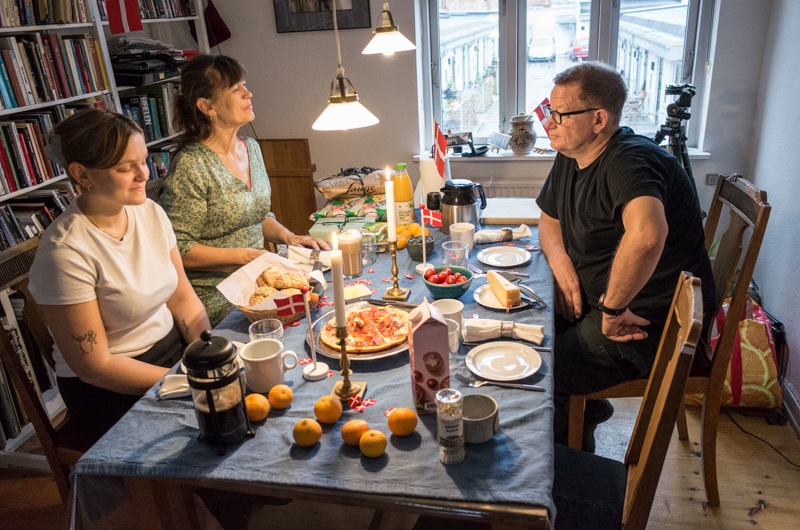 45_8
In Denmark the flag is used to celebrate. You will often see little paper flags rather than candles on a birthday cake, and Winnie had decorated the table accordingly: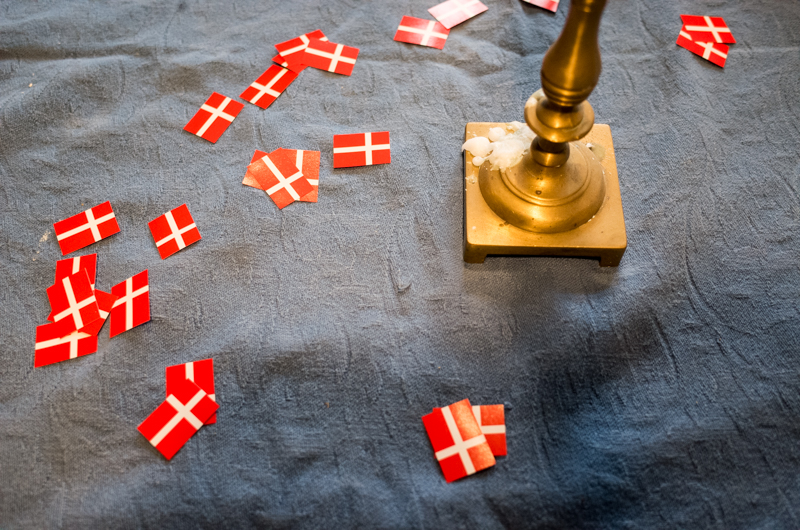 45_9
And people walking past Lars's front door would also know that there was a celebration going on: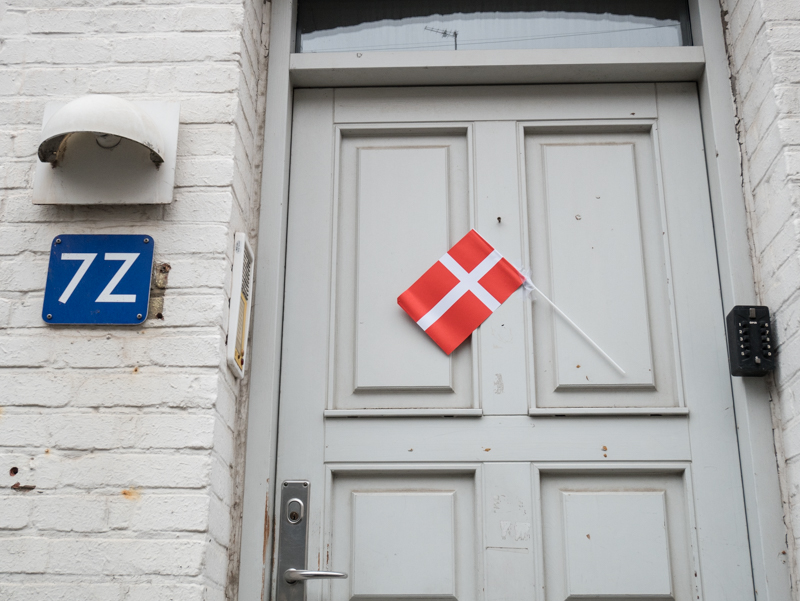 45_10
After breakfast, we just hung around and "hyggede", to use a well-known Danish word. Lars usually has some photo project going on (often involving film, including large format, and digital processing). He has a large display board in his hallway, so that he can look at certain photos several times a day and decide whether he likes them. He also used a method on us that he uses when teaching, asking Dagmar and me to remove two photos each that we felt were weaker than the rest: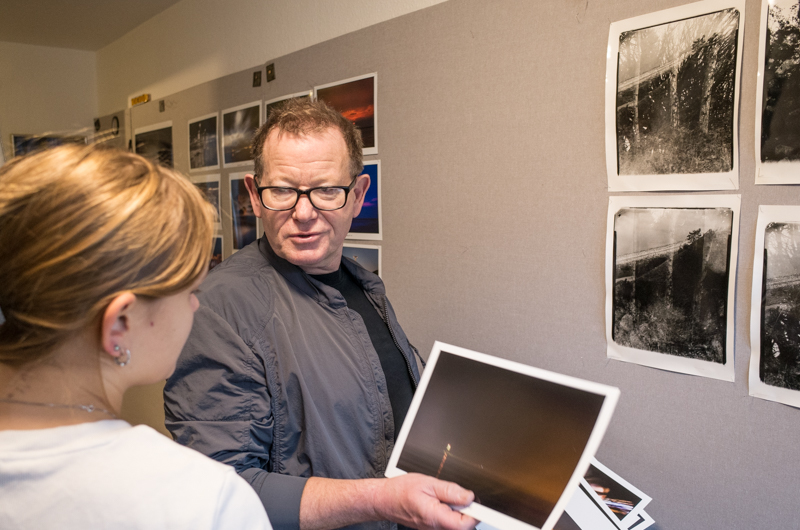 45_11
I then went for a long walk around the centre of Aarhus while Lars went to the venue where his birthday party was going to take place in the afternoon/evening to start setting up. Some colourful benches on Paradisgade ("Paradise Street"):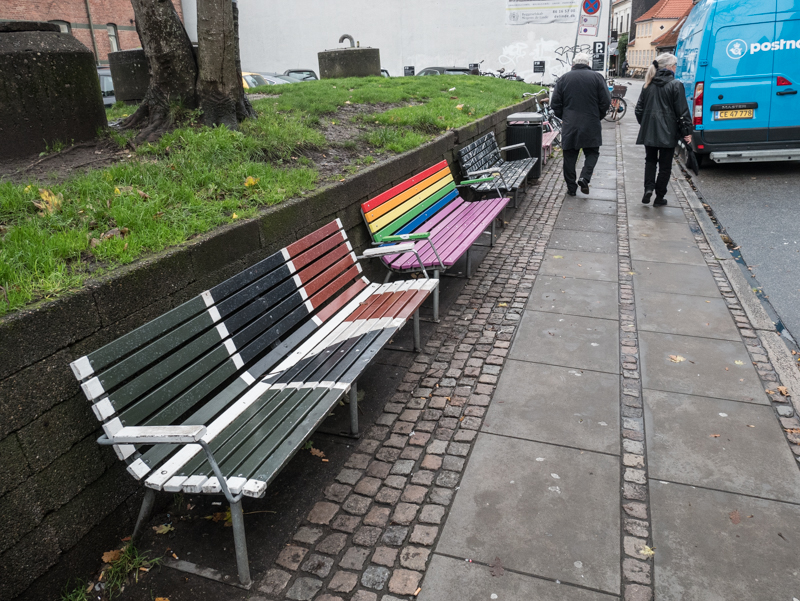 45_12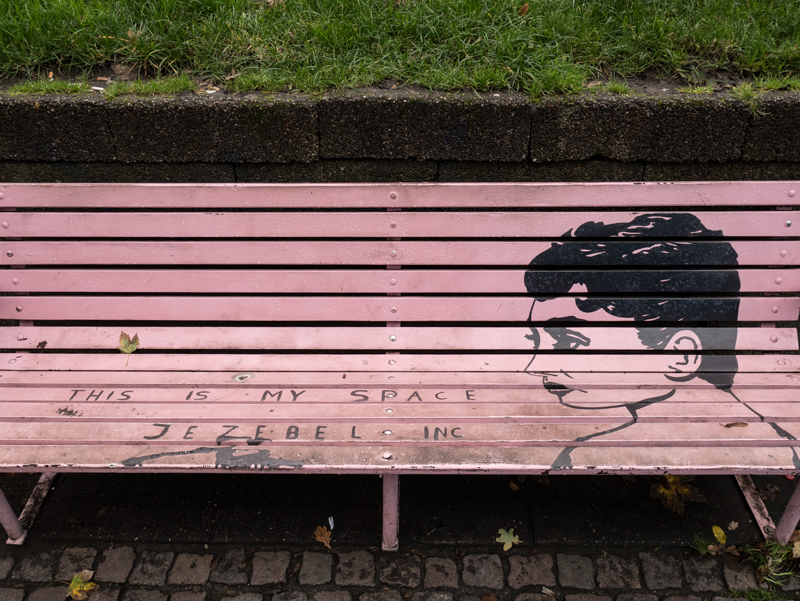 45_13
Upside down. The quarter where Lars lives is known as the Latin quarter (even though the university is not that close), and there are many funky murals and other features of the urban landscape, despite the inevitable creeping gentrification: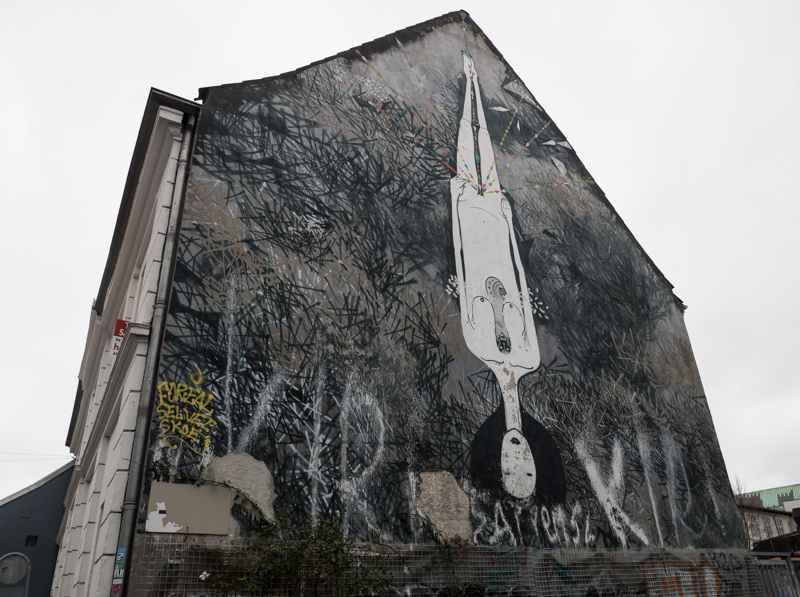 45_14
Next to the cathedral is Katedralskolen, the oldest school in Aarhus, dating back to at least 1195. The current buildings date from the 18th century. In the courtyard there are a few graves from that time, a spookier-than-usual setting for Halloween decorations: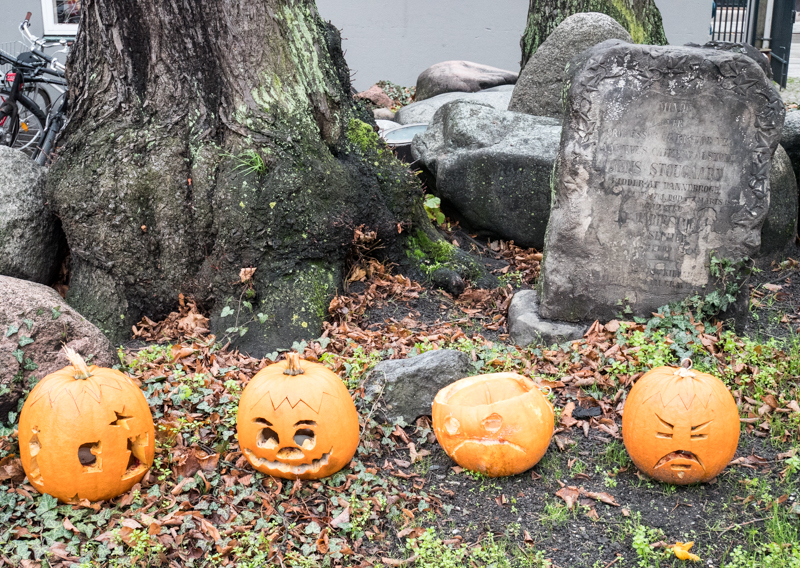 45_15
I enjoy the sense of history when I walk along the school and look at the plaques commemorating deserving alumni from the past. Here, August Krogh, who graduated in 1893 and went on to win the Nobel Prize for medicine in 1920: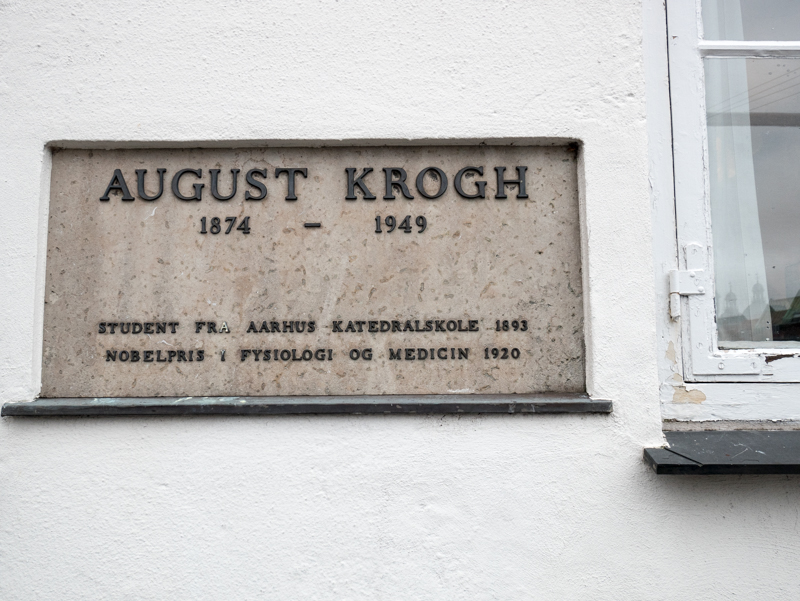 45_16
Going further back, one of the truly favourite sons of our town, Ole Rømer who graduated in 1662, became an astronomer (the Round Tower in Copenhagen was his observatory) and proved for the first time that light had a finite speed (and estimated its value, albeit off by about 25% compared to the accepted value of 300,000 km/s that we know today):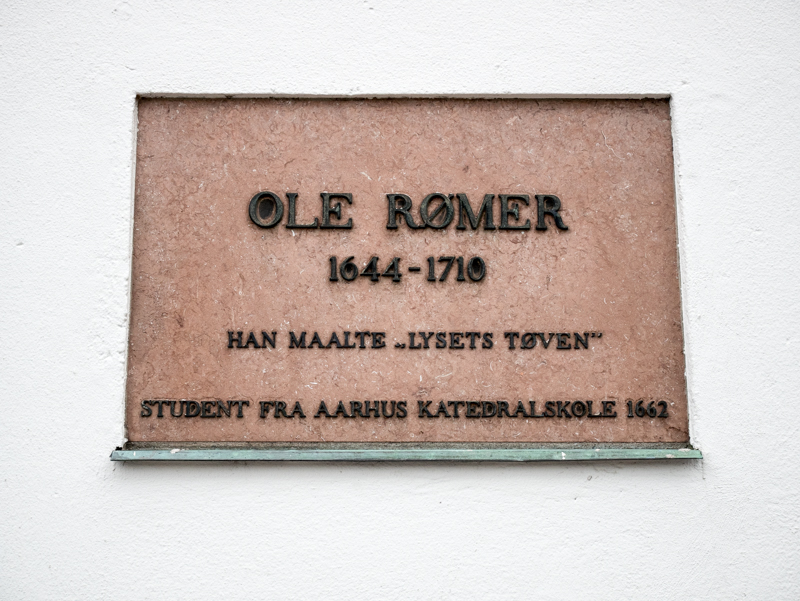 45_17
I walked on to the waterfront. As in many other seaside towns, the economic importance of Aarhus harbour has diminished in recent decades. There is still a working harbour and passenger ferries to a couple of places. And some of the old buildings are still there, such as this customs house, now offices: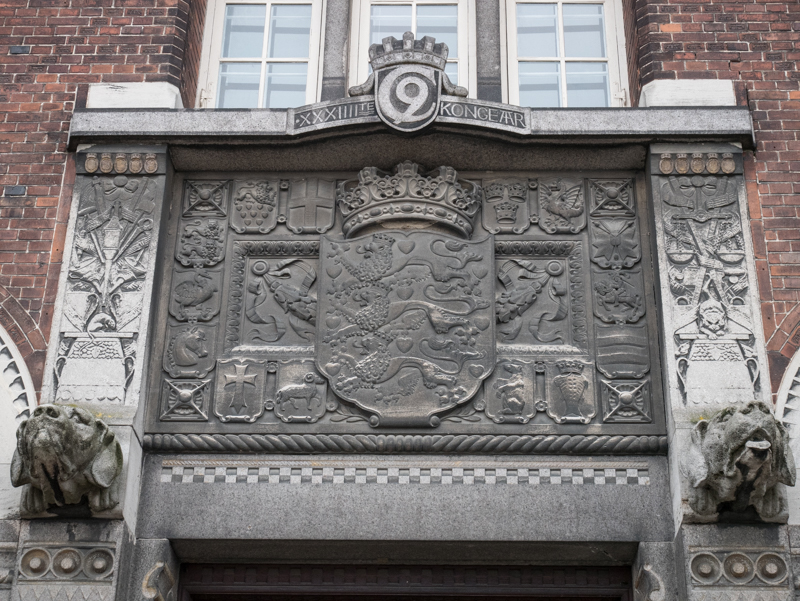 45_18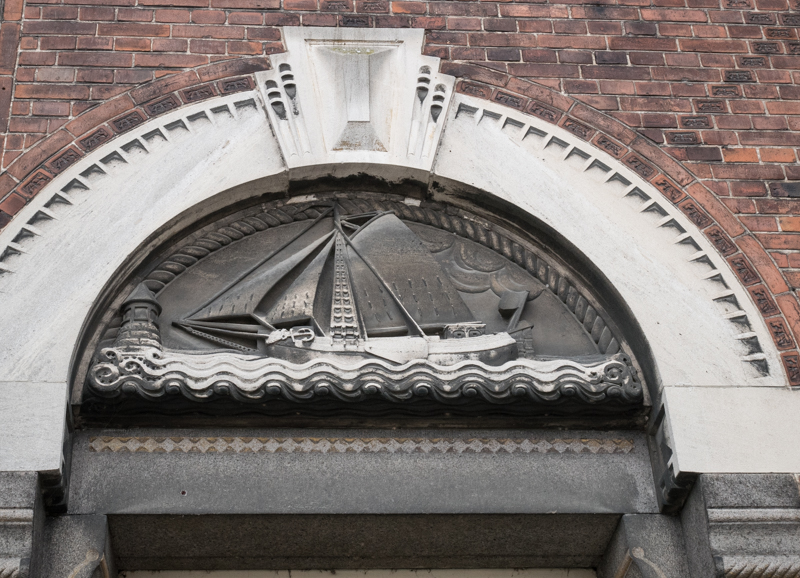 45_19
This is the modern face of our waterfront. Dokk1 (pronounced in Danish it basically means "the dock"), opened in 2015, is the city's main library, but it is much more than that. There are also cultural events of all kinds, the city archive is there, the municipal service centre is there too, and especially in the summer it turns into one huge playground. As with all modern buildings, not everyone liked it when it opened, but for me it is a great addition to the centre of Aarhus: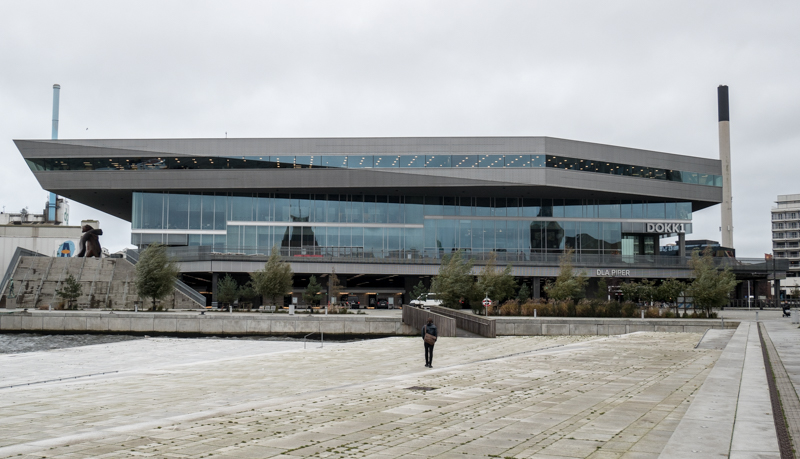 45_20
By law, 1% of the budget of large public building projects like Dokk1 must be spent on art, so there are several pieces both inside and outside. This Jean Arp-like sculpture, Poseidon, was created by a local art collective: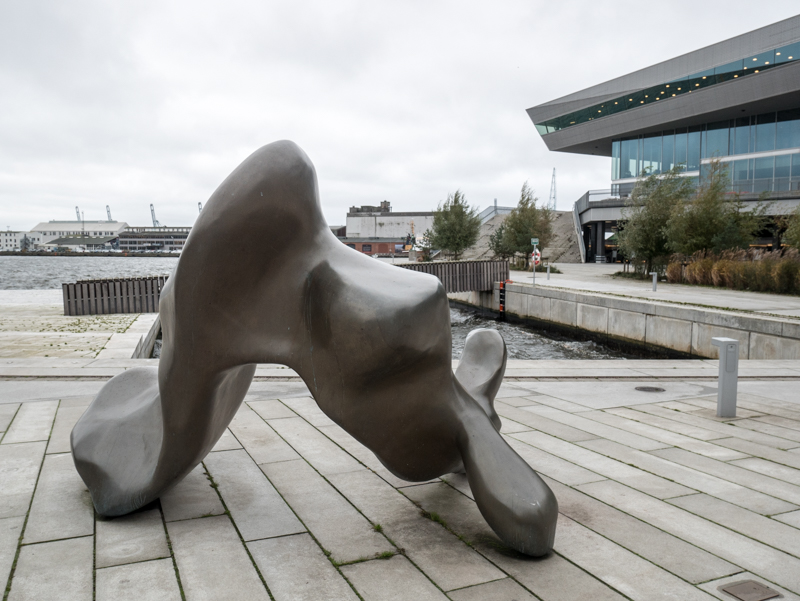 45_21
The medieval cathedral, flanked by modern structures. Fine with me, the city develops: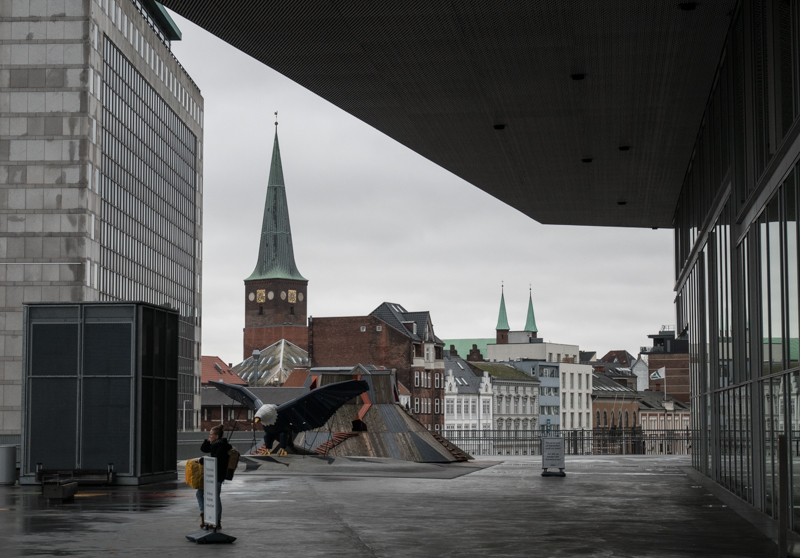 45_22
It was fairly cold, so I went inside for a coffee: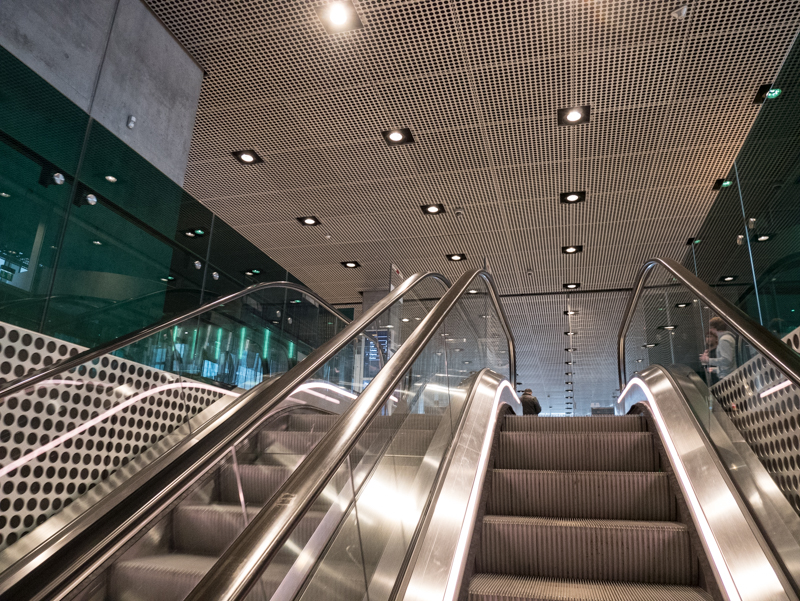 45_23
Halloween was here too: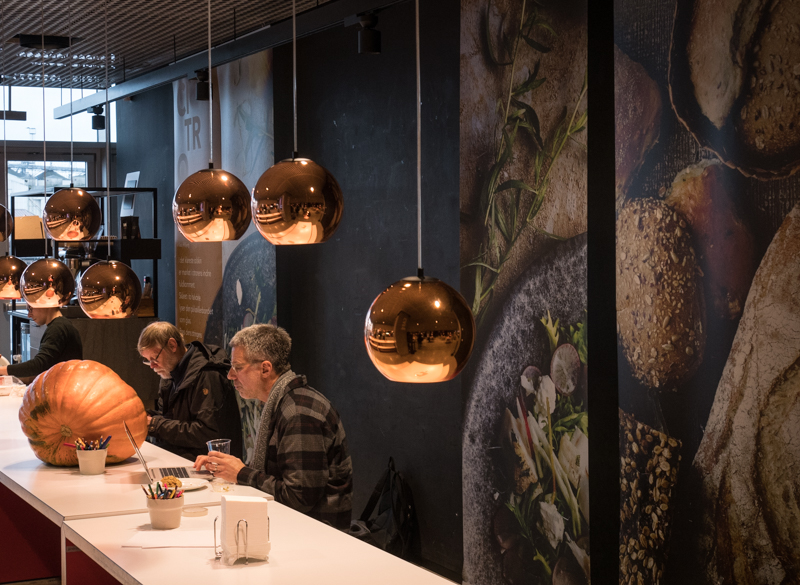 45_24
The outside terrace of Dokk1 contains several playgrounds, collectively called "The Globe" because each of them carries a theme of a continent. This is the North American one: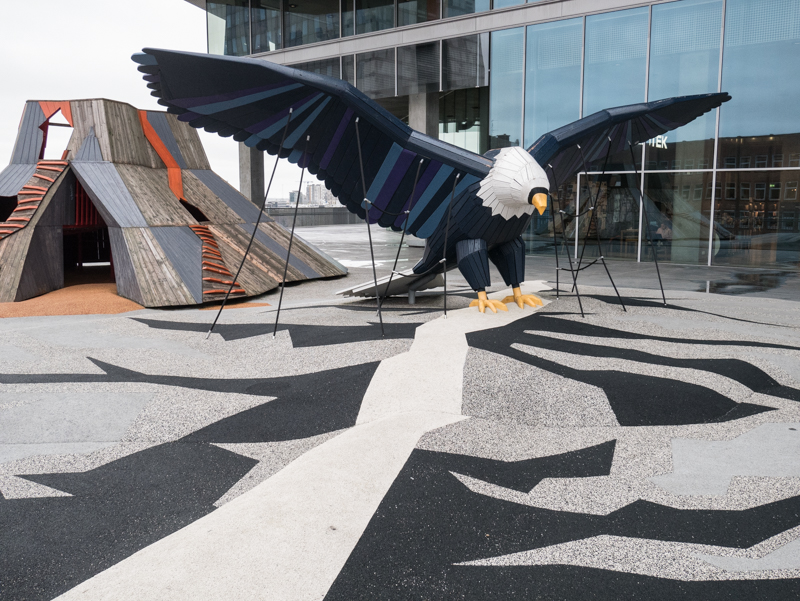 45_25
While there is an underground car park under Dokk1, the surrounding area is largely pedestrian, plus a light rail line: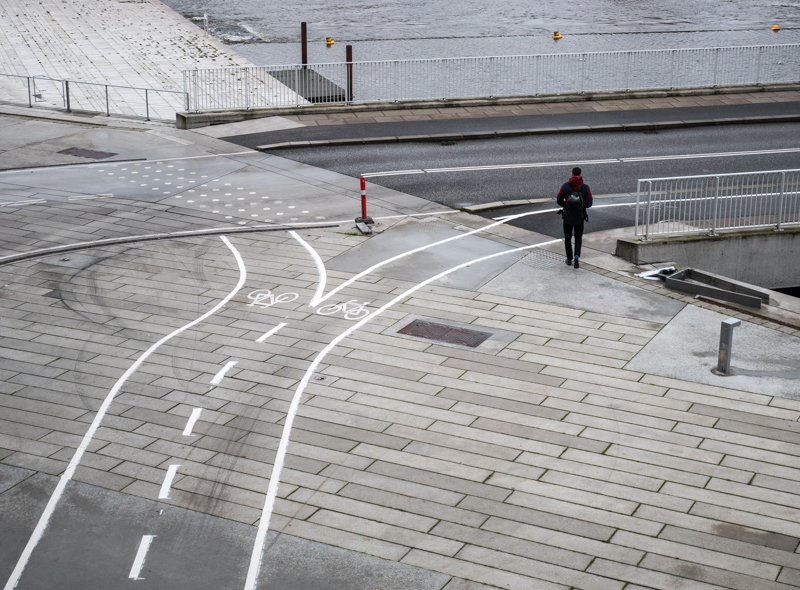 45_26
This street corner opposite Dokk1 is a snippet of the harbour the way it used to be, with a dodgy Chinese restaurant and a tatoo parlour. When I was a teenager in the 1970s there was also a sex shop in that block. Back then we did not have the internet to look at porn, so magazines such as Weekend Sex catered to that particular need: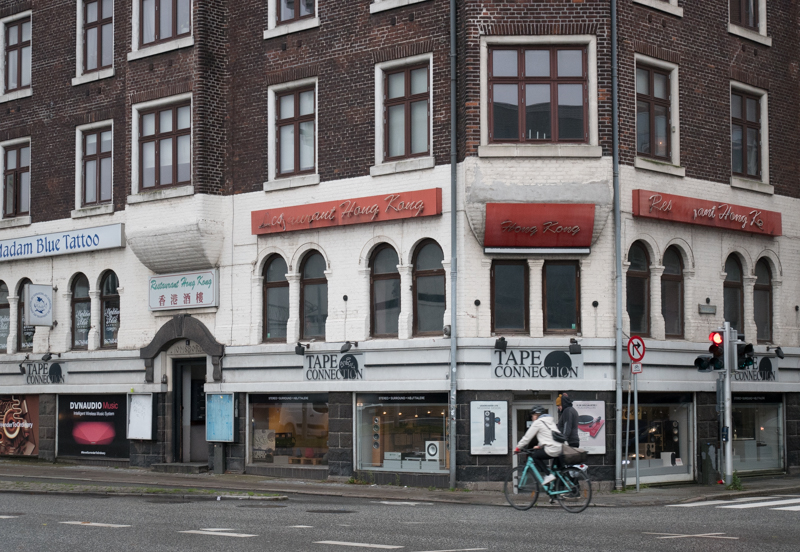 45_27
This is a scene I always look at and usually photograph. This small river is called Aarhus Å (Aarhus Creek). It was paved over in the 1930s to create a wide road for trucks heading to the harbour; this act of barbarism was reversed in the 1990s, creating the attractive area with bars, cafés and shops that we have today–although it was largely empty on this blustery November day: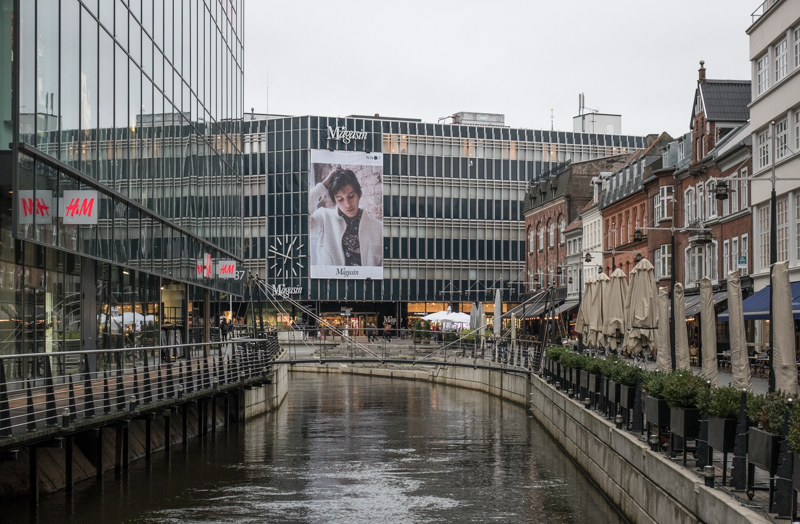 45_28
Then it was time for Lars's birthday party, which ran roughly from 3 p.m. to 11 p.m., making it possible for people to go to work on Tuesday morning in reasonable condition. Most apartment complexes built in in Denmark the past 30-40 years have party facilities which can be reserved by the people who live there for larger occasions like this, with kitchen and all other necessary facilities (no service, you are responsible for your own cleaning). Lars's party was held at such a place, where his older daughter Marie lives, in a suburb south of Aarhus. The food was a smorgasboard of various types of sausage, salami and similar goodies so that people could build their own smørrebrød, or open-face sandwiches: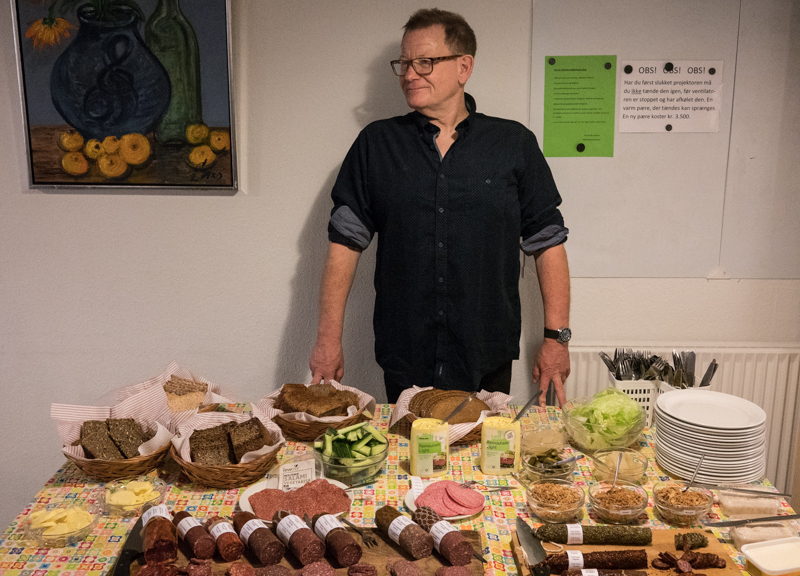 45_29
Lars had carefully labelled each item: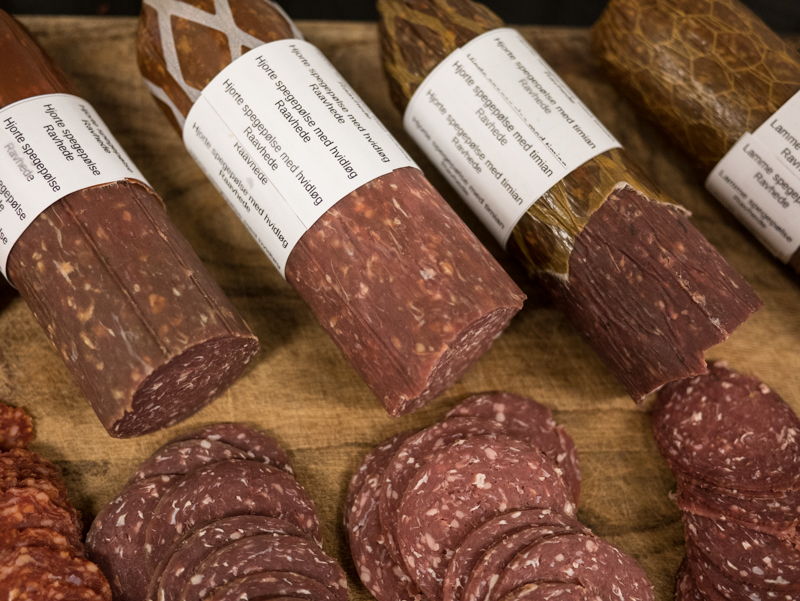 45_30
Then the beer arrived. Lars and I share the love of good beer, and he had arranged for a keg service that could provide something far more interesting than a standard Danish pilsner: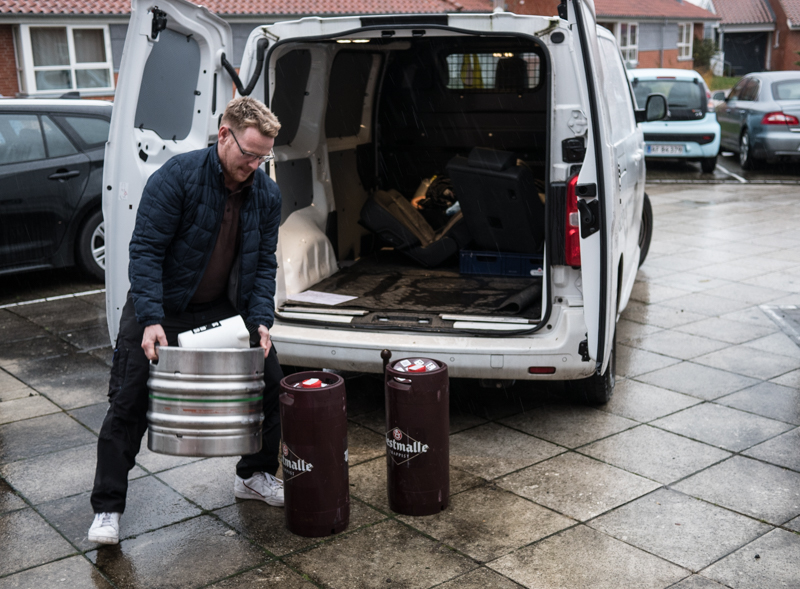 45_31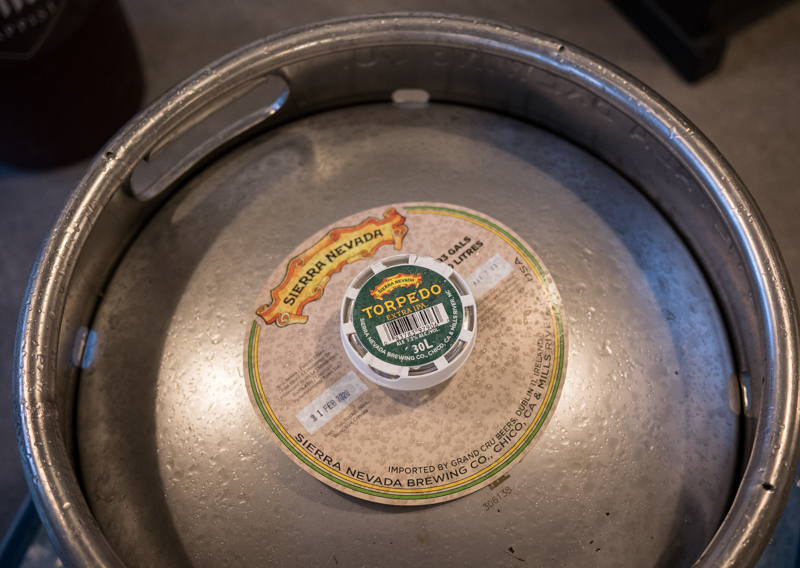 45_32
The beer delivery system is checked and found to function perfectly: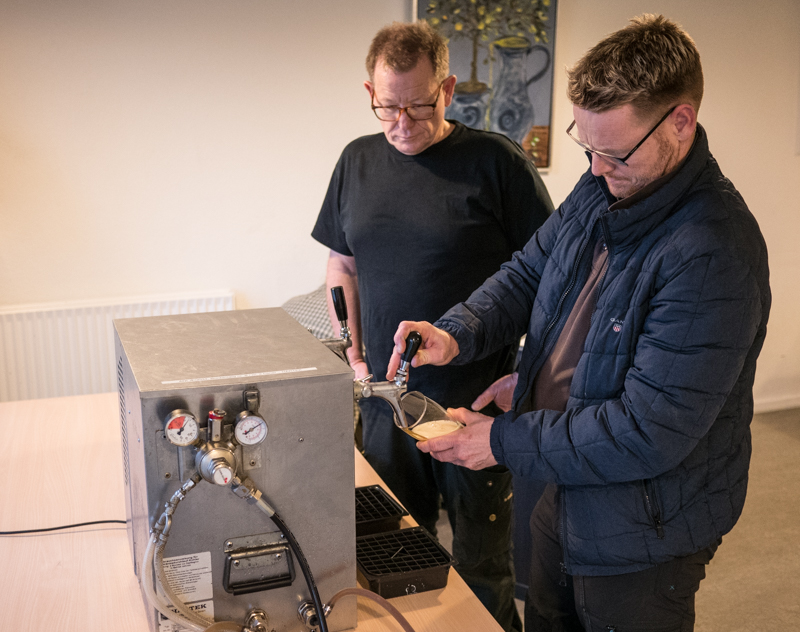 45_33
Then we all sat down to enjoy food, beer and conversation; there were of course soft drinks for the children and wine for the few deviants who did not like beer: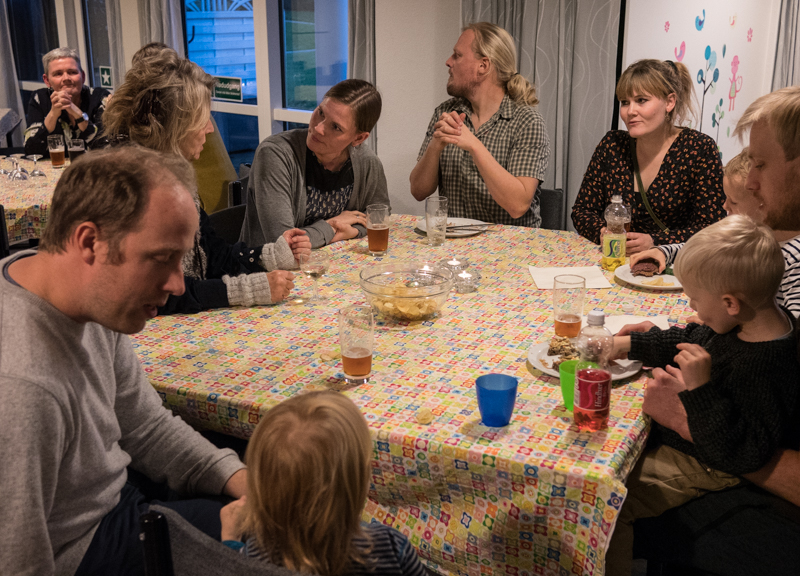 45_34
The youngest party goer, Lars's youngest grandchild: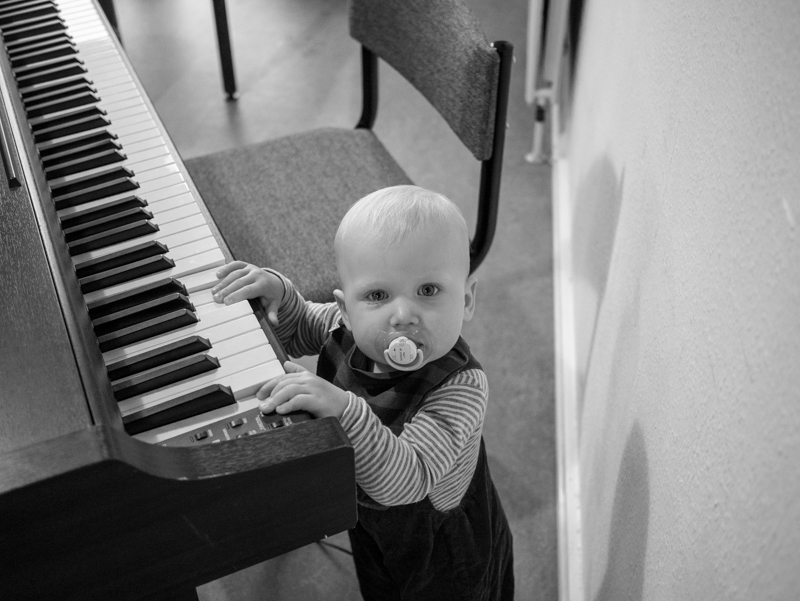 45_35
The high point of the party was when Winnie, who is an opera singer, sang two arias for us. It was incredible to hear her voice in full flow in a small room like this, at a distance of a few meters. Truly memorable:

45_36
Lars and Winnie have now been together for 3 or 4 years, and they make a wonderful couple:

45_37
The younger of Lars's two daughters, Klara, delivered a witty and moving speech: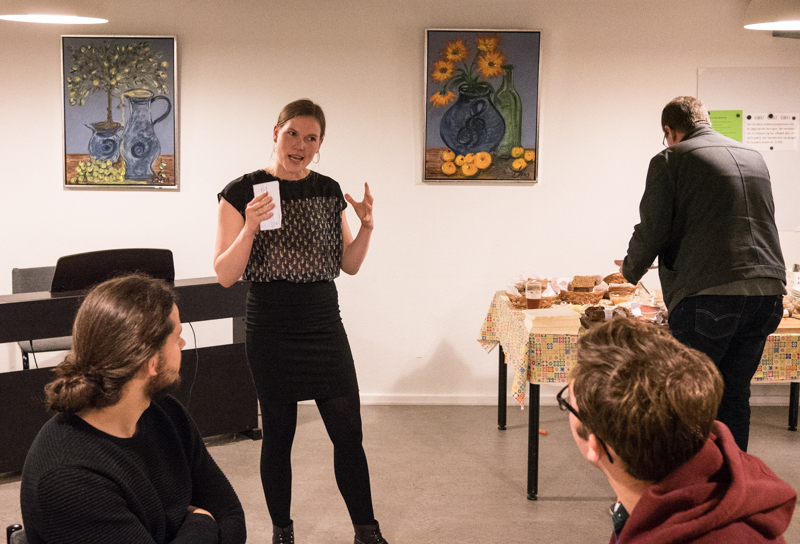 45_38
Winnie takes her singing very seriously, whether it is at the Royal Opera House or a place like this, so she had abstained from booze until after her performance. But now she could relax, eat and drink together with everyone else: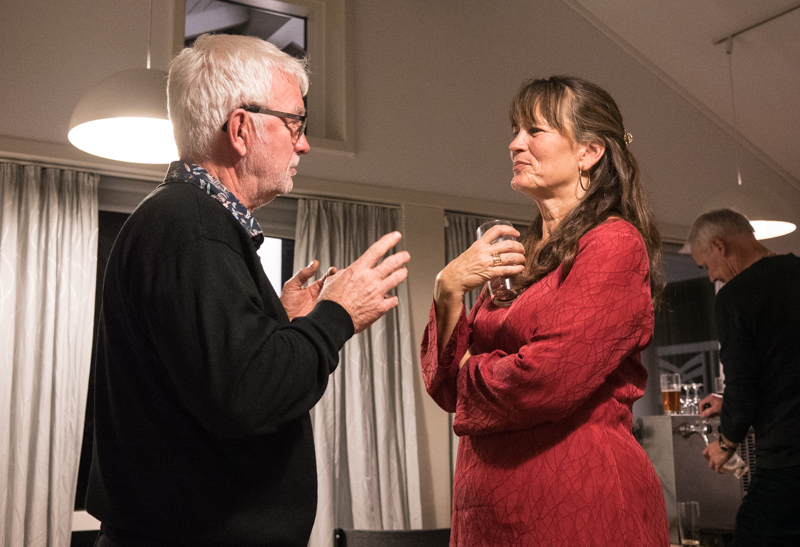 45_39
Lars's other daughter, Marie, with one of her two sons: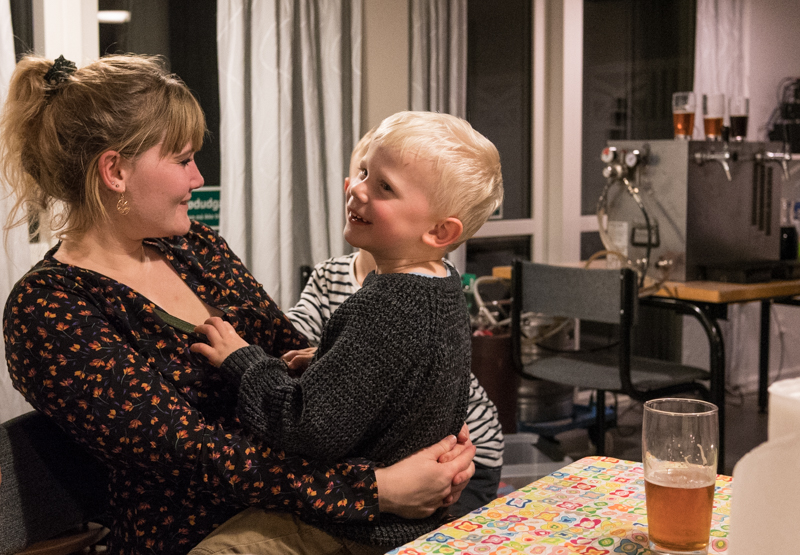 45_40
The following morning I got up early–it was time to go home to Spain. I made my way to Aarhus Central Station, where I photographed this miniature train which I remember from my own childhood–it has delighted generations of Aarhus children. You put in a coin and the trains run for a couple of minutes, with the money going to charity. The only change since my own childhood is that the train has been moved from the centre of the main departure hall to one of the cafés on the side: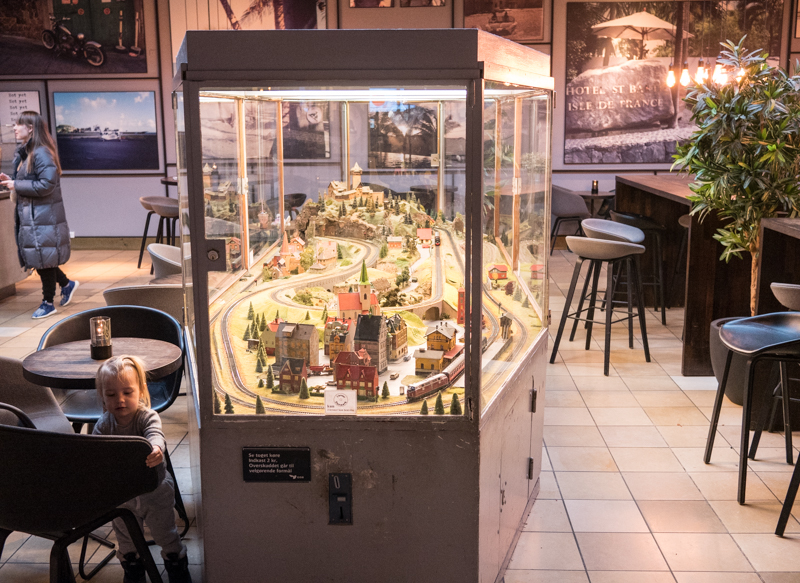 This was my last picture in Aarhus; afterwards, I took the train to Copenhagen and flew home to Alicante.
45_41
Back home, I enjoyed the morning walks on the beach; on Friday morning the sunrise was pretty but there were also some threatening clouds: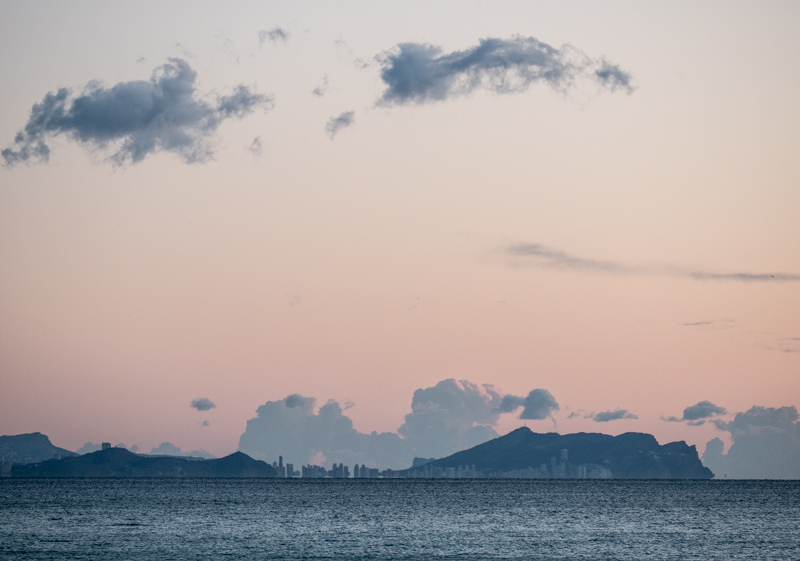 45_42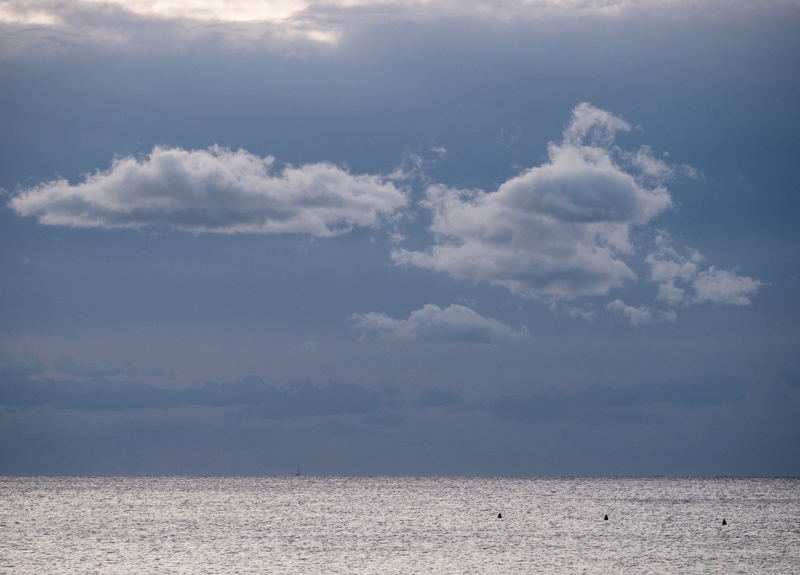 45_43
But Saturday morning was back to normal: