The week began in northern Wales. On Sunday afternoon Monica and I drove from Liverpool to Bodelwyddan in North Wales where she will spend the fall semester, doing an internship at the Glan Clwyd Hospital.
40_1
The first stop was the house where Monica will live the next three months. She is renting a room from a very nice couple who have inherited the place and have put it up for sale. In the meantime, my daughter shares it with a young doctor who also works at the hospital, only a short walk away. The house is on the edge of the village, and the surroundings are certainly rural: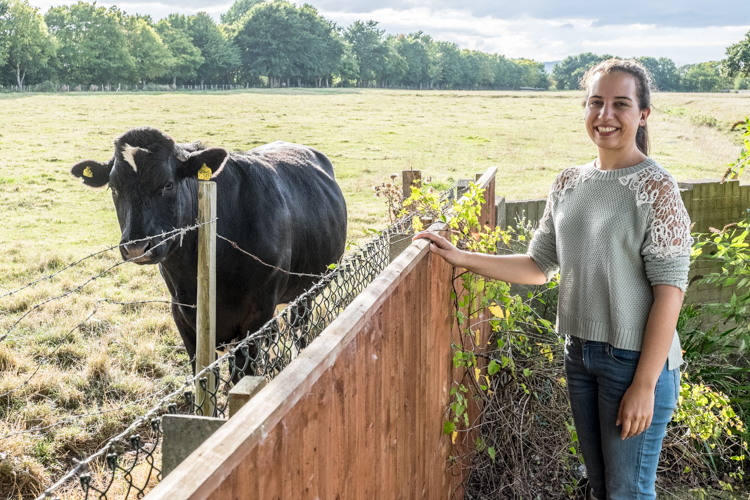 40_2
Monica and her housemate hit it off right away. Caroline is a junior doctor, spending 6 months at the hospital: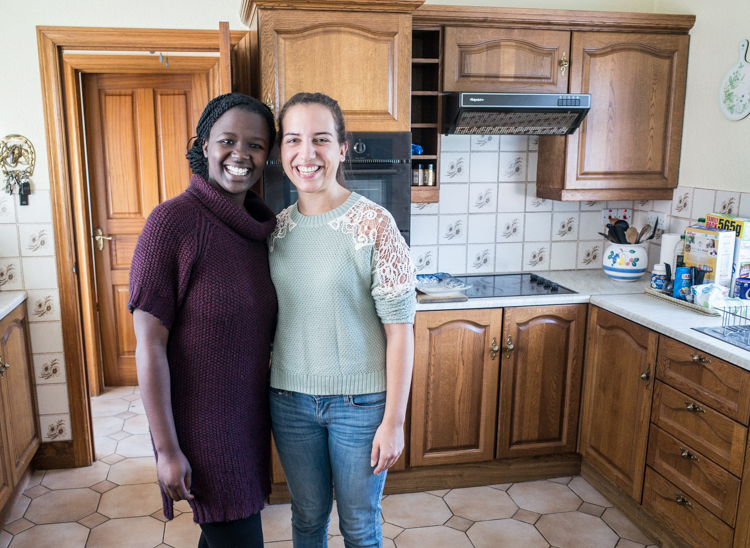 40_3
The garden is full of beautiful flowers, like this rose just outside the front door: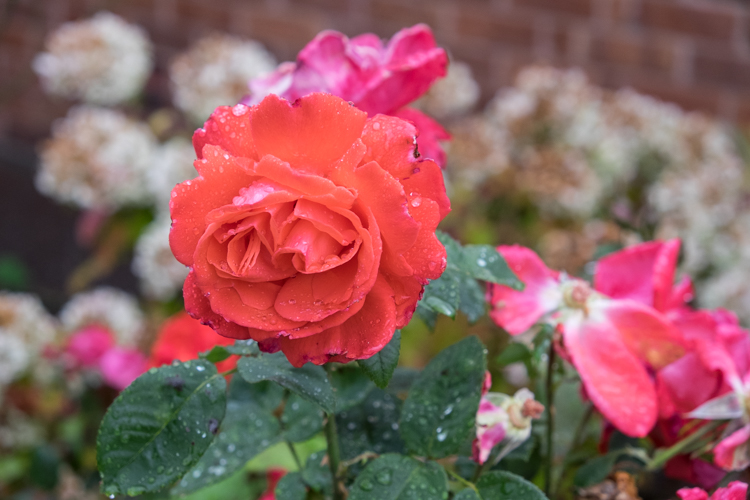 In the evening Monica and I drove to the nearest larger town, Rhyl, where I had reserved a hotel room for that night. We walked around for quite a while before we found a place with decent food on a Sunday night.
40_4
That place turned out to be a pub with an excellent beer selection and a very good menu, including vegetarian stuff. The only picture I took was this image of another patron: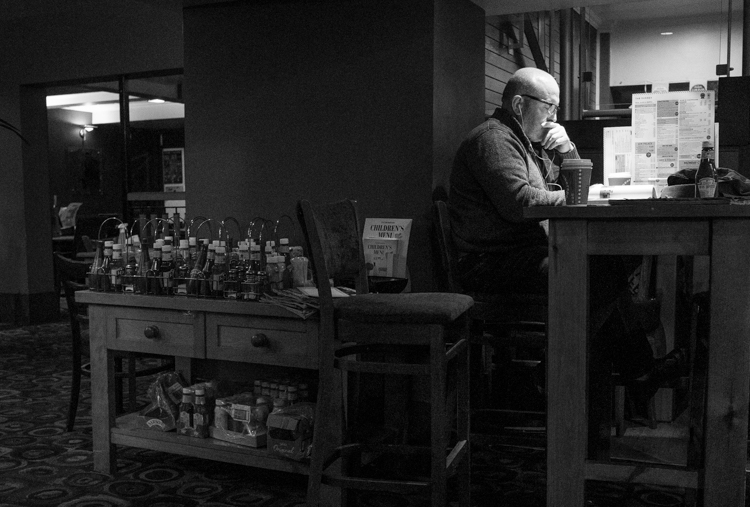 40_5
On Monday morning I drove to Bodelwyddan to say goodbye to Monica. That done, I had the rest of the day available for looking around since my flight home from Liverpool was only in the evening. I first drove up to Bodelwyddan Castle, from where there is a nice view of the countryside. As is apparent, the weather was not great: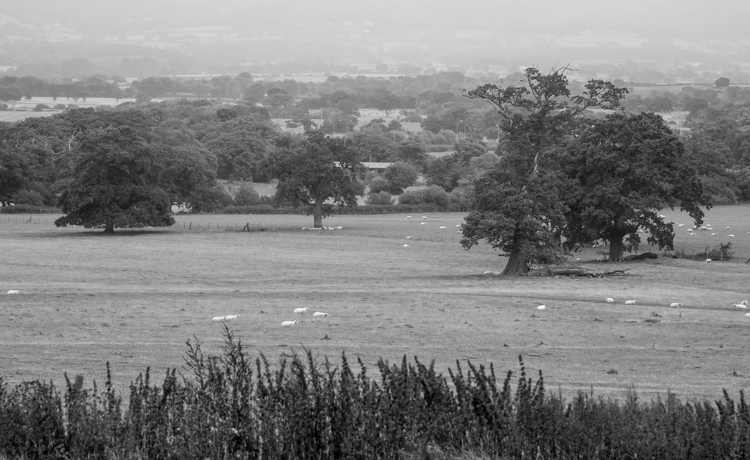 40_6
I decided to drive as far west as one can get in north Wales, to Holyhead, a port on the Irish Sea from where one can take a ferry to Dublin. I walked around the town a bit before having lunch: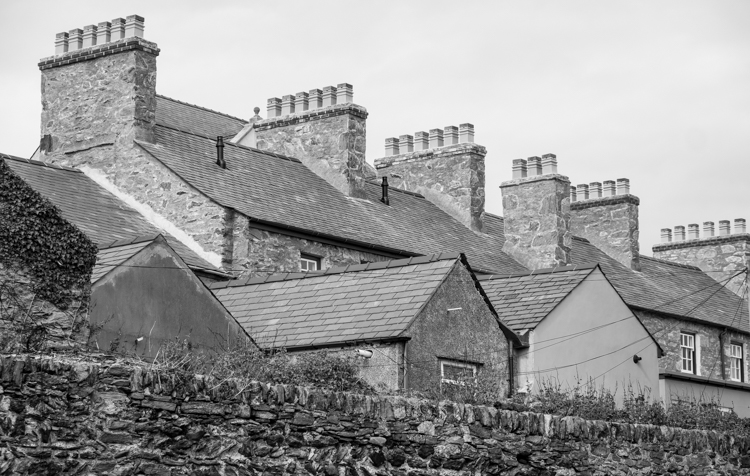 40_7
Holyhead Marina: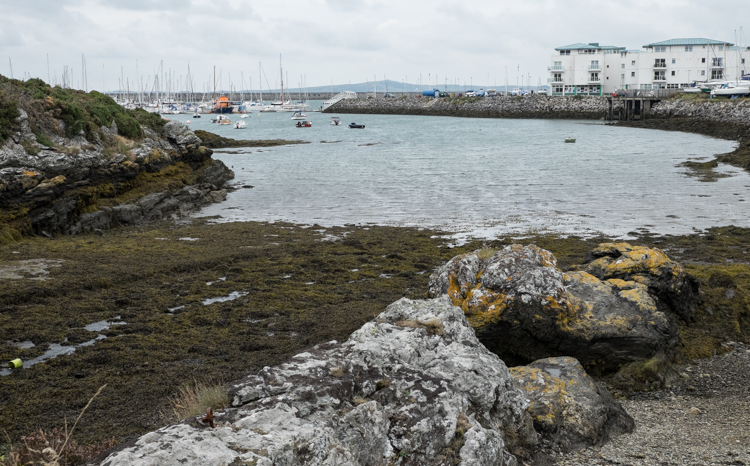 40_8
The nicest part of the day was a visit to St. Cybi's church where I had a nice chat with these two volunteers who show visitors around the church: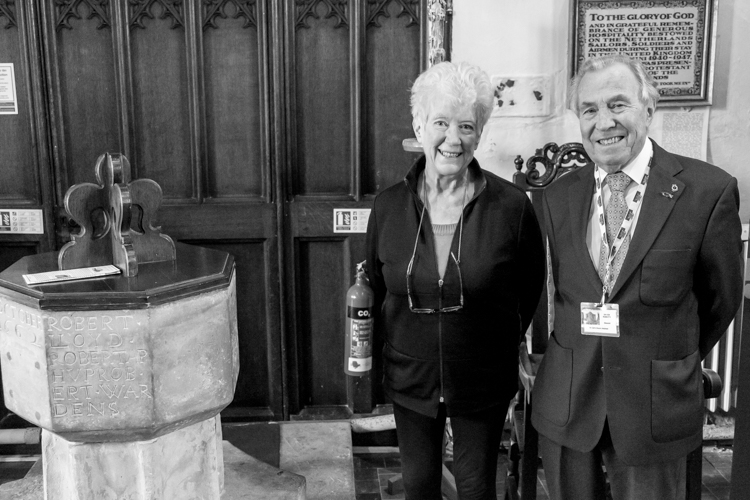 After lunch, I drove the 100 miles to Liverpool and flew home. More pictures from the trip to Wales are here.
40_9
Back to normal life at home, walking my dog early in the morning, I saw this man having breakfast inside one of the many neighbourhood bars while his dog waited outside: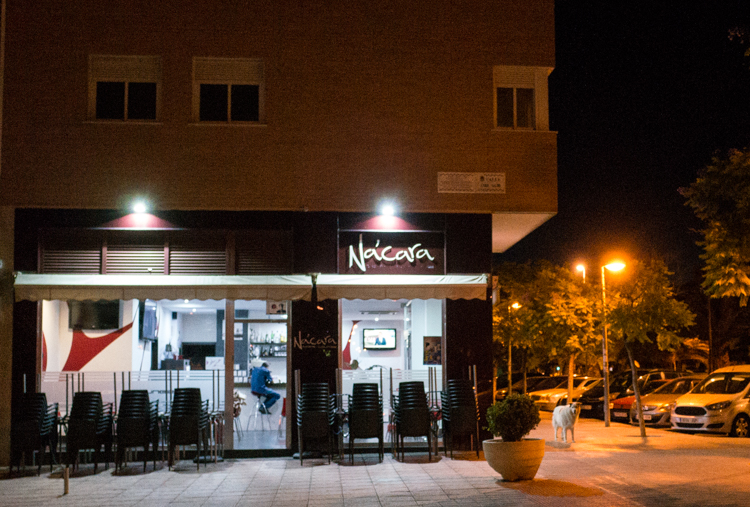 40_10
Wall art in the centre of Alicante, near a new specialty beer shop where I do much shopping these days: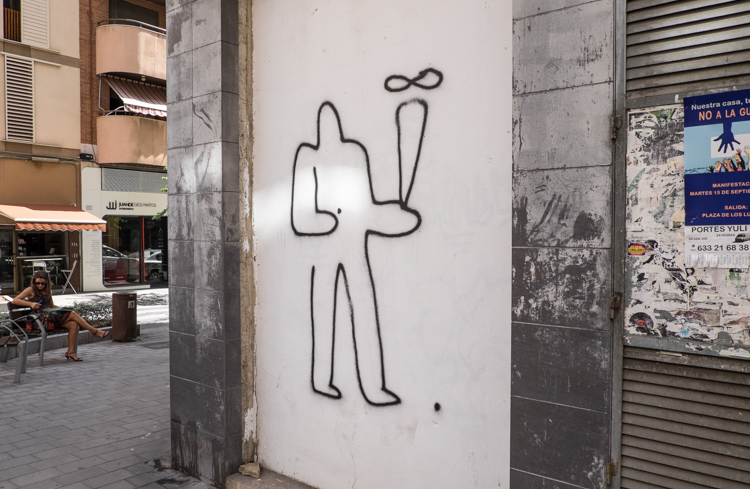 40_11
Anti-immigrant graffiti on Avenida de la Estación: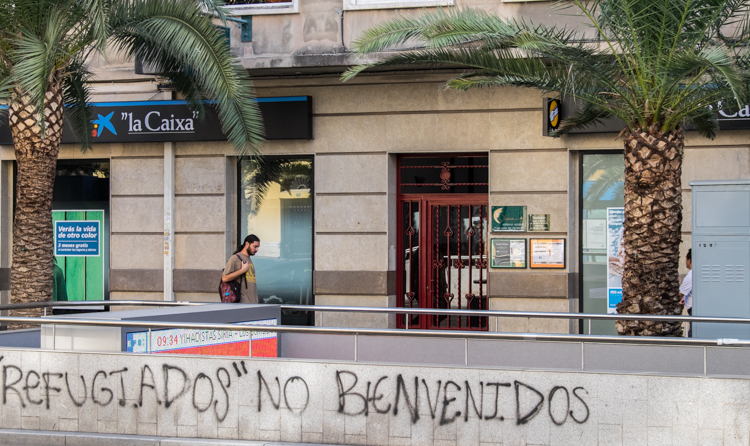 40_12
Breakfast, Avenida de la Estación: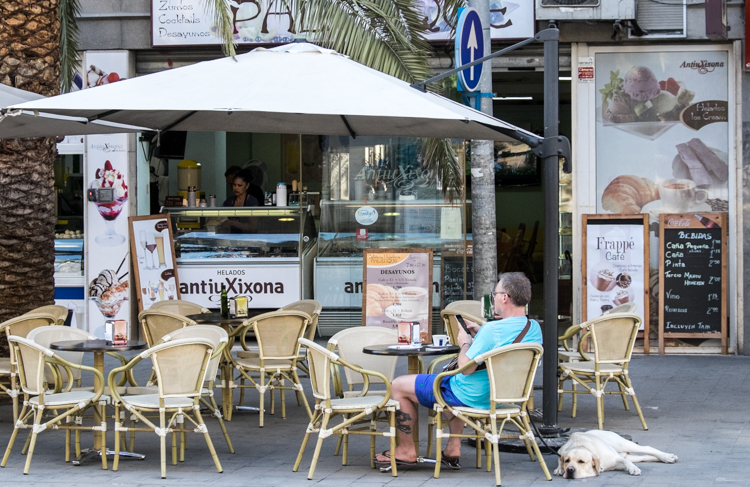 On Saturday morning, I took a train to Barcelona, where we were going to have what has now become an annual event, a dinner with my friend Lluis and visiting members of the Leica Users Group. This year, we had visitors from Spain, France, the US and Australia. We met up for some beers at a bar on a small square near the Rambla and then walked to Julivert Meu, "our" restaurant, for a Catalan dinner. As always, it was a wonderful occasion, and many pictures were taken.
40_13
Louis with his Leica: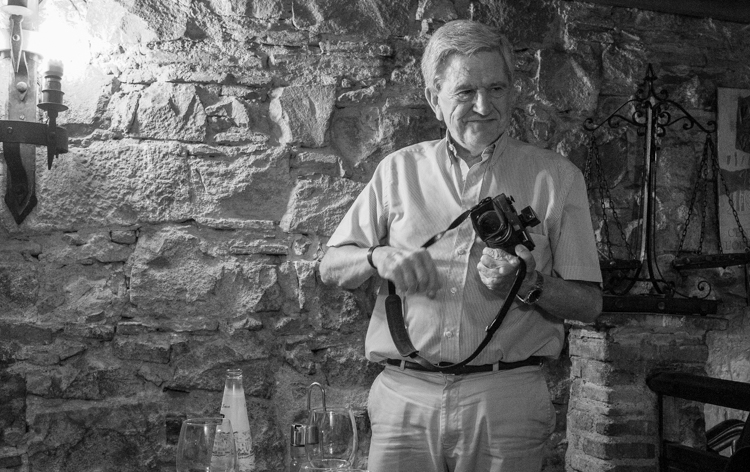 40_14
While having a beer, I watched the human traffic on the square: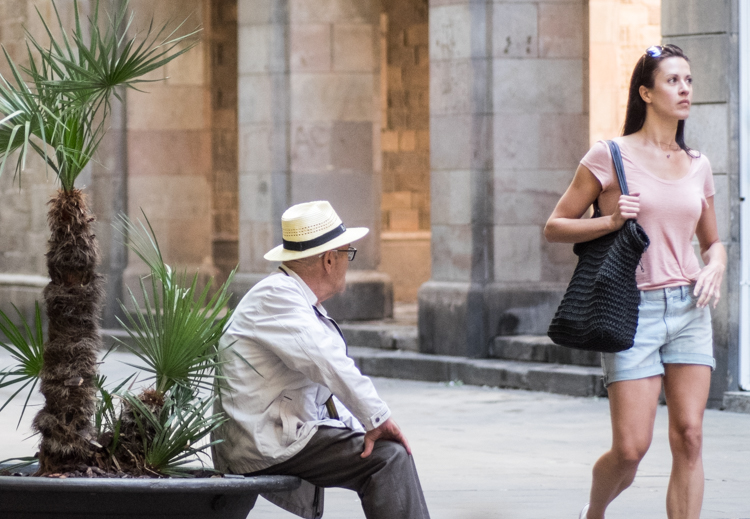 40_15
Eye contact: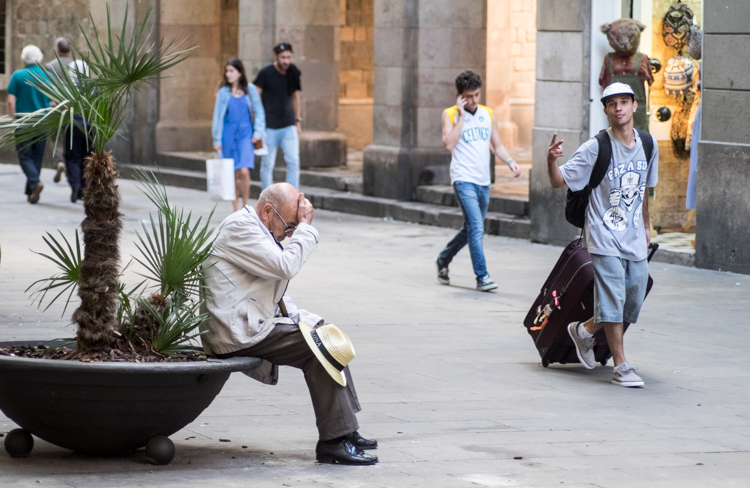 40_16
A picture of me talking to Mariela, taken by Tarek Charara from France:

40_17
The group photo outside the restaurant: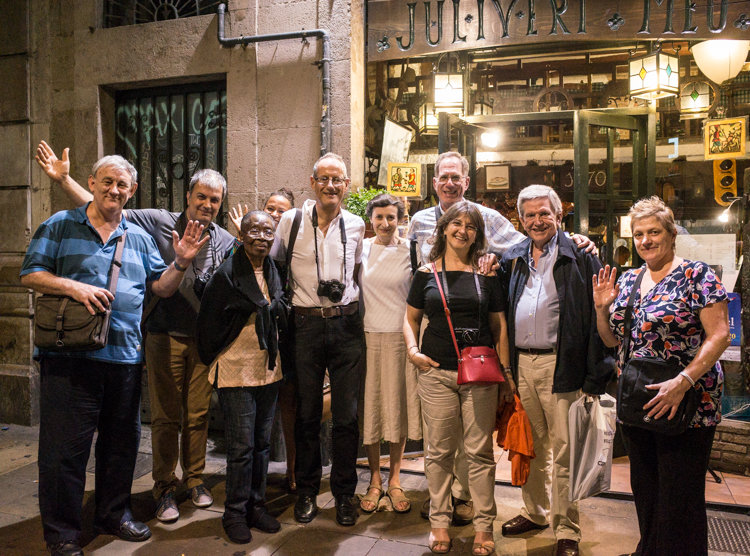 After this photo was taken, I said goodbye to my friends and walked to the metro station on Plaça Catalunya to go back to my hotel. But I was still in picture-taking mode.
40_18
Couple, Plaça Catalunya: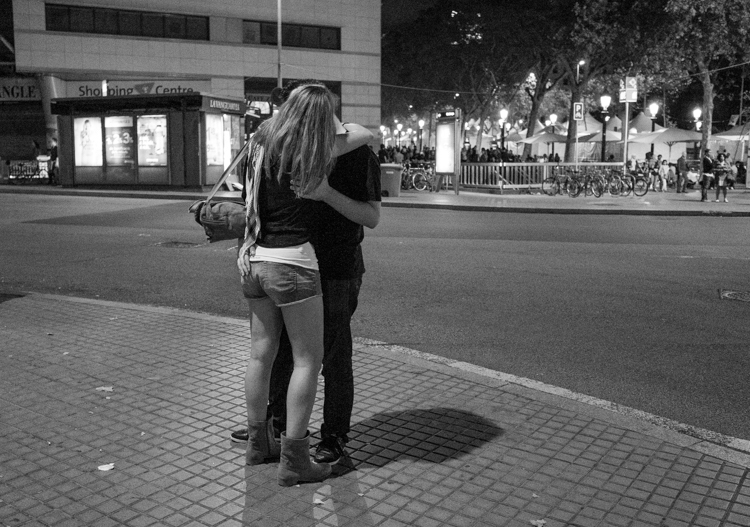 40_19
Happy people on the metro: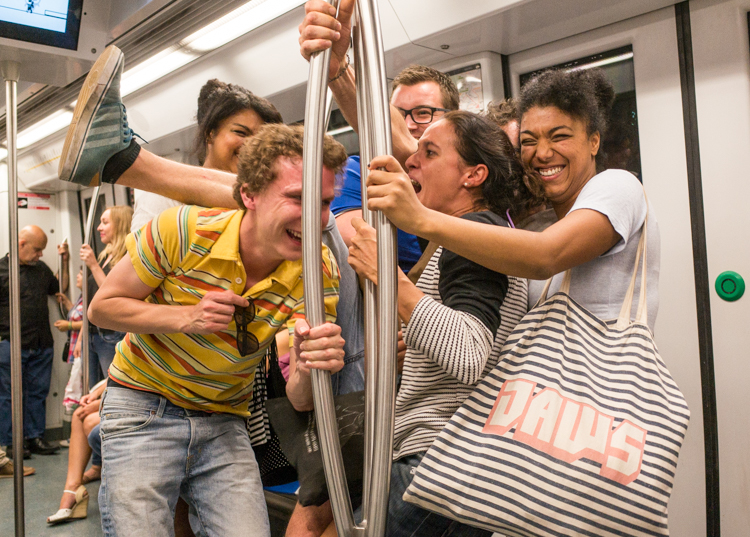 On Sunday morning, I walked a little in the neighbourhood around the hotel before descending to the metro to go to the Barcelona Sants train station and return to Alicante.
40_20
Catalan flags are everywhere in the runup to the regional elections on September 27th, in which the main issue is the question of Catalan independence: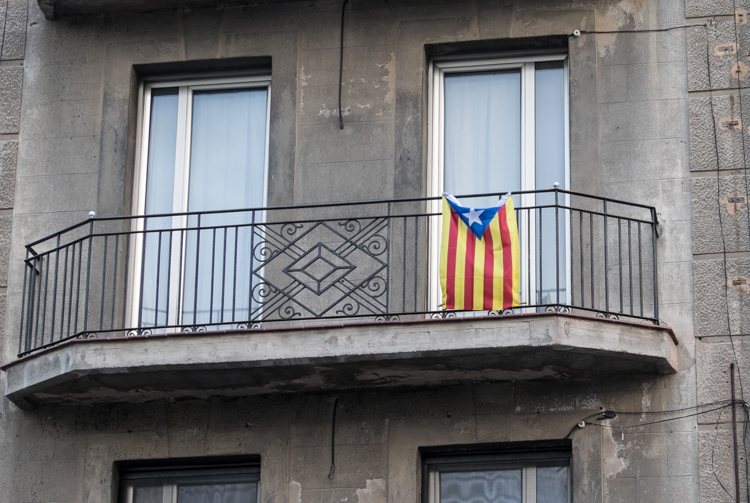 40_21
A Pentecostal church, presumably catering to South American immigrants of which there are many here: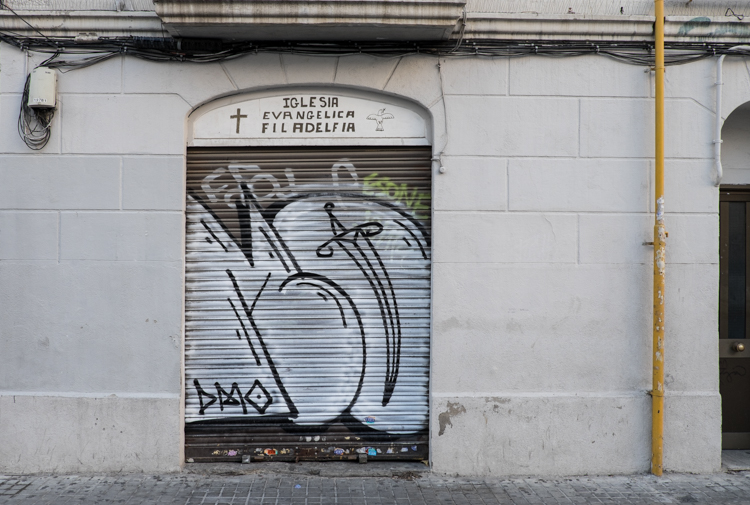 40_22
Butcher shop: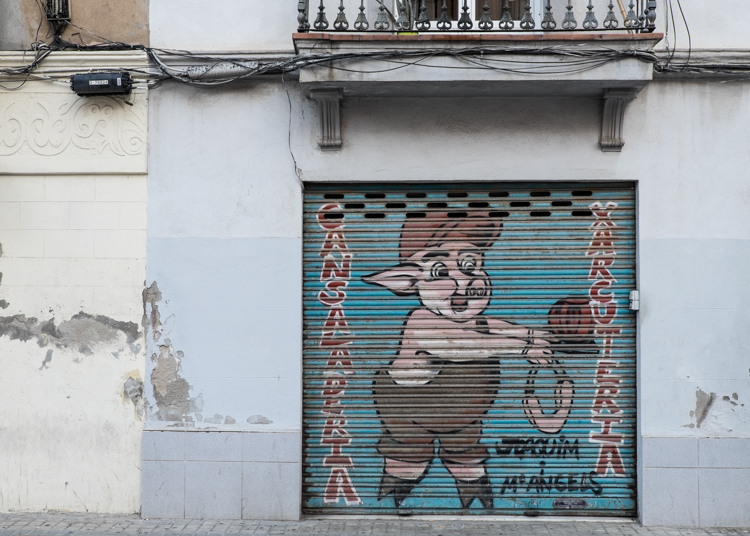 40_23
As I usually do, I enjoyed looking at the murals that liven up an otherwise somewhat drab neighbourhood: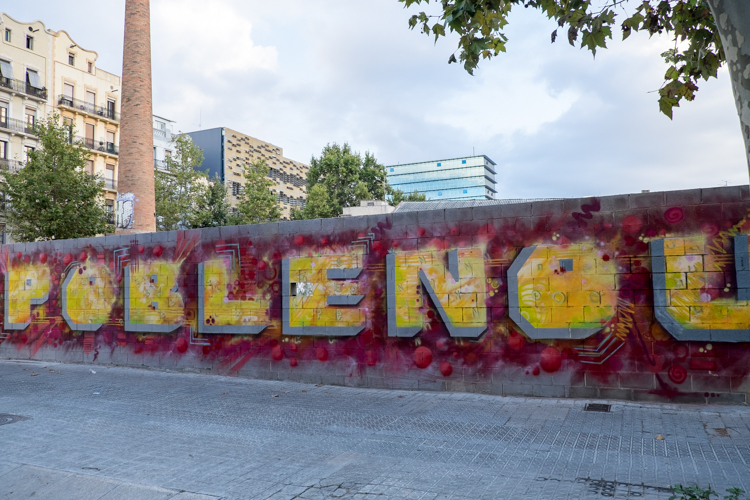 40_24

40_25