My sister and brother-in-law were still with us last week, and thankfully, as the Thursday was a public holiday, I was able to take Friday off and have a long weekend with them, part of which we used for a trip to Toledo, a city I had never visited before despite living in Spain since 2007.
41_1
But I start with a couple of pictures from work. The construction of our new building, as seen from the top floor of the existing building: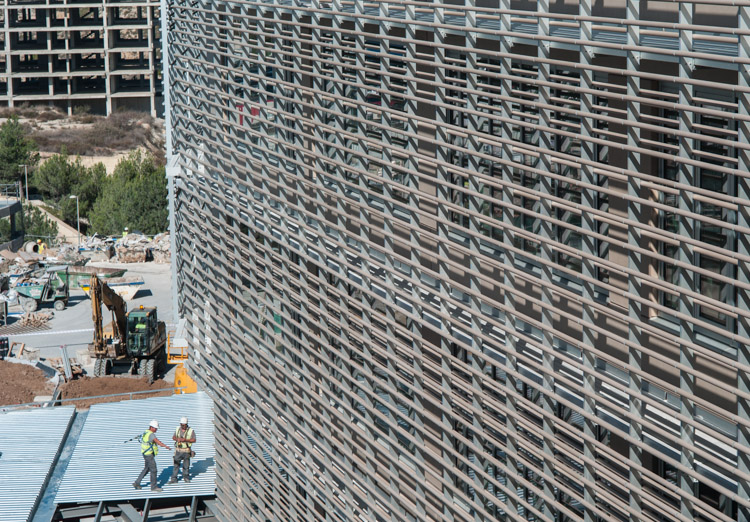 41_2
Francisco explains things to our new Italian trainee Francesco:

41_3
One of the traditions when my sister visits is that she makes pierogi, Polish dumplings. I came home from work one day to capture the last stages of preparation (and to eat them, of course). Here is a batch, boiled: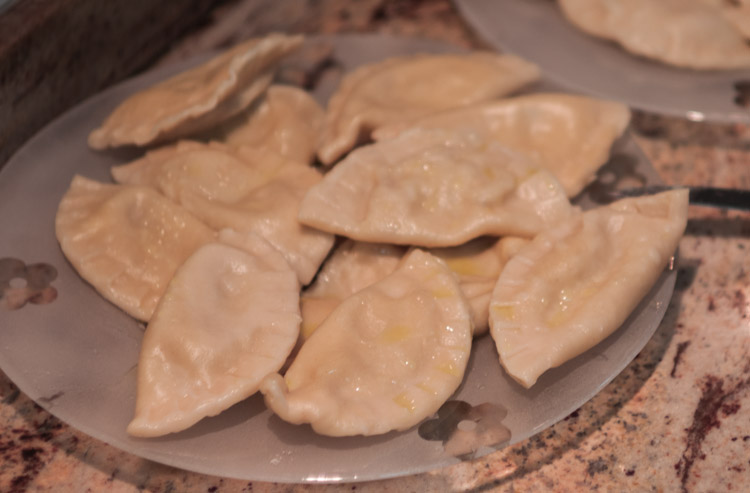 41_4
The are then fried on a pan: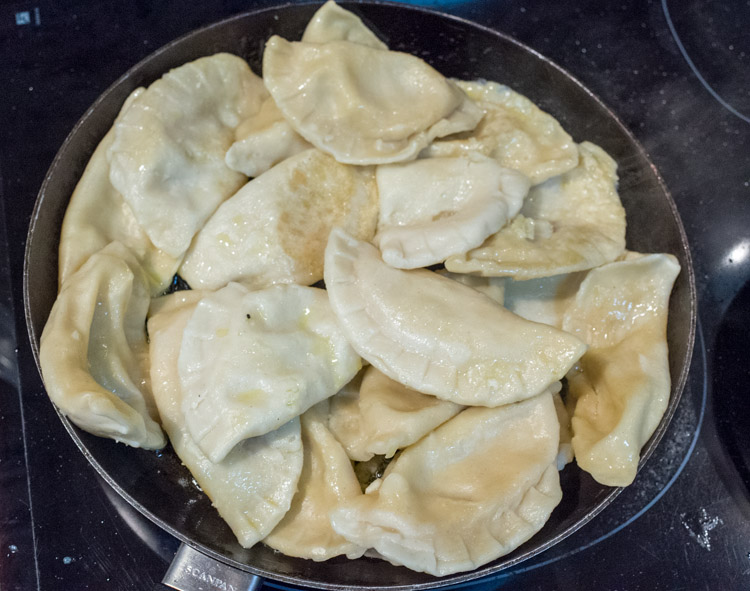 41_5
…and served with fried onion: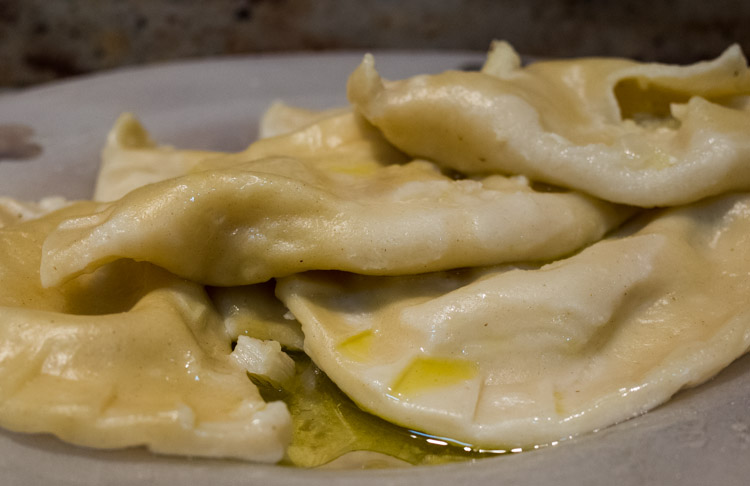 41_6
Another evening we went to the harbour in El Campello to see the cats and to have a beer in one of the many bars along the beach promenade. We came across several groups of French people playing pétanque on the beach. Here, a player takes aim: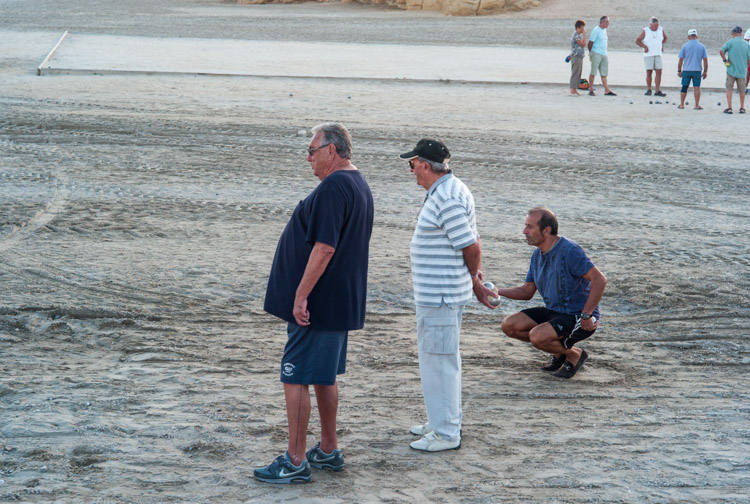 41_7
The shot on the way: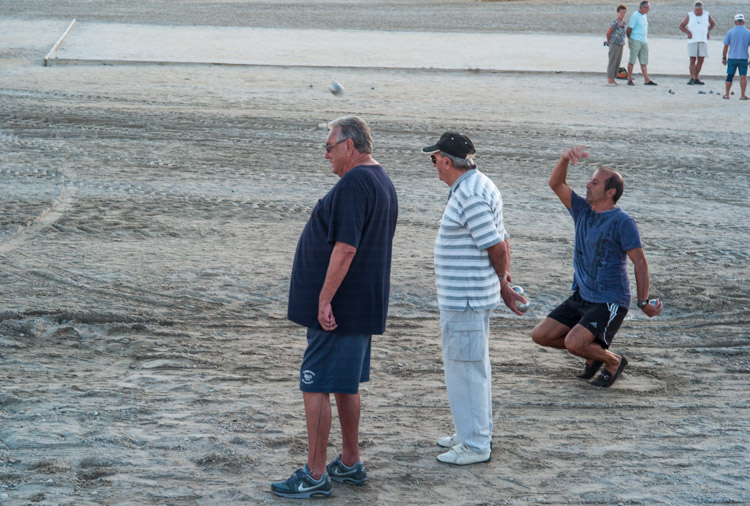 41_8
The players gather around the balls to determine whose ball is closest to the cochonet, the little round ball that is the object of the game: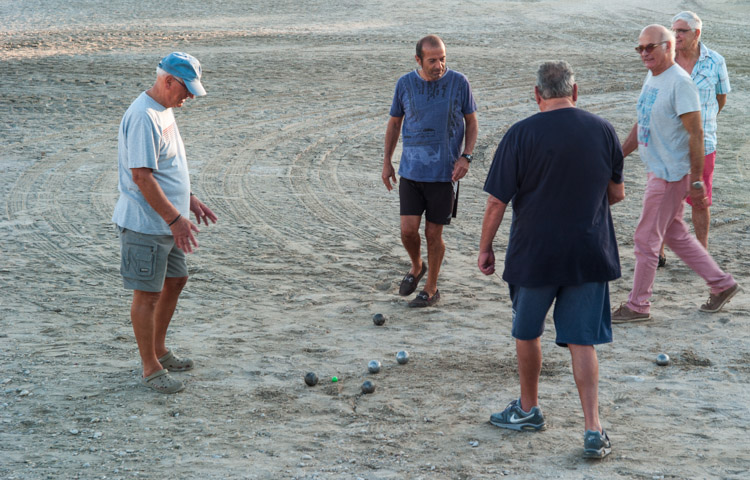 41_9
We then went to check on the cats in the harbour: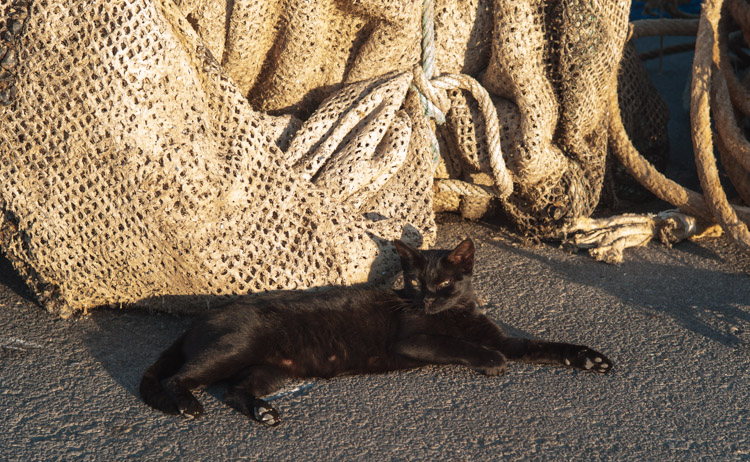 41_10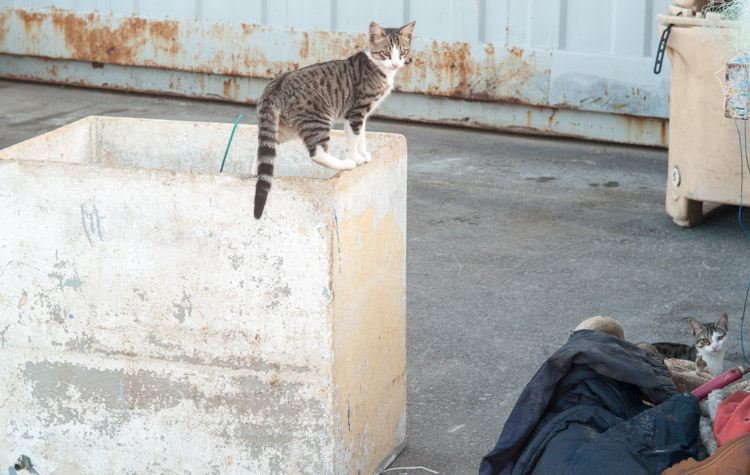 41_11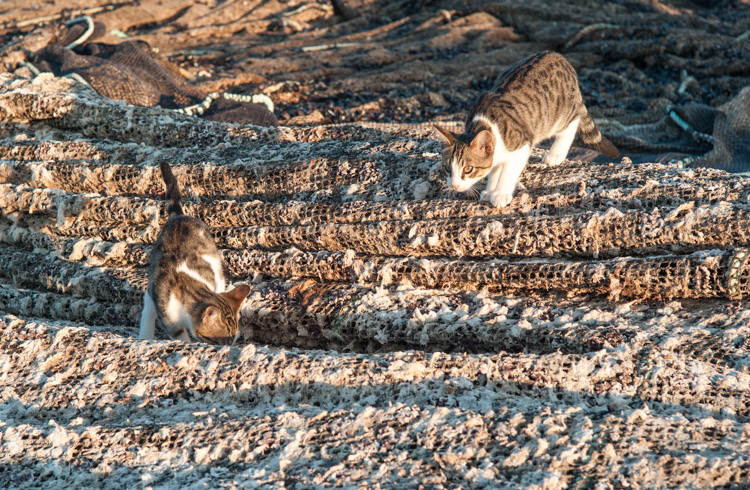 41_12
A fisherman mending his nets: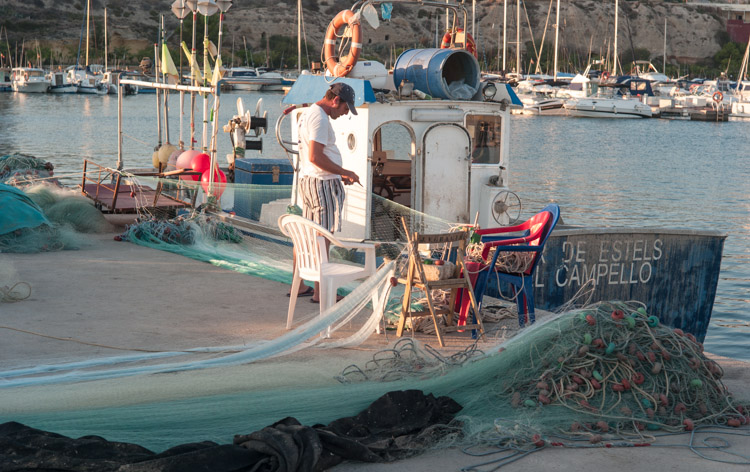 41_13
We then sat down to have a beer on the promenade while watching the moonrise: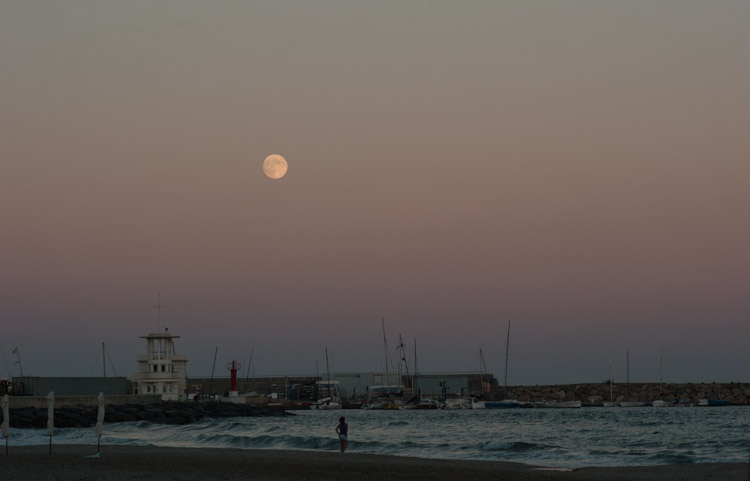 41_14
A big part of the pleasure is to watch the people walking by, young and old: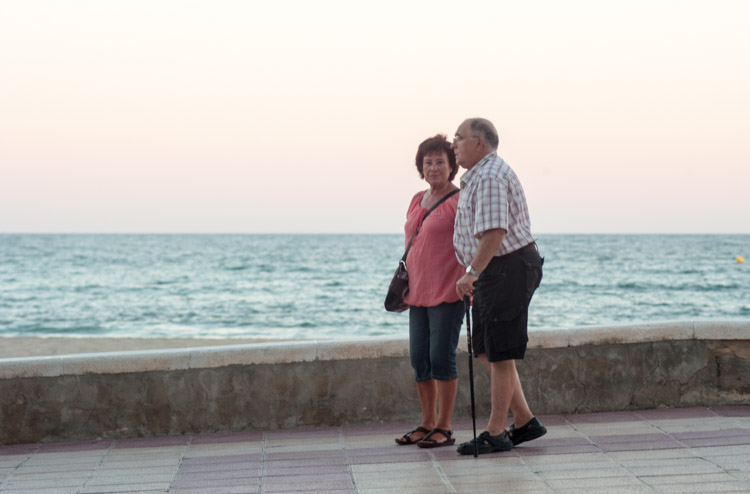 41_15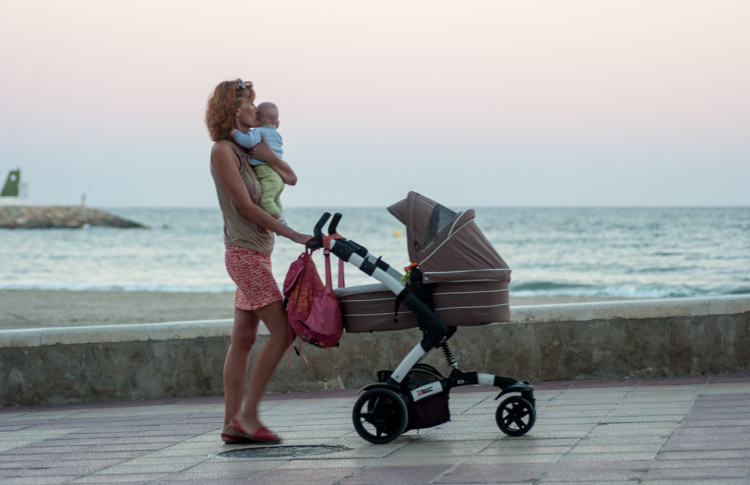 41_16
As usual, I was out on my bicycle several mornings. Part of the pleasure is to watch the sunrise, this time from the bridge over Río Seco in El Campello: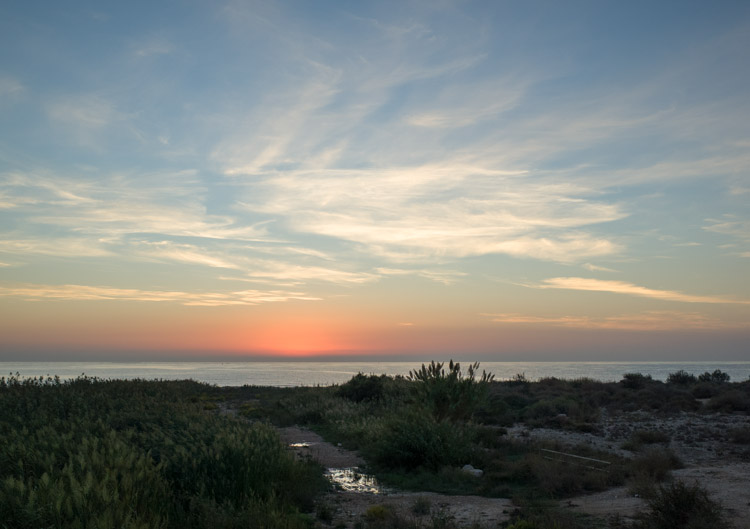 41_17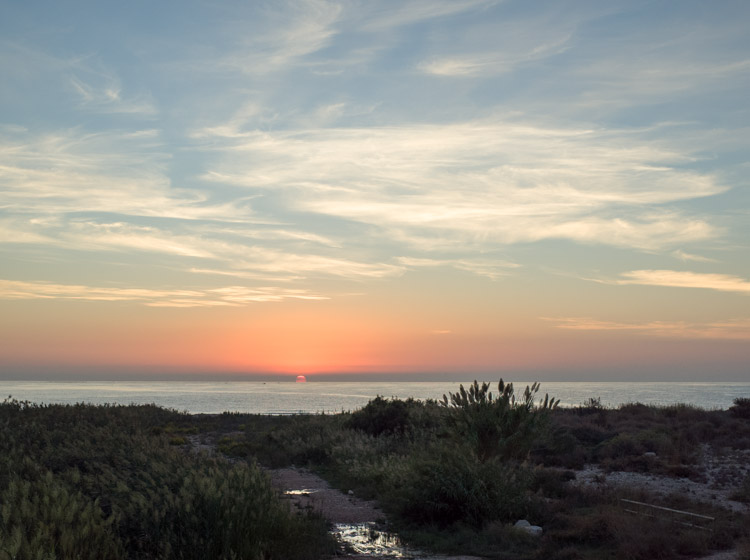 41_18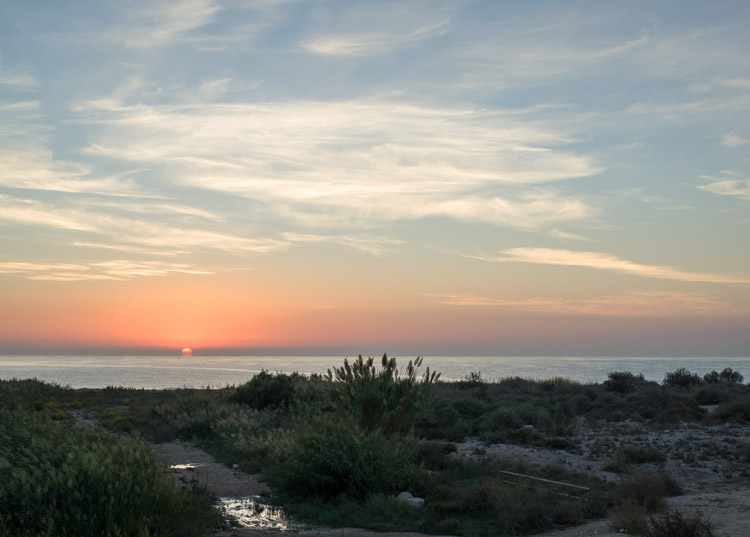 41_19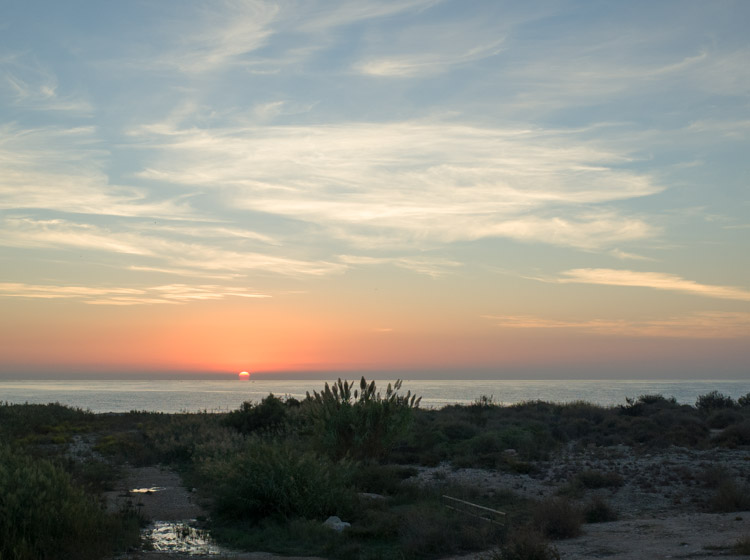 41_20
On Thursday, we drove the 420 km to Toledo, a city which my Spanish friends had been telling me about during the seven years I have lived here, but which I had never gotten around to visiting, until now. The place turned out to be wonderful, starting with our hotel, Cigarral de Caravantes, on a hill overlooking the river and the city: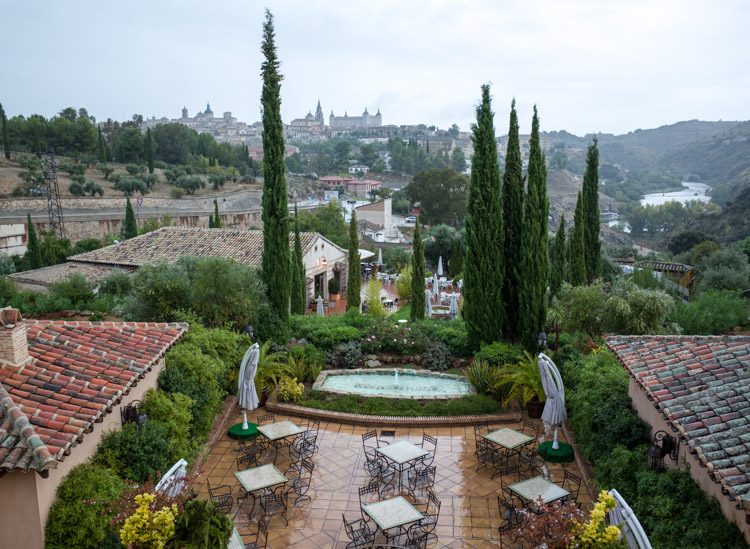 41_21
The cathedral is truly magnificent: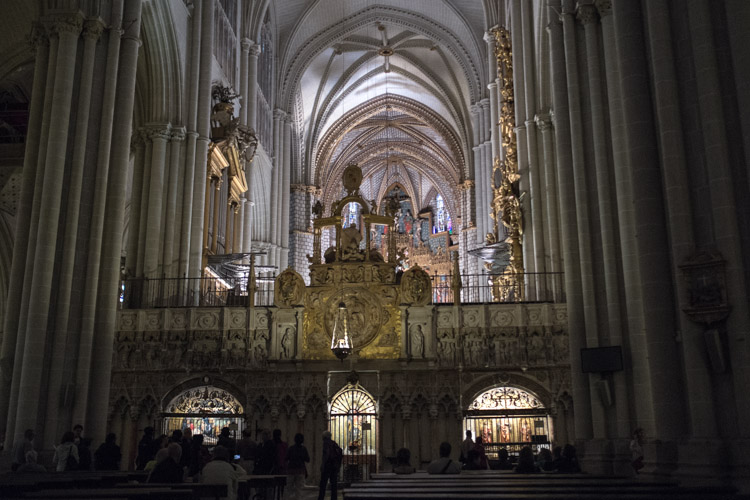 41_22
Shadow and light: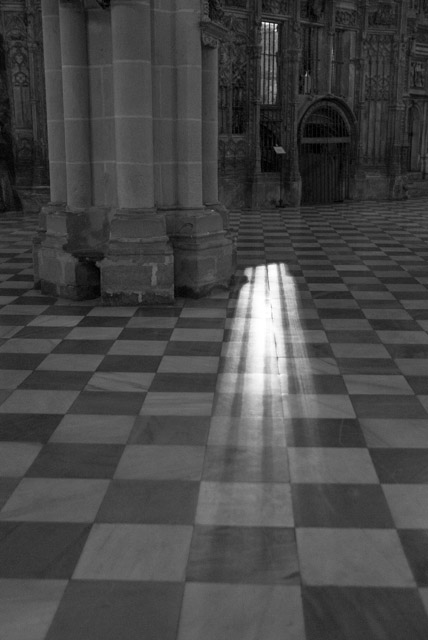 41_23
Another church we visited, Iglesia del Salvador. Like many churches in Spain, this building was a mosque during Moorish rule: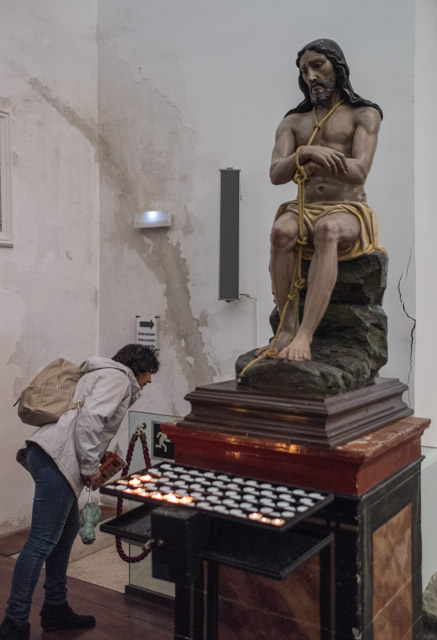 41_24
As is my habit when visiting a city, I looked for little details when I walked around Toledo: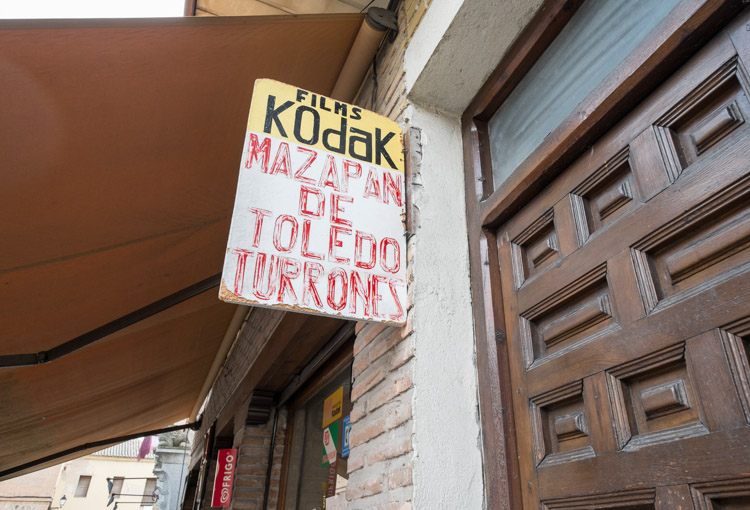 41_25
Don't park here!: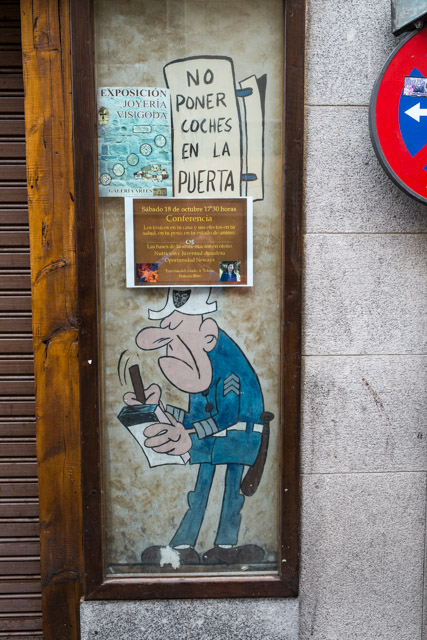 41_26
Opening for business: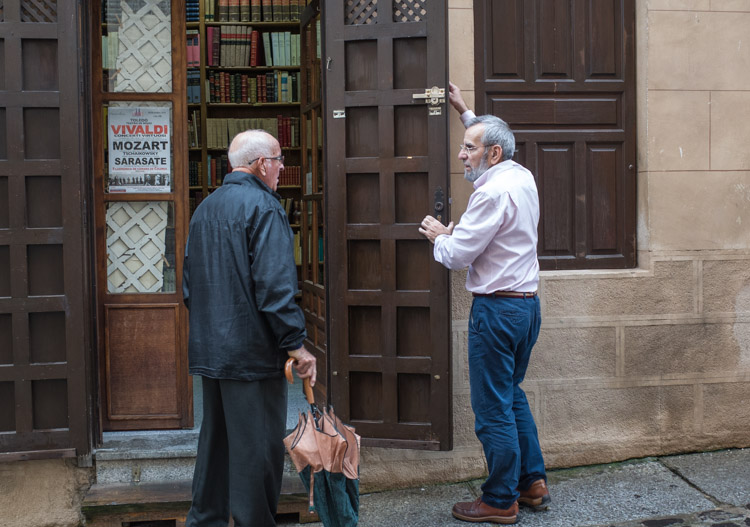 41_27
We had several rainy spells which we spent either looking at indoor attractions like churches and museums, or just sitting in a bar, looking out: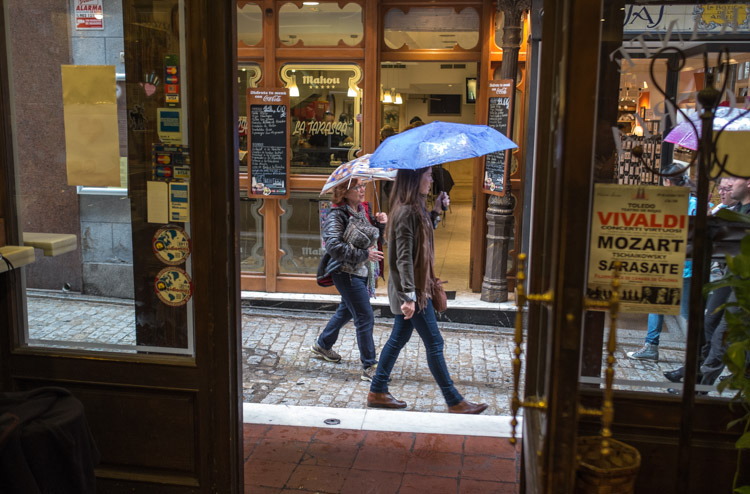 41_28
Of course, city streets in rain are quite photogenic: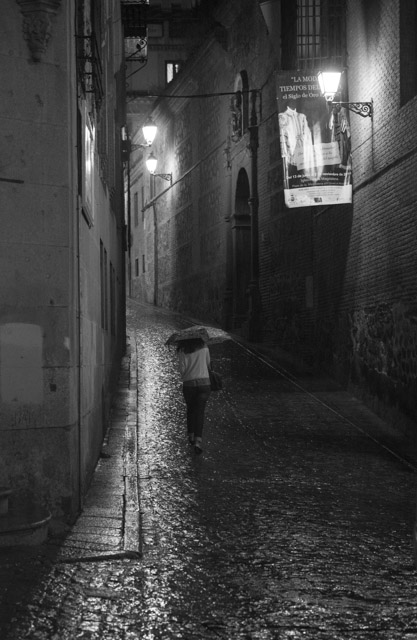 41_29
Street conversation: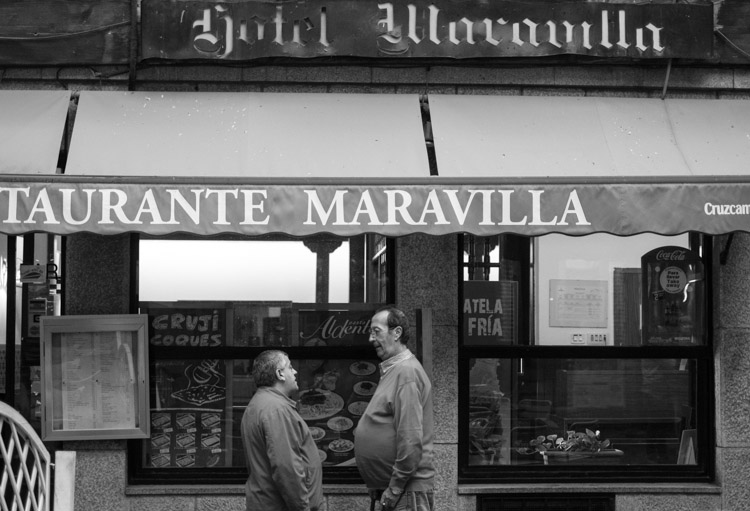 41_30
This is where we had lunch on Friday, before heading back to Alicante: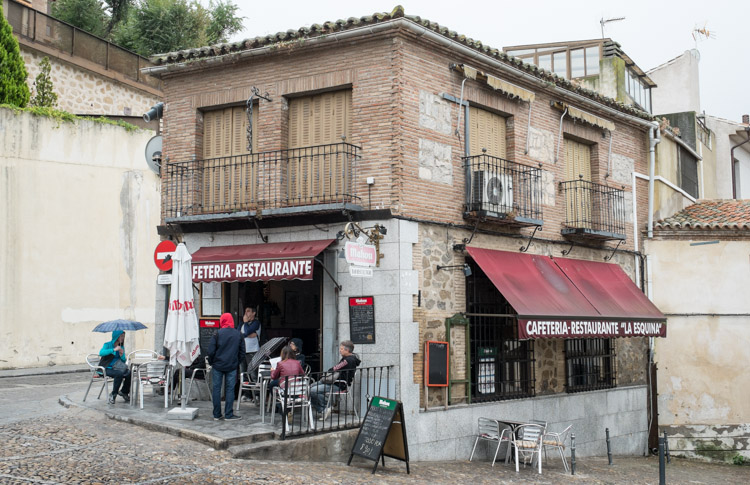 41_31
On Saturday we went to the centre to have a look at the people who had come to watch the start of the Volvo Ocean Race. I have absolutely no interest in sailing, so I just looked at the people who had come to watch the boats. I have no idea what this helicopter was doing: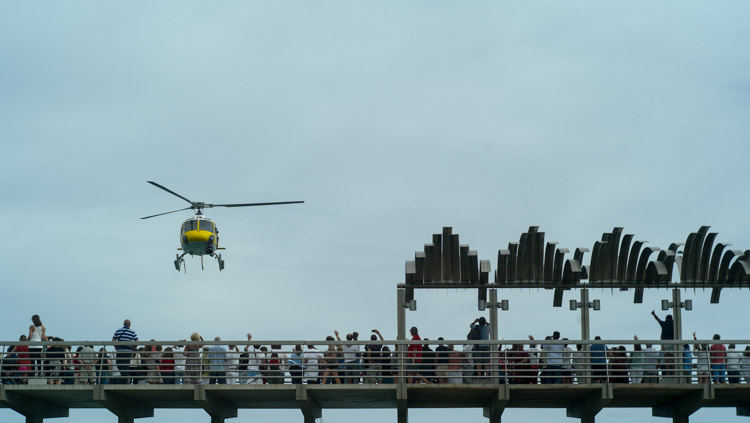 41_32
Restaurant guests at the Plaza Puerta del Mar, human and non-human: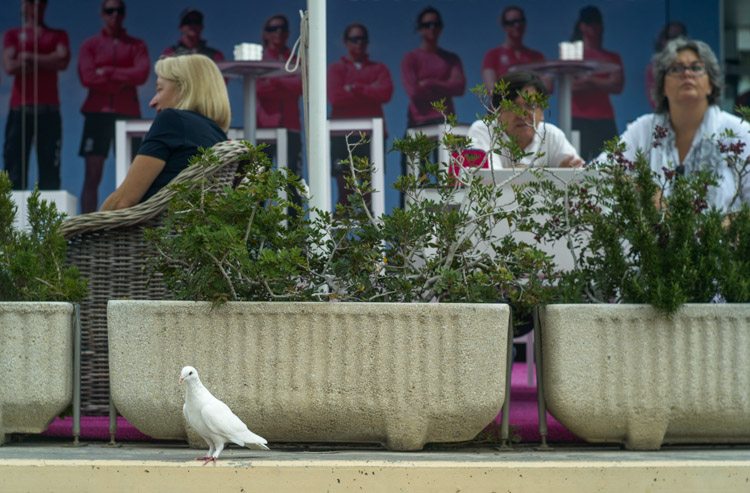 41_33
Michelin lady on the back of a scooter (picture taken while driving home from the centre):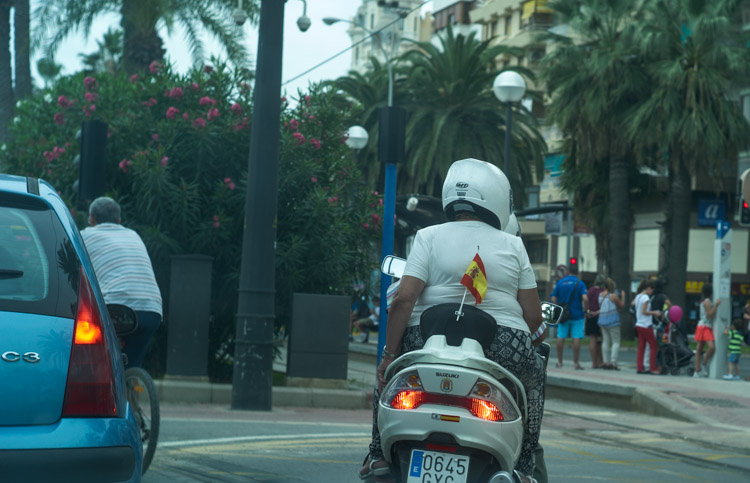 More Toledo pictures can be seen here.