The bulk of the week's photos come from a trip to Poland that began on Wednesday and spilled into the following week. My wife was going to participate in an international bridge tournament in Rzeszów, a city of about 200,000 inhabitants in south-eastern Poland, about 90 km from the Ukraine border. Because of its location and the fact that it is the largest airport in that part of Poland, Rzeszów is now a vital hub for all the military hardware being shipped to Ukraine from western allies. But aside from that, it is a lively and pleasant place which I also visited 5 years ago.
32_1
I start with some photos from work, or rather from a lunch with my co-workers. Our Moroccan trainee Said is leaving at the end of August, and given vacation schedules, we had to have our farewell lunch already on the 8th. We went to Hostal Maruja (Said is second from the right):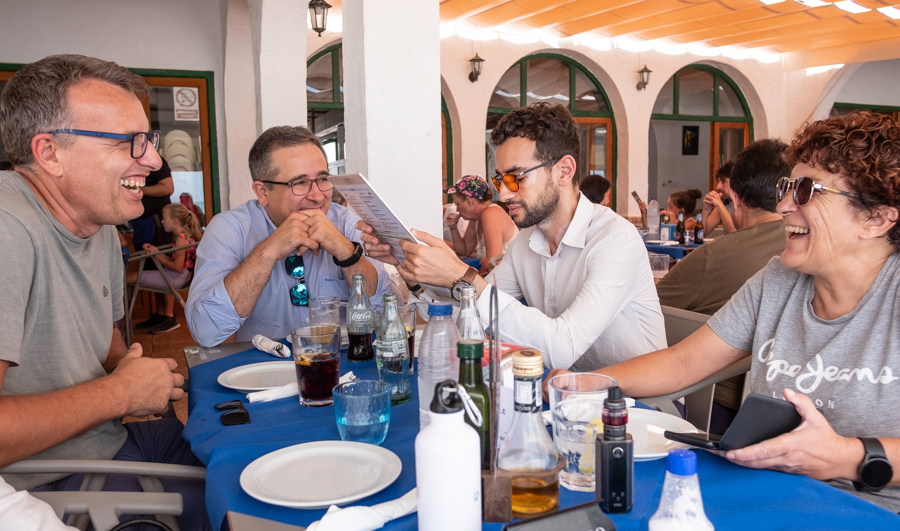 32_2
Always a pleasure to be here…: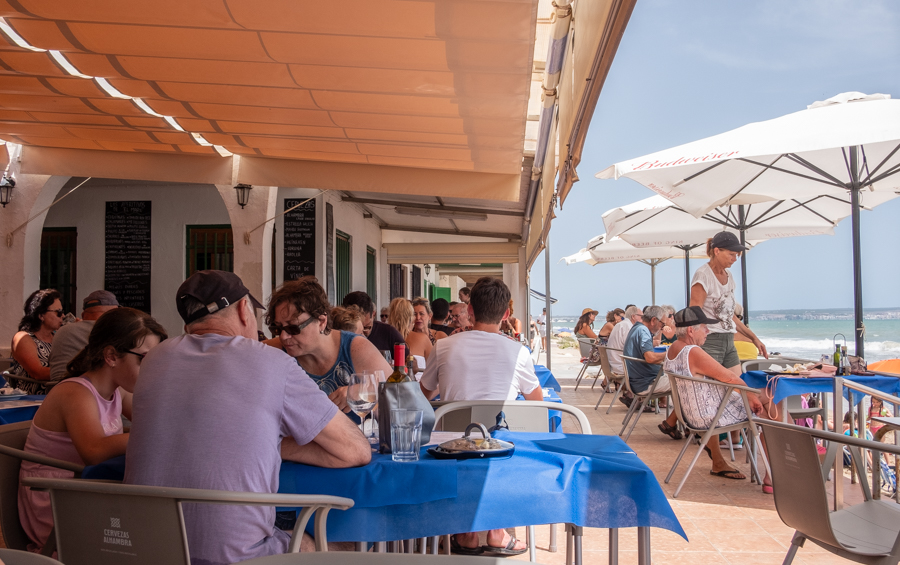 32_3
…and eat grilled sardines…: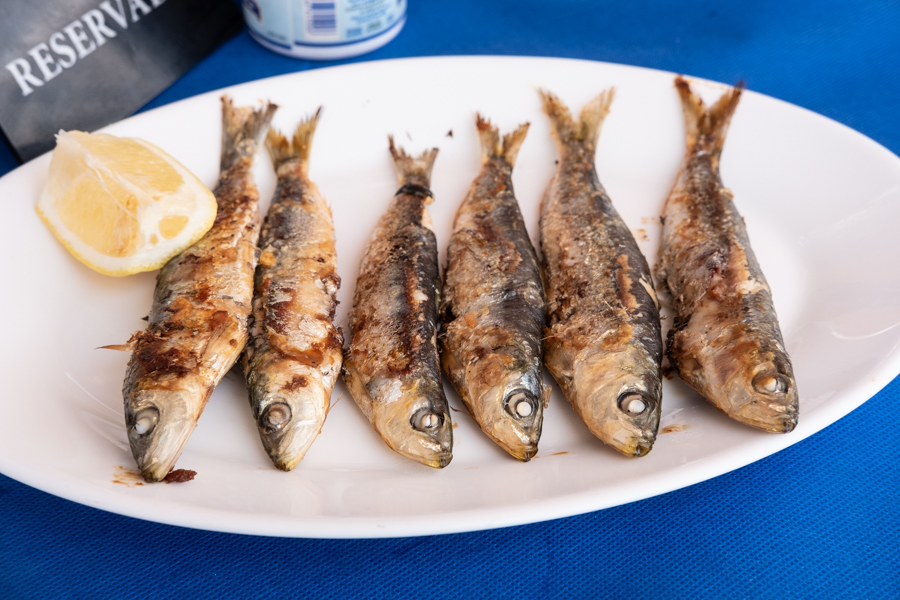 32_4
…or calamares:

32_5
Between bites one can enjoy the views of the beach: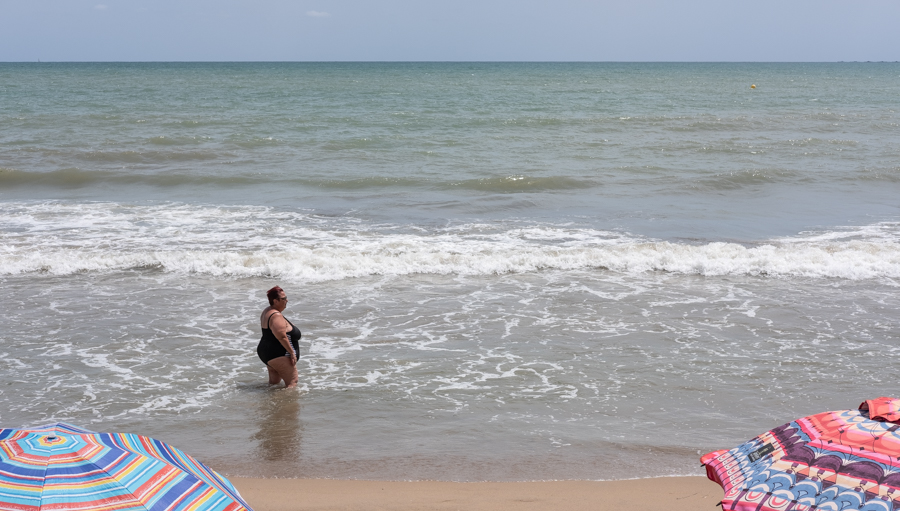 32_6
And even when the bill arrives, no need to panic, the prices at Hostal Maruja are very reasonable: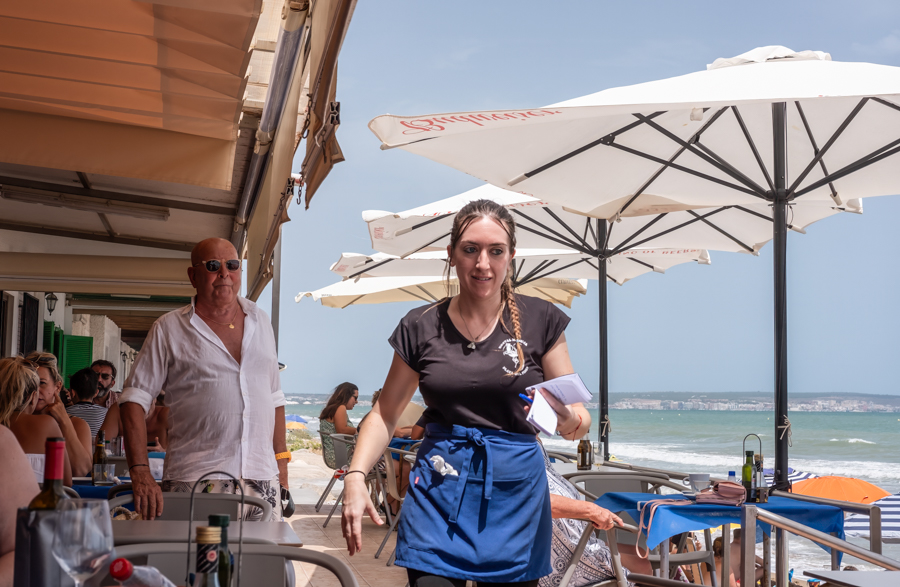 On Wednesday afternoon we flew to Warsaw, arriving there late in the evening. We picked up the rental car, drove to a hotel near the airport, and turned in for the night. No photos. The next morning we drove the 350 km to Rzeszów and started our trip for real.
32_7
I don't play bridge, so besides me and my wife, her bridge partner Curra also came with us. This is a phenomenal lady of 88, living proof of the usefulness of exercising one's brain into old age. She is extremely sharp, even if there are some physical impediments compared to our last trip to Rzeszów 5 years ago. But she would still get up early and walk around the centre of Rzeszów every morning. An amazing lady indeed: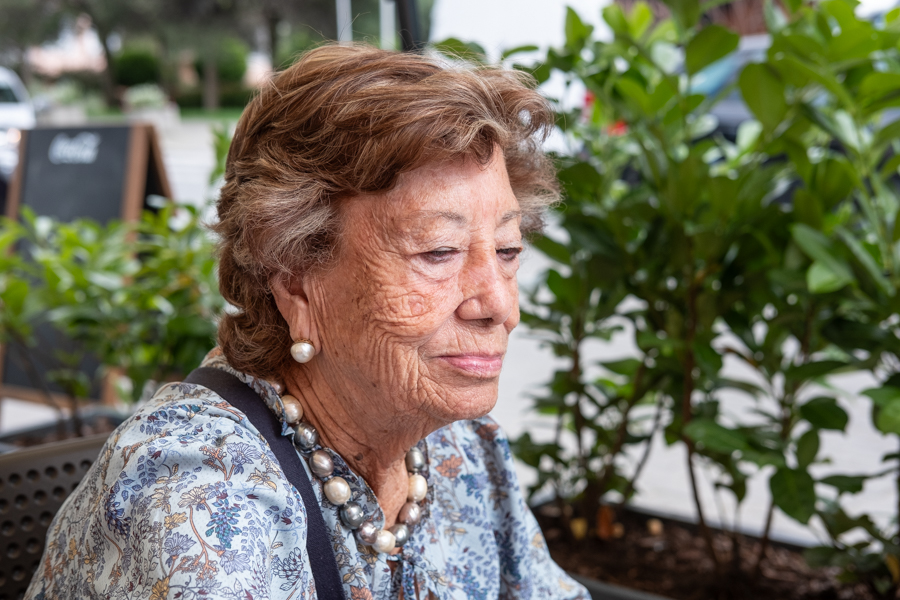 32_8
My wife and Curra had to be at the hotel where the bridge tournament was held at 5 p.m., so we checked into our own hotel and then went to a nearby restaurant for lunch. My wife, always the carnivore, ordered a breaded pork schnitzel, as did Curra. It is fair to say that they were surprised by the serving size: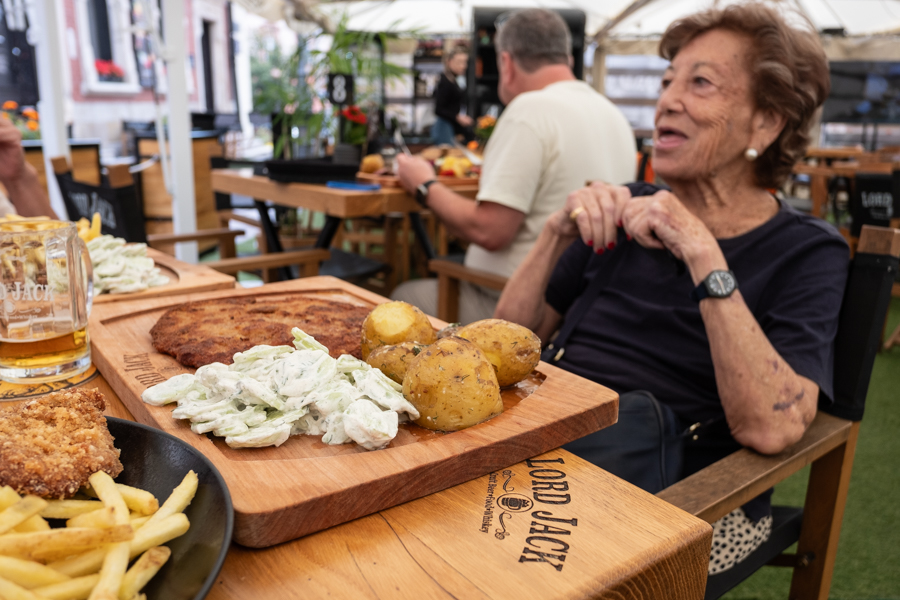 32_9
After lunch, I drove the two ladies to their bridge tournament and then went for a walk. Our hotel was right next to Rynek, Rzeszów's main square (in fact, every Polish town has a Rynek, the word simply means "market square" which was the centre of any medieval town). The weather was lovely, so I sat down for a beer at one of the many outdoor bars lining the square, and took in the life, like this dog who was very interested in its humans' ice cream but in the end had to settle for some caresses: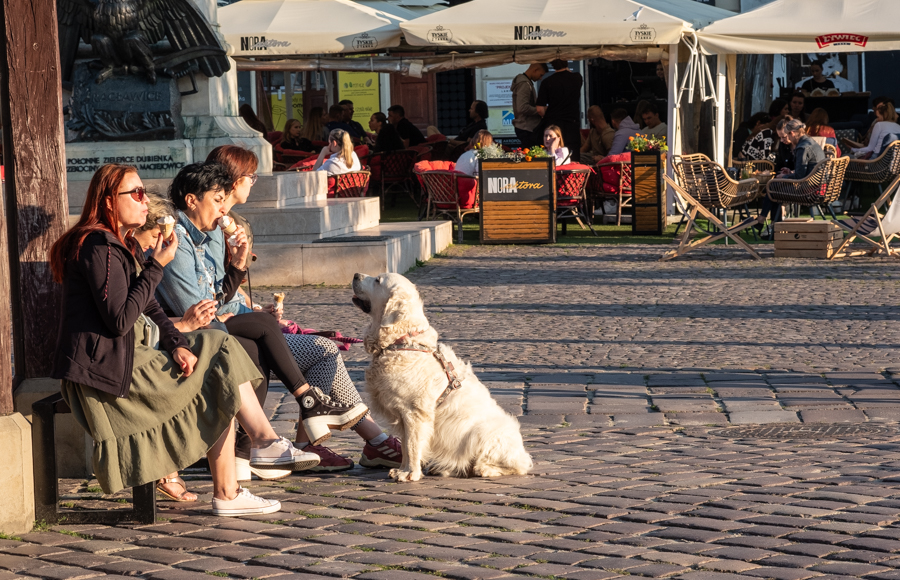 32_10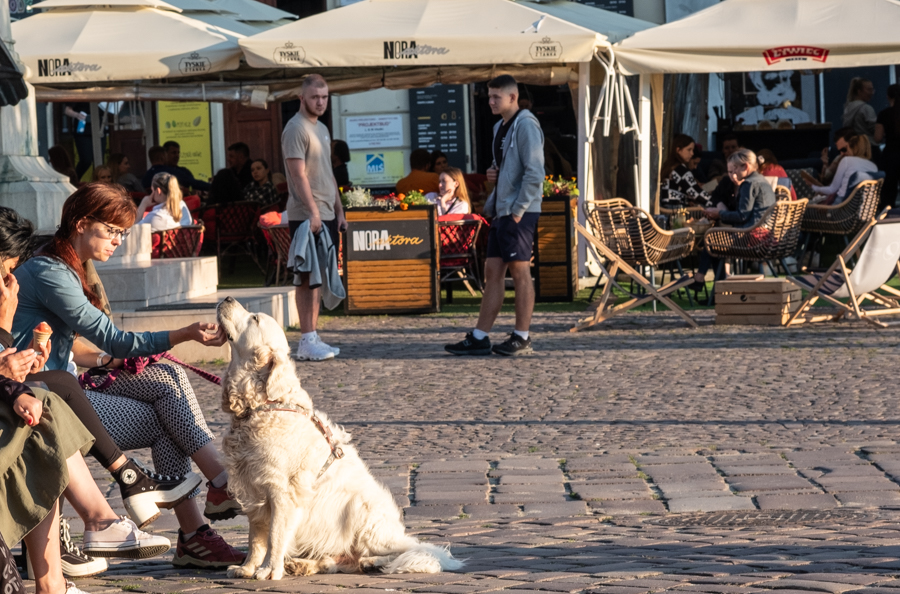 32_11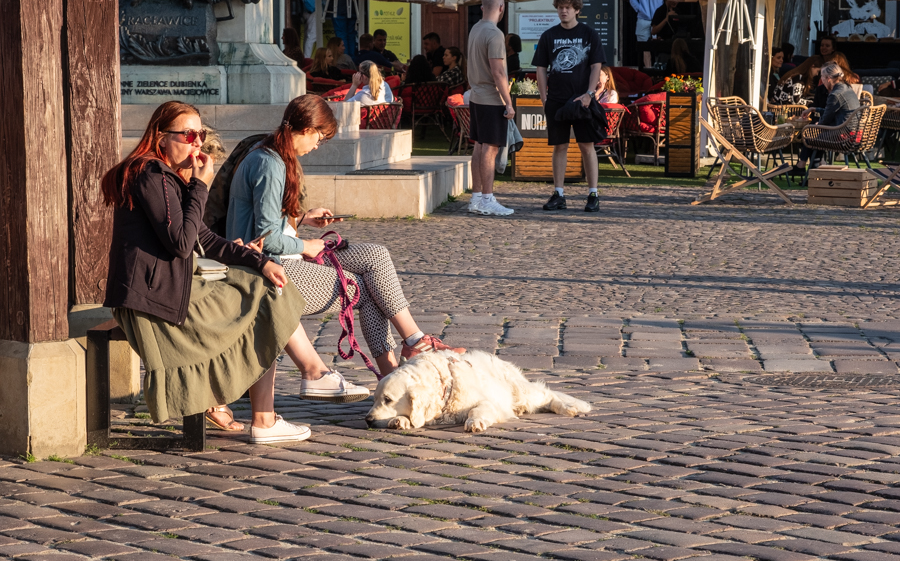 32_12
A robotic delivery vehicle from a nearby Indian restaurant kept whizzing by from time to time; I suspect that it was an advertising gimmick rather than actual delivery of Indian takeaway: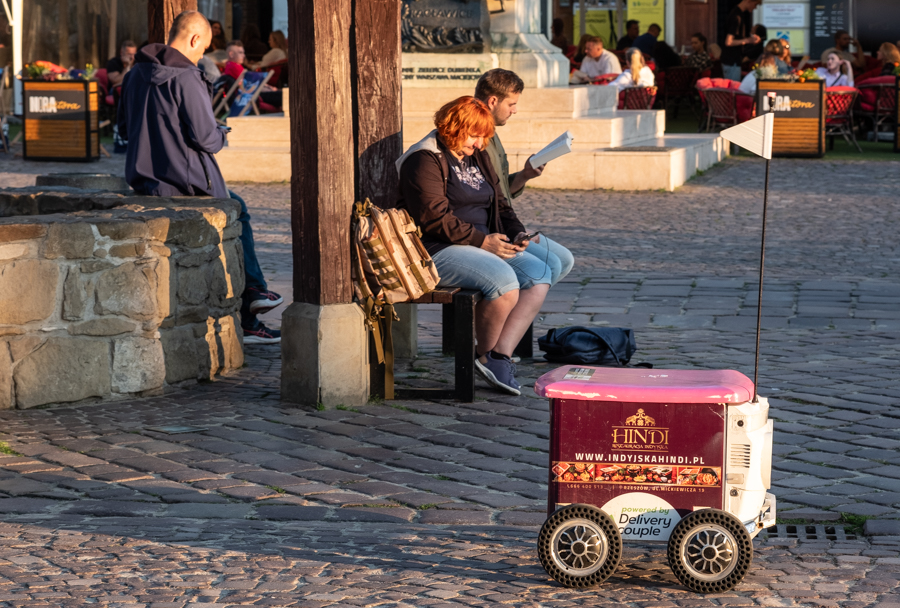 32_13
A bit further along I happened on the local branch of the Polish central bank. A large banner was draped across the façade, explaining the the cause of the high inflation was Russia's war in Ukraine and the Covid pandemic (in other words, not "our fault" which is actually true):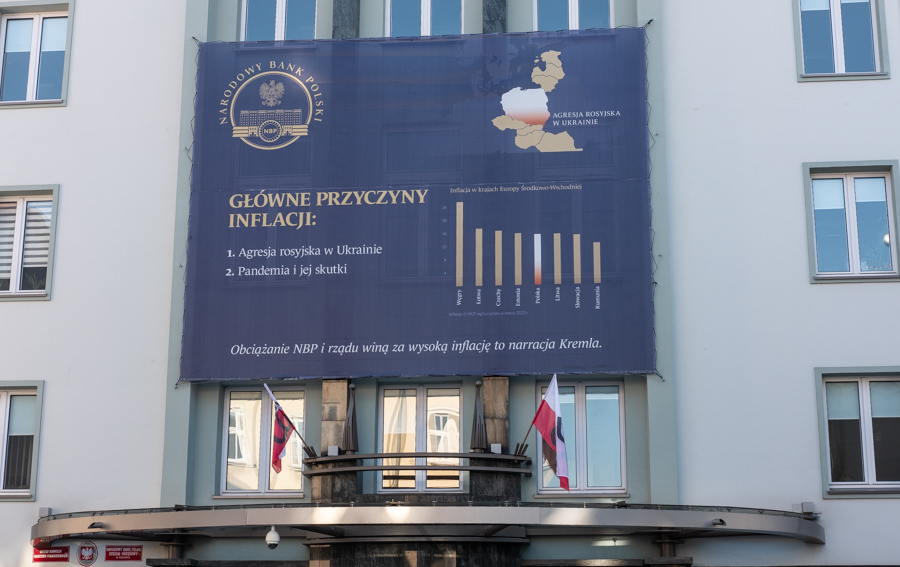 32_14
That evening we were invited for dinner at the house of Andrzej, a Polish bridge professional who lives in Madrid (that's how we know him) but is originally from Rzeszów and plans to return there some day, to a beautiful house he has built on the outskirts of the city. We were about 15 people at the dinner, and there was no shortage of wine: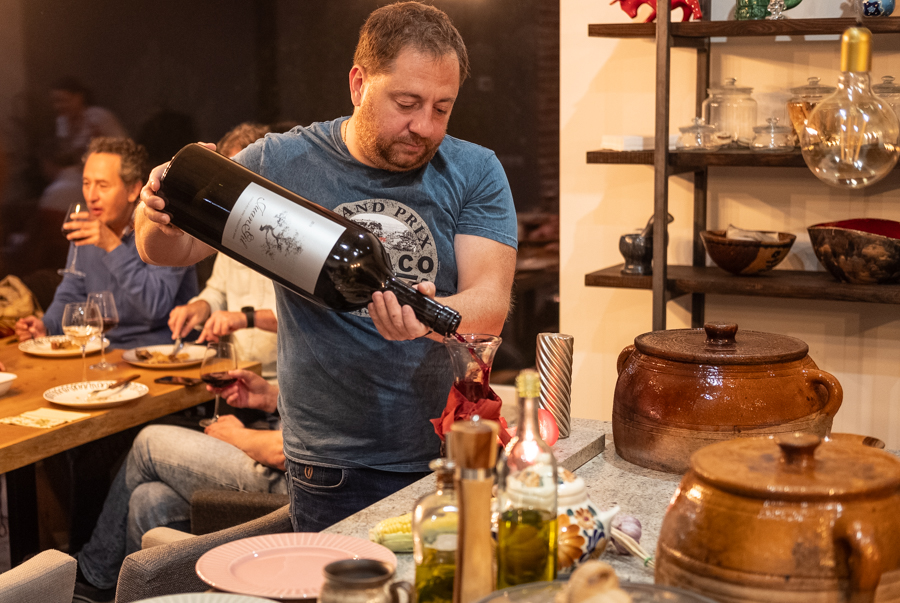 32_15
This being Poland, food was also plentiful and traditional, including some venison (on the right) that had recently been hunted by one of Andrzej's relatives. There are a lot of forests in this part of Poland, with a rich wildlife and a tradition for hunting deer and wild boar: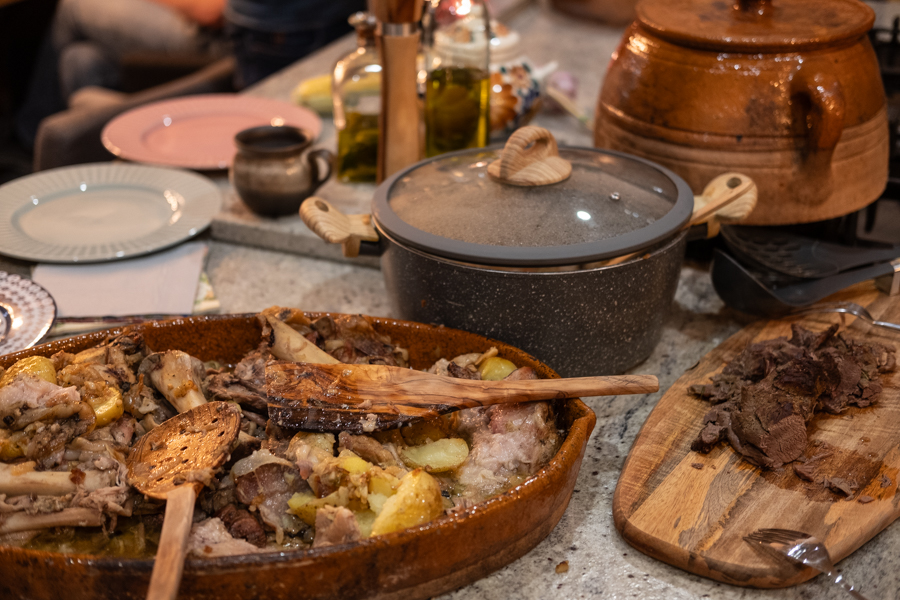 32_16
On Friday morning I went out for an early walk, stopping to photograph these flower beds, of which there were many around the centre of Rzeszów: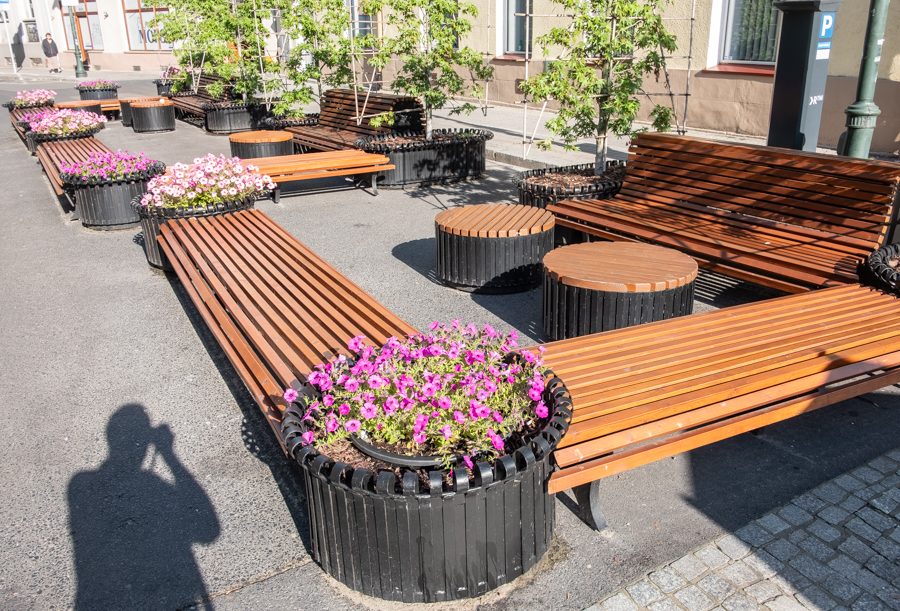 32_17
A couple (presumably soon to marry) were doing a photo shoot at the city hall: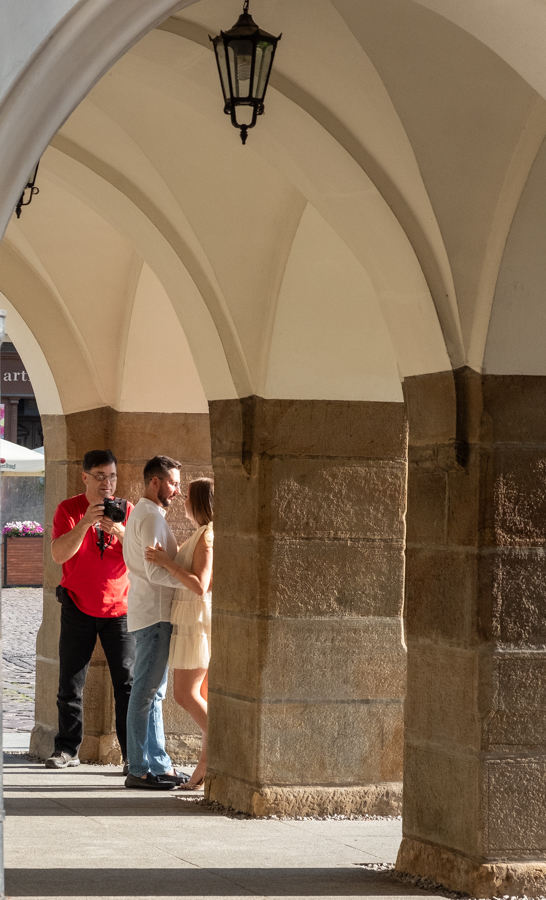 32_18
Having taken the ladies back to their bridge, I continued my exploration on foot, passing the hideous Communist-era "Monument to the Revolutionary Act". I believe that there had been a discussion about tearing it down, but finally it was decided to leave it in place, after all, it has become a local landmark and is now part of the history of this place: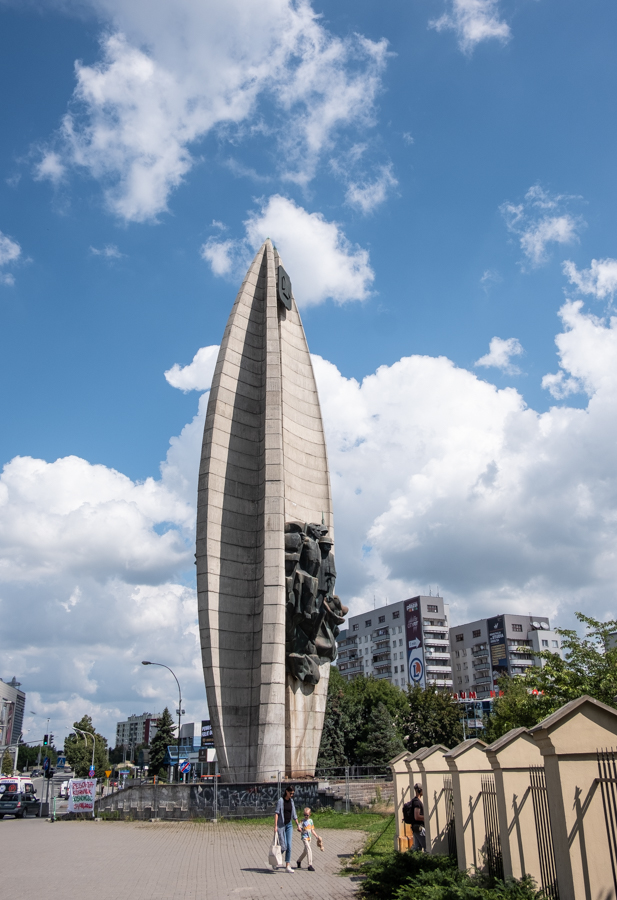 32_19
My objective for this walk was to visit the remnants of Jewish Rzeszów–the city was home to 14,000 Jews before 1939, virtually all of whom perished during the Holocaust. There is a nice little park called the Square of the Victims of the Ghetto, with an appropriate plaque, but also another ugly Communist-era monument having nothing to do with the Jews or the ghetto: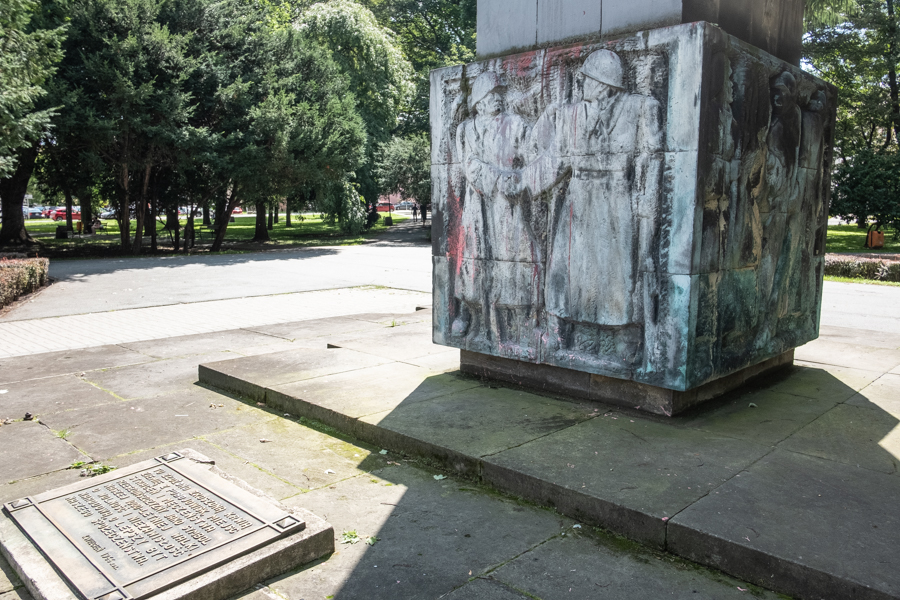 32_20
I reached the two buildings that once housed Rzeszów two synagogues, the old one built in the early 17th century, and the new one about 90 years later. Both were desecrated and partly destroyed by the Nazi occupiers, and then neglected during Communist rule, but today they are both nicely restored. The old synagogue houses the local archives, while the new one is home to an attractive art centre, where I went to see these two exhibitions: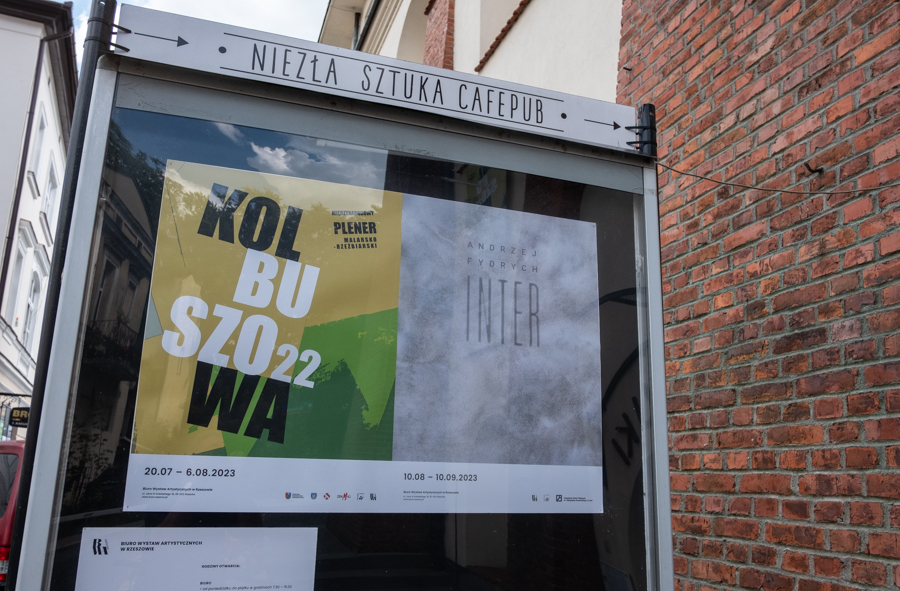 32_21
The interior of what was the New Town Synagogue: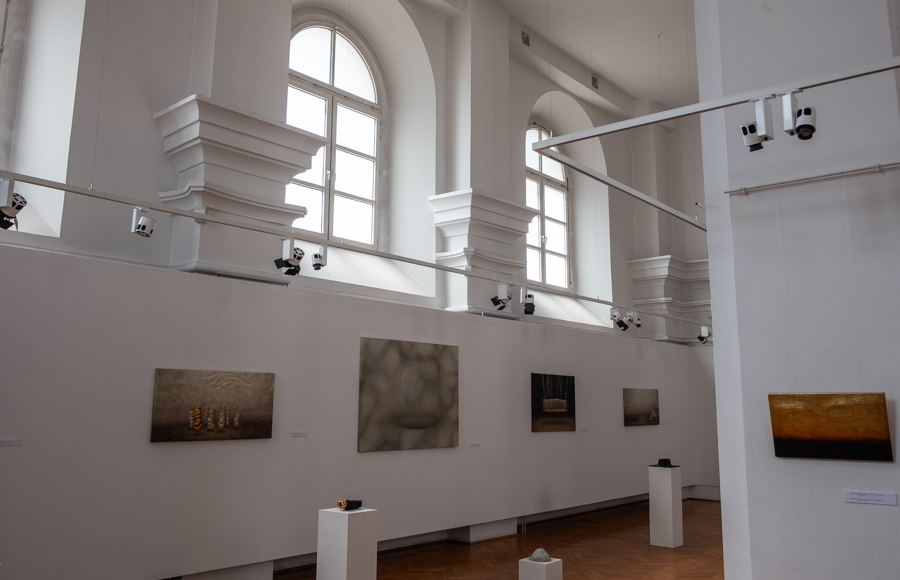 The next several images are from the exhibitions I visited at the new synagogue, especially one by Andrzej Fydrych, who combines painting with sculpture to create intriguing and often beautiful works. I show the original titles, with my translation if the title is in Polish.
32_22
Daria Jarosz, Apoptosis of Human Lust, 2023: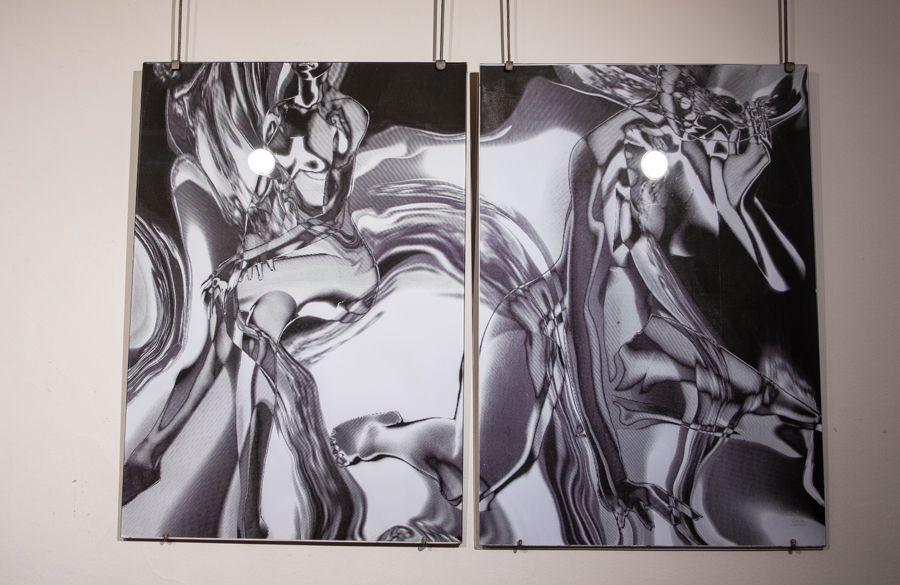 32_23
Andrzej Fydrych, Źródło I ("source"), 2021:

32_24
Andrzej Fydrych, Źródło I ("source"), 2021: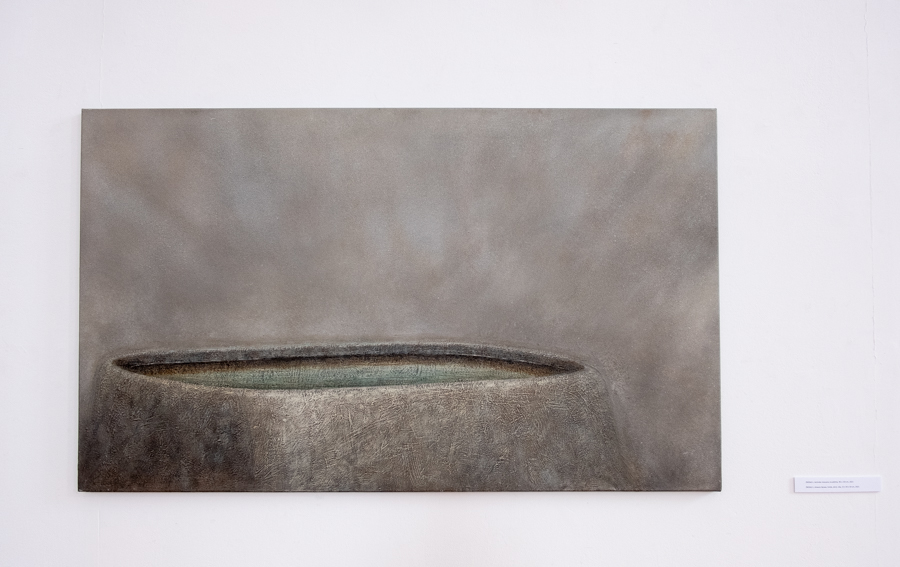 32_25
Andrzej Fydrych, Źródło I ("source"), 2021: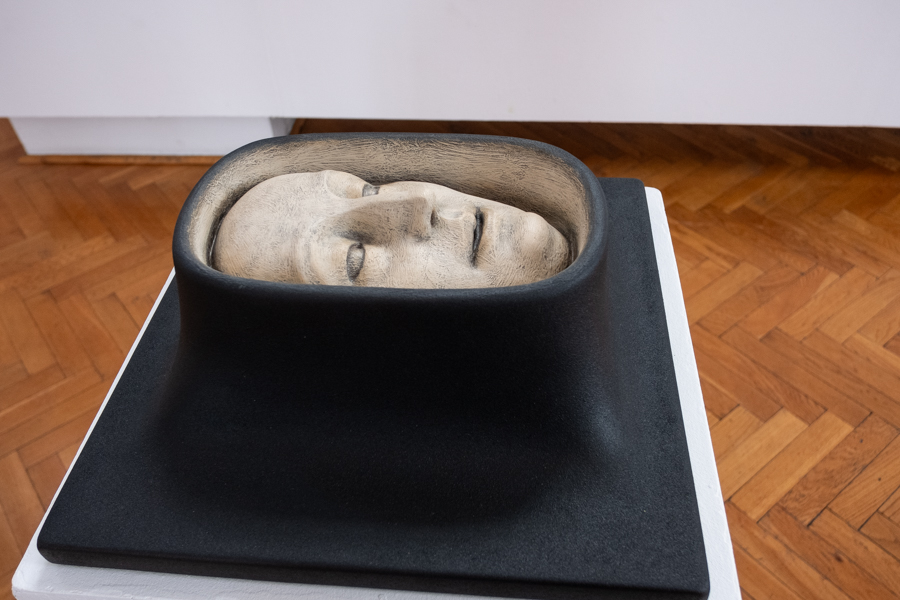 32_26
Andrzej Fydrych, Landscape XXVI, 2021: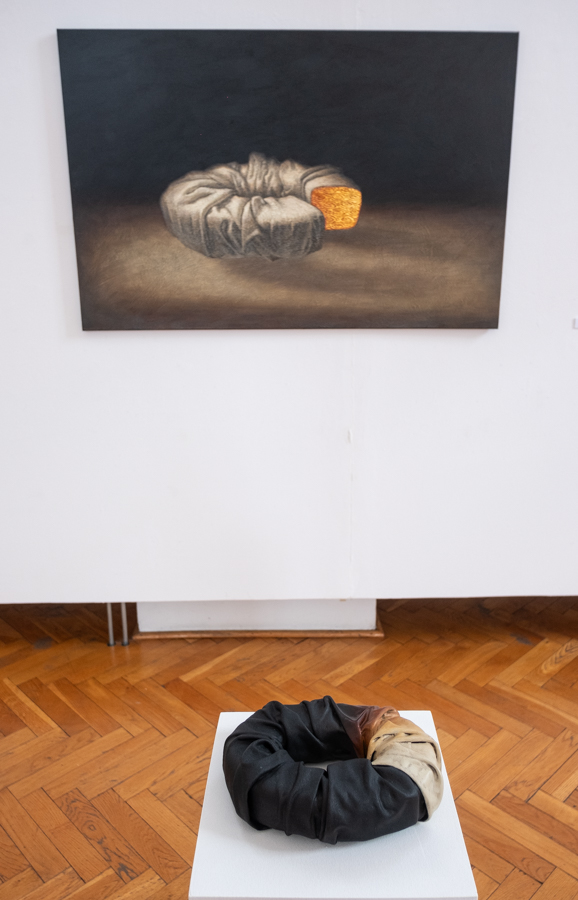 32_28
Andrzej Fydrych, Powłoka ("coating"), 2023: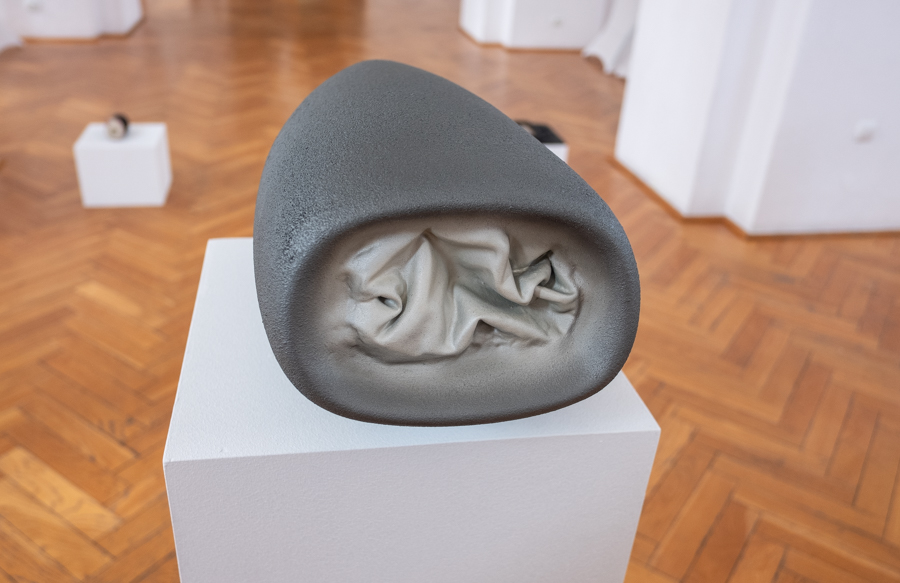 32_29
Andrzej Fydrych, Landscape VIII, 2020: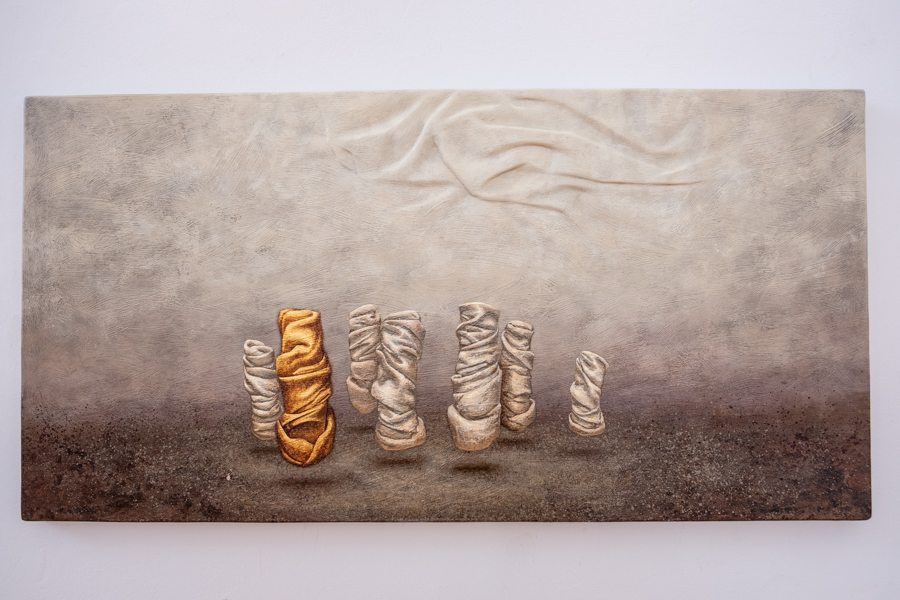 32_30
Andrzej Fydrych, untitled, 2023: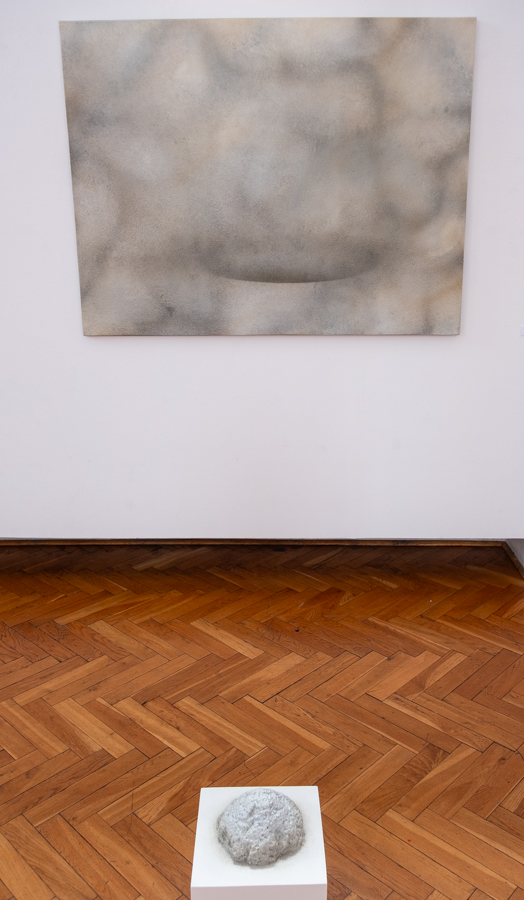 32_31
Andrzej Fydrych, Landscape XXVII, 2023: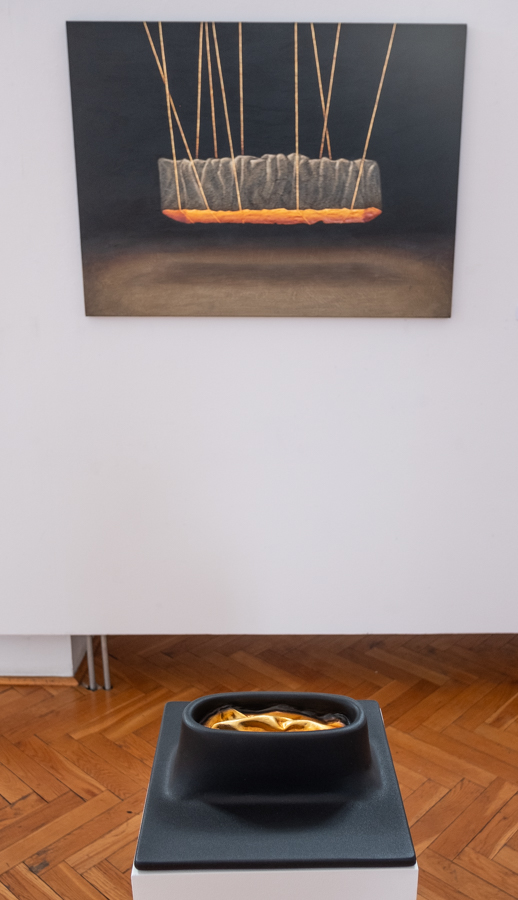 32_32
Andrzej Fydrych, Landscape XXVII, 2023: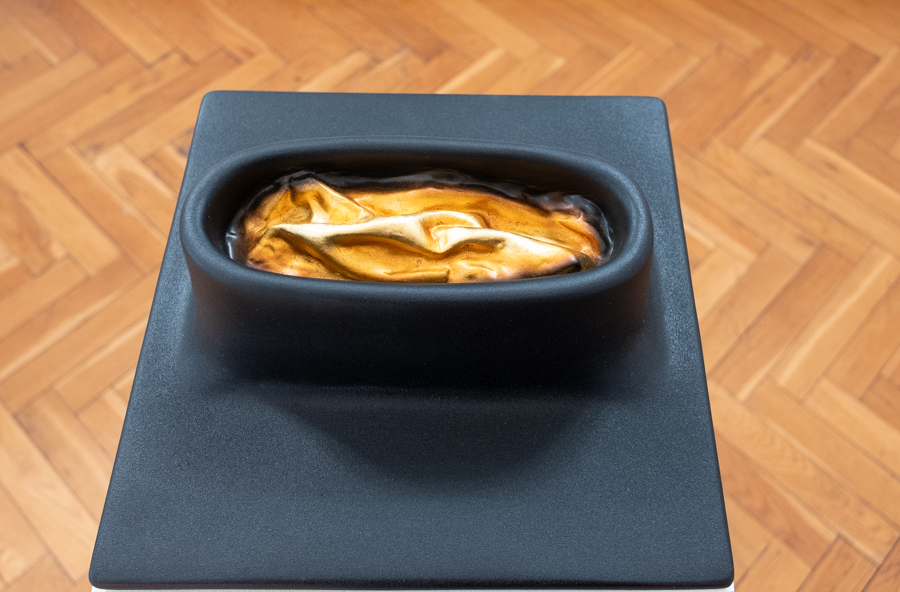 32_33
Andrzej Fydrych, Landscape XXVII, 2023:

The remaining three photos are from the other exhibition at the synagogue, identified only by the artist's name and the town where s/he lives, but all are from 2022 or 2023.
32_34
Aleksander Grzybek, Białystok: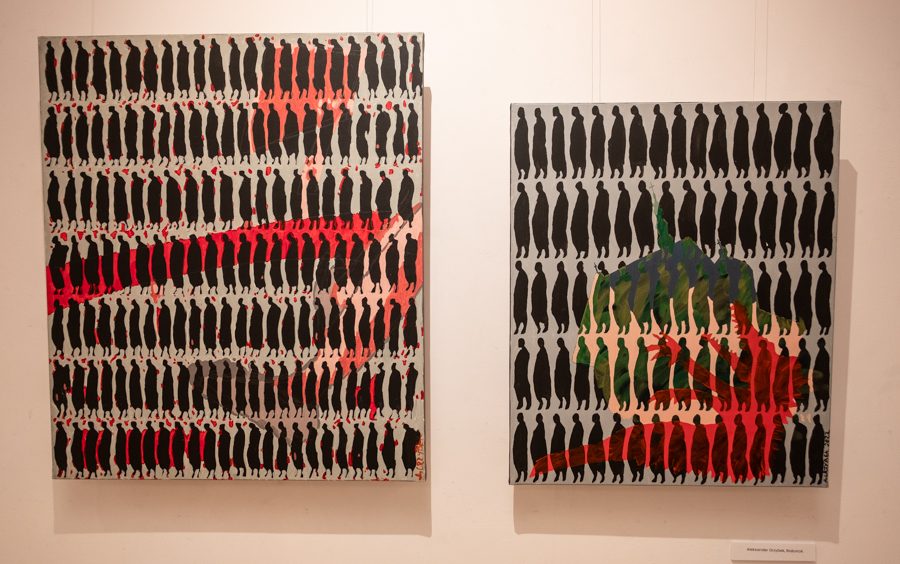 32_35
Zuzanna Gajos, Radom: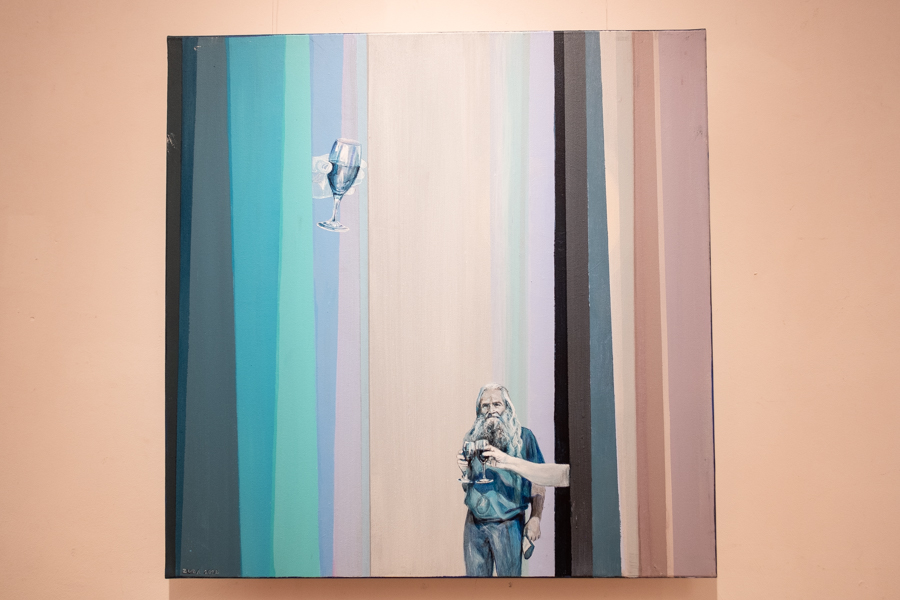 32_36
Aleksander Majerski, Limanowa:

32_37
One last piece of art, this time outdoors. A sculpture at what used to be the border of the Jewish ghetto, by local sculptor Józef Szajna, erected in 2001. It is called "Przejście" which can be translated as "passage" or "transition":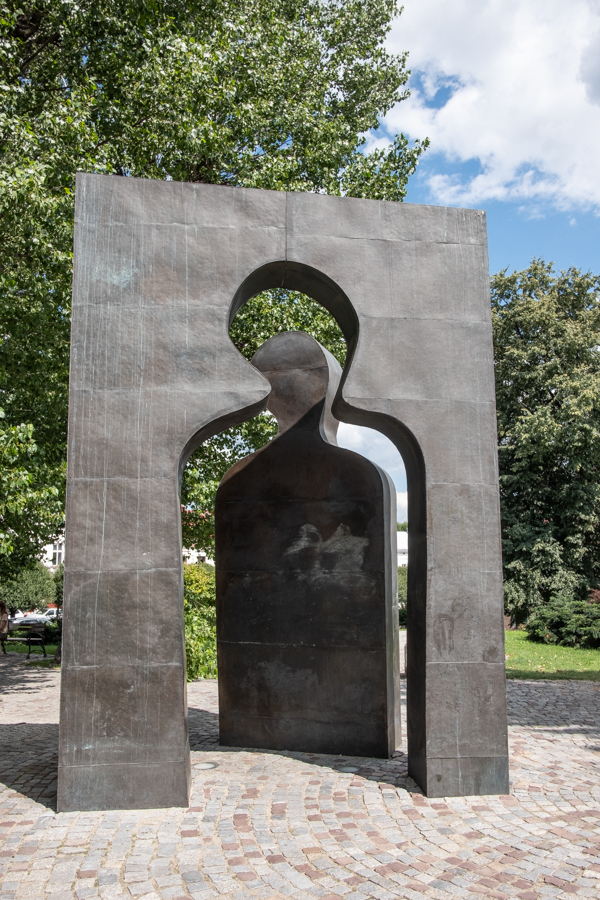 32_38
Friday evening many of the streets in central Rzeszów were closed for a car rally, an annual event, apparently quite popular with the locals:

32_39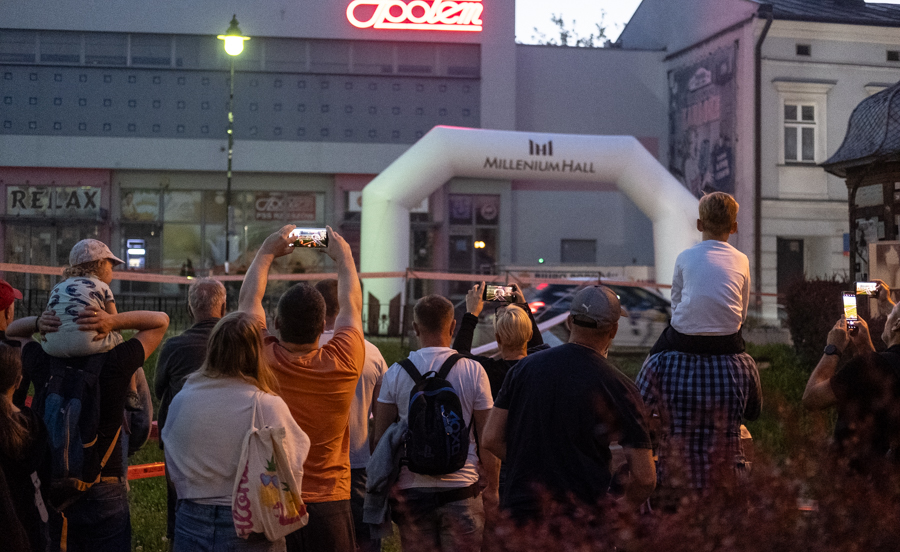 32_40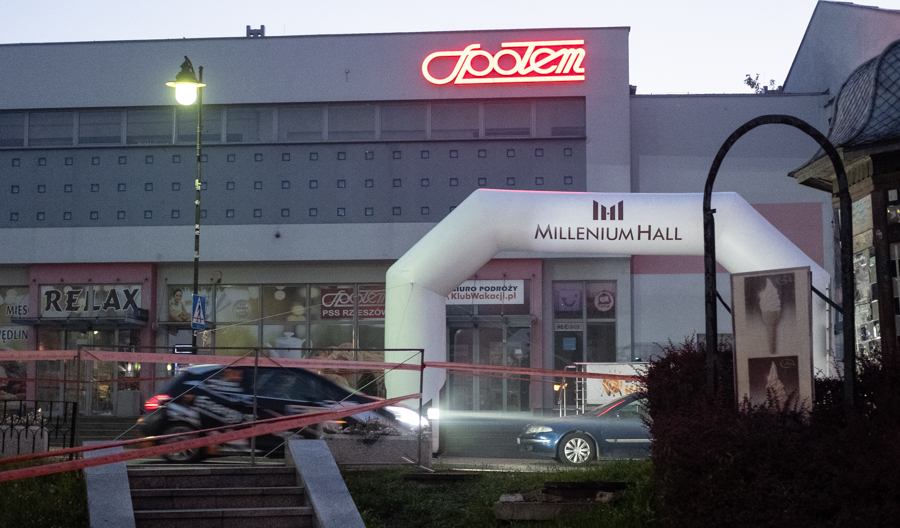 32_41
Although not everyone was equally interested: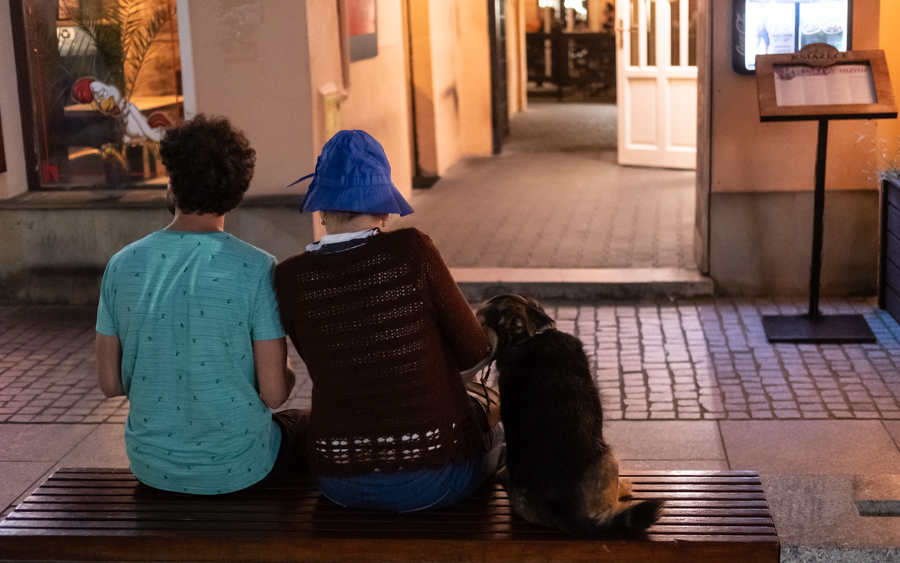 32_42
Next to my hotel there was a bar called Manufaktura, which brewed its own, very good, beer. Talk about a great location: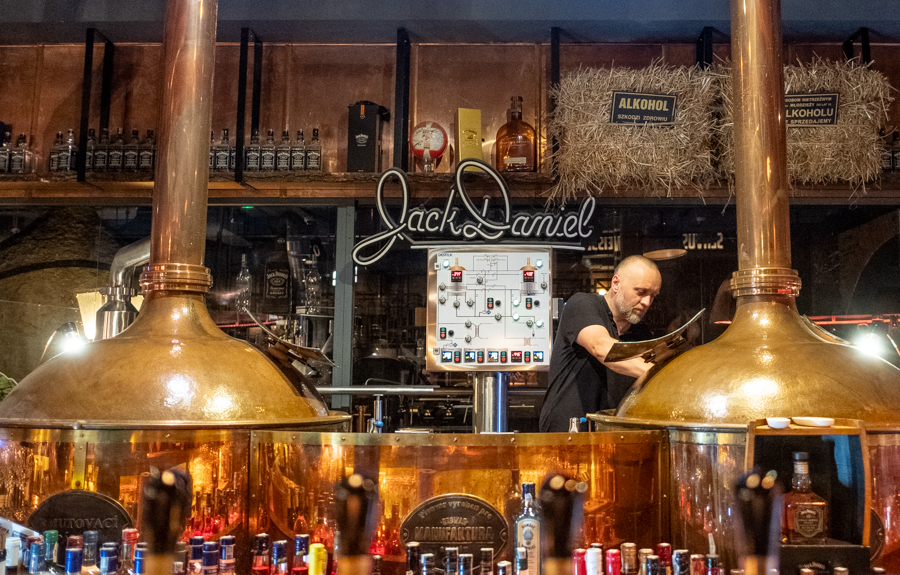 32_43
Saturday morning, my usual morning walk. I love the advertising columns in Polish cities. Here, a blues/jazz festival is being advertised: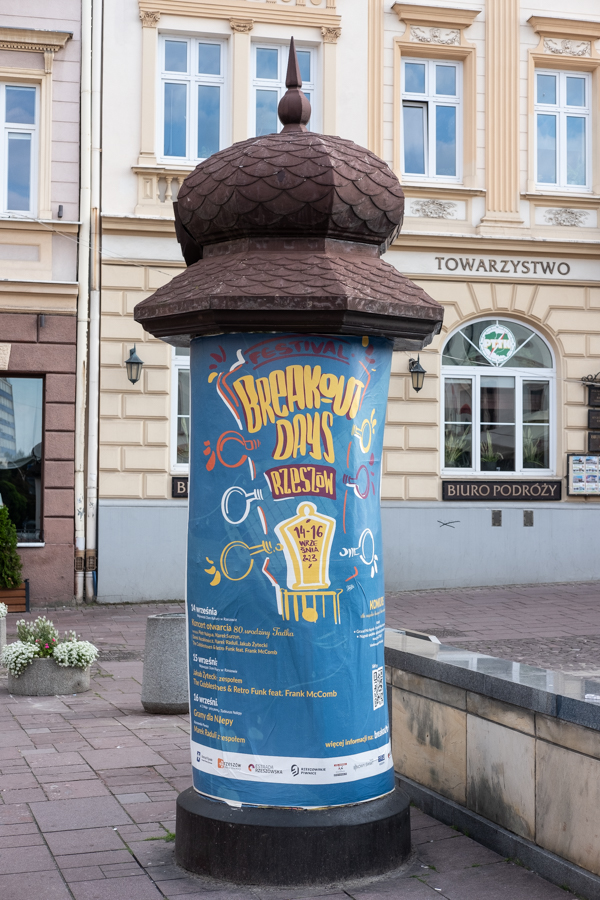 32_44
The door of a bar on Rynek, called "Beer and Vodka drinking house". The slogan on the door says that this is your second home: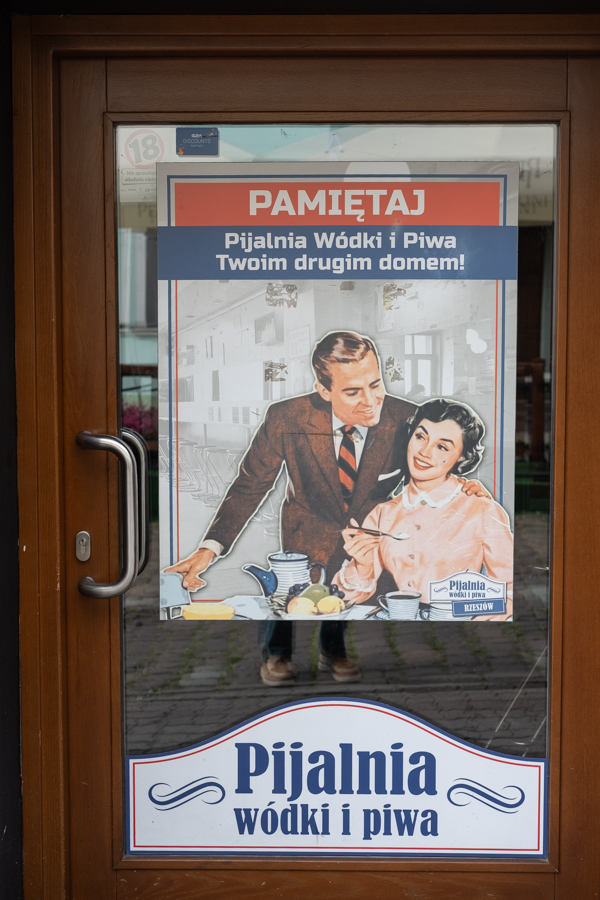 32_45
A supermarket that is a holdover from Communist times–the brand Społem (it means "together") already existed when I was a child in Poland in the 1960s (in fact, it started as a cooperative in the 19th century):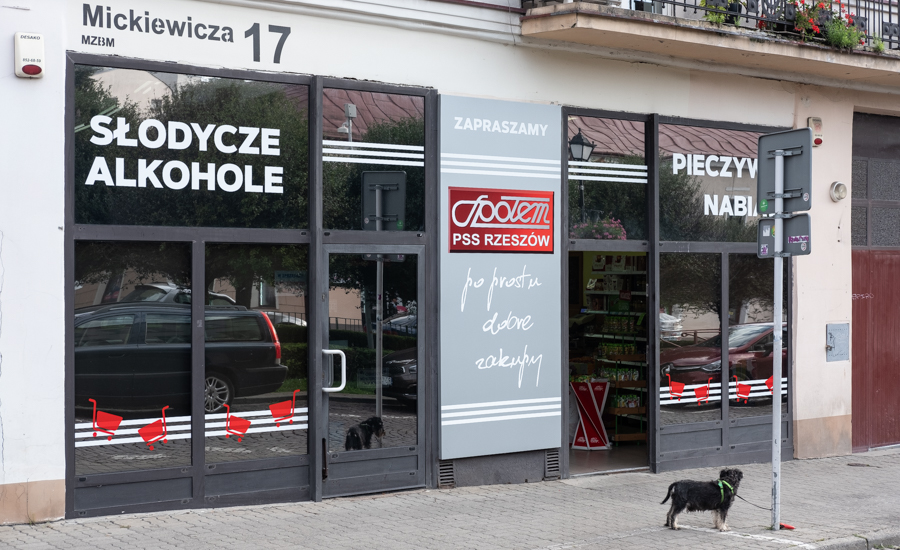 32_46
Saturday lunch with my wife and Curra, starting with a plate of pierogi, probably Poland's greatest contribution to world cuisine: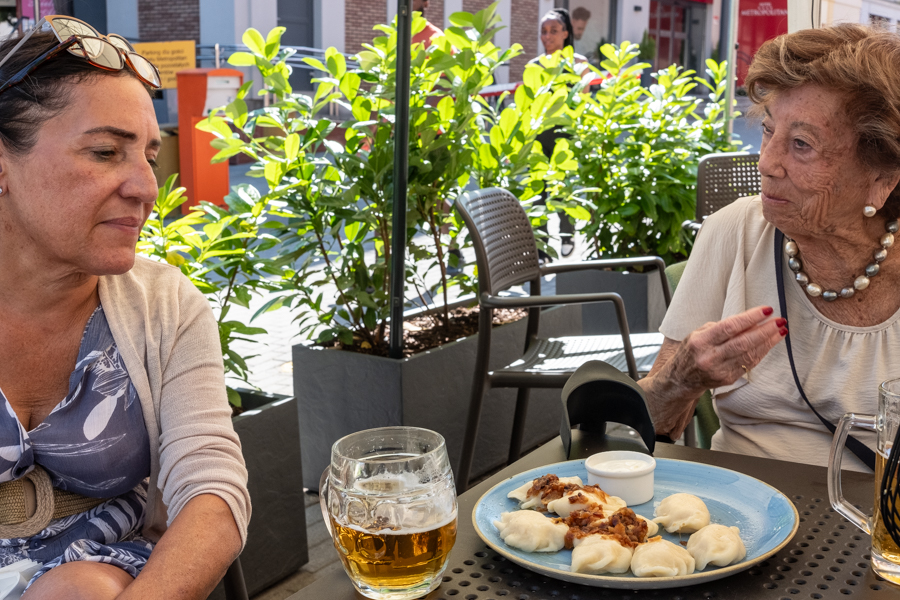 32_47
Pierogi come in various versions. These are called pierogi ruskie, with a stuffing of potatoes, onions and farmers' cheese. A simple and delicious dish, despite the unfortunate name. Many Polish restaurants are now calling them "pierogi ukraińskie" instead: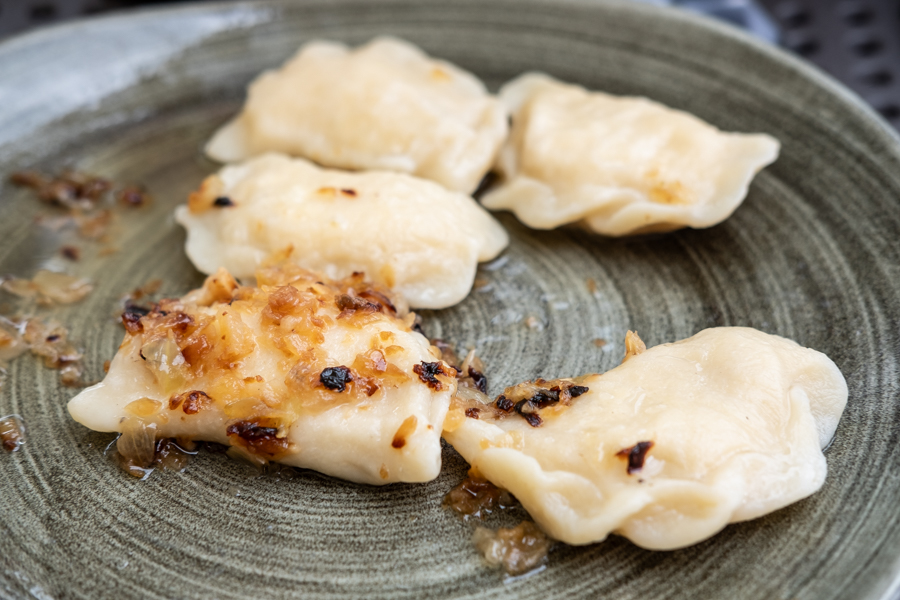 32_48
Later on Saturday, I happened upon the award ceremony for Friday's car rally. The winners were announced and left Rynek at a more sedate pace than the night before: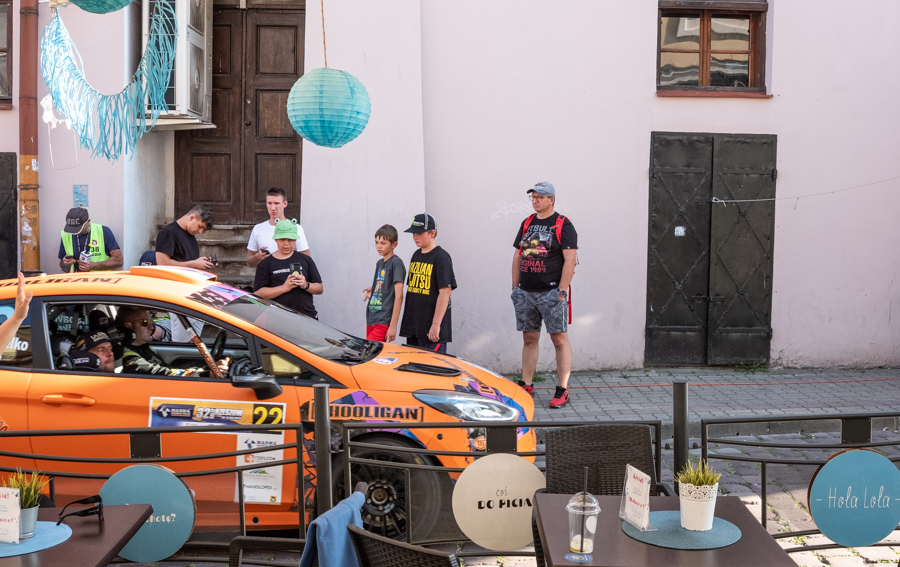 32_49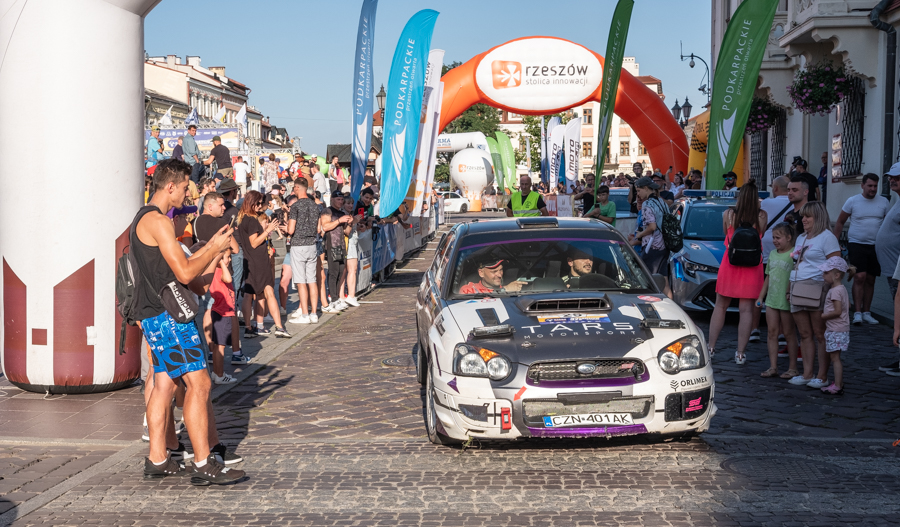 32_50
Saturday night, we were again invited for dinner at Andrzej's. His wife Margarita is a delightful woman, who has worked hard in Spain but can now enjoy the life in Poland: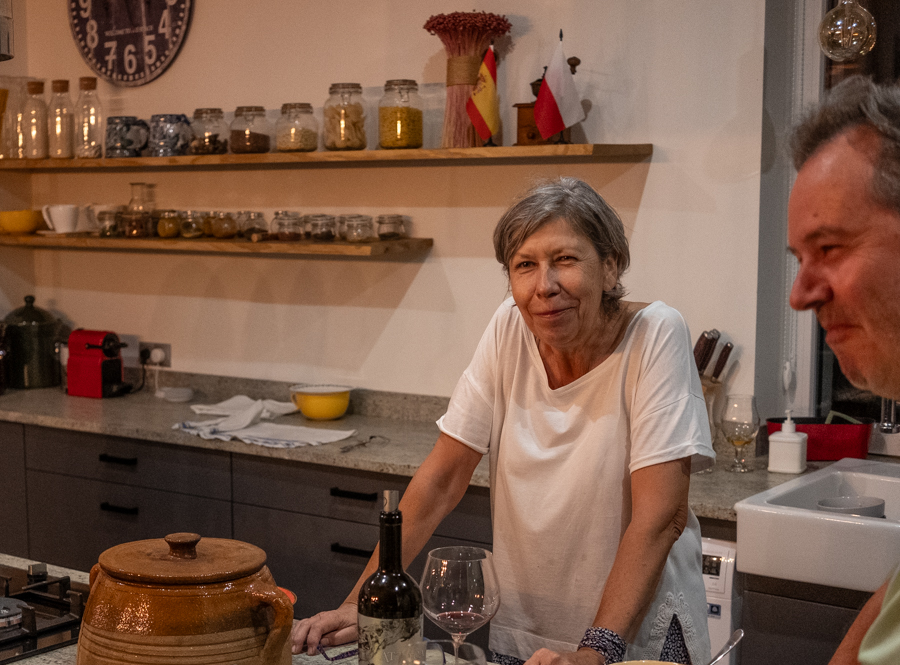 32_51
A Polish dinner always starts with a delicious soup. A meal is simply not considered a meal without it. The chunks of meat in the soup are wild boar:

32_52
Andrzej cutting the desert, garnished with berries from his garden: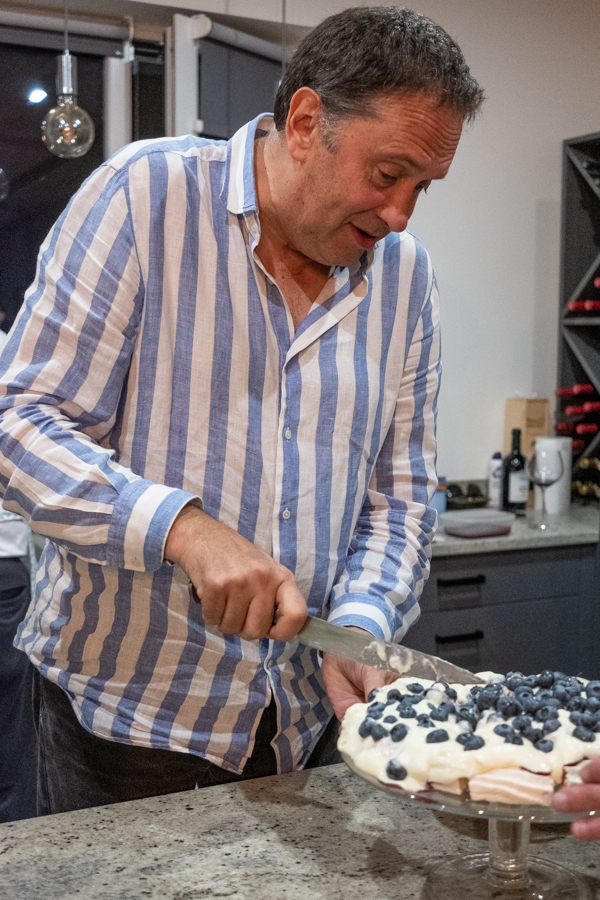 32_53
I finish with another photo of Curra; besides being a sharp old lady, she enjoys the good things in life. Maybe this contributes to keeping her sharp: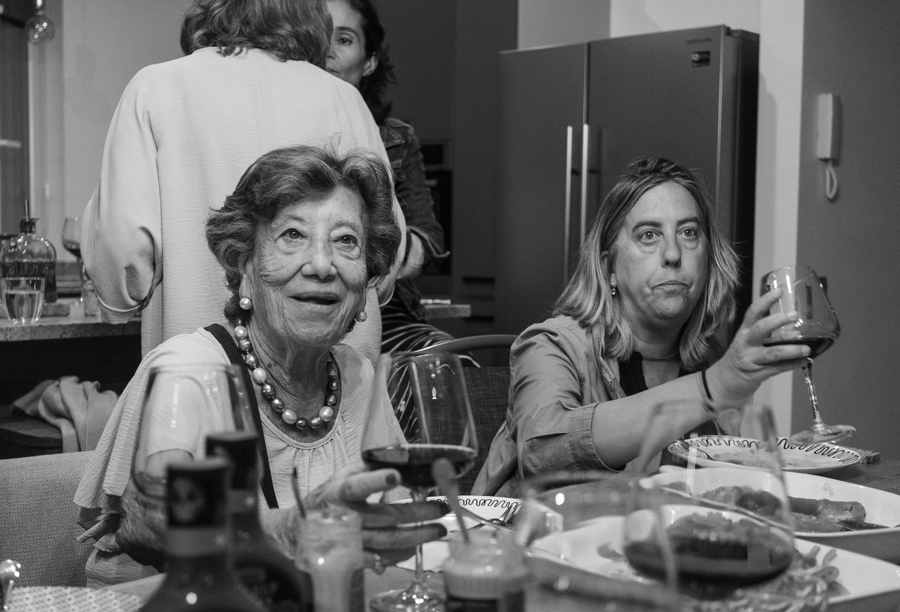 A full Rzeszów gallery can be seen here.