The most important event of the Christmas week was the visit of my son Moses and his wife Myrela. They live in New Jersey and work in New York, and for a variety of reasons I had not seen Moses since January 2018, almost two years! Needless to say, I was excited to be able to welcome them in our new house, but more than anything else, just to see my son again. So most of the images are of things we did together, although there is a bit of cycling in the beginning.
52_1
Moses and Myrela were arriving Sunday night. In the morning, I cycled to Tibi, a ride which involves both distance (around 70 km) and climbing: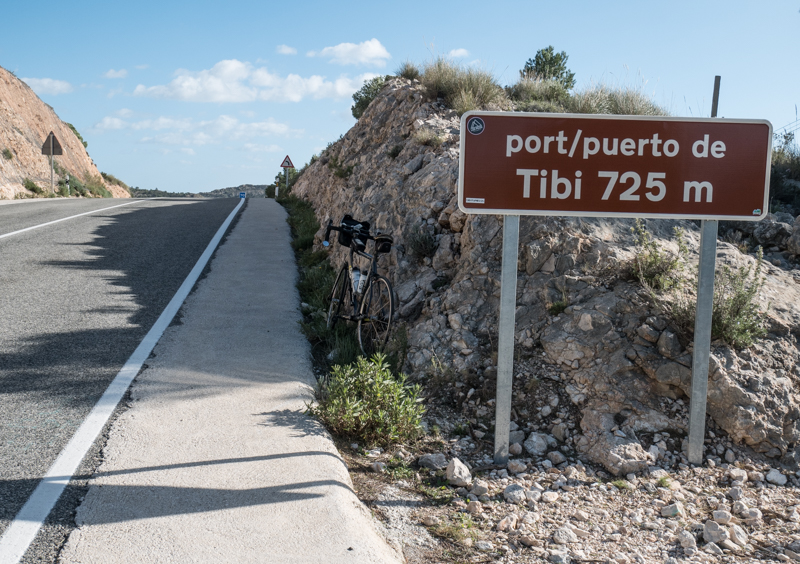 52_2
But the primary reason for choosing Tibi for my ride was to buy some goat cheese from Lili: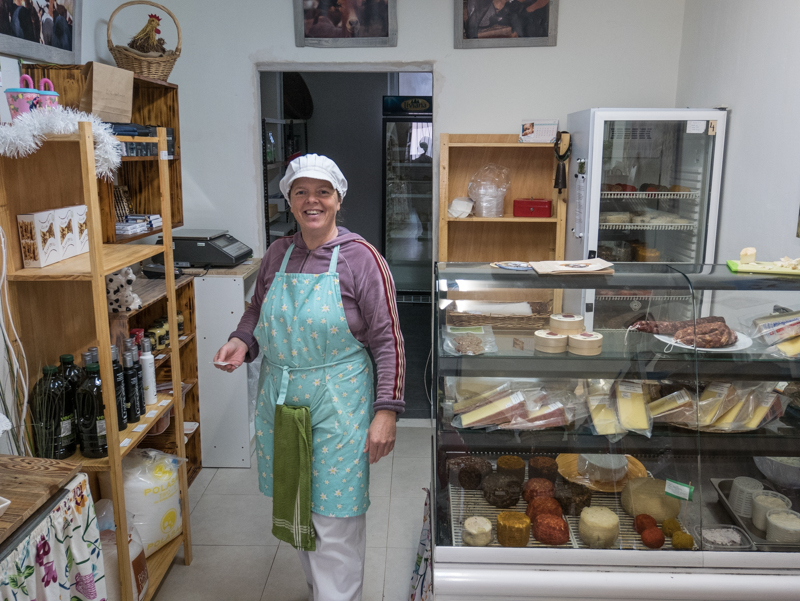 52_3
Having had a tiring trip (New York-Oslo-Alicante, with a long layover in Oslo), Moses and Myrela slept late on Monday morning, which was just fine, since I used the time to do my usual bike ride. On the way home, I stopped in El Campello harbour, and as luck would have it, a fishing boat was coming in: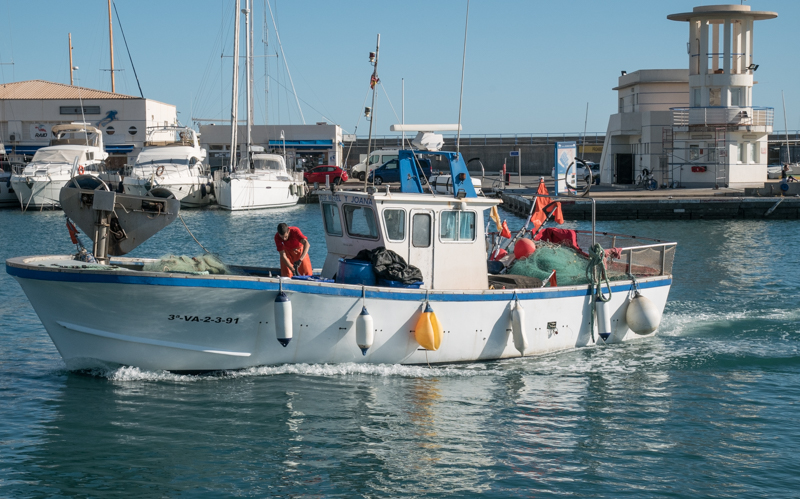 52_4
The fishermen proceeded to unload the catch, and some oldtimers came by to comment on it. Nobody minded me hanging around with my camera: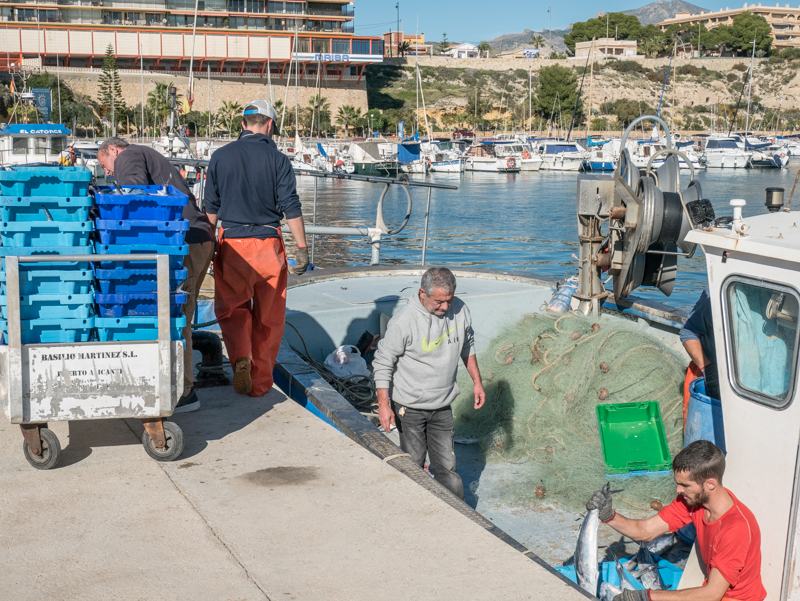 52_5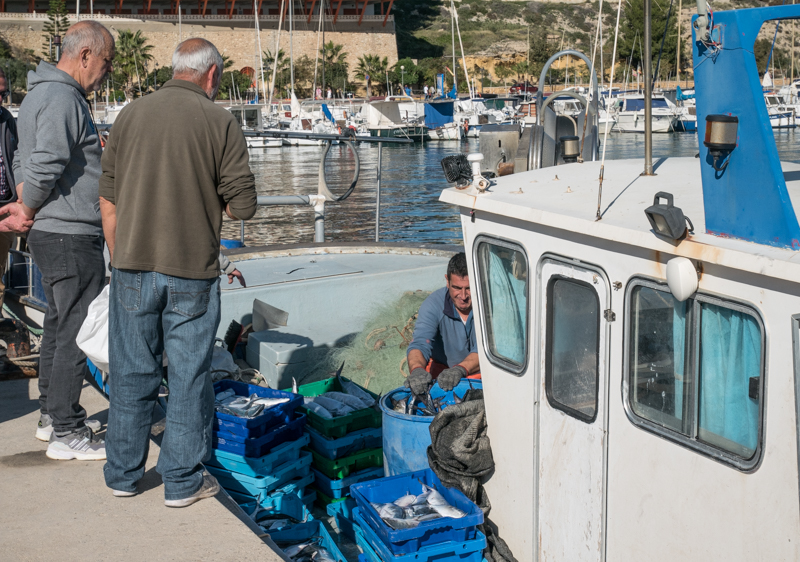 52_6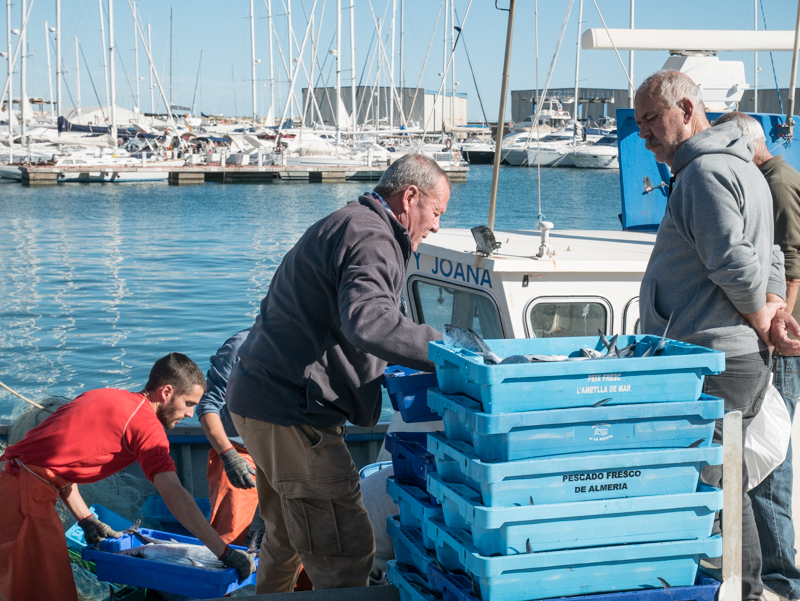 52_7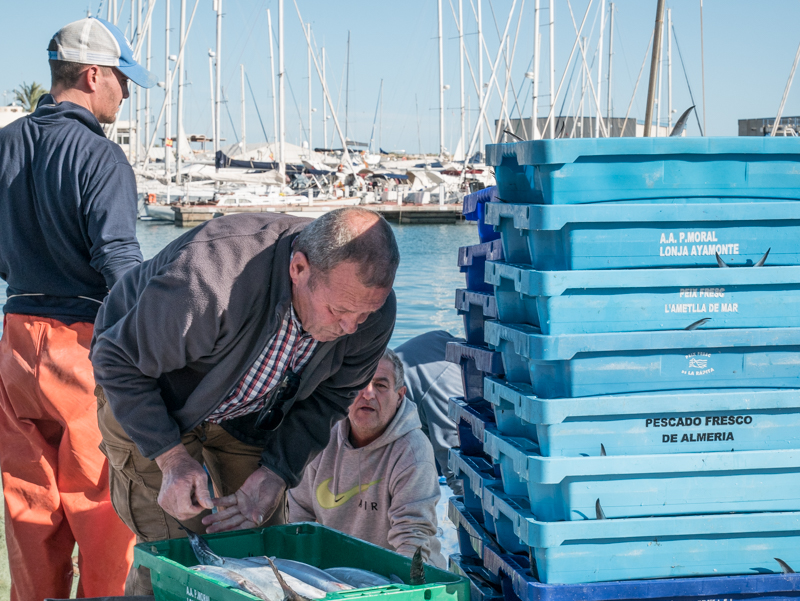 52_8
Reflecting the mixed nature of our family, we had both the Christmas tree and the Hanukkah menorah. Moses lights the candle on Monday night: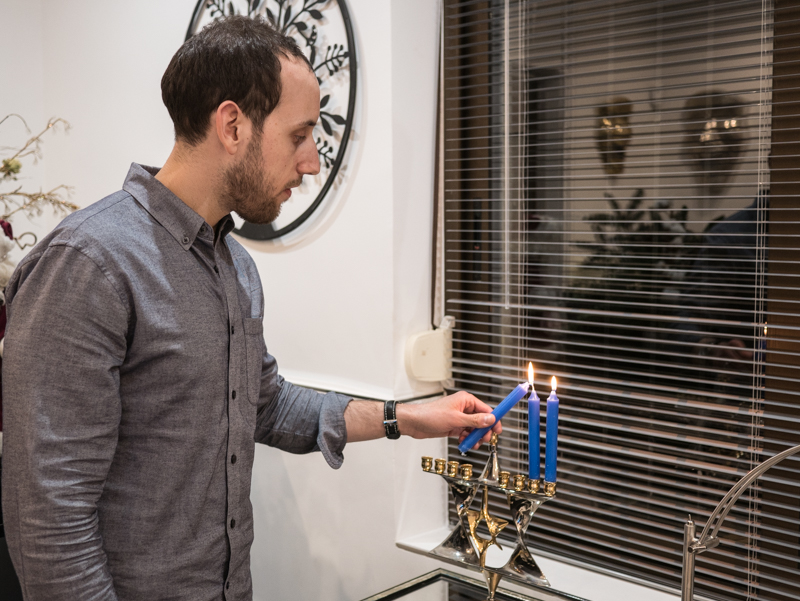 52_9
On Tuesday, my wife is in the kitchen, working on our Christmas Eve dinner: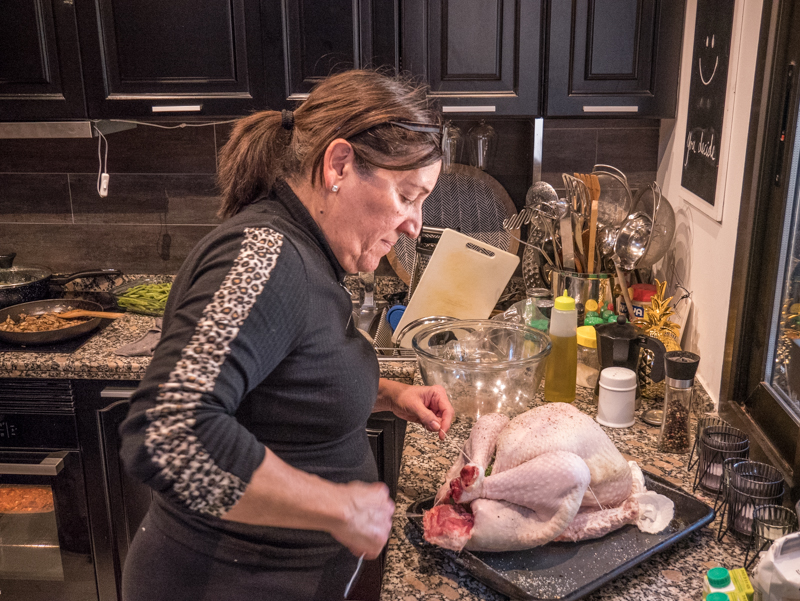 52_10
Meanwhile, I went to the city to do a spot of last-minute gift shopping. We follow the UK/US tradition of exchanging presents on December 25th. In Spain, the main presents day is January 6th, Three Kings' Day, so the shopping activity was not particularly frantic. But the weather was nice and people were out and about. On Esplanada de España, the main strolling/eating/drinking pedestrian street (there are no shops, just bars and restaurants), a new kind of busker is trying to earn some money by entertaining the passing children: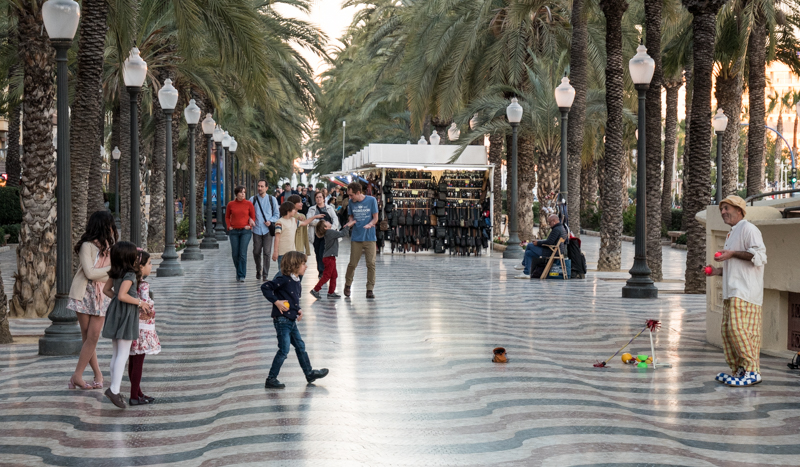 52_11
Outside the El Corte Inglés department store there is a large Christmas installation, in which this little girl was very interested: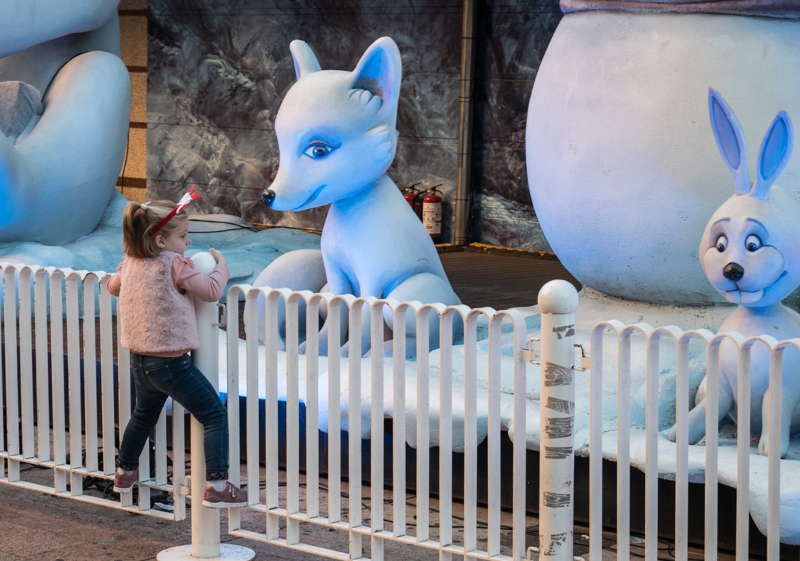 52_12
This young woman was absorbed by whatever she was doing on her phone: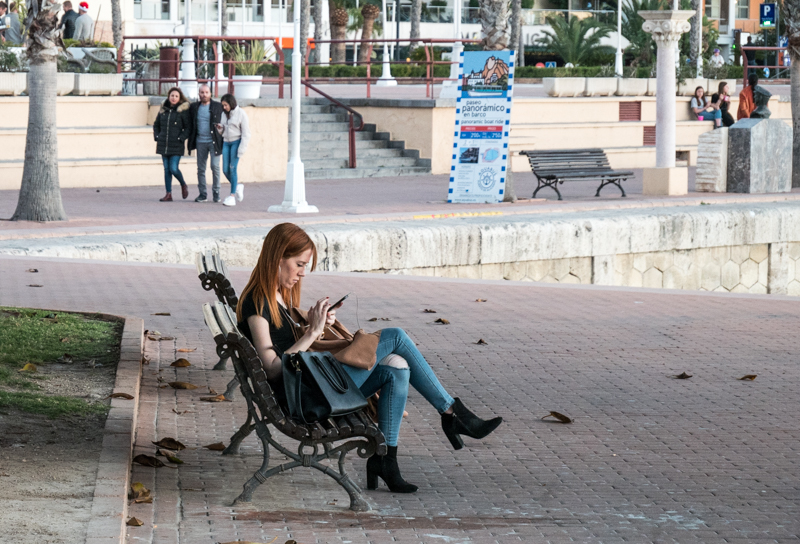 52_13
Urban fauna at Plaza Puerta del Mar: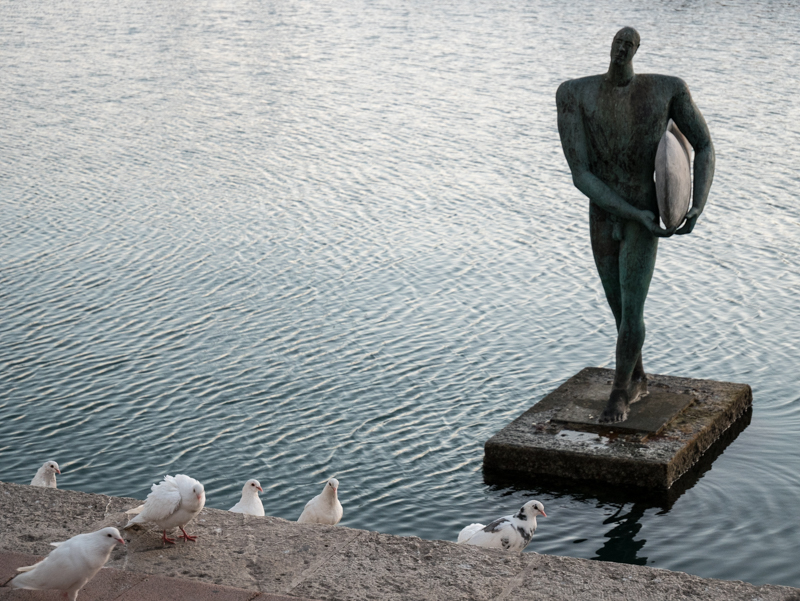 52_14
Christmas Eve arrived, and the young generation lights the menorah, starting with the youngest, Monica: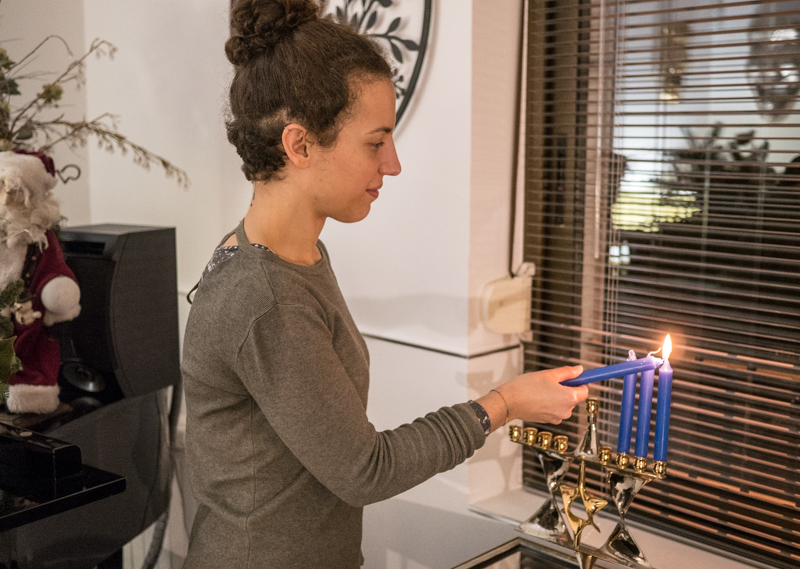 52_15
Followed by Myrela, my daughter-in-law: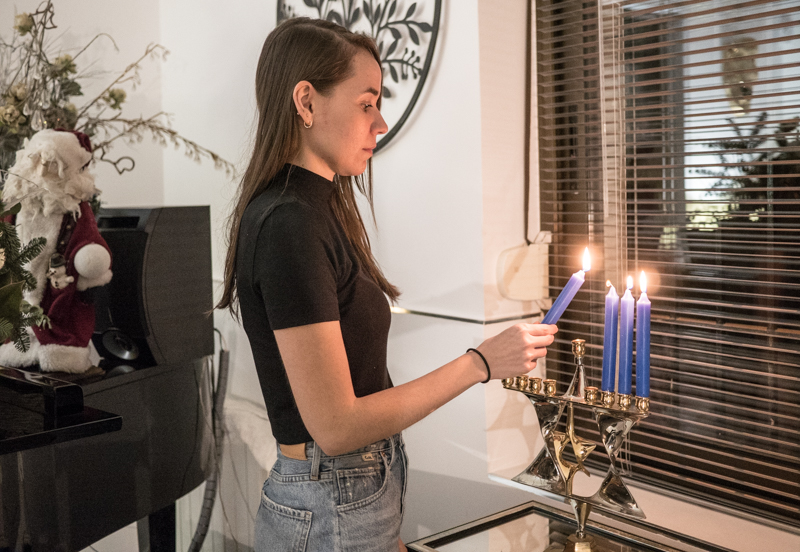 52_16
Then we seamlessly switched tradition and sat down to the Christmas dinner, built around this turkey: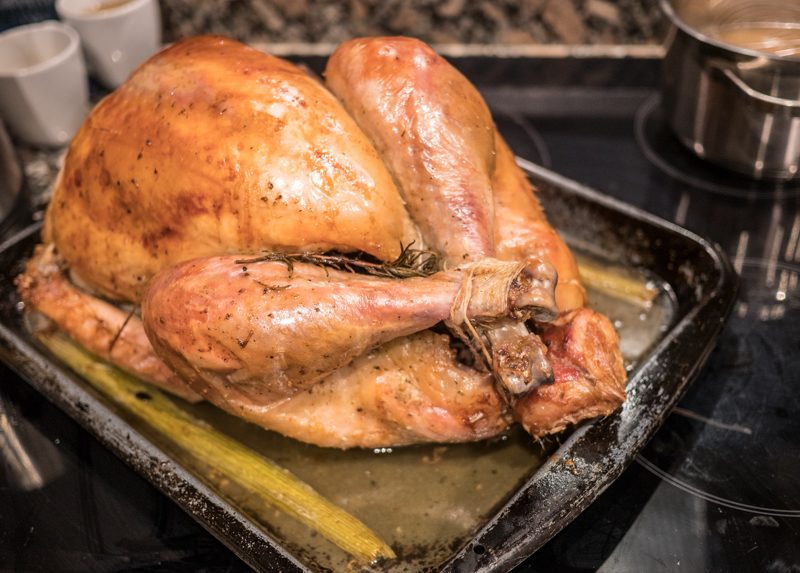 52_17
And a vegetarian "meat" loaf for Monica: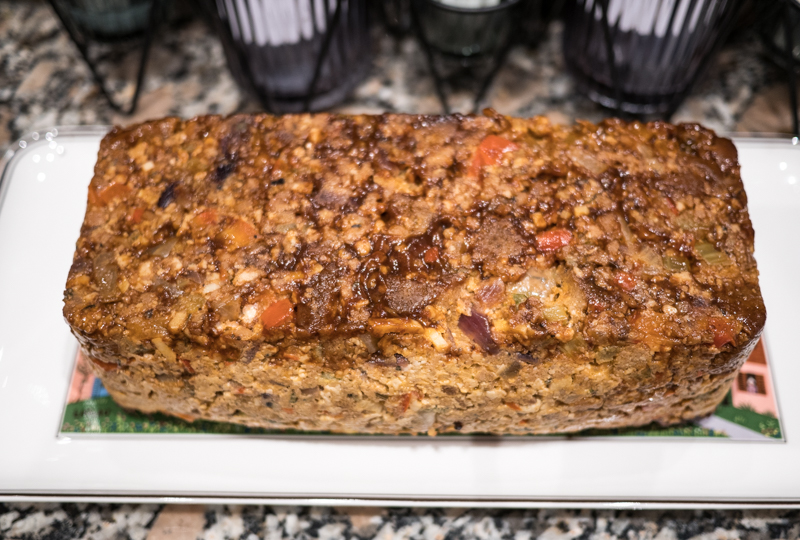 52_18
On Christmas morning, I took a walk along the beach: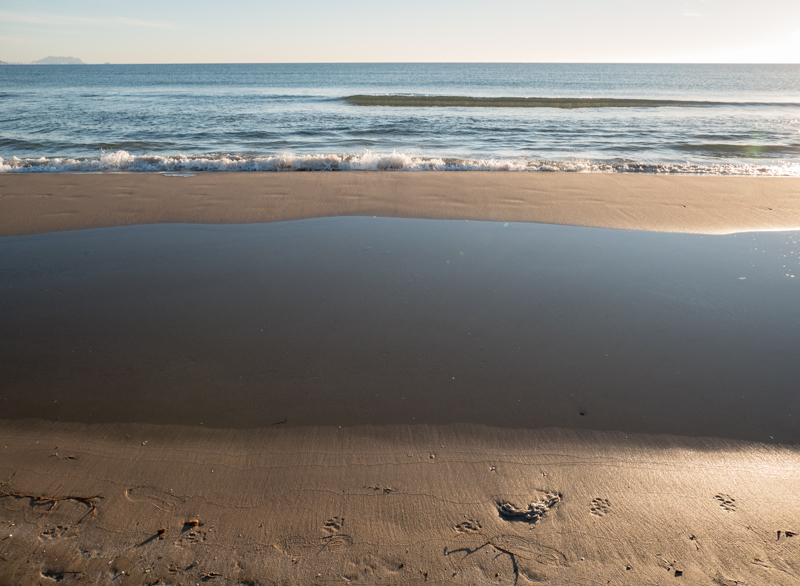 52_19
After breakfast, it was time for the gift exchange; my wife, the person in our household who is most invested in Christmas, assumed the role of Elf-in-chief: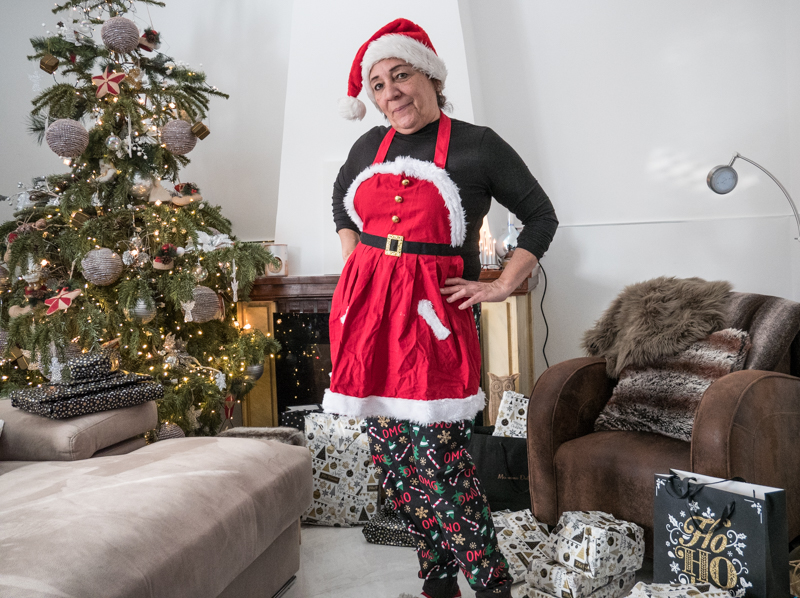 52_20
Moses and Myrela waiting for proceedings to start: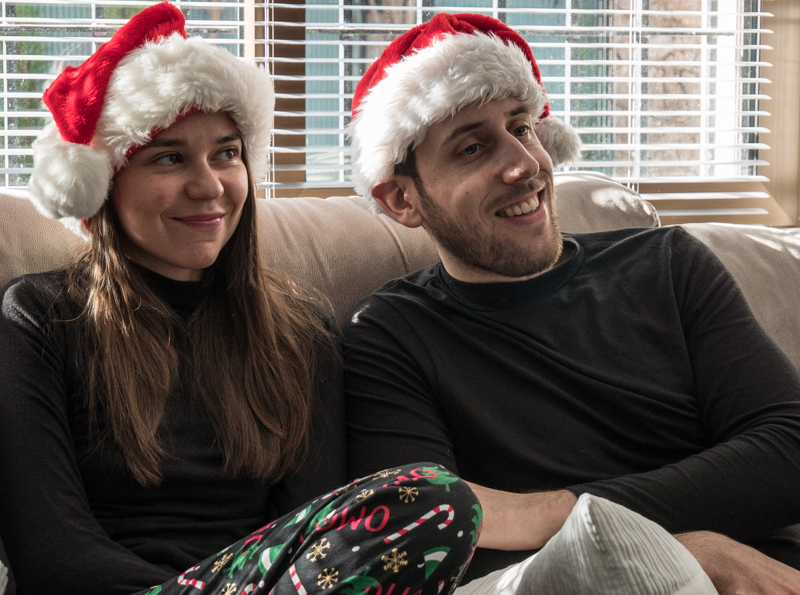 52_21
The dress code for the morning was also imposed by my wife: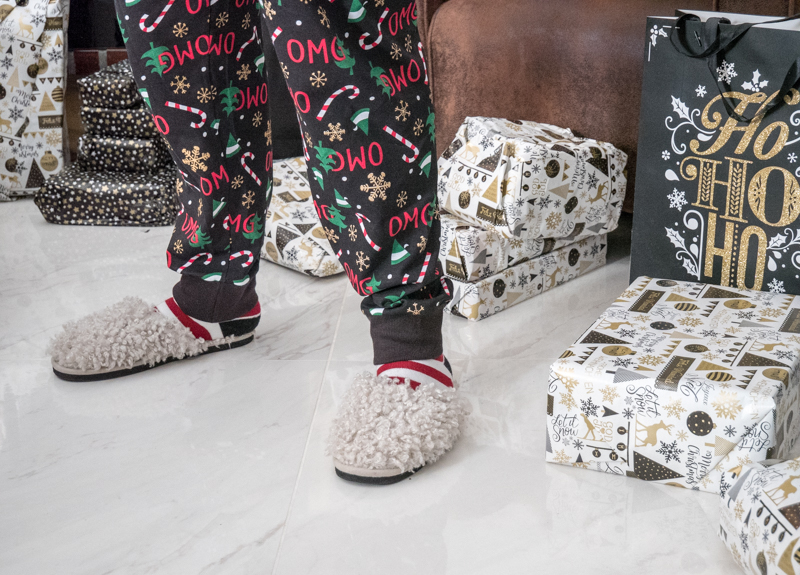 52_22
Moses opening his first present: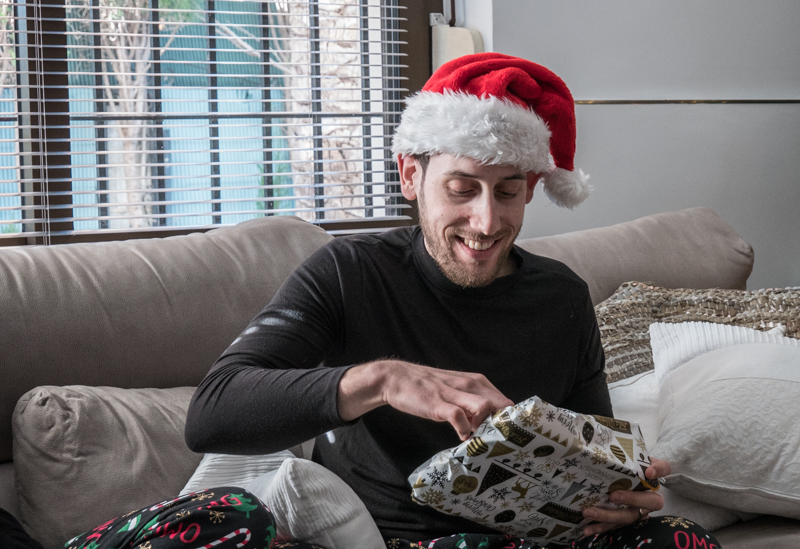 52_23
One of my presents, socks representing my passions of cycling, beer and football/rugby: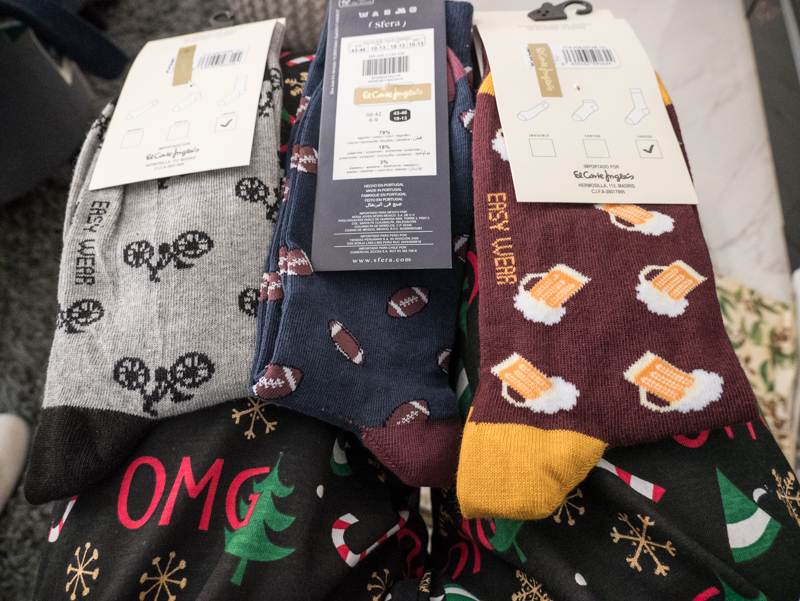 52_24
Aixa relinguished her chief elf role so that she too could be on the receiving end: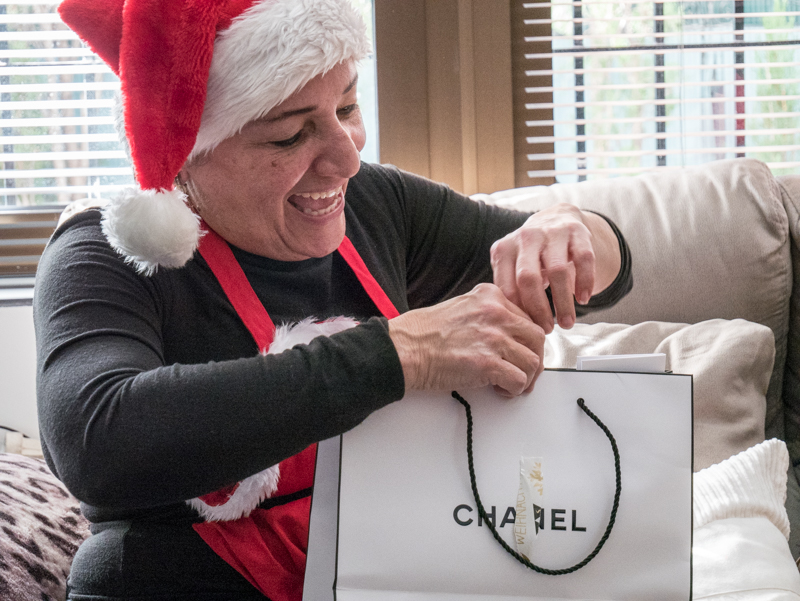 52_25
At the end of the gift exchange, the camera was put on self-timer, and the official 2019 holiday portrait was made: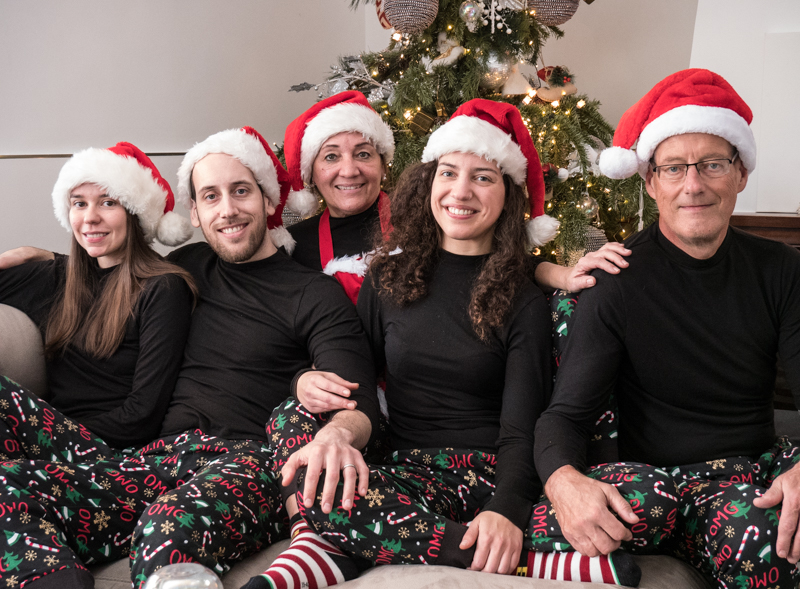 52_26
Moses and Myrela do a lot of hiking, and they had investigated various hikes in the area before their visit. On Christmas Day we went on a short and easy 5.5 km walk to the Faro del Albir, a lighthouse on a hill above the town of Alfaz del Pi:

52_27
Myrela is a keen photographer, and she had chosen this particular hike because of the views: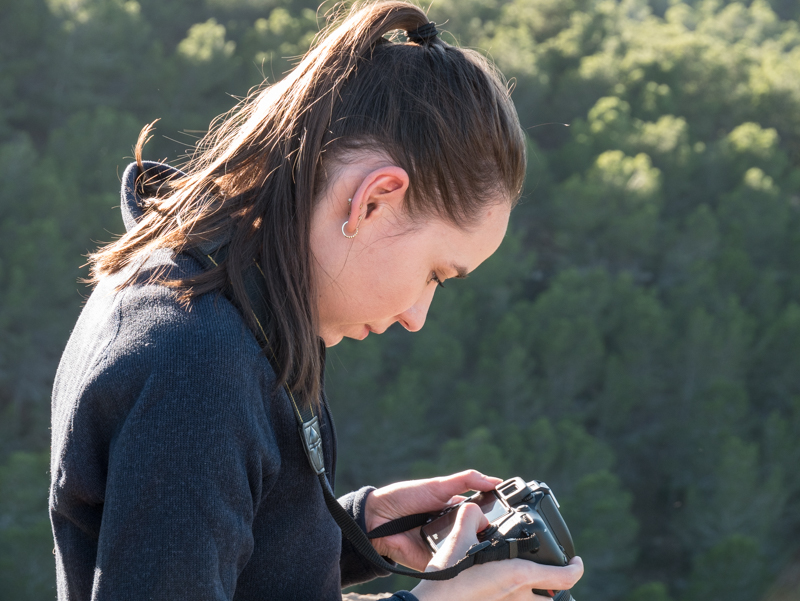 52_28
Views like this one, with the goal of the hike, the Faro del Albir, visible at the top of the hill: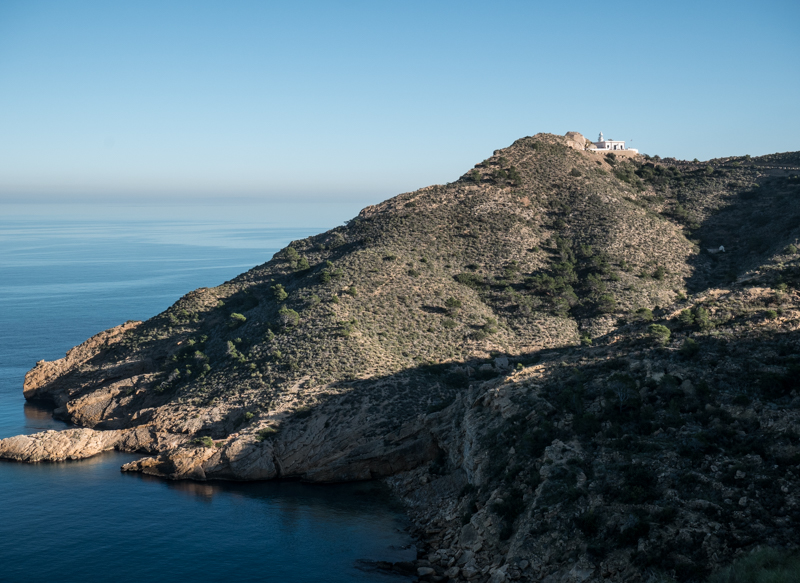 52_29
Some people were having an unauthorised picnic off the path: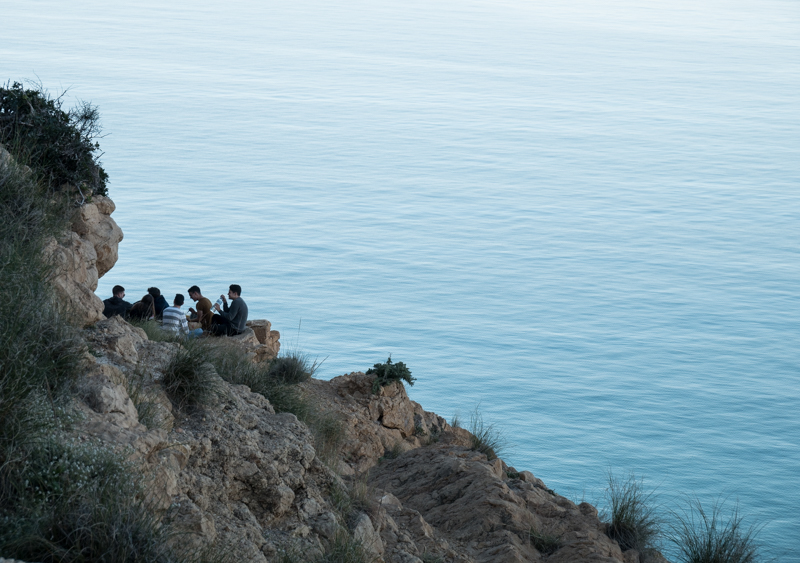 52_30
The view from the top, with shellfish beds in the foreground and the rock Peñón de Ifach, also a popular hiking destination, much more technical and longer, which Moses and Myrela explored a couple of days later: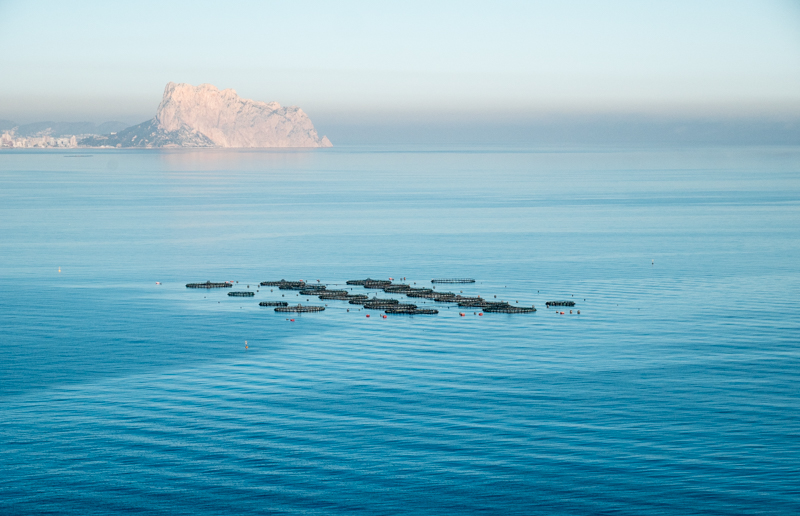 52_31
We met this lady with her dogs; she told Monica that on the day she got Zeus (the name of one of the dogs), she was diagnosed with cancer. During the year-long treatment, which turned out well, the dog was what motivated her to get out of bed in the morning and go for a walk: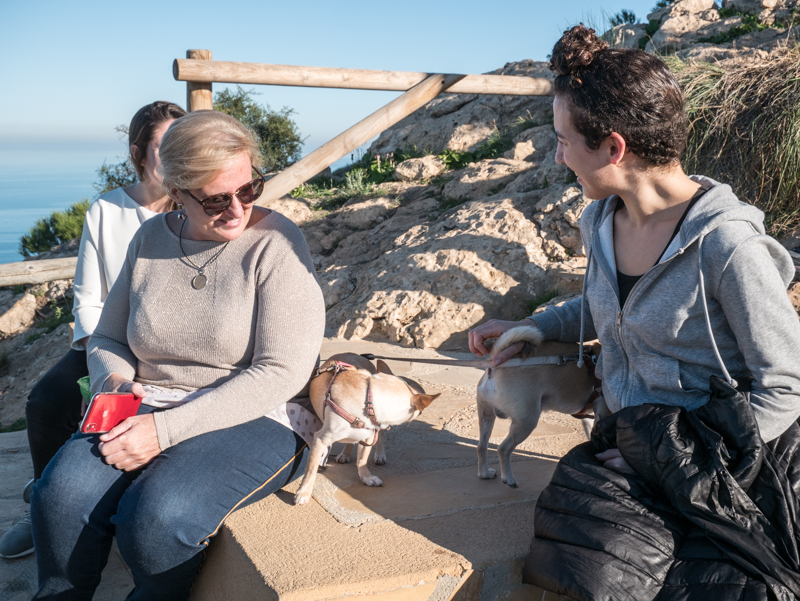 52_32
Monica made friends with Zeus: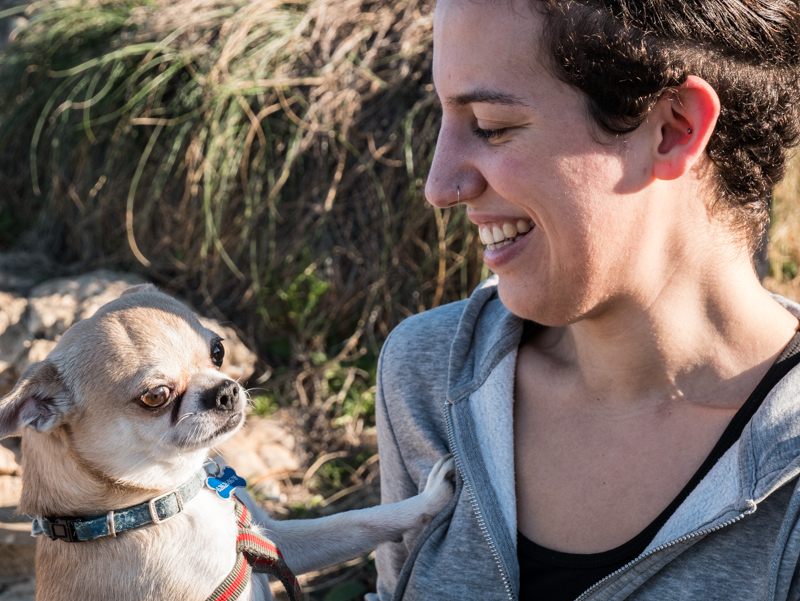 52_33
We finished the day at a beach bar in El Campello. Myrela drinks very little, but she likes to try different things, in this photo Moses's beer: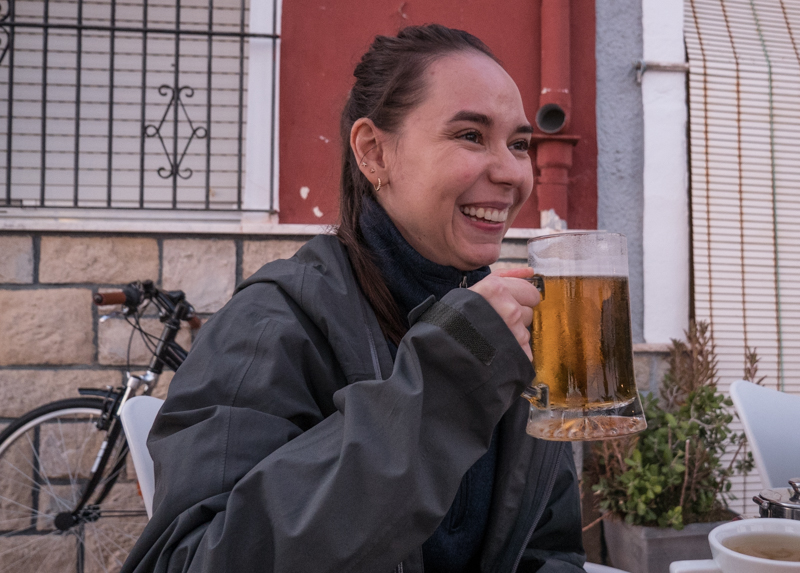 52_34
On Boxing Day, we drove to Valencia to do a bit of sight-seeing. We started with a brief visit to the Mercado de Colón, a somewhat upscale indoor mall of eating and drinking establishments, not a real market at all. As in most other places, Christmas was very much in evidence: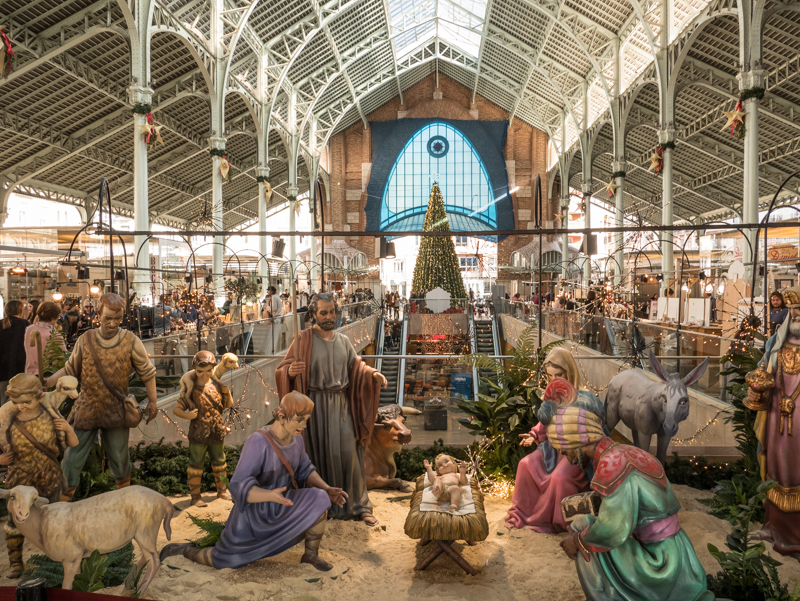 52_35
Behind the building stands a buste of Francisco Moro, the architect who designed the original market, opened in 1916: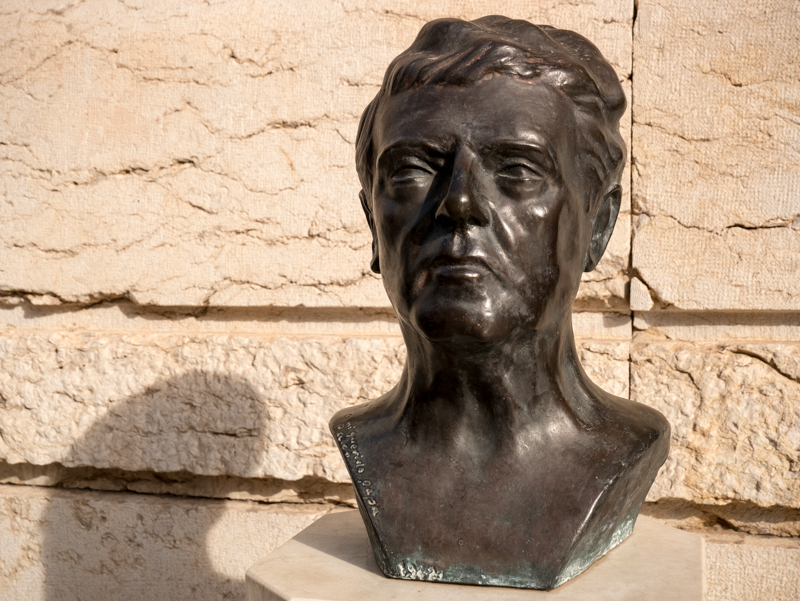 52_36
We walked towards the Mercado Central (the real food market of Valencia), passing this little square with a sculpture that always catches my eye, although I know nothing about it: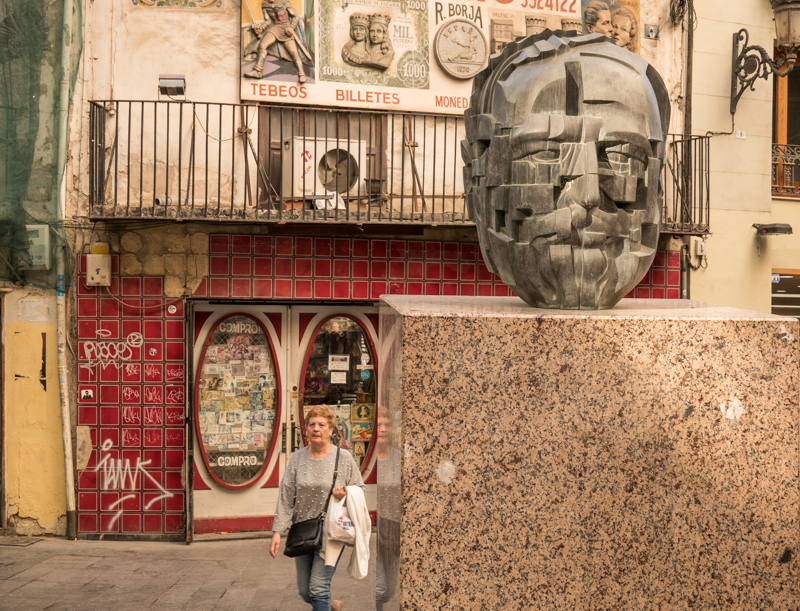 52_37
We passed Valencia's main post office, with the impressive mail slots for depositing letters: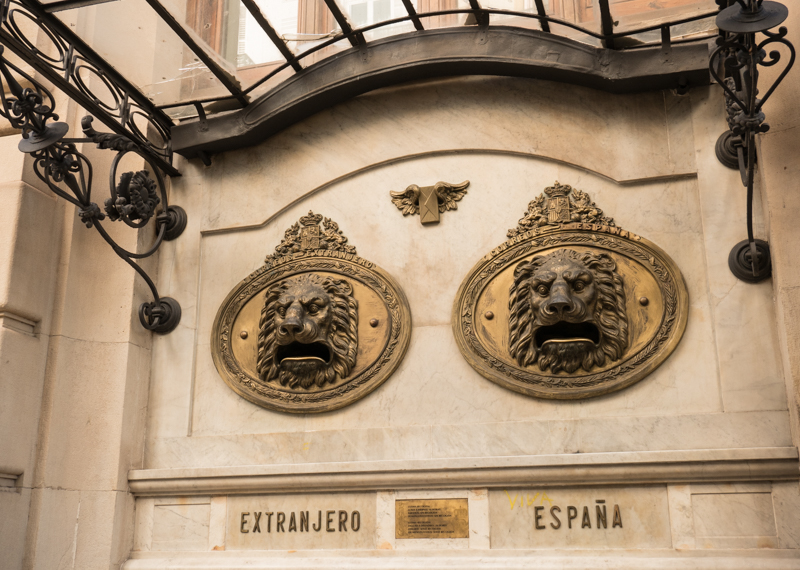 52_38
At the Mercado Central there was also a nativity scene, and it was keenly observed and discussed very seriously by the visitors: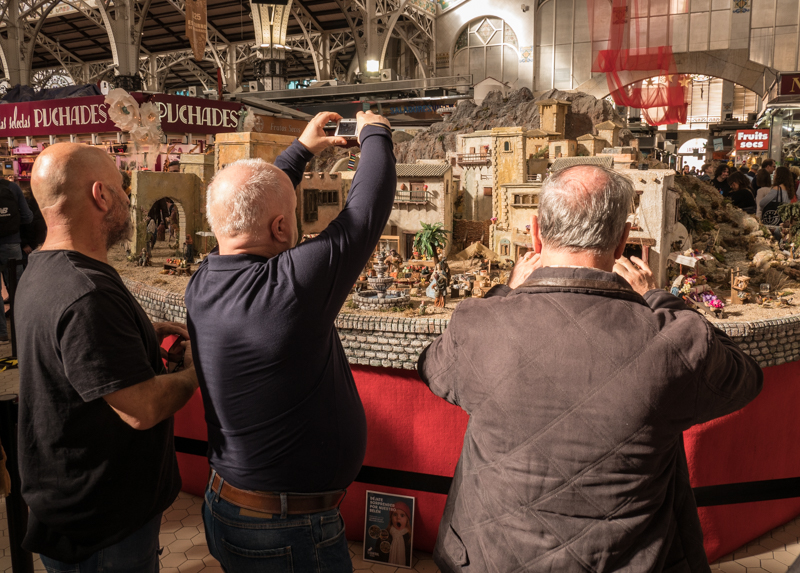 52_39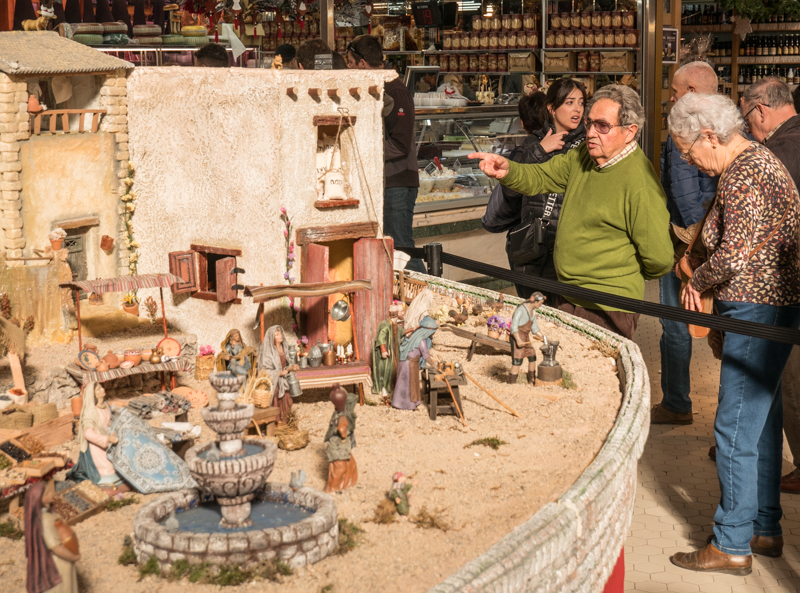 52_40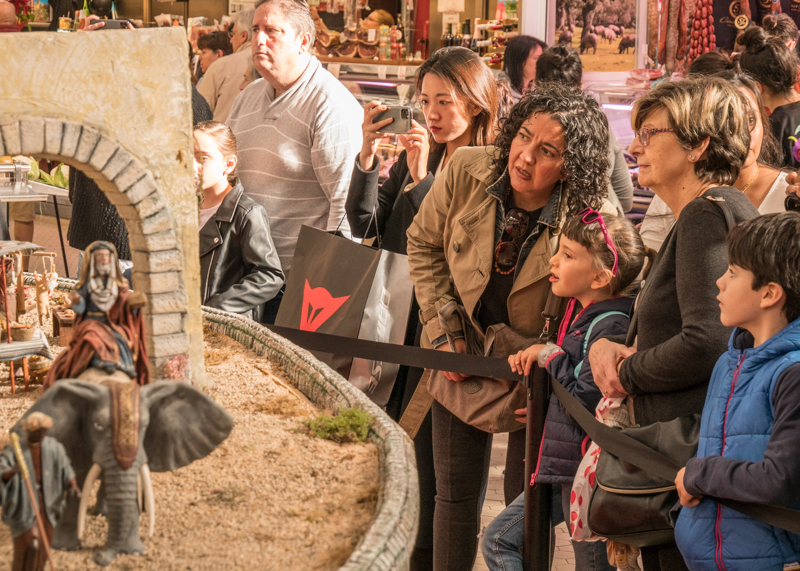 52_41
Moses, Myrela and Monica waiting for fresh-squeezed fruit juice: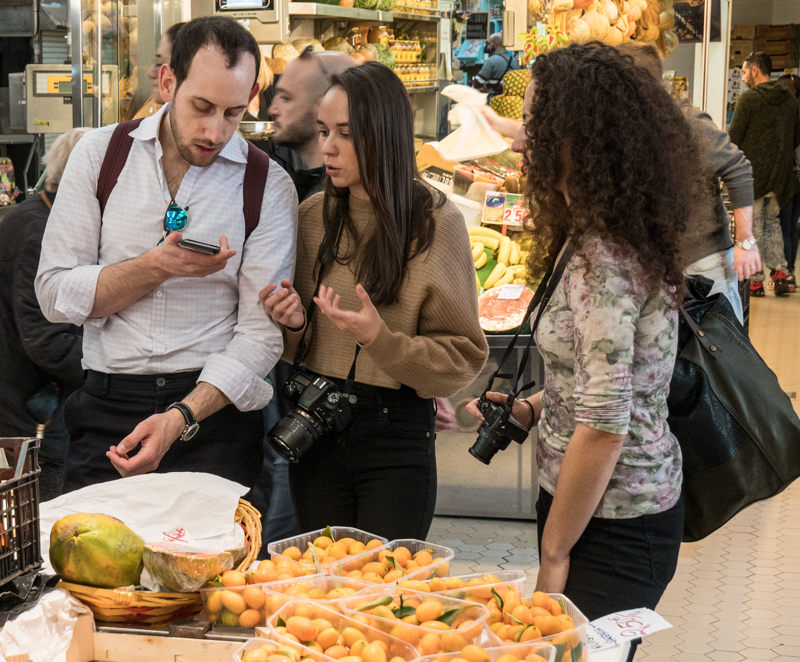 52_42
Real tomatoes: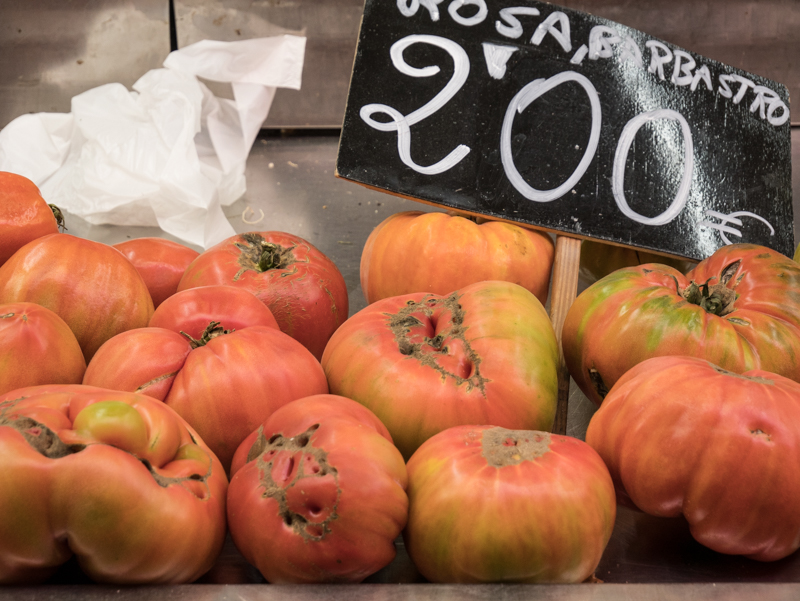 52_43
On the side of the Mercado Central there are several stands selling pots and pans, especially paelleras: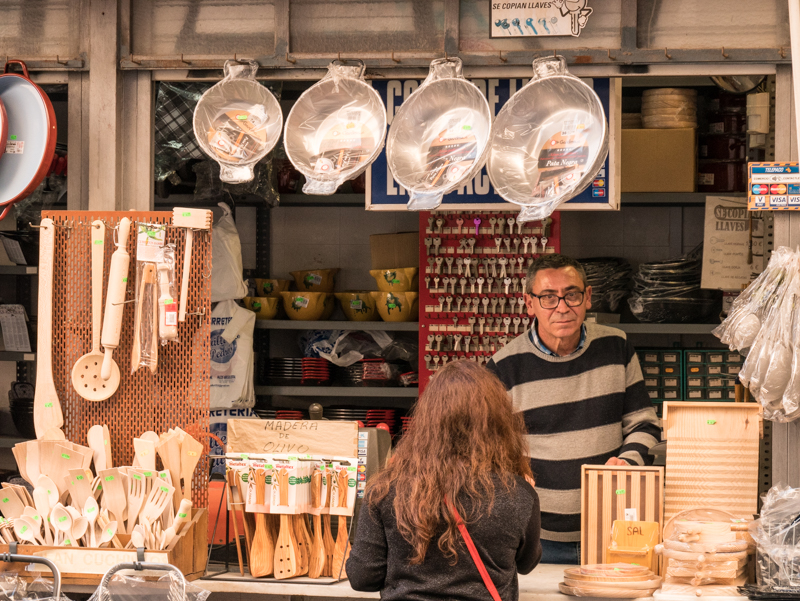 52_44
We continued walking around the old part of Valencia, meandering towards the cathedral. One of the things I like about Valencia is the preponderance of wall art of all kinds:

52_45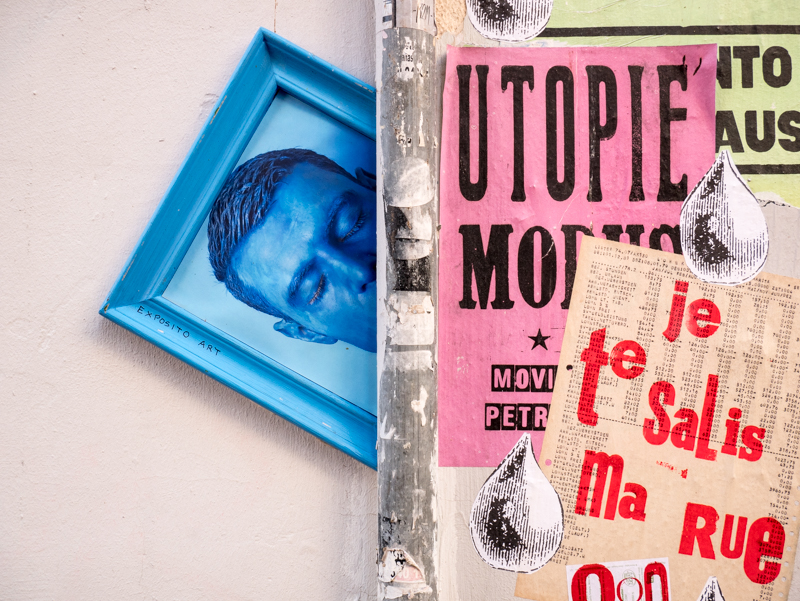 52_46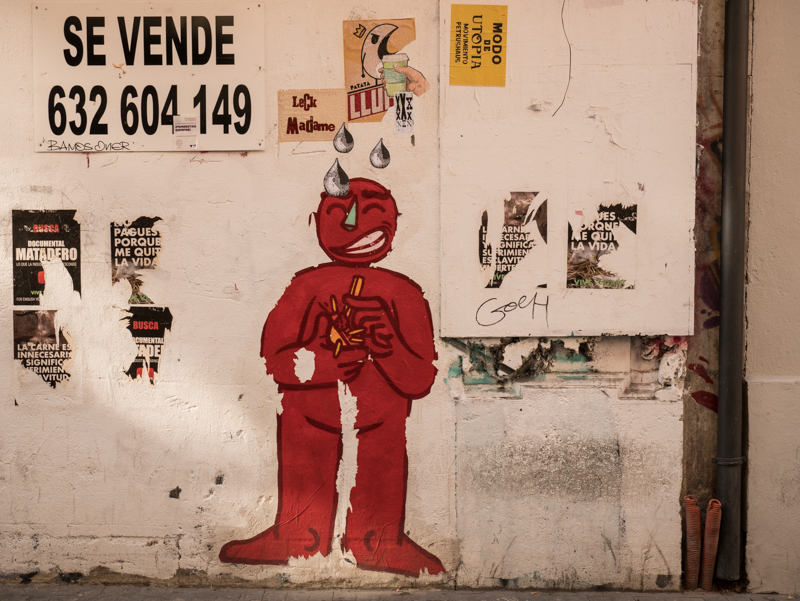 52_47
Father and son, looking at posters: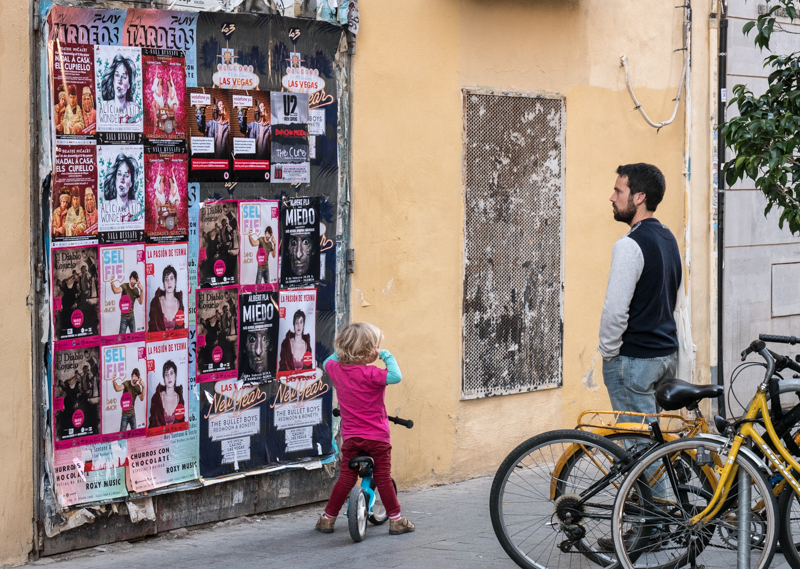 52_48
We finally arrived at Valencia's cathedral, an imposing and impressive church whose claim to fame is that it hosts the Holy Chalice, although there are competing claims from other churches. Never mind, there is much else to look at. This is the overall view, looking towards the main altar: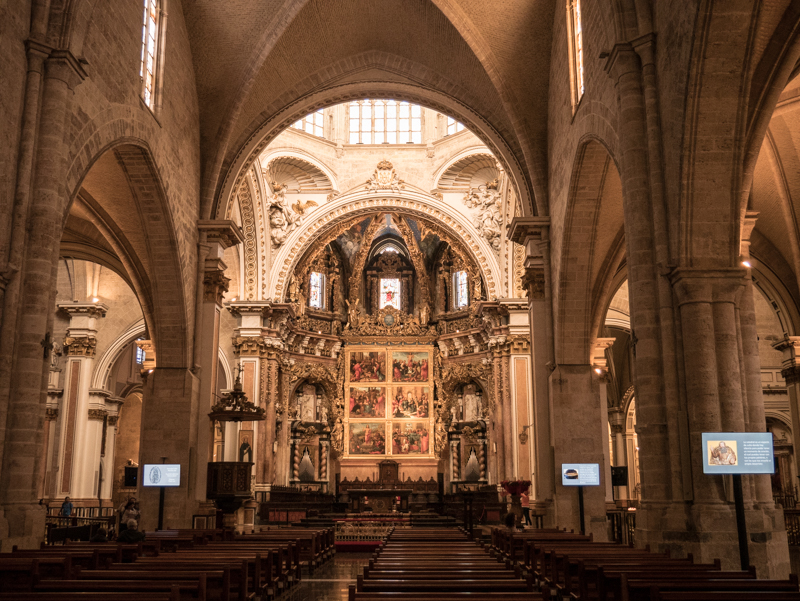 52_49
Moses and Myrela looking up: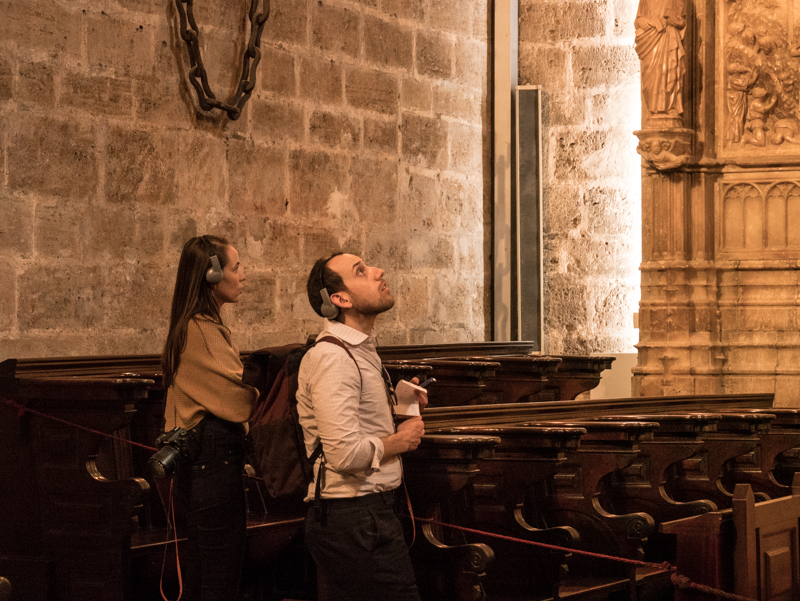 52_50
Looking up with good reason, for the ceilings of the cathedral are incredibly ornate: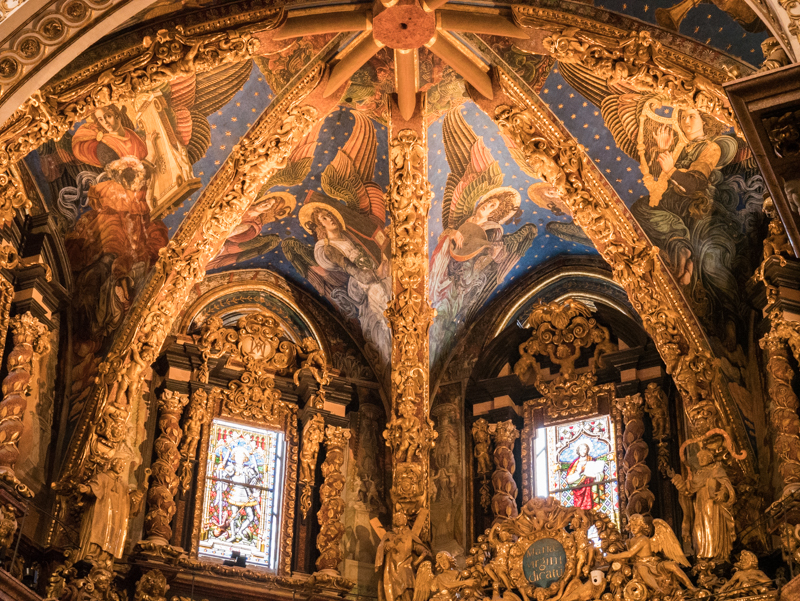 52_51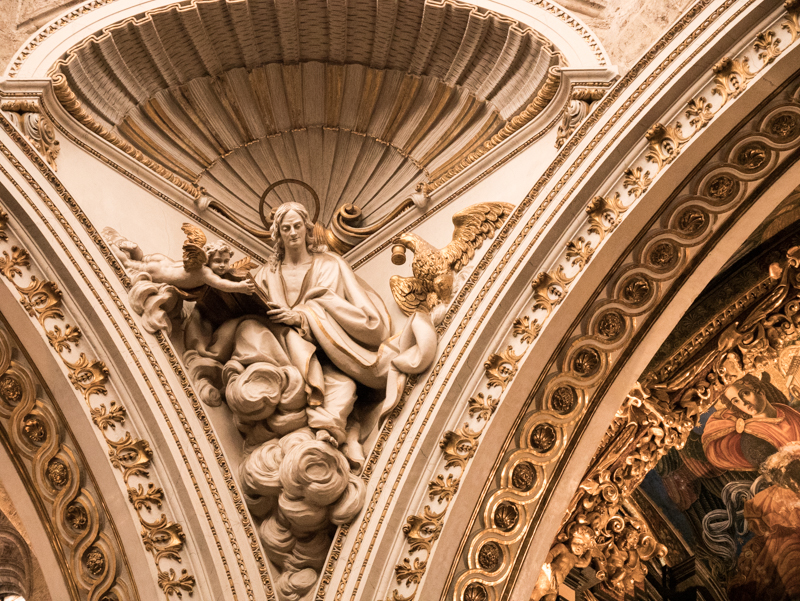 52_52
There are also many small side chapels dedicated to various saints (mostly), some with sculptures and paintings that I do not really understand:

52_53
But this chapel contains a genuine treasure, a painting by Goya from 1788. It depicts the Jesuit priest San Francisco de Borja at the death bed of a sinner. The liquid emanating from the crucifix is the blood of Jesus, meant to ward off the devils waiting at the dying man's side to make off with his soul. Pretty macabre stuff, but what a great painting!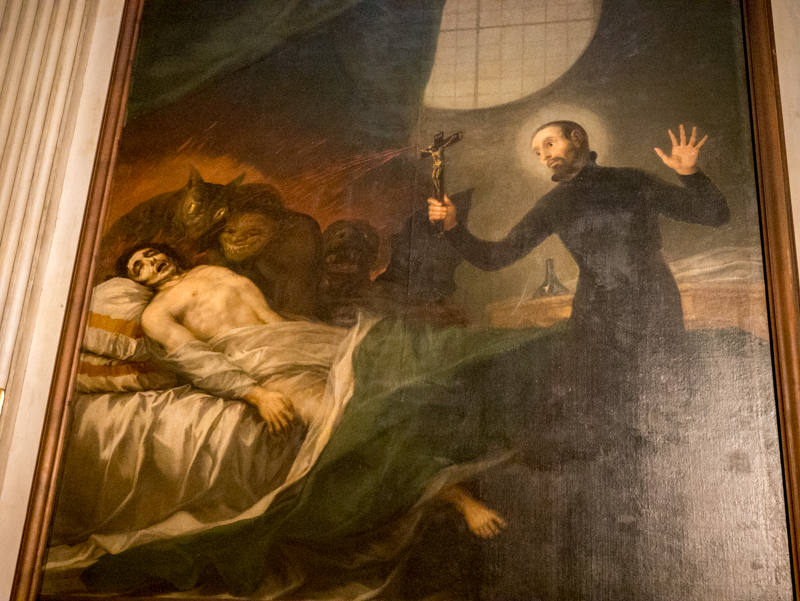 52_54
A message from Pope Francis caught my eye, because it speaks about the need for dialogue with other religions in order to understand each other better and eliminate violence and discrimination. Not a bad message from "Papa Paco" (in Spanish, his name is Francisco, usually abbreviated as Paco):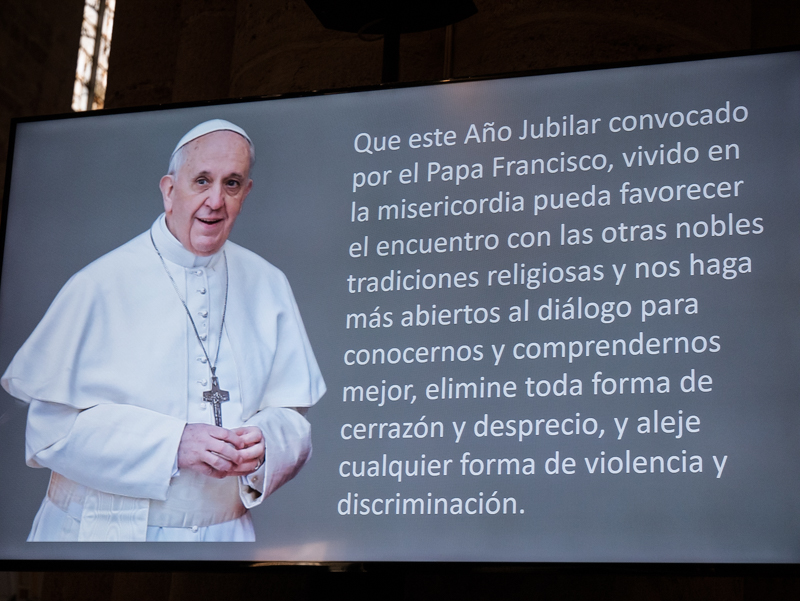 52_55
After the cathedral visit, my family poses outside the Valor chocolate café, an important port of call for Moses and Myrela who share the love of chocolate: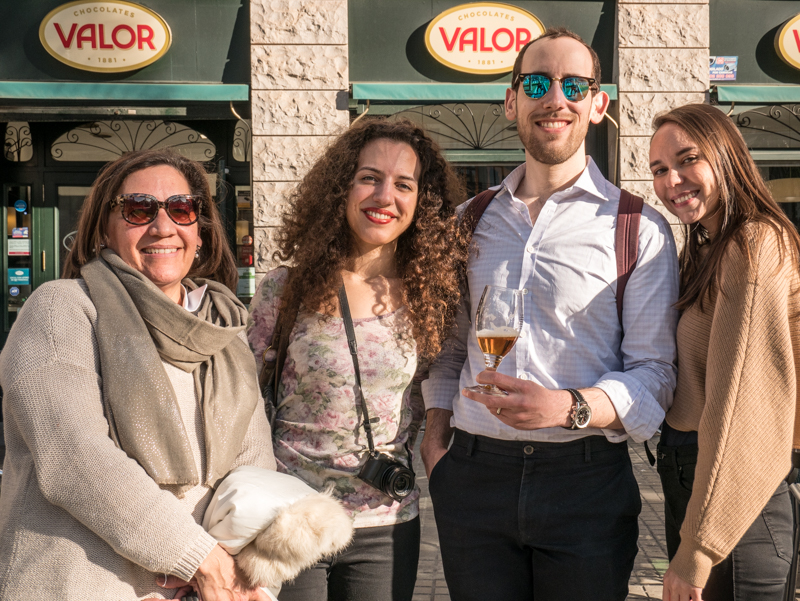 52_56
Then it was time to walk to the restaurant where we were going to have a late lunch. Along the way we enjoyed some more Valencia sights, such as this little street with the Basílica de la Mare de Déu dels Desemparats (Virgin of the abandoned):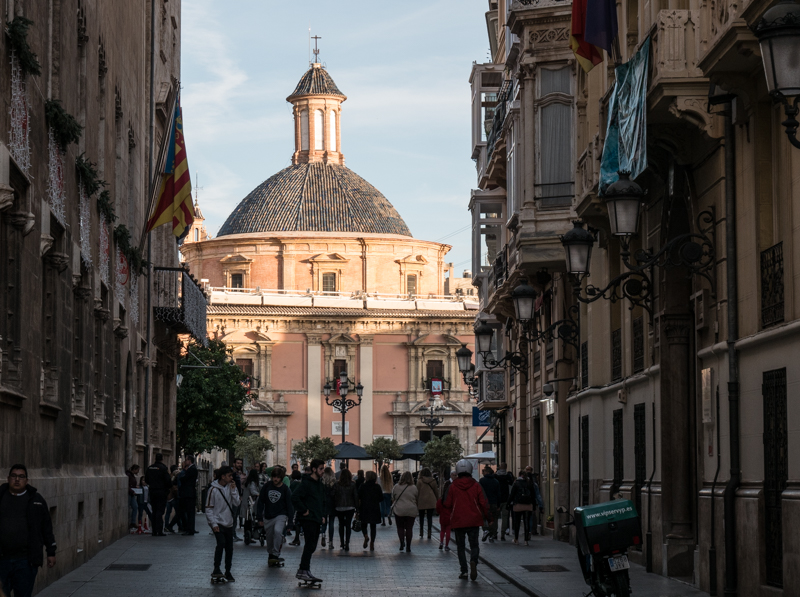 52_57
Lunch was at a restaurant called La Cigrona, which turned out to be excellent. Of course, being in Valencia, we had paella for the main course, preceded by some interesting appetisers, such as this "Smoked sardine, goat cheese pannacotta, quince jelly and green pesto":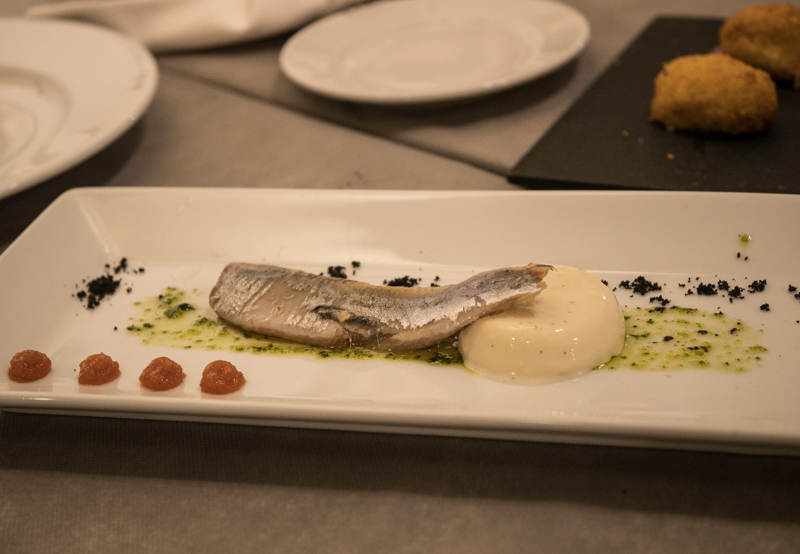 52_58
Unfortunately, we had parked the car in the main shopping area in central Valencia, so I could not escape the scourge. But it gave me the opportunity to capture some more street scenes, including this large anti-airBnB banner: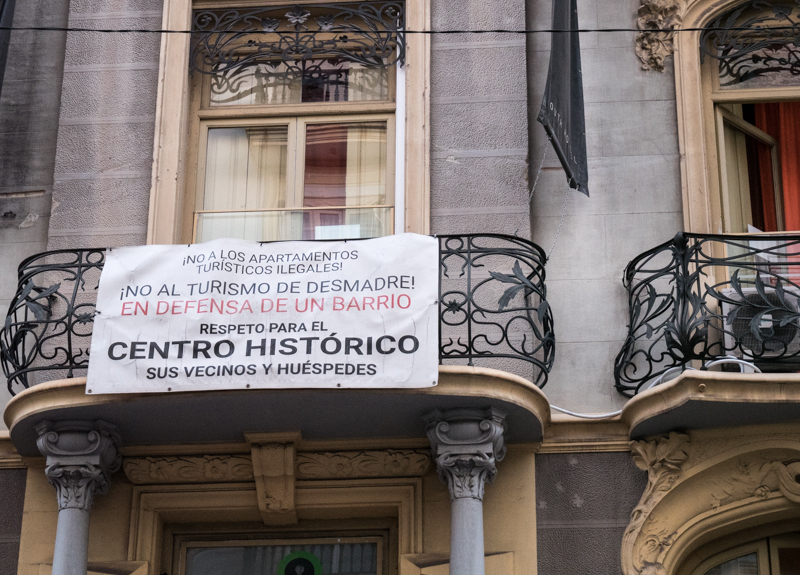 52_59
Eye contact: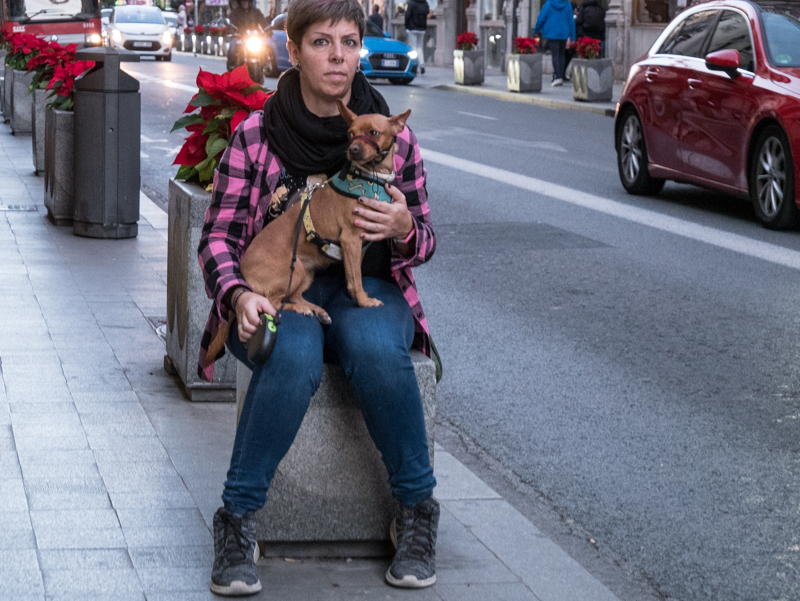 52_60
Dusk arrived, the Christmas decorations came on, and it was time to drive the 170 km home to Alicante: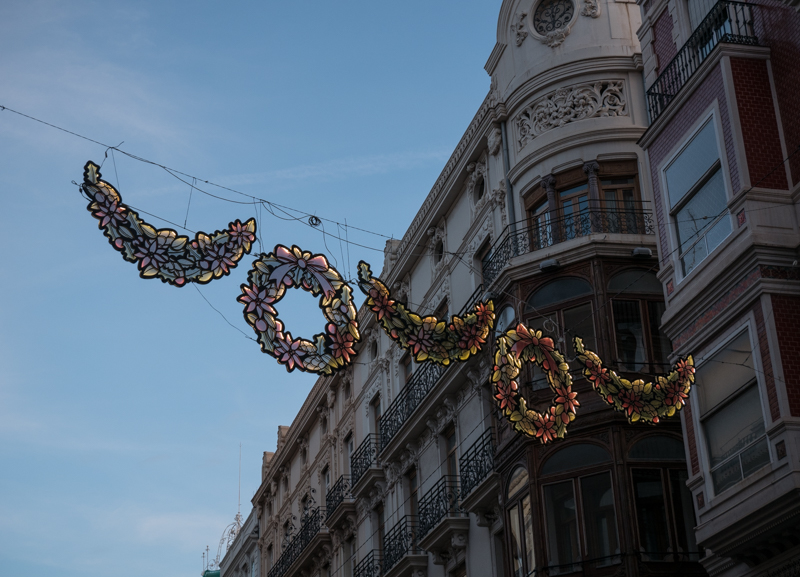 All good things come to an end–Moses and Myrela were leaving Sunday morning to spend a few days in Norway before flying back to New York. On Saturday night, their last evening here, we went for dinner at La Ereta, Moses's favourite restaurant in Alicante. He always says that he does not understand why La Ereta has no Michelin stars–I agree that the food is certainly at that level, but since prices usually go up when restaurants are awarded stars, I am just as happy to go to La Ereta without the stars. The last three images are from that evening.
52_61
Monica had really dressed up for her brother's farewell dinner, and continued prettifying herself even in the restaurant: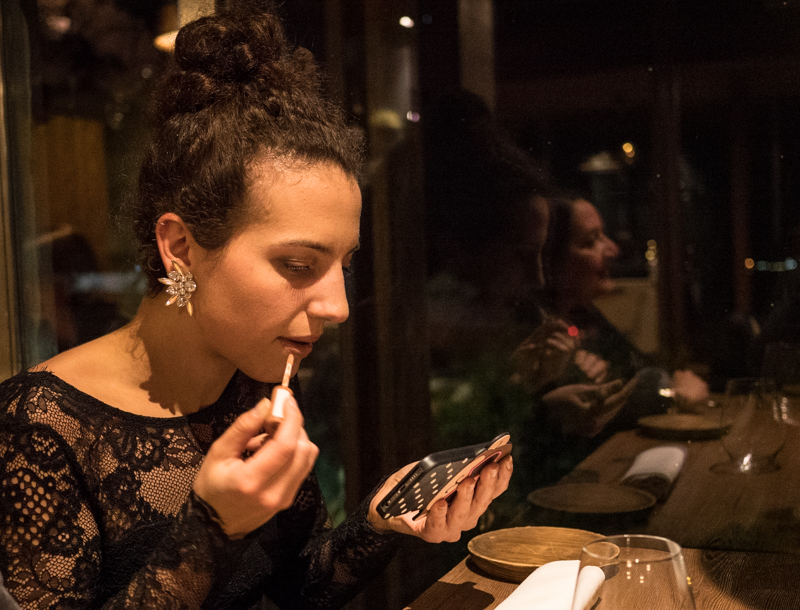 52_62
Monica looks happily at her vegetarian appetiser. We had ordered a menu of several courses, including both meat and fish, but since we had advised La Ereta beforehand that one of us was a vegetarian, they prepared a parallel menu for her, as has been the case on previous occasions. They do it really well, even to the point of making sure that the veggie dishes are similar in appearance and texture to the "normal" dish that the rest of the table is getting: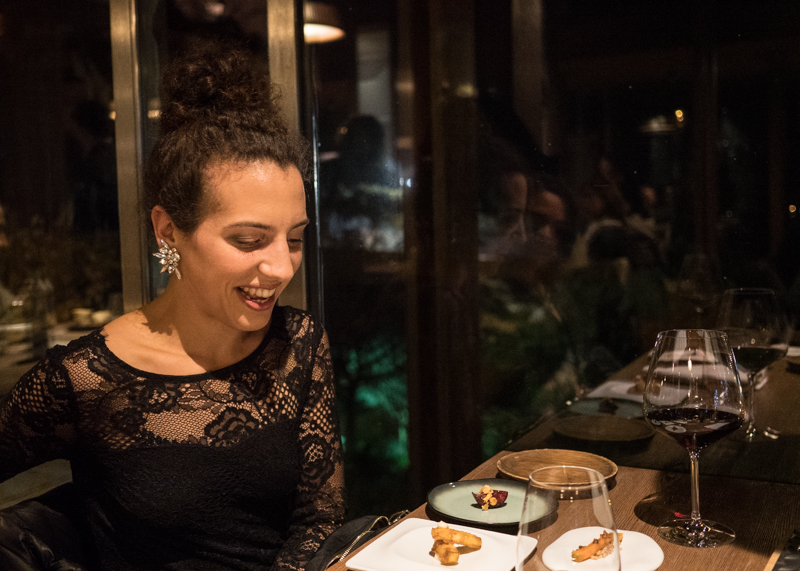 52_63
Food at this level has to please both the palate and the eye, as exemplified by this serving of bacalao (cod):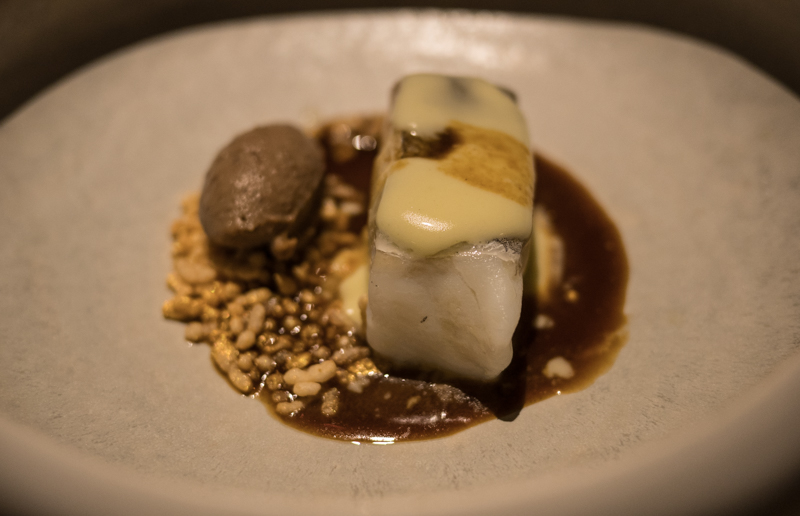 And this brings to a close my weekly blog for 2019. I have been doing since 2001, so this was the 19th year. On to 2020!