Last week it seems that all I did was to drive on Spanish and French motorways. It was time to take my son back to Bath for the new academic year, so on Tuesday morning we set out from Alicante, with the car stuffed with his possessions. The distance to Bath is a bit over 1800 km, and the trip is made longer by the fact that Britain is an island and so one needs to take a ferry to get there. The route is something like this: Alicante-Valencia-Zaragoza-San Sebastian-Irun (where we crossed into France)-Bordeaux-Nantes-Rennes-Cherbourg (from where we took the ferry to Poole, near Bournemouth)-Bath. The pictures here are from this drive up and down the western edge of Europe, arranged chronologically.
Main
As we set out Tuesday morning, the weather did not look very inviting. There were heavy rain clouds when we made our first pit stop near Valencia: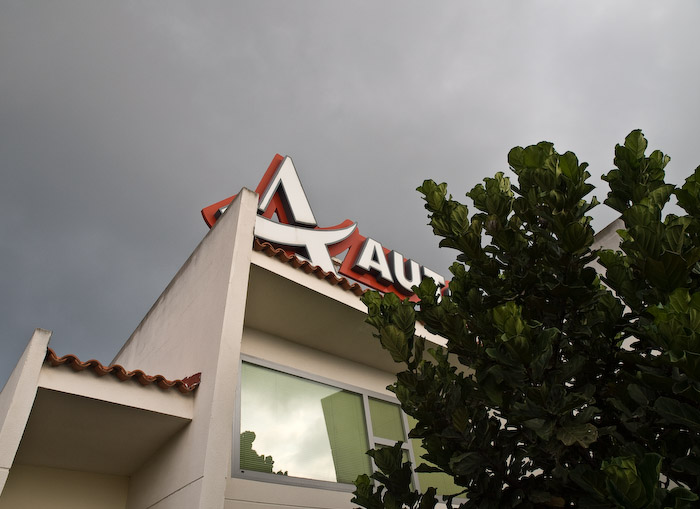 The alternates:
Alternate 1
A few hundred km later, in the Basque country, things looked more inviting: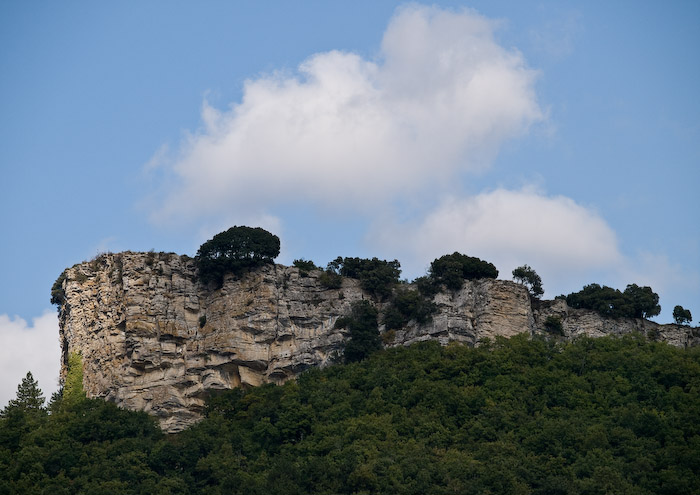 We drove the rest of the way to Rennes that day, where we had booked an Etap hotel near the motorway. We got there at about 11:30 pm and discovered to our horror that there was no bar and thus no cold beer to be had after driving 1400 km. Bummer.
Wednesday morning consisted of a quick 250 km drive to the port of Cherbourg. Things were windy and rainy again.
Alternate 2
The ferry leaves Cherbourg amid wind and drizzle. We had booked a fast ferry, which has the advantage of (DOH) being fast, with the trip across taking only 2:15 hours. But the disadvantage in this kind of weather is that you really feel the movement of the boat: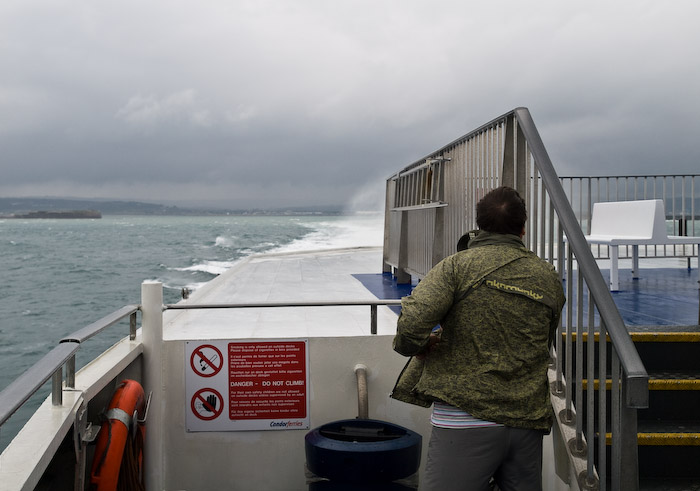 Alternate 3
Finally, around 3 pm on Wednesday afternoon, we arrived in Bath. The weather had improved, and it was clear from the general street picture that the students were back in town: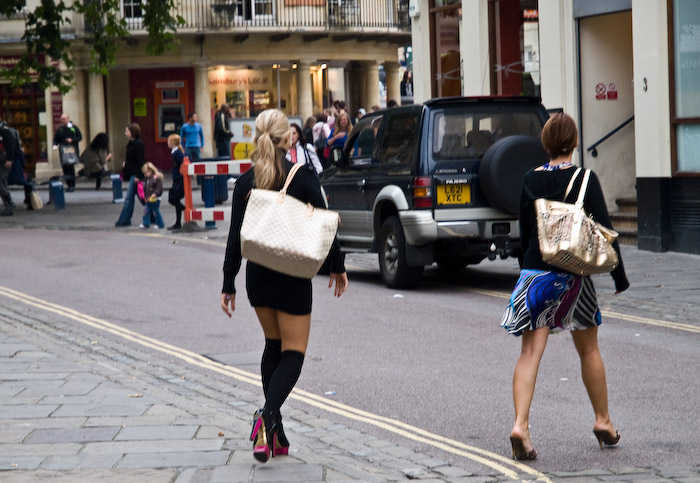 We spent the rest of Wednesday running errands in Bath, buying supplies for my son, and getting him installed in his campus accommodation. Finally, around 8 pm we could relax and have dinner at Tilley's Bistro, a highly recommended restaurant in the centre of Bath. Then my son went back to the campus to check out the parties going on (last week was Freshers Week, i.e. no classes yet, just orientation and partying). I went to my usual crashing place, the Royal Hotel, had a pint and went to bed.
Alternate 4
Early Thursday morning, I went back to the campus to have breakfast with my son and say goodbye before starting the trek home. Approaching his dormitory, it was clear that some of his neighbours had already been there for a few days: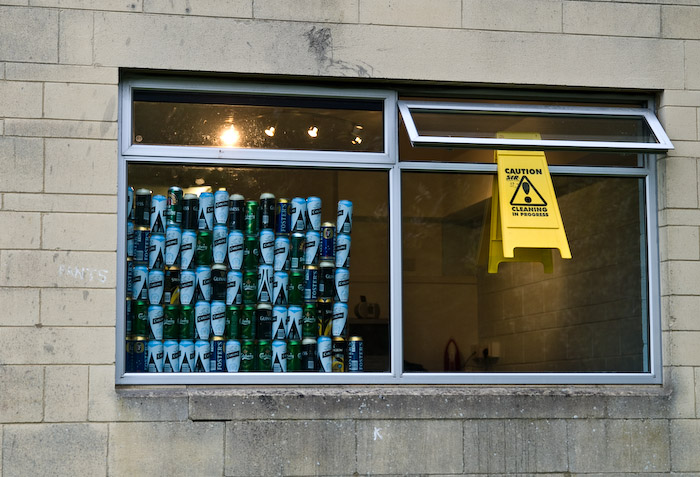 Alternate 5
The kitchen table in Moses's dorm is not that messy yet: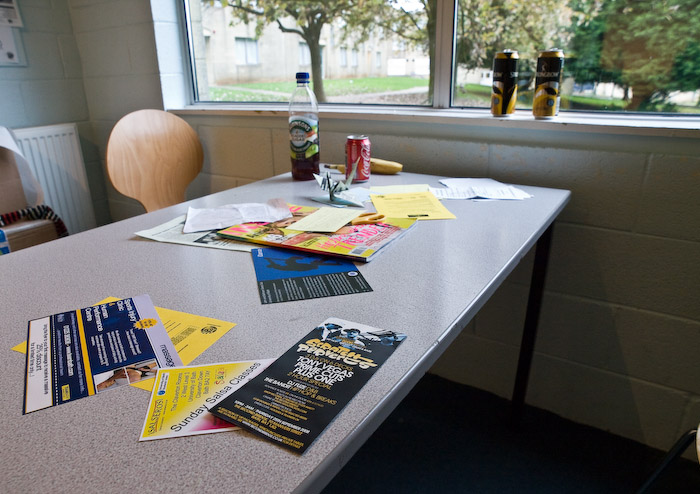 Alternate 6
But strange mushrooms can be seen growing next to trees outside: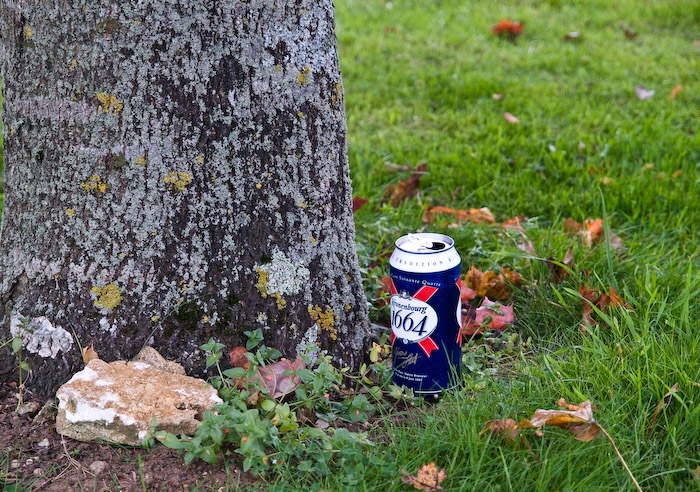 Alternate 7
Here is a cultural activity worth attending: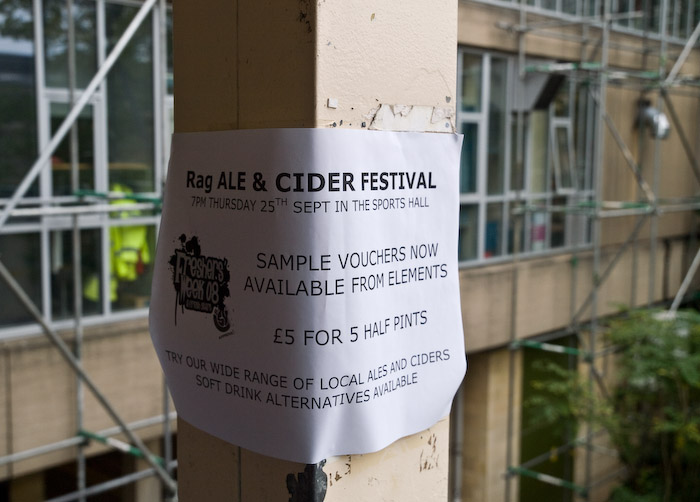 Alternate 8
Posters in the Student Union. I found the one in top right corner particularly intriguing: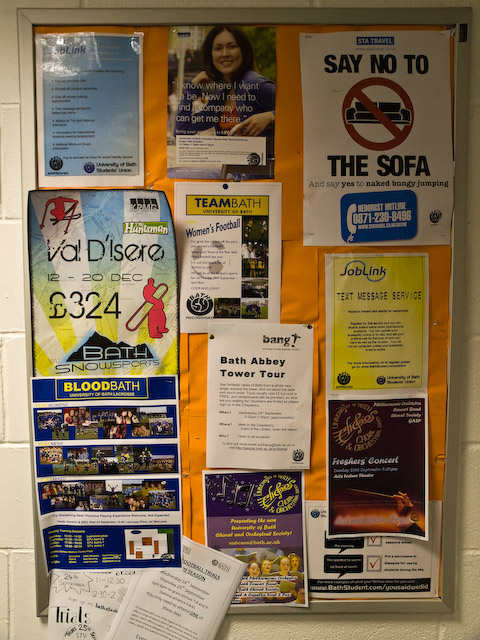 We ate breakfast, said goodbye, and I drove back to Poole. This time the weather was much better than on the outbound journey. I had a normal ferry, which takes 4:15 hours to cross the Channel.
Alternate 9
Leaving Poole harbour, one can look right into a pretty impressive backyard: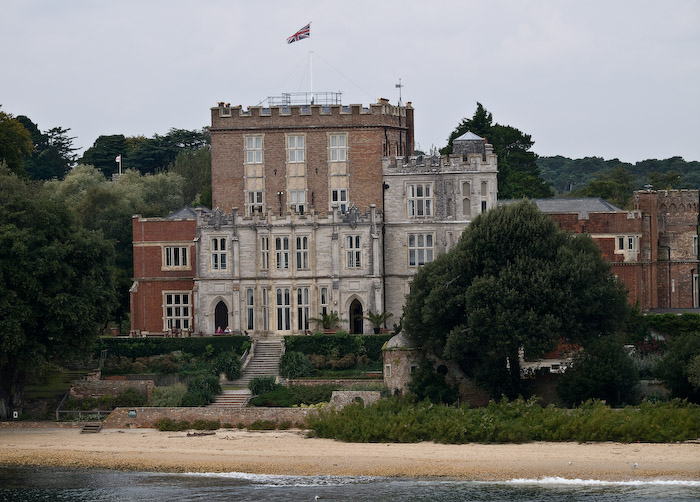 Alternate 10
People watch the ferry from the beach: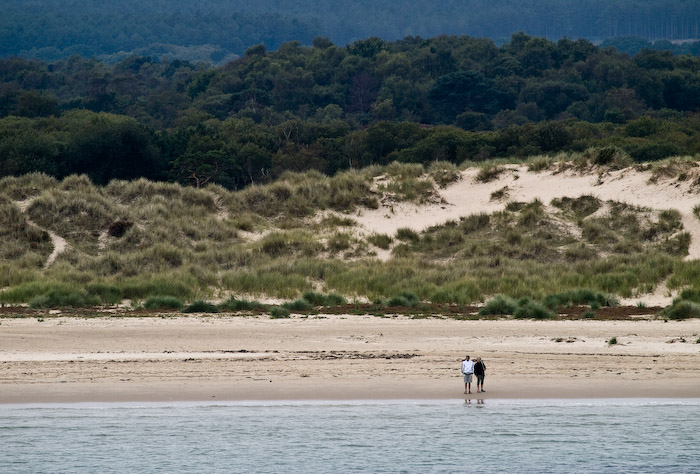 Alternate 11
There are some pretty impressive rock/cliff formations, similar to the famous white cliffs of Dover: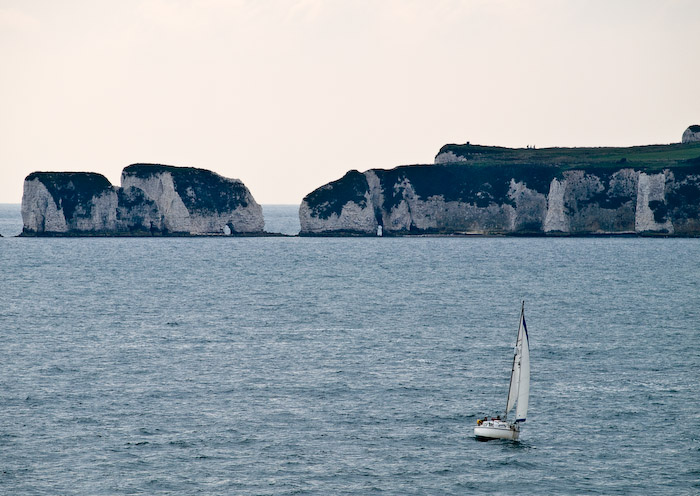 Alternate 12
This is probably my best picture from the trip: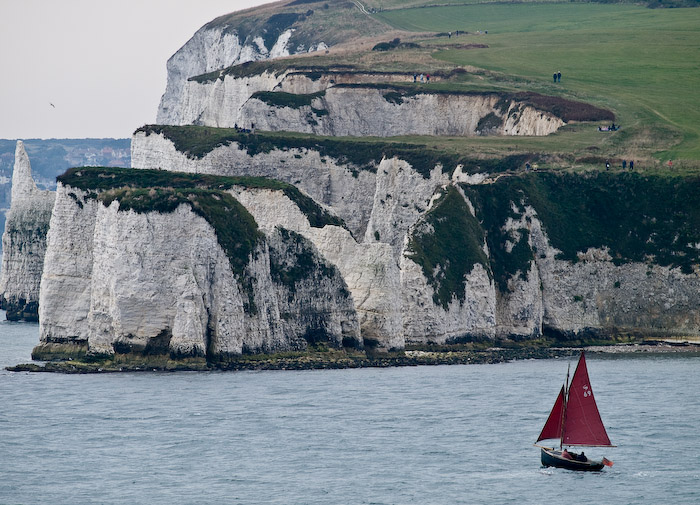 Alternate 13
This couple spent the entire 4-hour journey on deck: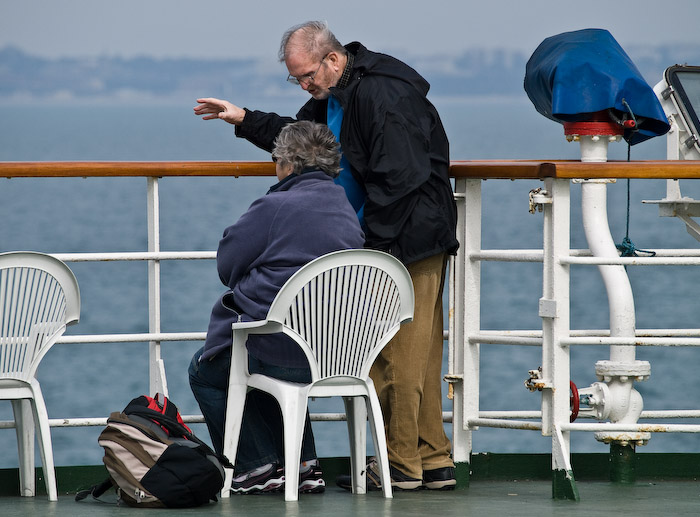 Alternate 14
After a while, the English shore had disappeared in the distance, and the trip just got boring. I used the time to eat lunch and start working on these pictures on my laptop. Then, finally, we were coming into Cherbourg harbour: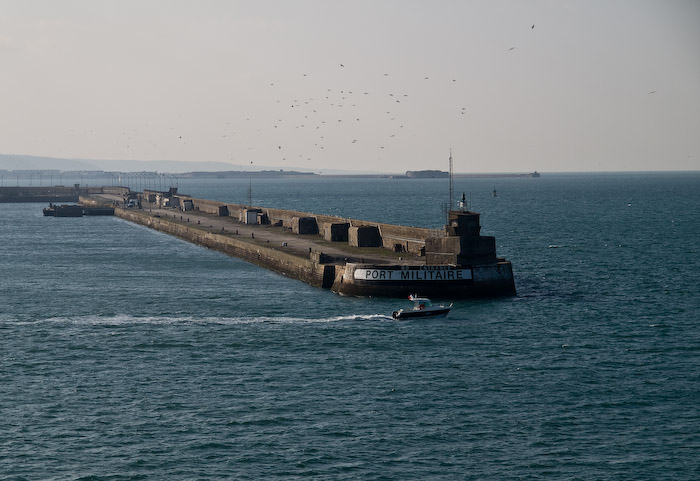 I had reserved a hotel in Nantes, about 350 km south of Cherbourg. Since it was only around 6 pm, I decided to make a little detour and visit Utah Beach, the site of the D-Day landing on June 6th 1944 that began the liberation of Western Europe.
Alternate 15
One of the many monuments at Utah Beach: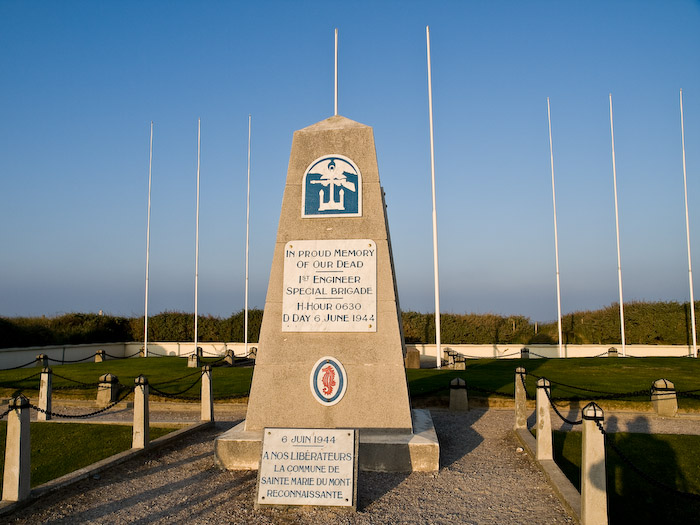 Alternate 16
The beach itself looks peaceful and idyllic now–and that is how it should be: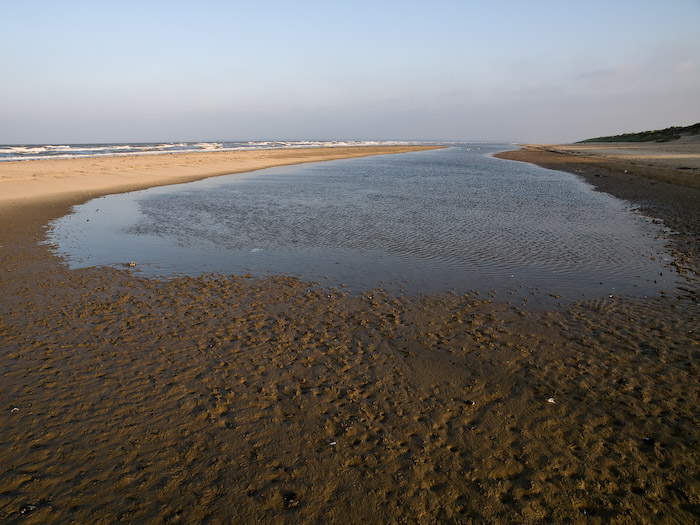 Alternate 17
Some of the old defenses have been kept or re-created: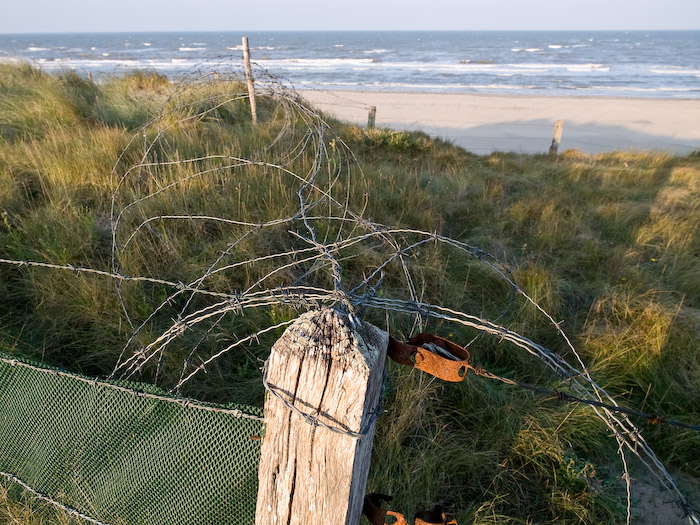 Alternate 18
The road from Utah Beach to the nearest town, Sainte Marie du Mont: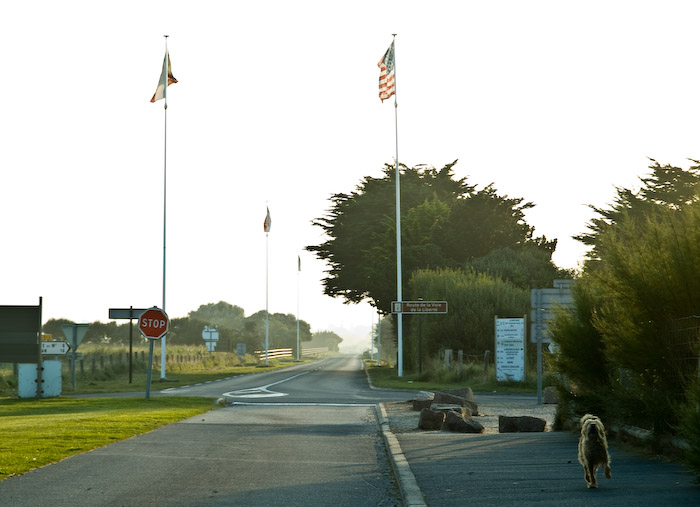 Alternate 19
A couple of km from the beach, a Danish flag caught my eye. I stopped to look. It was a small memorial to 800 Danish seamen who participated in the D-Day landings. They must have been members of the Danish marine who had escaped to England when Denmark was occupied in 1940 and were now coming back to help liberate their country. I felt good about seeing this: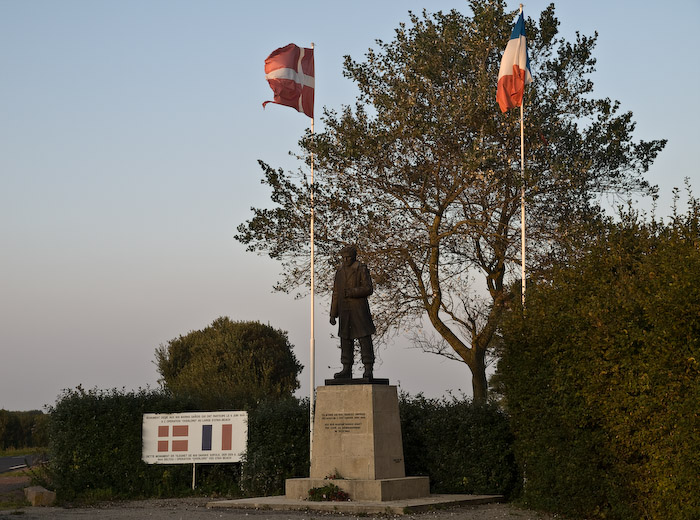 This was actually the last picture I took during the trip. After taking it, I just drove to the hotel in Nantes, this time equipped with beer purchased in England, so I could have my reward after a long day on the road. The next day, Friday, I started the drive at 8 am. About 12 hours and 1300 km later, I was home for dinner. All's well that ends well.