Actually, all the pictures this week were taken during just two days, Sunday the 2nd and Monday the 3rd. During my visit to Copenhagen, I took those two days out to go to my hometown of Ã…rhus, about 3 hours by train from Copenhagen. I go there to walk the streets which carry so many memories for me, and to visit my best friend, Lars, a friendship which has lasted since our first year of high school back in 1976 and which has endured the fact that I left Ã…rhus 25 years ago.
Main
Lars had suggested that I get off the train in a town called Horsens, about 40 km south of Ã…rhus. That way, he would pick me up by car and we could have a little photo expedition along the way. So we did. We stopped at a railway station in Odder, 20 km away, which is temporarily closed due to some track works. So we indulged in some "peeling paint" or "industrial" photography. Here is Lars: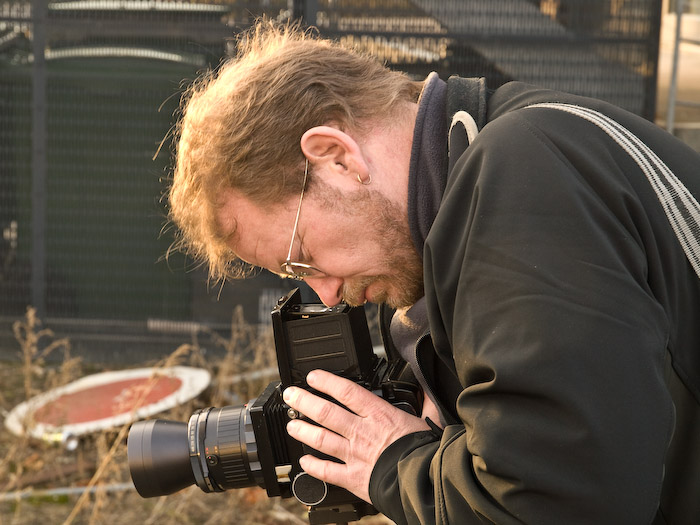 The alternates:
Alternate 1
And this is more or less what he was photographing: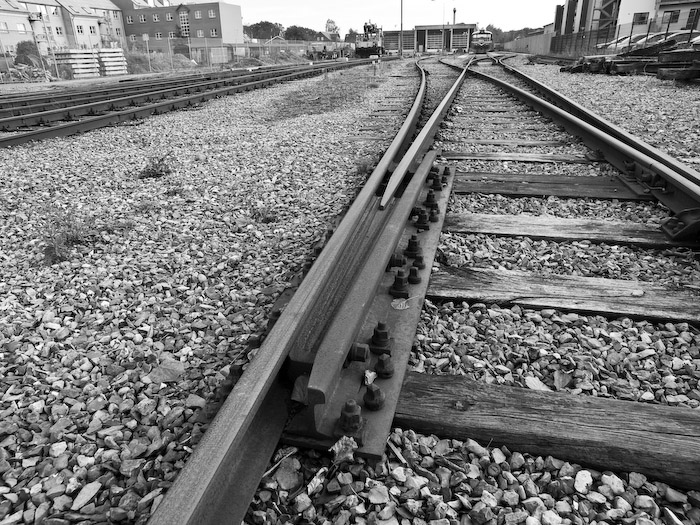 Alternate 2
Or this: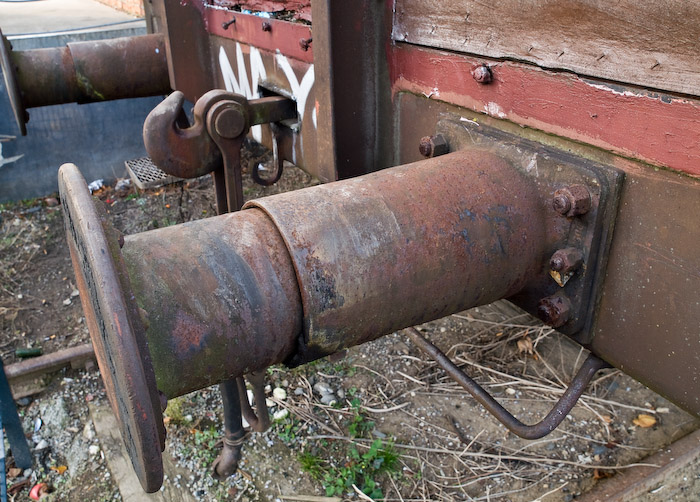 Alternate 3
Lars is a photography and arts teacher at Testrup Højskole, one of the best and most successful of this kind of institution in Denmark. Besides his salary, this also means that he has access to some great equipment, both digital and analogue (the school is still going strong with a large and well-equipped traditional darkroom). Here he shows me some prints made by his students on a monstrously large Epson printer: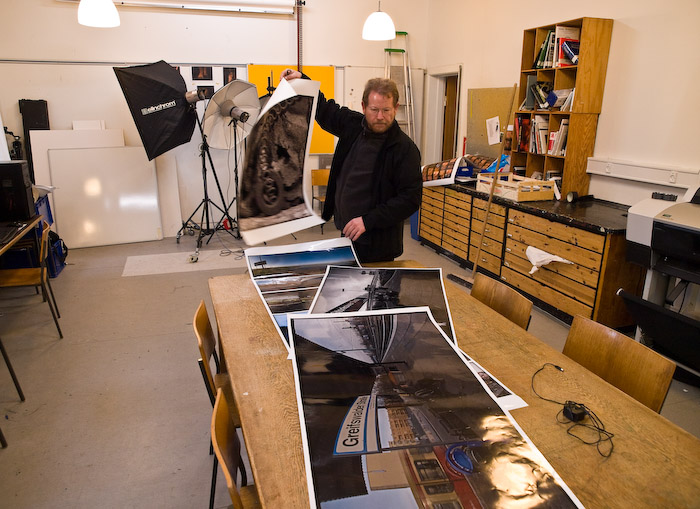 Alternate 4
The next morning, slightly hung over of course, we walked to the local bakery to buy some bread. Danish bakeries are the best and often have a young girl doing the selling: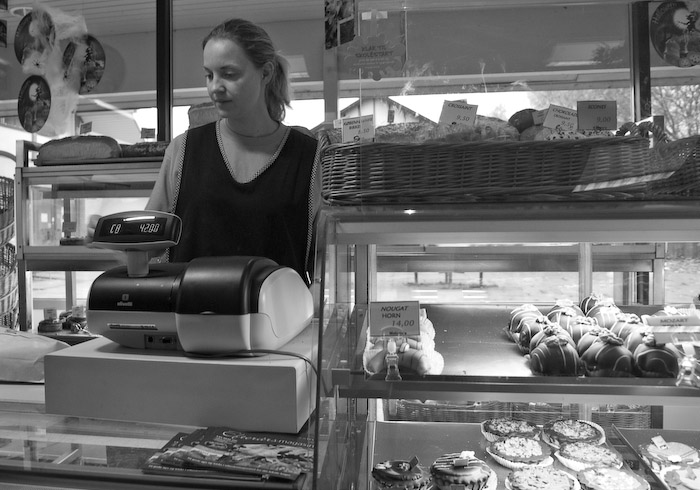 Alternate 5
This bakery also sells ice cream, but the cone man looked a bit under the weather: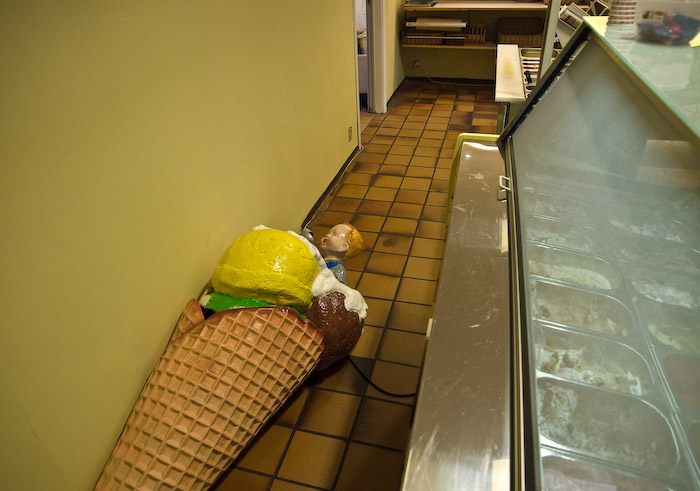 Alternate 6
Now that I live in a dry part of Spain without too many trees with leaves, I really notice sights like this when I am in northern Europe in the autumn: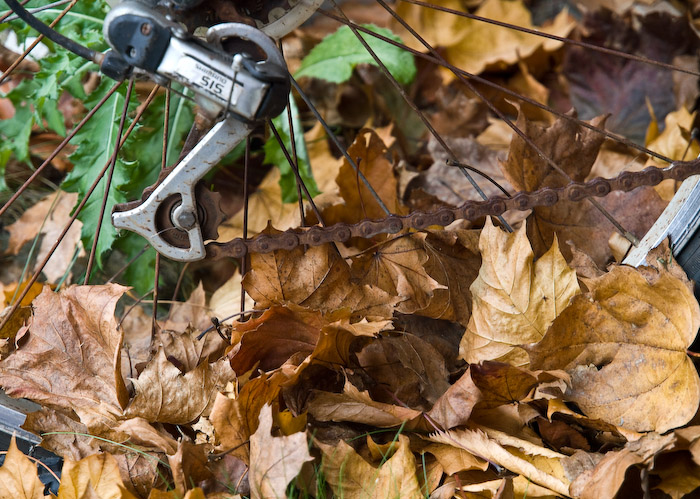 Then I said goodbye to Lars and took a local train into the centre of Ã…rhus. I had a couple of hours to kill before catching my train back to Copenhagen, so of course I went for a walk around town.
Alternate 7
This is a real childhood memory for me. This miniature train was there, in exactly the same form, when I first came to Ã…rhus as a child in 1972, and already back then it was considered old. Several generations of Ã…rhus-children have put a coin (or persuaded their parents to do so) in the slot and watched the little trains snake their way across the landscape. The train station has been thoroughly modernised since I lived there, but fortunately the train has been kept and is the centrepiece of the waiting room. The coins all go to charity. The blue light means it is night: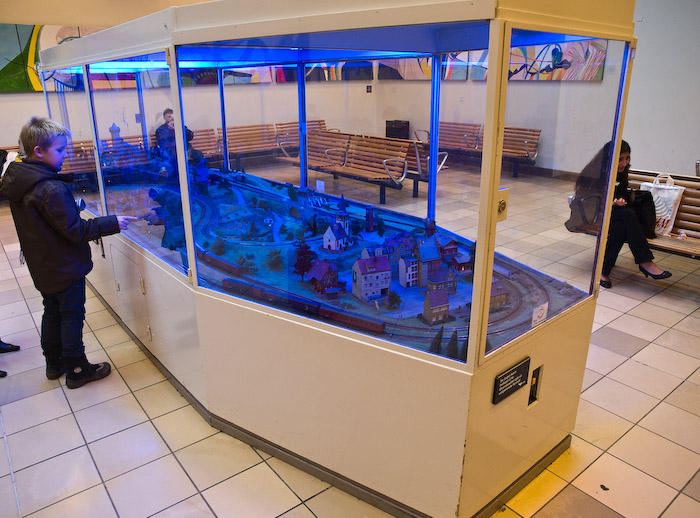 Alternate 8
The weather was sufficiently good for someone to make a definitive choice, at least for the day. I went to school on this street: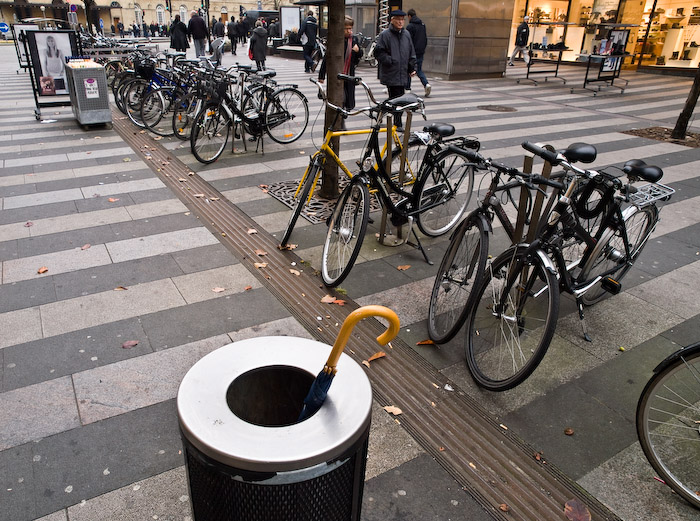 Alternate 9
Further down the street, two girls entertain themselves in the shop window while waiting for their parents: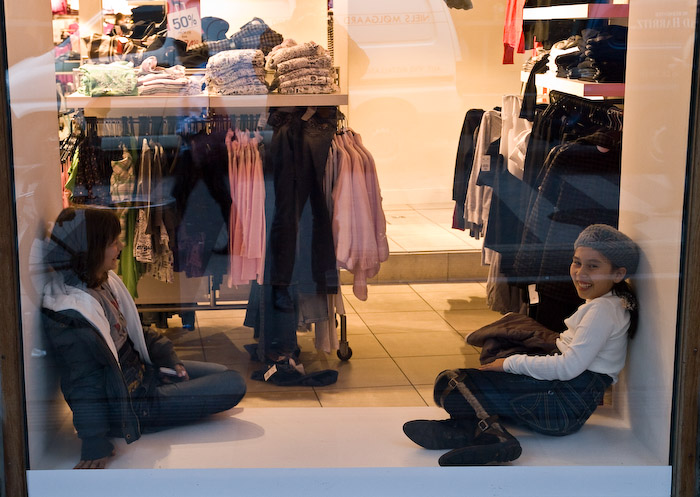 Alternate 10
This is one of my favourite views in Ã…rhus. The river is called Ã…rhus Ã…, and back in the 1930s the last 2-3 km were covered to widen a road used by trucks going to the harbour. During the 1970s and 80s when I lived in the town, I remember this street as a wide street, quite boring, with some apartments and not much else. Because the harbour was no longer particularly busy, the rationale for the road had also disappeared, and so during the 1990s the river was re-opened. The street (it is called Ã…boulevarden) has been transformed into one of the most attractive spots in the town, with little shops, bars, restaurants etc. and outdoor life even in the winter: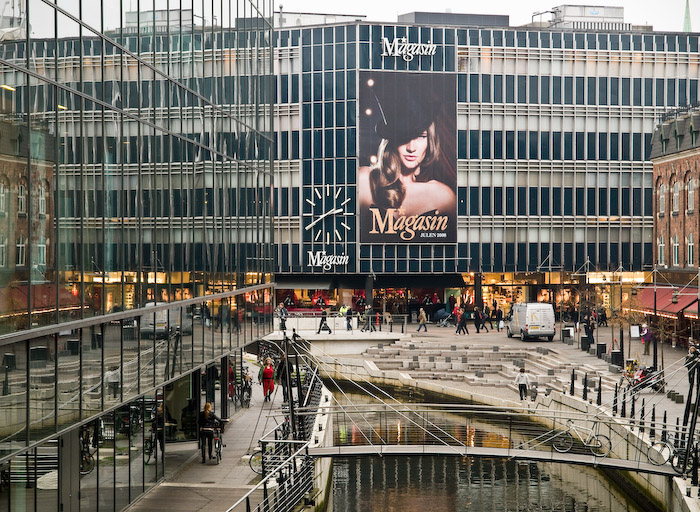 Alternate 11
Store Torv, the biggest square in Ã…rhus, with the theatre in the background on the right, and the medieval cathedral. The sculpture in the foreground is quite new, I do not remember seeing it before: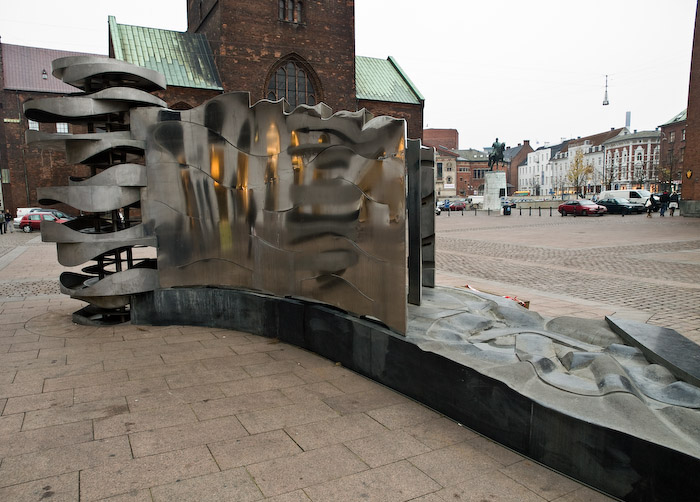 Alternate 12
The main Ã…rhus branch of Nordea, one of the biggest banks in Scandinavia. The financial crisis has been relatively mild in Denmark, with no big bank failures. So the pigeons will have this place as their toilet for a while yet: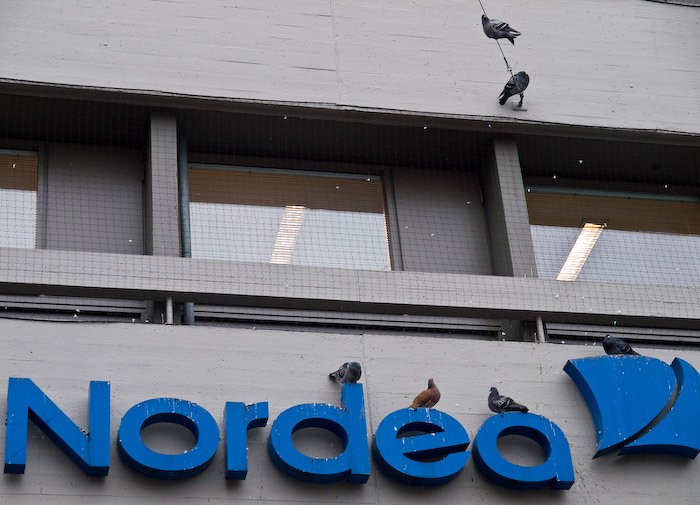 Alternate 13
Finally, a pair of klunsere, a kind of traditional homeless people. I am not even sure if they really are homeless, but in any event they live what might be termed a non-traditional lifestyle, but in a very traditional way. In the old days they would go from village to village, looking for a bed and a meal, and more often than not getting it. Today they are rare: