I spent the entire working week away from Alicante, mostly in Brussels but with a side trip to Stockholm as well. All work-related but of course we have fun in the evenings, and I did have some free time in Brussels on Friday afternoon/evening, and a couple of hours in Stockholm on Thursday afternoon. And as always in Brussels, there were new things to discover and photograph, despite my very frequent visits during the past several years.
48_1
Weather is not the reason for visiting Brussels in late November. I flew to Brussels on Monday morning, arriving at lunchtime for an afternoon meeting at the European Commission. When I was walking back to my hotel afterwards, it was already dark, and wet. The kind of scene best suited to black & white: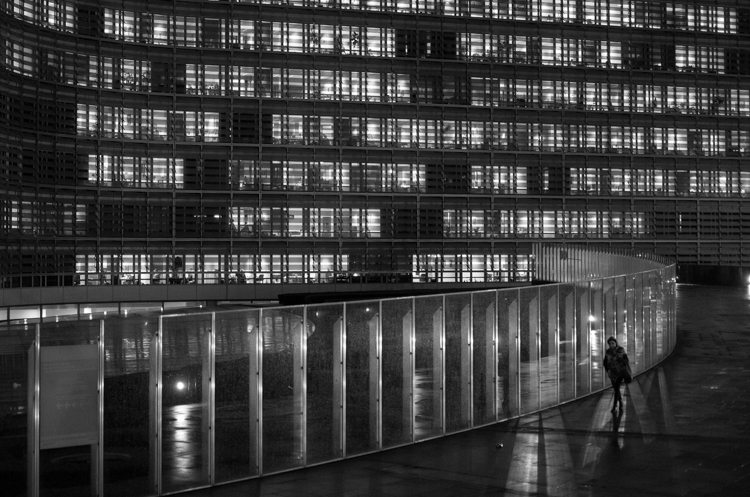 48_2
Light and shadows: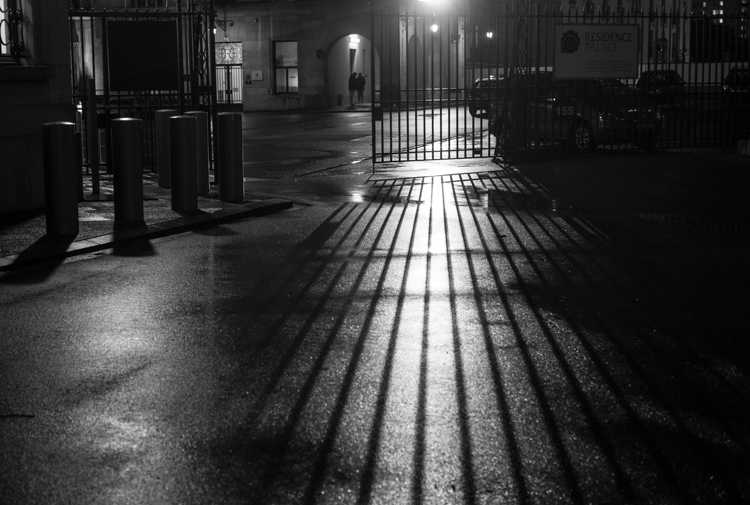 48_3
But there was also colour to be seen. This is afternoon traffic on Rue de la Loi, one of two major thoroughfares connecting the EU quarter to city centre. On the left is the newly completed headquarters of the European Council: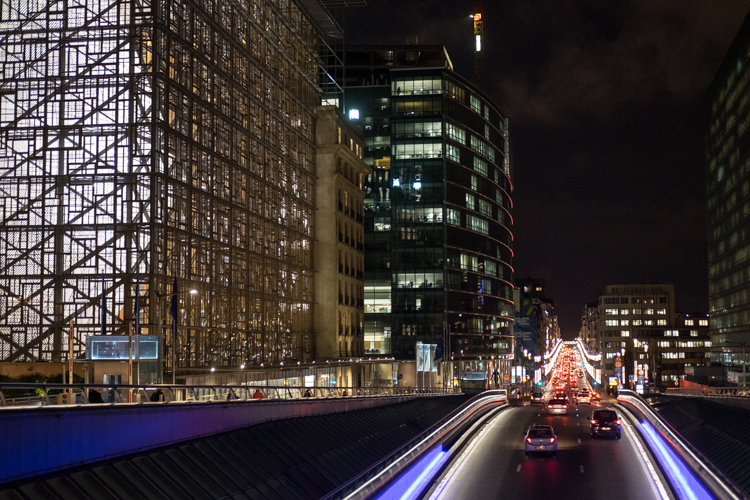 48_4
Later on Monday evening, I met up with my colleagues for dinner. There were 8 of us from Alicante, as we were hosting major meetings in Brussels all week. Dinner was preceded with a pint at Kitty O'Shea's, a traditional watering hole in the heart of the EU quarter. Claire, our communications specialist, really enjoyed her pint: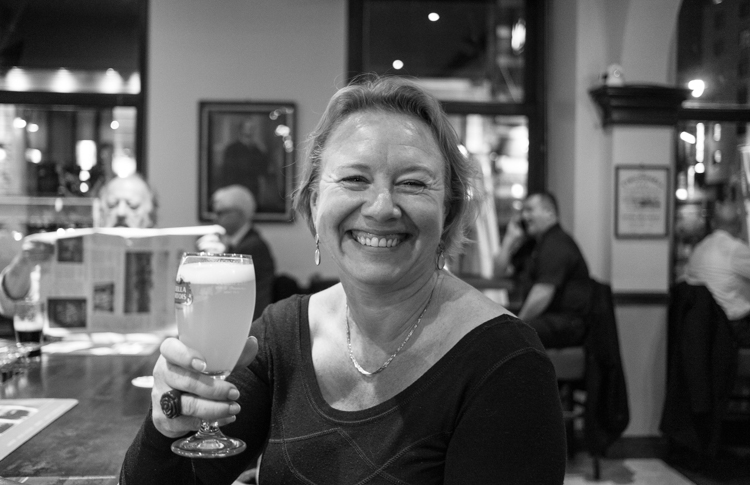 48_5
Tuesday morning it was still rainy and windy, and not all umbrellas could stand up to the elements: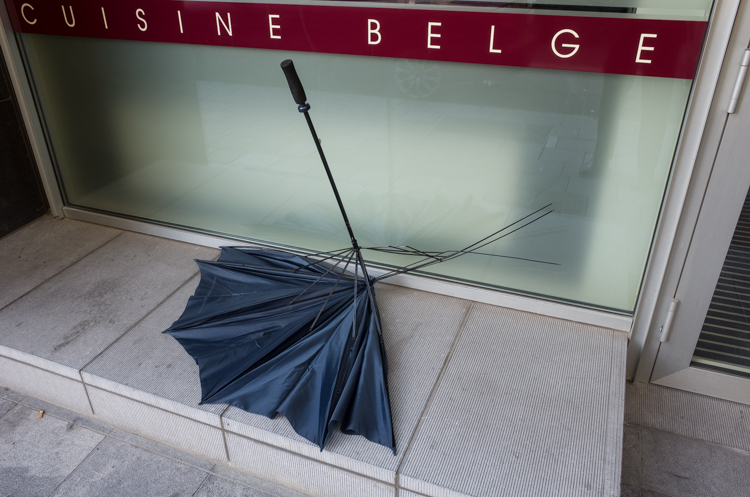 48_6
I have photographed these statues on the wall of the DG Trade building many times. I keep coming back, looking for new angles: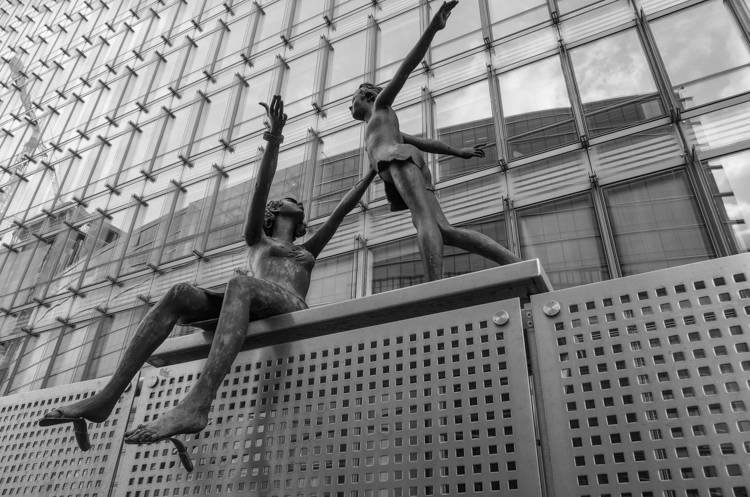 48_7
We spent all day Tuesday in meetings. Now it is afternoon, and Carolina is chatting with some of the attendees as the last meeting of the day is ending: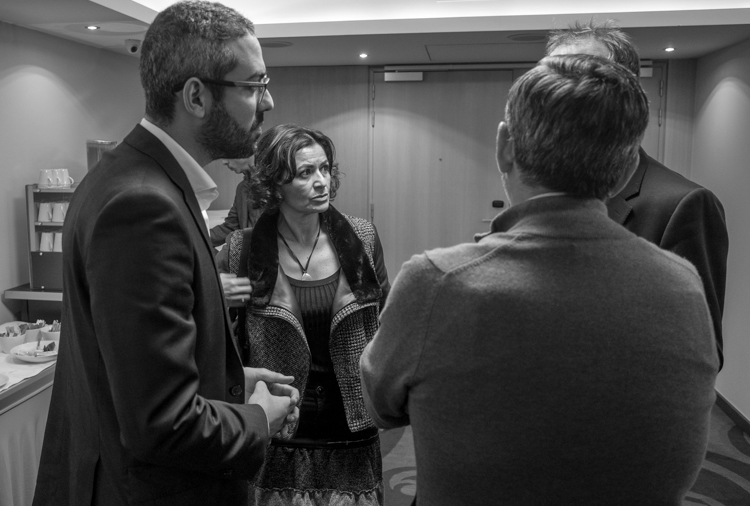 48_8
On Tuesday evening we had dinner at another favourite in the area, an Italian restaurant called La Brace; as we were a larger group, including the Alicante people and a few others, we had to use the upstairs dining room: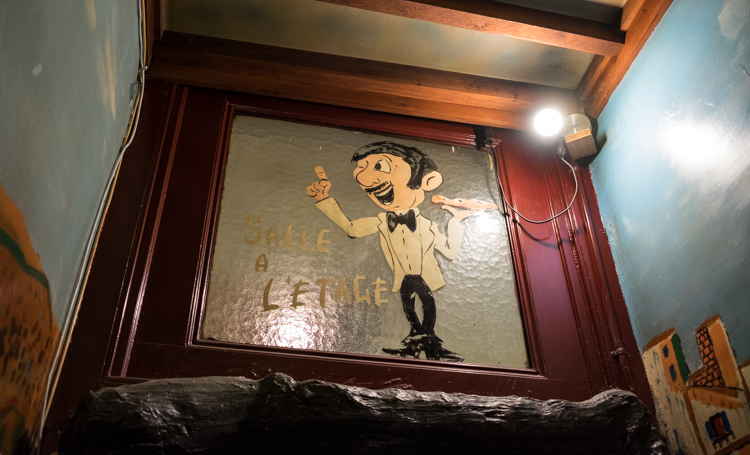 48_9
Blending of cultures–Italian food, Italian sparkling water, but glorious Belgian beer: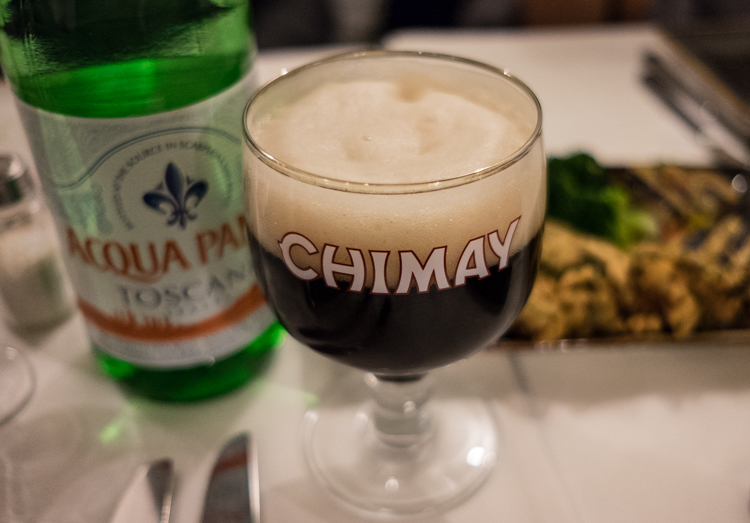 48_10
It is time to taste the wine, and the task is given to Piotr from the OECD. Although he is Polish, he has lived in Paris for 11 years, which in our judgement qualified him to render the verdict on the wine: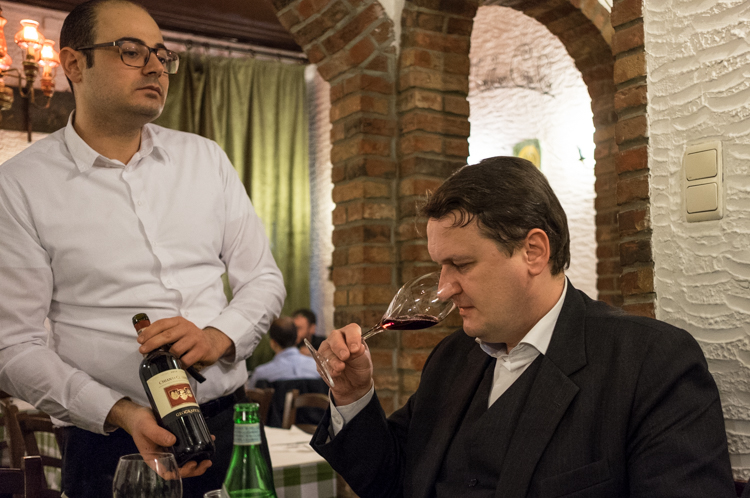 48_11
Stephanie and Linda looking at something: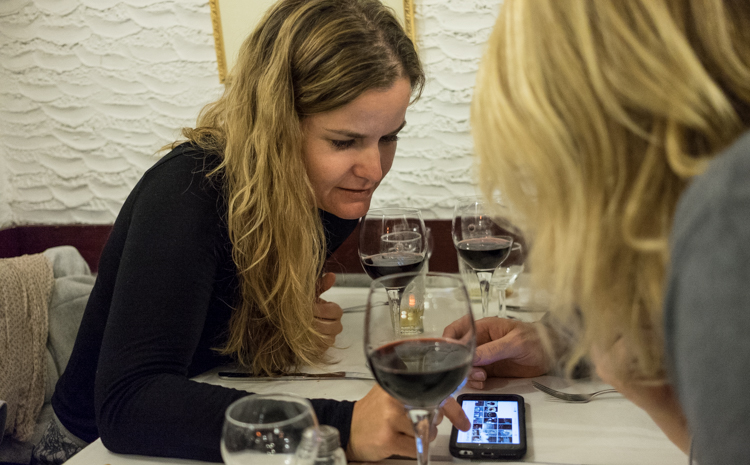 48_12
Stephanie, exuberant as always: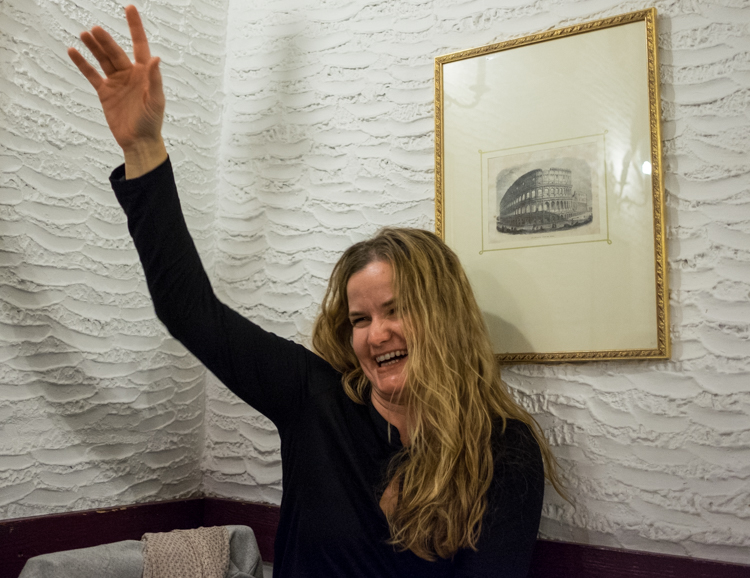 48_13
Linda, a lawyer working for the Ministry of Culture in Latvia, and a friend since we first met two or three years ago: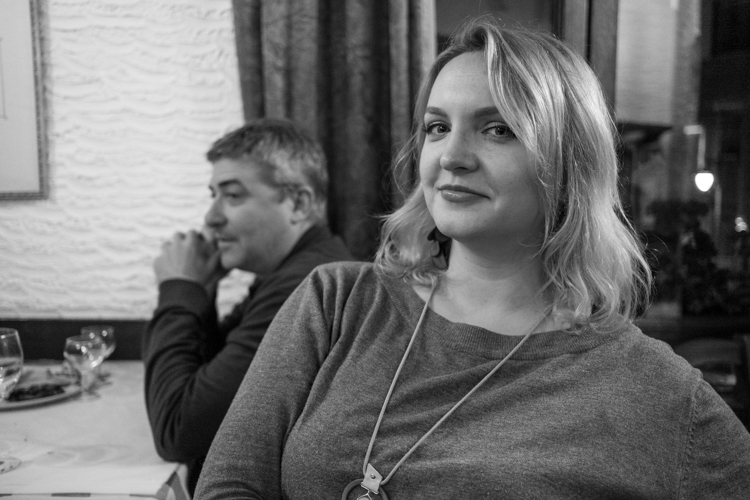 48_14
Massimo, Alexandra and Piotr enjoy their dessert, mostly liquid: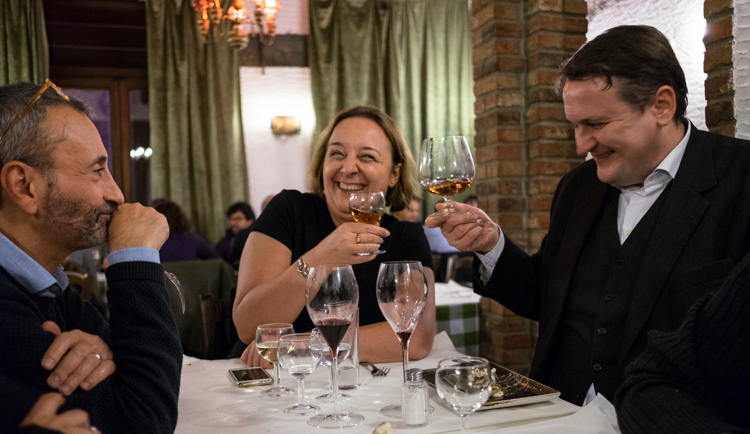 48_15
We finished the evening at the bar of our hotel, the Thon EU, with its impressive Tower of Booze (my name):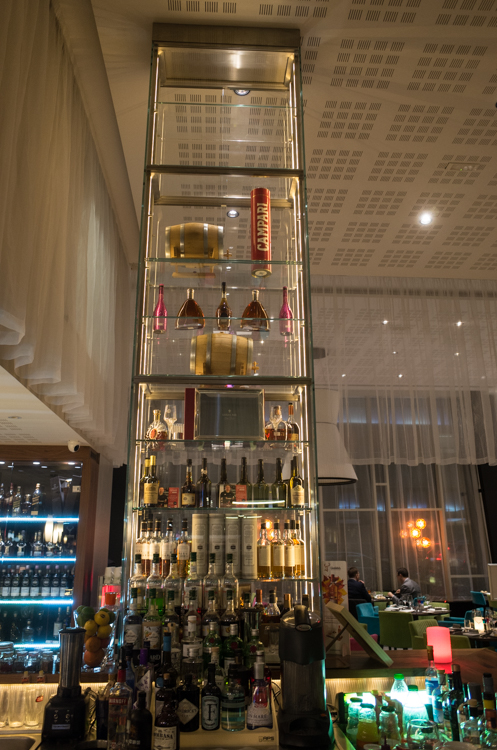 48_16
Carolina in the bar: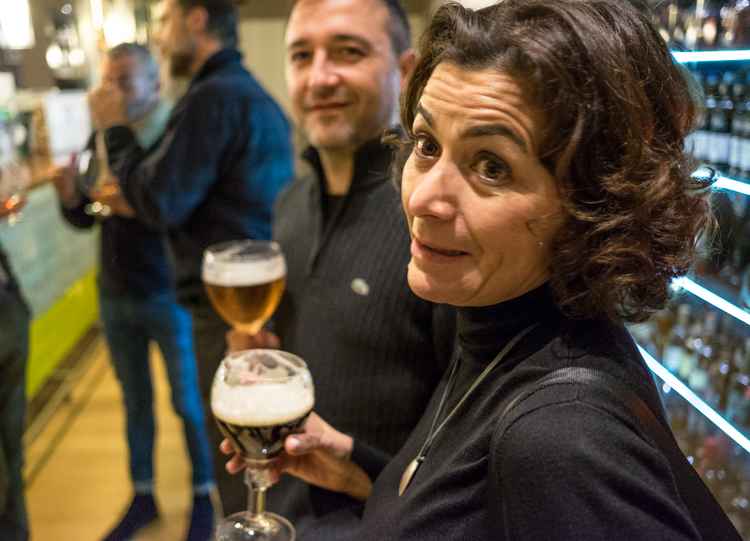 48_17
On Wednesday morning we had another set of meetings, and then I had an early evening flight to Stockholm. Before heading for the airport, I had time to go for a walk around Rond Pont Schuman. This roundabout, surrounded by Berlaymont (the HQ of the European Commission) and other EU institutions, is a favourite spot for all kinds of manifestations. This time I happened upon a rally in support of the Rohingya people in Burma (Myanmar) who are the victims of ethnic cleansing and have fled to Bangla Desh in the hundreds of thousands: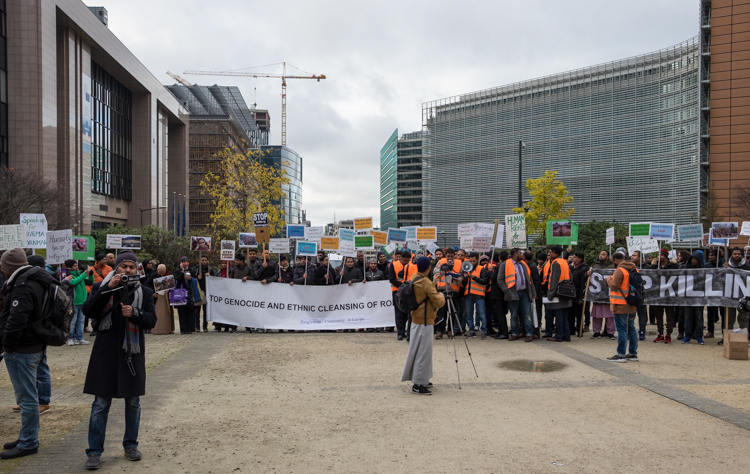 48_18
Most of the participants were Bangladeshis from around Europe, many from the UK: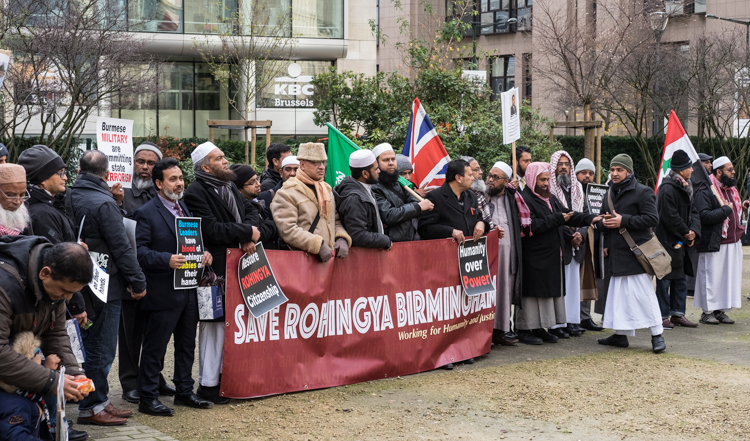 48_19
Berlaymont is always a nice backdrop for demonstrations: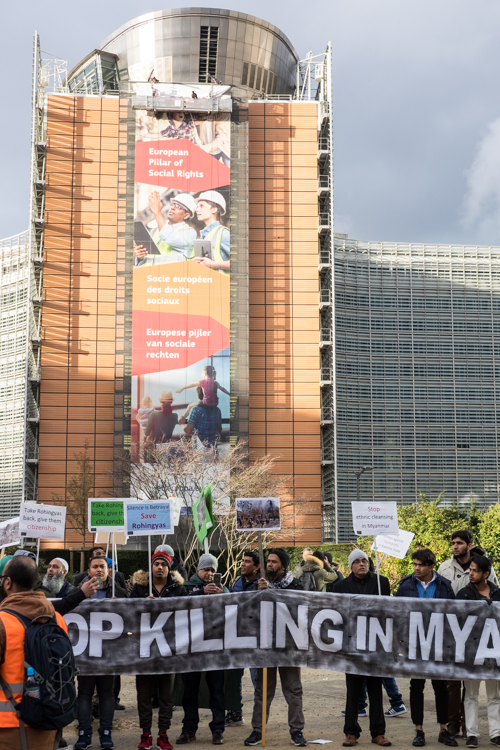 48_20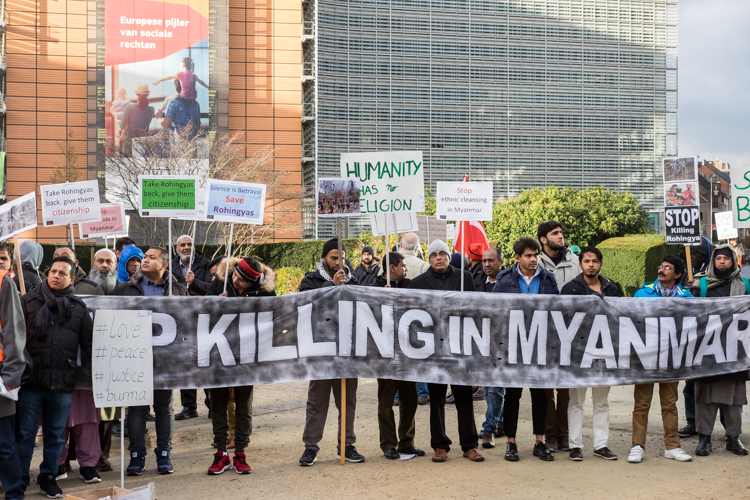 48_21
A speech: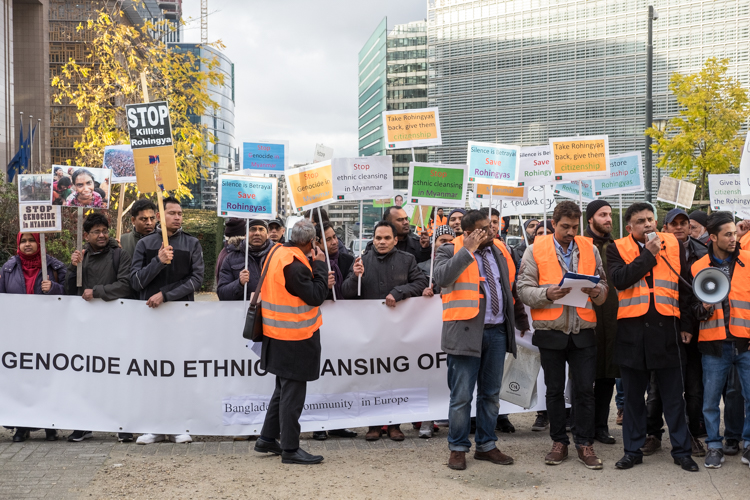 48_22
The Bangladeshis from Birmingham, Britain second city and home to many people of South Asian origin: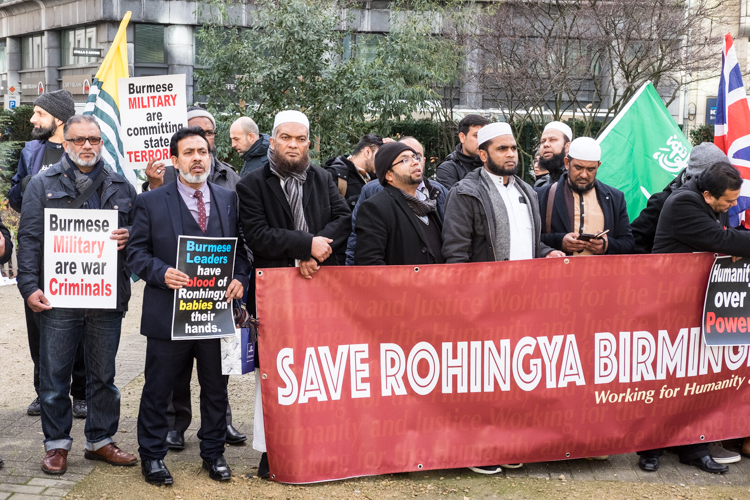 48_23
The bearded man in this picture was very friendly. He invited me to mingle with the demo participants and take whichever pictures I wanted: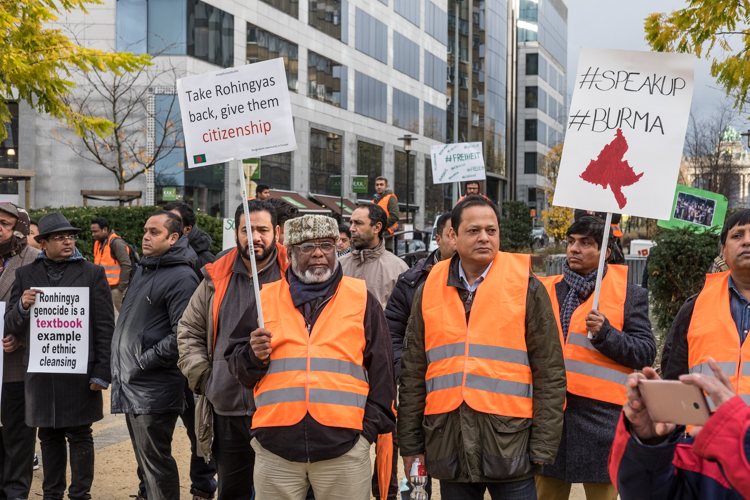 48_24
A smile:

48_25
An interview. I have no idea who the interviewee and the interviewer are. There was not a lot of press coverage of the event:

48_26
I continued my walk. This is the top of Rue de la Loi, with Parc Cinquantenaire in the distance. The weather was still dreary, but no matter–I still enjoyed the city: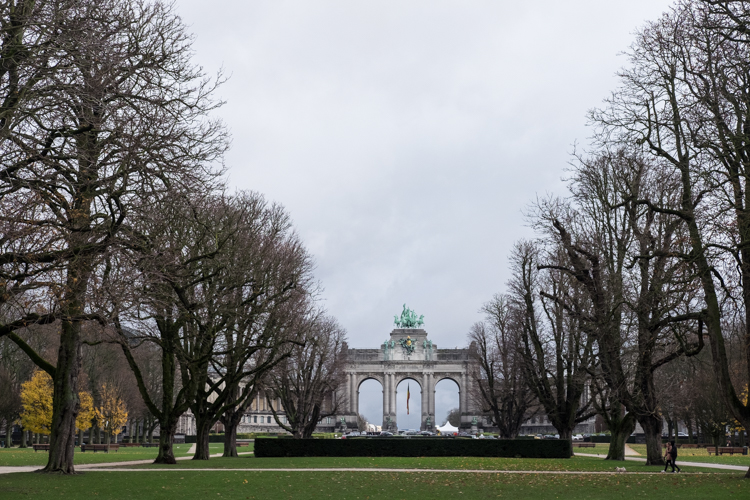 48_27
A poignant monument outside Berlaymont. A piece of the Berlin wall with a mural of JFK. For me, born on the wrong side of the Iron Curtain in the bad old days, this symbolizes the achievements made since 1989, and also serves as a reminder of the trans-Atlantic bonds which have become severely damaged during the past year but which hopefully will be repaired some day: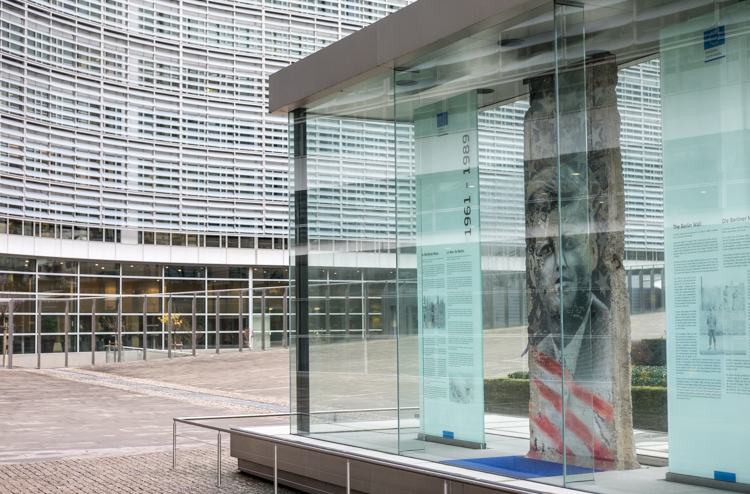 48_28
Then I made my way to the airport and waited in the lounge, enjoying the sunset. Ironically, as I was leaving Brussels, the weather was improving: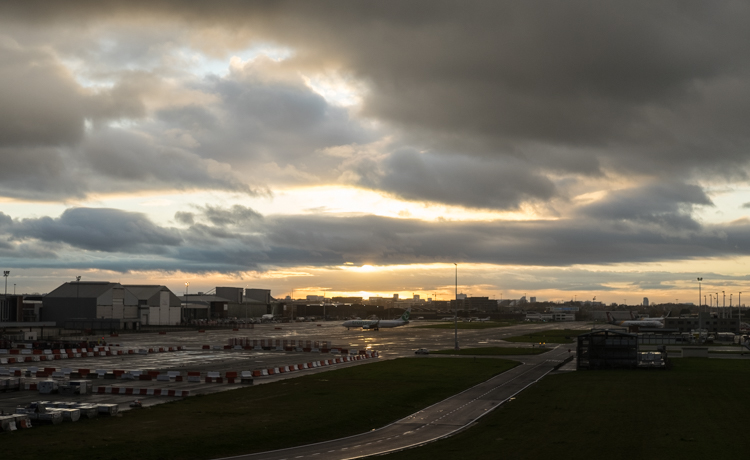 48_29
A few hours later I was in Stockholm. By the time I arrived at the hotel, all nearby restaurants were closed. And the hotel was what is known in Scandinavia as a "missionshotel", with no alcohol in the restaurant (which was closed anyway) and no bar. Fortunately, 100 meters down the street there was an excellent local bar with a nice bartender and a great selection. So that was the liquid dinner on Wednesday night: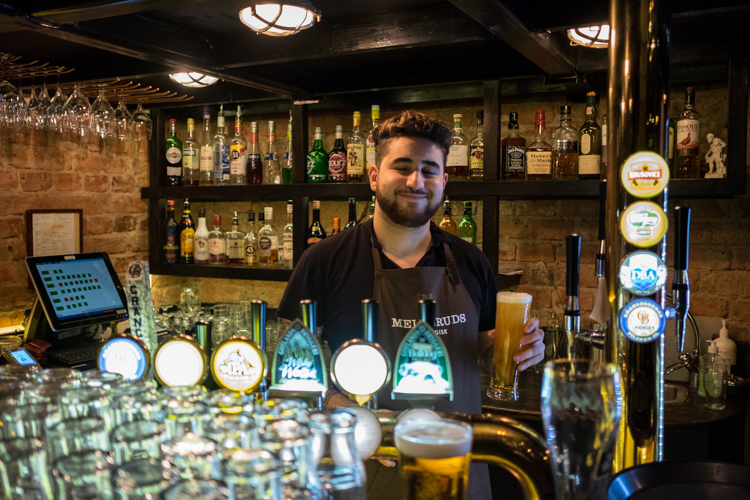 48_30
On Thursday morning I walked 5 minutes from the hotel to the Swedish Patent Office where I was going to make a presentation at a major conference they had organised: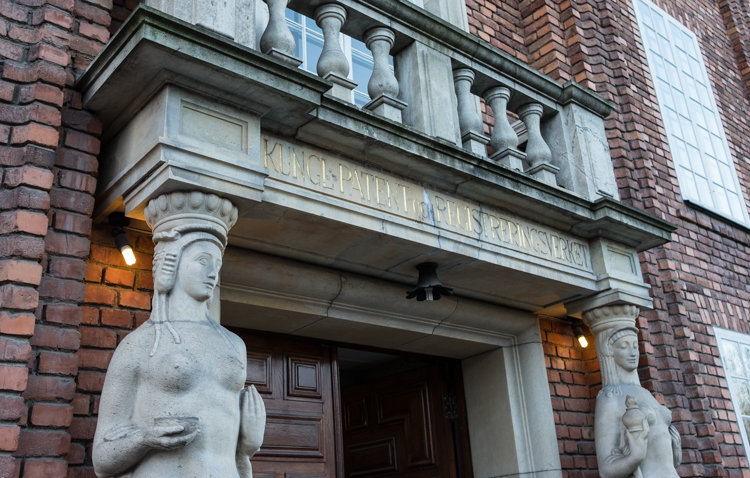 48_31
A rare photo of me. I am delivering my presentation at the conference; the photo was made with a smartphone by another participant: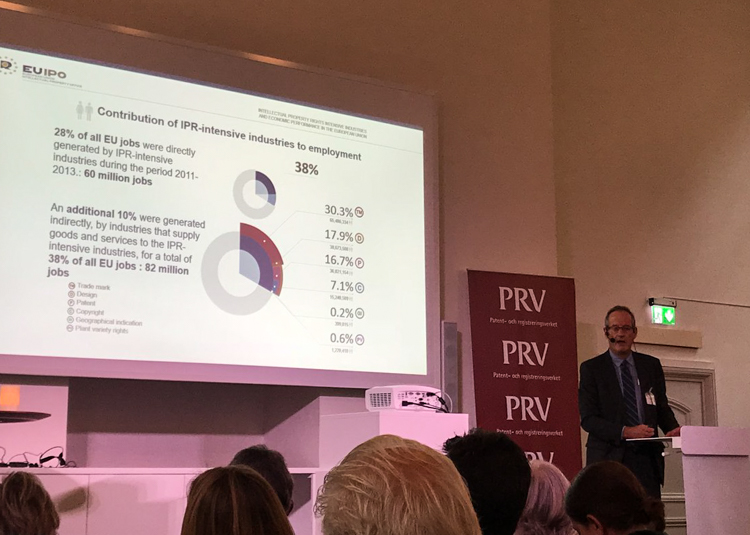 48_32
After I had delivered my somewhat dry and abstract presentation, the following presenters were more on the practical side, such as this representative of Husquarna who had brought examples of genuine and counterfeit products (the lady next to him is the moderator of the event, a very professional former executive of Swedish public television):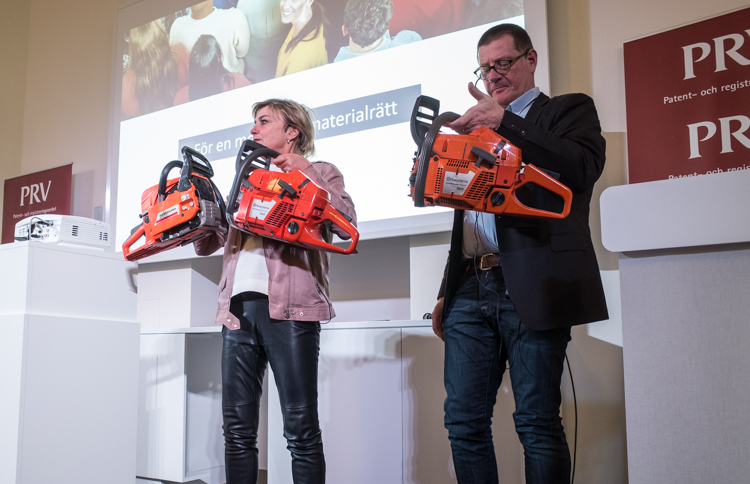 48_33
After lunch, I left the conference and took advantage of a couple of hours to walk around before I had to go to Arlanda airport for my flight back to Brussels. This is Karlaplan, with a statue that I did not fully understand, and there was no plaque explaing what it was about: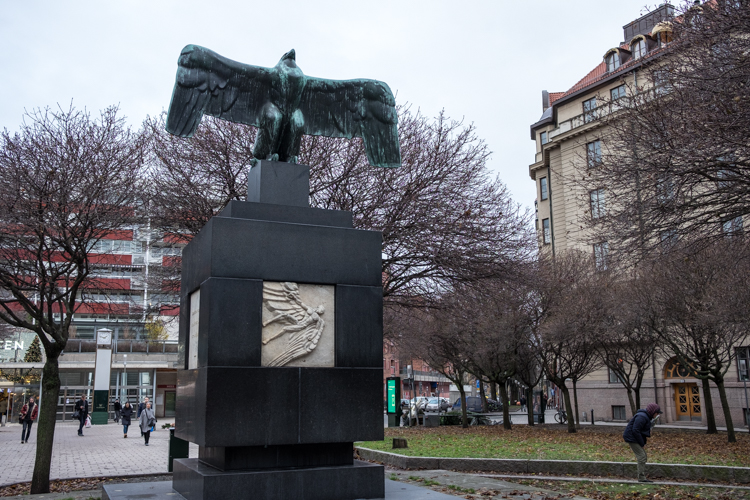 48_34
I went for a walk in Gamla Stan ("old city" in Swedish), the oldest part of Stockholm: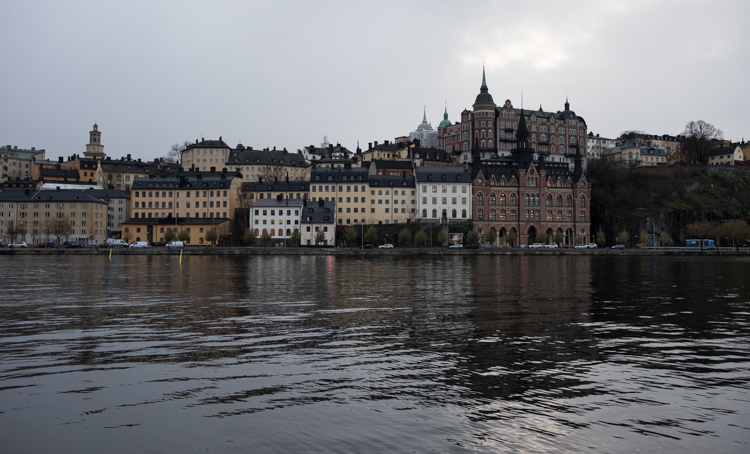 48_35
Typical street in Gamla Stan: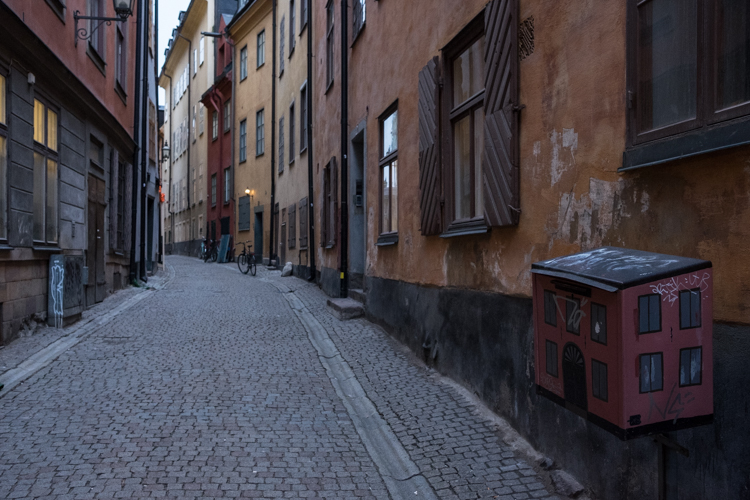 48_36
Restaurant in Gamla Stan. The bilingual signs are a clear indication of the touristy nature of the area: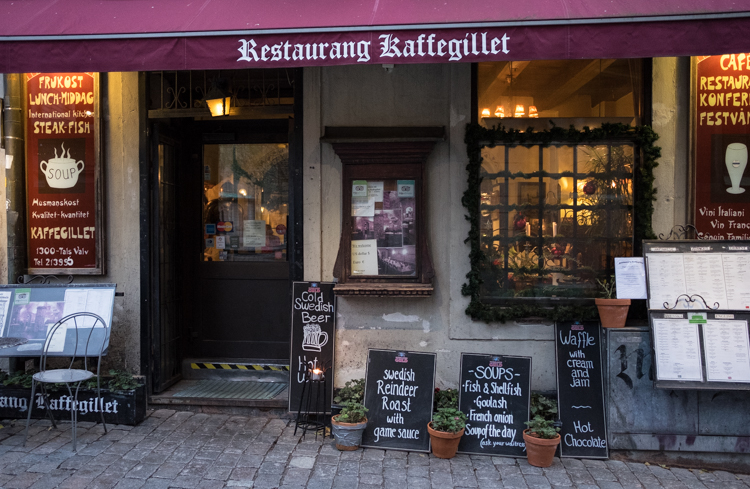 48_37
A Christmas market was being set up but there were not many visitors that evening: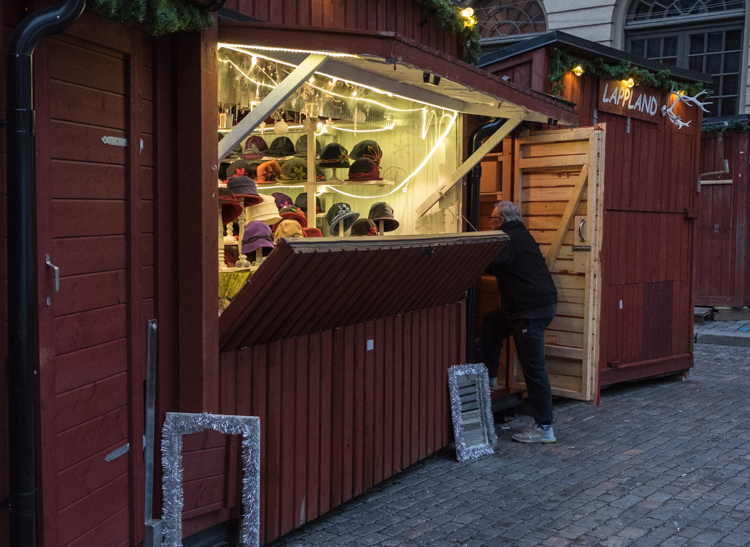 48_38
Hats: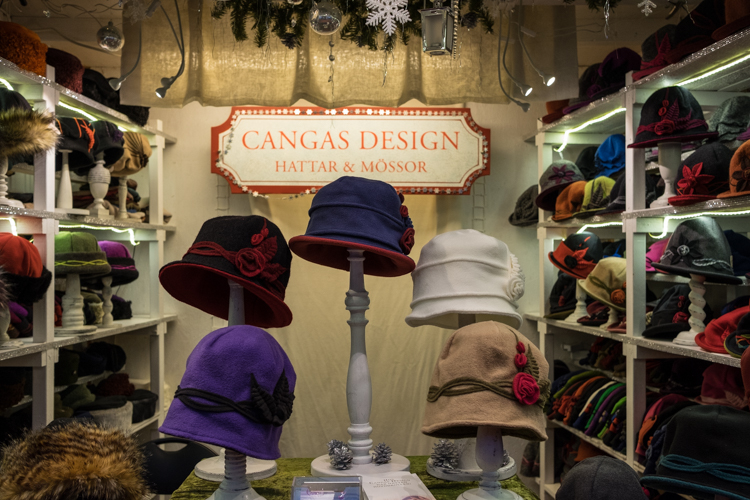 48_39
This is where the Nobel Prizes are awarded: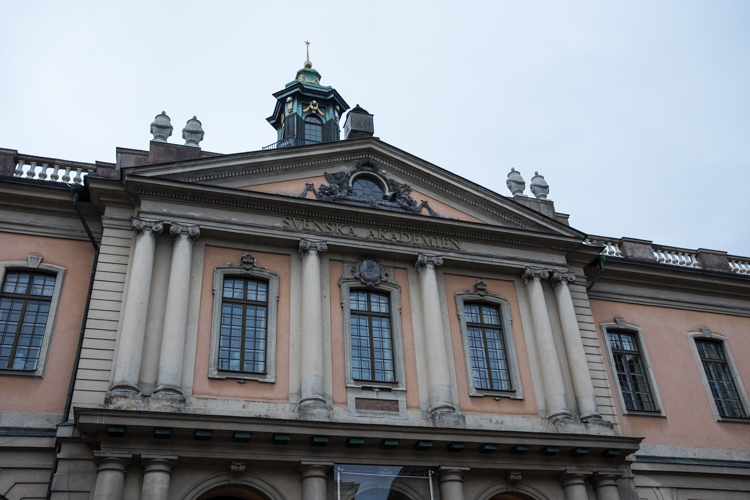 48_40
View from the bridge crossing from Gamla Stan back to the mainland: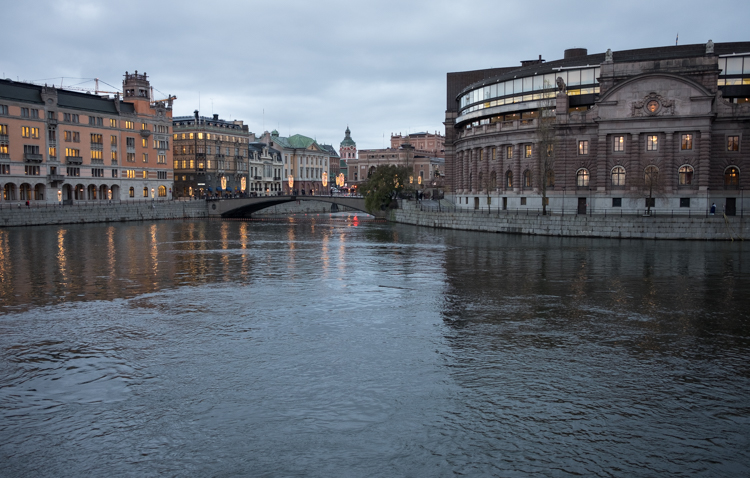 48_41
Stockholm's Central Station was all decked up for Christmas: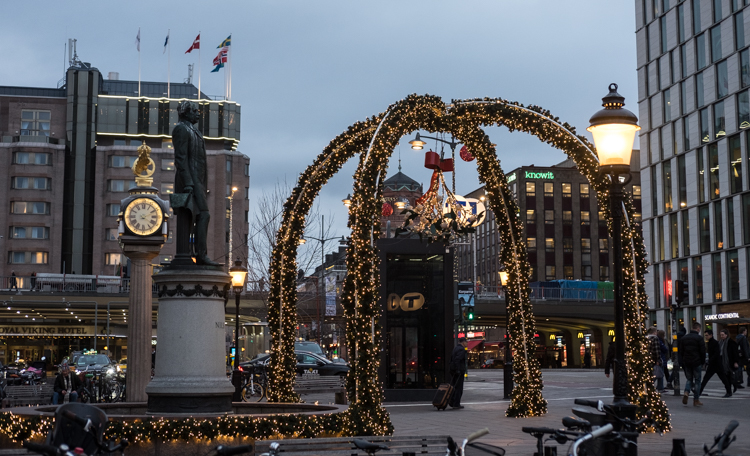 48_42
My last Stockholm photo, Swedish and rainbow flags in a souvenir shop at Arlanda airport: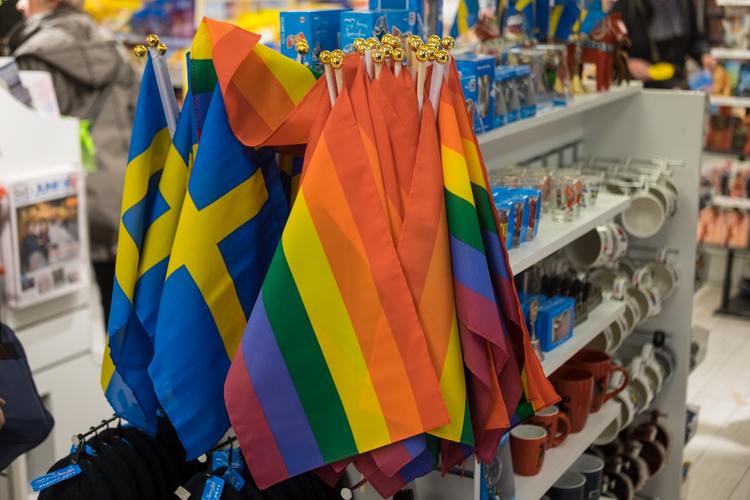 48_43
Back in Brussels, after spending Friday morning in a meeting, I took advantage of the free afternoon to visit the Magritte museum–a first for me despite all the visits to Brussels and despite 5 years of living here. It turned out to be a wonderful place: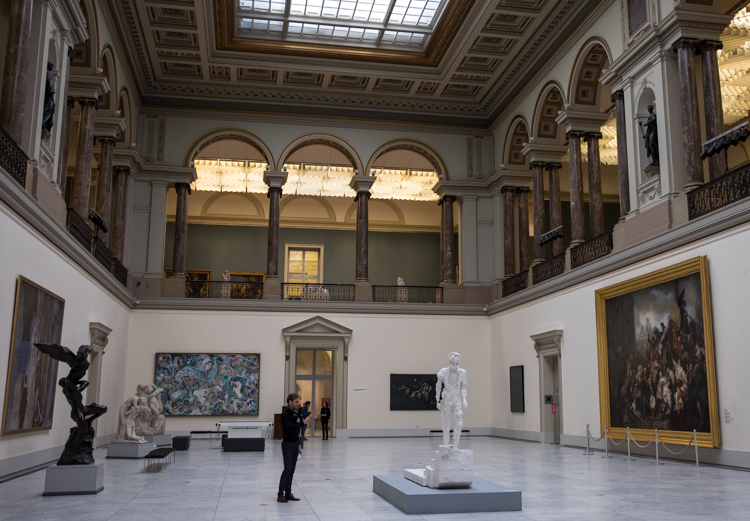 48_44
Outside the museum, I "found" this image: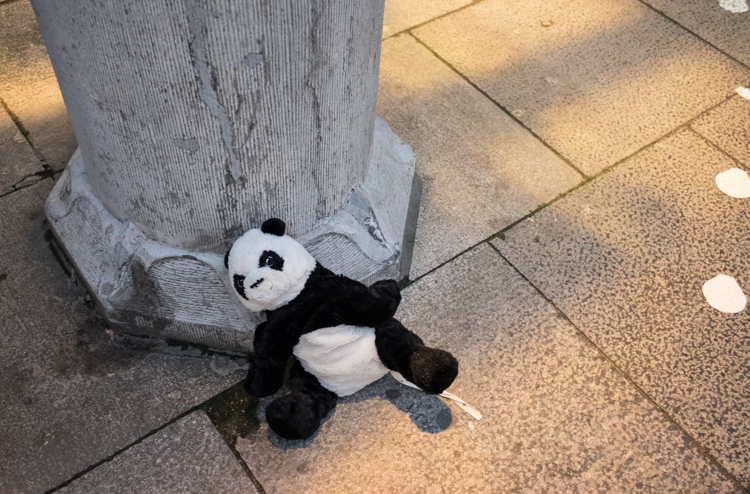 48_45
I walked towards Grand' Place. On the way, I enjoyed this beautiful view of the centre of Brussels from Mont des Arts / Kunstberg, a hill where several major museums are located: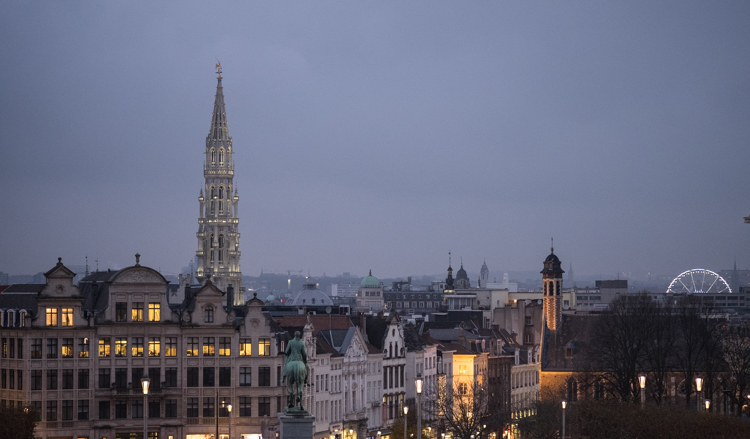 48_46
Grand' Place is always magnificent, but even more so in December, when every evening there is a light and sound display, painting the city hall and the guild houses with different colours: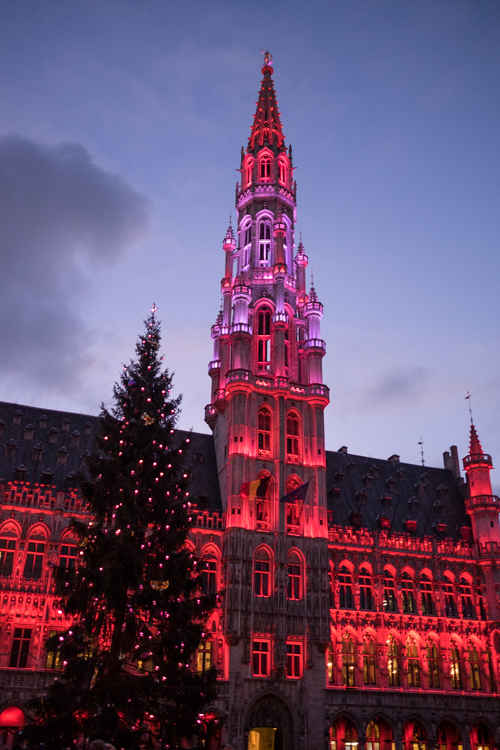 48_47
I decided that it was time for the first beer of the day and headed to my favourite bar in the centre, Poechenellekelder: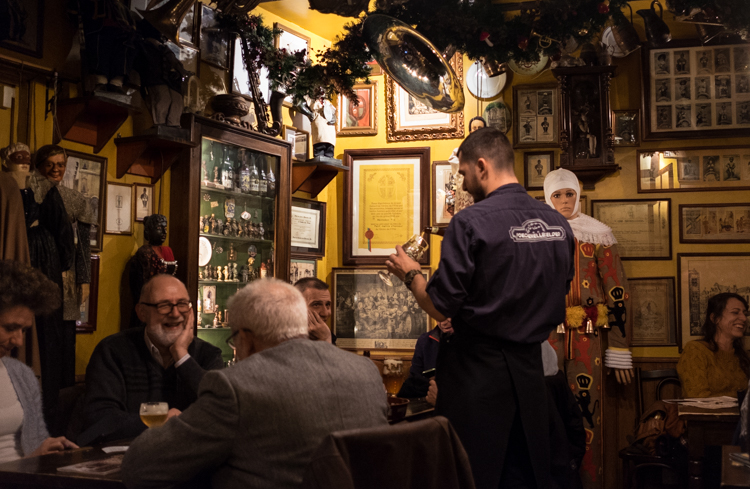 48_48
Poechenellekelder is right next to the Mannekin Pis. The little peeing boy was dressed for the winter (there is actually an employee at City Hall whose job it is to dress the statue for special occasions). The banner promotes the use of condoms to prevent AIDS: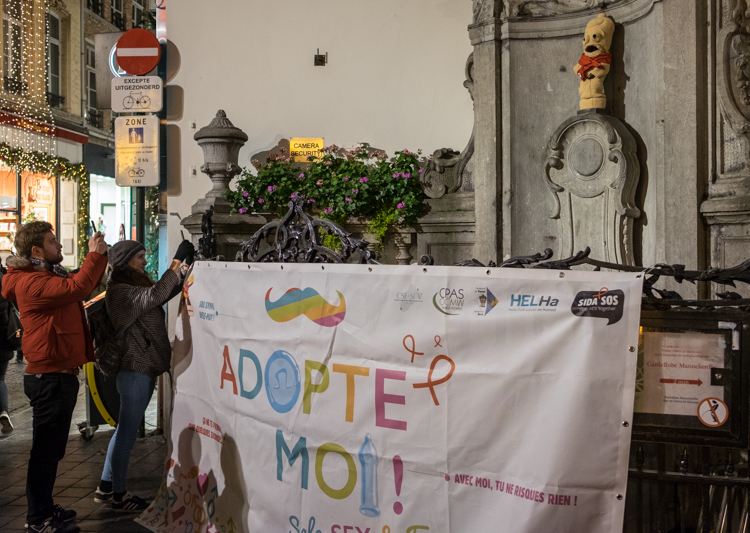 48_49
I continued my walk to take in the Christmas market around Place de la Bourse: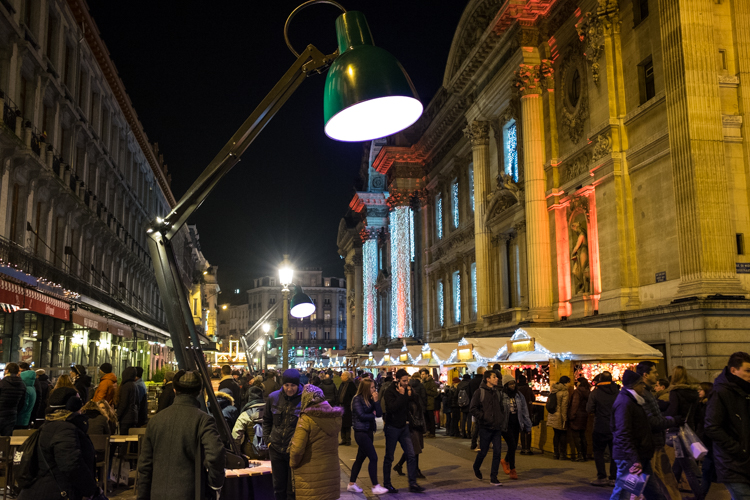 48_50
I then took the metro to Ixelles, the neighbourhood which contains Matongé, the African neighbourhood where I was going to have dinner with some friends from Viewfinders, the international photography club of which I am still a member despite having left Brussels in 2000. This is Alun Foster, the president of the club: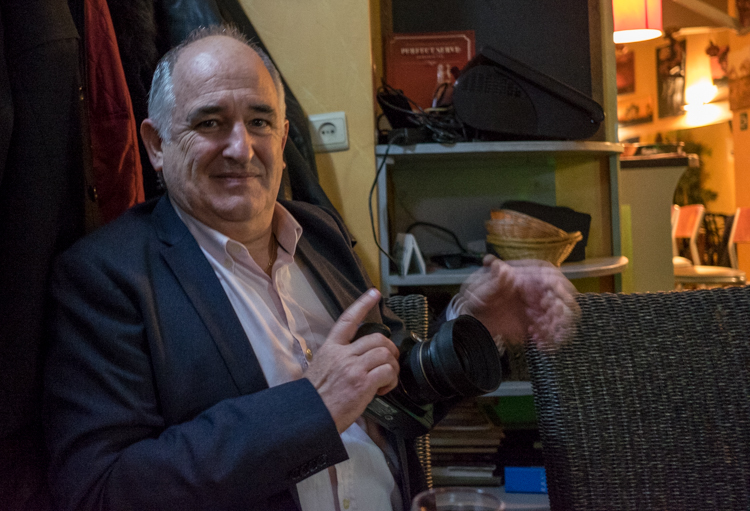 48_51
On Saturday morning I got up, hit the gym at the hotel, and got ready for my flight back to Alicante. While walking to the Schuman station, I stopped to photograph some weird graffiti, apparently related to the political situation in Ireland. Brussels is truly the capital of Europe: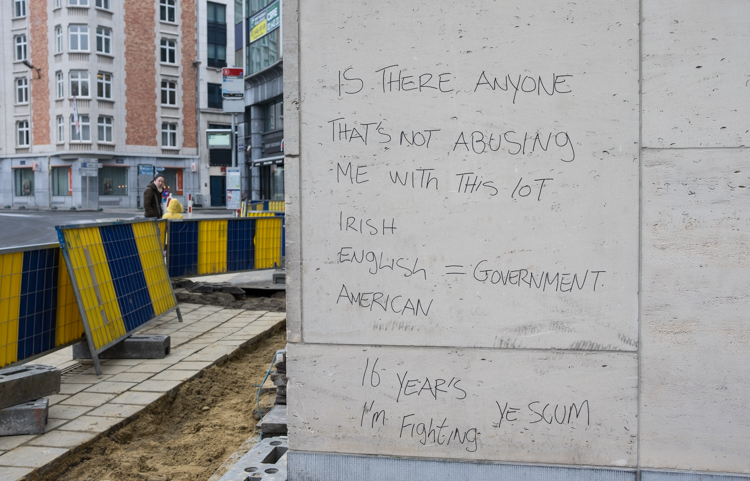 48_52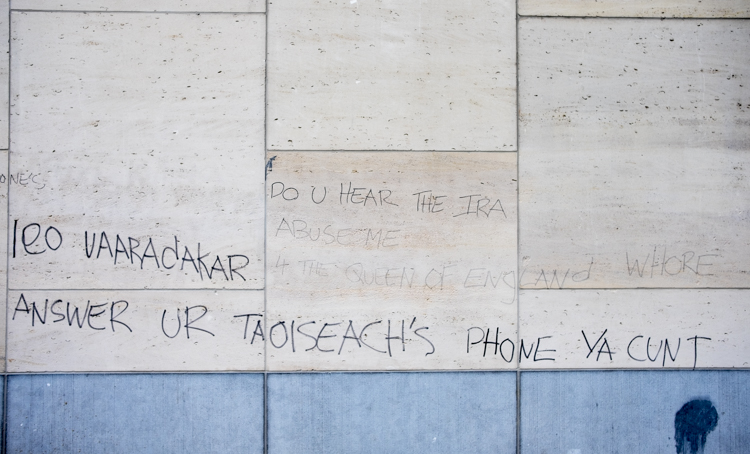 48_53
I bought some chocolate at the airport, although not this one–I was just amused that there was a brand named after me (this is how my name is spelled in Polish and Spanish):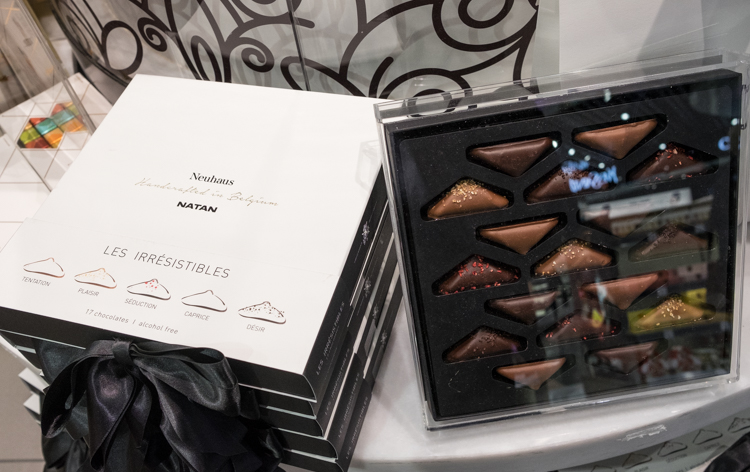 48_54
The familiar sight of Tintin's rocket at Brussels airport, another spot which I have photographed many times: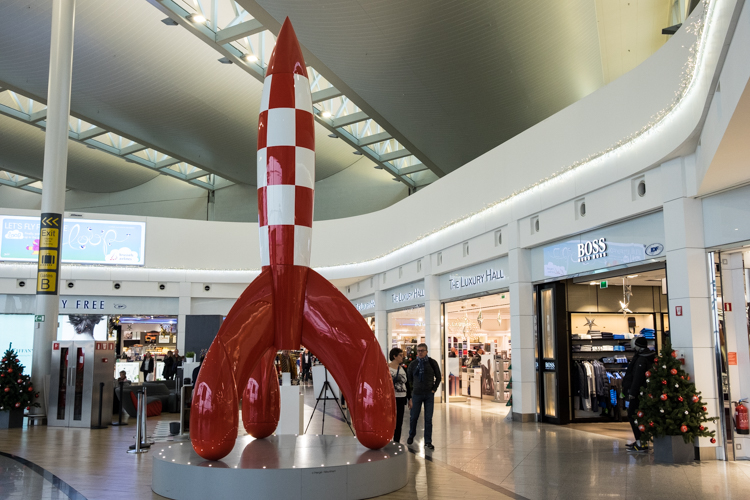 48_55
The same view as in image 28 above, but now not nearly as pretty as it was on Wednesday afternoon. It was foggy, cold and dreary and it was time to fly home:

More Brussels images can be seen here.