The first week of October was a joyous week. After 3 years during which they did not travel outside Poland for reasons we all know, my sister and brother-in-law came to visit us for 2 weeks, as they have done every October since we moved to Alicante in 2007. My sister's birthday is 13 October, and we always celebrate it together.
40_1
They were arriving very late Sunday evening, around midnight. Their flight was delayed so it was closer to 1 a.m. Monday morning. Meanwhile, I entertained myself watching the other people waiting in the arrivals lounge of Alicante airport: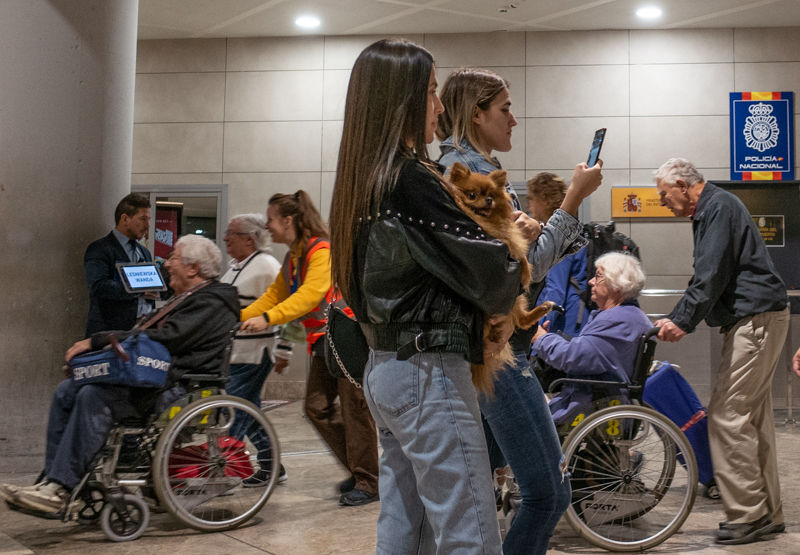 40_2
I had taken Monday off to be with my sister, and we drove to Jijona. They love the sea and the mountains, and visiting us, they can have both. In Jijona, we sat down for turrón ice cream and coffee at a café on the main street: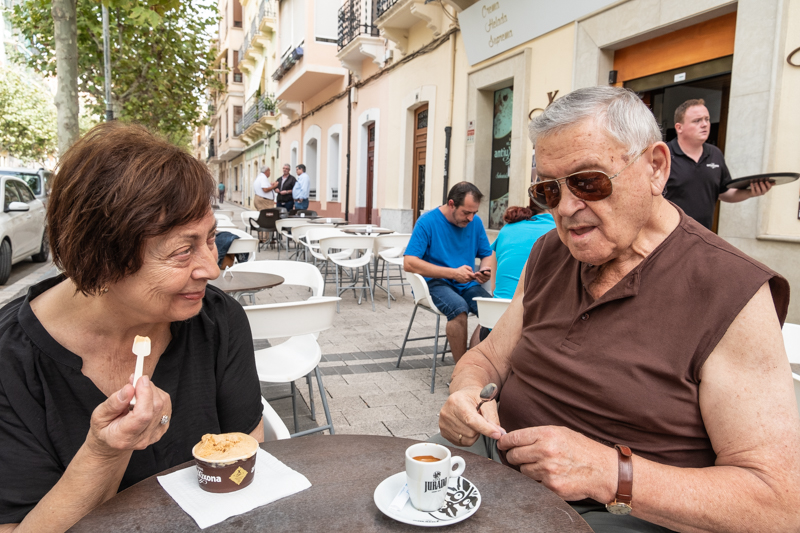 40_3
While we sat there, I observed small-town life, including an animated conversation among three men: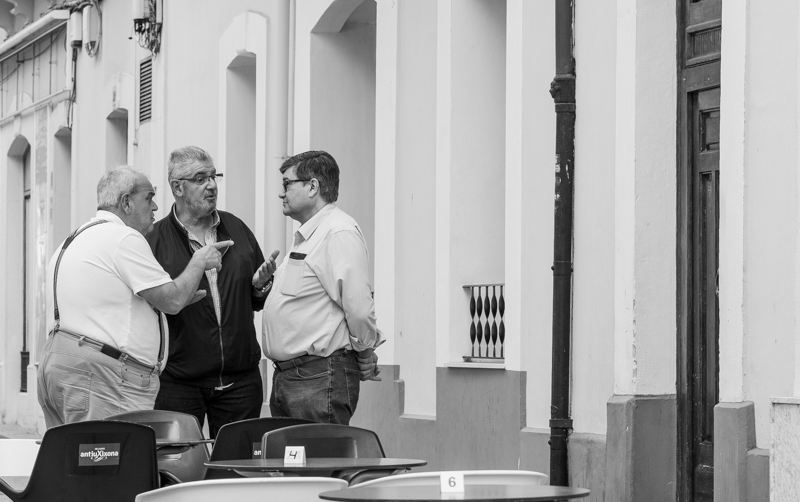 40_4
In the afternoon, we walked the 450 meters to the beach, and my brother-in-law had the first of many dips during their visit: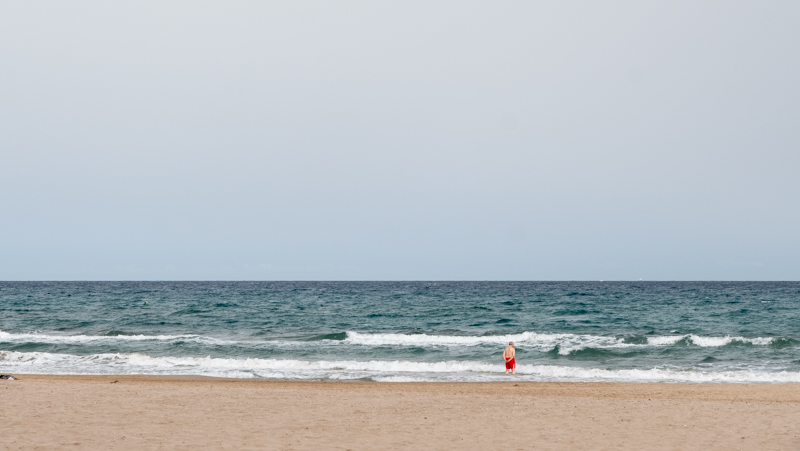 40_5
Meanwhile, my sister and I were keeping an eye on him from the comfortable surroundings of the Xaloc bar on the promenade: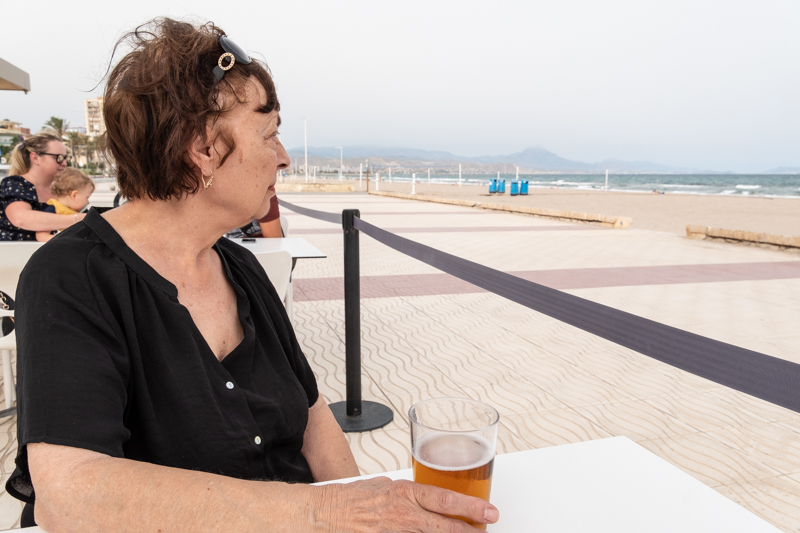 40_6
Tuesday I went back to work and on my way home stopped at Plaza Seneca to buy some stuff from the Eastern European grocery store. I always enjoy the sight of children playing on the Civil War era air raid shelters. So peaceful now, but 83-84 years ago, terrified people would be taking refuge there when Mussolini's planes came to bomb Alicante: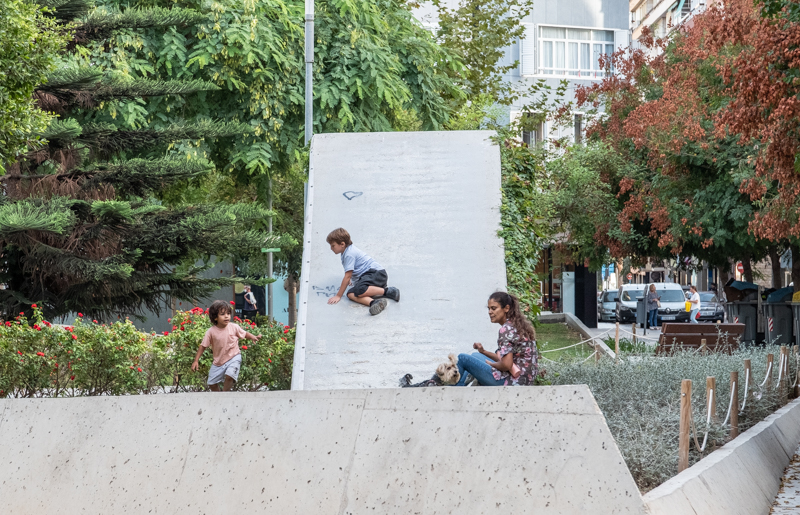 40_7
In the evening, my wife with Telesfor, my brother-in-law. He will turn 85 in January, so he is in reasonably good shape, all things considered: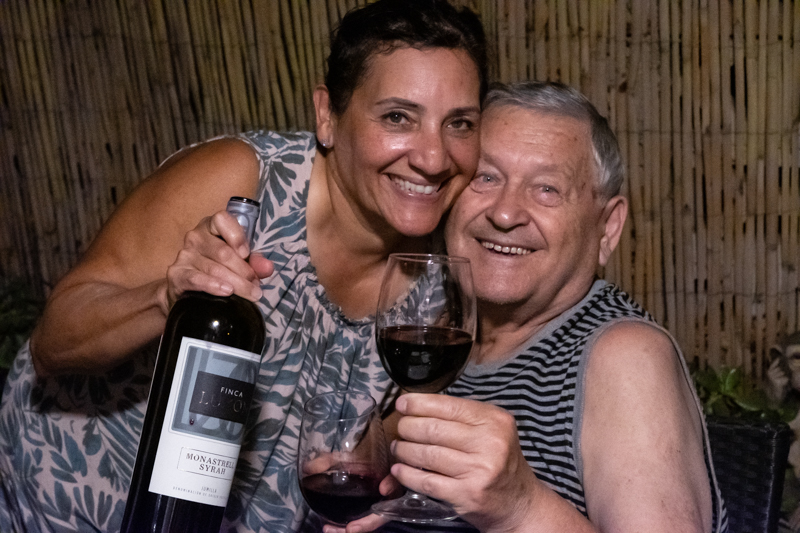 40_8
On Thursday, the Nobel Prize for literature was announced, and just as happened last year, my Swedish colleague Kaisa organised a meeting room to watch the live stream from the ceremony: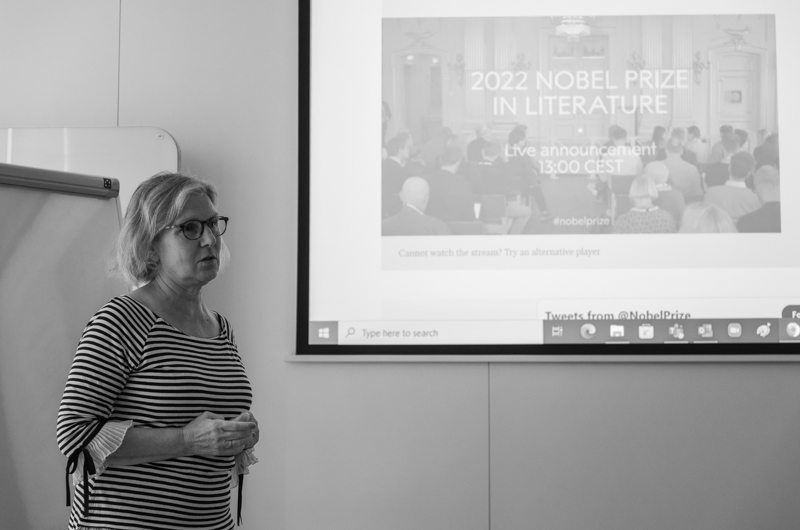 40_9
My favourite subject Eri was there too: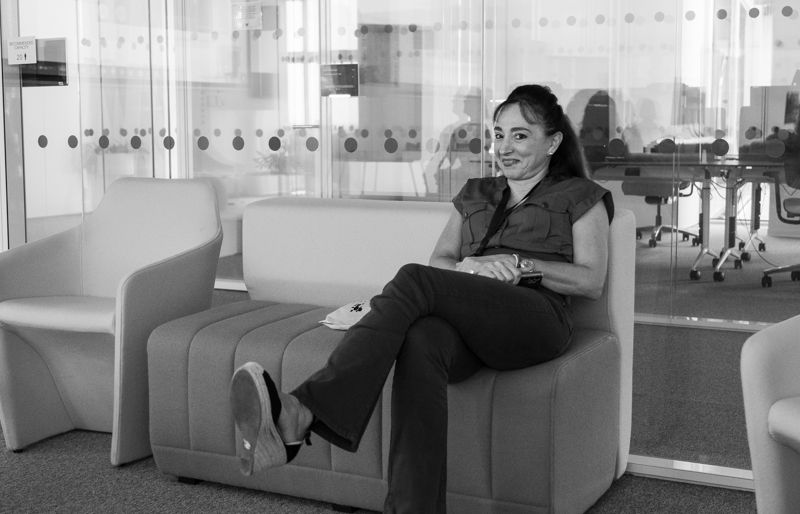 40_10
I took Friday off also, and we went to the Mercado Central to have a look. First we sat down for a coffee on the square behind the market. This small dog belongs to one of the flower stalls on the edge of the square: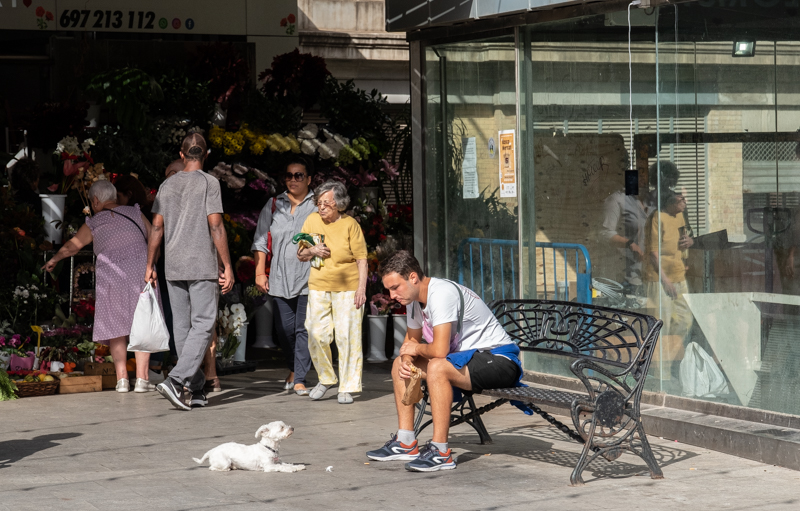 40_11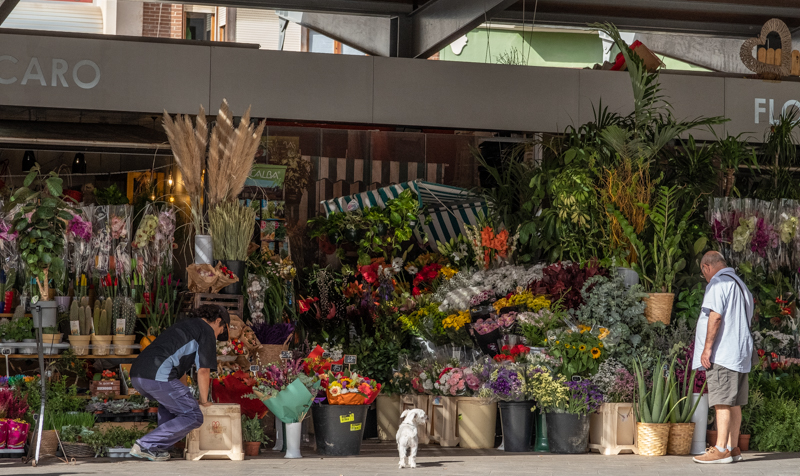 40_12
My sister looking at the meat counter, with a somewhat disgusted expression: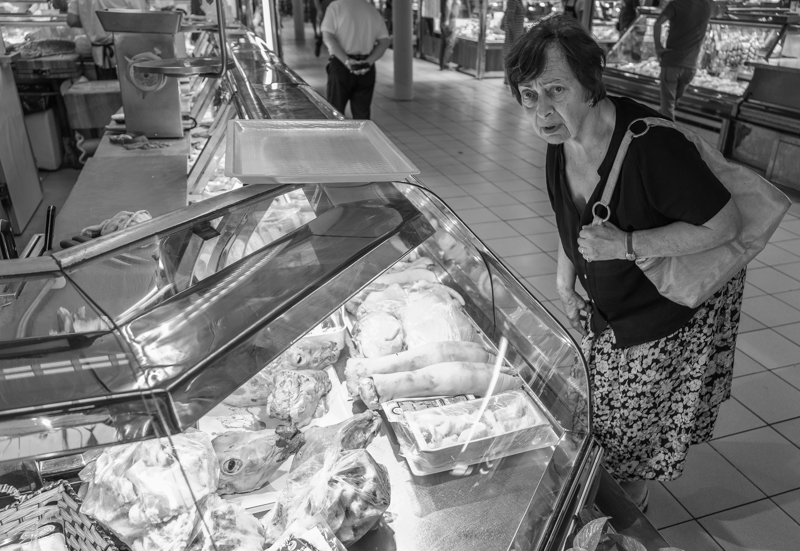 40_13
It is safe to say that she does not see goat or pig heads in the supermarkets in Poland: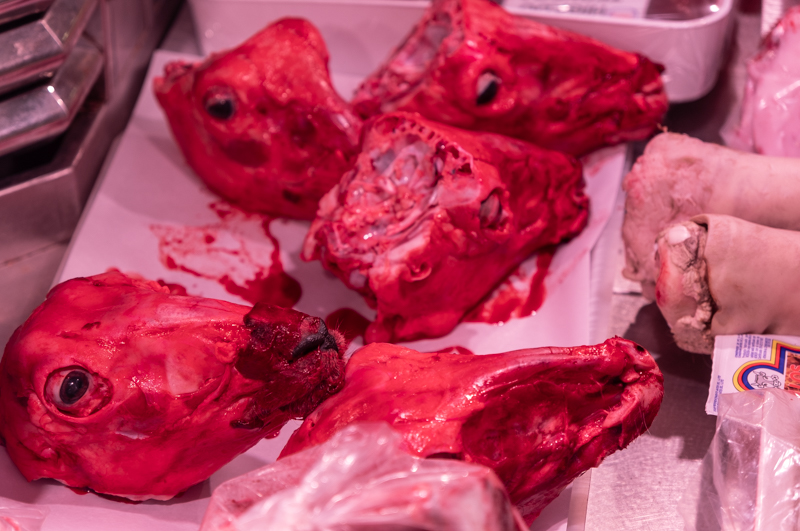 40_14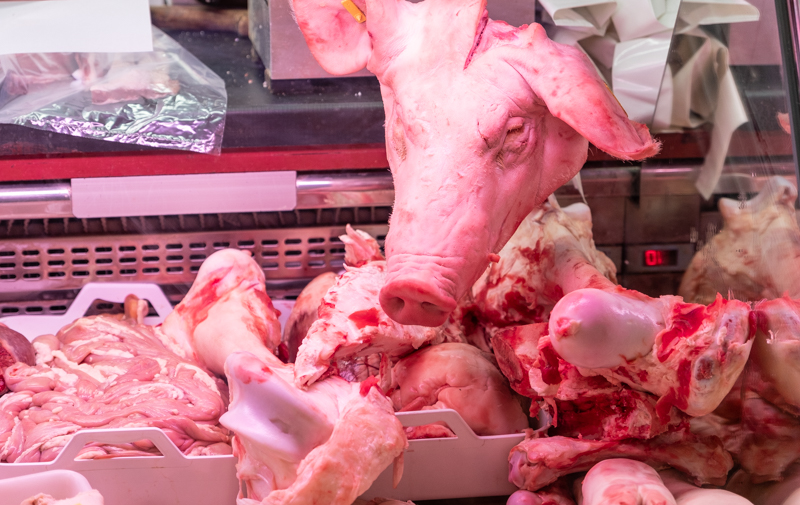 40_15
Eye contact: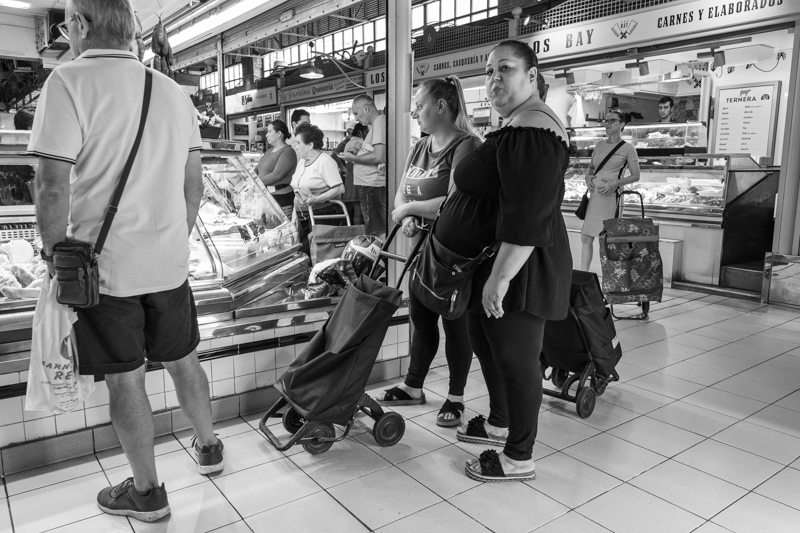 40_16
We continued south to Elche and Santa Pola, following one of my habitual cycling routes. Near Elche there is a pet cemetery which I have always wanted to visit; but it is closed on Sundays, which is when I usually cycle that way. But this time it was open and we did have a look: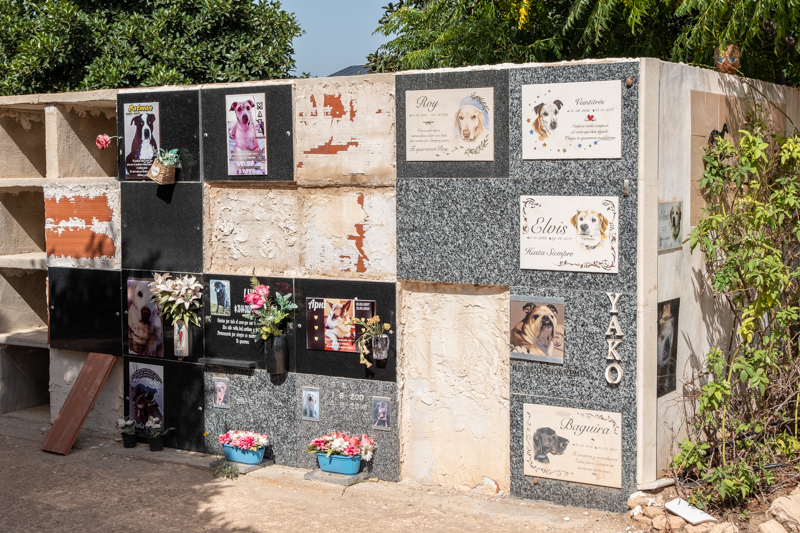 40_17
The final resting place of Daisy: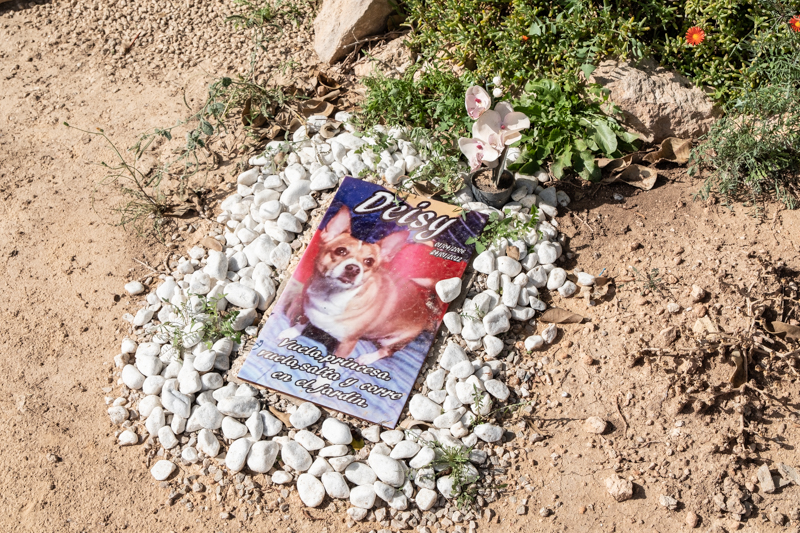 40_18
Their humans may be at war but these Ukrainian and Russian cats are resting side by side: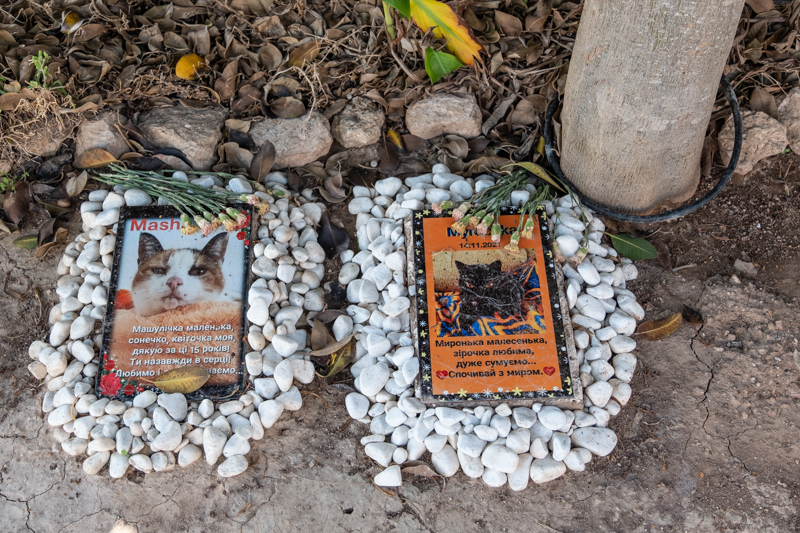 40_19
Our destination was lunch at Hostal Maruja, one of their favourite places: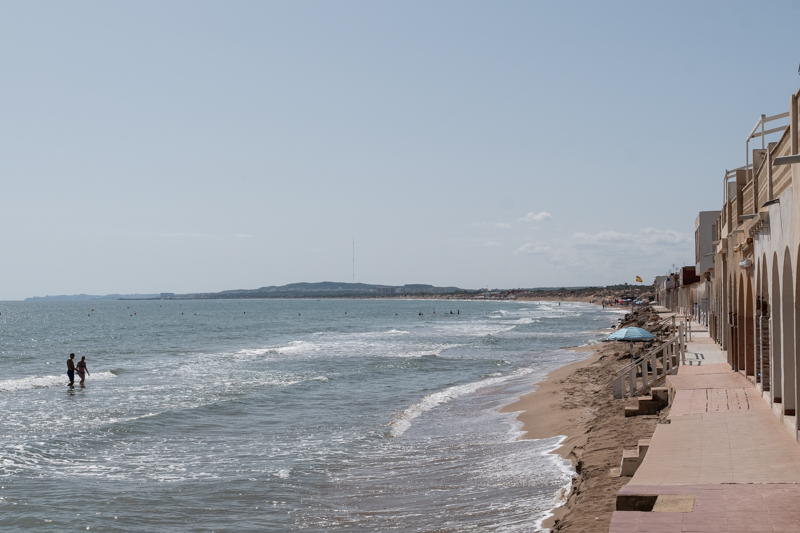 40_20
My sister does not eat many of the usual Hostal Maruja specialties, such as pulpo or calamari, but she happily enjoys grilled sardines: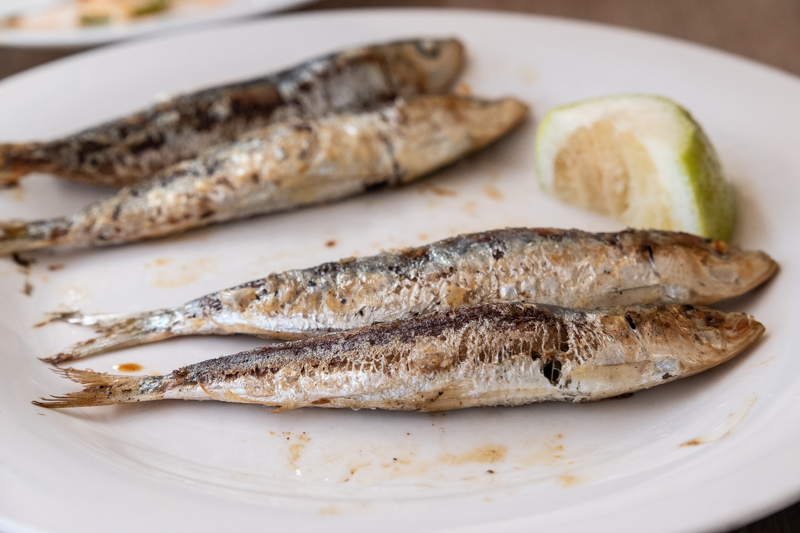 40_21
Sepia a la plancha: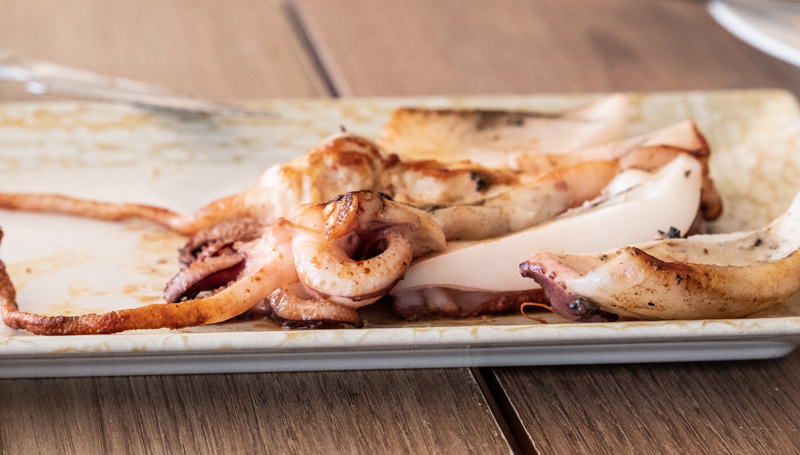 40_22
Chipirones: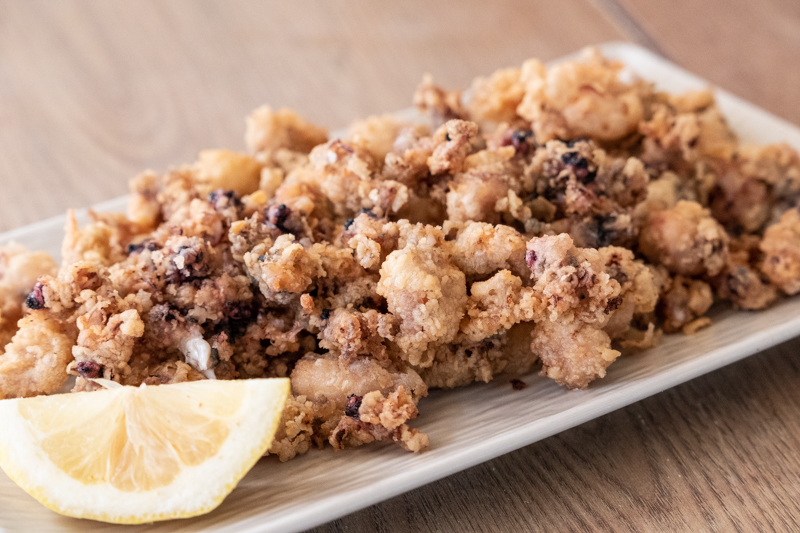 40_23
On Saturday, we drove to the mountains again, this time to Tibi to visit Lili's goat cheese shop: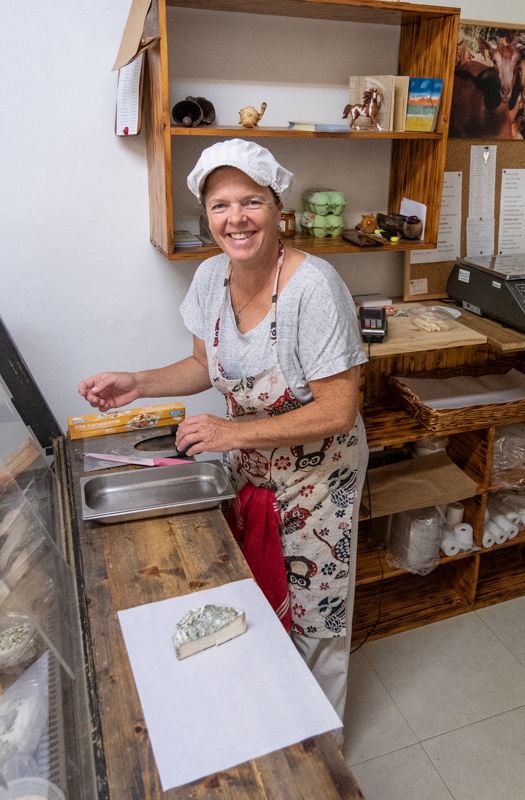 40_24
I bought some of Lili's delicious wares: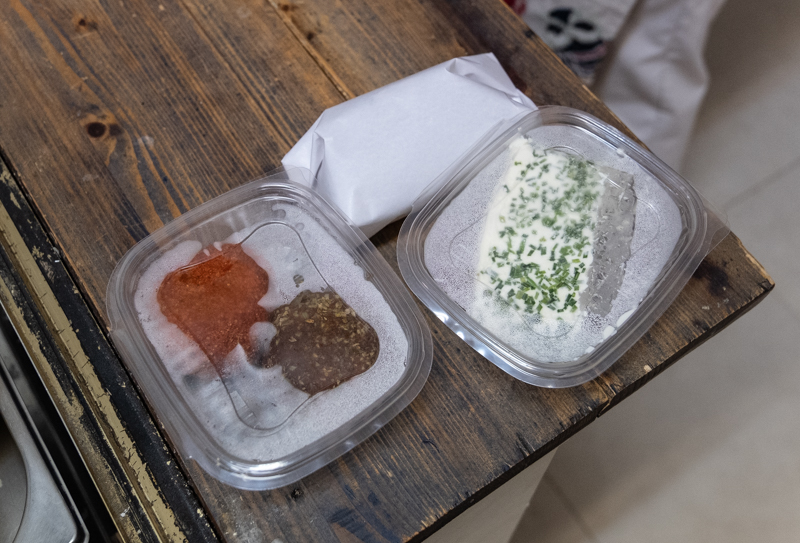 40_25
Afterwards, we sat down for a coffee on the main street of Tibi (such as it is), and happened upon an interesting vignette. A wedding was taking place, and people were lined up to watch the procession: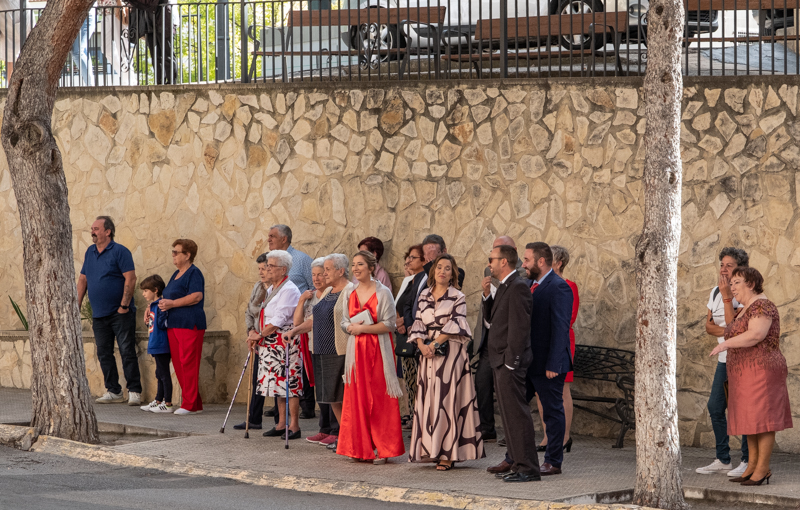 40_26
The main protagonists: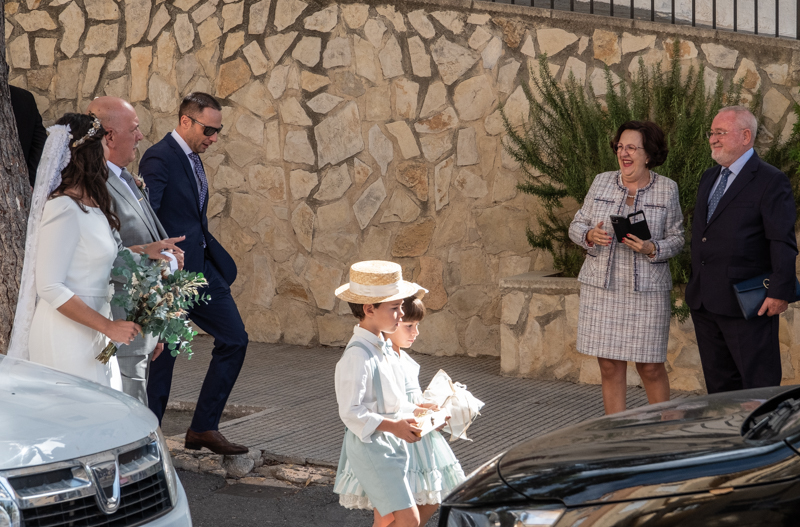 40_27
A tired boy: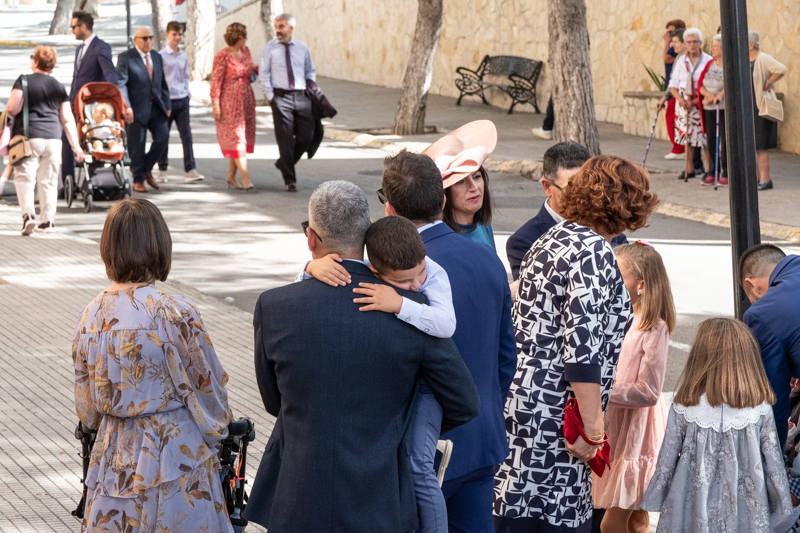 40_28
As always in Spain, the party involved lots of noise and smoke: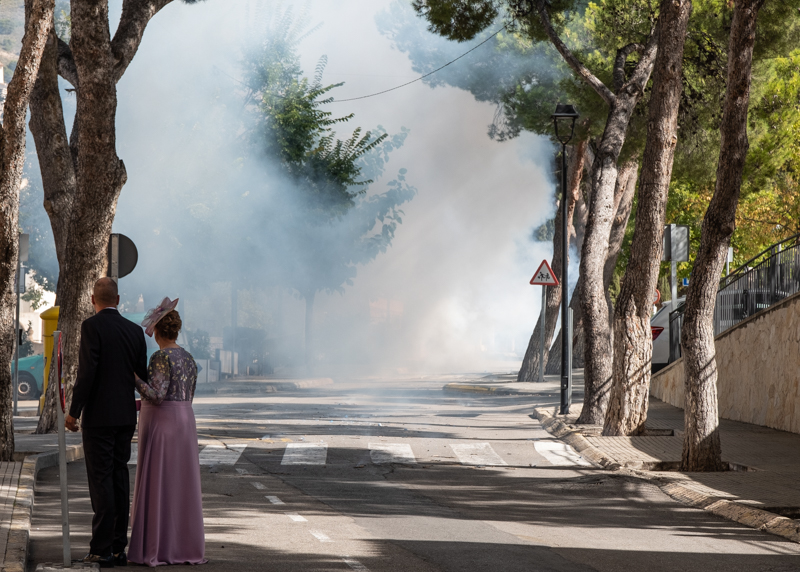 And that was the first week of the visit.