The big event in week 11 was a 200 km brevet. A brevet is a bicycle event that is not a race–everyone who completes the route within the time limit (which for 200 km is set at 13.5 hours) wins. There was also a lunch with friends, strictly speaking not allowed right now, but these are people we trust (and vice versa) so we are prepared to violate the rules a bit. There is also a visit to Alicante's Mercado Central, something I have not been doing very much in the past year.
11_1
The brevet was held in the area south and west of Alicante, with the first 100 km quite hilly and the second 100 km quite flat, which made things rather easy. Because of Covid restrictions, the usual checks which involve getting a route card stamped at a convenience store or petrol station to prove that you were in a certain town at a certain time, were replaced by selfies at identifying points. Here is my check-in at Arenales del Sol, towards the end of the ride, with 180 km behind me at this point: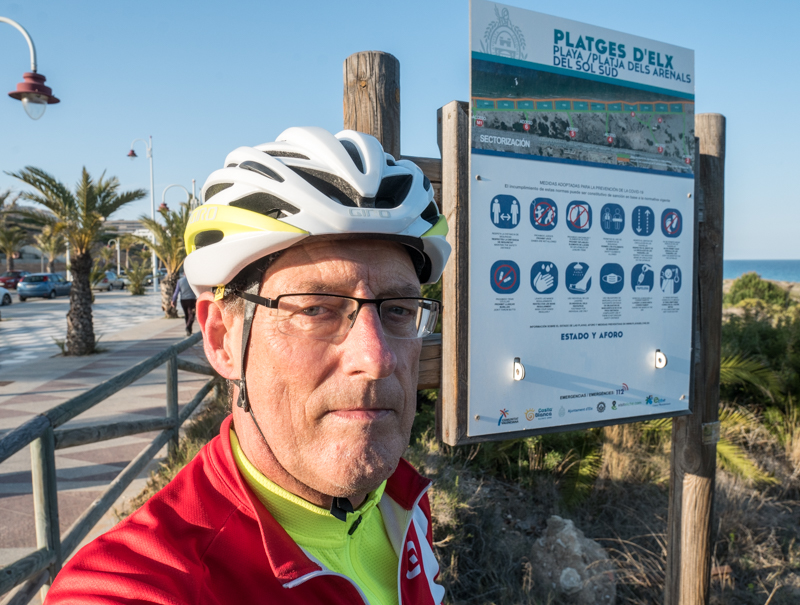 11_2
Earlier in the ride, I passed through some pretty landscapes like this: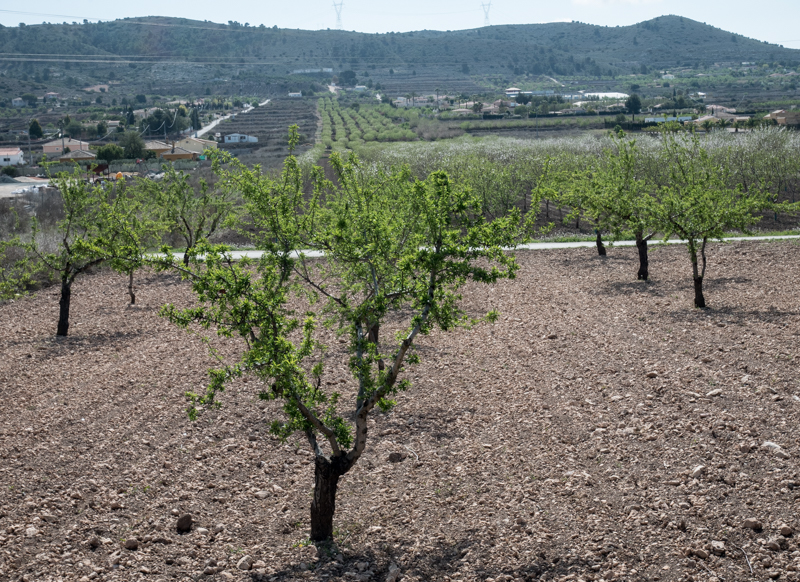 11_3
This village was about halfway in the ride: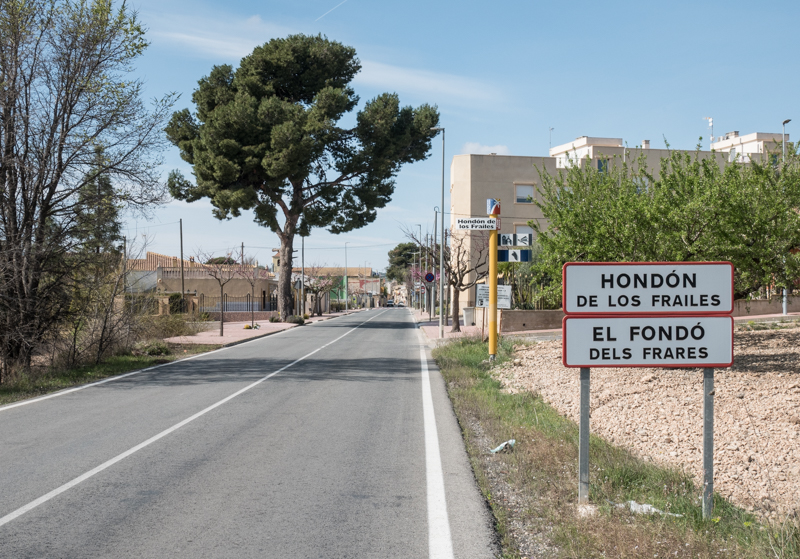 11_4
With some pictoresque old houses: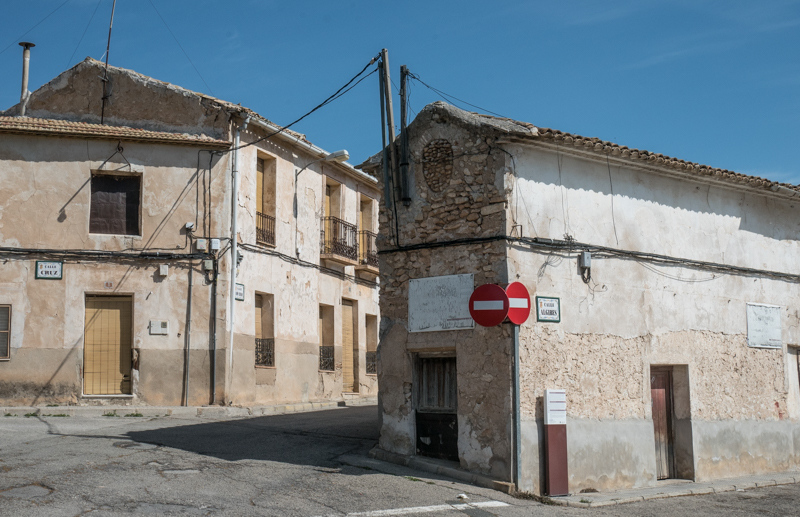 11_5
This is Alicante wine country: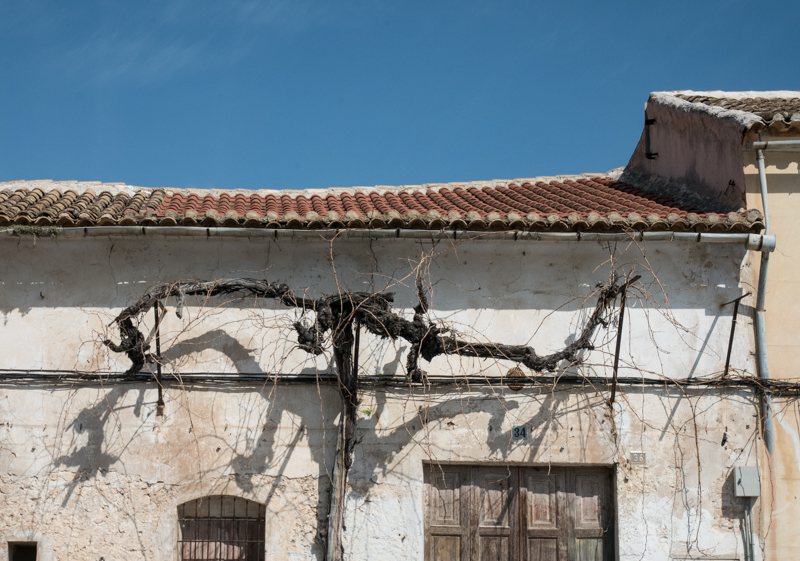 11_6
A reservoir called Pantano de Crevillente, near the town of the same name: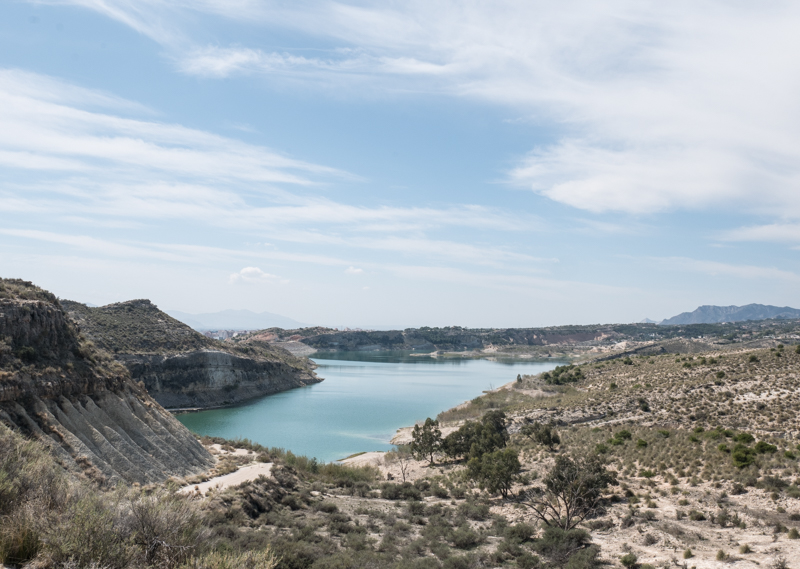 I finished the brevet in about 11 hours, so well within the time limit. More photos from the ride can be seen here.
11_7
The next day I obviously skipped my usual bike ride. Instead, I went to the driving range with my wife: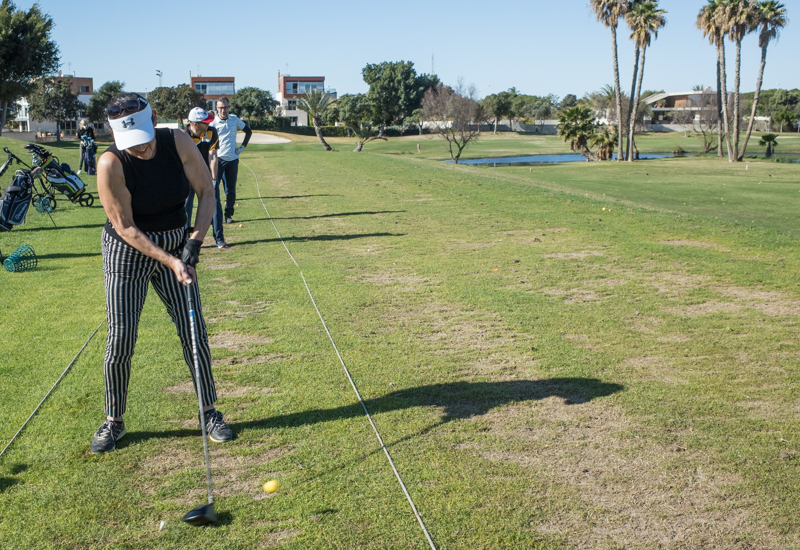 11_8
And then I went to the centre with my daugher to buy some stuff in a new Chinese supermarket. It is much larger than the usual small Chinese groceries, it is also nice and bright, and has a great selection of everything, including Monica's favourite food, candy: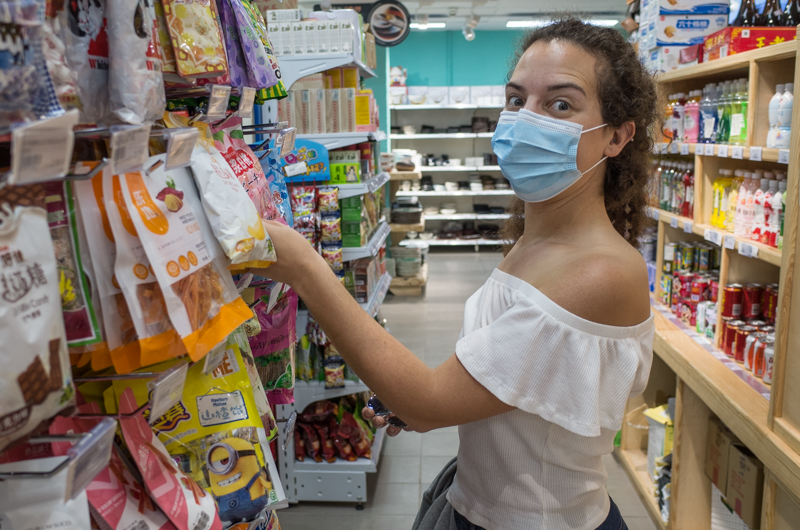 11_9
In the afternoon, we got together for lunch with our friends Eliot and Assumpta. Getting together in private homes is technically forbidden right now, but we allowed ourselves this small transgression. As usual, Eliot was to be found by the barbecue: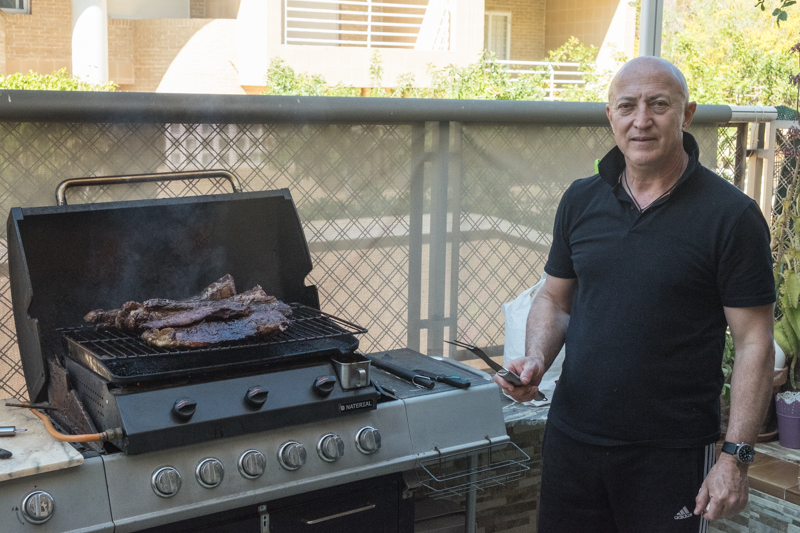 11_10
Everyone (but me) at the table, plus a very interested Balu on the floor: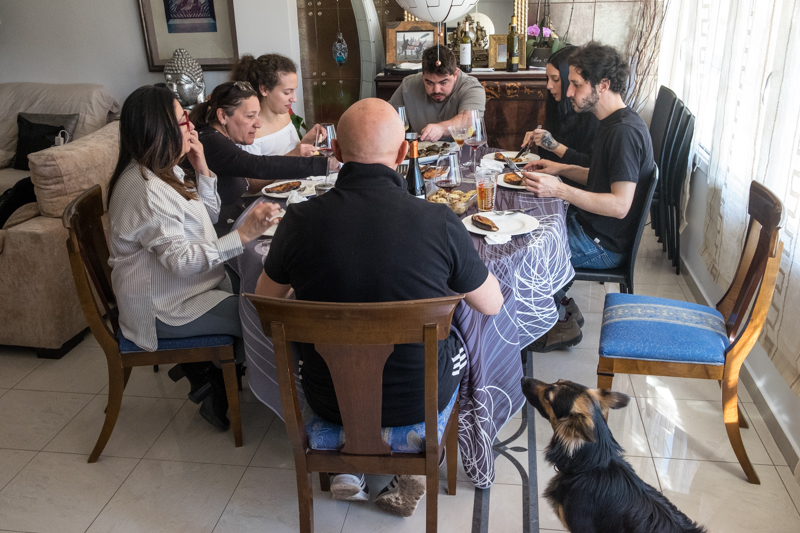 11_11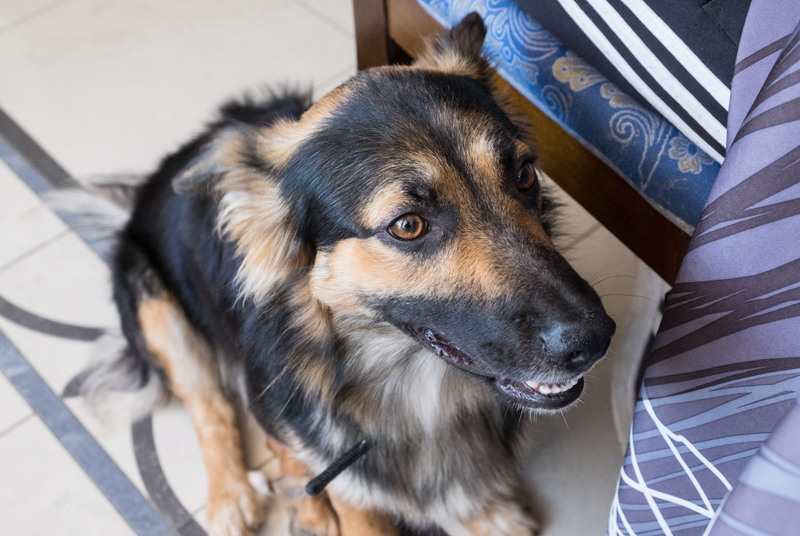 11_12
How can one eat like this?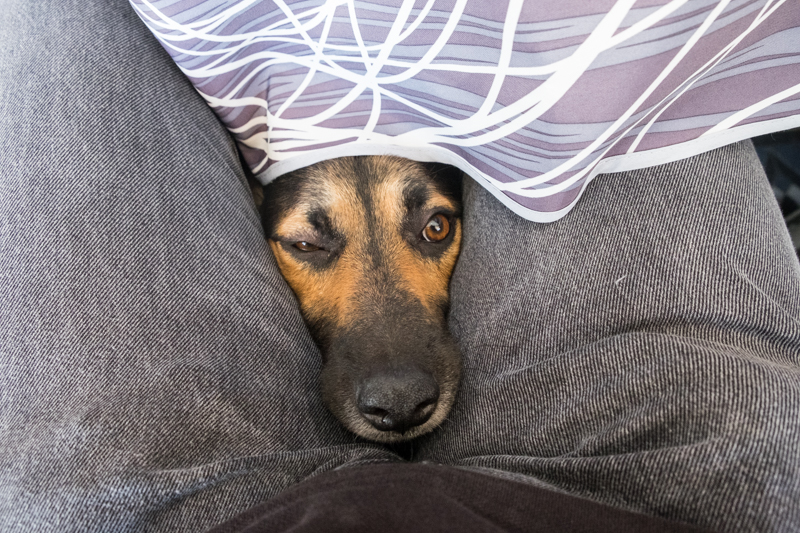 11_13
The dog's high level of interest was not surprising, given what was on the table: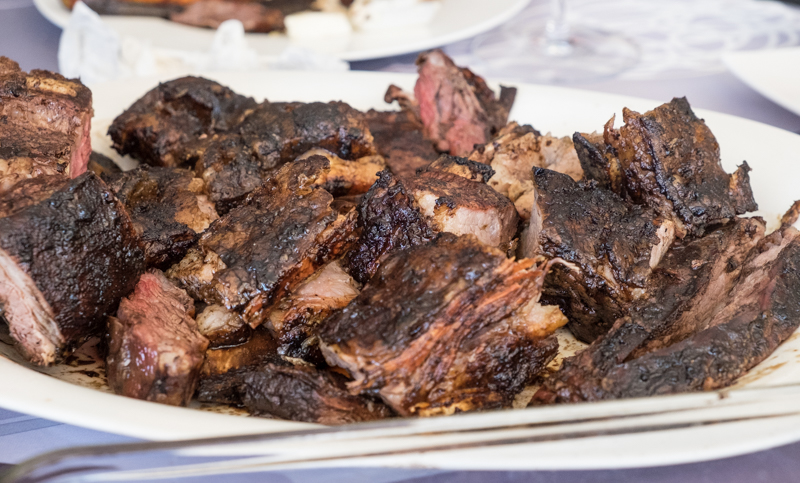 11_14
Our contribution were these stuffed mushrooms made by my wife: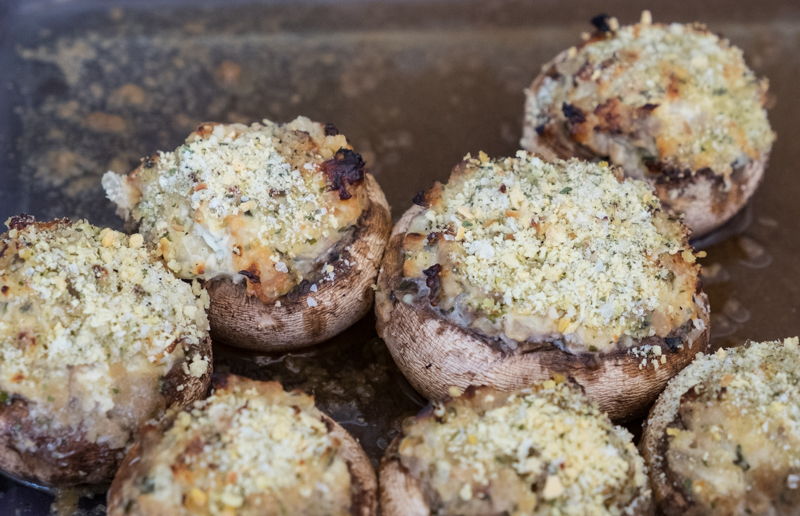 11_15
I usually work at home on Wednesdays now. One of the advantages of that is that I can have lunch with my wife and daughter. This time my wife was playing golf, so Monica and I walked down to a restaurant on the beach that has a great selection of veggie burgers and other things that she eats: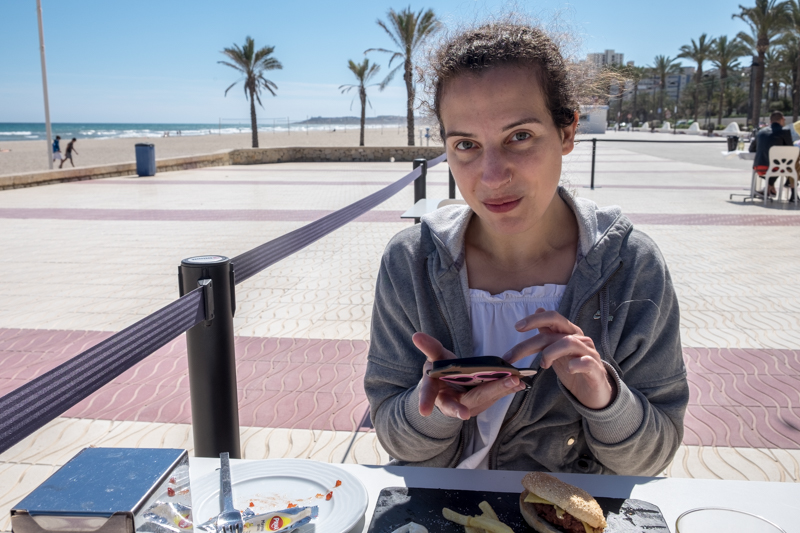 11_16
While waiting for our food, I entertained myself by watching these young people playing some type of rather unstructured football on the beach:

11_17
Early Thursday morning, it began to rain and the temperature dropped. Here on the coast it meant that things just got wet, but in the mountains it meant snow at elevations above 1000 meters. This is our beach on Thursday afternoon, on my way home from work: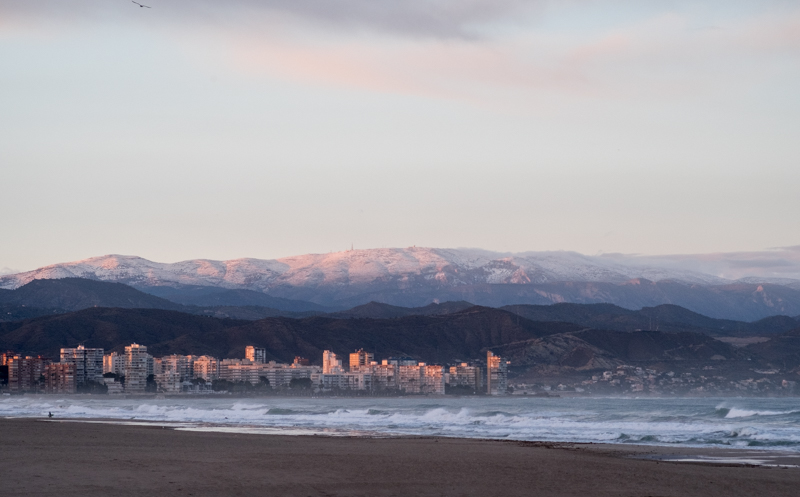 11_18
On Friday morning, things were back to normal and I could do my usual pre-work bike ride. This time, I stopped in Aigües to photograph the house of the art people. I think it is for sale, so I am not sure if these wall paintings will stay there much longer. So I wanted to document them before they are gone: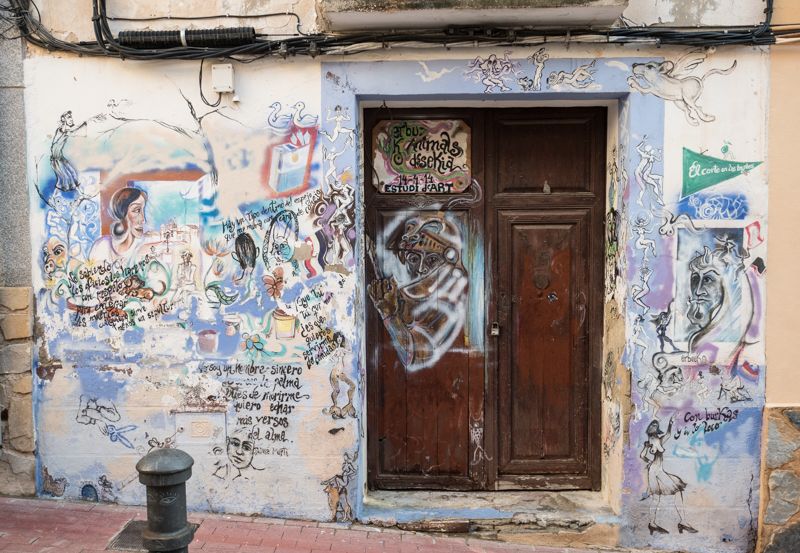 11_19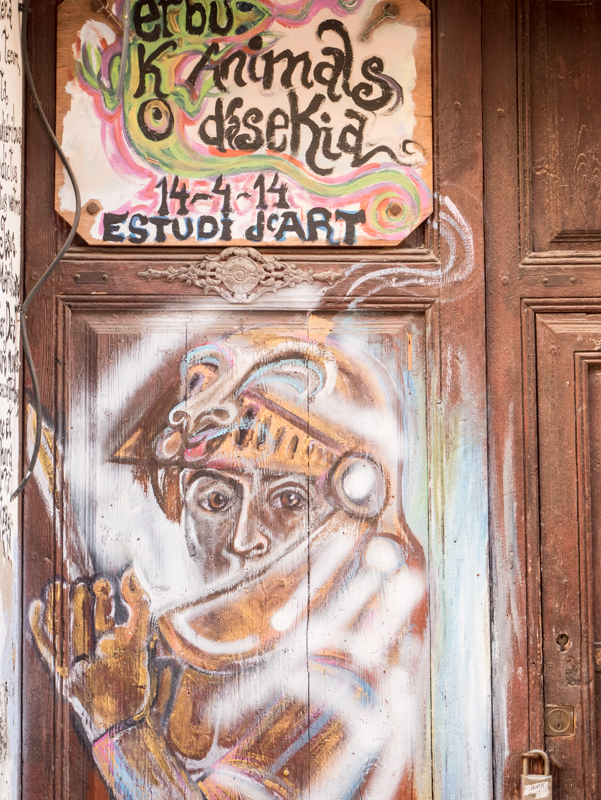 11_20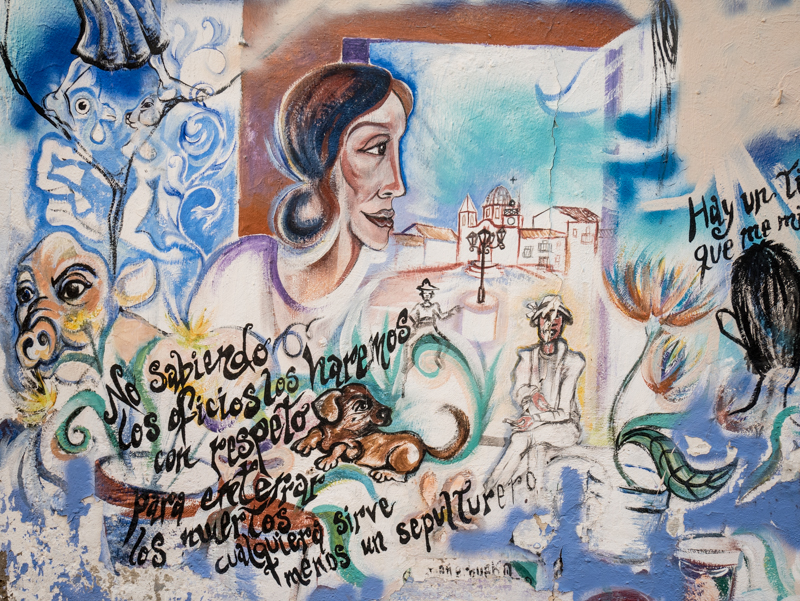 11_21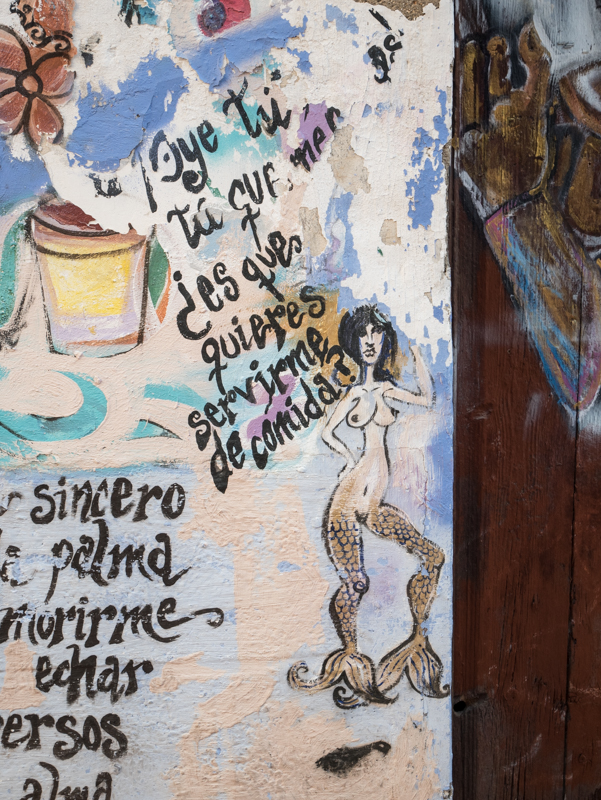 11_22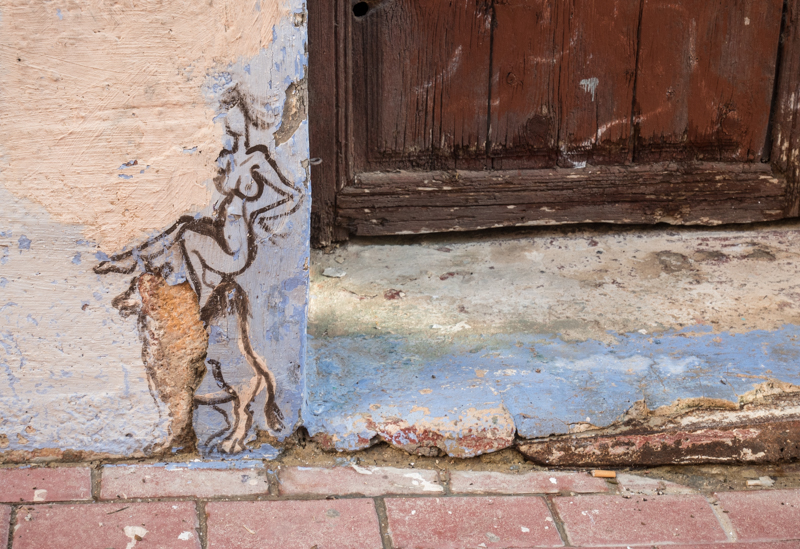 11_23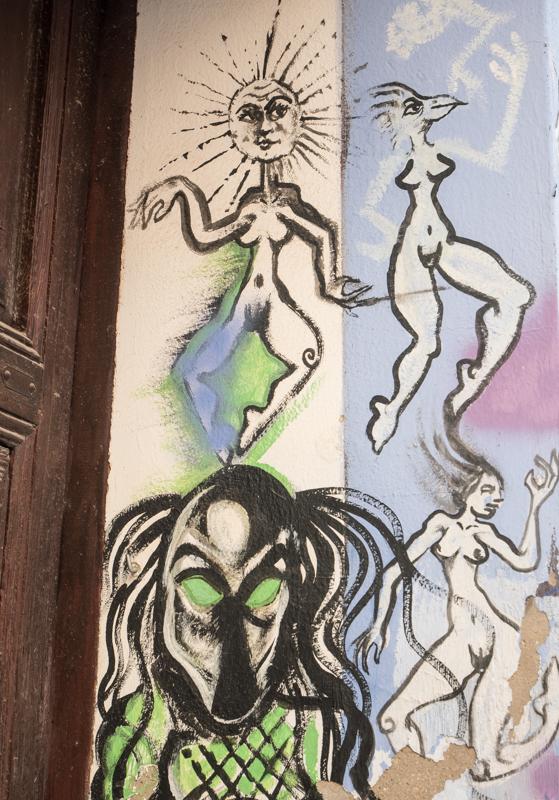 11_24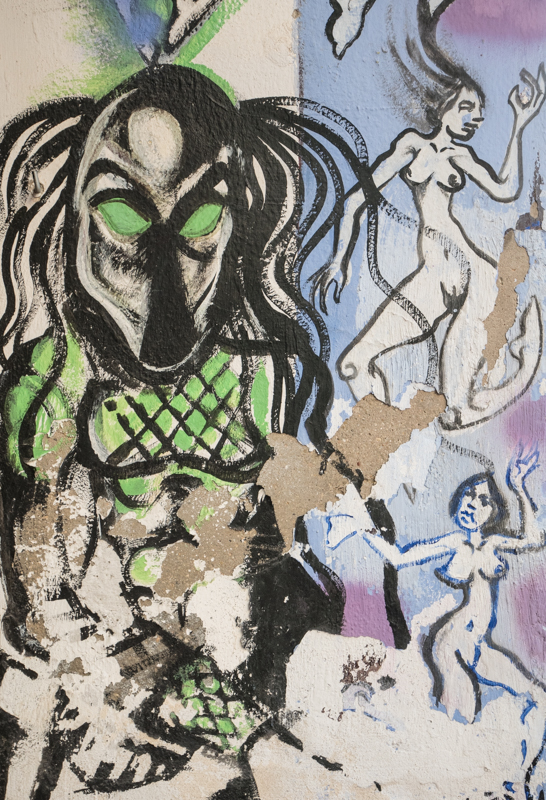 11_25
Saturday morning was cloudy, but it stayed dry and I could enjoy the crisp air and the mountains: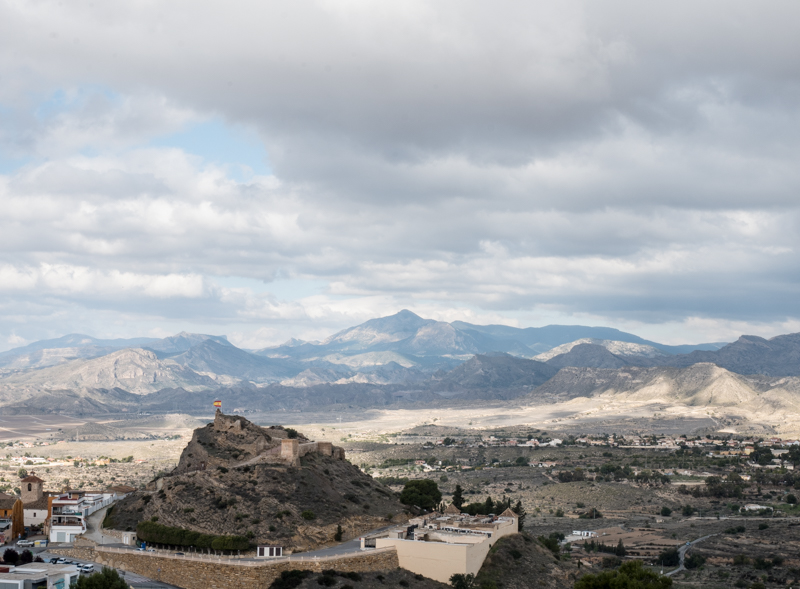 11_26
After my ride, I drove to the Mercado Central in the centre. The sun was shining and things looked like spring on the square behind the market:

11_27
There is a small flowers market on the square behind the market building. This is where I photographed this face in the crowd: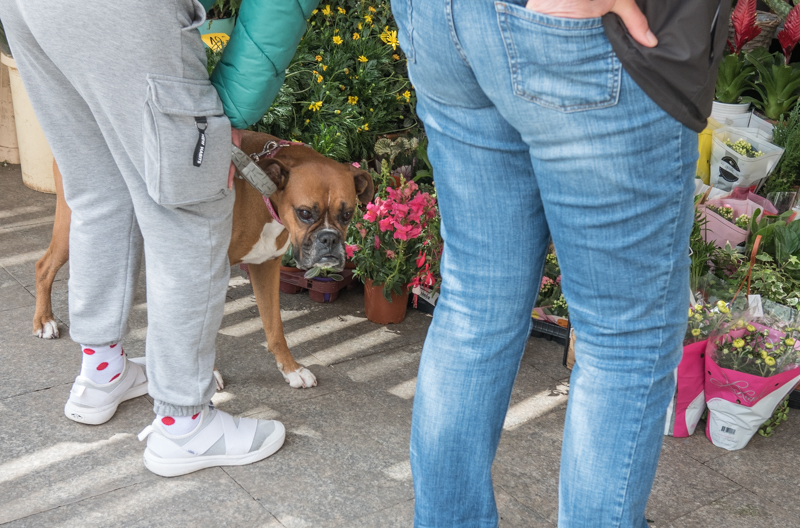 11_28
A fishmonger takes a break: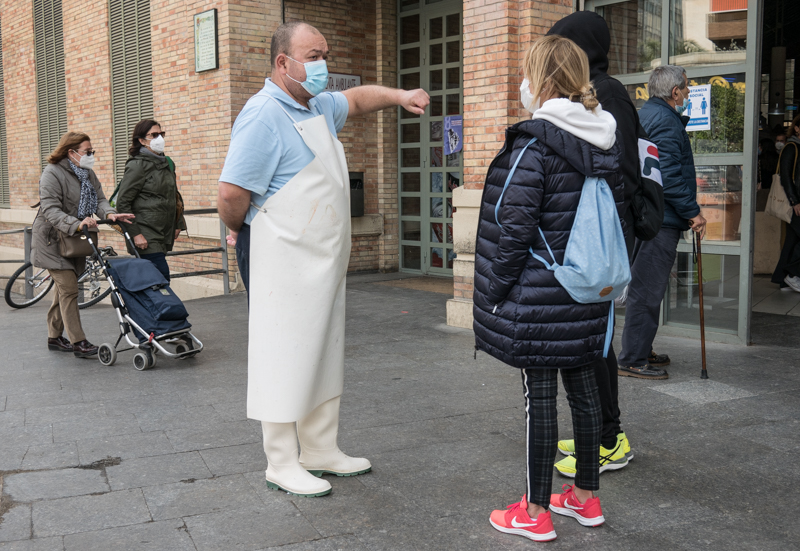 11_29
Then I went inside. When I last visited in the autumn, the place was a bit depressing, with many posts closed and not that much traffic. It looked much more normal now: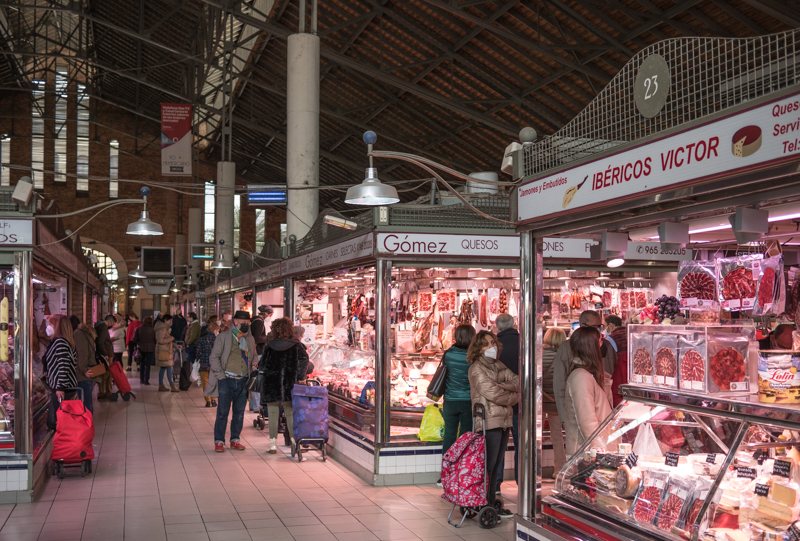 11_30
I walked around inside the market; there were a few new shops, also some bars and cafés, making the place a bit more polished, which I am not sure I like. But the seafood was the same as always: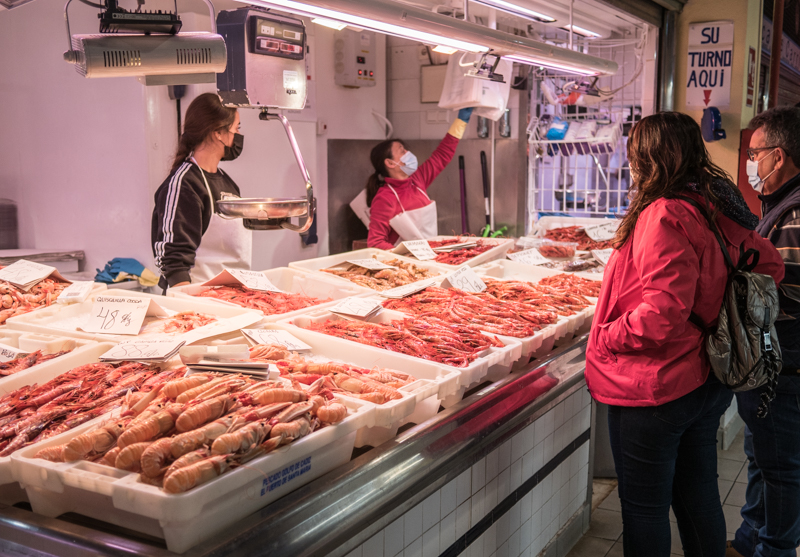 11_31
As was the fruit and veg: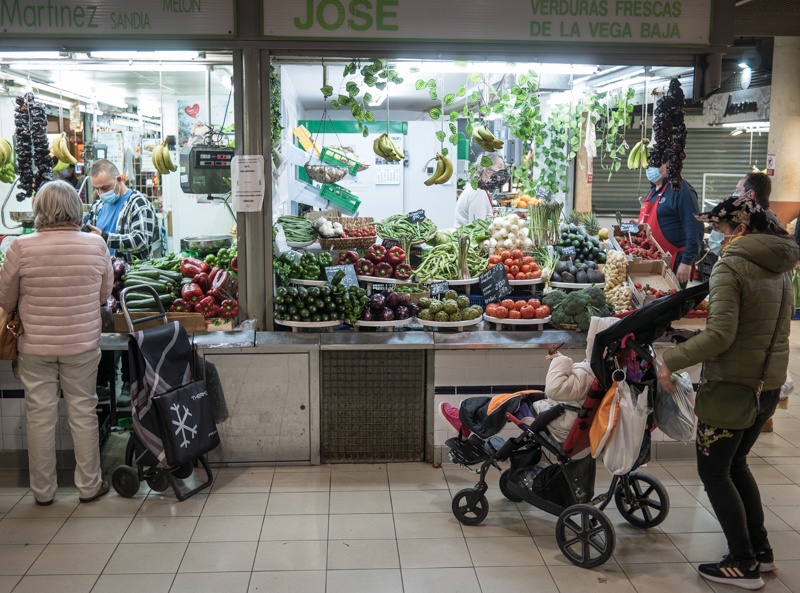 11_32
The shop selling dubious remedies now also has stuff to fight an unspecified virus: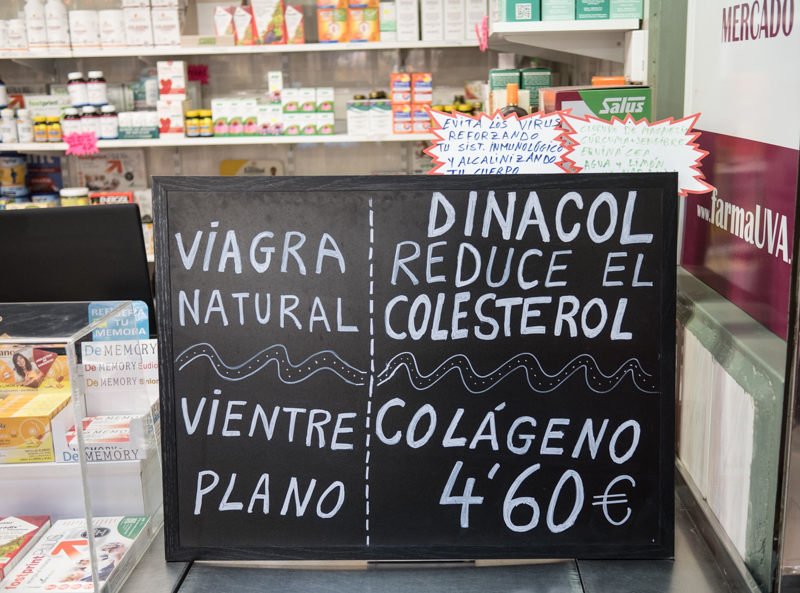 11_33
In the afternoon, I stopped at Playa San Juan, the neighbouring beach to our own Playa Muchavista, to look at the damage from the recent rain and wind: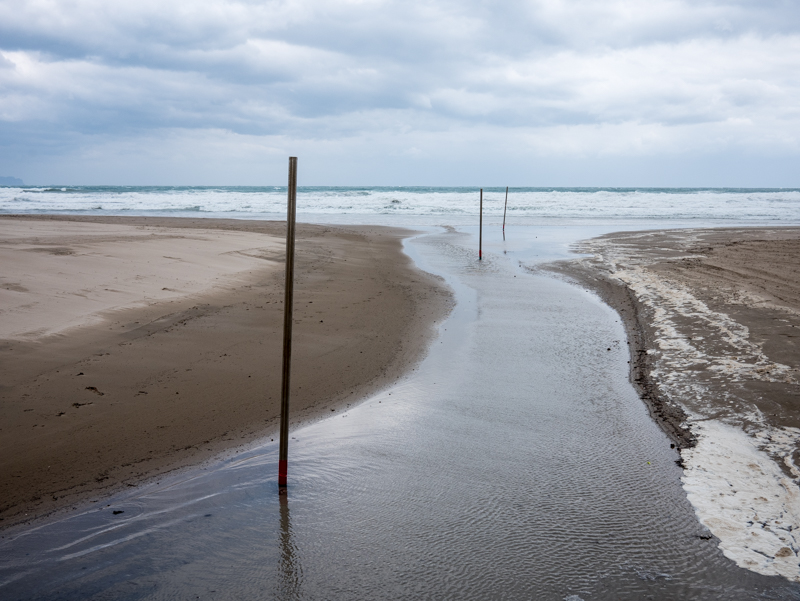 11_34
A couple were taking pictures of the waves: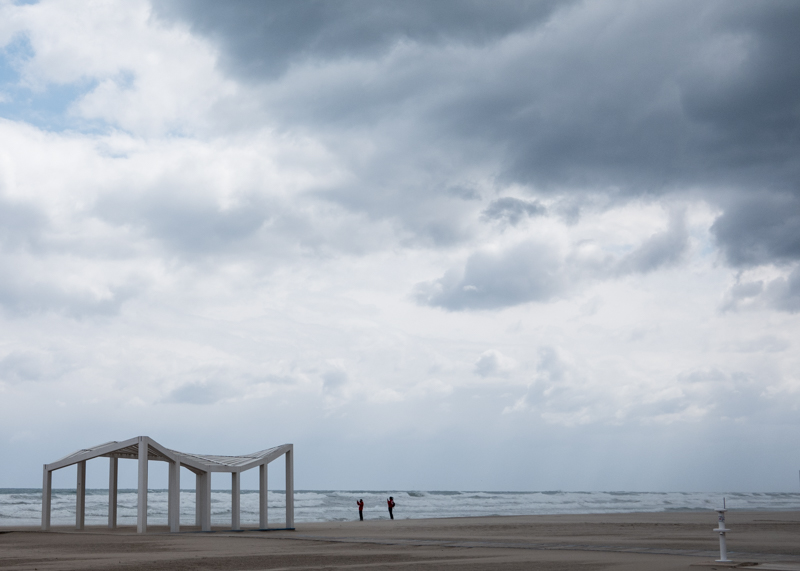 Then I went home and watched rugby.