On Tuesday morning I got up early, drove to the airport and flew to Copenhagen to begin an 8-day visit to Denmark, my usual spring visit, to visit my parents' graves in Copenhagen, to get together with friends in Copenhagen and my hometown Aarhus, and just to enjoy being back in the country that I love. I have put together galleries from Copenhagen and from Aarhus, focusing on the two cities. In this weekly blog I focus on the people I was with and on little details in the urban landscape.
17_1
A little vignette from Copenhagen–someone posted a sticker with the Danish word for "cunt" on the Burger King sign: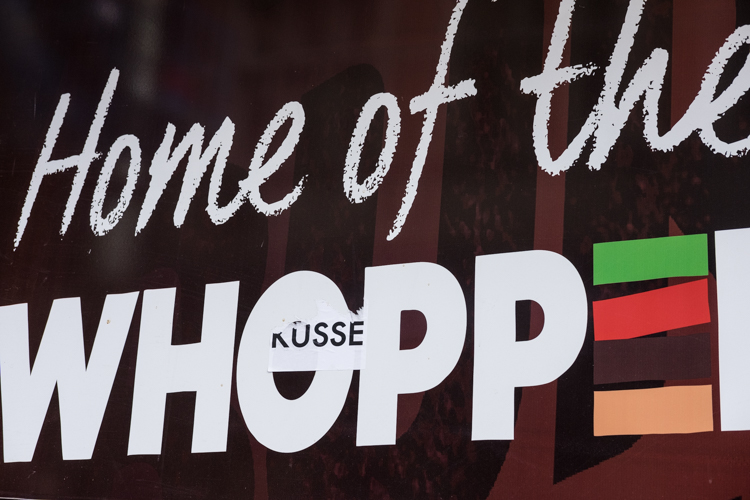 17_2
On Wednesday evening my childhood friend Beata and I went for dinner at a restaurant in the former meat packing district, Kødbyen, called Nose2Tail. This is the entrance, with a sign announcing, proudly, the international makeup of the staff: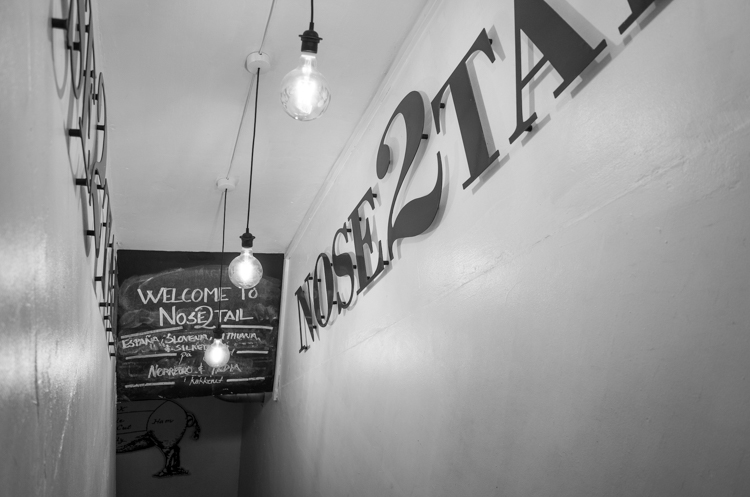 17_3
Nobody entering this place can doubt its culinary focus: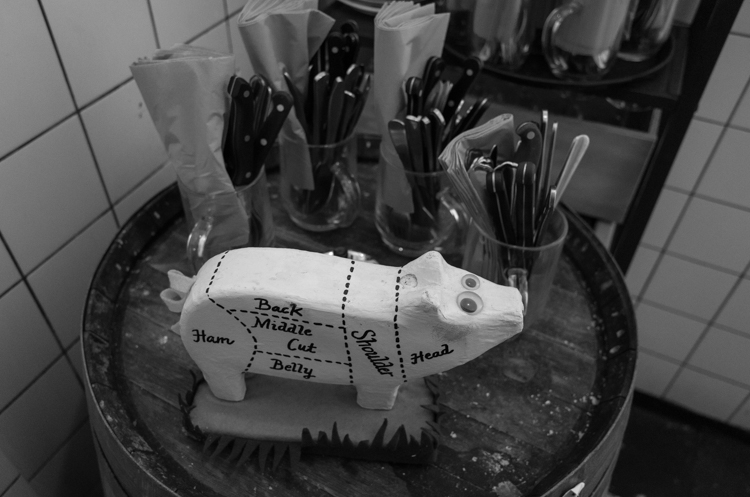 17_4
Beata studies the menu: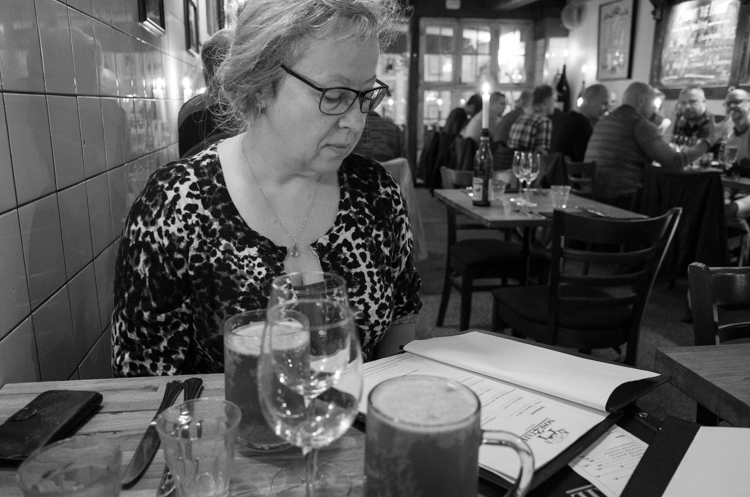 17_5
The appetiser arrives, and Beata is happy: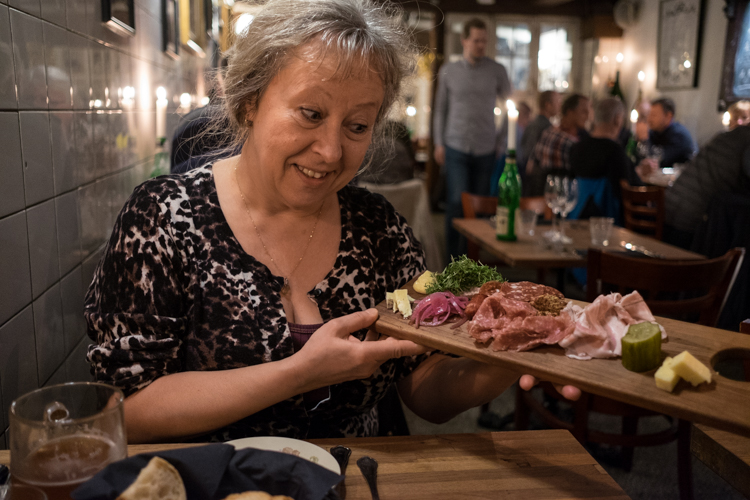 17_6
The happiness continues with the main course: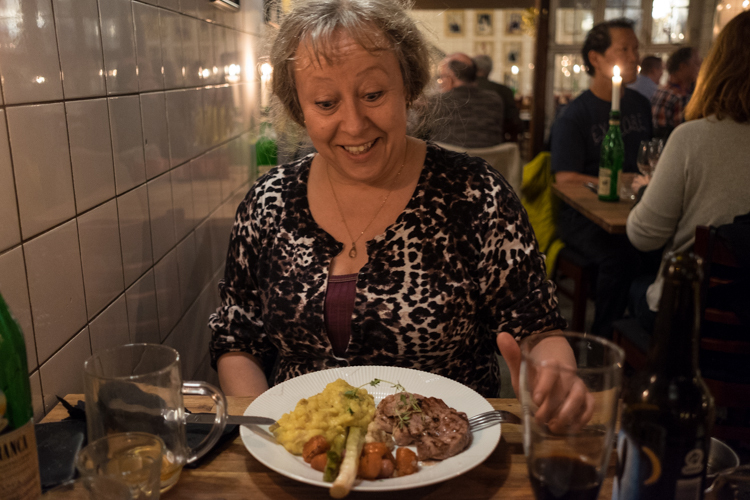 17_7
On Thursday morning, I went for a long walk along the lakes in Nørrebro and Østerbro, and photographed this amusing window of a kindergarten: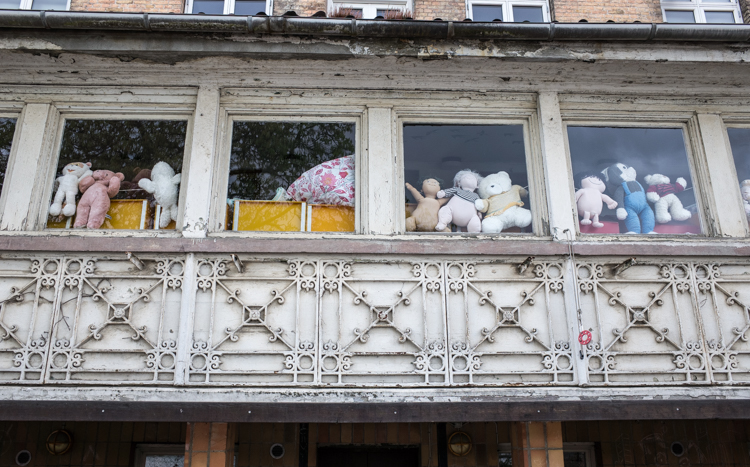 17_8
In the afternoon, I travelled to Aarhus to visit my friend Lars. Usually I travel by train, but because there was a chance that there would be a labour conflict involving the Danish state railways, I decided to use a private bus service. It was actually quite nice, and involved a ferry trip from Sjælland (the island on which Copenhagen lies) to Jutland. This was the view when leaving Sjælland: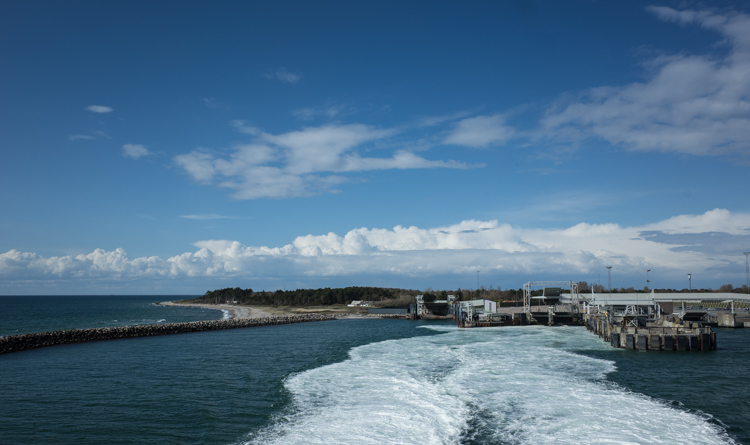 17_9
About an hour and a half later, the ferry enters Aarhus harbour: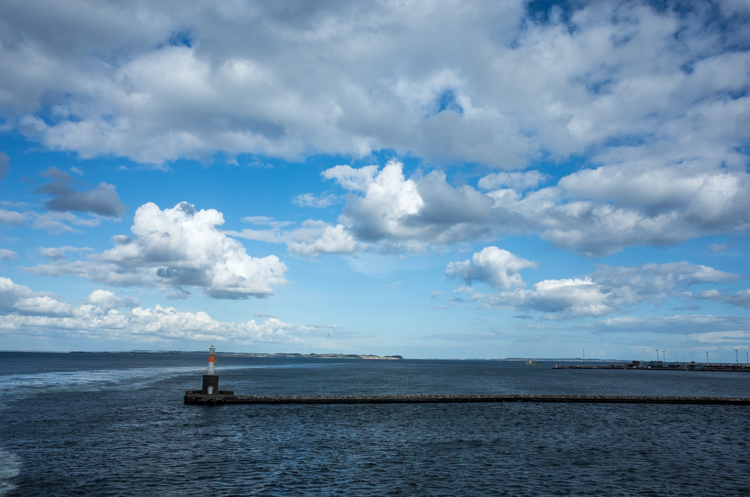 17_10
It has been many years since I travelled to Aarhus by ferry, and so I enjoyed seeing the city's skyline from the water. It has changed a lot during the past 10-15 years: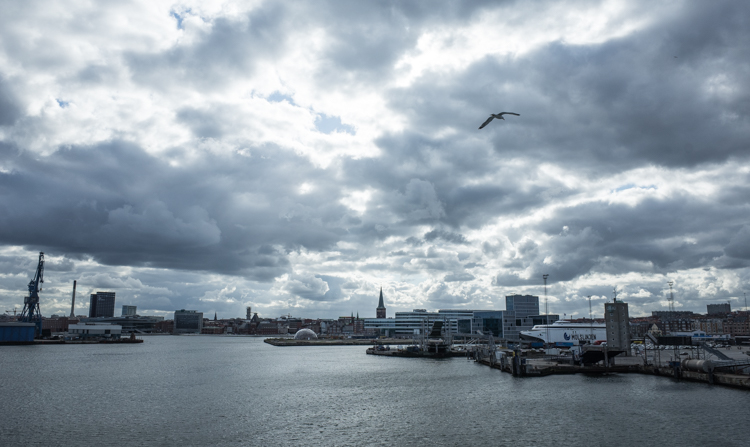 17_11
On Saturday Lars and I were going to participate in a 200 km cycling event, so we planned a training ride on Friday. This meant healthy eating and no beer on Thursday evening. Lars prepared a delicious meal of pasta, meat and fresh vegetables: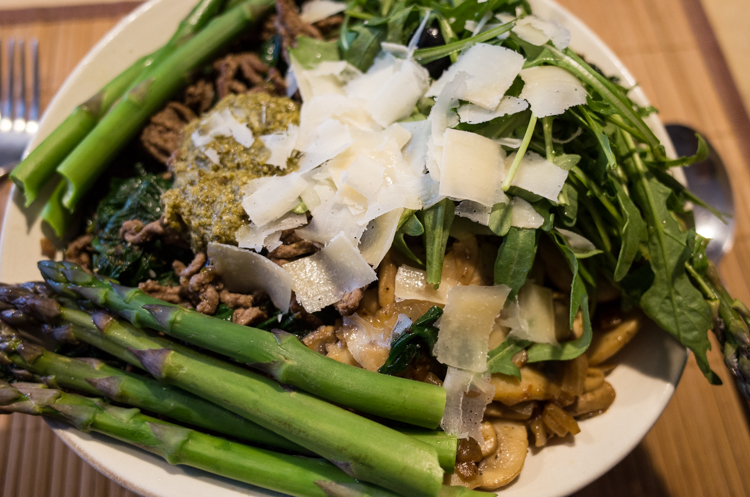 17_12
The warmup ride on Friday morning was nice and easy, just 50 km in flattish landscape, albeit with a strong wind and some threatening clouds (but they did not unload on us):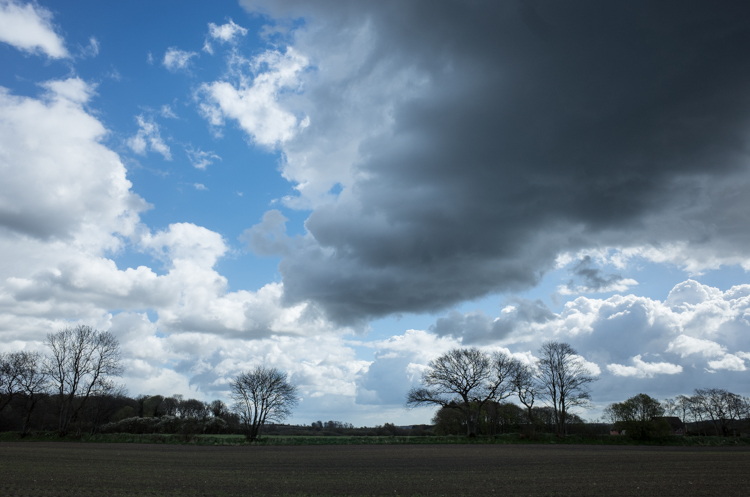 17_13
We spent Friday afternoon walking around; the weather turned very nice. As always, I was on the lookout for little details: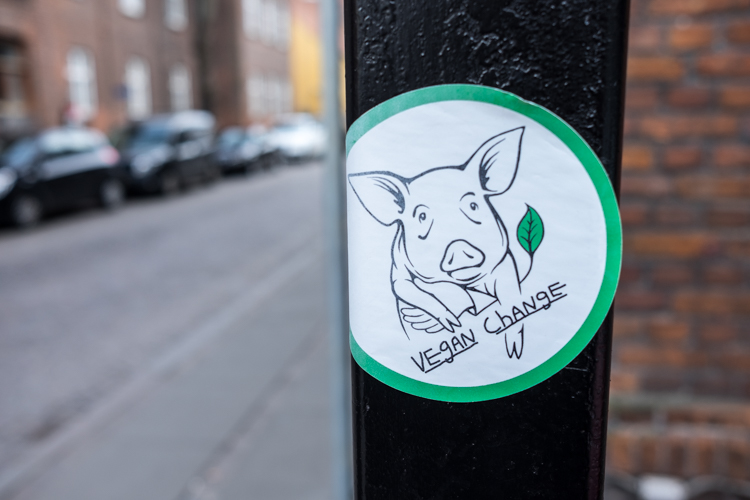 17_14
Outside a café in the Latin Quarter (where Lars lives)–I guess the owner of the camera had gone inside to use the toilet, and he or she was obviously the trusting type: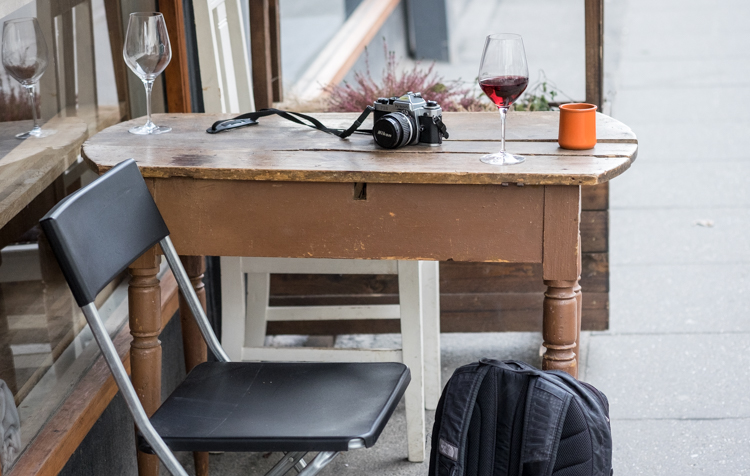 17_15
We spent the evening just relaxing and getting our stuff ready for Saturday's big ride; we were getting up a 4:30 a.m. the next morning: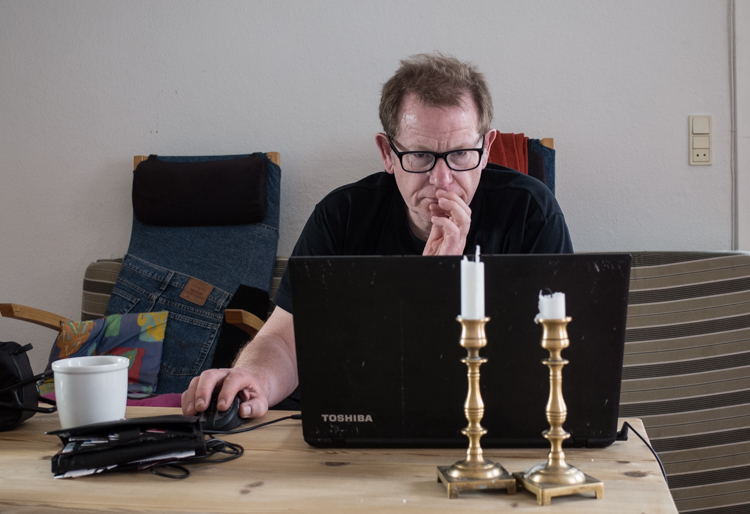 17_16
We got up as planned, made the last-minute preparations, and by 6 a.m. we were on the road, driving to the town of Herning, about 90 km from Aarhus, the starting and finishing point of the brevet: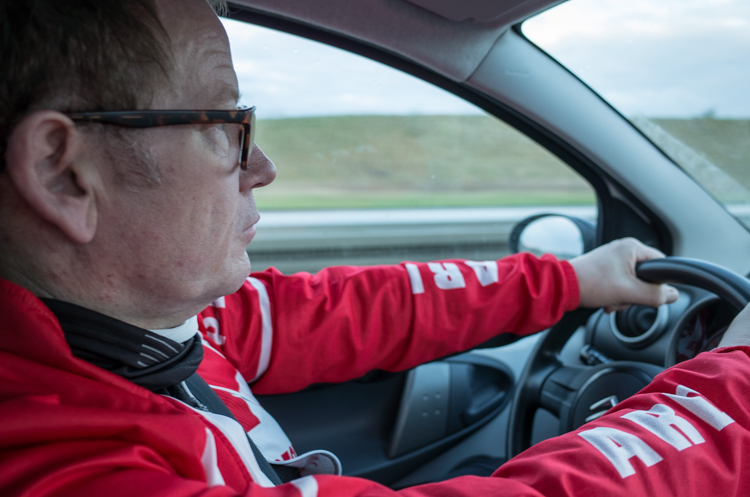 17_17
Arrived in Herning. The venue was a local community sports centre–this had the advantage of having locker rooms and showers for after the ride: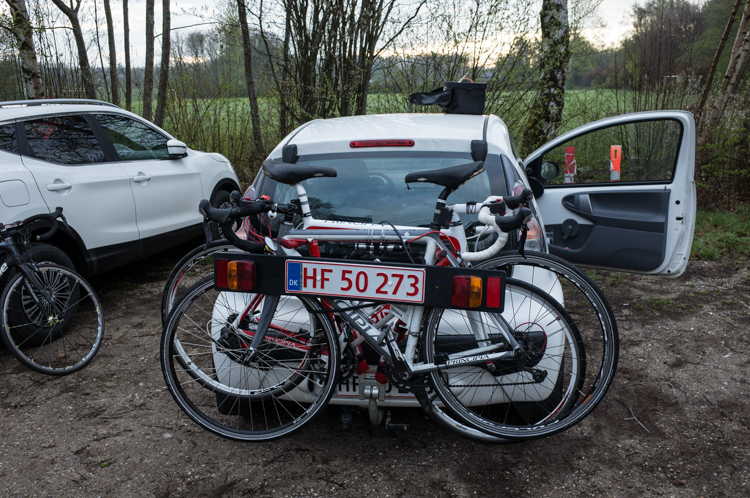 17_18
The organiser of the brevet gives out some last-minute instructions and words of encouragement to the cyclists: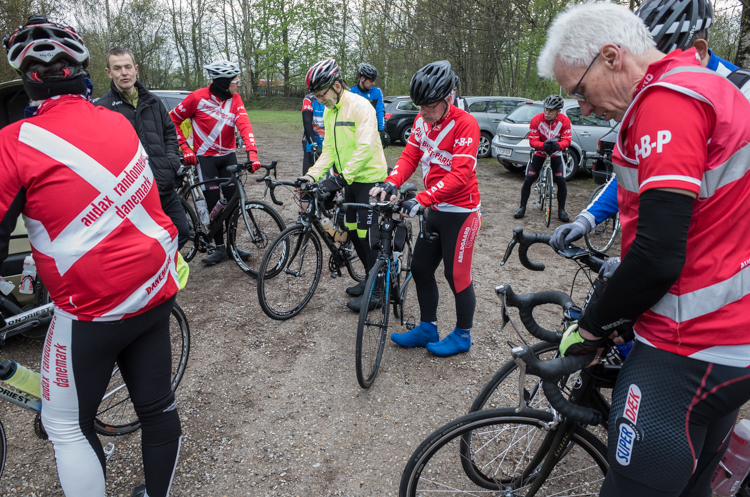 17_19
The first control point, a bakery, after about 30 km. Lars brings his brevet card to the counter to get it stamped. Of course, we also buy and eat some pastries to fuel the ride: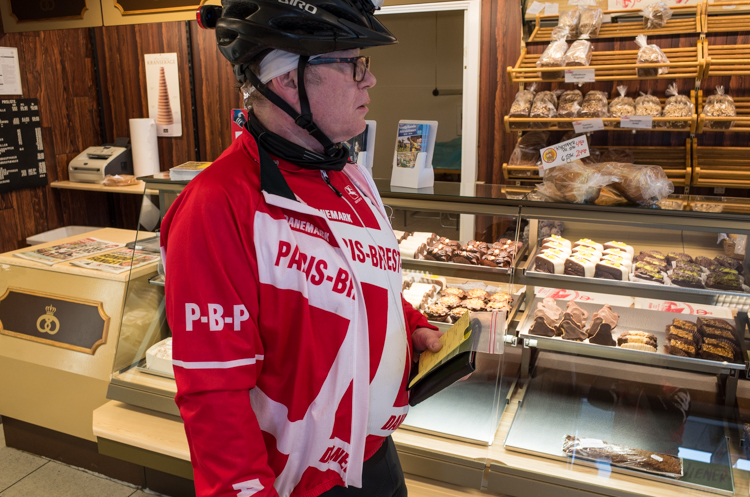 17_20
Some 100 km later, the third control stop at 135 km, at another bakery/convenience store. It is now cold and raining outside, so we are having some coffee to warm up a bit. The weather will remain cold and rainy for the remainder of the 205 km ride: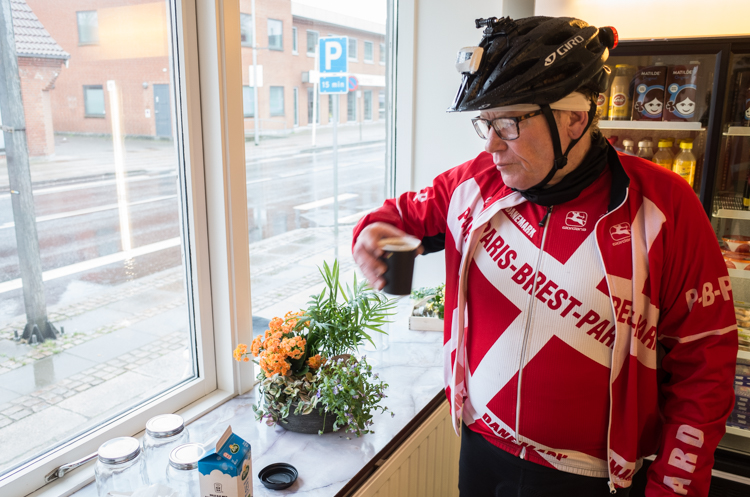 17_21
The bad weather made completing the brevet all the more satisfying. The tangible reward is a medal, issued by the Audax Club Parisien, the world-wide governing body for this flavour of the sport: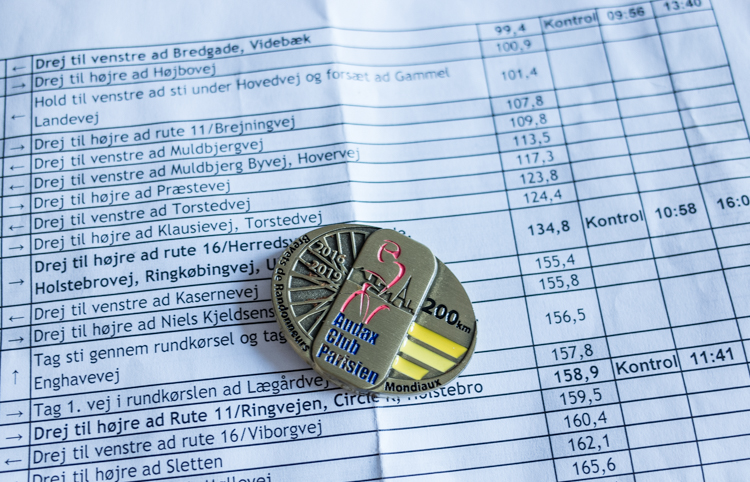 17_22
Once arrived home in Aarhus, we also rewarded ourselves with pizza and good beer. This was Lars's kitchen counter the morning after: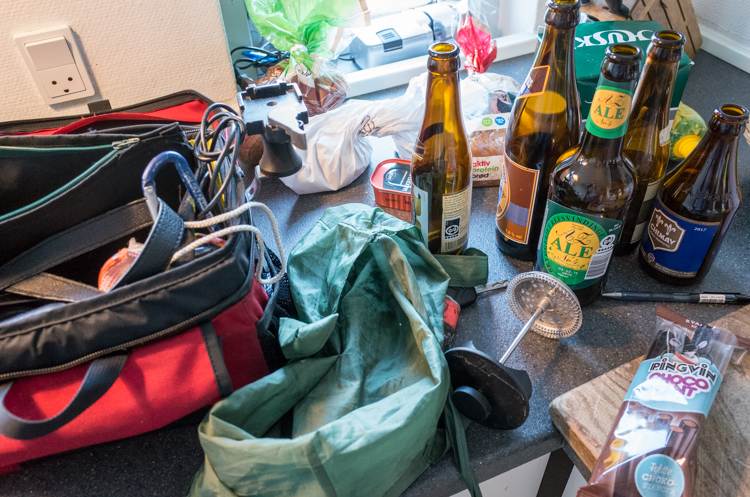 17_23
We spent Sunday recovering, walking around Aarhus a bit, enjoying the sunshine (we could have used that during our ride!) and of course visiting the ARoS museum. This time there was an exhibition by American pop artist James Rosenquist: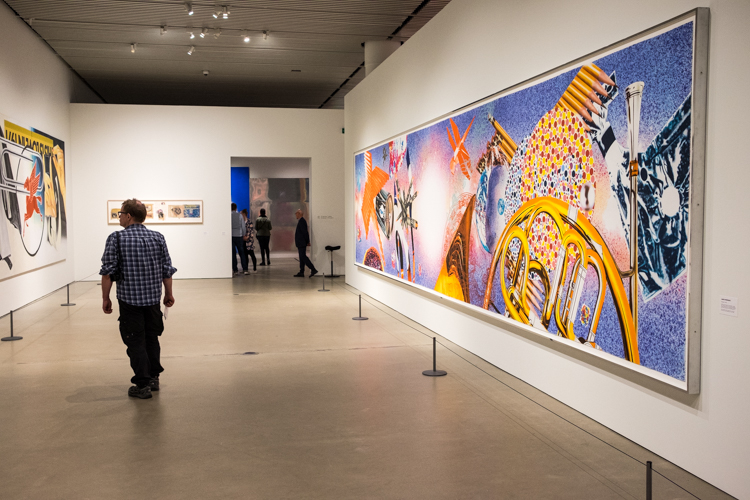 17_24
As always, we enjoyed the Rainbow Panorama on the roof, especially given the nice weather: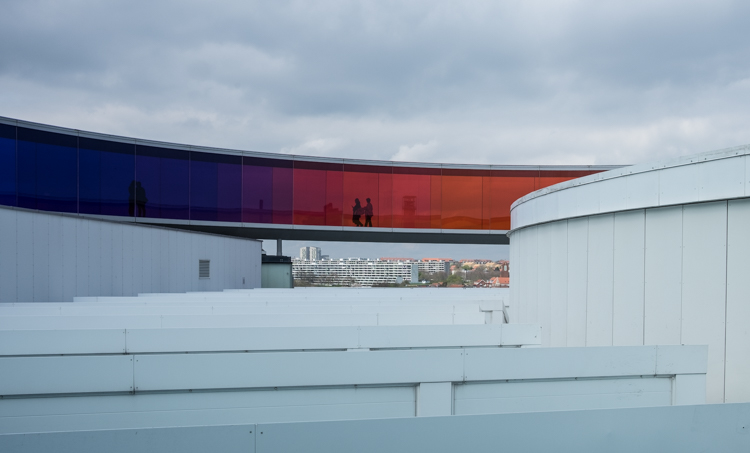 17_25
ARoS has a restaurant. I have never eaten there, but on this occasion I photographed a couple eating, framed by the meat maturation cabinets. I am not sure this would have been my choice of table: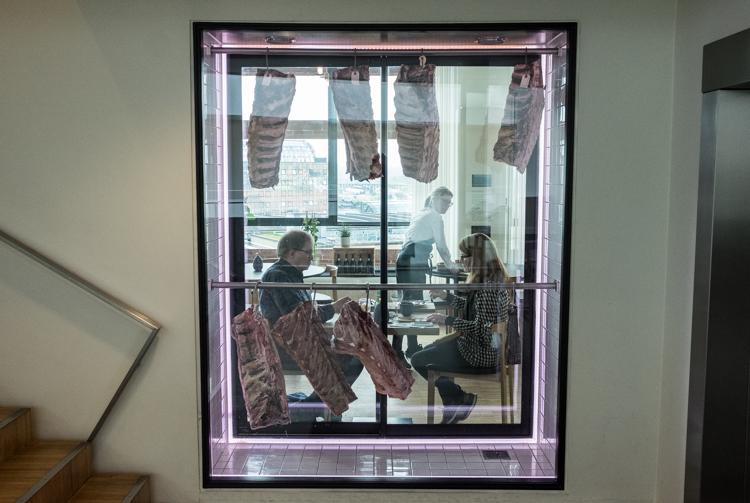 17_26
Back at Lars's apartment, I stopped to photograph the nameplate next to his door. I am always touched by name included among Lars's daughters and their children (who do not actually live there either). This is truly my home away from home: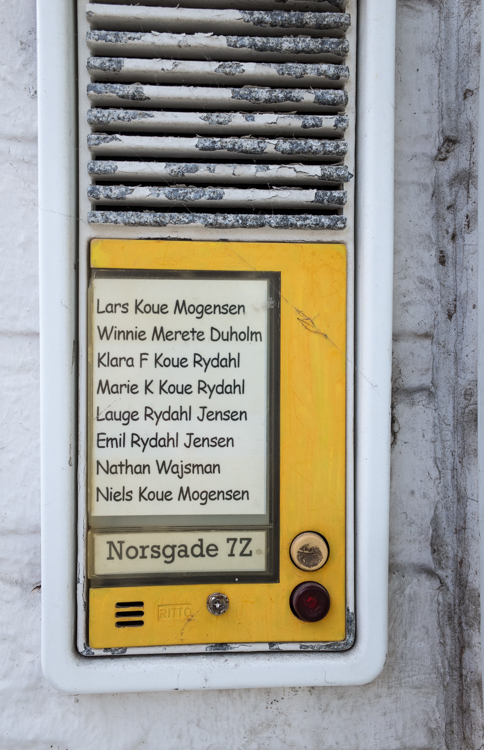 17_27
Lars has been experimenting with stand development of various films; this is partly for his own work, and partly for his work as a photography teacher at an arts school. Here he is examining a batch of newly developed film to determine the speed for each film/developer combination: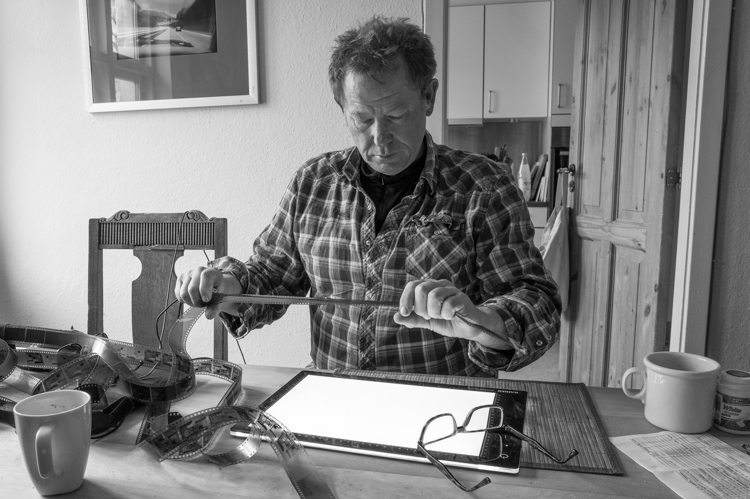 17_28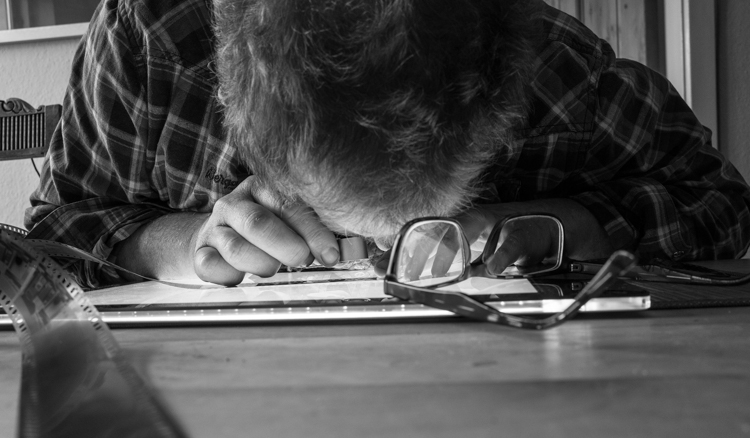 17_29
The films are labelled for future reference: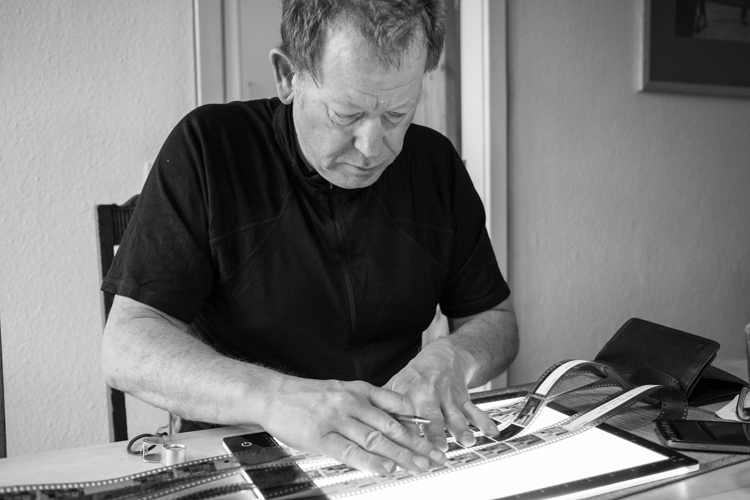 17_30
Since these are just test rolls, careful handling is not required: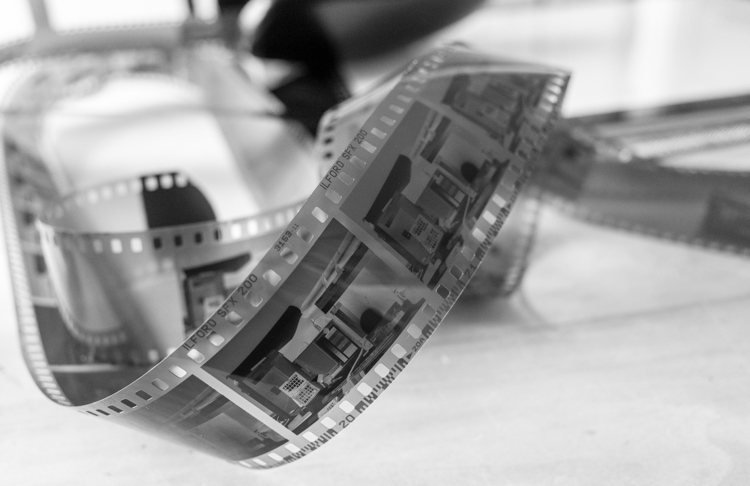 17_31
On Sunday evening, we walked to our favourite watering hole, Fermentoren, Lars goofing around a bit on his street Norsgade: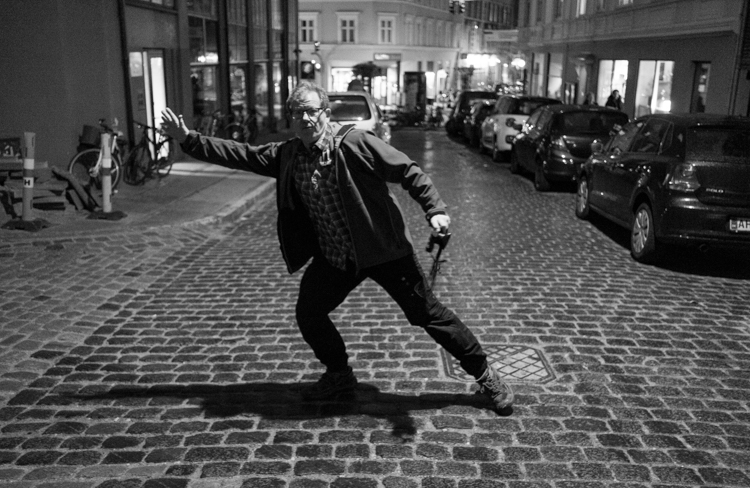 17_32
But to our great disappointment, we found that the bar had closed; subsequent investigation showed that this terrible event had occurred just a couple of weeks earlier. The next morning I went back to document the sad news on the door: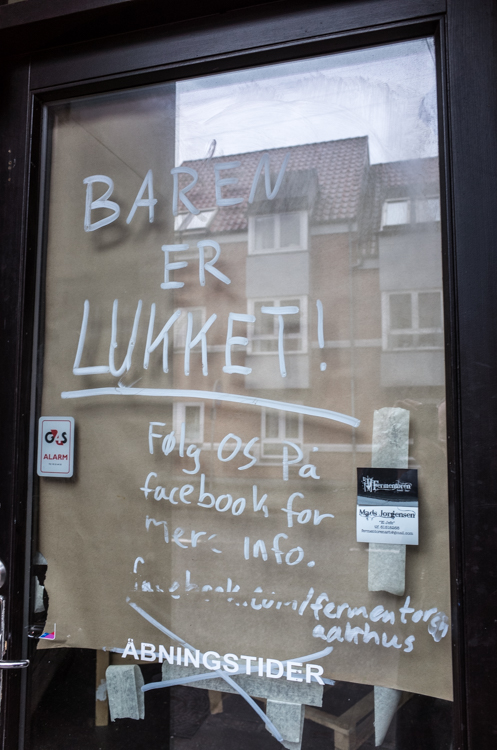 And this was the end of the first leg of my spring pilgrimage to Denmark.