The highlight of the week was a trip to Berlin. But first a couple of pictures from a mountainbike ride with my wife.
Main
We followed this river bed, appropriately called Río Seco: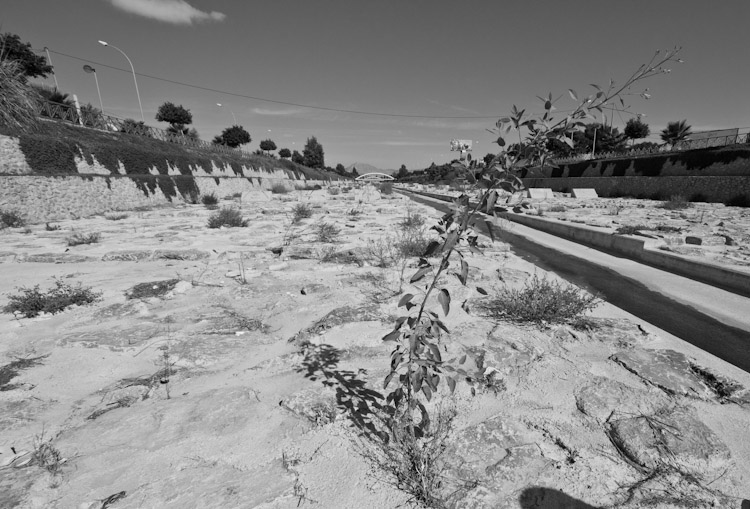 Alternates:
Alternate 1
We ended up in an outdoor market in a suburb called Santa Faz: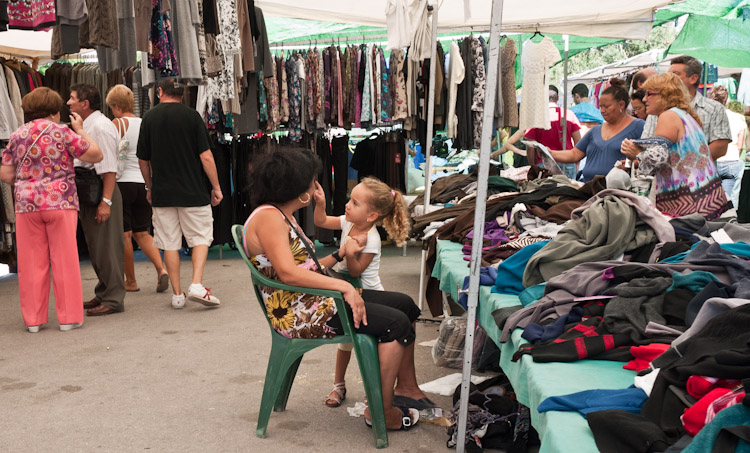 The rest of the pictures are from Berlin.
Alternate 2
In many ways, the eastern part of the city is the more interesting one. One afternoon I went out to Treptow and walked along the river to a place recommended to me by a friend. It is an outdoor beer garden where people dance and enjoy life in ways that have not changed much since the GDR-days: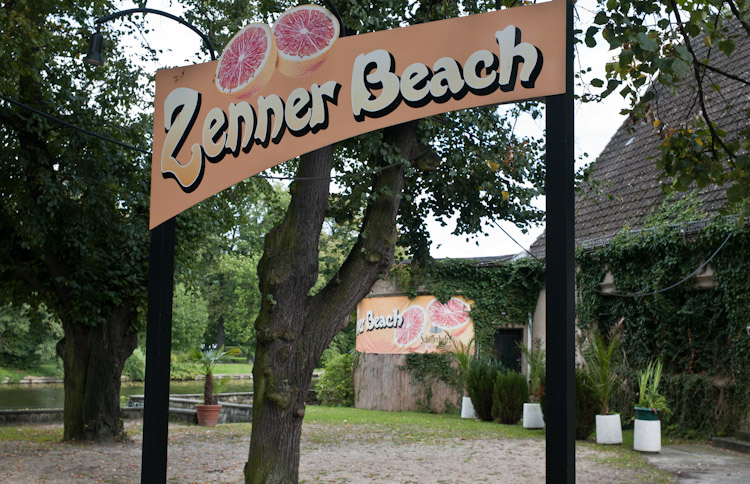 Alternate 3
Sadly, the summer was over, and there was not much action: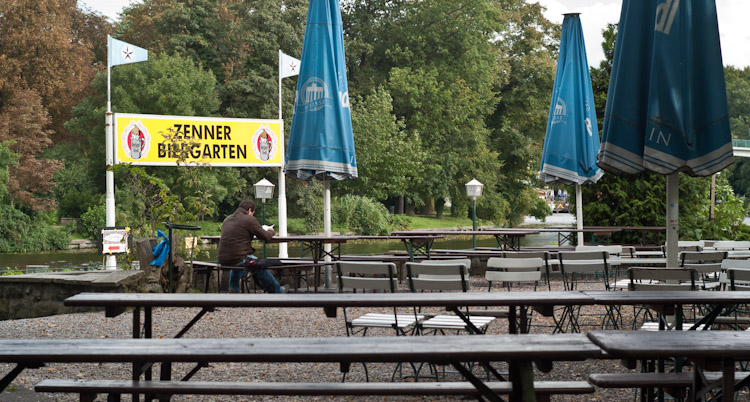 Alternate 4
Slim pickings for the birds: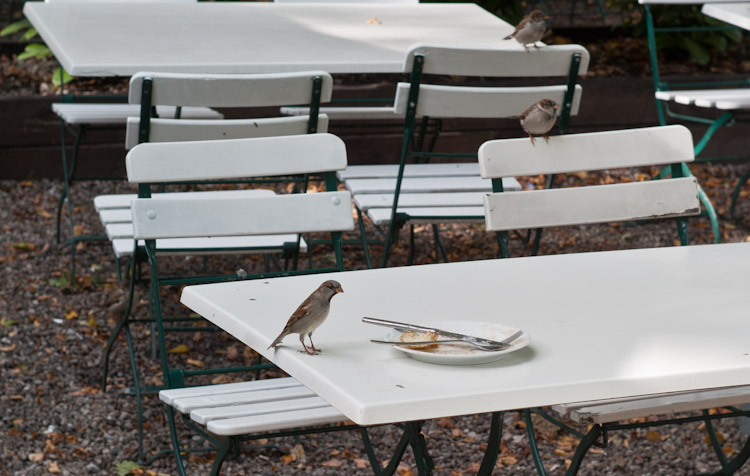 Alternate 5
Outside my hotel was a Berlin bear with the Marlene Dietrich theme, which allowed me to juxtapose the two sets of legs: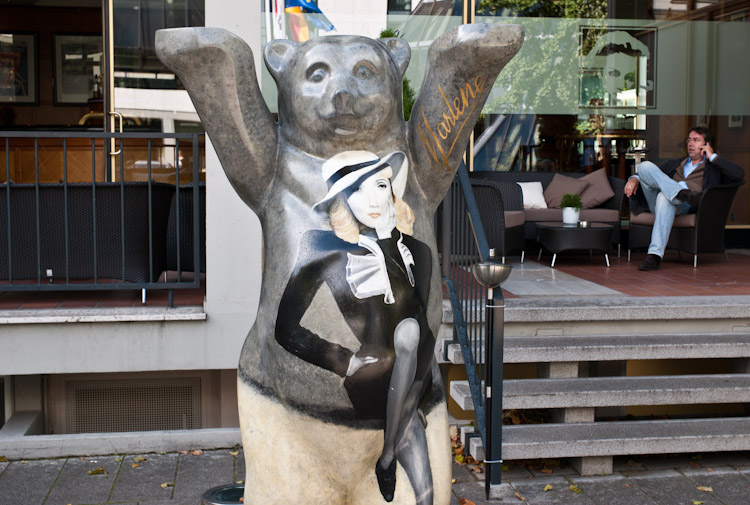 Alternate 6
Ambush marketing by Adidas: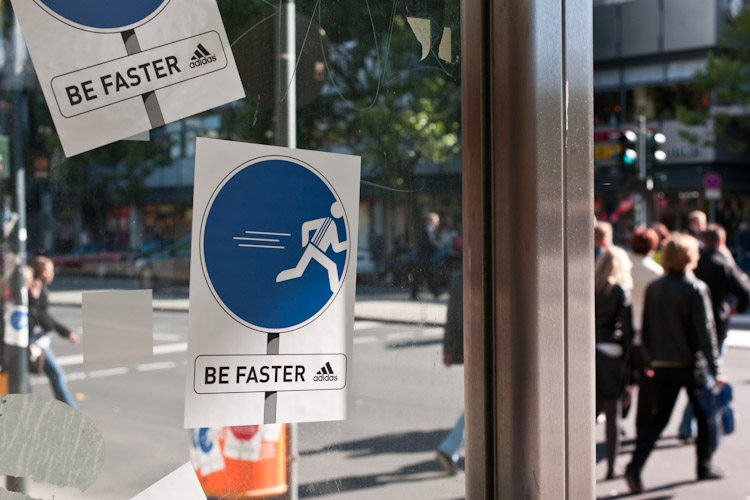 Alternate 7
Traditional Berlin lunch–pea soup with sausage: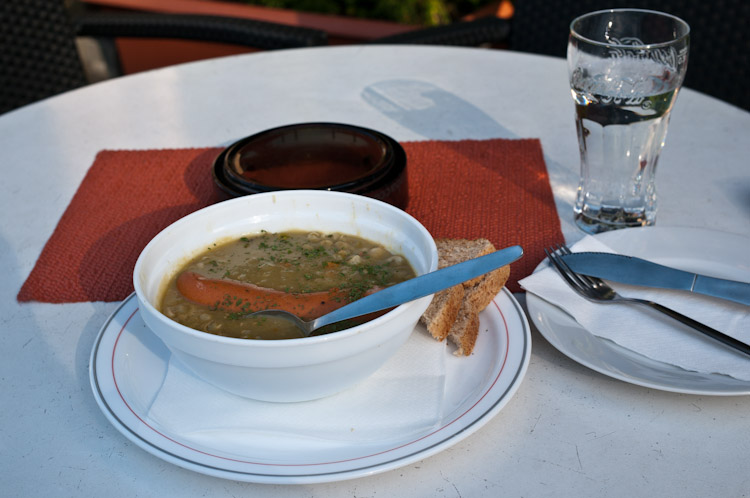 Alternate 8
Traditional Berlin dinner–Eisbein with sauerkraut, potatoes and mashed peas: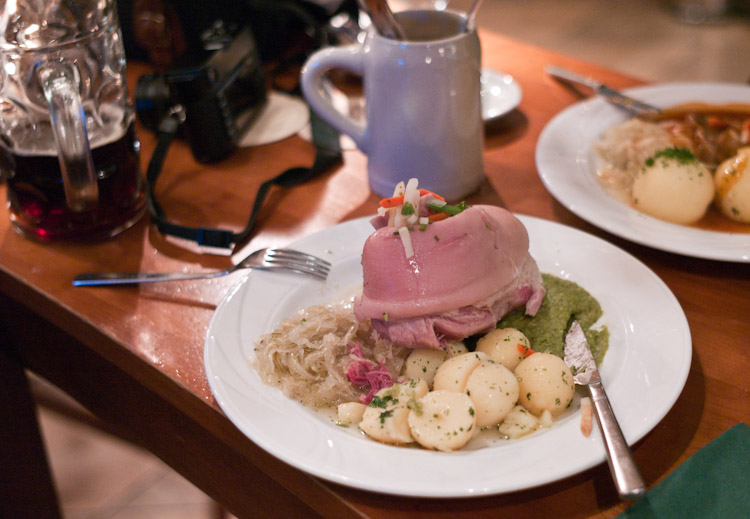 Alternate 9
One day I found this wonderful, cozy bar on Tucholsky-Strasse (also in the former East):

Alternate 10
Berlin's transport system is cheap and efficient, allowing for easy excursions to places like Potsdam. I went there Saturday morning to see the town where the fate of post-war Europe was sealed by Truman, Stalin and Churchill in 1945. I found myself in an upscale outdoors food market, complete with a mobile espresso vendor: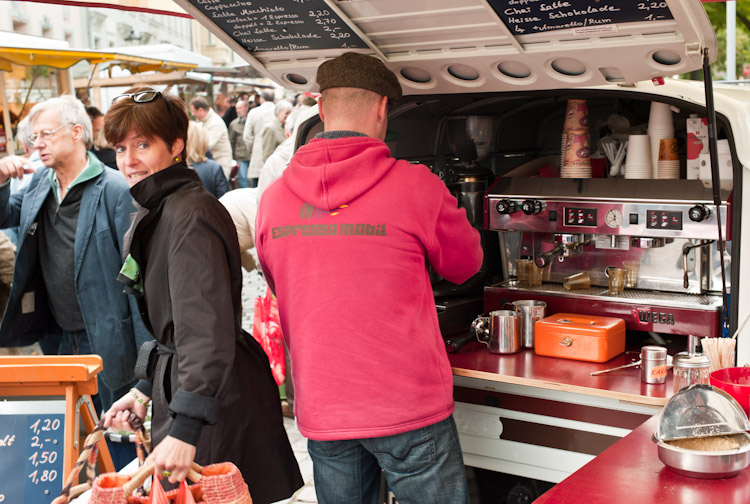 Alternate 11
Mother with children enjoying some just-purchased goodies: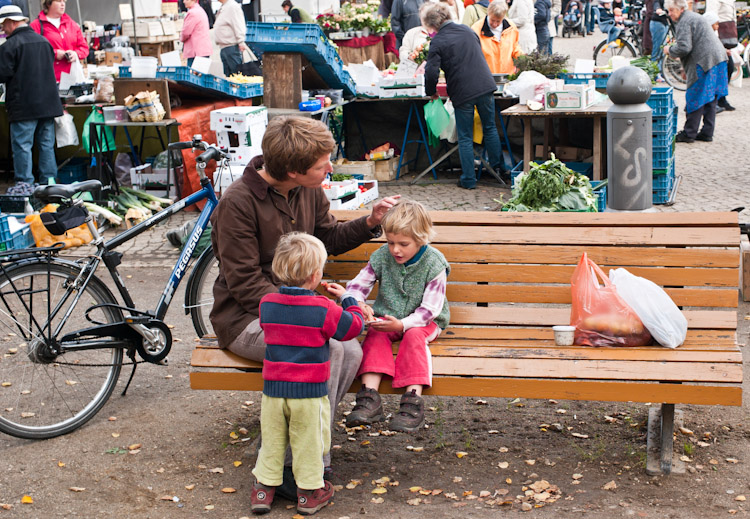 Alternate 12
Walking around Potsdam, I came across this house with a funny inscription. It reads "I have built this house according to my taste/and he who does not like it/can build a better one with his own money":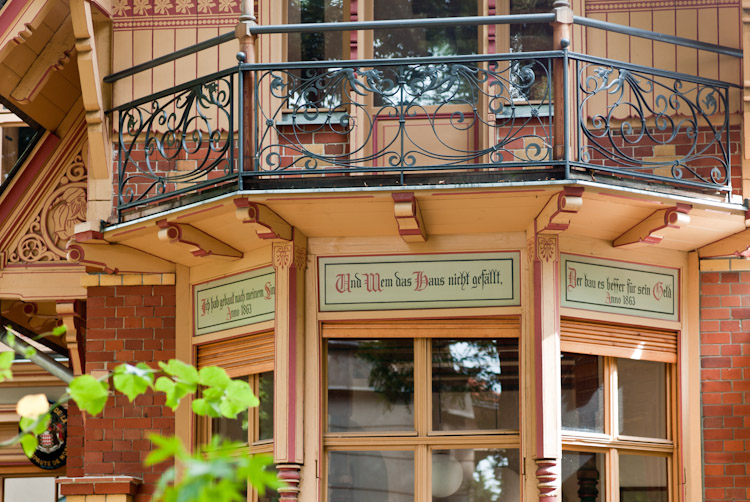 Alternate 13
The kiosk at the train station sells the basic necessities of life: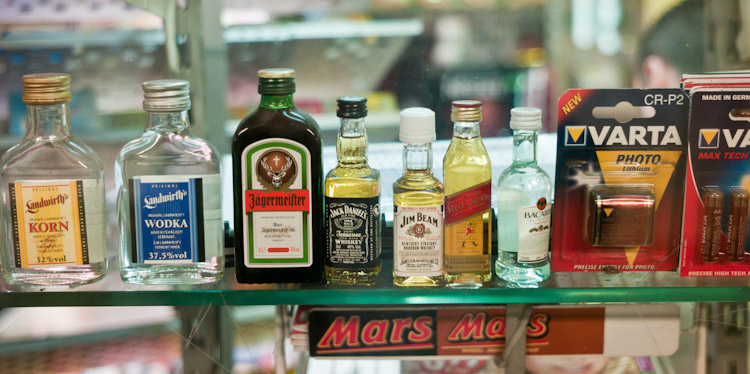 Alternate 14
On Saturday afternoon I found myself on a bench on Warschauer-Strasse, enjoying a beer and the human traffic passing by: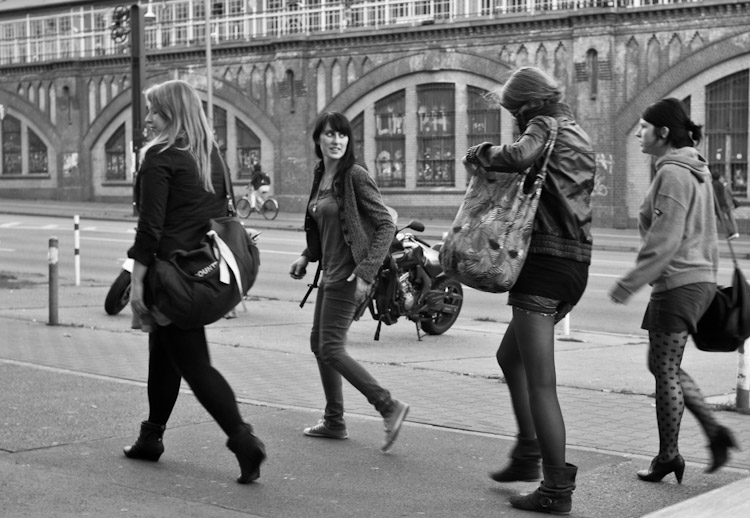 Alternate 15
And Saturday evening I stumbled into an Oktoberfest tent on Alexanderplatz: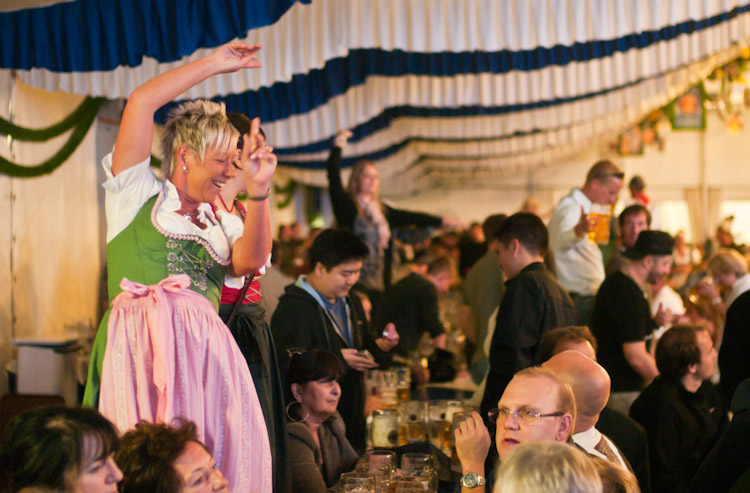 Alternate 16
Face in the crowd: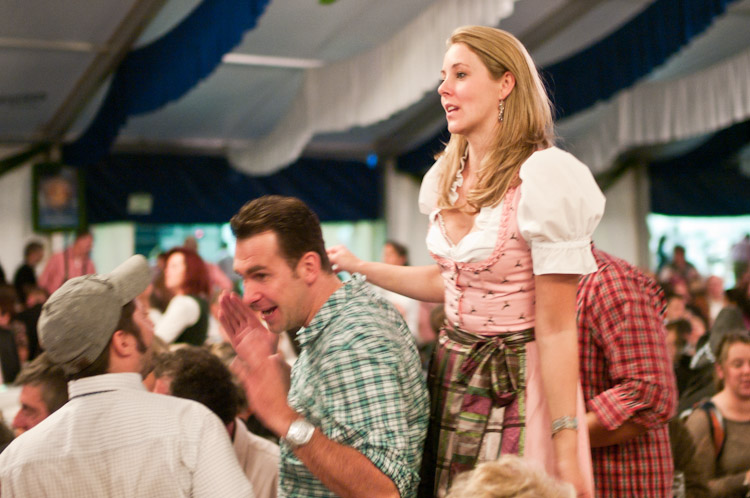 Alternate 17
Enjoying: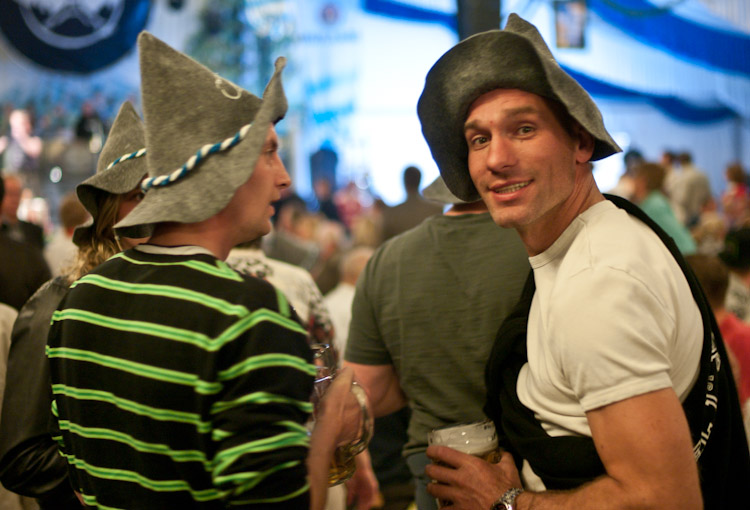 Alternate 18
Oblivious: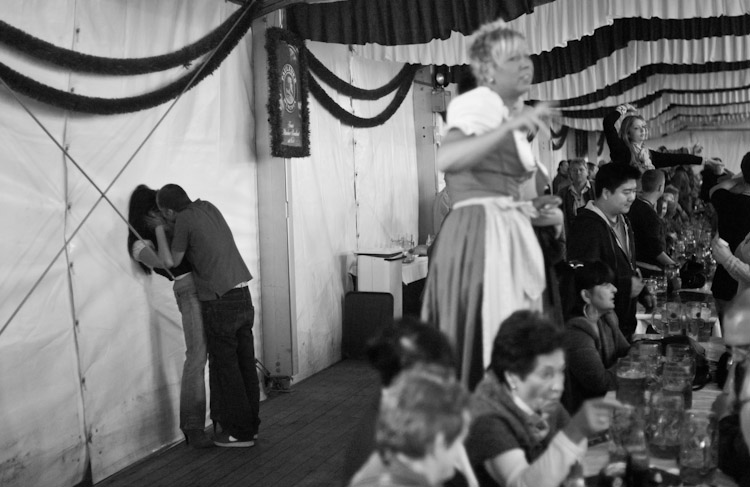 More Berlin pictures are here.