Another week, another trip, this time to Brussels. But first some cycling and some nice time with my daughter.
12_1
On Sunday morning, I did a bike ride to the south, stopping for a brief rest on the beach in Santa Pola. It was a cloudy and windy day, not exactly beach weather: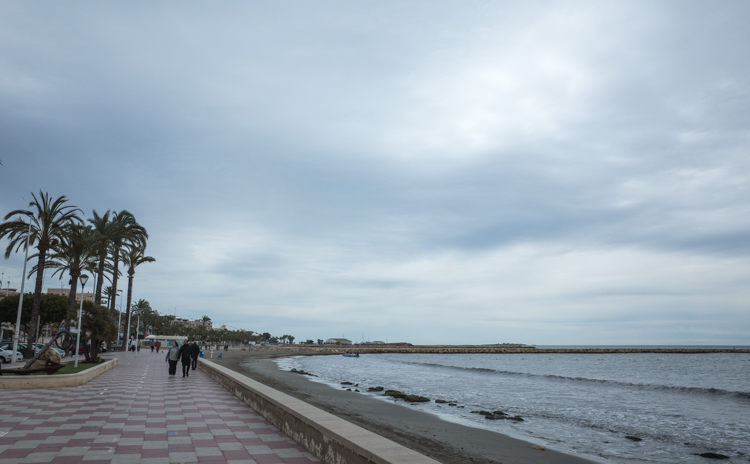 12_2
After the ride and showering, I went to the centre to meet up with my daughter for lunch. Monica now lives with some friends in the old part of the centre and attends the University of Alicante. She earns some extra money dog-sitting for people, so on this day we were going to be accompanied by a black Labrador/Dalmatian called Uva. Monica and Uva were waiting for me on the steps of the Mercado Central: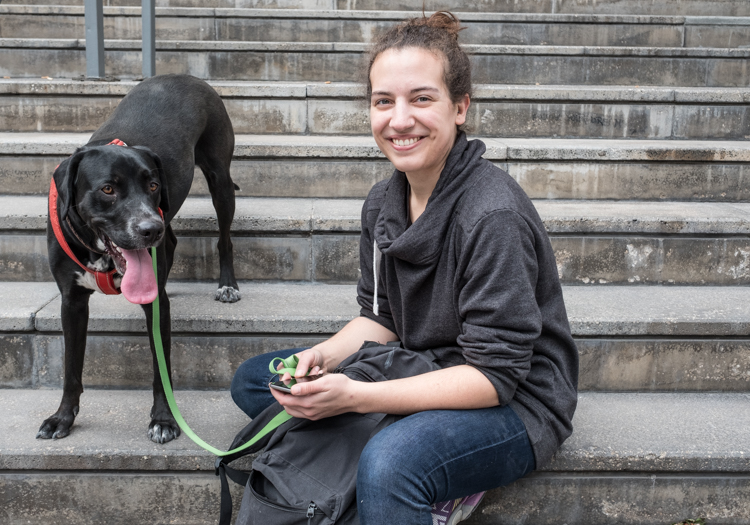 12_3
We went to a Lebanese restuarant called Mish Mish, the first visit for both of us, but definitely not the last. The service was great, the prices were reasonable, and the food was delicious. This is their hummus salad (the "hummus" actually just refers to the chick peas):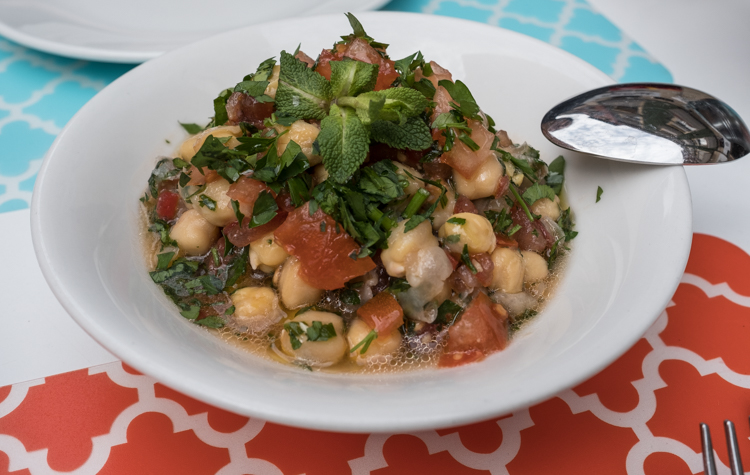 12_4
Fattah Bazenjan:

12_5
Uva was a well-behaved dog and just sat next to the table while we ate: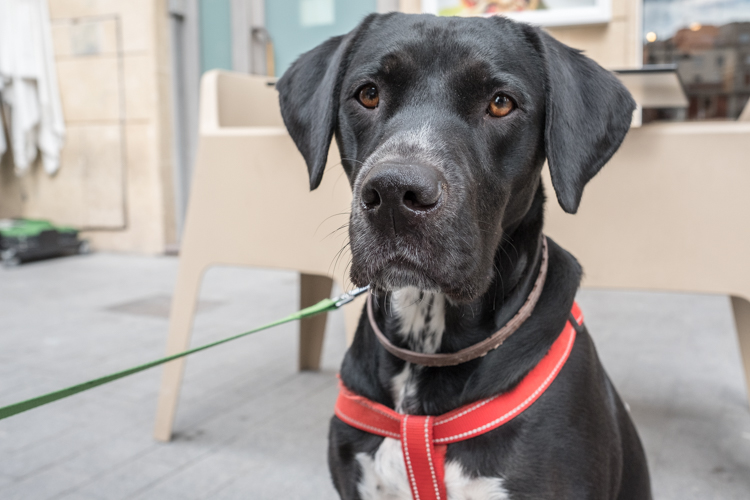 12_6
A typical street in the barrio, mixing the rainbow flags with the Spanish flags that symbolise the opposition to the Catalan independence movement: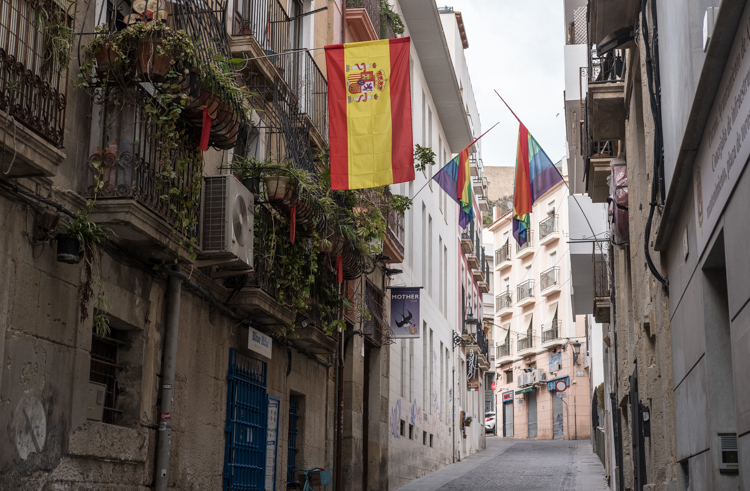 12_7
On Wednesday morning, I flew to Brussels. The airport there is unique; it has the same chain shops as most other airports but it also has some local touches, such as this rocket from the Tintin on the moon book: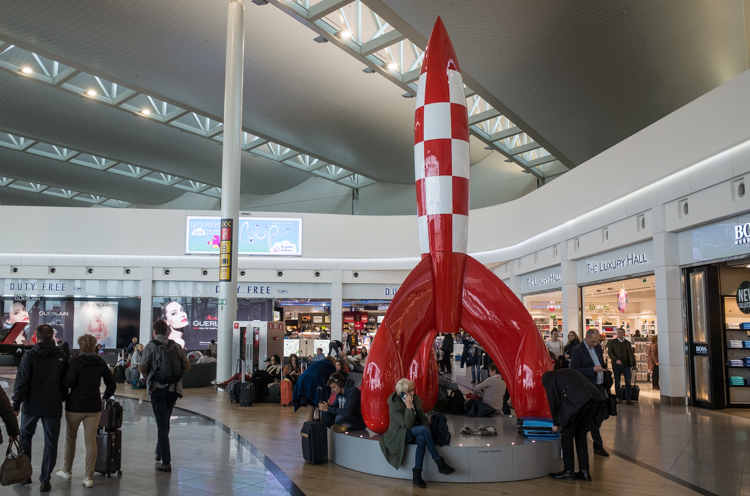 12_8
A place I see every month, and I always try to get some new angle on it. This time it was about the composition and the reflections: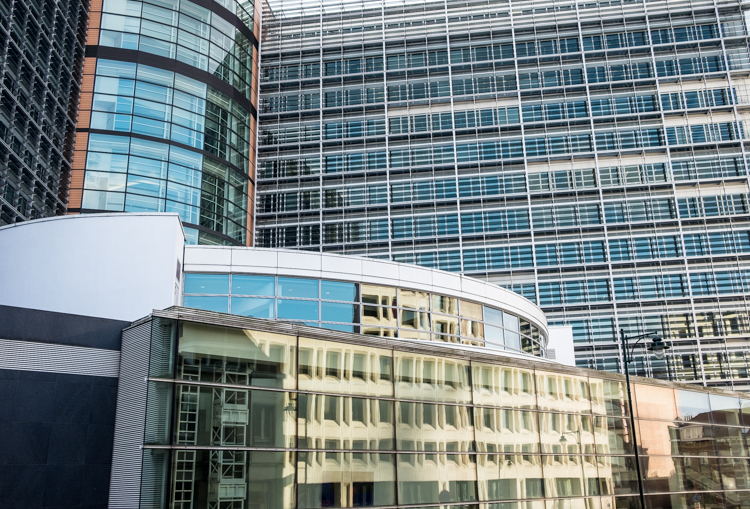 12_9
A different kind of depiction of Jean Monnet, one of the founding fathers of what became the European Union: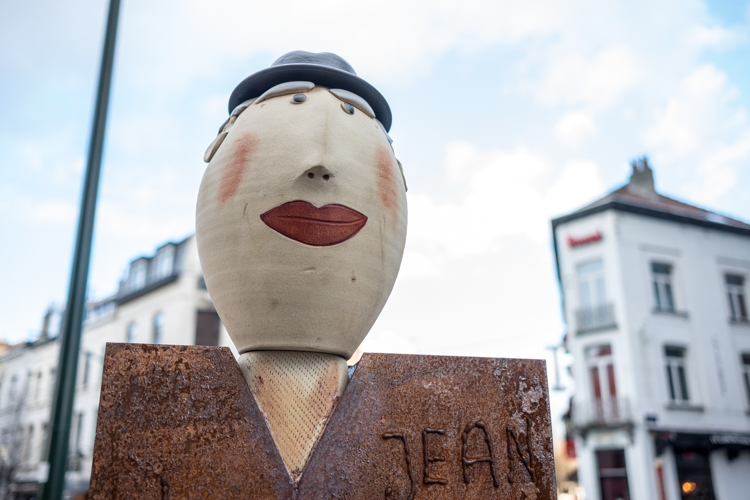 12_10
I had some free time after my arrival, so I took the metro to Porte de Namur to walk around Matongé, the African neighbourhood, a bit: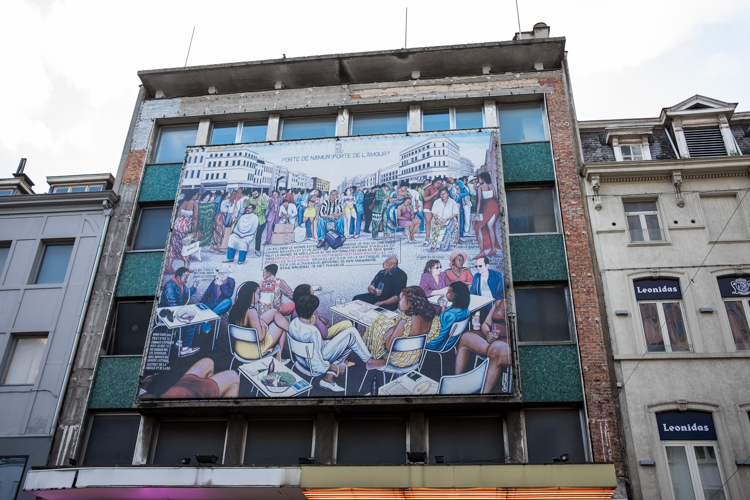 12_11
I guess it was garbage pick up day next morning on Chaussée d'Ixelles: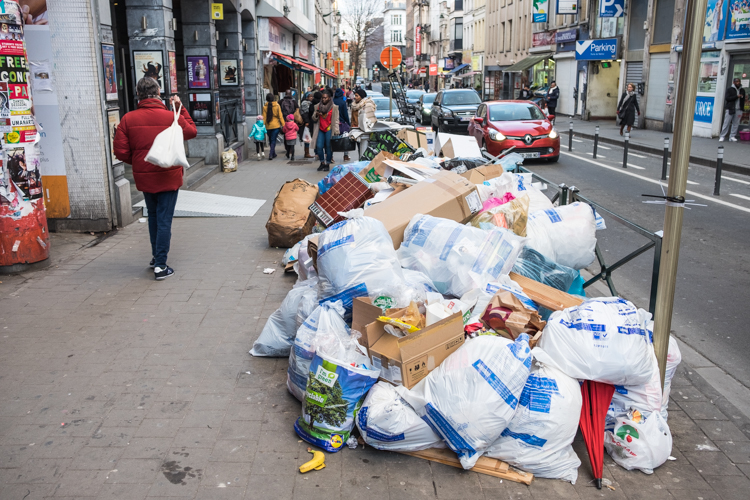 12_12
Sweet potatoes and other African veggies, Matongé: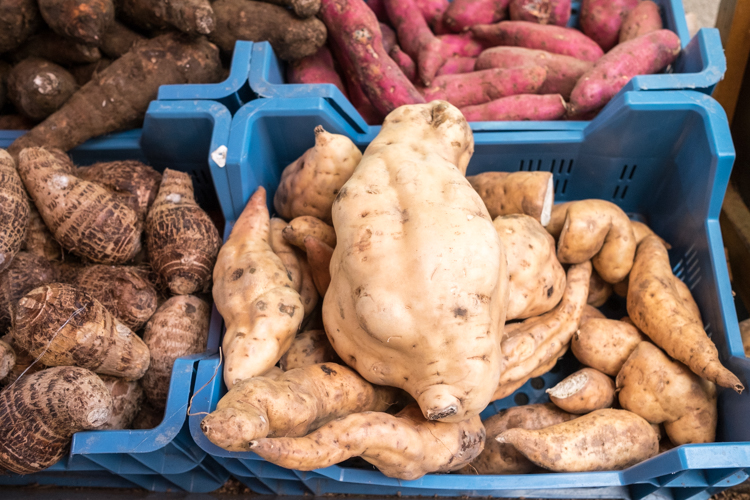 12_13
I wanted to visit Campion Photo, one of the main camera shops in Brussels and one that still has a decent selection of film and chemicals, to buy a yellow filter. I had no luck with that, but all was not lost; across the street is one of my favourite bars, L'Ultime Atome. This man is sitting at my favourite table, by the window: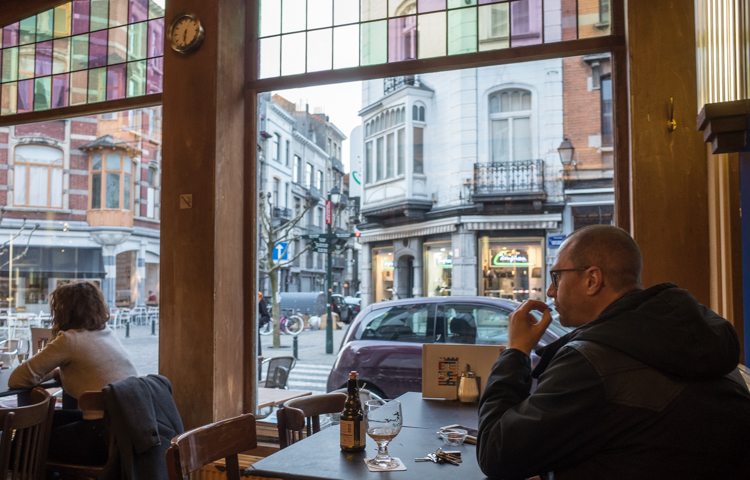 12_14
Looking out: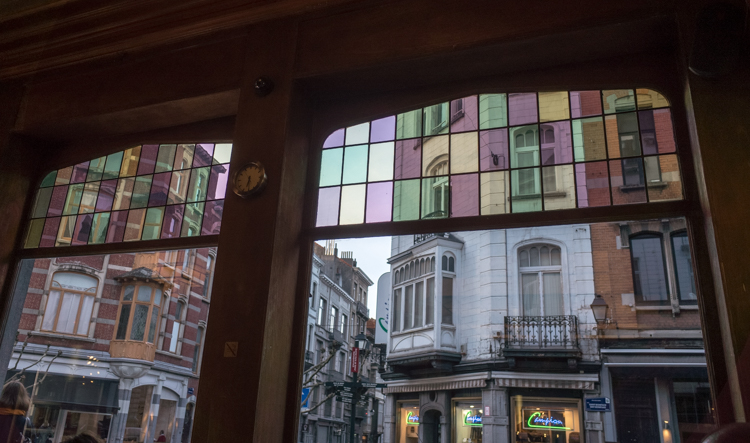 12_15
The bar at L'Ultime Atome; the decor has traces of Art Nouveau: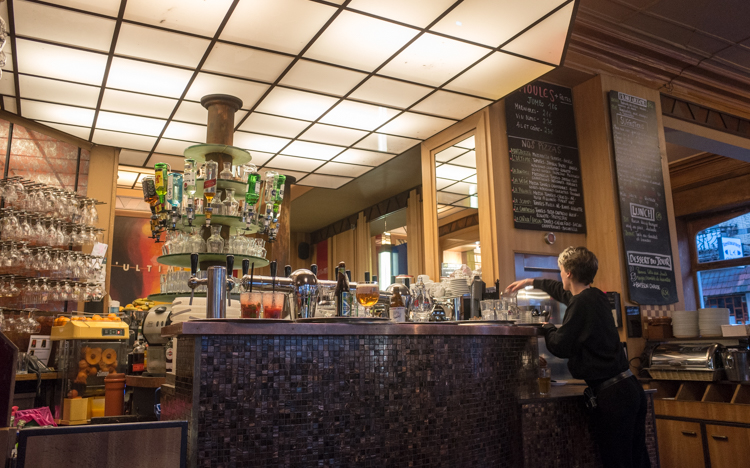 12_16
People have a good time: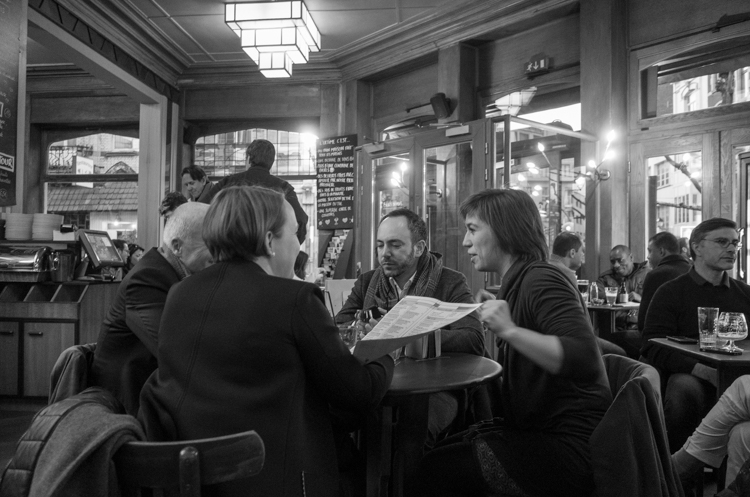 12_17
My next destination was a shopping gallery near Grand' Place, where I wanted to buy some Pierre Marcolini chocolate, some of the best in the world and only available in the company's own shops. I took the metro to the Gare Centrale and walked down towards Grand' Place, enjoying the evening view:

12_18
This is Gallerie de la Reine: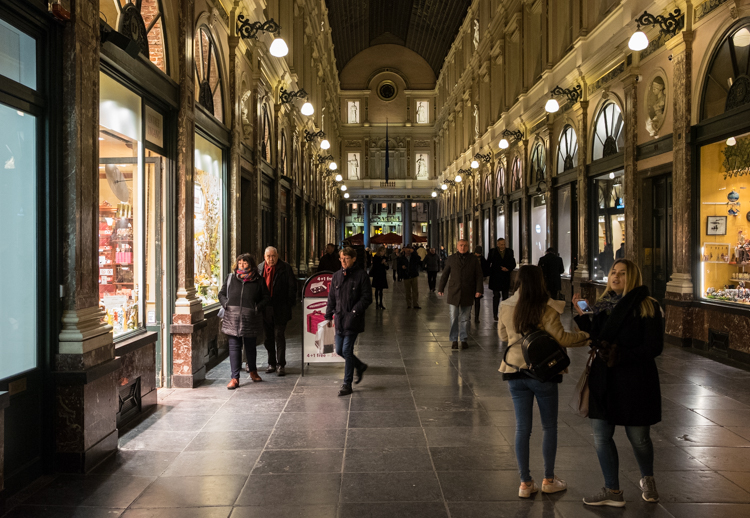 12_19
One of several chocolate shops in Gallerie de la Reine: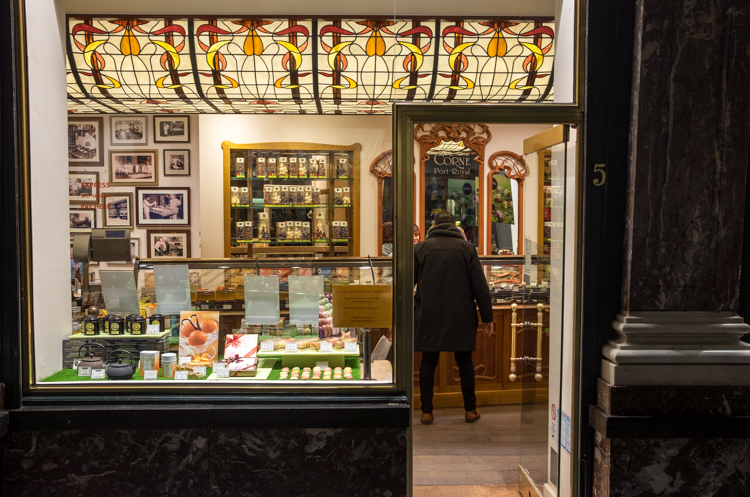 12_20
Mission accomplished, I went to a bar for a beer and then met up with my colleagues (we were several Alicante-based people in Brussels) for dinner. Afterwards, we walked across Grand' Place, always glorious: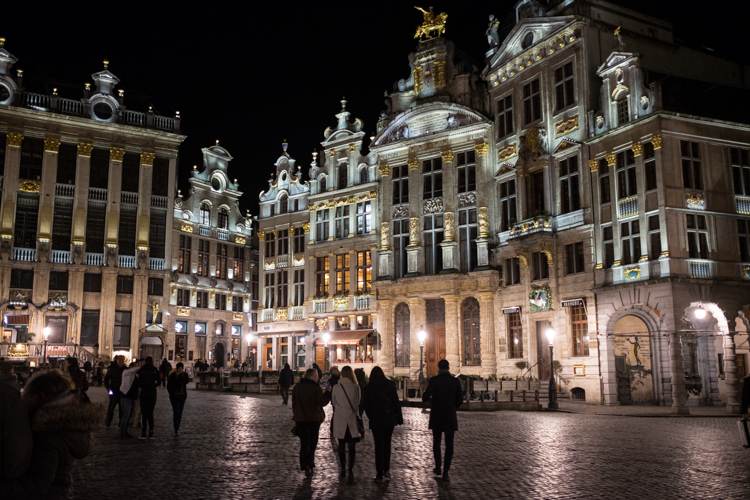 12_21
The side streets around Grand' Place contain many small bars and restaurants. Not many people sit outside this time of year, but if you want to smoke with your beer, there is no other option: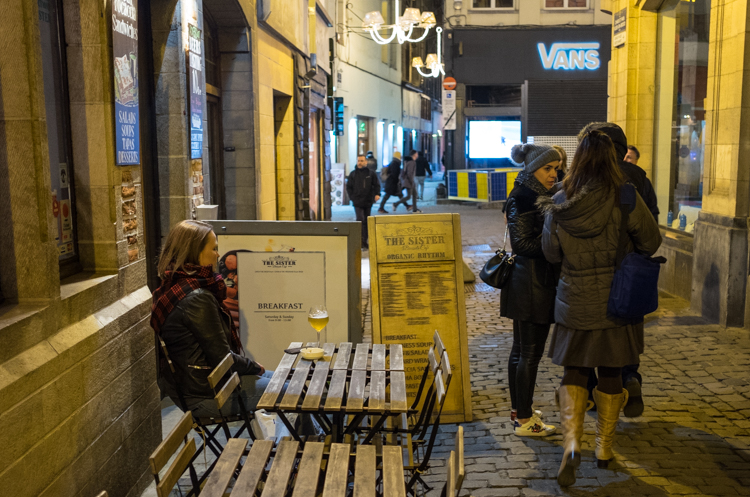 12_22
A glass of cognac: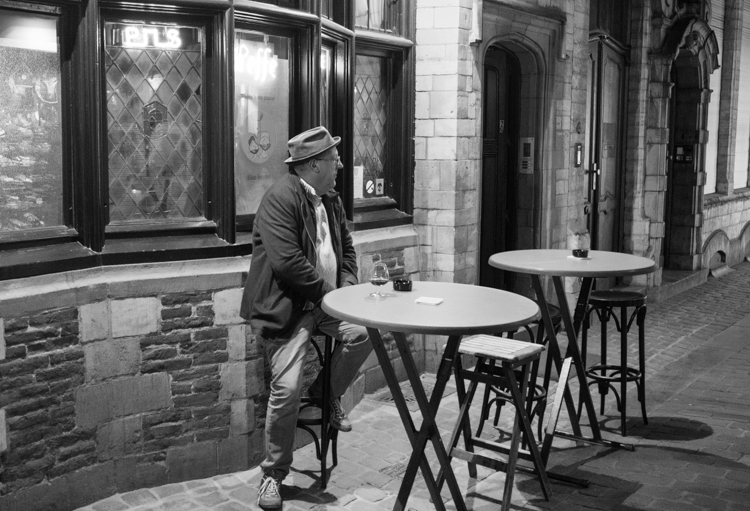 12_23
My colleagues Blanca, Stephanie and Claire, waiting for the metro to go back to our hotel: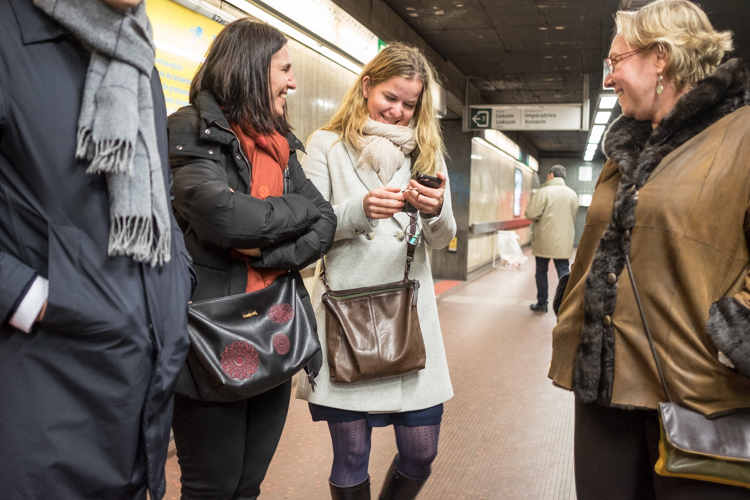 12_24
Sharing a laugh on the train. Tomorrow is going to be a long, busy day: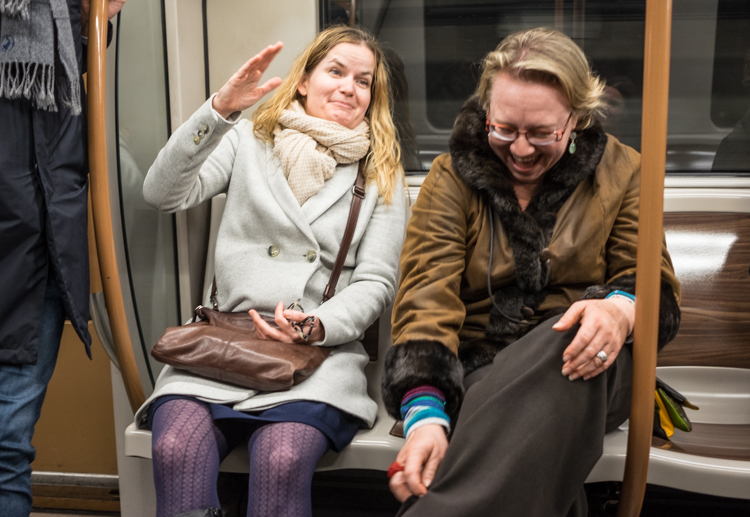 12_25
It is Thursday morning, and the long day is about to start: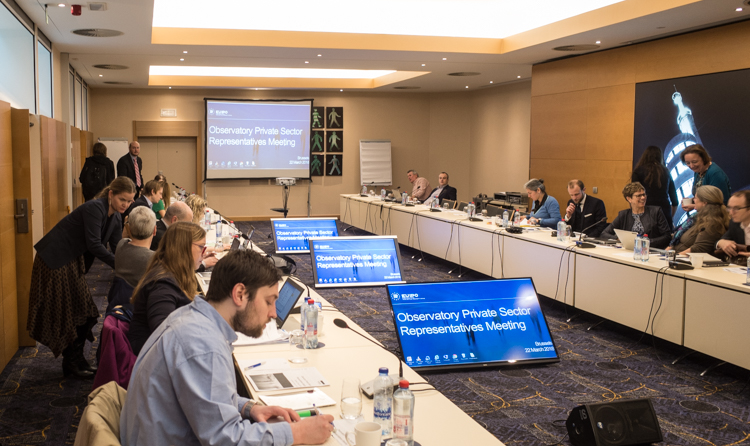 12_26
The meeting was conveniently held at the hotel where we stayed, the NH Berlaymont: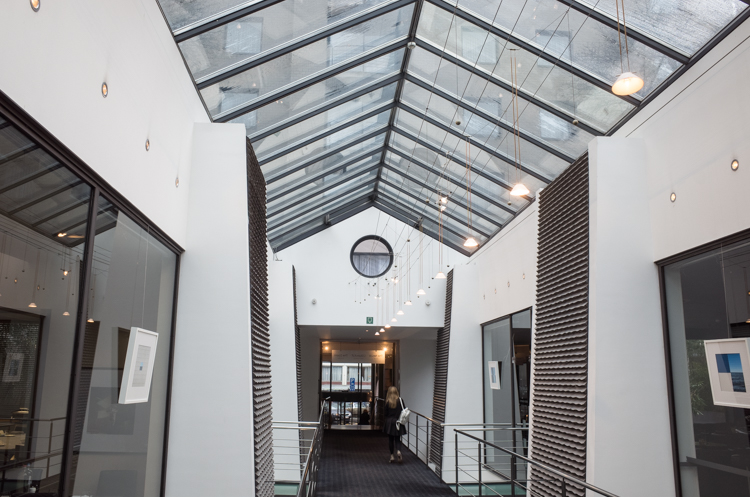 12_27
Glasses lined up for a coffee break, although the content did not correspond to the label:

12_28
After the meeting ended around 6 p.m., I went to my room, changed into comfortable clothes, and ventured out, alone this time. It was drizzly but no matter. I walked past the main entrance to the Commission's headquarters. I continue to be impressed by the fact that Berlaymont is so accessible even in these security-conscious times: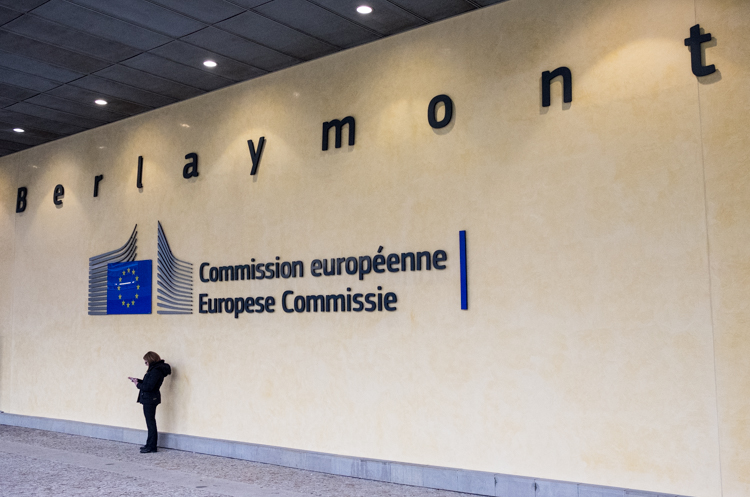 12_29
People making their way across the rainy plaza in front of Berlaymont, mostly to the Schuman metro station, which is also where I was going: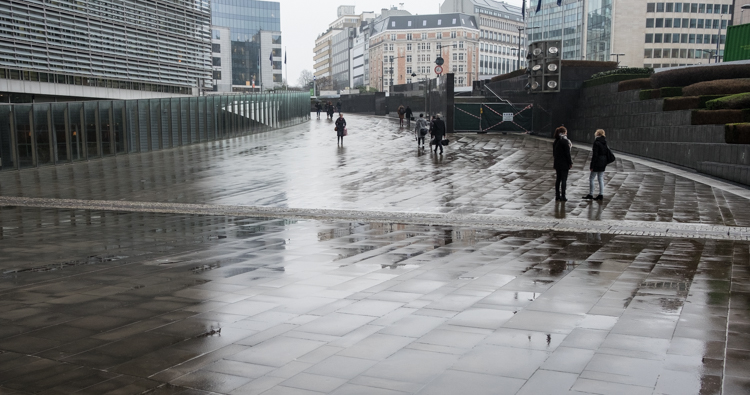 12_30
I took advantage of the late opening hours at Bozar on Thursdays (until 9 p.m. instead of the usual 6 p.m.). The Fernand Léger exhibition I saw in February was still going on; in fact, an additional installation had been erected outside the museum: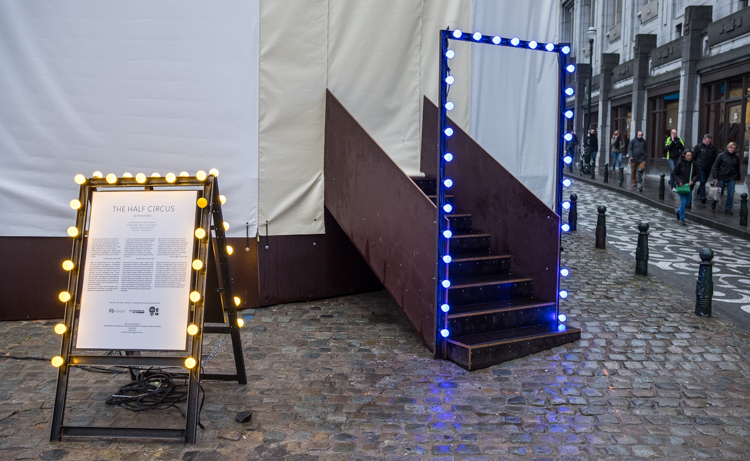 12_31
And the mural was still there as well: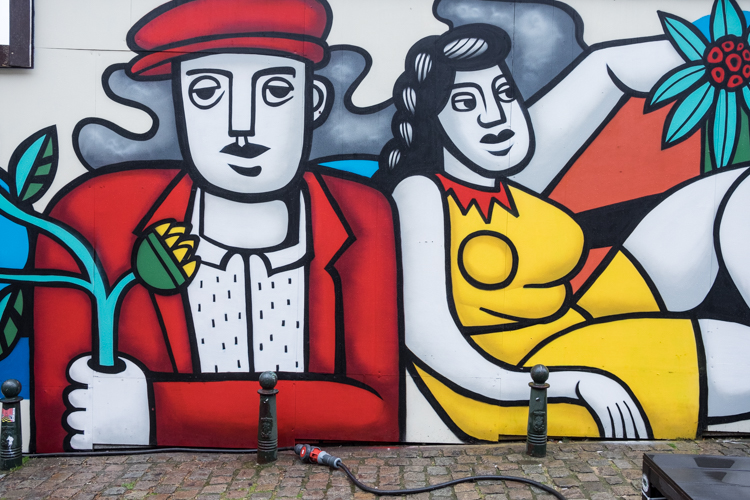 12_32
But I was at Bozar to see a couple of exhibitions I did not have to time see the last time I visited, especially one of Spanish still life through 400 years. On the way to that one I stumbled across some works by African-American artist Kehinde Wiley. I found his combination of a traditional technique (stained glass) and modern motives quite striking: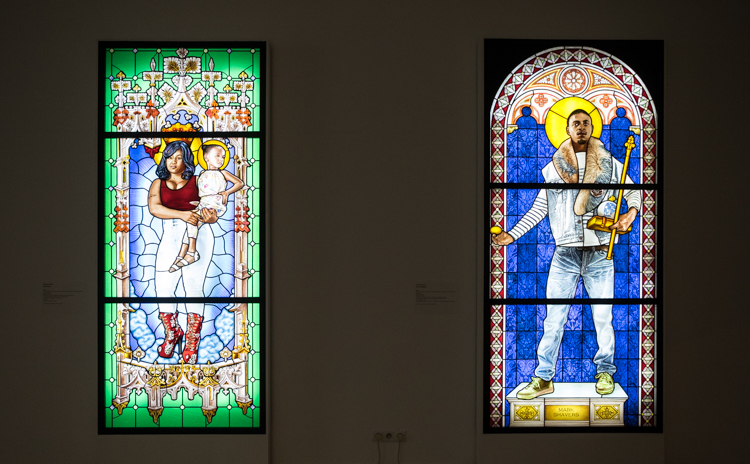 12_33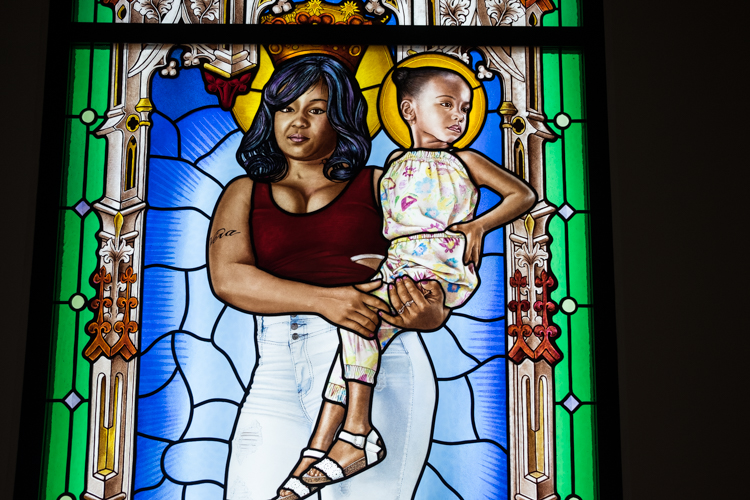 12_34
The Spanish still life exhibition was definitely a highlight. It was very well curated, with a broad sweep of this style of painting from its beginnings in the early 17th century to today. This is the oldest painting on display, painted in Toledo in 1602 by Juan Sánchez Cotán: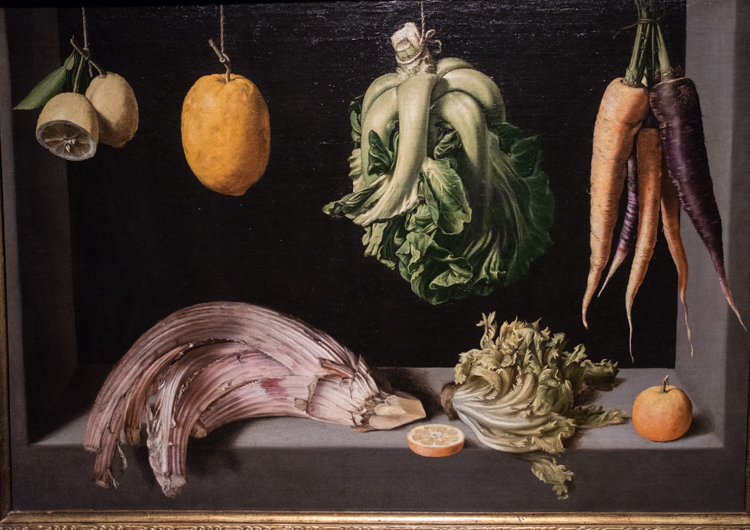 12_35
A masterpiece by Goya, 200 years later: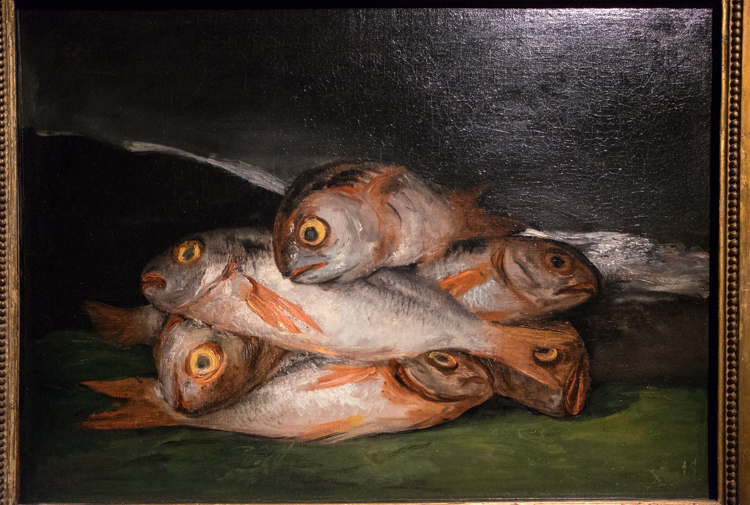 12_36
A further 150 years later, Picasso in 1945: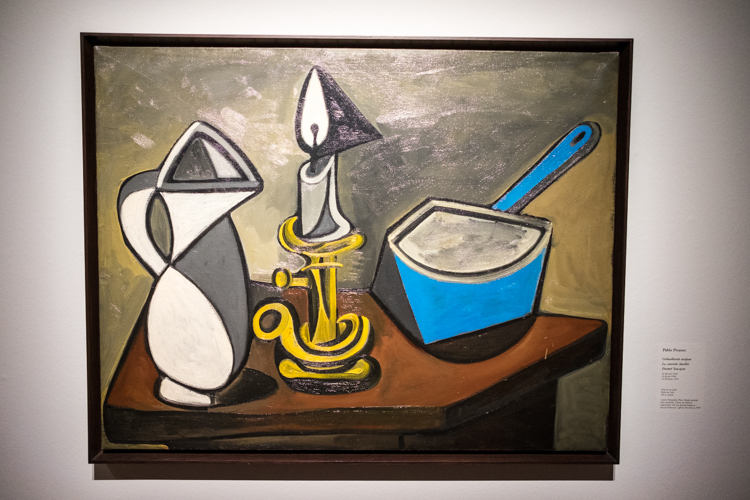 12_37
Finally, a modern still life by an artist whose name I forgot to note:

12_38
I had a quick look at an exhibition of works by and about Hugo Claus (Belgian writer, poet and film director, 1929-2008). This piece was interesting but overall I was underwhelmed: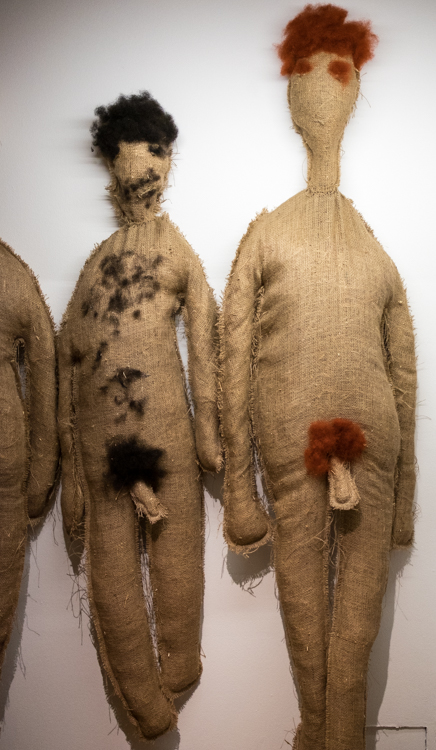 12_39
One of the reasons I like to go to Bozar is that besides the art, the building itself is very interesting, with many details to photograph and enjoy: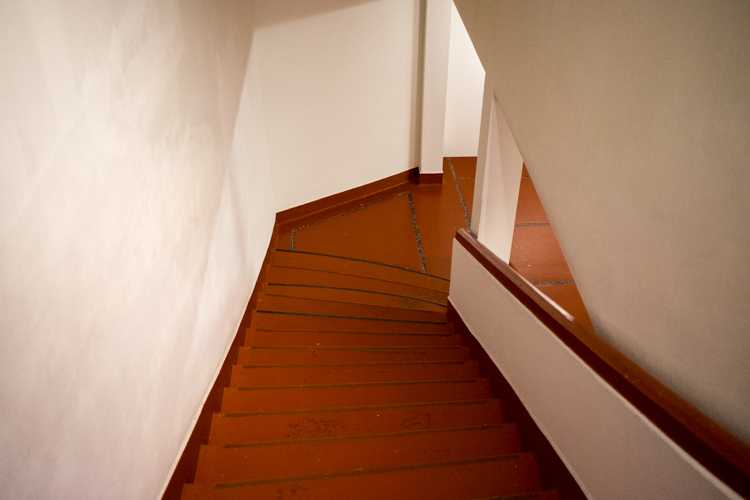 12_40
It was getting dark, and it was drizzly when I emerged from Bozar onto Rue Royale: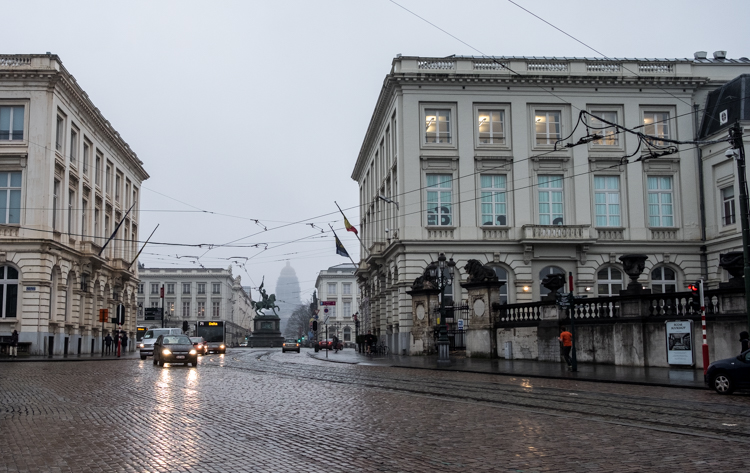 12_41
A splash of colour in the greyness: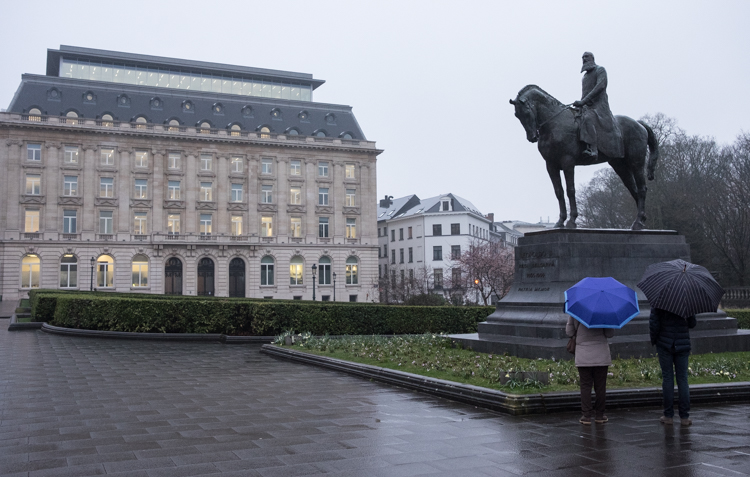 12_42
While walking to the Trône metro station to go back to the hotel, I photographed the traffic on the inner ring. It does not look bad right at this moment, but it is definitely not the place to be on a weekday afternoon (or morning):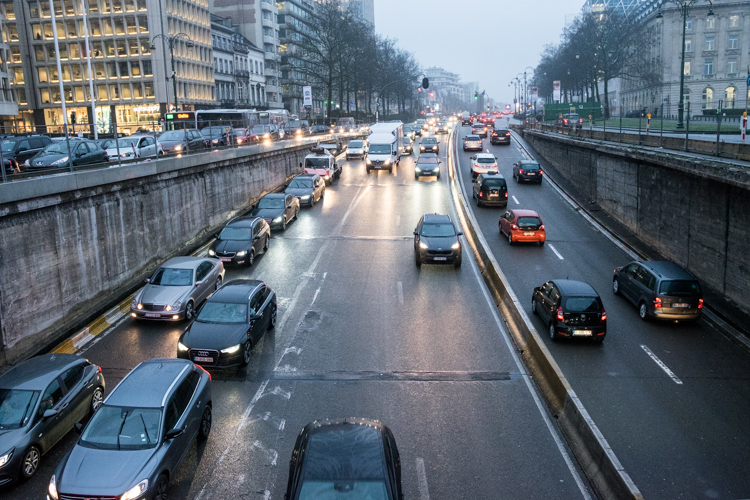 12_43
I spent Friday morning at our office on Rue de la Loi, meeting with some people from the Commission. Thursday was the 2nd anniversary of the Islamist terrorist attacks at the Maelbeek metro station and at Brussels airport that killed 32 people and injured 340. There had been some low-key commemorations, mainly for the families for the victims, including at the monument just outside our office:

12_44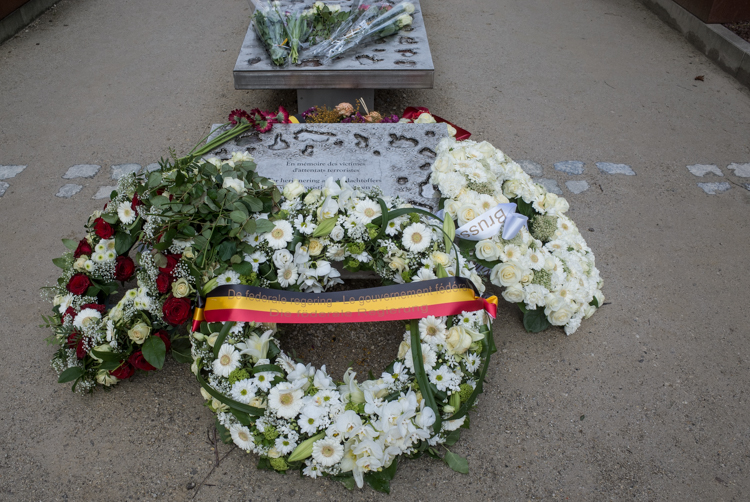 12_45
A lone flower: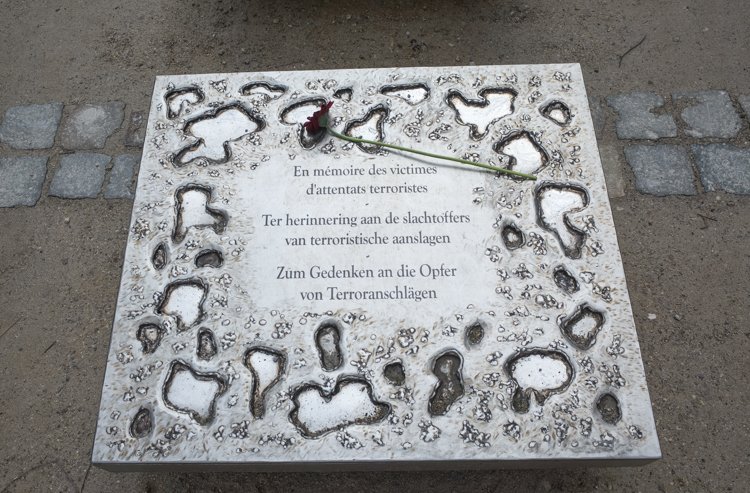 12_46
As Brussels is the capital of the EU, it is not surprising to see rallies for various causes almost every time I am in town. This time, at the top of Rue de la Loi, there was a demonstration against the restrictive abortion law proposed by the right-wing government in Poland. Since I am fluent in Polish, it was quite amusing to read some of the signs. In particular, one of the white signs on the ground just left of centre reads "he who lives by the sword dies by the vagina", a sentence that makes little sense in English but in Polish it is funny because the Polish word for vagina also means "sheath":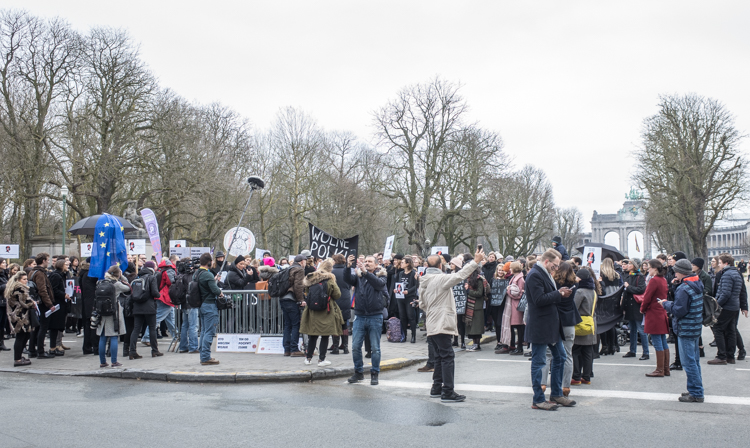 And then it was time to make my way to Brussels airport and fly home to my wife.