Another summer week of work, cycling, getting together with friends, and so on. I did start a new project: to photograph signs of shops and restaurants in and around Alicante. I choose those that have some creative touch or otherwise illustrate the current situation. Part of my motivation is that some of these places surely will not reopen next year.
30_1
I start with some photos from a bike ride south to Santa Pola, a nice and easy 83 km ride because it is largely flat. The nicest part of the ride is from Santa Pola north along a coastal road. About 22 km south of Alicante there is a little chapel at the side of the road: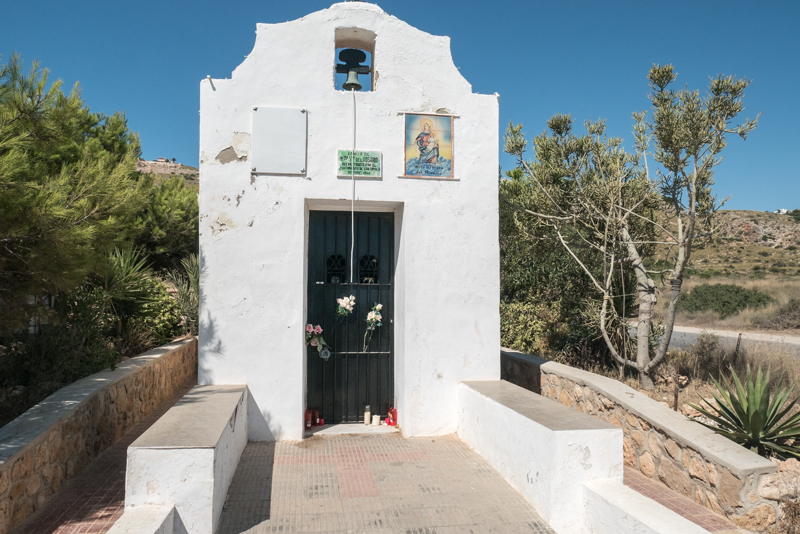 30_2
The plaque explains that the chapel was rebuilt in 1946. Putting 2 and 2 together, I assume that it was destroyed by republican forces during the Civil War and then rebuilt after Franco's victory: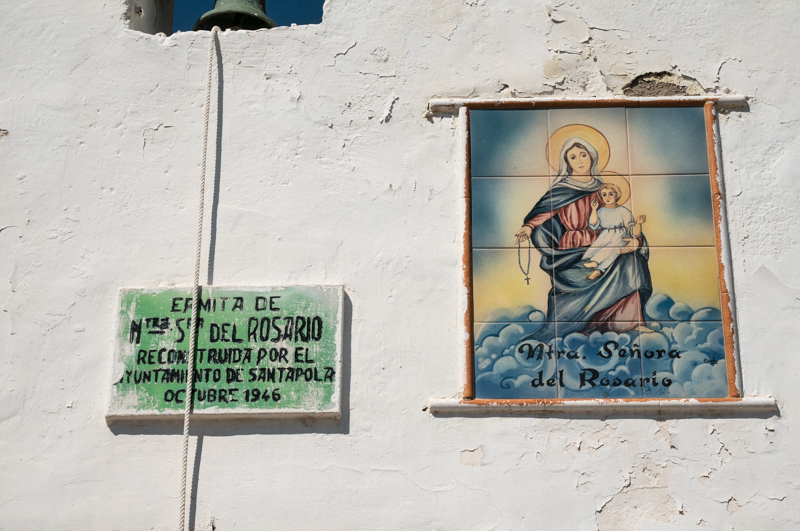 30_3
People leave flowers and candles, presumably in memory of deceased relatives and friends: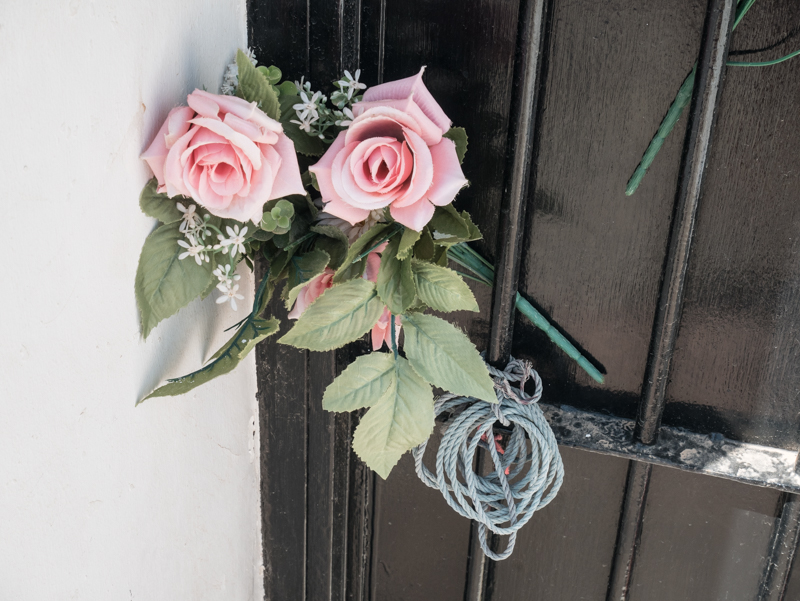 30_4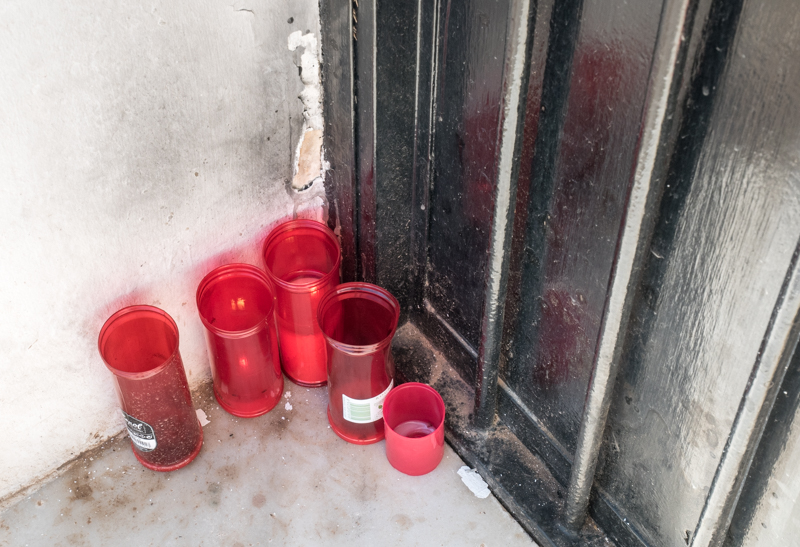 30_5
A look inside through the bars: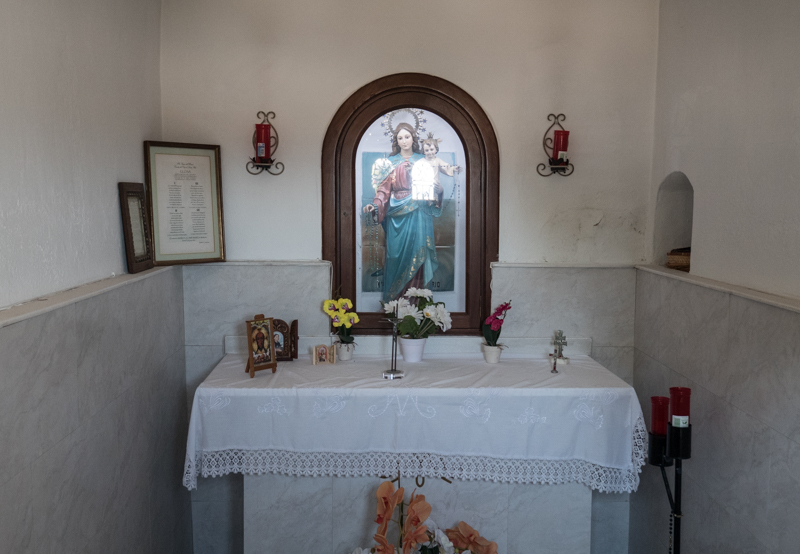 30_6
A bit further down the road, a creative re-use of toilet bowls: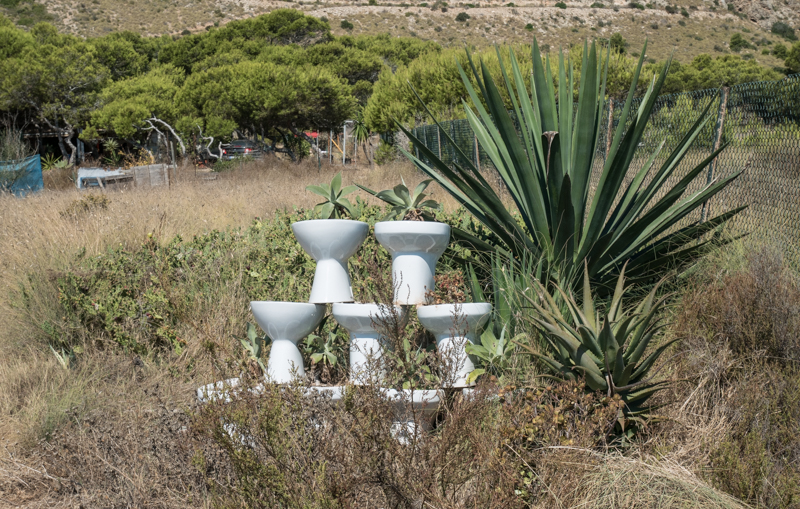 30_7
On Sunday afternoon, our friends Eliot and Assumpta, their son Lucas and his girlfriend, and their two dogs, came to our house to have a leisurely paella in the back terrace. Eliot is put to work for the initial steps: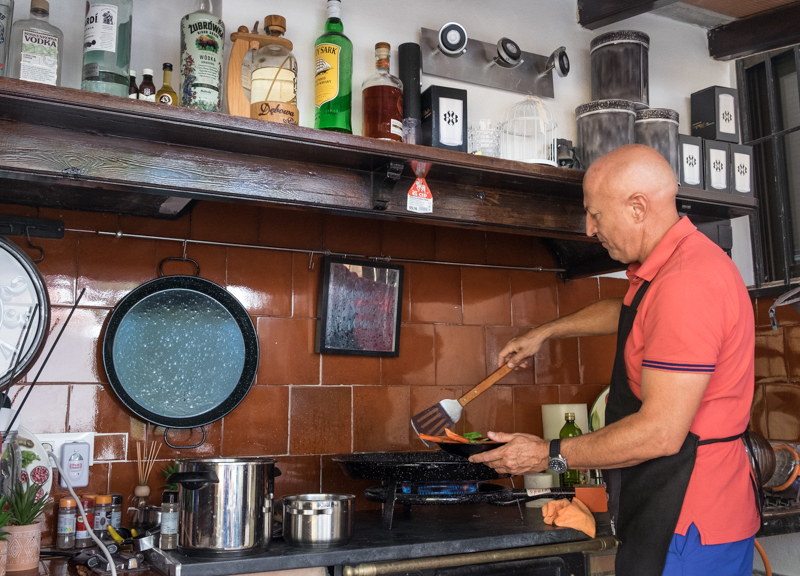 30_8
This was a traditional Valencian paella, with chicken and rabbit as the main ingredients (besides the rice, obviously). Some escargots were also added: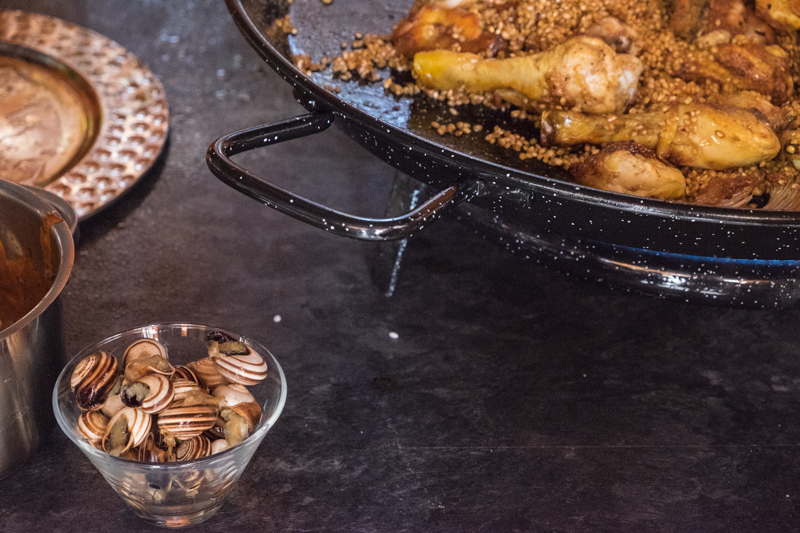 30_9
Eliot and my wife working on it: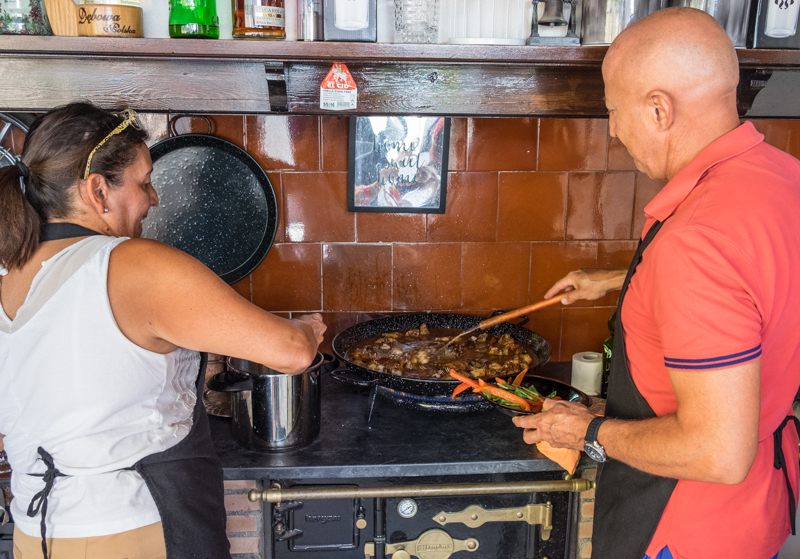 30_10
The finished product: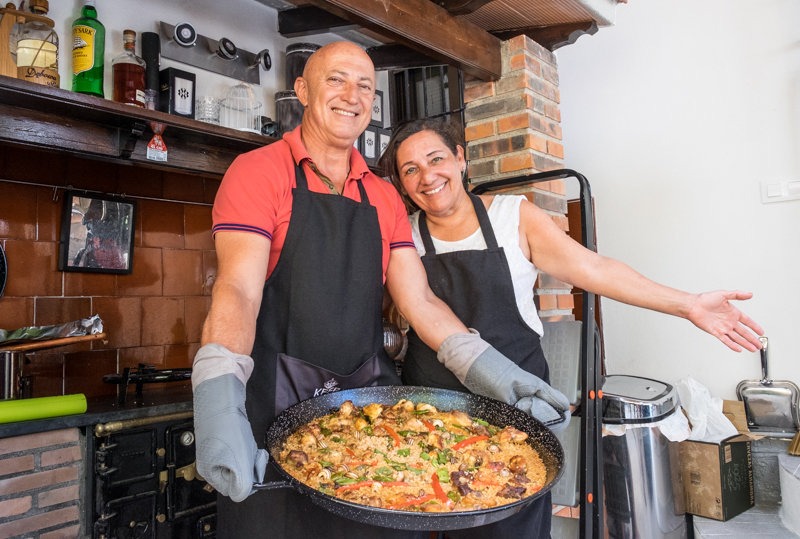 30_11
Preparing to serve: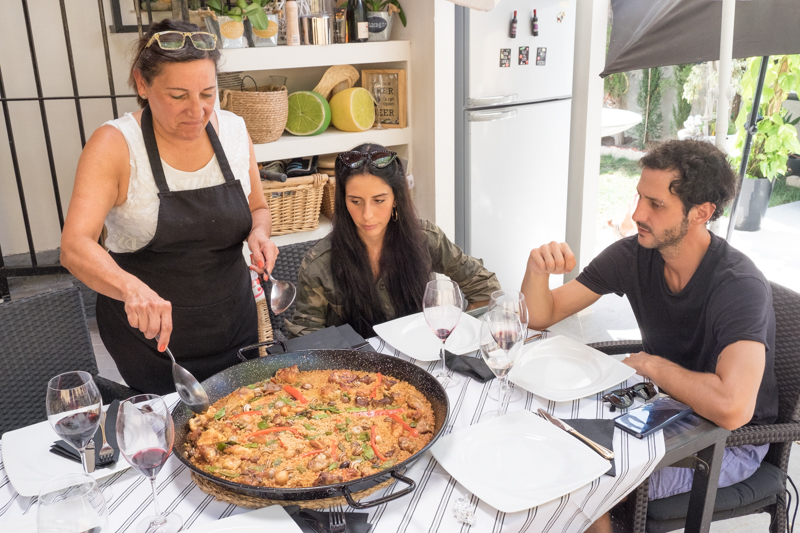 30_12
Assumpta's dog: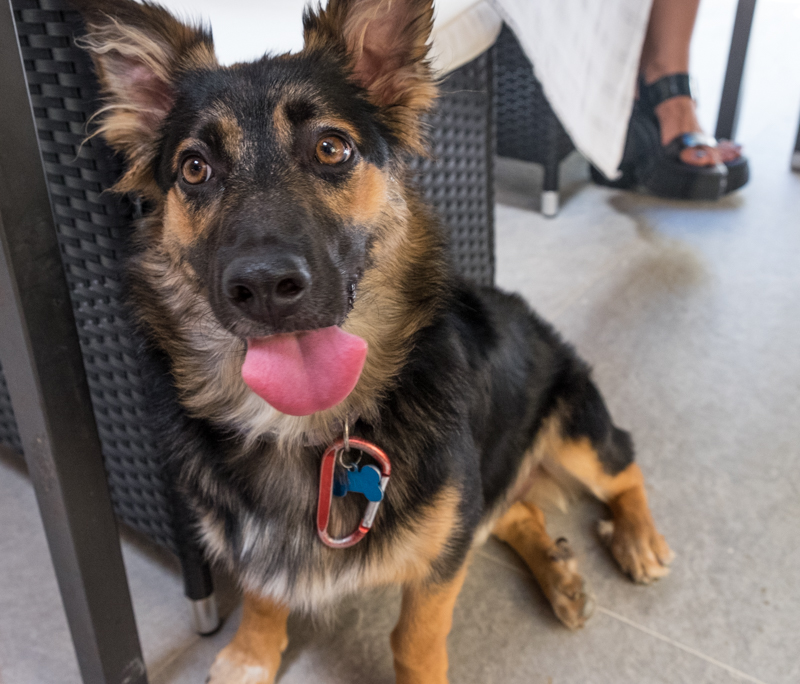 30_13
The two dogs at play. They are both around 6 months old, and are very lively when they are together, even on a hot day: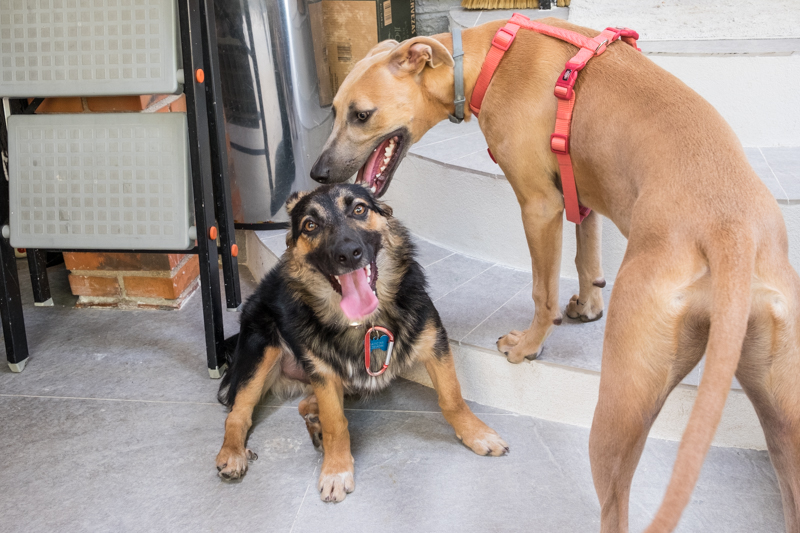 30_14
Sharing some leftovers: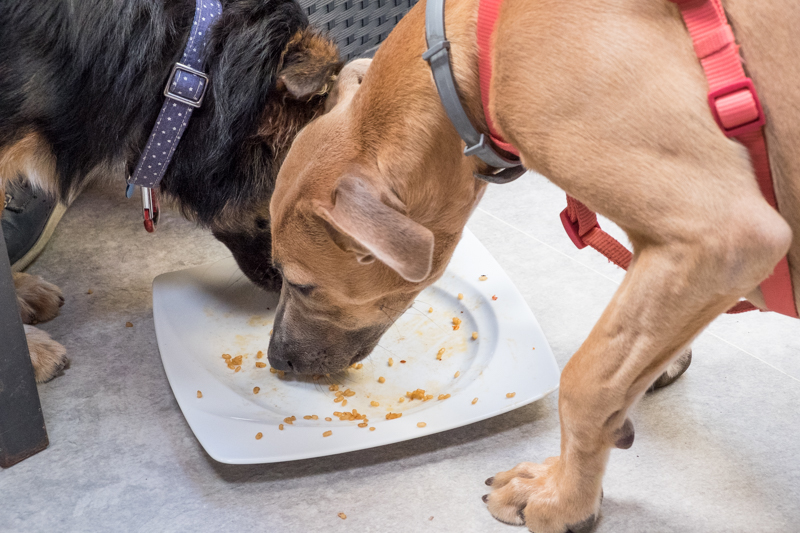 30_15
The other dog has left along with her humans, and it is now time for a siesta: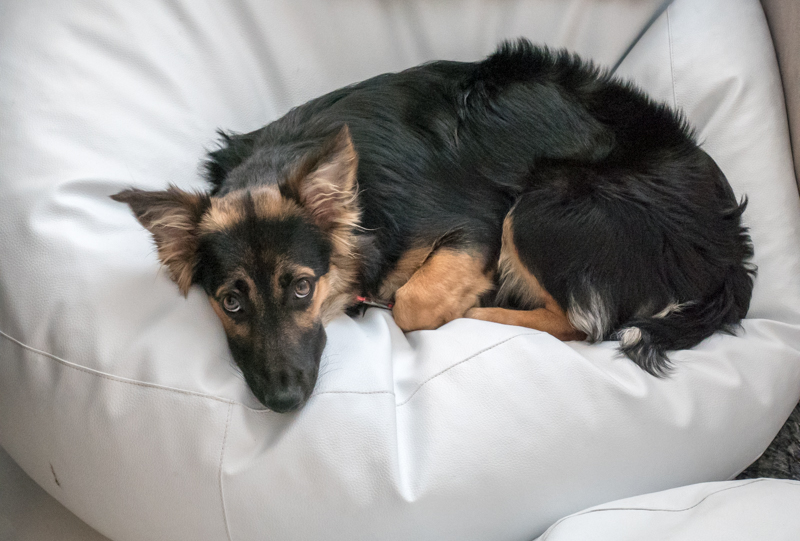 30_16
Now some pictures from the beach. One morning, as I was starting my daily bike ride, the light was nice enough to make me stop: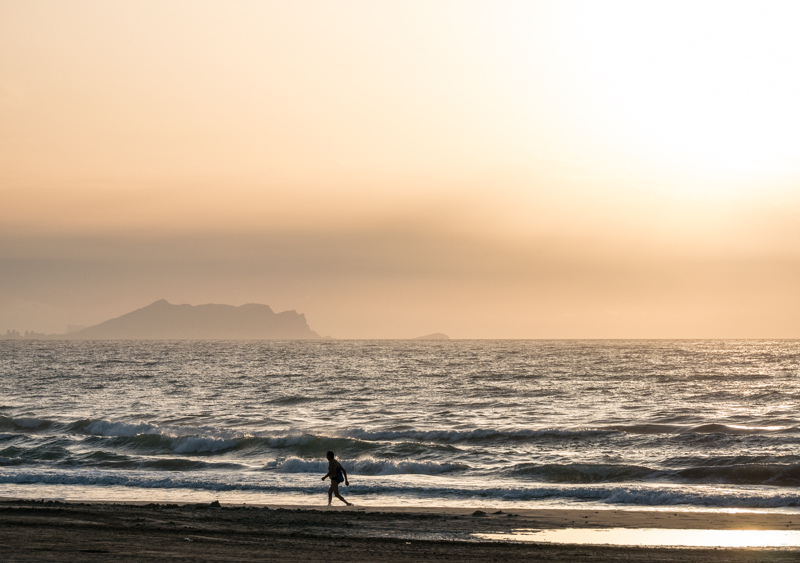 30_17
In the afternoon, the wind was really blowing in: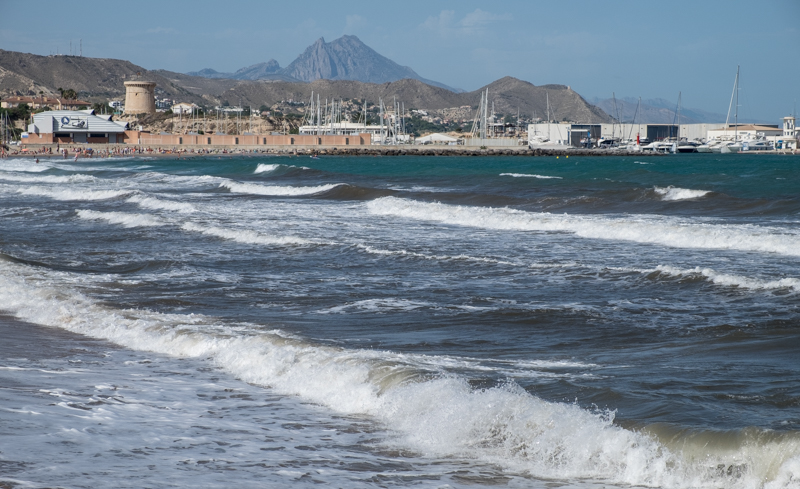 30_18
The beach is much less crowded than usual. While the usual visitors from Madrid and other inland cities are here, there are very few foreign tourists: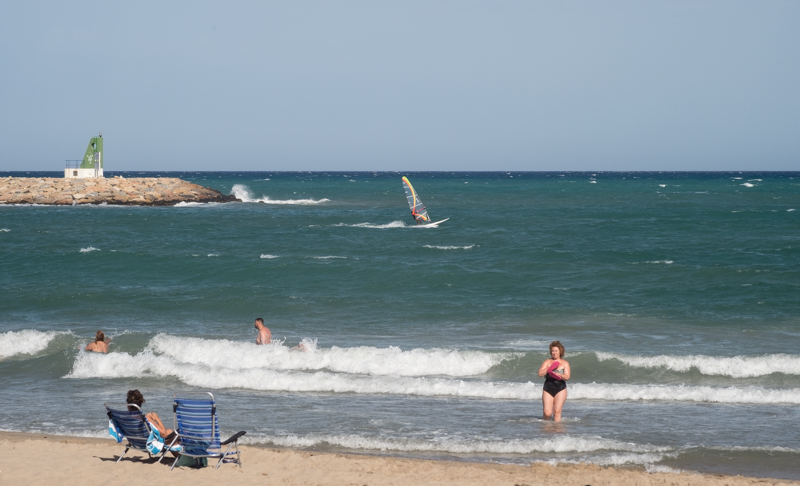 30_19
A small sailboat being escorted into the harbour: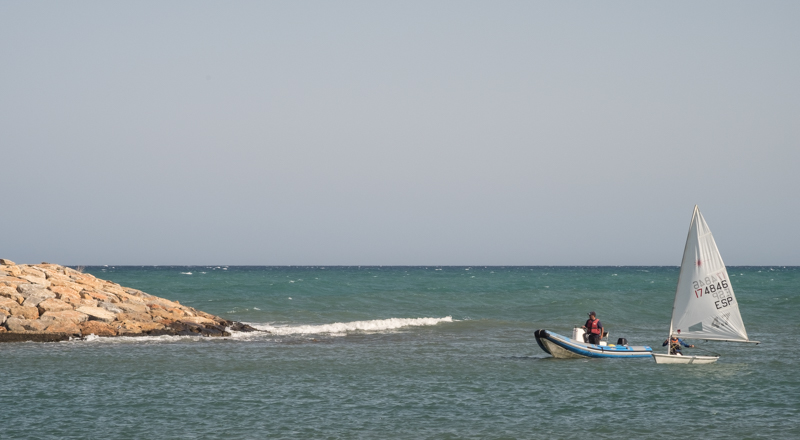 30_20
A sign of the times–another eatery bites the dust. The local business association estimates that as many as 30% of all restaurants and bars in this area may go out of business due to the lost summer (and earlier in the year, the lost spring, since our tourist season traditionally starts at Easter):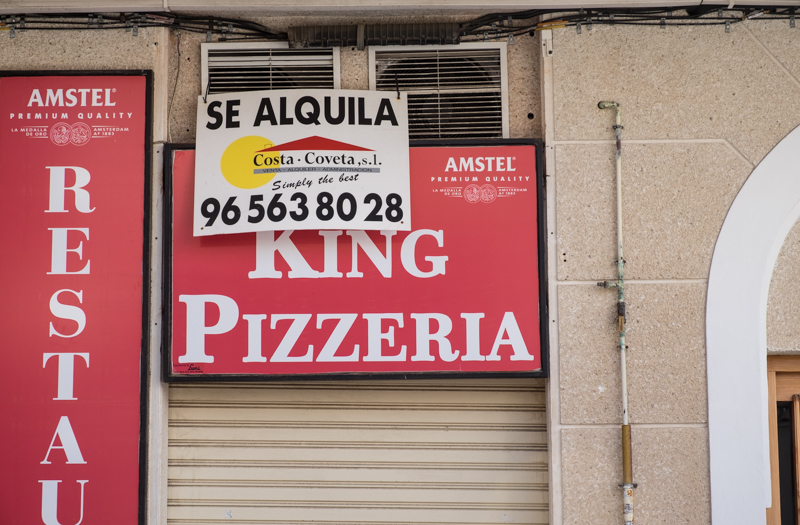 30_21
The above situation has inspired me to begin an ongoing photo project to photograph various signs of businesses in and around Alicante–shops, restaurants, bars, some of which look very professional, while others look almost homemade. I start with this old bakery: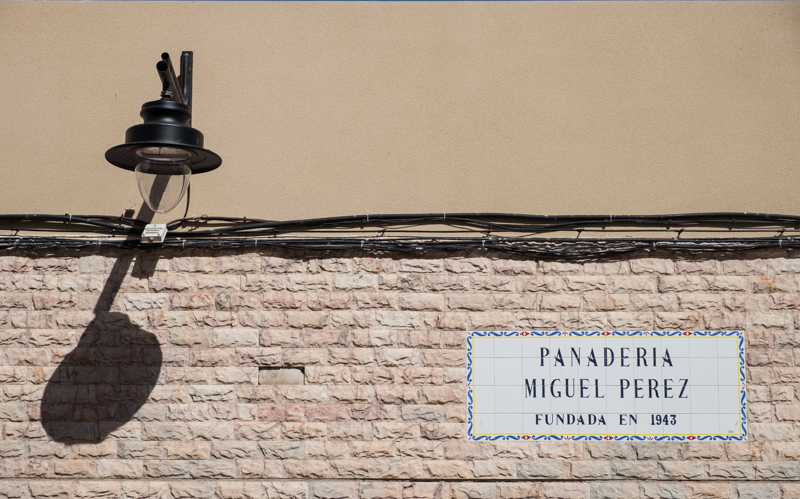 30_22
A bar in El Campello called El Lobo Marino:

30_23
Beer and pigeon, outside Malatesta: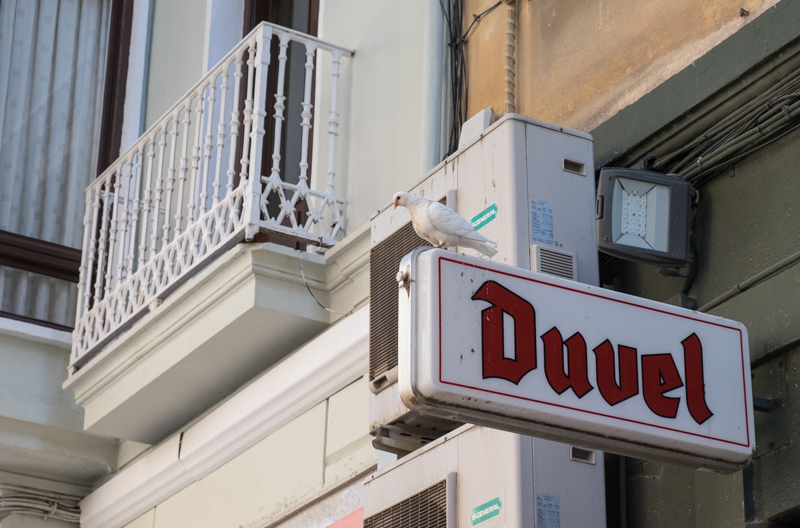 30_24
A somewhat incongruous bakery sign in the centre of Alicante: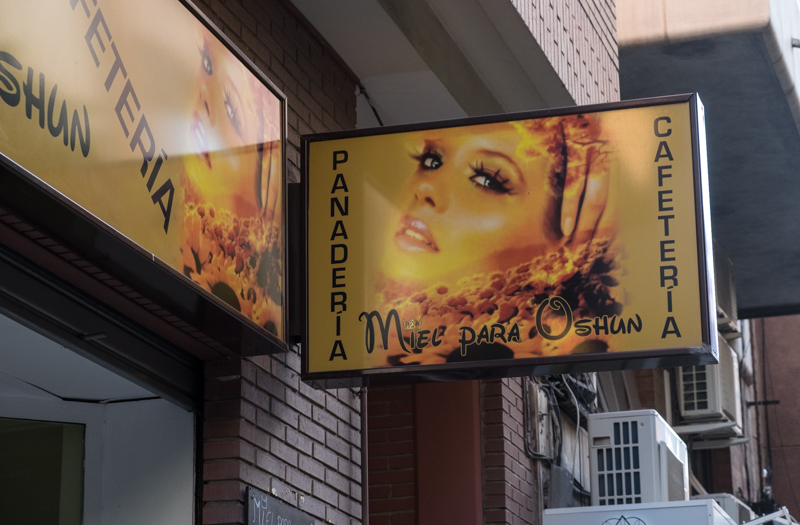 30_25
Shoe repair shop: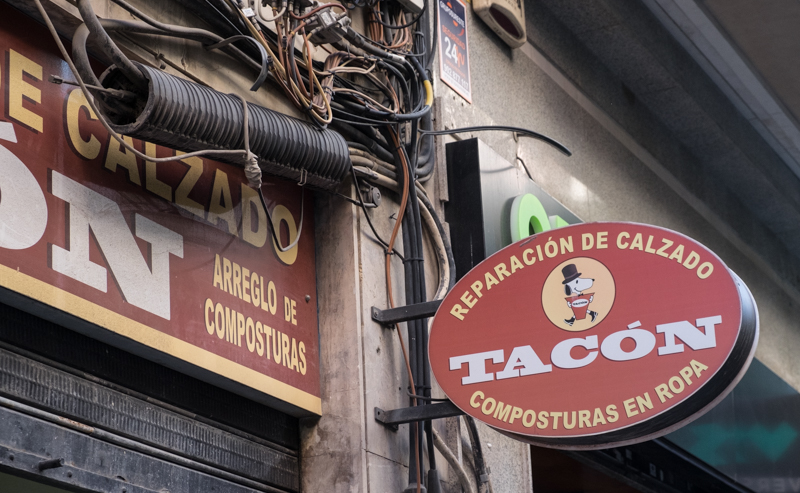 30_26
Nail studio in the centre, stressing that they are Vietnamese (most of the others are Chinese):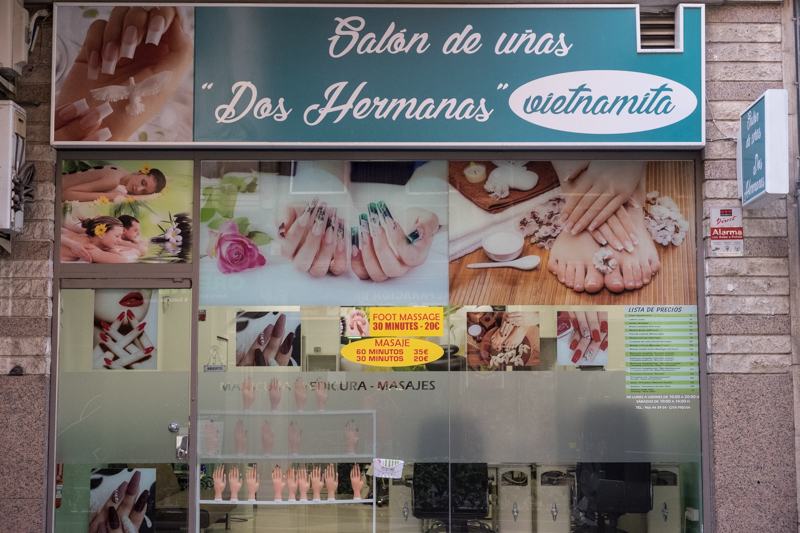 30_27
Shop window: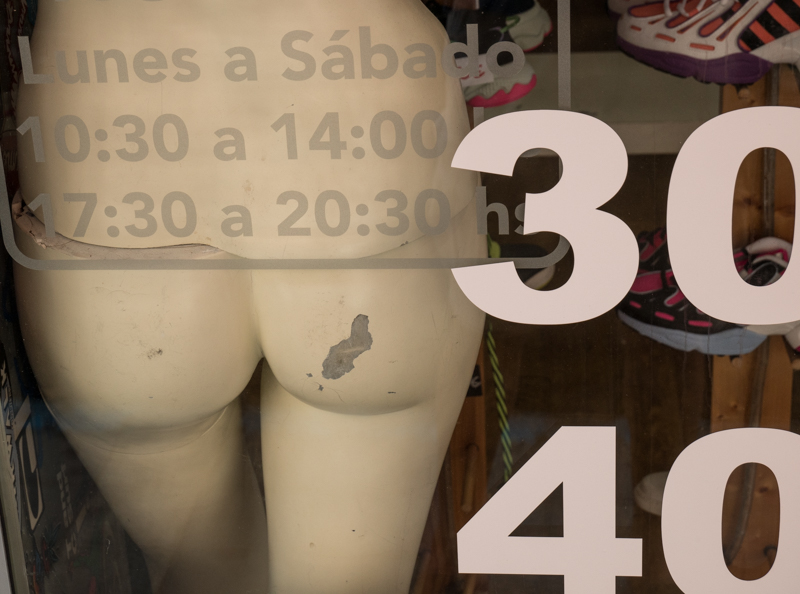 30_28
A cycling image. These goats outside Busot are grazing in a seemingly impossible spot: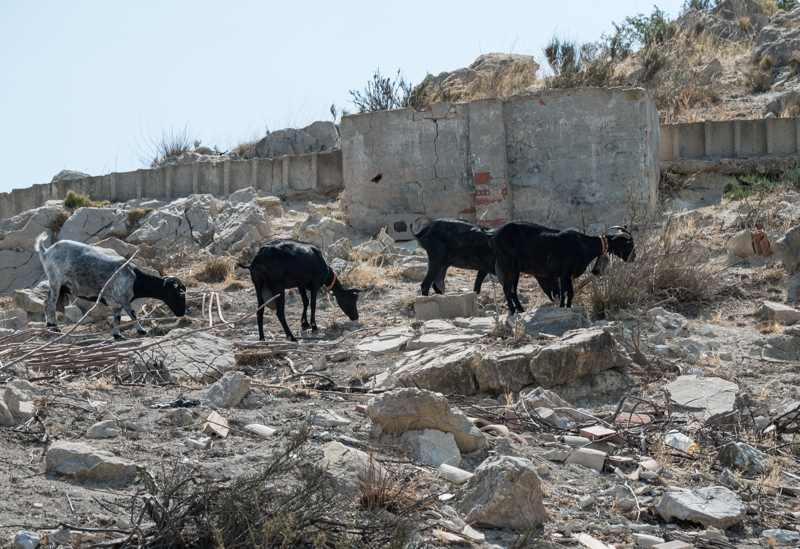 30_29
Back to our beach. These signs have recently appeared, showing the many rules and recommendations for safe use of the beach. Many of these are of course related to Covid-19 but others are only indirectly connected to the epidemic, for example the smoking prohibition. This is part of a programme catching on in Spain, to create smoke-free beaches. Each municipality decides whether to join the trend or not; in Alicante you can still smoke on the beach, but in our municipality El Campello, all 17 km of the beach are now smoke-free, at least in principle: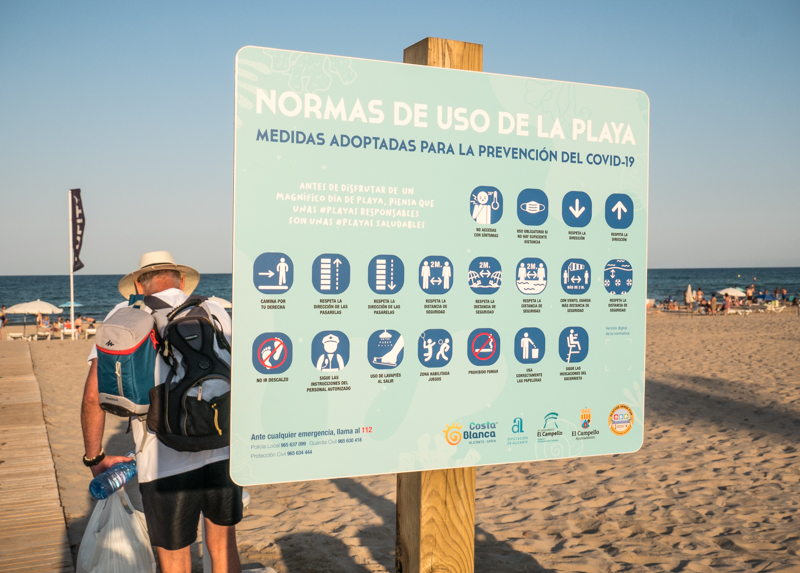 30_30
While enjoying my pint on the terrace of the beach promenade bar, I took in the sports action on the beach. While beach volleyball is common, and there are also basketball hoops in several places, this is the first time I have seen beach handball; no dribbling the ball, obviously, so a lot of running and quick passing: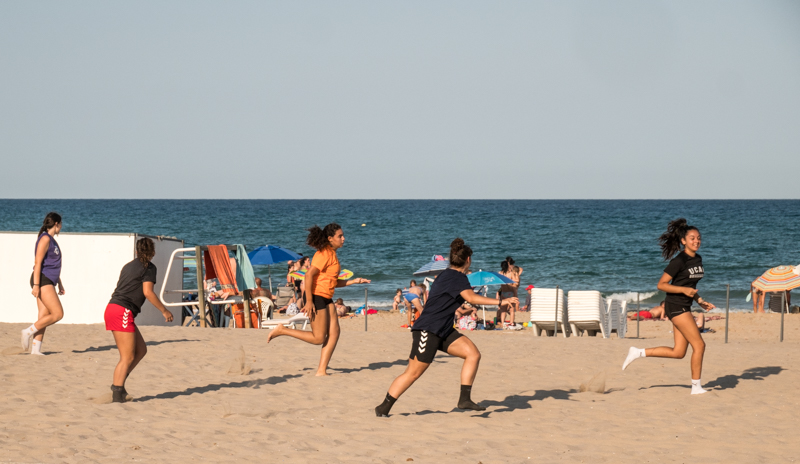 30_31
Going for the ball: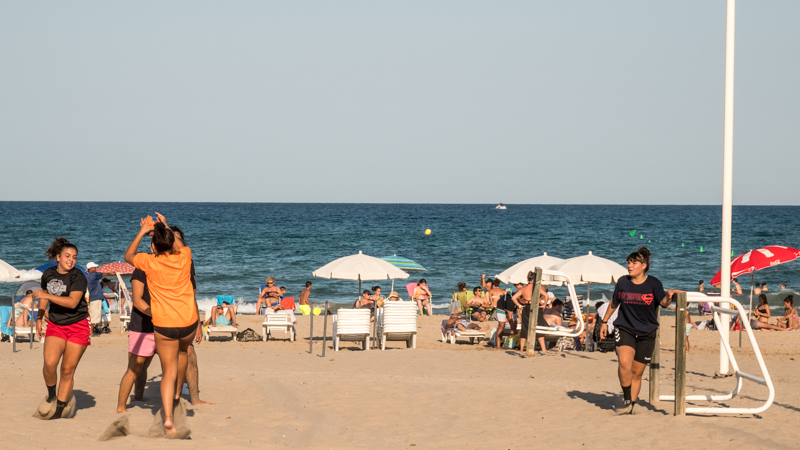 30_32
Shooting (the ball is just visible behind the goalkeeper):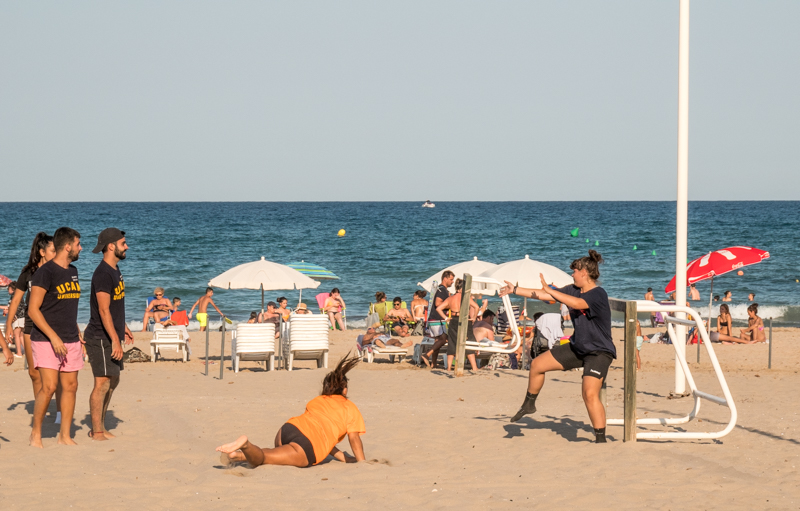 30_33
On Saturday night, we got together with some friends for a small party. Some of them we had not seen since before the confinement in March. Here is Mati, without and with a mask: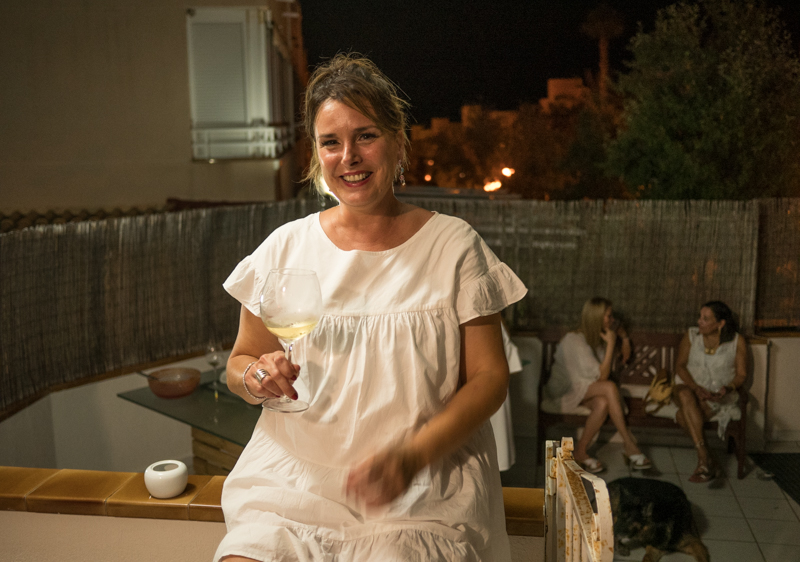 30_34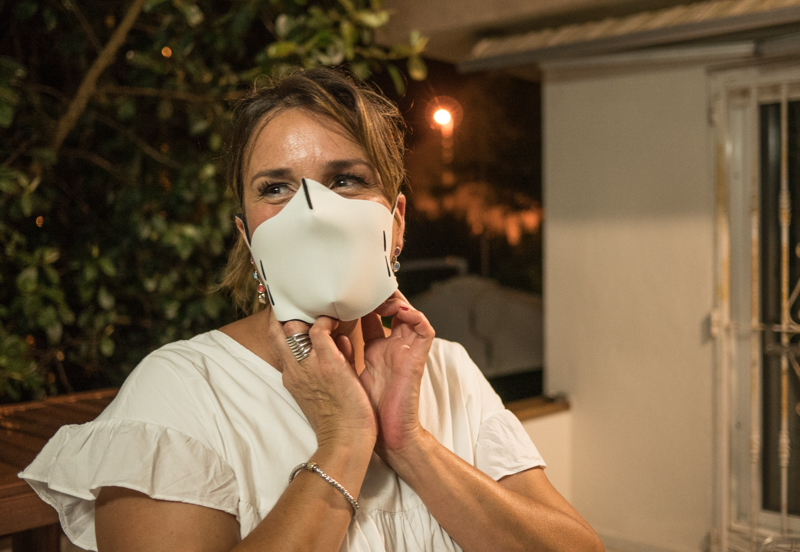 30_35
Hans and his wife Mar were supposed to be circumnavigating the USA on motorcycle right now, but obviously the pandemic put pay to those plans. Instead, he is now sporting Covid hair: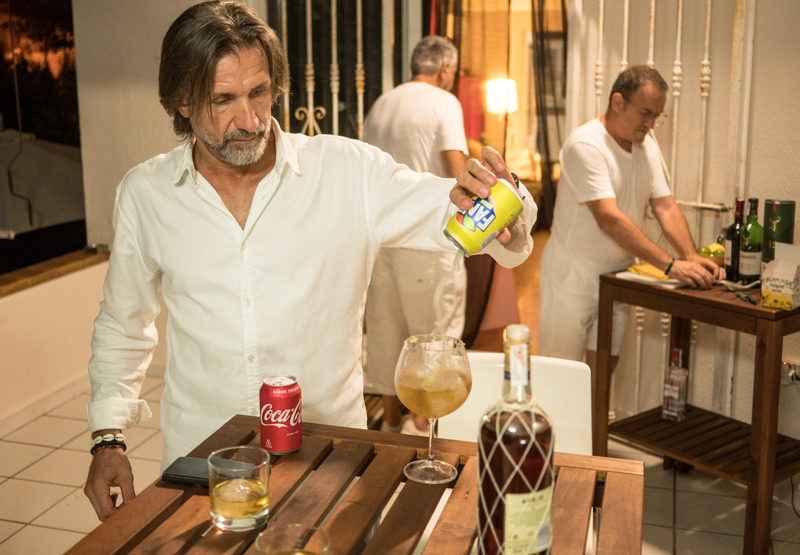 30_36
Conversation: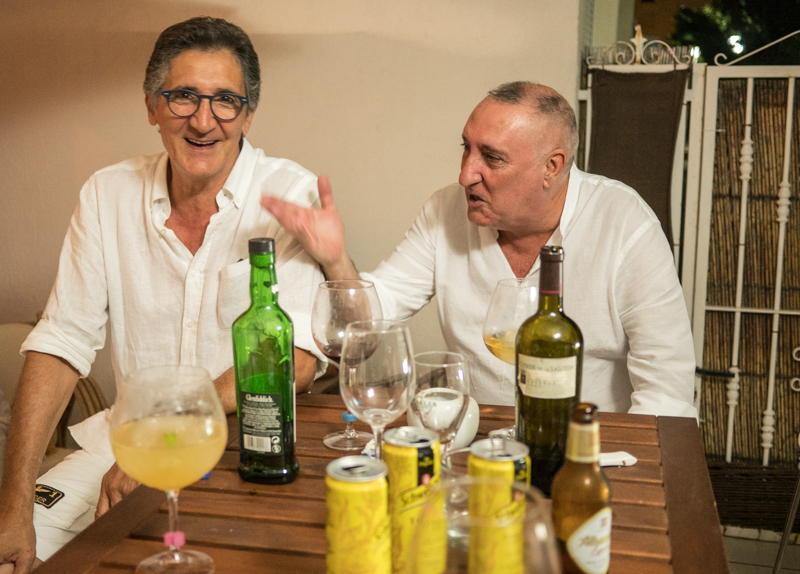 30_37
Finally, something completely different. This is my late father's watch. He had it as far as I can remember back to my early childhood. My son is into watches and he asked me to investigate its origin–Swiss watches were not generally available for purchase in 1960s Poland, not even garden variety models like this Tissot. So my first thought was that maybe my French uncle Joseph had given it to my father when they met in France in the early 1960s. I checked with Joseph, but no. It then occurred to me to check with my uncle in Florida, who lived in Poland in the 1950s (he then emigrated to Israel and then the USA). And bingo! It turns out that the watch has a story–it was given to my father by the head of Polish police on his graduation from the police training college sometime in the 1950s. After the war my father had joined the police as a crime investigator, and now he was eligible for higher ranks. My uncle told me that he and the family were very proud of this watch, so knowing this story makes it special to me. It still works: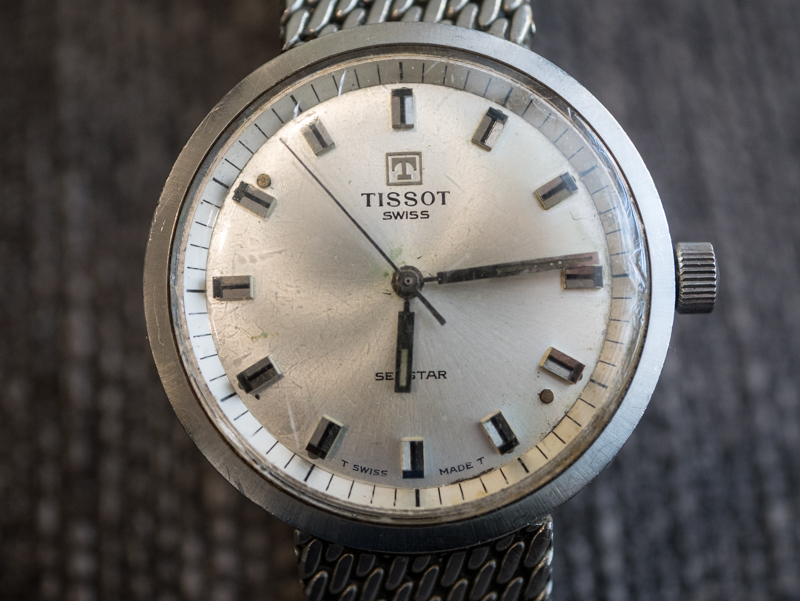 Incidentally, my father's police career came to an abrupt end some time in the mid-1950s when it was suggested to him that he should change his name to something more "Polish-sounding", a not uncommon practice among Polish Jews back then. He refused and was sacked from the force, ending up working in a publishing house during the next 15 years or so, until we emigrated to Denmark.