My pictures for the last week of 2006 span three countries: Netherlands, Denmark and Poland. All were made with my "new" Bronica 645 rangefinder. Digital is great, but sometimes medium format film is funner.
The first image is from the island of Alrø, in eastern Jutland: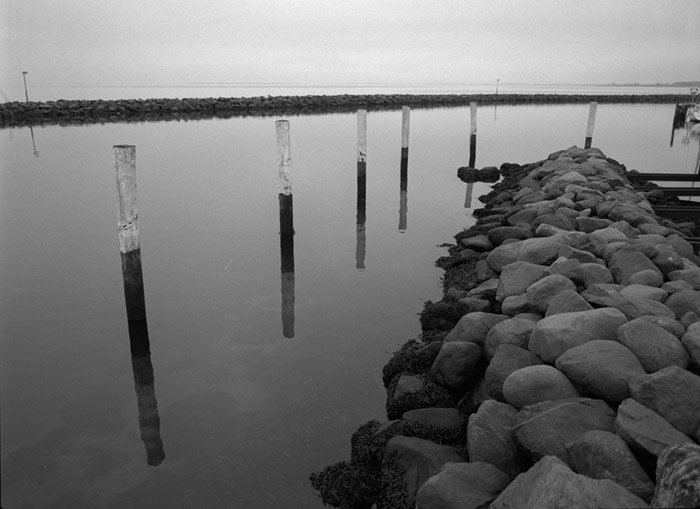 (Bronica 645, 45mm lens, Tri-X)
The second one is from the harbour in the small town of Hov, also in eastern Jutland. The photographer in the picture is my best friend, Lars: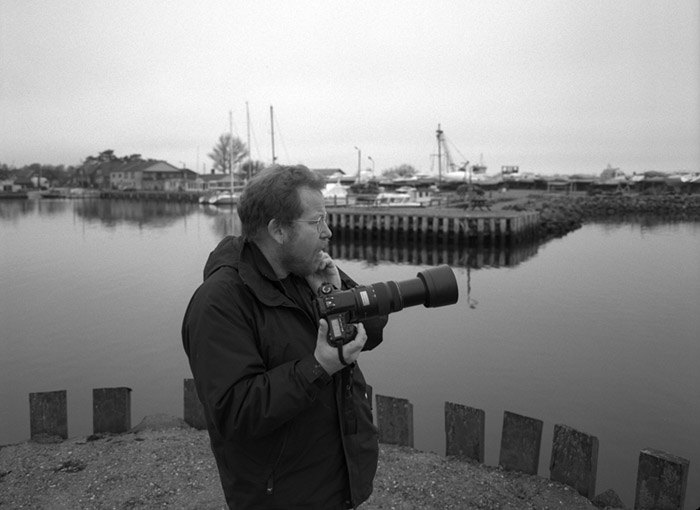 (Bronica 645, 45mm lens, Tri-X)
Then a flashback to earlier in the week, when I was still in the Netherlands. A rare posed image, of a vendor in Zaltbommel who sells warm waffles on the main square of the town: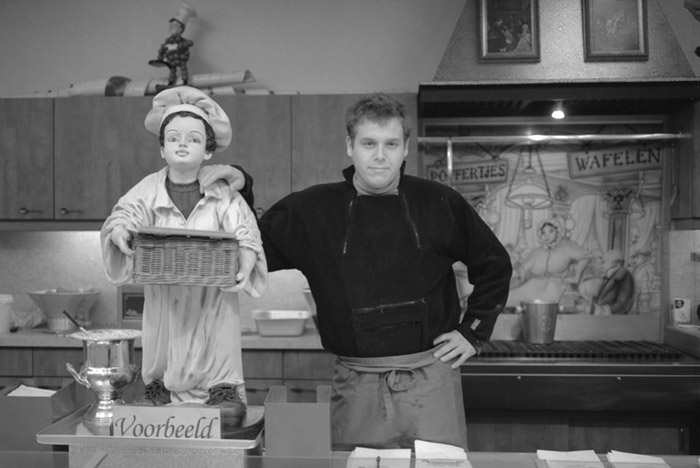 (Bronica 645, 65mm lens, Rollei IR)
Now back to Denmark. Almost every time I am there, I have to drive across the Great Belt bridge, and almost always, I stop at the rest area on the Zealand side: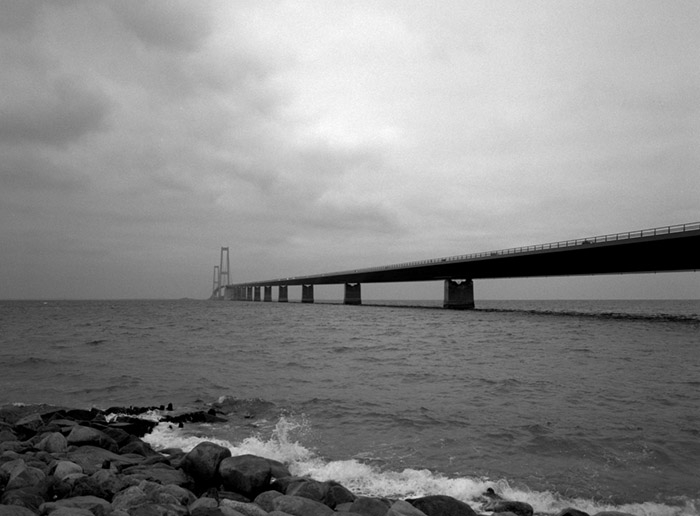 (Bronica 645, 45mm lens, Tri-X)
During my visit, Lars and I went out to take pictures on Christmas Day, at a rather empty local train station: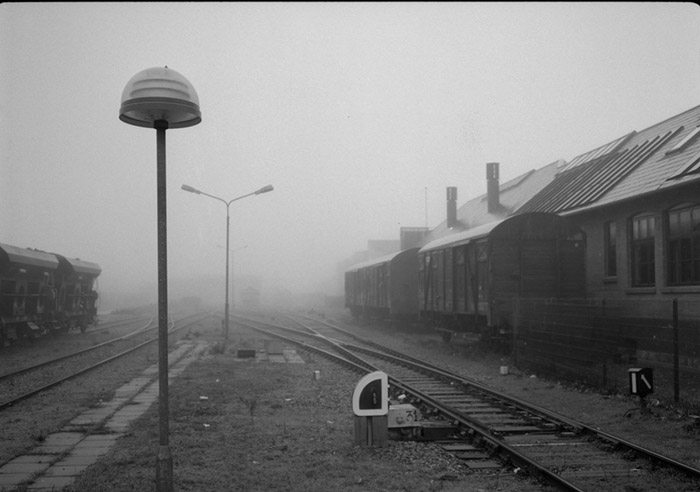 (Bronica 645, 45mm lens, Rollei IR)
Lars lives in the village called MÃ¥rslet. I went for a walk one day and happened on this house, where the inhabitants put up their own sign protesting the absence of winter. It says, "we want snow, otherwise we will move to Greenland".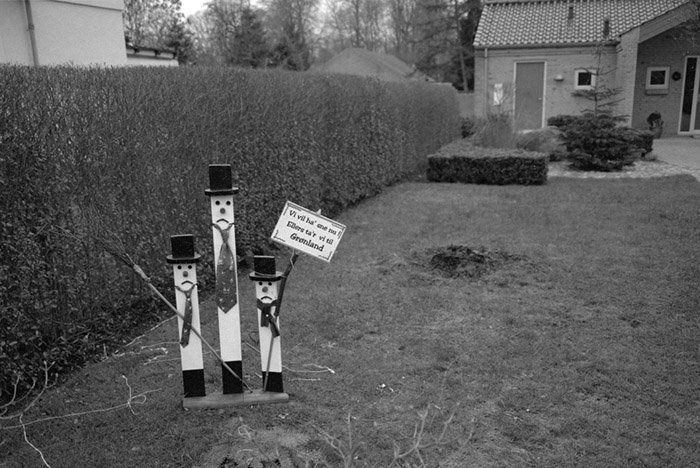 (Bronica 645, 45mm lens, Tri-X)
The last three images are from Poland. In a small town, Sobotka, the local bakery is famous for the quality of its bread. People from the surrounding towns come to buy bread there: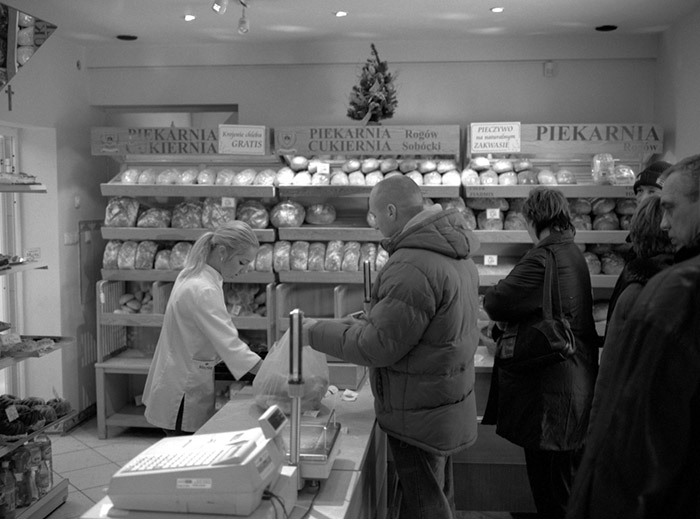 (Bronica 645, 65mm lens, Tri-X)
I had brought some infrared film with me, but winter in northern Europe is not exactly conducive to IR photography. There was one sunny day during the entire two-week vacation, so I made some attempts. This is Plac Grunwaldzki in Wroclaw, seen from my sister's balcony: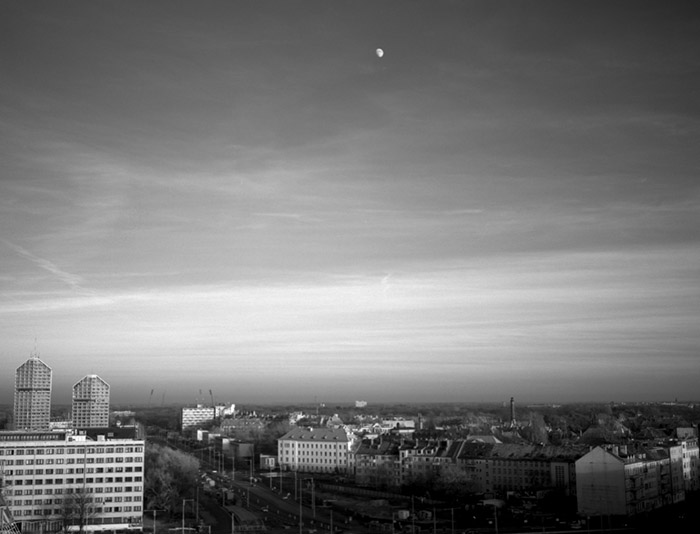 (Bronica 645, 65mm lens, Rollei IR)
And this is a bridge across the Odra river in Wroclaw, Most Grunwaldzki: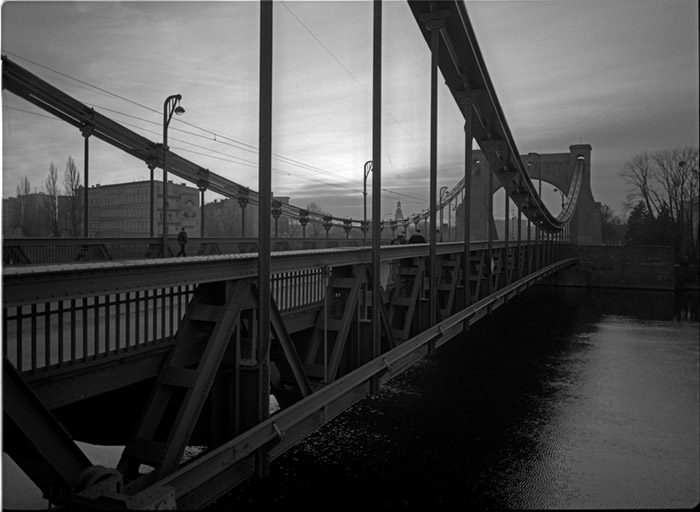 (Bronica 645, 45mm lens, Rollei IR)