The week began like any other normal week following the previous week's trip to Croatia. It ended with confinement to my house, for now until 11th April, but I have little hope that this will be the end of it.
11_1
As always, I was out cycling on Sunday morning, a short ride to Aigües and Busot because we had a lunch appointment with friends. I stopped in Busot for a break. The small local Sunday market was on, with few customers, so there was plenty of time to chat:

11_2
Back from the ride, we drove to a town called Pinoso, about 60 km from here, to have lunch with our friends Eliot and Assumpta, at a restaurant that supposedly has the best paella around. This is also the heart of the Alicante wine growing region, and we drank some good local wine. Eliot notes the label for future reference: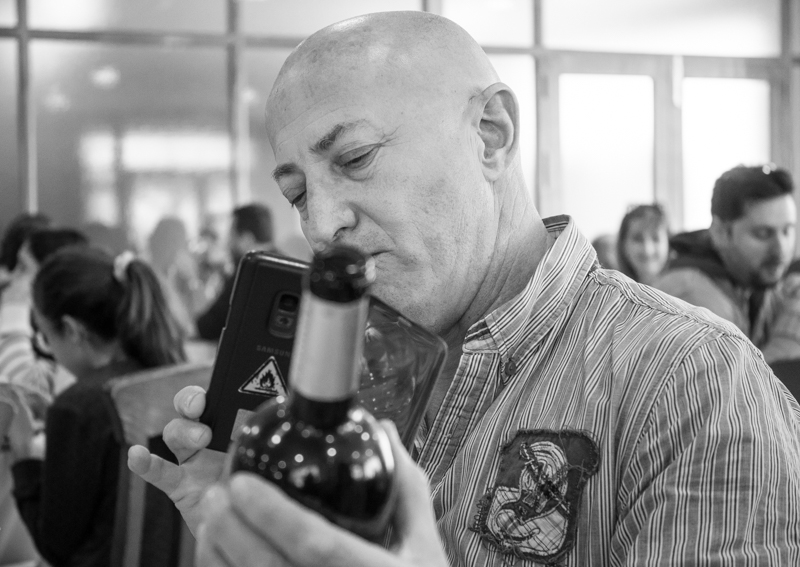 11_3
Assumpta's son was there too…: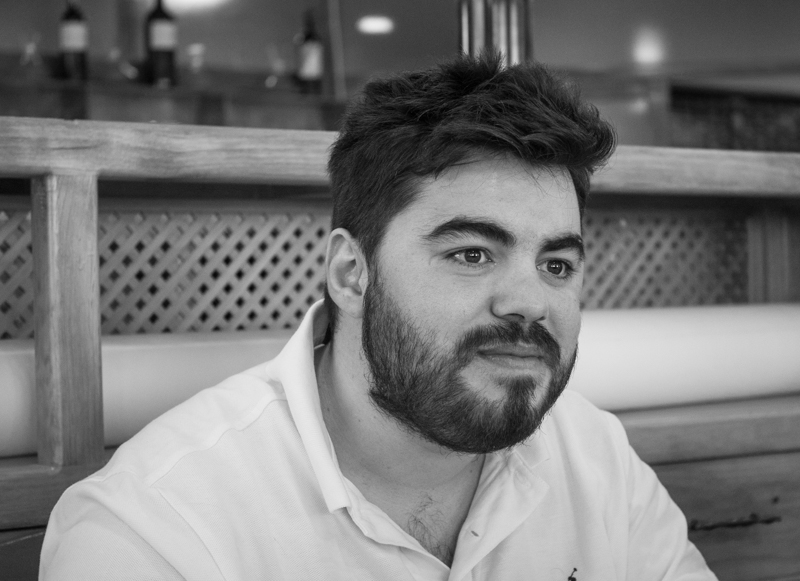 11_4
…with his girlfriend: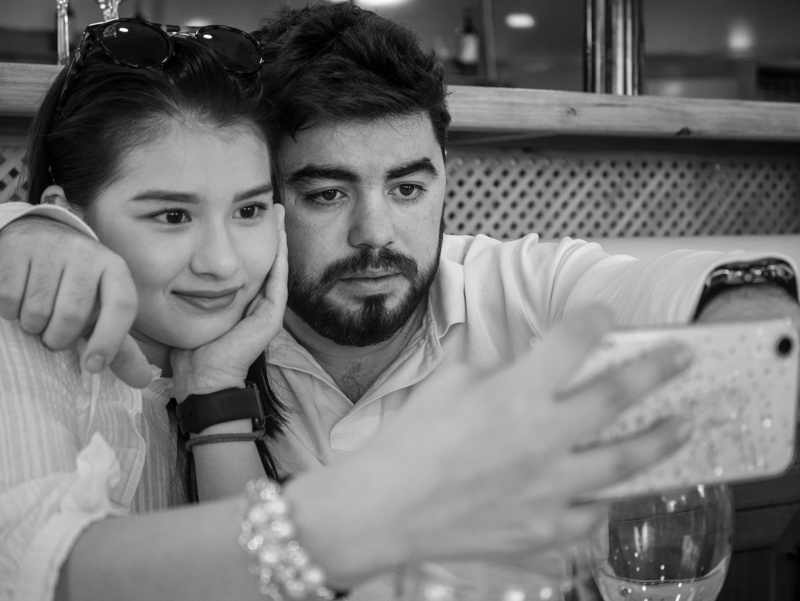 11_5
The restaurant was big and noisy and had an industrial cafeteria feel to it. The paella, when it finally arrived, was not bad, but nothing special either: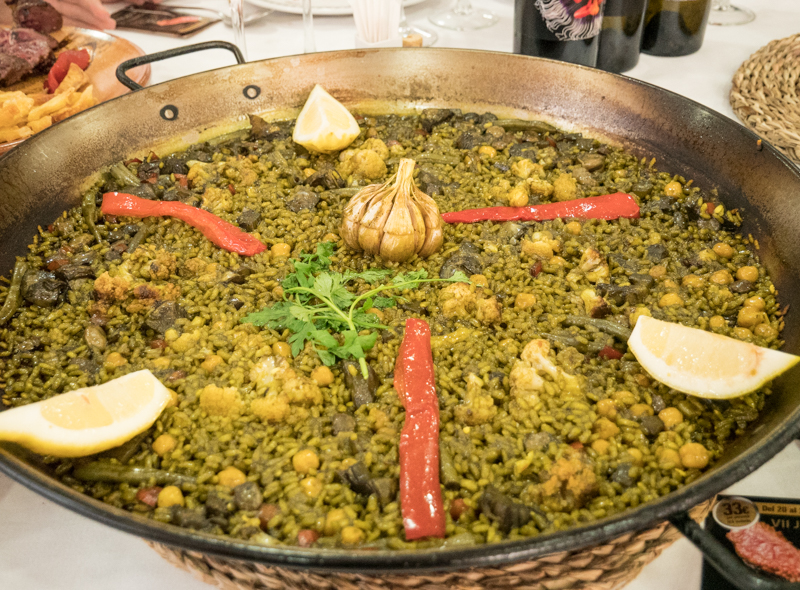 11_6
One of the more amusing pictures from the lunch: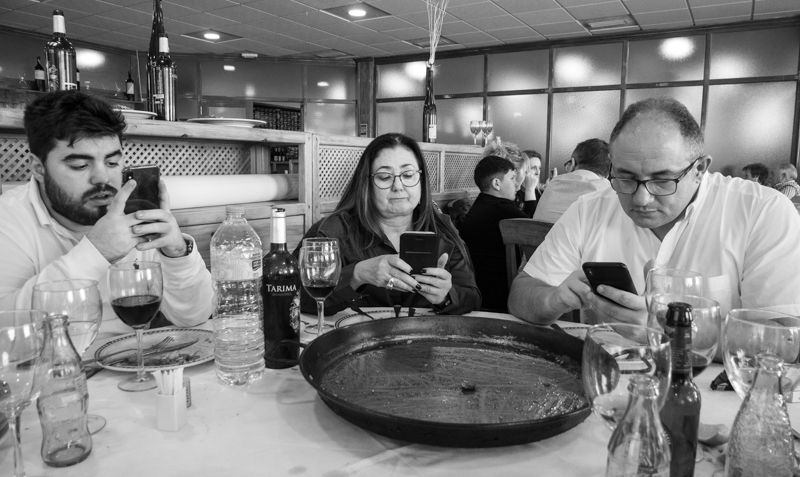 11_7
On Tuesday morning, I took one of my regular walks on the beach, this time with the old Leica 50mm lens mounted on my modern Panasonic GX80 camera. I love the results I get from mixing technologies several decades apart: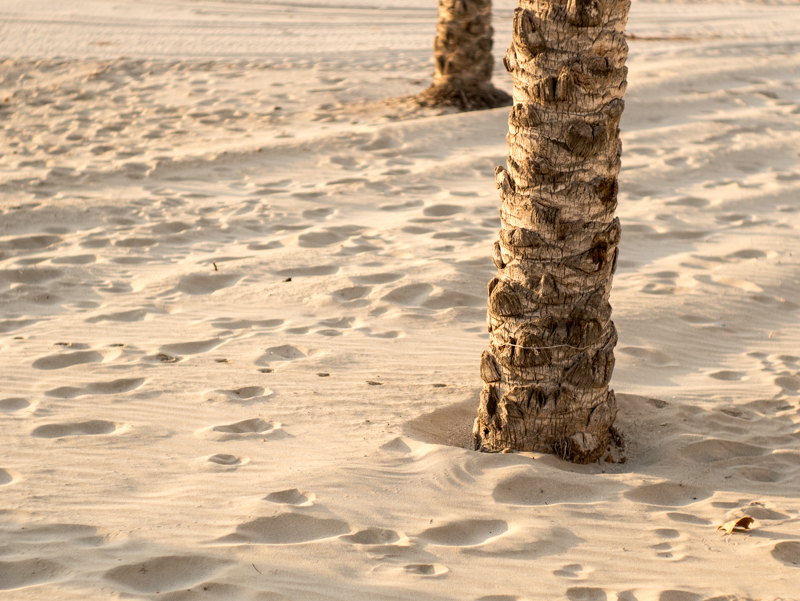 11_8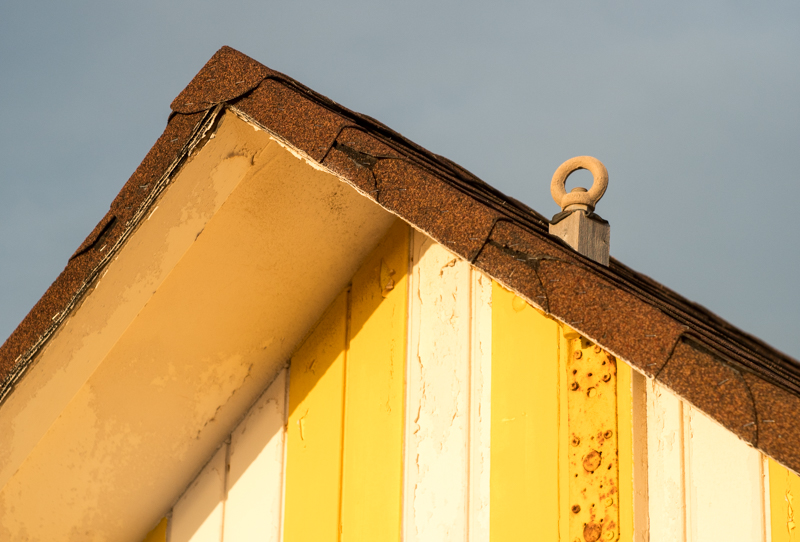 11_9
By Thursday, as the number of cases and deaths from the Covid-19 virus kept growing in Spain, it was clear that the country was going to be shut down soon. The news talked about a state of emergency to be approved in Parliament on Friday. I stopped at the local supermarket on my way home from work, and saw this state of affairs in the toilet paper aisle. For some strange reason, people focused on toilet paper when doing their stockpiling; the rest of the store was completely normal: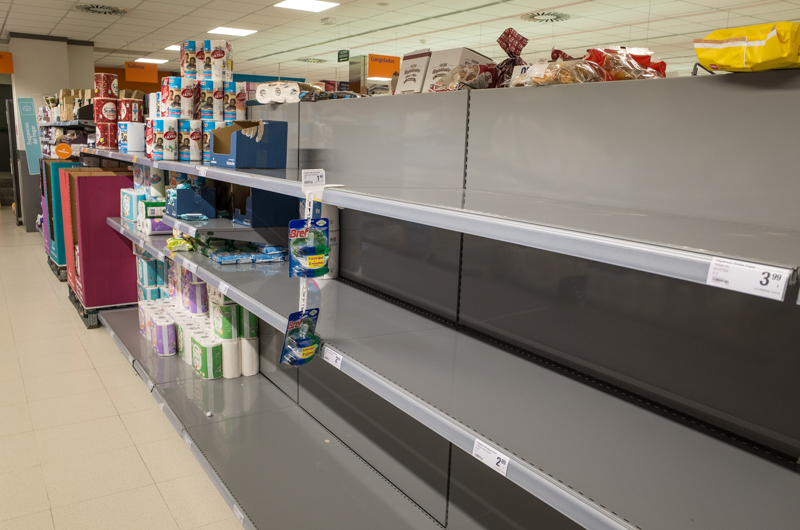 11_10
So, just to complete the picture, I bought these last two packages of toilet paper: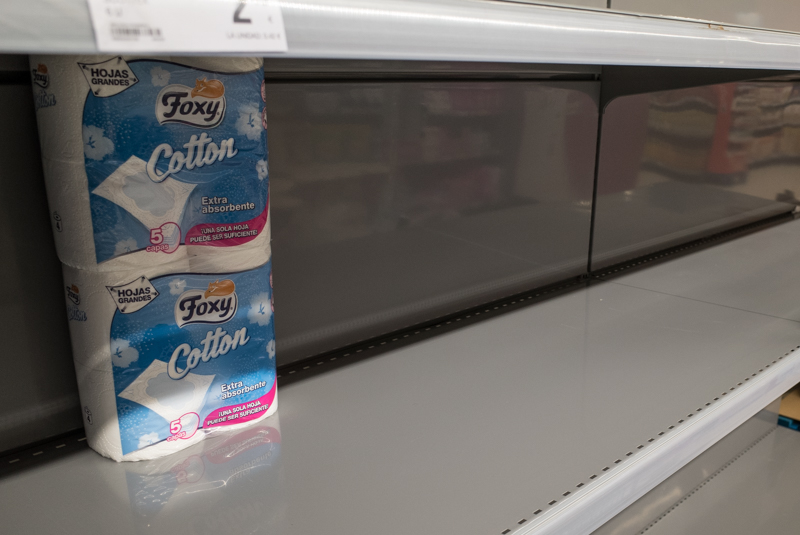 11_11
On Friday, we were saying goodbye to a colleague who is changing to another department, so we did something similar to what we do on the last Friday of each month–partly because we suspected that this might be our last day in the office for some time. Claire and Anne-Sophie are having some semi-serious conversation: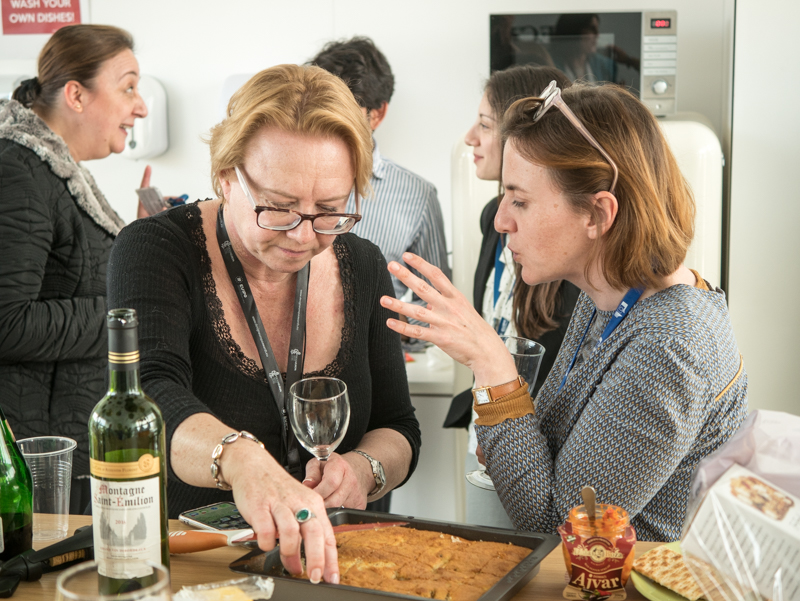 11_12
As I did earlier in the week during my morning beach walk, I played with the 50mm Leica lens on my GX80 when taking portraits of my colleagues. Here, Charo: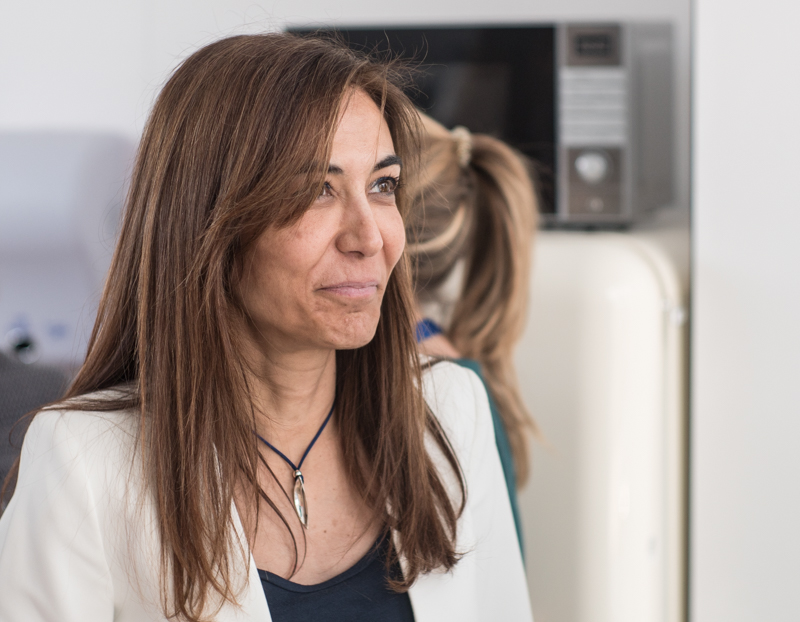 11_13
Two of our trainees: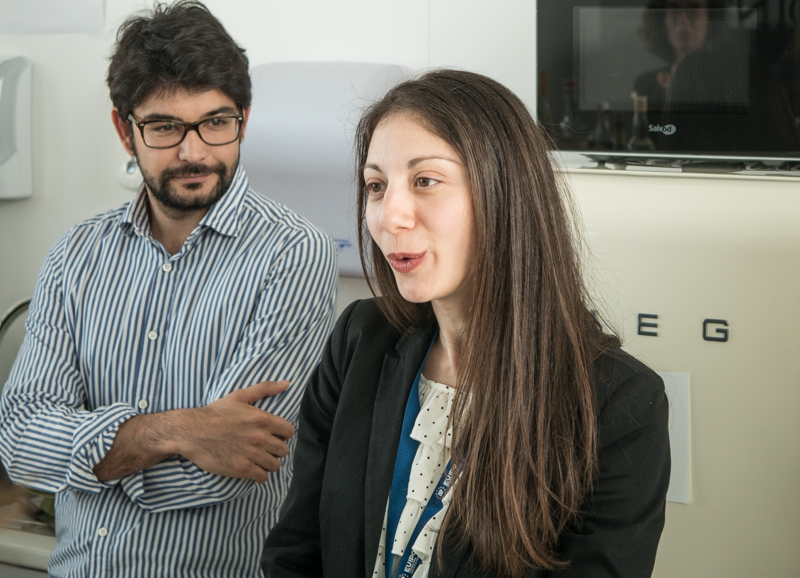 11_14
Blanca: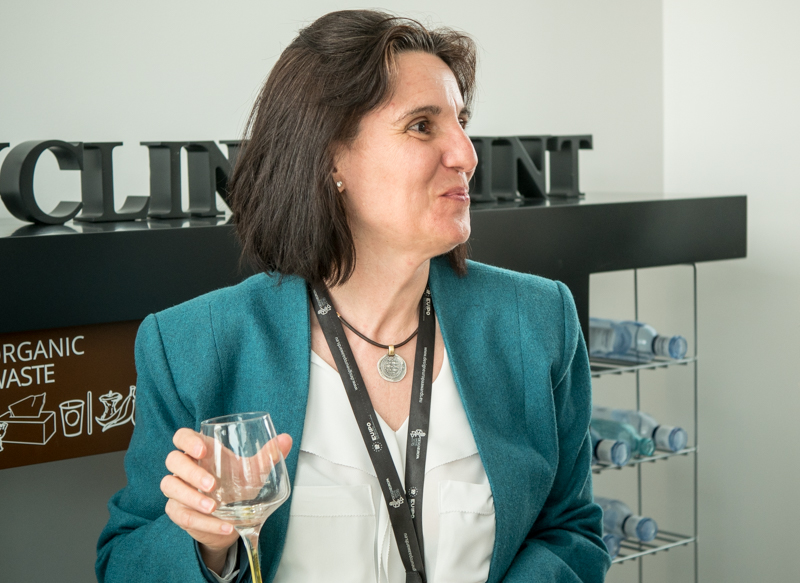 11_15
During the day Friday, our local government required all bars, restaurants and other amusements to close. This also applied to public playgrounds and beaches. On Saturday, I set out to document the beginning shutdown, first in my own neighbourhood. The beach was empty, with just a lone surfer in the water: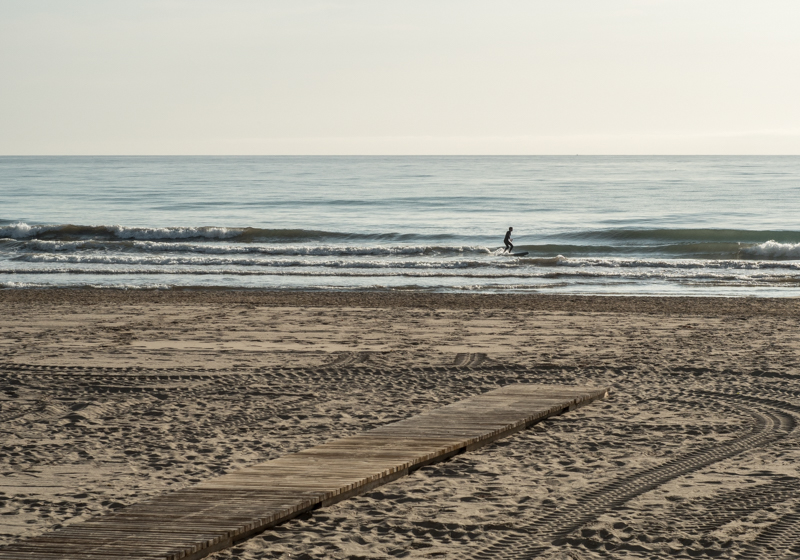 11_16
All the restaurants look like this now: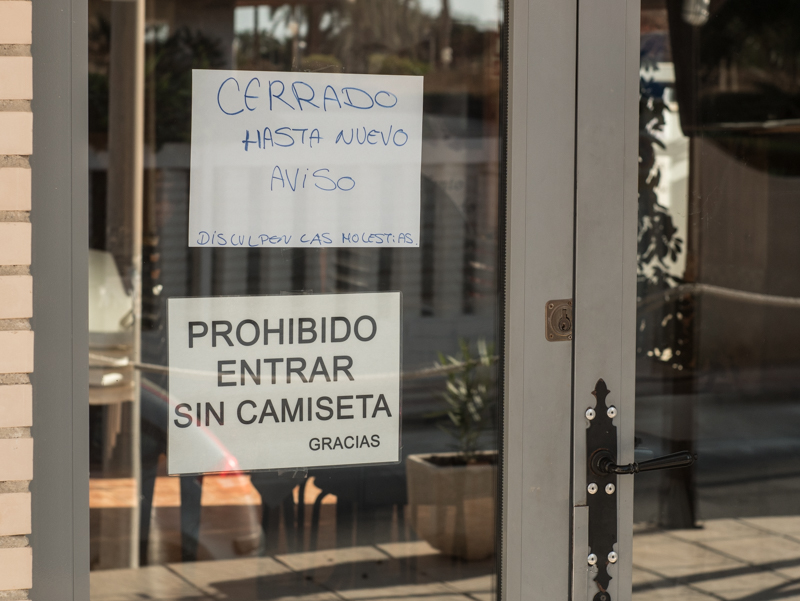 11_17
A playground in a small park near my house: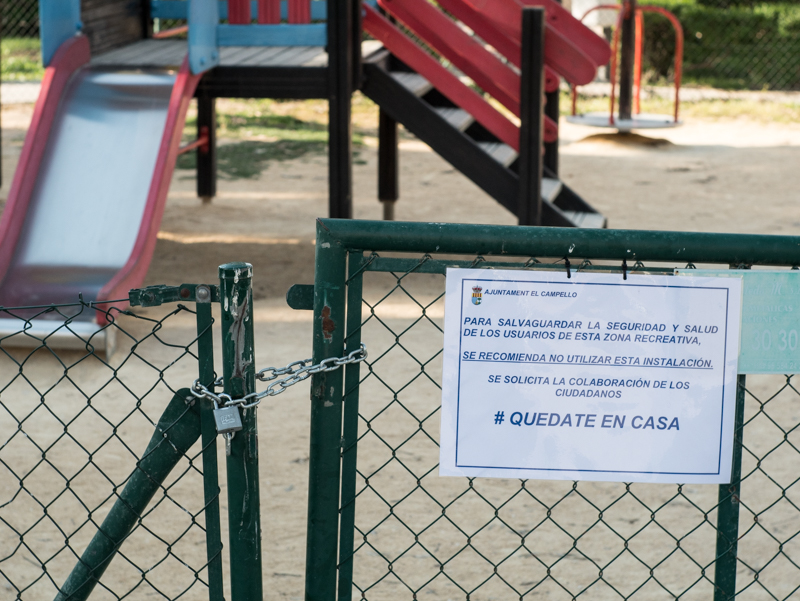 11_18
Later on Saturday, I went for my usual bike ride in the hills, and the spectators were there: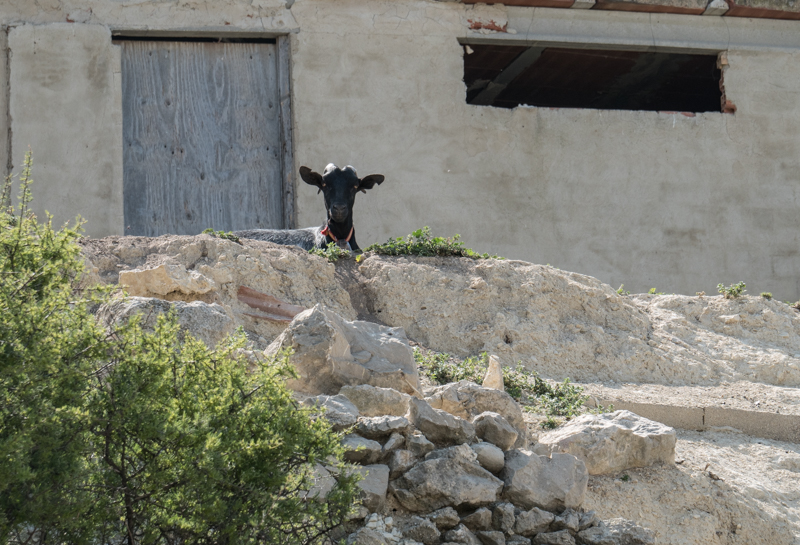 11_19
In the afternoon, my daughter and I drove to the centre to have a look at the empty streets. This is Esplanada de España, in normal circumstances teeming with people: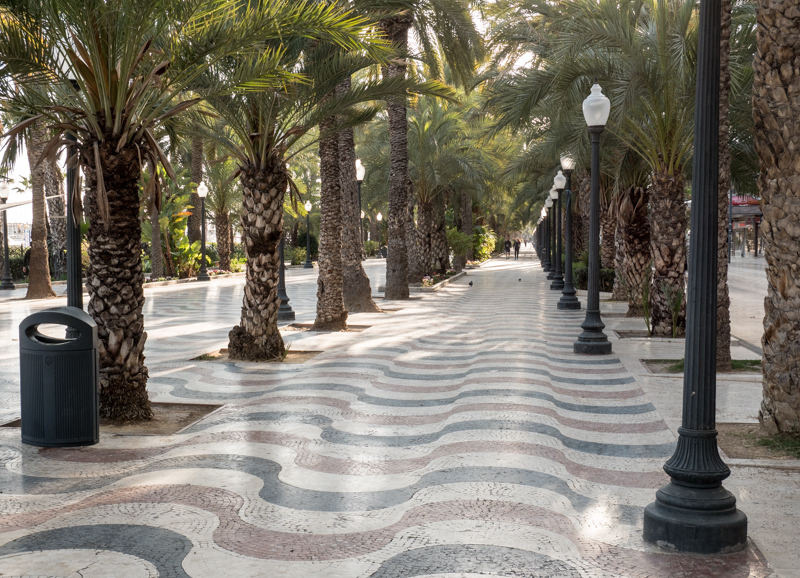 11_20
With the bars and restaurants all looking like this, there was little reason for anybody to be there: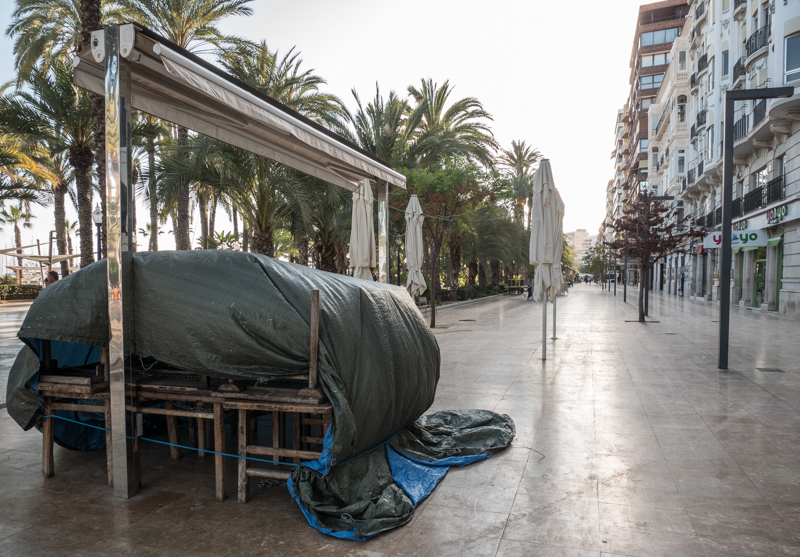 11_21
Calle Mayor, one of Alicante's main restaurant streets: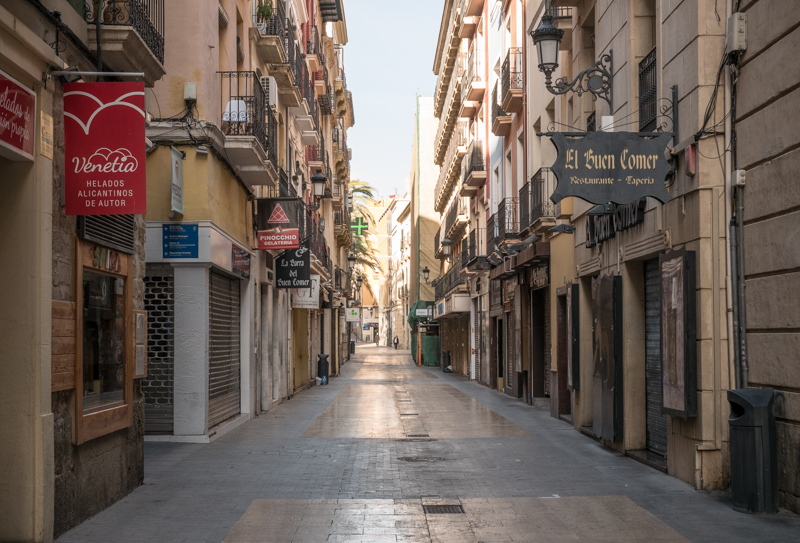 11_22
Playa de Postiguet, the main beach in central Alicante: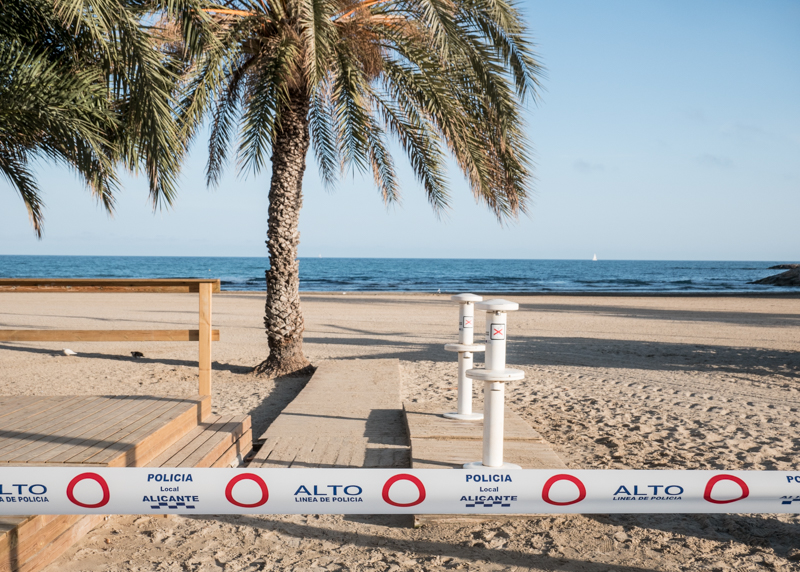 11_23
Closer to my home, a bit to the north, Playa San Juan:

11_24
The cops were making sure that the prohibition to use the beach was complied with: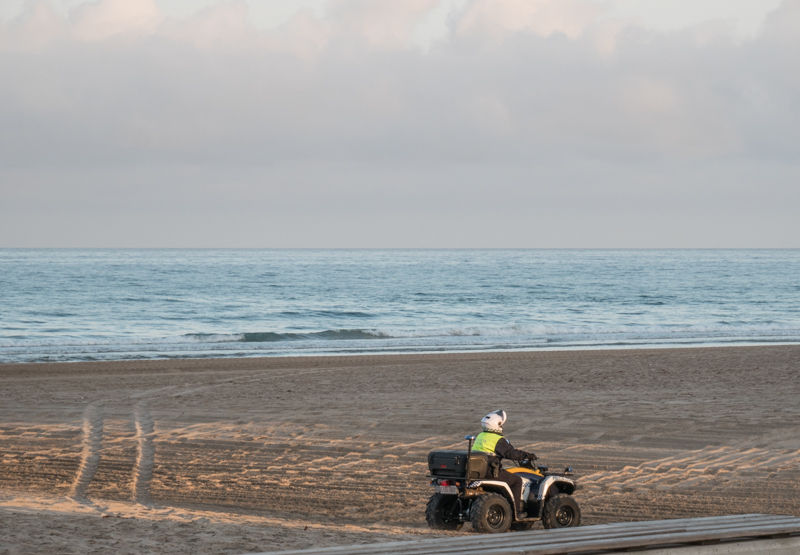 11_25
The emergency decree was approved by the Spanish parliament on Saturday. Initially, it was announced as entering into force at 8 a.m. on Monday, so on Sunday morning I set out on what was going to be a last proper bike ride before the shutdown. The beach in our town was also off limits, as indicated by the red flag: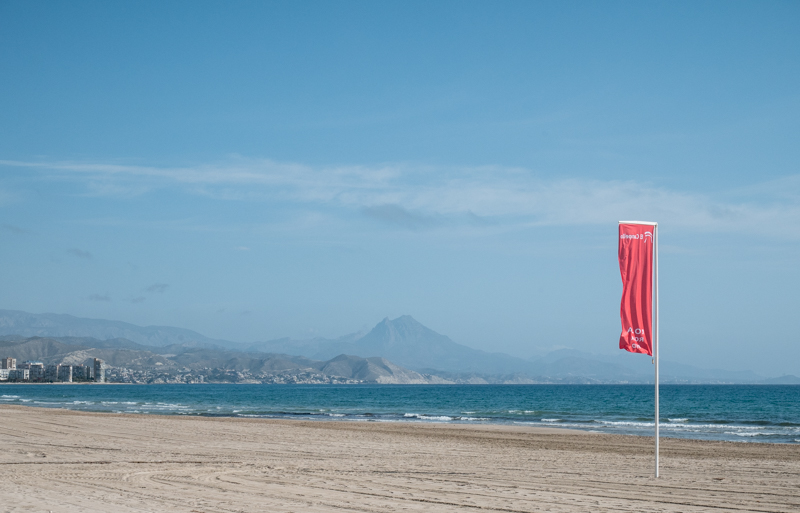 11_26
The main motorway running along the Mediterranean coast from the French border to Andalusia: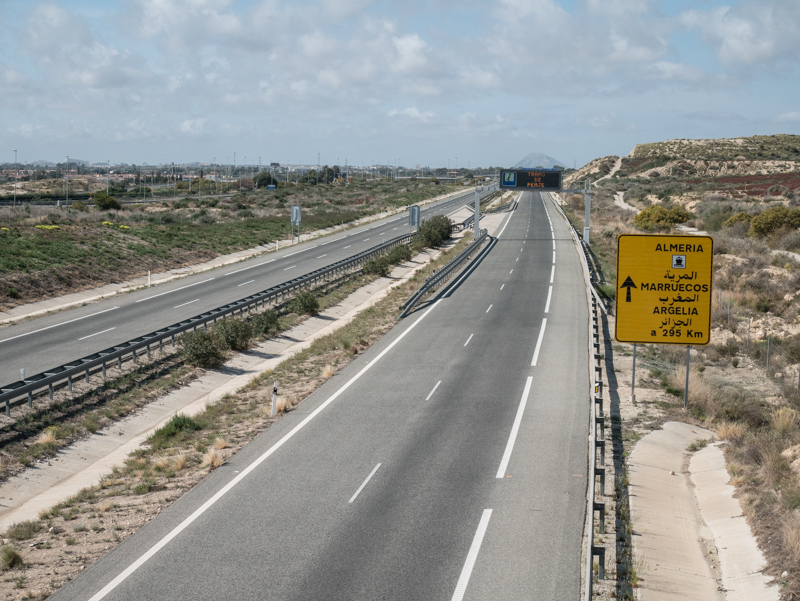 Shortly after taking the preceding picture, I was stopped by the local Guardia Civil who informed me that cycling was no longer allowed. I told them that I thought that the restrictions would only come into force Monday morning–but they clarified that the decree had been published in the official journal of the government shortly before midnight and ordered me to turn around and ride home–which I did.
11_27
On Sunday afternoon, in a last gasp of freedom, Monica and I walked down to the beach to have a last look. This is the beach bar where I often go on Sunday afternoons to have a beer: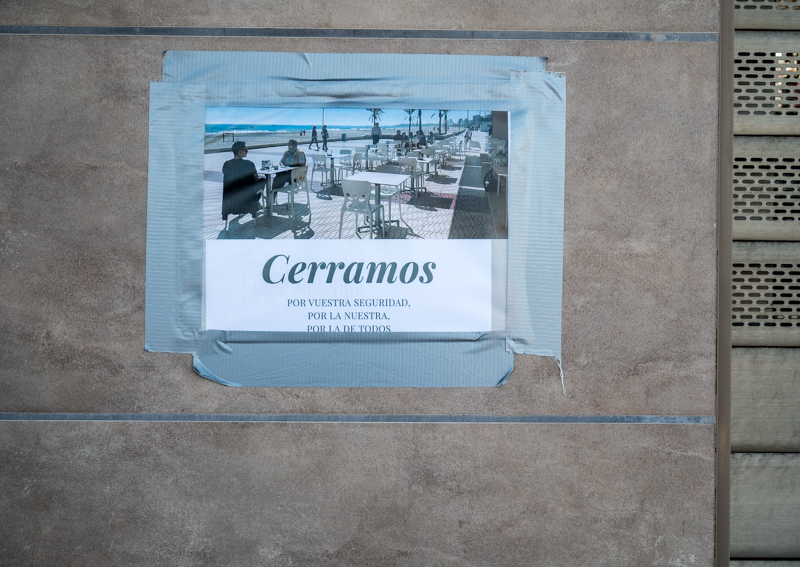 11_28
The market at work, online classes being advertised on a light pole. But as my daughter pointed out, since very few people are out and about, this advert will not have much effect: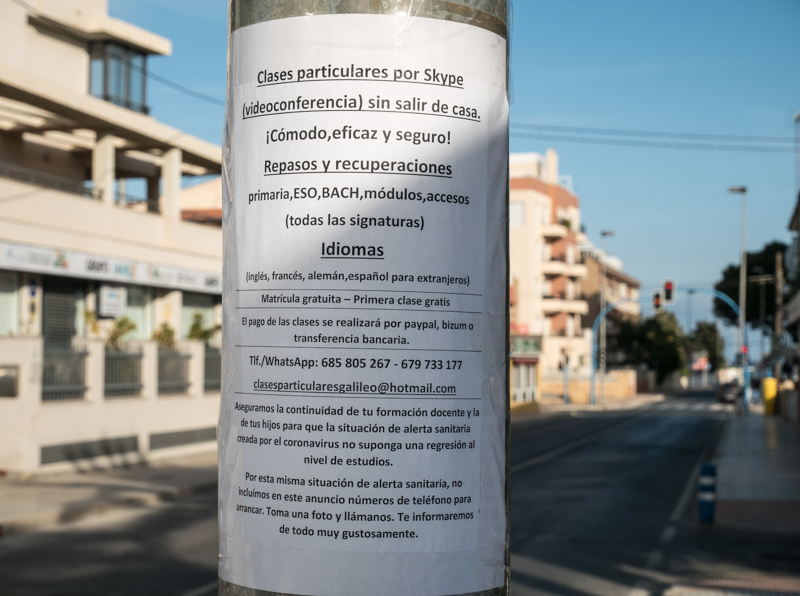 11_29
On a balcony down the street, someone has put up an optimistic message, loosely translated as "it will all be alright":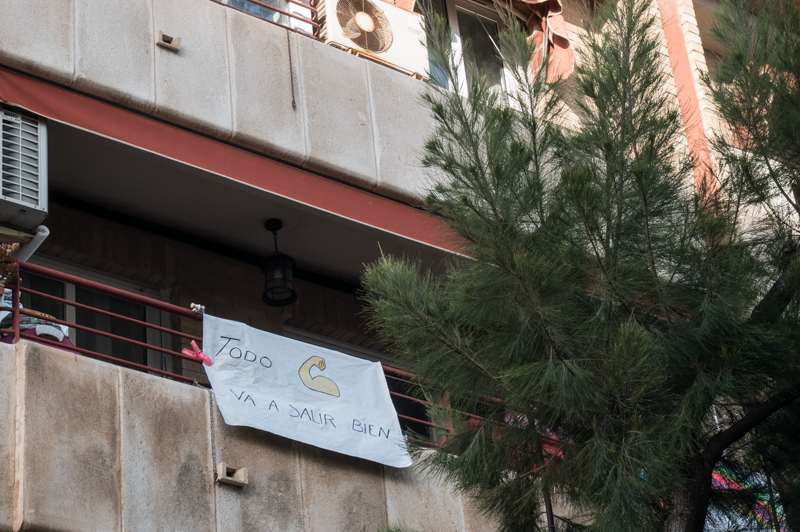 11_30
These two guys were enjoying the empty streets, but they were also risking a fine of at least 300 EUR: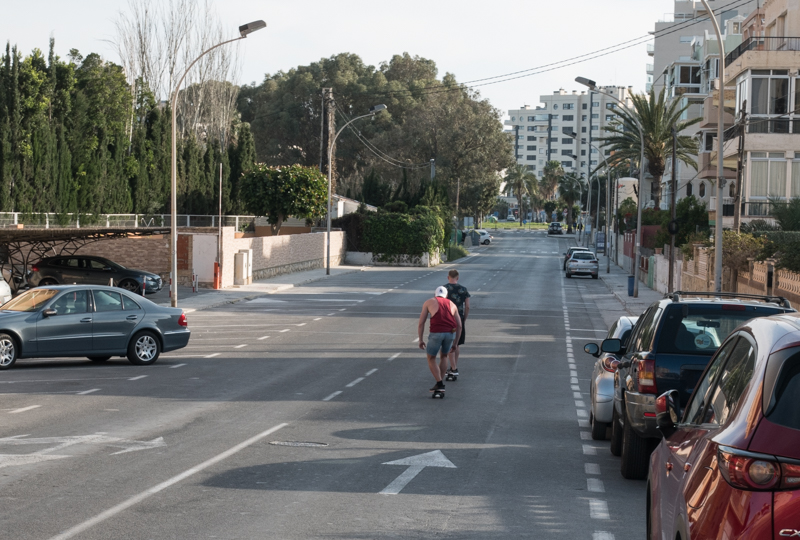 11_31
The final person we met during the walk was this nice young woman with her dog (walking your dog is still allowed). I asked her to pose for me, and she was happy to do so: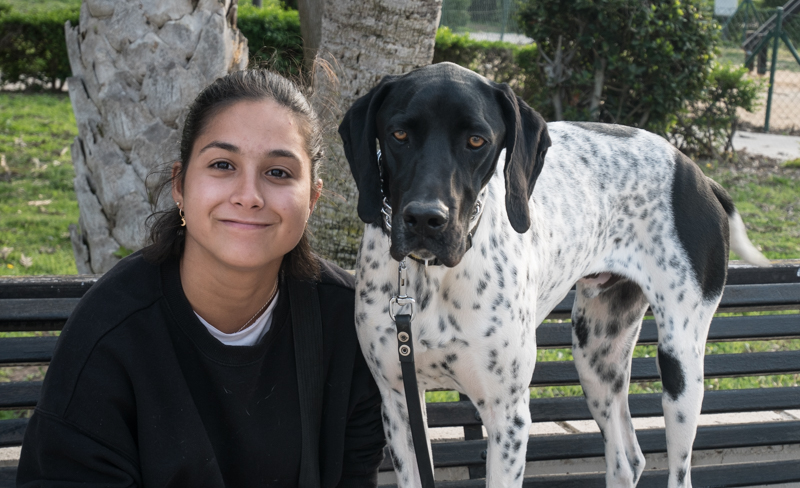 And then we walked home to our house arrest, as I call it.