After freezing in Sofia during the previous week, it was time to freeze in Brussels this week.
9_1
I flew to Brussels Tuesday morning for a meeting on Wednesday. On Tuesday afternoon, I had an informal meeting at the Commission, in a building that required me to walk through Parc Cinquantenaire, a real pearl on the edge of the EU quarter. This is a high-level view of the park, taken from the 7th floor of the headquarters of the EU External Action Service: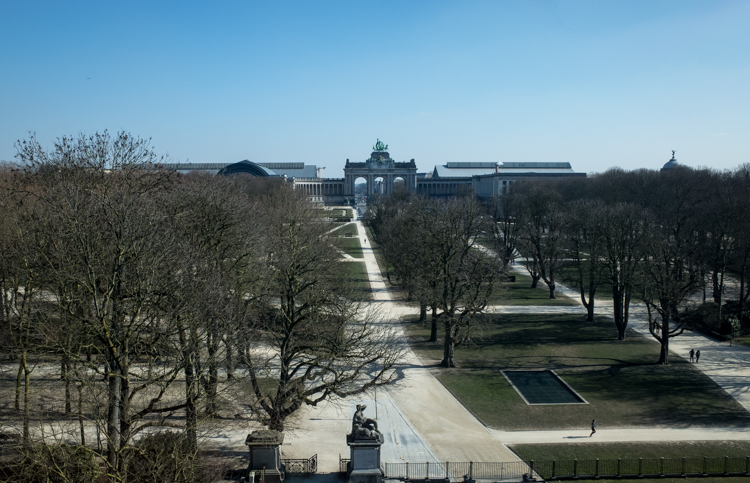 9_2
Statue, path, triumphal arch in the background: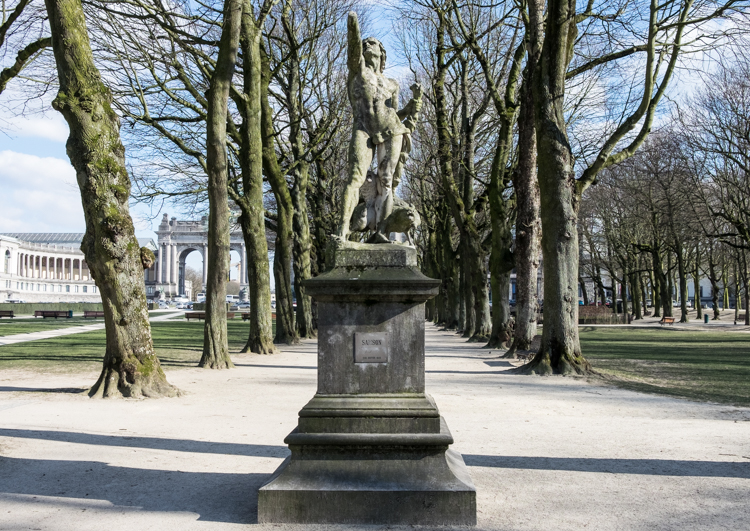 9_3
The eastern entrance to the park: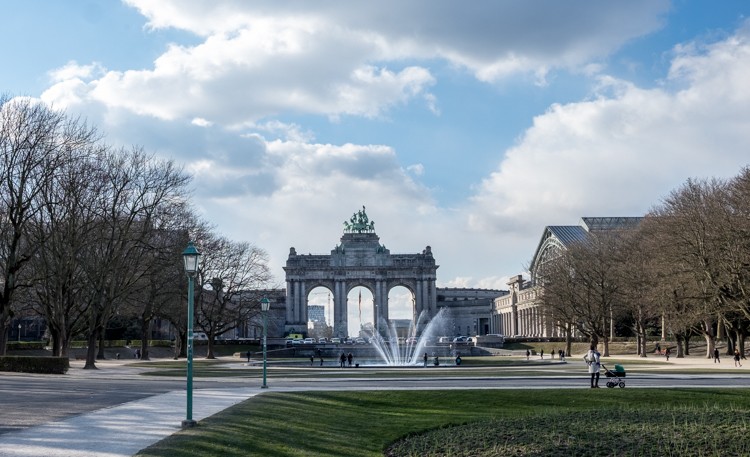 9_4
Enjoying the sunshine despite the cold: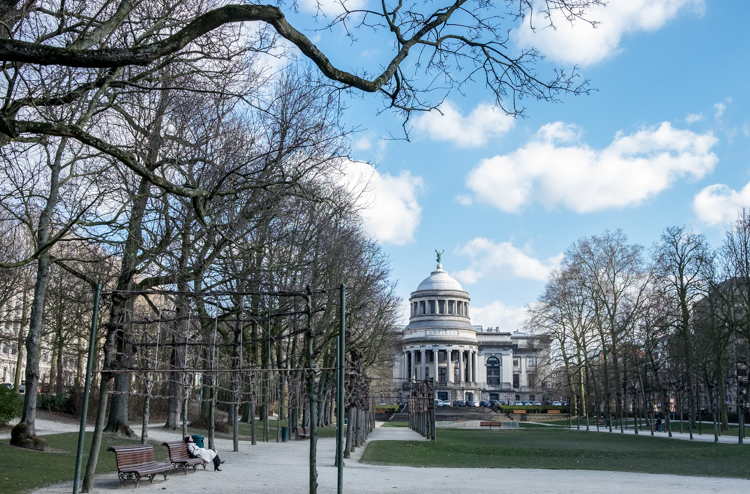 9_5
The cat on the moon: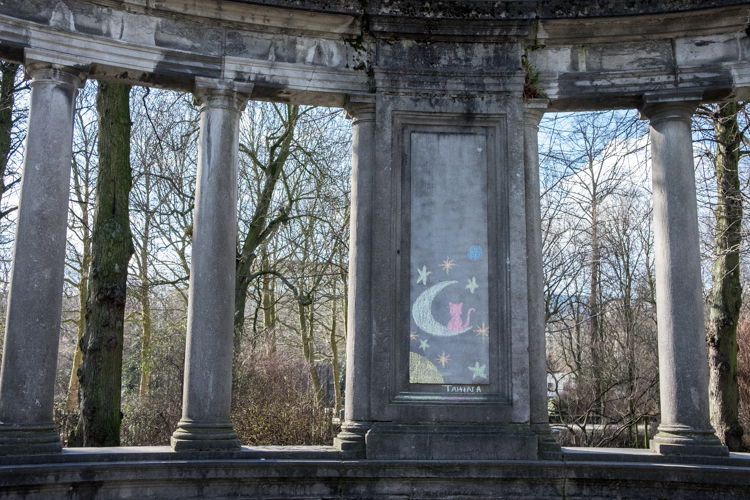 9_6
This is Rue Froissart in the EU quarter. I walk this way frequently, as it leads from the hotel where I usually stay to our Brussels liaison office where we usually arrange meetings. Sadly, in these times it is necessary to have protection in front of what appears to be an ordinary apartment building. But it is not just another apartment building; it is a meeting place for Hassidic Jews, and in this day and age, such places need protection (when there is a meeting going on, there is an armed soldier outside):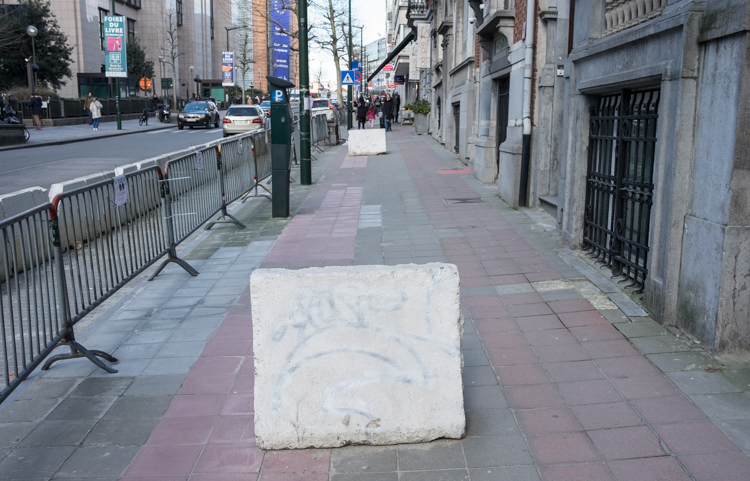 9_7
After my meeting at the Commission, I had the rest of the afternoon free, and I had already decided to spend it looking at art at BOZAR, a great museum of fine art where there is usually one or more interesting exhibitions. To get there, I took the metro to Gare Centrale, from where one has to walk a few hundred meters to BOZAR. Along the way, there is an insurance company building where I often peek in to look at the beautiful domed ceiling: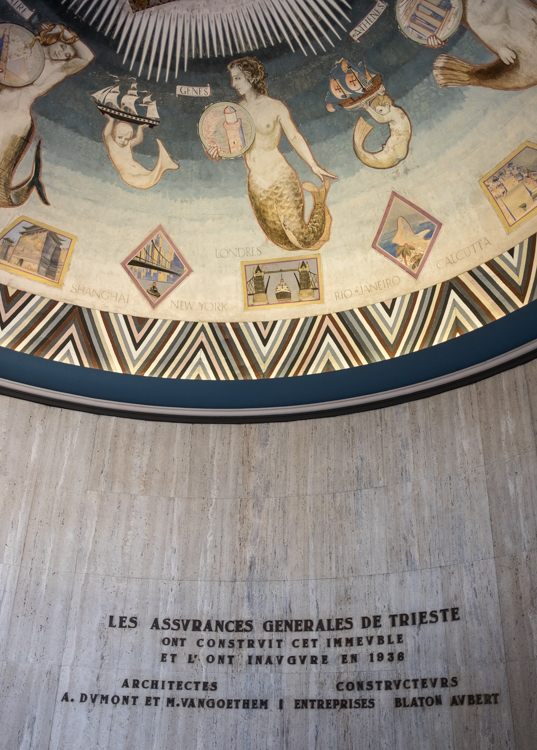 9_8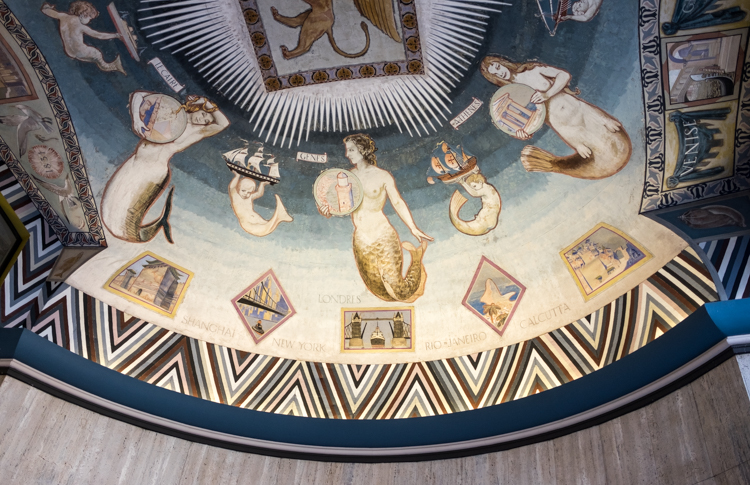 9_9
Upon entering BOZAR, one is greeted by this view. Besides containing great art, the building is an attraction in itself; it was designed by Victor Horta, after whom this hall is named: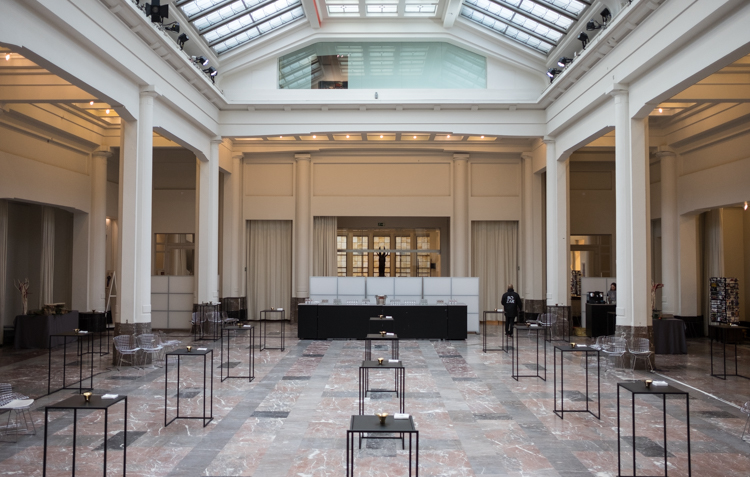 9_10
Love and art: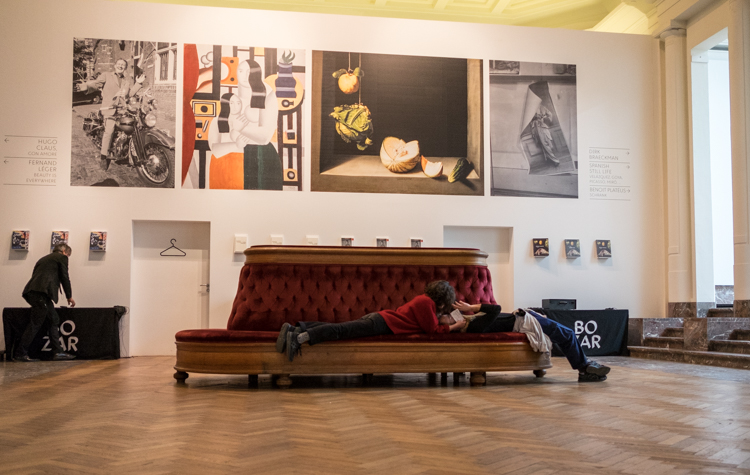 9_11
The main purpose of my visit was to see an exhibition of works by the French painter Fernand Léger (1881-1955) called "Beauty is Everywhere":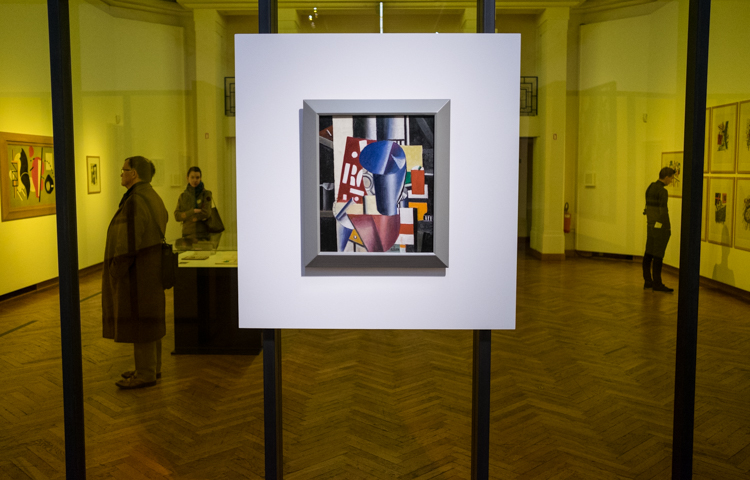 9_12
Léger painted city life, working people, the circus, i.e. everyday life, just the kind of things I photograph a lot. Here, "Lovers in the street":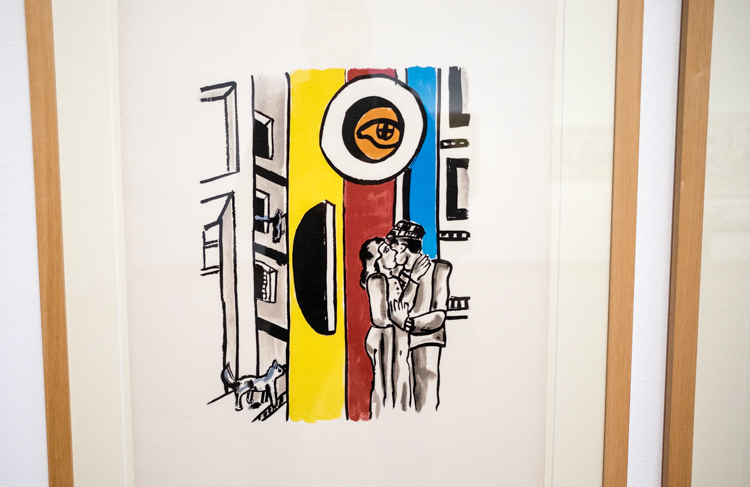 9_13
From the circus album: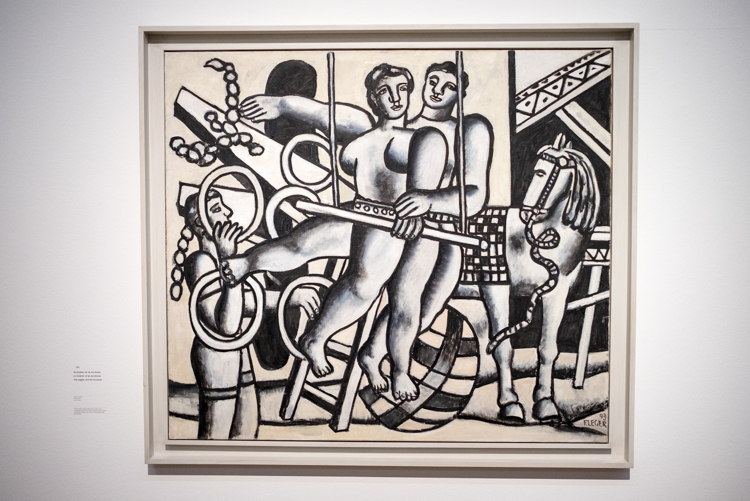 9_14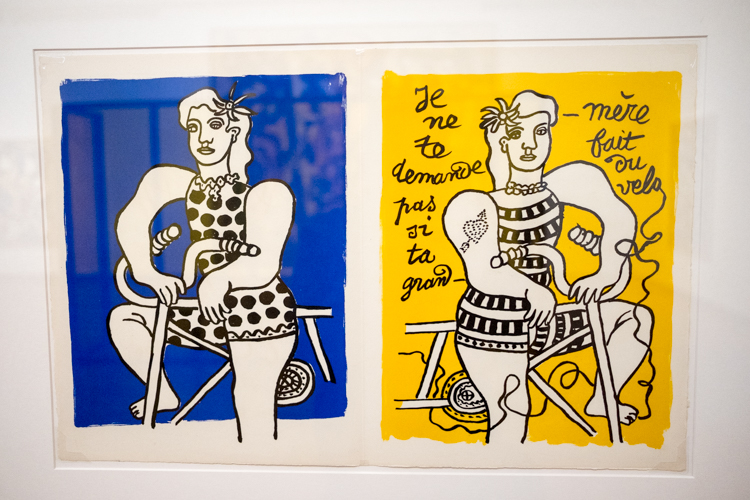 9_15
Some of Legér's paintings are really large: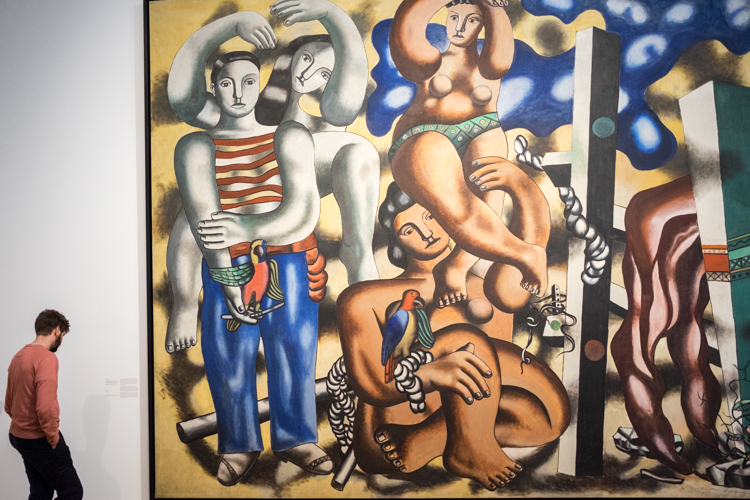 9_16
Later in life, Legér also did sculpture and ceramics: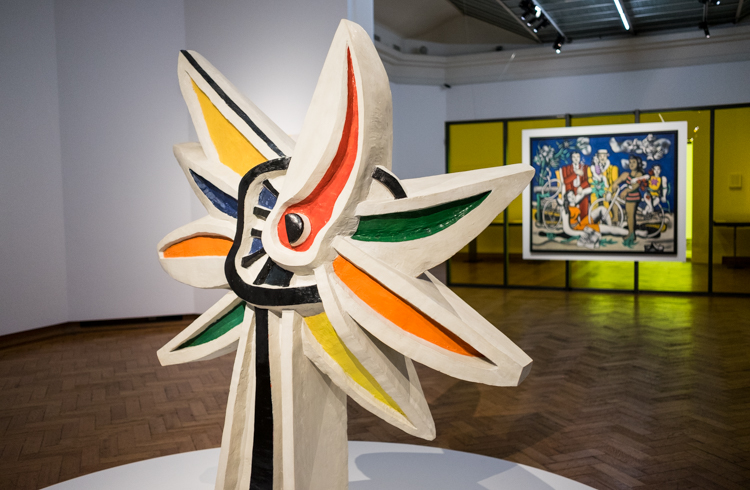 9_17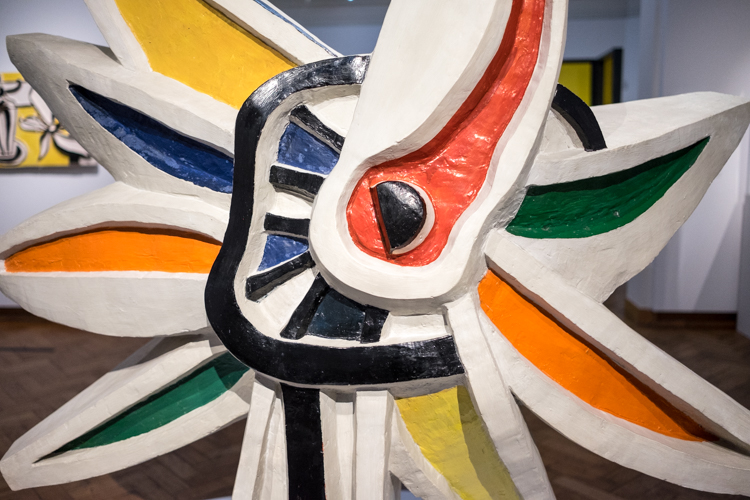 9_18
"Leisure on a red bottom", 1949: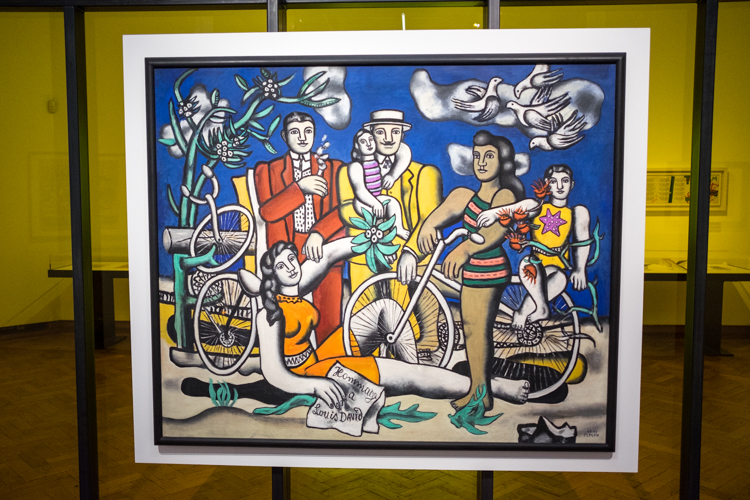 9_19
Early childhood art education. Good to see: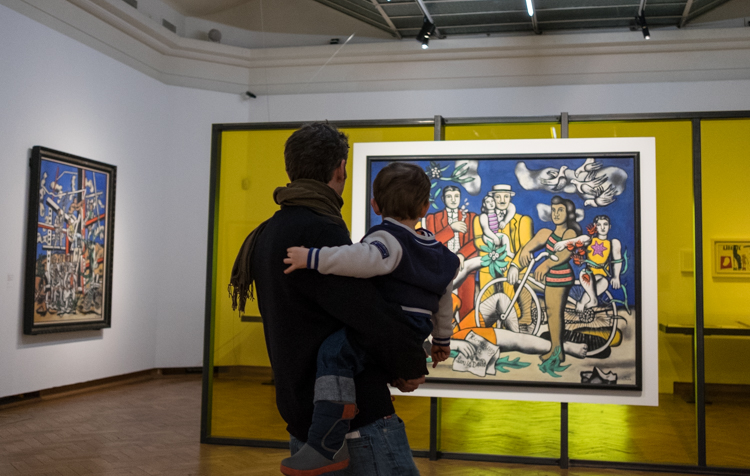 9_20
Léger was also interested in photography, and this statement I can very much subscribe to: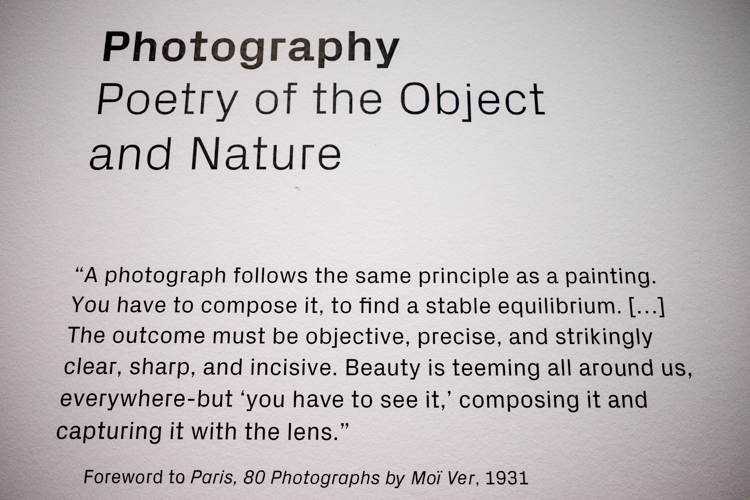 9_21
Once finished with the Léger exhibition, I explored the building some more: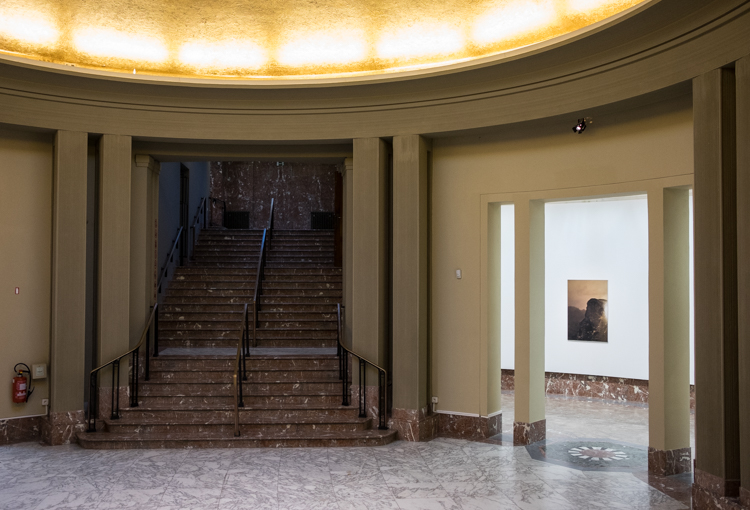 9_22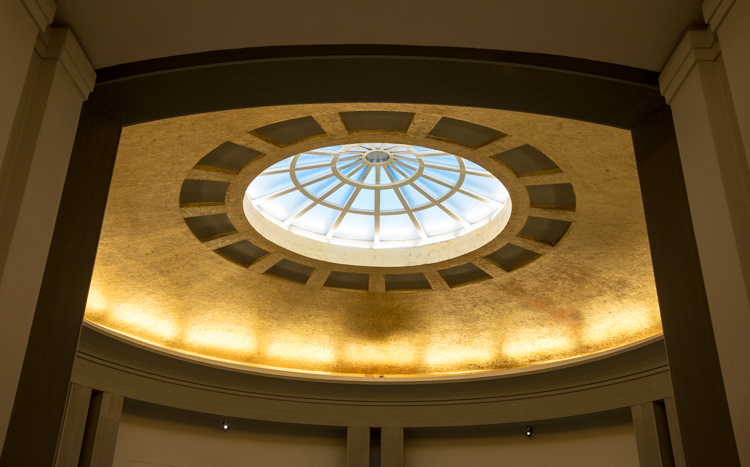 9_23
Outside BOZAR, there is some construction going on. The fence is put to good use: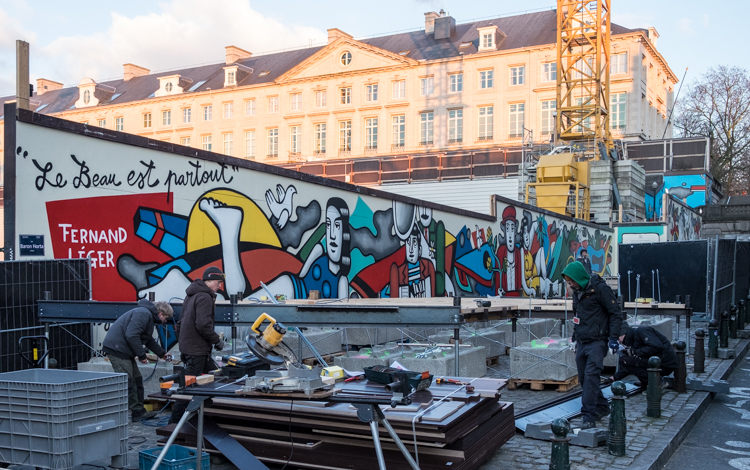 9_24
I peeked into a nearby shopping gallery, also in the Art Nouveau style: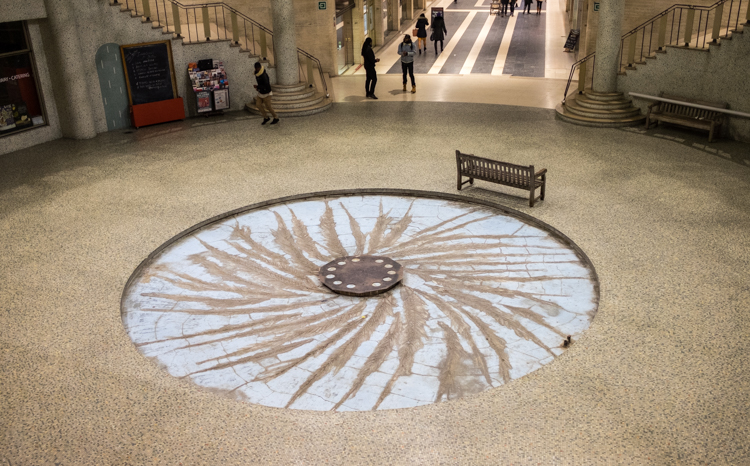 9_25
And then I retired to Café Victor, in the BOZAR building, for a beer: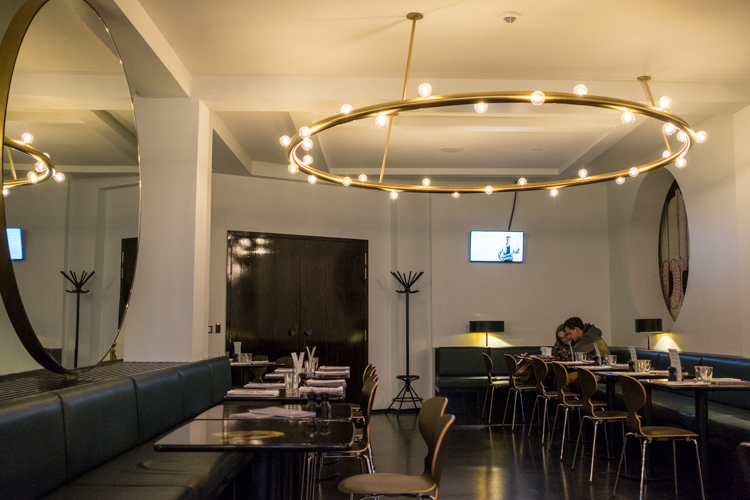 9_26
The next day, I was in our office all morning, and then crossed the street to the External Action Service where my cousin's husband Luc is a senior official. We had lunch together and then a chat in his office: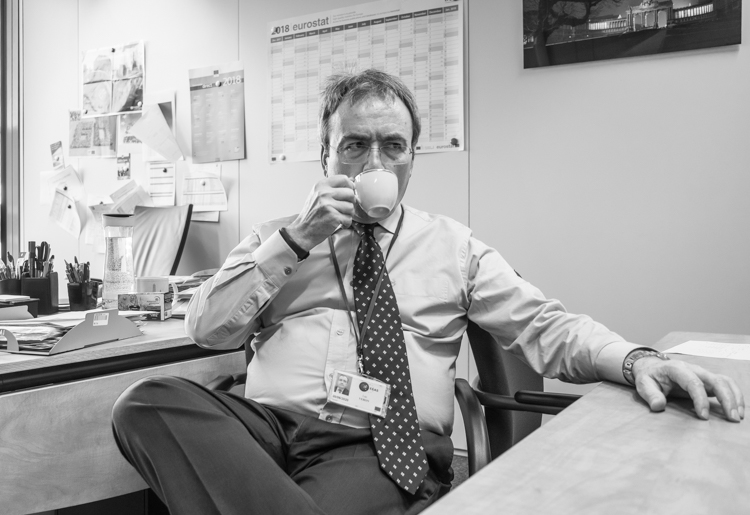 9_27
I still had some time left before it was time to head to the airport for my flight home, so I took a walk in the sunny but very cold streets. This is Place Jean Rey, with Hotel Aloft, my usual home in Brussels, in the background. As often happens in Brussels, a manifestation of some sort was going on, this time championing the rights of the Riff people, a minority in Morocco who are fighting for autonomy: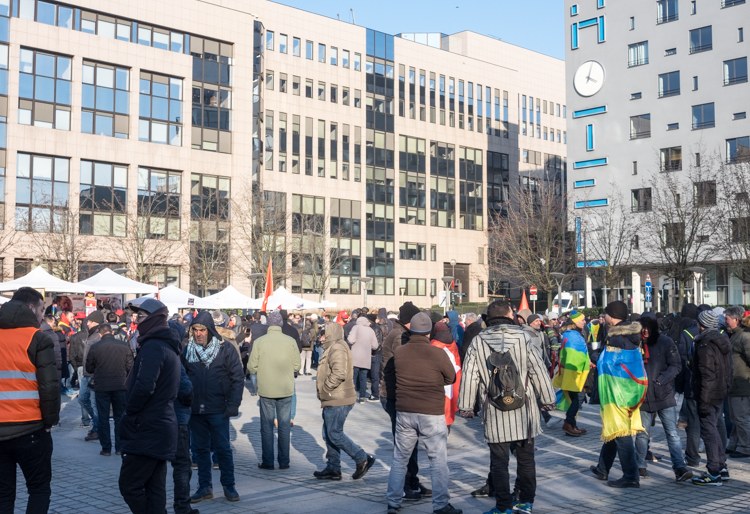 9_28
I hung around a bit, as such events usually provide some photo opportunities, and one might learn something from the people: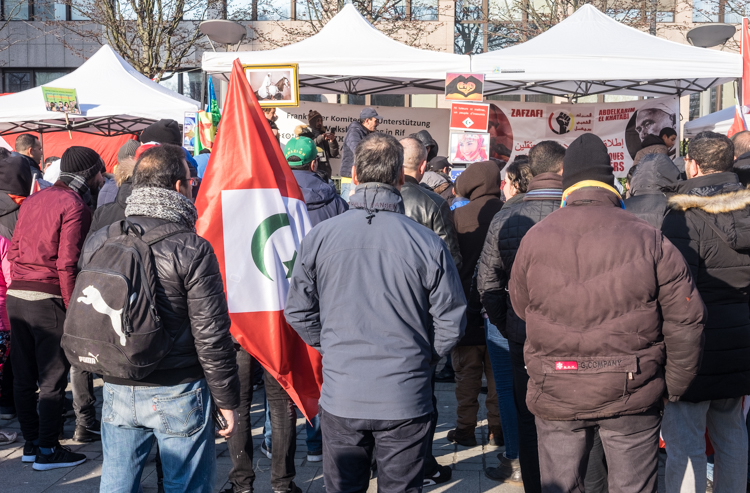 9_29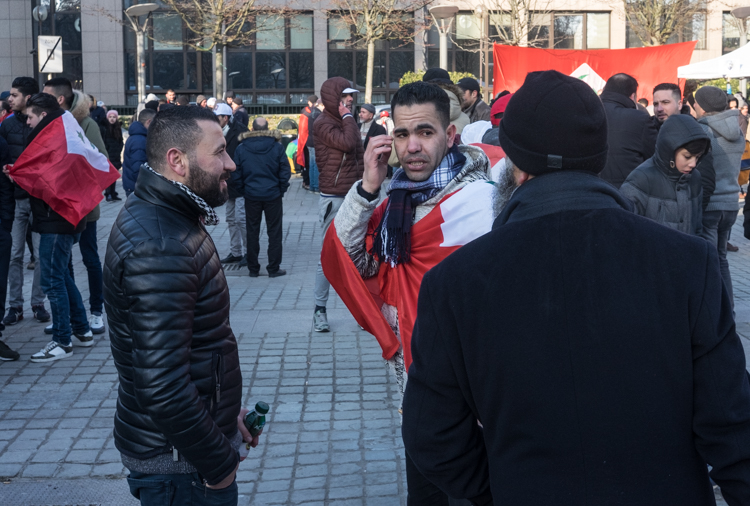 9_30
I finished my walk in Parc Leopold, another wonderful little oasis that I often visit: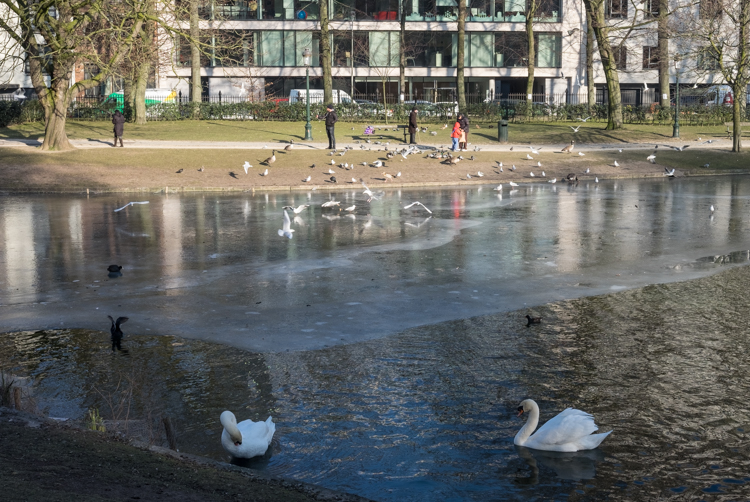 9_31
This was the first time that I can remember seeing the lake (partially) frozen: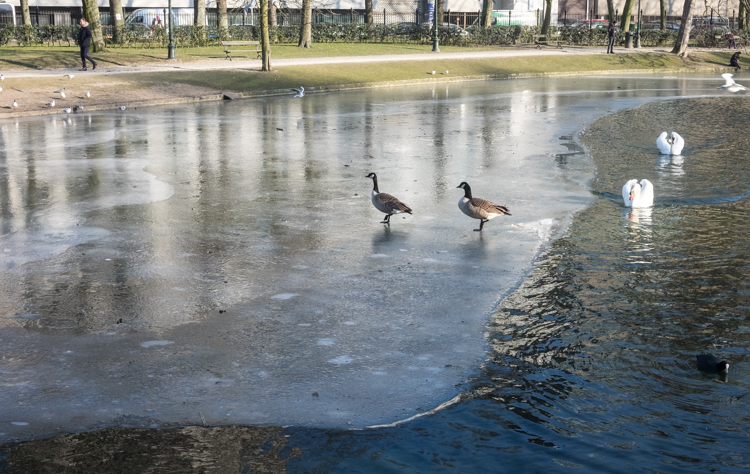 After this, I decided that it was getting too cold for comfort, so I went back to the office, picked up my stuff and made my way to the airport.