All the photos this week are from our visit to New York and New Jersey. It was of course centered on my son and his wife (and the pets!), but we spent lots of time walking around the city.
52_1:
We started Boxing Day with a morning walk. Euclid is a Samoyed, an active dog that needs lots of walks and exercise: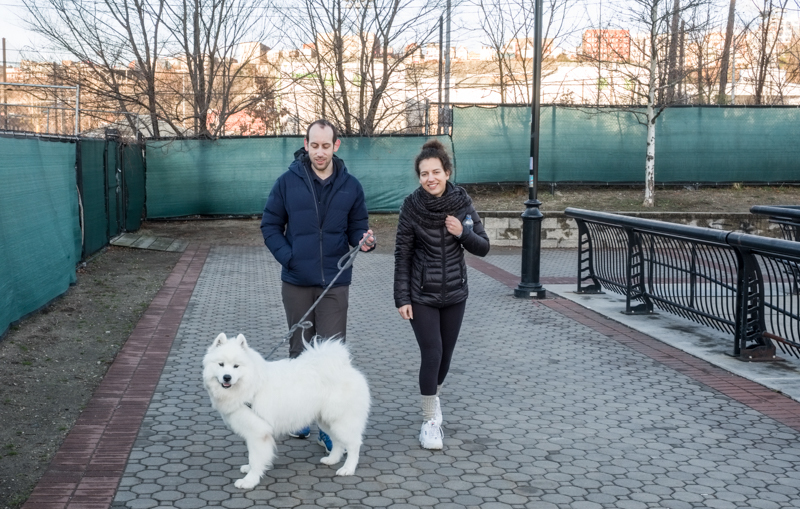 52_2:
My son lives in Lincoln Harbor in Weekhawken, NJ. In the harbour there are still boats sunk by Hurricane Sandy in 2012. According to my son, some sort of political/financial dispute has prevented the cleanup: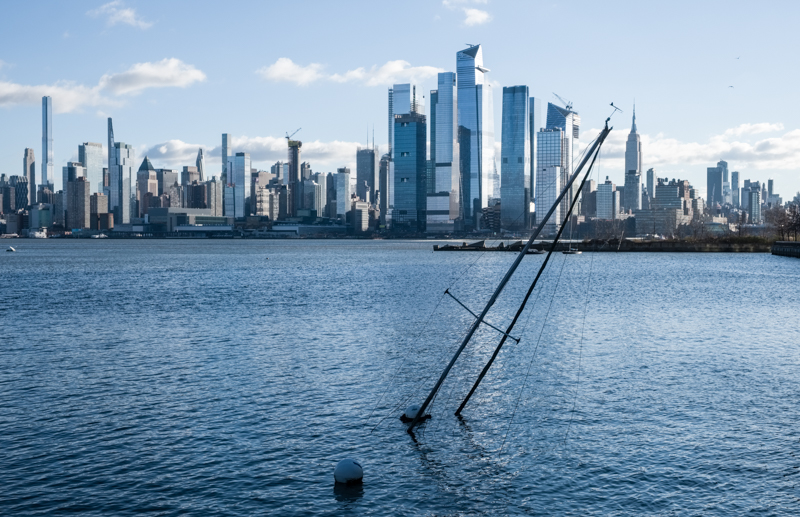 52_3:
I jokingly say that every Puerto Rican has a relative in New York. And so it is for my wife; one of her aunts used to live in the Williamsburg section of Brooklyn before it became posh. After it did become posh, she sold her house there and moved the Malba neighbourhood in Queens. We paid her a visit later in the day. She is quite a bit older now than when we used to visit regularly in the 1990s when we lived in New Jersey, but then again, we are not younger either: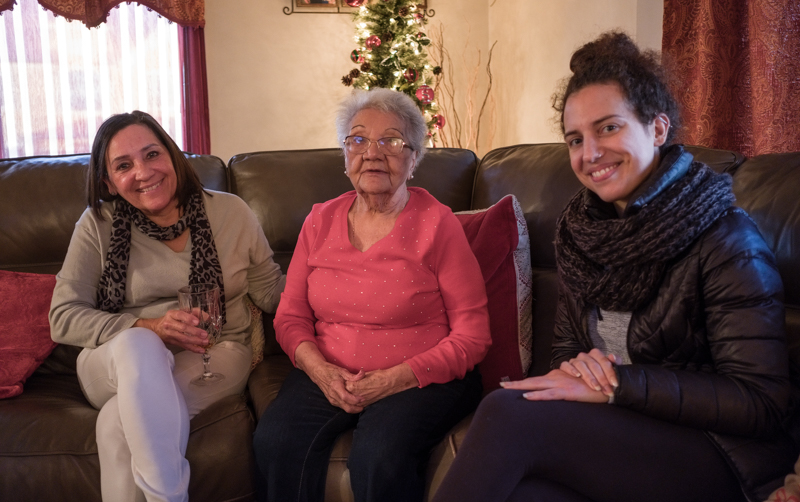 52_4:
After dark, we went for a drive around the neighbourhood to look at some of the heavily decorated houses: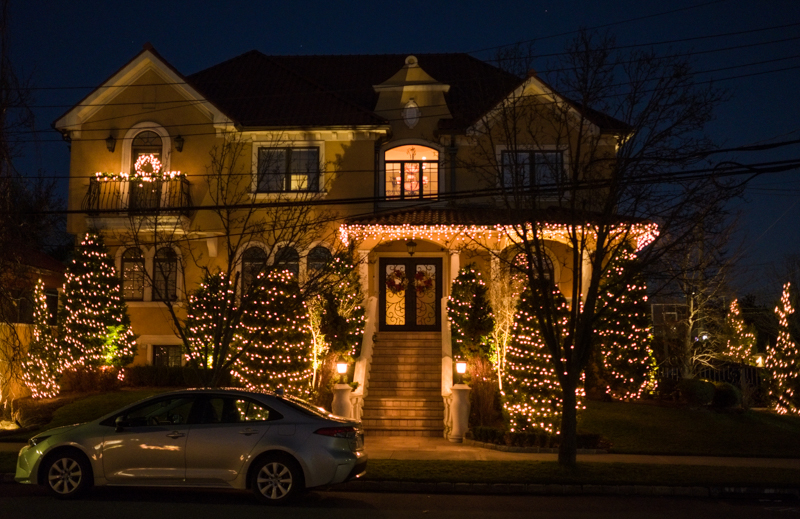 52_5:
And the nearby Whitestone Bridge: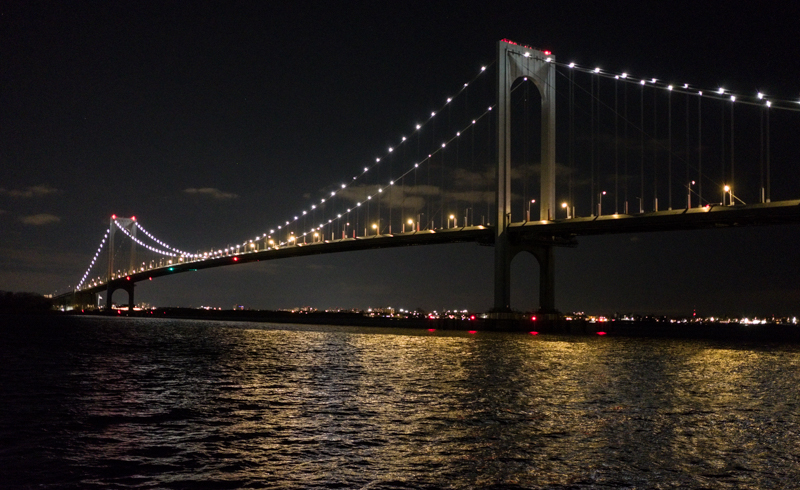 52_6:
Then we drove back to New Jersey, spent a couple of hours with Moses and Myrela, and then walked back to the hotel, enjoying this view of Manhattan along the way. My son works almost directly across the water, in the Hudson Yards complex: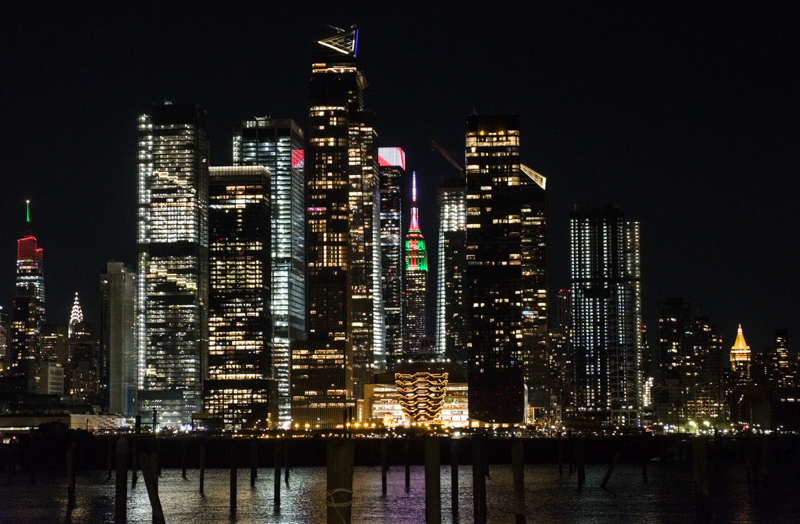 52_7:
The next morning Moses showed us around the Boston Consulting Group office where he works. The view from the 45th floor is wonderful. Here we are looking south, towards lower Manhattan and the Statue of Liberty in the distance, with New Jersey on the right: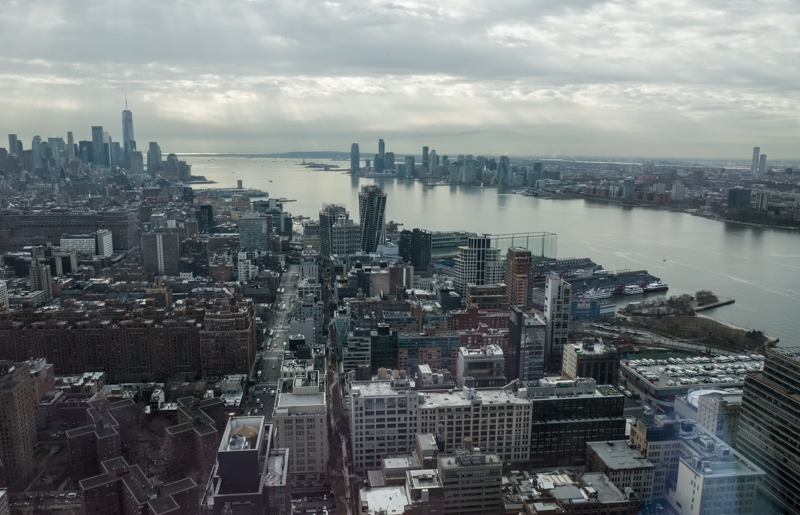 52_8:
There is some nice art in the BCG office: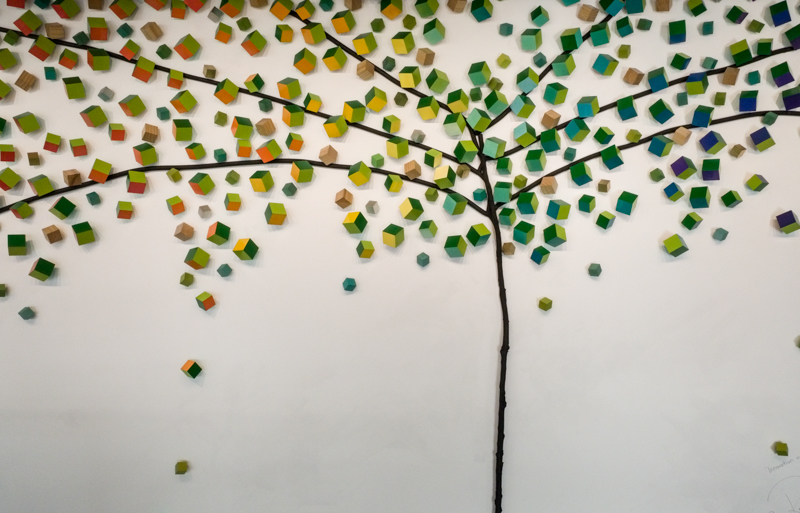 52_9:
And some interesting corporate history from the 1960s: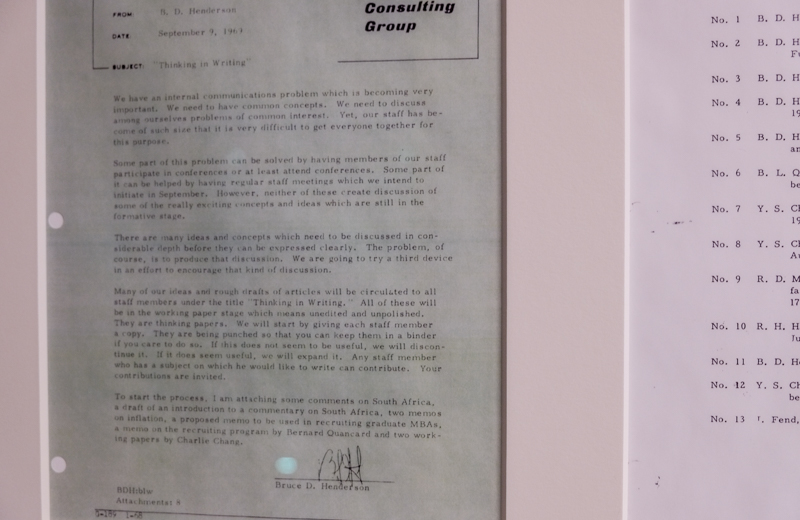 52_10:
Then we walked on the Highline, something I had long wanted to do; despite the somewhat blustery weather, many other people had the same idea: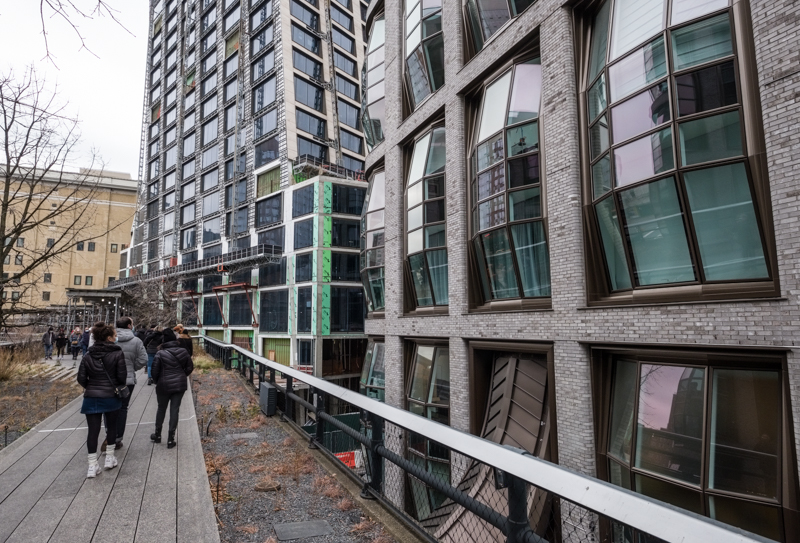 52_11:
I loved doing this with both my children, reunited after 2 years: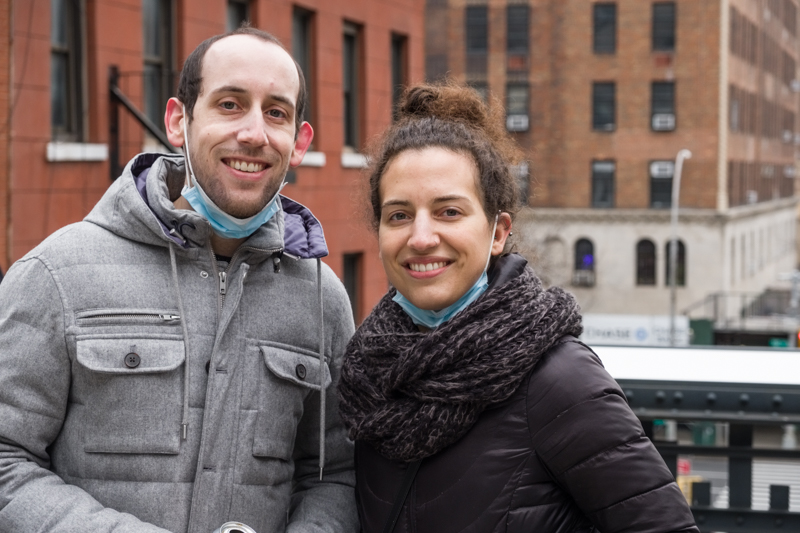 52_12:
An observation platform at Hudson Yards: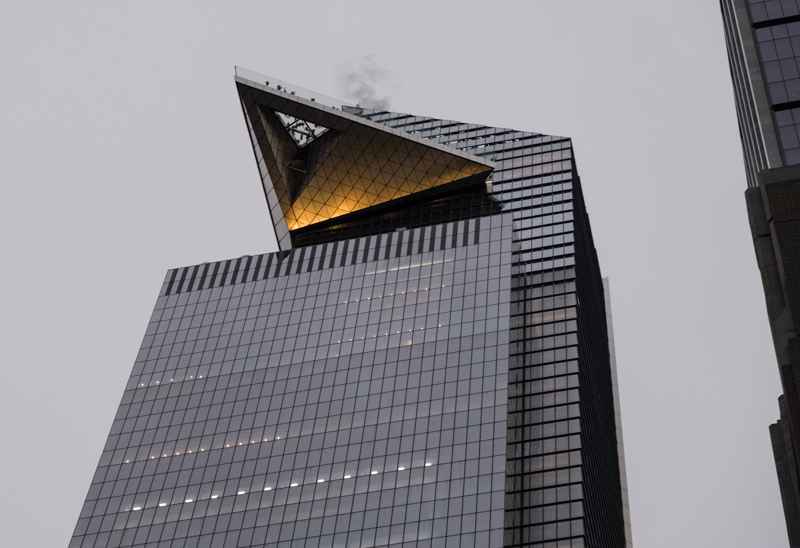 52_13:
There is also a shopping mall, and I went in only reluctantly, to have lunch at the food court. But there was a nice abstract to be had on the escalator: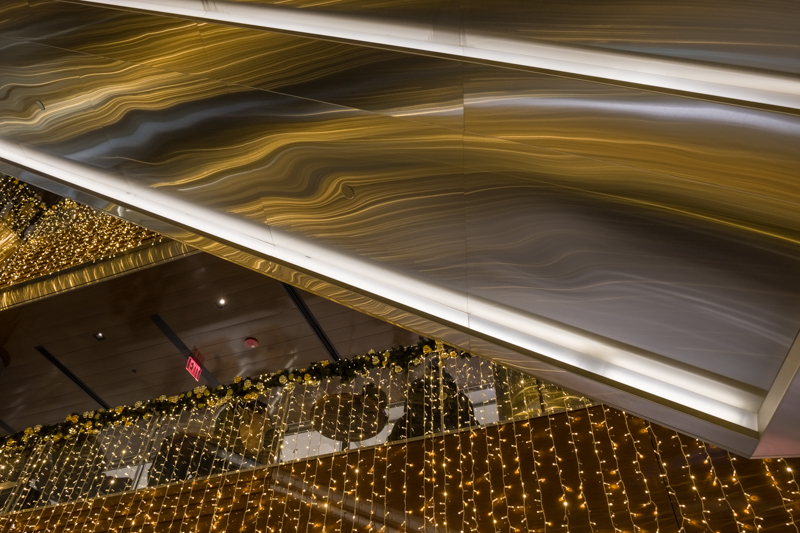 52_14:
Truth in advertising: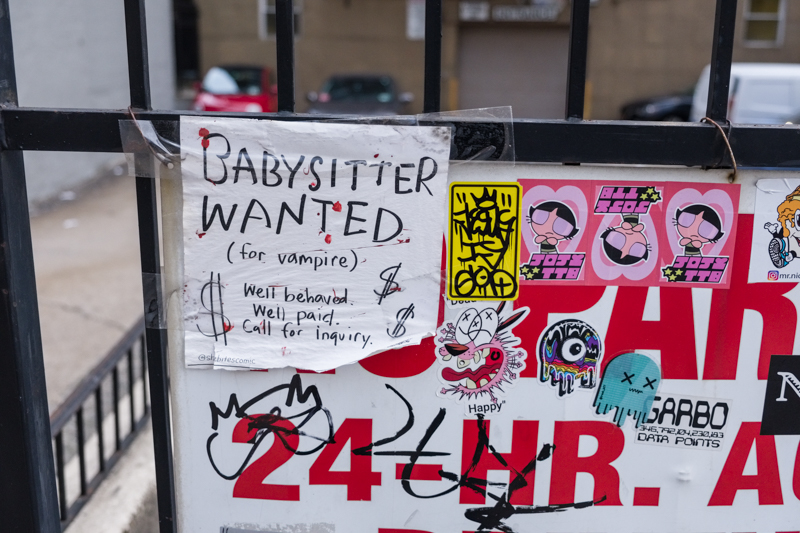 52_15:
On Tuesday morning, Monica and I joined Moses in the morning at the dog park next to his apartment complex: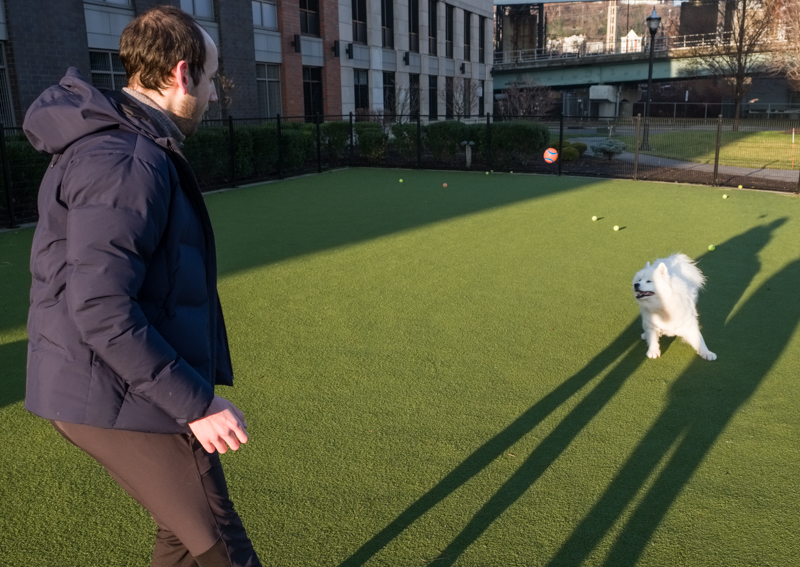 52_16:
It was a crisp and frosty morning, just the weather for a samoyed: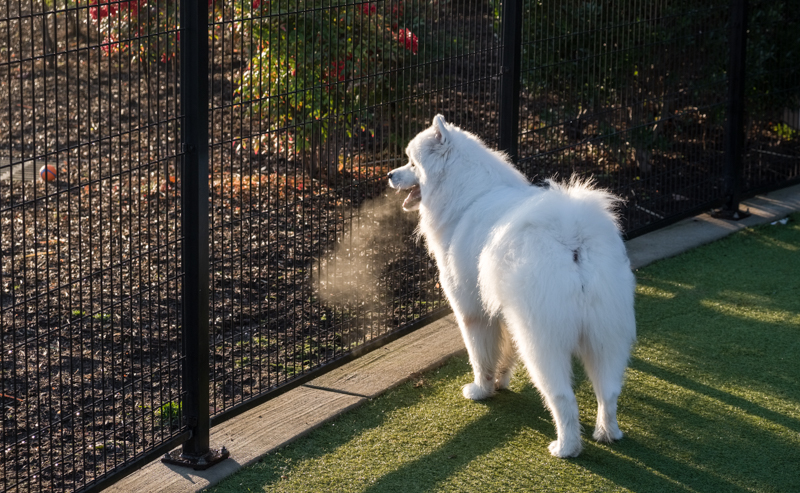 52_17:
And then two Great Danes came by and the three dogs had some fun: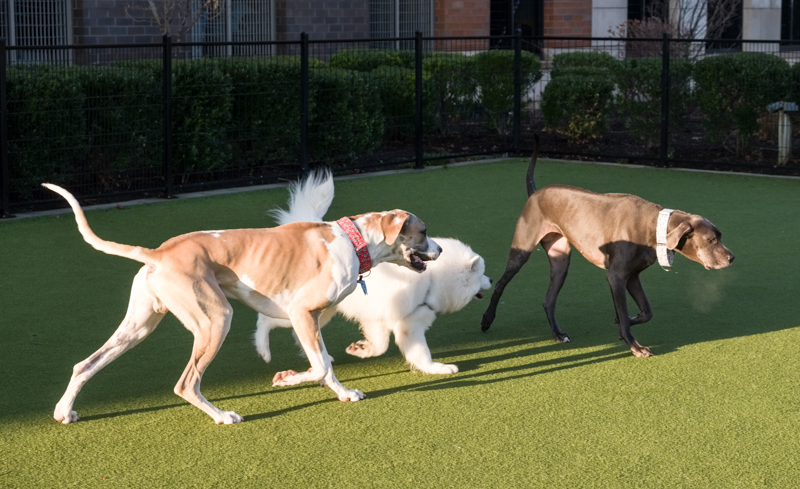 52_18:
Later in the day, we drove to Manhattan, parked the car in a horrendously expensive parking (all New York City parkings are horrendously expensive) and walked around the city, starting at Times Square. People were getting tested everywhere: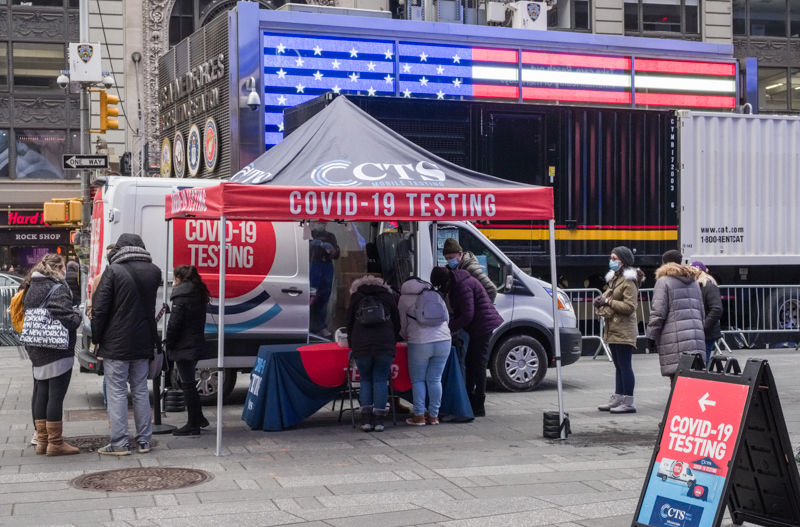 52_19:
We walked by the Fox headquarters where some good people were protesting against the fascist news network. I chatted with them for a couple of minutes, telling them to keep fighting the good fight: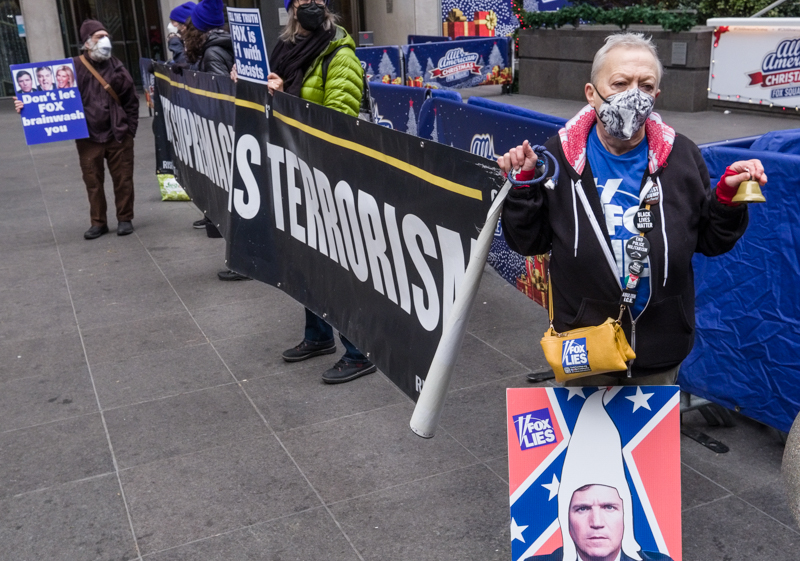 52_20:
We then took the subway to lower Manhattan: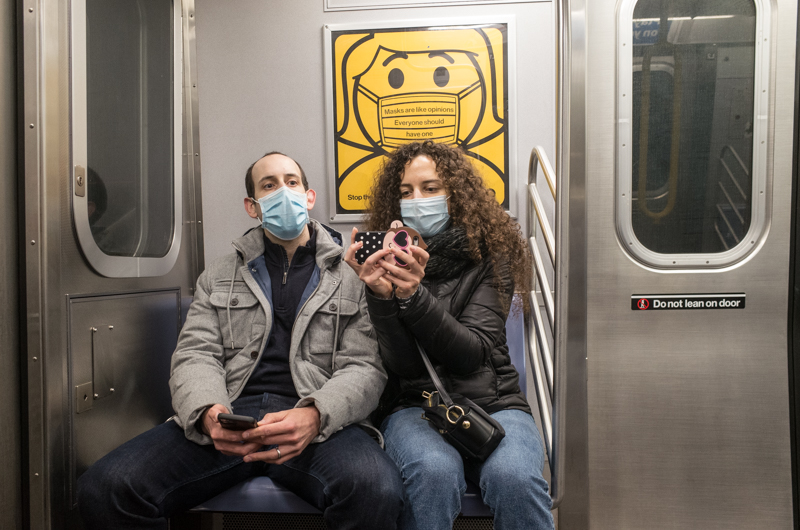 52_21:
We happened upon an amazing game shop. My daughter was like a child in a candy store: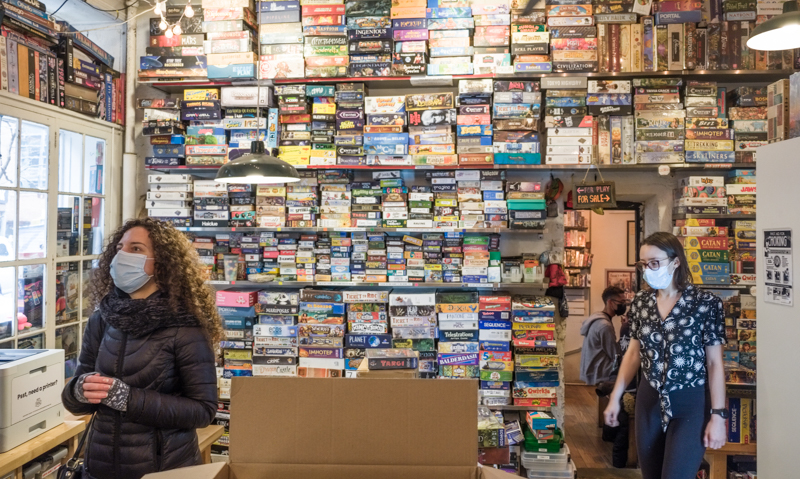 52_22:
One visible impact of the Covid pandemic is the proliferation of outside seating in New York restaurants, a relatively rare phenomenon before 2020: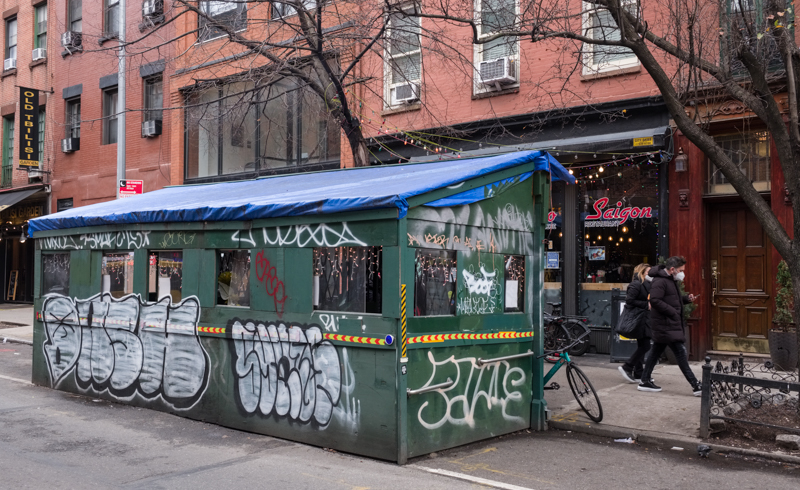 52_23:
We stopped for lunch at a Lebanese restaurant, seemingly run by a father-and-son team: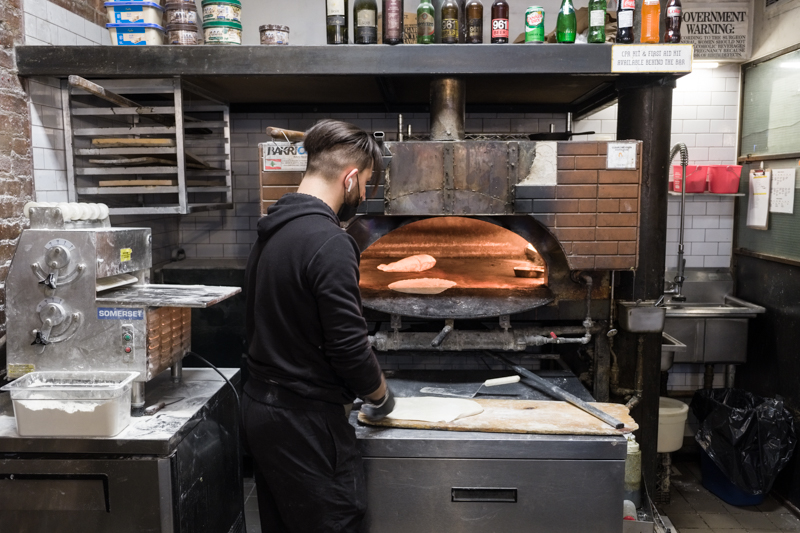 52_24:
The food was delicious, and the Lebanese beer, a first for me, was very good too: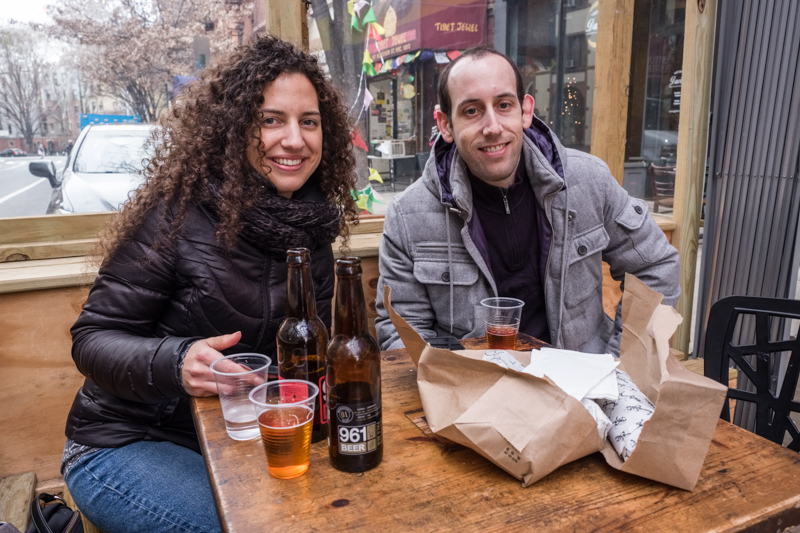 52_25:
A truck driver takes a break: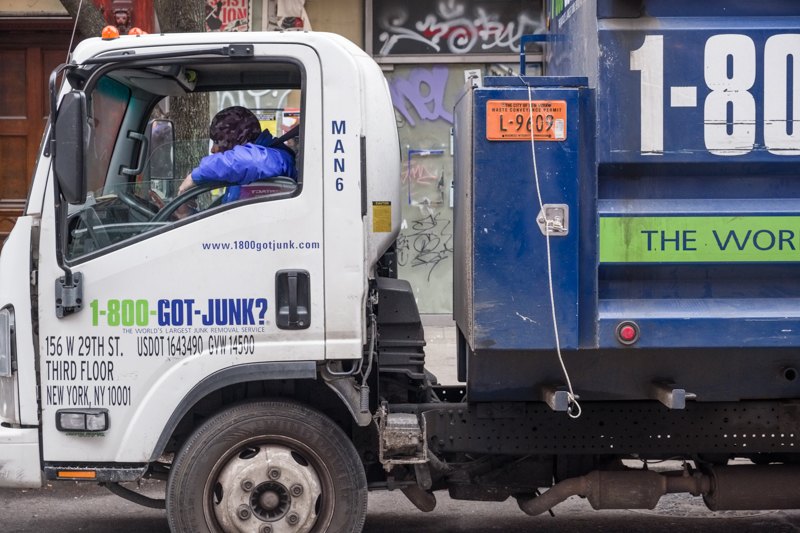 52_26:
Witty poster at NYU: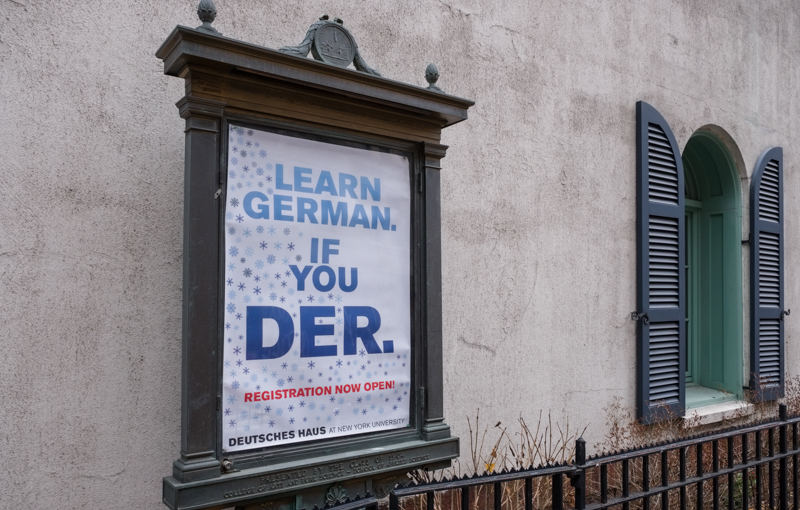 52_27:
Then we made our way to the Strand bookstore, another iconic place I wanted to visit:

52_28:
One curious deficiency at the Strand is the lack of sofas or other seating where one can browse the books. This is something I am used to in good bookshops like this. So at the Strand, browsers have no choice but to sit on the floor: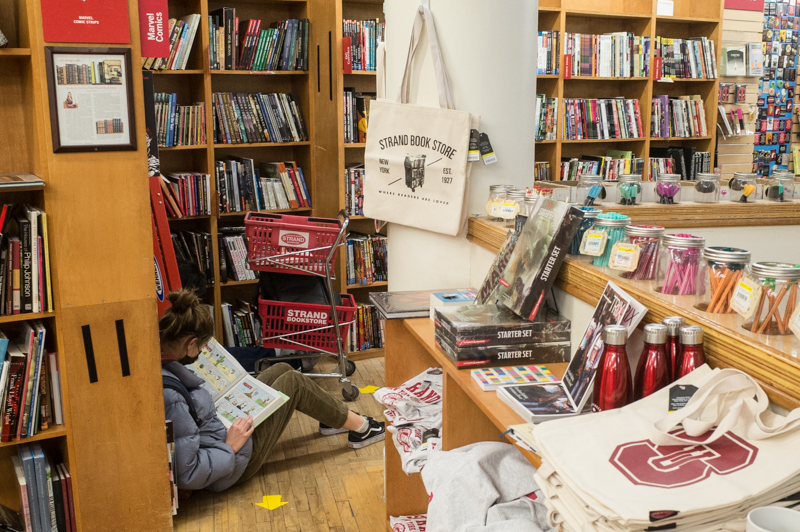 52_29:
Near the Strand there is a church. I found this sign oddly amusing at Christmas time: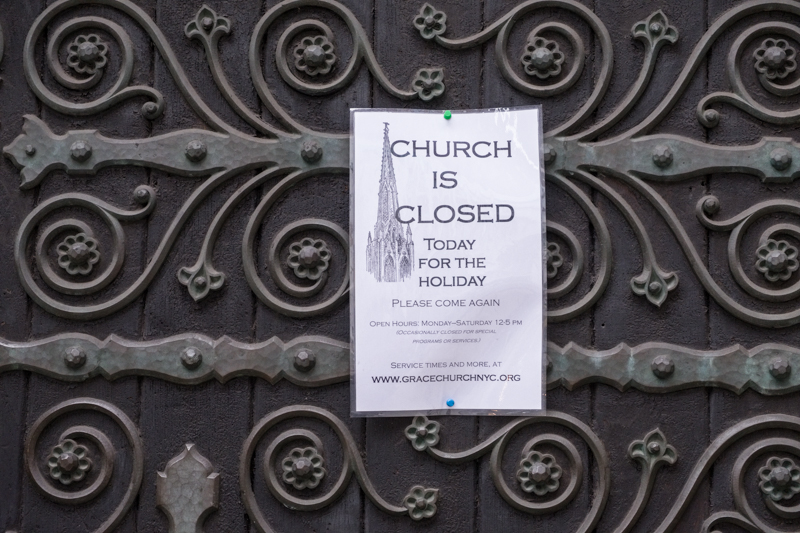 52_30:
Another iconic place to visit in New York is the Museum of Modern Art, one of the world's great arts institutions. I spent an afternoon there with Moses and Monica: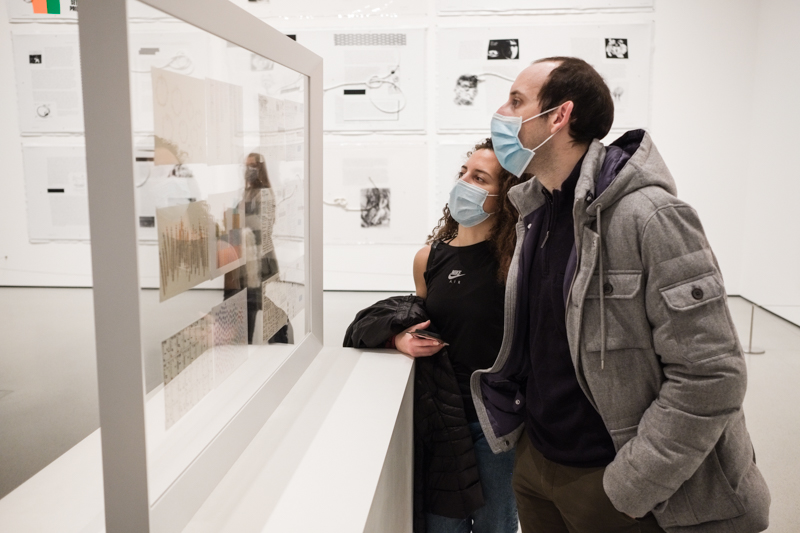 52_31:
We spent Thursday afternoon in Brooklyn, starting with lunch in Williamsburg. I used to visit there in the 1990s, and back then you certainly could not get ramen there:

52_32: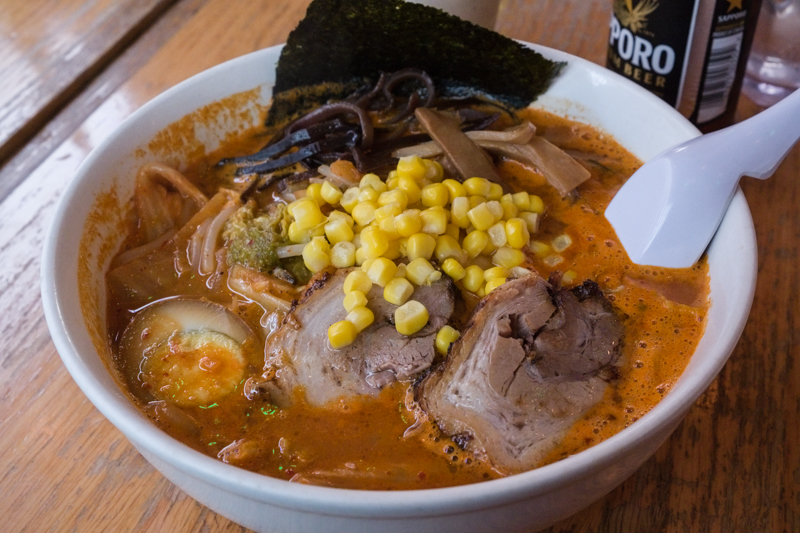 52_33:
Also, back in the 1990s you did not see such people in this neighbourhood: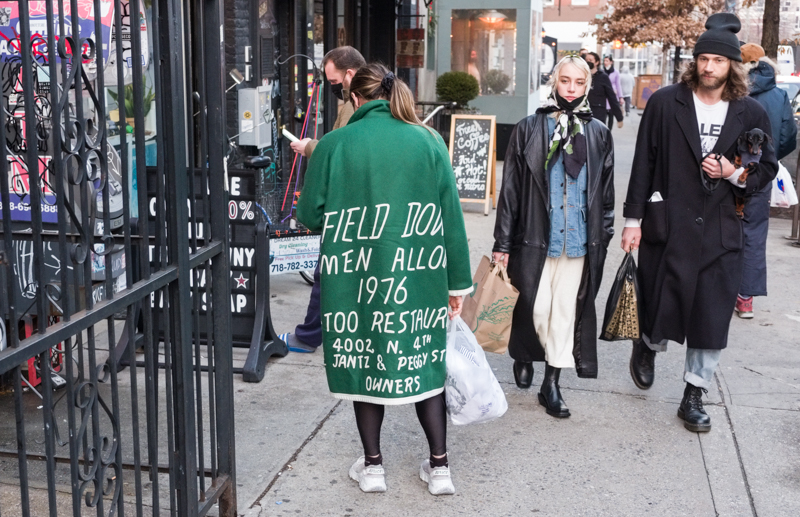 52_34:
We finished the day in Brooklyn in Domino Park, right on the waterfront. Portraits of Euclid were taken, with a nice backdrop: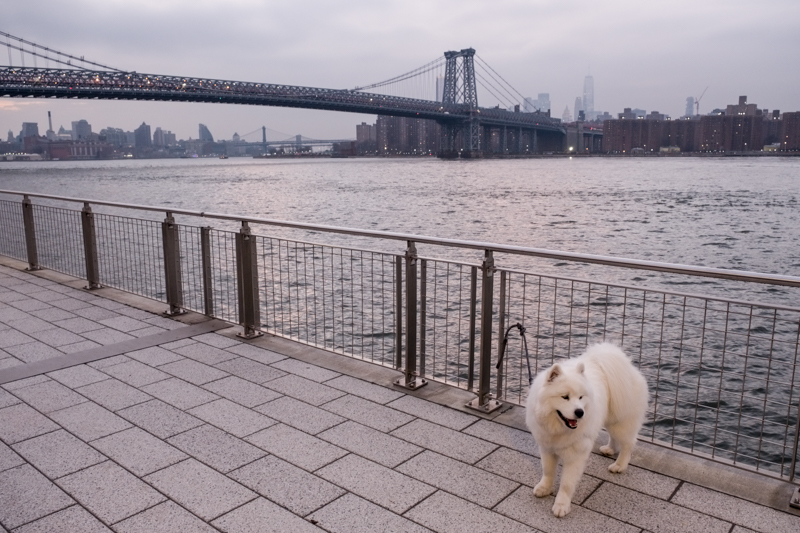 52_35: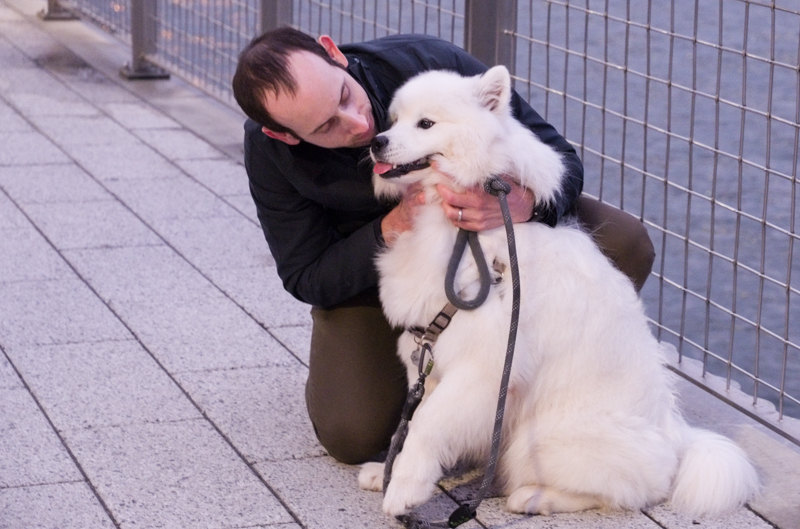 52_36:
Three bridges, seen from Domino Park. Closest is the Williamsburg Bridge, then the Manhattan Bridge and finally the Brooklyn Bridge: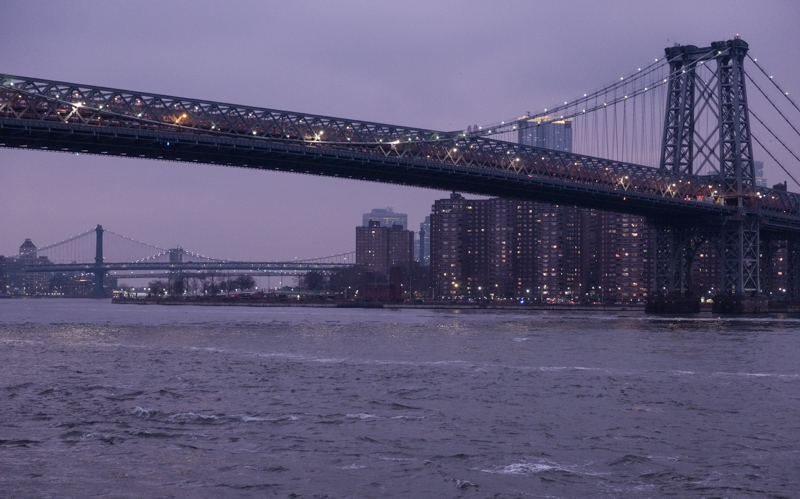 52_37:
As darkness set in, we enjoyed the fantastic views of the Manhattan skyline: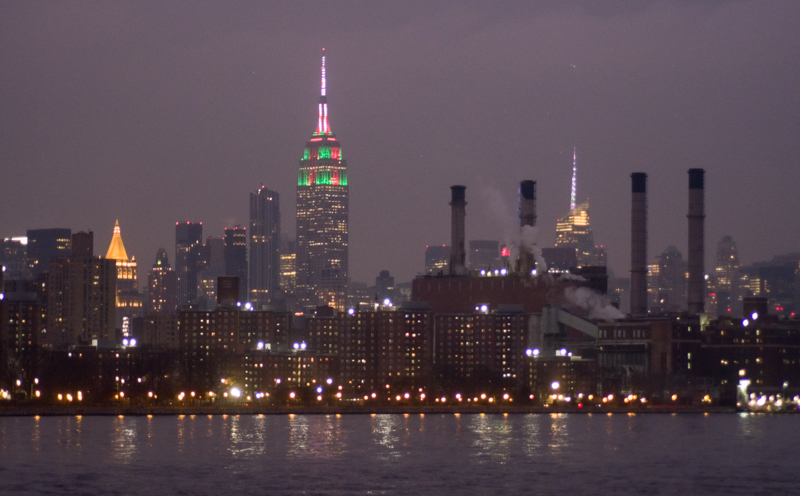 52_38:
And Euclid enjoyed frolicking with other dogs in the dog park: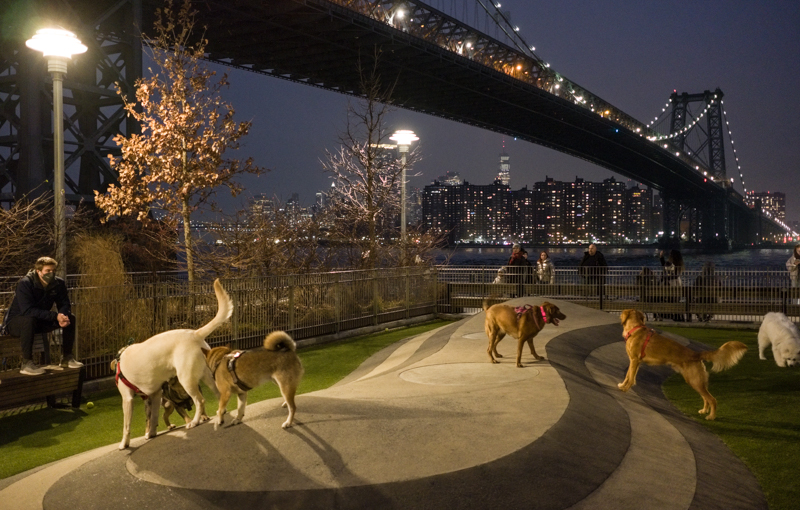 52_39:
Then the last day of 2021 and also the last day of our visit to New Jersey arrived. I started the day by driving to Jersey City to have a look at the large mural of David Bowie, painted by Brazilian artist Eduardo Kobra following Bowie's death: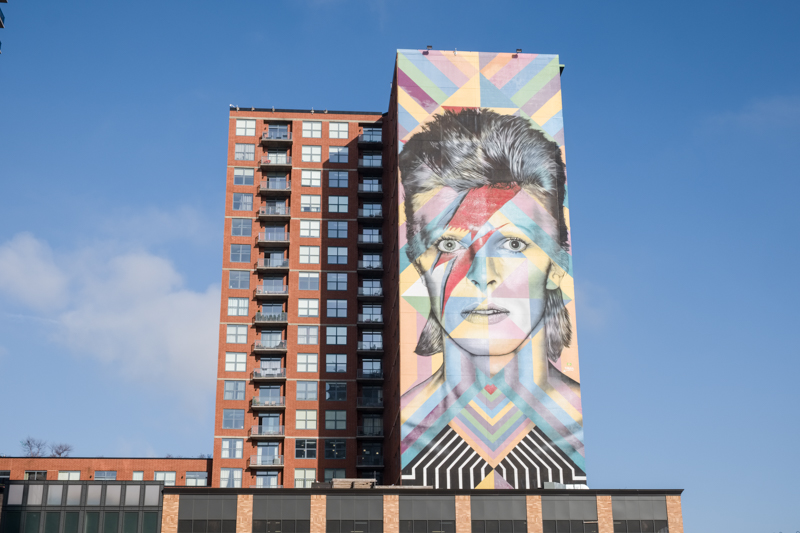 52_40:
Birds, Jersey City: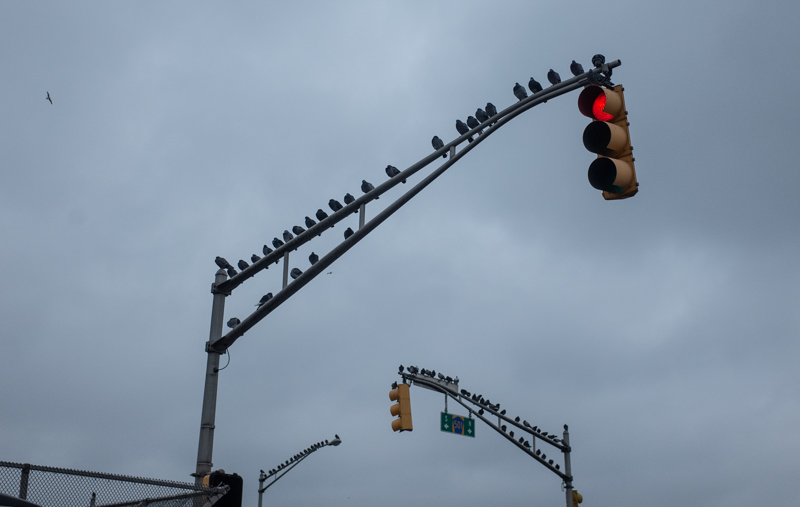 52_41:
Later, we went to Central Park with Euclid. The dog takes up most of the back seat in Moses's car, so both it and our rental car needed to be deployed. In a stroke of good luck, we found on-street parking very close to the entrance to the park: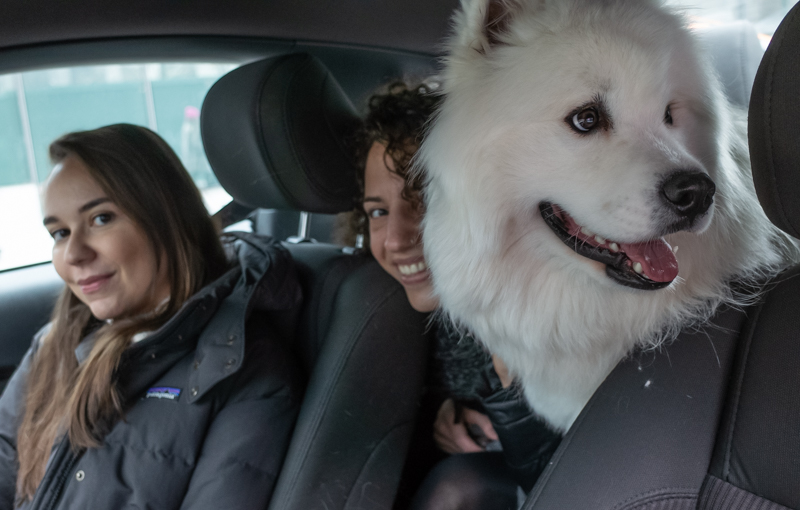 52_42:
A spot of pilgrimage. This is the entrance to the Dakota, the apartment building where John Lennon lived and where he was shot on 8 December 1980: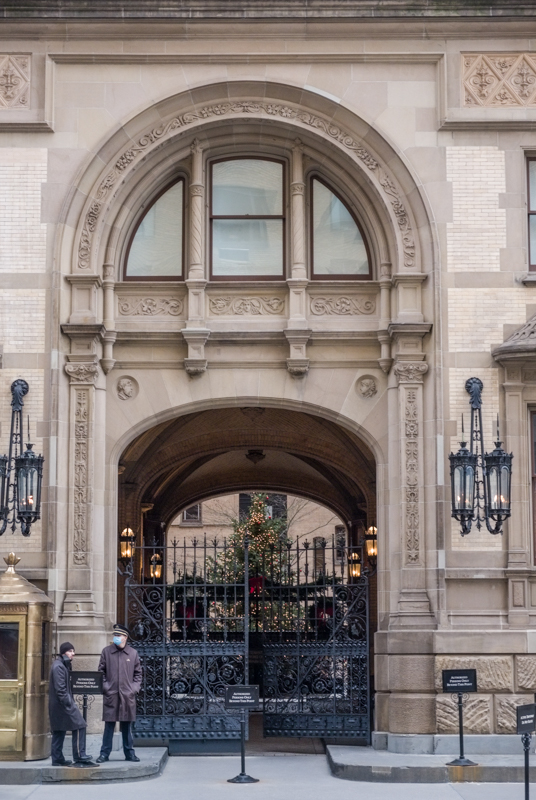 52_43:
Central Park is wonderful. It is truly a green breathing space set amid the skyscrapers of the big city: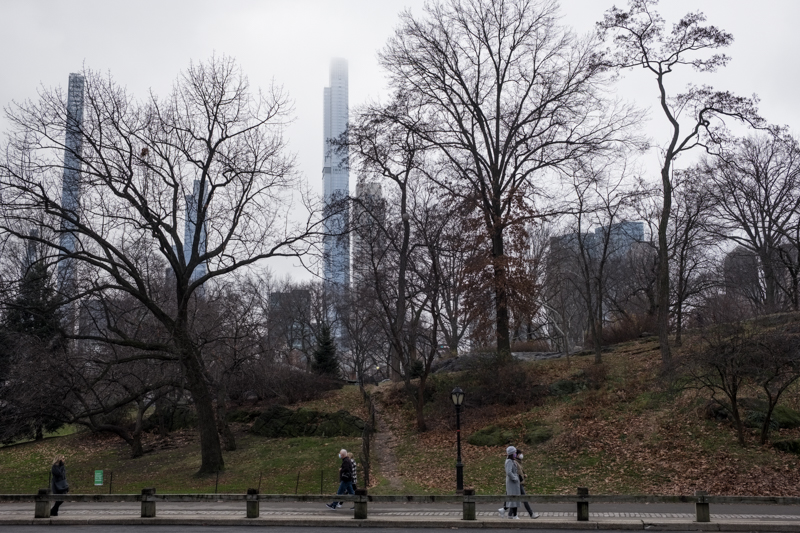 52_44:
Euclid was fascinated by the many sights and sounds (and smells) of Central Park: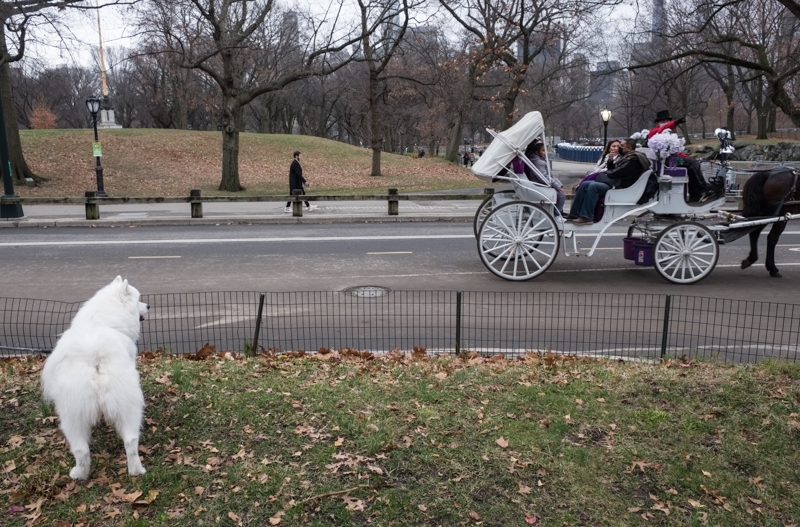 52_45:
We made some more family portraits: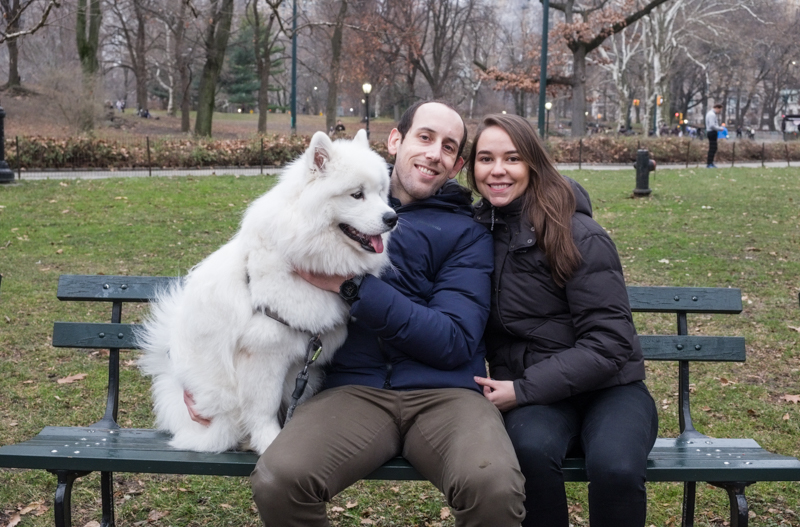 52_46:
Lots of street musicians in Central Park, and many are really good: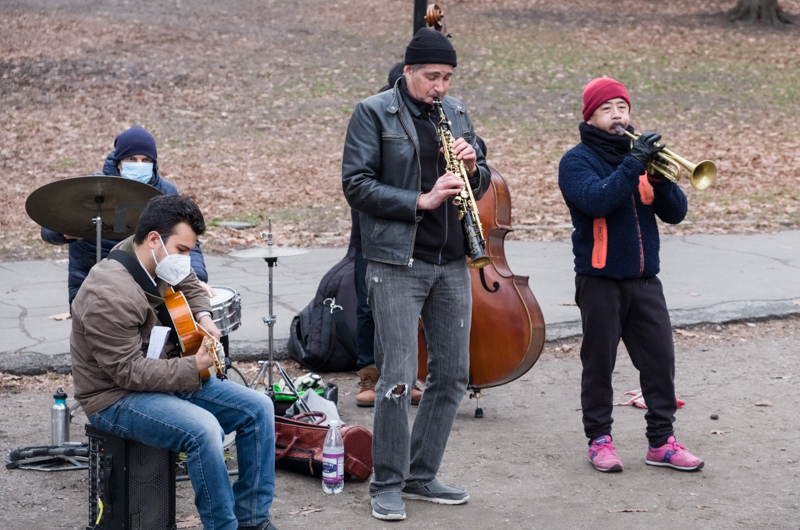 52_47:
This guy got some money from me, both because he was good and because he had a Liverpool FC scarf: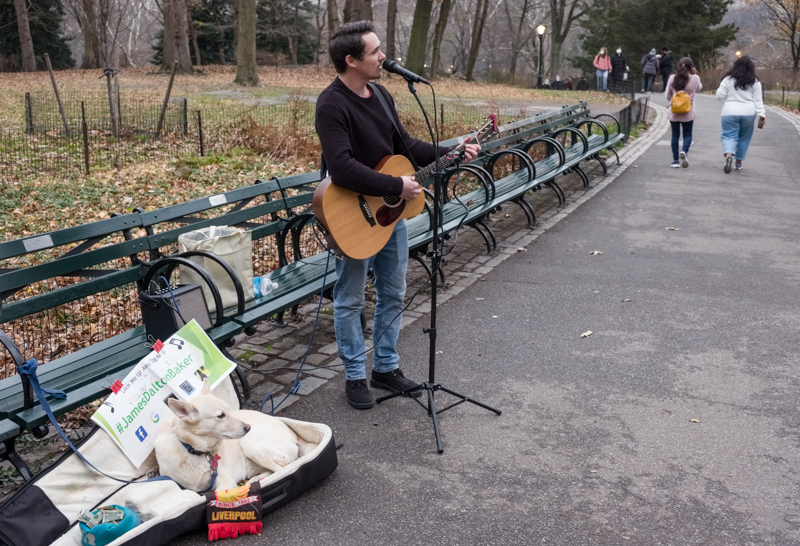 52_48:
No cars in Central Park, but the cyclists are a bit of a road hazard at times: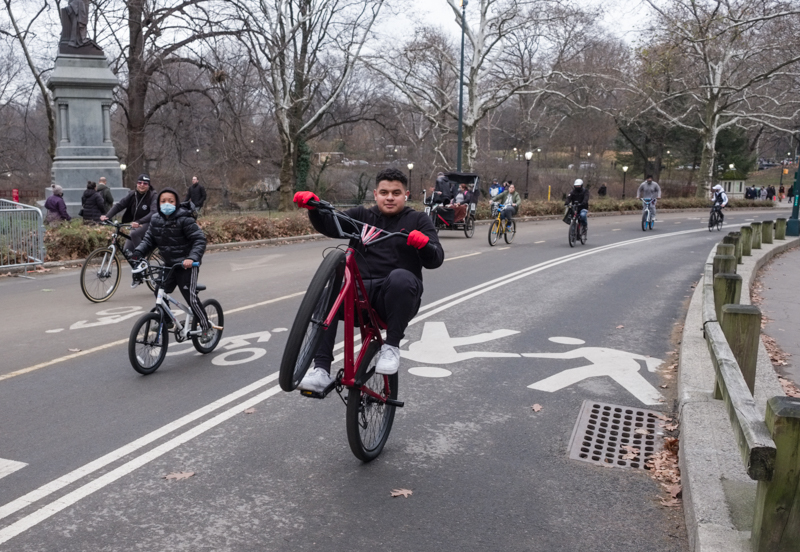 52_49:
We went back to New Jersey, relaxed a bit, and then it was time for New Year's Eve. We had hoped to go somewhere for a nice dinner and then meet 2022 at the BCG office with the great views, but all the restaurants we tried were fully booked, so we ended up with some Mexican takeout. But my wife had insisted on buying some party supplies and decorate the office a bit–in her words, "this is what I do!":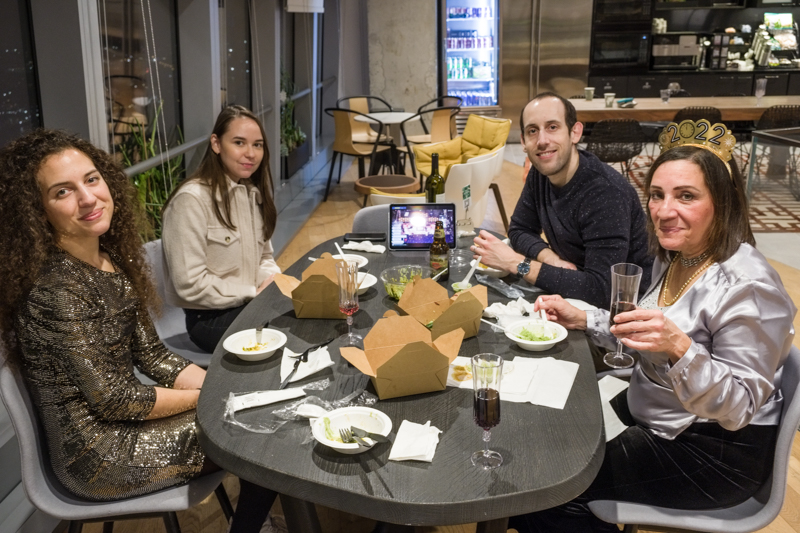 52_50:
It is now 2022, and we look at the fireworks over Manhattan. Actually, the fireworks themselves were a bit underwhelming, but the view was still great: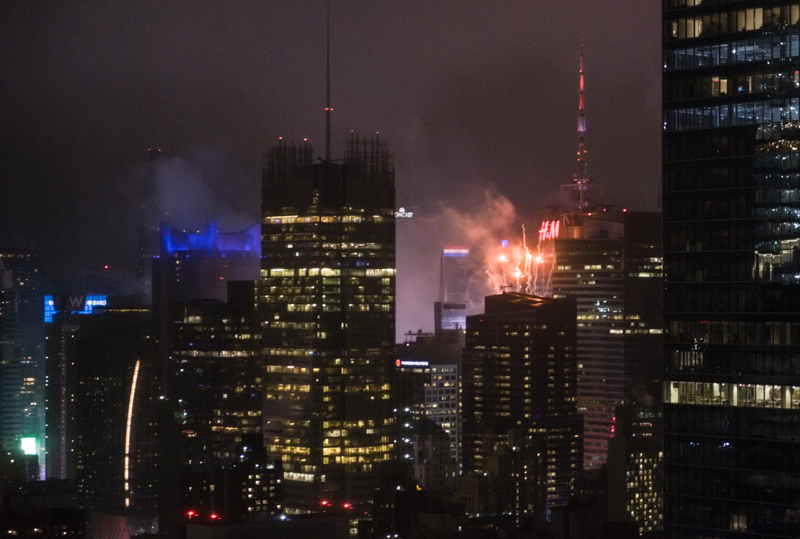 52_51:
Then I put the camera on self-timer, mounted it on Myrela's tripod, and we made our New Year's portrait: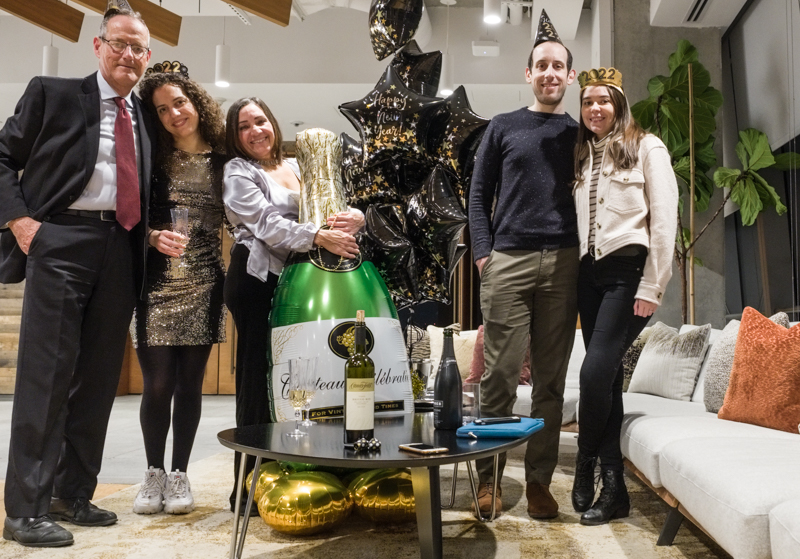 52_52:
The next morning we checked out of the hotel and drove over to meet Moses for one last time; Myrela was still sleeping but Moses had to take Euclid out, so we were able to say our tearful goodbyes before heading into the Lincoln Tunnel, cross Manhattan, cross into Queens through the Midtown Tunnel to go to JFK for our flight to Puerto Rico: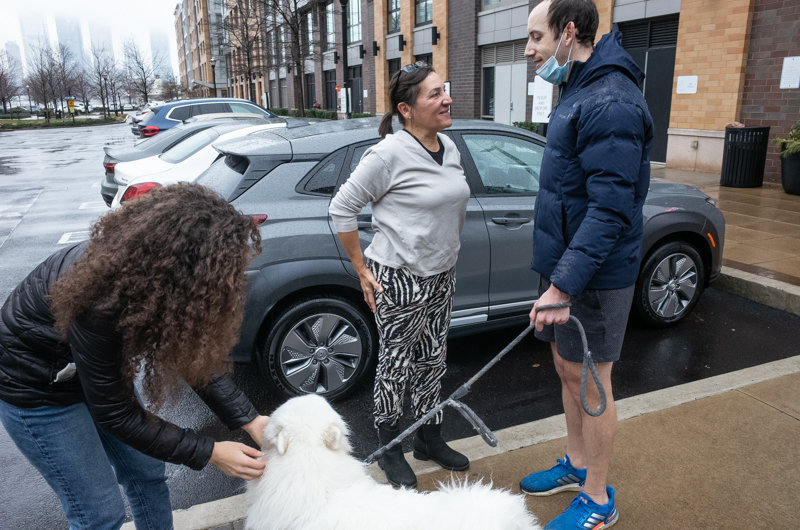 My New York gallery can be seen here. I also have a gallery from our visit to MoMA.
And this completes my 20th year of posting Pictures-A-Week.