During the past week I have continued my recovery from the previous week's hernia surgery. This means, among other things, that I am confined to my neighbourhood, as I am not allowed to drive. I am, fortunately, allowed to walk, and have had plenty of time to do that and record life around me with my Leica. Many of the pictures were taken during dog walks; since my dog pulls hard on the leash, my daughter or my wife would have to accompany me. They would hold the dog, I would take pictures–not a bad division of labour!
Main
Big man, small dogs: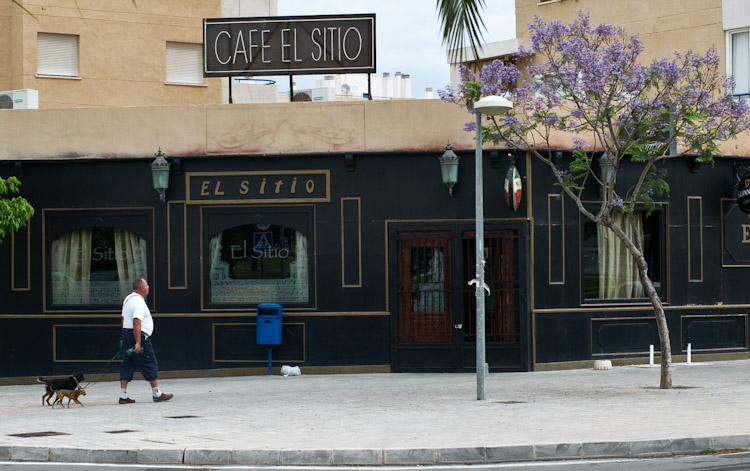 The alternates:
Alternate 1
The area is full of trees with these pretty blue flowers: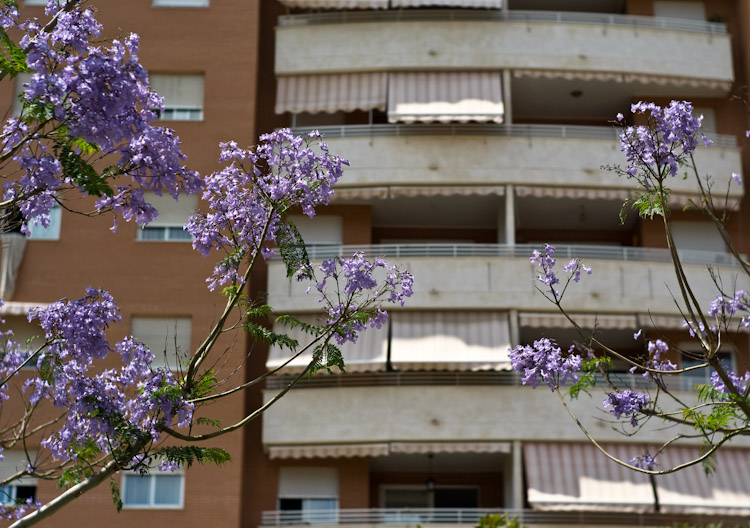 Alternate 2
The flowers will soon disappear, most are already on the ground: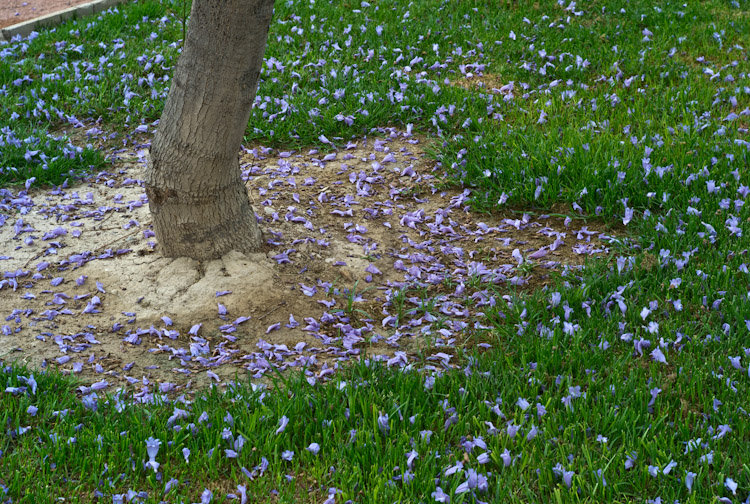 Alternate 3
A touch of the American South right here in Playa San Juan: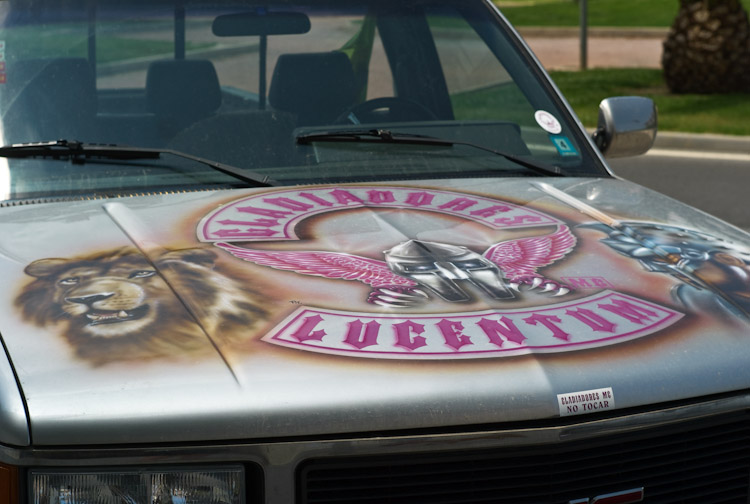 Alternate 4
Inside El Sitio, my (currently) favourite watering hole: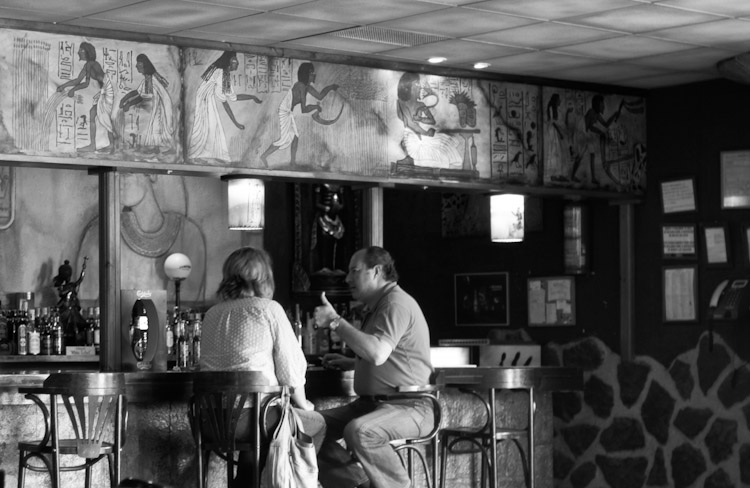 Alternate 5
Another local bar, of course with outdoor seating. I have counted around 20 bars within a radius of 500 metres from my house: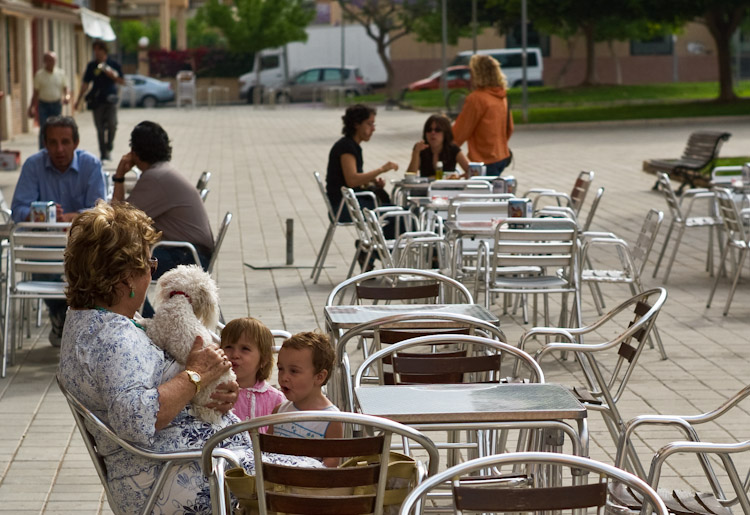 Tuesday was an important day. At 5 in the afternoon, my wife drove me to the surgeon's office in San Vicente to have my stitches taken out. Afterwards, we celebrated with a beer on the local plaza.
Alternate 6
San Vicente is the kind of place where a man like this will spend hours sitting at his table and watching the life unfold: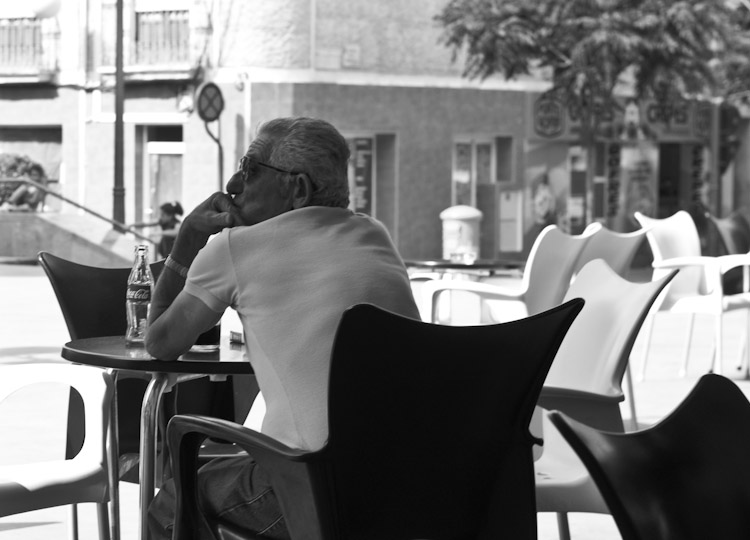 Alternate 7
Three generations of females on the plaza in San Vicente: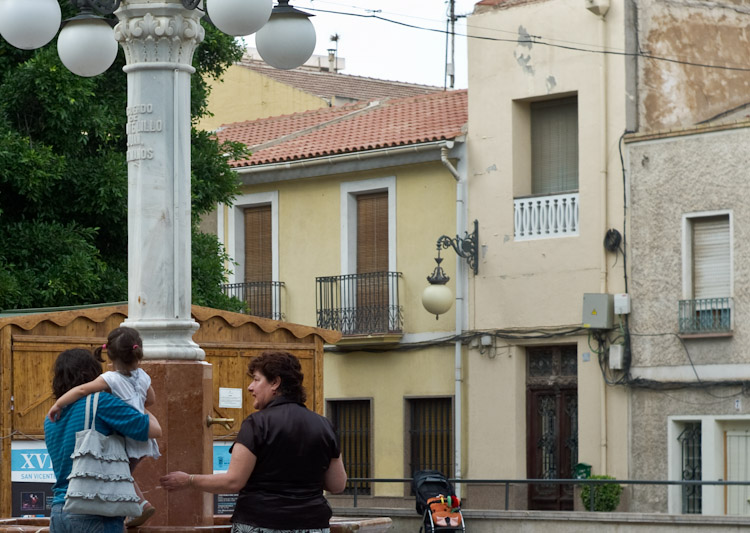 Alternate 8
The church is the most important place in San Vicente, not so much because of what goes on inside, but because it provides a good place for hanging out for local youth: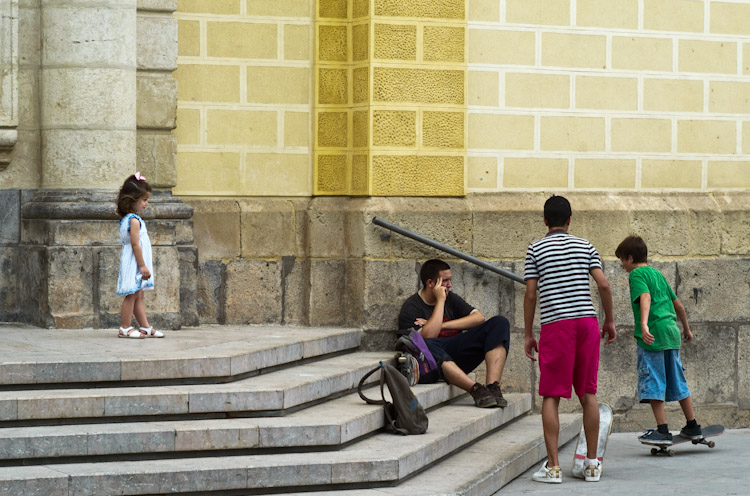 Aside from this short trip to San Vicente, I was at home and around for the remainder of the week.
Alternate 9
Big crane, small load: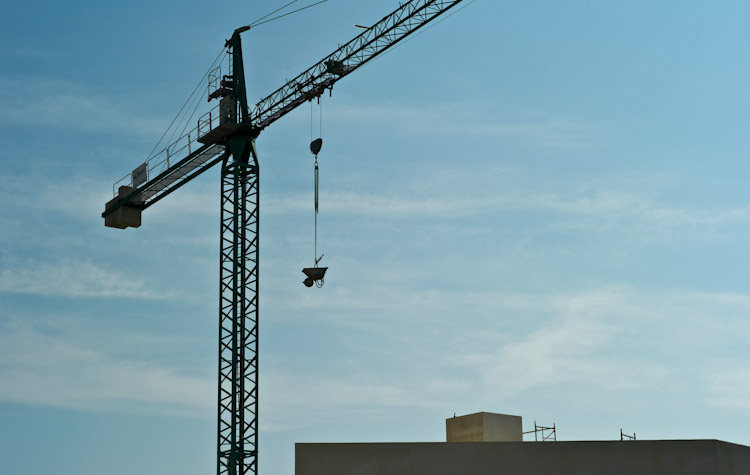 Alternate 10
Bruno is a handyman, originally from France. He installed this marquise at our house, a job I would otherwise have had to do…this hernia surgery stuff is not all bad: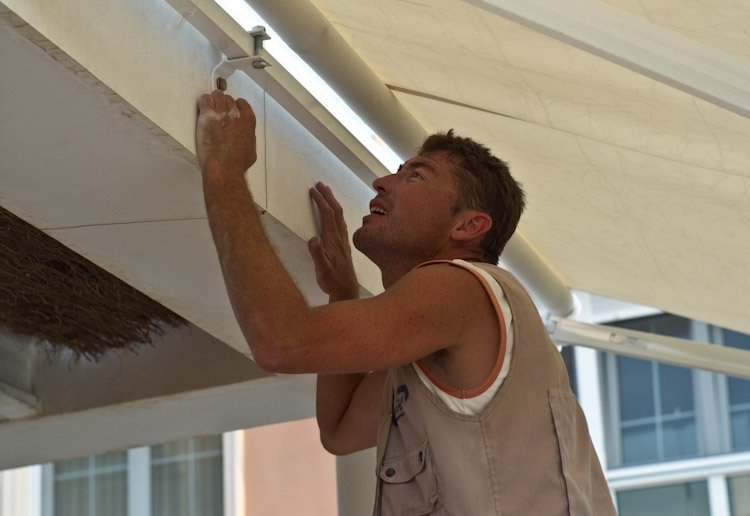 Alternate 11
A couple of the many homeless cats around here: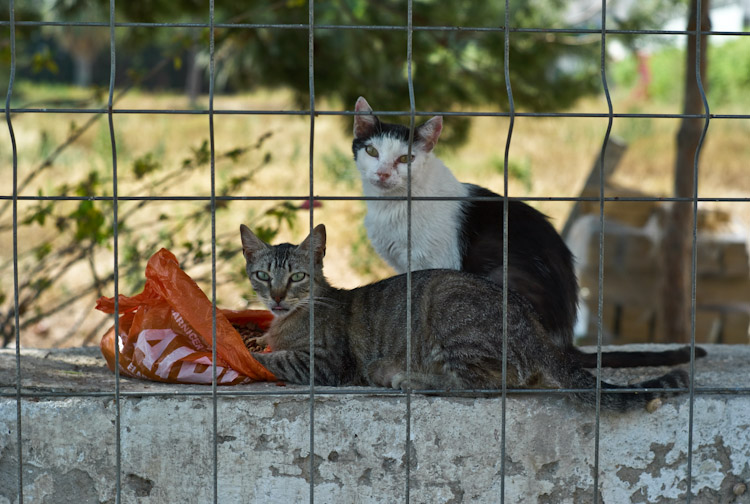 Alternate 12
Back to El Sitio. This image is not technically perfect, but I really like the subject matter:

On Friday, I finally got fed up with being confined to this area, and took the tram to the Mercado Central. If you live near a stop, the public transport in Alicante is good, efficient and inexpensive.
Alternate 13
Two customers at the meat counter: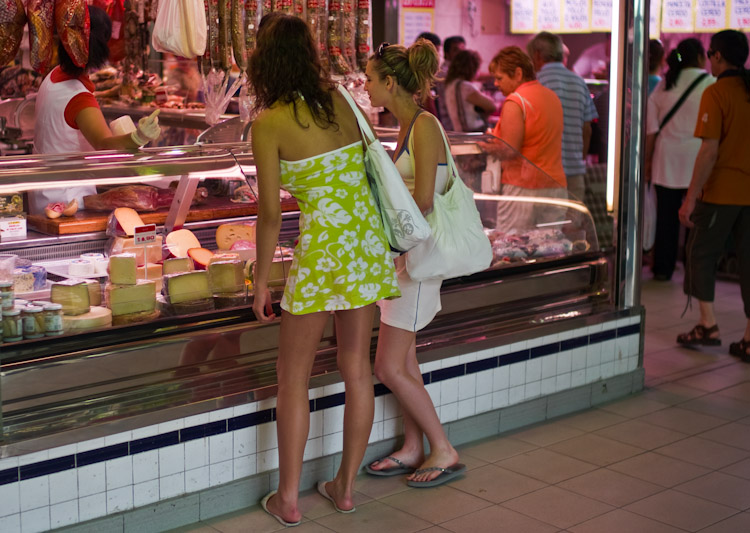 Alternate 14
Jesús the fishmonger in discussion with a customer: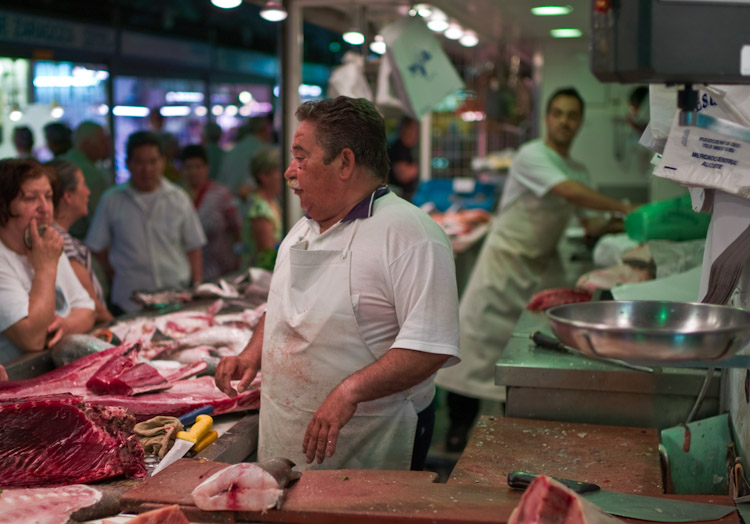 Alternate 15
Wall art in a vacant lot near the Mercado: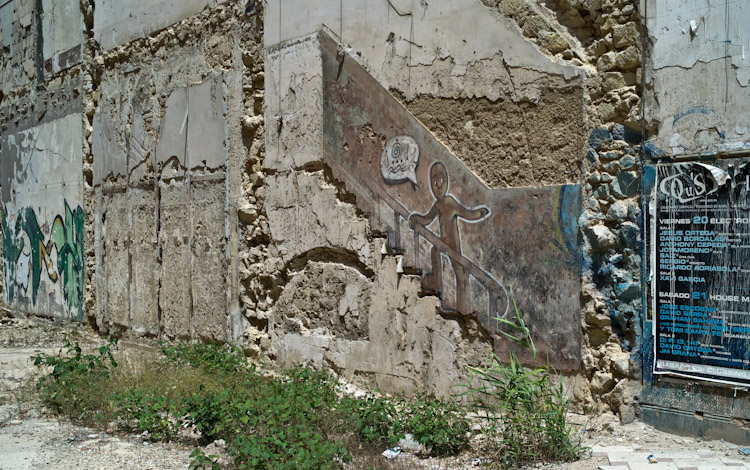 Alternate 16
A señorita in a hurry:

Alternate 17
Finally, back home. Cheeta is watching a Mexican soap opera: