November 1st was my 60th birthday, and the following day, I flew to Copenhagen. In a normal year I am in Denmark at least 2-3 times, but this year has not been normal for obvious reasons, and this was my first and only trip to my country in 2020.
45_1
After landing in Copenhagen in late morning, I took the metro to the centre, checked into my hotel and made my way to the Jewish cemetery to visit my father's grave–he died on 1 November 2004: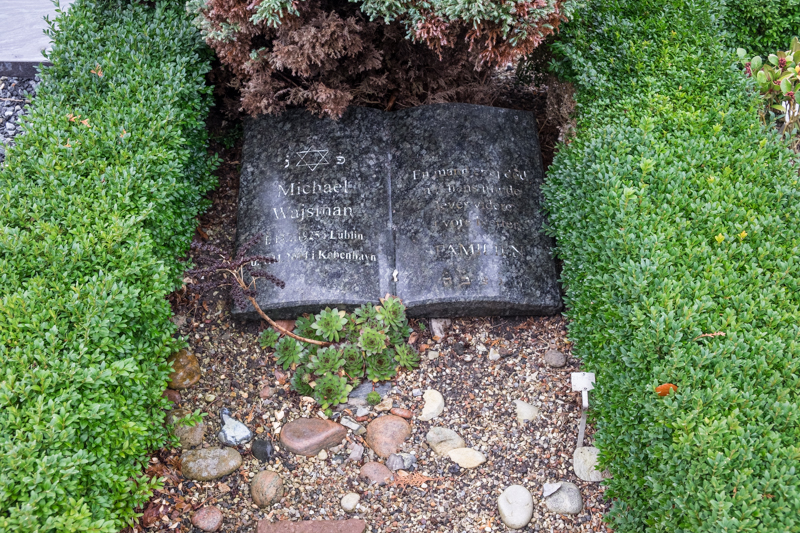 45_2
Conveniently, my mother is buried in the adjacent municipal cemetery, the main one in Copenhagen: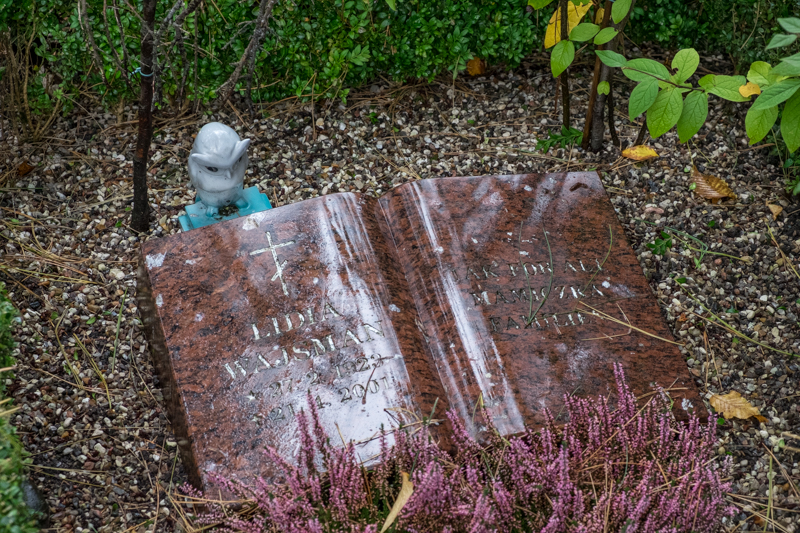 45_3
When I visit the two cemeteries, I do not walk around a lot; my purpose is to visit my parents' graves and that's it. But this time a new grave close to my mother's caught my eye because of the decorations. It is a Ukrainian grave, another reflection of the diversity of today's Denmark: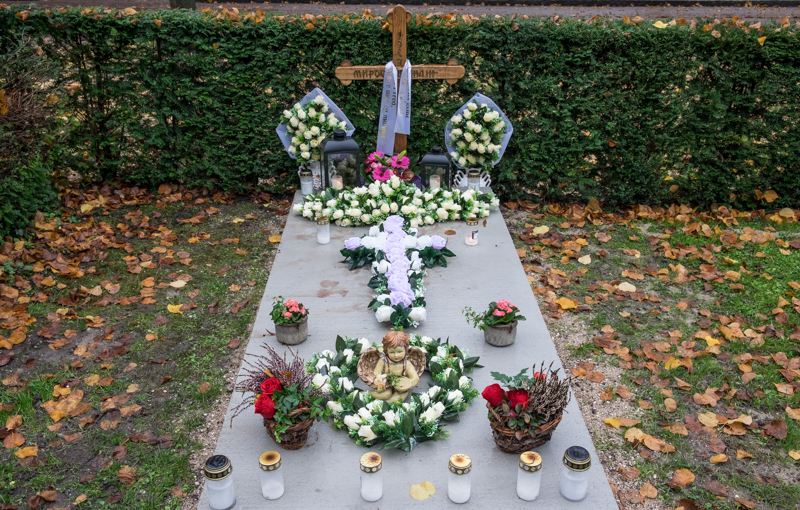 45_4
My mother's cemetery has a lot of trees, and I enjoyed the autumn colours, something I do not see in Alicante: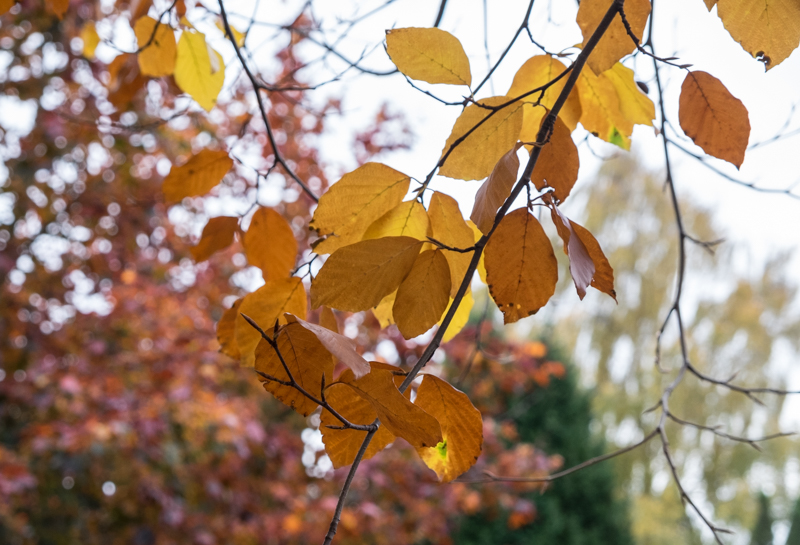 45_5
More pretty leaves on the ground, sadly adorned by the presence of some antisocial jerk: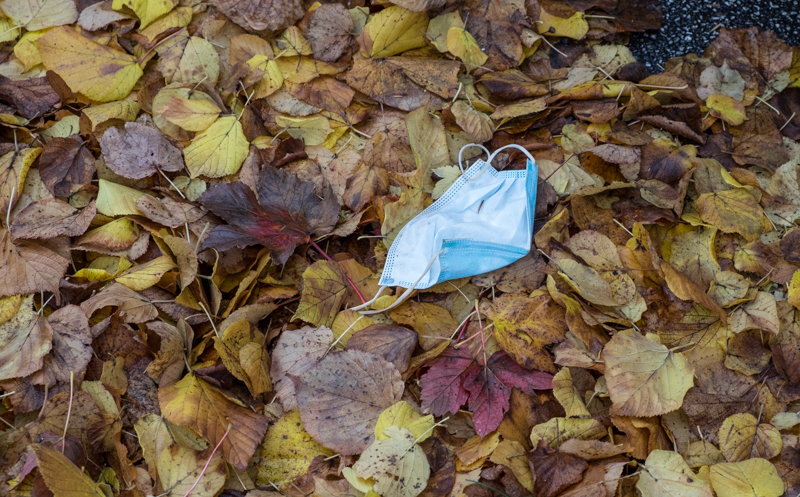 45_6
Having done my filial duties, I headed into the city to spend a few hours walking around. As always, I was on the lookout for little details, like this plaque on a house, from almost 300 years ago: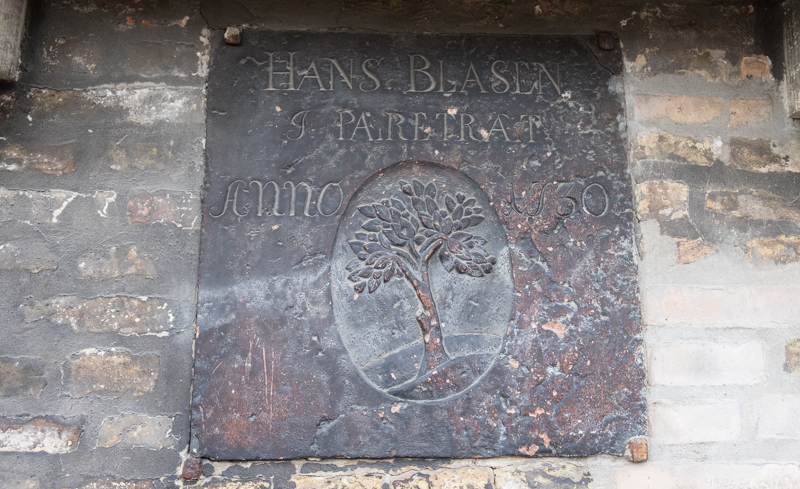 45_7
My favourite beer and wine shop on Gammel Strand had dedicated an entire display window to beer from Barcelona: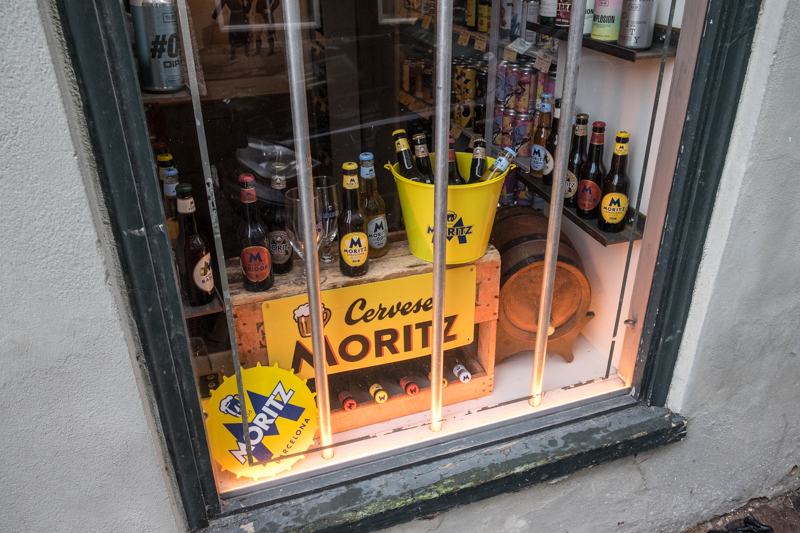 45_8
All this walking around made me thirsty, and so when I saw a bar on a quiet street offering craft beer, I popped in for a couple of pints. I sat outside, as I always do these days, but at one point I needed to use the toilet, as often happens when one drinks beer, and I loved the interior of the bar: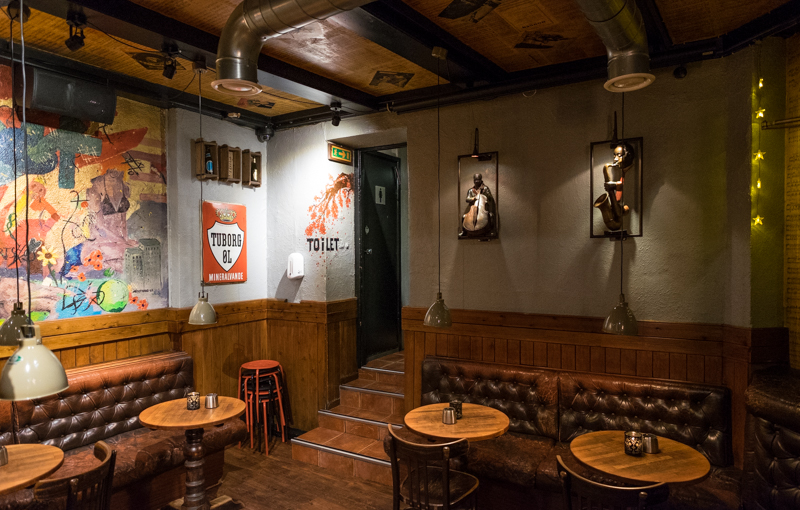 45_9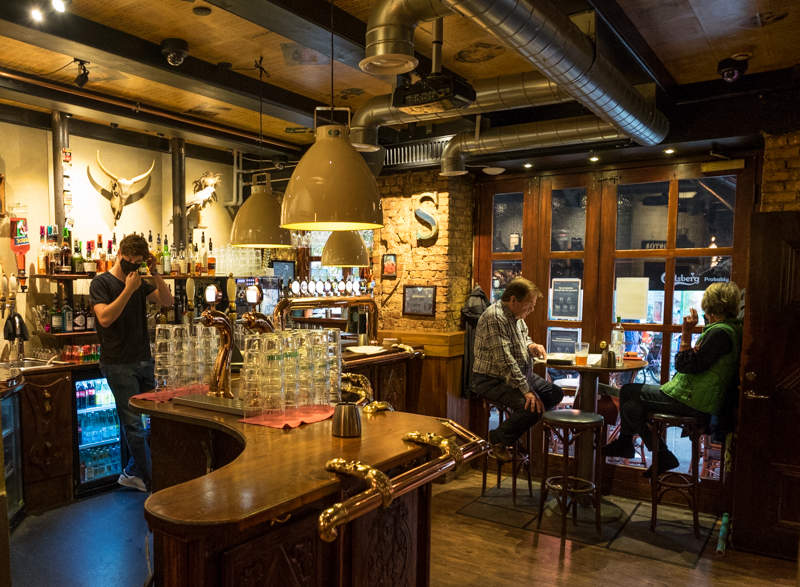 45_10
I had a nice chat with these two guys after they asked me to take their picture: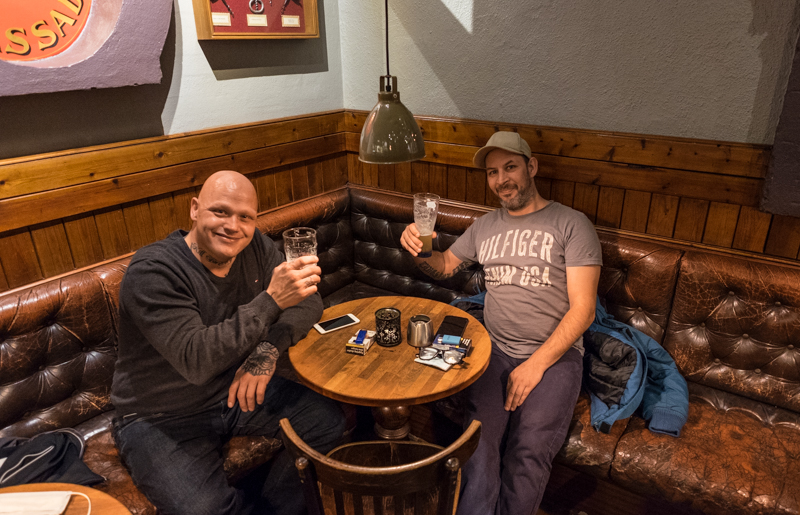 45_11
Around 5 p.m. I made my way to the home of my childhood friend Beata. She is a dentist and usually returns from work around that time. We spent a nice evening enjoying a Danish pork roast, talking and drinking: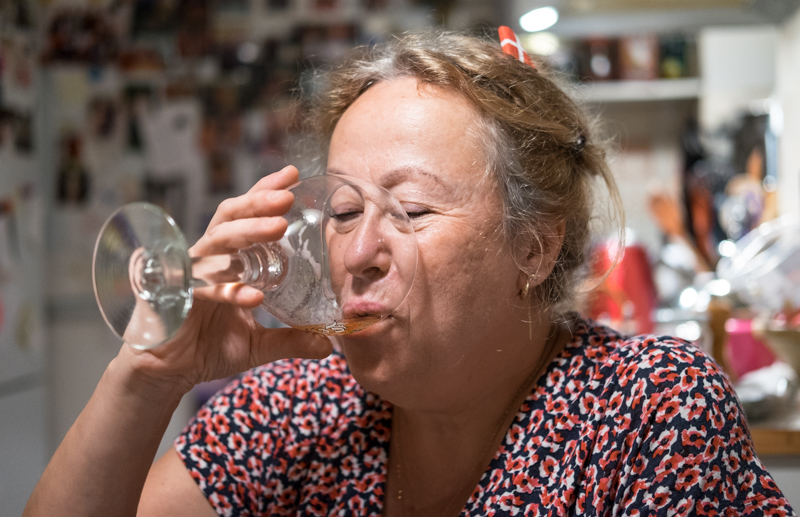 45_12
Tuesday turned out a very nice day, not something one expects in Denmark in November. I spent several hours walking around the city, starting with the area called Islands Brygge on the island of Amager which houses Copenhagen airport, several government ministries, and (formerly) working class neighbourhoods, the best known of which is called Christianshavn. Amager is separated from the main island Sjælland by several canals, with bridges criss-crossing them. This one is reserved for pedestrians and cyclists: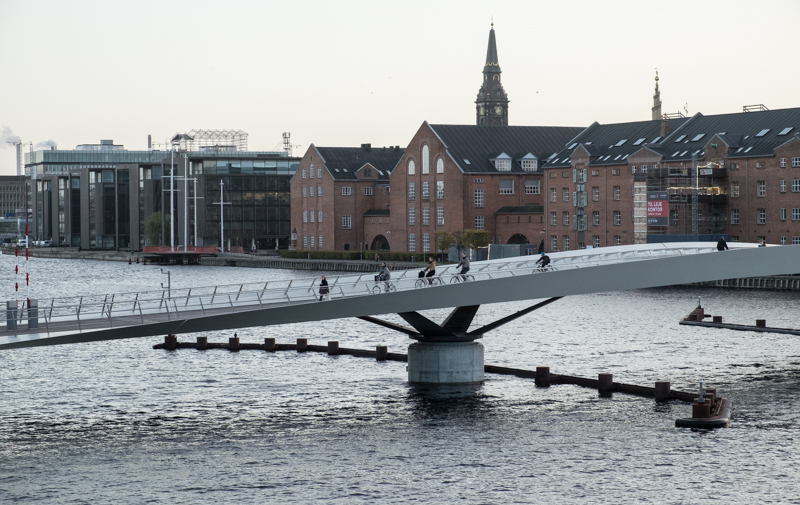 45_13
One of the many striking new buildings that have been erected in Copenhagen in recent years. It is known as the Black Diamond, a modern addition to the Royal Library. Like many new buildings, it was controversial when it was built, but now it is an integral part of the waterfront: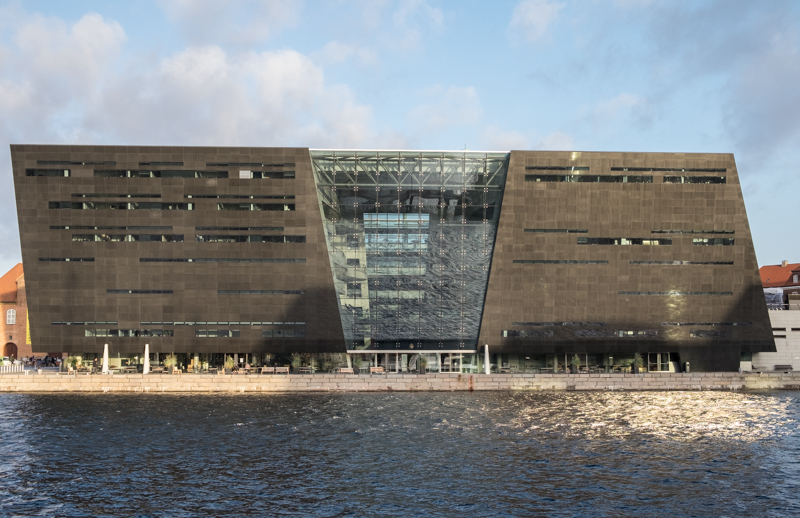 45_14
More new stuff, residential buildings on Amager, with infrastructure built to cater for walkers and cyclists: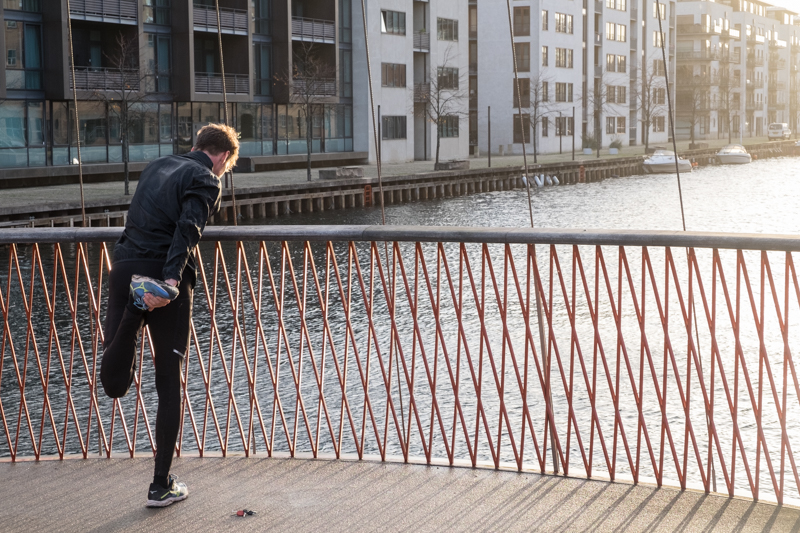 45_15
This statue is the main reason for my walk to this particular area. It is a sculpture called Freedom, a gift to Denmark from the US Virgin Islands in 2017. It stands in front of the Ministry of Foreign Affairs. Most people outside Denmark are not aware that our lovely little country also has a dark colonial past. The three Caribbean islands St. Thomas, St. Croix and St. John were a Danish colony called Danish West Indies for 250 years. The economy of the islands was based on sugar plantations and slavery, abolished in 1848. Following the abolition of slavery and the consequent economic decline, the islands became a burden on the Danish state, and so when the US wanted to buy them in the early 20th century, Denmark was more than happy to sell. The transaction was completed in 1917, and on the occasion of the 100th anniversary the statue was given to Denmark. It commemorates a slave rebellion on the islands in the 1840s, and fittingly, it was made by an artist from Ghana, the origin of most of the African slaves in the Danish West Indies: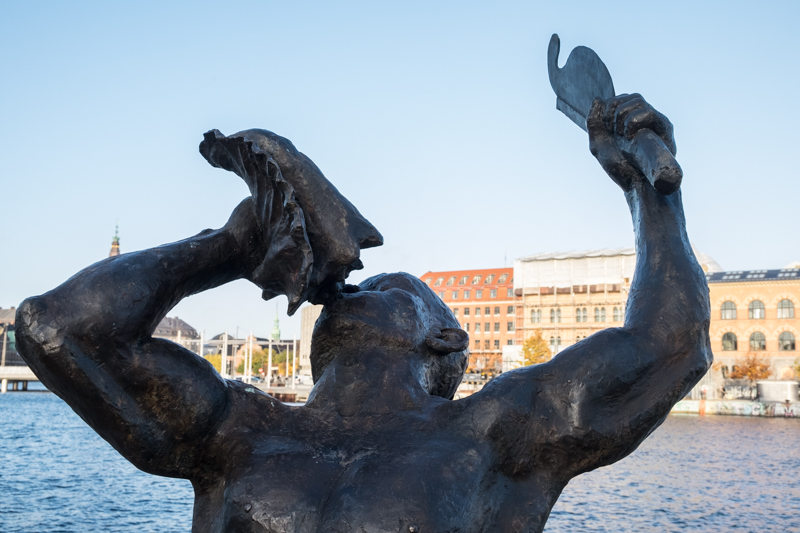 45_16
I continued to walk around Christianshavn. Skt. Annæ Gade is one of the oldest streets in the area, dating back to the 1620s: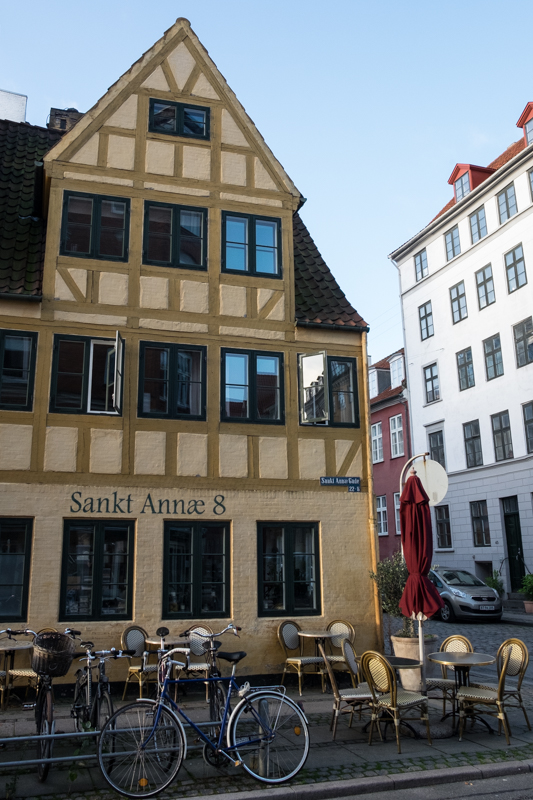 45_17
At the heart of Christianshavn is the canal, called Christianshavns Kanal, a lovely spot, especially in the summer when people are out and about, enjoying a beer in the sun: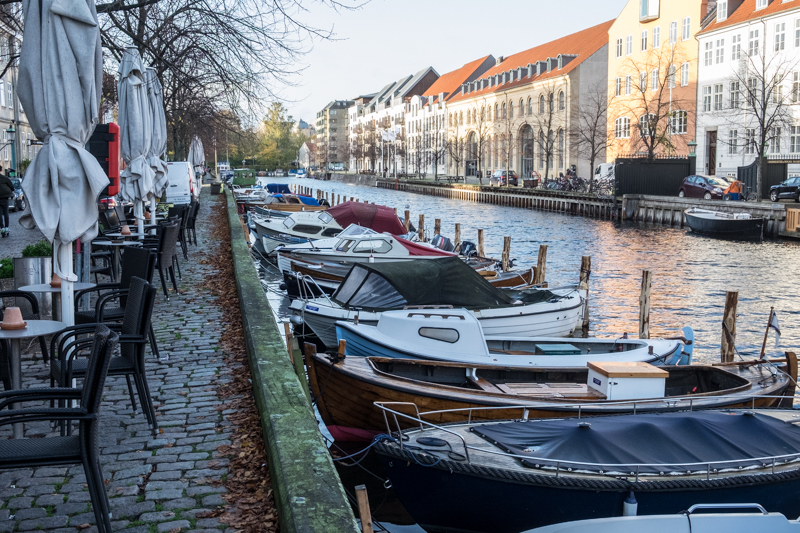 45_18
I ended up on Christianshavn Torv, from where I would take the metro back to the hotel. A dog was waiting for his human: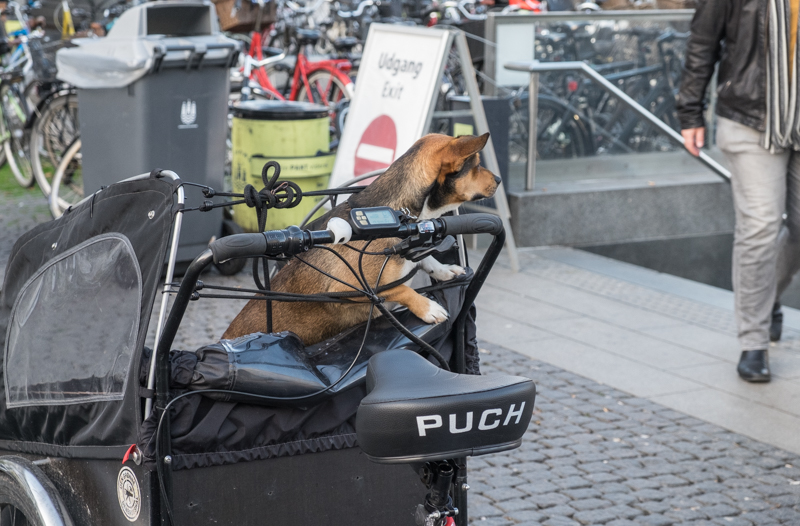 45_19
After checking out, I walked to the nearby Ny Carlsberg Glyptotek ("New Carlsberg Glyptotek"), a 19th century art museum built by the son of Carlsberg's founder to house his collection of mainly Egyptian, Greek and Roman art. I had not been there for something like 20 years, and I very much enjoyed looking at faces from 3000 years ago, as in this portrait of an Egyptian official and his wife: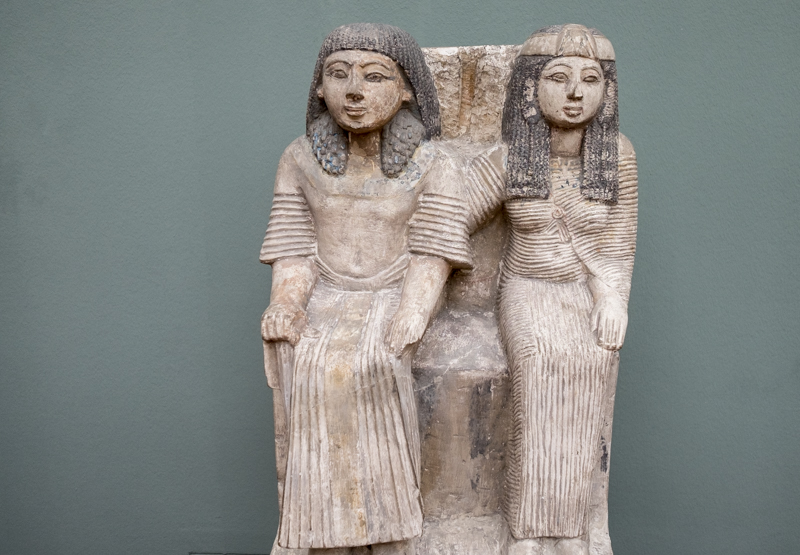 45_20
There was also an exhibition of modern sculpture, by the Danish artist Tal R: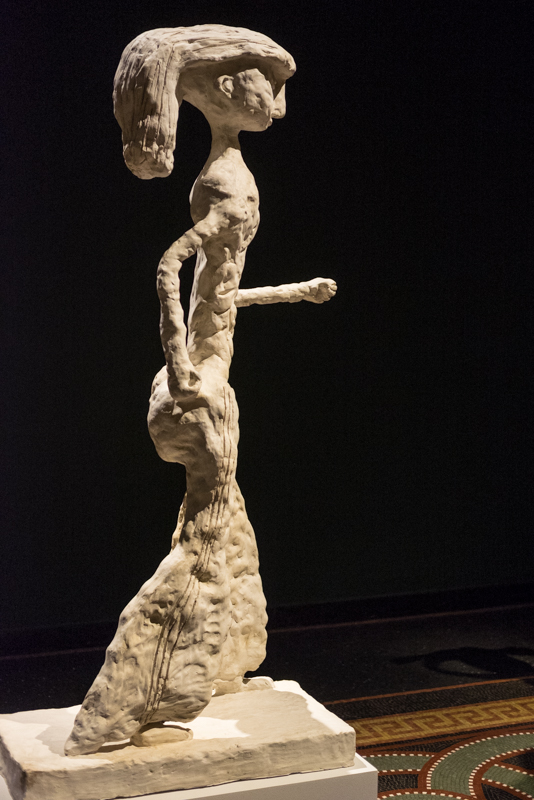 45_21
I proceeded to walk towards the main pedestrian street, Strøget, passing the main city courthouse bearing a famous inscription, the first sentence of the Jutland Code from 1241, With law shall the country be built: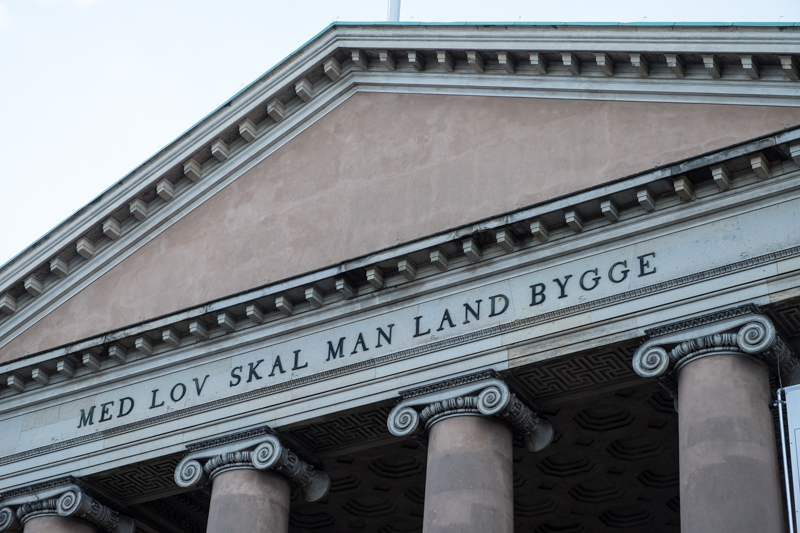 45_22
A bit further, on Kongens Nytorv, I passed the European Environmental Agency. The flags were at half mast for the recent terrorist attacks in France and Austria: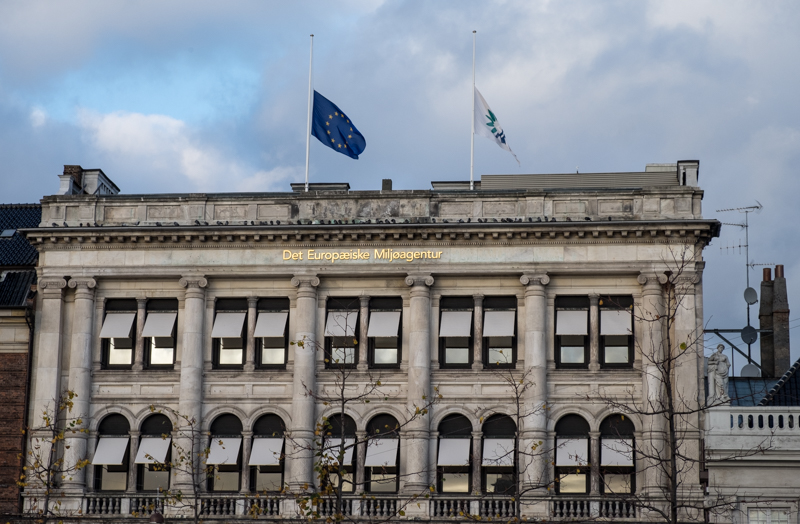 45_23
I also took in a beautiful park called Kongens Have ("the King's Garden"), with Rosenborg Castle in the background:

45_24
A final grab shot walking down Strøget towards the central train station, from where I would take a train to Aarhus a bit later. The pedestrian street is a busy shopping street, and often there is some shop being opened or remodeled: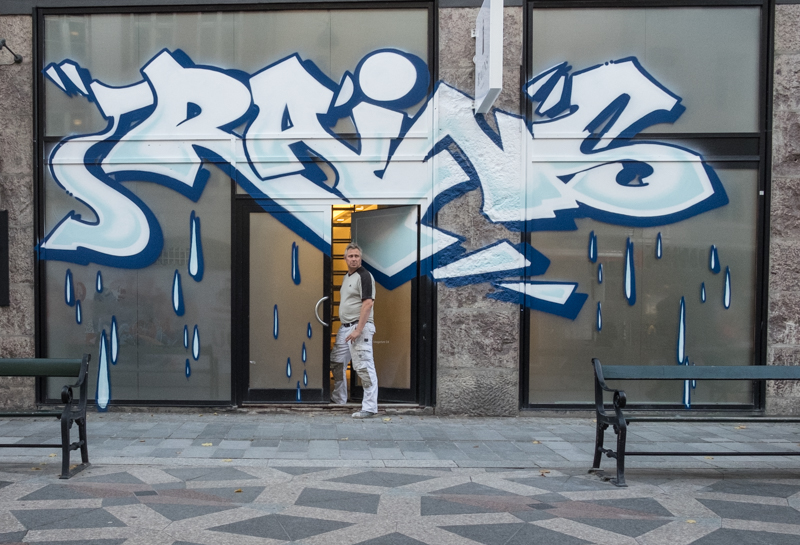 45_25
I met up with Beata in a bar near the train station–she wanted to see me one more time before I left Copenhagen: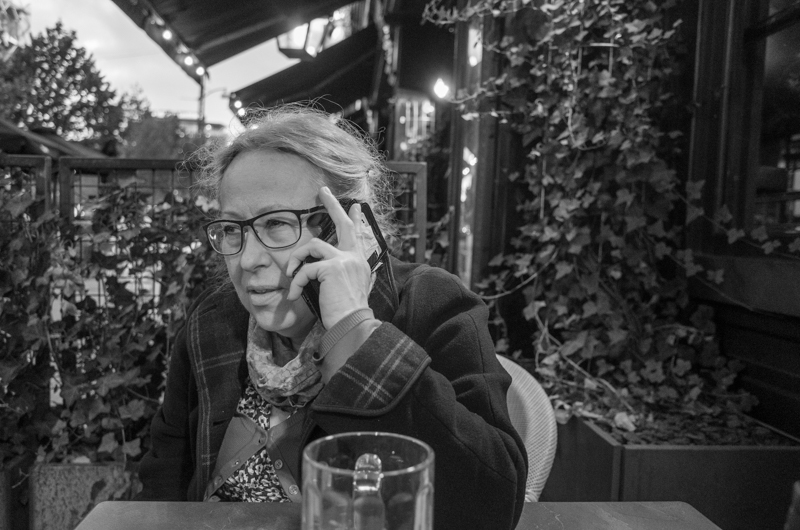 After a couple of beers, Beata accompanied me to the train station, and about 3 hours later I arrived in my hometown Aarhus where I was staying until Friday, with my best friend Lars.
45_26
Wednesday morning Lars and I woke up to glorious sunshine. It was his birthday (yes, our birthdays are 3 days apart!) and we were getting together with his daughters for an early dinner later. But first we went for a walk in our town. This building represents the old Aarhus; by the looks of it, it is 300-400 years old: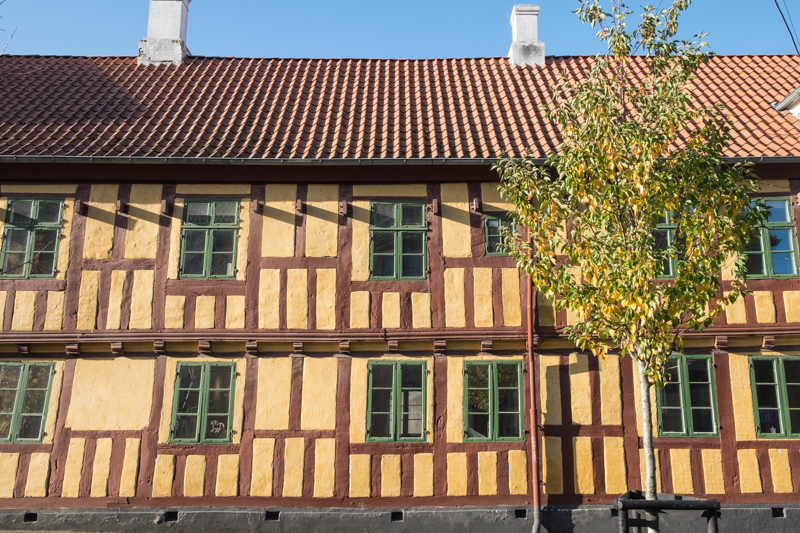 45_27
This image, taken from the roof of the ARoS art museum, shows how Aarhus is changing. The medieval cathedral still dominates the centre, but beyond it new apartment and office buildings are going up like mushrooms. The city has grown from about 250,000 inhabitants to 350,000 in the past couple of decades, and it is still growing. All those newcomers need space to live and work, and much of that is provided on the waterfront, once dominated by the harbour: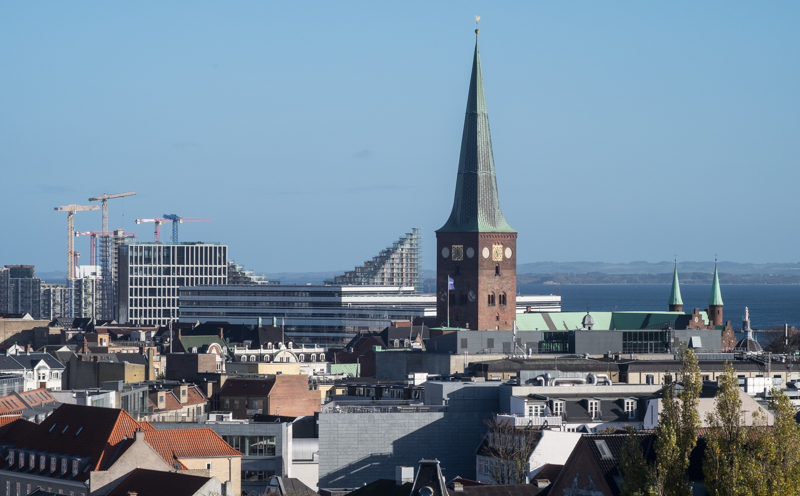 45_28
As usual, we visited ARoS, and as usual, we started the visit on the roof, next to the beautiful Your Rainbow Panorama: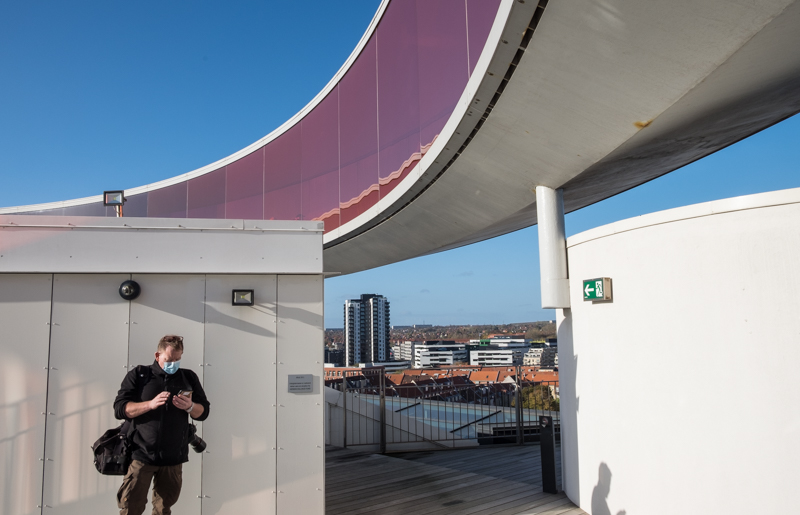 45_29
A photo within a photo inside the panorama: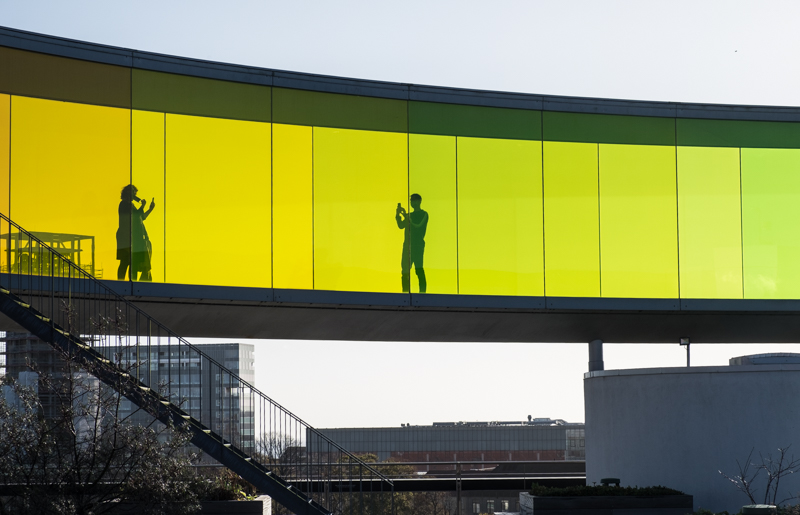 45_30
We then made our way to the lower floors of the museum and looked at modern art as we passed through the various rooms: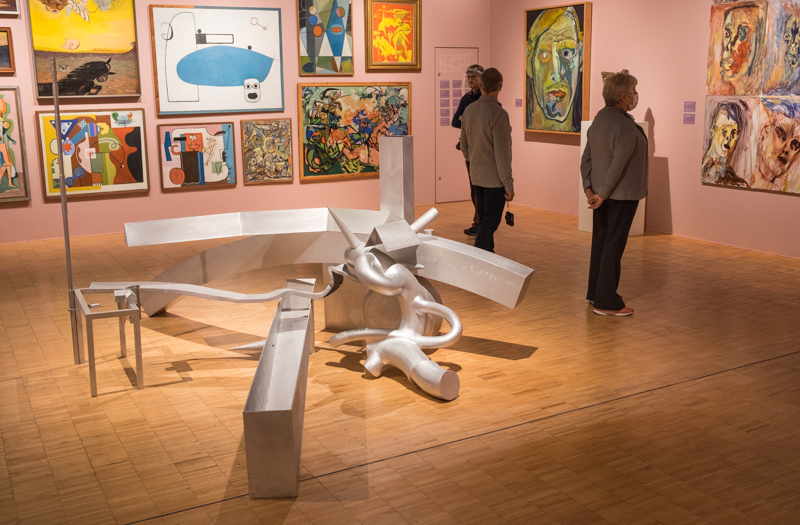 45_31
One of the pleasures of visiting ARoS is the building itself–it is beautiful, luminous, and lends itself to huge installations like this one. It is called Valkyrie Rán, by Portuguese artist Joana Vasconcelos. It has been at ARoS before, in 2016, but now the museum has acquired the work for its permanent collection:

45_32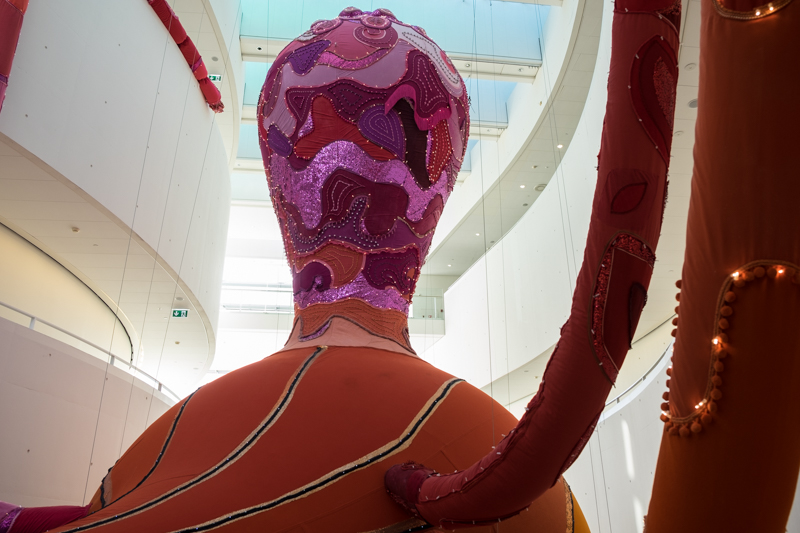 45_33
Another striking new work, "The Expulsion from Eden Close No. 8" from 2012, by English artist Grayson Perry: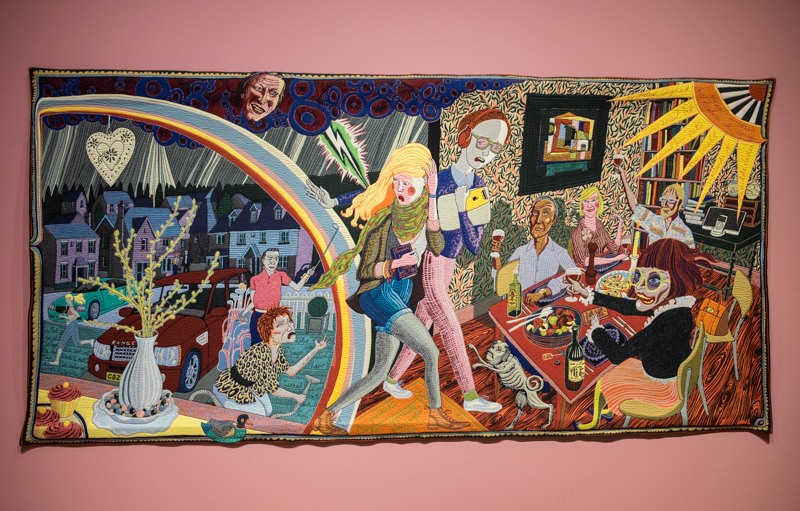 45_34
Lars in the middle of a huge installation. Its artistic value can be questioned, but the scale is certainly impressive. One of the good things about ARoS is that it has plenty of space for this kind of installation: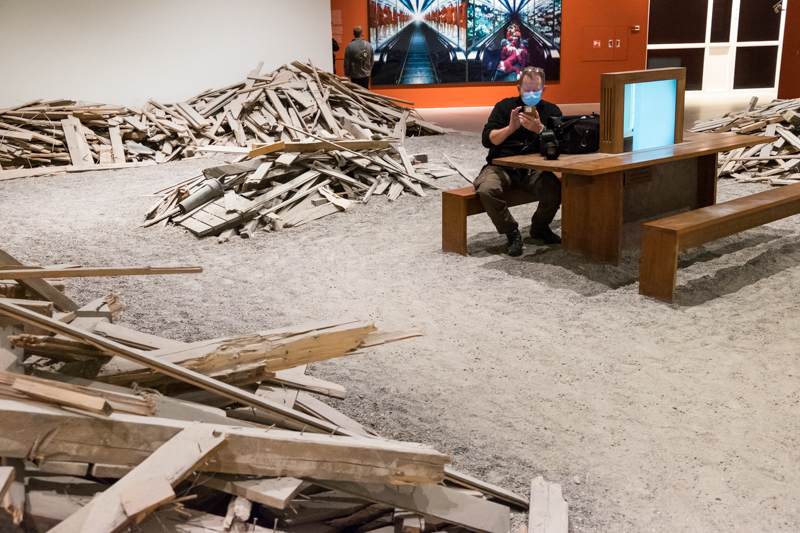 45_35
One of the best-known and most popular pieces at ARoS, the huge sculpture "Boy" by Australian artist Ron Mueck from 1999, now has a new home at ARoS, and the new setting works very well: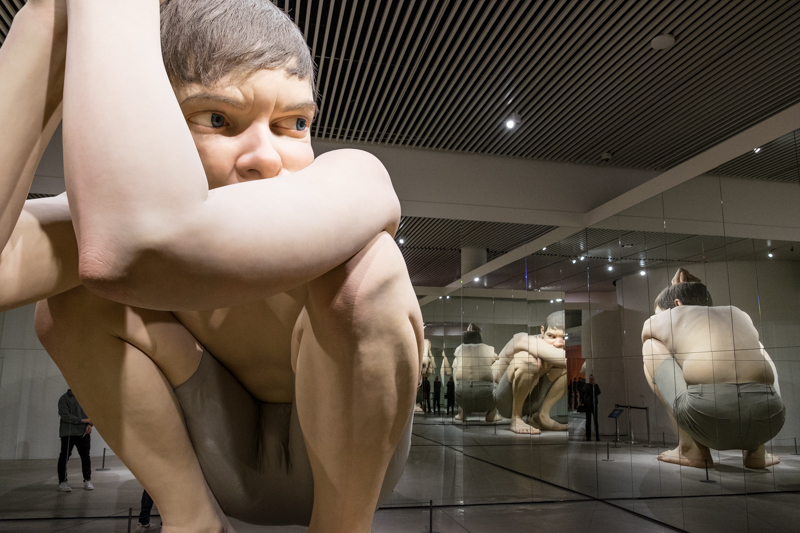 45_36
In late afternoon, we drove to the nearby town where Lars's younger daughter Klara lives. Lars had prepared the pizza dough in advance, and everyone went to work preparing the pizza (except me, the photographer):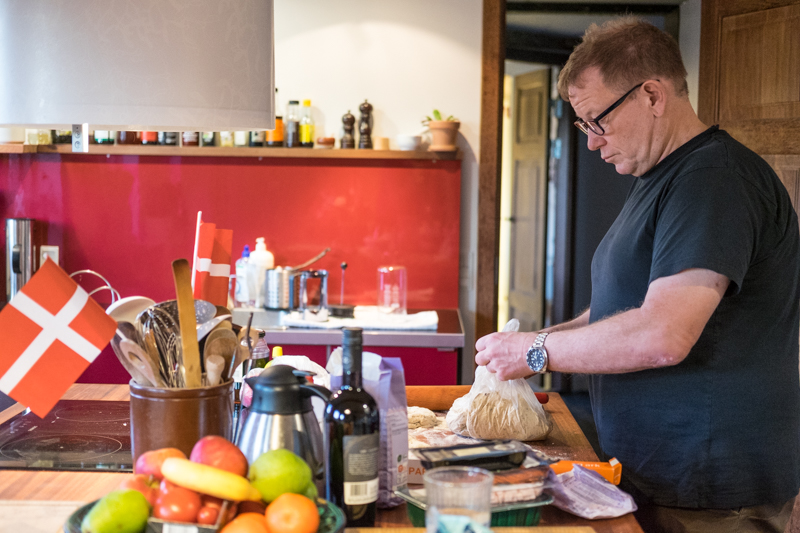 45_37
Klara slices the veggies: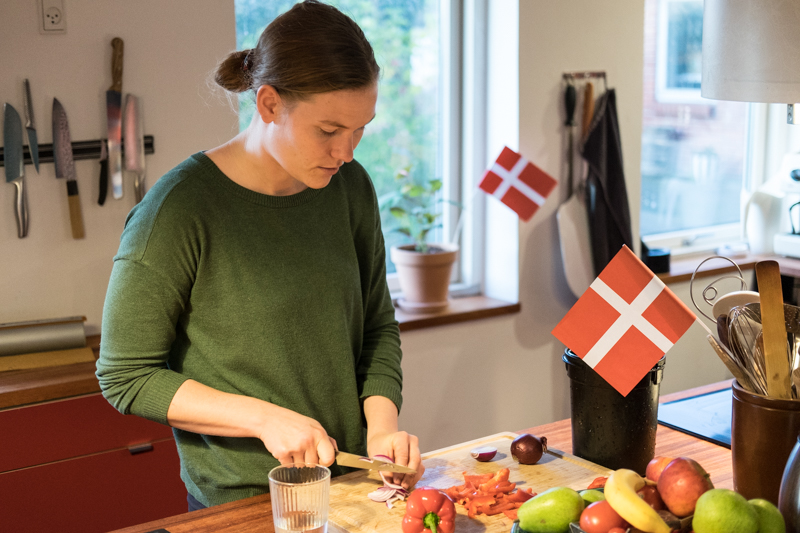 45_38
Pizza face, designed to appeal to Klara's little son: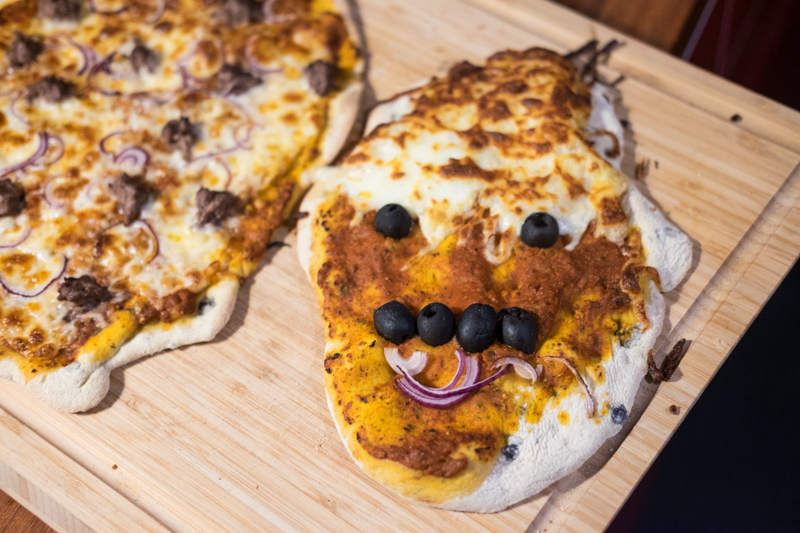 45_39
On Thursday morning, Lars and I set out on a 100 km bike ride. We had chosen a circular route, going about 35 km west, then turning north-east, and finally looping back south to Aarhus. We had counted on weather similar to the preceding day, but no. It was raining to varying degrees most of the time, and those first 35 km going west were rough, since the prevailing wind in Jutland at this time of year is, you guessed it, from the west. But once those 35 km were behind us, we had a delightful 30 km stretch on an old railroad now converted to a paved bike path. The fallen leaves were pretty although at times they made it difficult to see the actual bike path: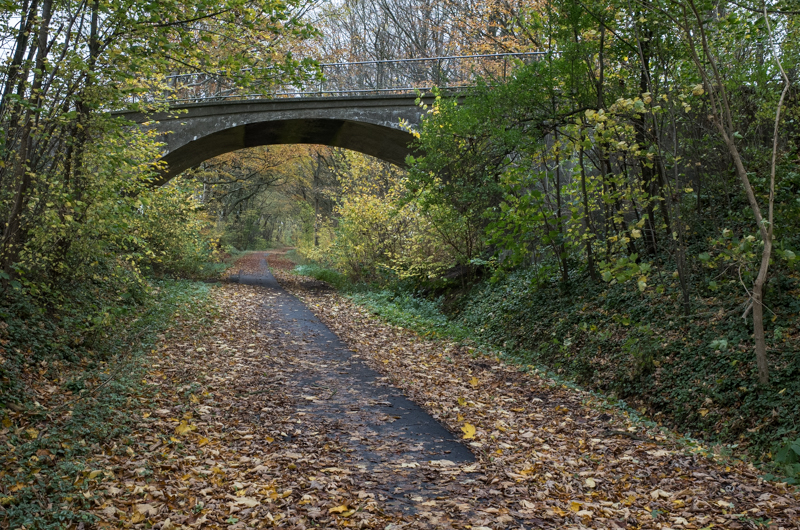 45_40
Now on the home stretch. As is evident from this image, while Denmark has no mountains, parts of Jutland are certainly not flat: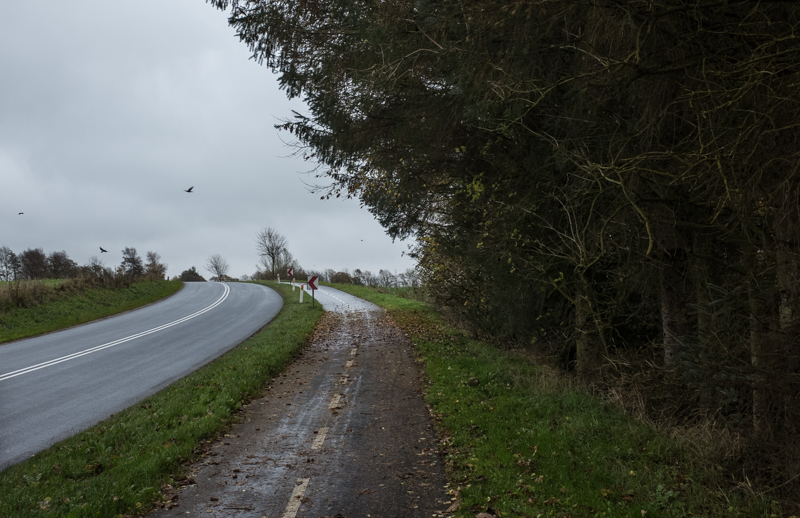 45_41
Back home after 102 km. Our bikes definitely needed a good rinse: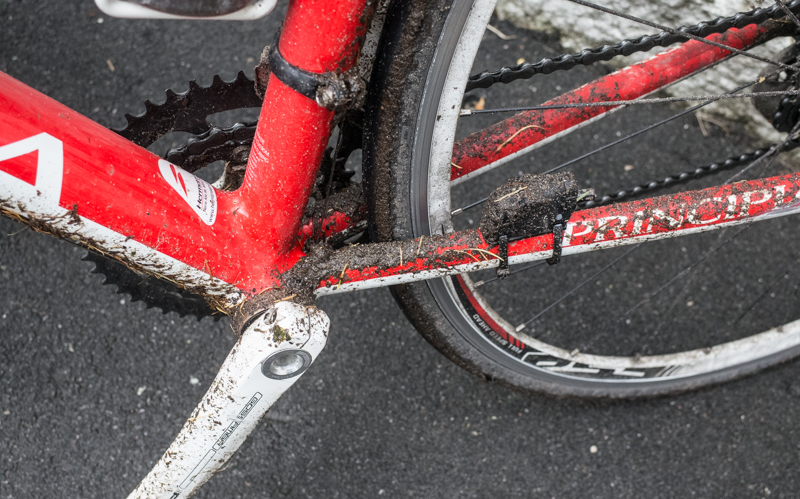 After cleaning the bikes and putting mine away in Lars's basement, to be there for me next time I visit, hopefully in the spring, I went for a beer with a couple of old friends from my primary school days in the 1970s.
45_42
This is Lone. We have known each other since 6th grade, when we were 12; now we are 60: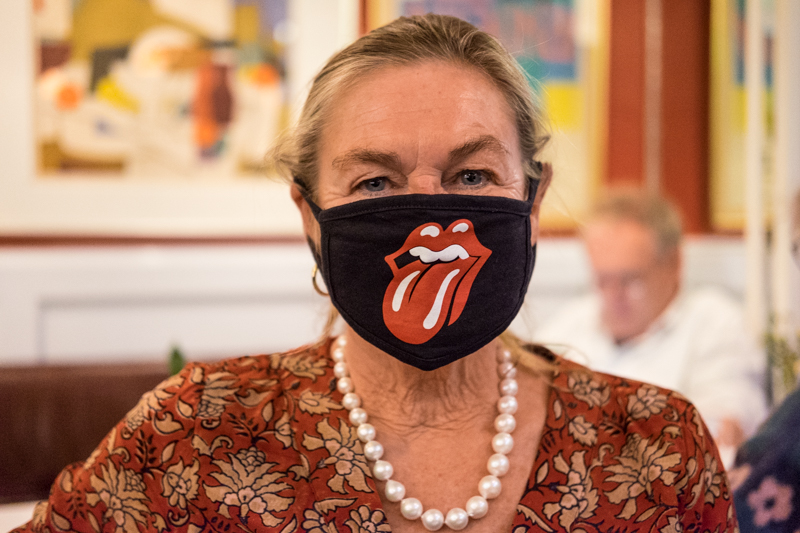 45_43
Thursday was my last evening in Denmark. Lars and I just stayed home, drank beer, listened to Shostakovich and talked. Dinner was just simple, delicious Danish smørrebrød: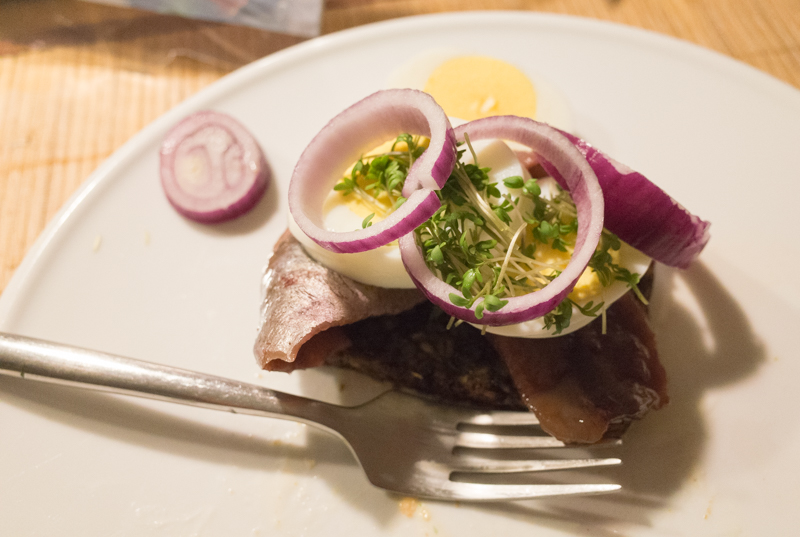 45_44
On Friday morning, Lars drove me to Billund airport, about 90 km away, from where I had a direct flight back to Alicante. My last photo in Denmark was this selfie at the airport. Billund is very much a company town–Lego's world headquarters are there–and the airport (which really owes its prosperity to the company) reflects that: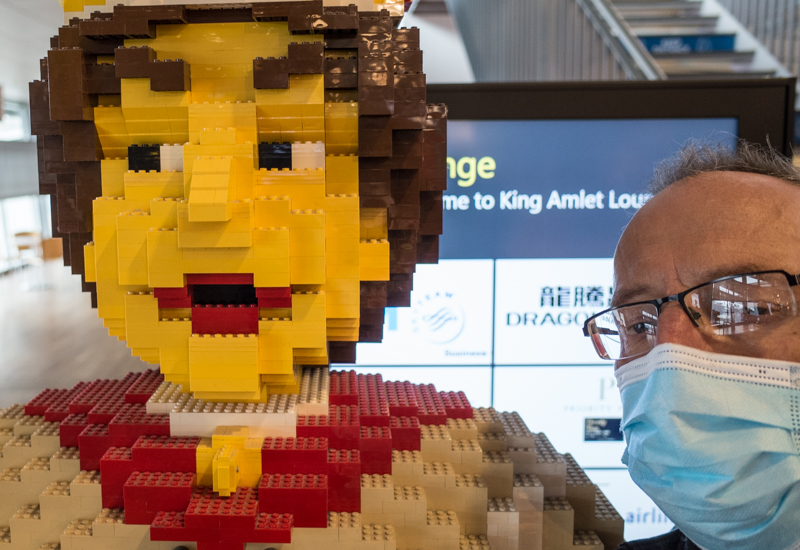 45_45
On Saturday, I was back home and out and about on my bicycle in what I sometimes refer to as "my playground":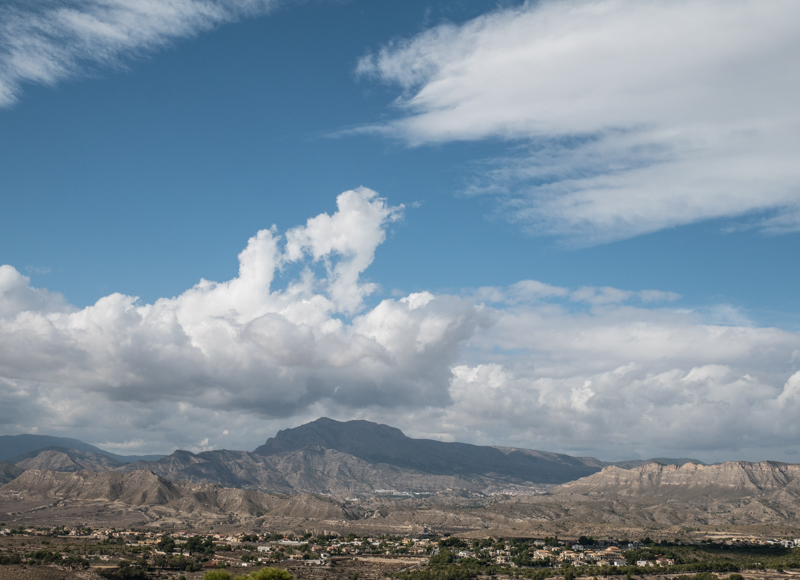 45_46
After lunch, I went to the supermarket to pick up supplies for dinner. I said hi to the cats on the adjacent vacant lot: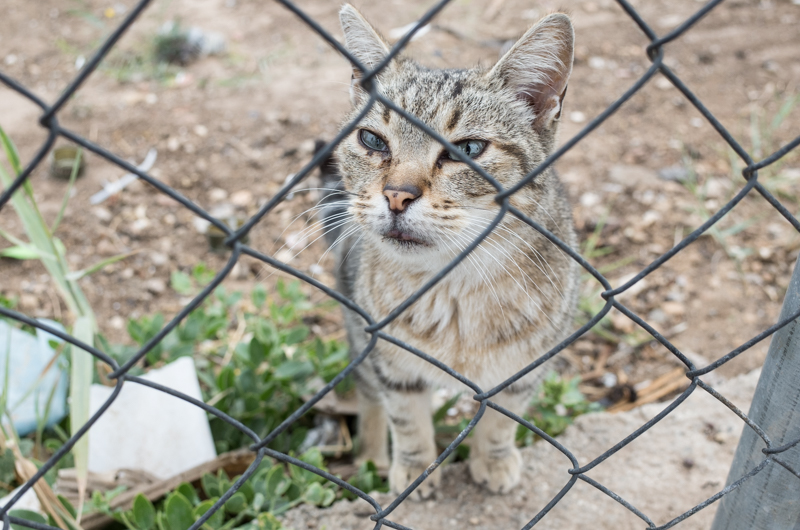 45_47
I am the cook at our house most of the time, and this evening my wife requested one of her favourites, Chicken Kiev with risotto. Because our daughter does not eat chicken, I usually make a couple of side dishes so that she too can have a good dinner. One of them is braised Belgian endive: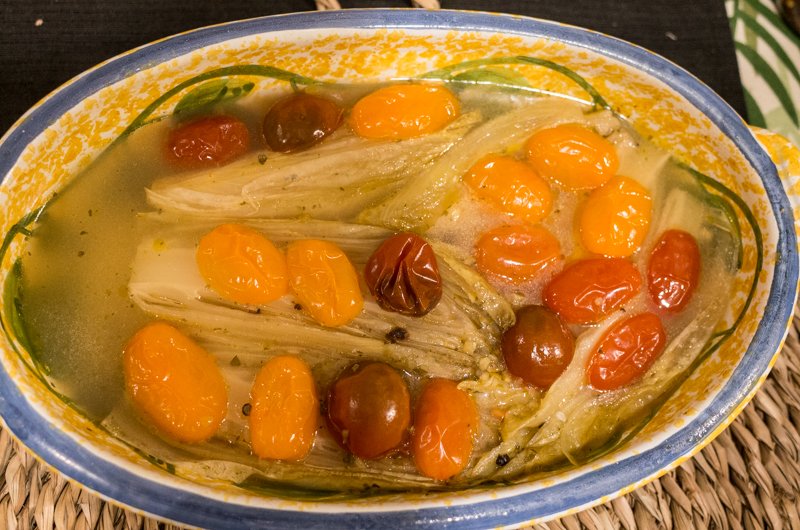 45_48
The chicken: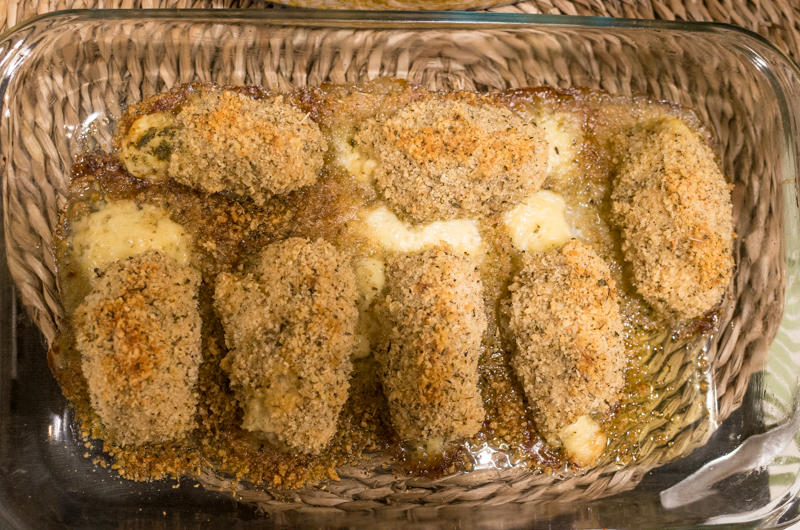 45_49
Green beans, sautéed with onions: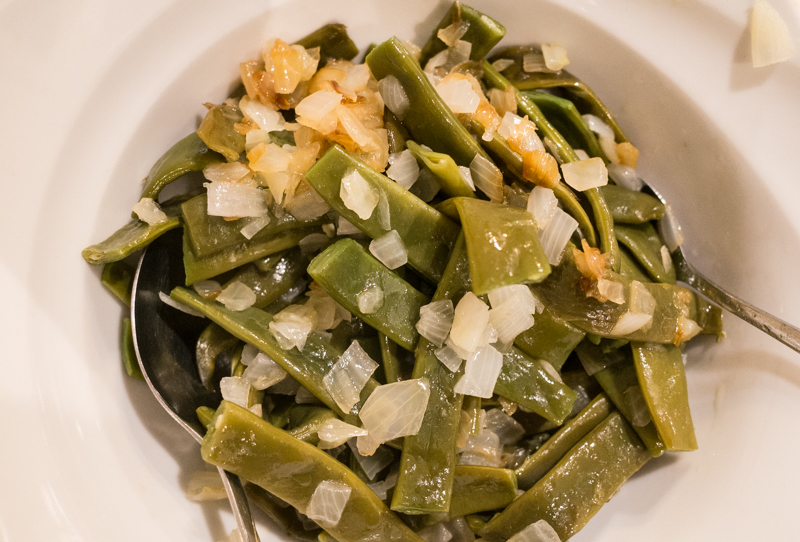 45_50
The most time-consuming dish is the mushroom risotto. I overdid the liquid a bit, but it was delicious nonetheless: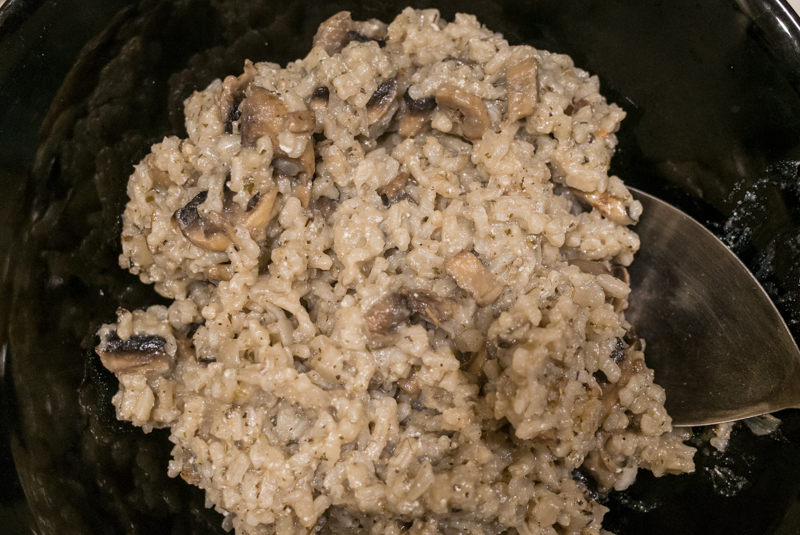 A full gallery from Copenhagen can be seen here, and there is also a small gallery of our bike ride.