This week I take you to the pretty beach town of Villajoyosa and to Madrid. And of course on walks around my neighbourhood.
30_1
Recycling, Spanish style. As opposed to other countries where I have lived, there is no central facility in Alicante where you can take larger items like furniture for disposal. Instead, here people just put them next to the garbage containers in the street. Usually, within a couple of hours someone will have helped themselves to the stuff, as happened with this wicker stuff and broken office chair: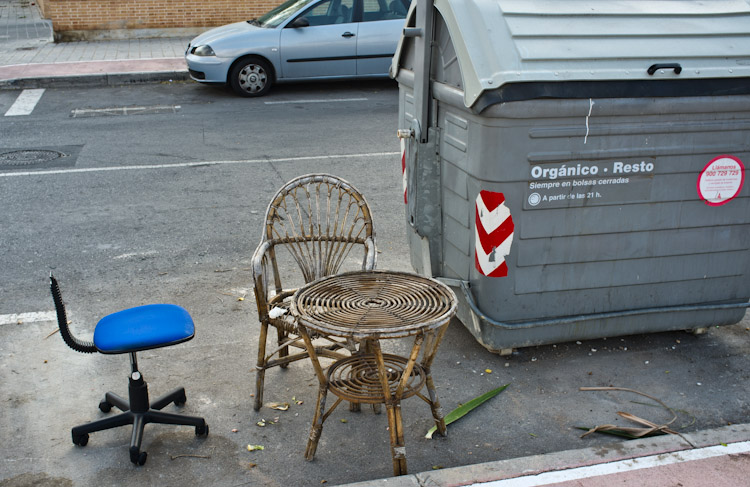 30_2
On Sunday I cycled to Villajoyosa, a beach town 30 km up the coast. It is quite a tiring ride because the road is very hilly. But it is also pretty. Here is my bike at a rest stop I made on the way up: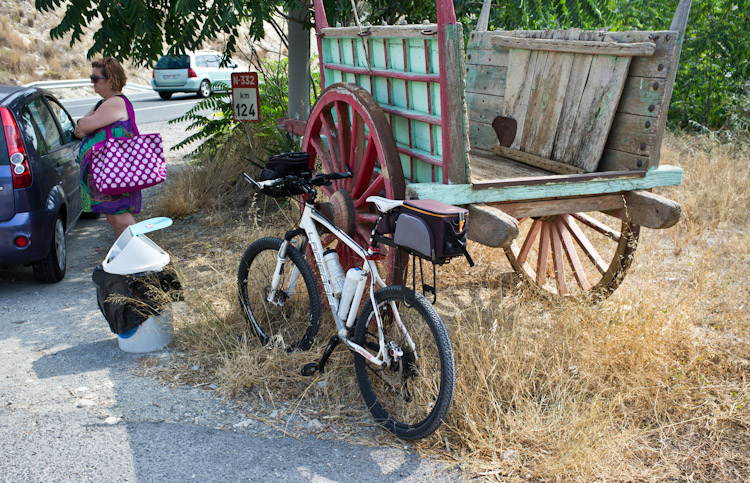 30_3
My goal was the beach in Villajoyosa, with its newly refurbished wide promenade: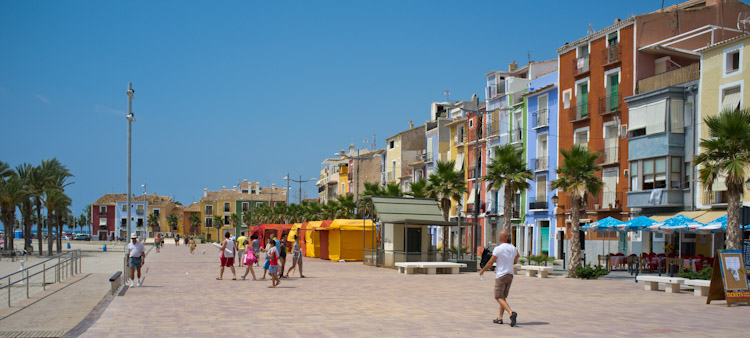 30_4
This old guy is probably used to going to the well for water as a child: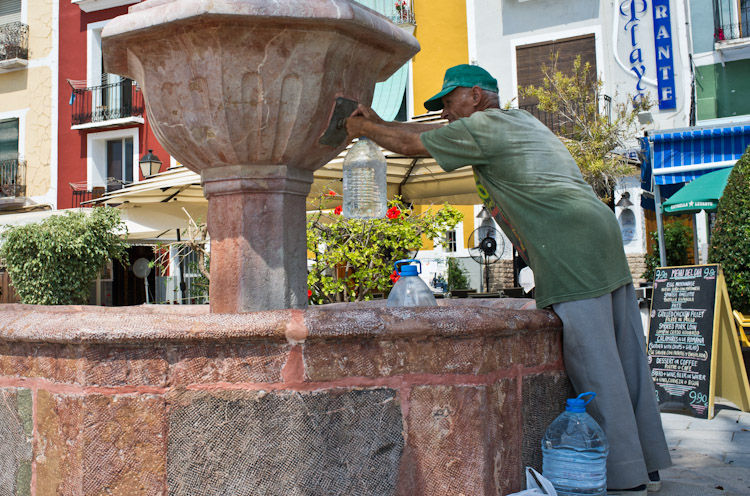 30_5
Typical lifestyle on the Costa Blanca on a weekend morning: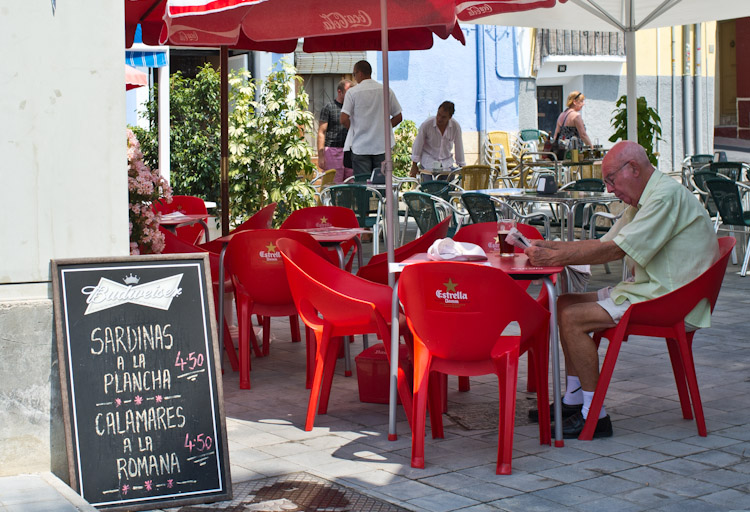 30_6
Villajoyosa is famous for its colourful houses: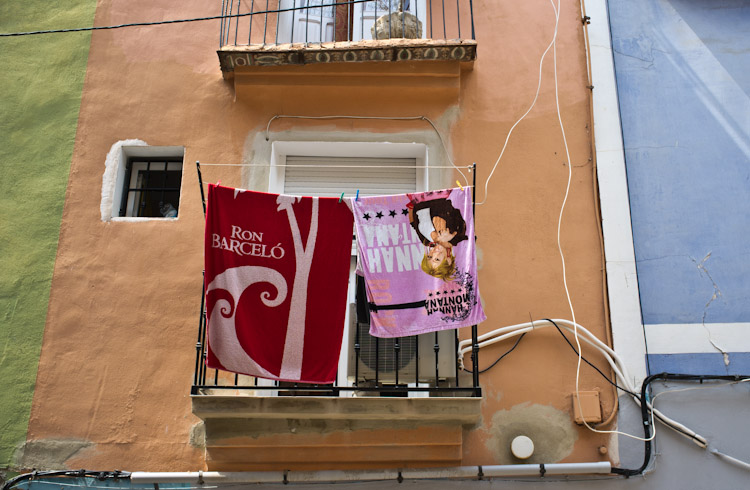 30_7
Just up from the beach is the barrio, the old part of town: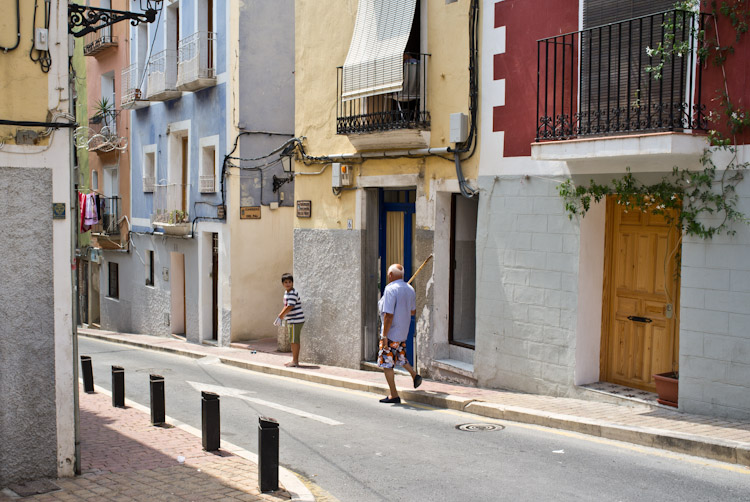 30_8
Even in the heat of midday, these budding Xavis and Messis are at it: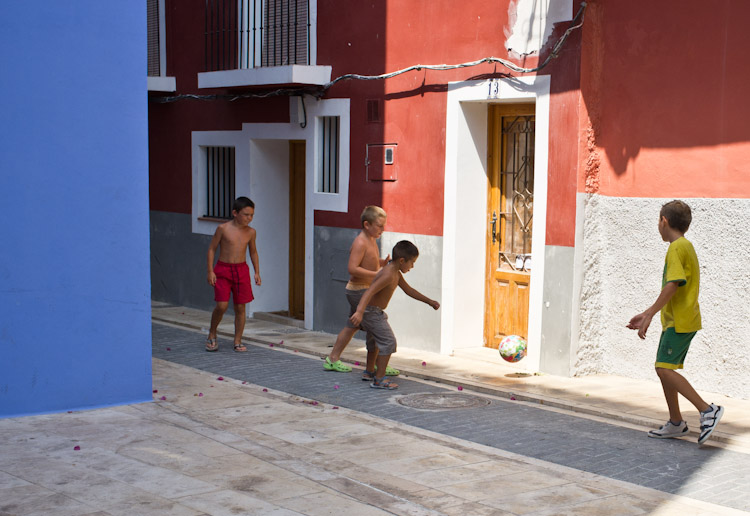 30_9
The houses on the beachfront have mostly been renovated and many are now vacation homes. But one or two streets up things are a lot less posh: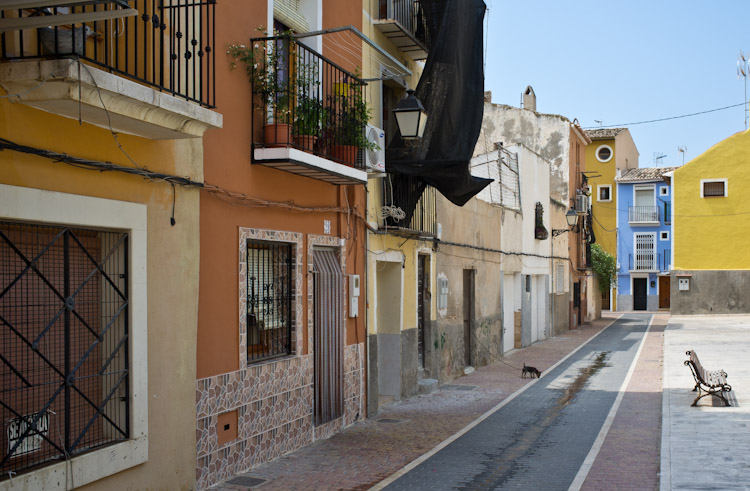 30_10
On the way home, I stopped to photograph this sad-looking Osborne bull along the Carretera de Valencia. I have passed this spot many times by car, but since the road is a fast-moving local road, there is no place to park. On the bicycle the pace is slower and the shoulder generously wide, so I was able to make the picture I have often wished I could make: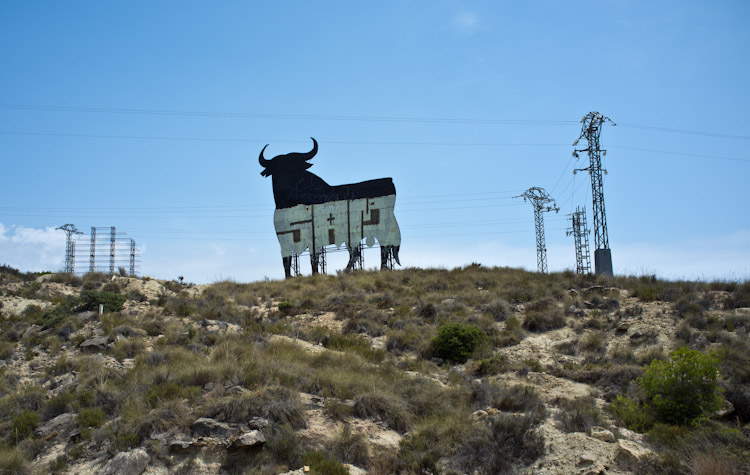 30_11
On Tuesday, I had to go Madrid to take care of some business at the Polish consulate there. My appointment was at noon. I took the first flight at 6:55 am, so I landed at Madrid Barajas airport before 8, allowing me the morning to enjoy the city. I got around by metro, as always when in Madrid. For €6 you have unlimited use of the very comprehensive metro system all day: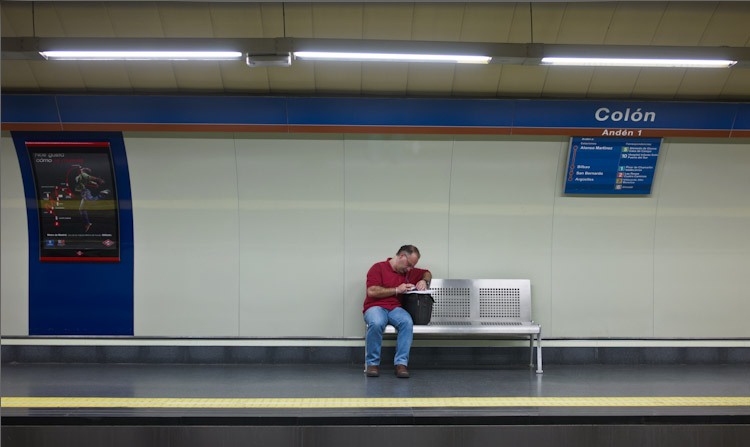 30_12
My first stop was the Retiro station. I was going to explore a huge park in central Madrid, Parque del Retiro. The exit from the station did not look that promising: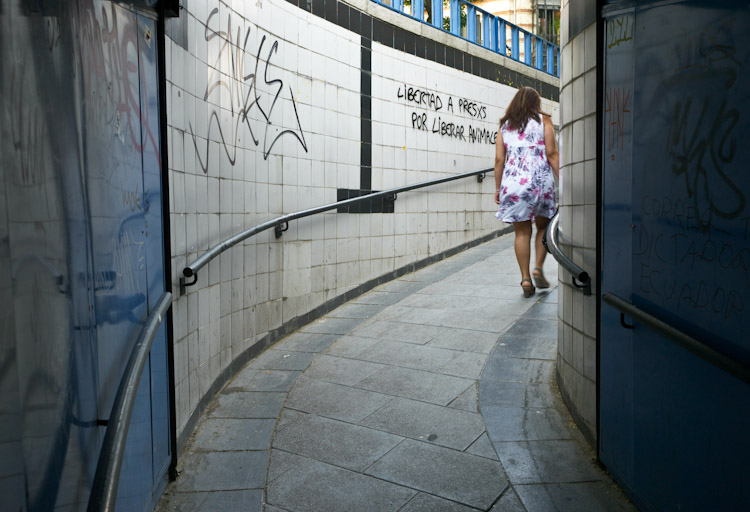 30_13
However, once fully emerged, I found myself in a beautiful and majestic park: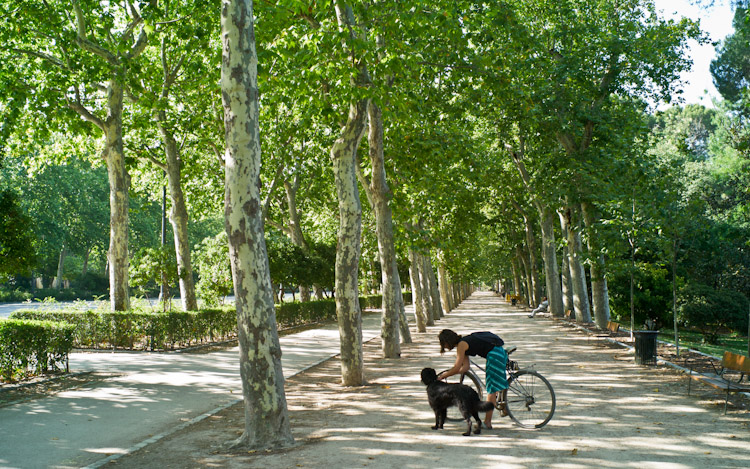 30_14
Pompous monuments are good if their stairs serve as benches for reading señoritas: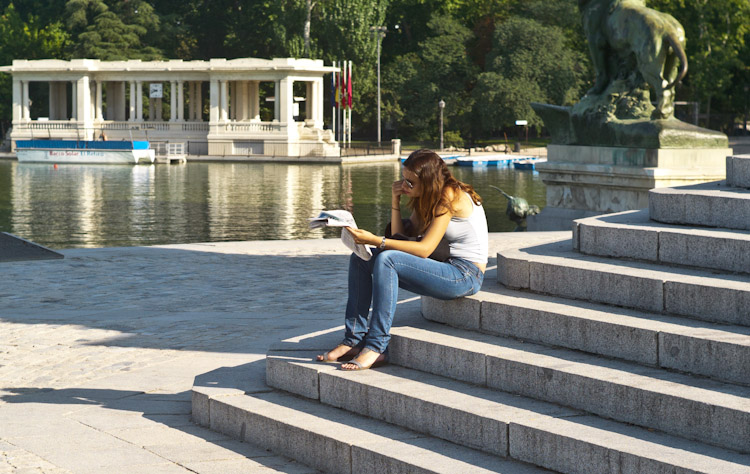 30_15
I left the park and made my way back to Plaza Colón. A new bank (!) advertises its services in a somewhat non-traditional way: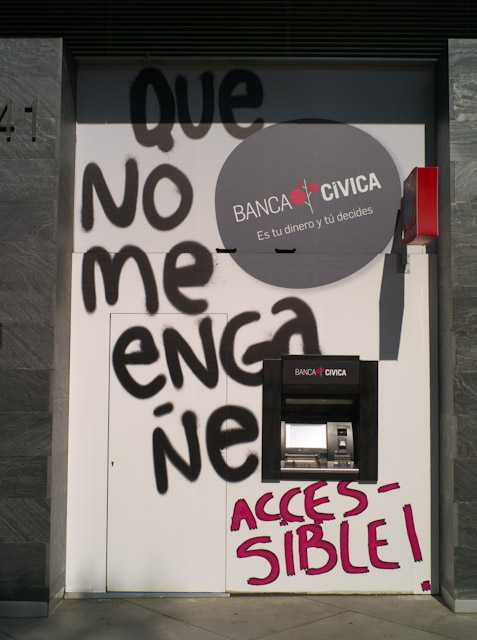 30_16
Near the Polish consulate on Calle Goya, the shoe-shine man was taking a break: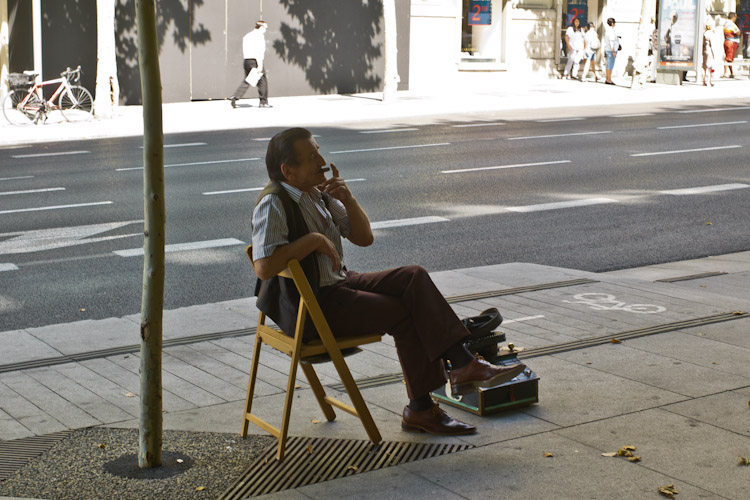 30_17
People in Madrid like to dress smartly, even in the midst of summer when temperatures are never below 30C, and even if they travel to work on two wheels: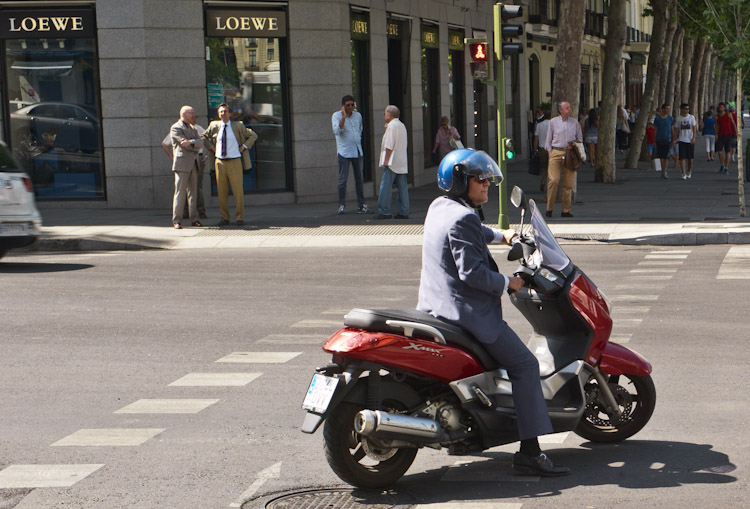 30_18
Once the business at the Polish consulate was taken care of, I went to the Puerta del Sol square, where the indignados have been camping out for weeks, ever since the protest movement began back in May: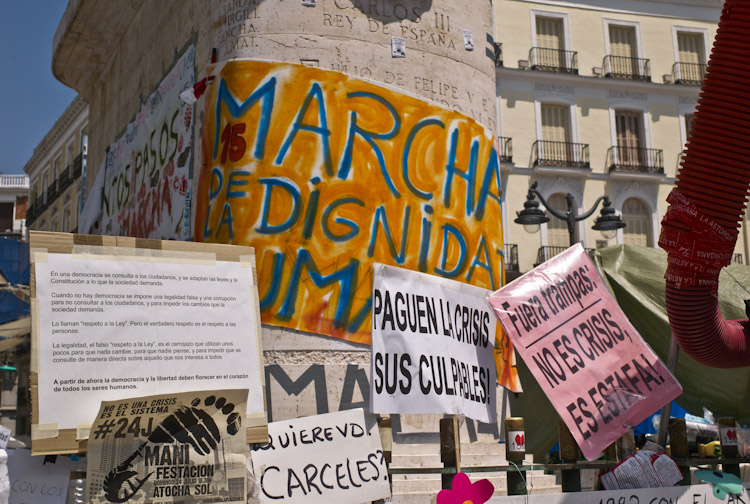 30_19
They are collecting petitions for various causes: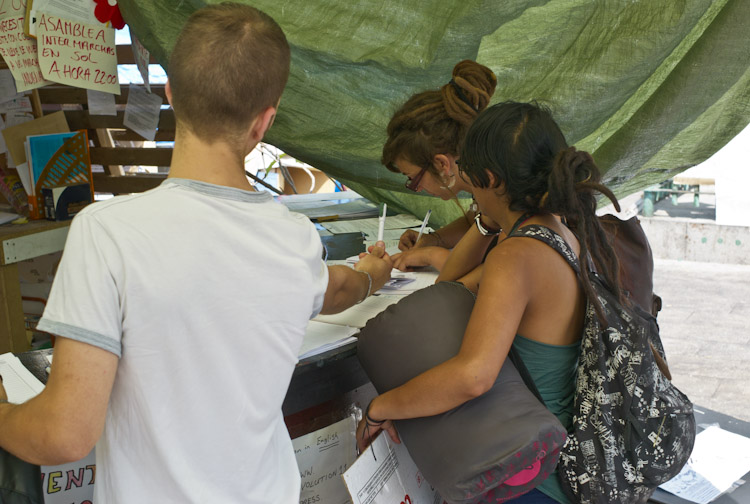 30_20
And they are not bad at public relations: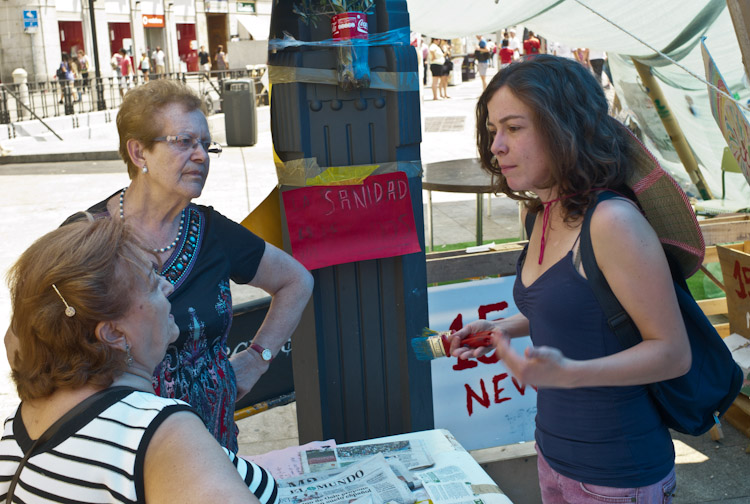 30_21
I walked down Calle Mayor towards the opera house and the royal palace. On the way I saw this unemployed artist talking to an art critic: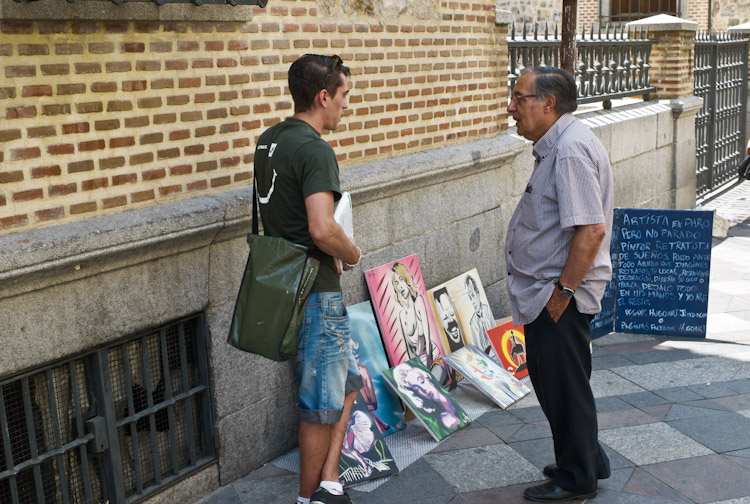 30_22
Plaza Isabel II, where the Opera is and where there was an interesting outdoor photo exhibition. There was also this guy carrying a mattress around in 35-degree heat. He seemed lost, because he passed me twice on the same square. I assume that he was not just wandering around aimlesslessly: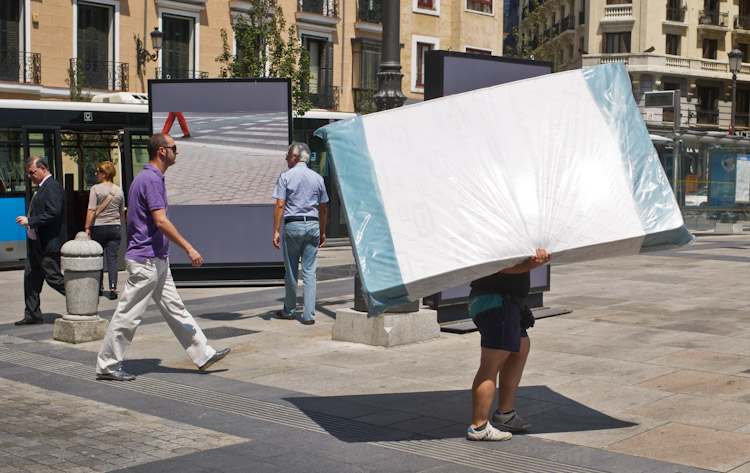 30_23
Outside the royal palace, skateboarder on the promenade: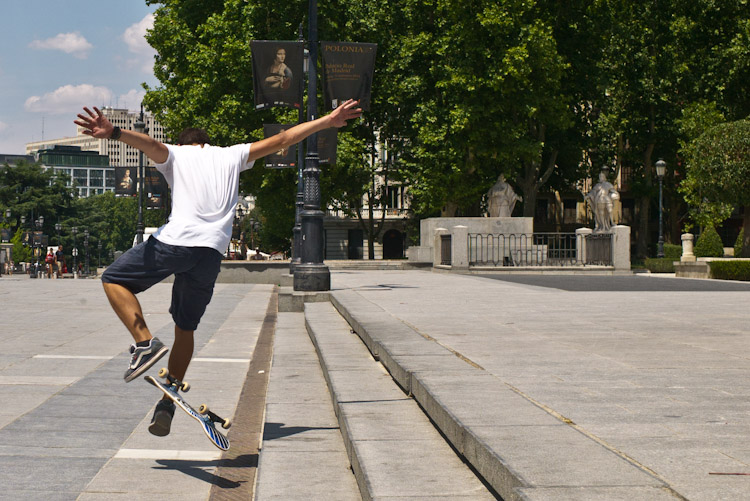 30_24
I walked back to Sol for a last look at the indignados and to take the metro to the airport for my flight home. This guy is making a sign asking people to bring them drinks and ice, both commodities sorely needed in this weather: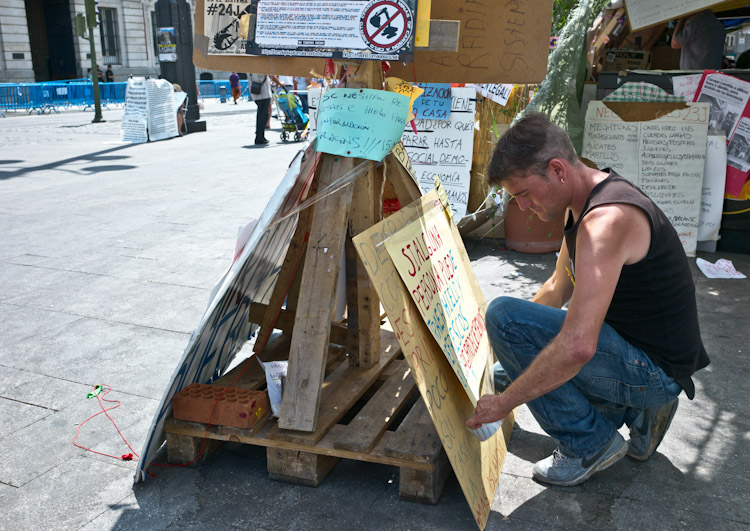 It should be noted that while I have showed the nice side of the indignados, there were also some plain bums, pickpockets and other types with absolutely no connection to the politics of the movement who were just taking advantage. And the many shops around the square were complaining about impact on their business. So about a week after I took these pictures, the police finally cleared the square. As I write this, the indignados are camped out in other squares around Madrid, including Plaza Mayor.
30_25
Back in Alicante, I went out for tapas with a couple of co-workers on Thursday night. Here are two of them in conversation: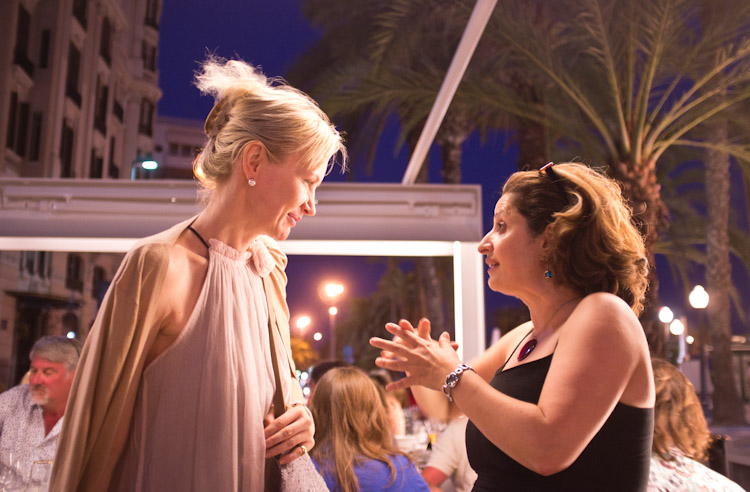 30_26
And here is one of our tapas: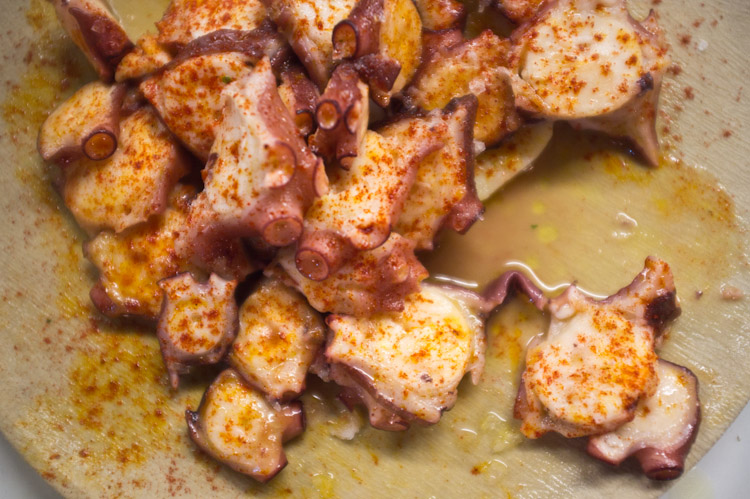 30_27
To complete the food theme, here is the display of Iberian ham at the local Carrefour supermarket: