Week 36 continued in California. We spent most of our time exploring the cities of San Francisco and Oakland, making occasional day trips to places like Napa Valley or Big Sur.
36_1
Morning sunlight on the parking lot of the Rockridge BART station: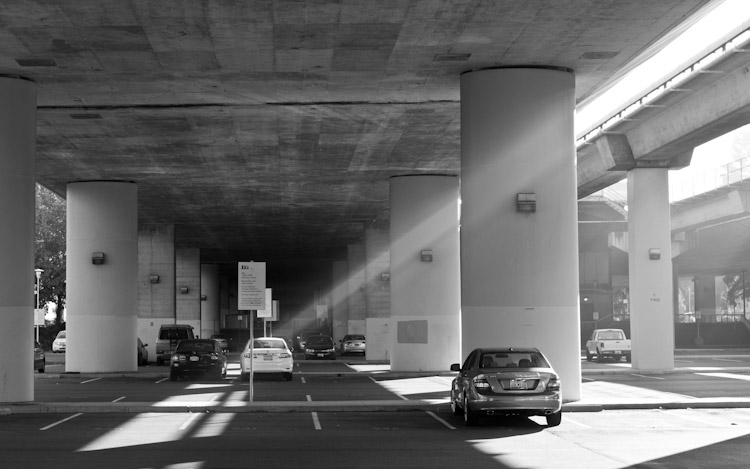 36_2
One morning we went to the Golden Gate Bridge to do the ritual walk across. The area is very popular with recreational cyclists: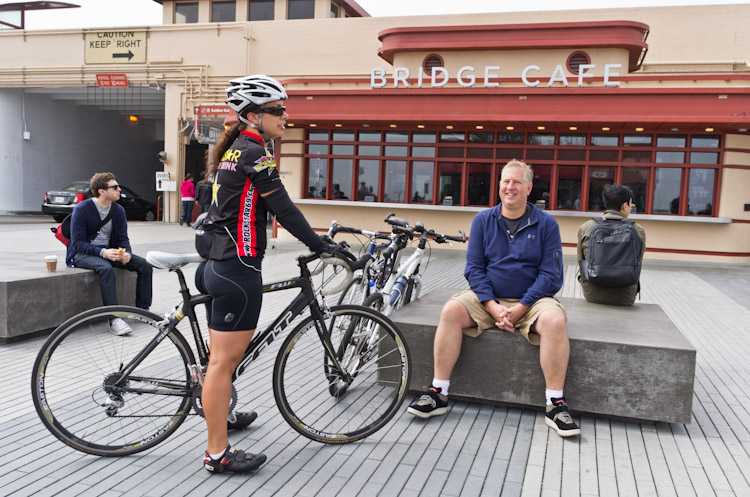 36_3
The bridge was completely shrouded in fog, so we postponed our walk to another day: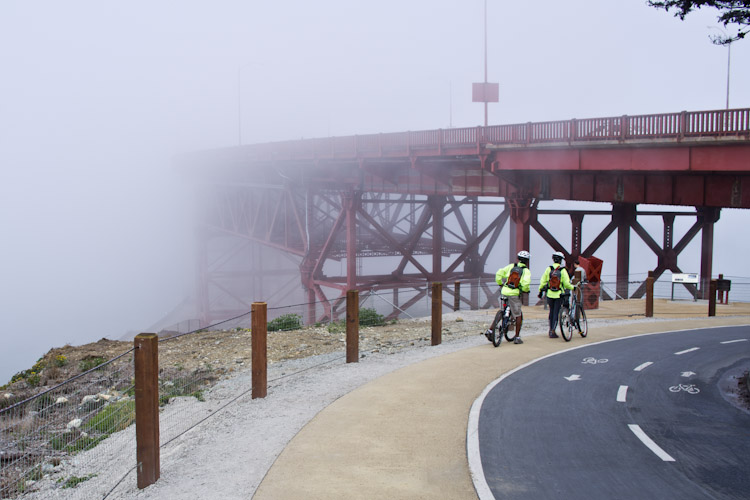 36_4
The same day we went for lunch at Bette's Oceanview Diner in the 4th Street area of Berkeley. The place is very popular, so there was a 40-minute wait which I spent walking around the area while my family waited in the restaurant. The range of services advertised here give a good idea of life in Berkeley: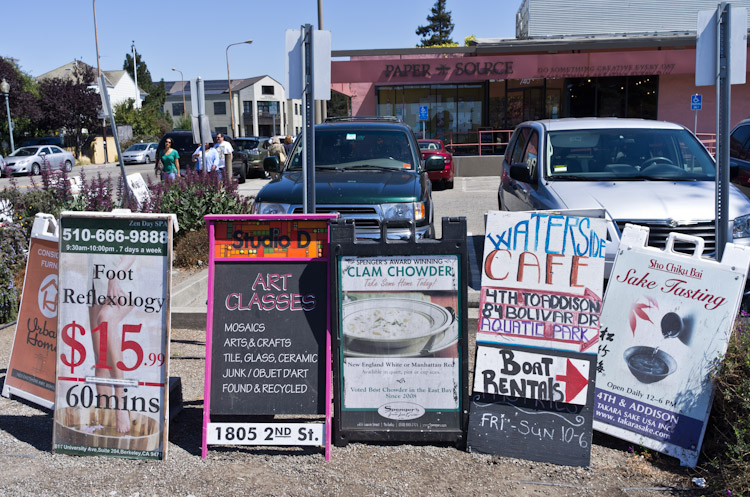 36_5
There is even poetry in a highway underpass:

36_6
We finally had our lunch at Bette's. The place has a certain ambience, but I found it nothing special and overpriced. For me, it was very much a case of "been there, done that", similar to my reaction to the famous Chez Panisse restaurant, also in Berkeley: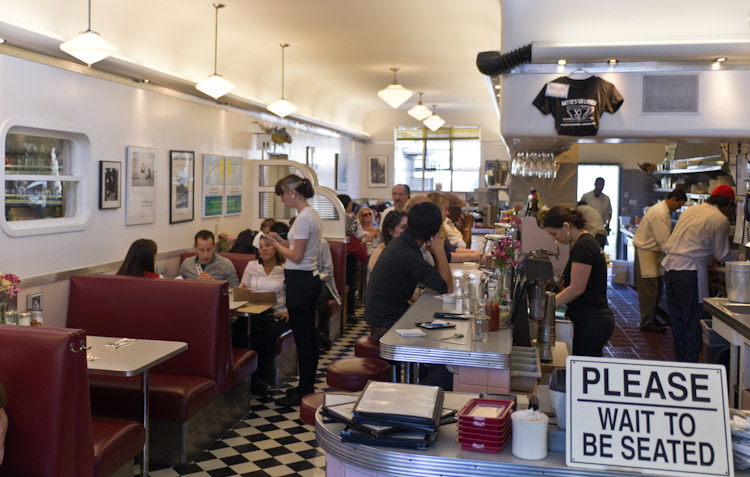 36_7
After lunch, we went to a North Face outlet in a less posh neighbourhood of Berkeley: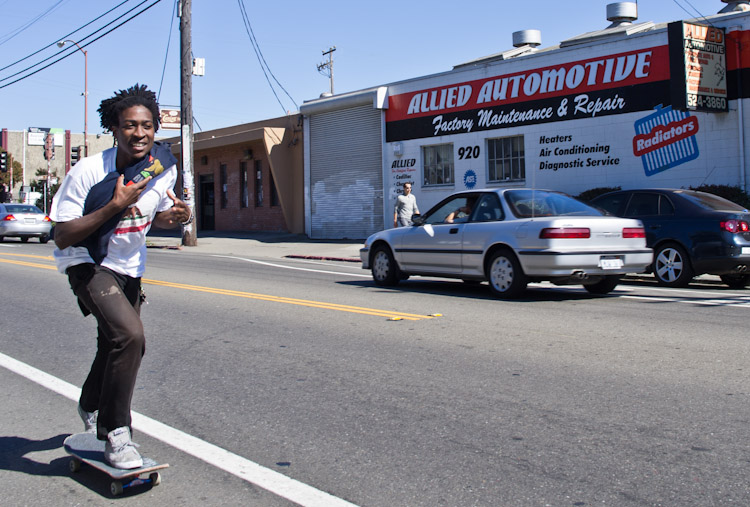 36_8
We spent a day driving around Napa Valley, tasting wine at a couple of places and seeing some more. Compared to other wine areas we have visited, Napa Valley is very manicured. This is the view from the entrance of the Artesa winery, our first stop: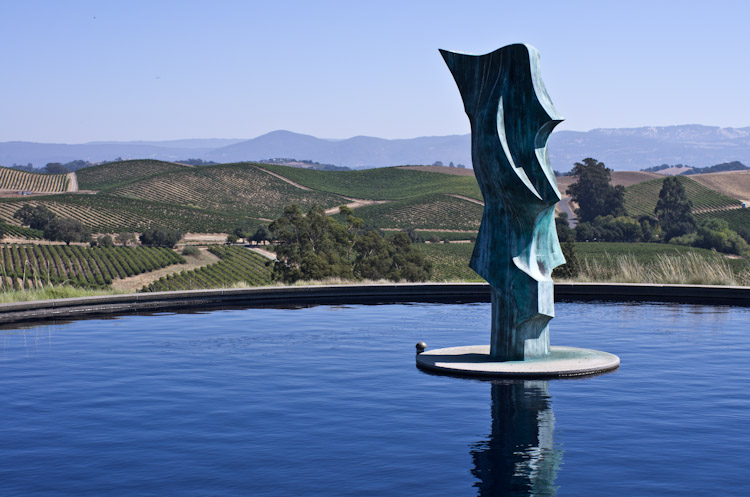 36_9
We tasted and bought wine at Artesa and at Michael Mondavi's winery (separate from the large Mondavi outfit). In general, we found most of the Napa reds too light and expensive for what they are. But we did come away with four bottles: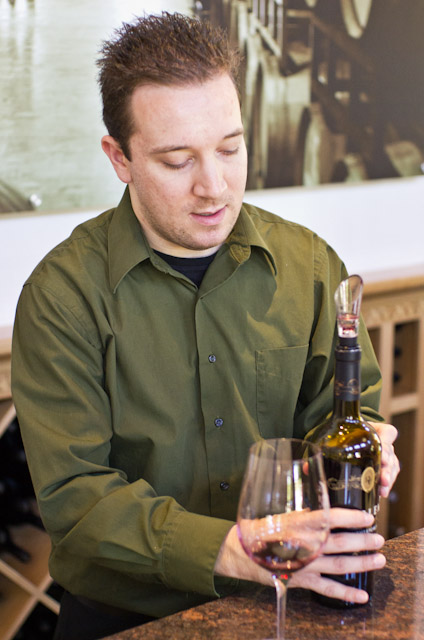 36_10
A sour note while driving around Napa: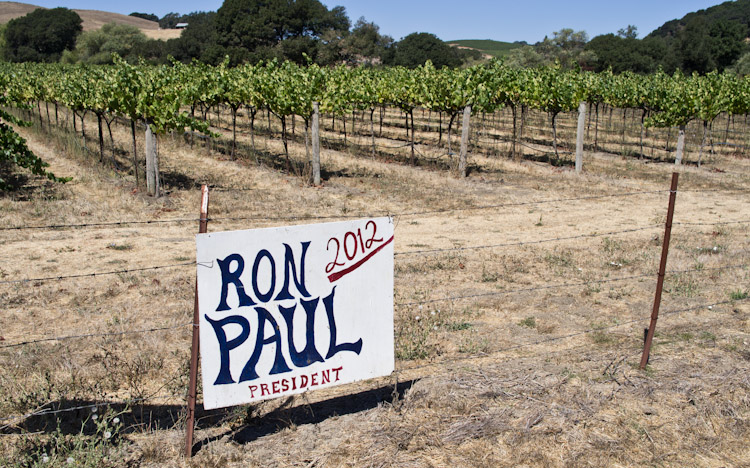 36_11
My cousin's house is near the southern end of College Avenue which leads up to Berkeley. But even the Rockridge part of the avenue has many nice shops and restaurants, and this wonderful independent bookshop: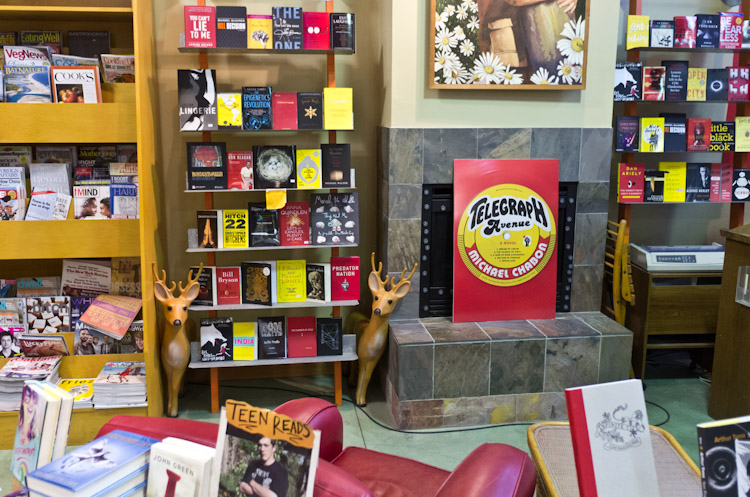 36_12
Bookshops are for browsing (and buying books):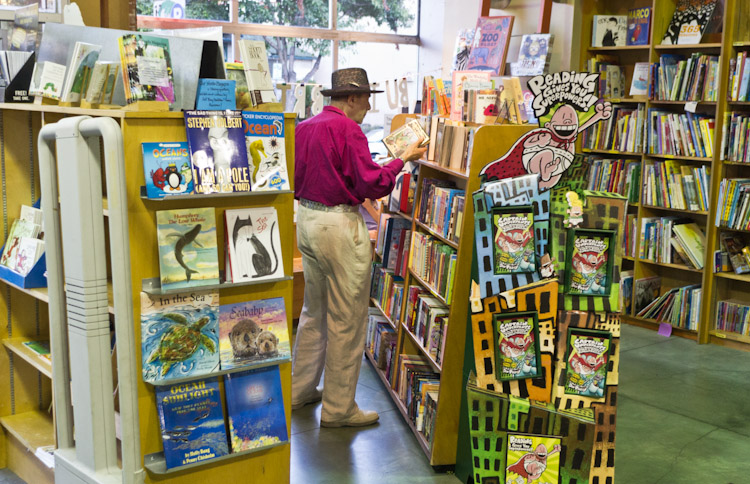 36_13
During my two weeks in Oakland, I was able to go cycling six times. My usual route was to climb the hills overlooking Oakland and San Francisco. One morning I got a good view of the morning traffic while passing a freeway entrance: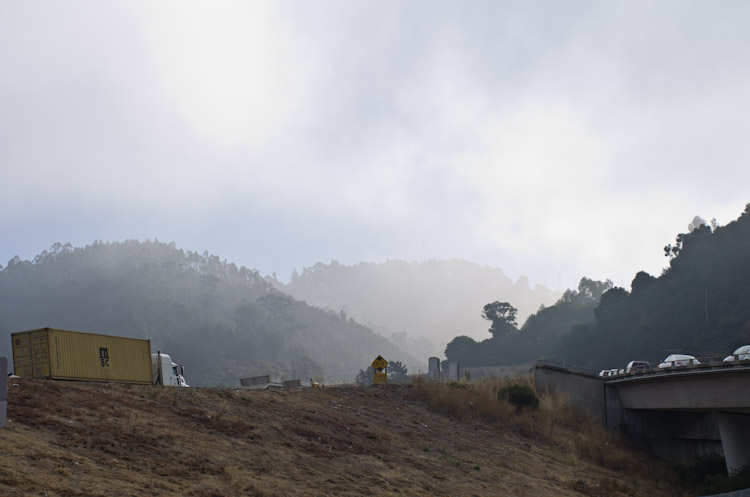 36_14
My daughter and I spent an afternoon in Haight where she had picked some shops to visit. But first we had coffee: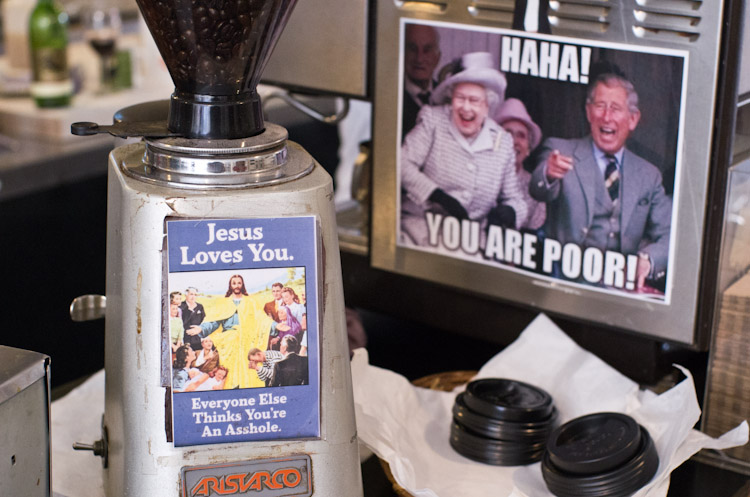 36_15
My daughter takes pictures too: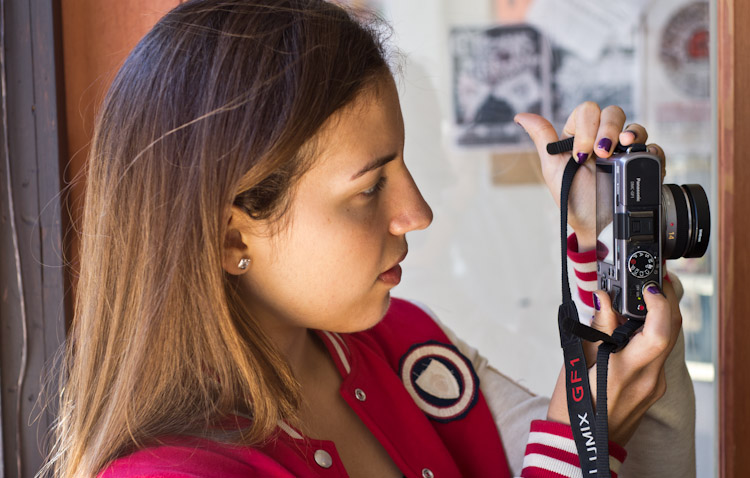 36_16
Drinking coffee. Monica has recently gotten into wearing long socks: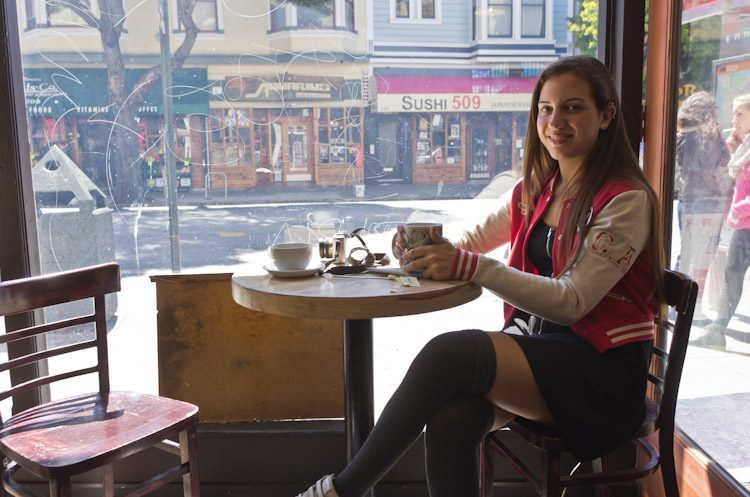 36_17
One of the shops we visited was in fact a sock shop where Monica got three pairs (the other places on her list were the Anarchist Bookshop and the Amoeba music shop):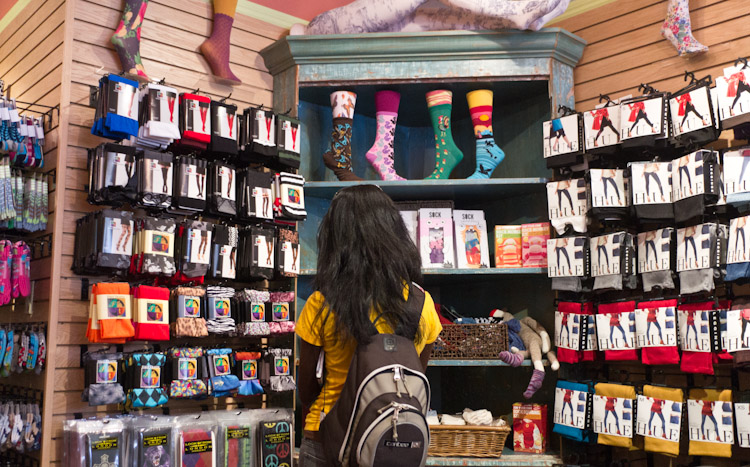 36_18
One of San Francisco's iconic buildings: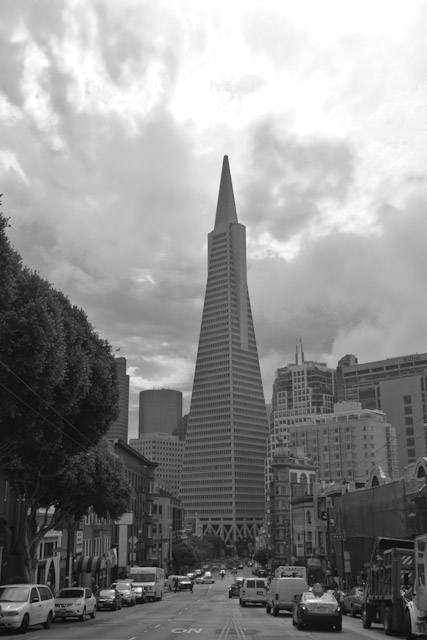 36_19
One of the places on my list to visit was the City Lights bookstore on the edge of Chinatown: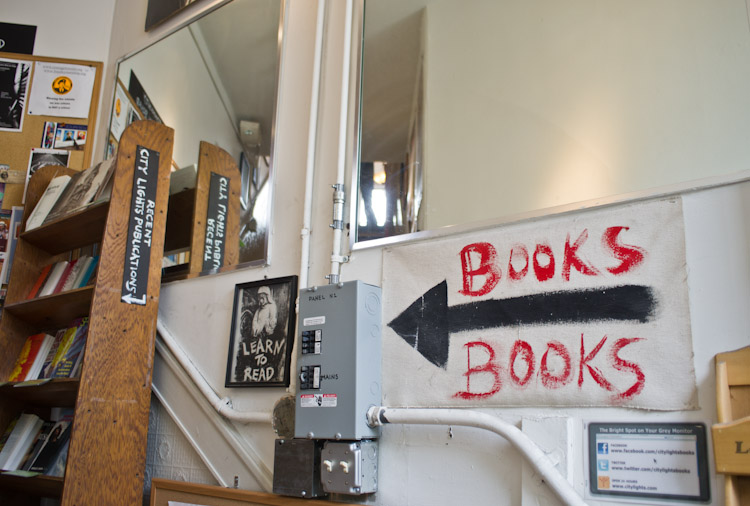 36_20
City Lights is a wonderful place, faithful to its heritage:

36_21
"Free the Press":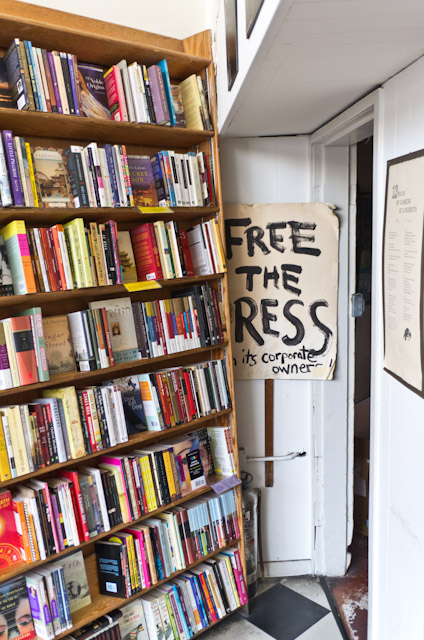 36_22
We did: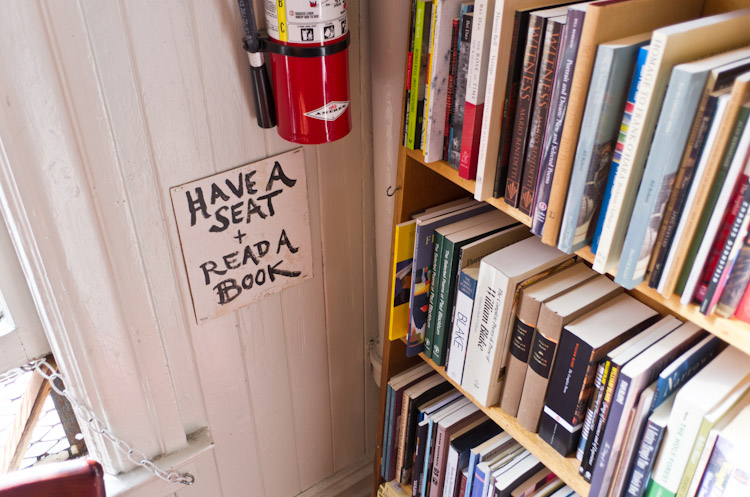 36_23
We must have spent an hour at City Lights, and we came away with a reasonably heavy bag. Where else would I buy a collection of haiku by Kerouac?: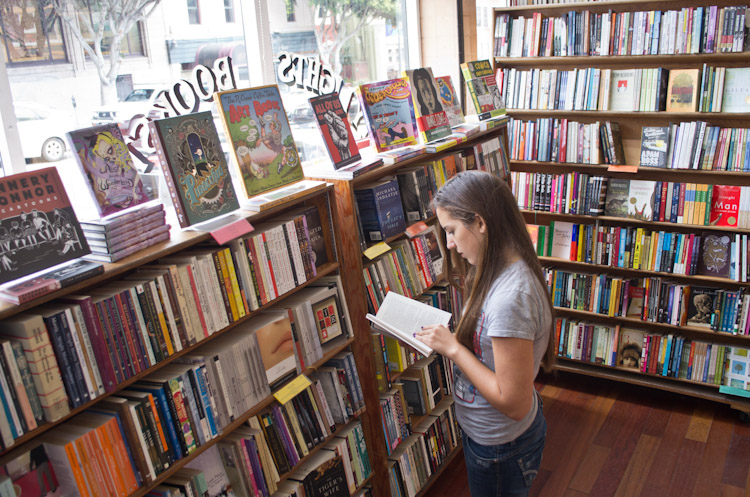 36_24
Street signs in San Francisco serve as advertising platforms: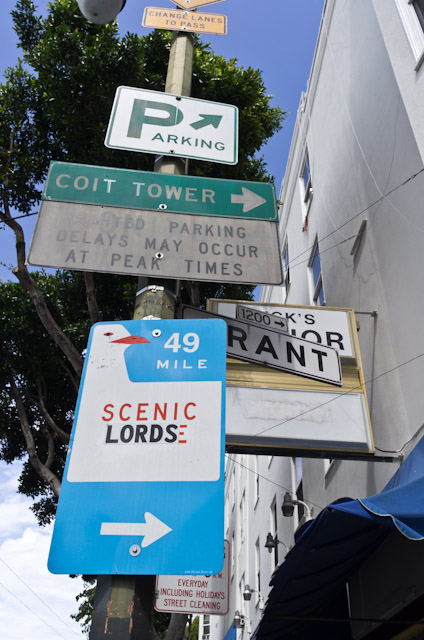 36_25
Church entrance: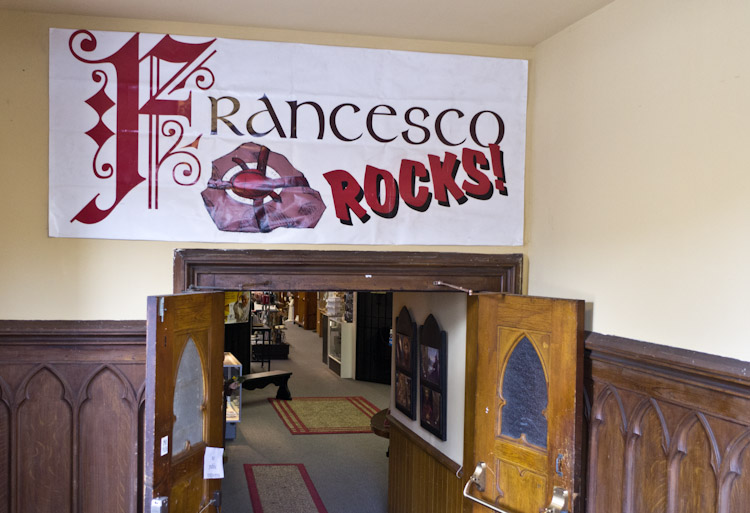 36_26
Being vegan, my daughter was in heaven in the Bay Area. She found several unique places, among them the Souley Vegan restaurant in downtown Oakland: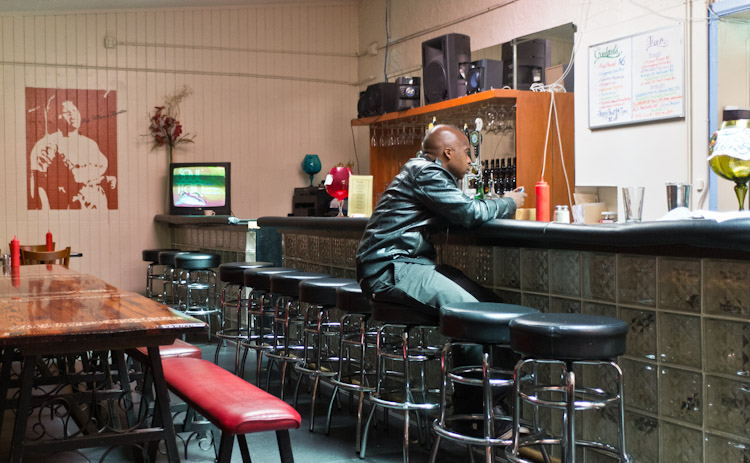 36_27
Only in California will you see signs advertising "Aquarian Minyan":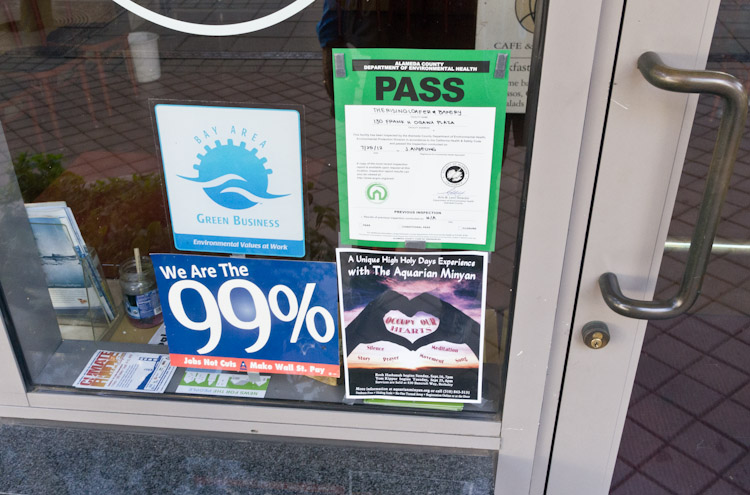 36_28
Diners, Berkeley: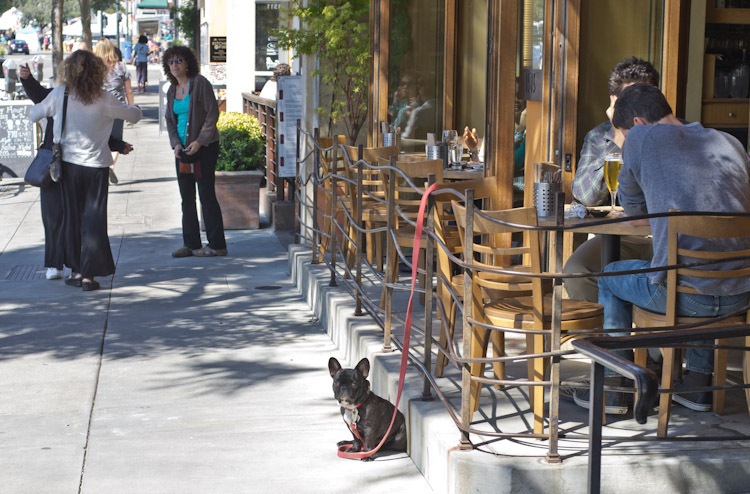 36_29
One afternoon we finally did walk across the Golden Gate Bridge, in glorious sunshine. I tried to take interesting pictures of this much-photographed structure: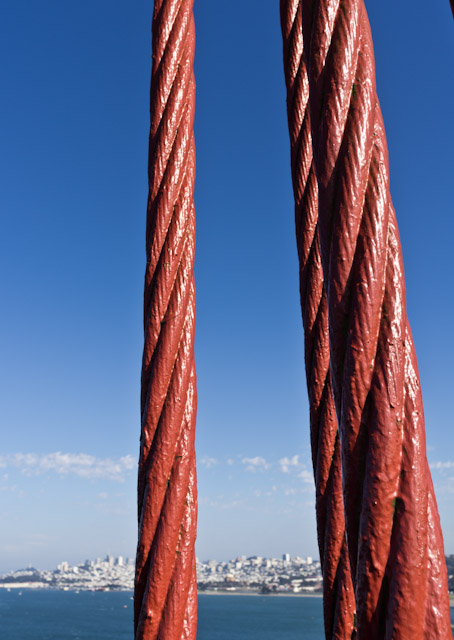 36_30
Heavy transport on two wheels: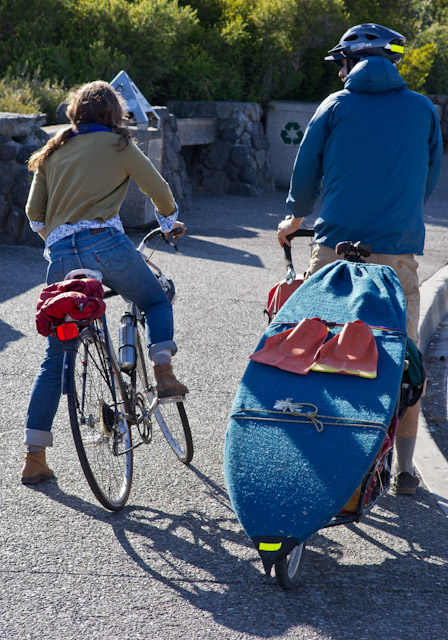 36_31
More heavy transport on two wheels: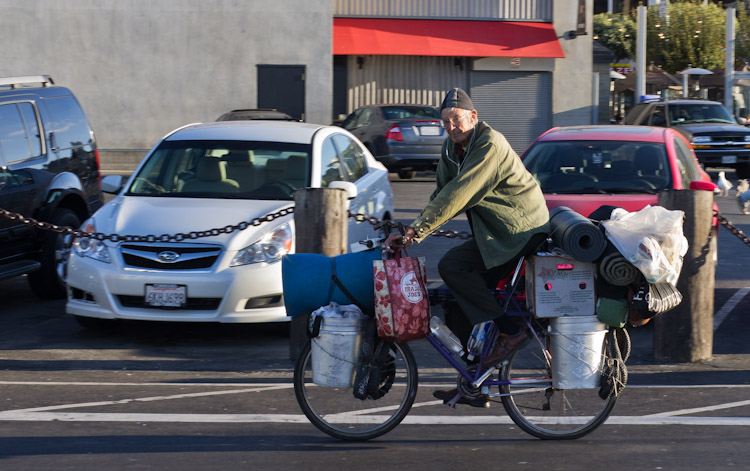 36_32
Fisherman's Wharf is a rather tacky tourist trap, but the seagulls love it: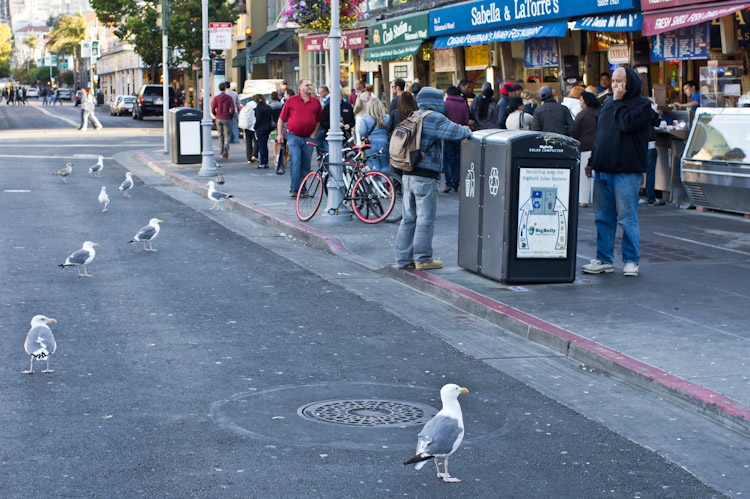 36_33
One the way to Big Sur we had to stop in Monterey to pay homage to one of my favourite writers: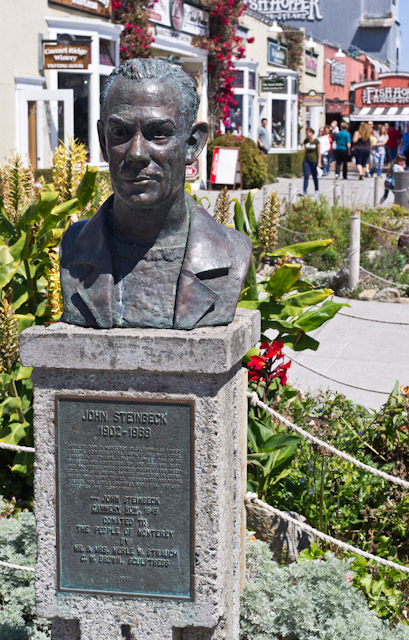 36_34
Take-off, Monterey: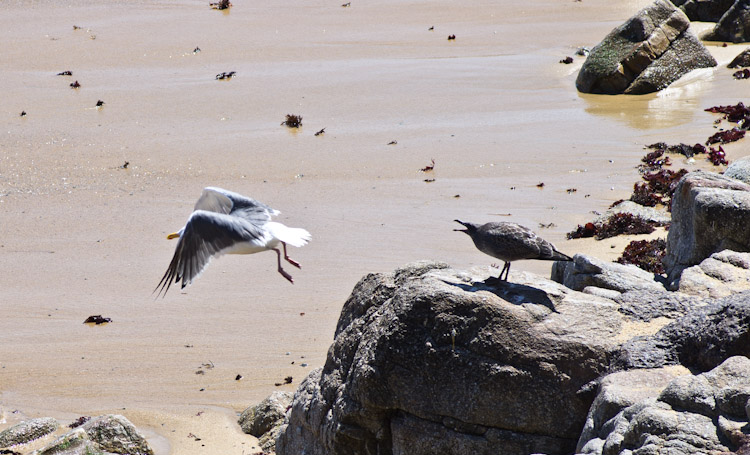 36_35
Surf report in burrito shop: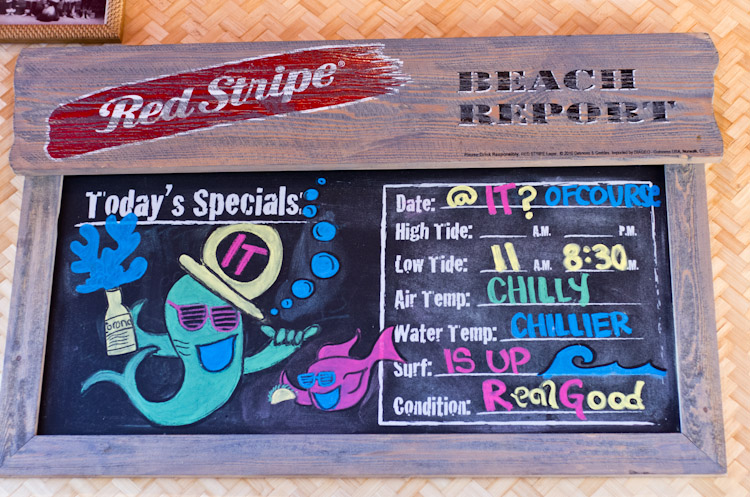 36_36
Oakland driver:

36_37
You know you are in low-rent neighbourhood when you see signs like this: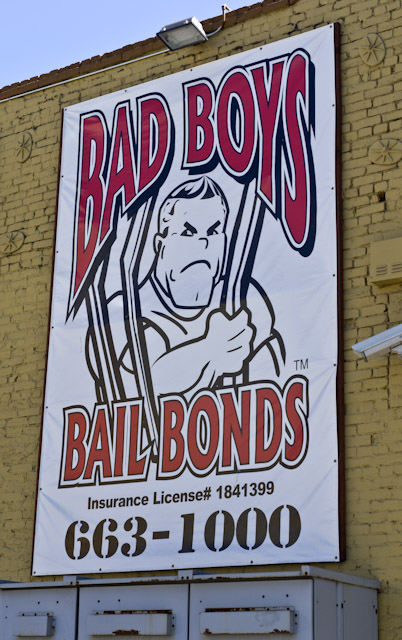 36_38
I guess a lot of this laundromat's customers attend the Burning Man event: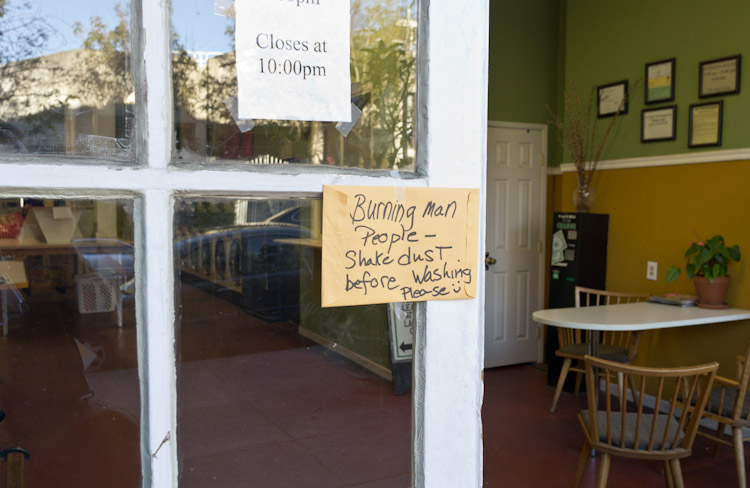 36_39
Criolla Kitchen: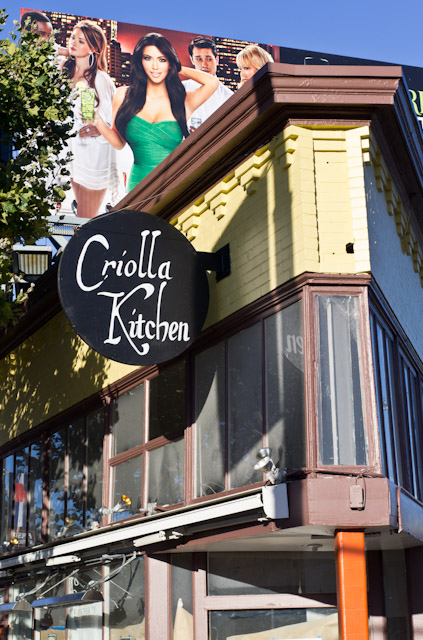 36_40
In the UK it is common to see LOOK LEFT or LOOK RIGHT painted on the sidewalks to warn pedestrians. Here is the San Francisco equivalent: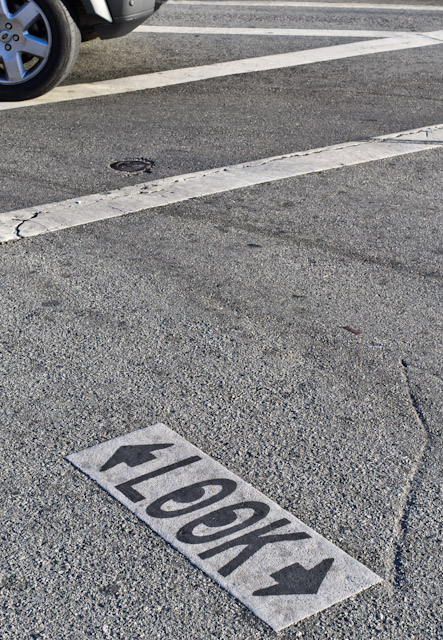 My full California gallery can be seen here.