The past couple of weeks I have been on a whirlwind of trips, almost like a top politician or Hollywood celebrity, except that they don't travel in cattle class. But I probably had more fun. The week started in my hometown Aarhus in Denmark, continued with a four-day cycling tour of Jutland in the company of my best friend Lars, then on to Munich for a brief business trip before finally returning home to Alicante and prepare for the following week's trip to England.
26_1
I flew from Alicante to Billund and travelled the 95 km to Aarhus by bus and train. Lars met me at the train station with his everyday bike, useful for hauling heavy things like my suitcase. The tube is for carrying tripods (Lars is a photography teacher and artist):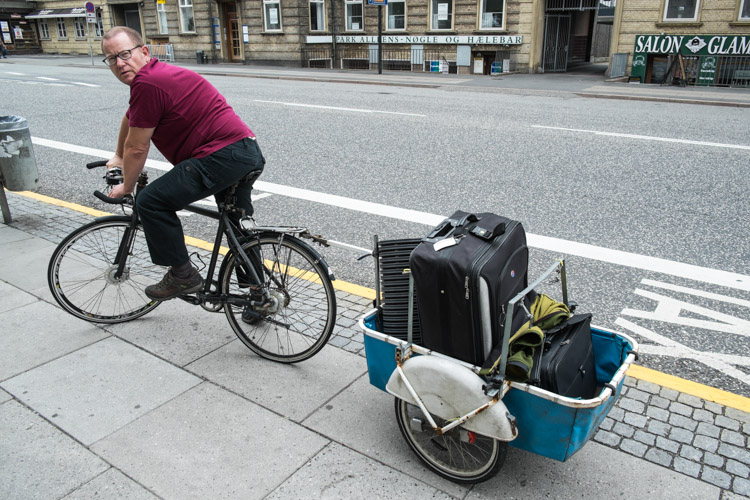 26_2
As usual, one of my first priorities when arriving in Denmark was to get a classic Danish sausage from a mobile sausage cart: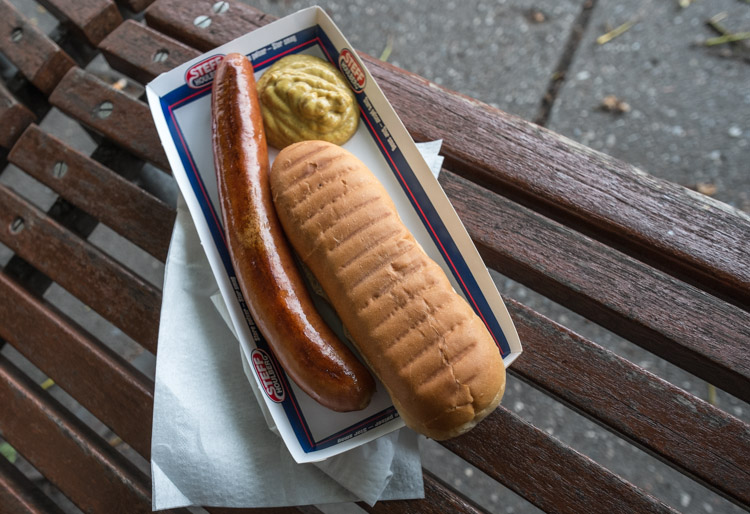 26_3
In the evening, I was actually doing some work, to be e-mailed back to the office before starting our tour the following morning: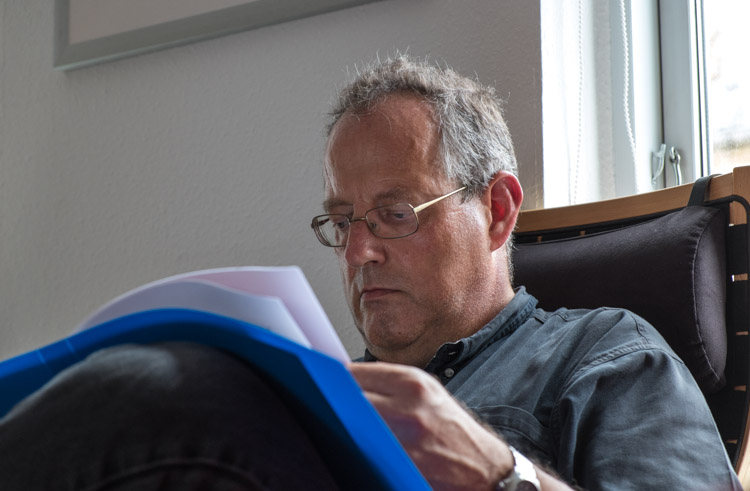 26_4
Next morning, we loaded the bikes and set out around 10 a.m. Since the days are more than 17 hours long in Denmark in late June, there was no reason to get out at some ungodly hour. Lars is making some last-minute inspections: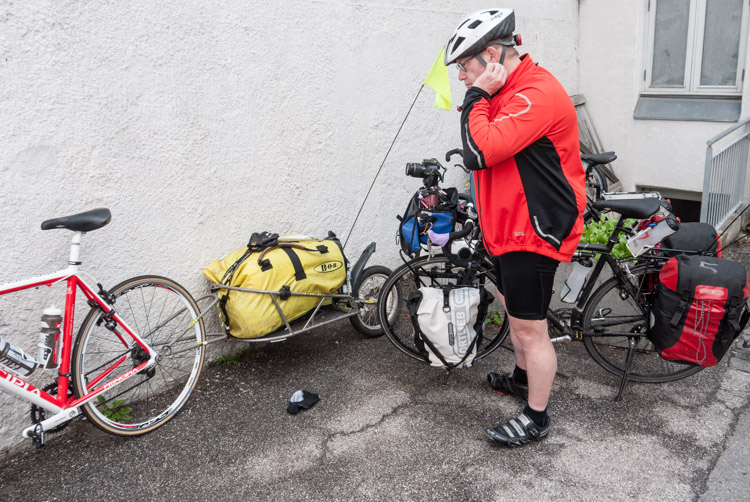 26_5
Our target the first day was a camping in Kolding, a bit over 100 km south of Aarhus. In the beginning we had good weather, but by the time we stopped for lunch, things were beginning to look rather ominous: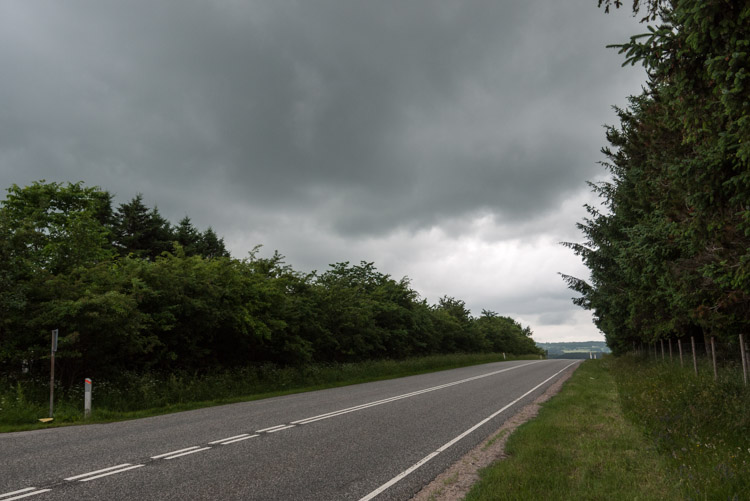 26_6
As usual, we took lunch at a roadside table. Lars had his portable cooker and gas bottle, so we were able to enjoy a cup of tea: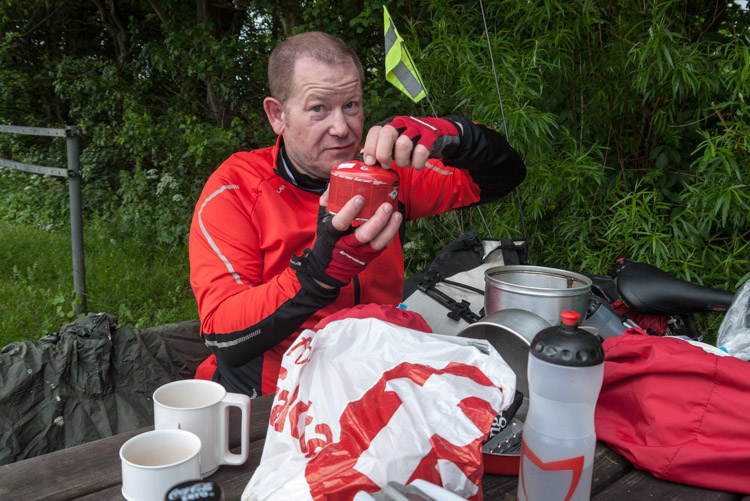 26_7
Yours truly slapping a sandwich together. When touring on bicycle, the main purpose of lunch is not to provide a culinary treat, but rather to deliver some protein and energy to continue cycling: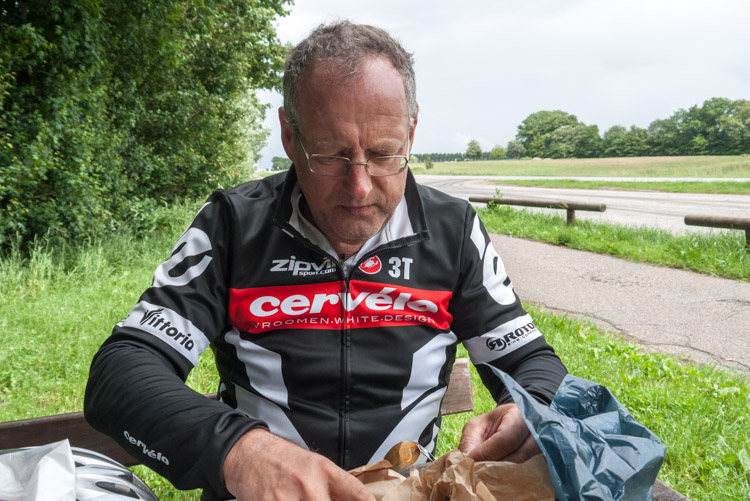 26_8
After arriving at Kolding City Camp in the afternoon, we unloaded the bikes, set up the tent, and went to a nearby supermarket to buy food and beer. I carried the shopping in my trailer: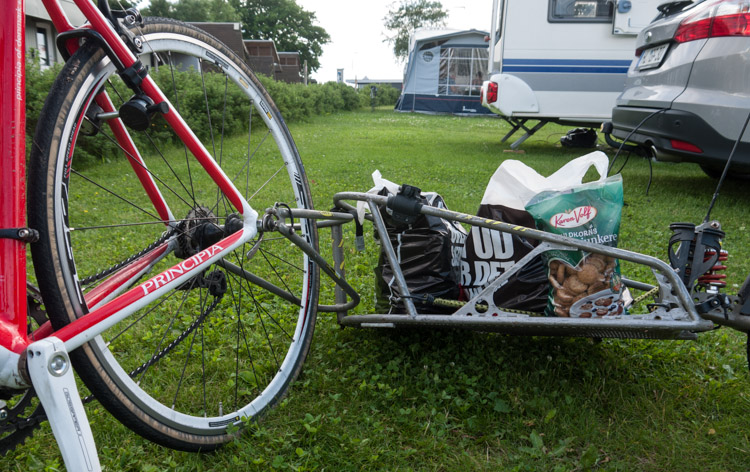 26_9
We prepared a simple dinner in the kitchen and ate it in the neighbouring TV room. Afterwards, we were entertaining ourselves with Disney comics from the 1960s and 1970s that were lying around: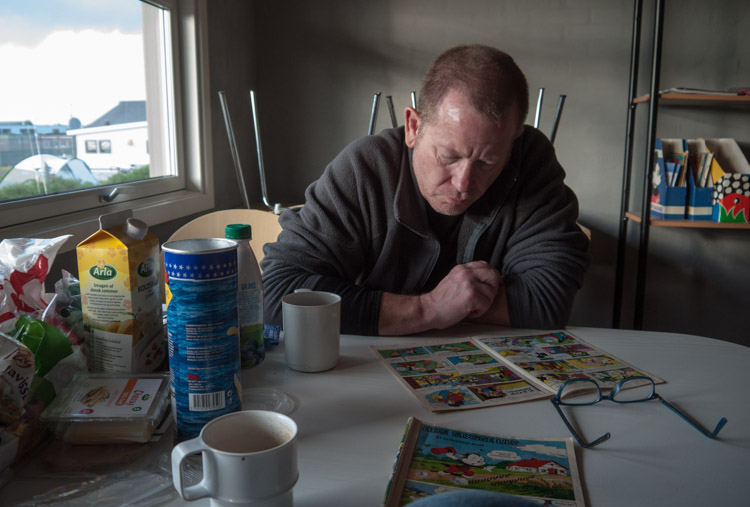 26_10
During the night, it rained quite a lot. The main compartment of our tent stayed dry, but this was the view from my sleeping bag, looking towards the tent vestibule: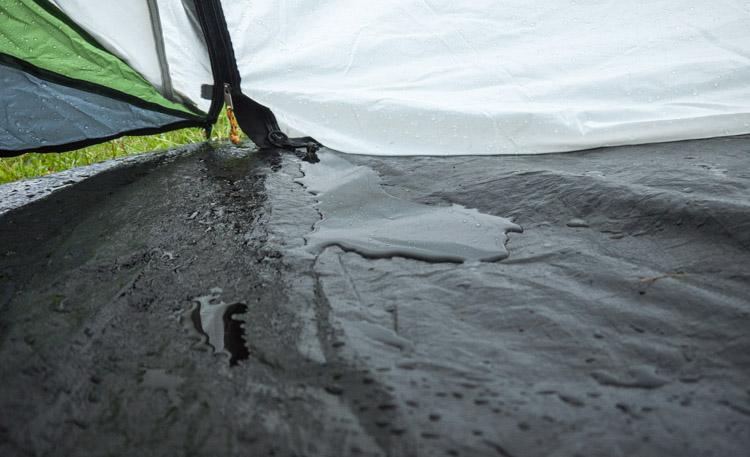 26_11
After breakfast, we continued south towards the German border. We were going to cycle another 100 km or so, to a campground in the extreme south-west of Jutland. Along the way, we stopped to have a look at some World War I fortifications built by the Germans (this part of Denmark was lost to Prussia in 1864 and was only recovered in 1920):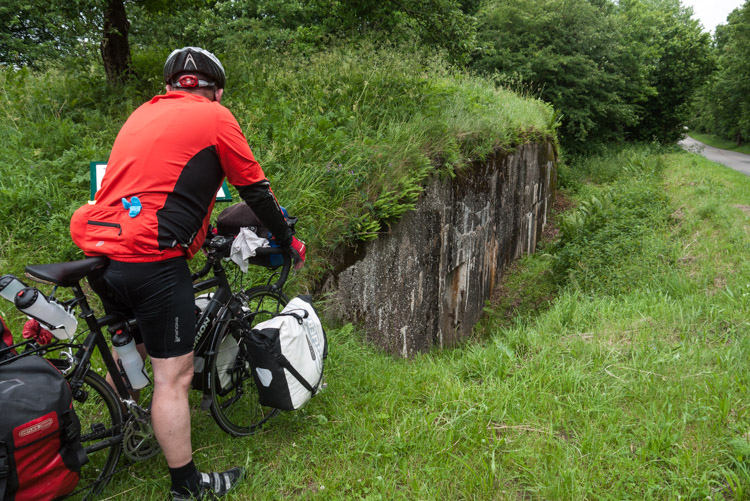 26_12
After arriving at Møgeltønder camping in the afternoon, our usual routine was played out–set up the tent, shower, have a beer. This time we had stopped to shop a few km before the camping, at a supermarket with a good beer selection: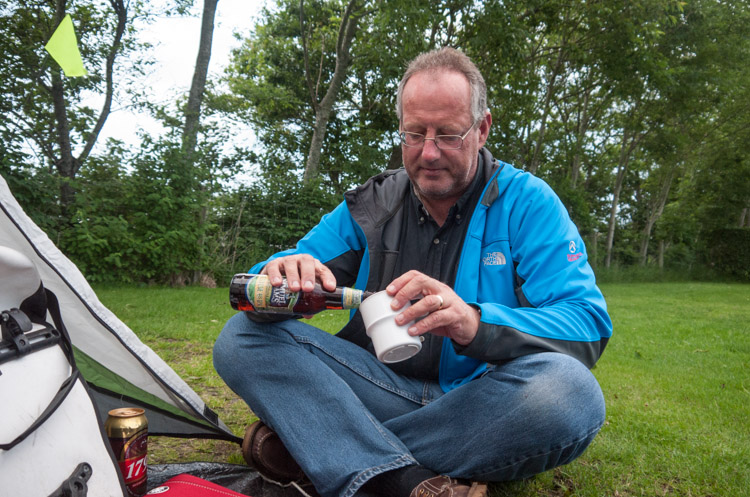 26_13
After the beer, the second basic need is wifi. I carry my iPad on tour so that I can do e-mail and post some pictures from the day's ride each evening:

26_14
The next morning, we cycled down to the German border. I always get moved when I see our open borders in today's Europe. I remember my childhood when crossing a border was difficult or impossible if you lived on the wrong side of the Iron Curtain: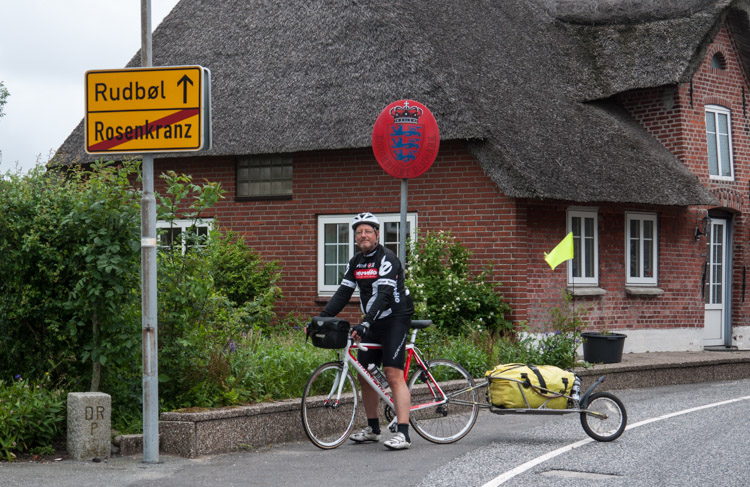 26_15
We then continued north along the west coast of Jutland. This is a part of Denmark with severe weather, especially lots of wind. And on this day, the wind was against us. Although this is flat country, it was like cycling uphill. But there was a certain austere beauty in the landscape: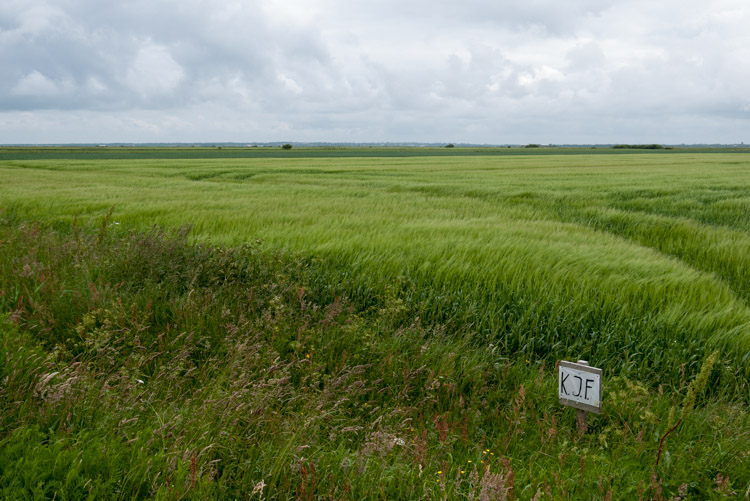 26_16
In the Tour de France, the riders have perfected the technique of peeing while riding. We mortals look for bushes, trees or tall weeds: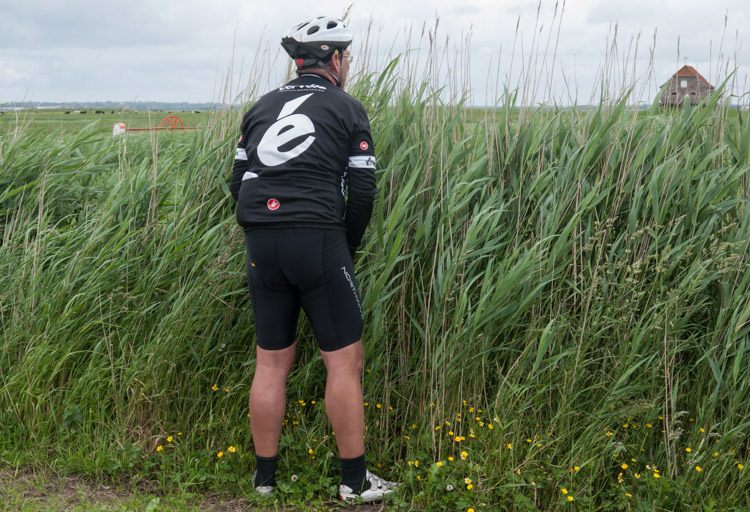 26_17
After the hard slog against the wind, we stopped for our only restaurant meal of the tour, lunch at a roadside fast food place: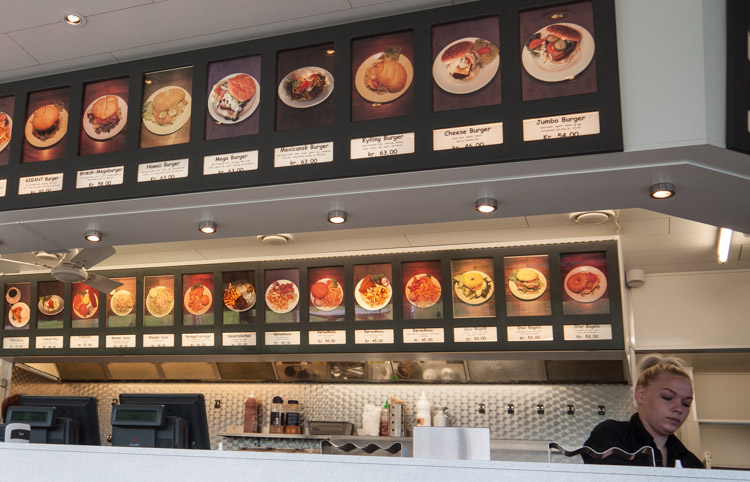 26_18
My delicious curry sausage and potato salad: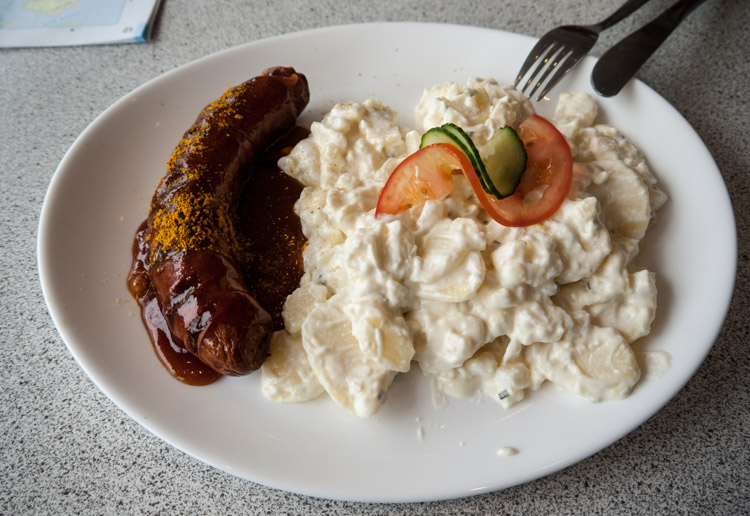 26_19
Studying the route. Our destination that day was a camping in Billund, next to the Legoland theme park: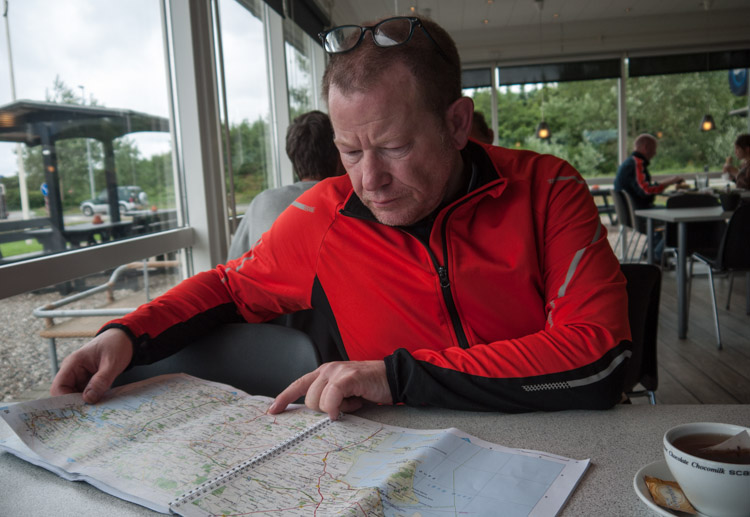 26_20
This is what we were struggling against most of the day: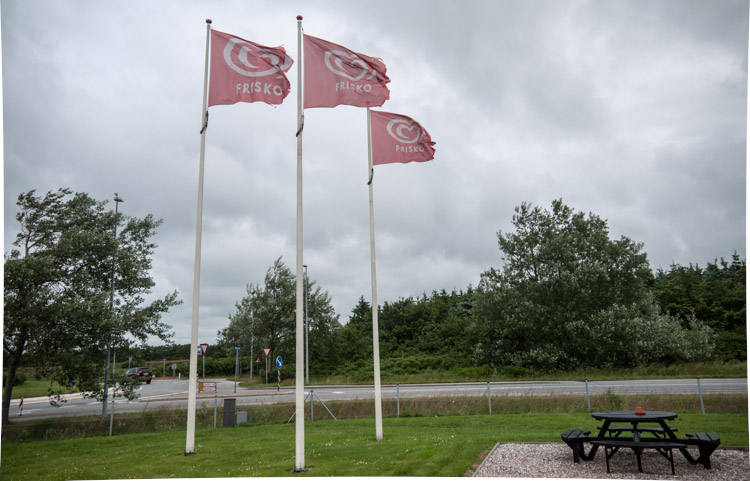 26_21
We stopped for a short break in the beautiful old town of Ribe, site of one of Scandinavia's oldest cathedral, started in 1150. On the square in front of the cathedral, we noticed this plaque, marking the house where the great social commentator and photographer Jacob Riis was born: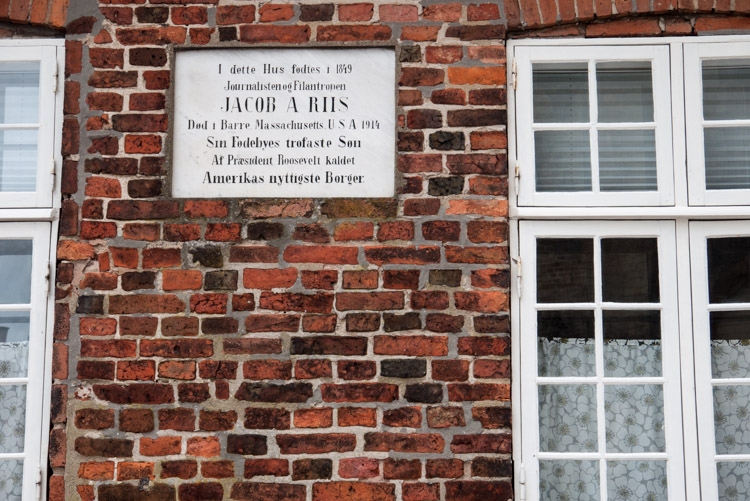 26_22
The rest of the day I did not take many pictures, we were just focused on getting to the camping. It was the longest day of the tour, 125 km. The next day, Wednesday, was also mostly about getting home, although we did cycle through some pretty landscapes. Finally, around 3 p.m., I could enjoy a victory banana (the staple food of cyclists) at the Aarhus city limit: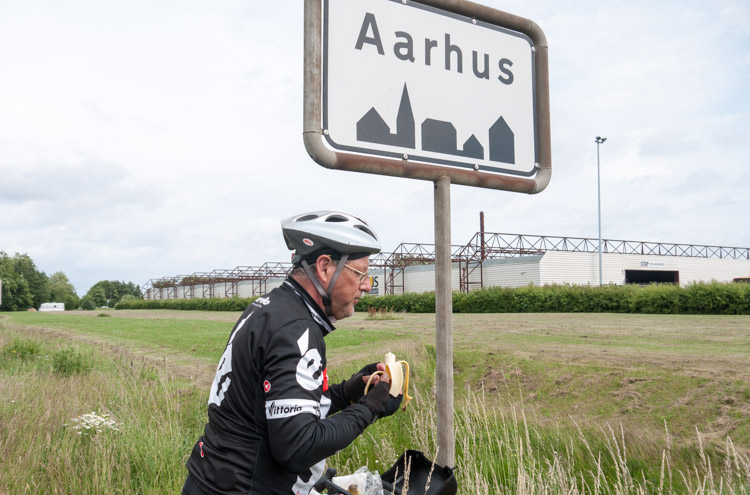 26_23
And a little later, back home. Lars is checking his e-mail while soaking a hurting foot: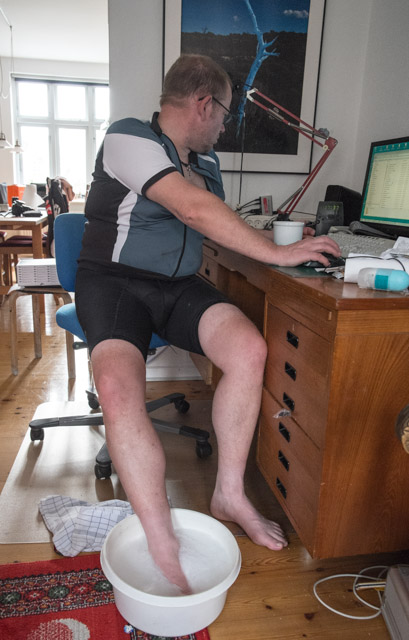 26_24
I had planned to spend Thursday in Aarhus and fly home that evening. But work intruded, and I needed to be at the European Patent Office in Munich that afternoon. So early Thursday morning, I took a taxi to Aarhus airport, a very small and cozy place, with a garden courtyard in the centre of the departure hall which also serves as the smoking area: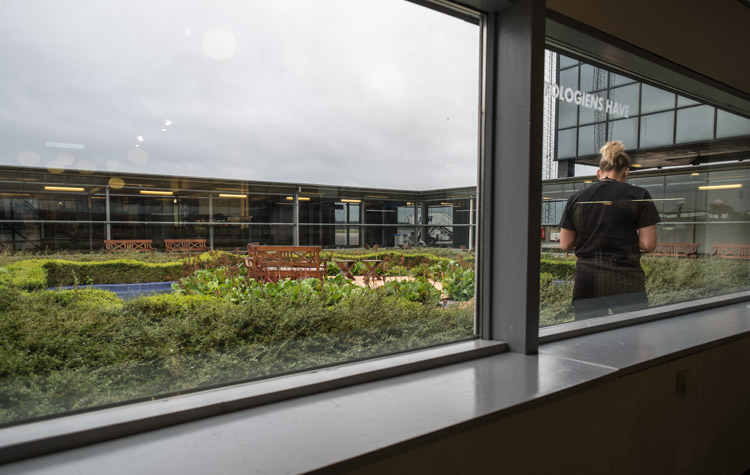 26_25
I flew to Copenhagen, from where I was going to catch my connecting flight to Munich. I stopped to photograph this impressive walkway in the domestic terminal at Copenhagen airport: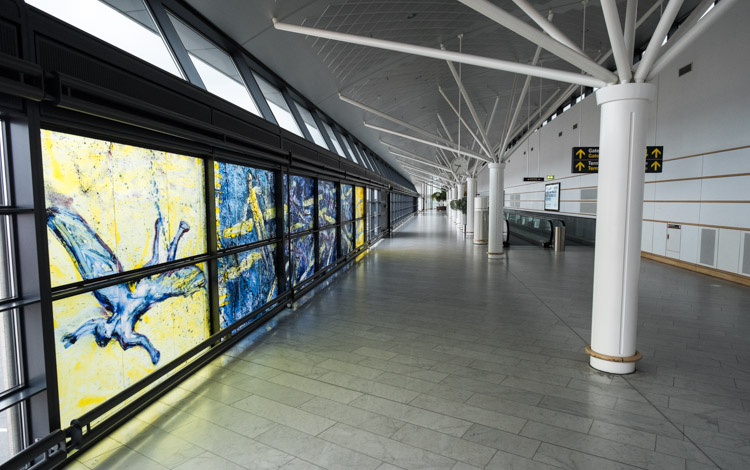 26_26
Around lunchtime, I found myself at yet another airport, Munich: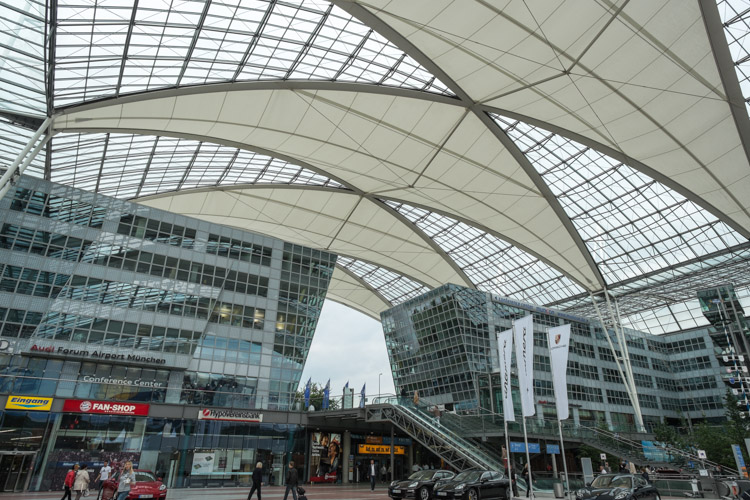 26_27
My hotel in Munich was walking distance to the EPO office, so I had time to go out for lunch and for a quick walk in the neighbourhood. Since I had just been cycling and camping in Denmark, a visit to this impressive department store, wholly dedicated to outdoors activities, seemed appropriate: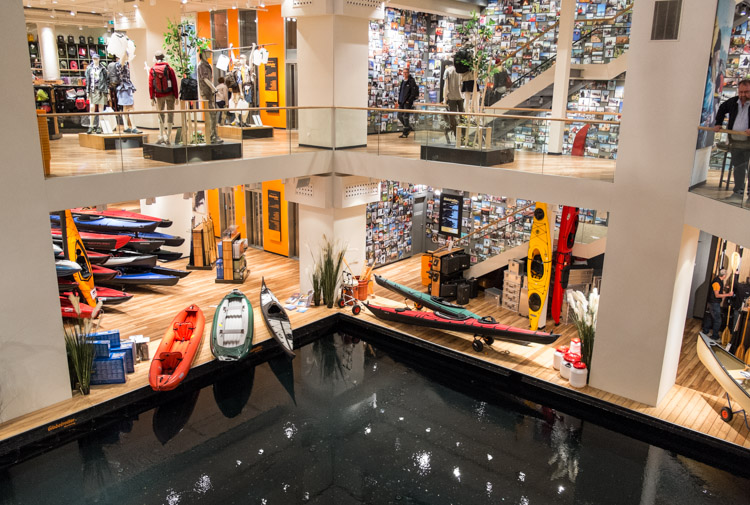 26_28
In any event, the weather in Munich that afternoon was highly conducive to staying indoors: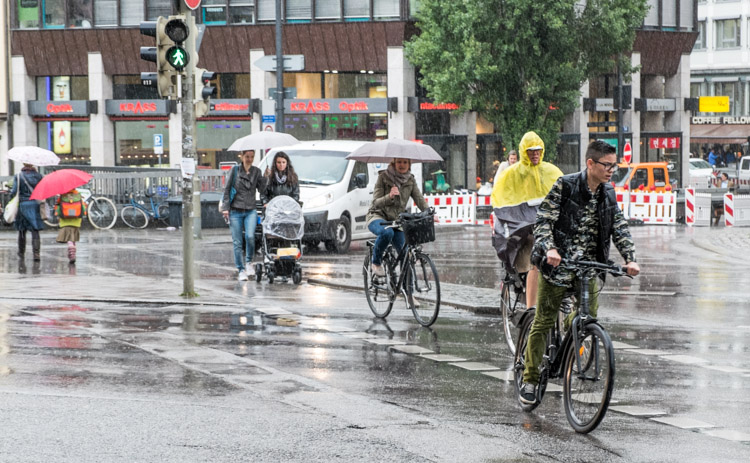 26_29
But the Bavarians are sturdy folk, and smile even in the rain: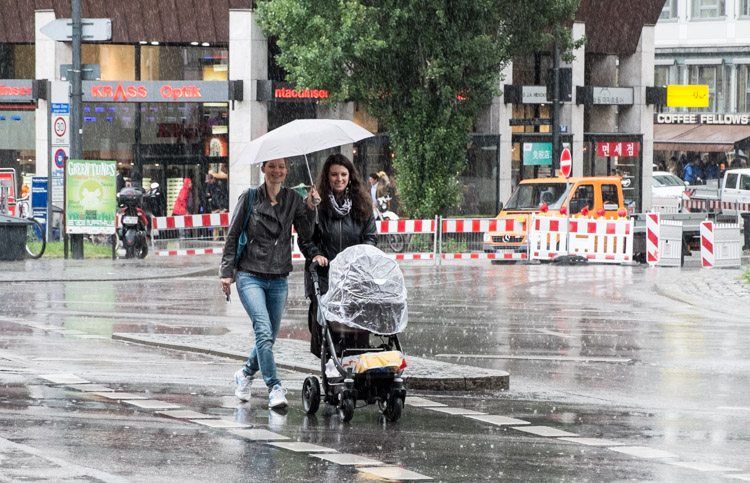 26_30
When I travel, I always look for little details as opposed to grand monuments. And so this amusing graffiti in the parking garage next to my hotel caught my eye: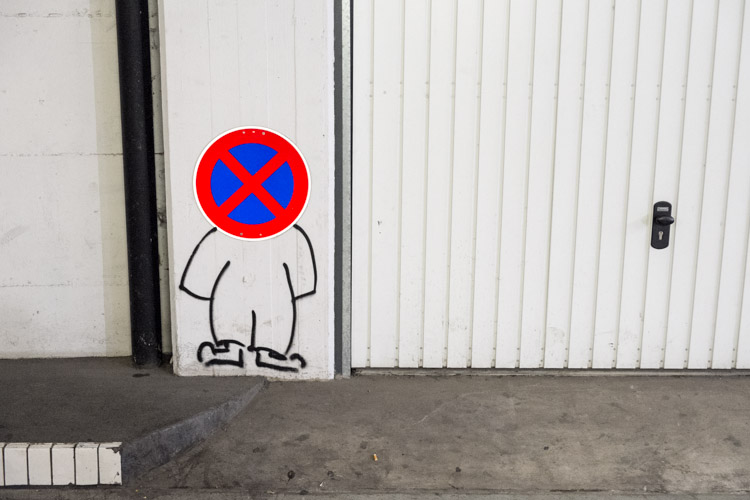 26_31
The eyes have it: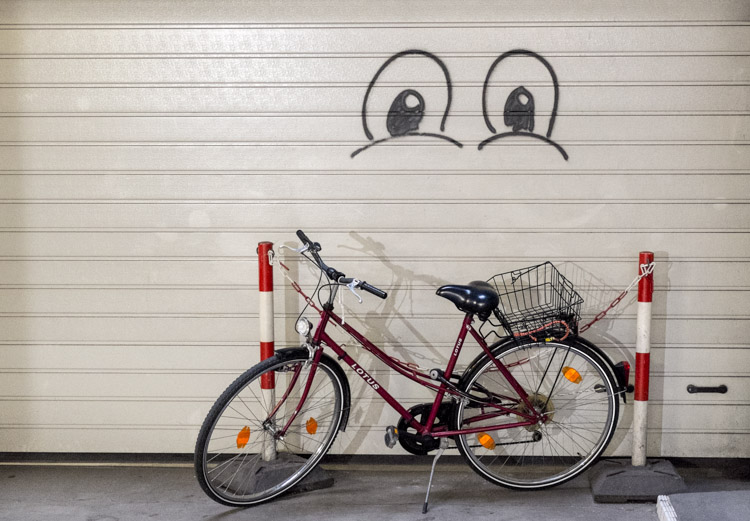 26_32
After the meetings at the EPO, I went out for dinner with one of my fellow economists from there. Munich is a thriving and growing city, and even on a rainy Thursday evening, the restaurants were full. We had to wait at our chosen pizzeria, which gave me an opportunity to photograph the chef in action: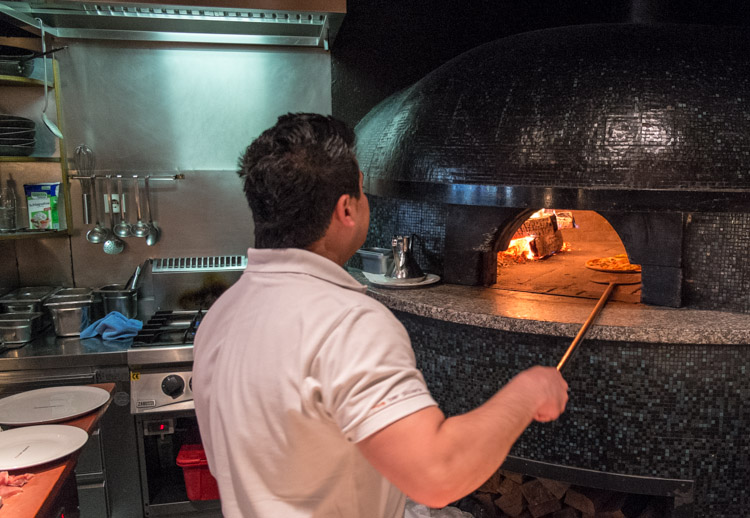 26_33
After dinner, my economist colleague went home, and I walked around the centre of Munich a little bit: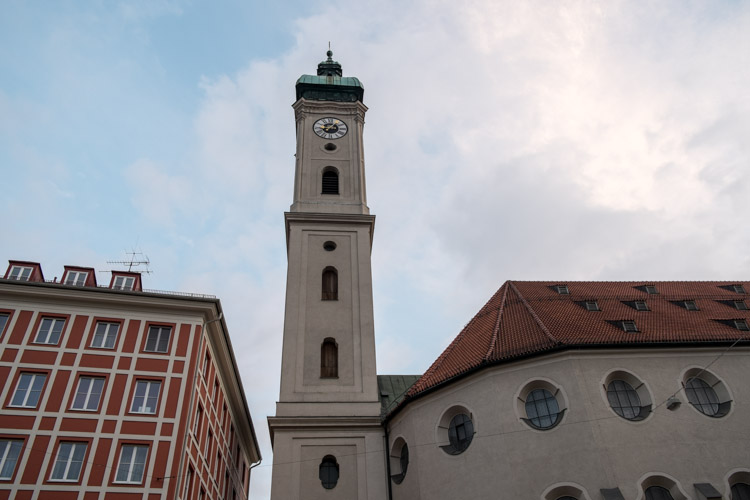 26_34
The gate leading to Marienplatz, Munich's central square: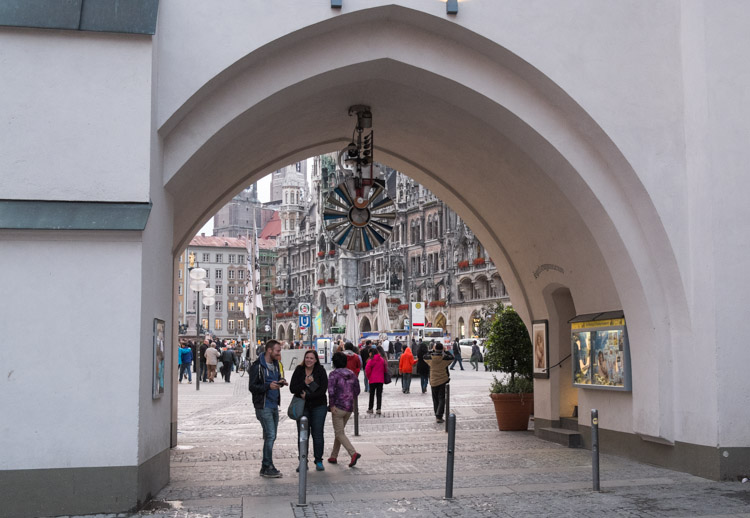 26_35
I have photographed this statue during previous visits to Munich. Usually, the poor girl has a can of beer or some such. This time, it was flowers: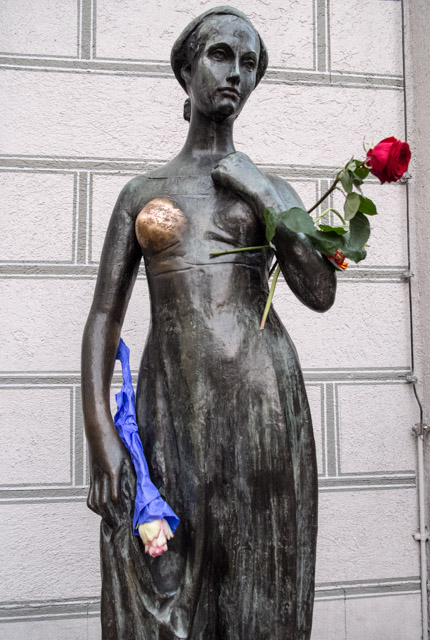 26_36
Bar entrance with tasteful (tasty?) decoration: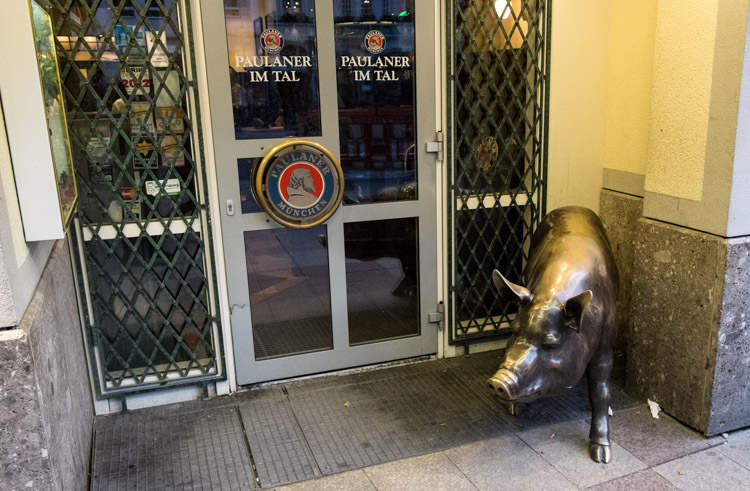 26_37
Shop window 1: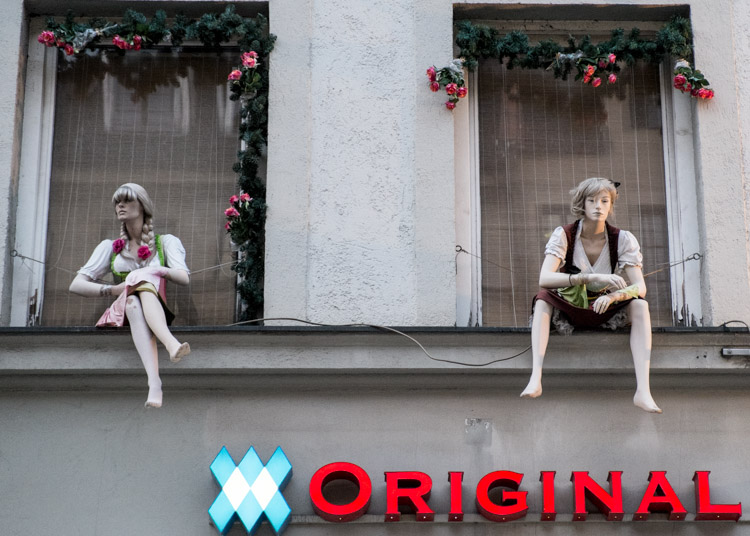 26_38
Shop window 2: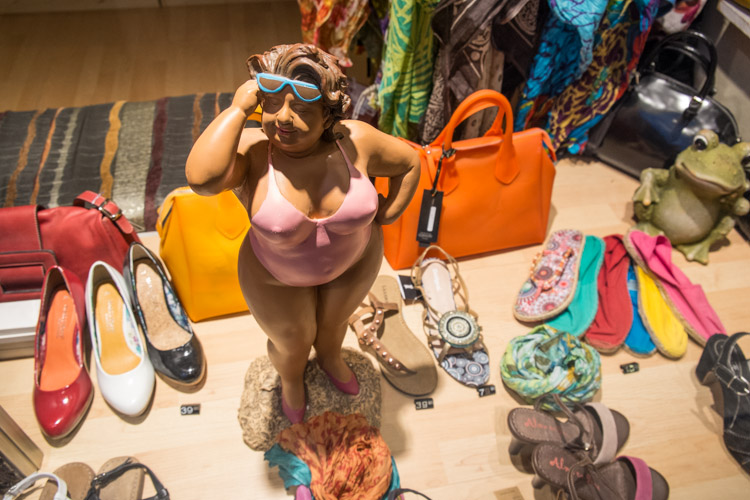 26_39
Back home in Alicante, on Saturday morning I took Cheeta to her hotel. The owner insisted on showing me his new facilities, a gym for the dogs: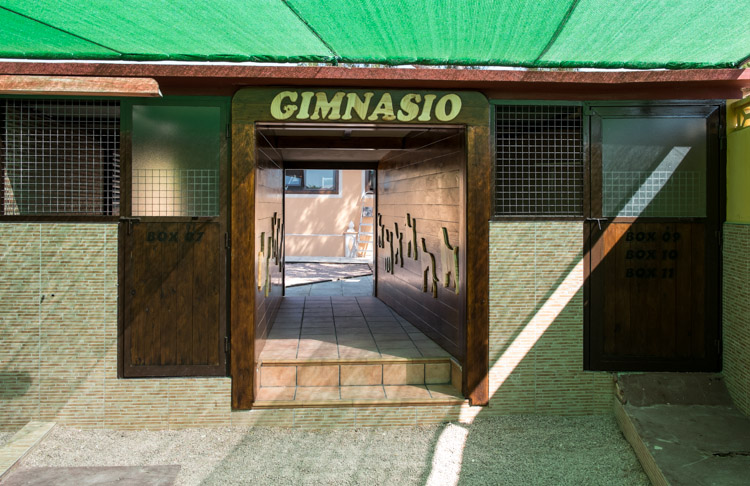 26_40
The exercise room: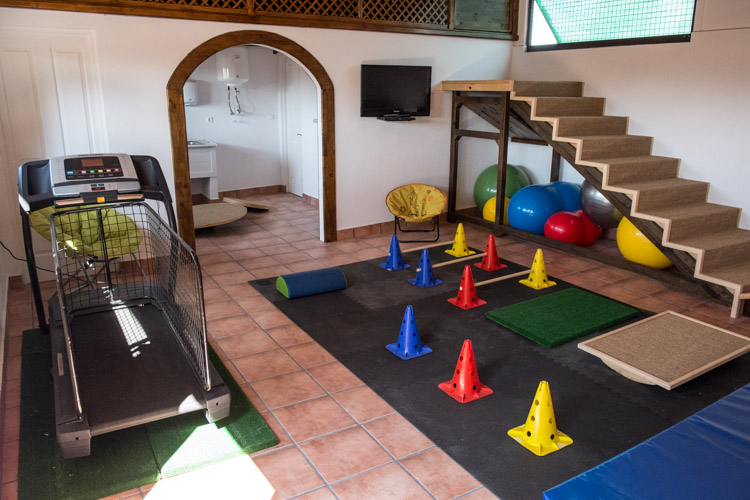 26_41
And Cheeta's favourite, the doggie jacuzzi: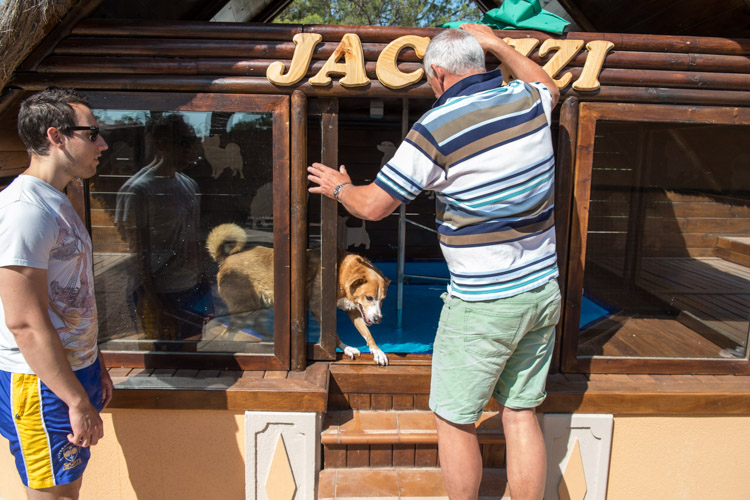 26_42
Back in the house, my son was still studying, even though he was graduating the following Tuesday–not for any exam, but for an online course he is taking. He has taken the idea of lifelong learning to heart: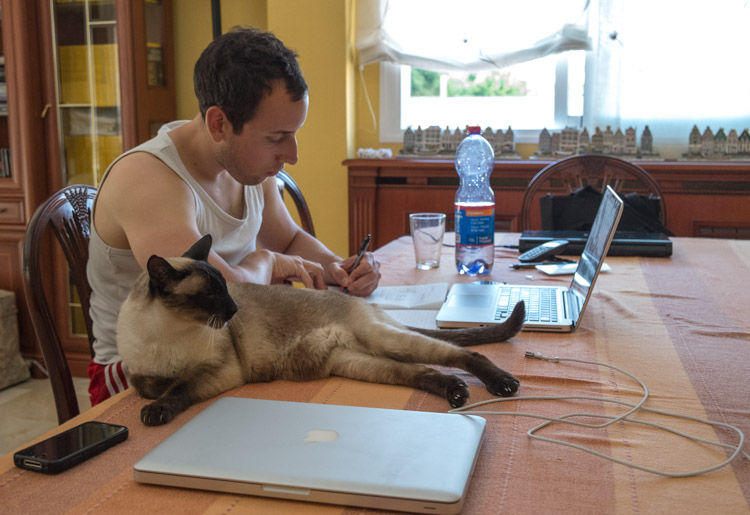 And so ended an eventful week. For more pictures of Jutland, have a look at my dedicated gallery. And if you are interested in the cycling aspect of the tour, have a look at the Crazy Guy on a Bike site.