On April 29th I flew from Paris to Washington, where I was part of the delegation from our office to the annual meeting of the International Trademark Association (INTA), one of our most important private stakeholders. The event was held at the Walter E. Washington Convention Center, and I stayed at the Capital Hilton, a good 20 minutes walk, which gave me an opportunity for a nice walk every morning and back in the afternoon. During the day I would be at the conference (we do not travel to such events just to hang around, we participated actively), but with one exception, I had the evenings available for a bit of exploration. And I had something to look forward to: after the INTA meeting would finish a few days later, I was going up to New York to spend a few days with my son across the river in New Jersey.
18_1
I arrived at my hotel in Washington late, so no photos from that first evening. But on Saturday morning it was time to walk to the convention center. On a street corner I noticed a small memorial: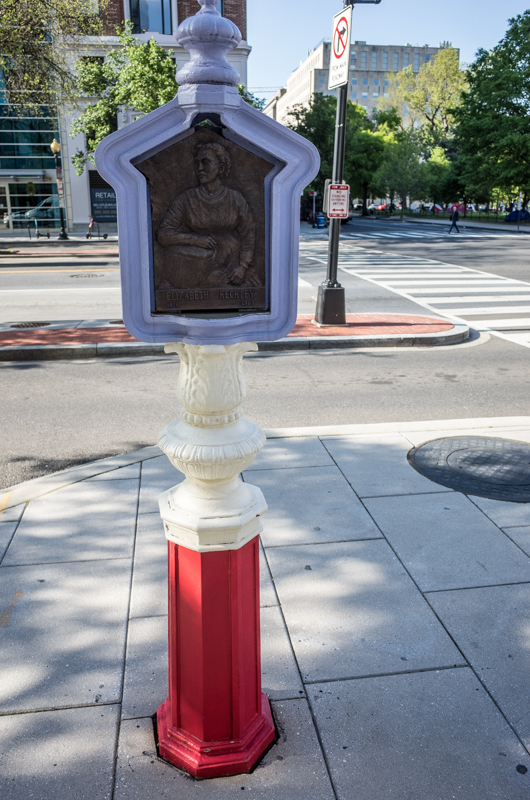 18_2
The explanation on the back. I saw several such memorials elsewhere in the city; I find it a very attractive addition to the urban landscape: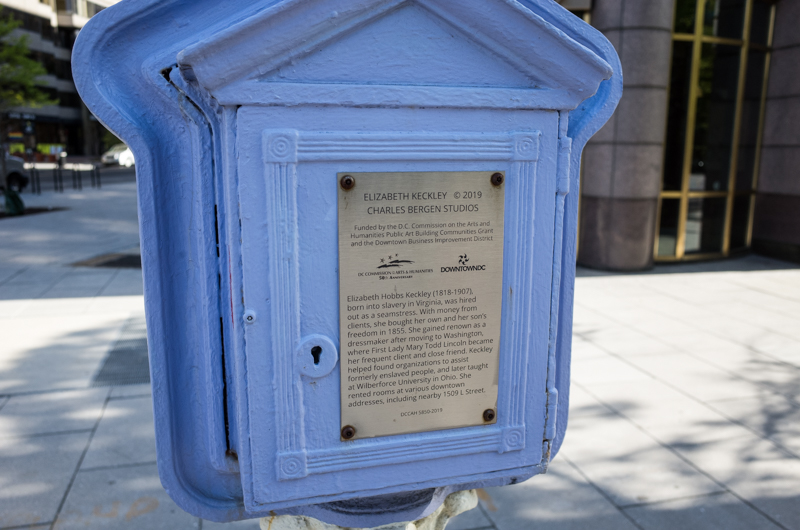 18_3
Arriving at the Convention Center. I actually did not find it particularly attractive, neither outside nor inside: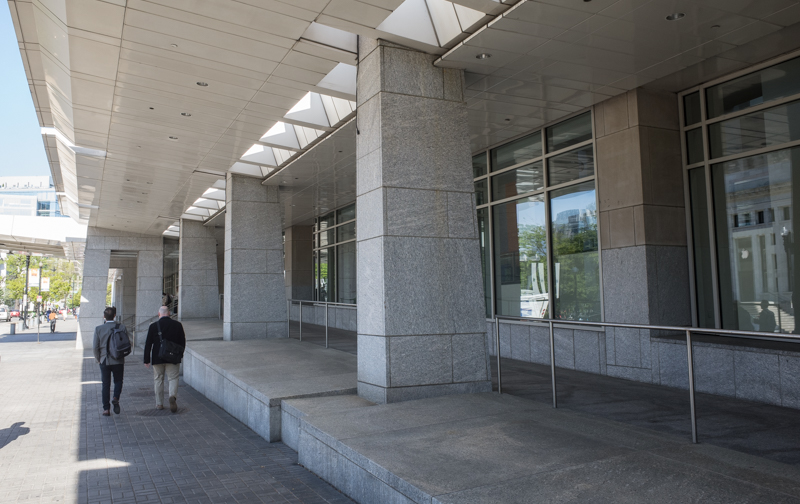 18_4
I noticed this strange structure inside the convention center. Coming from a country where it is normal for women to breastfeed in public, I find it an expression of the traditional American puritanism that women have to hide away in little sheds like this to feed their babies: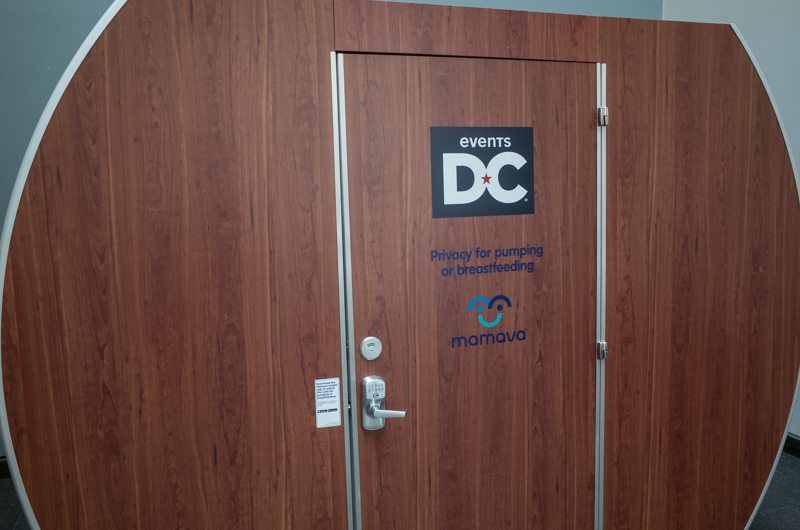 18_5
On my way back to the hotel in the afternoon I saw the first of many homeless encampments in Washington. It seems that every available lawn or stretch of sidewalk would be used in this way: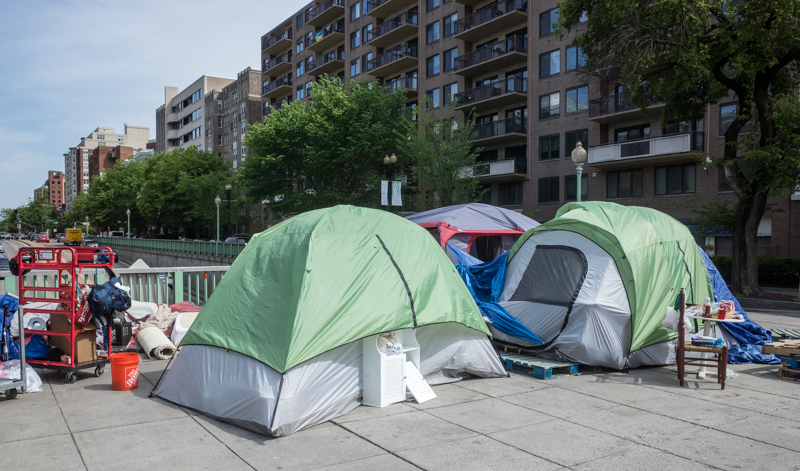 18_6
Back at the hotel, the usual business trip routine–change into comfortable clothes and venture out. My son knows Washington very well, and he had recommended an Indian restaurant called Rasika. I went there for dinner, and I did not regret it. The food was probably the best food I enjoyed during the entire US trip, and it was completely different from any other Indian restaurant experience that I have ever had. And it looked great too. This is one of my starters, Tawa Baingan (Eggplant, spiced potato, olive oil, peanut sauce):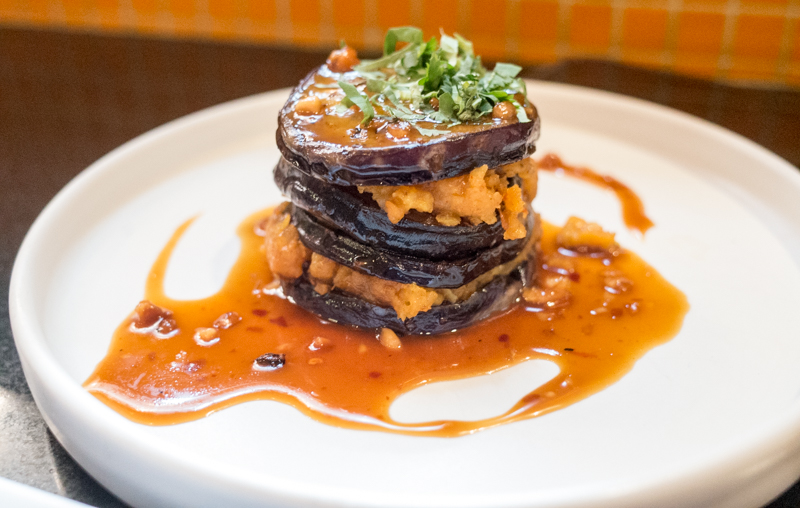 18_7
Then my main dish, duck vindaloo. I am used to lamb or chicken vindaloo, but this was the first time I had duck in an Indian restaurant: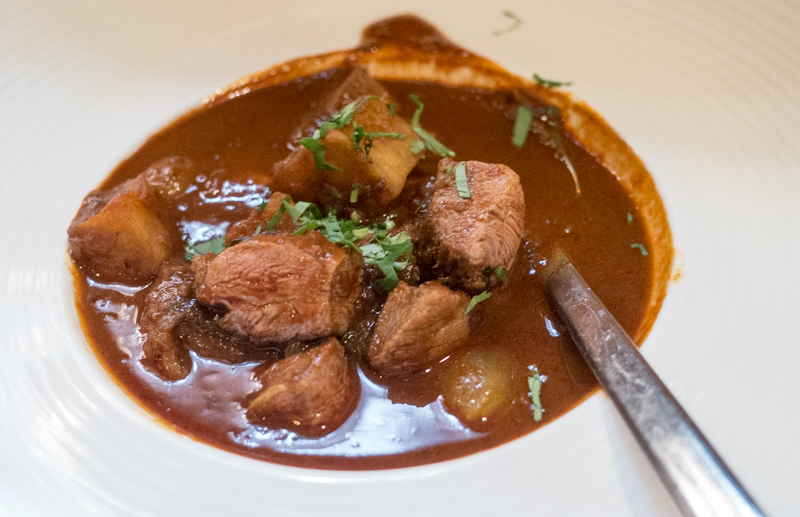 18_8
And a side dish called Bhindi Amchoor (sliced okra with dry mango powder). I like cooking okra when I make Indian food at home but it is difficult to find in Alicante, so this was a nice treat: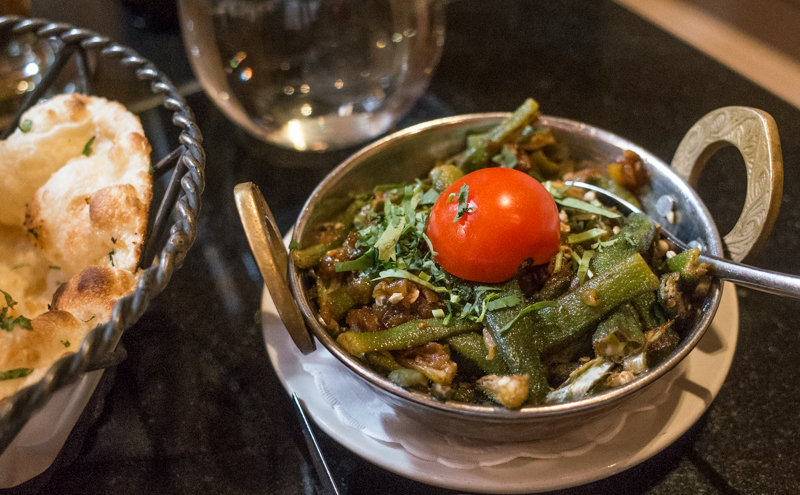 18_9
After dinner I walked down to the National Mall to take in the classic sights: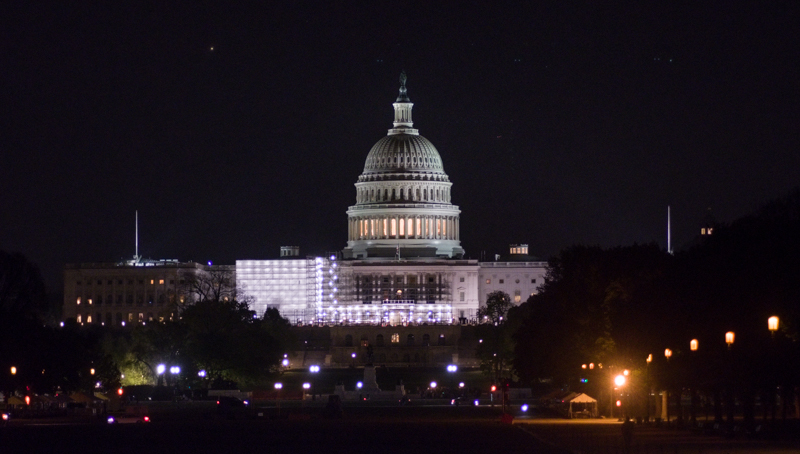 18_10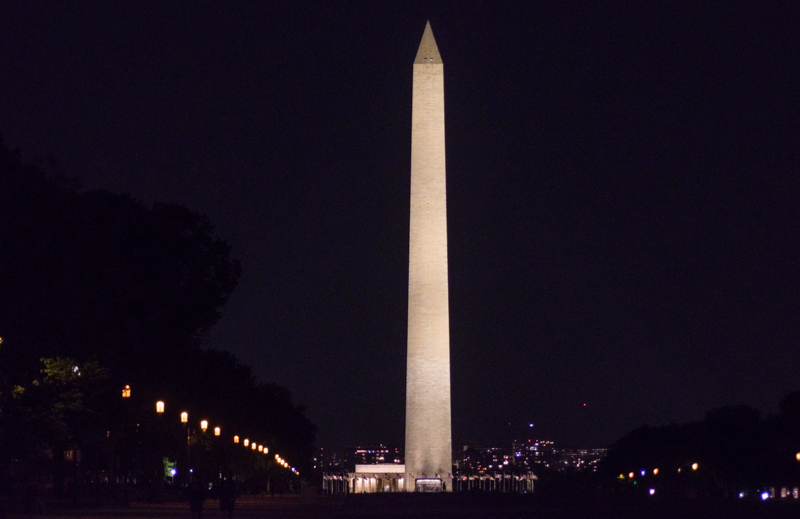 18_11
I had some free time on Sunday morning which I used to visit the US Holocaust Memorial Museum. This is a place I have visited several times, so I tend to focus on the places that are emotive for me, like this room with faces from a single town. One stands there, looking at these people, thinking about what they might have accomplished had they been allowed to live: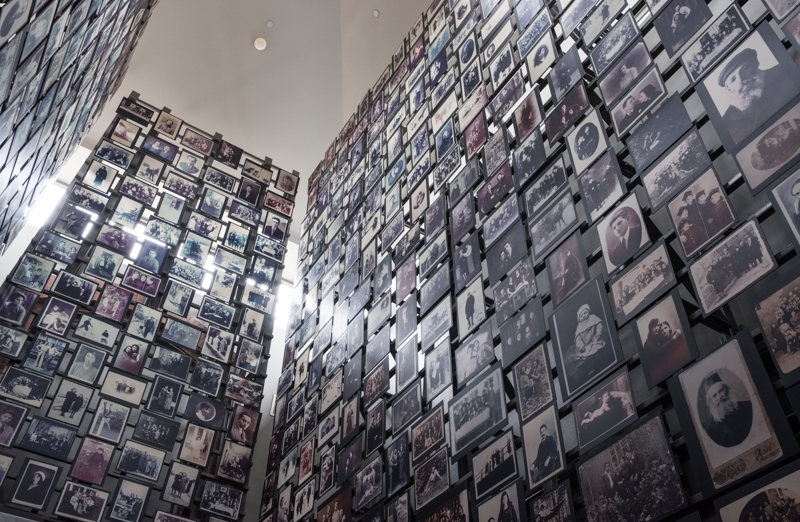 18_12
In this room, I am always moved with pride and affection for my country. This is an actual Danish fishing boat, used to save Danish Jews in 1943 by smuggling them across the Øresund to neutral Sweden: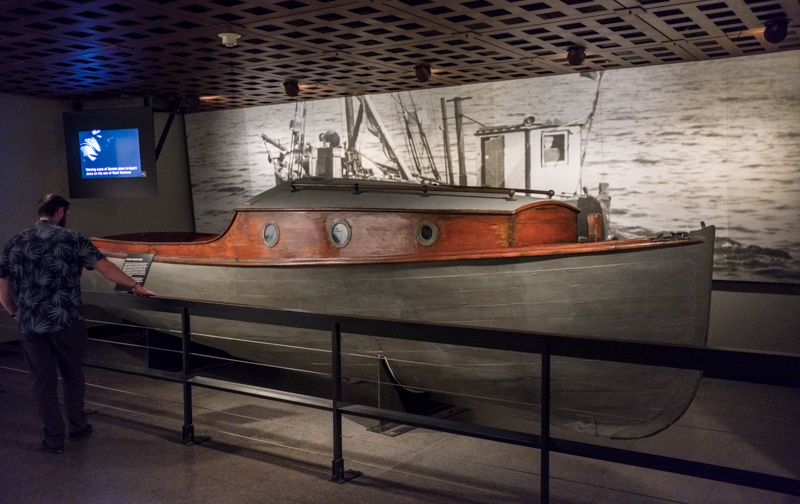 18_13
Later on Sunday, back at the convention center, I walked around a bit in the large exhibition hall. The exhibitors are intellectual property consultancies and law firms, publishers, and providers of various related services: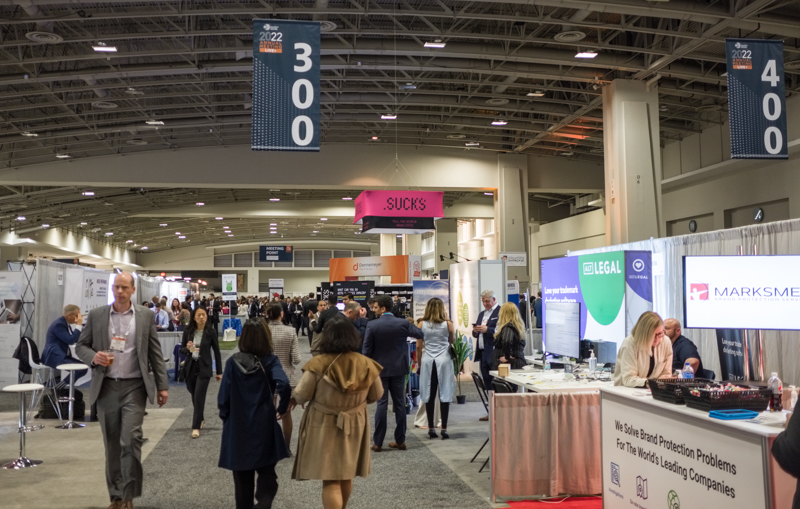 18_14
One of the signs caught my eye: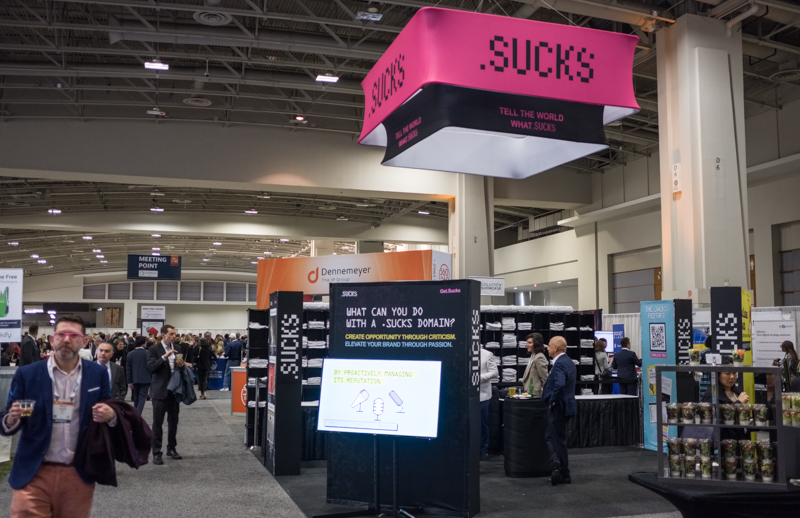 18_15
This company owns one of the new top-level domains, .SUCKS, and markets subdomains of it (for example, RUSSIA.SUCKS is available for the premium price of $1999):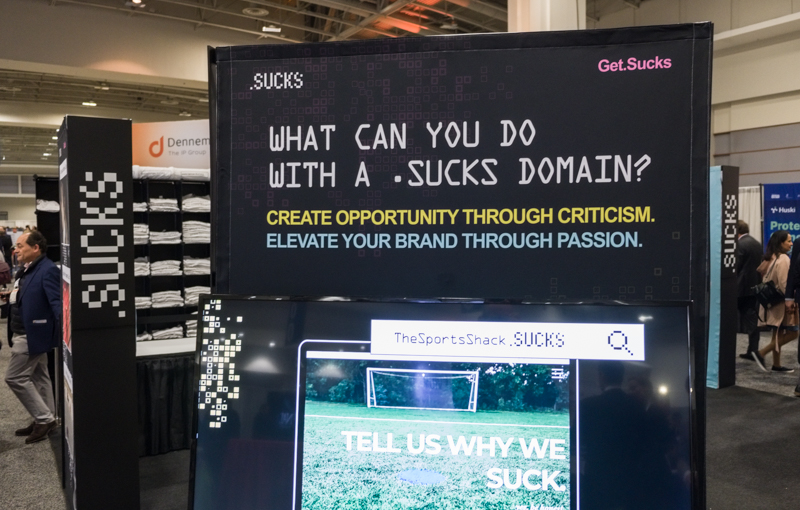 18_16
I had a brief chat with the representative of .SUCKS: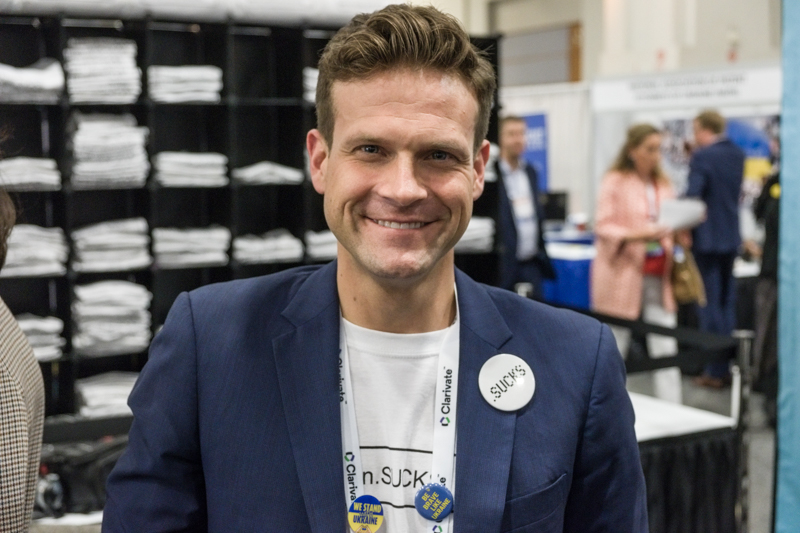 18_17
The war is ever present, it was nice to see the Ukrainians here: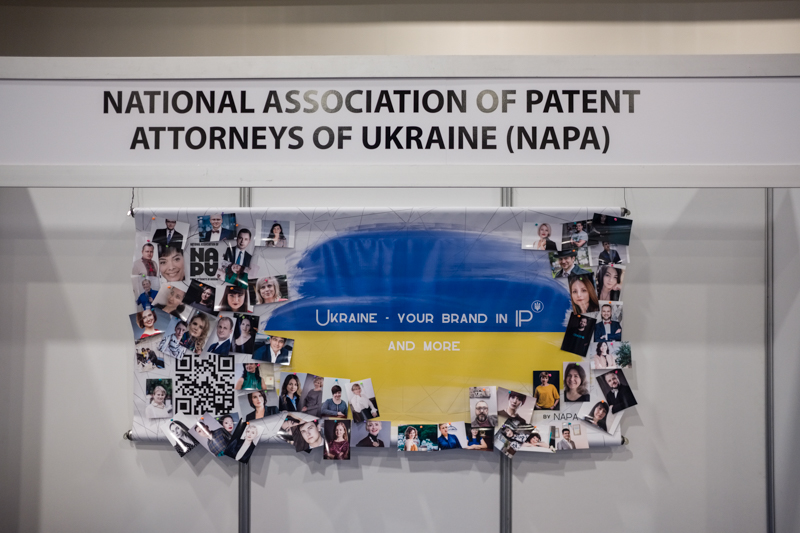 18_18
On Monday morning I spoke at an anti-counterfeiting workshop. As I often do on such occasions, I took a photo of my audience (for such photos, I use the tiny and unobtrusive Ricoh GR):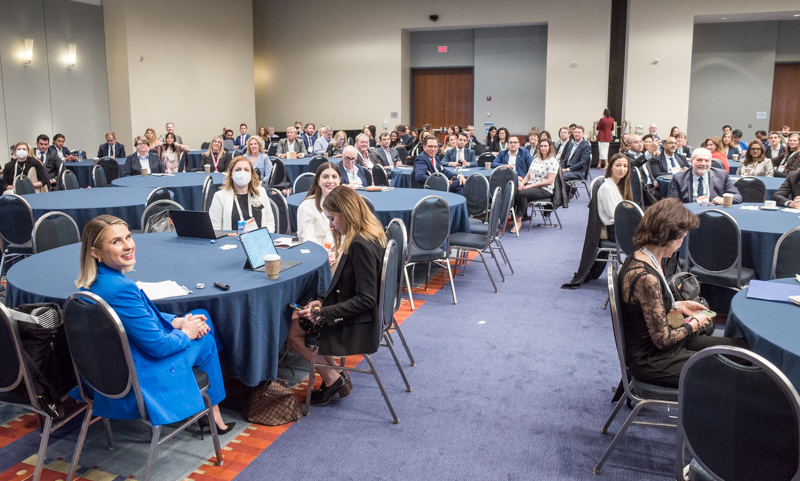 18_19
I walked for lunch to another place recommended by my son, Founding Farmers near the World Bank. On the way, I passed the International Monetary Fund and I loved the sight of this little buy playing along the wall: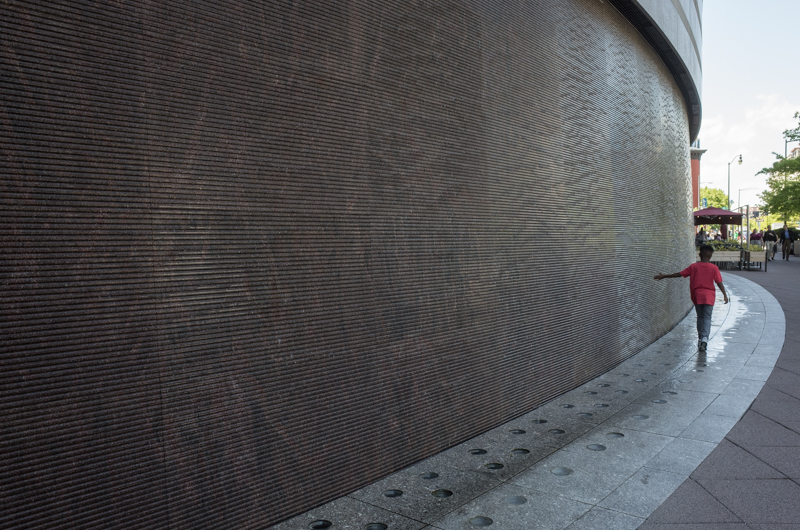 18_20
There are many nice features of the urban landscape in NW Washington: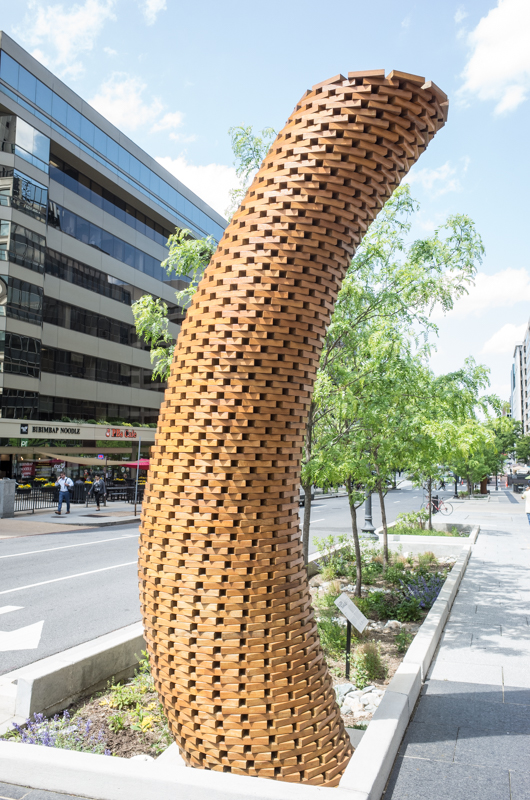 18_21
Versions of these signs were everywhere. It would be good if the idea were more reflected in actual policies: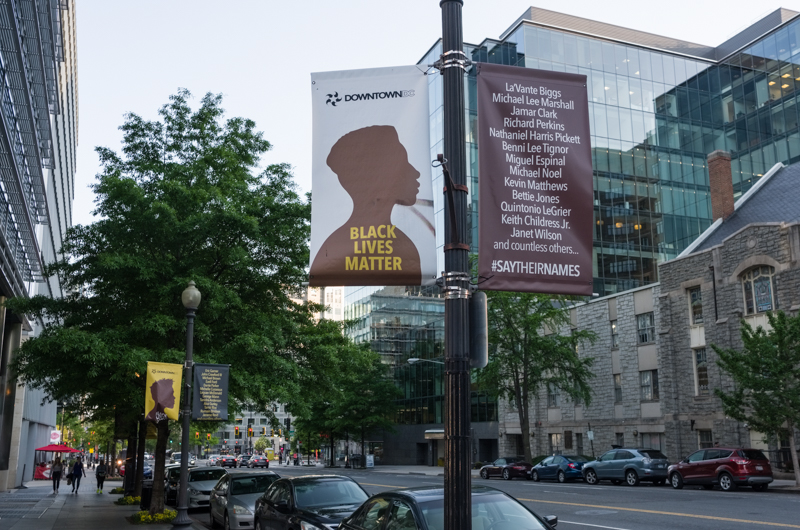 18_22
Tuesday was my last day at the INTA annual meeting. I had a side meeting in the morning, but afterwards I had several hours free before the afternoon train to New York. So I walked back to the hotel, stopping to photograph this group of office workers taking a break: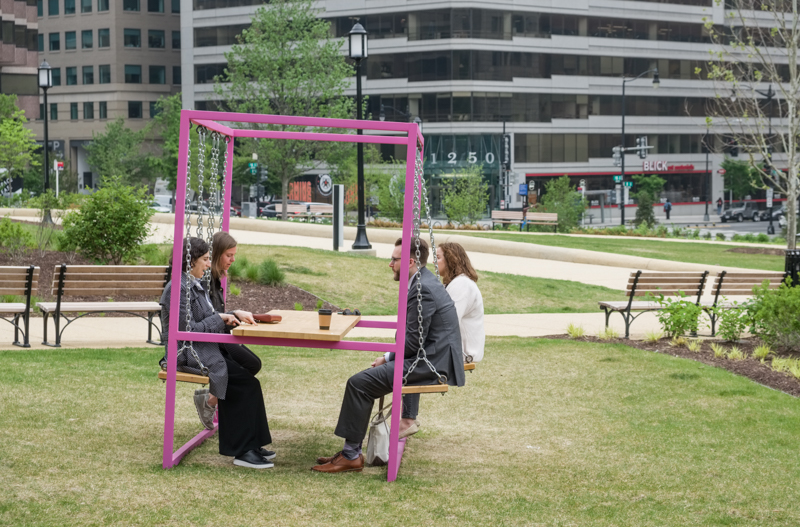 18_23
After changing at the hotel, I took the metro to Georgetown and walked around for a couple of hours. I passed by the C&O Canal: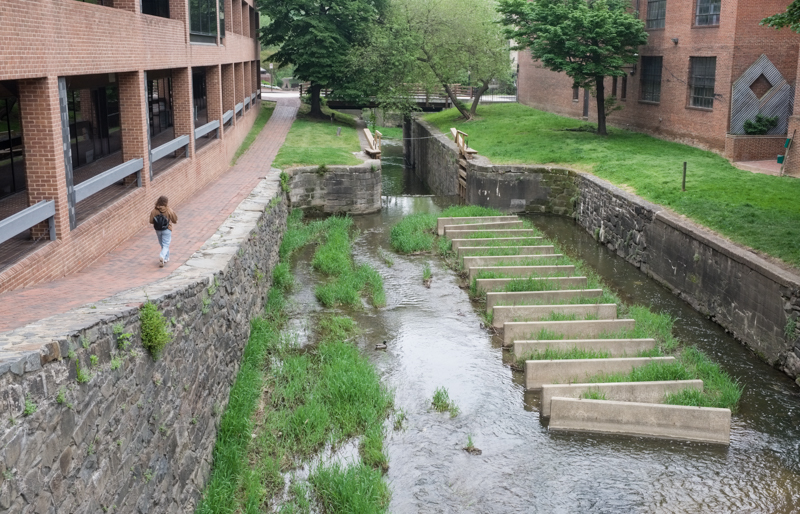 18_24
The Potomac river and the Francis Scott Key Bridge:

18_25
Georgetown seems like a nice, progressive place: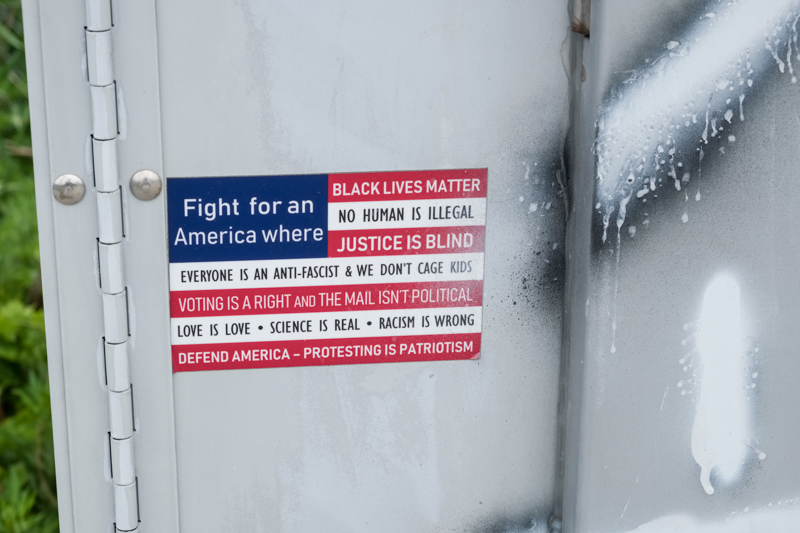 18_26
Urban fauna: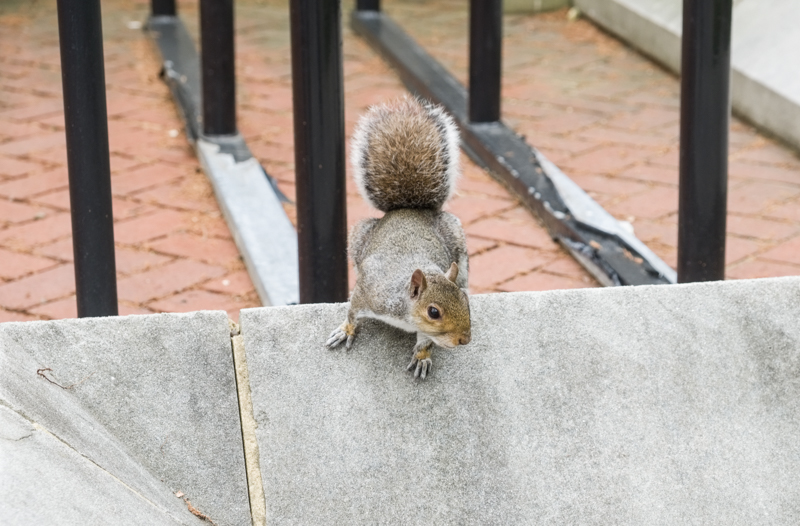 18_27
My last stop in Washington, the Union Station: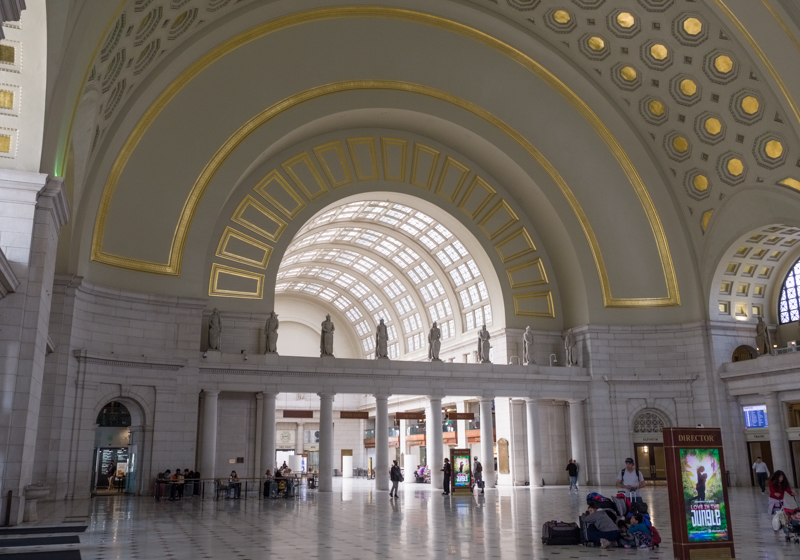 18_28
The Amtrak service to New York takes about 3 hours, slow by European standards, but pleasant enough and certainly the most civilised way to travel. My son picked me up at Penn Station in Manhattan and a bit later I enjoyed being in his apartment together with my daughter-in-law Myrela and the pets. Here, Euclid the Samoyed is getting a bit of grooming: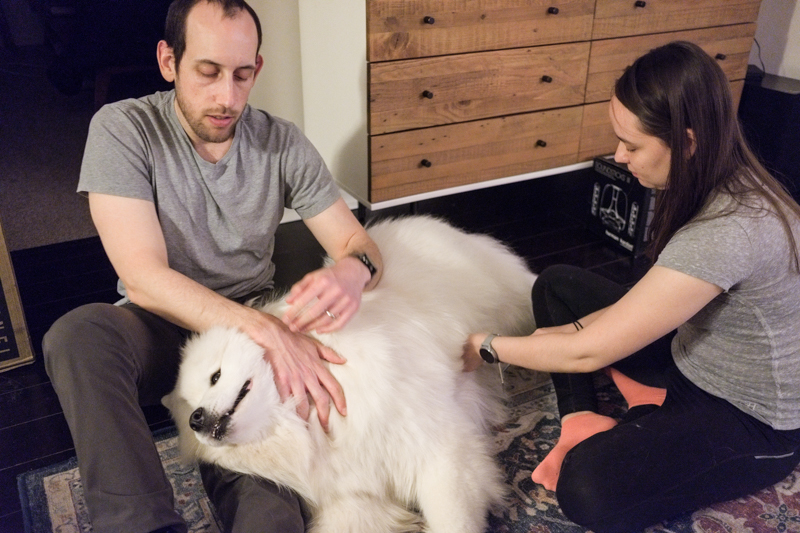 18_29
My son lives in Weehawken, NJ, in a place called Lincoln Harbor, just across the Hudson river from midtown Manhattan. I stayed in a hotel 5 minutes walk from his place. He is currently doing his MBA at Columbia University, and this week he had exams, so he had to leave early. I would get up leisurely, go the gym at the hotel, and then make way to Manhattan on the ferry. On Wednesday morning things were a bit hazy: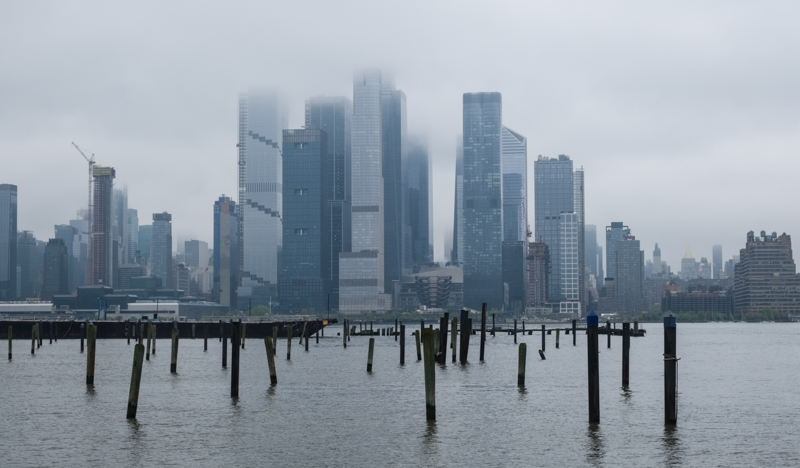 18_30
I always look for interesting advertisements and murals, and New York offers plenty of those:

18_31
New services are available: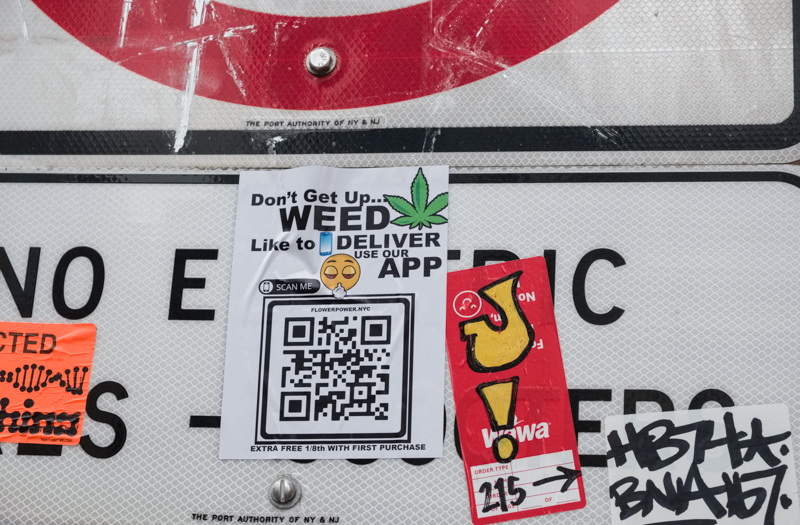 18_32
I spent the evening with Moses and Myrela and the two pets–besides Euclid, there is also Watson, a cat they initially fostered during the early stages of the pandemic and ended up keeping permanently. He is a wonderful kitty who spent his first 5 years in the shelter until my son gave him a forever home: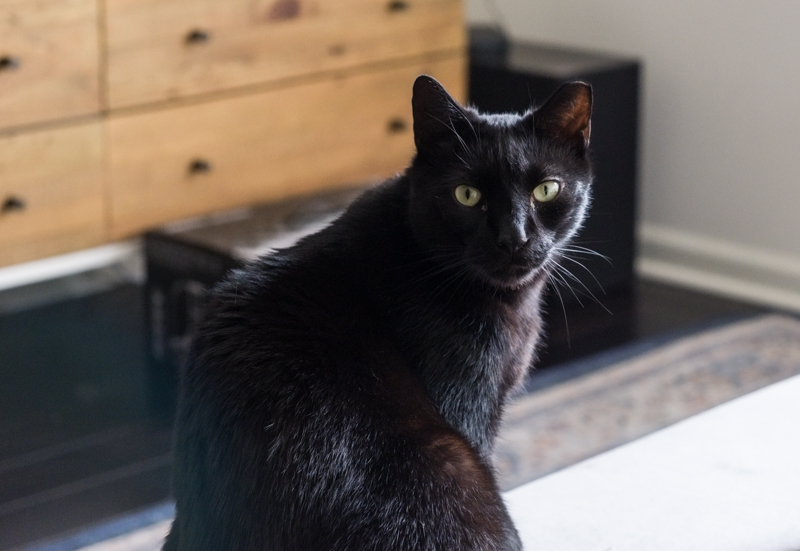 18_33
More pet bliss: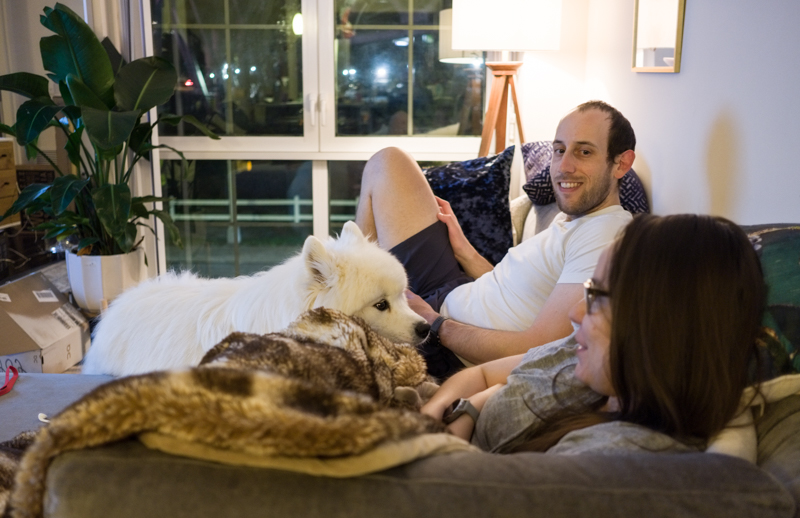 18_34
On Thursday morning I woke up to nice sunshine. My first port of call was the B&H photo store where I needed to buy a $4 lens cap for one of my lenses, and of course to look around and drool a bit. On the way there, I passed this mother and child at a playground: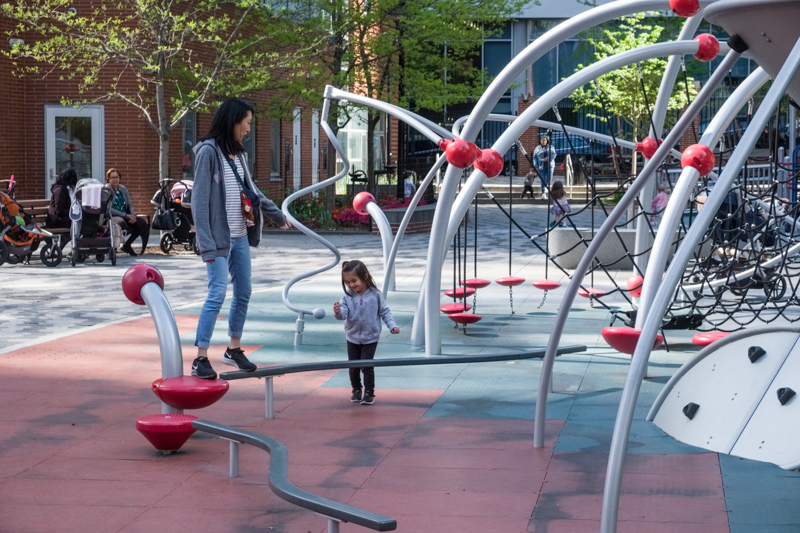 18_35
Then the subway uptown to meet my son at Columbia. He was walking out with another MBA student just as I arrived: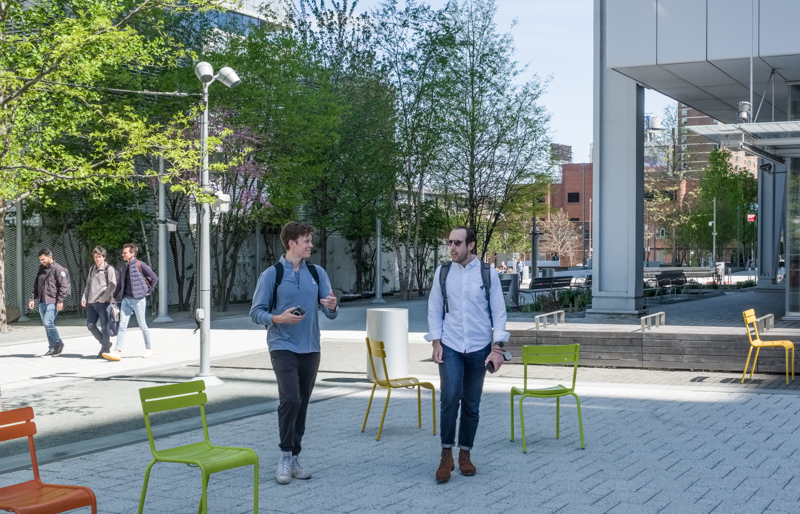 18_36
I have visited New York City many times since my first visit as a 17-year old, especially during the 5 years we lived in New Jersey. So I have seen much of the city. But on this day, my son took me to a place I had never visited before, Roosevelt Island. Quite an amazing place, and to see geese grazing with Manhattan in the background is an experience: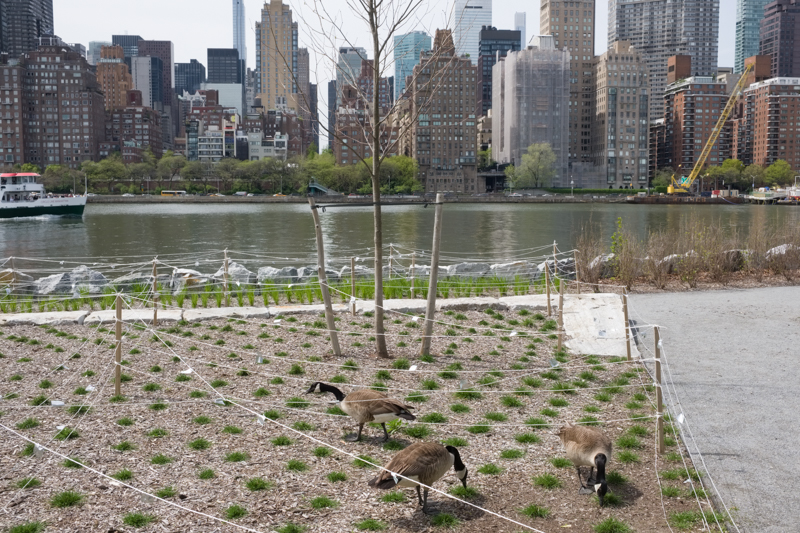 18_37
The geese live in and around an animal shelter, the Wildlife Freedom Foundation. Most of the "wildlife" consists of cats, it is a lovely place: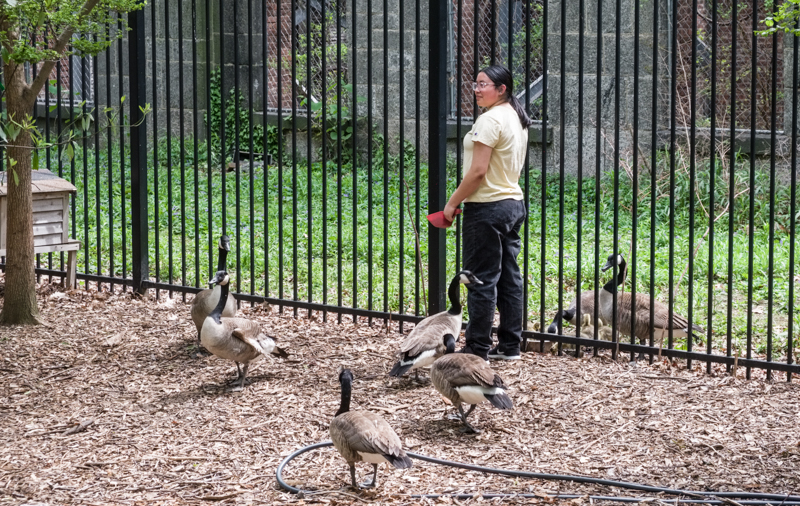 18_38
I enjoyed seeing the cherry trees in bloom, especially with the Queensboro Bridge and Manhattan as the background: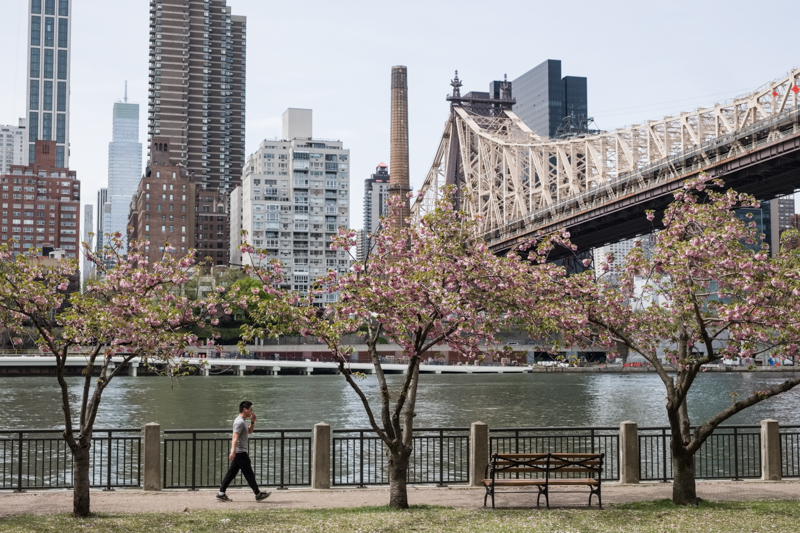 18_39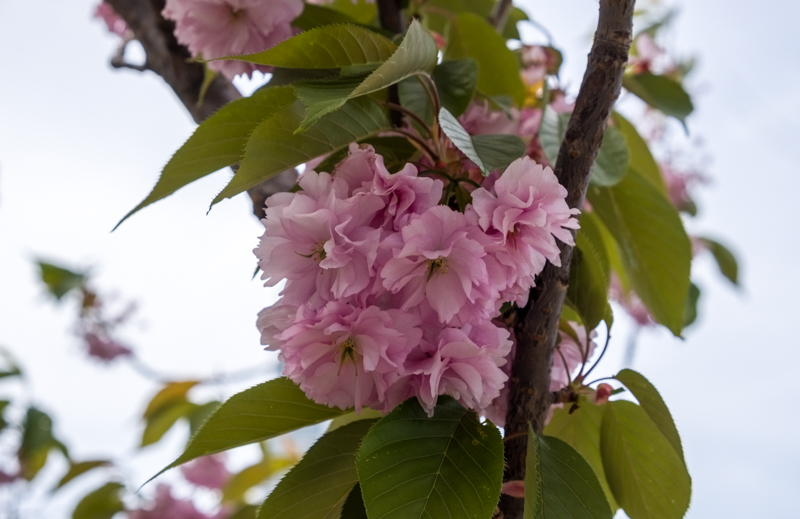 18_40
Thursday night, while walking back to the hotel from Moses and Myrela's apartment, I enjoyed this beautiful view of Manhattan, as I did every evening: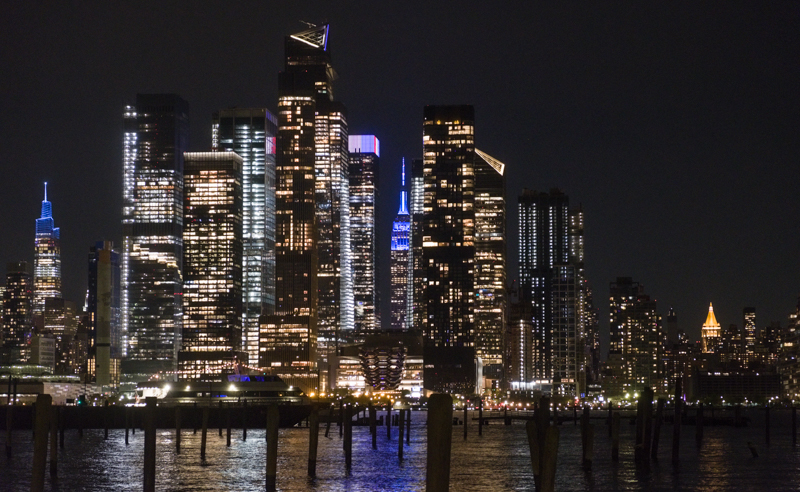 18_41
Friday was wet and nasty, just the right weather to spend considerable time inside the Strand bookstore, a true intellectual oasis in lower Manhattan. I ended up buying several books and a backpack to protect them from the rain: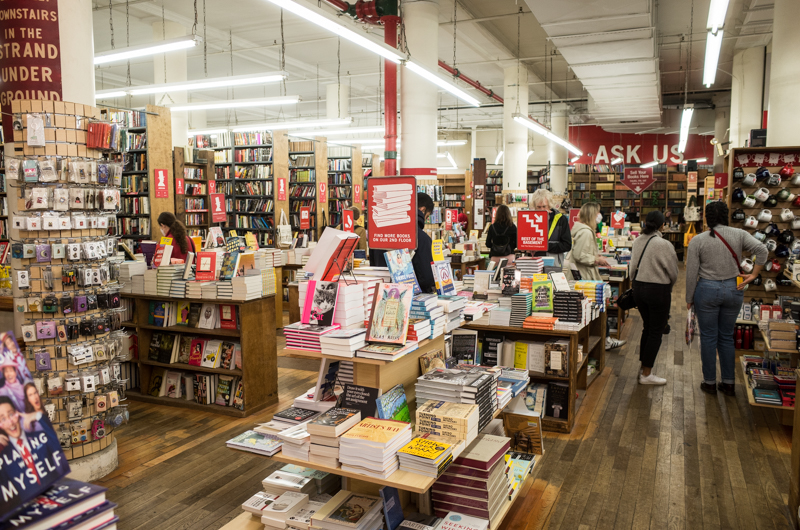 18_42
Later, I met up with Moses as usual, and we went to Chinatown: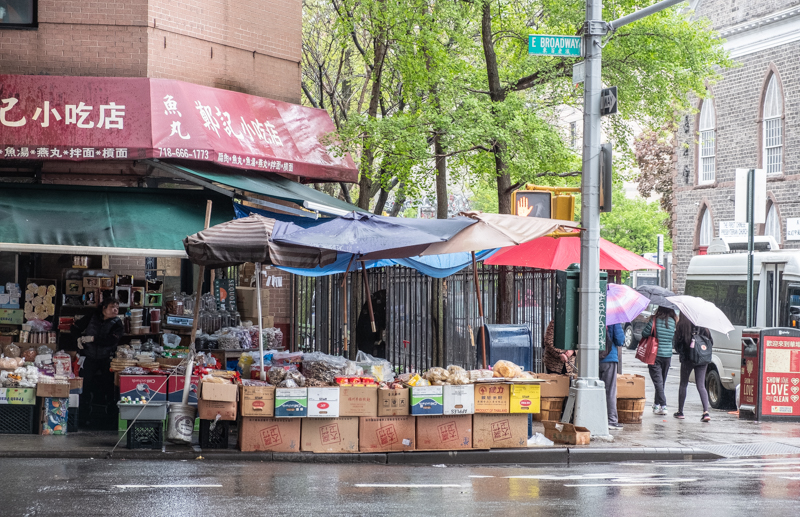 18_43
Moses had chosen a particular restaurant where we were going to have duck for lunch. Not something I would eat every day, but a nice treat on this occasion: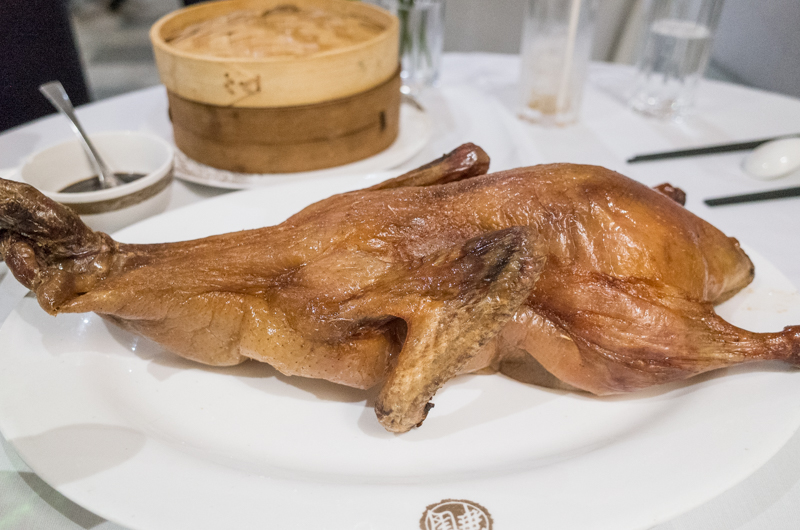 18_44
On Saturday morning, some more photos of the pets. Euclid loves peanut butter: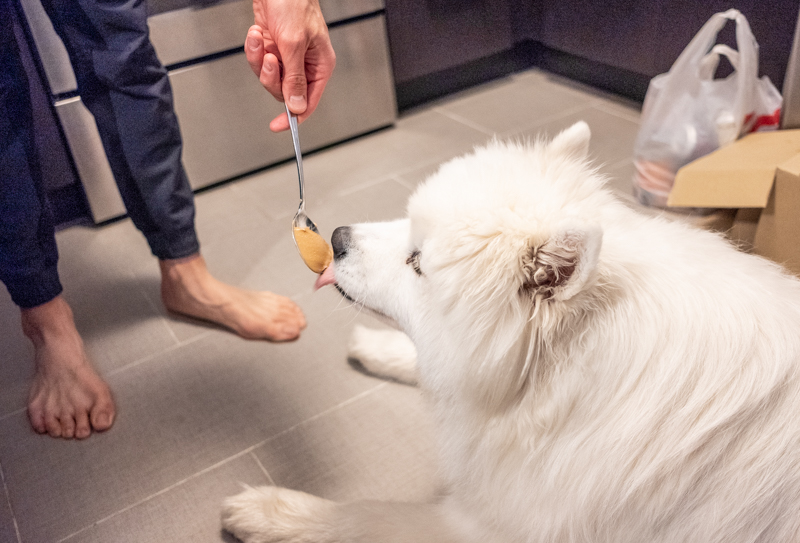 18_45
And Watson just loves his people: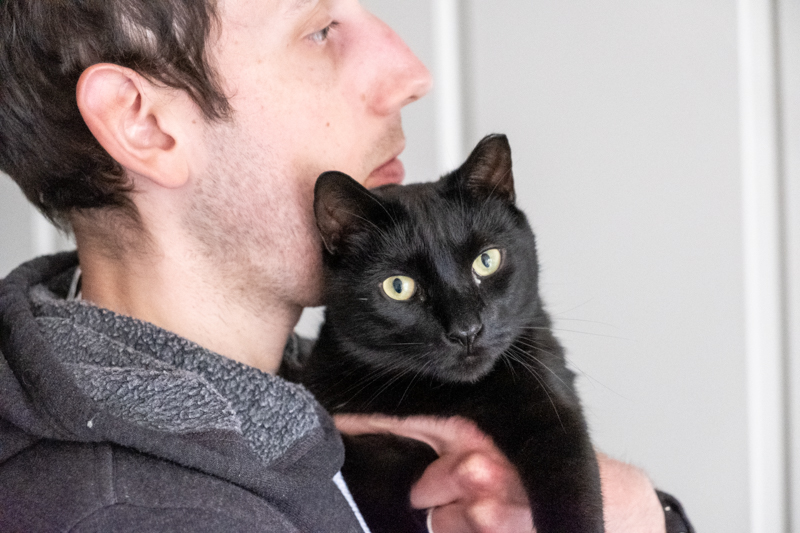 18_46
This was my last evening in New York, and Moses and Myrela wanted me to experience a good ramen place (when we visited in December, we had some ramen in Brooklyn which turned out a bit underwhelming). We went to a restaurant called Ippudo, on W 51st Street in Manhattan. I made this portrait of Moses and Myrela in awful light while we were waiting for our table: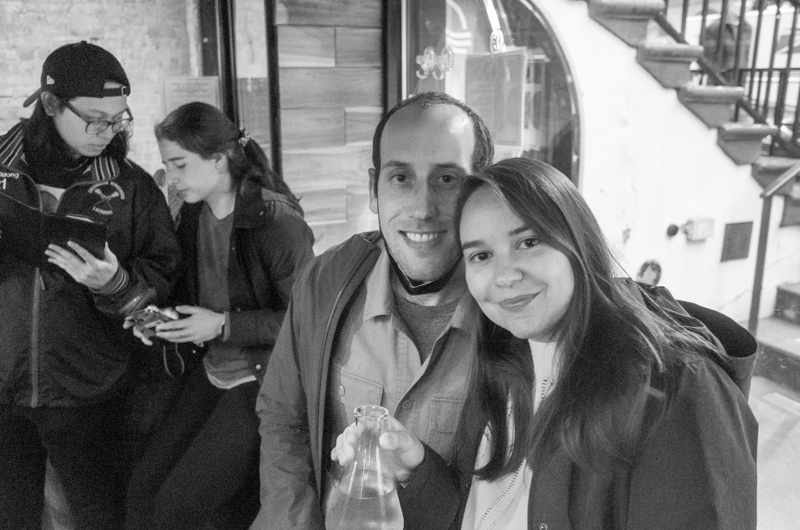 18_47
The ramen at Ippudo was indeed fantastic: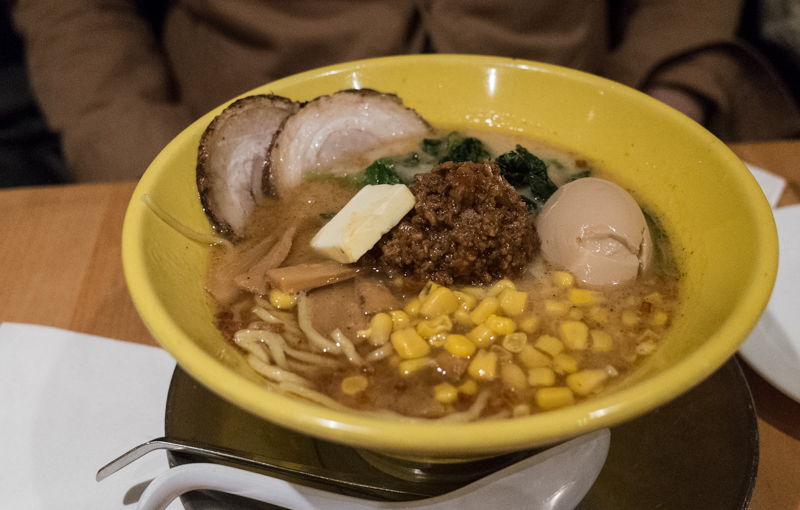 18_48
On Sunday morning, I walked over to the apartment early and accompanied Moses to the nearby dog park to give Euclid some exercise (a young Samoyed needs a lot of exercise!):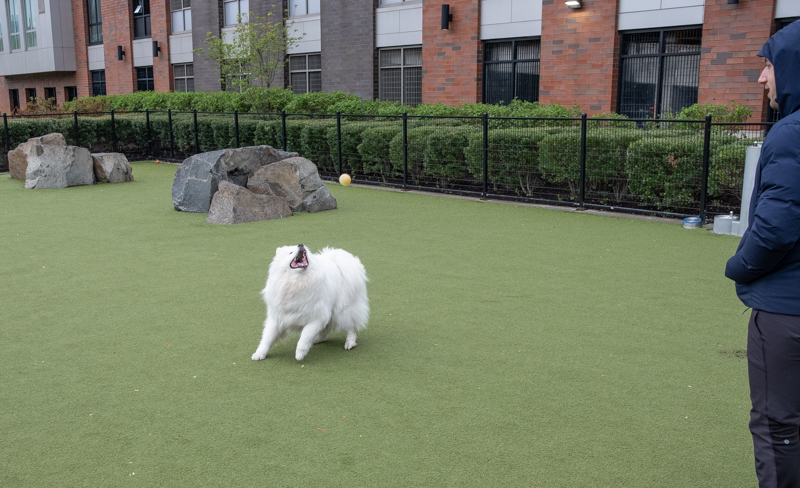 18_49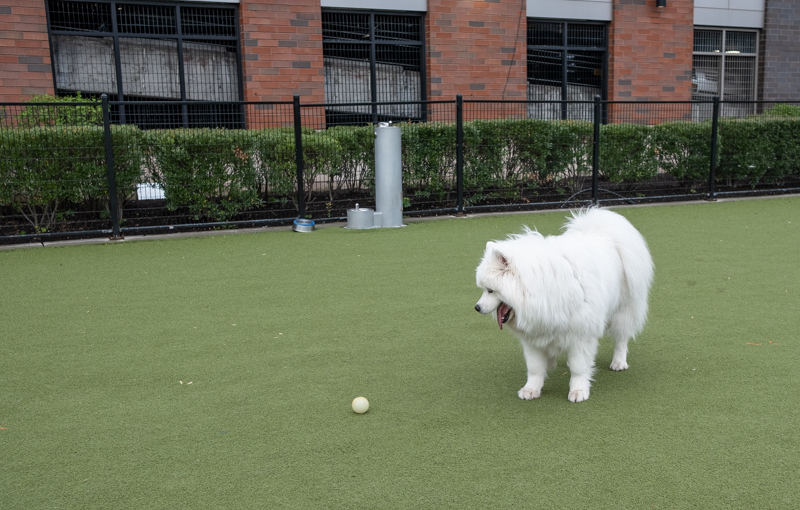 18_50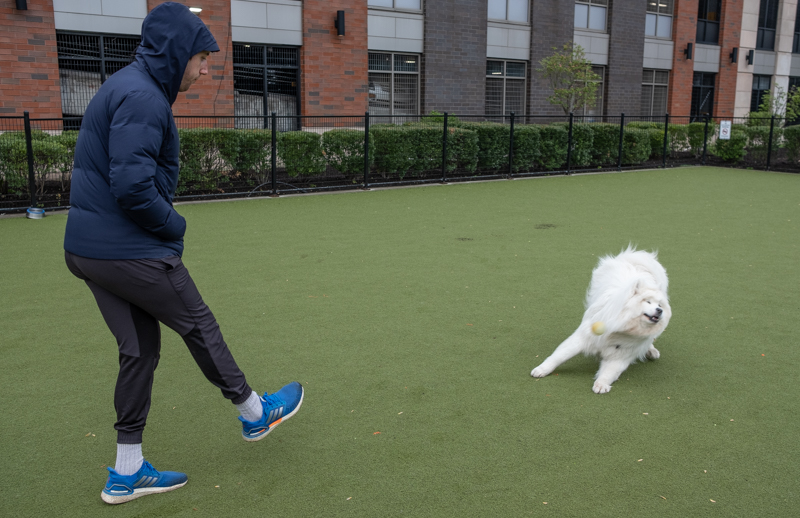 18_51
Many people in Moses's apartment complex have dogs, and the management of the building have placed a jar of dog treats in the entrance hall:

18_52
After each walk, Euclid gets a treat from the jar: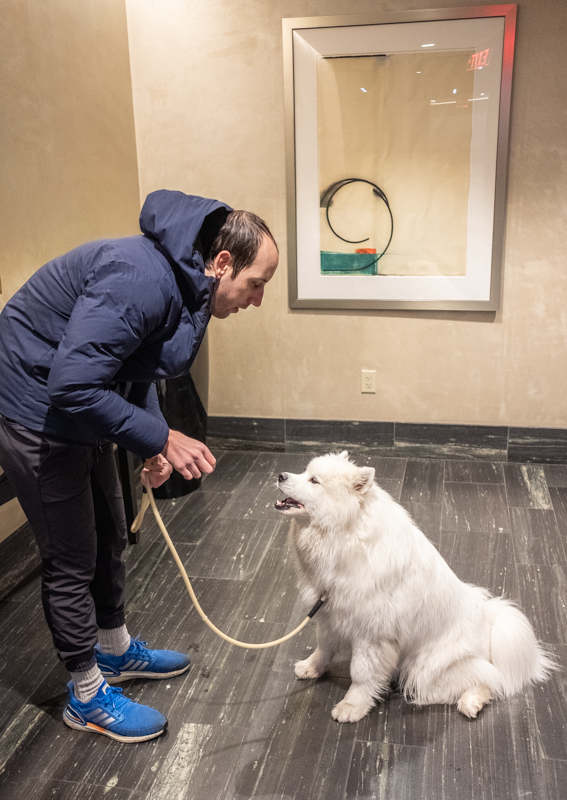 18_53
Later that morning, Moses and I went out to buy some stuff for lunch, and since it was Mother's Day, Moses picked up some flowers for his wife: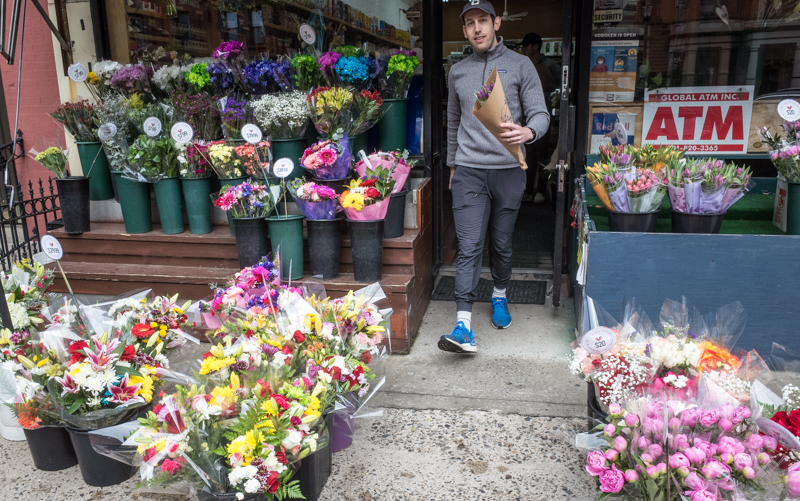 And this was the last photo I took during this visit. After lunch, Moses drove me to JFK and a few hours later I flew to Amsterdam and then home to Alicante.
My galleries from Washington and New York are here and here.