Last week I went to Denmark, as I do every April. The trip was delayed by a week by the Icelandic volcano ash that paralyzed air travel all over Europe, but on Sunday morning I was finally in Alicante airport, waiting for my flight to Copenhagen.
Main
One of my fellow passengers in the check-in queue: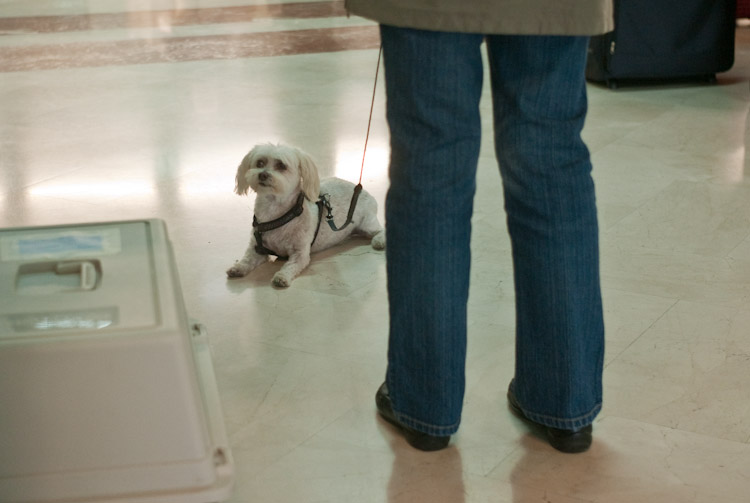 Alternates:
Alternate 1
That very evening, I went to have a beer in Nyhavn: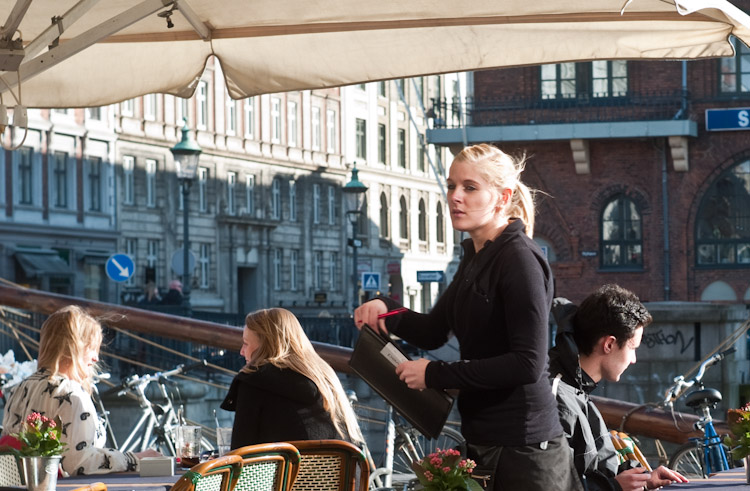 Alternate 2
Some people sit in the bars, others simply sit on the edge of the canal: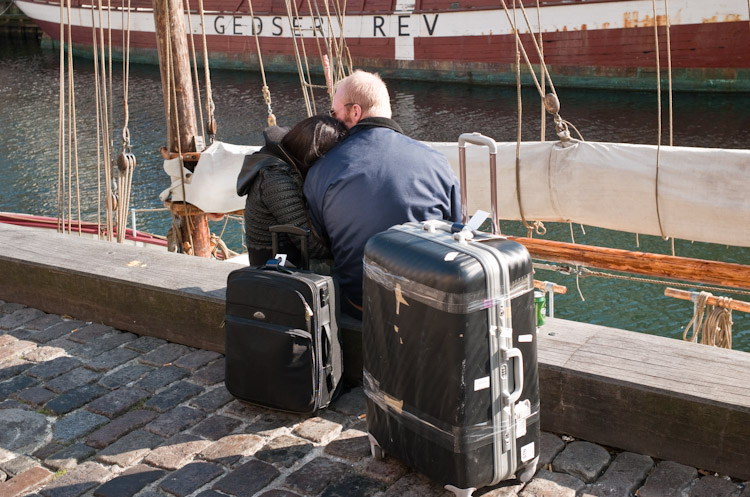 Alternate 3
When I am in Copenhagen, I always go to certain places that I used to visit with my late parents: certain restaurants, bars, and here, a lake in the suburb of Vallensbæk which I often visited with my mother, and where I sat on a bench with my sister, editing the speech I was going to give at my mother's funeral in April 2001: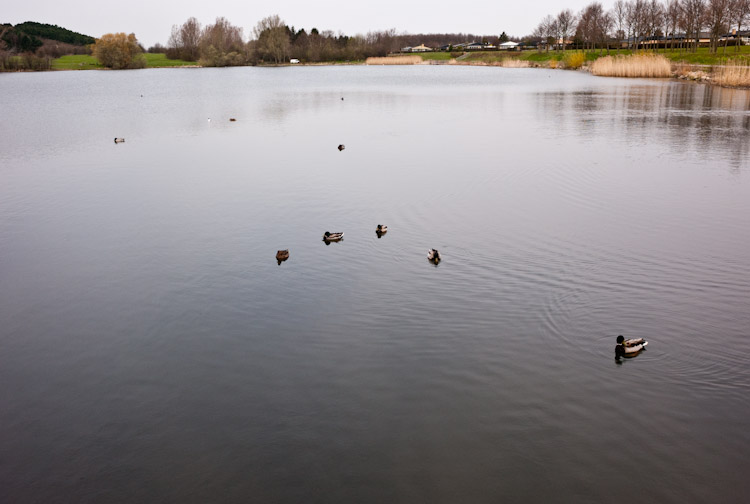 Alternate 4
Bicycle parking in the centre of Copenhagen: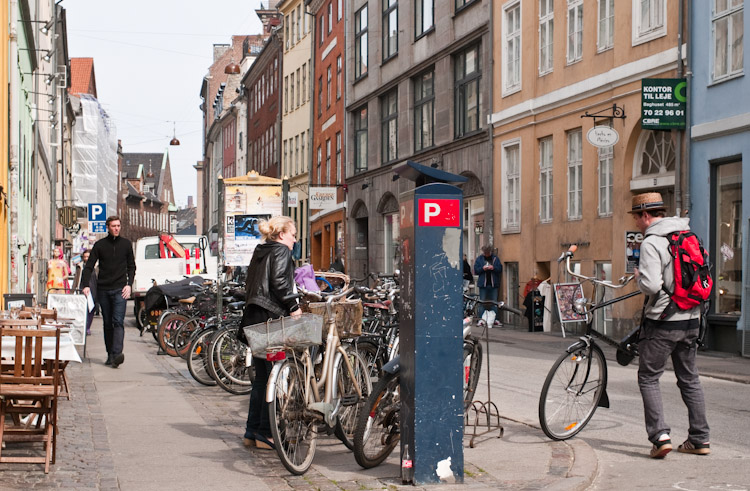 Alternate 5
Street parking is very difficult to find in the centre. But not if the car is electric: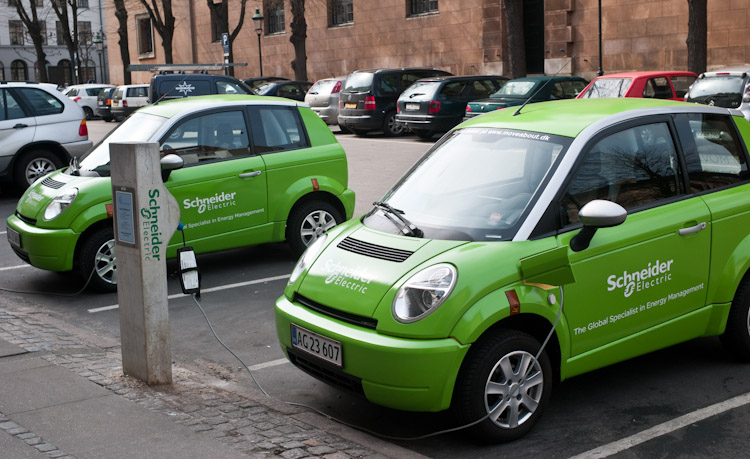 Alternate 6
Shopping in one of the small streets: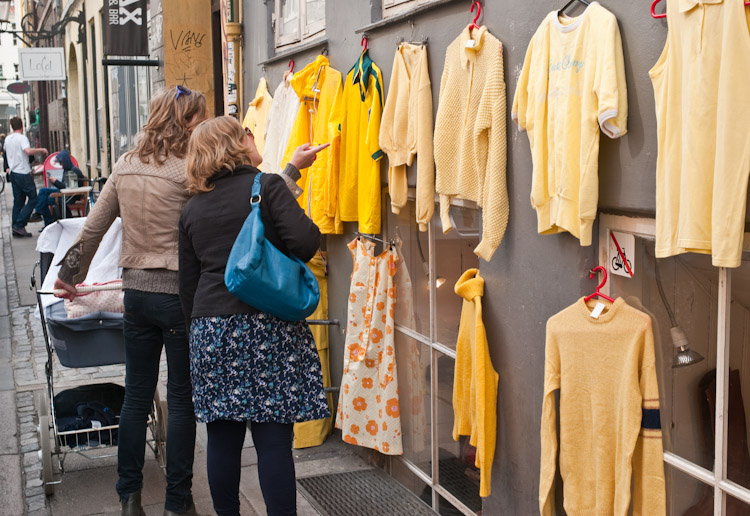 Alternate 7
Scandinavian lamp design:

Alternate 8
As always when I am in Copenhagen, visiting my parents' graves is an important part of the visit. My father is buried in the main Jewish cemetery in Copenhagen. One of the monuments that always impresses me there is this one. It is a memorial to the Danish Jews who died in the Holocaust. Of course, what is remarkable is that there were so few such victims that all their names fit on a relatively small stone–because the vast majority were saved by the Danes: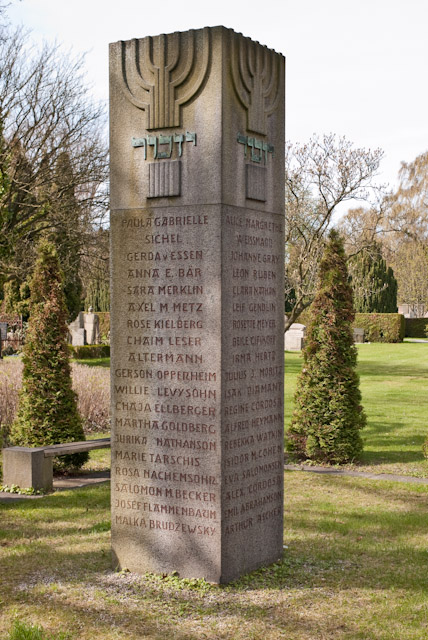 Alternate 9
The grave of Victor Borge. Actually, I had no idea he was buried at this particular cemetery, and the grave is a modest family grave. By coincidence, the hotel where I stayed is located in the building where Borge was born: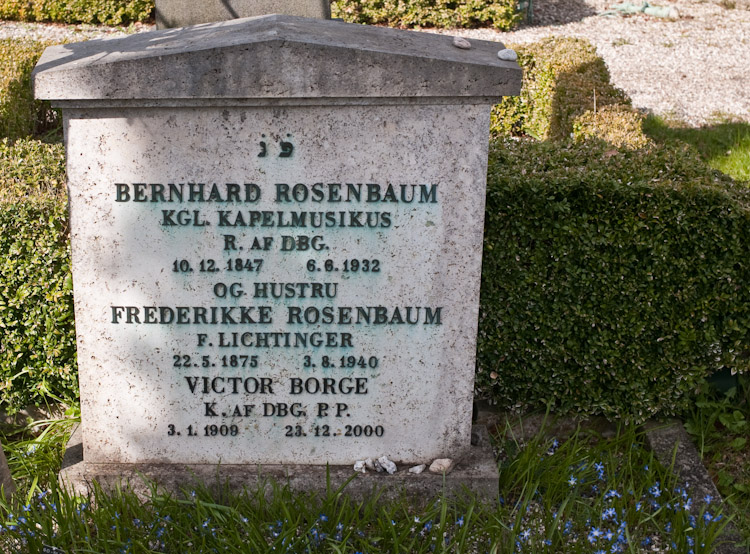 Alternate 10
The traditional Danish fast food is a sausage with a soft roll, sold from a "pølsevogn", literally "sausage wagon". Even though these days the country has plenty of McDonalds and other burger troughs, the pølsevogn lives on. This one is located on Axeltorv, close to Tivoli, and is owned by John Nielsen, chairman of a group on Facebook which promotes this particular Danish tradition: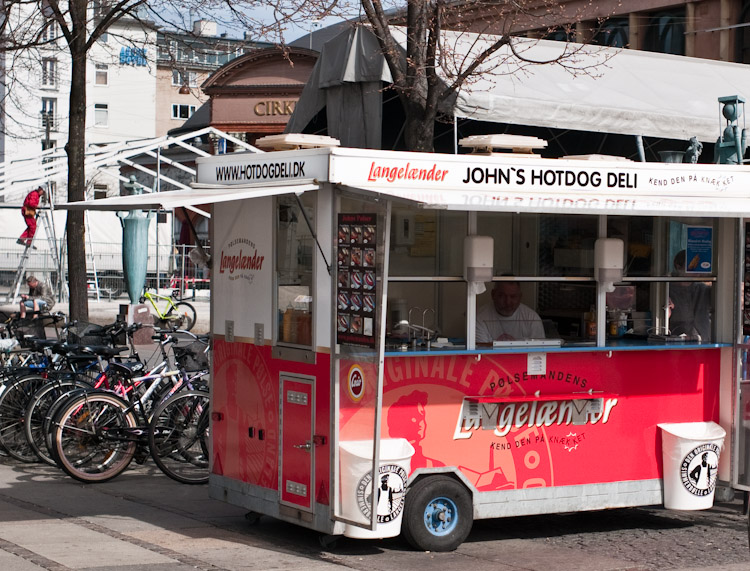 Alternate 11
John's hot dogs are delicious, and he is an interesting character. He used to work in England and Greenland, but then a back injury forced early retirement. Not content with just sitting at home, John decided to go into the sausage business, and he is very happy with his current life: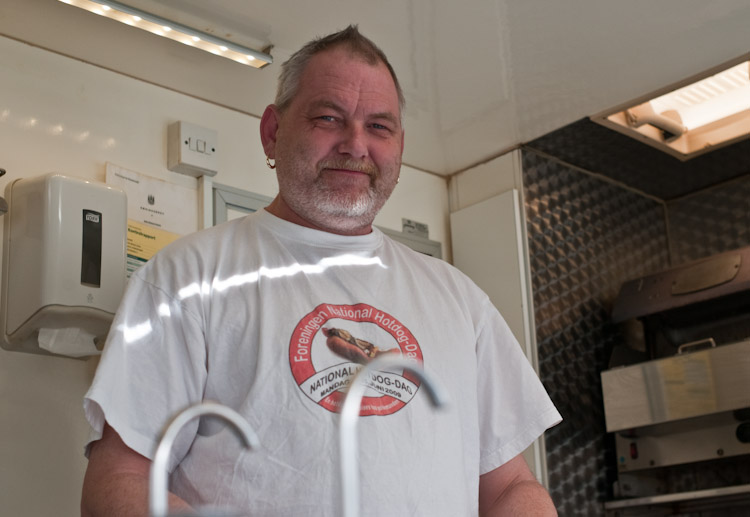 On Wednesday, I took the train from Copenhagen to my hometown Ã…rhus, where I spent the rest of the week.
Alternate 12
My friend Lars met me at the train station, and then we walked to his apartment, stopping for some goofing along the way, very close to the school we attended in the 1970s: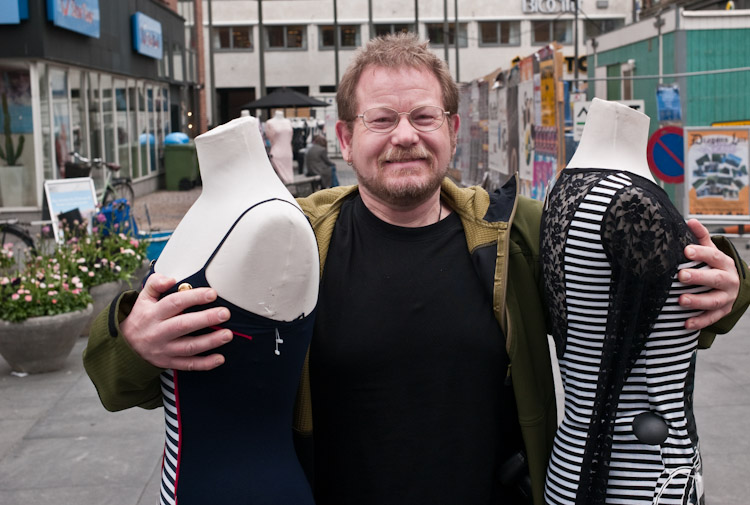 Alternate 13
Lars is a serious beer lover and has recently gotten into home brewing, with custom-made labels in Danish and Russian (a language he is learning just for fun). The beer is excellent: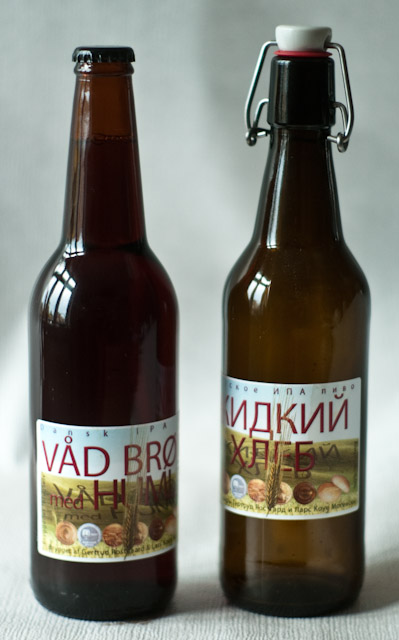 Alternate 14
While visiting the ARoS art museum, we happened upon a dance performance by an old colleague of Lars. Here they are, having a brief chat afterwards: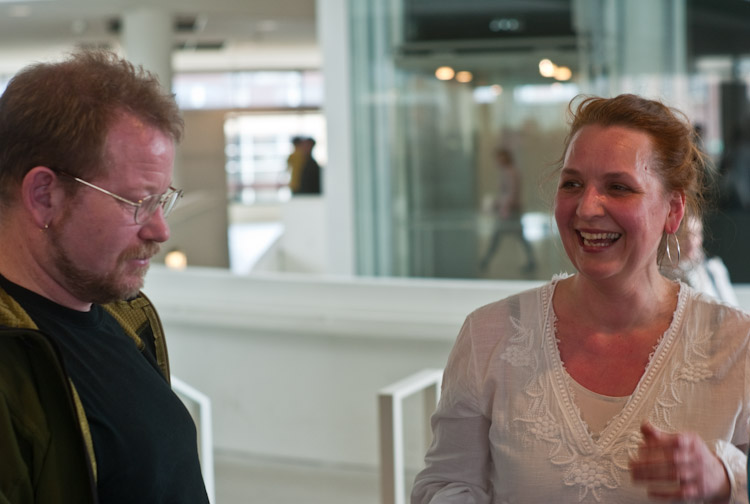 Alternate 15
A self-portrait at the gallery: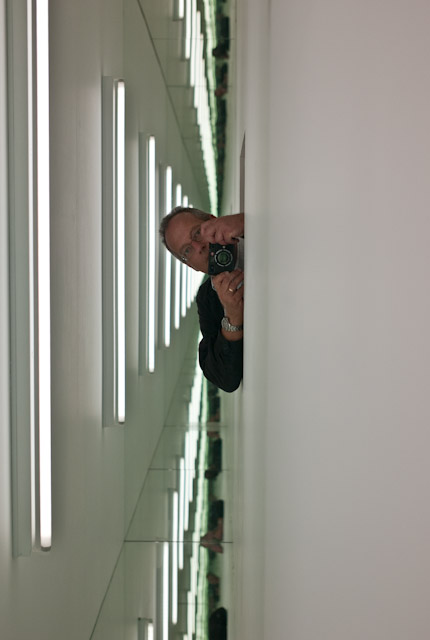 Finally, on Saturday 1st May I flew home.
Alternate 16
Saturday was my dog's 9th birthday, and my wife prepared an appropriate "birthday cake" for Cheeta: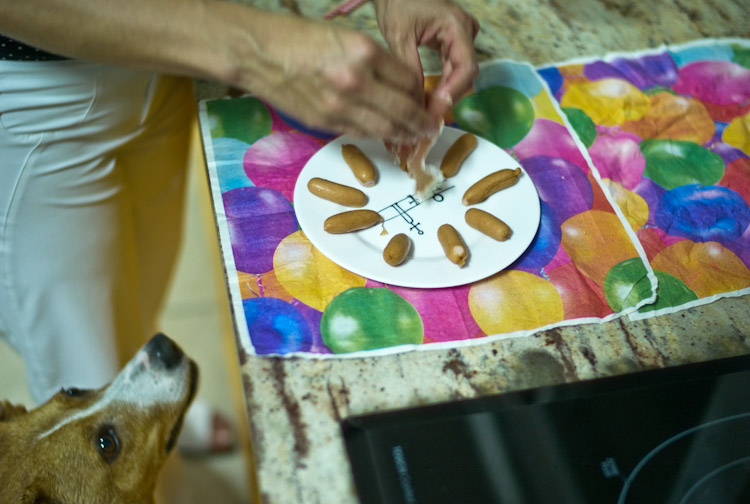 More pictures from Copenhagen are here, and from Ã…rhus here.