As opposed to some of the preceding weeks, week 8 was one spent in a very picture-rich environment. Our office organised a conference and a meeting of our public sector representatives in Sofia, the capital of Bulgaria. We have these meetings every spring, and we always have them in the country that holds the EU's rotating presidency during the first half of the year. And so it was Bulgaria this year, a country I had never visited. The trip was for work, of course, but there was enough free time to take lots of photos. And Sofia turned out to be visually interesting–which does not necessarily mean pretty, at least not always.
8_1
But first a bike ride to Aigües on Sunday. The weather did not look promising, but I stayed dry: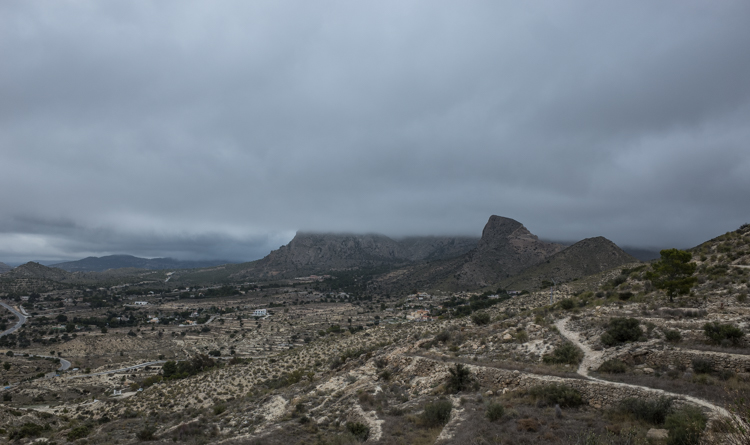 8_2
I took a break on the square in Aigües, as I usually do. A little girl, dressed in her Sunday best, was clinging to her mother: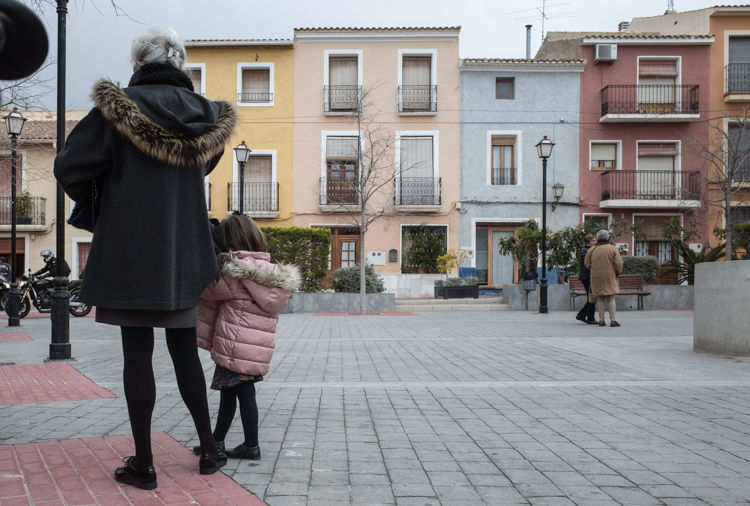 8_3
But then she showed her pretty face: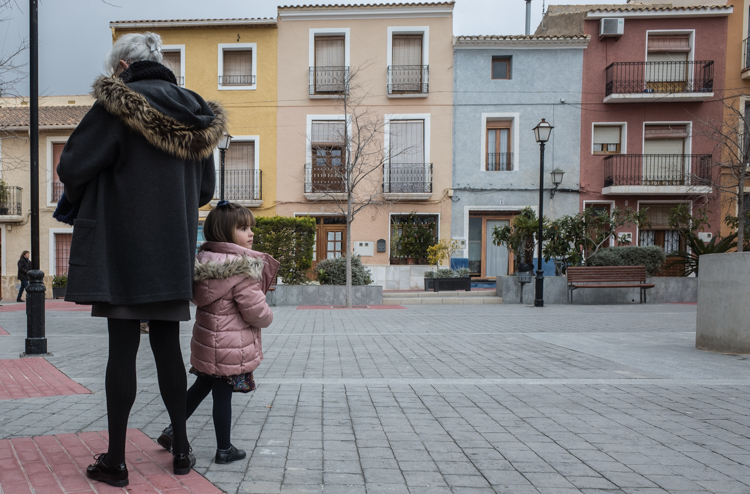 8_4
On Tuesday I flew to Sofia via Madrid. This was my home for the next 3 nights, a hotel built in the 1950s, and thus a fine example of Stalinist architecture: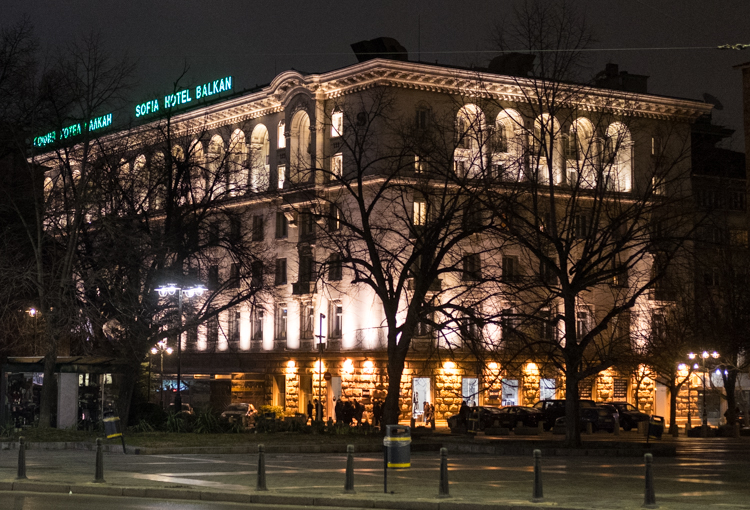 8_5
Having checked in and hung my clothes (always the first task when arriving at a hotel on a business trip), I set out in search of food and drink. This bar on Vitosha street, the main pedestrian street of Sofia, provided some visual amusement as well as decent beer: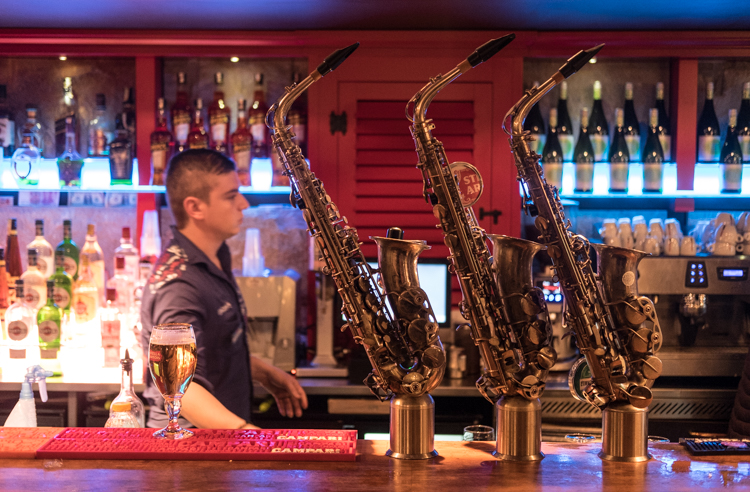 8_6
On Wednesday morning, before the meeting began at 9:30, I went for a walk around the hotel. The weather was cold, and it had rained during the night. I liked the reflections in this puddle, including the minaret of the Banya Bashi mosque, serving the Turkish minority: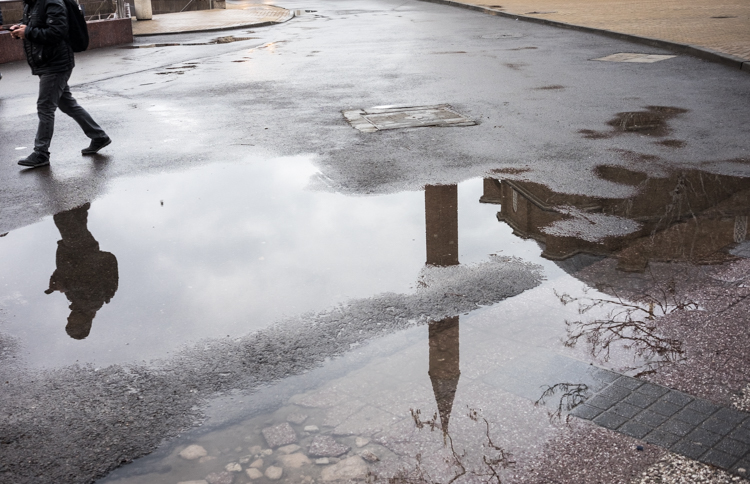 8_7
I walked on Boulevard Maria Luiza and took in the contrast between the drabness of the Communist era that ended in 1990 and the colours of the new times. Bulgaria has made a lot of progress since joining the European Union in 2007, but it remains the EU's poorest member country and in some ways Sofia reminded me of Poland 15-20 years ago: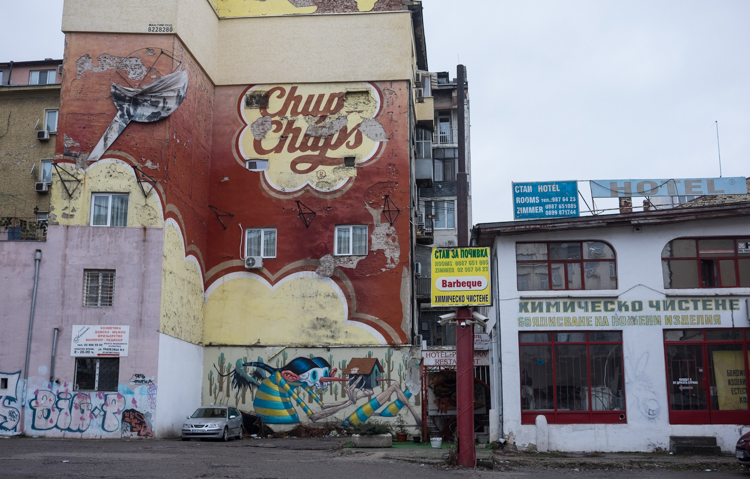 8_8
But here is something new and quite nice, a large indoor market hall very close to the building in the previous picture. It was early morning, so most shops were only beginning to open and there were few customers: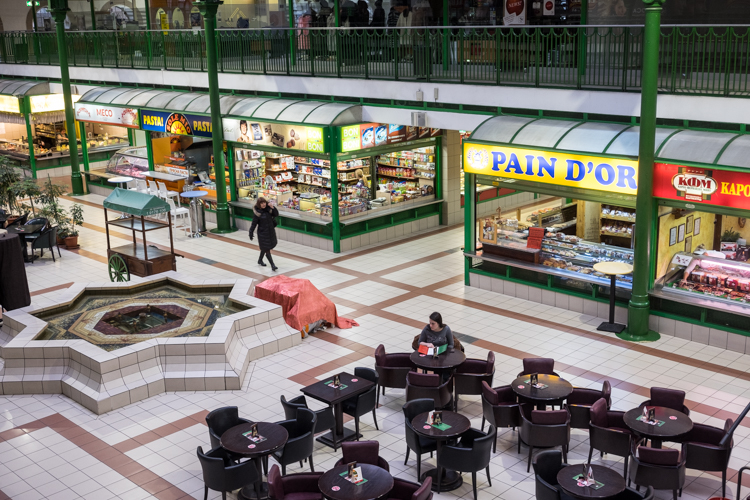 8_9
And just a few steps closer to my hotel, next to the Sofia Monument, I happened upon this poor homeless dog, drinking from a puddle of water. He looked not too dissimilar from my late Cheeta, and this scene, right next to foreign banks and other symbols of modernity, made me sad: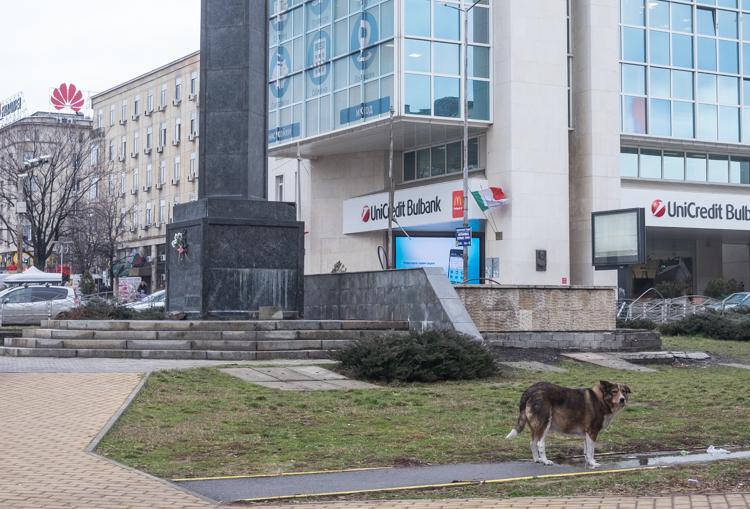 8_10
This is where I spent much of the next two days, in this conference room at the Balkan hotel. The two guys on the screen are from the European Commission in Brussels, making their presentation via video link: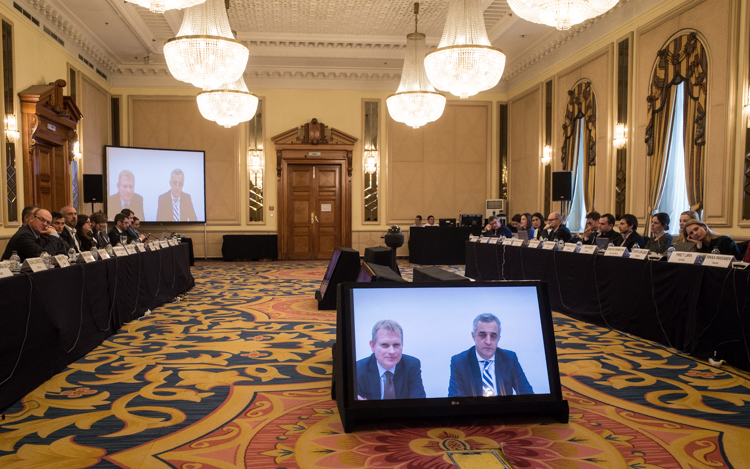 8_11
Many of the more interesting interactions at events like this take place during the coffee breaks. Here, our Valerio is speaking with colleagues from OLAF (the EU's anti-fraud office) and Europol: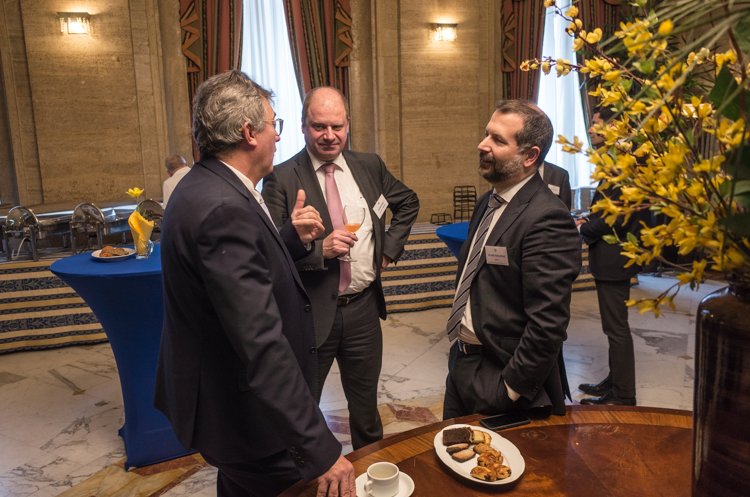 8_12
The first day has ended, and my OECD friend Piotr and I retire to the hotel bar for a pre-dinner refreshment: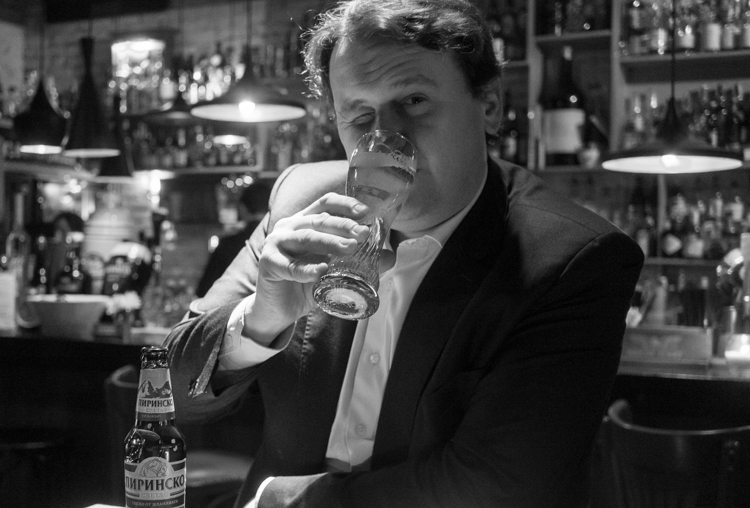 8_13
When hosting a multi-day meeting, it is standard practice to offer a dinner to the participants. With a large group like this, 80-100 people, there are a lot of details to keep track off. So our Stephanie checks some last-minute stuff with the people at the traditional Bulgarian restaurant where our social dinner was about to take place: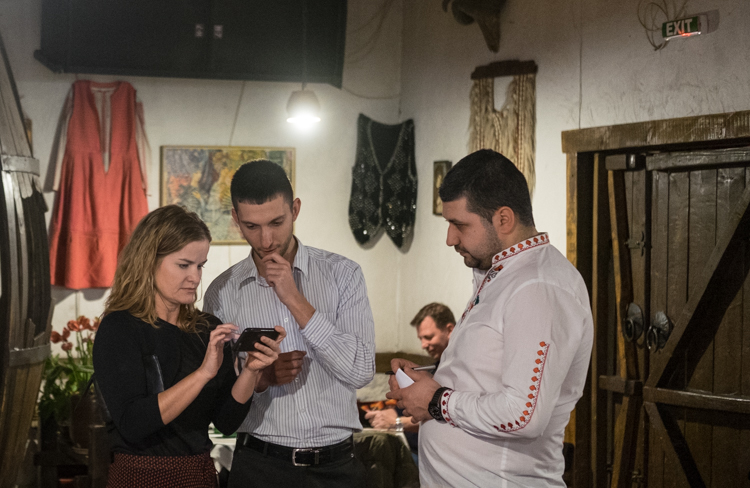 8_14
Now we are all at the table, enjoying the food, drink and the company, and Stephanie can have fun too: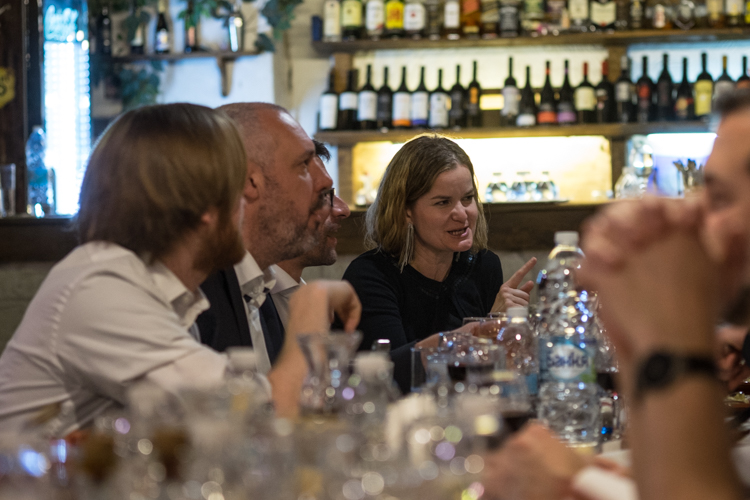 8_15
Claire is another of my colleagues who works very hard before and during those meetings, being our communications manager. So she too deserves to enjoy herself and gave me this sweet smile: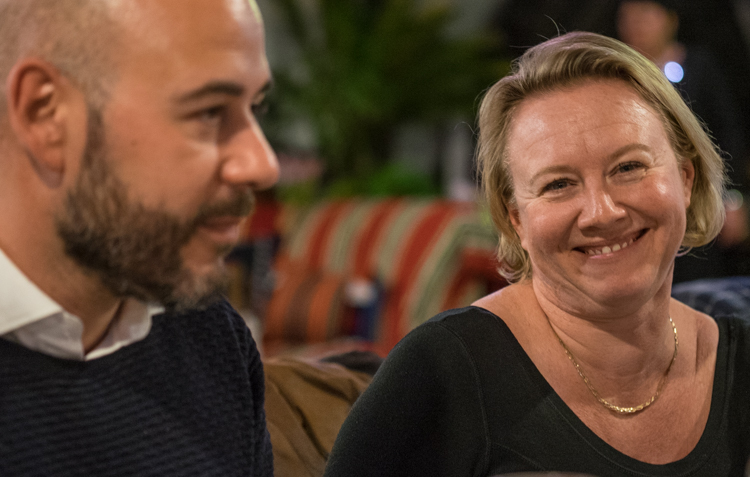 8_16
A Romanian prosecutor and an Austrian customs official in friendly conversation: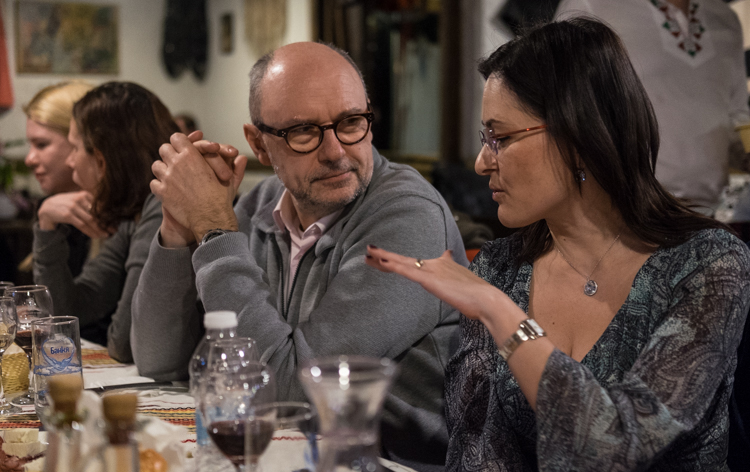 8_17
Besides the traditional Bulgarian food (which was quite good), the restaurant also treated us to traditional Bulgarian song and dance: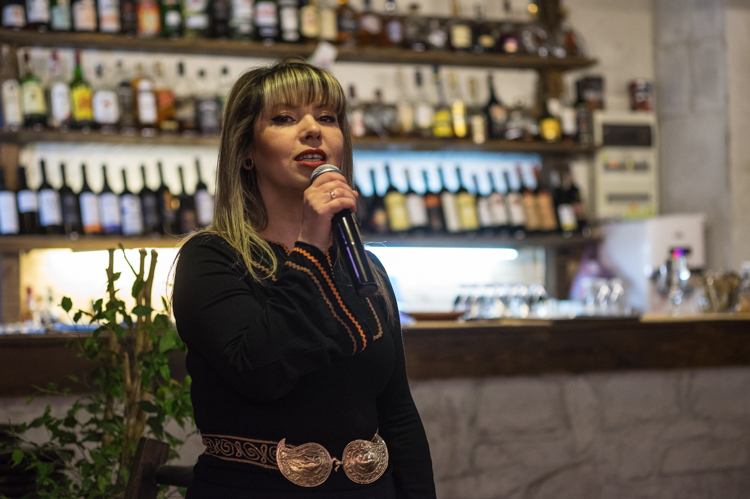 8_18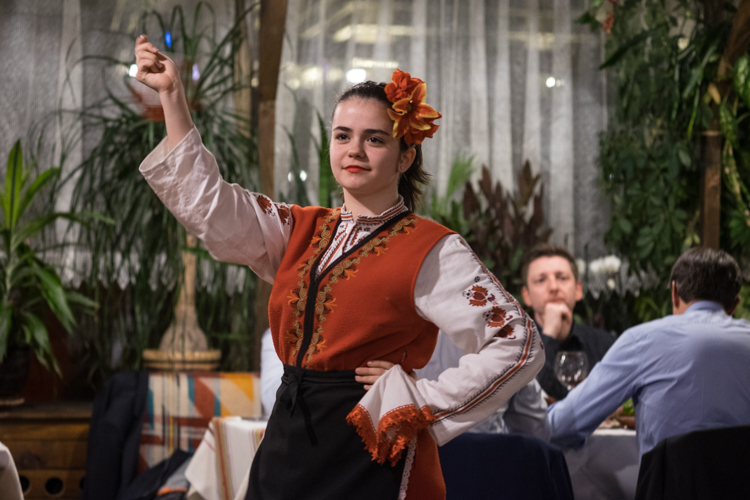 8_19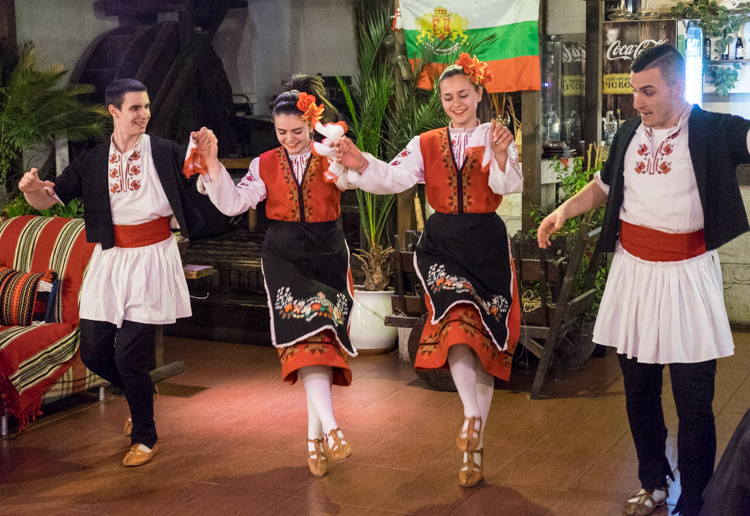 8_20
Claire turns to look: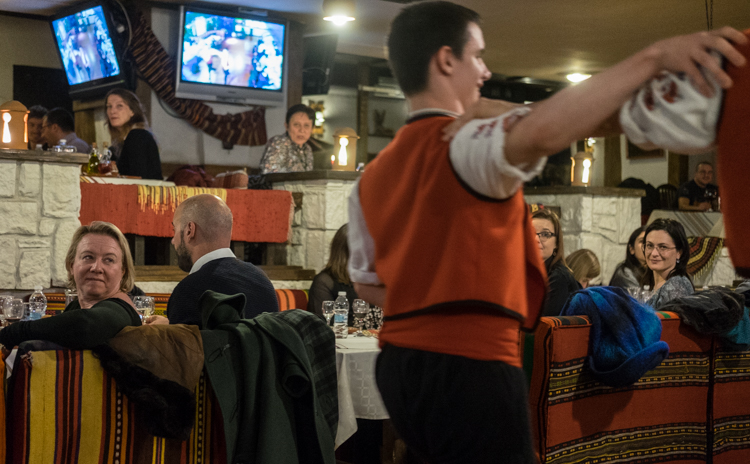 8_21
A Polish lady looks on with great interest: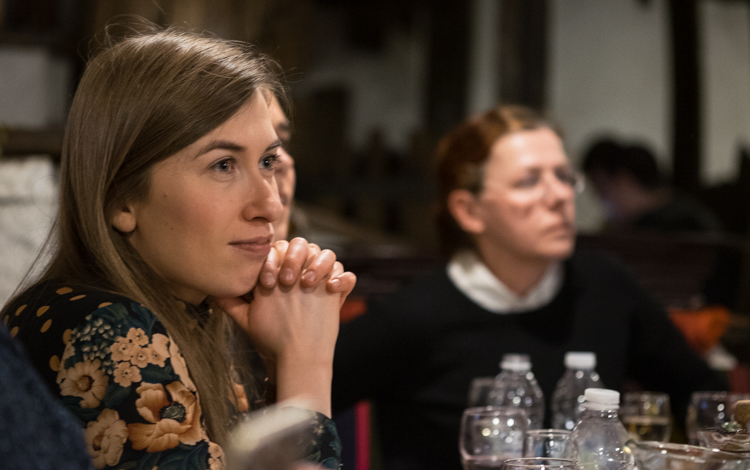 8_22
Claire makes a funny face: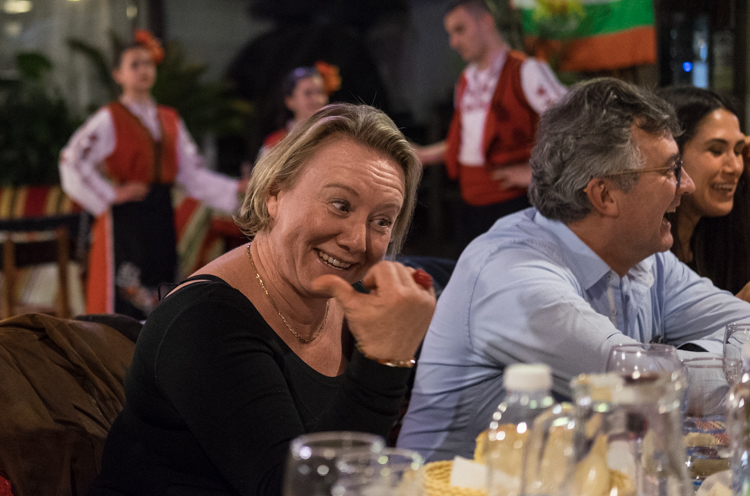 8_23
Meanwhile, the dancers enlisted some of the guests: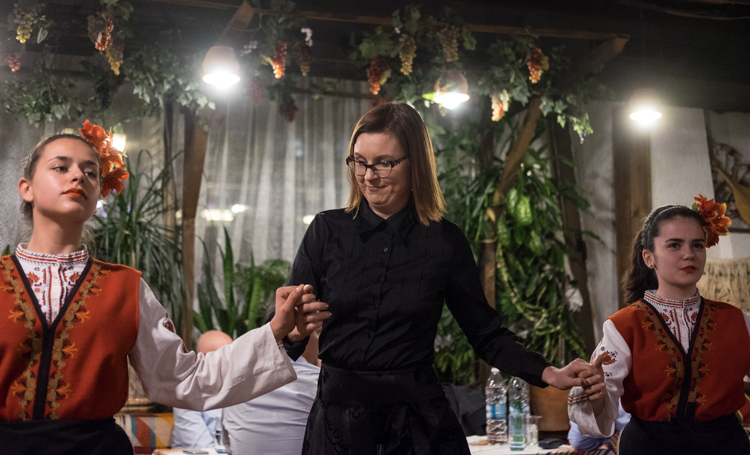 8_24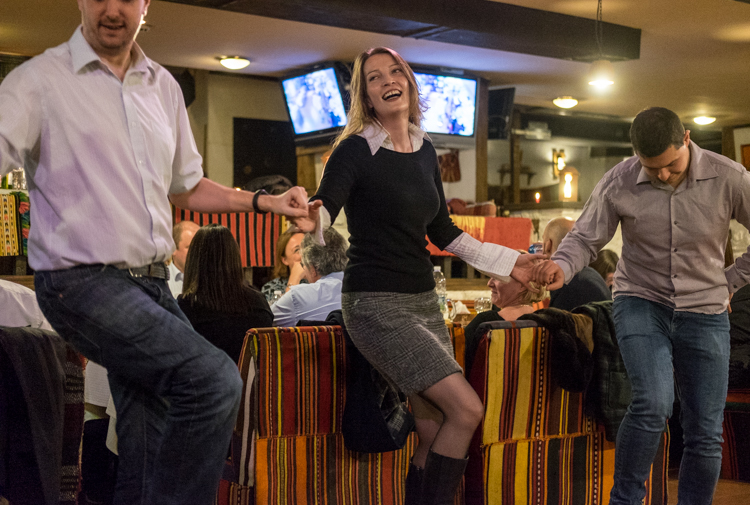 8_25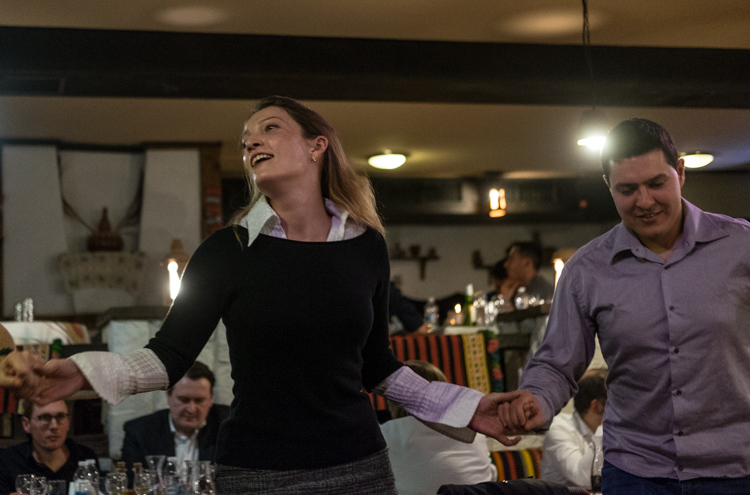 8_26
Cultures meet–a guy from Iceland gets dressed up by the Bulgarians: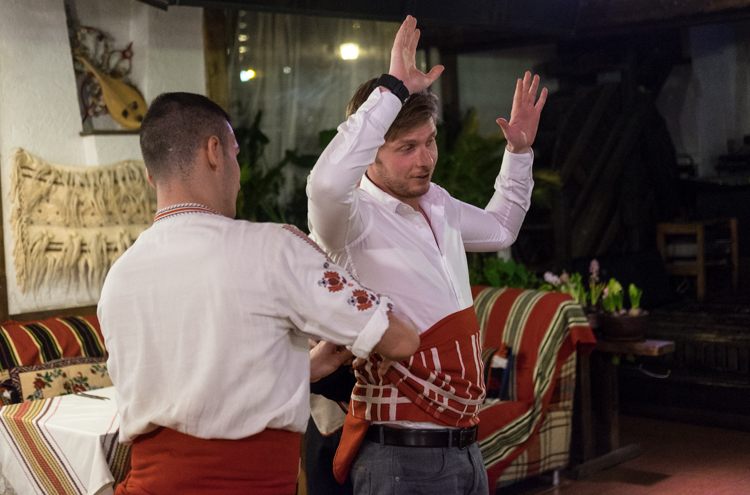 8_27
More cross-cultural stuff–a guy from Iceland, dressed in Bulgarian garb, next to a Polish economist living in Paris:

8_28
To finish the dance, the Bulgarian flag comes out: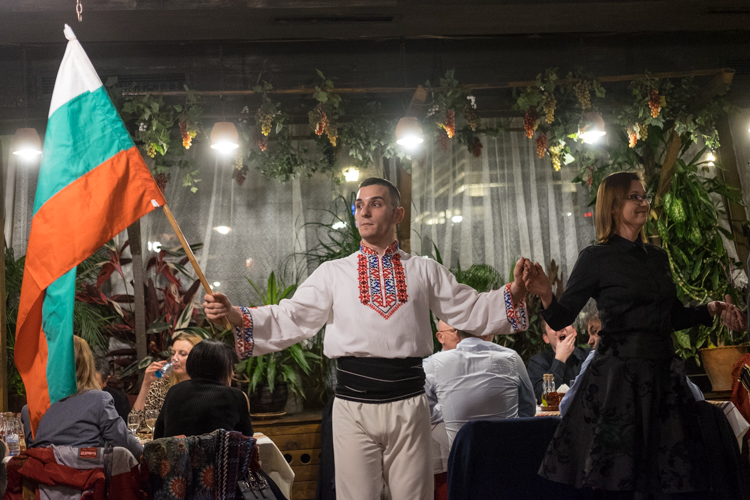 8_29
The singers also invite the audience to join in: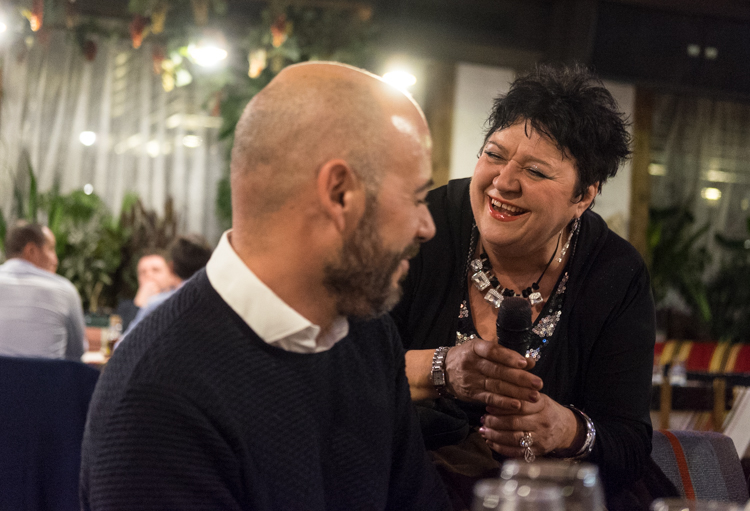 8_30
A hearty laugh: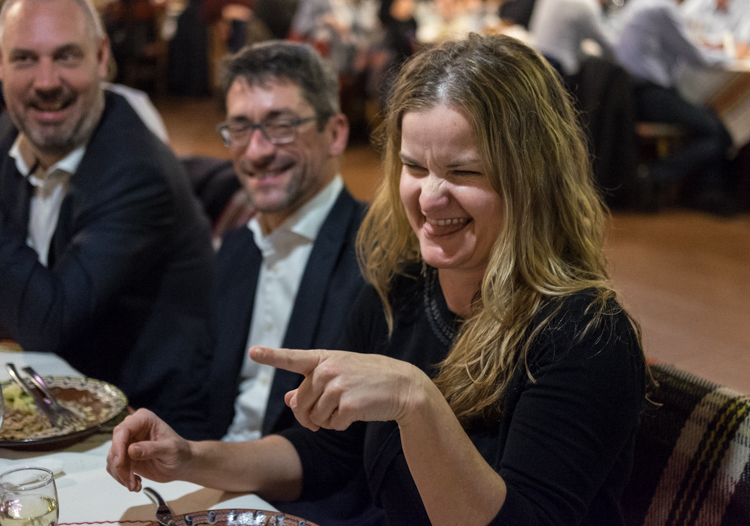 8_31
Who needs a microphone when a bottle will do: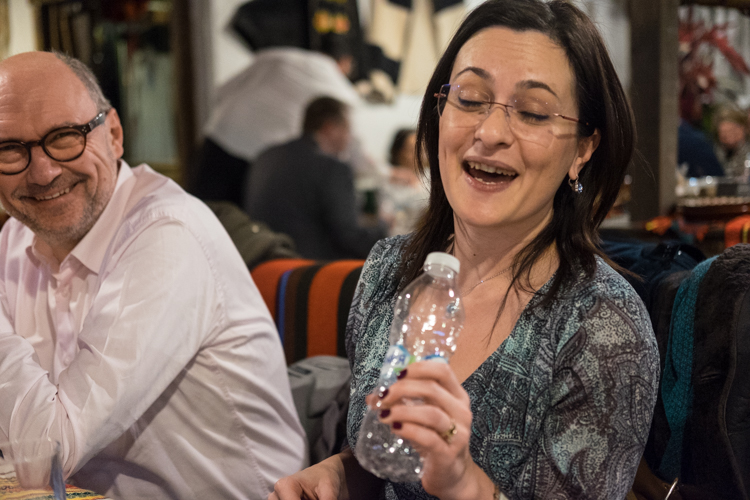 8_32
Duet: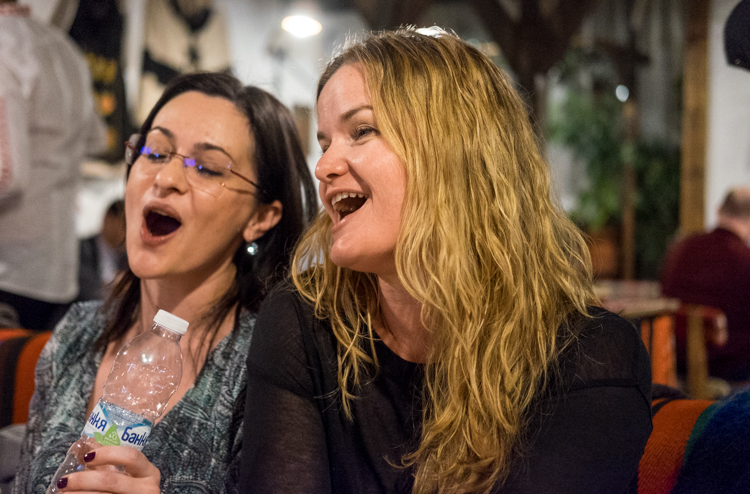 8_33
Thursday afternoon, the meeting has ended: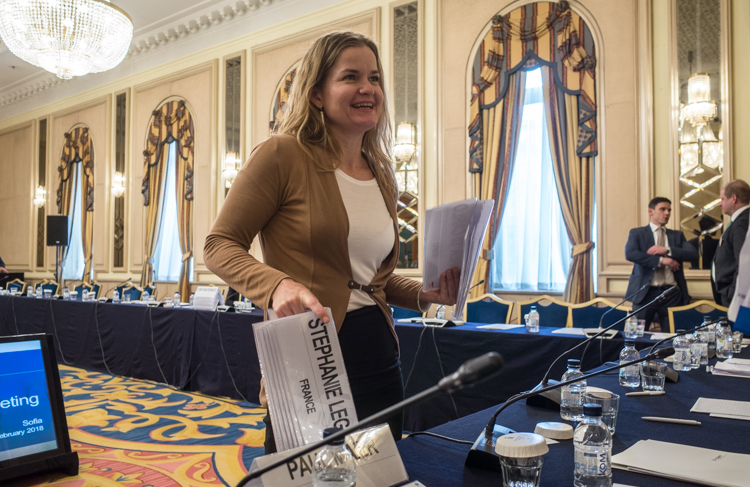 8_34
Our hosts had arranged a guided walking tour of Sofia on Thursday afternoon. Here is part of the group outside the Alexander Nevski cathedral. Our young guide is on the right, and I am getting a nice smile from Barbara of the Danish Patent and Trademark Office: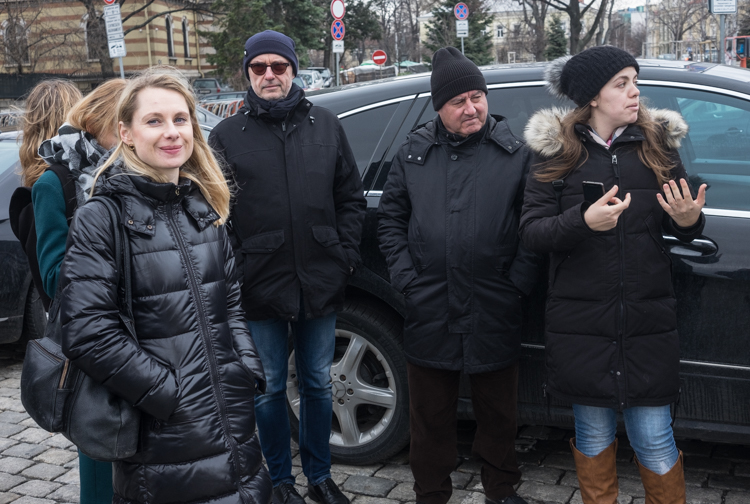 8_35
Outside the presidential palace, guards and girls: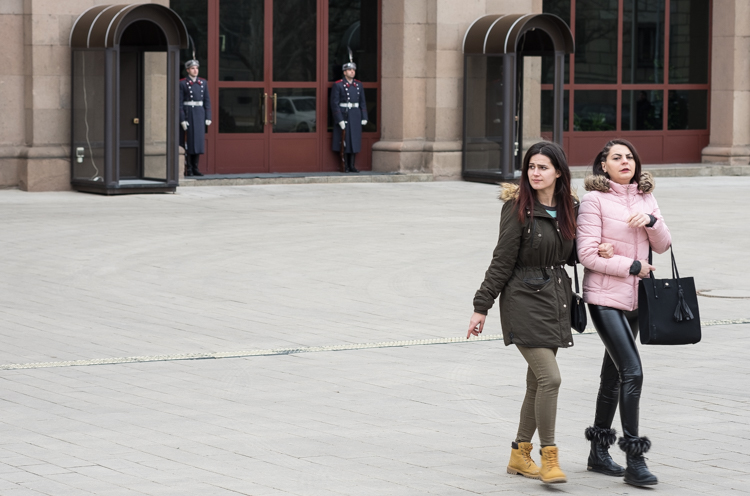 8_36
The highlight of the walking tour, and indeed of any visit to Sofia, is the magnificent Alexander Nevski cathedral. In contrast to other major churches around Europe, it is relatively recent, built in the late 19th century–during the 500 years of Ottoman rule church construction was presumably not high on the agenda. The cathedral was built to commemorate the 200,000 Russian soldiers who died in Bulgaria's war of independence against the Turks in the 1870s. As in other Orthodox churches, there are no pews–the services are conducted with the congregation standing. During the day, people come in to pray alone: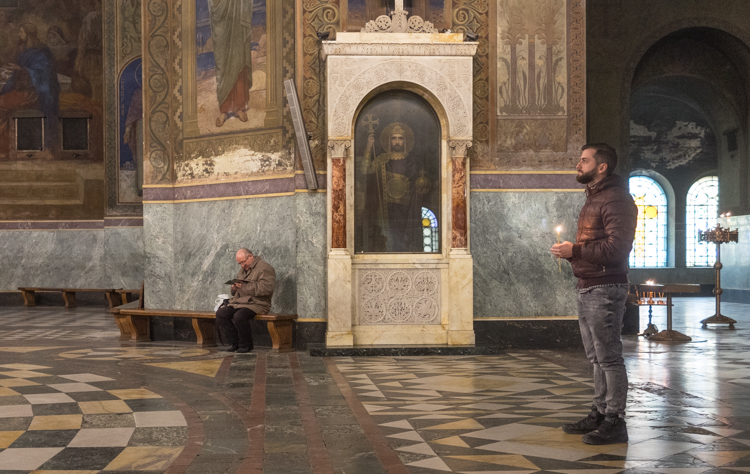 8_37
Candles for the dead. I lit two in the memory of my mother, who belonged to the Orthodox faith:

8_38
As dusk fell, I made my way back to the hotel, having separated from the organised tour earlier. The hotel was in an area of many government buildings. Here, the side of the presidential palace and the ministry of education and science: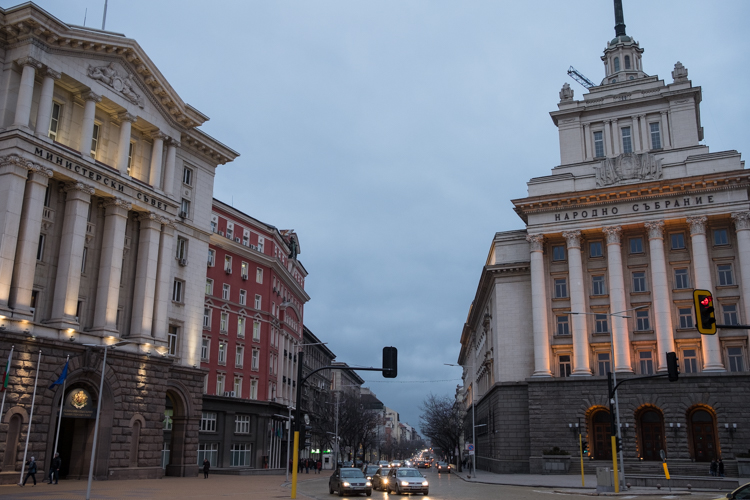 8_39
In the evening, our group of 6-7 people went for dinner at another Bulgarian restaurant. They had an interesting, but very practical, way of serving the food:

8_40
Our flight home was on Friday afternoon, so I took advantage of the free morning to visit the Sofia Synagogue and some other sights. On the way, I passed this curious structure. It is an old-fashioned traffic observation platform, staffed by a couple of people. Must be a horribly boring job: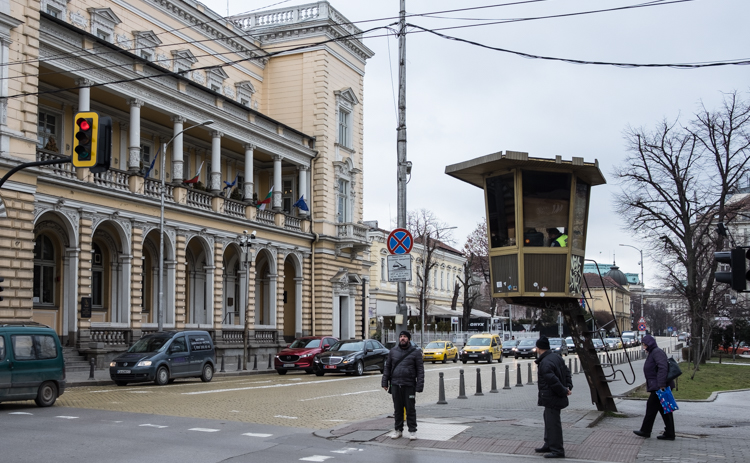 8_41
And I happened upon the same dog that I saw the day before (image 9 above), but this time inside the nearby metro station, where apparently some kind people are providing some rudimentary shelter for him:

8_42
I finally made it to the synagogue. It is billed as Europe's largest Sephardic synagogue and I found it utterly magnificent. Like the Nevski church, it is quite new, having been consecrated in 1909. In a strange twist, it was designed by an Austrian architect. While a high proportion of Bulgaria's Jews survived World War II, most of them emigrated to Israel and elsewhere after the war. Today, there is a community of about 2,000 people, which makes it even more remarkable that it can support such a temple: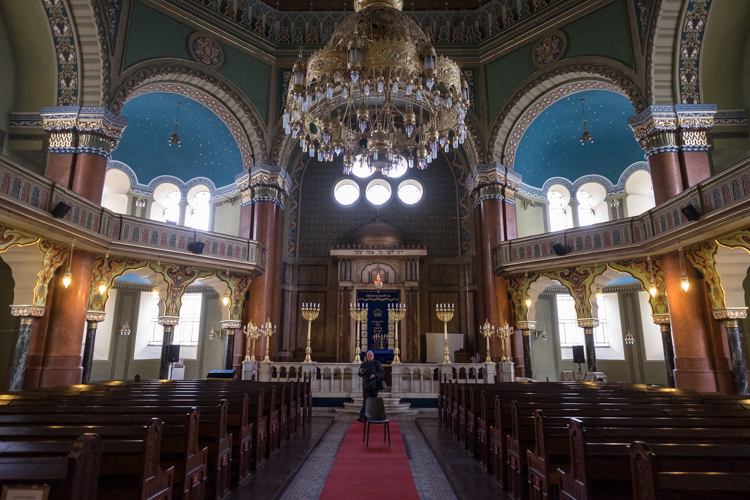 8_43
After my visit to the synagogue, I walked around some residential neighbourhood–this is something I always try to do, get away from the sights and see how ordinary people live. I popped into a typical neighbourhood café to warm up with some coffee. There was an ample selection of both sweet and savoury pastries, and everything was very cheap from a Western European perspective (my coffee cost €0.30, for example):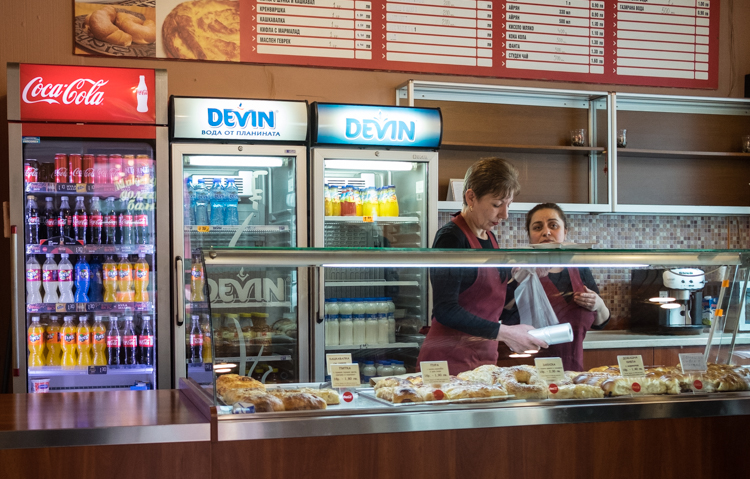 8_44
People come to these places and either take away or eat in: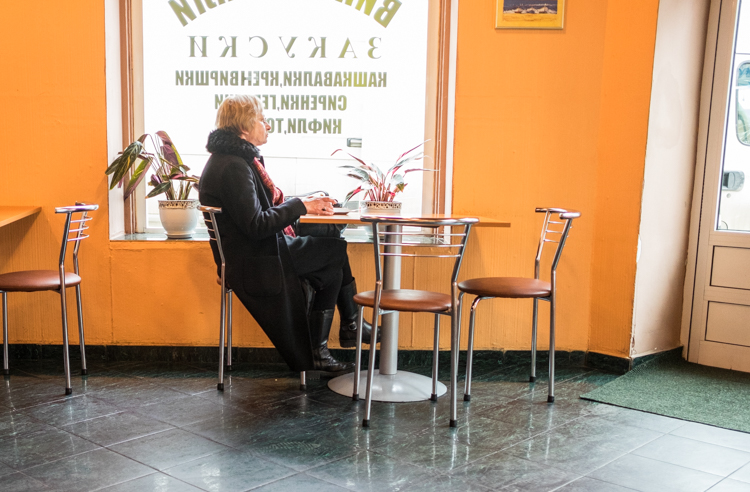 8_45
Funny shop sign; no idea if the owners speak English:

8_46
I ended up going back to the neighbourhood near the synagogue and had lunch at an Israeli kosher restaurant, a typical sabich plate and falafel: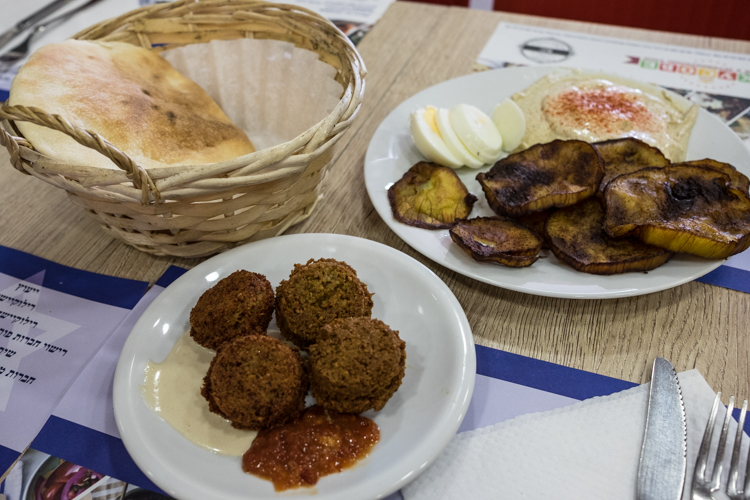 8_47
And just to stay with the religious theme, on the way back to the hotel I passed the mosque, with an overflow crowd for Friday prayers: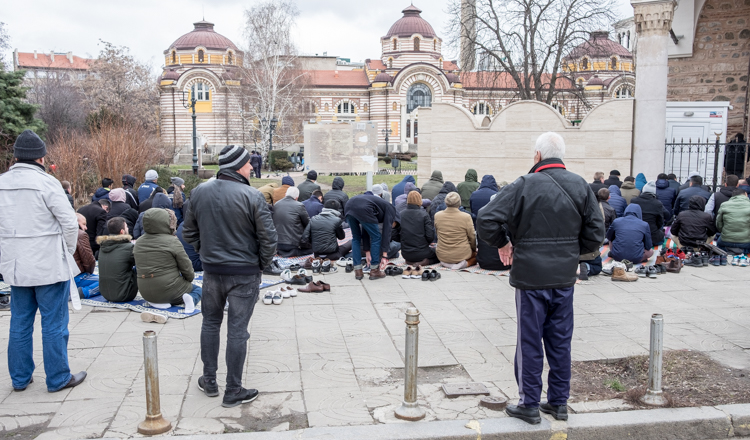 8_48
And then it was time to take the metro to the airport and fly home to Alicante (via Madrid). At this point there were just four of us travelling; some of the others had taken a heroically early flight, departing at 5:20 a.m. Around 10 p.m. we are in Madrid airport, waiting for our connection to Alicante, and Stephanie, the ever dedicated civil servant, is still working (really, working, not browsing the web or Facebook):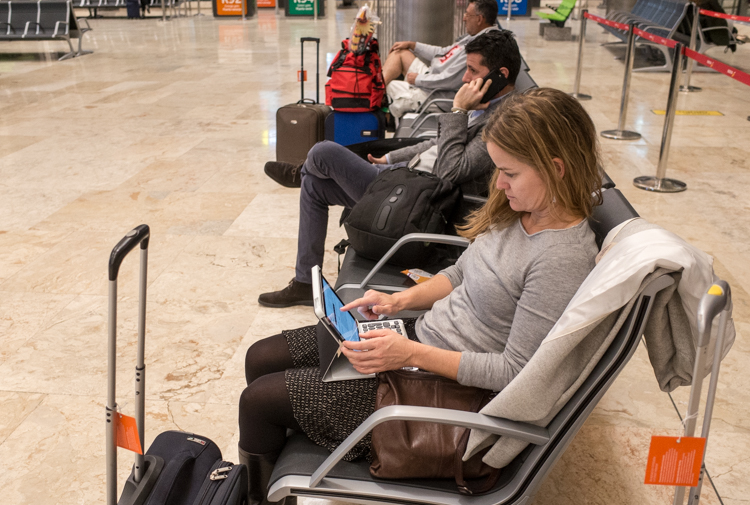 8_49
Finally, a bit after midnight, I was back in the car park of Alicante airport. Some eccentric Brits had parked near my car: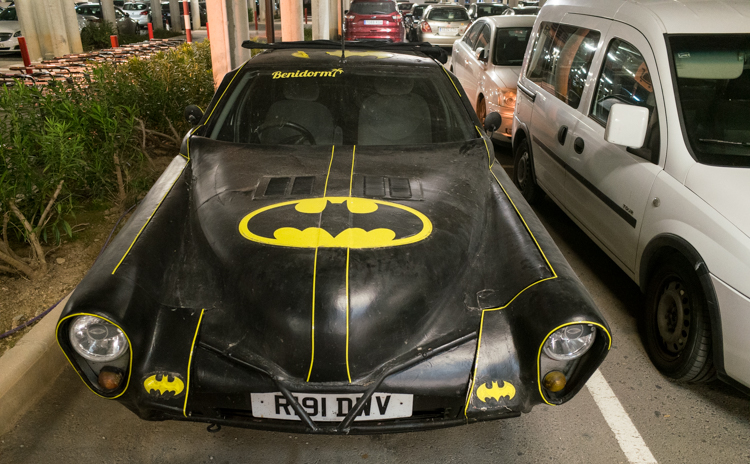 8_50
And then it was weekend, I was out cycling to the familiar places, taking in the familiar sights: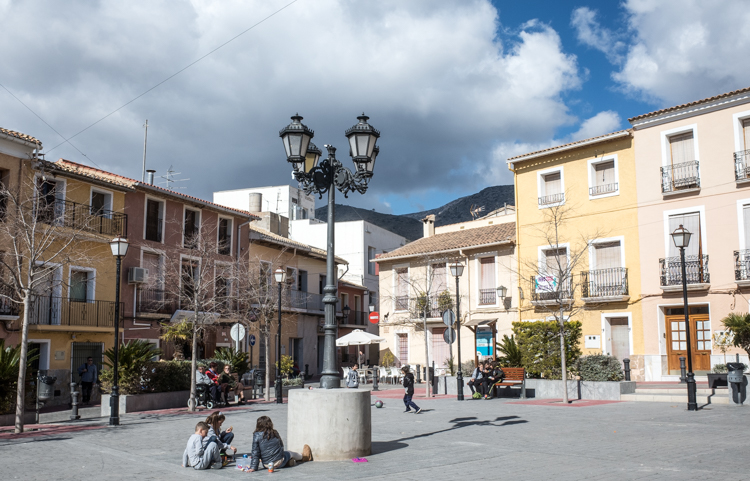 8_51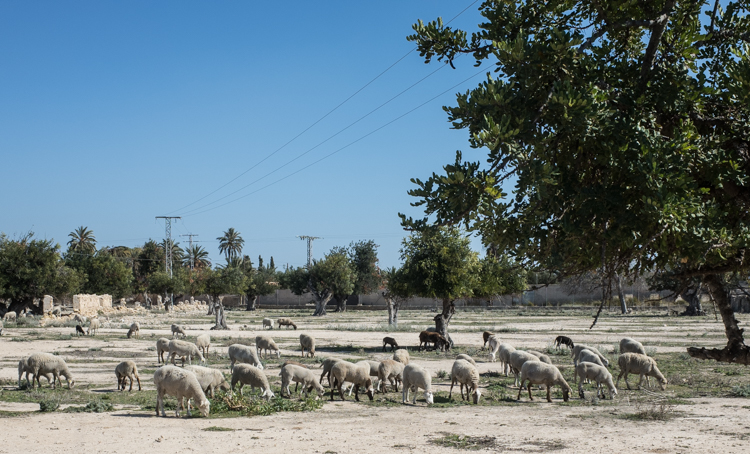 More photos from Sofia are here.