All my photos this week are from the trip to Le Mans for a small international family reunion in celebration of my uncle Joseph's 90th birthday. We did something similar 5 years ago when he turned 85. Back then we were about 40 people from France, Belgium, Israel, the US and us from Spain. This year, Covid made travelling more difficult, so the Israeli branch was absent, and there were fewer people from across the Atlantic, but it was still very nice. I have shown some of the images of the city of Le Mans here, and some from the family reunion here, but there are also some in this blog that I have not previously posted. The photos are presented chronologically.
28_1
My wife and I spent Bastille Day, 14th July, driving the 1400 km from Alicante to Le Mans. It is not a difficult drive, motorway all the way, although there is usually a backup while passing Bordeaux. But not on this day; the national holiday meant that there was no work-related traffic and no trucks. We arrived at our hotel in Le Mans around 11 p.m., had a couple of beers and a deserved night's sleep. No photos. The next morning, as I always do when travelling, I got out early for a morning walk. The town's main square, Place de la République, was almost empty: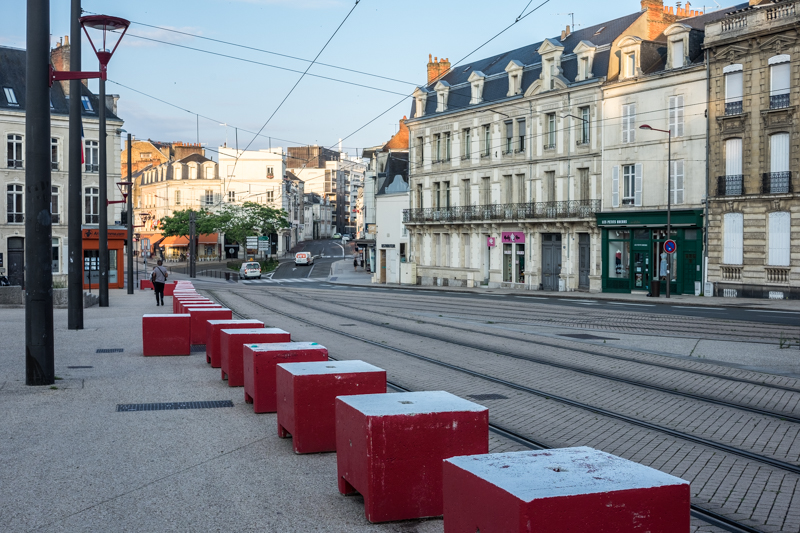 28_2
I then walked to the square in front of the préfecture, Place Aristide Briand, where Joseph was going to make a speech on Sunday, during the commemoration of the roundup of French Jews in 1942. This Thursday morning, the square was empty, allowing me to explore the monument in peace: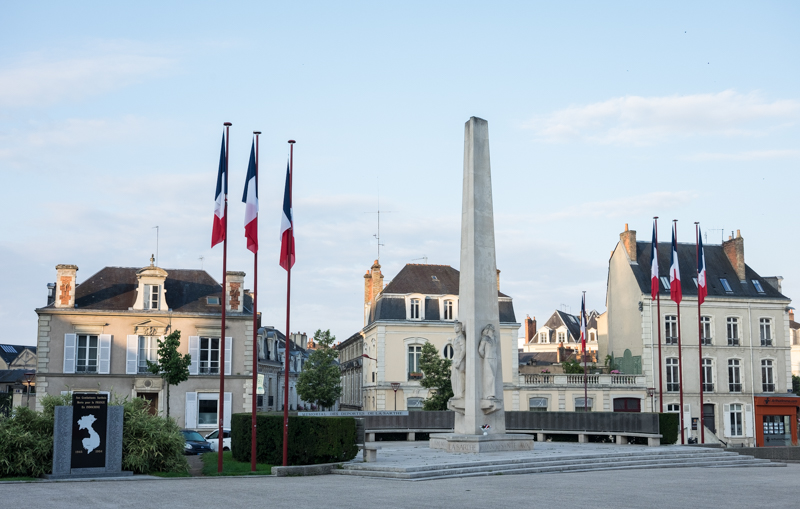 28_3
Detail of the monument. The obelisk was put up to commemorate the French resistance, the plaque commemorating the deportees was added later: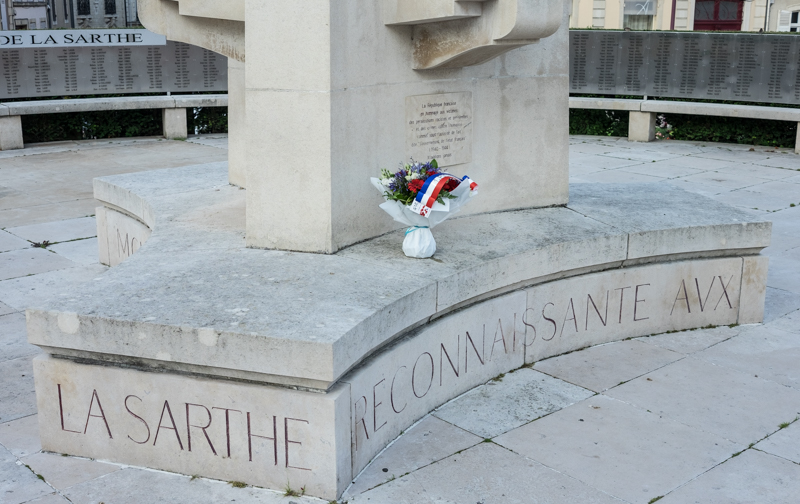 28_4
I continued my walk, happening on this utterly ridiculous cross-cultural statement: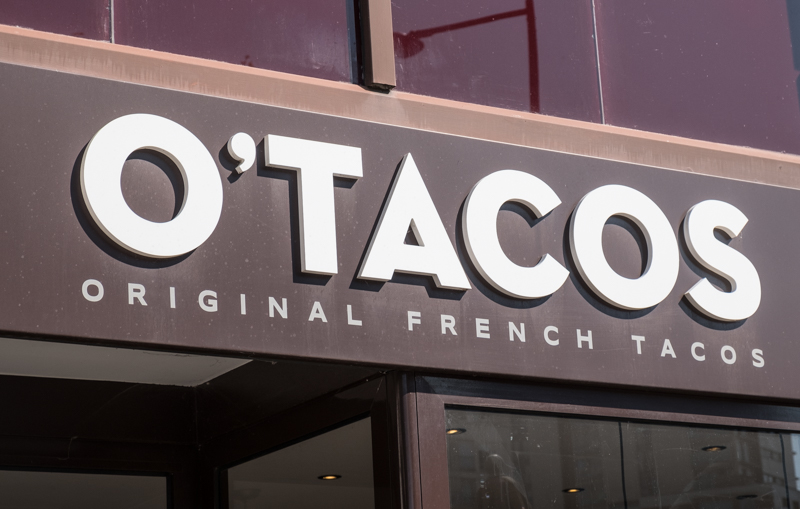 28_5
I came back to the hotel, and then we walked to Joseph's house, 5 minutes from the hotel, to have lunch. He lives right in the centre of Le Mans, in a big house from the 18th century, with a magnificent garden, just perfect for a summer lunch. Here is Joseph, holding forth on something or other:

28_6
As usual, lunch was begun with a Le Mans specialty, rillettes: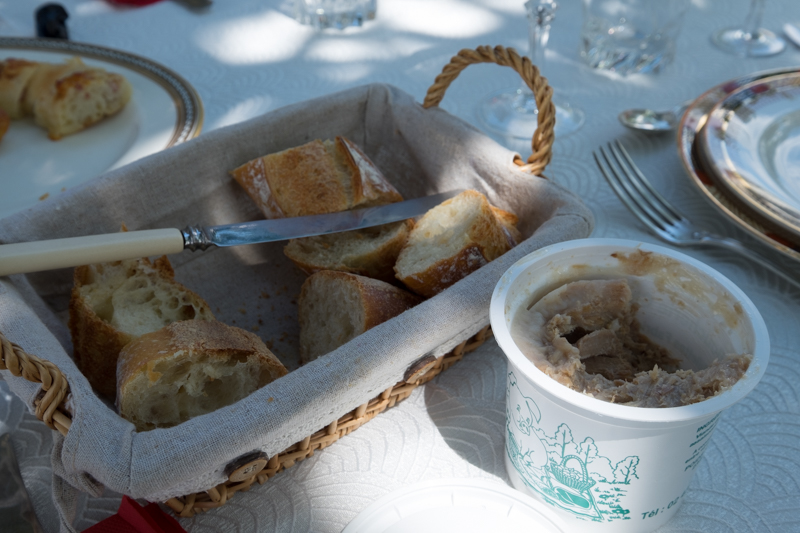 28_7
And it ended with a small but glorious selection of cheese: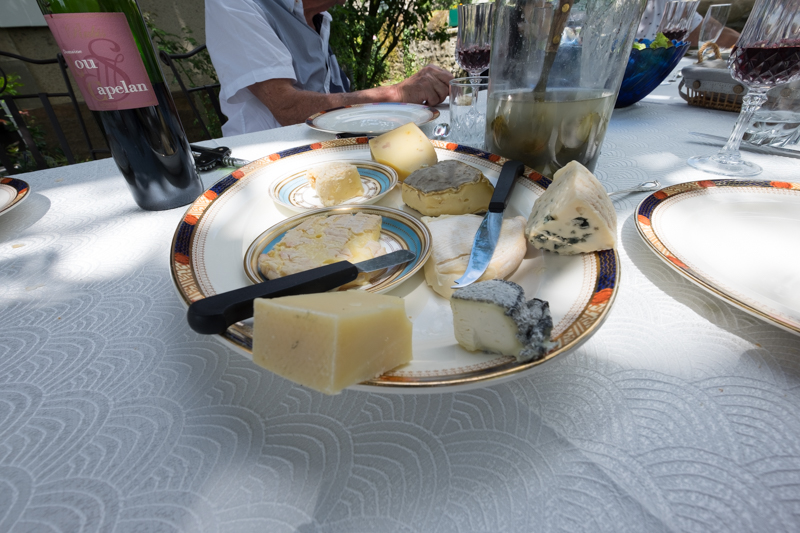 28_8
In the afternoon, four of us–my uncle Zev from Florida, Joseph, Joseph's partner Nicole and I, went to play an international match of pétanque, another family tradition. As usual, and despite being 90, Joseph utterly wiped the floor with the rest of us: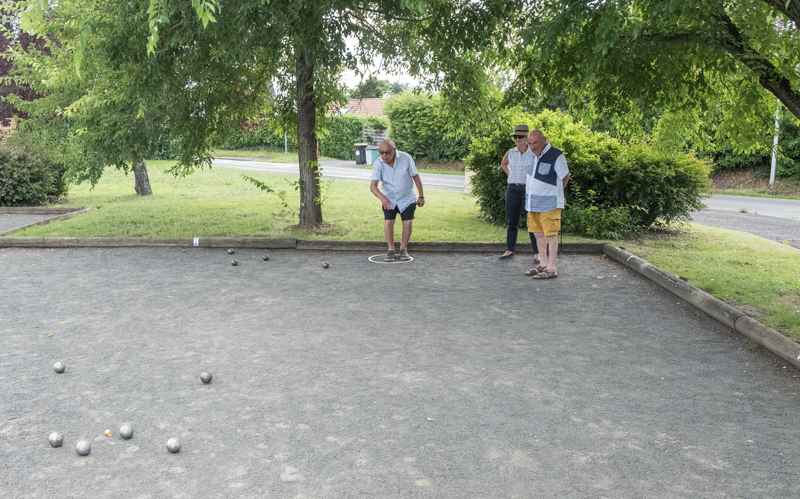 28_9
In late afternoon, I went for another walk on Place de la République. It was a hot day, and some children were enjoying the water mist in the little urban forest installed on the square: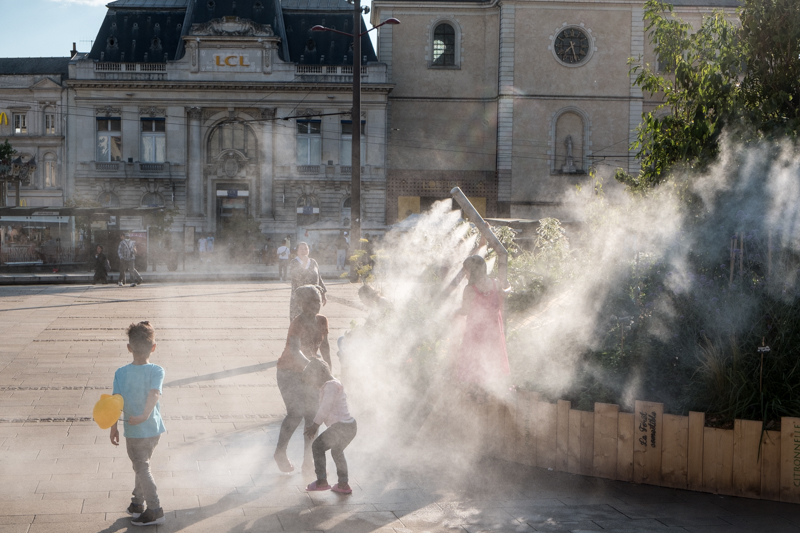 28_10
The youngest of my French cousins, Joseph's daughter Isabelle, lives just around the corner from him. Isabelle's daughter Lea is in her 20s like my daughter but looks younger than her age. She has recently acquired a new member of the family: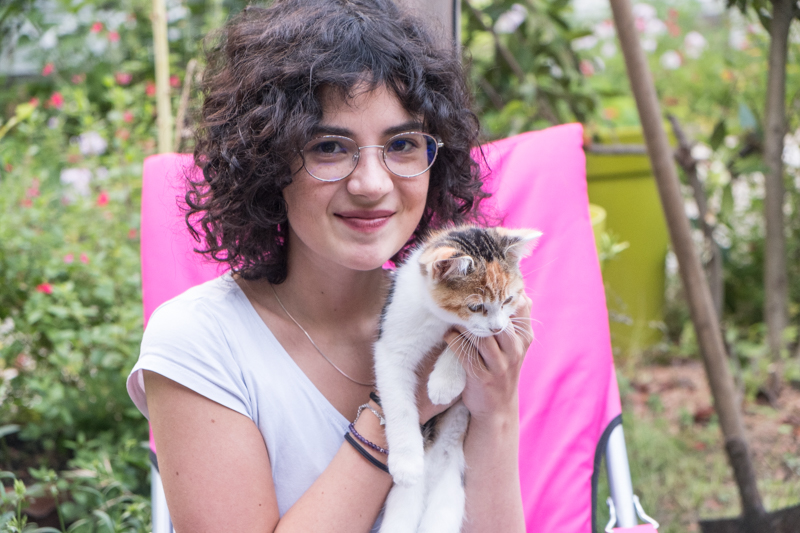 28_11
On Friday the 16th we went for lunch at an excellent restaurant a bit outside Le Mans, called Le Pont Rouge. Here, Joseph is performing an important task in every Frenchman's life, trying the wine. It passed the inspection: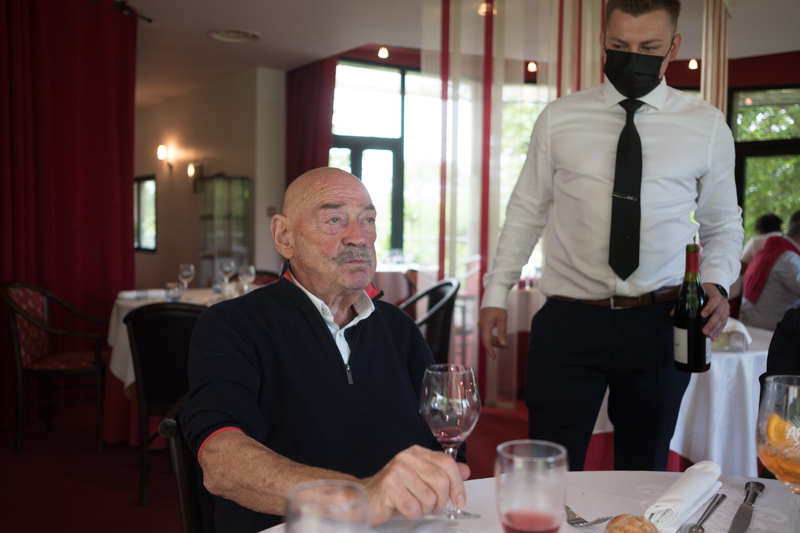 28_12
I noticed the amazing cheese board being served to the neighbouring table:

28_13
A bit later it was our turn: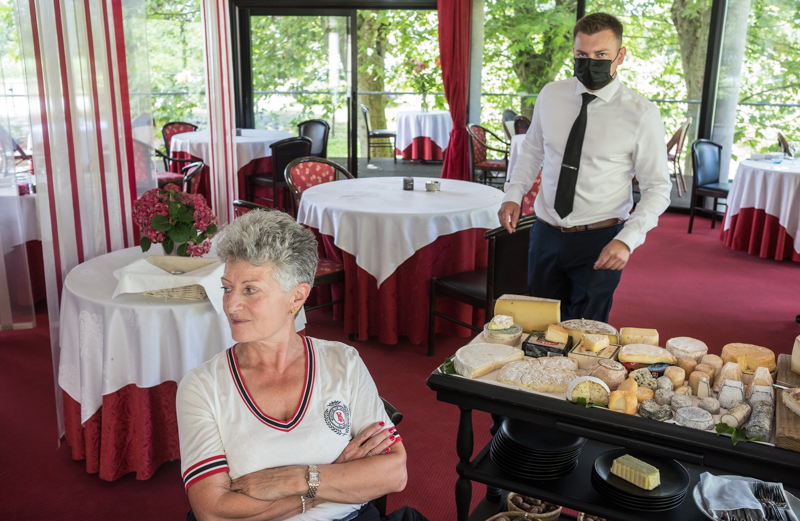 28_14
After lunch, we went to visit a middle school in Le Mans that was named after Joseph a couple of years ago. This is extremely rare in France (and in Europe), where normally you have to be dead to have a building named after you. Joseph received this special honour in recognition for his work over many years, telling the story of his experiences as a child during the Holocaust, his escape, and generally transmitting a message of hope and tolerance. Joseph has spoken in many different settings, but he is especially keen on speaking to young people. He has spoken at many schools in France and abroad. So it was particularly pleasing for him to be recognised by a school in his hometown: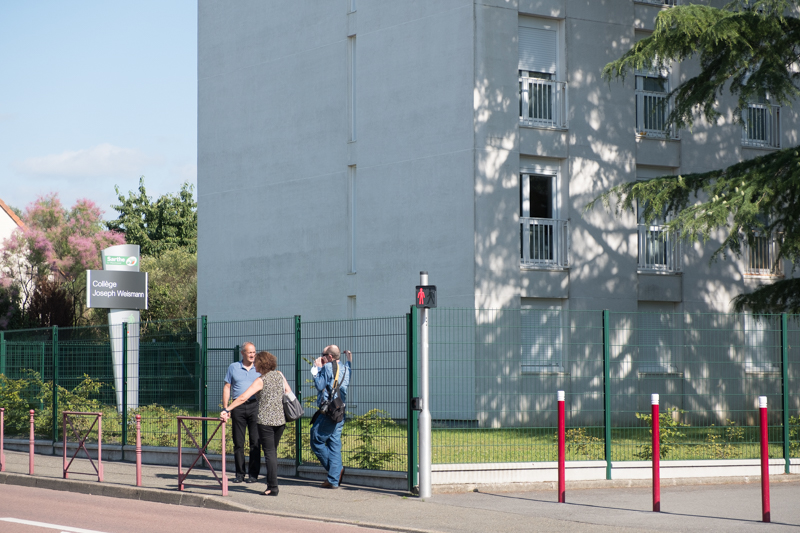 28_15
The school was on summer vacation, but the principal had agreed to come and give us a tour. In the hallway is a portrait of Joseph, flanked by the Universal Declaration of Human Rights and the Marseillaise. I took this posed photo of 3 senior Wajsmans/Weismanns. Joseph is the oldest member of the clan, followed by my uncle Zev from Florida (84). And my cousin (Zev's daughter) Renata is the oldest member of my generation, being four years older than me. We had a lot of fun with that notion: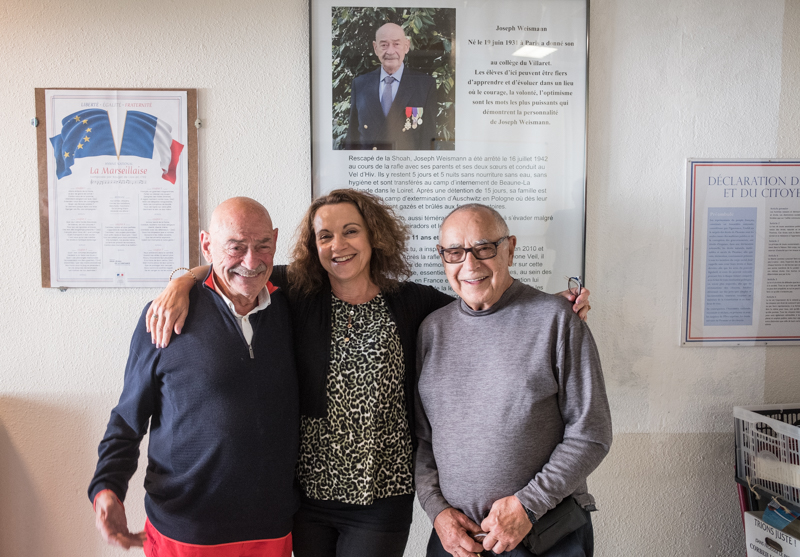 28_16
On Saturday morning, I started the day with an early walk, as usual, taking in details like this piece of street art: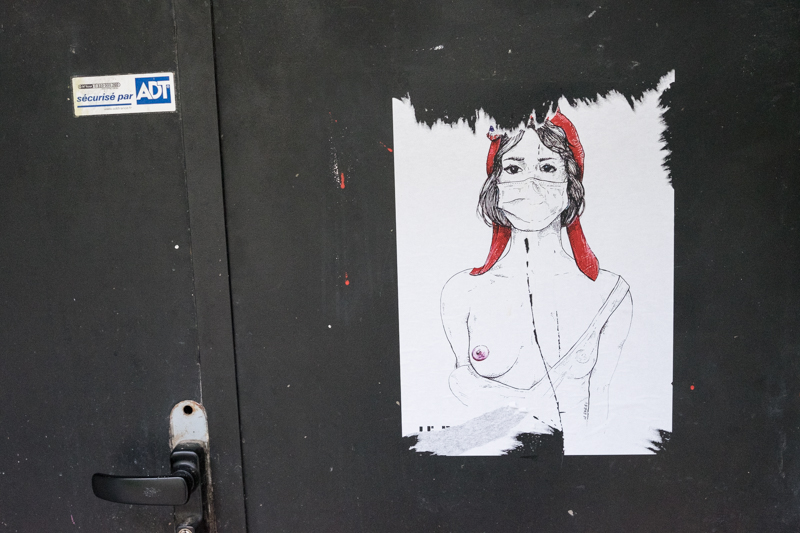 28_17
My daughter Monica had not been able to drive to France with us on Wednesday because she still had an exam to sit on Friday morning. Instead, she flew to Paris on Friday evening, and I picked her up at Orly airport, a couple of hours' drive from Le Mans. On Saturday morning, she met up with her French cousins Lea and Iris: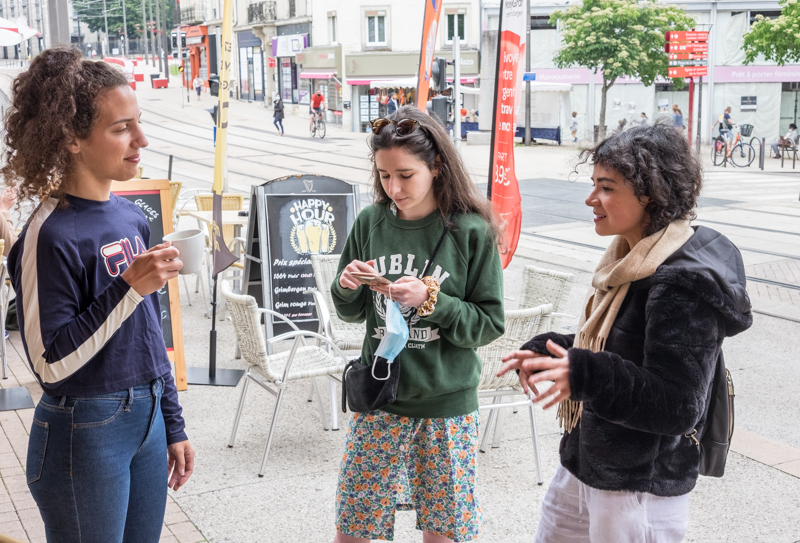 28_18
We had lunch at Joseph's again. Before lunch, I took a portrait of him in his office. This is from where he manages his business empire, as we jokingly say (he used to own a few furniture stores in Le Mans; after retiring, he closed them but still owns the buildings, rented to various companies). More importantly, this is where he prepares his many talks about his wartime experiences. Note the Stars and Stripes on his desk; the village in the Loire valley where he was in hiding for more than 2 years was liberated by American troops in 1944, and he has never forgotten that: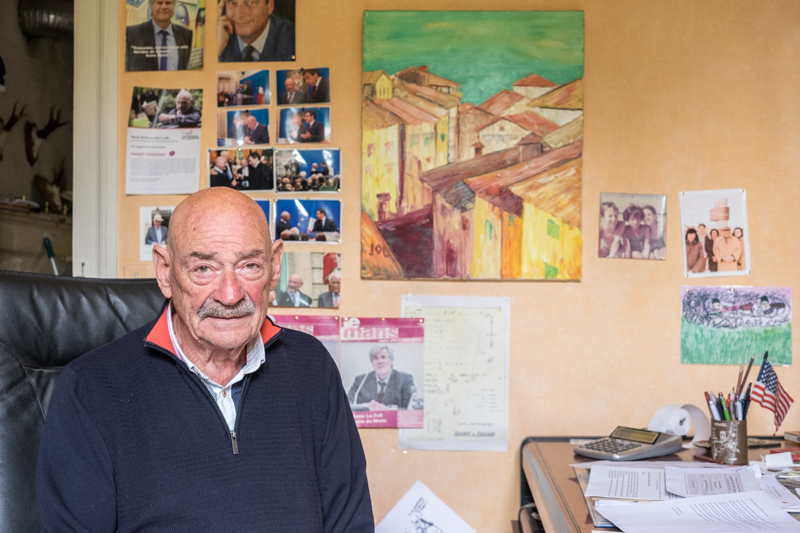 28_19
The star attraction on the lunch table: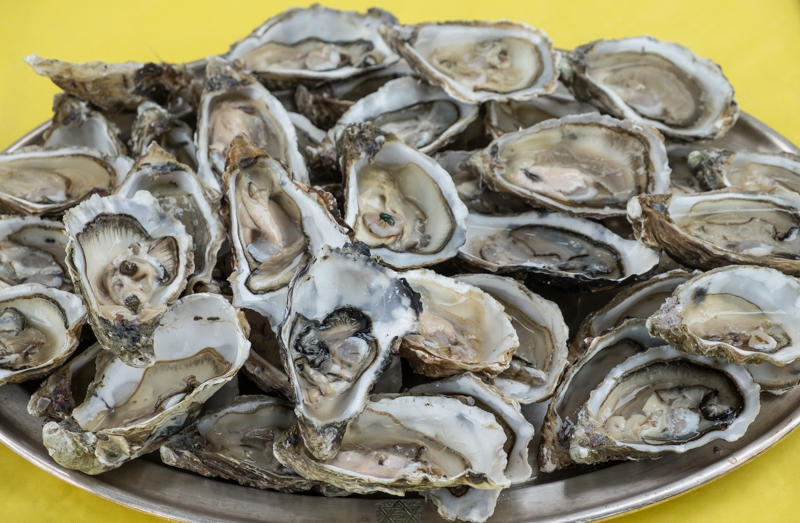 28_20
Before we sat down to eat, Joseph said he wanted to say a few words. We all expected something emotional and profound, but this time he just said "cheers" and told us to enjoy the meal. Which we did: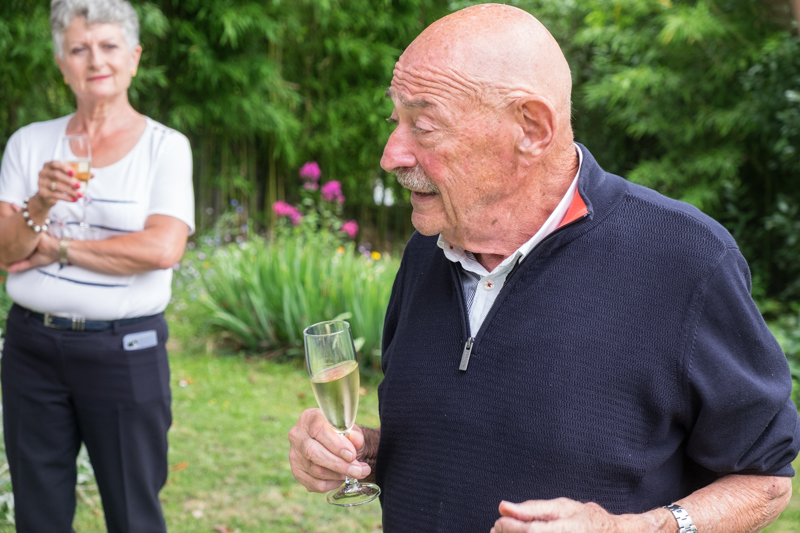 28_21
After lunch, Joseph wanted a group portrait with the young generation. All his grandchildren plus my daughter Monica are in this photo. For Joseph, the young Wajsmans represent the future, and the victory over the evil that tried to erase us from the face of the Earth 75 years ago: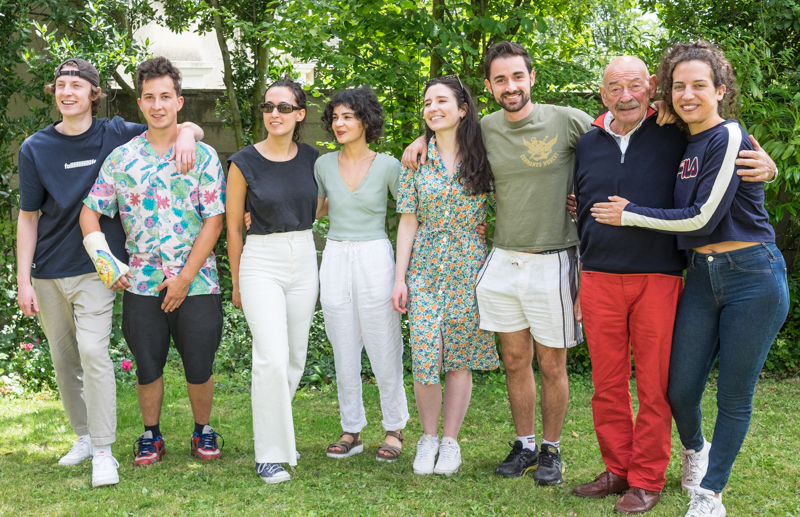 28_22
Sunday the 18th was the big day, and the main reason we were in Le Mans on precisely this date. But as always, I had my solitary walk in the morning, starting on Rue des Minimes, the main shopping street of Le Mans: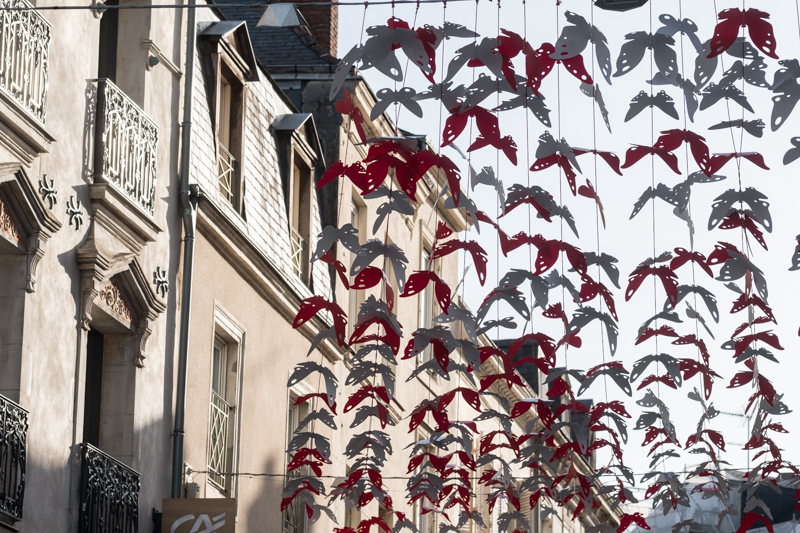 28_23
Rue Gambetta, morning light and streetcar: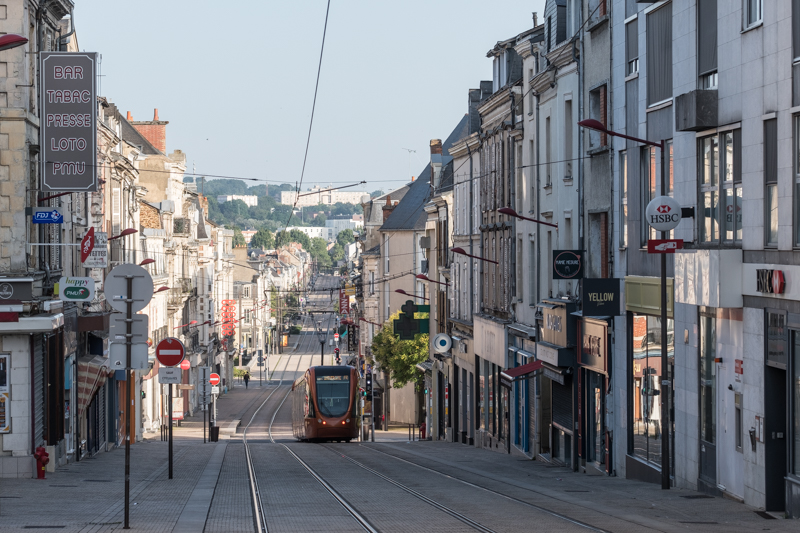 28_24
Polite sign outside a restaurant, explaining why face masks are mandatory: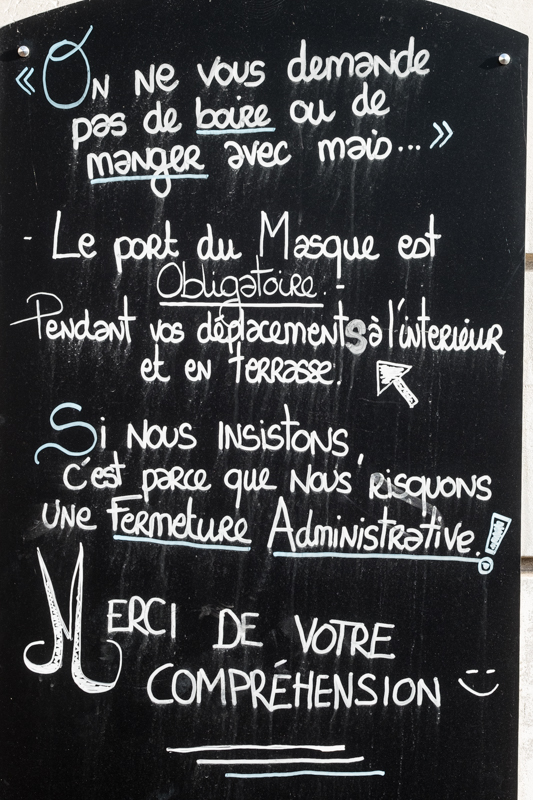 Then it was time for the formal part of the Sunday, Joseph's speech at the commemoration of the roundup of French Jews in 1942. The day before the commemoration the local newspaper Le Maine Libre published a nice interview with Joseph. You can read it here, both in French and in English (my own imperfect translation).
28_25
The roundup of French Jews began on 16th July 1942. Since the mid-1980, on the first Sunday after that date, ceremonies to commemorate this event have been held in many French cities, including Le Mans. For the past decade, Joseph has delivered a speech on this very formal and emotional occasion. Last year was an exception, due to Covid, but this year things are a bit more normal, and the event took place as usual, in front of the préfecture, the seat of the central government in the Sarthe region to which Le Mans belongs. The ceremony begins with various veteran groups marching out from the préfecture to the monument where the speeches take place, 30-40 meters away: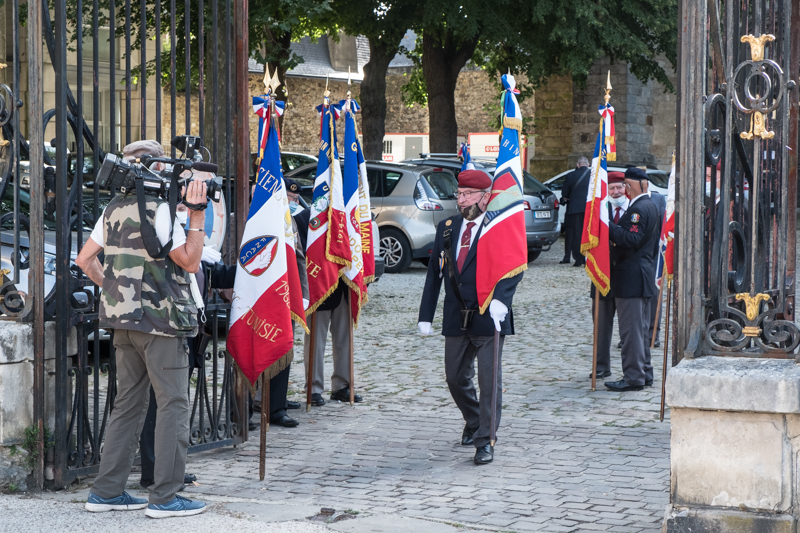 28_26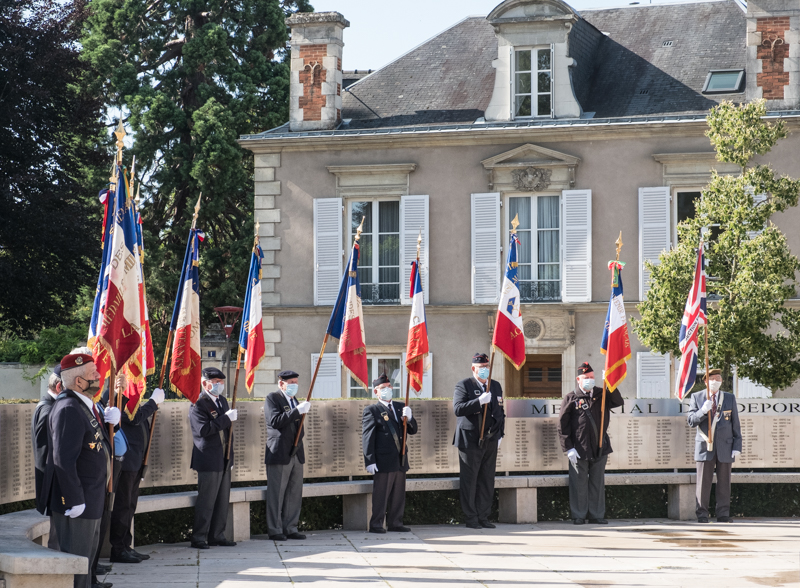 28_27
Joseph, getting ready: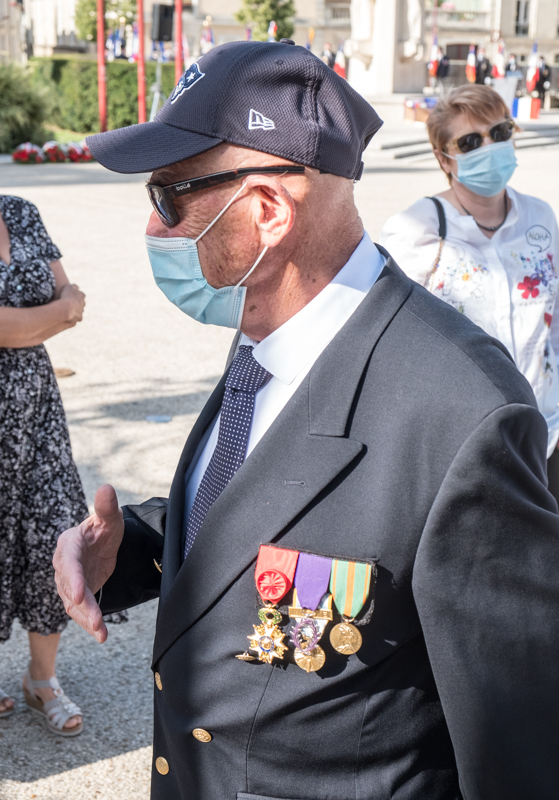 28_28
Delivering his speech, surrounded by his grandchildren–this is how he wanted it: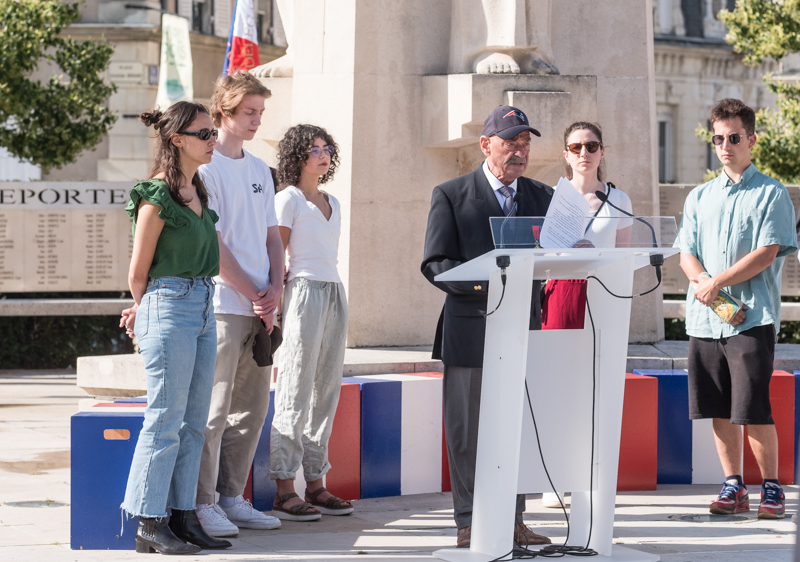 28_29
The ceremonies are done, and the veterans retire the colours. I was moved by the presence of the Union Jack; in these Brexit times it is good to remember the contribution made by the UK to the freedoms we enjoy today: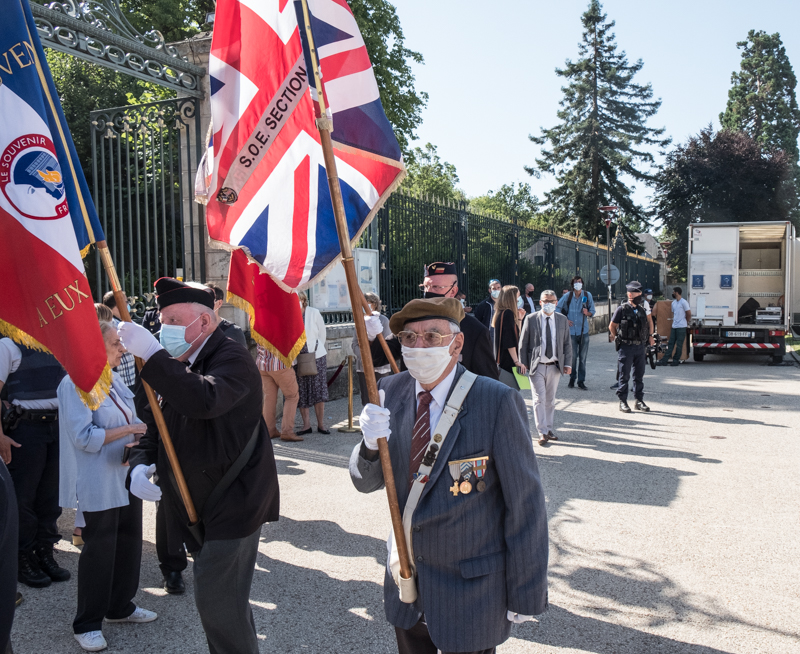 28_30
After the ceremony, a nice surprise. The prefect invited the family and closest friends inside for a reception. He gave a brief and very nice and personal talk to Joseph: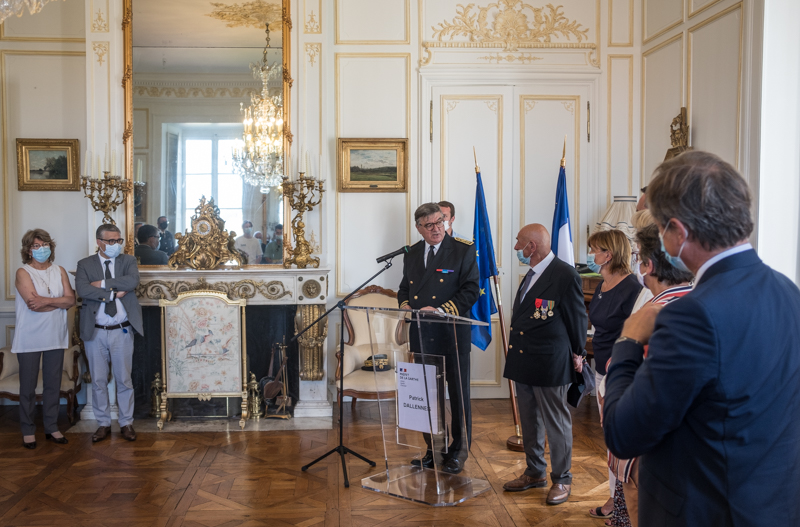 28_31
Joseph responds: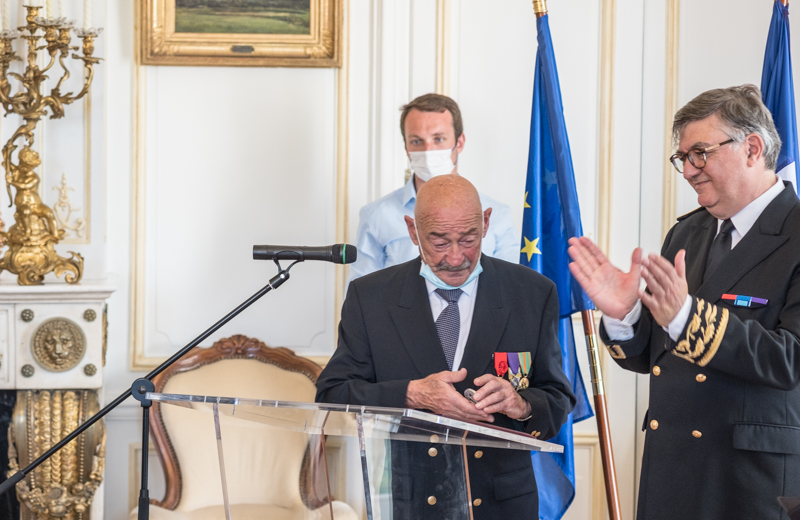 28_32
And then we all walked back to Joseph's house, 5 minutes away, for lunch (what else?). My daughter was put to work in the kitchen, together with several others: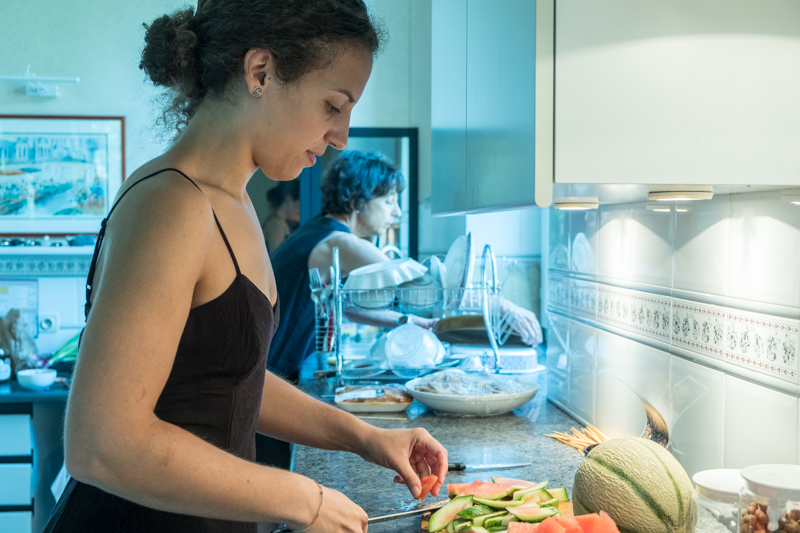 28_33
Monica's French cousins, lazing in the grass: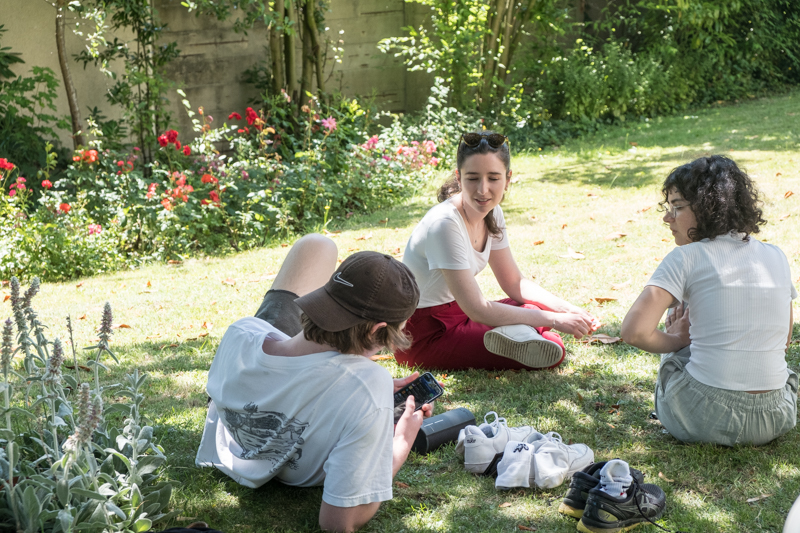 28_34
Francis and Oscar, performing an important task: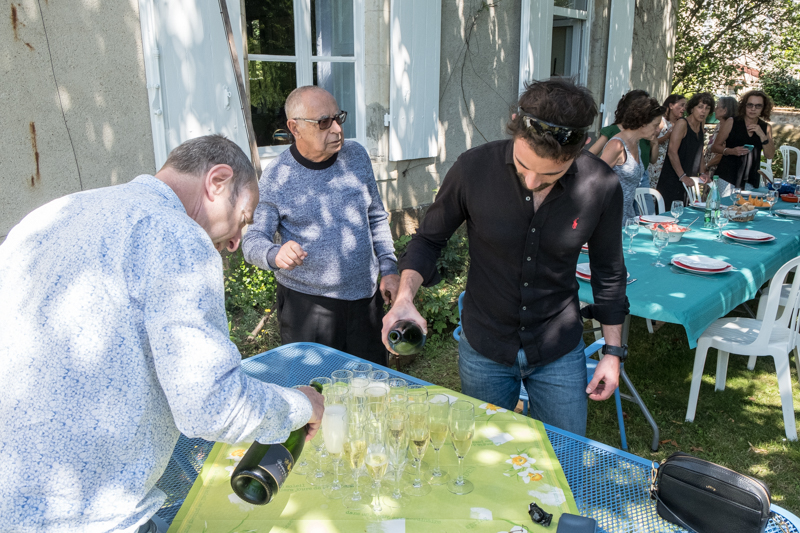 28_35
Before we sat down to eat, Joseph did a little speech to the family, expressing his happiness to see us all here. He spoke in French: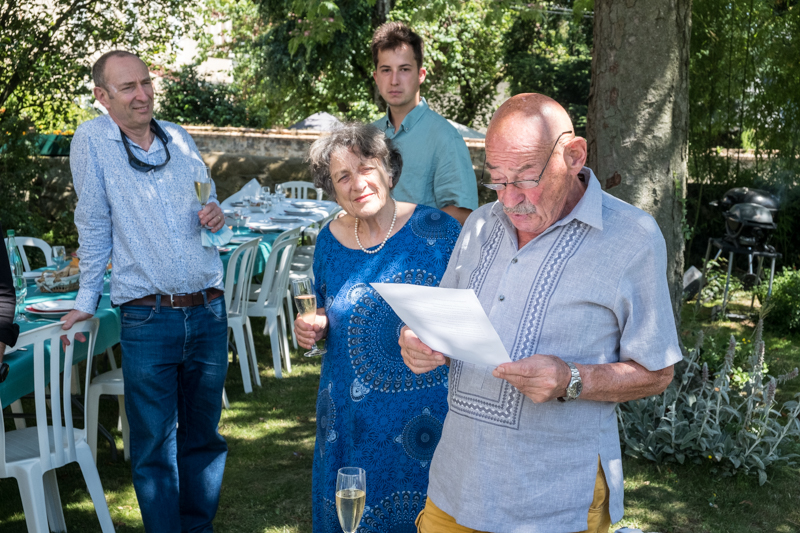 28_36
And then his ex-wife Francine, with whom he is (obviously) still on good terms, read the English translation (Francine is English but has lived in France most of her life):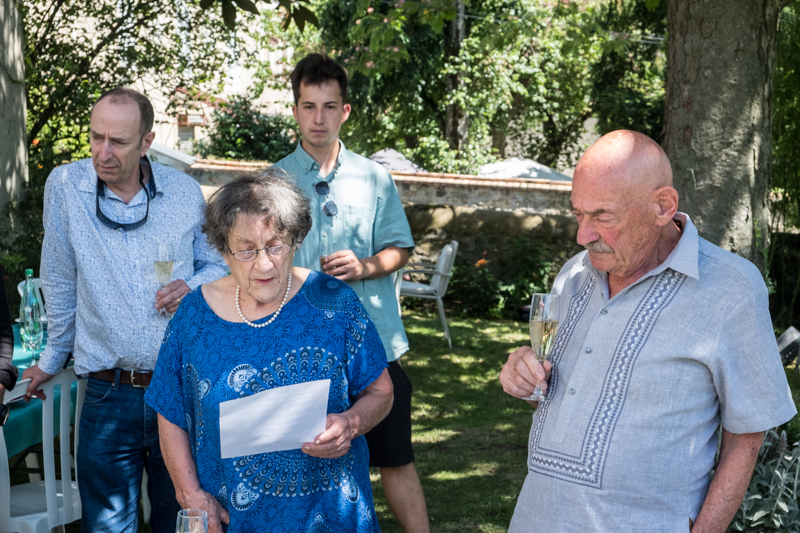 28_37
We finished the day by driving to a place a few km outside Le Mans to go for a hike along the Sarthe river. It was a wonderful end to an intense day, with nice light, dogs and people: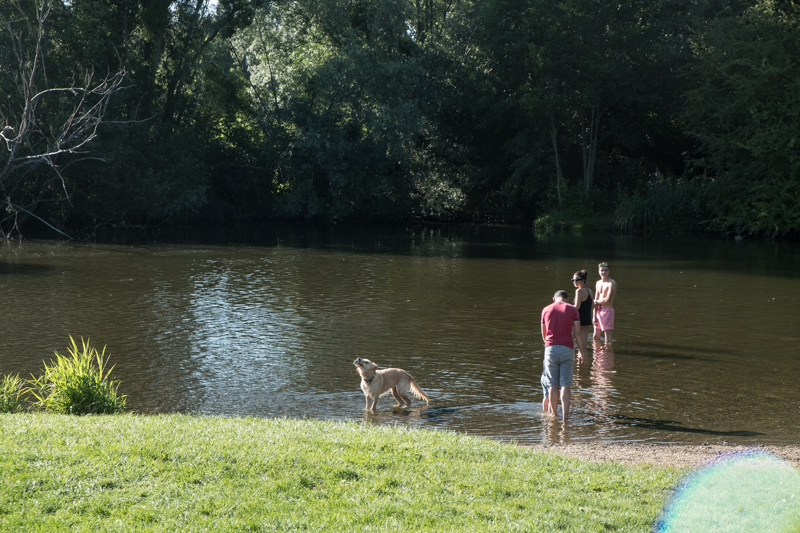 28_38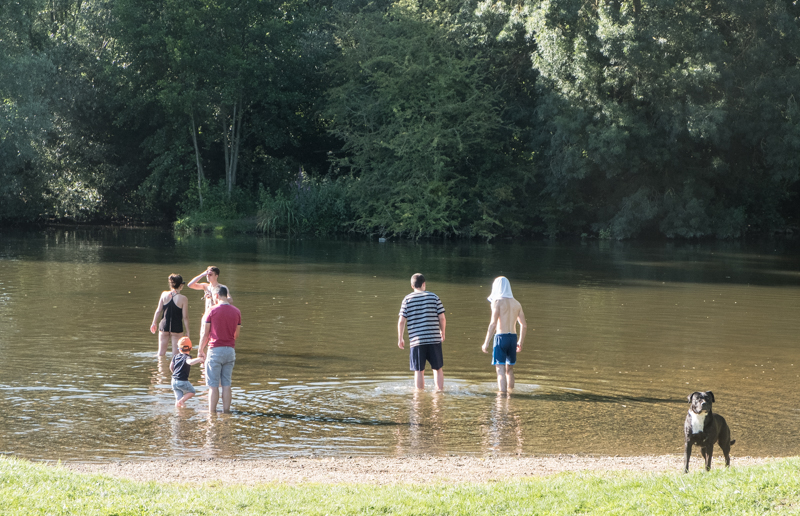 28_39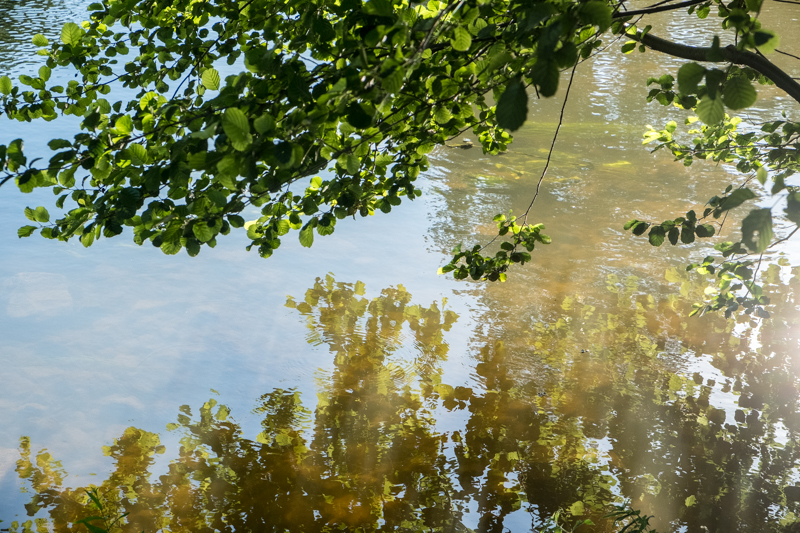 More photos from the family reunion are here, and there is also a gallery dedicated to the city of Le Mans.