The second week of May was one we awaited eagerly. This was the week when my wife and I would fly to New York to visit our son for a very special occasions. But in the early part of the week there were the usual activities of working and cycling, including a visit to Hostal Maruja with a new colleague.
19_1
I start in my own garden. The Magic Cactus inherited from my mother in 2001 clearly liked the weather in May, more unstable than any other May I have experienced here in Alicante, but with enough sun to make it flower twice. The flowers started showing during the weekend. By Monday evening, they were getting ready: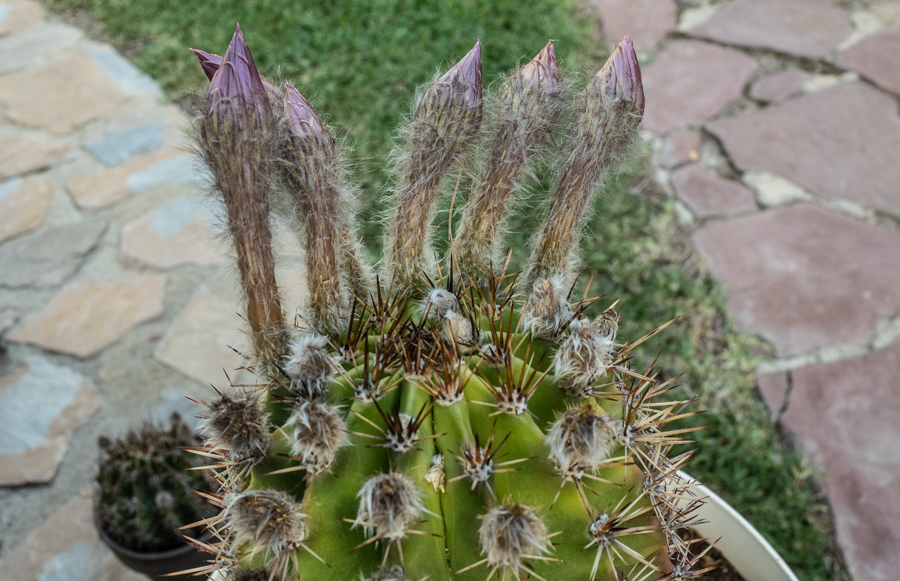 19_2
By Wednesday evening, the flowers were ready to burst: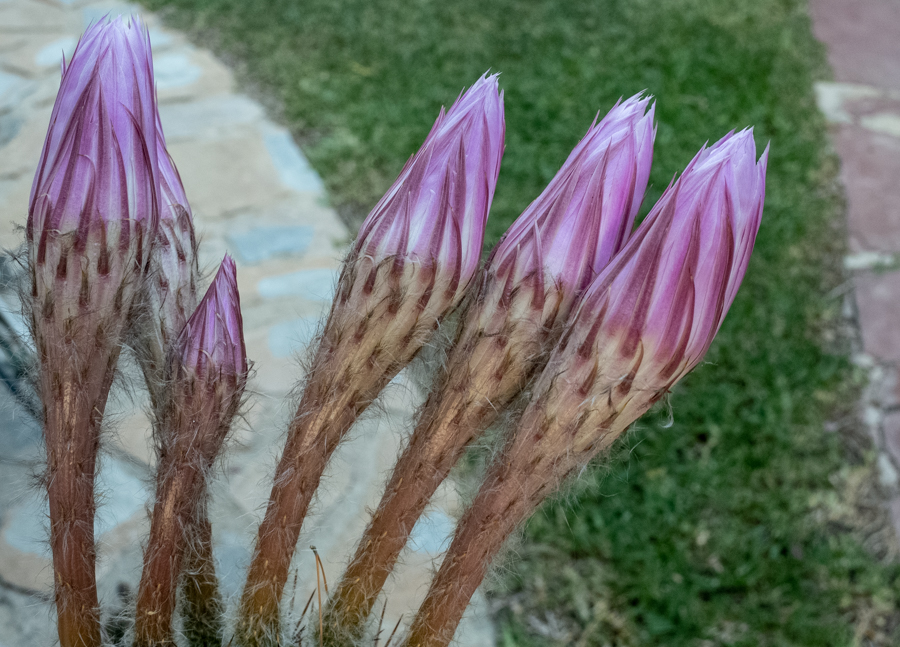 19_3
And this was the scene the following morning: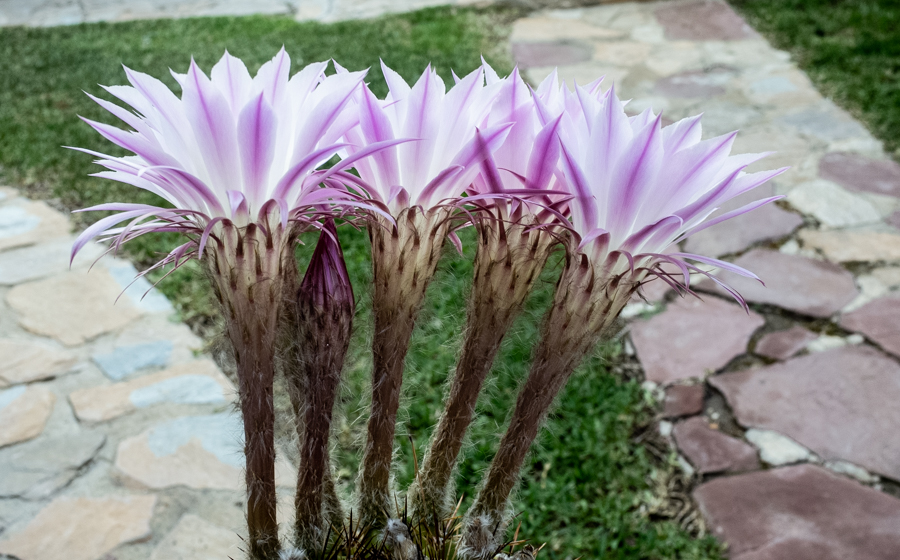 19_4
I continued my habit of an occasional stop at the 100 Montaditos bar in Playa San Juan on my way home from work, enjoying a pint of beer and looking at the sights. One sometimes sees strange outfits at the tables: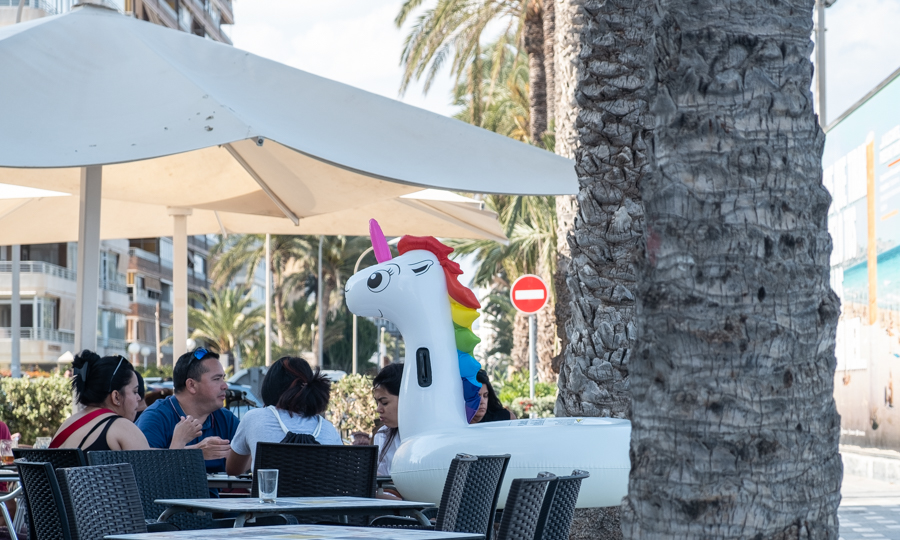 19_5
Exploring: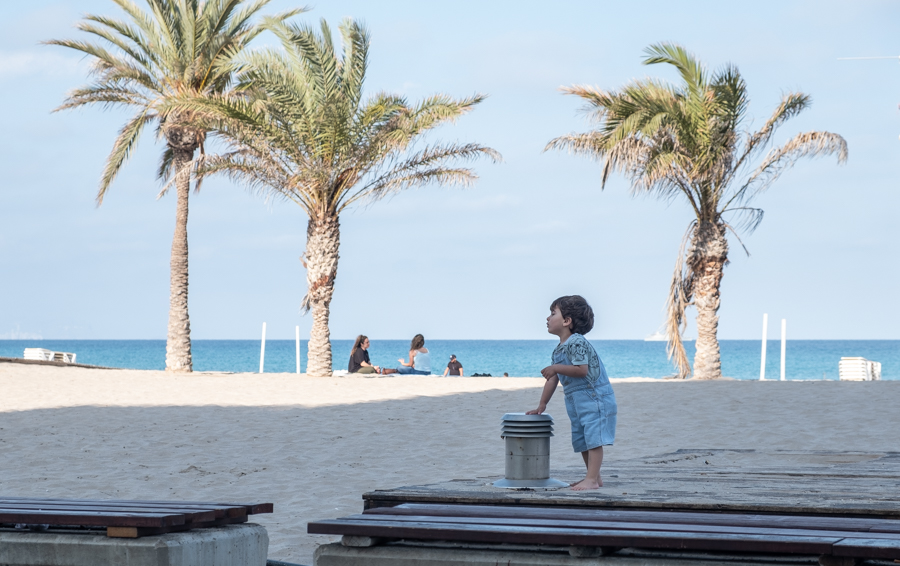 19_6
Wait for me!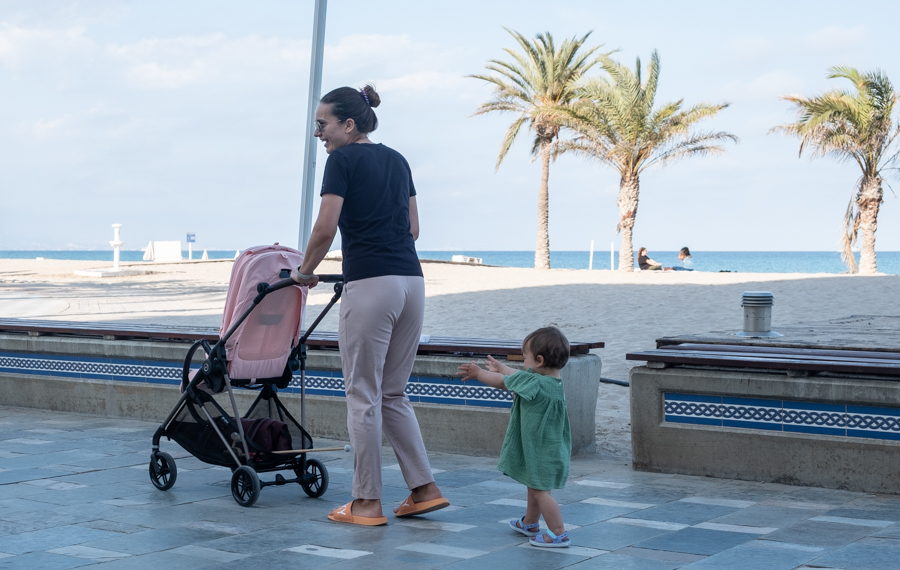 19_7
Back at work, a Romanian colleague, Livia, asked me to take some portrait shots of her for some conference where she was going to speak. This is the kind of request to which I happily say yes: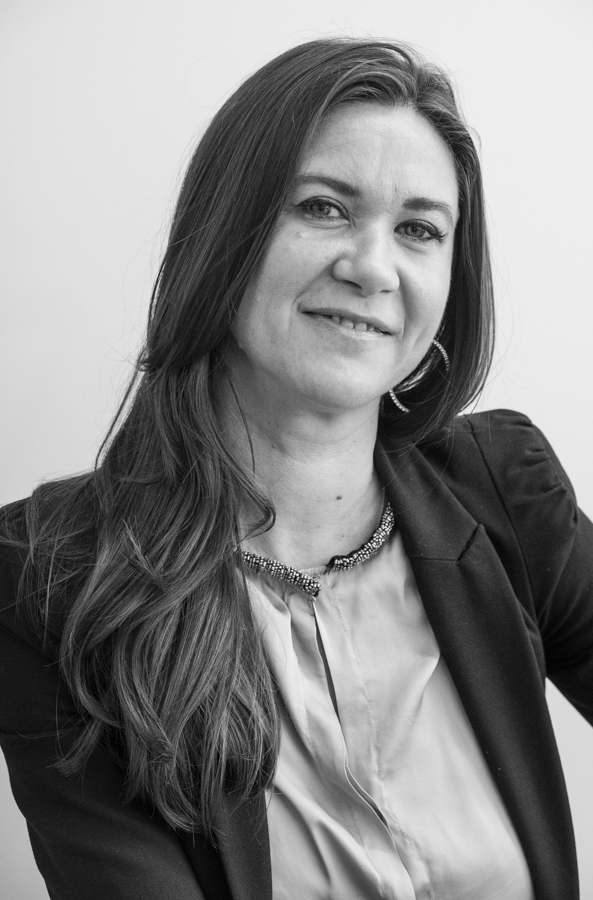 19_8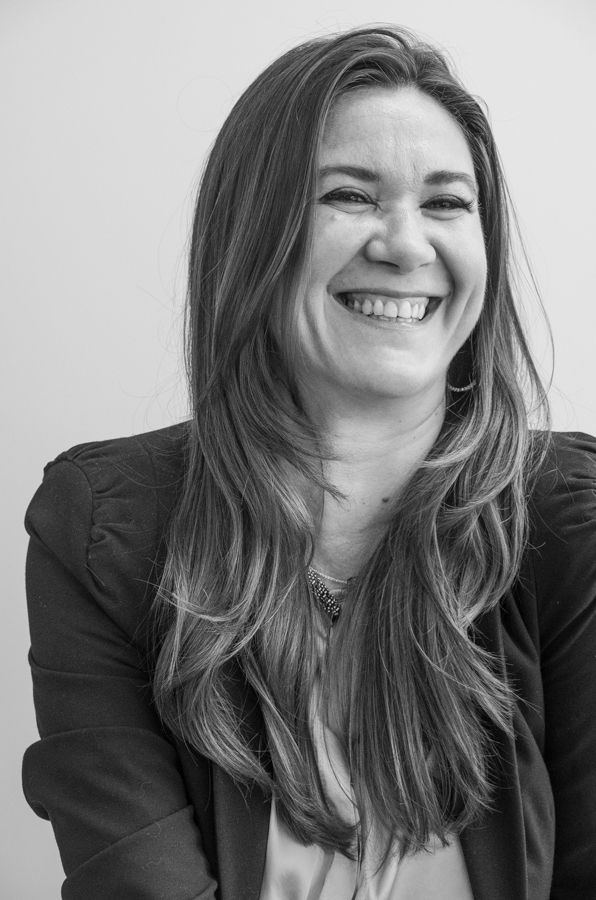 19_9
This week we also made the occasional lunch excursion to Hostal Maruja, the seaside restaurant in La Marina, a village about 20 km south of the office:

19_10
The excuse for the lunch was that we have a new colleague, Inmaculada (Inma for short) whom we wanted to introduce to the joys of Hostal Maruja; and our Swedish colleague Kaisa, who has been with us on loan from the Royal Library in Stockholm, is going back at the end of June, so we also wanted to give her one last outing to this place: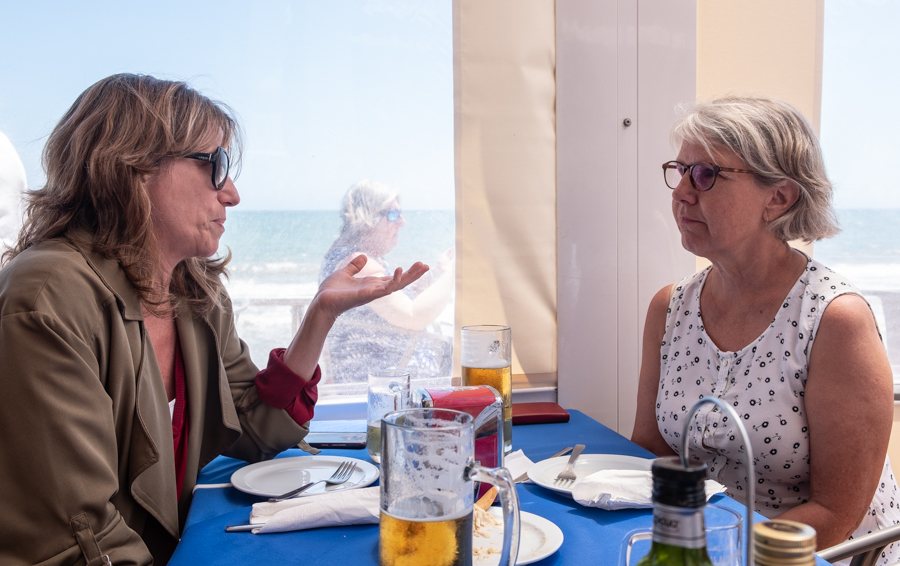 19_11
As usual, Carolina was with us, and we relied on her Galician expertise to help choose the seafood we were going to enjoy: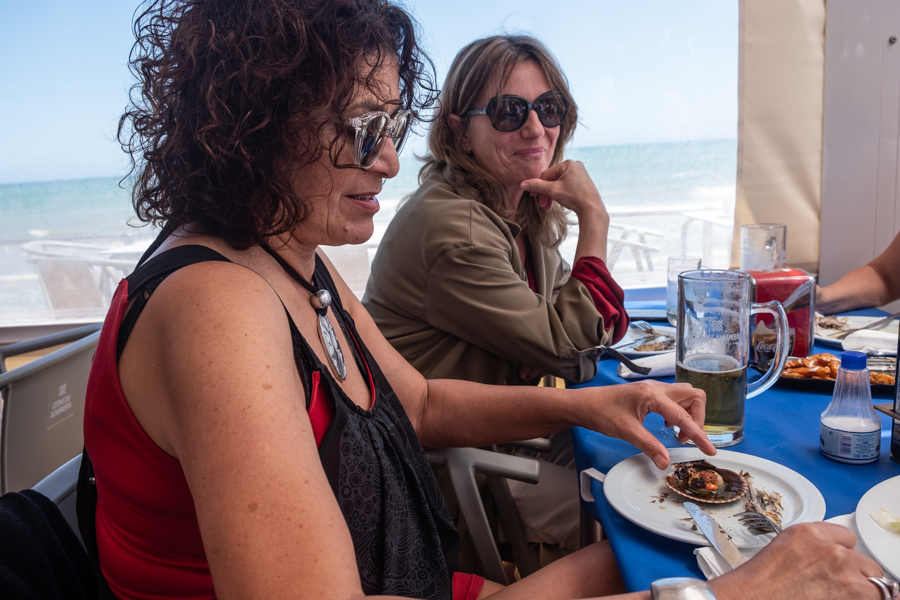 19_12
Hostal Maruja is a place which could adopt the slogan "come for the view, stay for the food". We started with patatas bravas: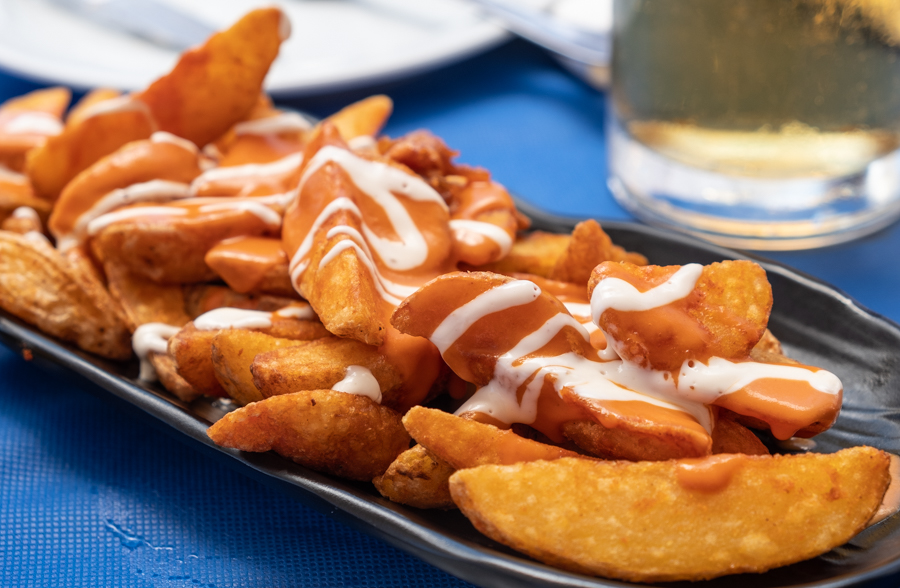 19_13
But fish and seafood are the focus here, much of it sourced from the nearby fishing harbour of Santa Pola. Grilled sardines: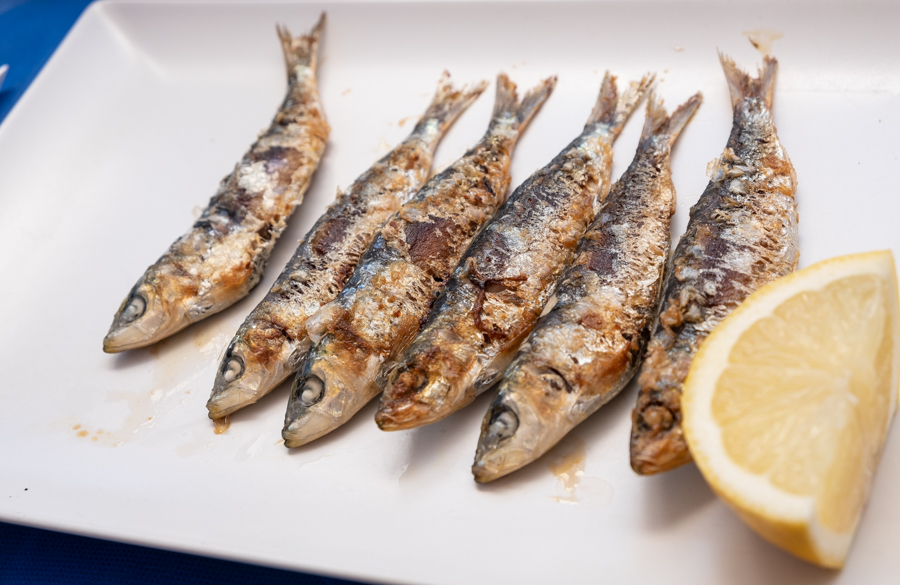 19_14
Clams: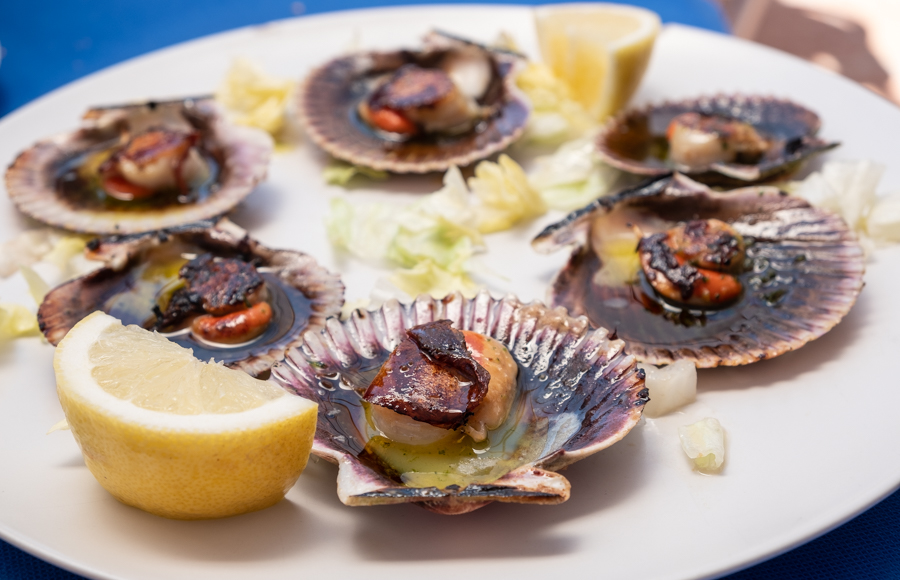 19_15
Pulpo a la plancha:

19_16
Finally the big day arrived. On Friday morning my wife and I flew to Madrid and from there on to New York. After landing at JFK and making our way through the passport control (a zoo as always there), we picked up our rental car and drove to our son's apartment in New Jersey. Those familiar with New York City geography will know that this entails crossing from Queens into Manhattan (in our case through the Midtown Tunnel), then crossing Manhattan from east to west, and finally crossing into New Jersey via the Lincoln Tunnel. This being Friday afternoon, we got an instant taste of the pleasures of driving in New York; I tried to make the best of it by taking this picture of a billboard with a message that was very topical in this situation: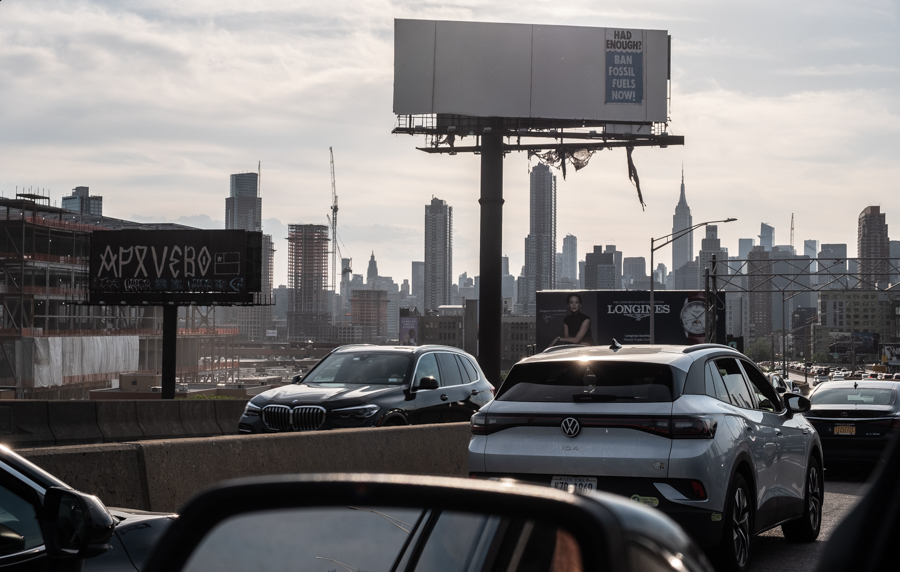 19_17
The odyssey was finally over around 7 p.m., and we arrived at my son's apartment in Weehawken, NJ, where we were welcomed by our "grandpets", Euclid the Dog: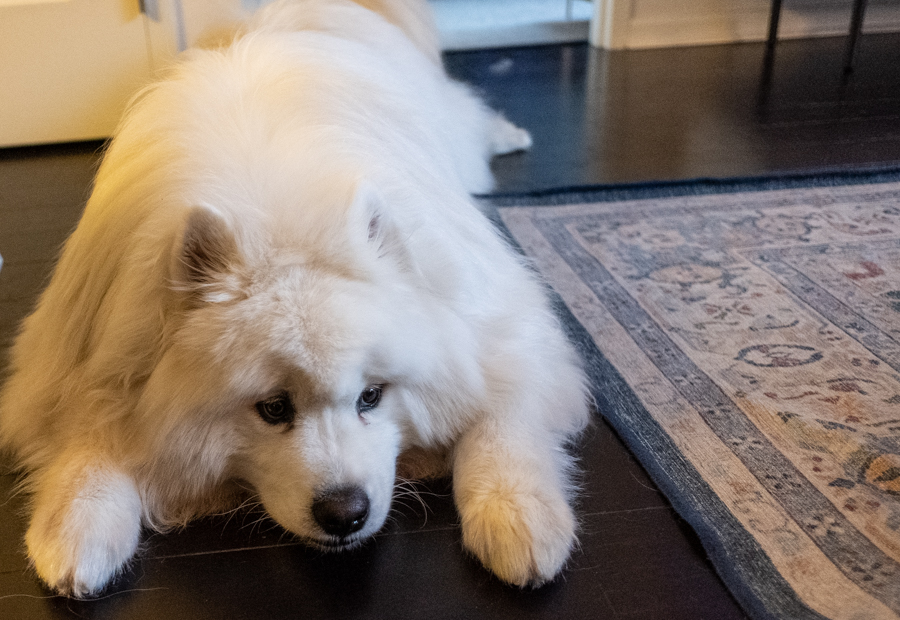 19_18
And Watson the Cat (named after James Watson, the discoverer of the double helix):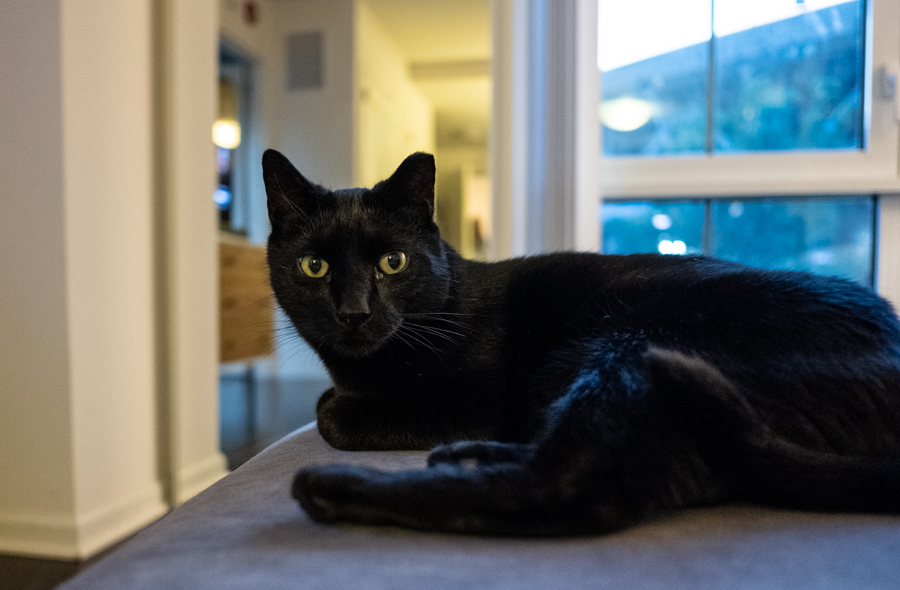 19_19
Saturday, our first morning in Weehawken, with a hazy sunrise over Manhattan: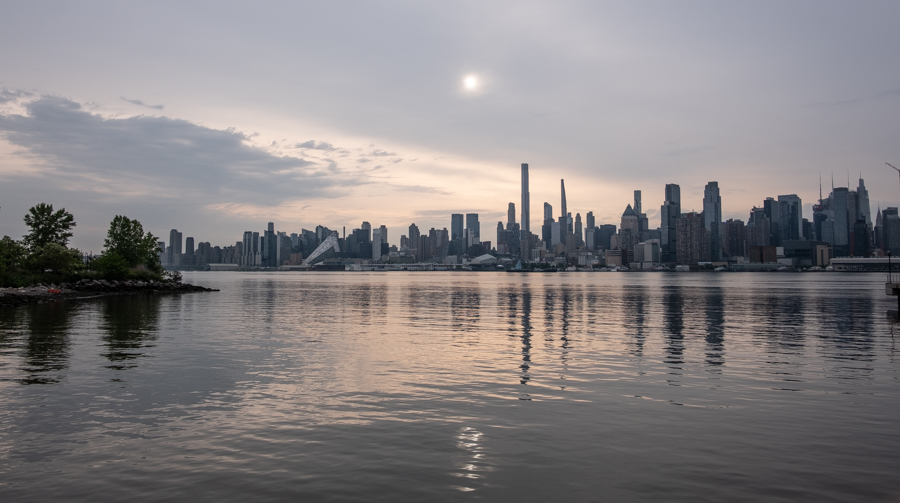 19_20
My wife and I accompanied my son to the dog park near his apartment complex. Euclid is a young Samoyed, a breed that needs a lot of exercise, so he gets taken to the dog park almost every morning. Playing with other dogs is part of the fun too: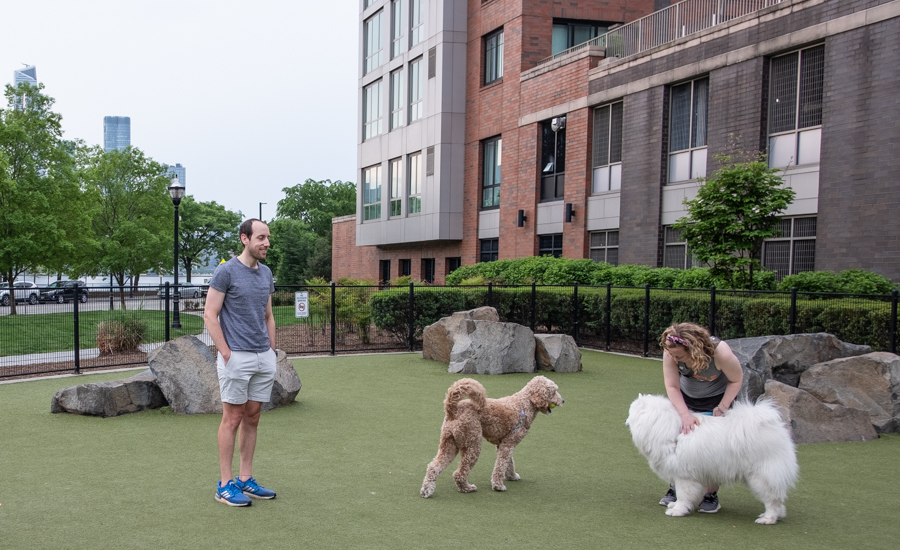 19_21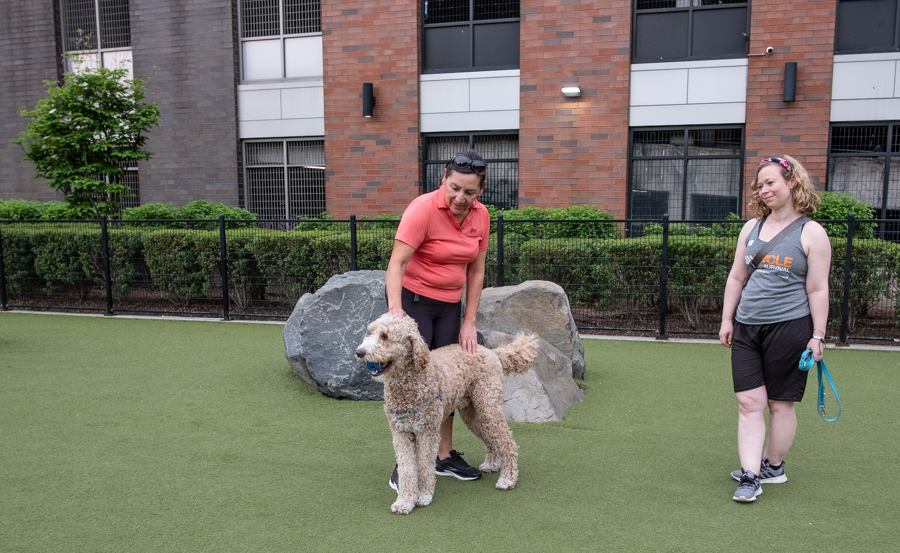 19_22
Afterwards, my wife took Euclid for a walk around Lincoln Harbor (the name of the part of Weehawken where we were):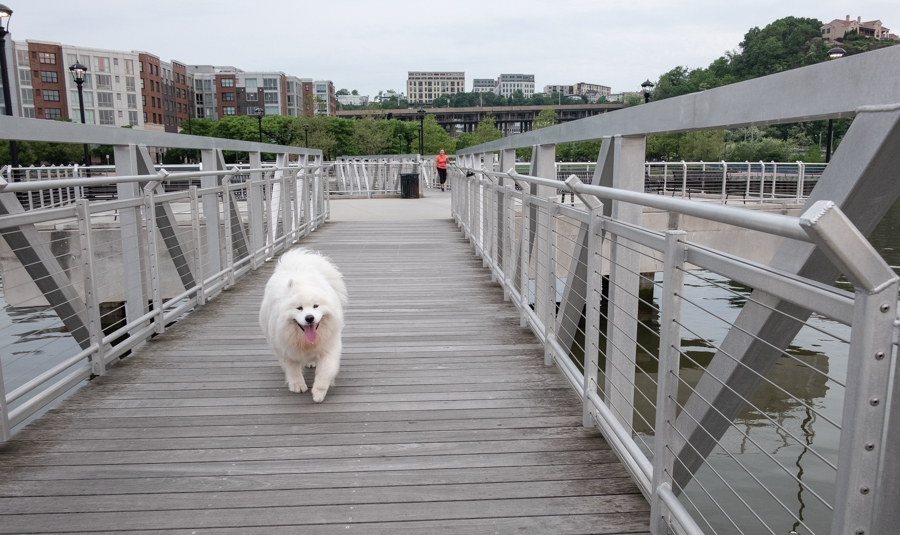 19_23
Finally, Euclid indicated that now he was tired and ready to go back to the apartment: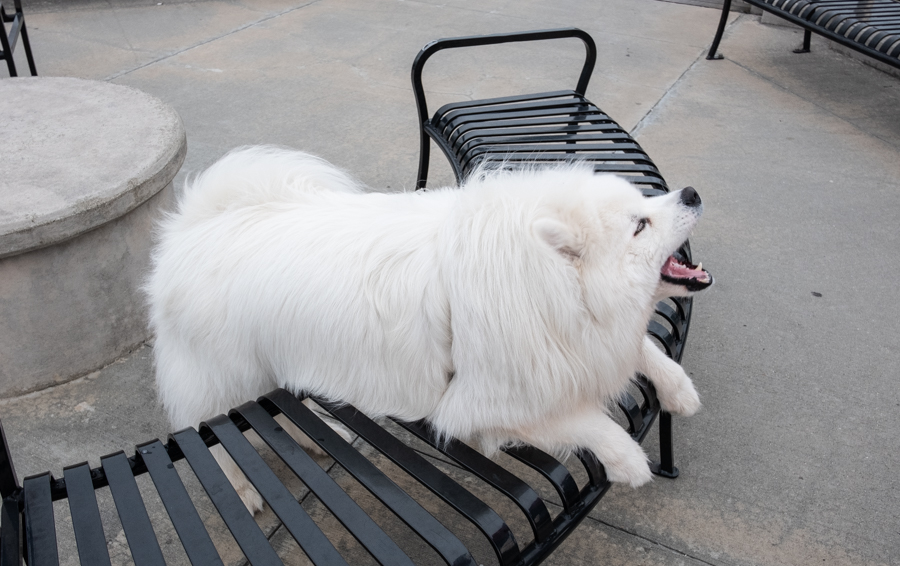 19_24
Later on Saturday, we drove to the city to walk around a bit and to have lunch at a diner in Chelsea. I was pleased to see solidarity with Ukraine on display here too: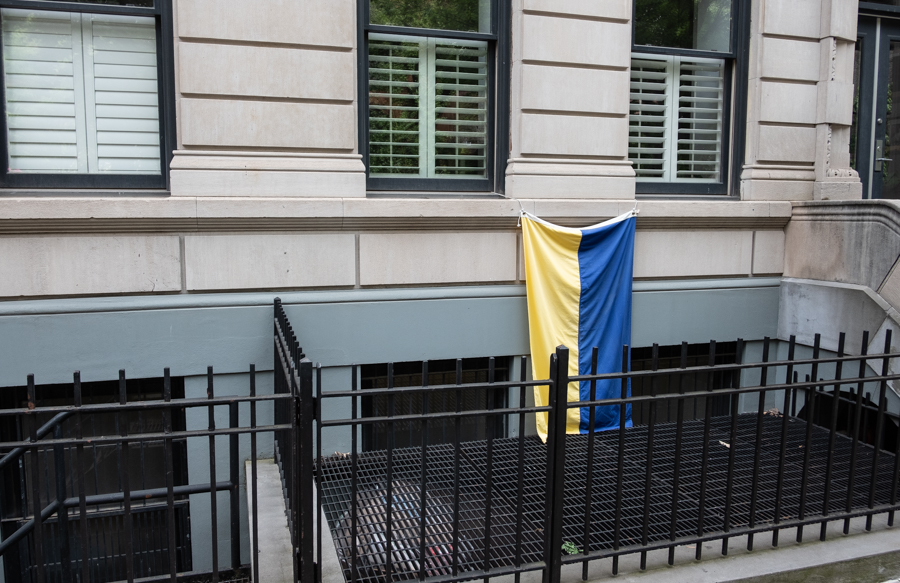 19_25
My son and daughter-in-law wanted to have lunch at the Empire Diner on 10th Ave. and 22nd St., one of their favourites. I noticed the impressive mural in the background: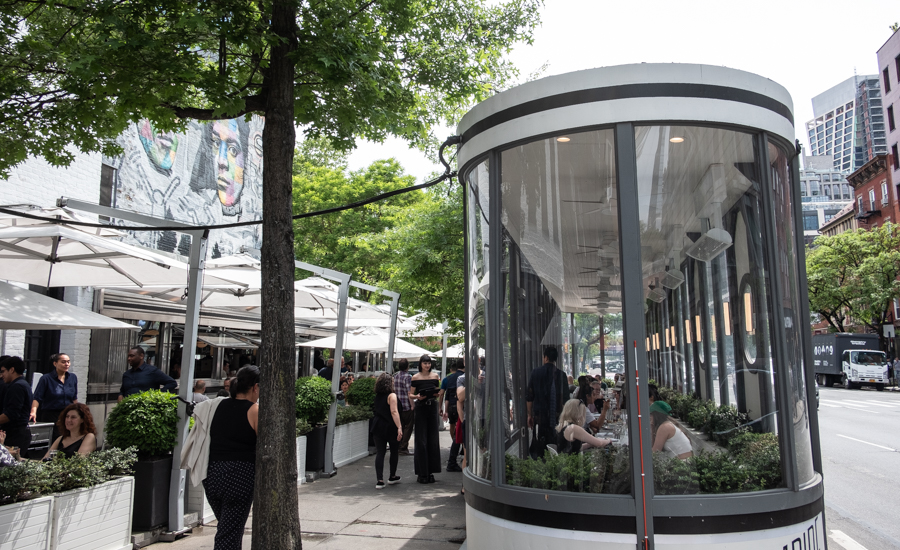 19_26
Detail of the mural; my Brazilian daughter-in-law Myrela pointed me to the signature. The artist is a famous Brazilian street artist, Carlos Eduardo Fernandes Léo, known as Eduardo Kobra. He always signs his murals with "Kobra" and the Brazilian flag: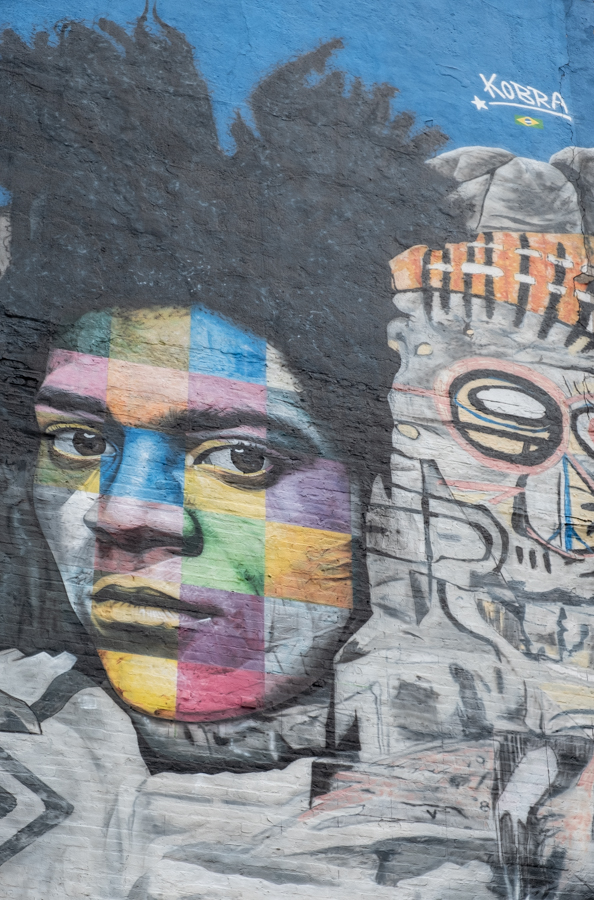 19_27
Inside the Empire Diner. The outdoor eating space, presumably created when the Covid pandemic hit in 2020, is quite elaborate now: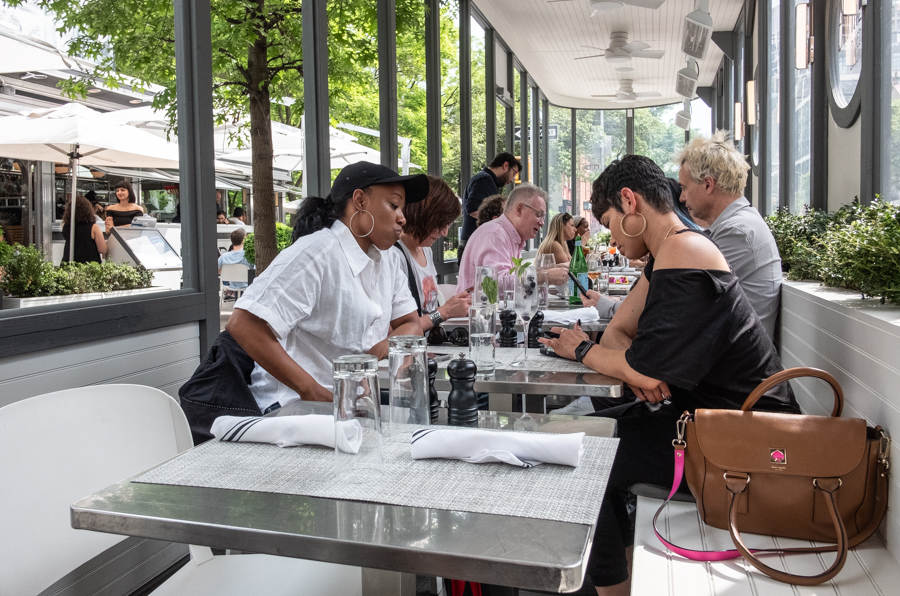 19_28
The area was really nice and felt like a real neighbourhood. While walking to the car, we passed this small park, called Clement Clarke Moore Park, where some people were having a children's birthday party: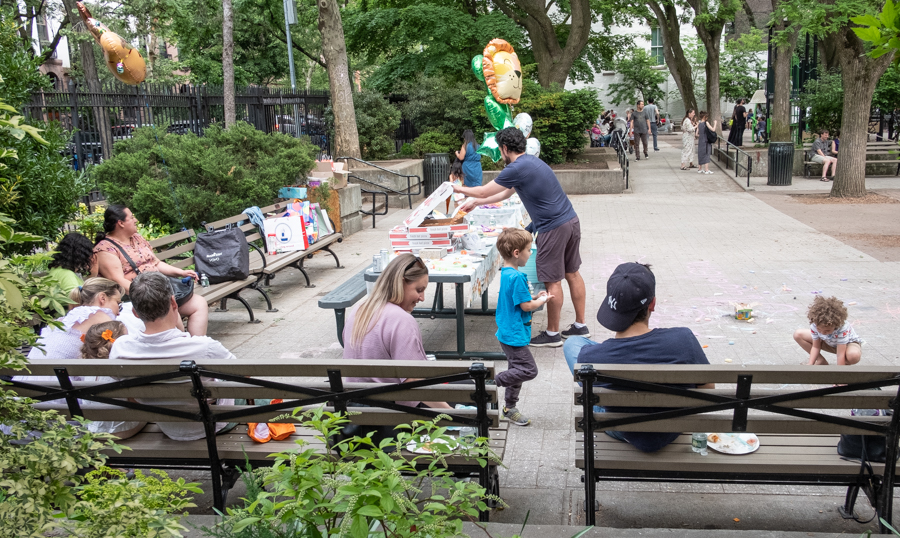 19_29
A bit further on 10th Ave. we passed a wonderful, old-school bookshop called 192 Books (needless to say, I did not leave empty-handed):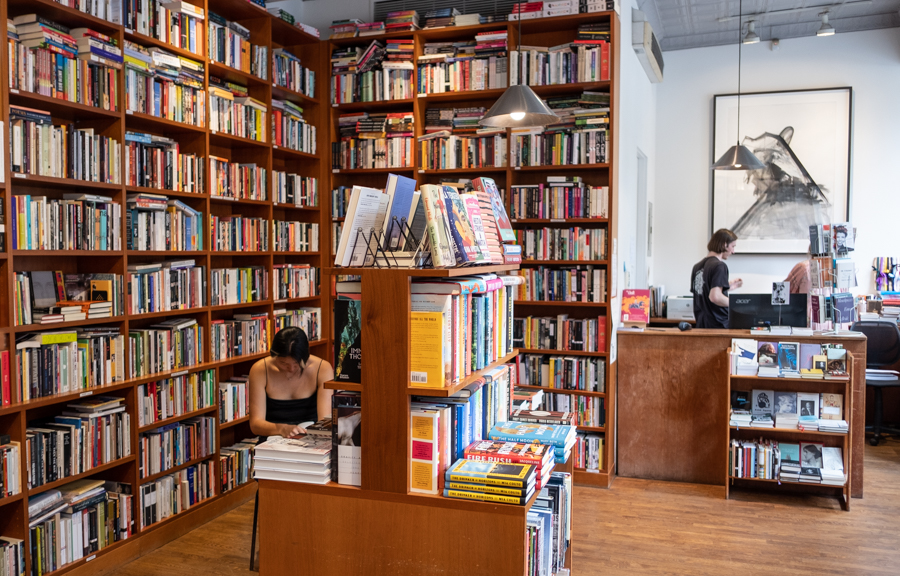 19_30
Then we walked a bit on the Highline, a place I really love. We also did this while visiting last year, but that day the weather was cold and windy; now it was nice and sunny, much more conducive to walking in the park: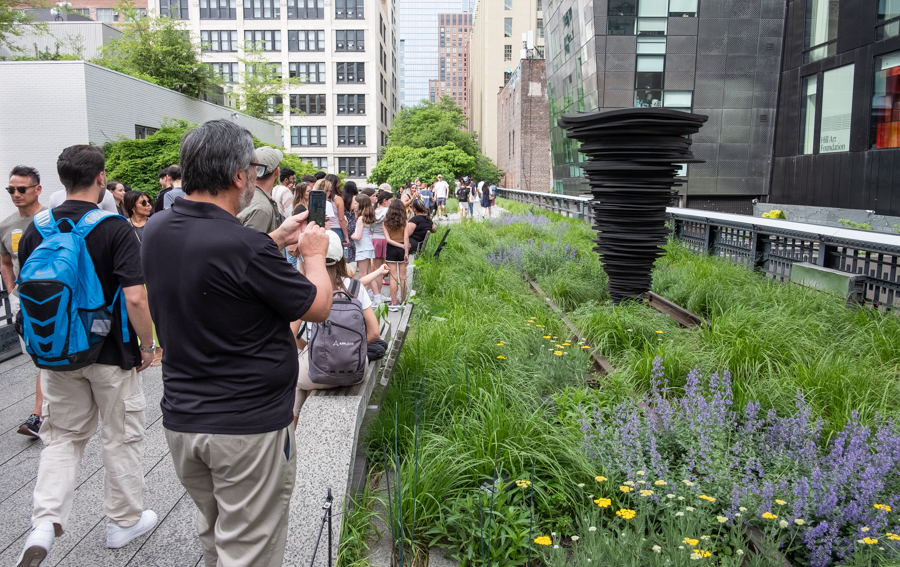 19_31
Moses and Myrela take a break on the Highline: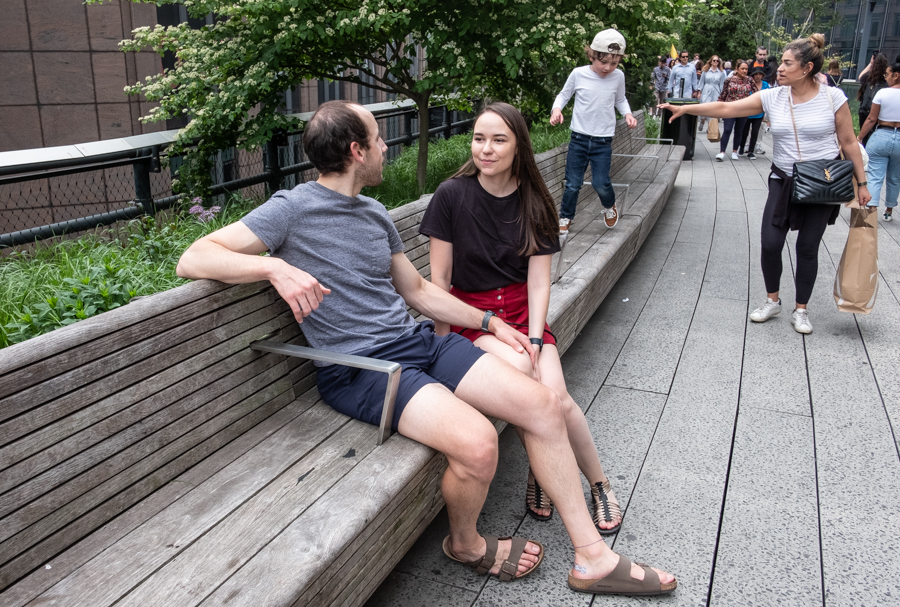 19_32
I like the Highline both because it is a nice park and because its elevation above street level means a good view of the surrounding buildings. The people who live in them take advantage of the visibility to display messages they wish to convey: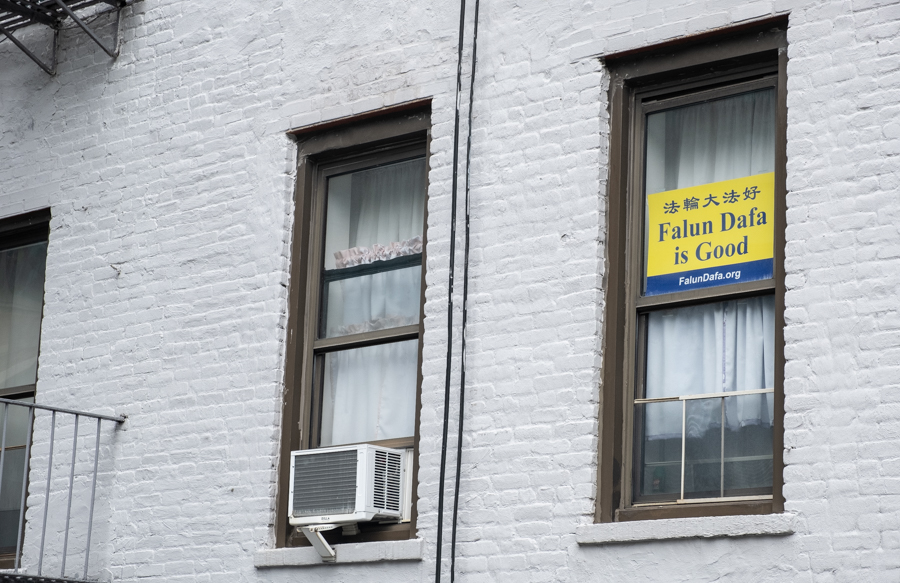 19_33
The messages are not always obvious: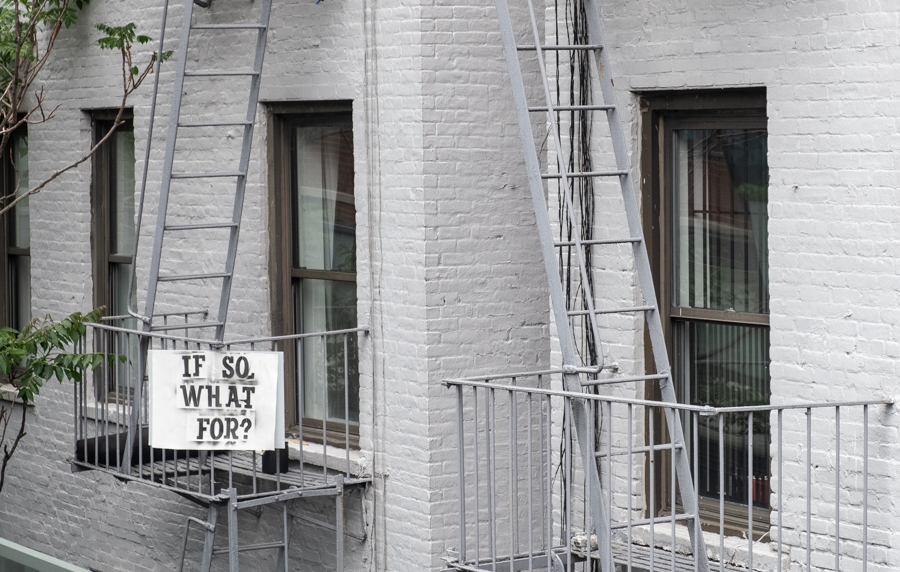 19_34
As always, I was on the lookout for wall art along the walk: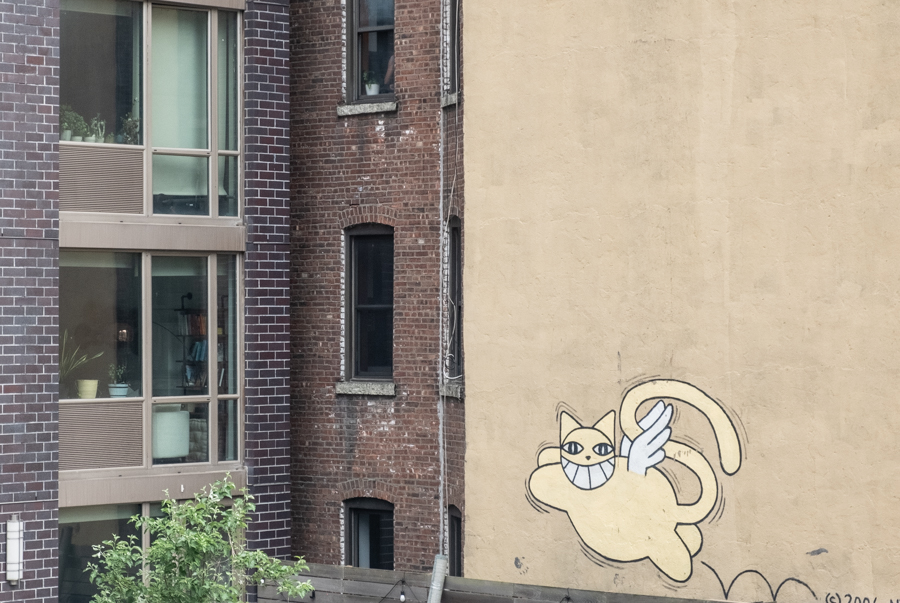 19_35
Another non-obvious message: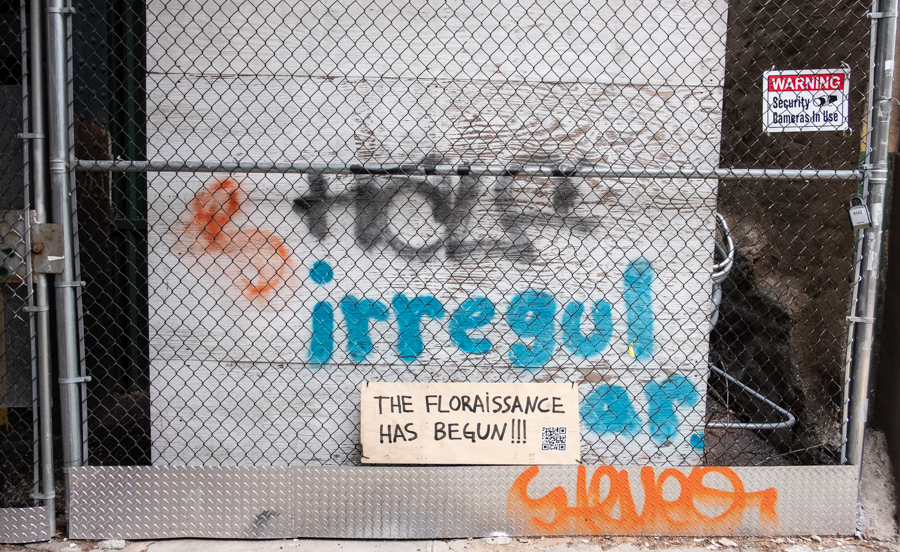 19_36
I have been coming to New York with some regularity in recent years, and one change that is very noticeable is the increase in the use of bicycles, for work and commuting: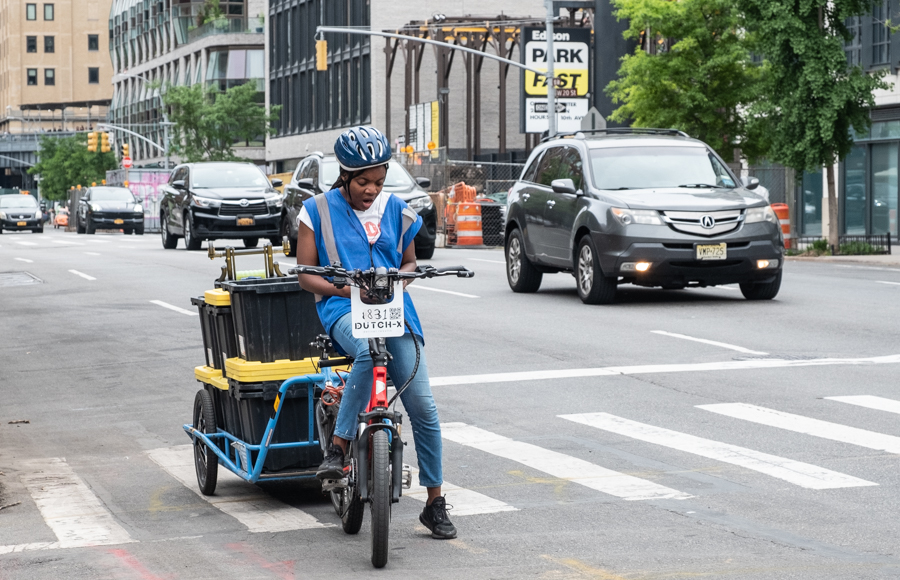 19_37
More traditional NYC transport; this is the place where I have seen more stretch limos than anywhere else: