The highlight of the week was a trip to Munich to spend a day working on a study we are doing jointly with the European Patent Office. There was also some free time to enjoy the city, and most of the pictures in this week's blog are therefore from Munich–but I start and end with some pictures from home.
20_1
I have recently started taking golf lessons, just to see what the fuss is about, and to humour my wife who has become an avid golfer in the past year. There is a pet swan hanging around the practice area: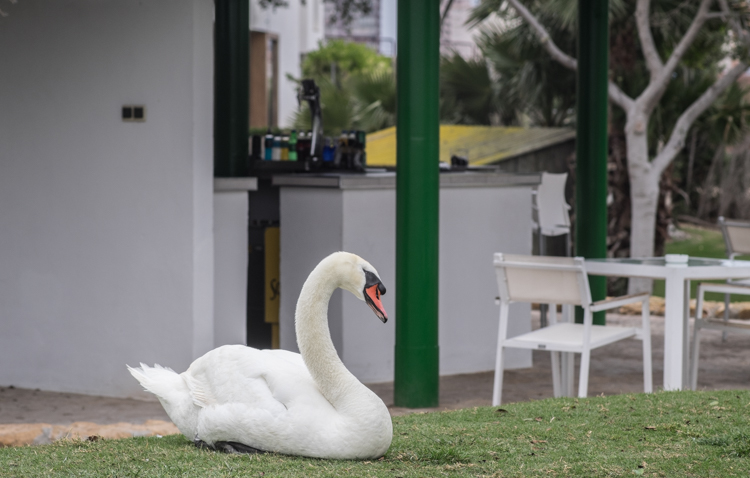 20_2
The swan acts as if he owns the course: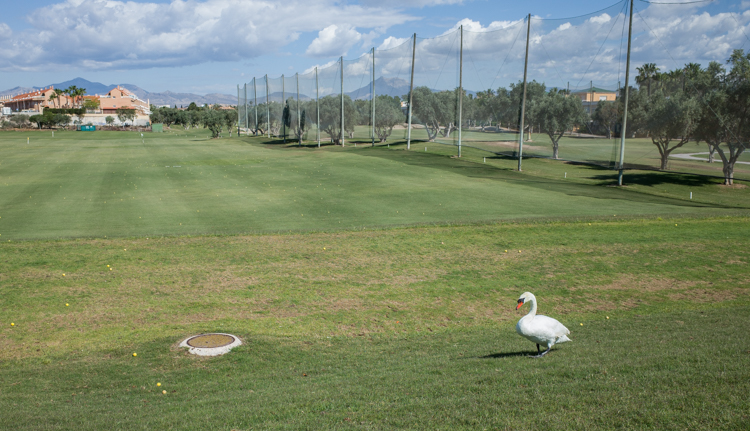 20_3
Including the driving range: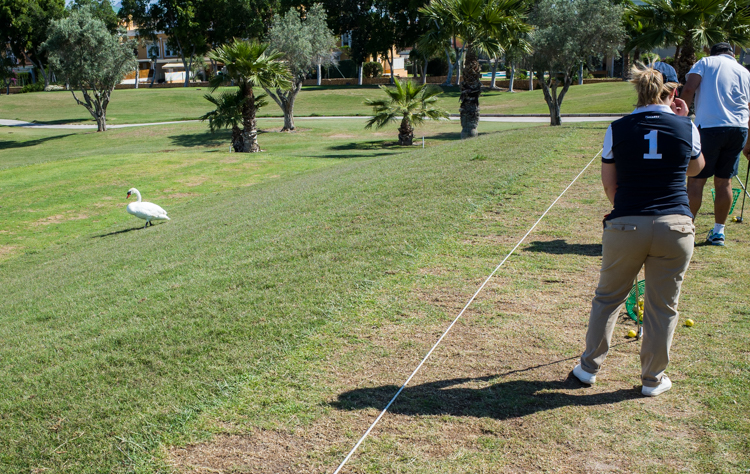 20_4
On Monday, I travelled to Munich with two colleagues. We flew from Alicante to Madrid in what I call a "toy plane", a little commuter plane with no room for properly sized carry-on luggage and unable to use the gate. So when we landed in Madrid in heavy rain, I was the first person inside the bus that would take us to the terminal building, and entertained myself photographing the people retrieving their small suitcases: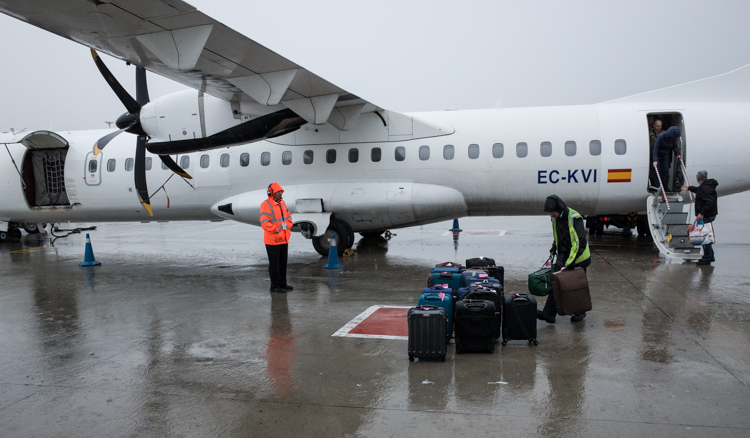 20_5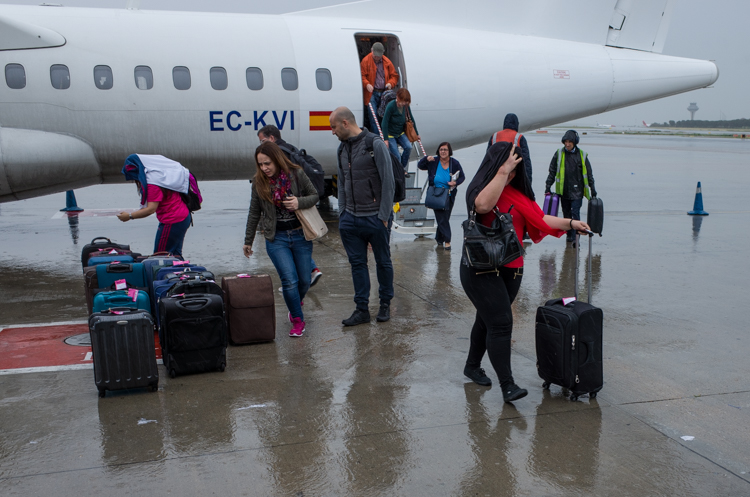 20_6
Carolina grew up in Galicia, Spain's rainiest region, so she took it all in good cheer: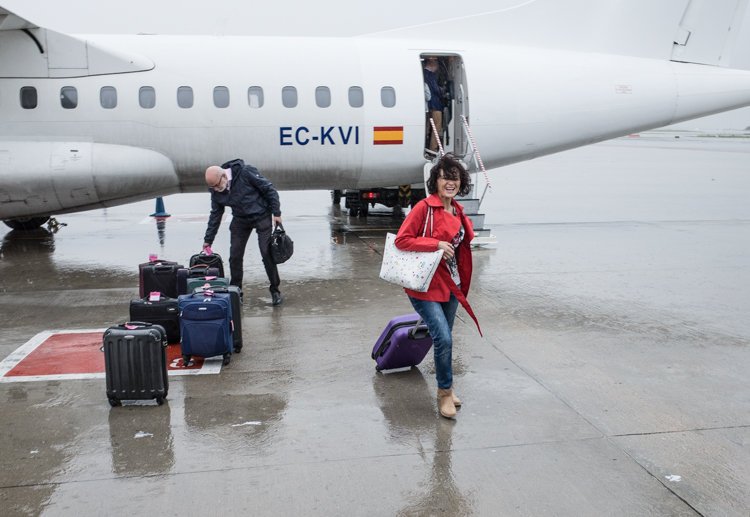 20_7
A few hours later, we found ourselves in a traditional Munich restaurant by the shore of a lake in a quiet part of Munich: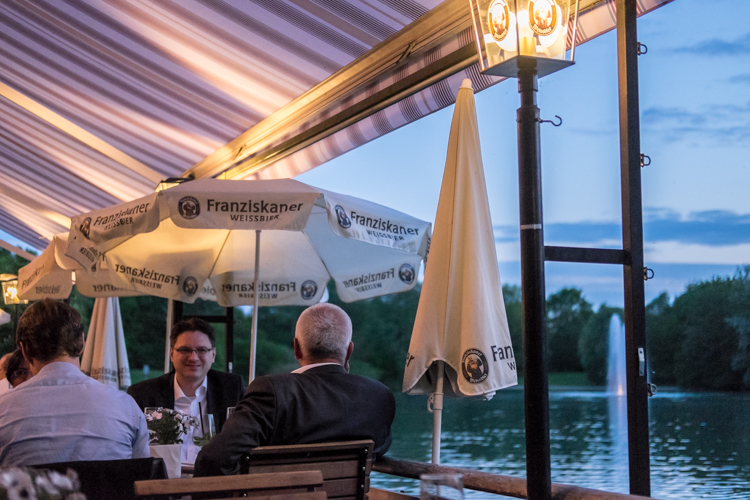 20_8
View from our table: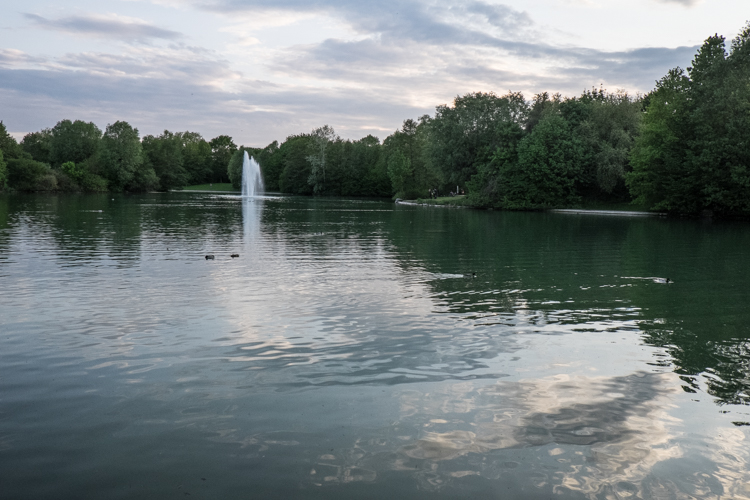 20_9
Franziskaner beer is ubiquitous in Munich: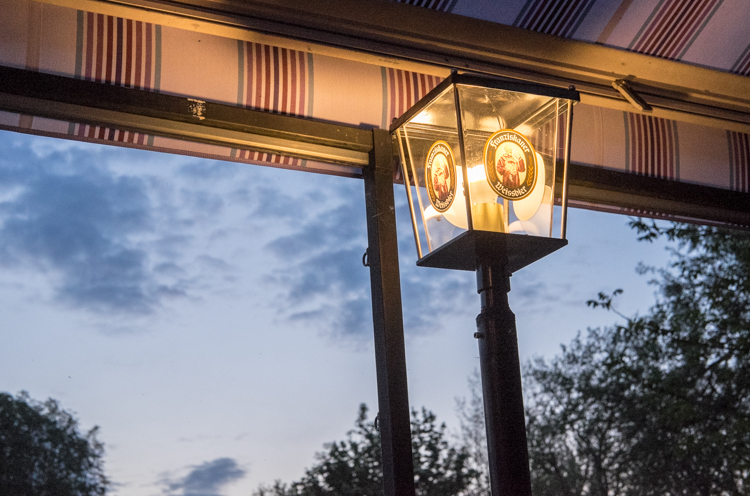 20_10
Two of our EPO hosts; Karin arranged the evening, Ilja is a senior economist at the agency: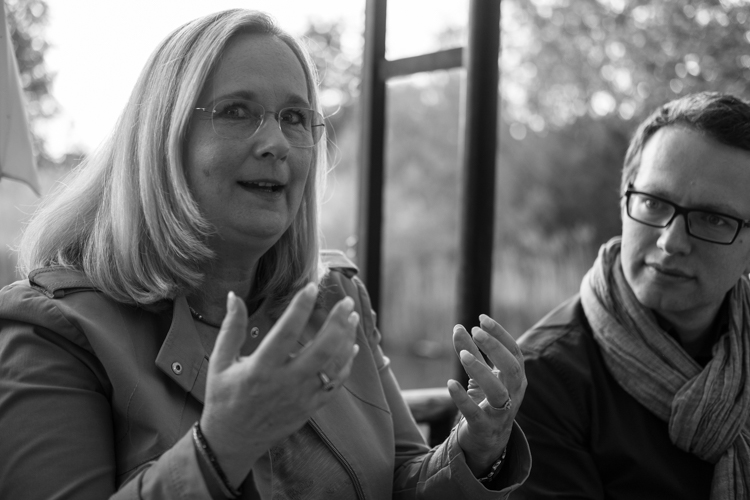 20_11
Our hotel was in a quiet, residential neighbourhood. Even the local Chinese restaurant had a beer garden. Nice mixing of cultures: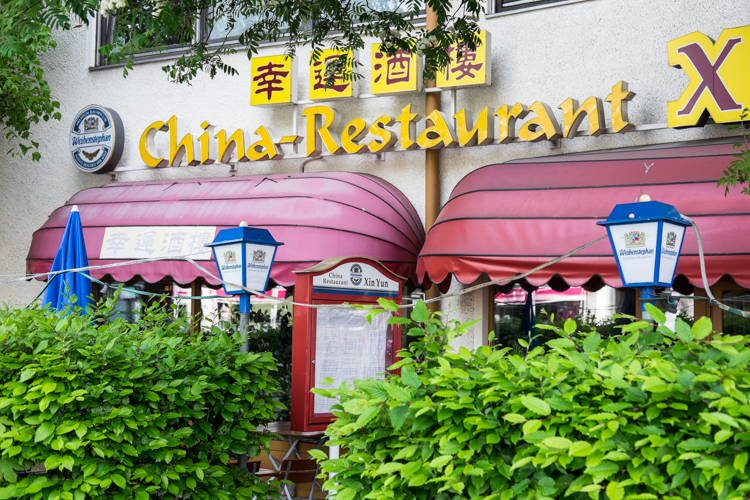 20_12
Germans take privacy very seriously, not surprising given their history. So there is a lot of debate these days about how far the state can go to protect us all from terrorism. A poster advertises a demonstration against surveillance: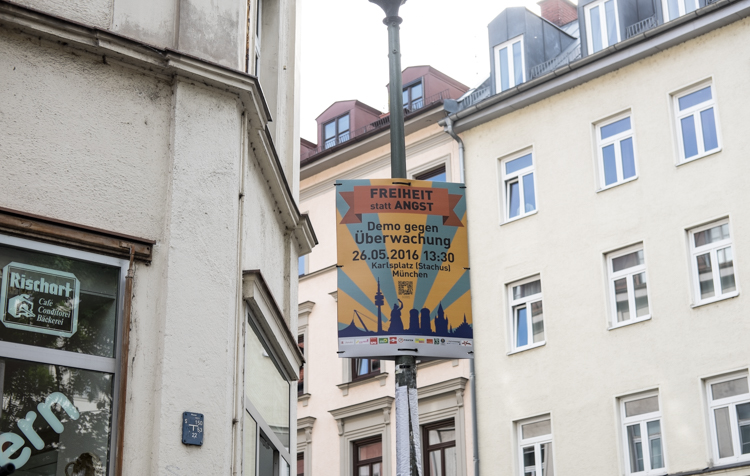 20_13
Our meeting at the EPO ended around 4, and afterwards we walked around the city a bit. I was particularly keen on visiting the English Garden, a famous park which I had not visited during my previous trips to Munich. It turned out to be quite wonderful: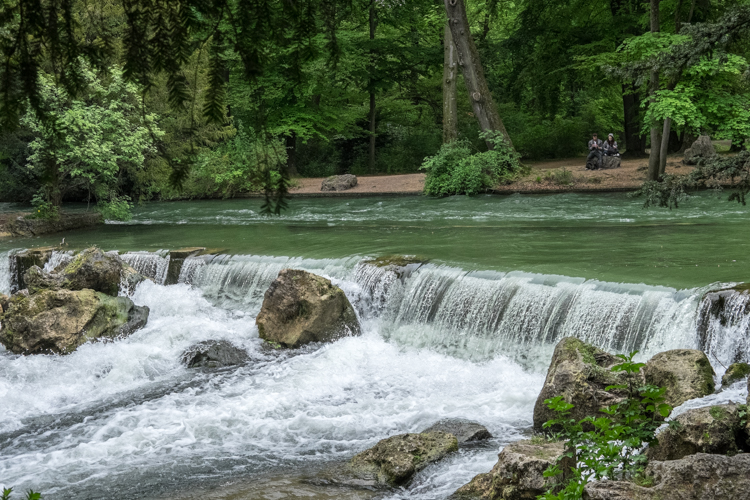 20_14
The weather was drizzly and cool, certainly not conducive to sunbathing or swimming, but this couple seemingly did not care: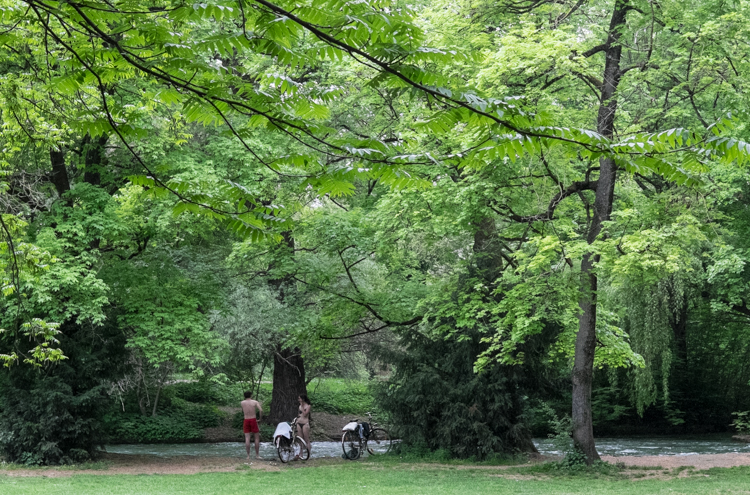 20_15
People and fowl were out and about despite the iffy weather: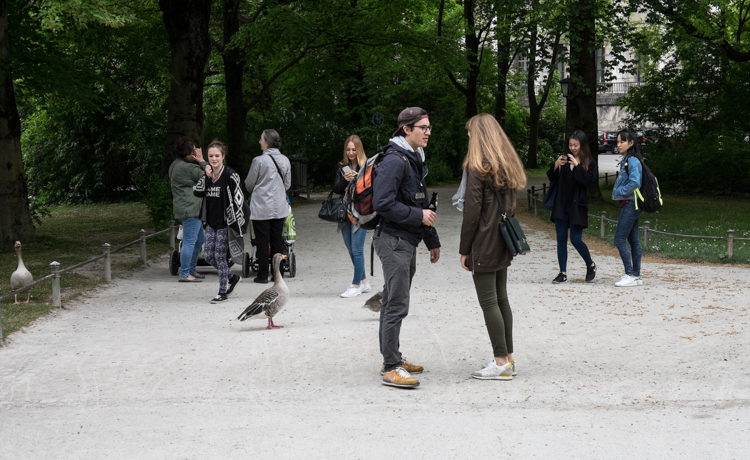 20_16
Sign in the park: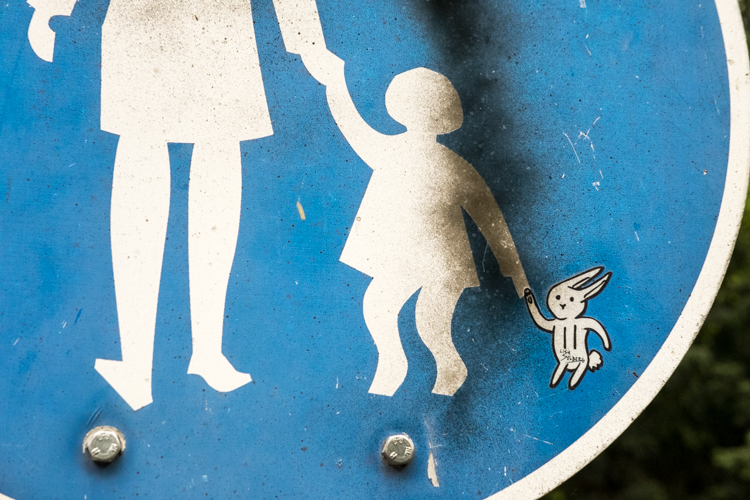 20_17
Bicycle taxi with an advertisement for the benefits of salad: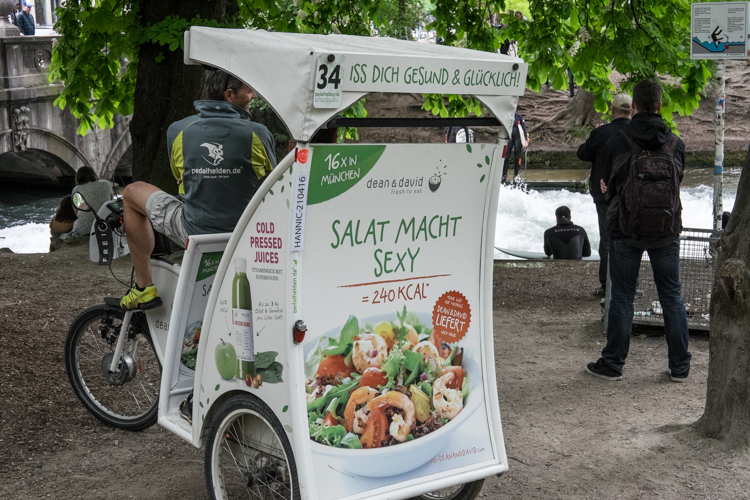 20_18
One of the main attractions in the English Garden is a wave generator which provides great fun for surfers–and for onlookers: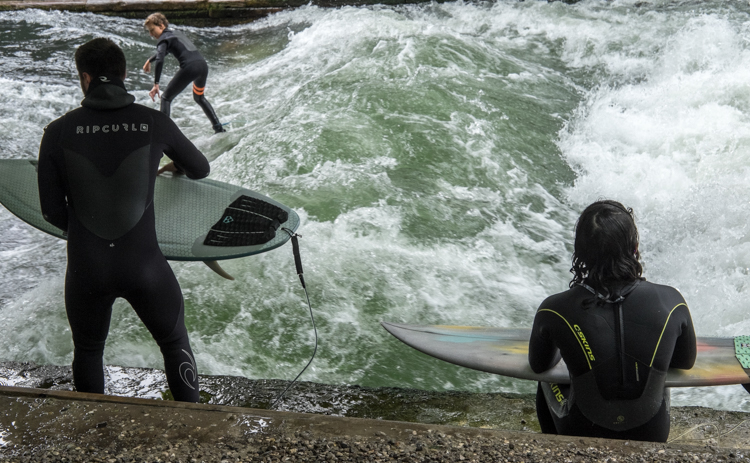 20_19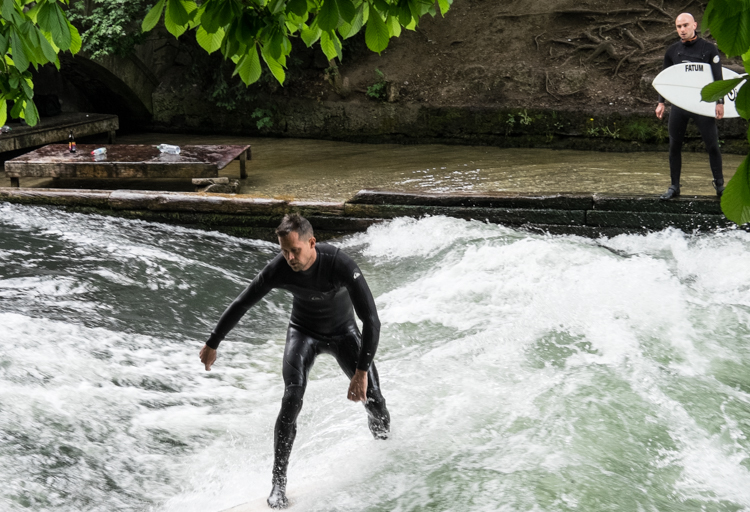 20_20
We made our way to Marienplatz, Munich's central square. On the way, we noticed this funny name of a law firm: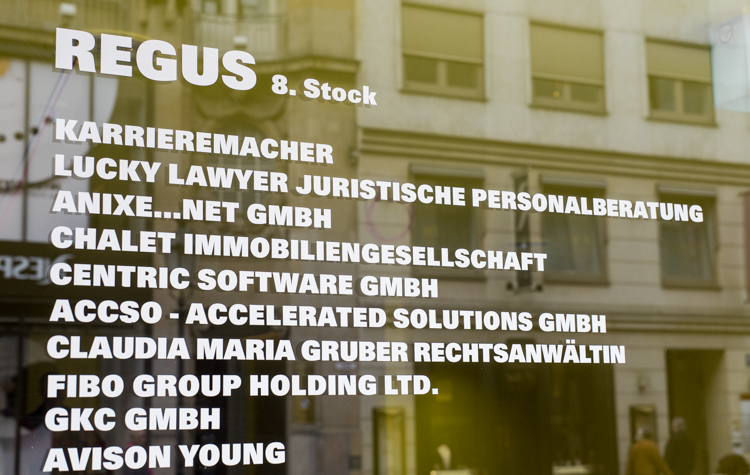 20_21
Marienplatz was as beautiful as ever, and the many umbrellas just added to the ambiance, photographically speaking:

20_22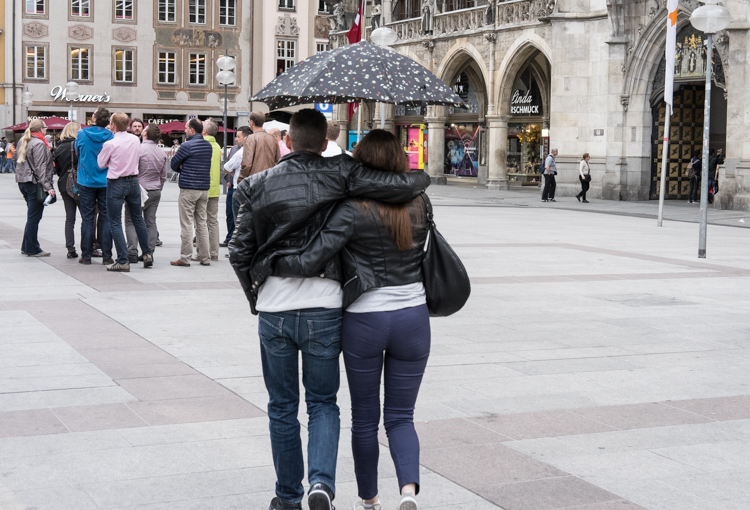 20_23
We sat down for a beer on Marienplatz, and I took advantage of the situation to indulge in some Winogrand-style photography:

20_24
We then walked to the nearby Viktualienmarkt. The name means "food market", and I am sure this place has been a marketplace since medieval times. Nowadays it is full of small shops selling all kind of food, and a large biergarten in the centre, plus several other bars: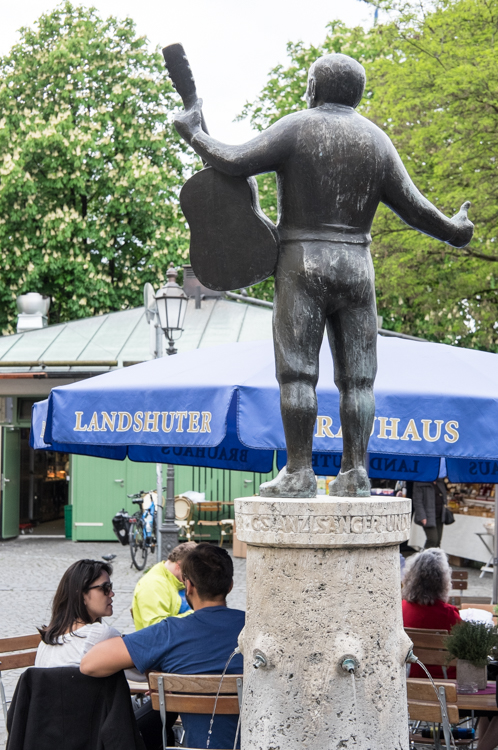 20_25
A patient and well-behaved dog: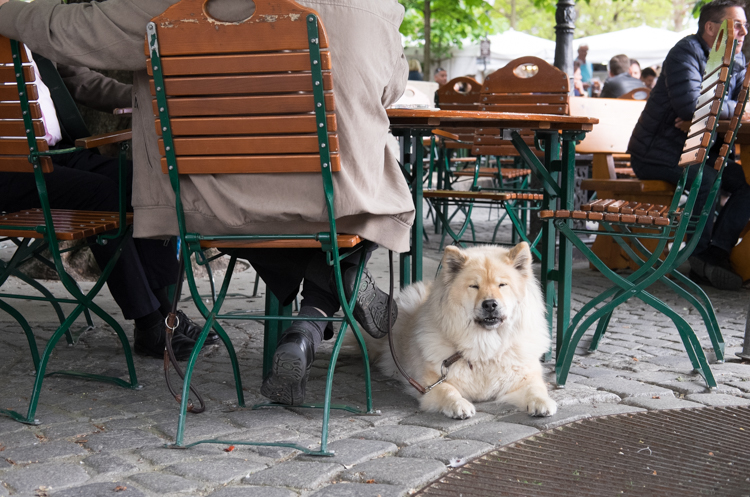 20_26
Cheese shop, whose owner gives me a rather unfriendly look: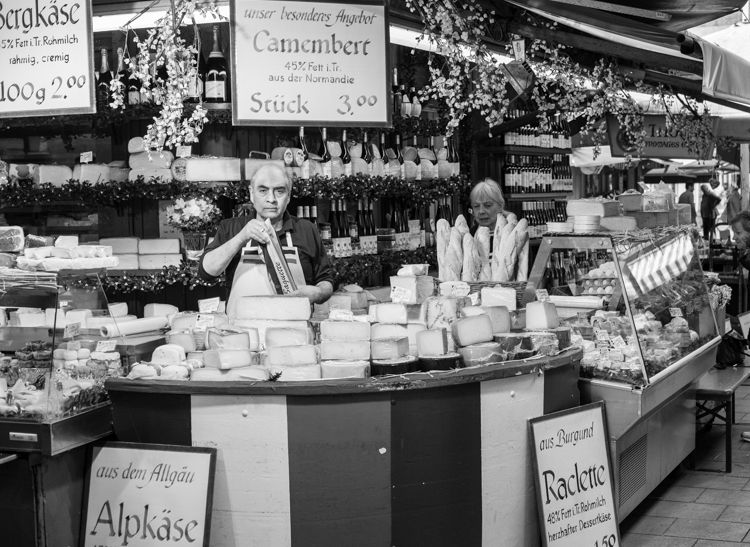 20_27
Our hosts had recommended a traditional Munich restaurant, so as dinner time approached, we got walking again. On the way, we came across this very curious memorial to Michael Jackson. The statue is of a Renaissance composer, Orlande de Lassus (this is near the opera house and concert hall). After Jackson's death local fans spontaneously used the base of the statue to commemorate him: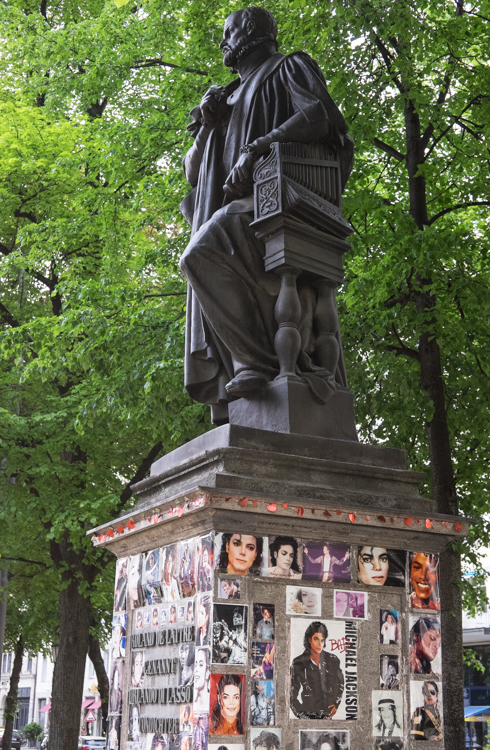 20_28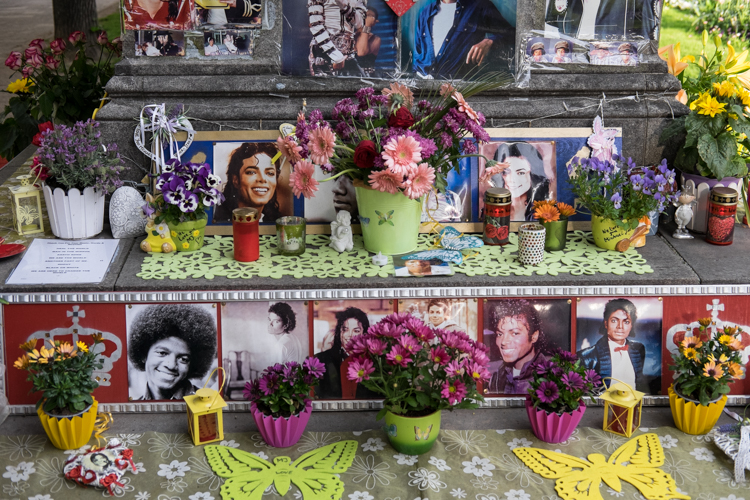 20_29
Another rather striking statue nearby. I do not know the story of this one. I just like to see art in public places: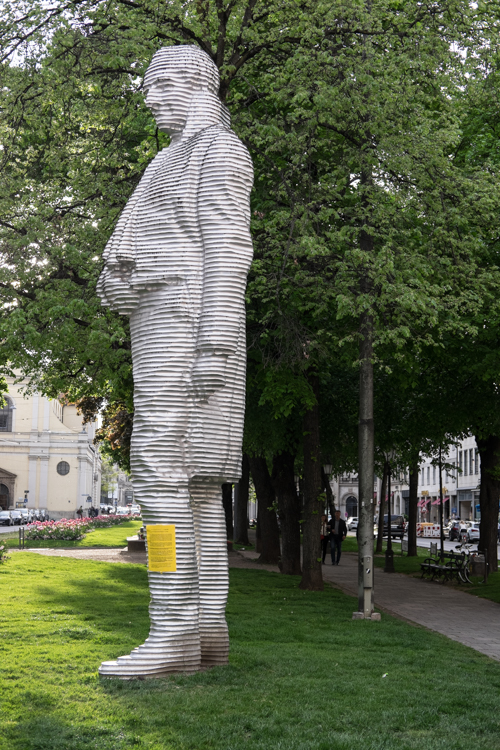 20_30
We finally made it to the restaurant, Wirtshaus Ayingers (highly recommended, also for their beer). I generally eat very healthy stuff these days; my diet at home in Spain is Mediterranean to the extreme, with heavy emphasis on fish, vegetables, fruit etc. But when I travel, I indulge in the local specialties. So this evening I had the traditional Munich pig shank, Pfefferhaxe. For completeness, here is the description of the dish verbatim from the menu: "Old Bavarian peppered knuckle, traditionally prepared: breaded, baked pork joint with a tangy sauce and potato and pretzel dumplings." While I have no intention of making this part of my daily diet, it was delicious on this occasion: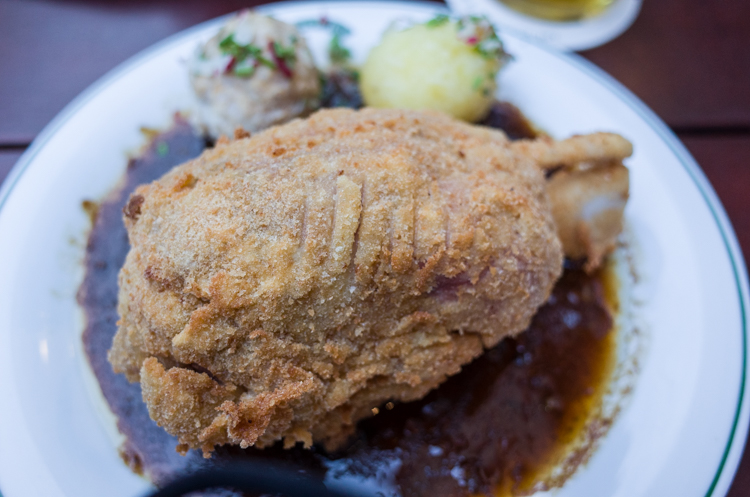 20_31
I was flying home around noon on Wednesday, so I had time for a quick morning walk in the neighbourhood around the hotel. As I said earlier, it was in a residential neighbourhood, and behind the hotel it became almost rural: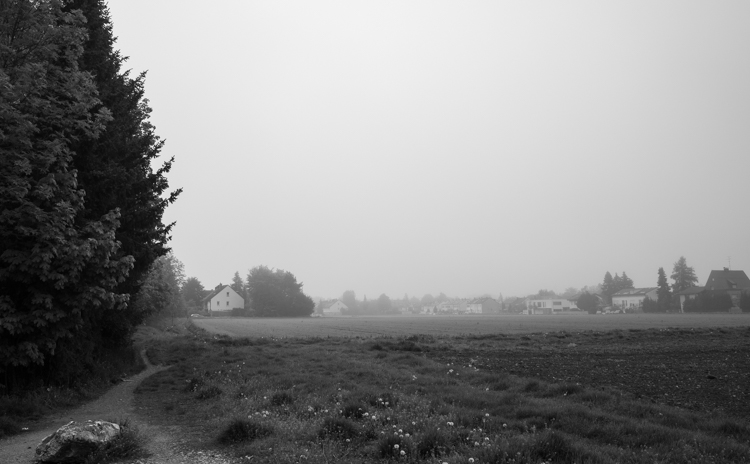 20_32
It was early but a few people, like the walker in the distance, were making their way to school or work: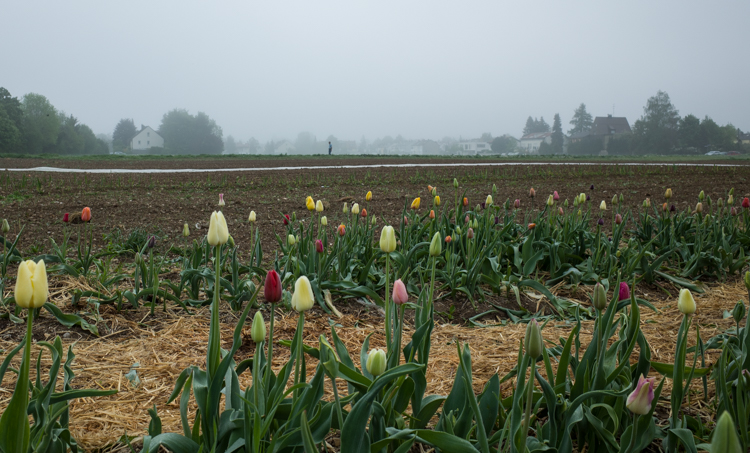 20_33
There were tulips from the field for sale, payment on the honour system: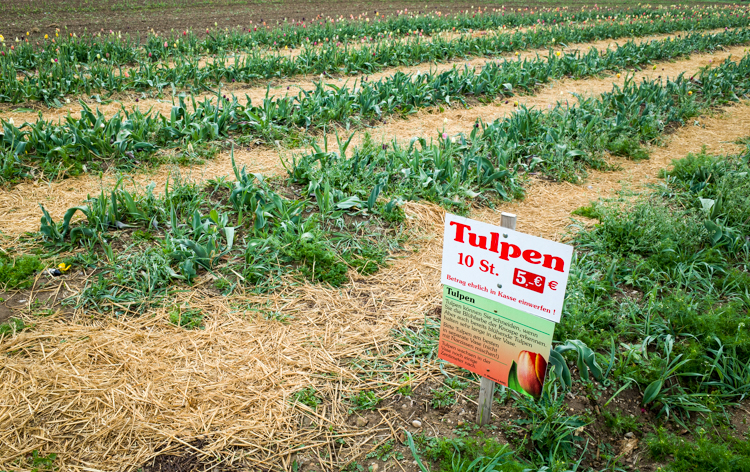 20_34
But the honour system was bolstered by strong warnings about surveillance cameras: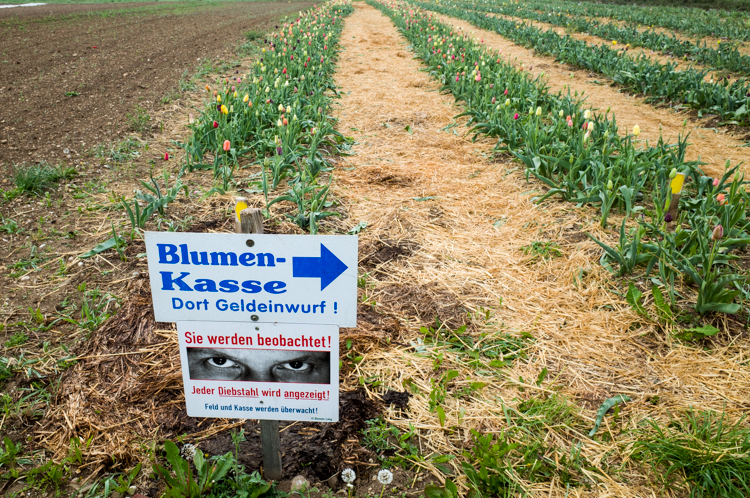 20_35
So if you want tulips, better do your bit here: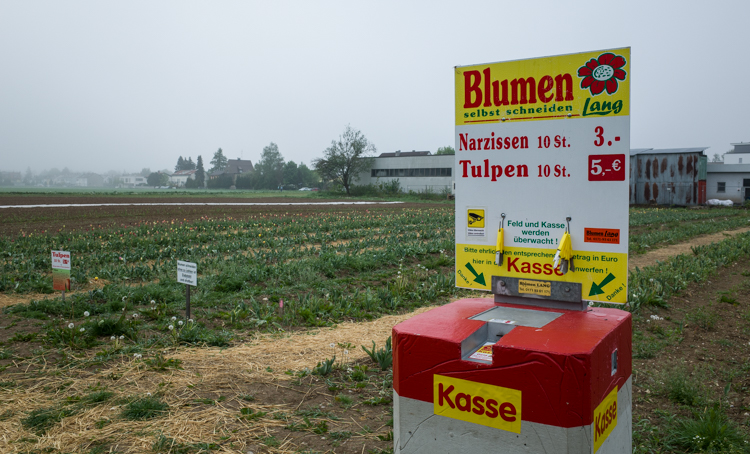 20_36
On the way back to the hotel, I passed the backyards of some houses, and in one of them there was this fearsome guard dog: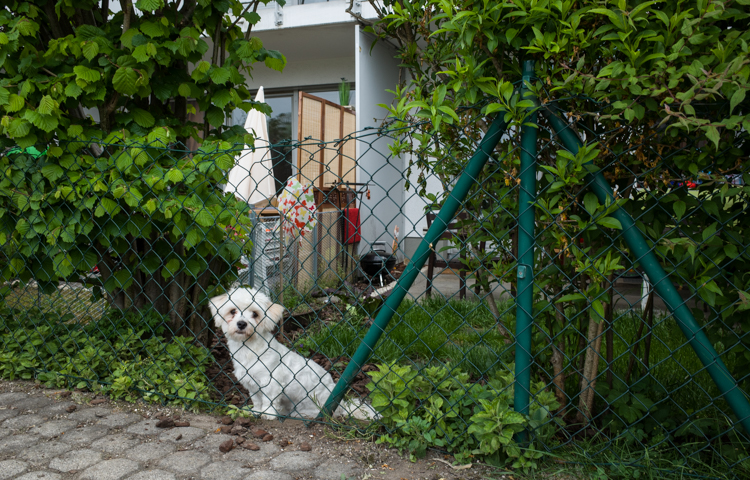 Then I took the train to Munich Airport and flew home, direct flight this time, and with one of my favourite airlines, Norwegian, which I like because the planes are nice and new with ample space for carry-on luggage, and there is free wifi throughout the flight.
20_37
On Friday, my in-laws from Puerto Rico came to visit, so I drove to Madrid airport to pick them up. Outside the terminal, I noticed this strange statue. There is no explanation: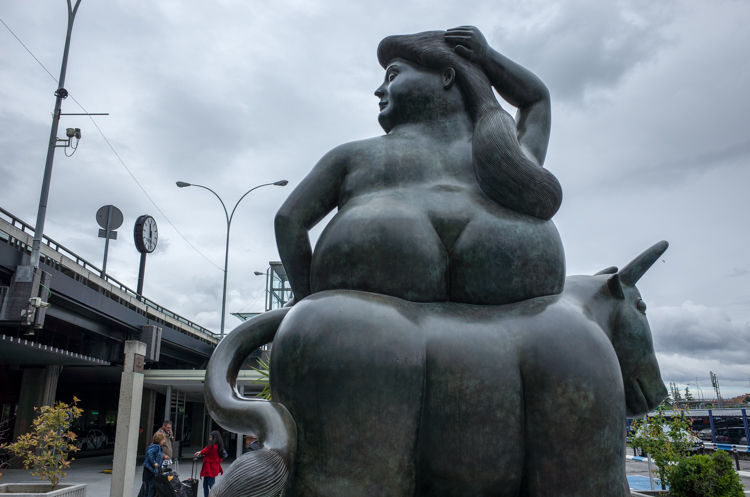 20_38
What does one do after driving to Madrid and back? Why, a bike ride, of course. Landscapes like this are good for the soul: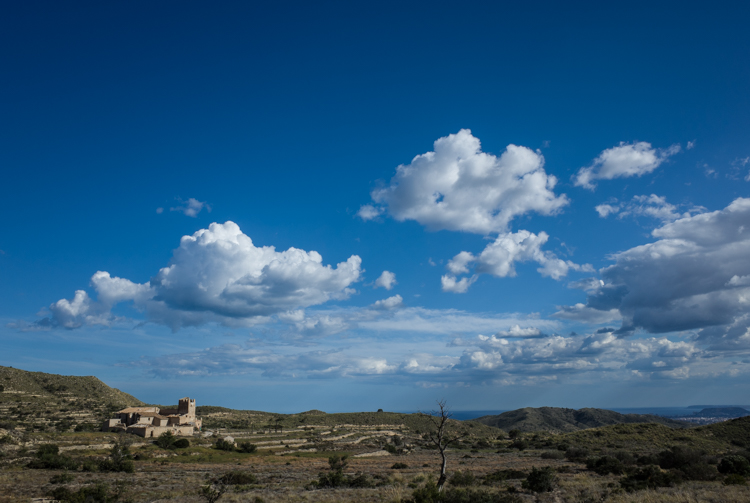 20_39
As is the sight of my late mother's cactus getting ready to bloom, again. It has been with me since my mother died 15 years ago, and since we moved to Spain in 2007, it has begun to bloom on a regular basis: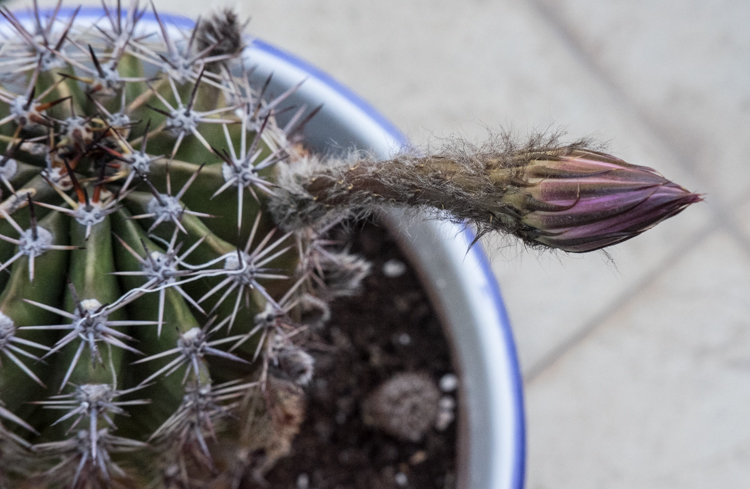 20_40
Finally, at the weekend, the Spanish football championship was decided on the last day of the season. All matches were played at the same time so as not to give any team an unfair advantage of knowing their rivals' results. At the top, Barcelona could win the championship by beating Granada away and thus controlled their destiny. But if they lost, then Real Madrid could claim the title by beating Deportivo La Coruña. I went to my local hangout, Crowley, to watch whichever of the two games they would show. On the table was the day's issue of Marca, Spain's leading sports newspaper. The headline "cava or champagne" alludes to the fact that Cava is the sparkling wine made in Catalonia while Champagne is of course from France, as is Real's coach Zinadine Zidane: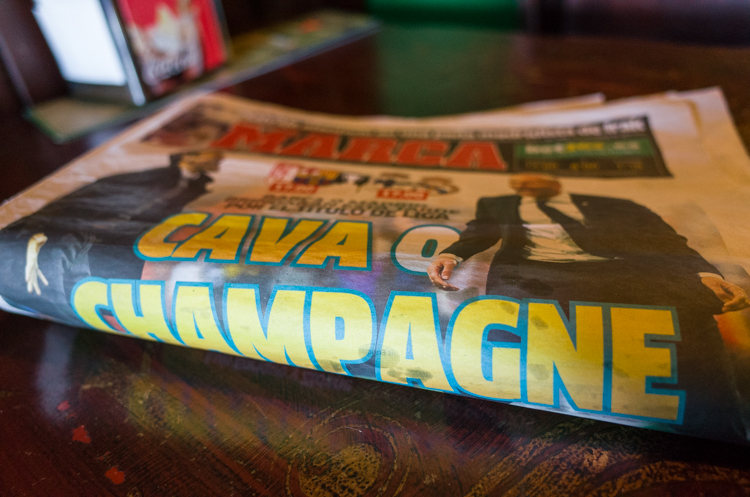 20_41
The weather was nice but since all the outside tables were occupied, I sat inside. They were watching the Real Madrid game: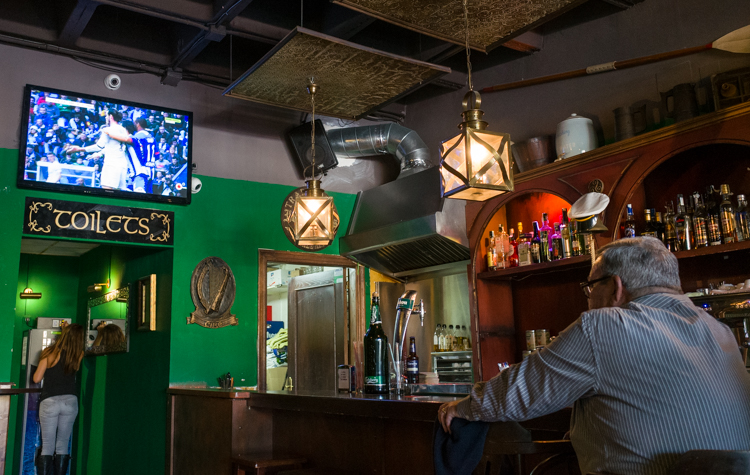 20_42
Just about the only people not watching were these two women: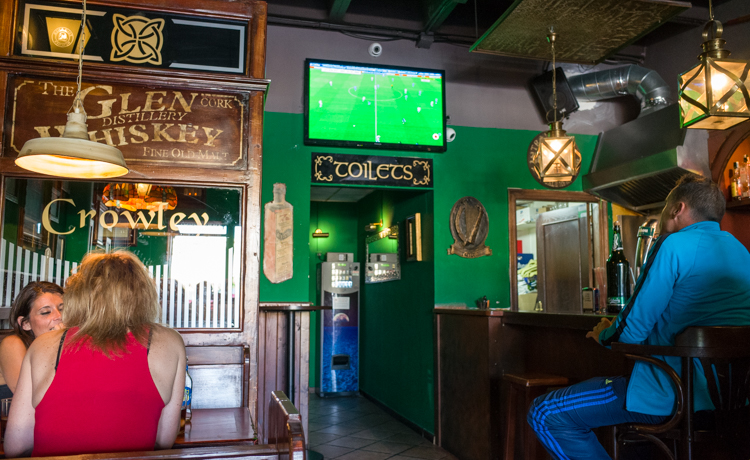 20_43
And there was a good crowd outside too: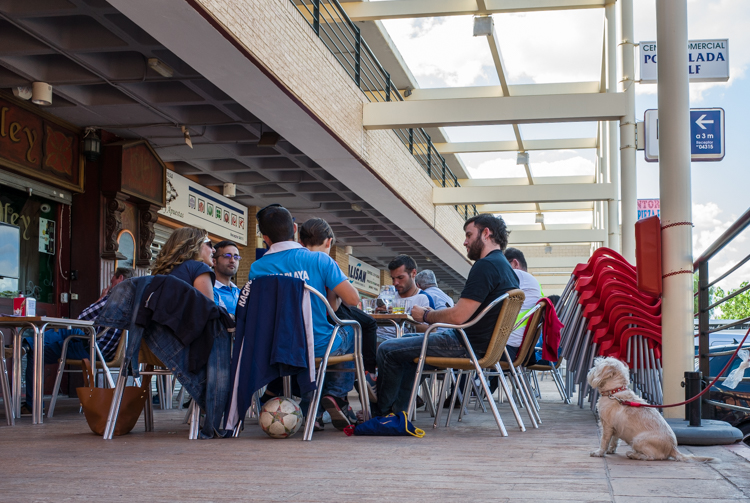 In the end, both Barcelona and Real won their games, so Barcelona is champion this season.
More Munich images can be found here.