The main event of the week was a trip to the city of my birth, Wrocław in Poland, where my sister still lives. Tuesday was her birthday, hence a quick trip to celebrate it. It was my first visit back since January 2014, and given the pace of development in this part of Poland, there were a lot of new things to look at, some of which I show in a separate gallery. In this blog I focus more on the people I was with.
44_1
Since our flight to Wrocław left Sunday evening, I still had time for my usual bike ride in the morning. I chose to go to the mountain village of Relleu. I took my little Ricoh GR as usual, but this time I also added my recently purchased adapter to make the lens wider, 21mm instead of 28mm, so that I can show you a more expansive view of the road: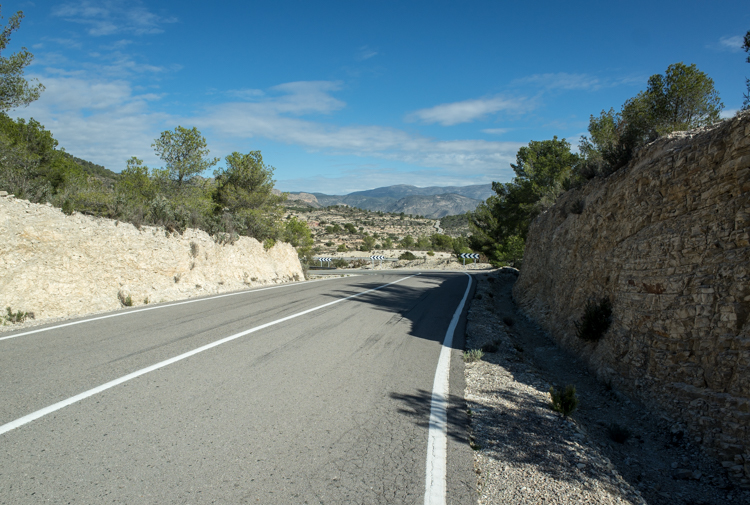 44_2
I always admire this beautiful house amid the almond trees: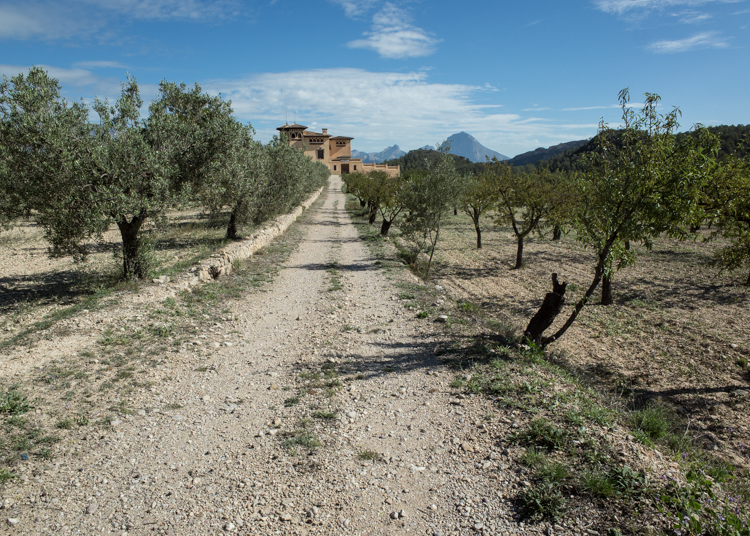 44_3
Arrival at Relleu. At this point I have cycled 35 km, much of it uphill, so I always take a break here: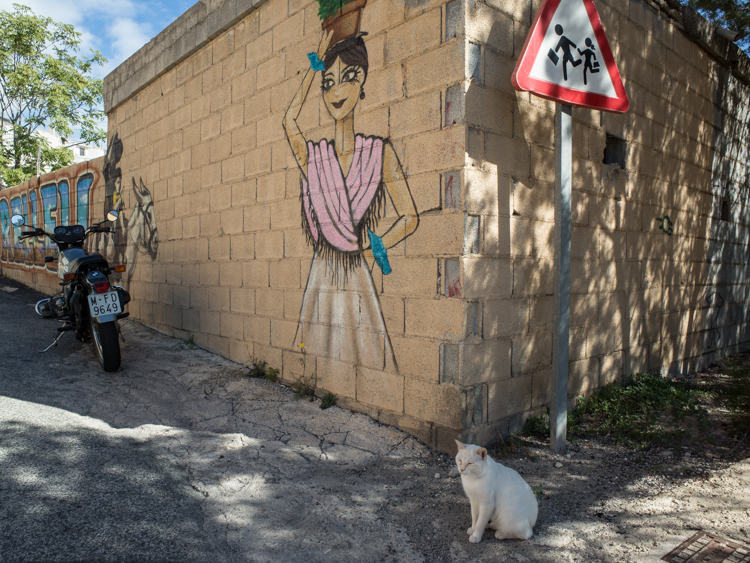 44_4
Sunday night we flew to Wrocław, arriving around midnight. We went straight to our hotel, and then Monday morning we went to my sister's apartment. Here is my brother-in-law Telesfor. He is in his 70s, but keeping well: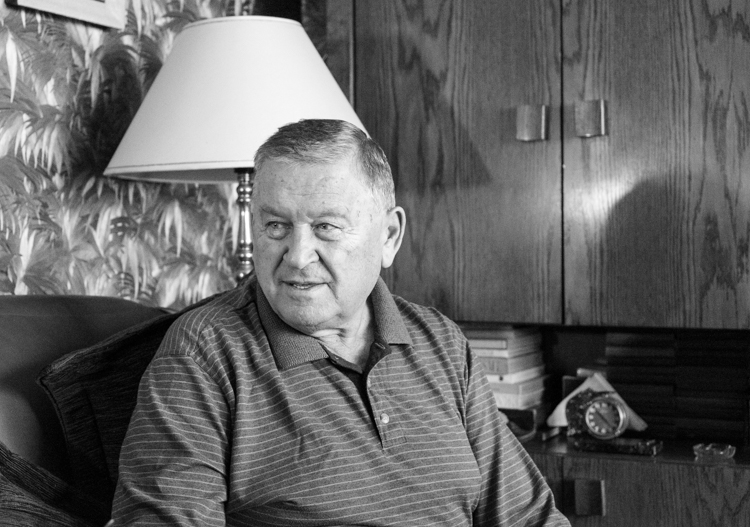 44_5
One of the places I always like to visit is the Century Hall, built by the Germans in 1913. It has undergone a significant renovation since my last visit: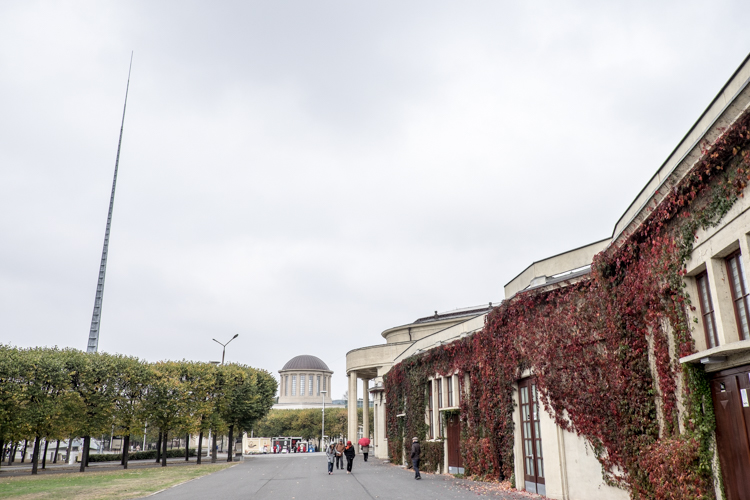 44_6
Looking out: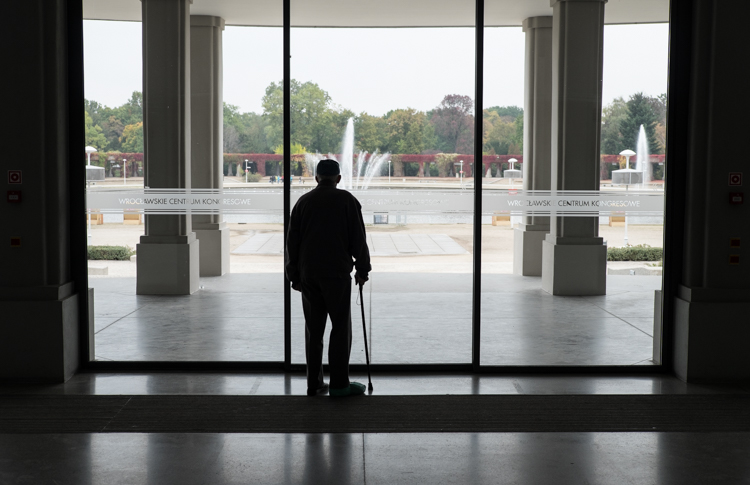 44_7
Afterwards, I engaged in some urban grit photography. This is an abandoned car park under my sister's apartment building. It IS due for renovation: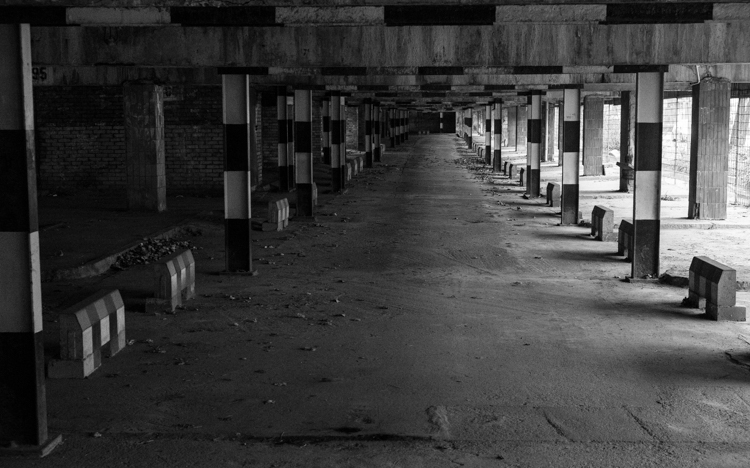 44_8
This used to be Telesfor's parking space; they have now bought a proper garage: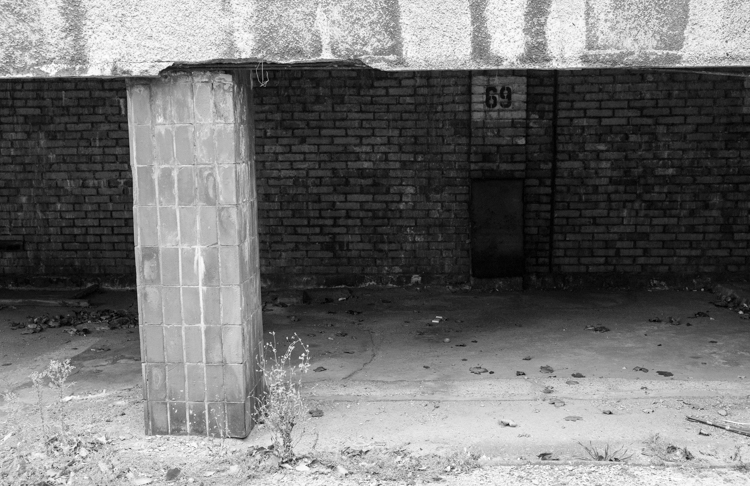 44_9
Shoe repair sign: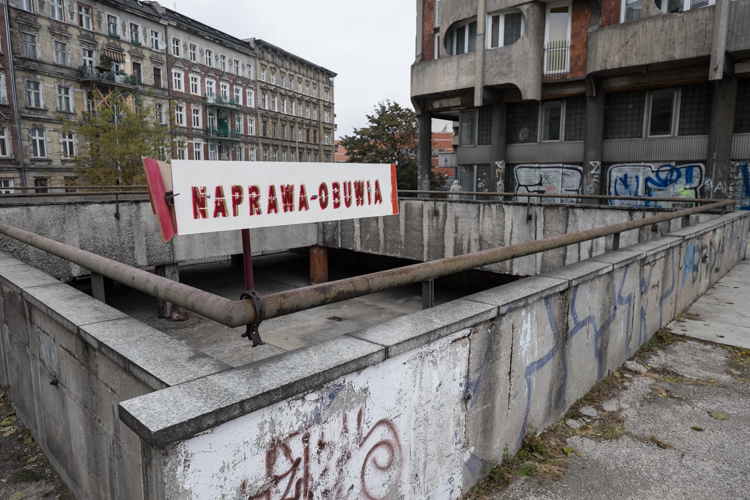 44_10
Urban fauna: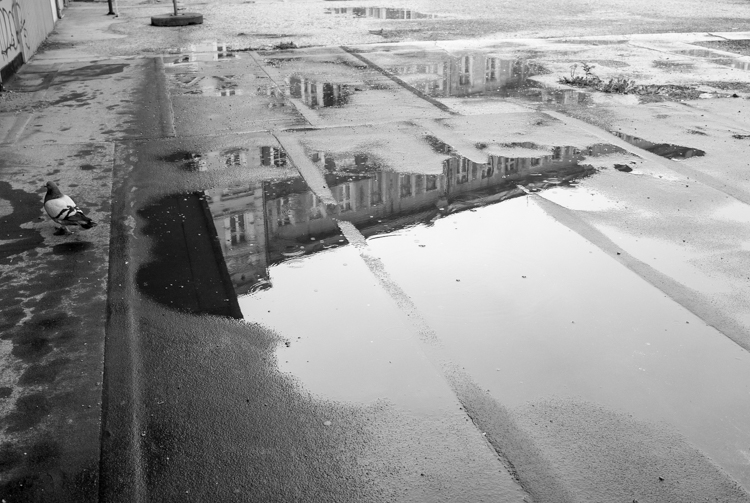 44_11
Back in the apartment, it is lunch time. Telesfor pours us a glass of vodka, an indispensable part of a Polish lunch: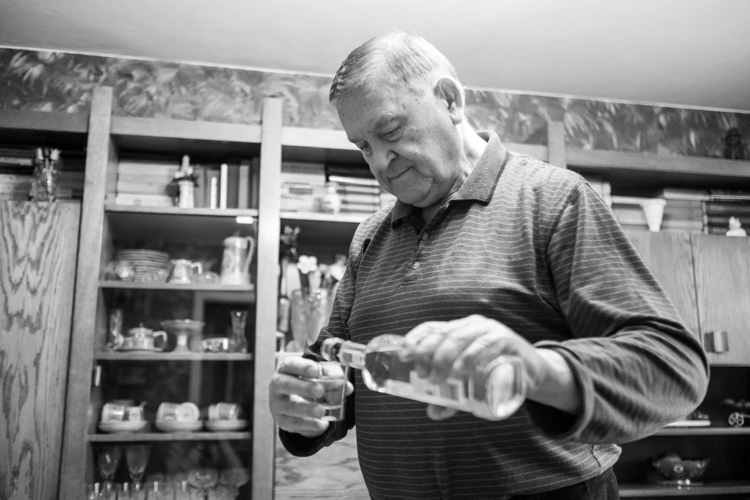 44_12
Part of a lunch spread: tomatoes, herring and salceson, a kind of Polish head cheese but leaner and tastier than the American version: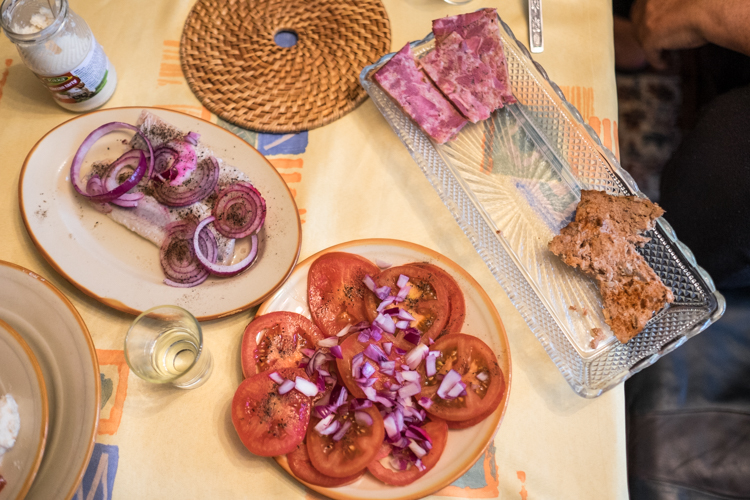 44_13
And what is for me the main attraction, bigos and delicious Polish rye bread: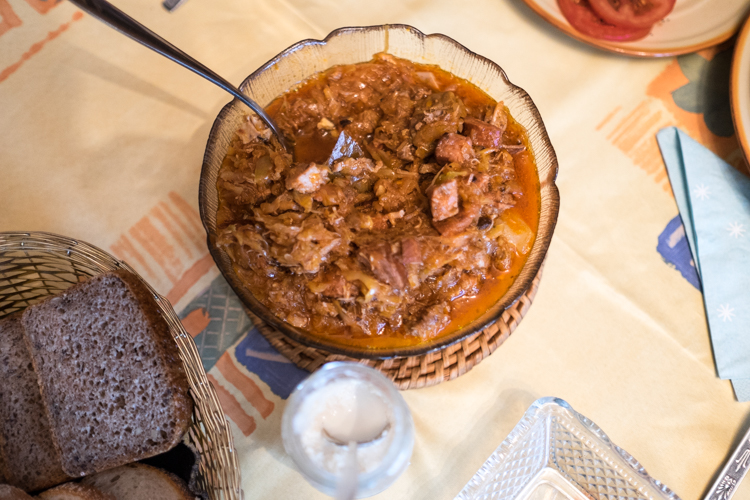 If you want to know what bigos is, look here.
44_14
Tuesday morning. My sister is now 70 years old, and we celebrate in the morning with a glass of champagne (although not served in the correct flute):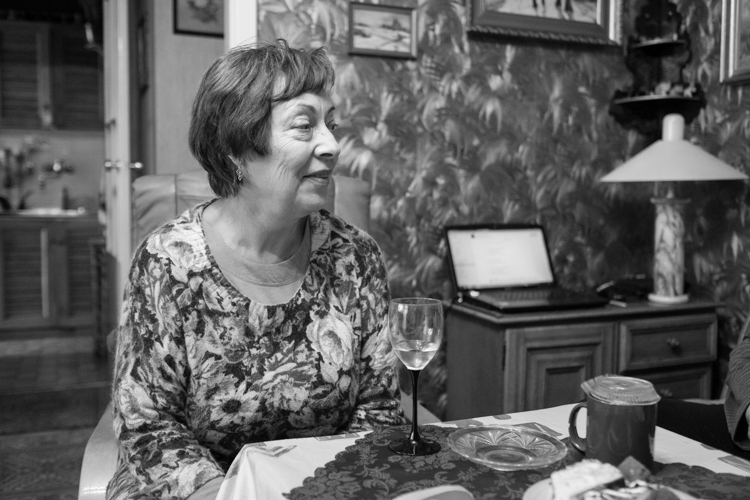 44_15
A km or so from my sister's place there is a nice, peaceful park with some interesting sculptures. My wife had some fun with this one, trying to copy the pose of the woman in the other chair: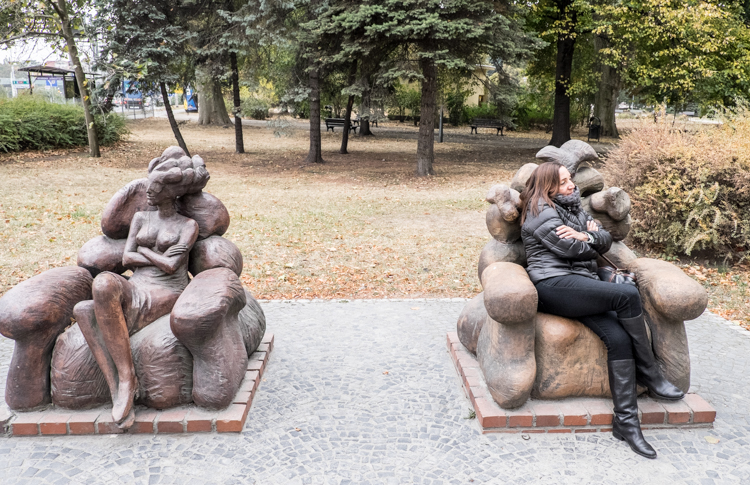 44_16
The view of the Odra river with new and old buildings. The twin towers in the distance are the cathedral; the new buildings on the right bank are part of the University of Wrocław, housing mainly the science and engineering departments: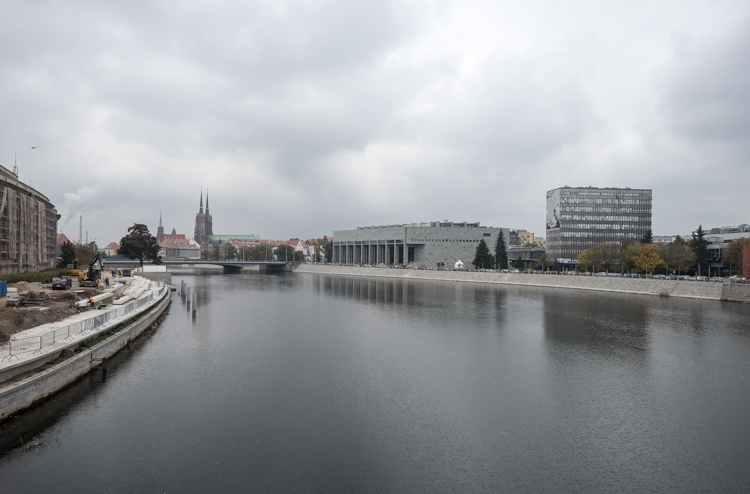 44_17
We went for lunch at one of my favourite places in Wrocław, the vegetarian restaurant Vega: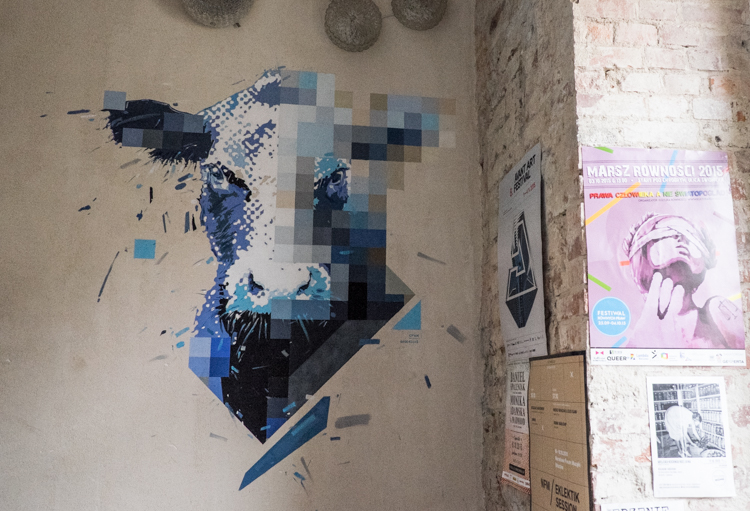 44_18
Colourful hat: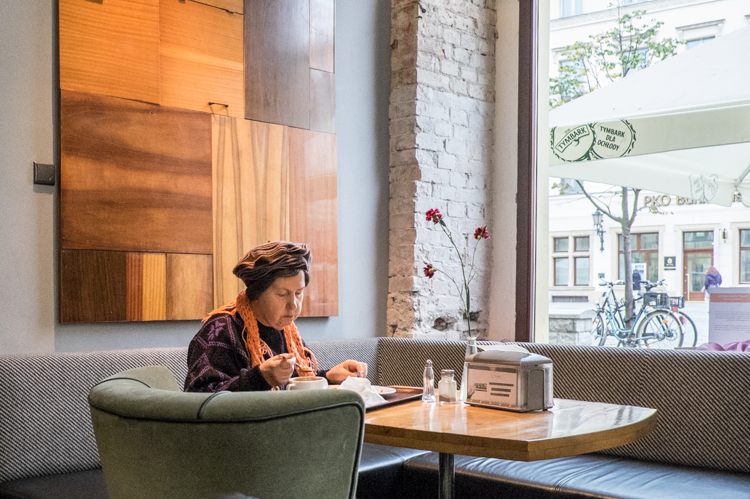 44_19
This veggie burger is better than anything you will get at any burger trough: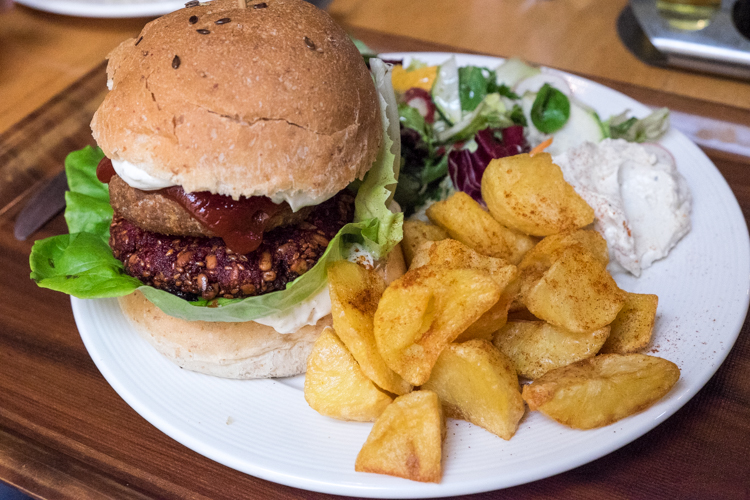 44_20
In the evening, we had the birthday dinner for my sister at a nice, modern restaurant serving traditional Polish food:

44_21
Wednesday morning it was raining but I still went for a walk in the neighbourhood around the hotel. One of the places where I stopped was the White Stork Synagogue, today a symbol of a revived Jewish community in Wrocław but also with a plaque reminding us of the terrible past: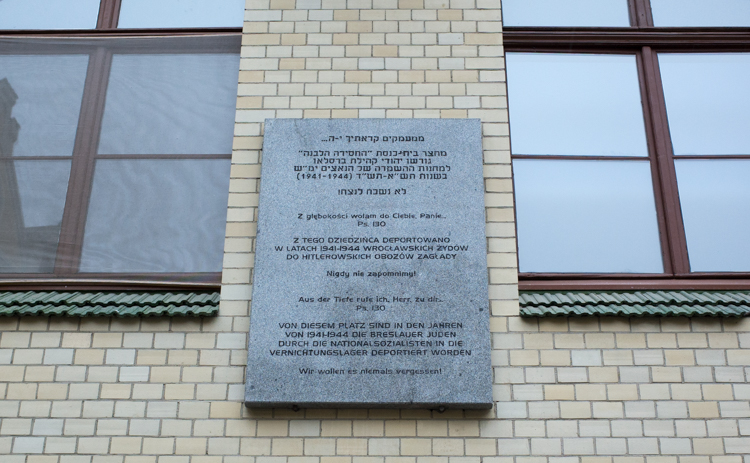 44_22
My sister's balcony. The colourful parrot is not there for decoration. It is there to scare off the pigeons which would otherwise leave guano all over the balcony: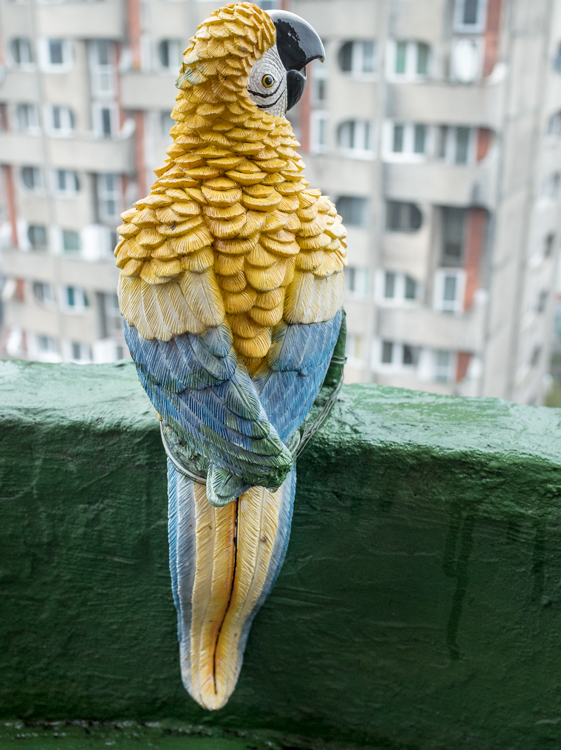 44_23
We flew home Wednesday afternoon, and I spent Thursday and Friday at the office. But then Saturday arrived, and I was back on two wheels in my beloved hills. This time I did a more challenging route, to a town called Tibi. The first 30 km of the ride are basically continuously uphill, at first mildly, but after the road crosses under the A77 motorway, the climbing gets serious. This is why I stopped here to take a brief break (and to pee):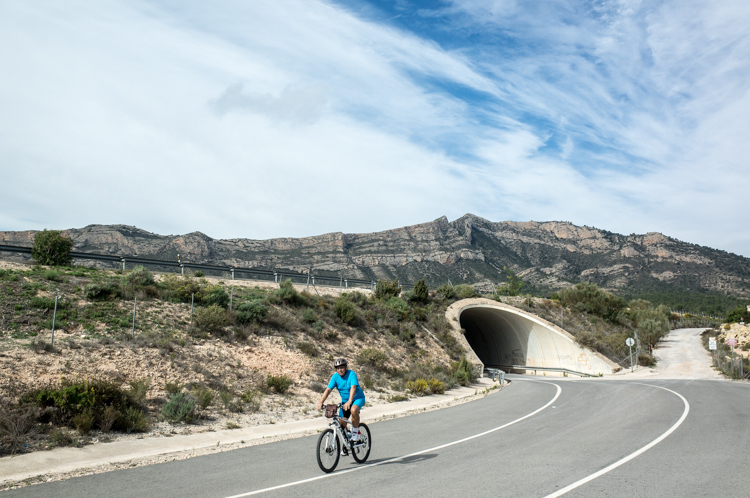 44_24
Now I am close to Tibi, it is hidden somewhere in these mountains: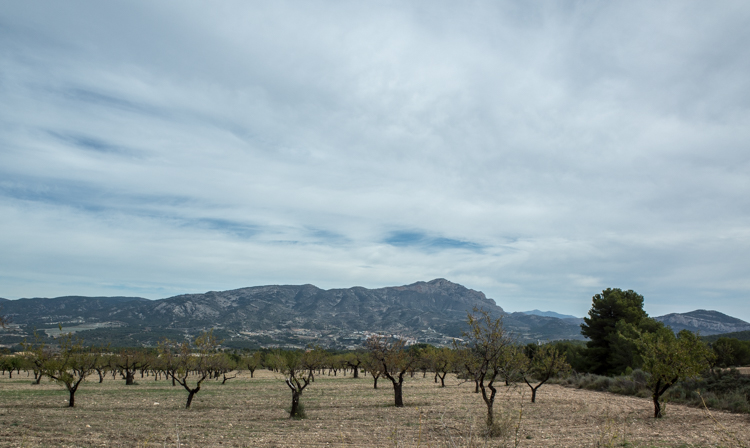 44_25
Tibi is a typical sleepy small town in the mountains, with steep streets and not a lot of traffic: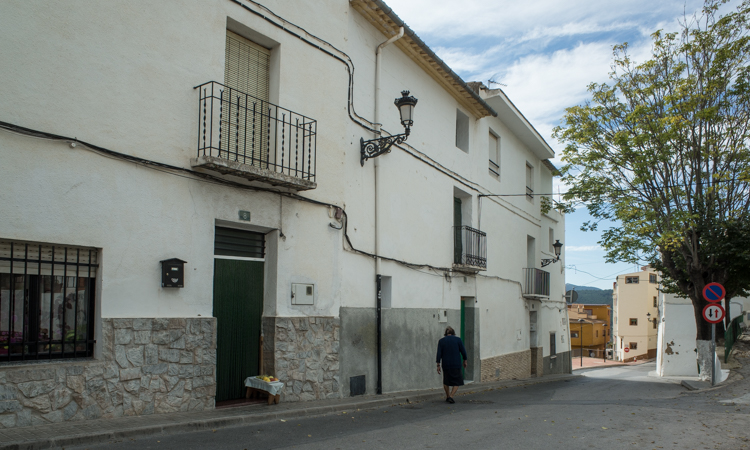 44_26
To get out of Tibi, there is a fairly brutal 4 km long climb, actually the hardest part of the ride (as verified by my heart rate as recorded by the Garmin cycle computer). But at the top of the climb there is relief, the prospect of many km downhill, and this view: