The week started in the Netherlands and continued with the annual Hogueras de San Juan fiesta, which basically turns Alicante on its head for more than a week.
Main
I woke up Sunday morning in Michiel Fokkema's house near Rotterdam. Michiel had kindly offered to put me up for the night following out day trip to the island of Texel the preceding day. Looking around Michiel's living room, I thought this image of his window sill clearly shows that this is the house of a photographer: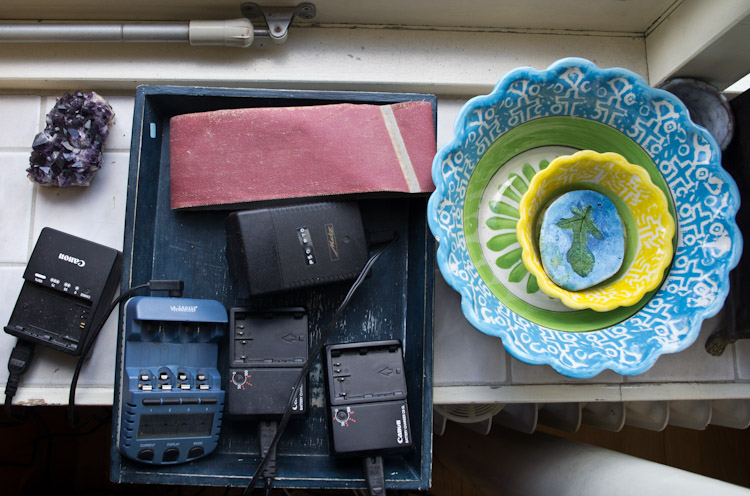 Alternates:
Alternate 1
Later on Sunday, I was going to take the train to Eindhoven, meet with some old friends there and then fly home in the evening. But first, Michiel took me for a drive around the countryside near his home: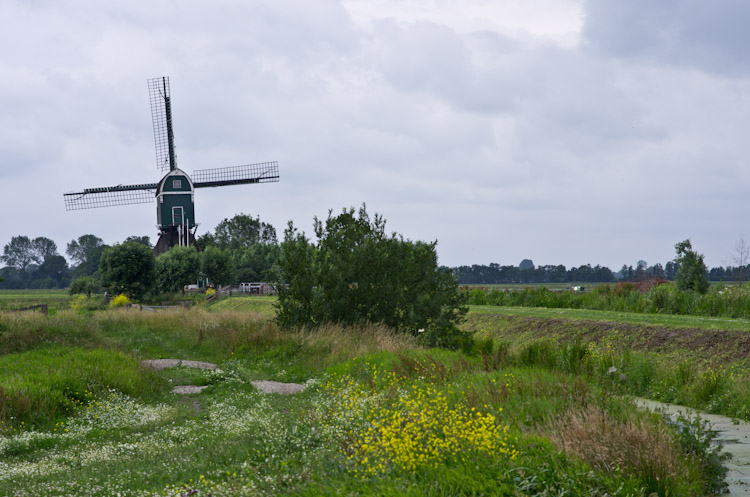 Alternate 2
Near the windmill, there was a nesting swan; I did not hang around that long, so as not to disturb it (and anyway, its mate was nearby and was giving me the evil eye):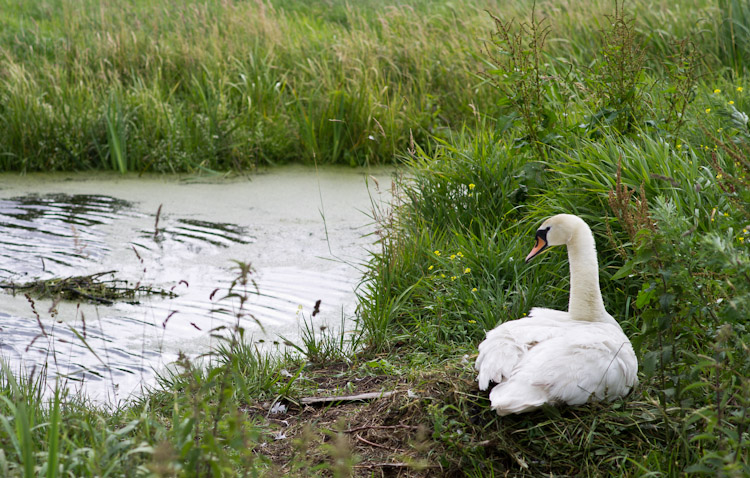 Then Michiel took me to the Rotterdam train station, from where I left for Eindhoven. I was going to fly home from there that evening, but first I was going to visit Anna and Geert, a couple who worked for me during my last couple of years in the Netherlands, and whose wedding I photographed 5 years ago almost to the day–see my PAW for 2006, week 26, on this site.
Alternate 3
Anna and Geert have two children, Pim (4) and Nora (almost 2):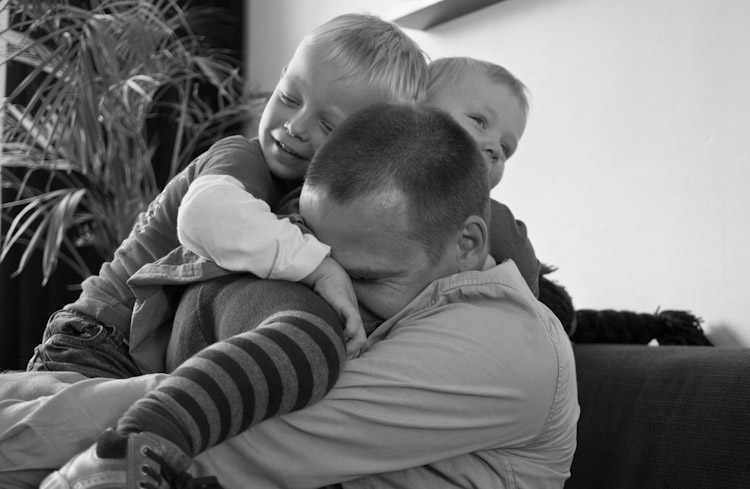 Alternate 4
Geert and Pim looking for berries in the garden:

Alternate 5
After lunch, we went for a walk in the neighbourhood. It is quite common to see signs like this in Dutch cities: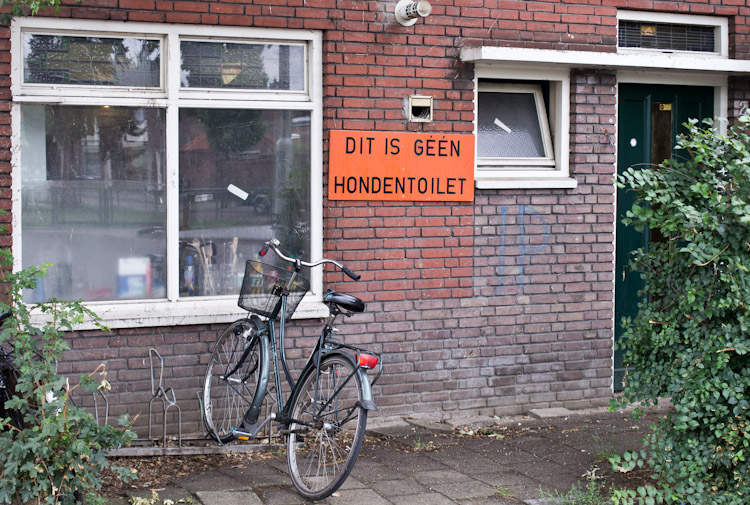 Then Geert drove me to the airport and I flew home to Alicante.
Alternate 6
It is hot in Alicante now, and my dog rarely uses her soft bed. She prefers the cooler stone floor. The cat, however, likes things warm, so he takes advantage of the opportunity: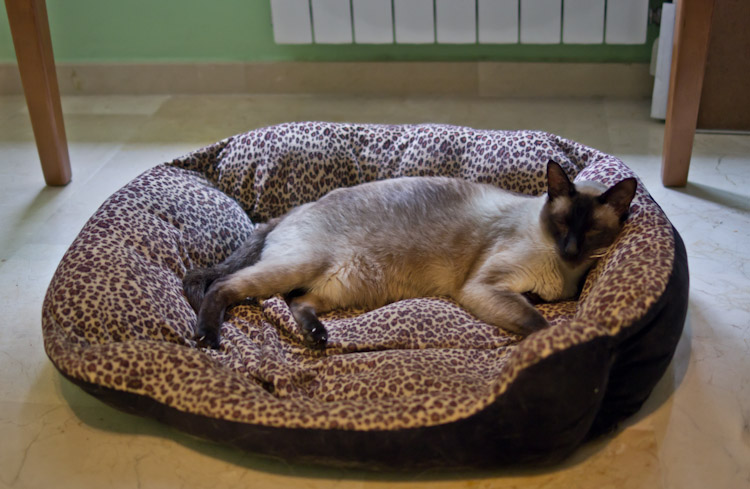 Alternate 7
Waiting for breakfast to be served outside our local bakery: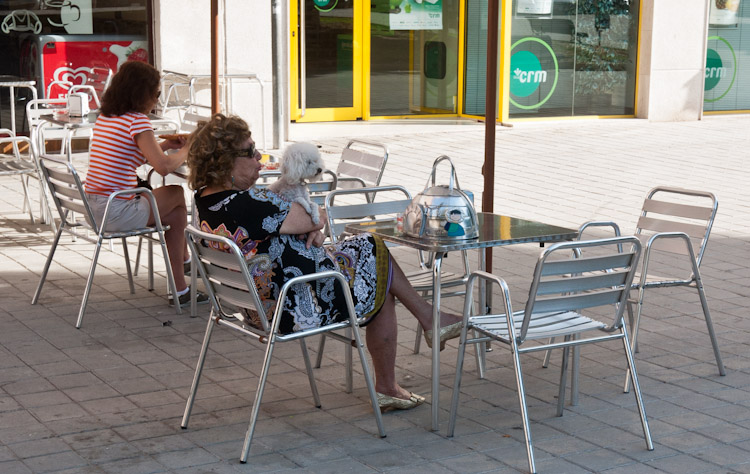 Alternate 8
Midsummer is celebrated in many parts of Europe. In Alicante, the week leading up to June 24th is called Hogueras de San Juan. Early in the week, huge plastic statues are put up around the city, only to be burned amid fireworks during the night of June 24th. Meanwhile, the entire week people stay up until the early hours, partying in the closed streets. Here is a huge installation in the making in the city's commercial district: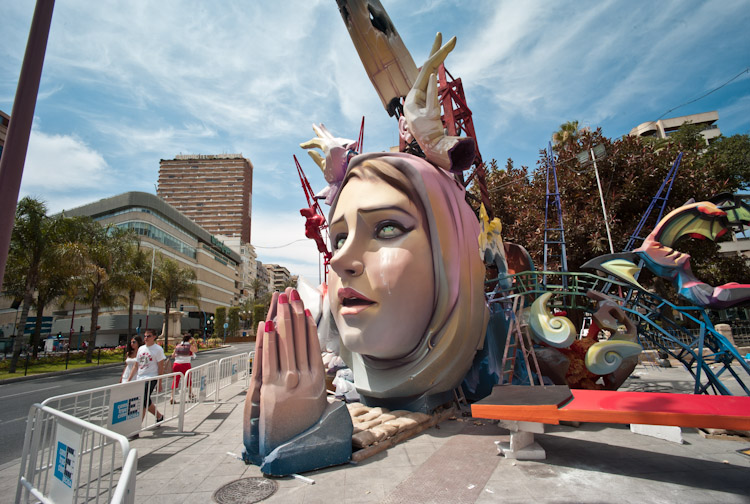 Alternate 9
Lots of work just for a few days' display: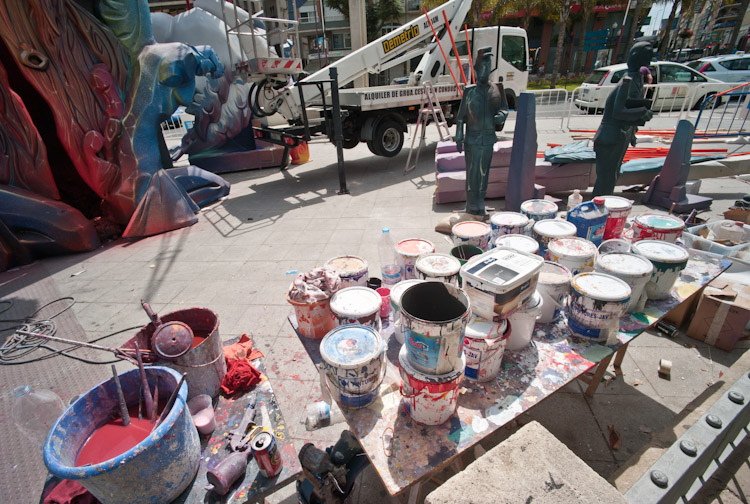 Alternate 10
This fisherman is in our neighbourhood: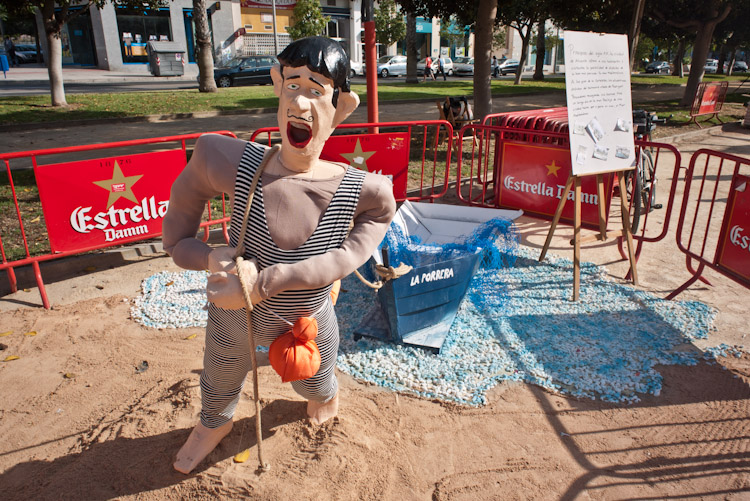 Alternate 11
Chiringuito, or beach bar, also in my neighbourhood: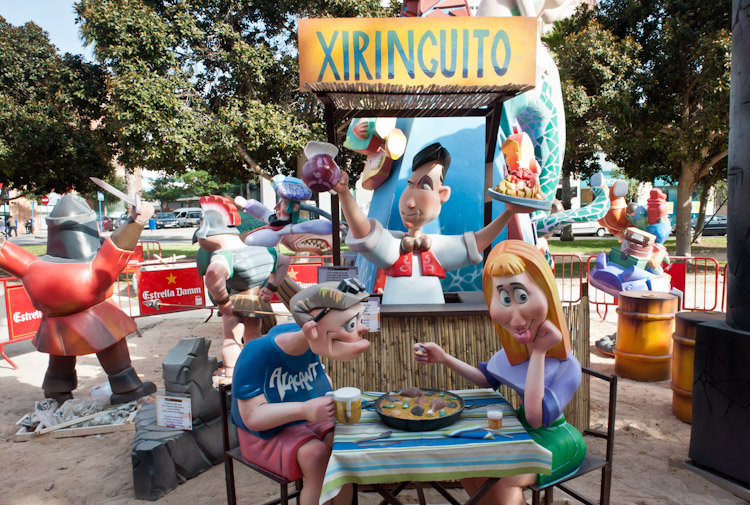 Alternate 12
Slowing down to look: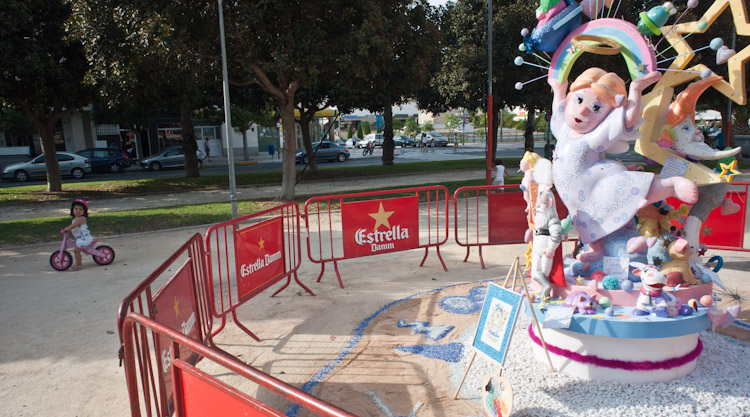 Alternate 13
Back in the centre, a mermaid-like figure: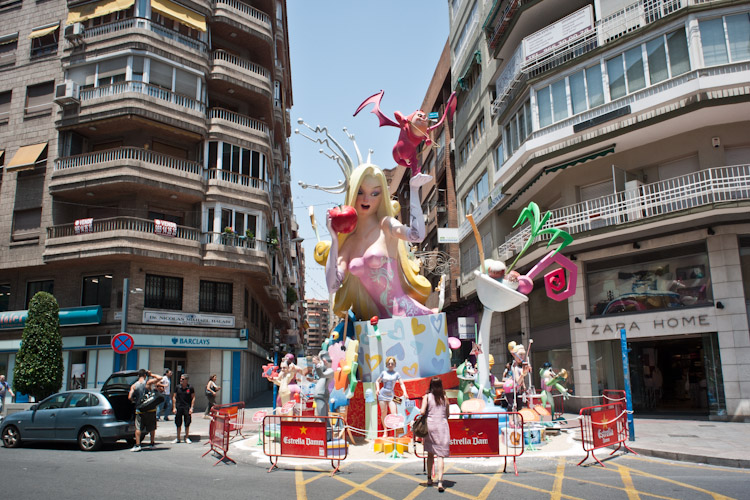 Alternate 14
Well-endowed: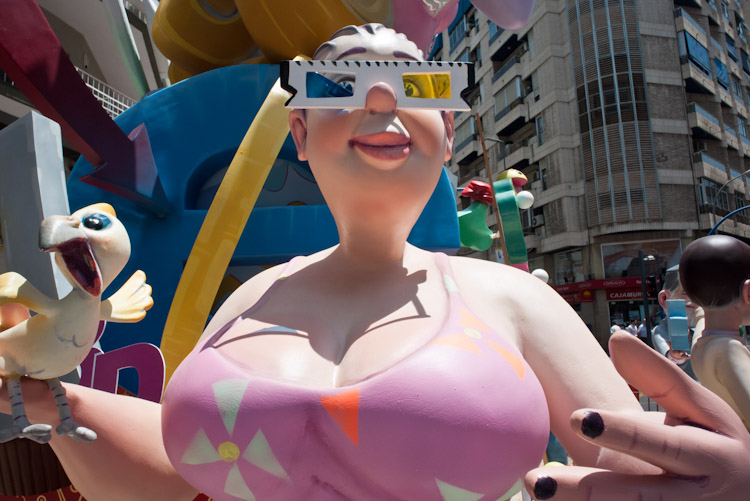 Alternate 15
On the night of the 24th, people gather on Avenida Vicente Ramos, the main road in our neighbourhood, to watch the burning, which takes place around 1-2 a.m. I did not actually bother to stick around to see the burning, preferring to hang around and look at the people instead: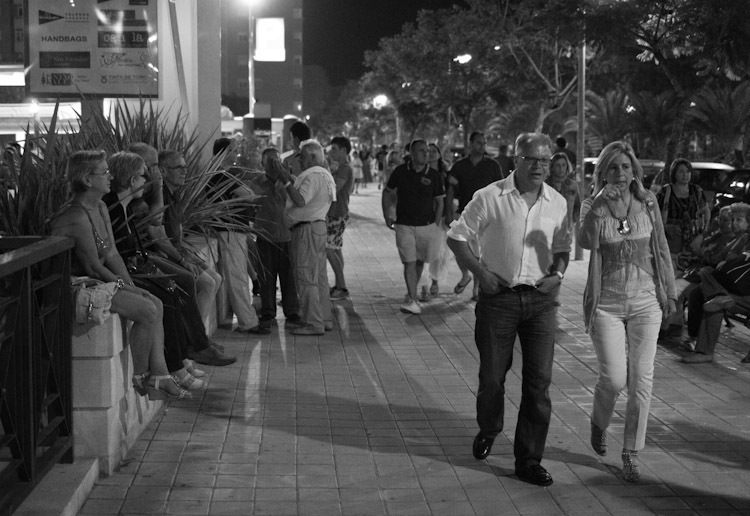 Alternate 16
The little ones need a high vantage point to see: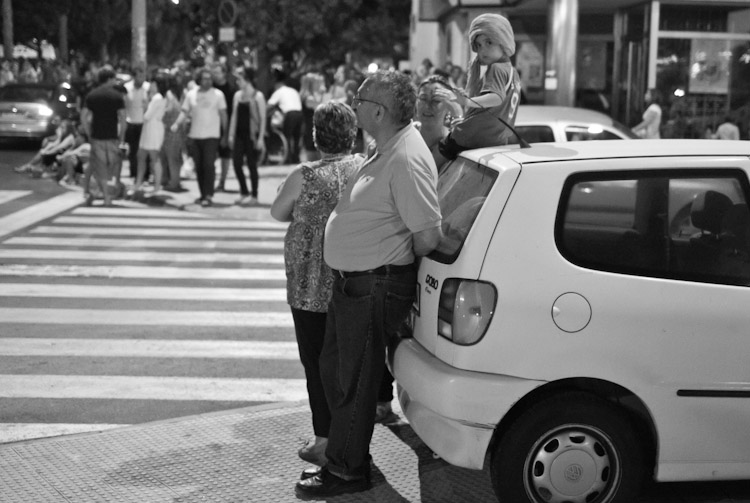 Alternate 17
Little boys throwing fireworks. This goes on every evening for at least 10 days, making it impossible to walk my dog: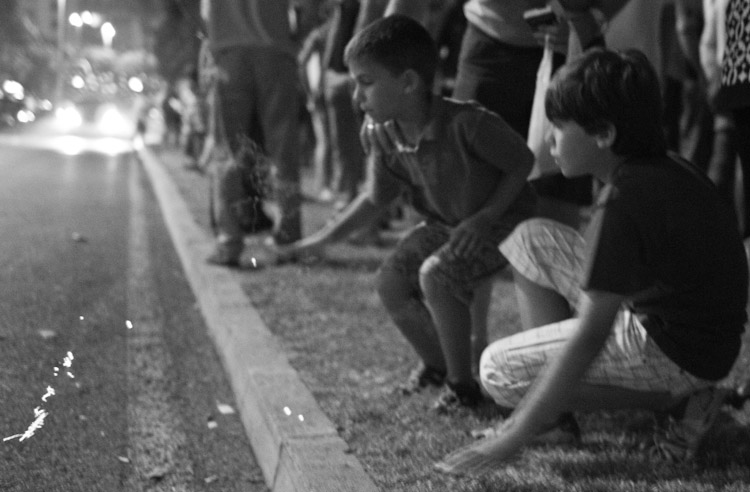 Alternate 18
The morning after, one finds traces of botellones around the place: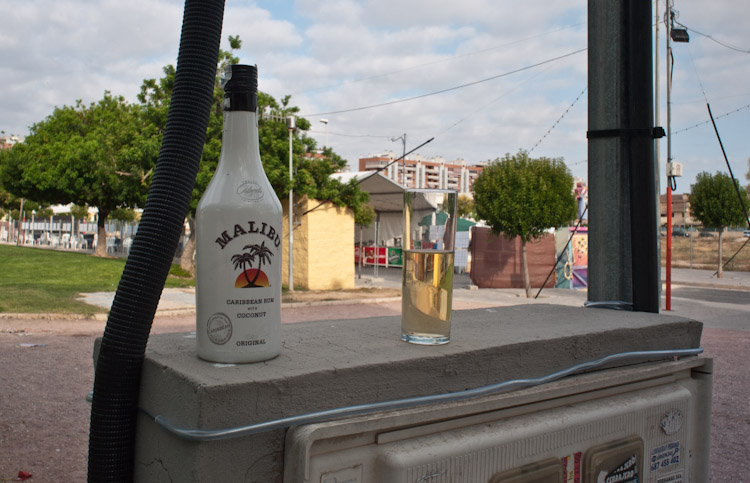 Alternate 19
The final cleanup of Vicente Ramos on the morning of the 25th: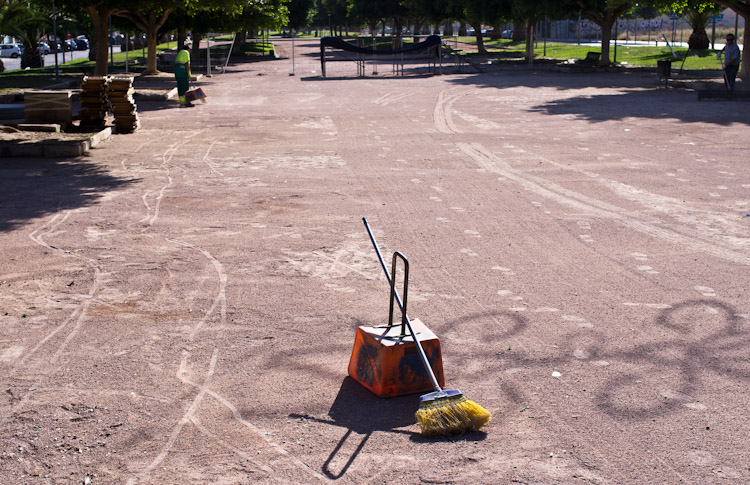 Alternate 20
And finally, something completely different. Our office building is going to be remodelled, floor by floor. People have to move to a temporary location for a few months. The moves start on July 1st, and the boxes are ready: