Most of the photos this week were taken in Murcia, a somewhat larger city about 100 km south of Alicante. Despite living here for 16 years, I had never properly visited it–until now. The occasion was a Simply Red concert which we attended with a group of about 15 of our local friends. We all stayed in the same hotel, walking distance from the concert venue. I cannot say that I am a fan of Simply Red–in fact, I was ignorant about their music until the concert–but it was a nice outing nonetheless.
31_1
But I start with a cycling photo. A hazy morning over the hills during one of my pre-work morning bike rides: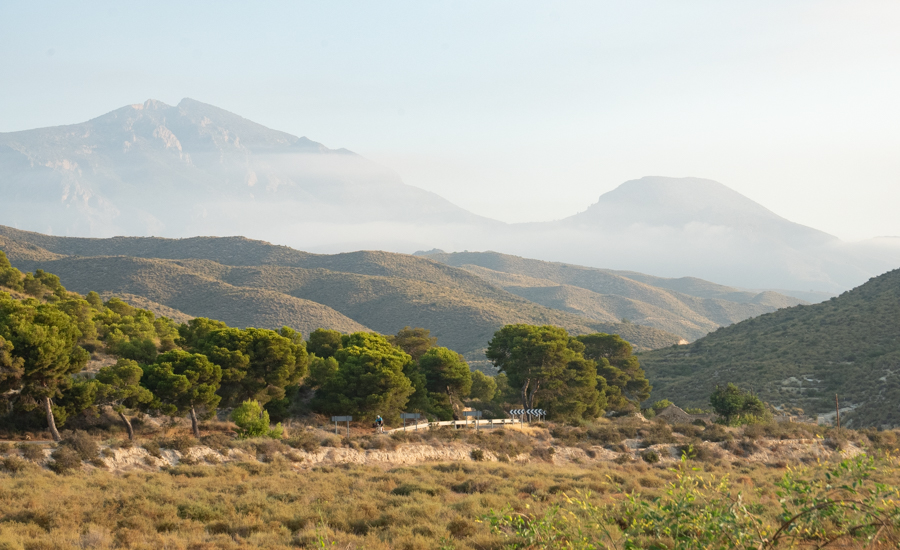 31_2
The concert in Murcia was Friday evening, and our friends had reserved a restaurant for lunch. We left home in the morning and stopped by Ikea just north of Murcia to return some stuff we had bought from them online a few months ago (Ikea has a very generous returns policy–up to 1 year). While queuing at the customer service area, I looked around at my fellow customers: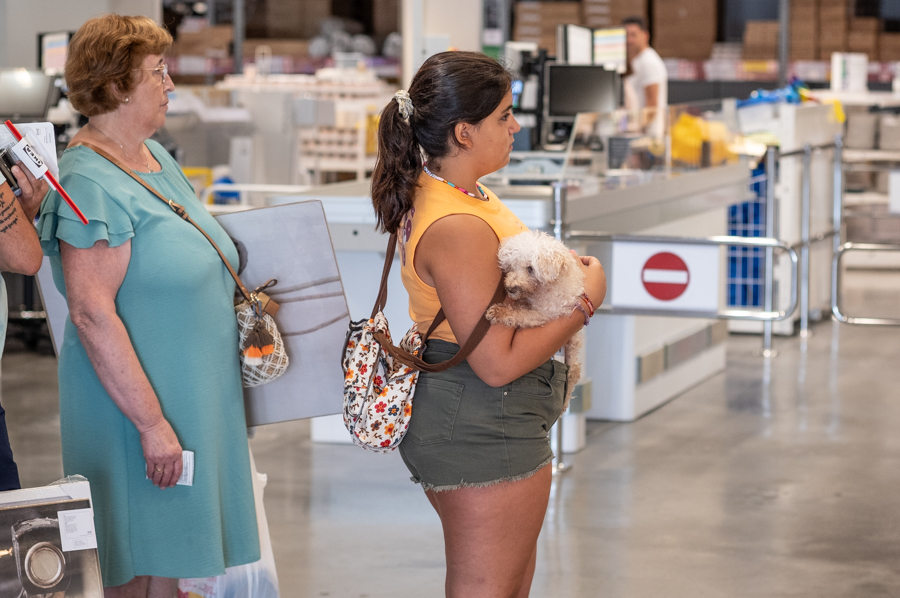 31_3
A bit later, we arrived in Murcia, checked in at the hotel, and walked to the nearby La Pequeña Taberna restaurant for a 3-hour lunch with our friends: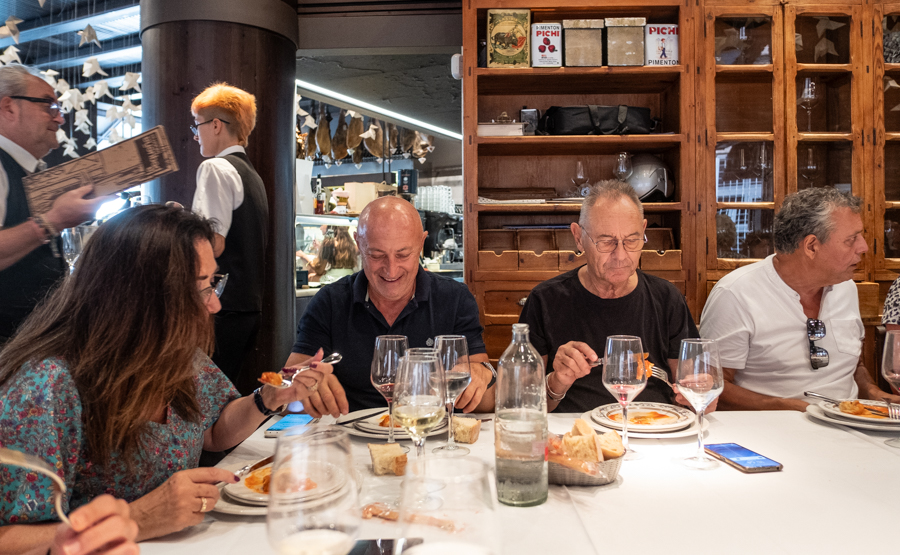 31_4
I was ready for the food, and it was delicious. I was more focused on eating than on photography, but I did take a few pictures. Here is bonito del Norte (white tuna):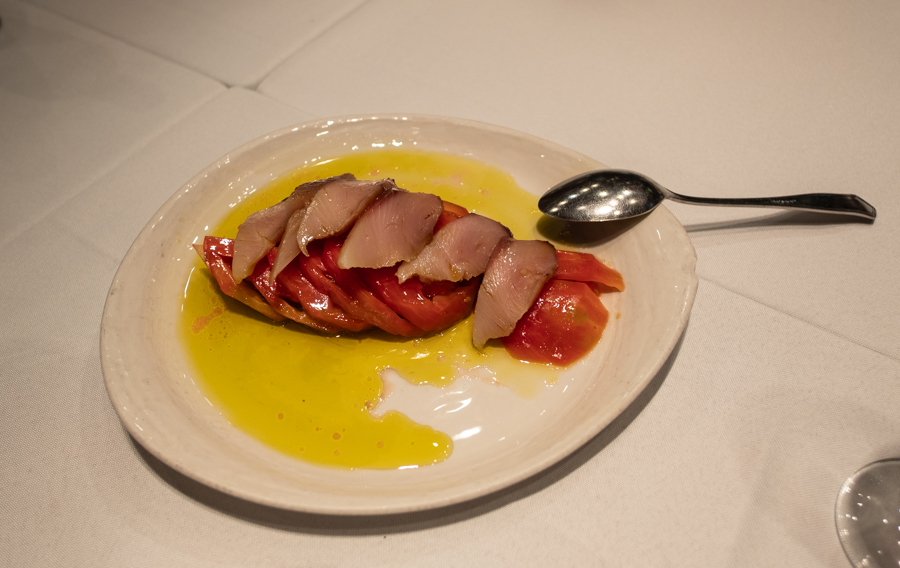 31_5
Some grilled vegetables: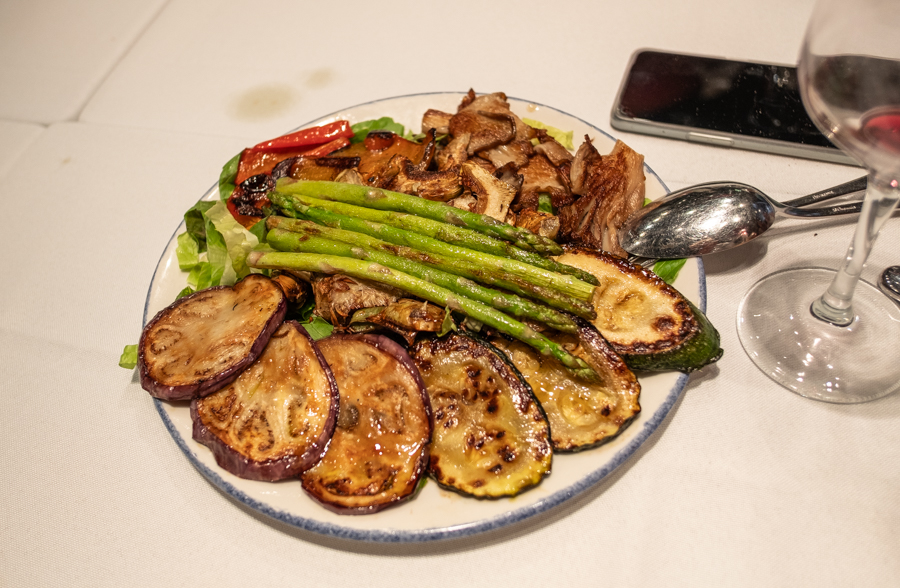 31_6
And cod: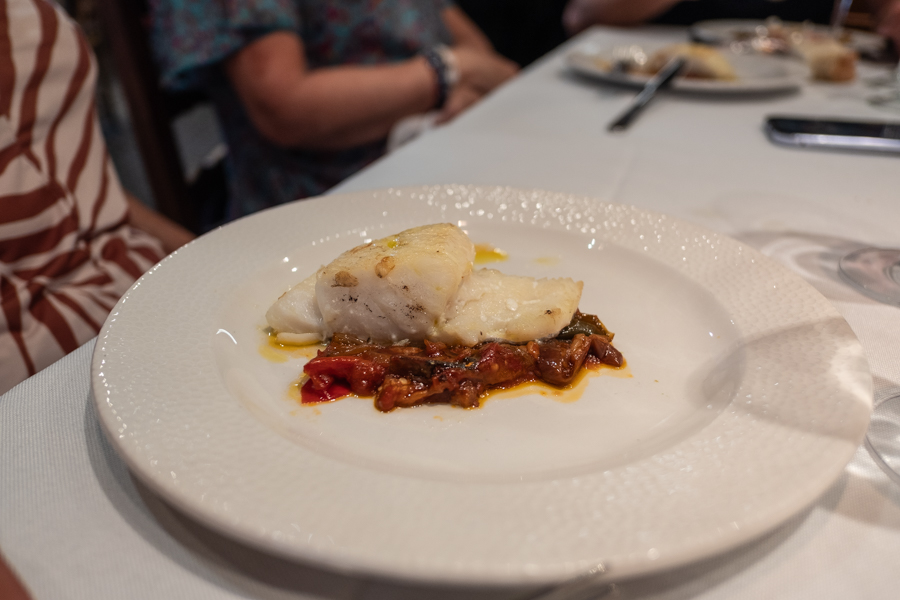 31_7
Dallal, a lovely lady of Algerian origin, and Iñaki, her partner, here somewhat fuzzy: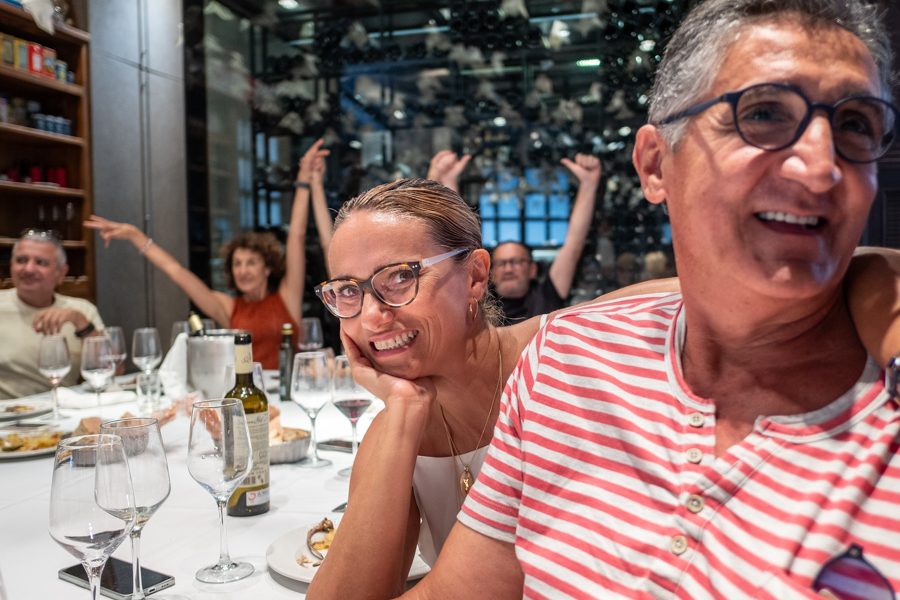 31_8
A happy waitress: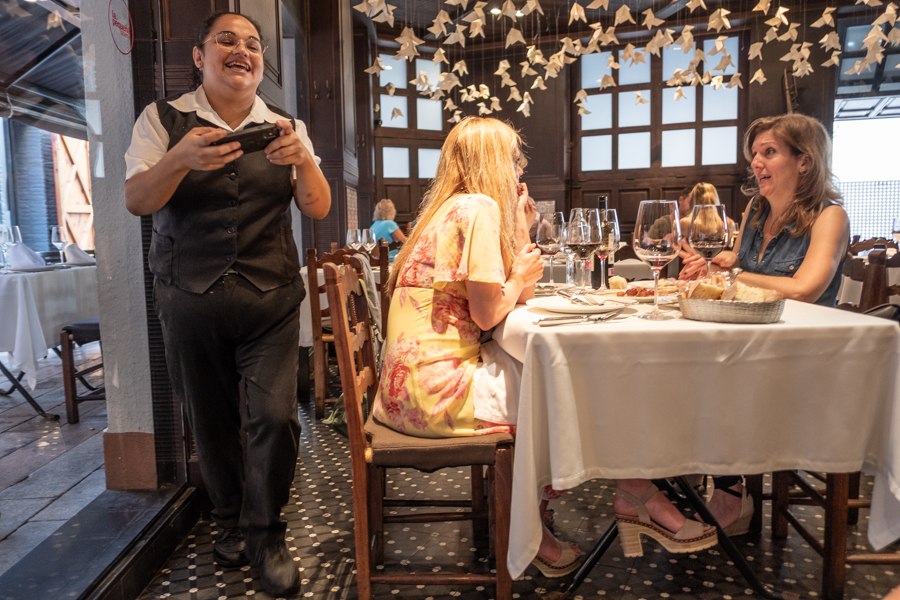 31_9
After lunch, everyone went back to the hotel for a bit of siesta, except me. I dislike the idea of sleeping during the day, so I want for a walkabout instead. Then I came back to the hotel, and we walked to the Plaza de Toros (the bullfighting arena) where the concert was being held. These days, bullfighting is (fortunately) becoming less and less popular, and the arenas have to host concerts and other events to survive. Here are the concert goers, waiting for the show to start while the arena is filling up: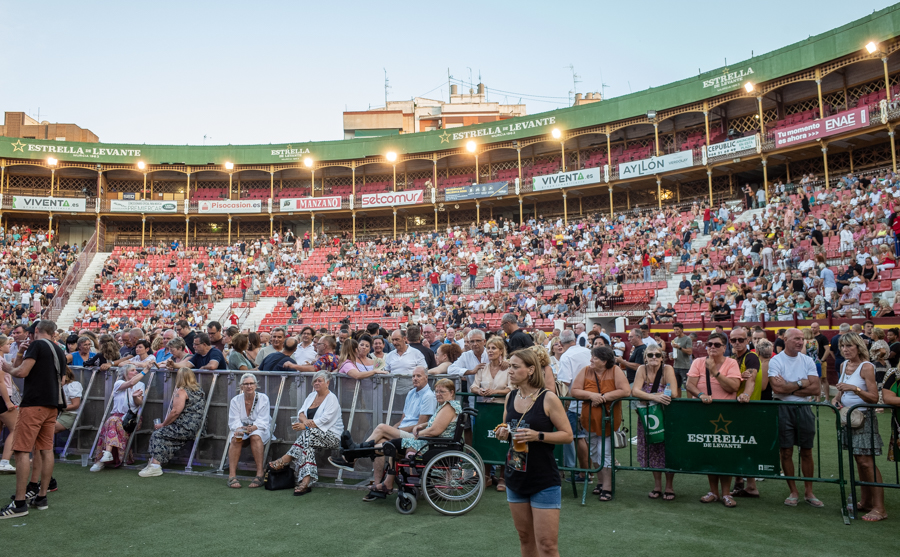 31_10
Then the concert began: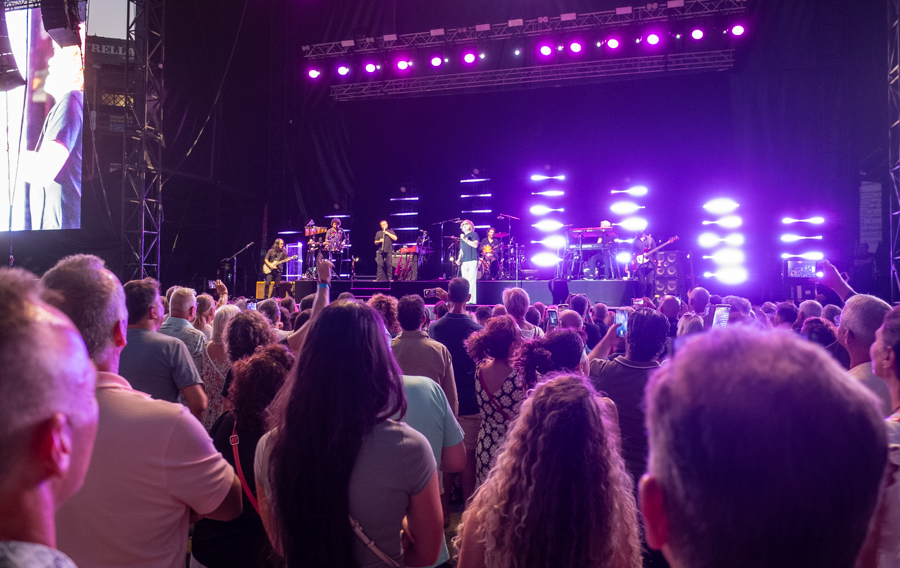 31_11
There was very much a party atmosphere, and I could not help noticing that there were a lot of people "of a certain age", as befits a concert of a band from the 1980s: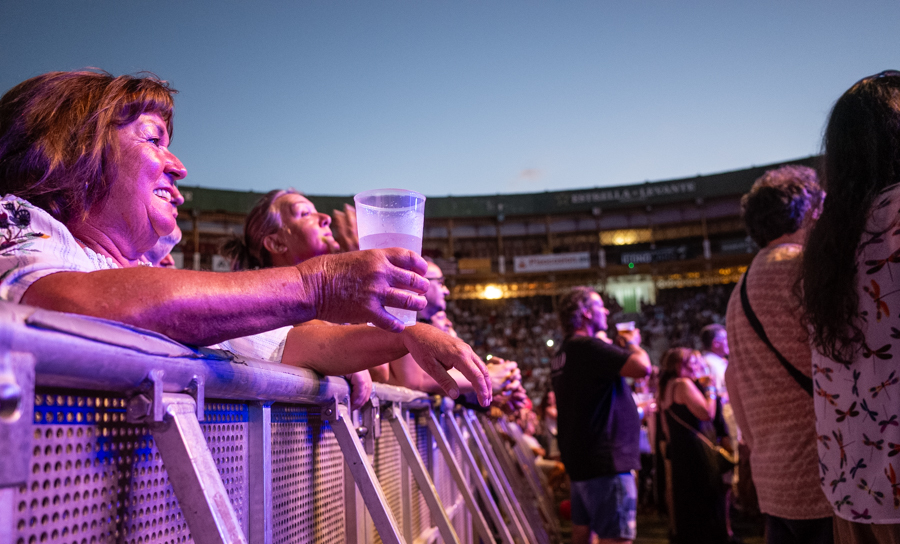 31_12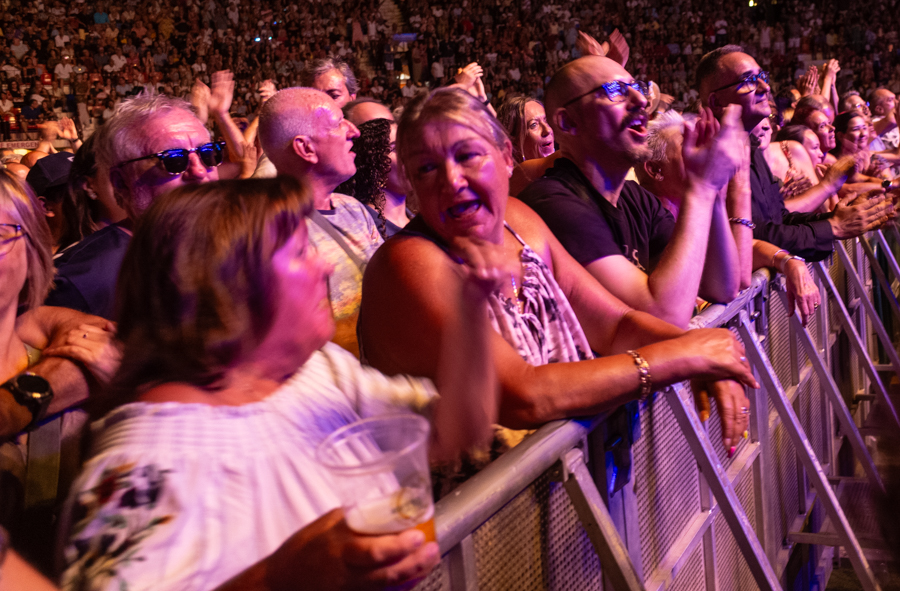 31_13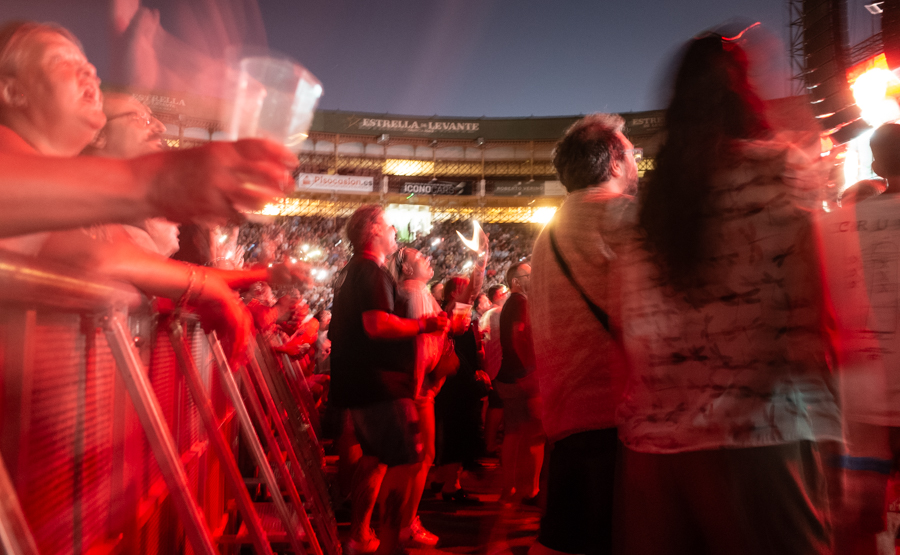 31_14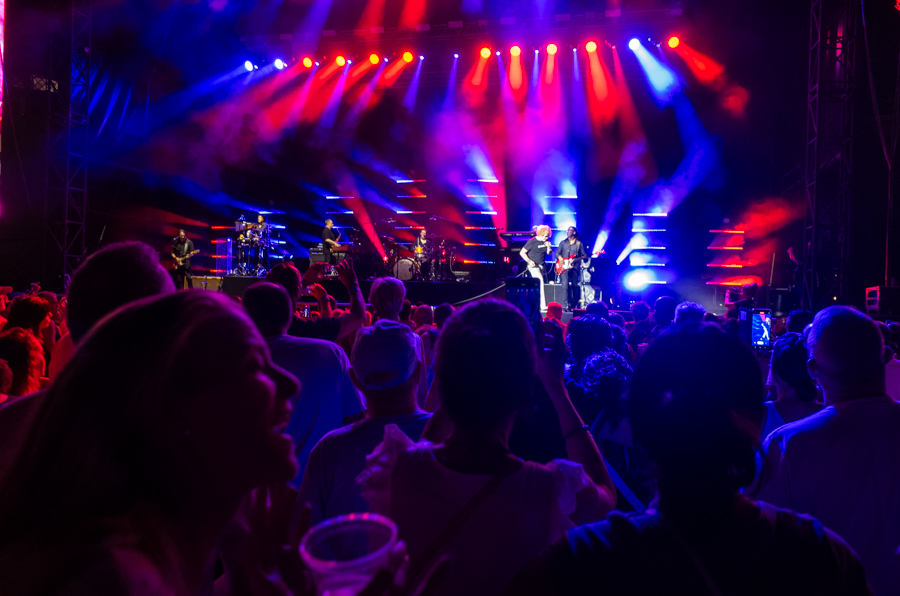 31_15
In the morning, as always, I got up well before my wife, so I went for a walk in the centre of Murcia. It was quiet, with all shops still closed, but I was hoping to find a café or bakery where I could get some coffee. Across the street there was a nice park next to the Segura river. A man was sleeping on a bench. He did not look homeless, rather like someone who had a bit too much on Friday night and needed to rest right then and there: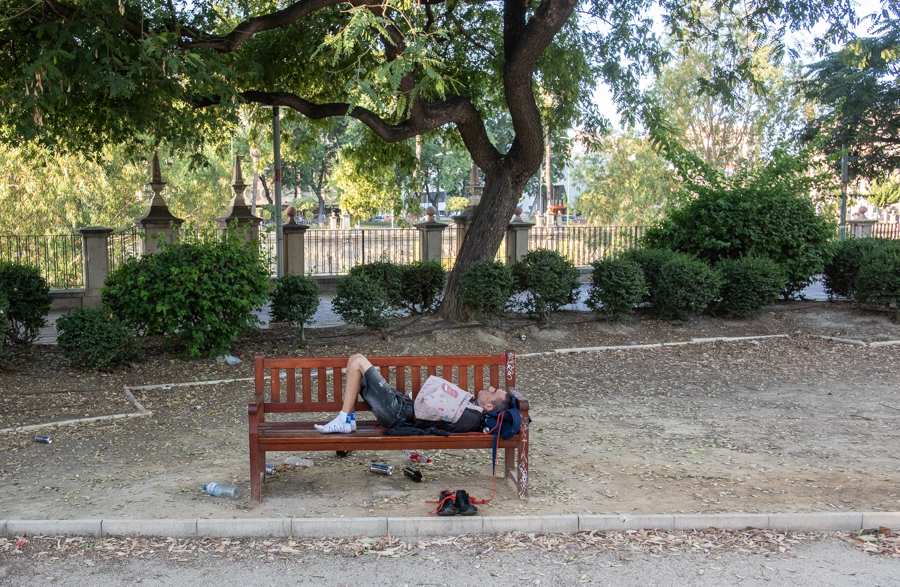 31_16
I kept walking in the narrow streets of the old part of the city. I liked this tiled sign on the wall of a bar, with the simple message "we have beer":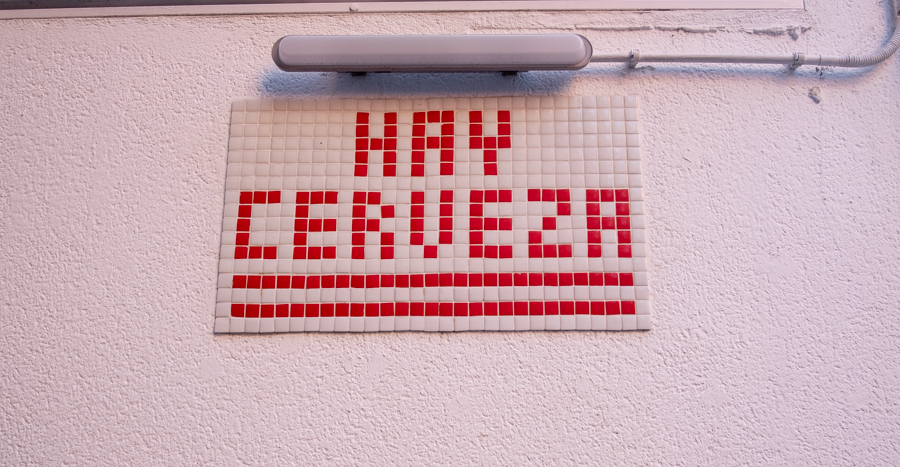 31_17
I arrived back at the Plaza de Toros where we had been on Friday evening: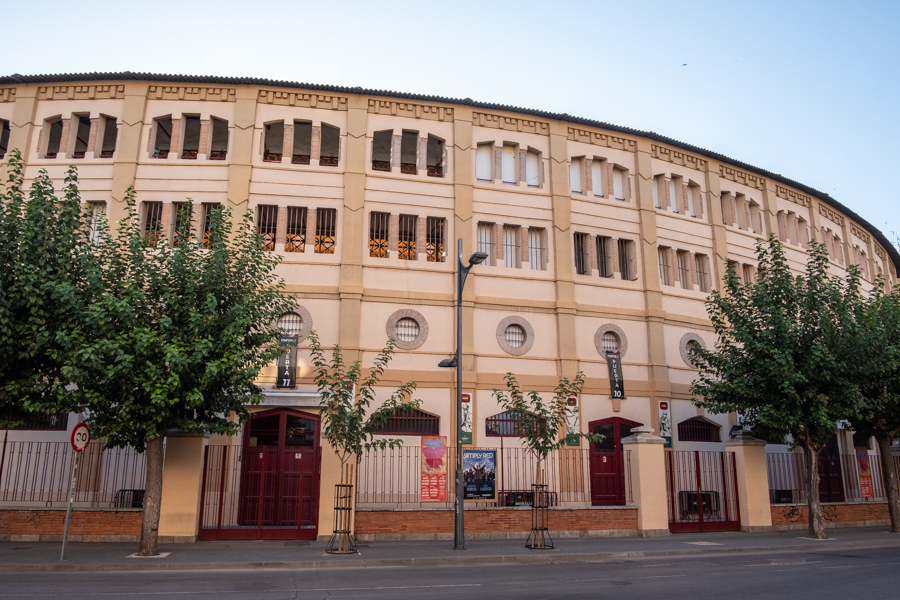 31_18
Bullfighting is increasingly controversial here in Spain, and it has been tied up in the politics. The right wing tends to view it as a tradition that needs to be preserved (including with hefty government subsidies, since most bull breeders and the arenas would not be economically sustainable otherwise), while the progressive people are against it, partly on animal cruelty grounds, and partly as a sign of opposition to the right wing parties. So I was not surprised to see this graffiti on the side of the arena, a sentiment which I share:

31_19
This one can be interpreted in various ways. It says "dead bullfighter, satisfied vegan":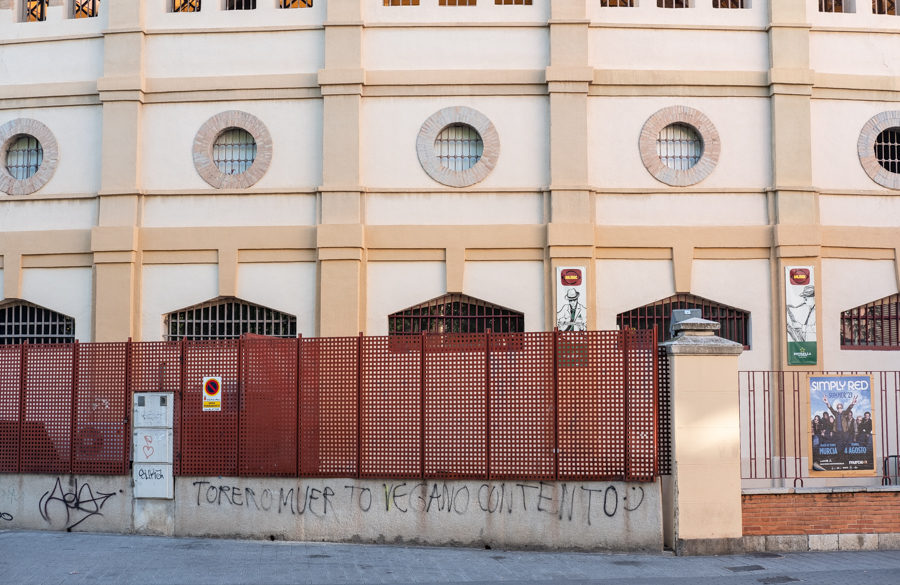 31_20
My search for coffee was finally rewarded when I came across this place near the Plaza de Toros. I liked the other patrons: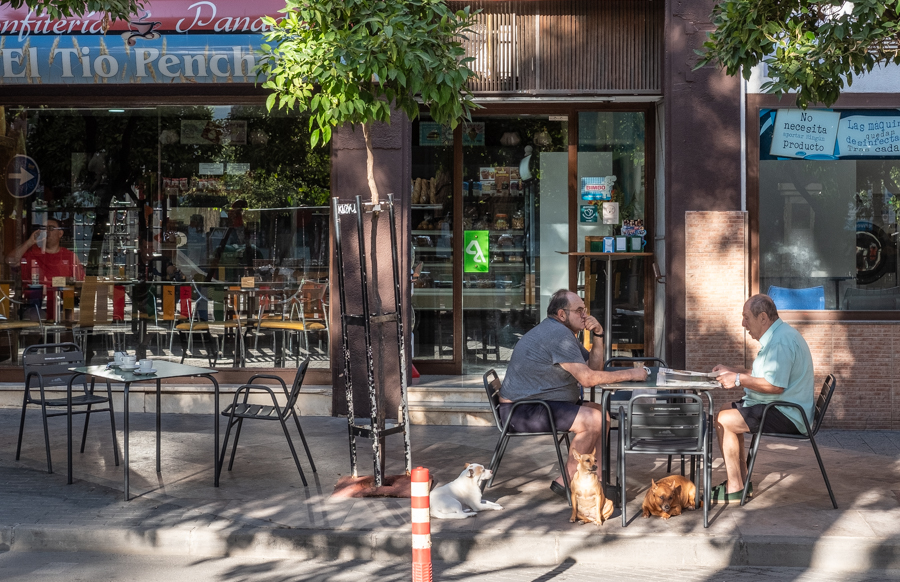 31_21
Back near the hotel, a homeless person's belongings. The number of homeless people here is not huge, certainly nothing on the scale of the USA, but they do exist, and our part of Spain at least has the climate to make it a bit more bearable to live in the streets (to the extent it can ever be bearable):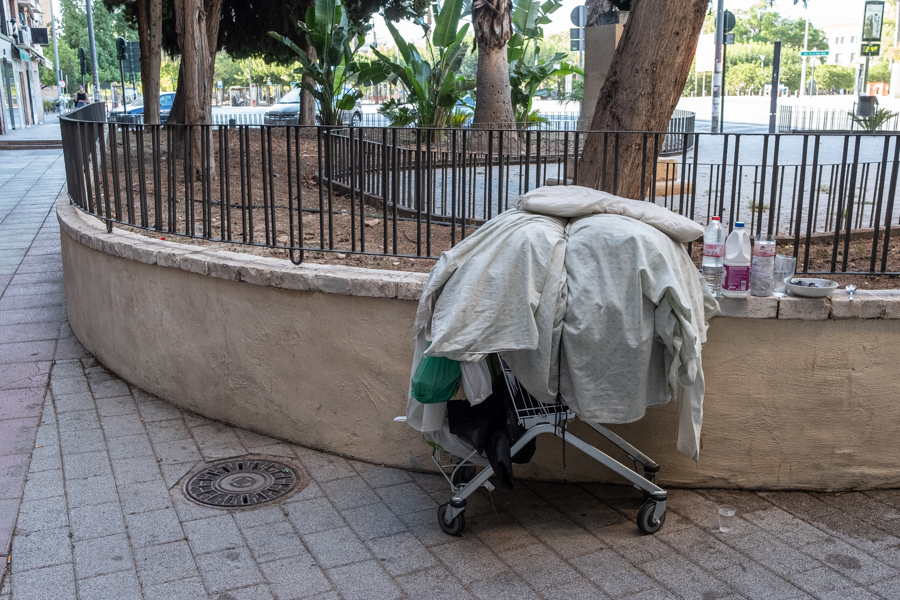 31_22
Back in Alicante, I went shopping at the Carrefour supermarket. They have a policy of stocking fruit and vegetables from local growers, here from a suburb of Alicante called Muchamiel, famous for its tomatoes: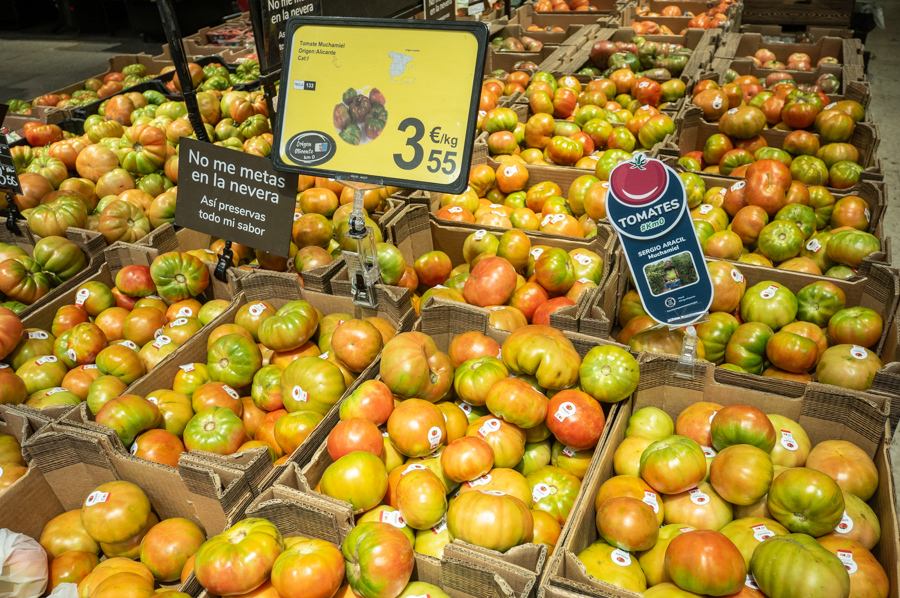 31_23
In the afternoon, I stopped by the beach place 100 Montaditos to have a beer and take in the views. A pigeon was working on a large piece of bread discarded on the ground. Then a sparrow came along, wanting to share: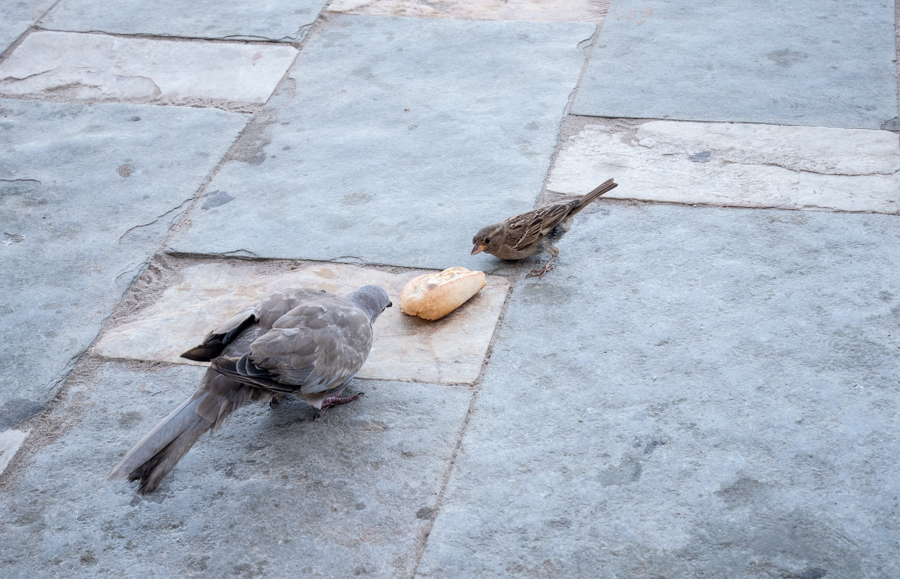 31_24
But size matters, and the larger bird told the small bird to go away: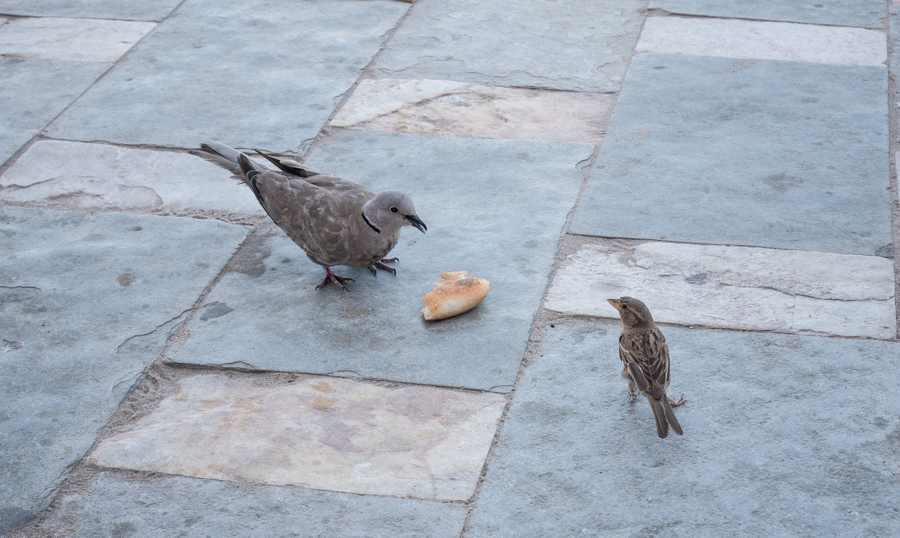 31_25
Still later, I went to the beach with my wife. While she swam, I sat in the chair, reading a book, drinking beer, and observing the activities around me. Note the African vendor hawking his wares: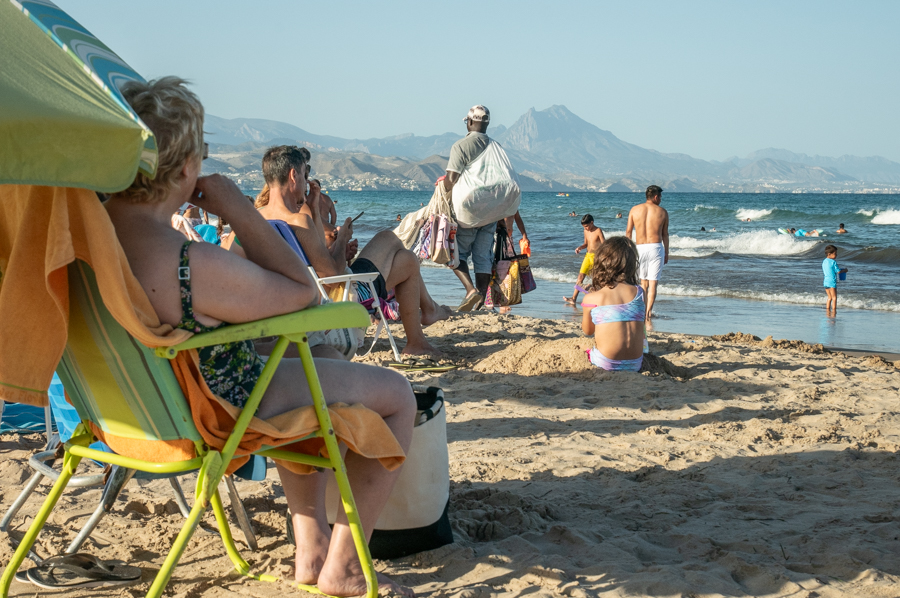 31_26
On Sunday I cycled a different route from my usual outings, taking in the towns of Alcoraya, Aspe and Novelda before looping back to Agost and home, a somewhat longish 80 km ride. As I approached Agost, there was a nice view of the town from the road. The overpass in the foreground is part of the Vía Verde del Maigmó, the unused railroad converted to a cycling/hiking trail: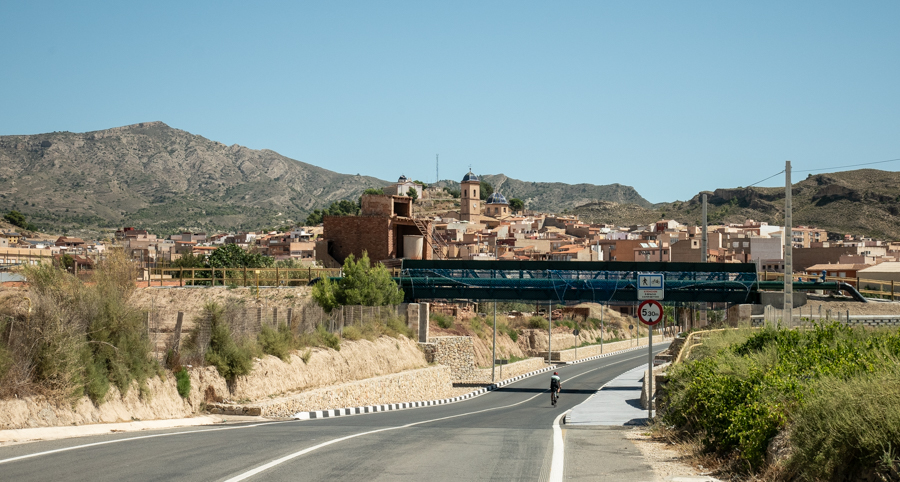 31_27
Near Novelda, I saw some giant ants on this concrete structure (I have no idea what it is, but the ants intrigued me sufficiently to stop and take a picture):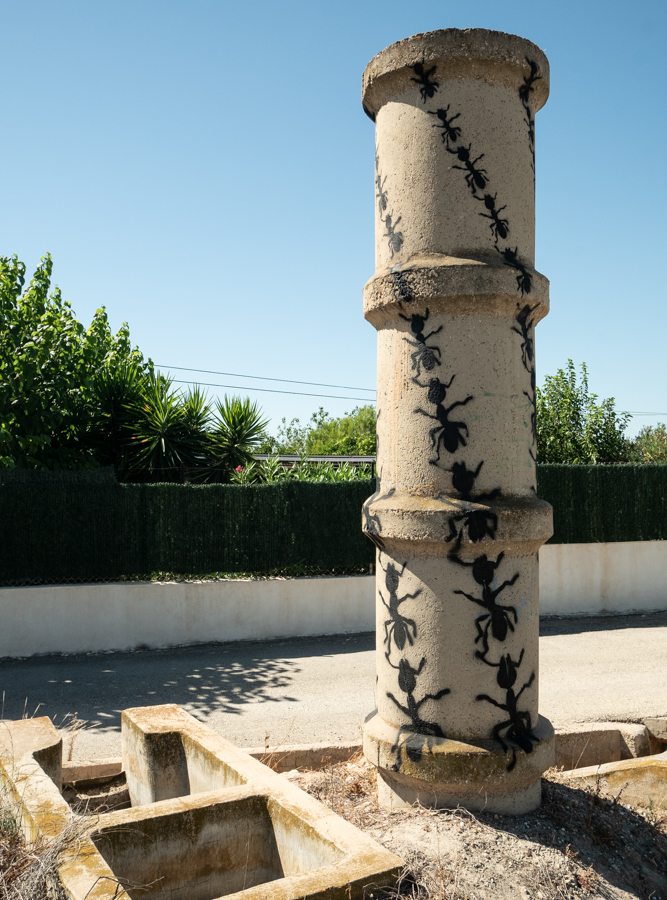 31_28
Finally, we went for lunch at a restaurant called Casa Segis, about 250 meters from our house. It is a the kind of place where both the quality and quantity are top notch, and the price is very reasonable. This is one of the many starters, a delicious grilled octopus: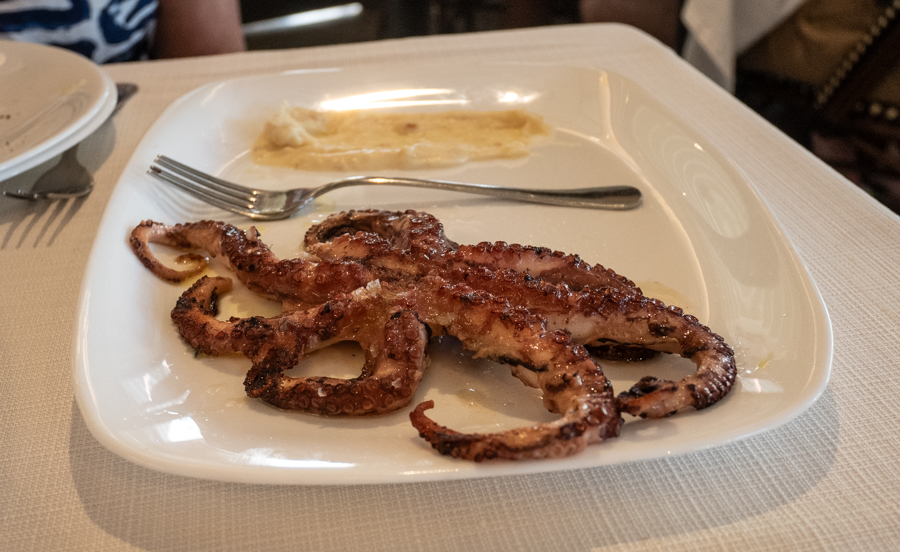 31_29
And the plato fuerte of the lunch, a nice paella for two, with Esteemed Wife contemplating it. After lunch at Casa Segis, no dinner is needed: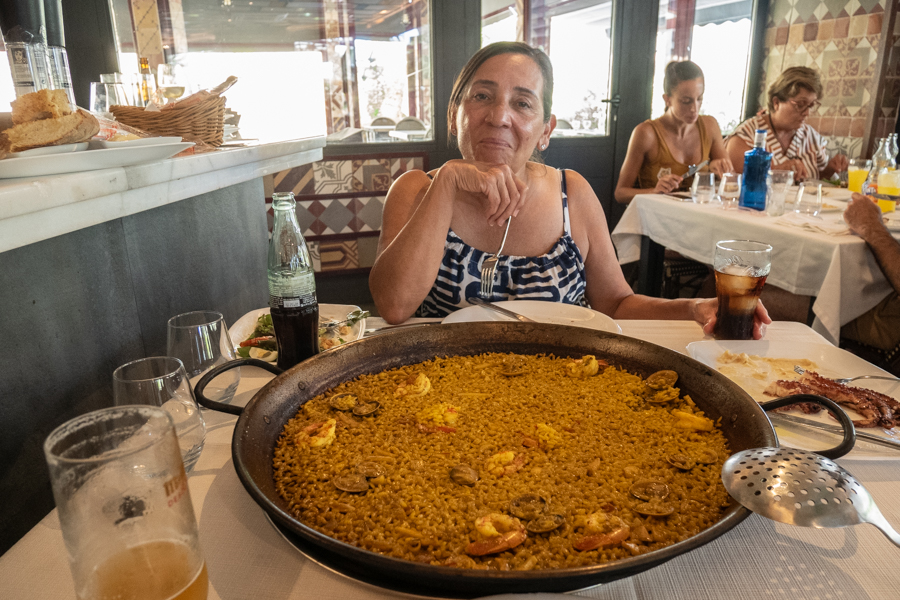 A more comprehensive gallery of my Murcia walkabout can be seen here.