The week began in Aarhus, continued in Copenhagen and ended in Alicante, where I flew home on Thursday afternoon. So the first group of pictures is from Aarhus, the rest from Copenhagen, and there is one picture from my local bakery at the end. The photos are almost exactly chronologically arranged, so you are in effect coming on a walk with me in both cities.
45_1
I got up Monday morning and walked to a bakery to buy some rolls for Lars's and mine breakfast. It was a cool, slightly foggy, late October morning. This is the spire of Aarhus Cathedral: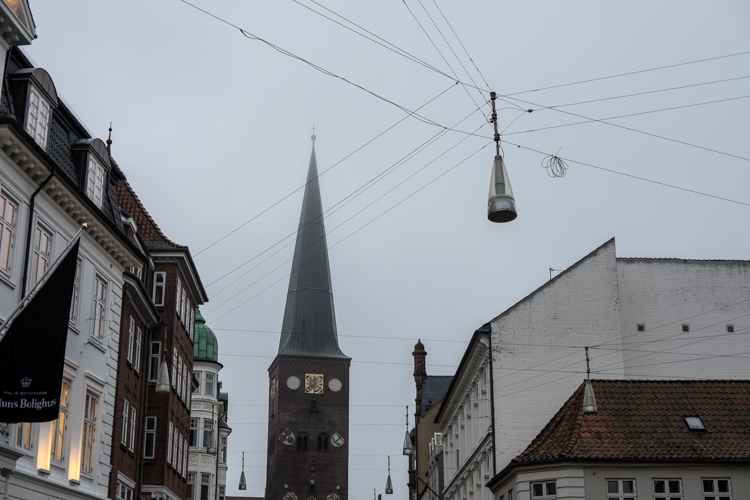 45_2
Lars lives in the oldest part of Aarhus (often called the Latin Quarter like in Paris), with many narrow streets, small squares, and statues, old and not so old. Here is one on Klostertorv: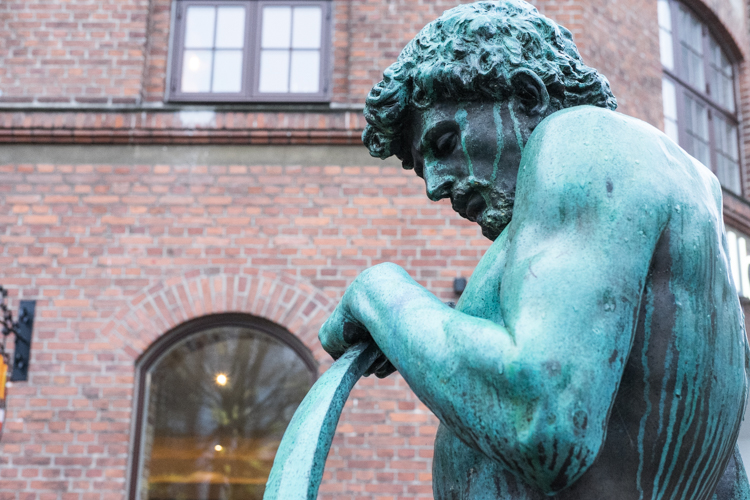 45_3
And a more modern one on another small square: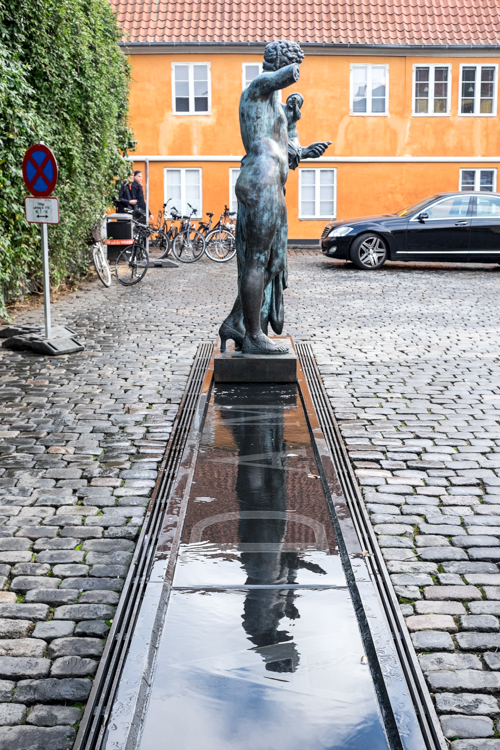 45_4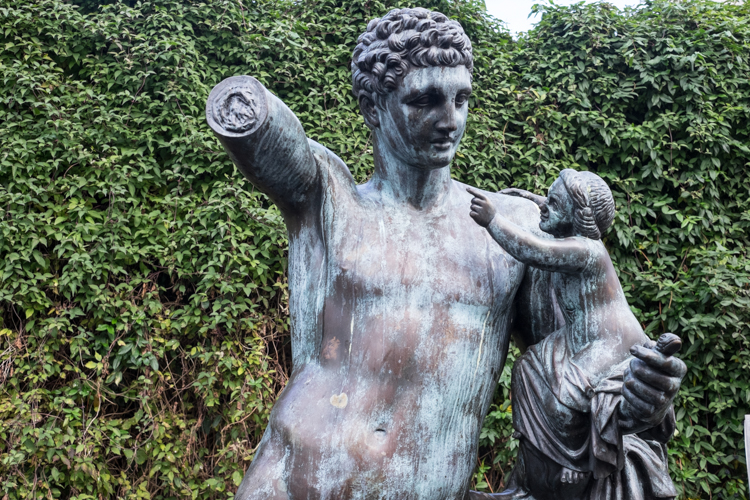 45_5
Later that morning, I was walking around the port area. When I lived in Aarhus in the 1970s and early 80s, the port was reasonably busy, not least because of the frequent ferries to Sjælland, the big island on which Copenhagen is located. But today the ferries are no more since there is a bridge linking Fyn with Sjælland further south, and the whole port area has been converted into office buildings, apartments, the city's main library and the like. Here is a group of cyclists on Europaplads: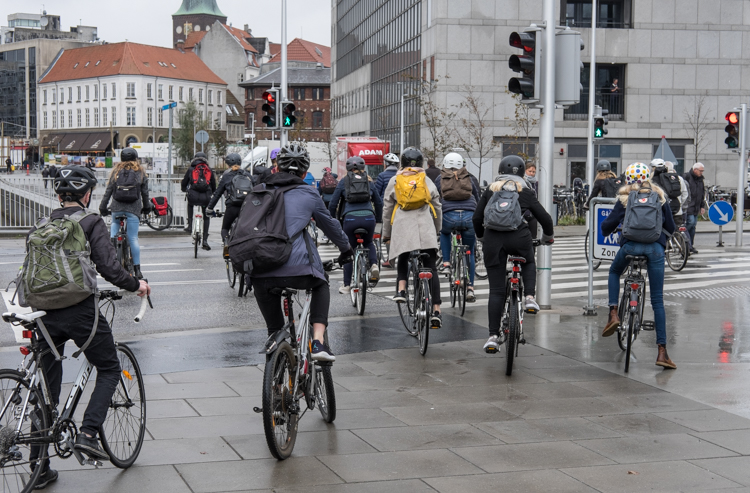 45_6
Parking belonging to an office (or shared by several offices) in the Latin Quarter: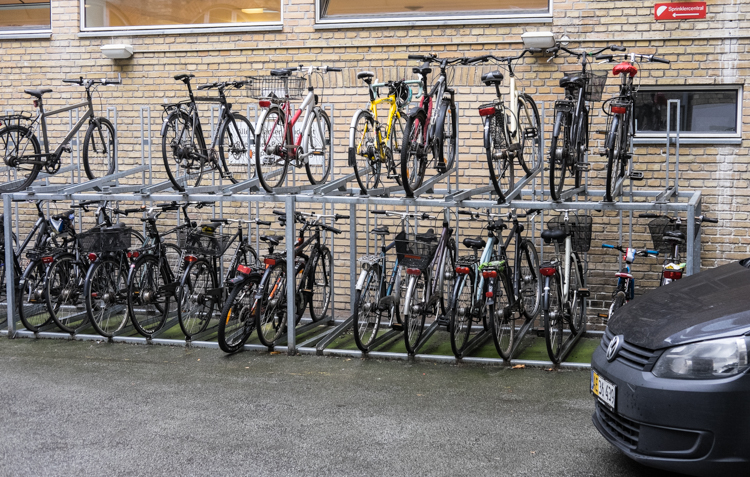 45_7
This is Skolegade, so named because it leads from the port to the oldest school in the city, dating back to the 16th century. It still operates, as a normal public high school. Back in my day, Skolegade was THE place to go drinking on a Friday night. Today there are still some bars and restaurants, including some that were there back in my teenage years. But nowadays I never go here, there are other watering holes which are much more attractive. Still, I get a bit nostalgic for my youth when I walk here: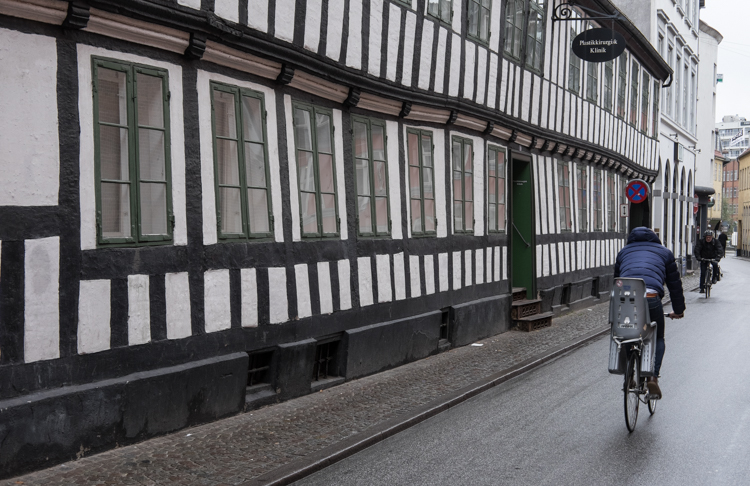 45_8
Just another pretty old building: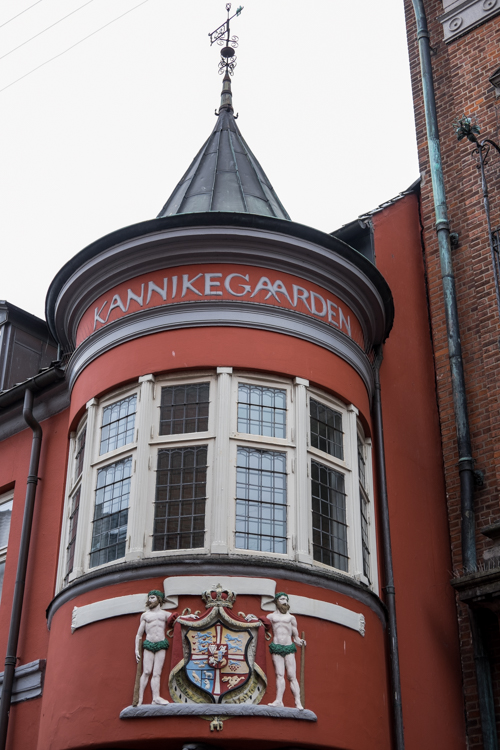 45_9
Aarhus is one big construction zone, reflecting the economic dynamism of this part of Jutland. And next year the city will be the European Capital of Culture: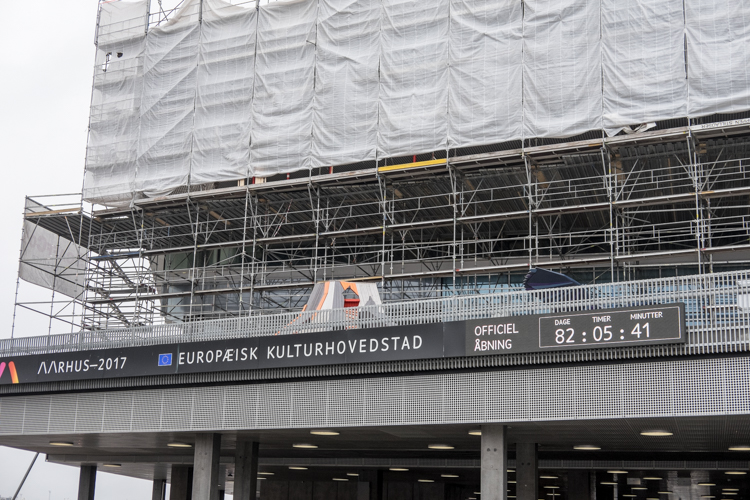 45_10
This is a new place, opened since my last visit to Aarhus. It is Aarhus Street Food, an indoor food market as exists in many cities, but less posh and at quite reasonable prices for Denmark. It is located in what used to be a huge bus garage belonging to DSB, the biggest Danish rail and bus operator. This means that it is covered, very convenient given the Danish climate: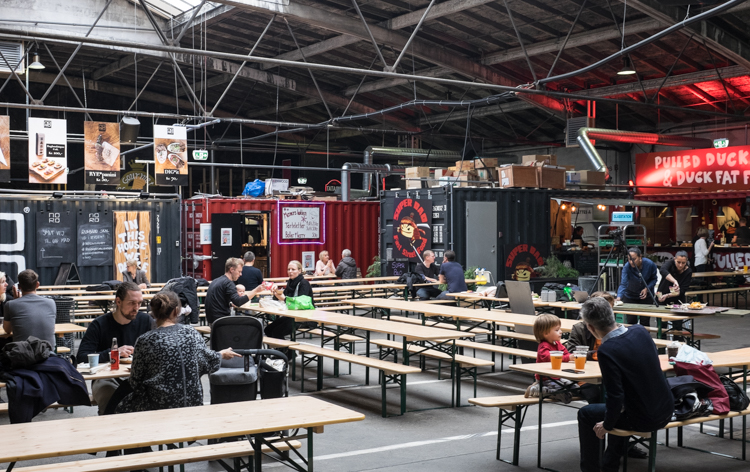 45_11
The food stalls are mainly international. This is not the place for traditional Danish hot dogs: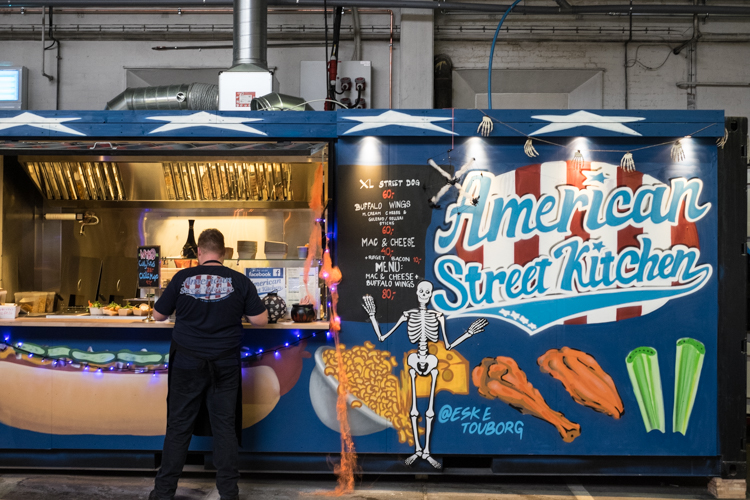 45_12
The place is new, so new stalls are opening from time to time. I came across these two ladies doing a food shoot in connection with one such opening: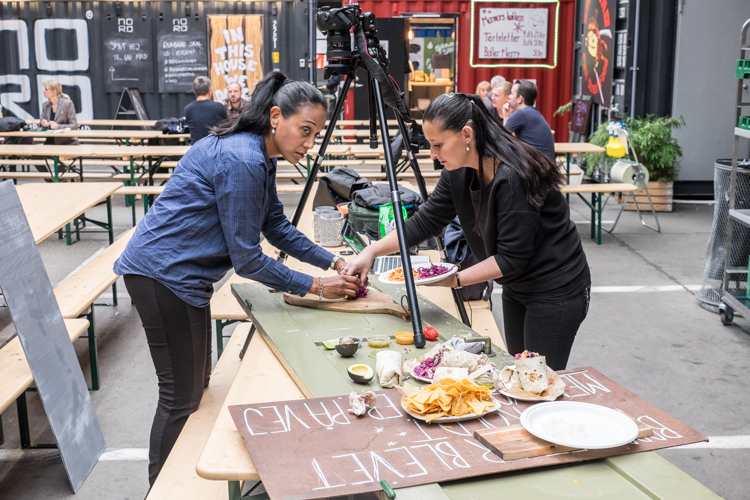 45_13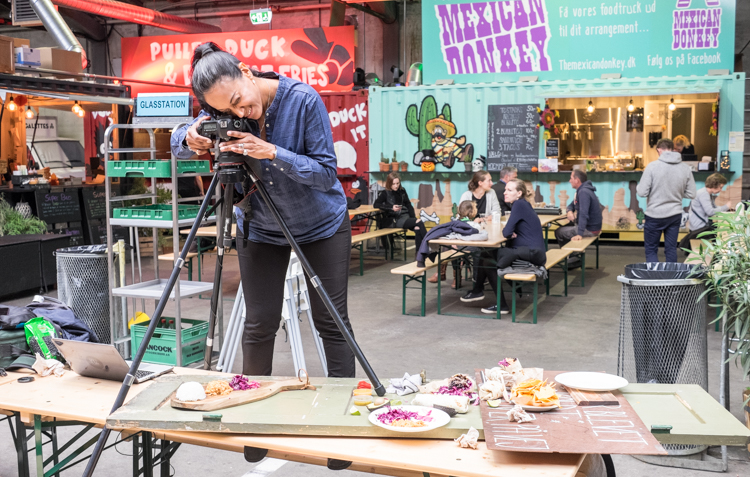 45_14
There is even art to look at while you eat: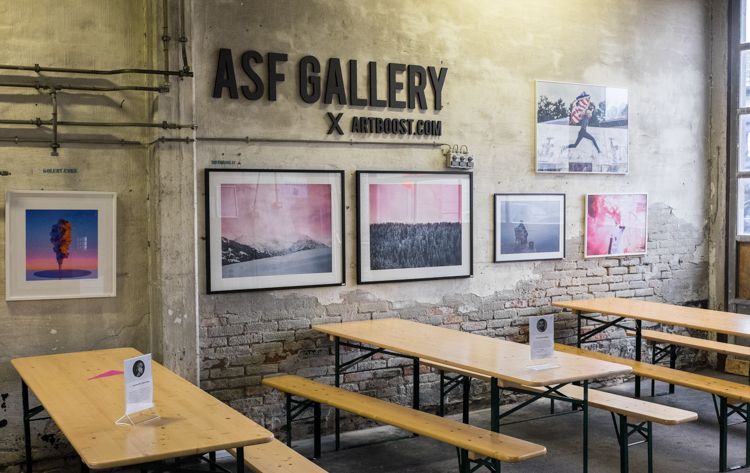 45_15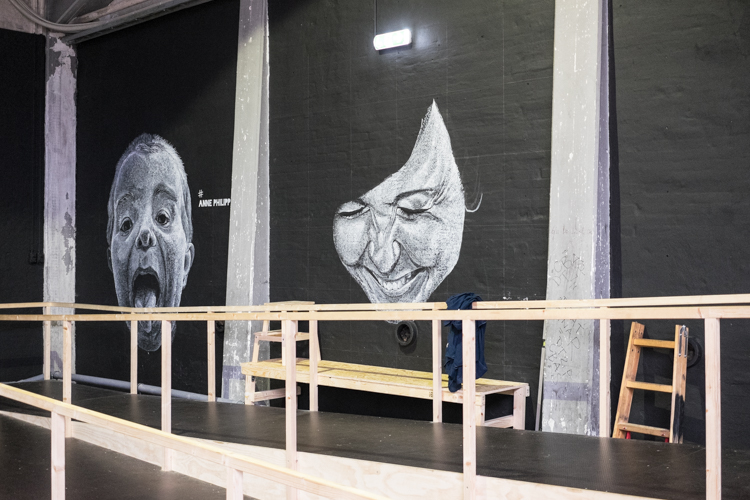 45_16
I walked around some more, looking at quirky entrances to shops or bars: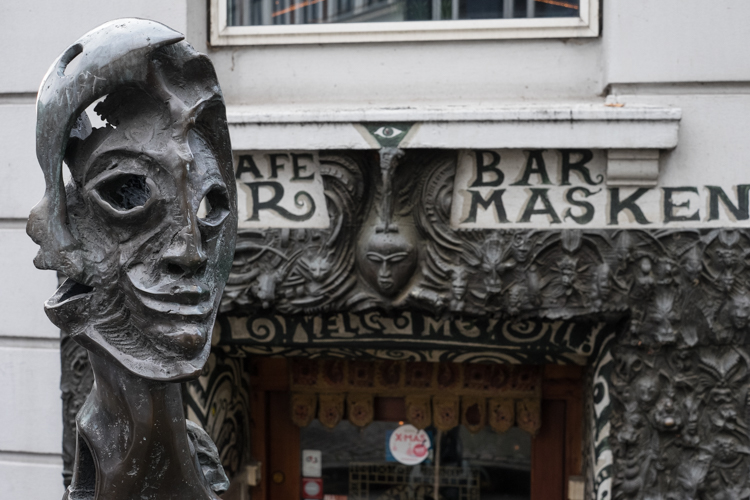 45_17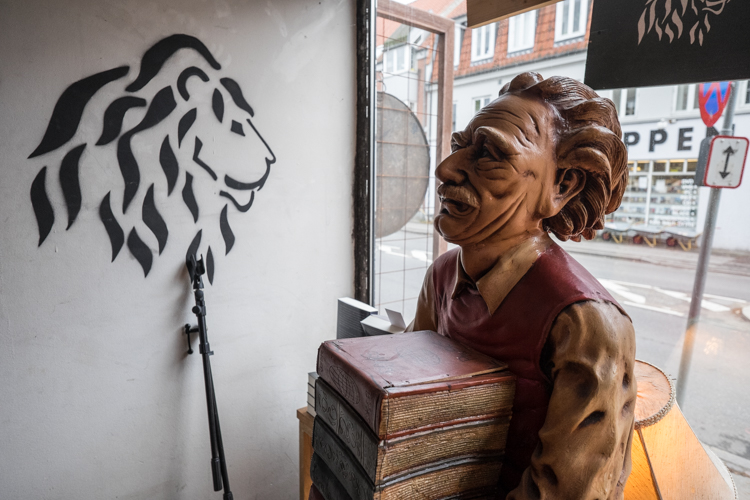 45_18
Then lunchtime arrived. I had arranged to meet up with two classmates from primary school, Ole and Lone, whom I have known since we were in 6th grade in 1972. We met at Café Ganefryd, an excellent vegetarian restaurant near Lars's apartment: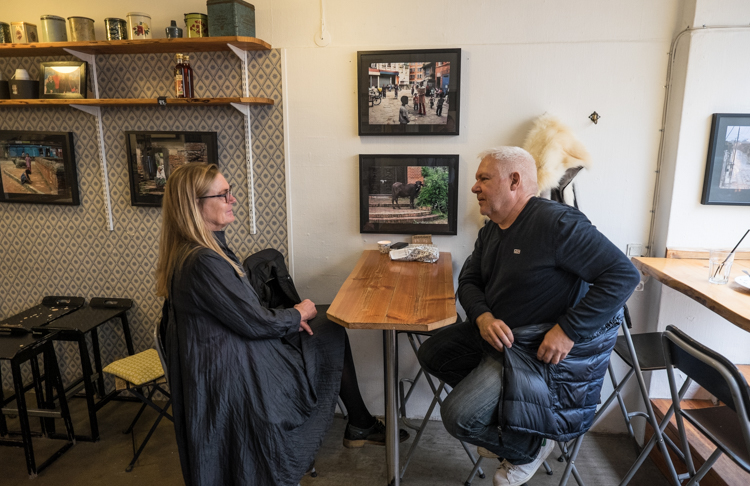 45_19
Lars came home from work, we had the last dinner together, and then went to a new (for me) bar, Ris Ras, where the selection was good and the decor was amusing: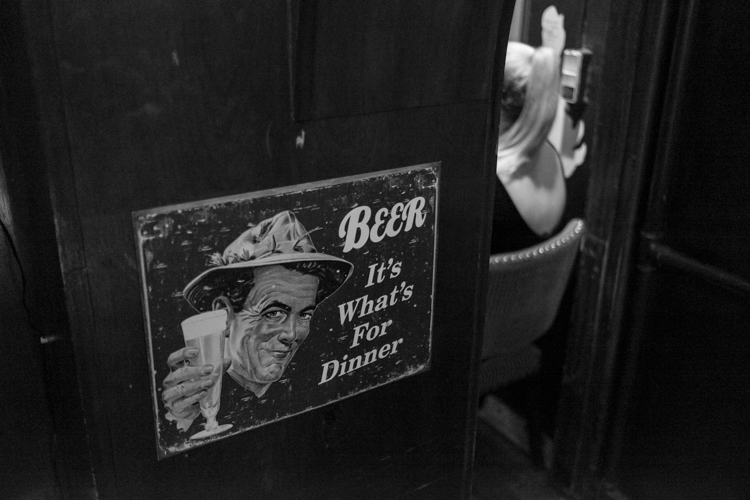 45_20
Tuesday morning I took the train from Aarhus to Copenhagen, a journey of just over 3 hours. It was my 56th birthday, but it was also the 12th anniversary of my father's death. So my birthday celebrations have been low-key to non-existent the last 12 years, by choice. After arriving in Copenhagen, I met up for lunch with a couple of friends, and then I took the local train to the cemetery. It is located near the old Carlsberg brewery. It was afternoon, the sun was already low, and I stopped to make this image of the railroad bridges: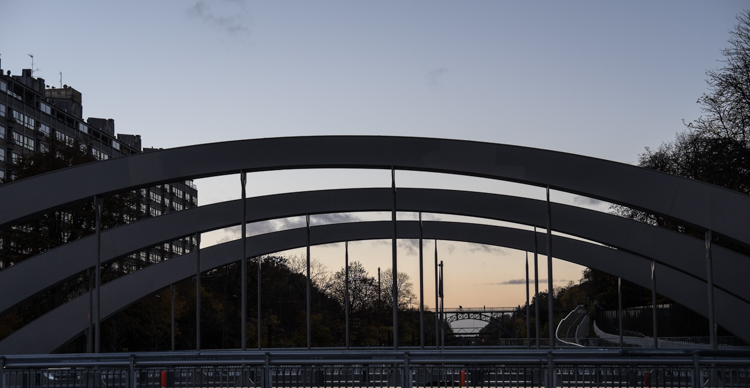 45_21
As is my habit, I first walked to the "regular" cemetery, Vestre Kirkegård, where my mother is buried. To get there from the commuter train station I walk through a small local park. I really enjoyed seeing the autumn colours, something we do not have in Alicante: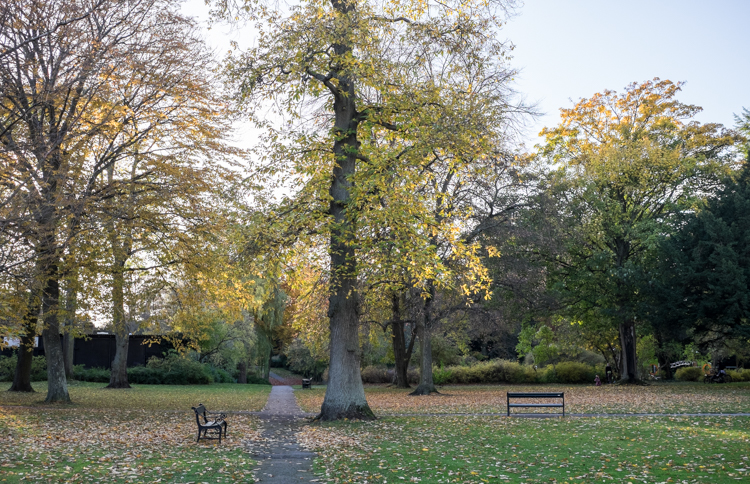 45_22
My mother's grave is well kept; my sister lives in Poland and I live in Spain, but for a modest fee of about 150 Euro per year, the cemetery maintains the grave, plants flowers of the season etc. A burning candle told me that some of my parents' old friends had visited within the past 24 hours: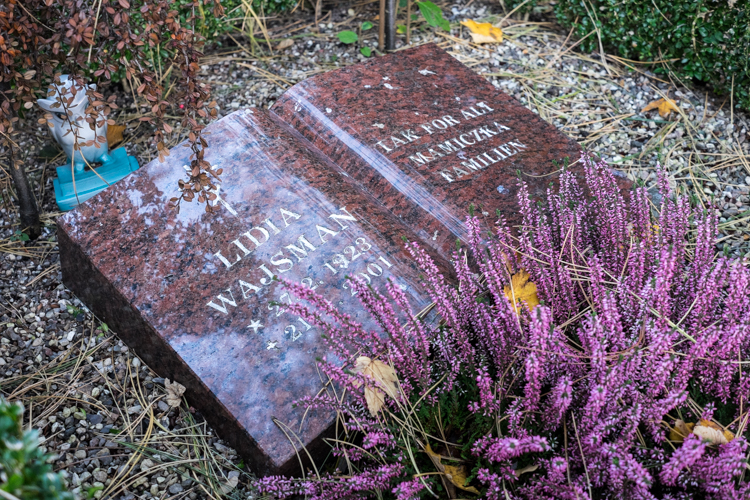 45_23
My father is buried in the adjacent Jewish cemetery. It is "new", having been founded in 1885: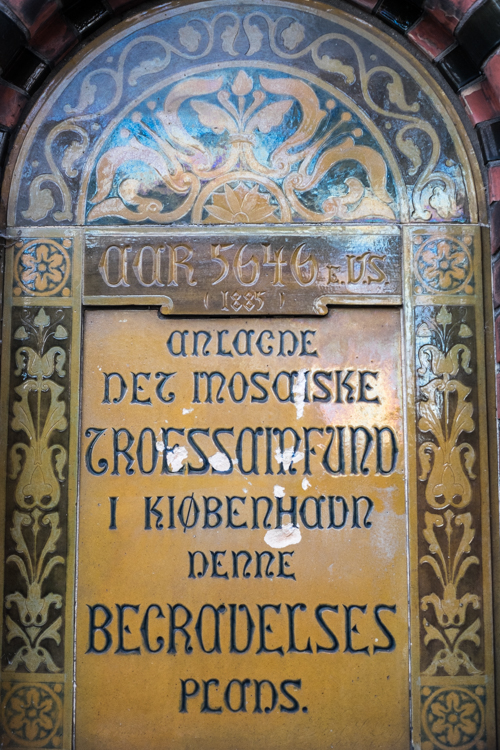 45_24
As I always do, I had taken a couple of the small stones from my mother's grave to put on my father's tombstone. The stone needs some touching up, I must see to it in the spring: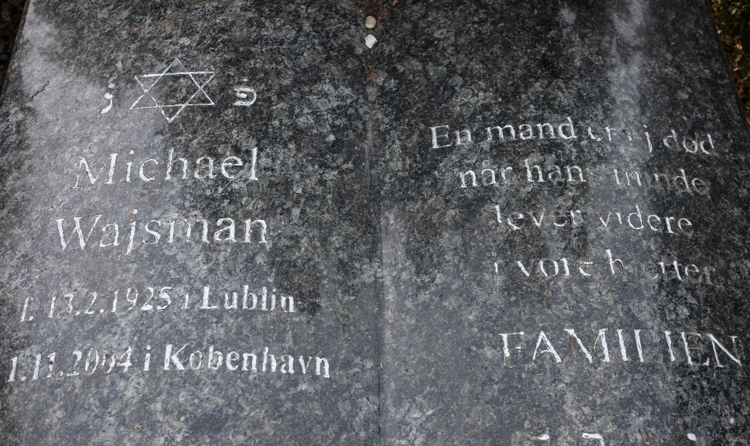 45_25
This is a wider view of the Jewish cemetery; in the background is one of Denmark's main prisons, Vestre Fængsel. At least the inmates have quiet neighbours: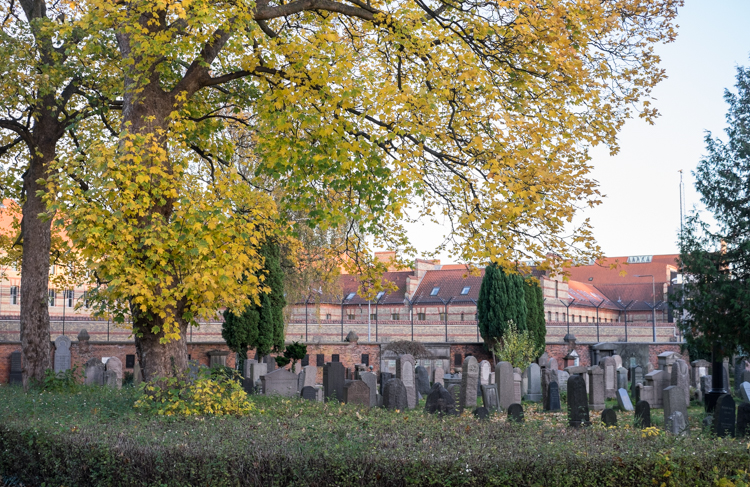 45_26
I usually do not look at other graves besides that of my father. But this time I did stop to pay my respects to Dan Uzan, a 37-year old volunteer guard who was murdered by an Islamic terrorist outside the main synagogue in Copenhagen on 15 February 2015, the same man who earlier that evening had attacked a free speech discussion at a community centre and killed film director Film Nørgaard (the terrorist was tracked down and shot by the police a few hours later):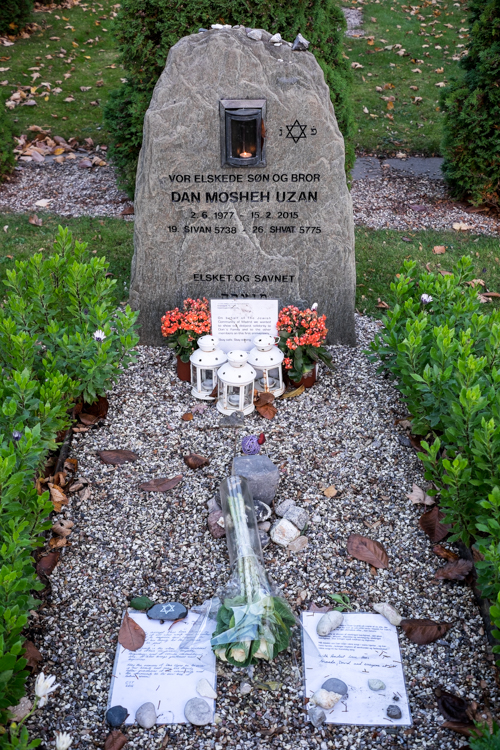 45_27
Visitors from far away pay tribute to Dan Uzan: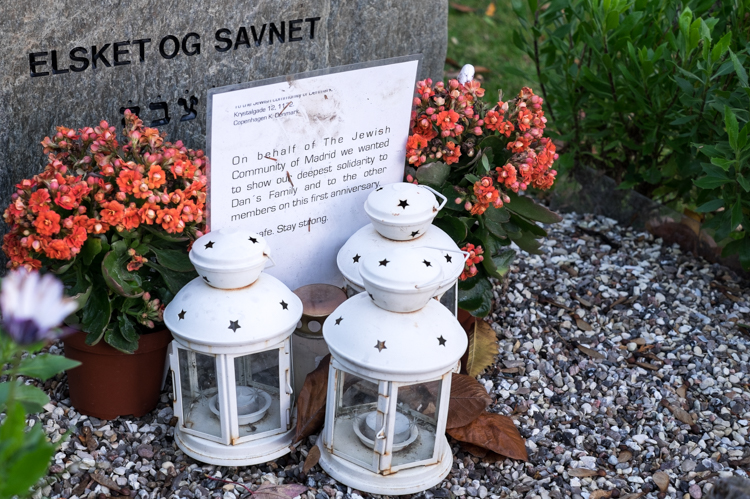 45_28
After visiting the cemeteries, I made my way to Østerbro, where my childhood friend Beata lives. I checked into my hotel, and spent a pleasant evening with her. The next morning, I went for a walk in the neighbourhood, which I know well. Østerbro is only 2-3 km from the centre of Copenhagen but it is very nice and peaceful. And it has the lakes, such as this one, with a metro station under construction in the background: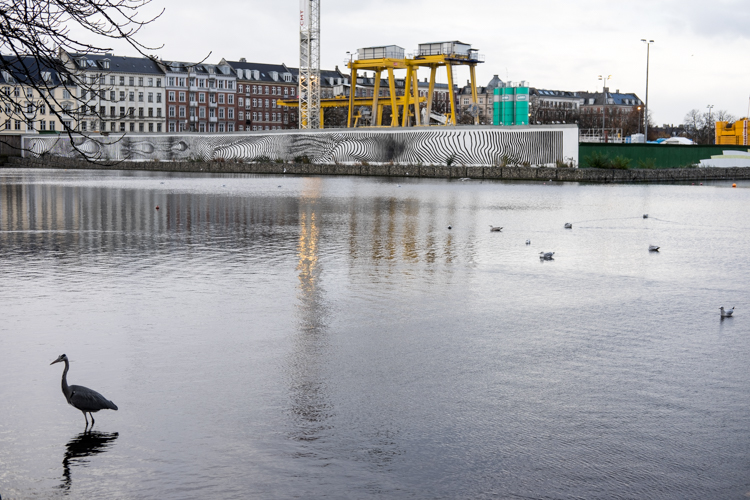 45_29
Lots of different birds live in the Østerbro lakes: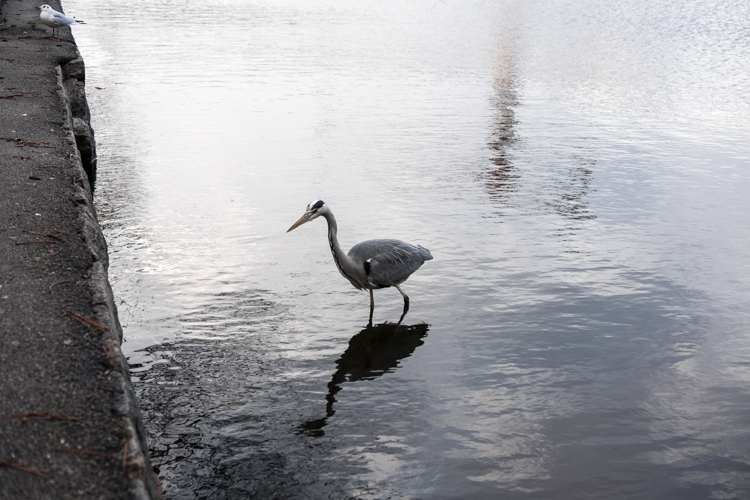 45_30
I walked a bit down along the lake and then looked back towards Østerbrogade, the main thoroughfare of Østerbro: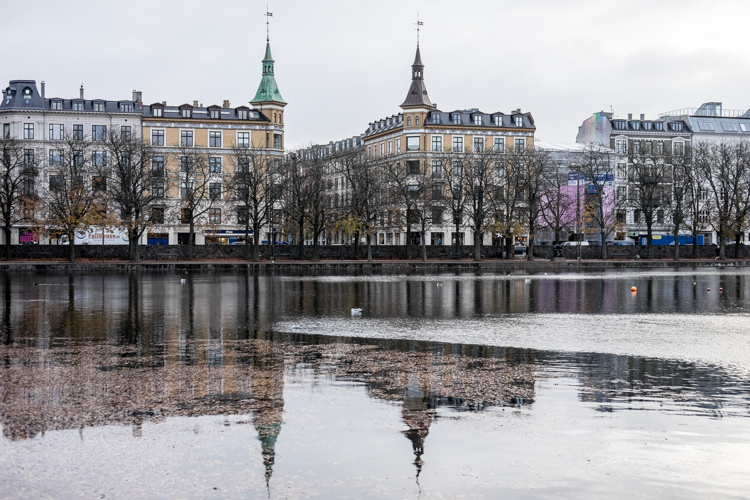 45_31
Typical Østerbro apartment buildings: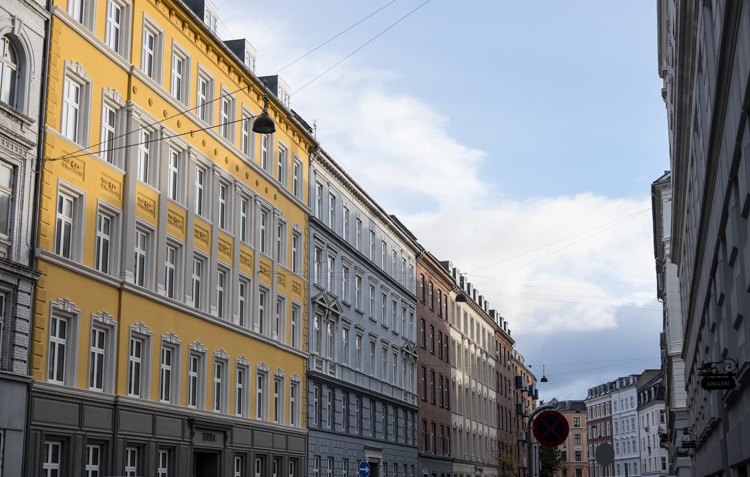 45_32
This is an iconic road sign, seen all over Denmark as far as I can remember; sometimes near schools, sometimes on rural roads leading through villages, sometimes, like here, in a backyard where people park. The text means "look out for me":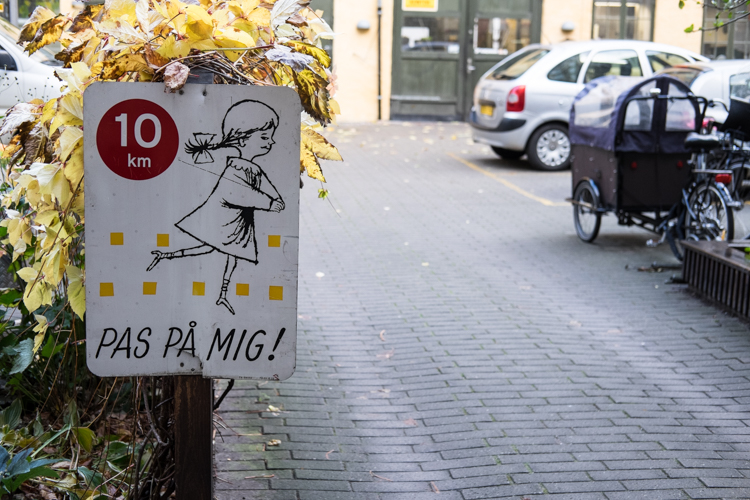 45_33
When I was a child, my only knowledge of Halloween was from the Peanuts strip. But today it is quite popular in Denmark. Here are some leftovers outside a school on Østerbro: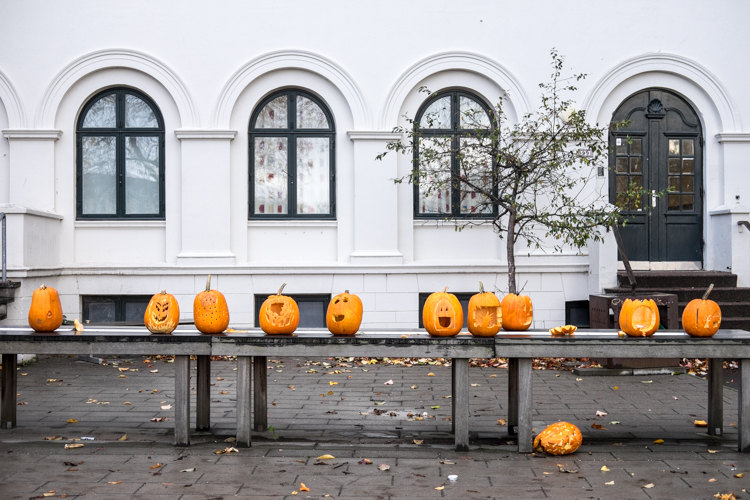 45_34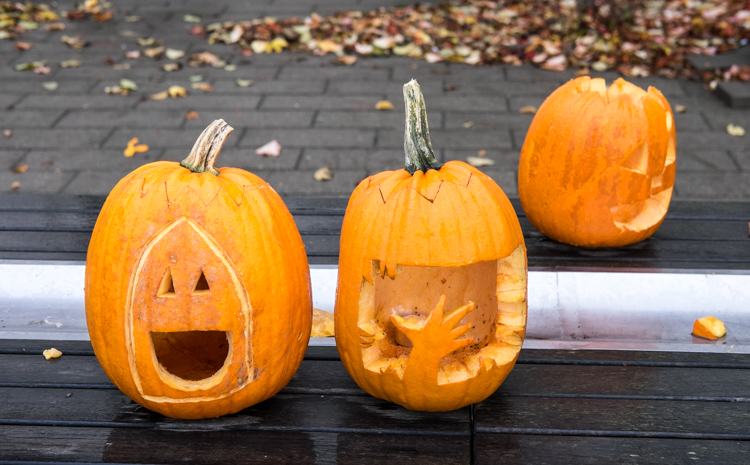 45_35
A heart in the pavement: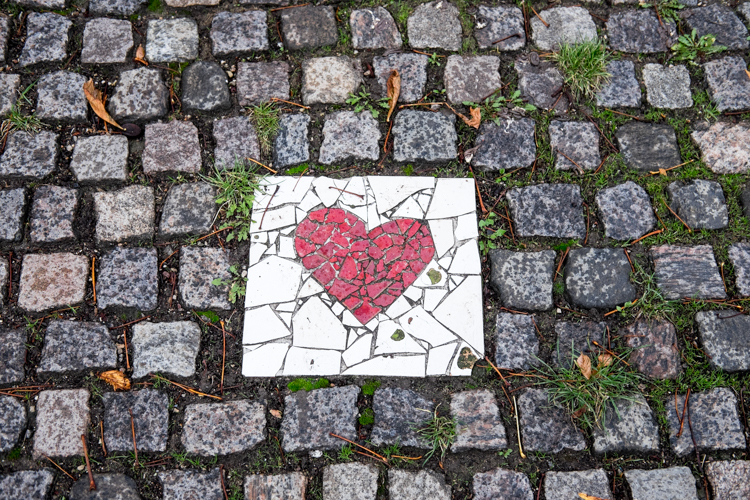 45_36
Finally, I finished my walk at a bakery called "The Pure Bread" where one can also have a cup of coffee, something that was sorely needed given the cold. This woman was making use of their wifi: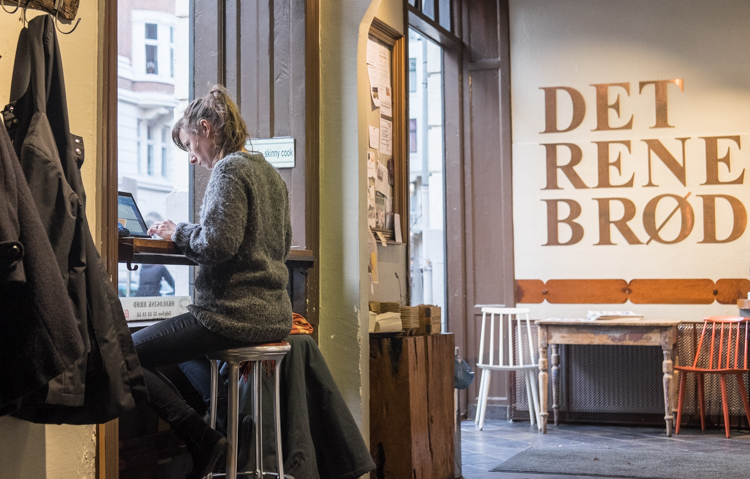 45_37
And this lady was in an animated conversation with a friend: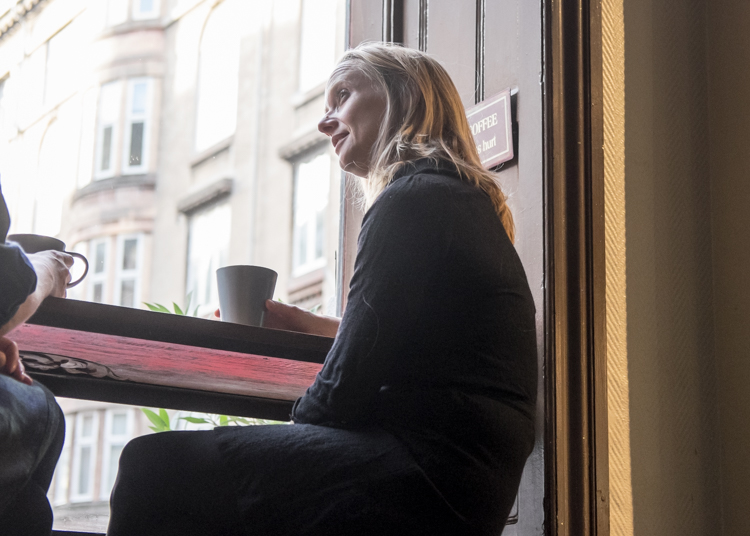 45_38
Østerbro is a neighbourhood where people like good food and good wine, and they are not going to waste a good crate either: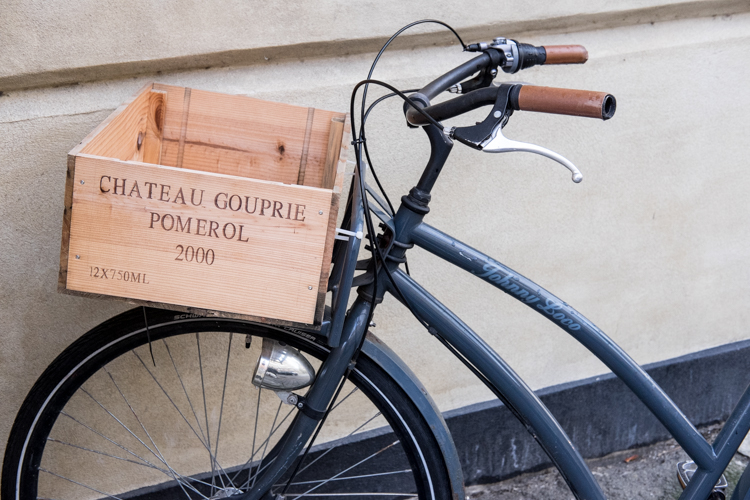 45_39
After breakfast, I walked to the Østerport train station to take a commuter train north to Humlebæk, a coastal town where the Louisiana Museum of Modern Art is located. Just outside the station, I saw the cycling equivalent of incorrectly parked vehicles heading for the municipal dump. I believe that the owners have a time-limited opportunity to retrieve them, but I am not sure how they are disposed of in the end: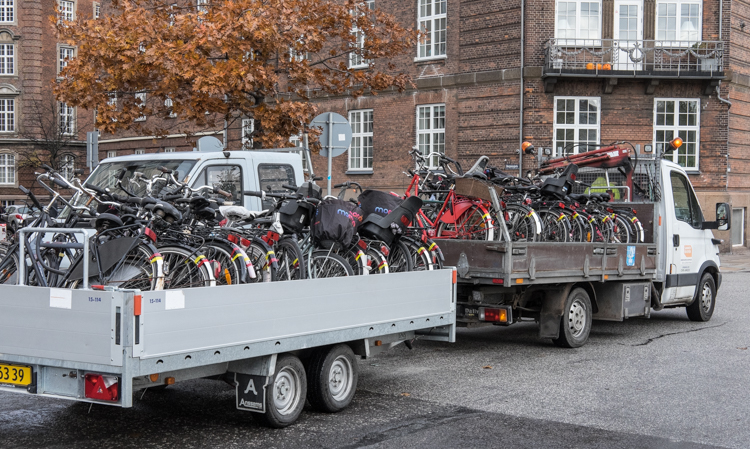 45_40
While waiting for the train, I noticed this funny political sign. There is no election campaign going on at the moment, so I guess this is just a longer-term opinion-building effort. The party behind the sign is a left-of-centre party, and the point is the rising inequality. The sign indicates that the bench is for people making at least 1 million DKK per year (about €140,000) while the poor can stand on the side: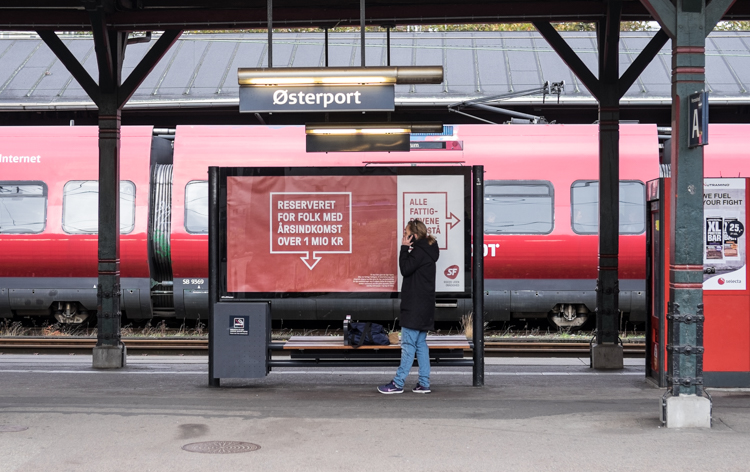 45_41
The train ride to Humblebæk is about 1/2 hour, followed by a 10-minute walk from the station to the museum. The weather was dreary but the Øresund (the strait separating Denmark and Sweden) had a stark beauty to it: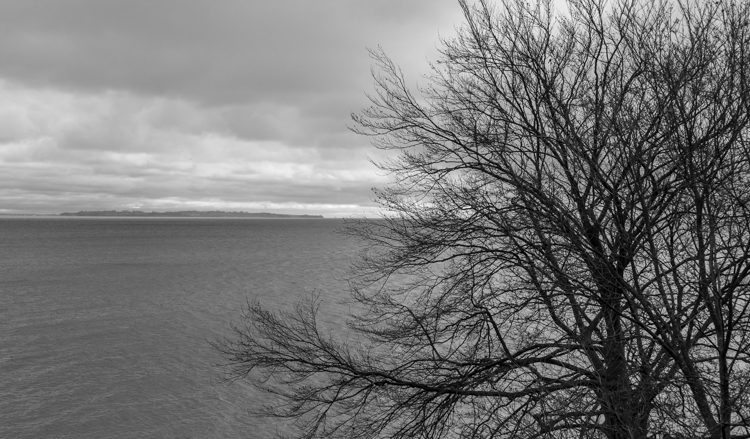 45_42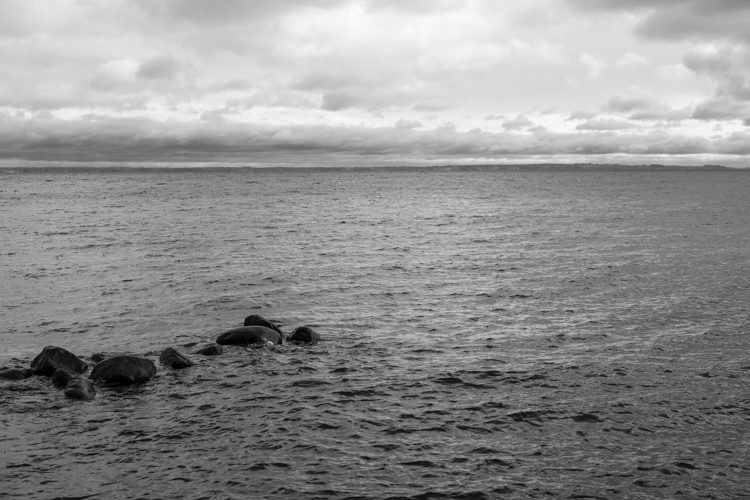 45_43
Louisiana is a fantastic art museum, which I always enjoy visiting. This is one of the permanent installations, which I have always loved: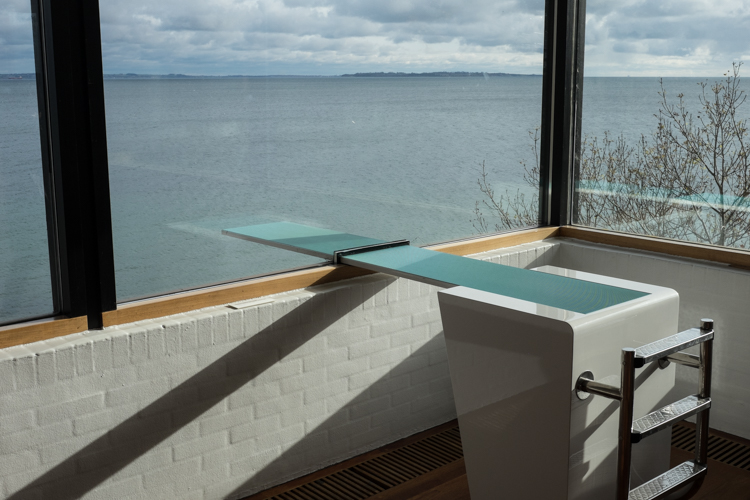 More images from my visit to Louisiana can be seen here.
45_44
In the evening, after Beata came home from torturing her patients all day (she is a dentist), we went to the centre. I wanted to see a big exhibition about Jacob Riis at Kunstforeningen Gammel Strand, called Light in Dark Places, chronicling his work as a photographer and social reformer in New York in the early 20th century: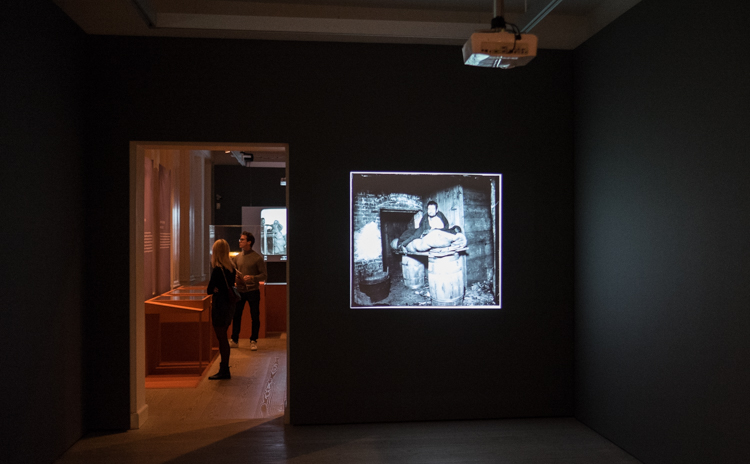 45_45
One of the truly interesting features was a recreation of the kind of presentations Riis would give to raise awareness of the horrible conditions in the tenements of New York where the working class lived: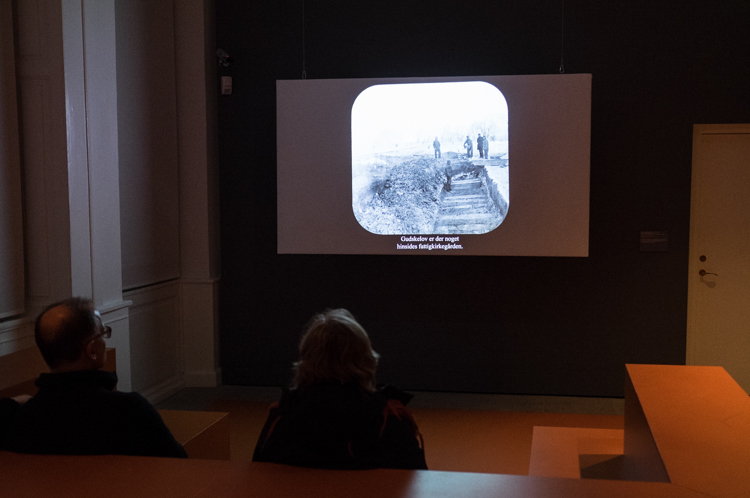 45_46
This is the kind of camera Riis used: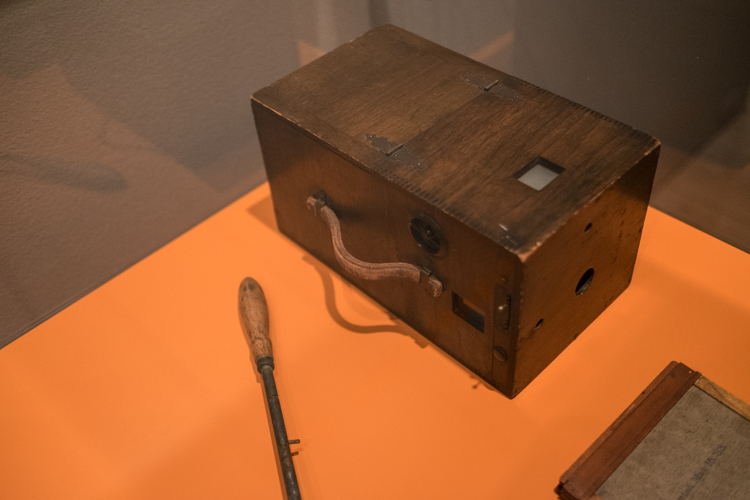 45_47
Kunstforeningen (literally it means "art association") is a gallery with a nice meeting room which can be rented for special occasions. It was being prepared for some event: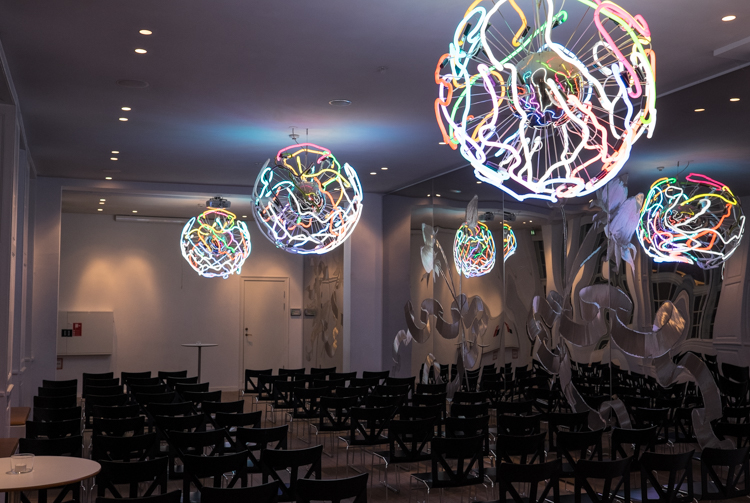 45_48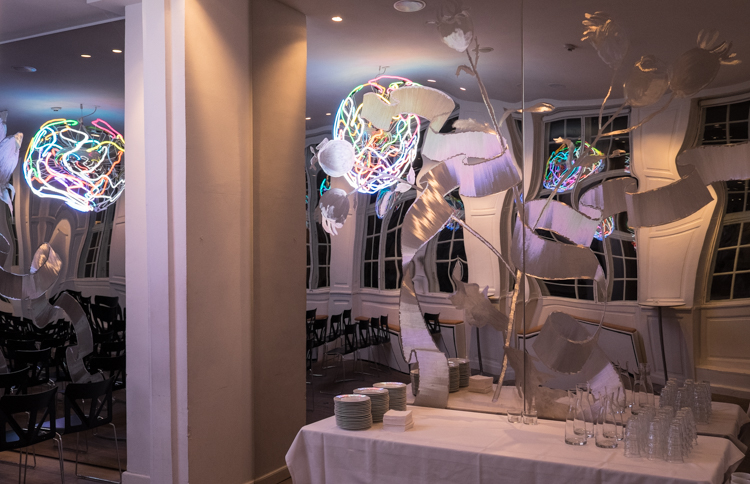 45_49
Copenhagen's metro is being expanded, and there is construction in many places around the city. At least attempts are made to make the construction fences look more attractive. Here, on Gammel Strand: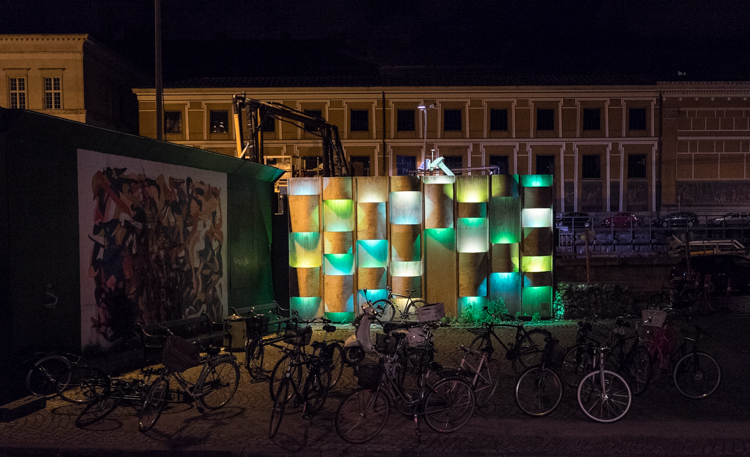 45_50
After the Jacob Riis exhibition, we walked to the restaurant where we were going to have dinner, a place in the old meat packing district called BioMio. Along the way, we passed Rådhuspladsen, the square in front of Copenhagen's city hall. The building on the left with all the bright neon signs is the headquarters of the Danish industry federation, and the signs are logos of various member companies: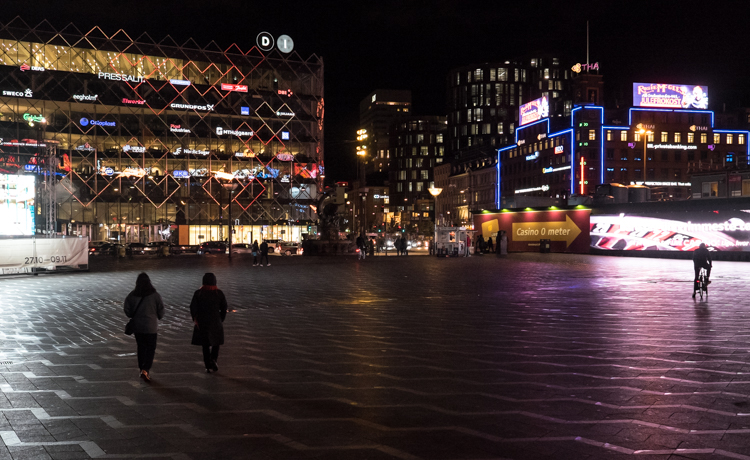 45_51
We also passed the main entrance to Tivoli: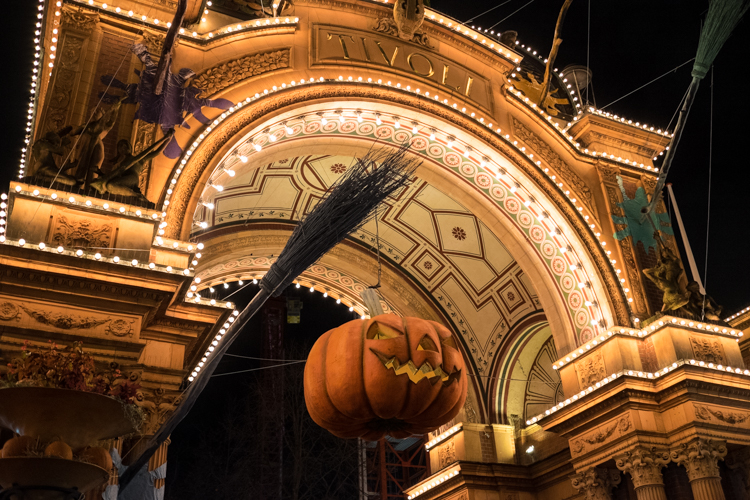 45_52
Beata at dinner. I put this image on Facebook with a caption "Give me more wine!" or something like that, but truth be told, she had only had water at this point. I just caught her in a funny moment: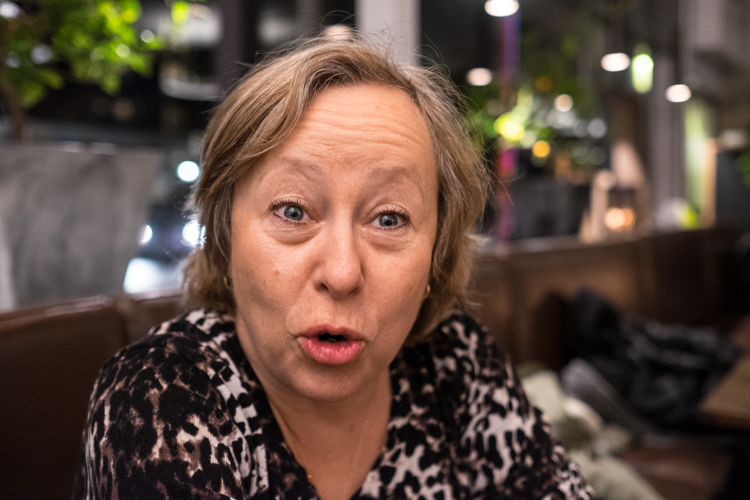 45_53
On Thursday morning I packed my bags, checked out of the hotel, and walked to the Østerport station to take the train to the airport. It was a cold morning, and during the night temperatures had been below freezing for the first time this autumn: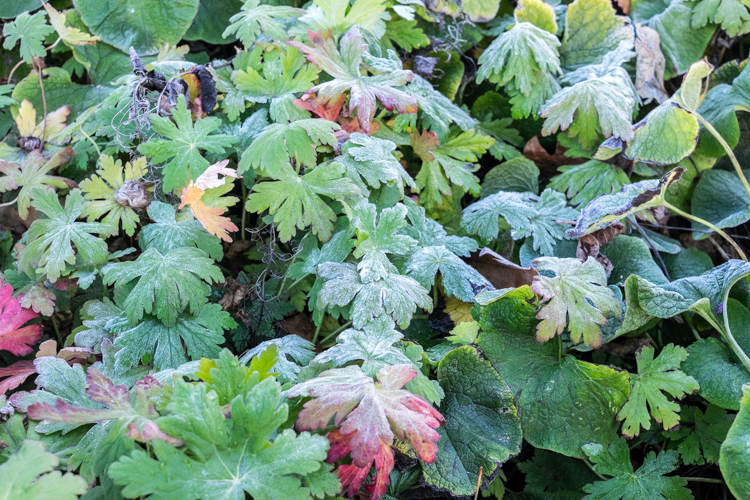 45_54
I went back to work on Friday and did not take a single picture that day. On Saturday morning, as I do every morning, I walked Cheeta and stopped by the local bakery to buy that morning's baguette. Life was back to normal: