The week started in Copenhagen, where I was Sunday and Monday, before flying home to Alicante Tuesday morning.
Main
I set out Monday morning to visit the cemeteries where my parents are buried and to walk around the city the rest of the day. The weather was horrible, but at least there were some places to shelter, like Østerport train station: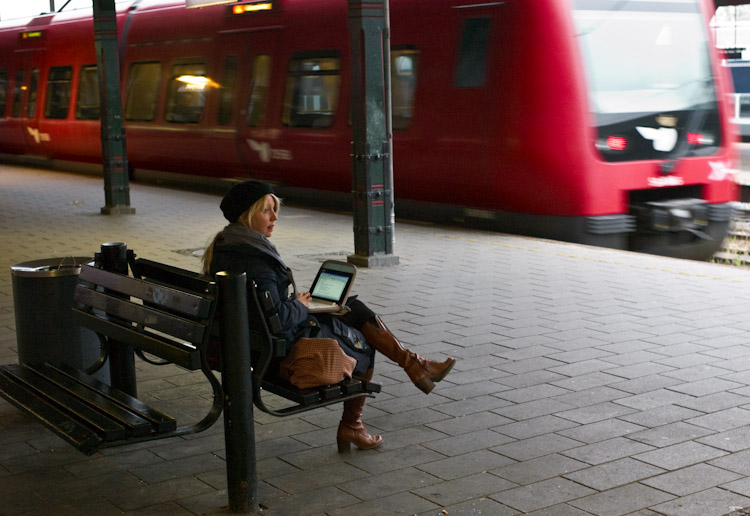 Alternates:
Alternate 1
Outside the station, election posters were everywhere. Denmark has municipal elections later in November, and the campaign is in full swing. One of the more entertaining parties is called the Nihilist People's Party, started by some quite articulate young people as a protest against "politics as usual". Their slogan on this poster is "No to church bells–fuck your salvation–we have a hangover":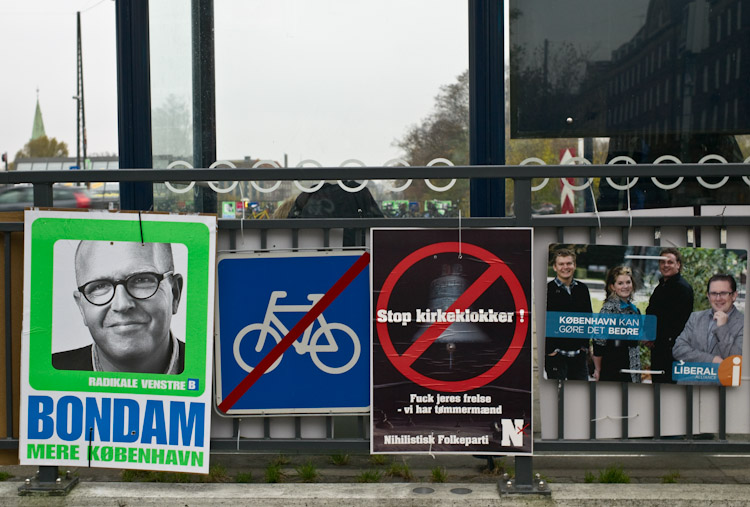 Alternate 2
I love Copenhagen, but this particular Monday the weather was certainly not inviting: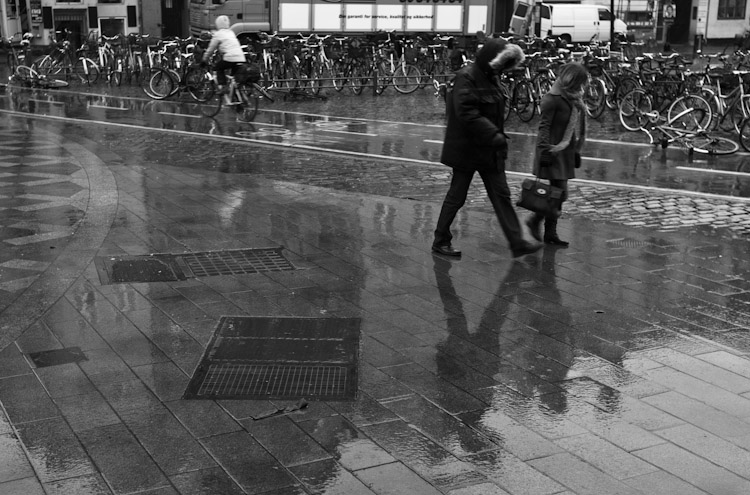 Alternate 3
Sharing an umbrella, Strøget: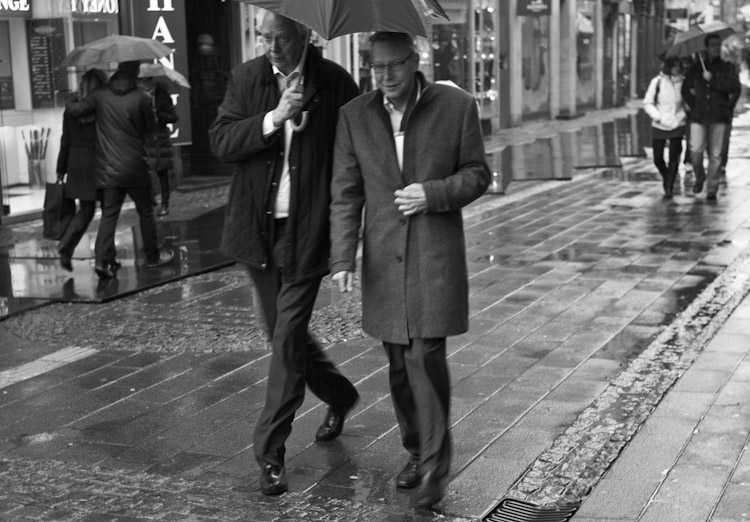 Alternate 4
The city looked a lot better from inside a café: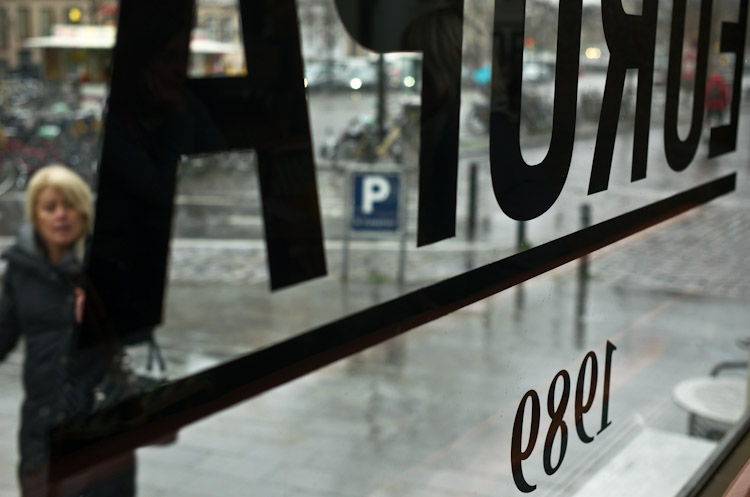 Alternate 5
One small detail from the cemetery where my mother is buried. A path has been refurbished, and the four builders who worked on it decided to leave behind a durable record. So on this cobblestone there is an inscription which says "Work performed by Claus, Brian, Mohammed and René":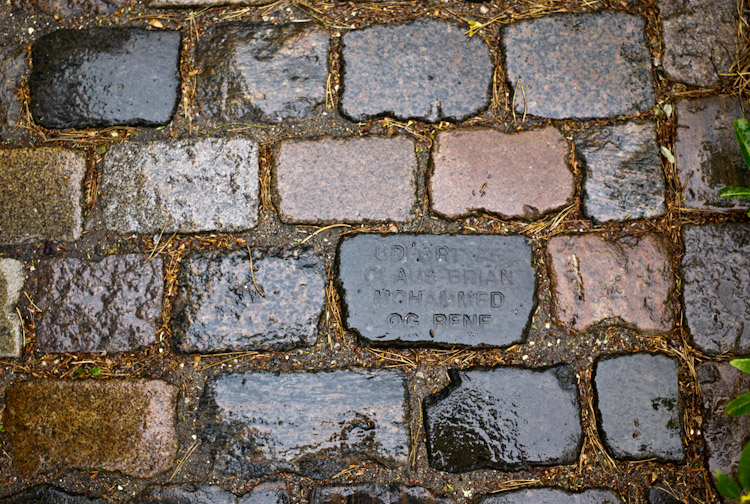 Alternate 6
Outside Copenhagen's main train station, a couple is seeking shelter from the rain, and trying to keep warm: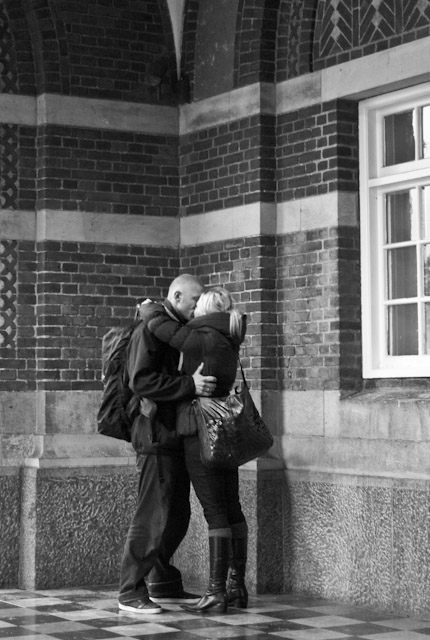 Tuesday morning I flew home to Alicante, and Tuesday afternoon I went for my usual bicycle ride along the beach.
Alternate 7
A fishing boat arriving in El Campello harbour, illuminated by the setting sun and with hungry seagulls in close pursuit: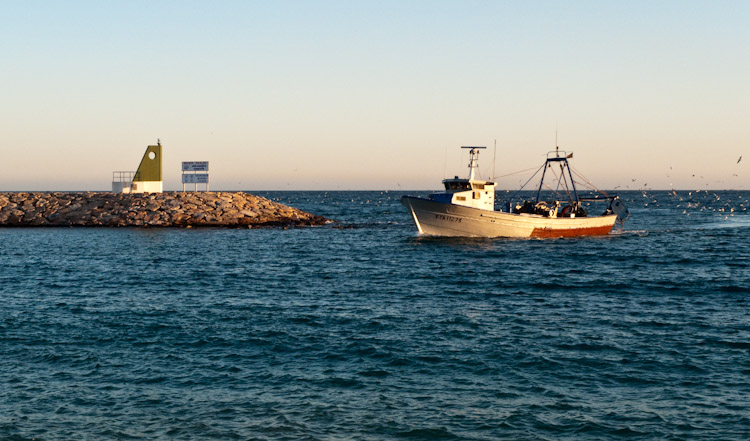 Alternate 8
The boat has landed and the catch must be unloaded quickly: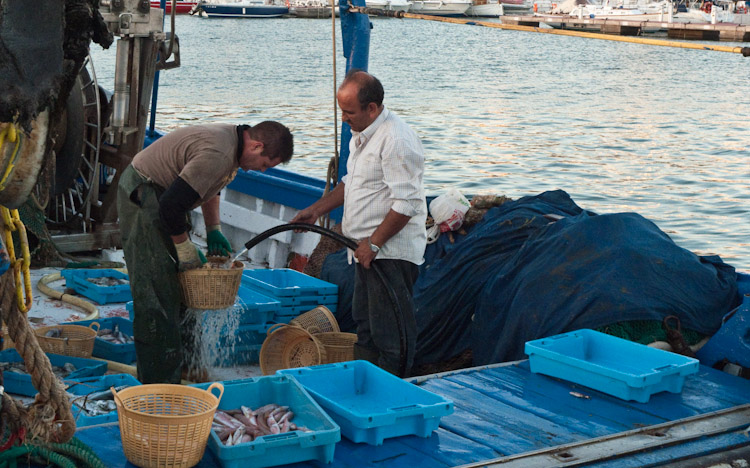 Alternate 9
This is fresh fish indeed: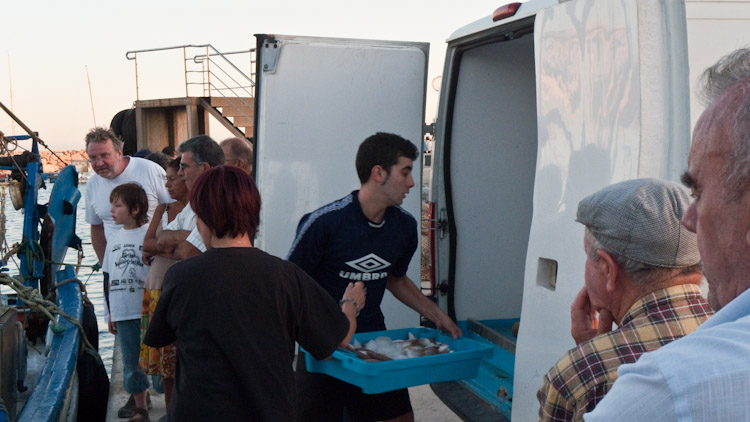 Alternate 10
Old-timers stand around and comment on the quality of the catch: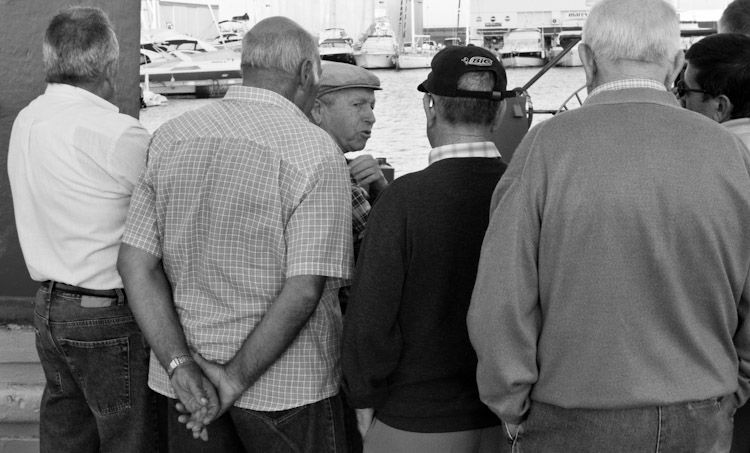 Alternate 11
Same bicycle ride, but now Wednesday afternoon. The weather was unusually clear, this is the view from Playa Muchavista about an hour before sunset: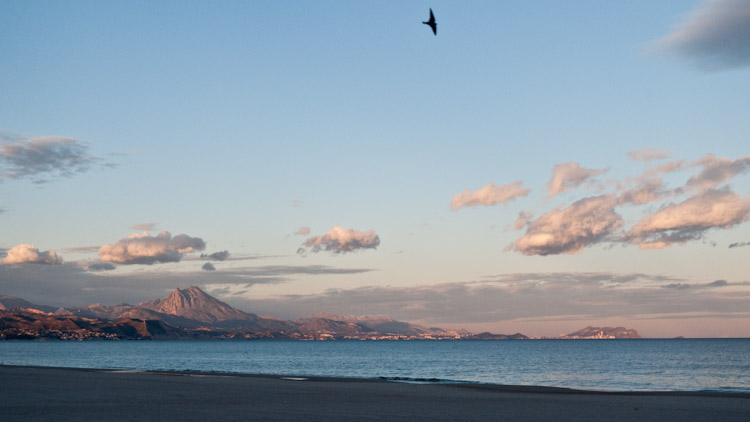 Alternate 12
And the sunset as seen from El Campello harbour: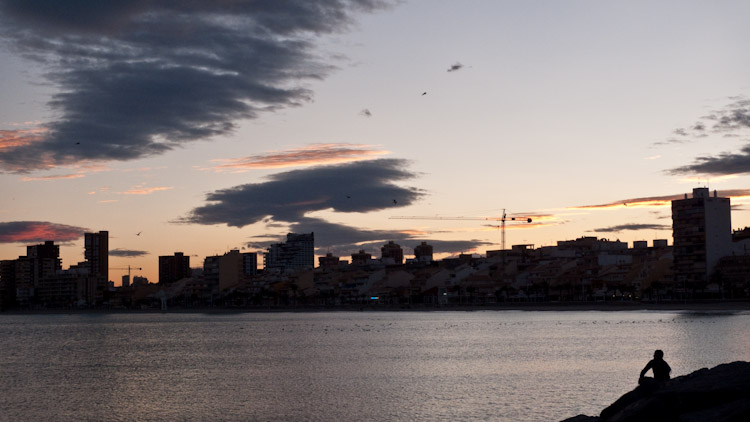 The remaining pictures are from Saturday.
Alternate 13
In the morning we went to the Mercado Central to buy vegetables and to show the place to a visiting friend from England: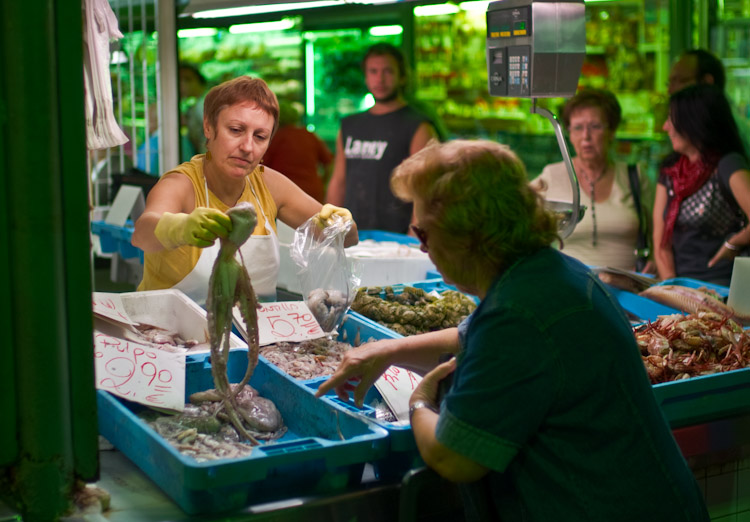 Alternate 14
A tiny dog like this is best carried in the crowd: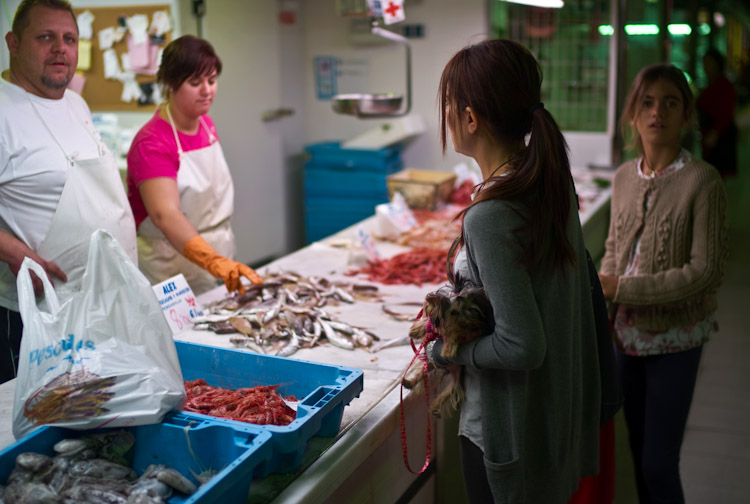 Alternate 15
A vegetable vendor takes a sip of water before starting her turn at work: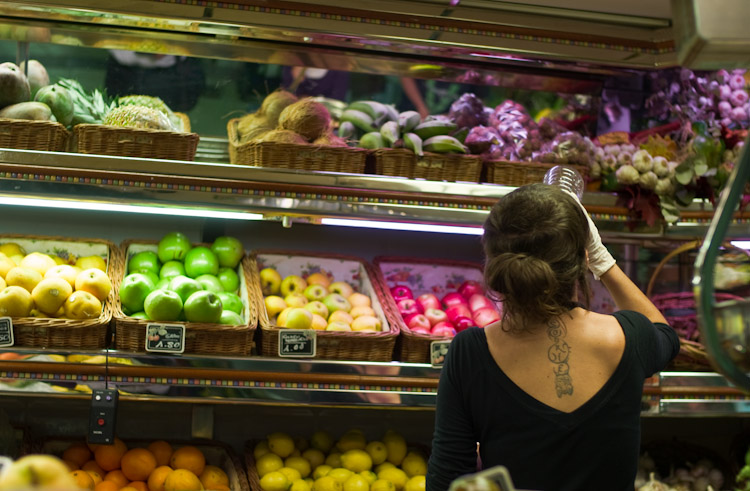 In the evening we went to a wine tasting in a shop in El Campello. The formula is simple: you pay €5 to get in and they have a number of bottles open for tasting. Clearly, Northern European tourists have not yet discovered this place–fortunately, as it would surely put an end to the tastings at this price!
Alternate 16
Smokers take a brake outside the shop: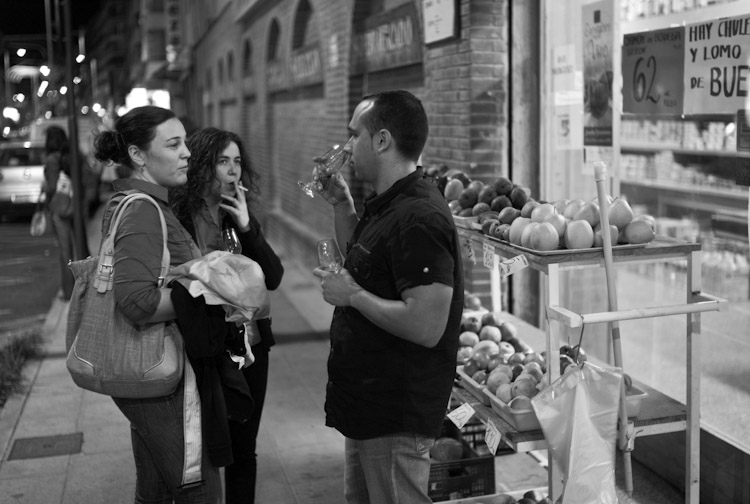 Alternate 17
Inside the shop there is some serious wine in the cellar. Sadly, those are not the bottles we got to try: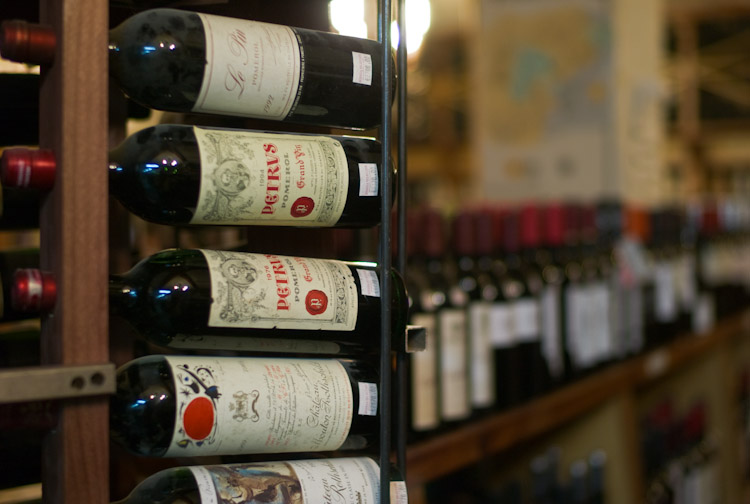 Alternate 18
After the wine tasting I went for a pint and a bit of football at a nearby English bar. It is the kind of place where passers-by stick their head through the door and have a chat with those inside. A real neighbourhood watering hole: