I spent the first part of the week in Denmark, flying back to Alicante Wednesday night.
I have put together galleries from Copenhagen and from Aarhus, focusing on the two cities. In this weekly blog, as was the case last week, I focus on the people I was with and on a visit to a suburban art museum in Copenhagen, the last thing I did before heading to the airport.
18_1
On Monday morning, Lars and I drove to Djursland, the "nose" of Jutland, i.e. the peninsula that sticks out from the larger Jutland peninsula north of Aarhus. It was a rainy and foggy day, and we indulged in some atmospheric photography: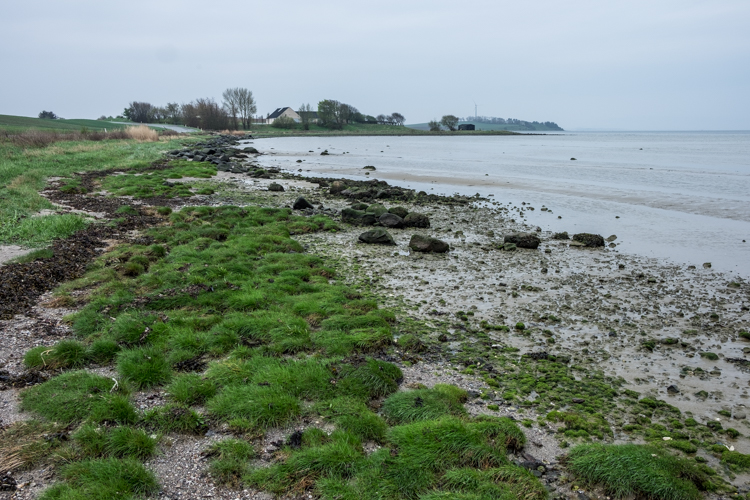 18_2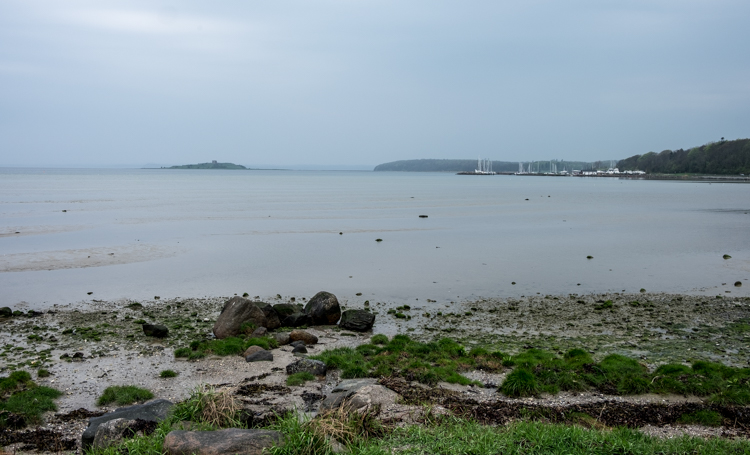 18_3
Our main reason for going to Djursland was to visit a bookshop in the town of Rønde, with a huge selection of art books, the kind of place it is worth driving 50 km to visit: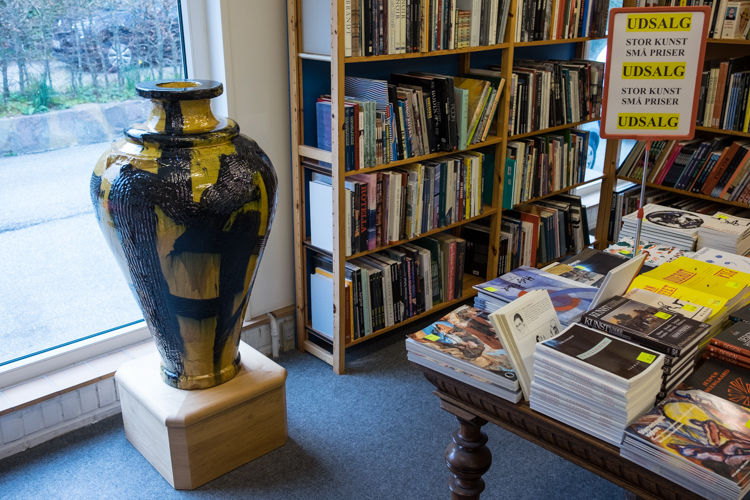 18_4
We spent a long time browsing, and drinking coffee in the bookshop's café, but through an amazing exercise in self-control, we bought just one book each: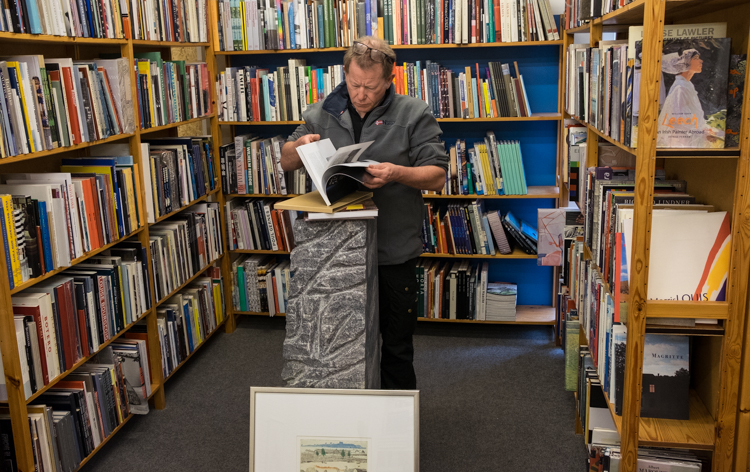 18_5
Besides cycling, beer, photography and just our life-long friendship, Lars and I have another thing in common–we both love books and have amassed more than we can easily fit in our respective bookshelves. Lars boasted of a recent aquisition, a first edition of Rudyard Kipling's "Kim", a novel which he has always loved: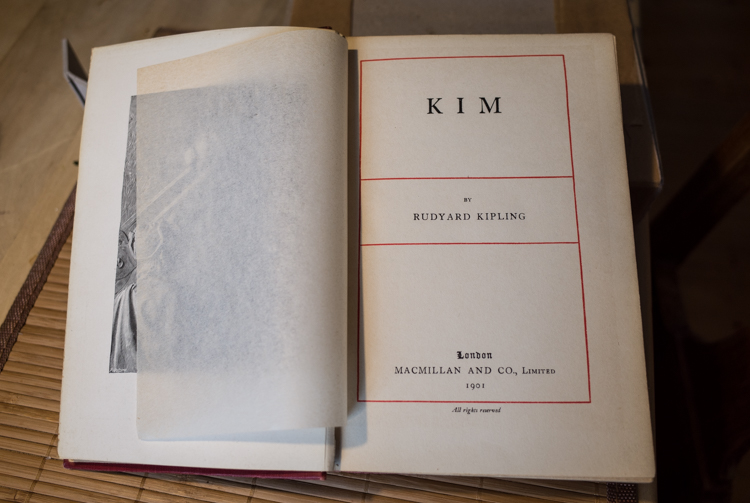 18_6
The cover of the book–the elephant and the Indian version of the swastika, an ancient symbol that did not carry any negative connotations when this book was printed in 1901: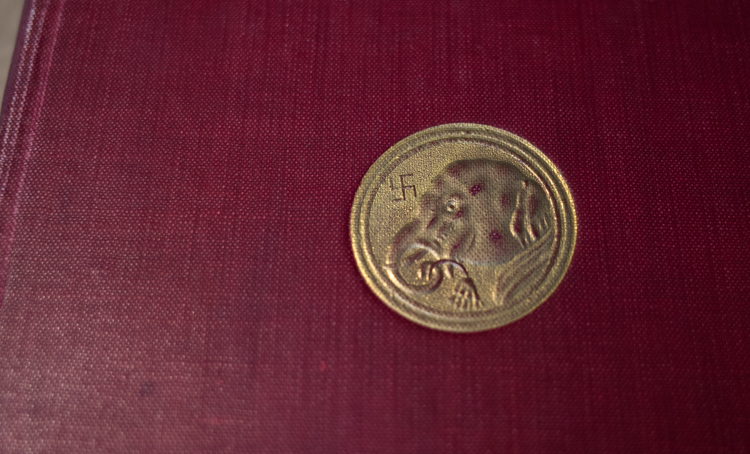 18_7
On my last full day in Aarhus, Lars and I visited Moesgaard, a natural history museum south of Aarhus which houses, among other items, an extremely well-preserved body of a man who was killed and thrown into a swamp 2300 years ago. Afterwards, Lars and I had coffee in the museum café, and I made this portrait of him by window light: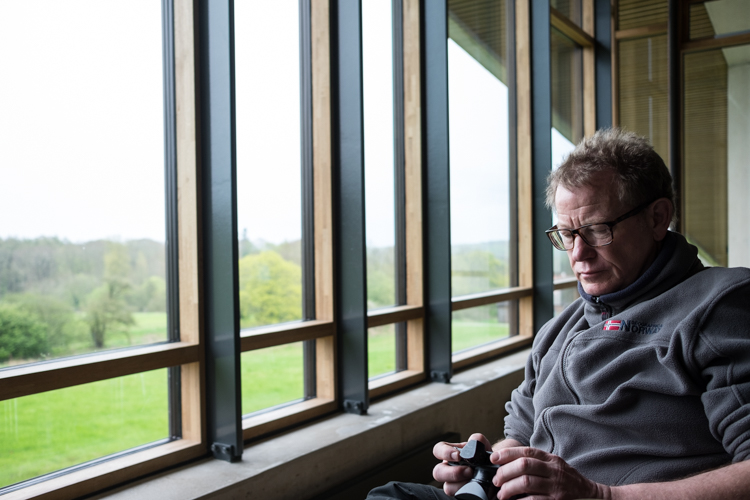 18_8
Another item on my agenda was to have lunch with three classmates from primary school in the early 1970s, something I do every time I am in Aarhus. This time, we met at a restaurant called Englen ("the angel") in the Latin quarter, conveniently for me just 5 minutes walk from Lars's place. I liked the decor: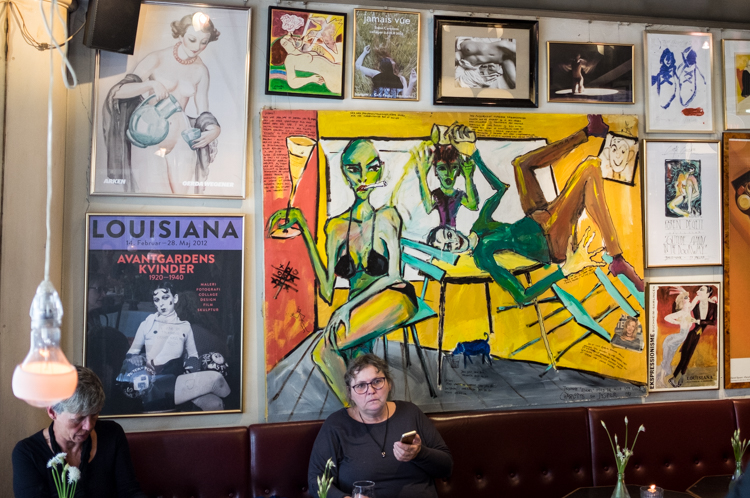 18_9
This is one my old classmates, Lene. We also went to the same high school, although not in the same class. She has had some challenges in her personal life but has remained the delightful person I knew when we were teenagers 40 years ago: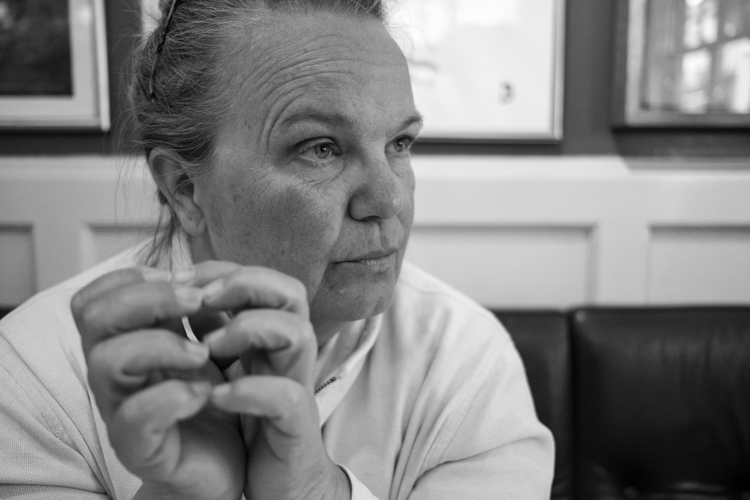 18_10
On my last evening in Aarhus, Tuesday, Lars treated me to his homemade pizza: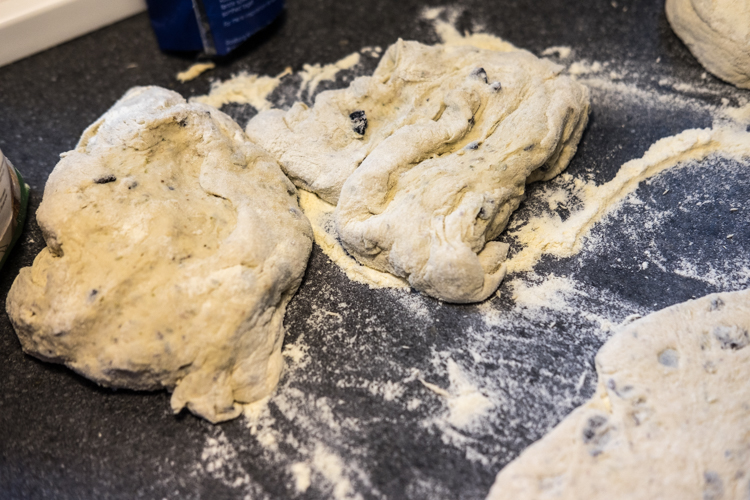 18_11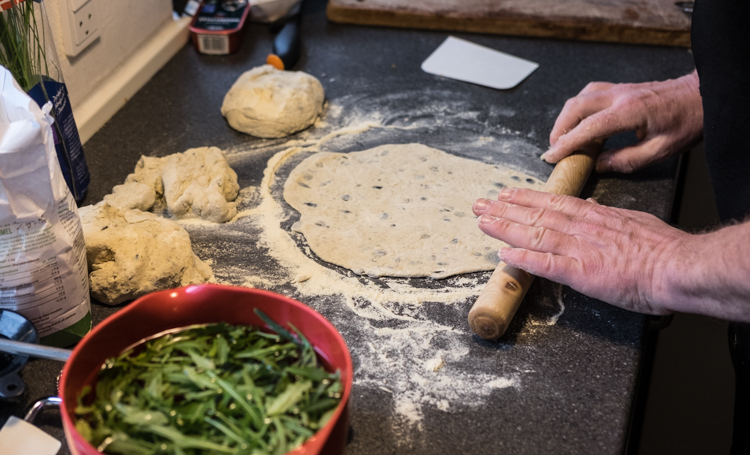 18_12
The finished product: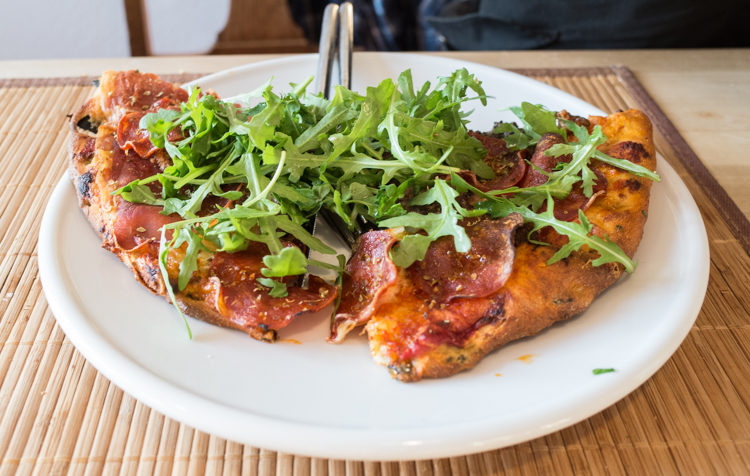 18_13
The following morning Lars and I took the ferry from Aarhus to Sjællands Odde, the western-most point of the island where Copenhagen lies (from there, it is about 110 km to Copenhagen). This was my last look at Jutland this time around: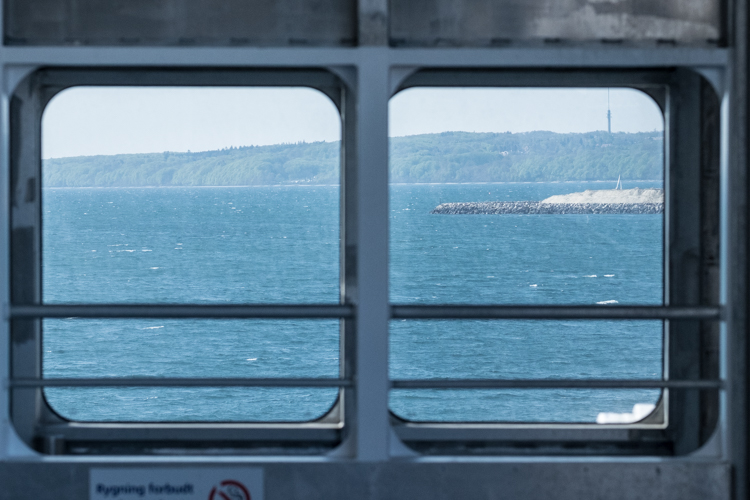 18_14
We arrived in Copenhagen around 1 p.m., Lars dropped me off at the central station and we said goodbye. He went off to visit his partner Winnie who lives in Copenhagen, while I left my suitcase in a locker at the station and then walked to a restaurant called Bio Mio to have lunch with Marek and Tamara, a lovely couple in their 60s, so about 10 years older than me who devote much of their energy on helping elderly Polish Jews in Denmark. During the last years of my father's life they were a huge source of support for him, for which I am eternally grateful. I meet with them every time I am in Copenhagen. This is Marek at the restaurant: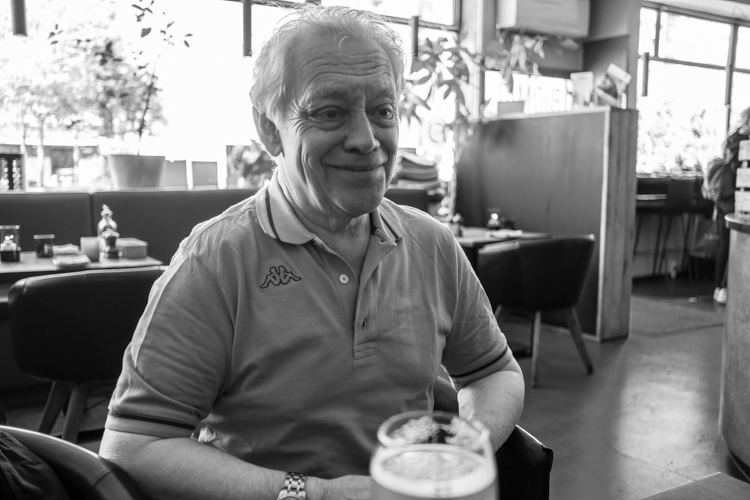 18_15
And this is Tamara: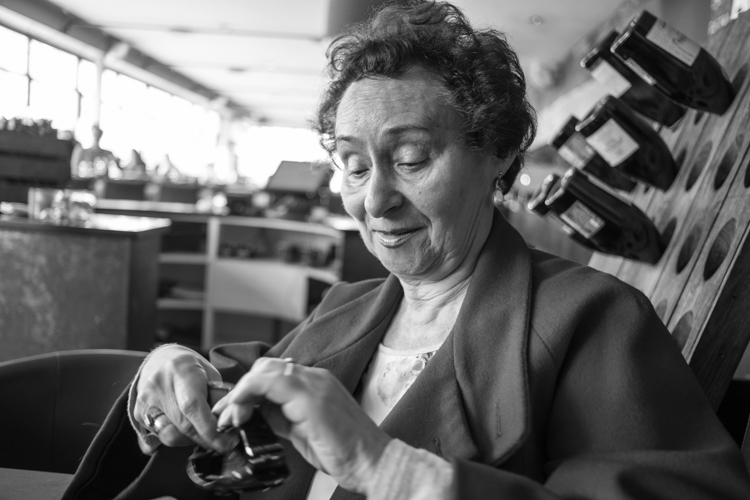 18_16
After lunch, we drove to Ishøj, a suburb to the south-west of Copenhagen, close to Brøndby Strand where Marek and Tamara live, and where my parents lived until their deaths in 2001 and 2004. I have walked on this beach many times with my parents: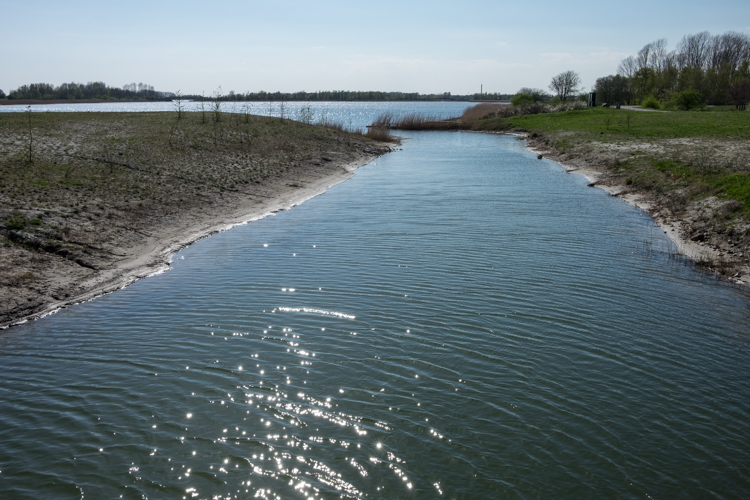 18_17
Ishøj has a large immigrant population and a lot of social problems, not too dissimilar from the Paris banlieus (albeit much less violent). About 20 years ago, it was decided to build a modern art museum, Arken, near the beach, in the hope of attracting tourists visiting Copenhagen. From what I have seen over the years, this ambition was not fulfilled; however, Arken is popular among the locals and it has developed into a substantial institution in the world of modern arts: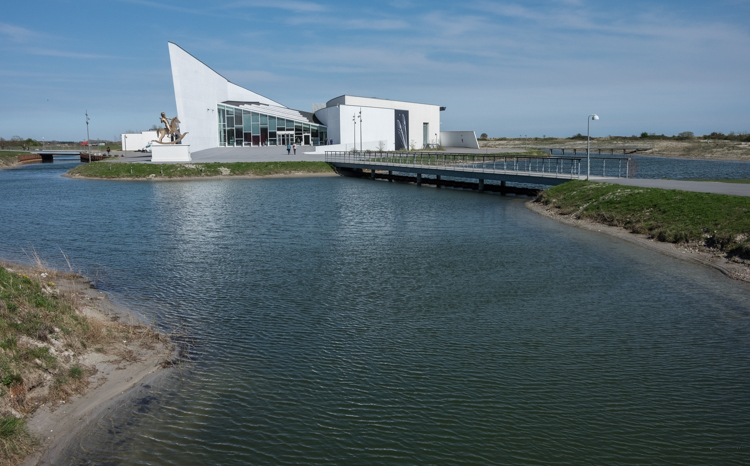 18_18
As part of the permanent collection, there is Damien Hurst's cow in formaldehyde. Not my cup of tea, but whatever: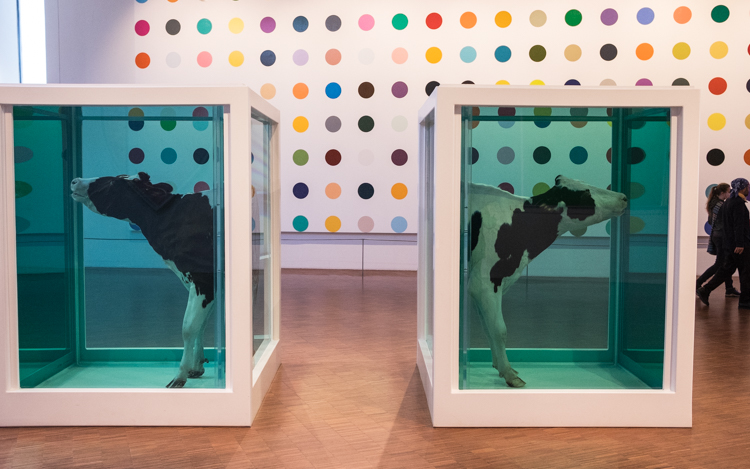 18_19
More to my liking was this installation by Swiss artist Ugo Rondinone, "Vocabulary of Solitude":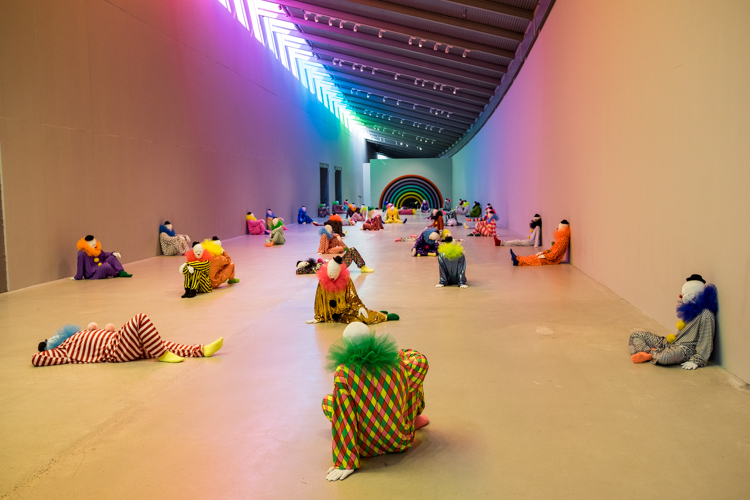 18_20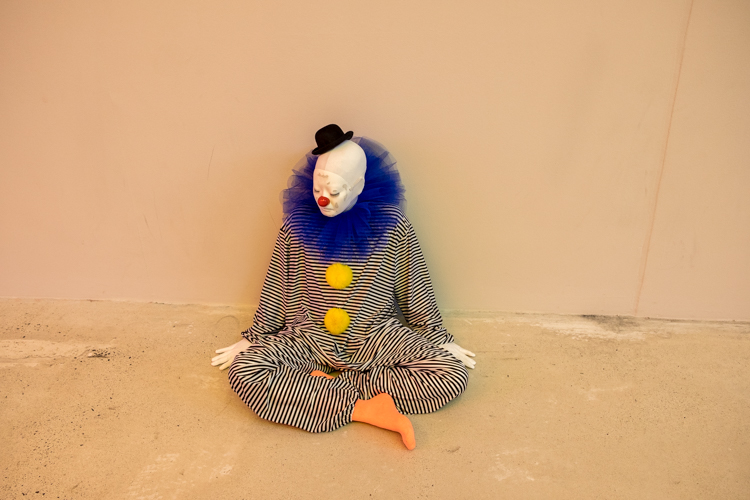 18_21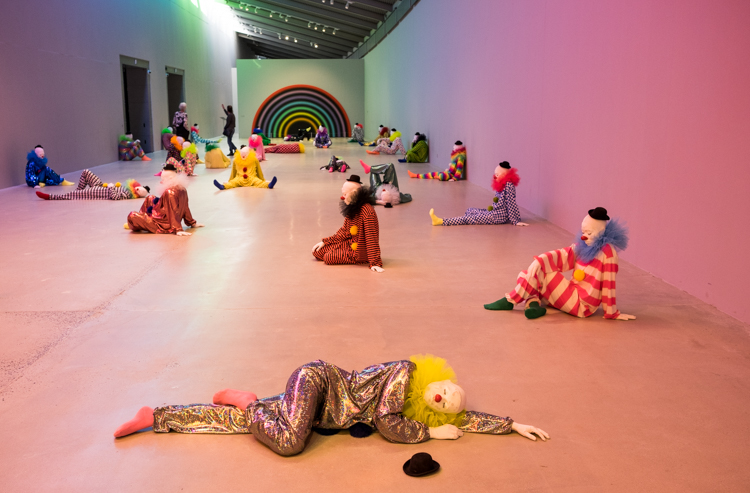 18_22
There are also the Chinese zodiac statues by Ai Weiwei: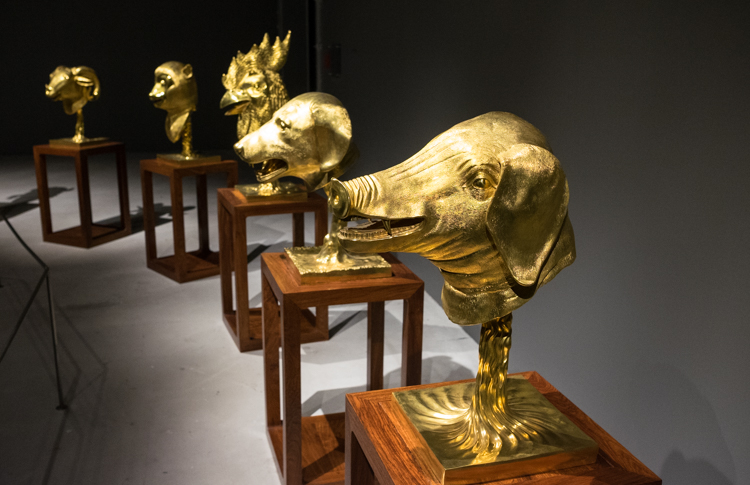 18_23
The dog: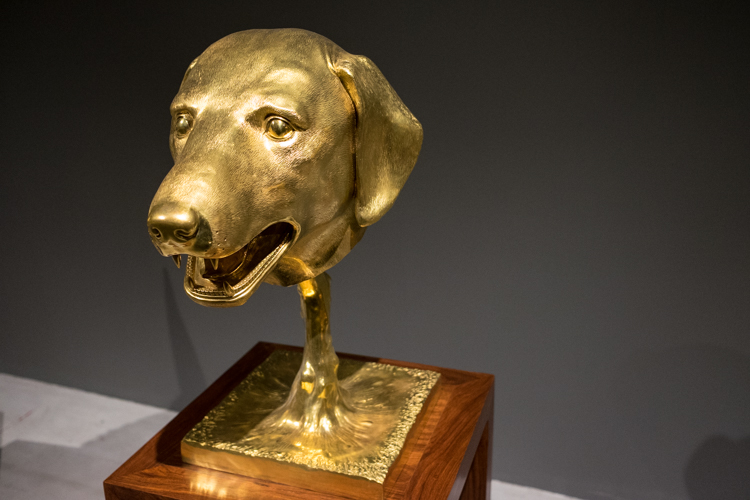 18_24
The highlight, however, was an exhibition of works by Czech artist Alphonse Mucha. He did most of his work in France, and most people have seen his images, like this poster, without knowing much about him: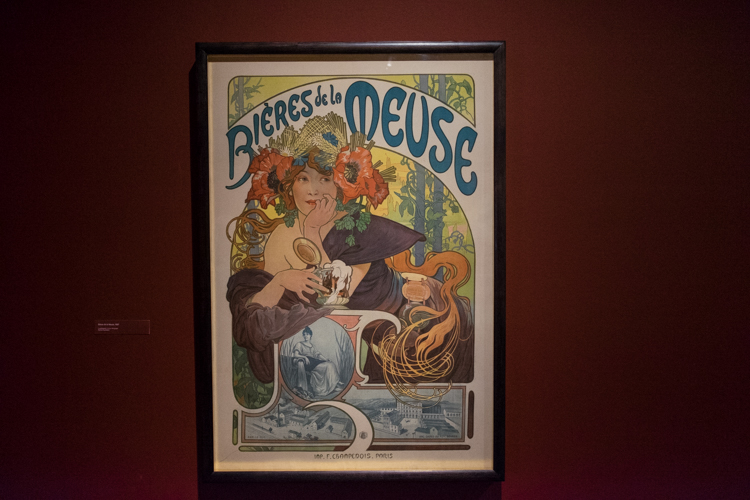 18_25
A section of the Mucha exhibition shows how his art inspired psychadelic album covers from the 1970s onwards: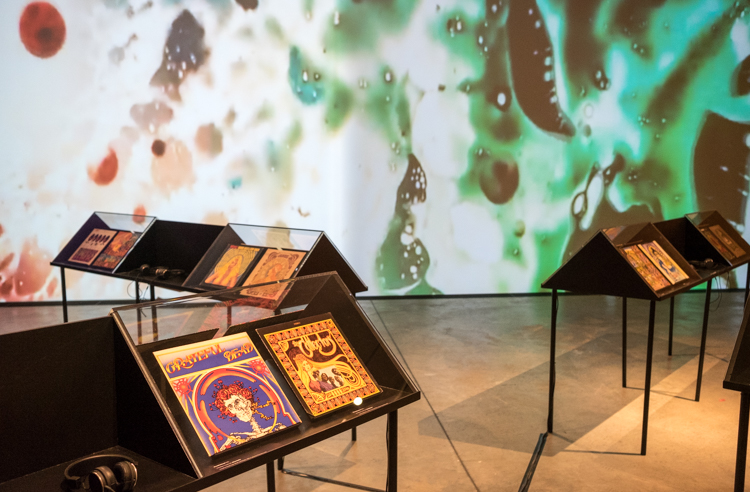 After taking in the exhibition, I took the commuter train from Ishøj to Copenhagen Central Station, picked up my suitcase from left luggage, and continued on to Copenhagen airport for my 8:45 p.m. flight home. I arrived back in Alicante well after midnight, and going back to work Thursday morning was a bit rough.
18_26
Fortunately, Piotr, the Polish economist from the OECD and his collaborator Florence were visiting us Thursday and Friday, so at least I had an excuse to go to Moments for lunch. Piotr and Florence: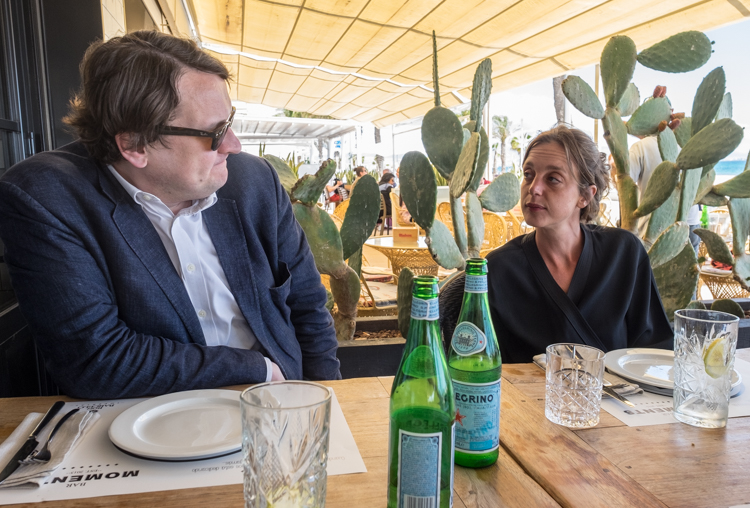 18_27
Florence, talking and gesturing: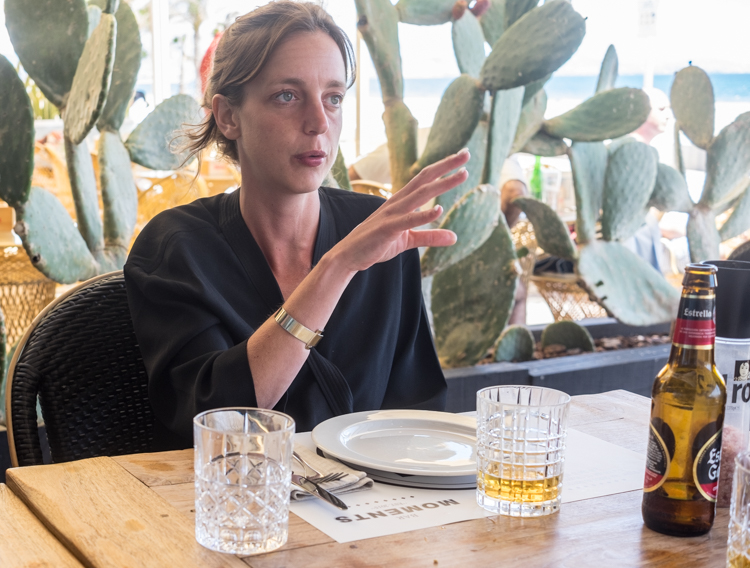 18_28
Just one piece of food porn this time–Moments' interpretation of the classic herring. I found it visually attractive, and it was delicious: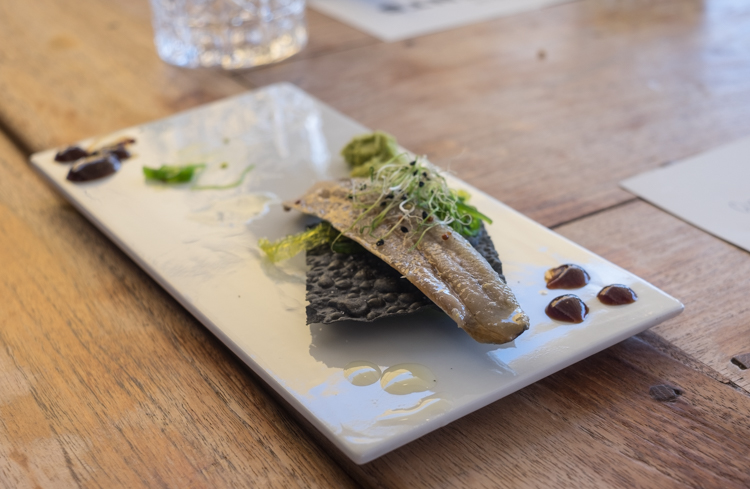 18_29
A visitor to the neighbouring table: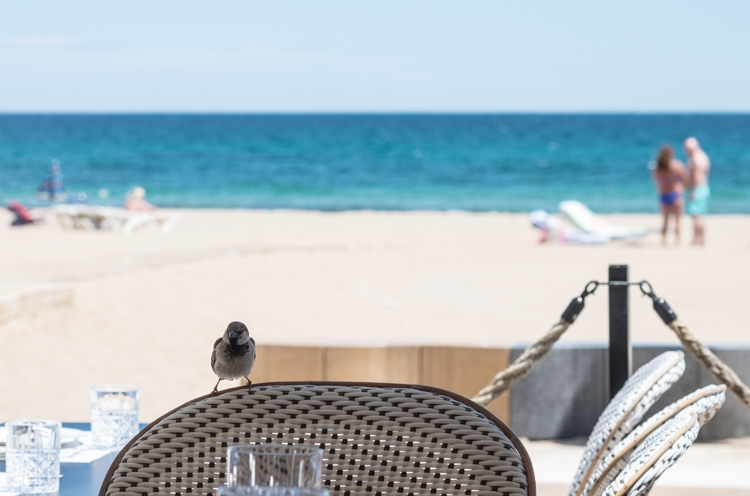 18_30
At the weekend I went for a walk in the area of the harbour in El Campello. There were many people on the beach promenade, especially in the bars: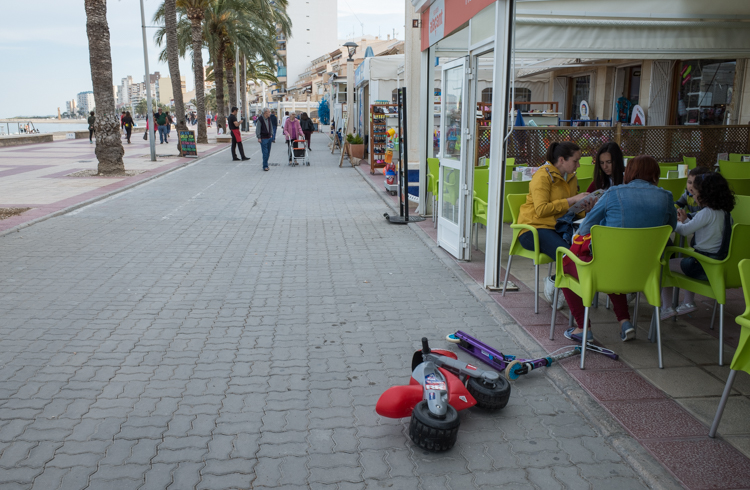 18_31
A band at one of the well-known bars, El Lobo Marino: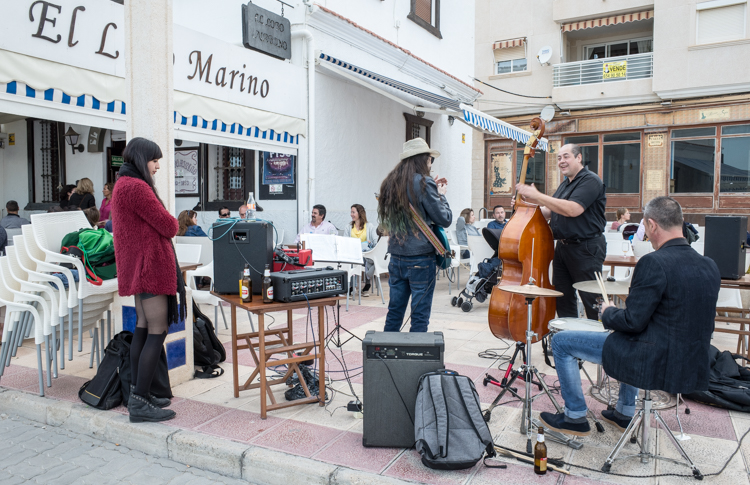 18_32
The harbour cats kept watch on things: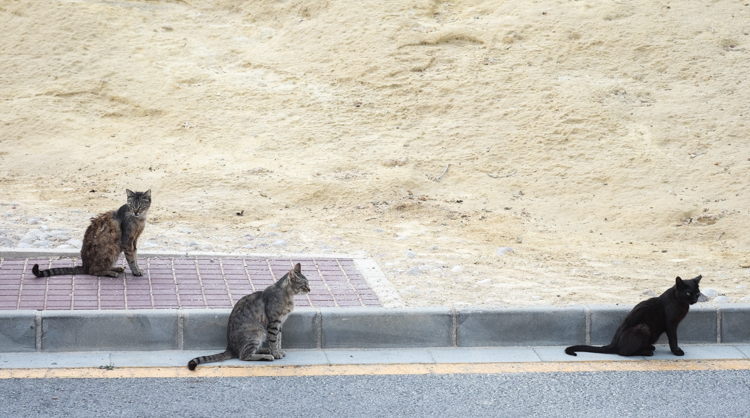 18_33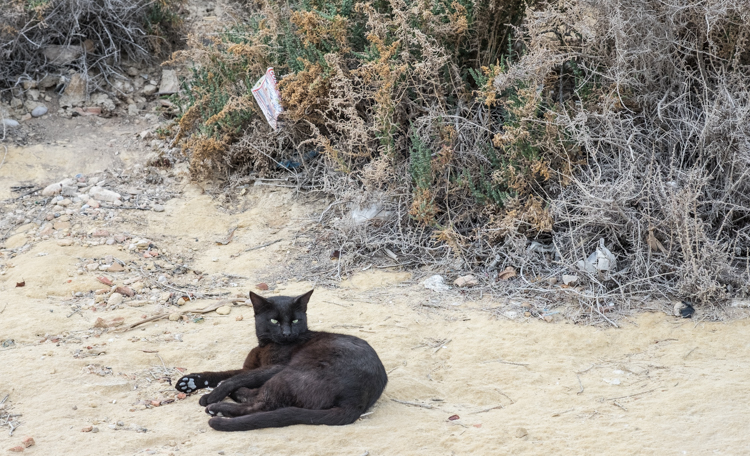 18_34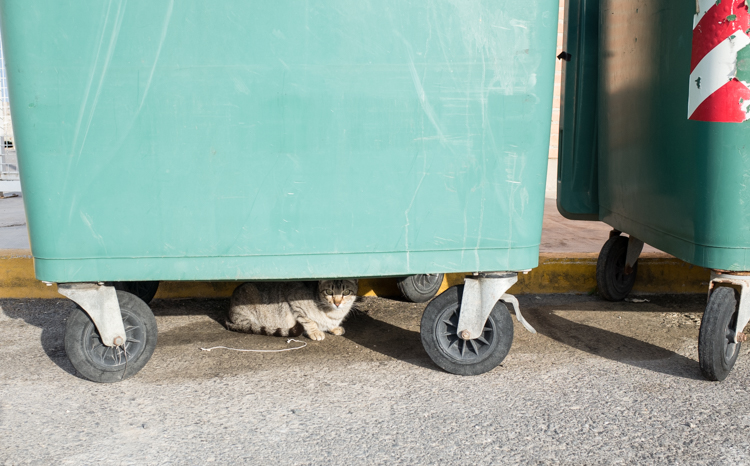 18_35
An enterprising trader had set up a fruit and vegetable stand at the entrance to the harbour to take advantage of the considerable human traffic: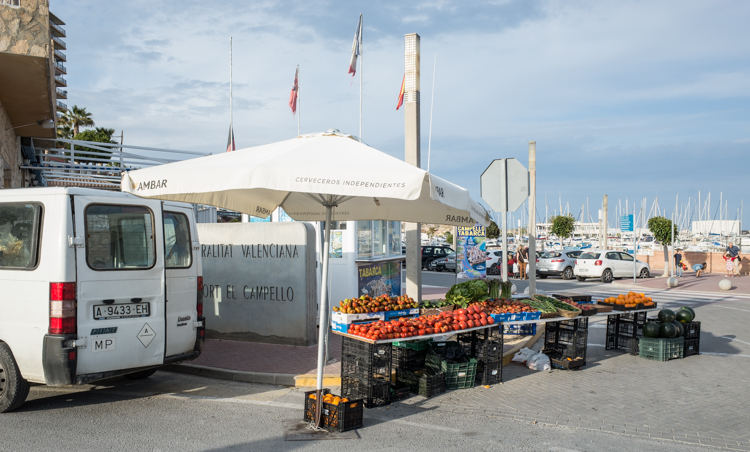 The last three images are ones where I took advantage of the light from the setting sun.
18_36
Looking at the beach: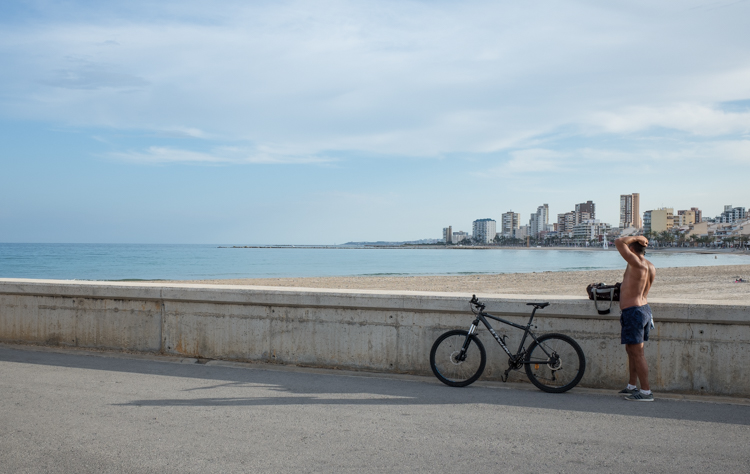 18_37
The harbour: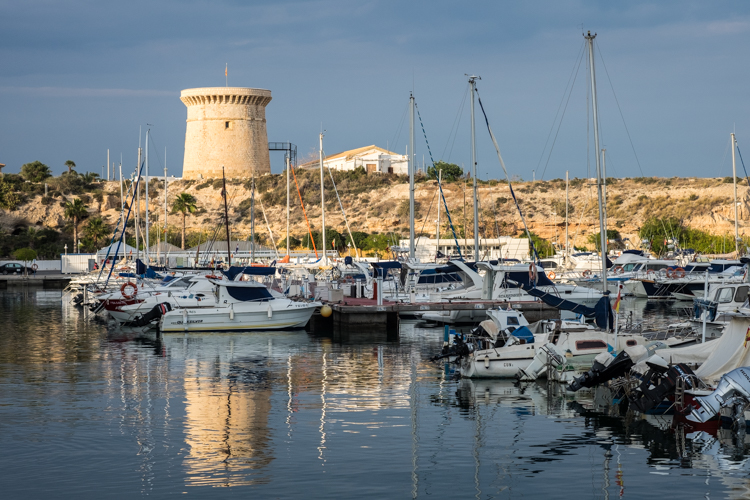 18_38
Departure: