Every year, I go to Denmark for a few days at the end of October, in order to visit my father's grave on November 1st, the day he died in 2004. And of course I also use the occasion to visit my closest friends there, who are still my closest friends despite the fact that I left the country 30 years ago.
But I start with a few pictures from home.
44_1
At our office, a major construction project is in the works. A new wing is being added, which will basically double our capacity and enable us to get rid of a rented building that we use today. I have been trying to get some decent images of the works, and this one is at least good enough to post here: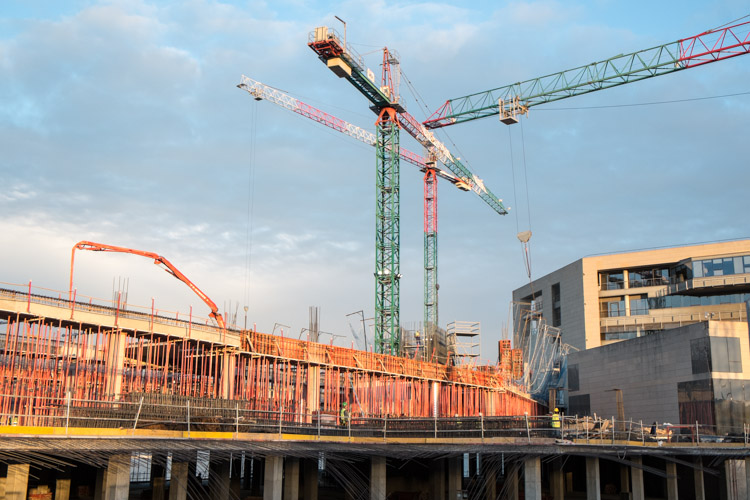 44_2
The construction crews work around the clock to meet the deadline. The new building is supposed to be ready in the autumn of 2014: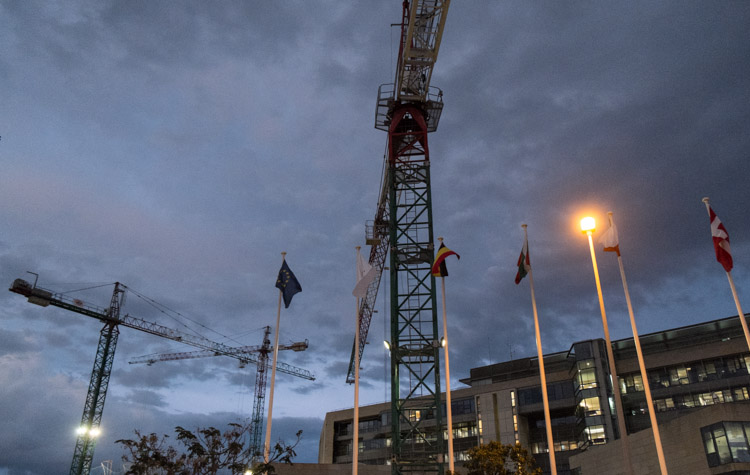 44_3
On Wednesday night, my wife made gołąbki, a very traditional Polish dish consisting of cabbage wrapped around a fill of meat, rice and spices. I was amused when I thought about the fact that my Puerto Rican wife cooks a quintessential Polish dish for us in our home in Spain. Here are the gołąbki in an intermediate state, ready for the pot: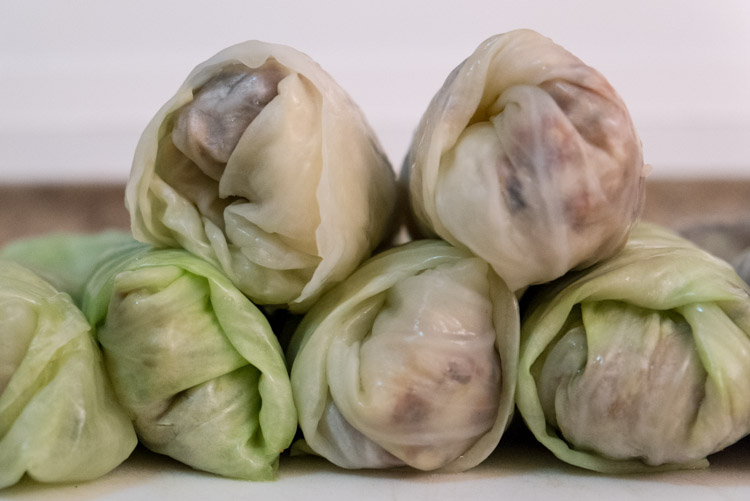 44_4
And here they are, ready to eat. My wife learned to make them from my sister, and I must say that she has mastered the art of gołąbki completely: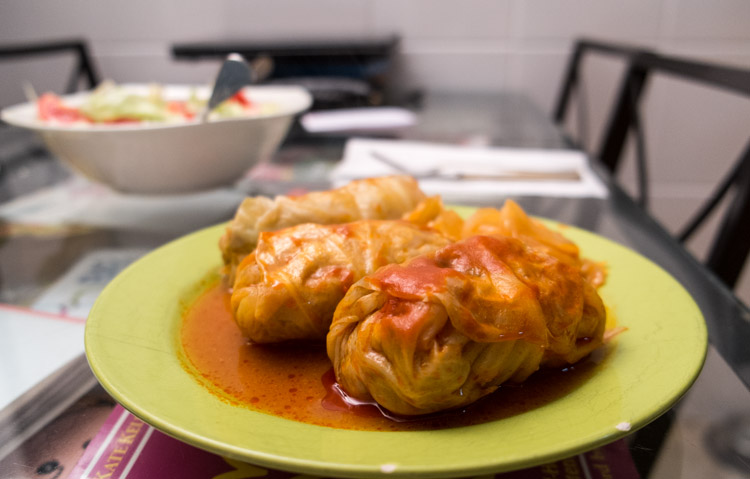 44_5
On Thursday morning, I flew to Copenhagen and took a train to my hometown Aarhus to spend a day with my best friend Lars. After dumping my suitcase at his place, we walked to the art gallery AROS. It was only 4:30 p.m. but it gets dark early in Denmark this time of year:

44_6
As we usually do, we started the visit by going up to the Rainbow Panorama on the roof and enjoyed the view of the city lights from there: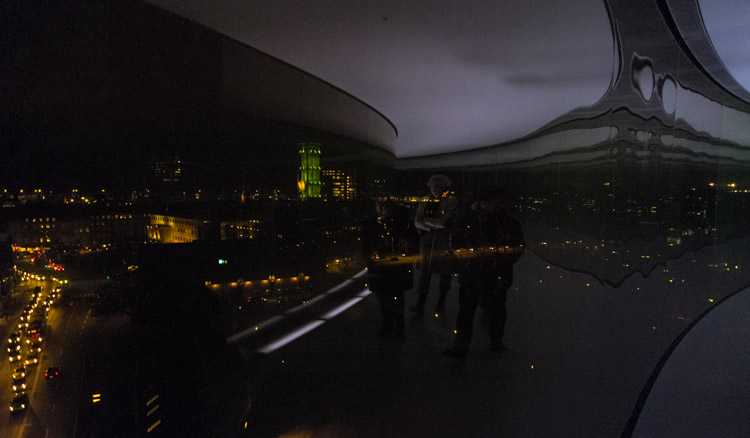 44_7
I visit AROS 2-3 times a year, and I never get tired of the magnificent interior: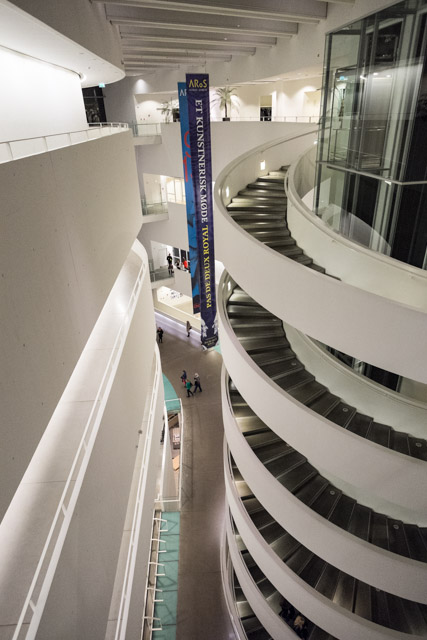 44_8
The main attraction this time was an exhibition of art created by the Queen and her French husband (hence the French name of the exhibition). I knew that the Queen was an accomplished artist but I had no idea that Prince Henrik also did art, primarily sculpture: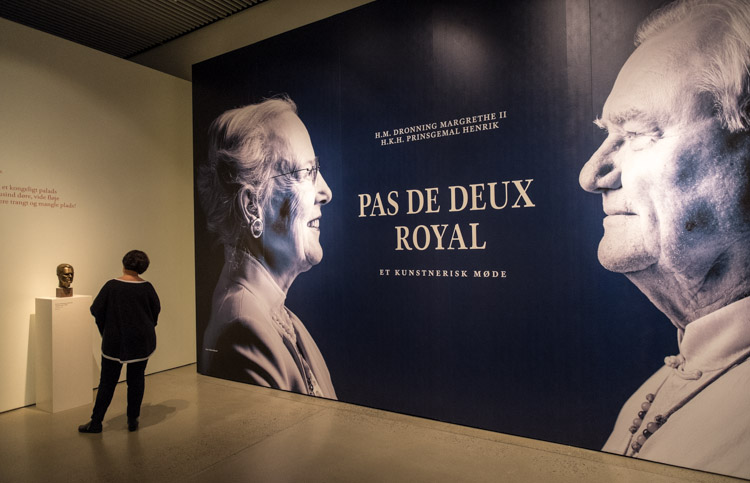 44_9
One of the rooms in the exhibition: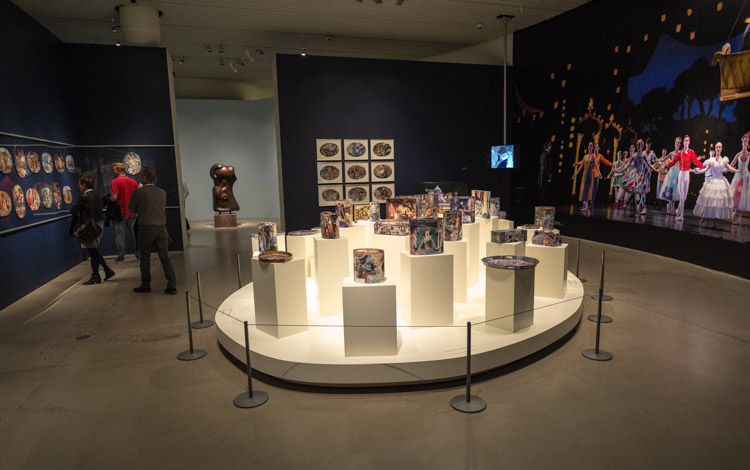 44_10
Afterwards, we walked to the Central Station where we met up with Lars's two daughters Klara and Marie and Marie's new baby. They were just passing through on the way to somewhere else:

44_11
The grandfather holding the baby: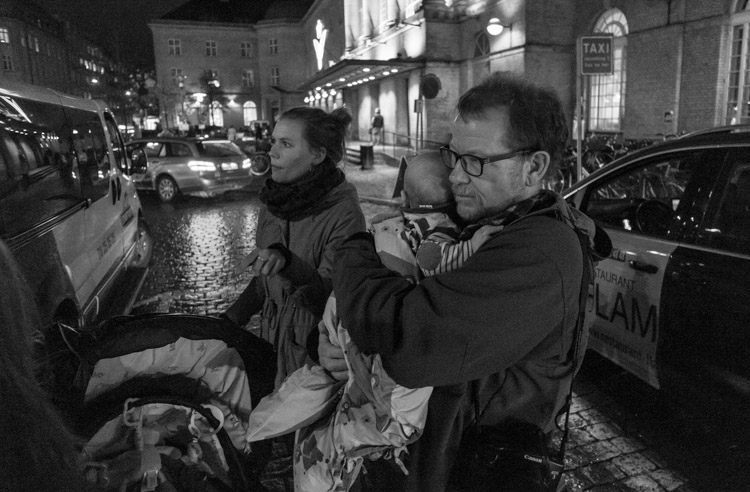 44_12
Having deposited the two girls and the baby in the taxi, we walked along the rain-soaked streets to find a place to have dinner: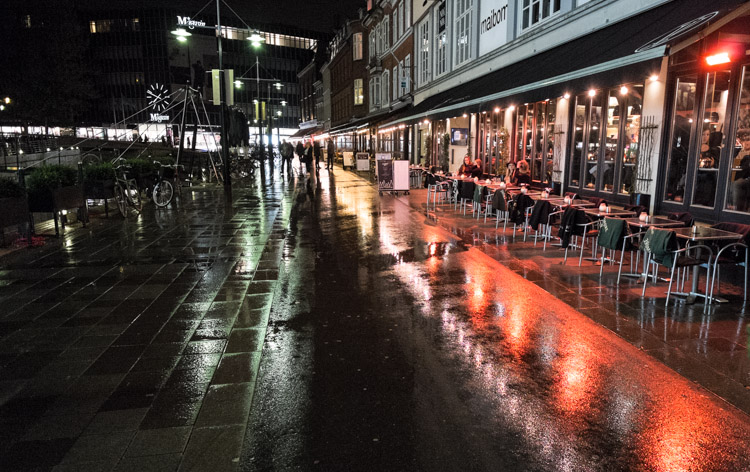 44_13
Friday morning, I woke up early and walked to the bakery to buy rolls for breakfast. Denmark has the best baked goods in the world. This is the street where Lars lives, Norsgade:

44_14
Later in the morning, Lars walked with me to the Central Station, from where I took a train back to Copenhagen: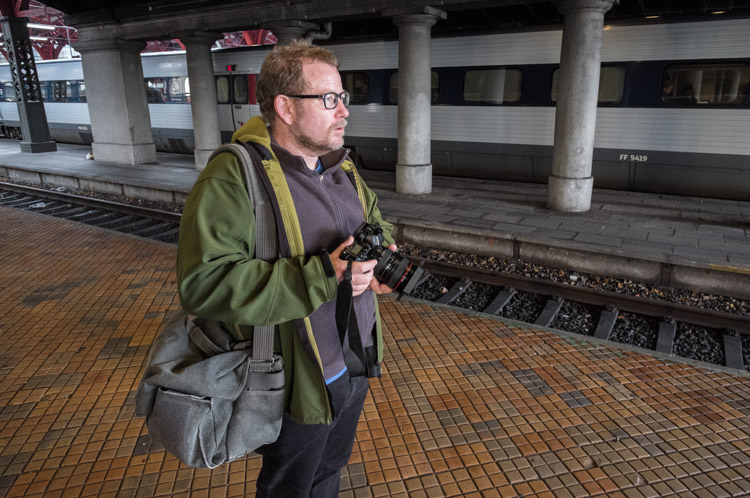 44_15
Three hours later, I arrived in Copenhagen, left my suitcase in a locker and took the bus to the cemetery where my father is buried. There is a municipal election in Denmark in a couple of weeks, so there are campaign posters everywhere, some of which cannot cope with the rain and wind of Danish autumn: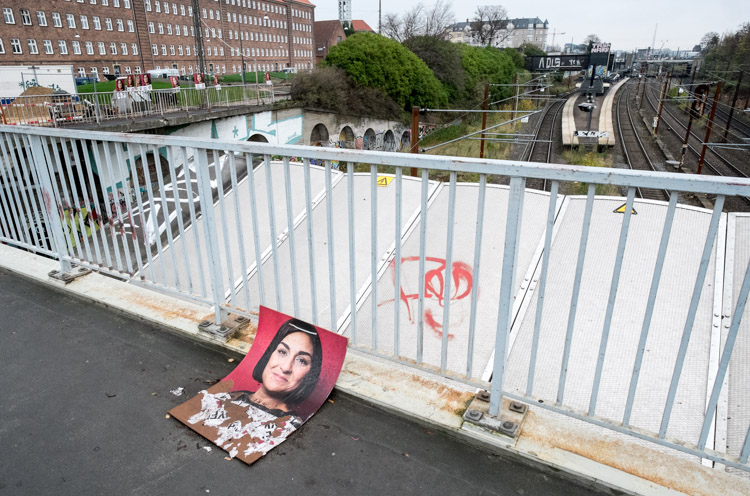 44_16
The Jewish cemetery, with my father's grave in the foreground: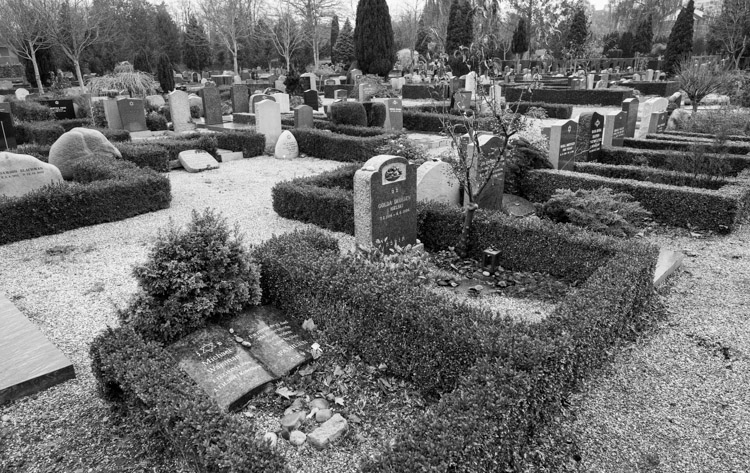 44_17
I spent a few minutes at my father's grave and then walked to the monument to the 3 million Polish Jews who perished in the Holocaust, donated a few years ago by the immigrant community. The inscription, in Polish, Danish and Hebrew, reads "never again":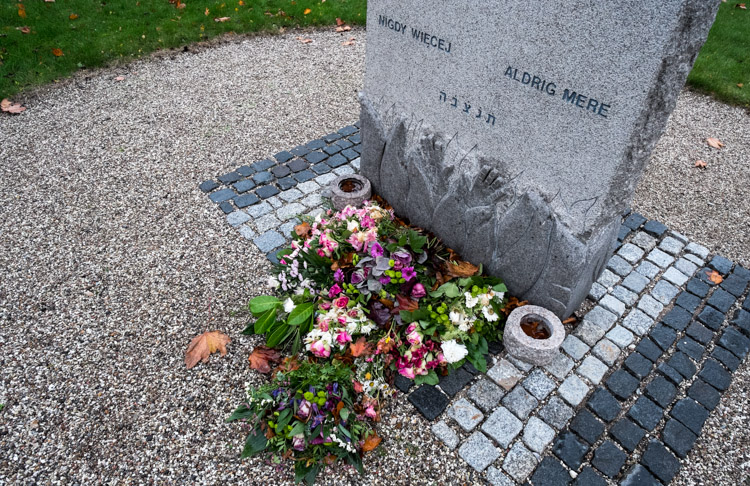 44_18
And here is one of the many reasons why I love Denmark so much. This is a monument to the Danish Jews who were deported to the concentration camp Theresienstadt in October 1943 and perished there. There is a total of 59 names on the stone, out of a total of 7500 Danish Jews. The vast majority were smuggled across the water to Sweden and were thus saved. This year we celebrated the 70th anniversary of the rescue, a rare beam of light in the darkest hour: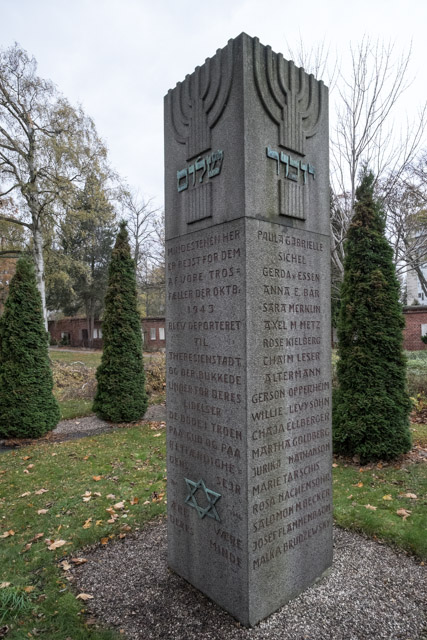 44_19
Afterwards, I took the bus back to the centre of town to walk around a bit. This is typical afternoon traffic: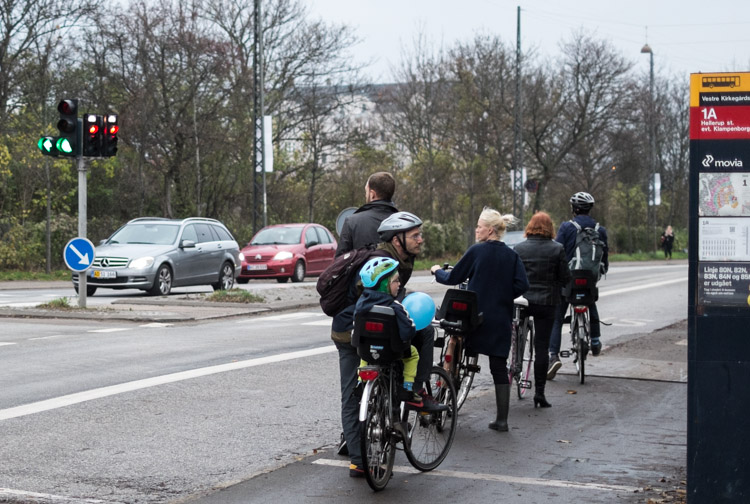 44_20
Denmark is a prosperous country and everybody has a car, but a high percentage of commuting trips in Copenhagen are by bicycle or public transport: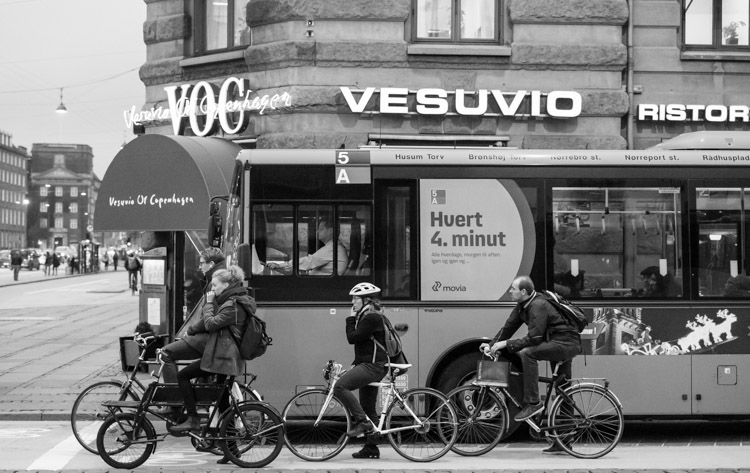 44_21
Magasin du Nord on Kongens Nytorv is Copenhagen's oldest department store: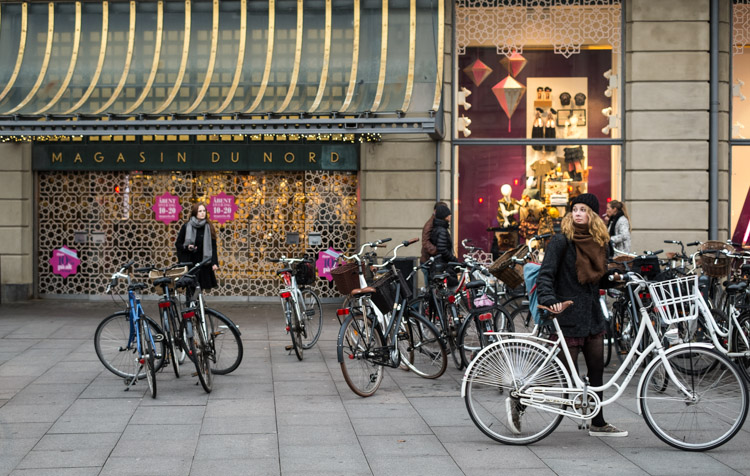 44_22
This thermometer on the square in front of Copenhagen's city hall has been there forever. I remember how much I admired it back in 1972, having just arrived in this bright, beautiful city from the dreariness of Communist Poland: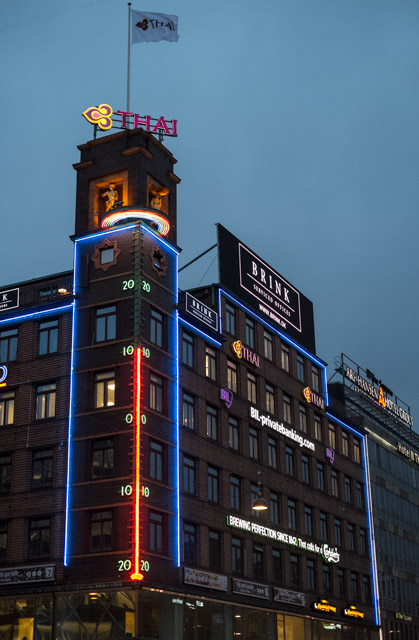 44_23
Close-up of the thermometer. The position of the girl on the bicycle is used to indicate the weather forecast. If she is out, it means nice weather. This being November, she is halfway out, meaning variable weather: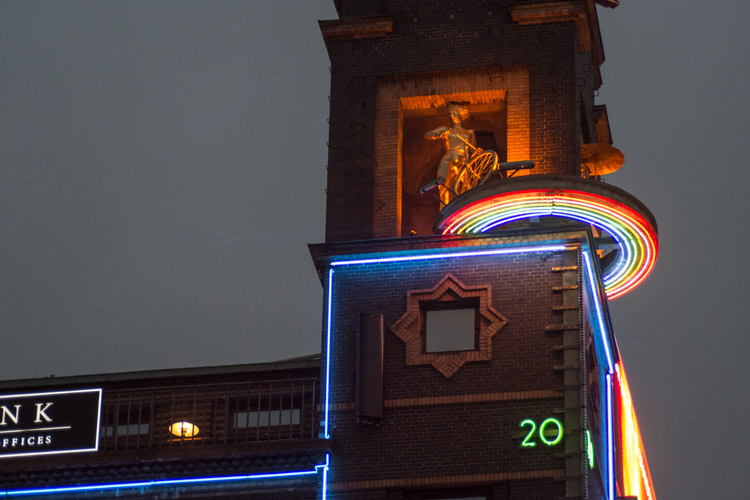 44_24
Around 5 p.m., I walked back to the Central Station, picked up by suitcase and took the commuter train to my friend Beata's place. She was very happy to see me, but this is not why she is dancing on the kitchen counter; she is just getting something from the top of the fridge: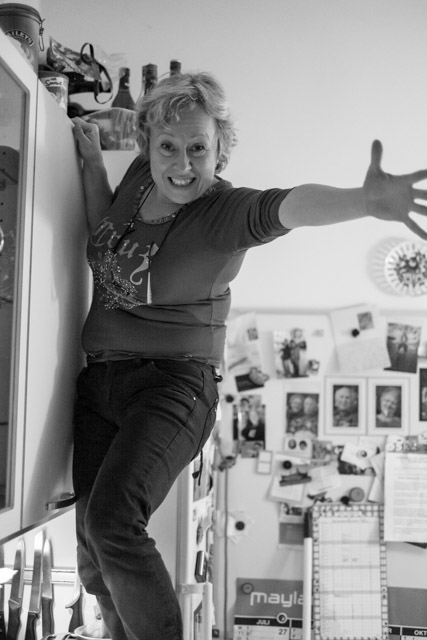 44_25
Beata is a dentist, and later in the evening a friend stopped by to have a problem tooth looked at. Beata has no facilities at home, but she does have a qualified assistant: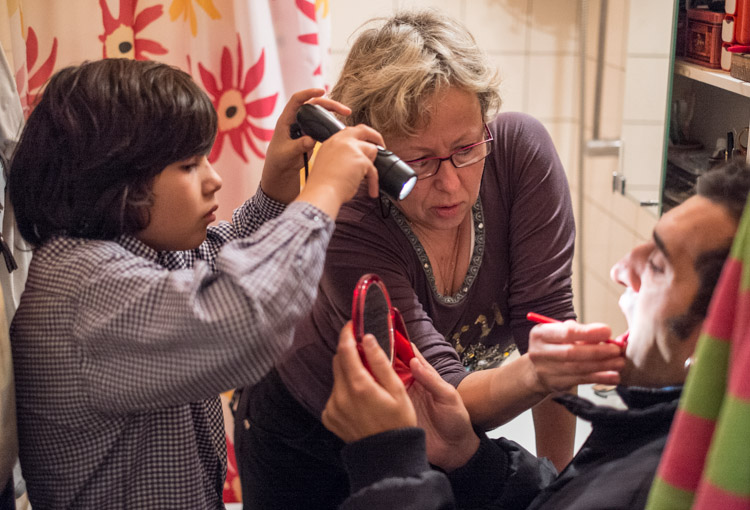 44_26
On Saturday morning I went for a walk, and passed this new mural painted by a group of children of a nearby school: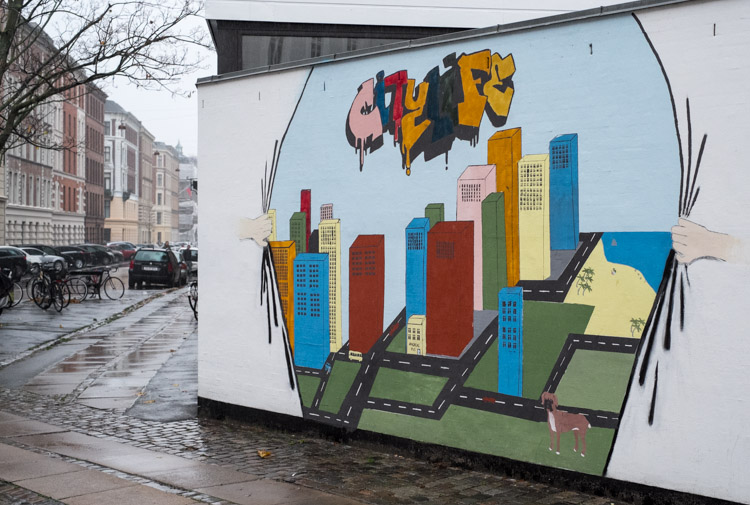 44_27
It is a two-panel mural: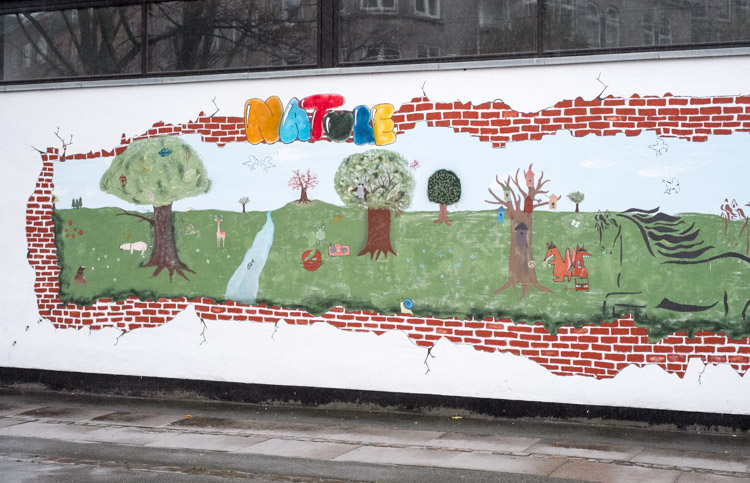 44_28
Details of a fantasy world: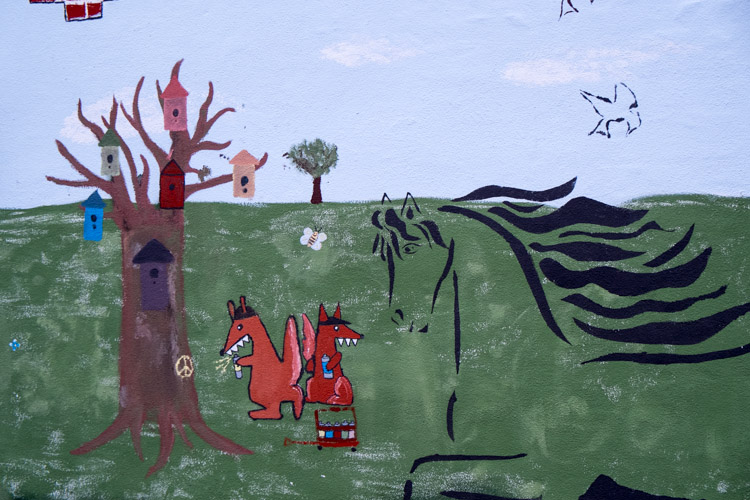 44_29
Remnants of Halloween, Classensgade: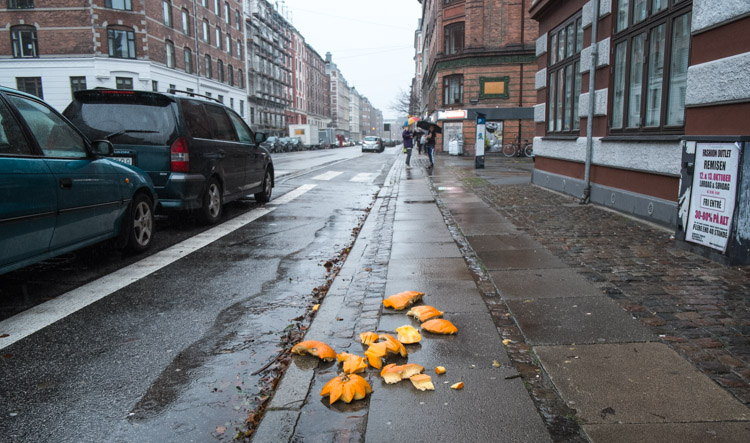 44_30
Later, we drove to the Louisiana Museum of Modern Art in Humlebæk, about 30 km north of Copenhagen. The museum is located right on the shore of Øresund, the strait that separates Denmark from Sweden: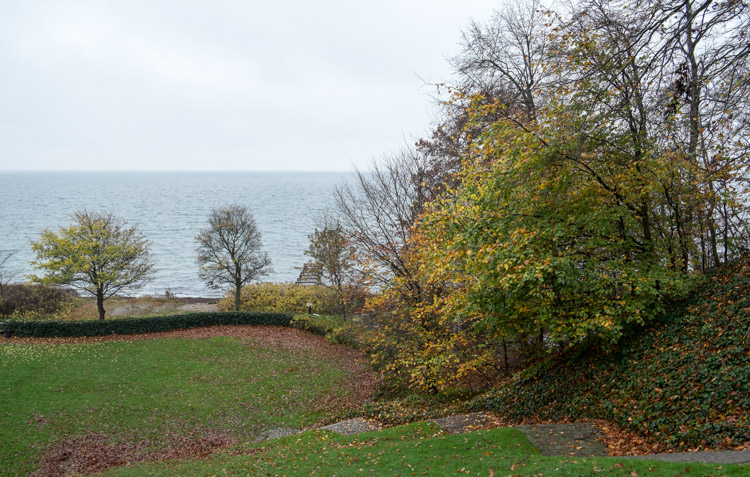 44_31
The park was largely empty on this rainy November day: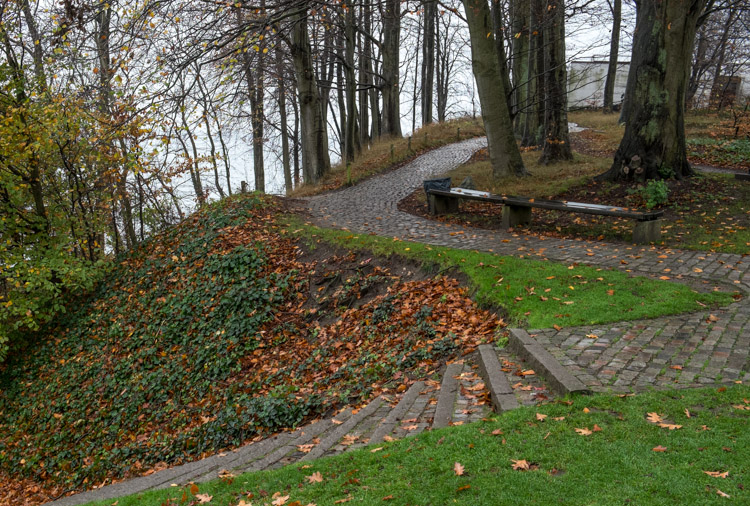 44_32
Inside, there was a large exhibition called "The Arctic", examining the top of the world from many different viewpoints, both artistic and historical: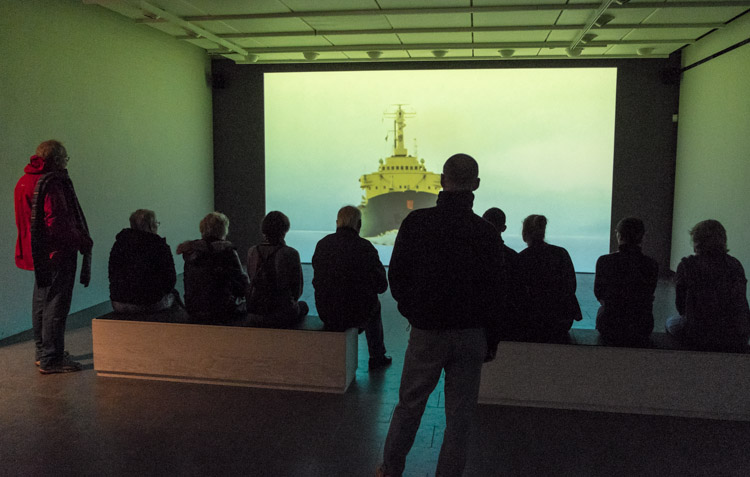 44_33
Beata explains something to her daughter Natalia. Natalia was not completely thrilled about going to Louisiana that day; she preferred to stay at the house of a friend where she had slept over Friday night. But Beata insisted on taking her, and as a compromise, we took Natalia's friend with us: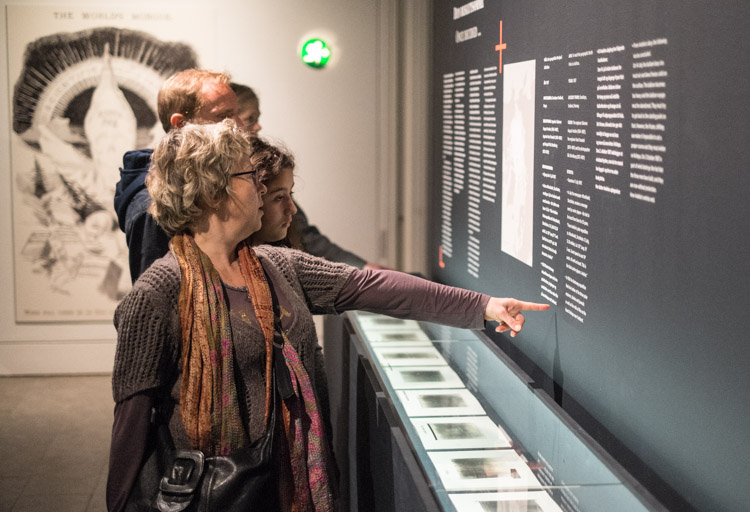 44_34
Another view of the grey waters of the Øresund: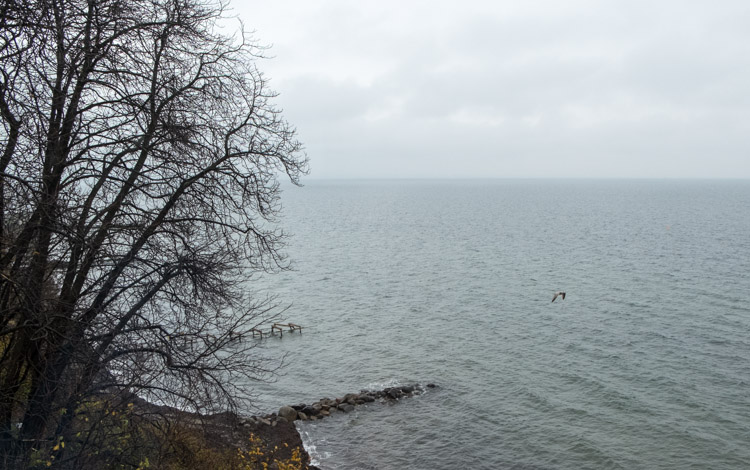 44_35
The greyness and wetness distilled to the bare minimum: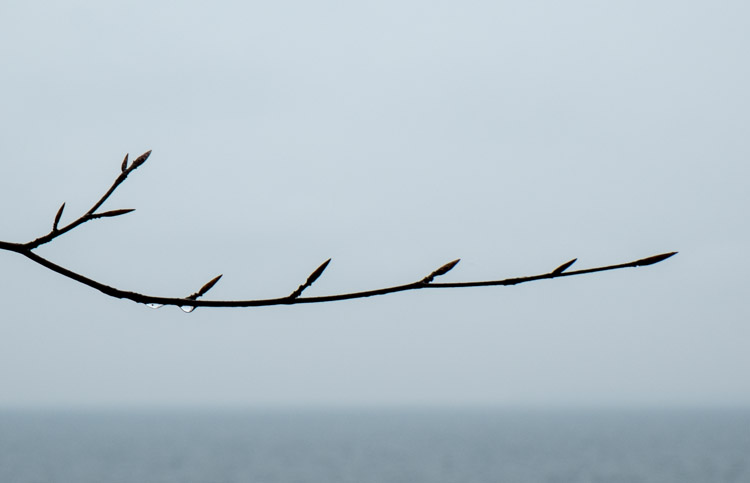 44_36
Luisiana has a large collection of Giacometti sculptures. This room is one of my favourites because it shows how the museum is integrated into the surrounding landscape: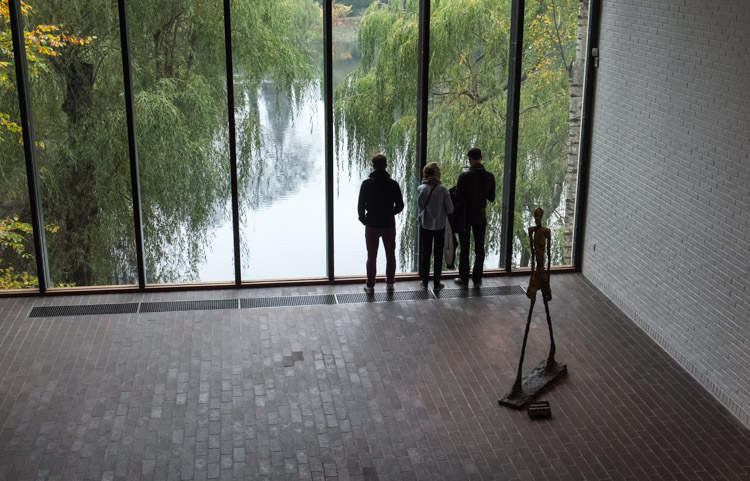 44_37
More Giacometti: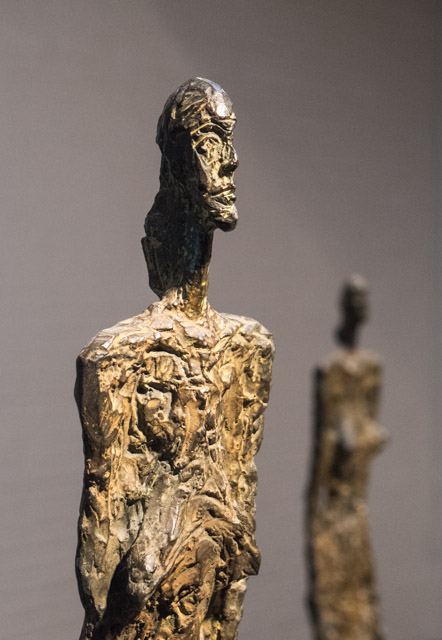 44_38
Beata reading: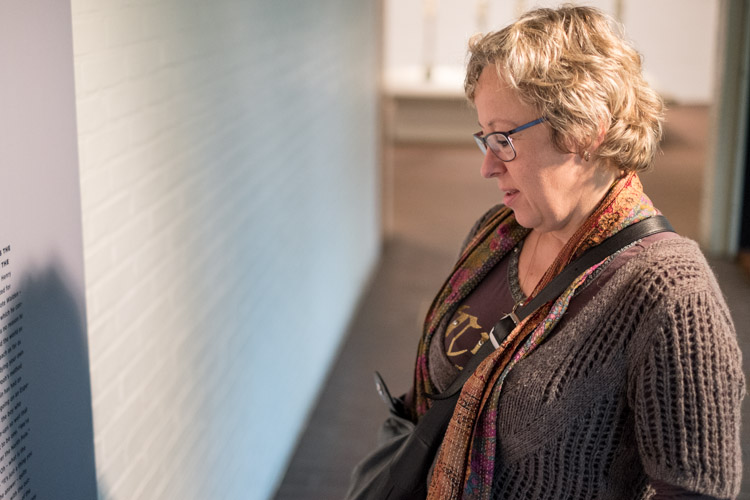 44_39
We had lunch at Louisiana's excellent restaurant (think organic all-you-can eat of high quality). Natalia's friend is of Iranian origin but born in Denmark and a typical Danish teenager in every respect: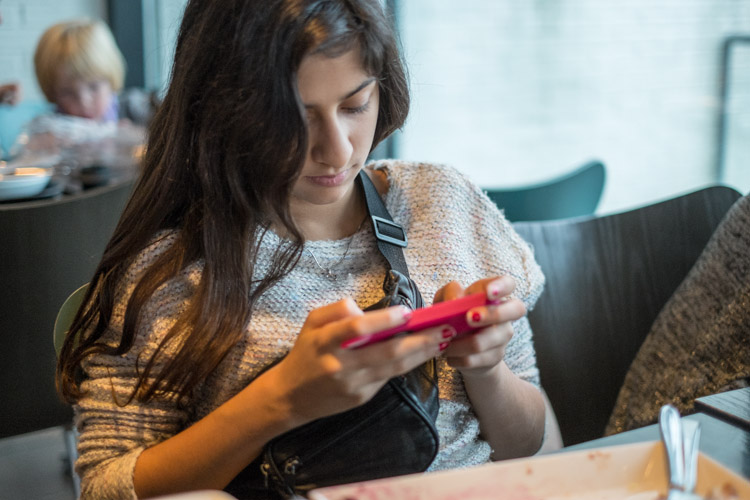 44_40
While Beata and her children were finishing lunch, I wandered around outside in the sculpture garden: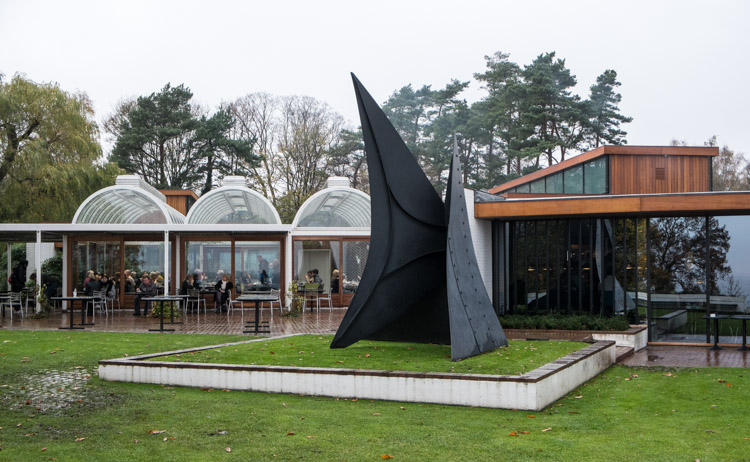 44_41
La Grande Grenouille by Max Ernst: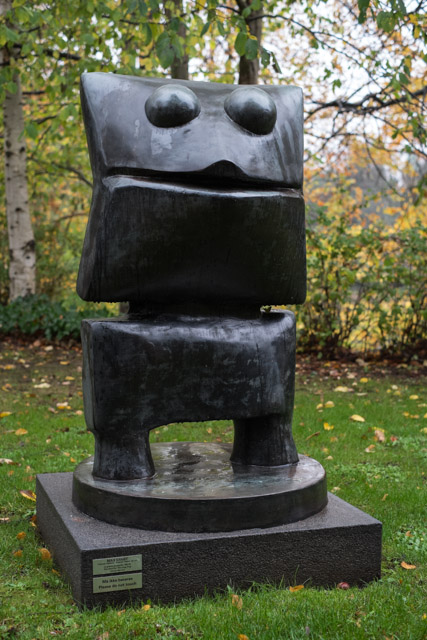 44_42
Reclining Figure No. 5 by Henry Moore: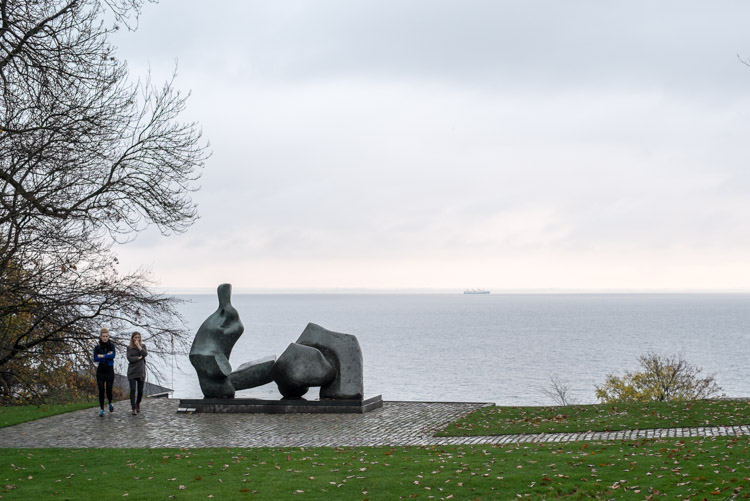 44_43
Sculpture and woman: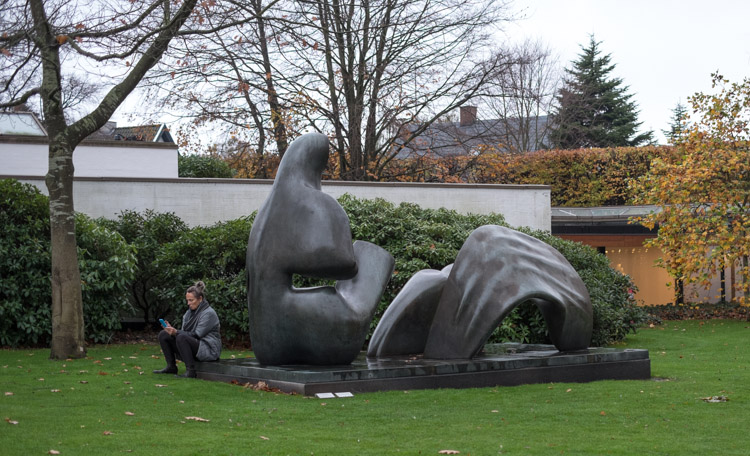 44_44
Back in Copenhagen, Beata and I went to have a beer in Nyhavn, in a bar that was my late father's favourite. On the way, we passed Magasin du Nord: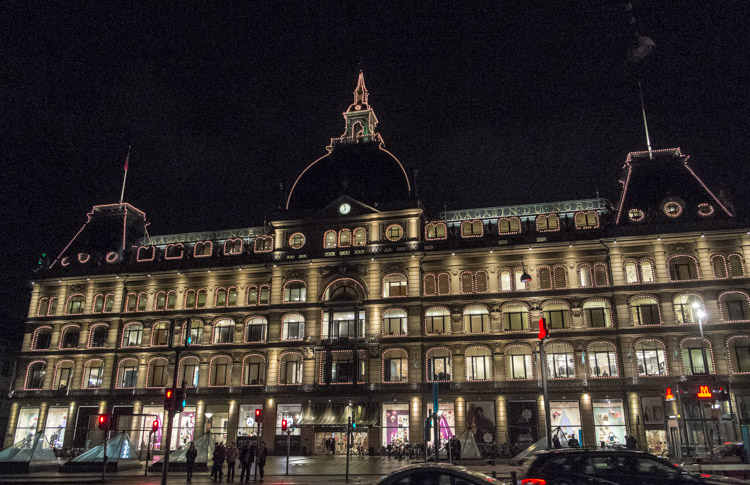 44_45
Nyhavn. On a summer night these tables would be full, but this is November: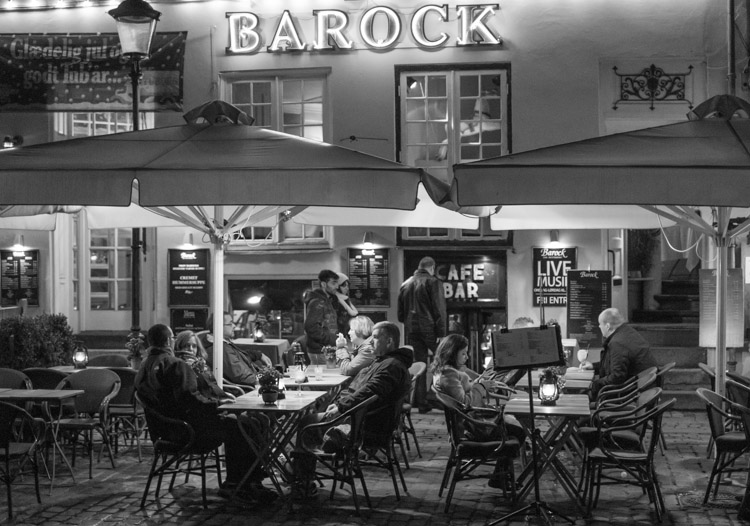 44_46
Studying the menu at McJoys: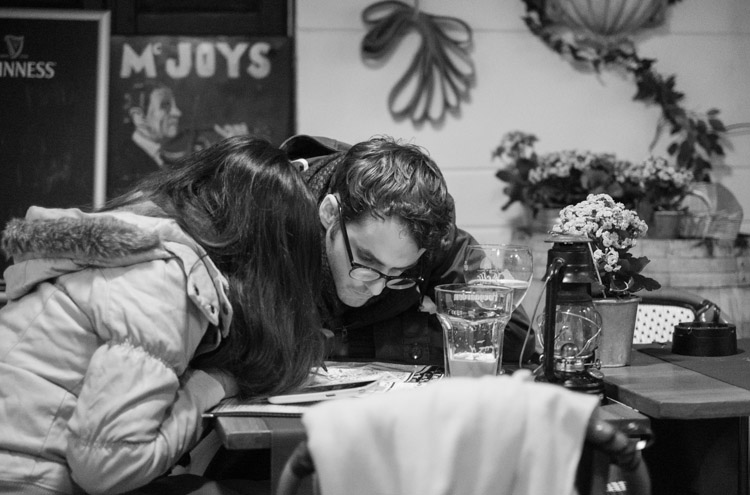 44_47
Beata enjoying a Jacobsen Brown Ale, one of the more interesting beers made by Carlsberg: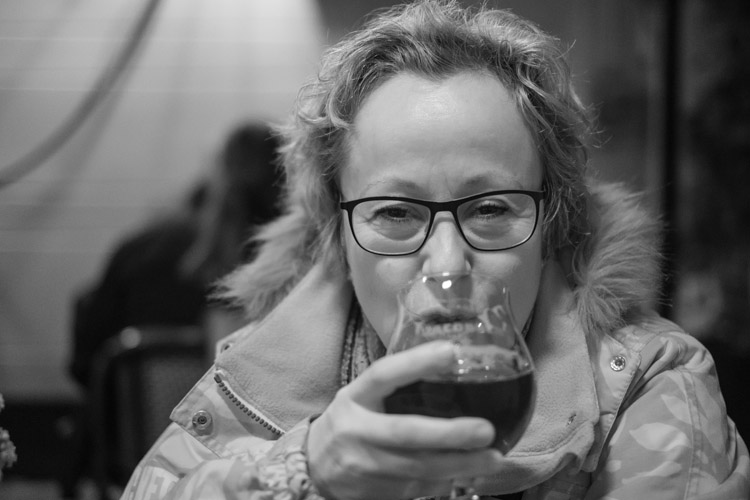 44_48
Sunday morning, a last walk along the lake before heading to the airport for the flight home: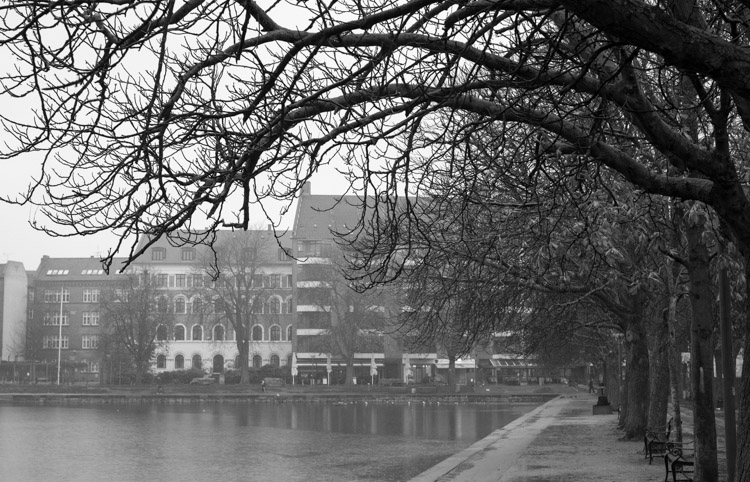 44_49
A bit of colour: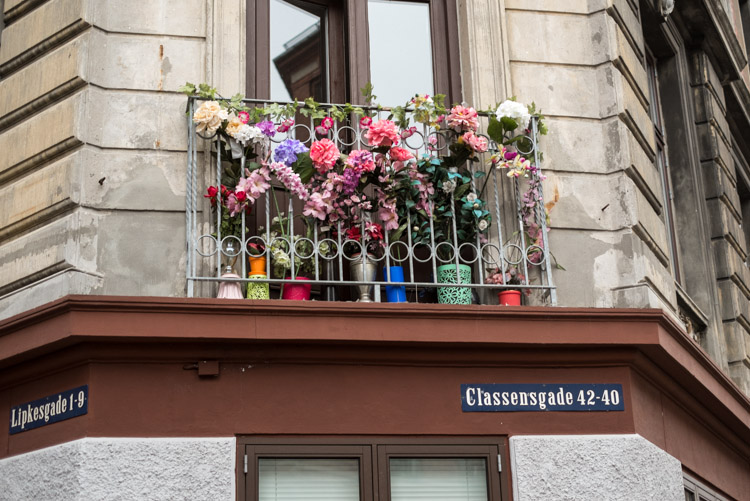 And that was the last picture I took in Copenhagen this time around. More information about Louisiana here.