I spent much of the week in London. The first two days with my daughter and her boyfriend, the rest attending a conference on intellectual property, co-organised by our office with the UK Intellectual Property Office and the European Commission. I have created a separate London gallery here, but in this blog I concentrate on the people I was with, and other images that for one reason or another were not appropriate for the gallery.
24_1
Monica on the Underground: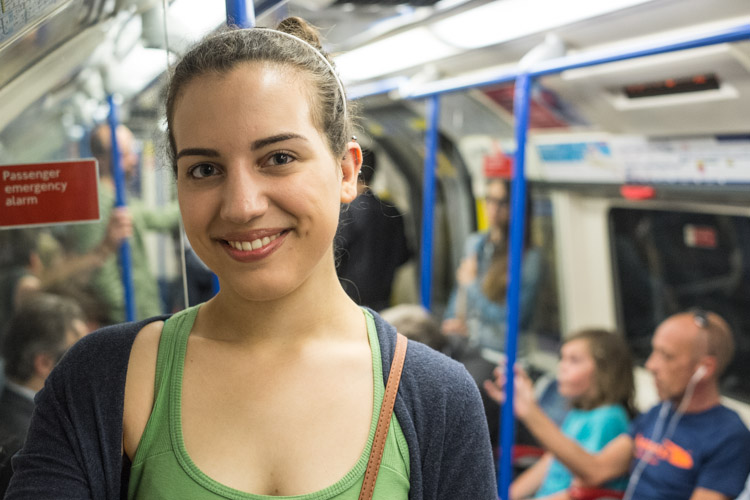 24_2
Another cute Underground passenger: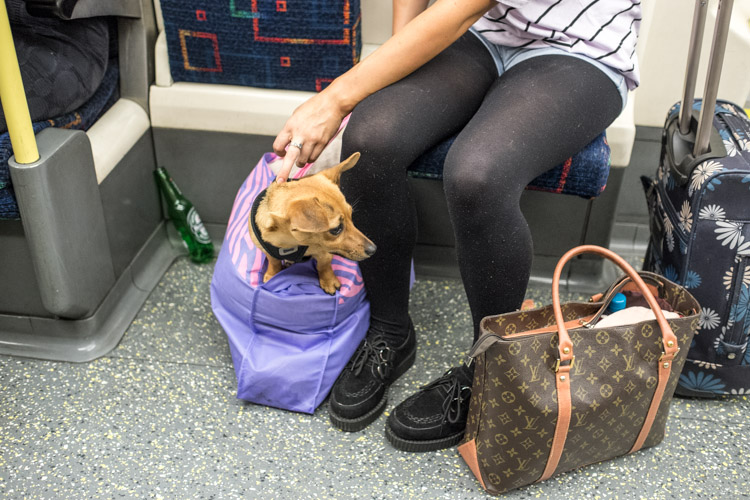 24_3
The first two nights we stayed in a hotel in the Docklands, and during the mornings I went for long walks to explore the vast office building landscape. Spot the jogger here: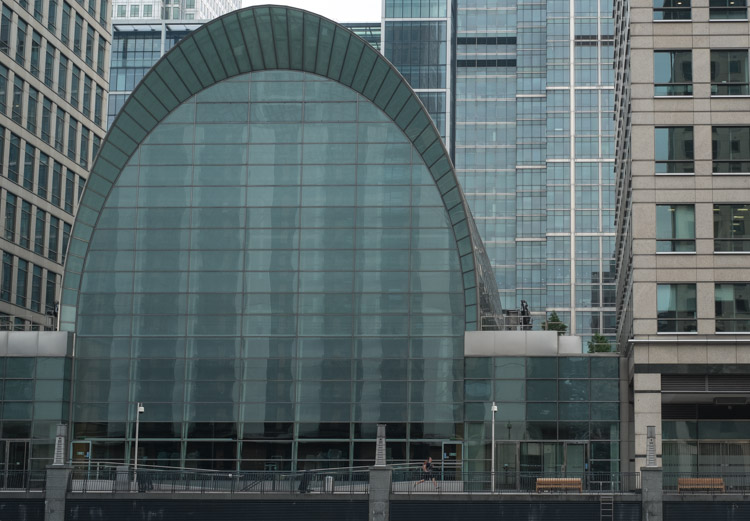 24_4
Industrial grade window cleaning: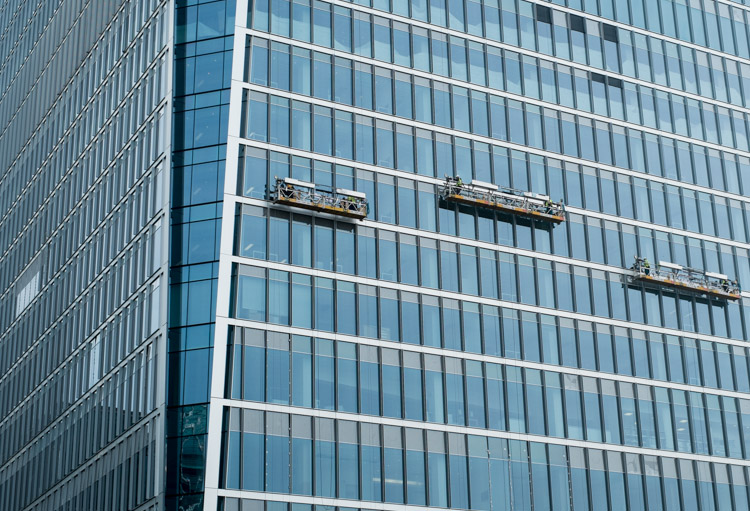 24_5
Monday morning we went to the British Museum, a place I always enjoy, both for its collections and its architecture: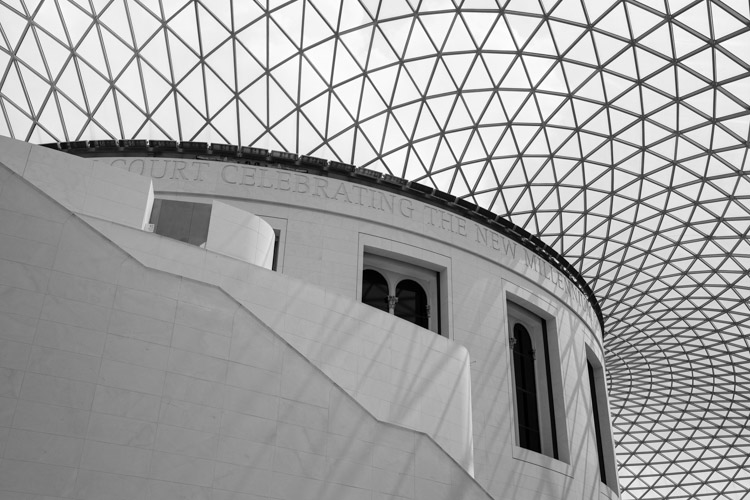 24_6
After lunch in an excellent organic vegetarian restaurant near the British Museum, we went to the South Bank, where Monica's boyfriend Shaun wanted to visit a well-know skateboarding area: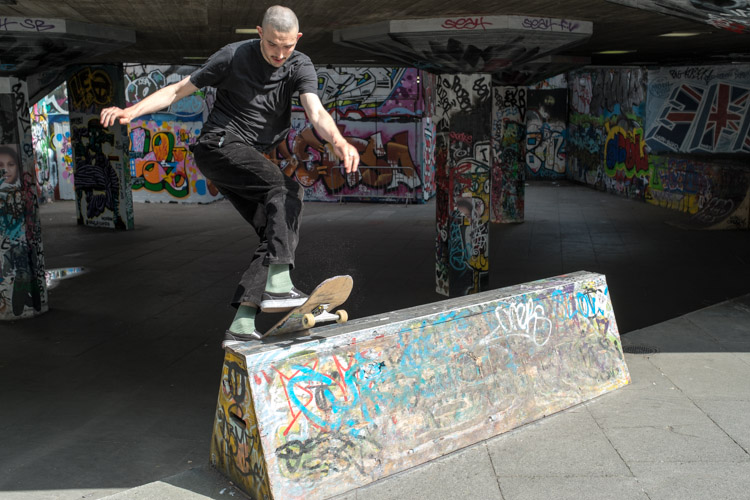 24_7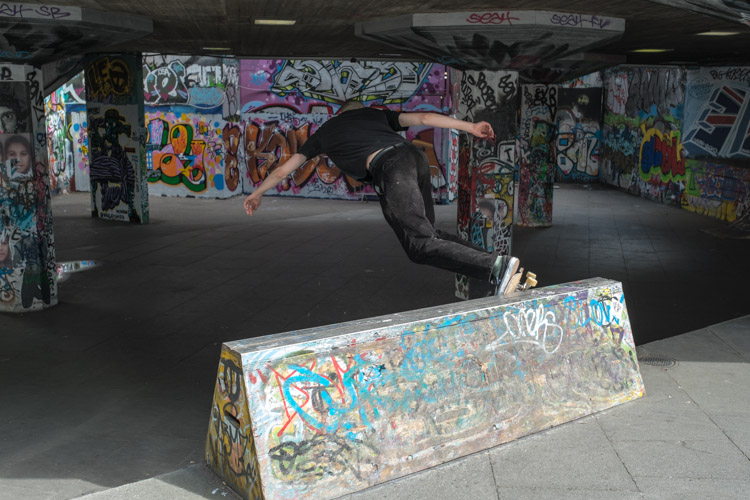 24_8
Then we took the Tube to Brixton, where the main objective was to visit Ms Cupcake, a well-known vegan bakery that we "discovered" a couple of years ago: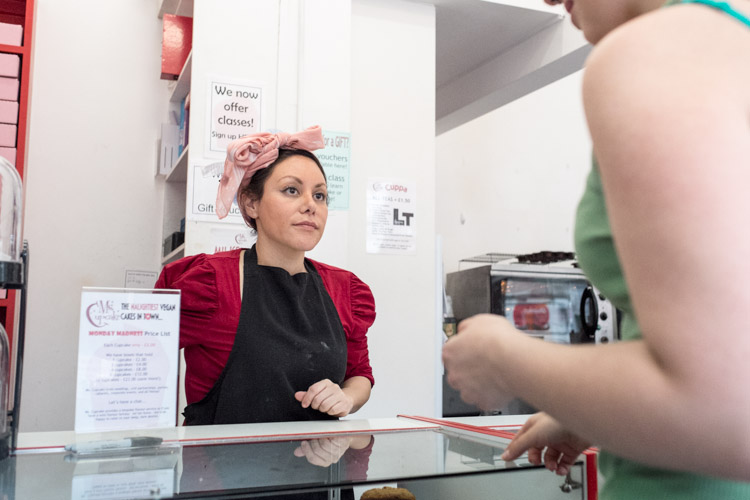 24_9
We sat outside to enjoy our goodies: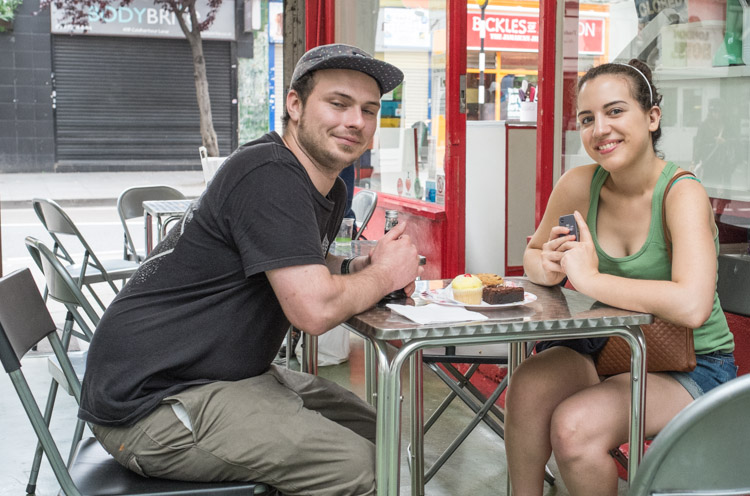 24_10
Then a local kitty came by to inspect my bag: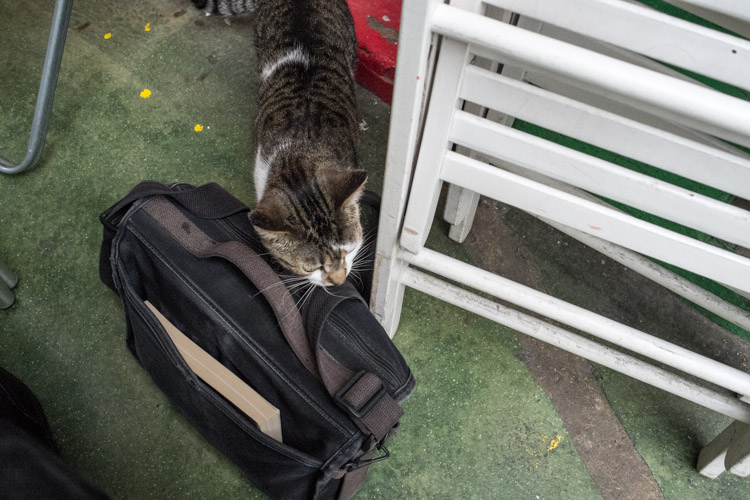 24_11
And then he just jumped up in my lap. He was certainly not shy: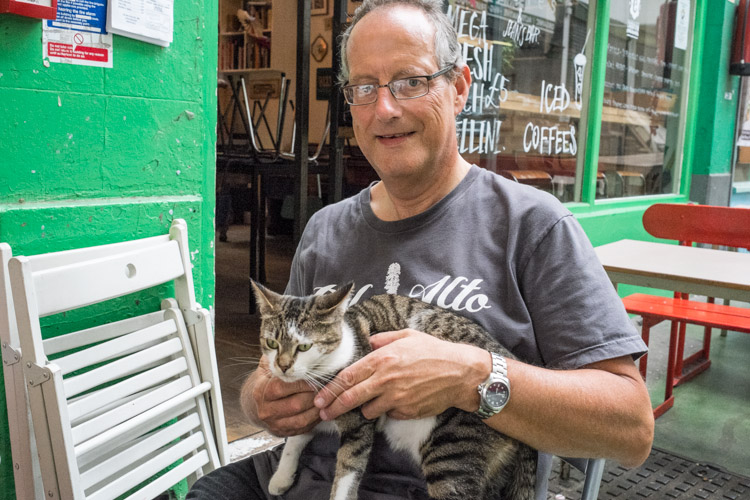 24_12
We then went to Trafalgar Square to have a few pints at the Chandos Pub before dinner. When I am in touristy places, I often photograph tourists: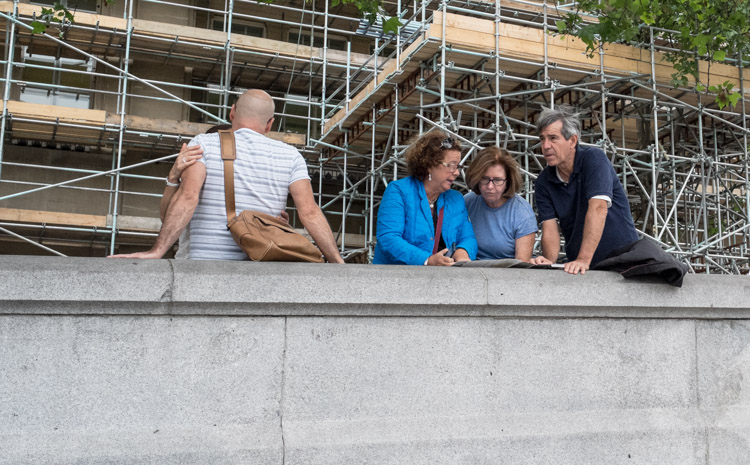 24_13
Our Docklands hotel was just 5 minutes walk from the Billingsgate fish market. The fish market is open from 5 to 9 a.m., but being an early riser, this was no problem for me, and I walked over to have a look Tuesday morning: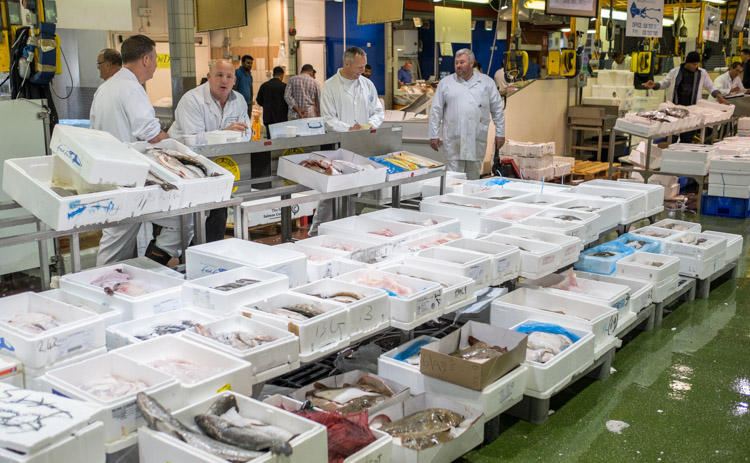 24_14
Billingsgate is very much a working wholesale market and distribution facility: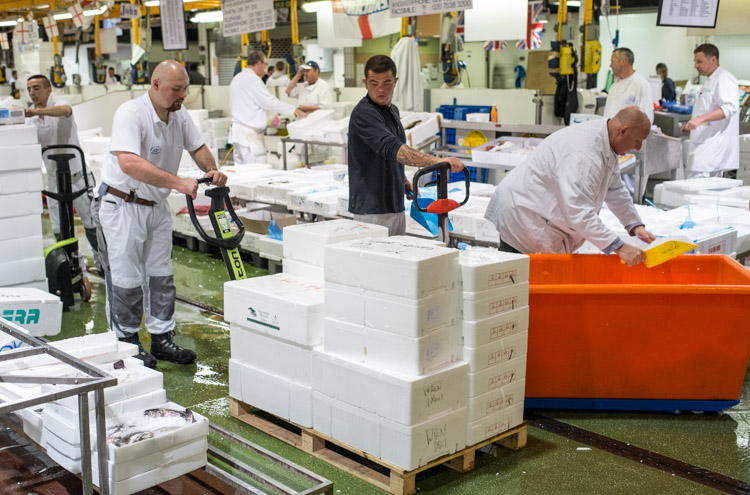 24_15
Relaxing at the end of the working night/morning: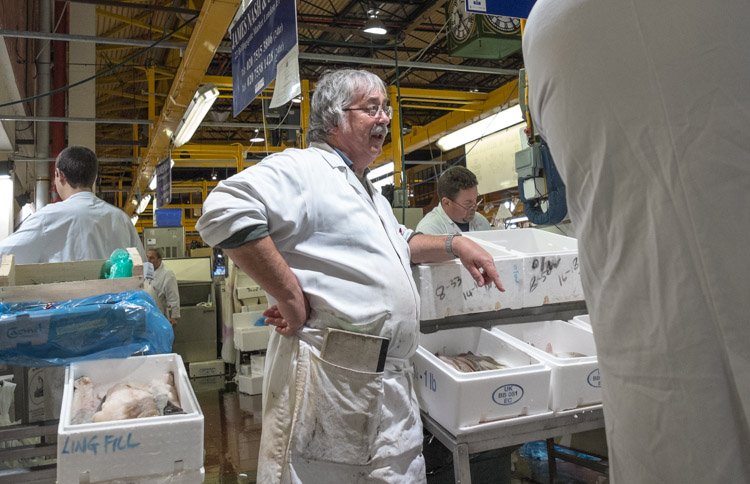 24_16
After work, many of the locals have breakfast at Piggy's: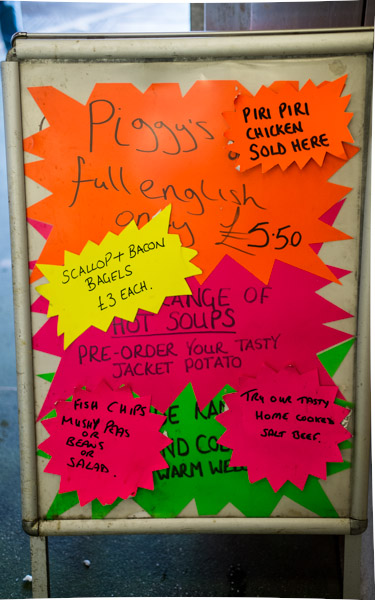 24_17
Later on Tuesday, we went to Camden, where Monica and Shaun were going to stay for the next few days at a friend's house. We took a walk through the Camden Market, and my little girl bought a dress:

24_18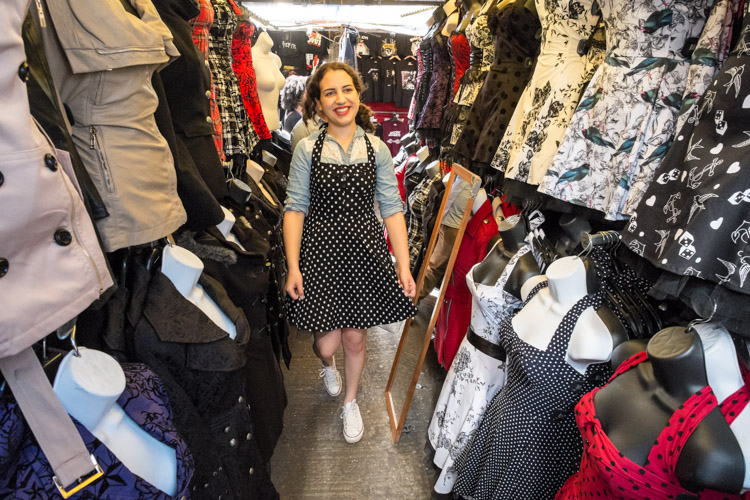 24_19
A very well equipped tourist, and yet he uses his smartphone to take a picture: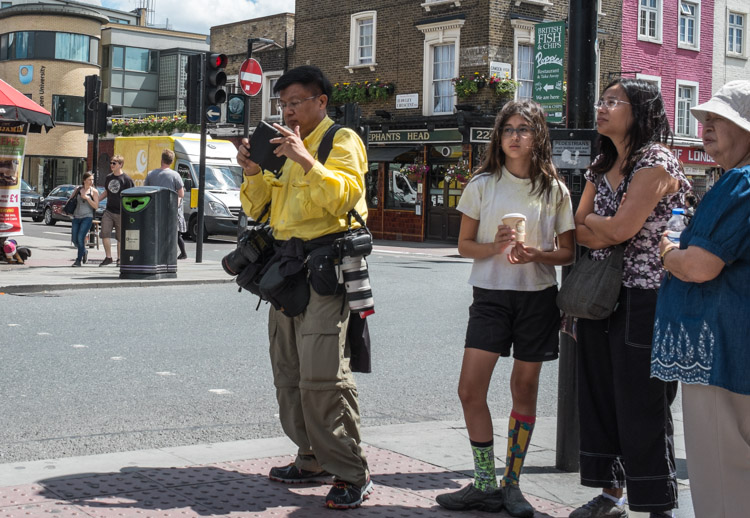 24_20
Various needs are catered for here: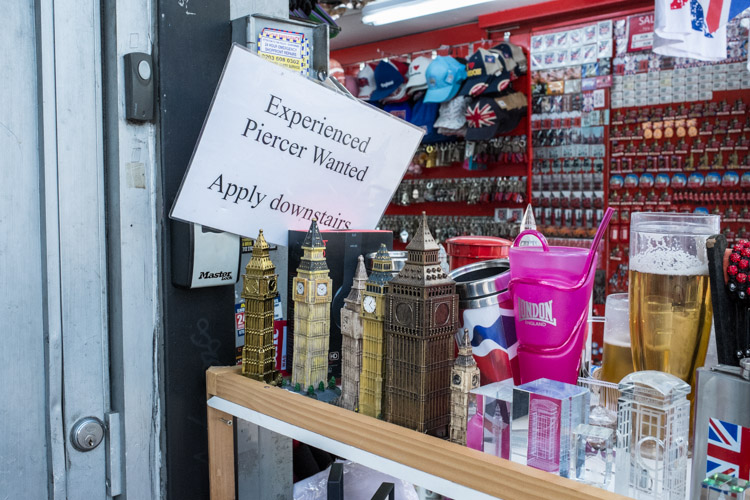 24_21
We went to Brick Lane for lunch. Of course we went to a South Asian restaurant, but we also walked past one of the famous Jewish landmarks: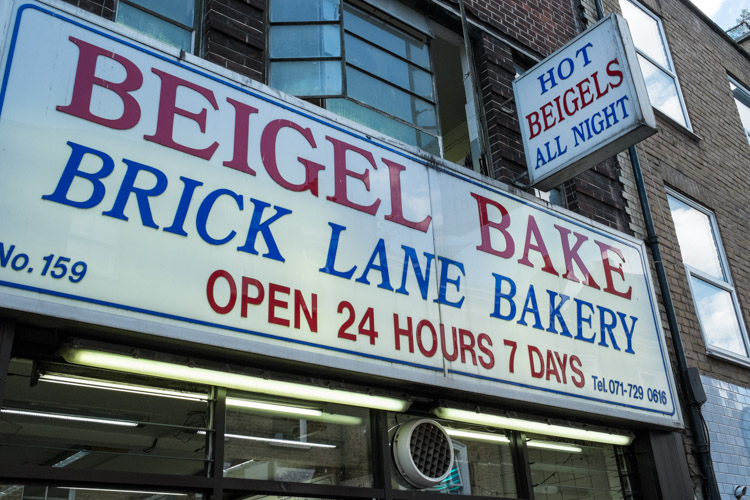 After lunch on Tuesday, I said goodbye to Monica and Shaun and headed to the Westminster Park Plaza for the next two nights. Work was now beginning–I had a reception to go to at 6 p.m.
24_22
The reception was held at the Vista at Trafalgar, a rooftop terrace with excellent views of the city. Our host was the Motion Picture Association whose head is former US senator Chris Dodd: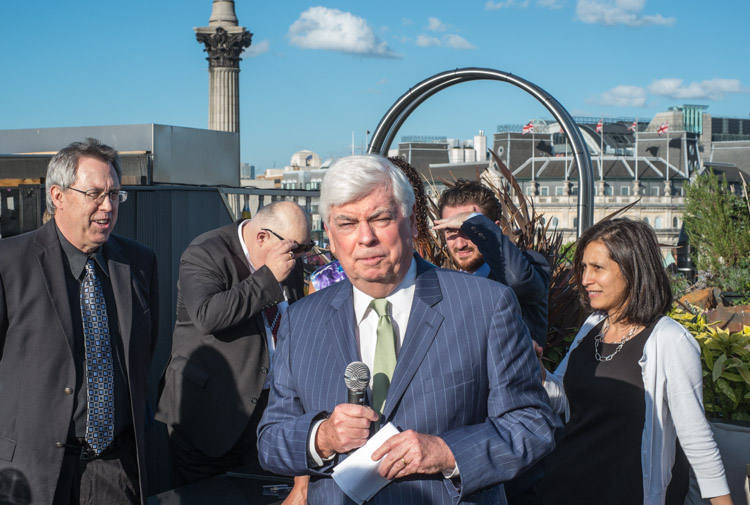 24_23
View from the terrace, Parliament House: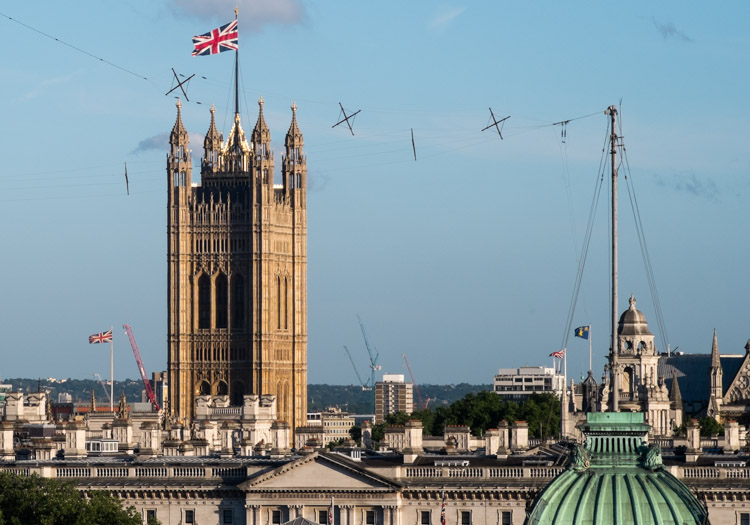 24_24
View from the terrace, Nelson column: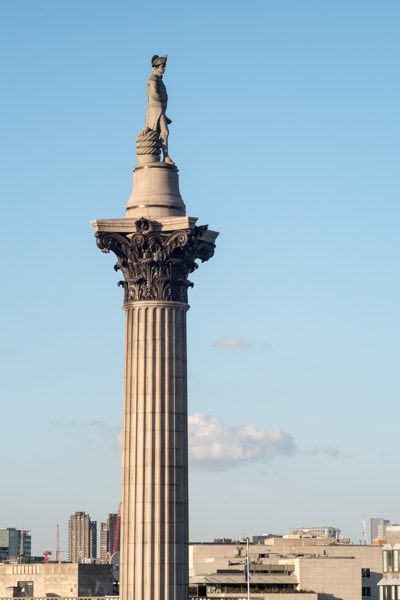 24_25
Following the reception, a few of us moved on to the nearby Chandos Pub for a few pints of proper beer: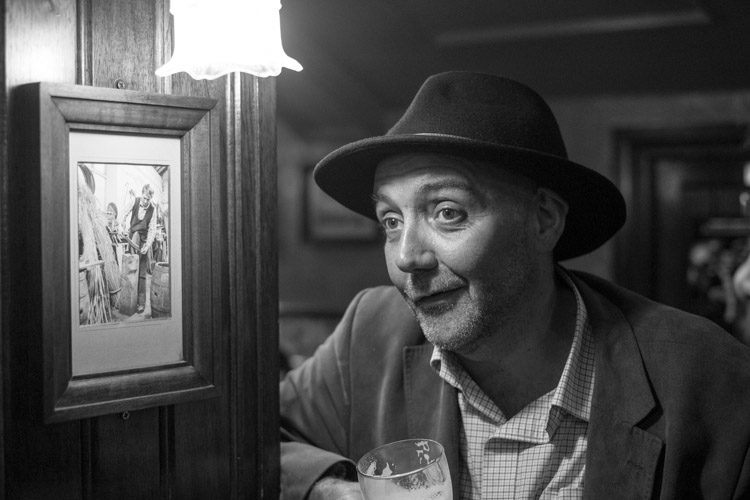 24_26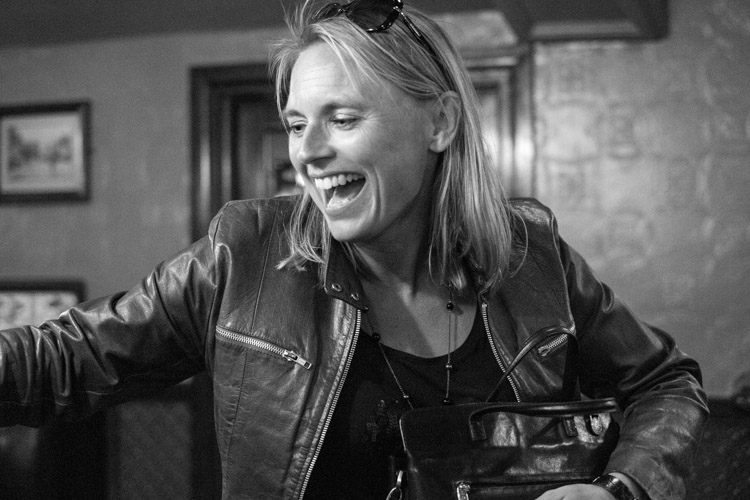 24_27
The conference I was attending, the IP Enforcement Summit, started at 9 a.m. on Wednesday. To get from my hotel to the conference venue meant a 10-minute walk with views like this: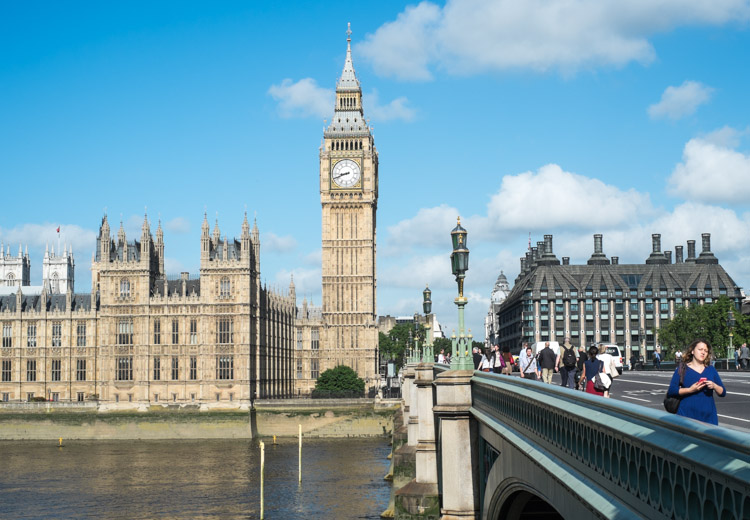 24_28
The conference venue was Central Hall Westminster, a facility that belongs to the Methodist Church–hence the big organ: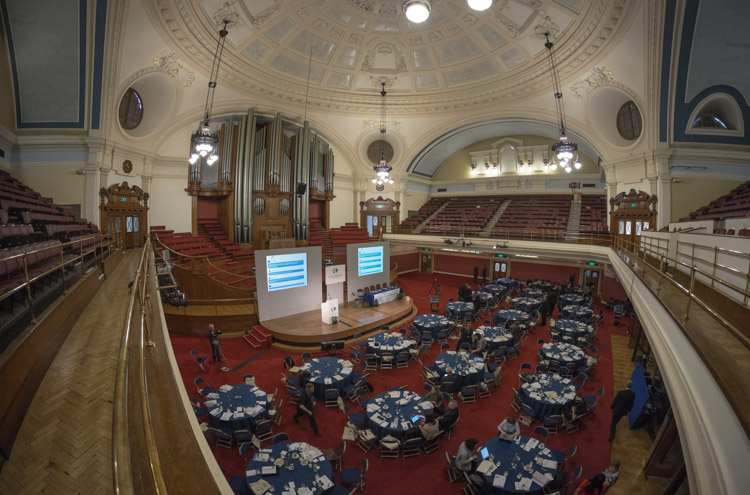 24_29
The first speaker was Vince Cable, the UK Secretary of State for Business, Innovation and Skills: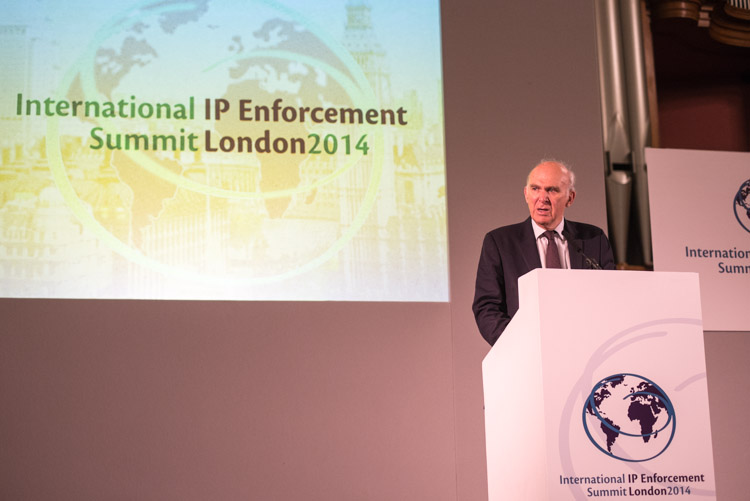 24_30
Paul Polman, CEO of Unilever. He actually gave a very good speech. In the background the Twitter feed from the event: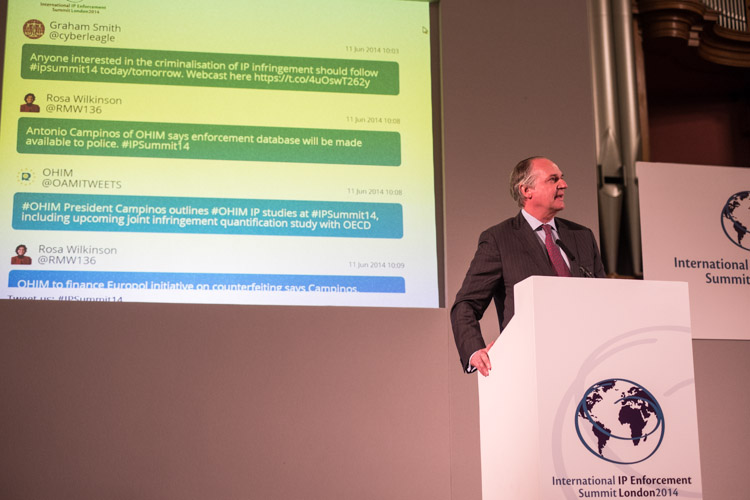 24_31
My friend Phil from the UK Intellectual Property Office was one of the main organisers of the event: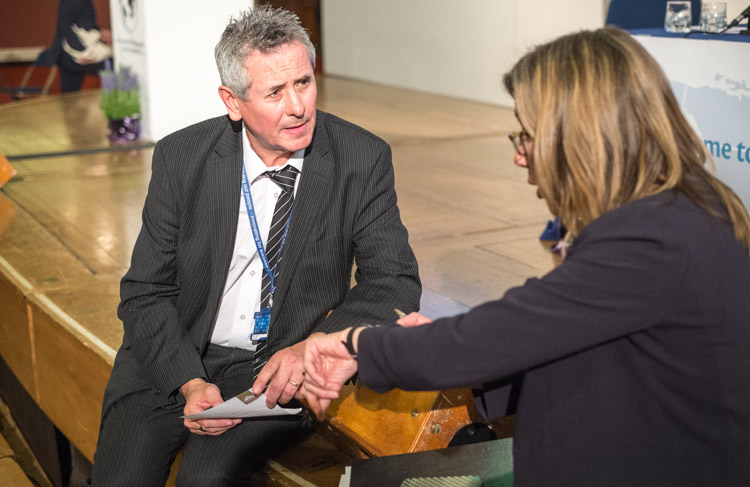 24_32
Our two communications specialists Katie and Claire looking over some papers during one of the breaks: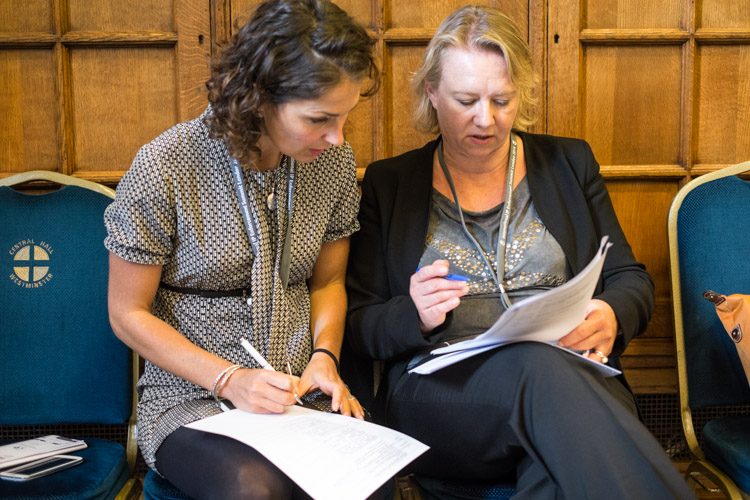 24_33
We also had a stand showing off some new tools to monitor counterfeit goods: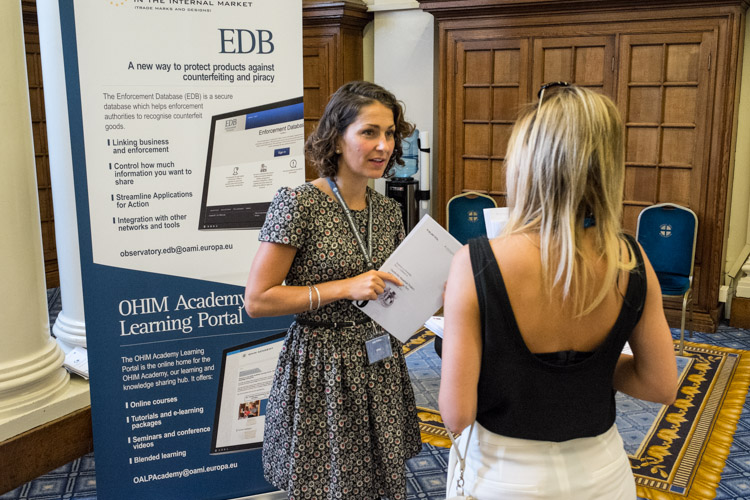 24_34
Finally, a relaxed portrait of my colleague Valerio in-between speeches. Valerio is Italian and joined us from Europol some time last year: