It was a very busy week. I had to give a talk in Rome on Tuesday morning, so I flew there on Monday and enjoyed a free afternoon and evening there. Then, on Tuesday afternoon, I flew to Munich where I had two days of meetings Wednesday and Thursday, before finally flying home Friday morning. But do not feel sorry for me; especially the free time in Rome was extremely enjoyable, as I avoided the standard tourist spots and instead went to areas that had been recommended by Italian colleagues at the office. In Munich, the weather was mostly awful except for the one day when I had some time to walk around. And finally, the week ended with a pool party which also provided me with good photo opportunities.
I have created a separate Rome gallery here, but below I have included a few pictures that did not fit in there.
28_1
But I start with three of my usual cycling pictures. First, an amusing "for sale" sign. What makes it amusing is of course the ruin to which it seems to refer (in reality, it does not):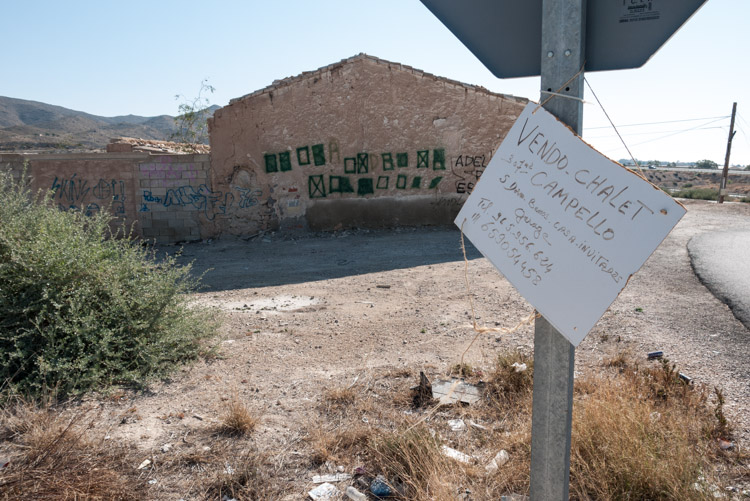 28_2
One of my favourite roads, between Buson and Jijona: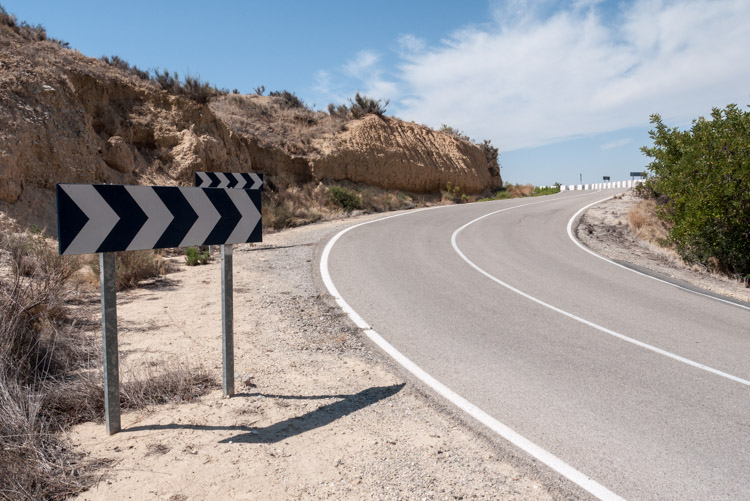 28_3
Mountains, clouds and almond trees: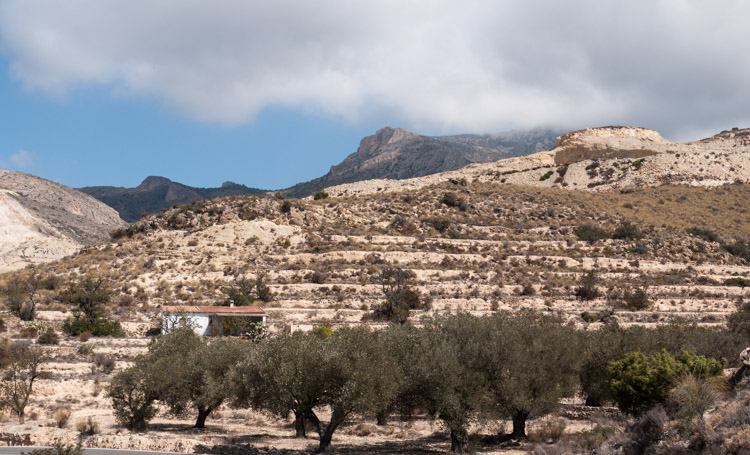 28_4
Cheeta gets ice cream: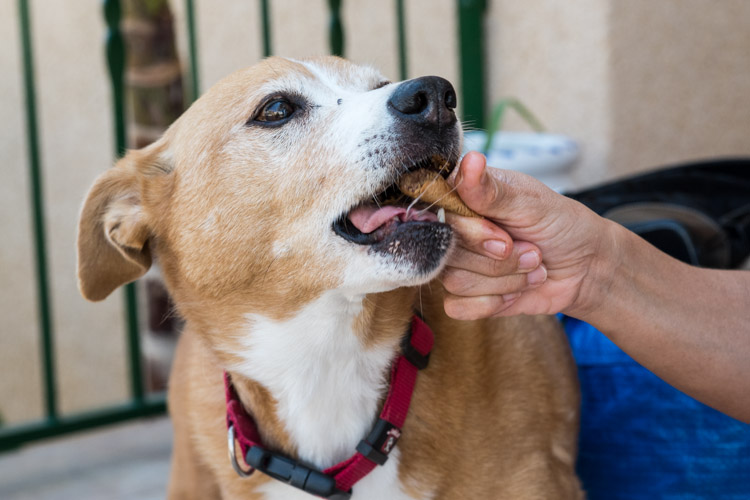 28_5
The first picture I took in Rome–I was attracted by the juxtaposition of the man on the poster and the real people: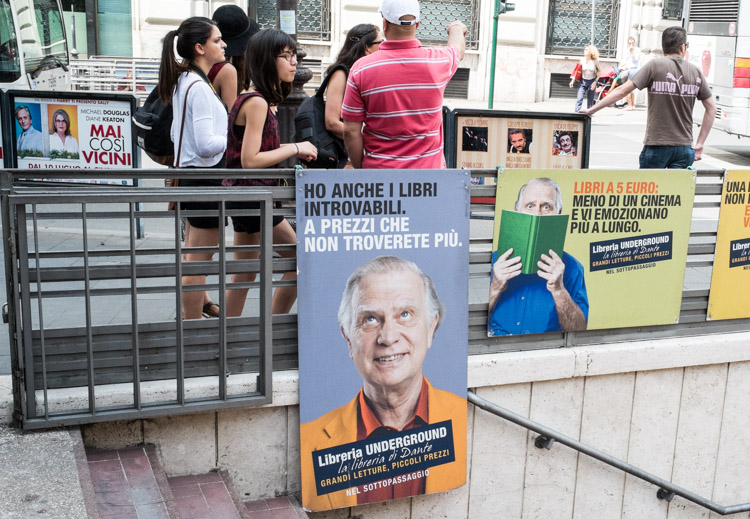 28_6
Shop dog: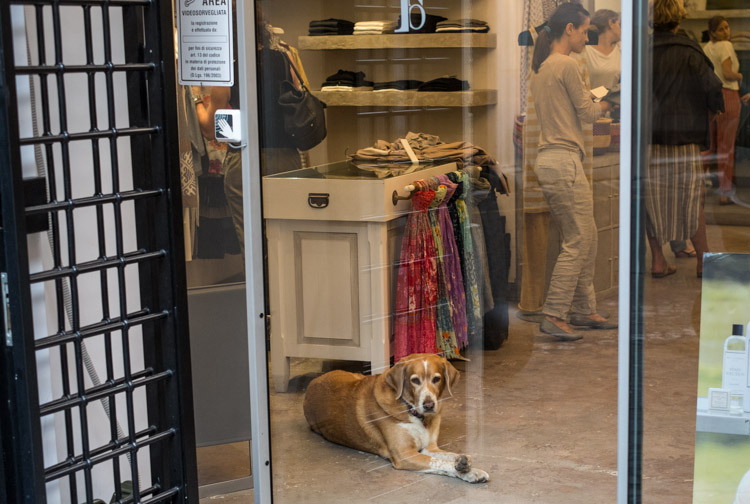 28_7
This is where I was giving the talk on Tuesday morning: Hadrian's Temple is now mostly used as a conference centre. Quite striking surroundings: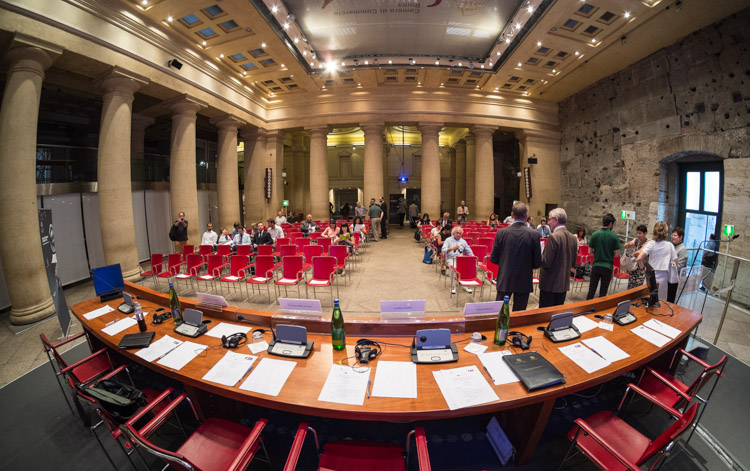 28_8
Checking out a member of the audience: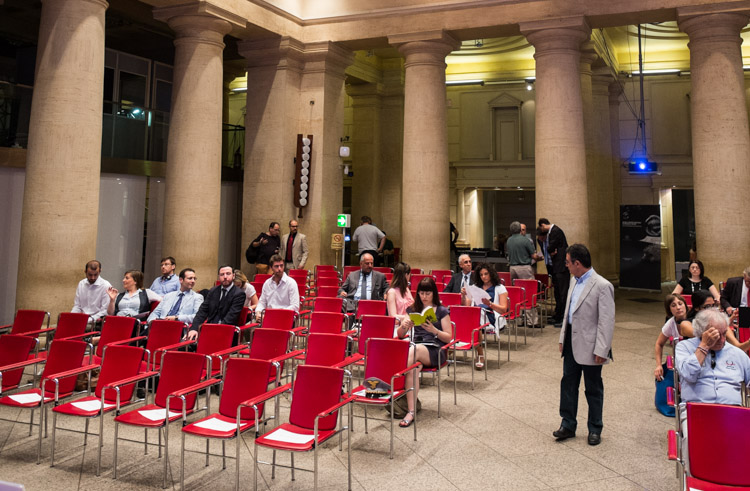 28_9
I arrived at my hotel in Munich just in time to watch the Germany-Brazil World Cup semifinal in the adjacent restaurant. The hotel is in a residential neighbourhood, so most of the people in the restaurant were not hotel guests but locals, which only added to the ambiance. The fact that Germany demolished Brazil 7-1 only made things more enjoyable: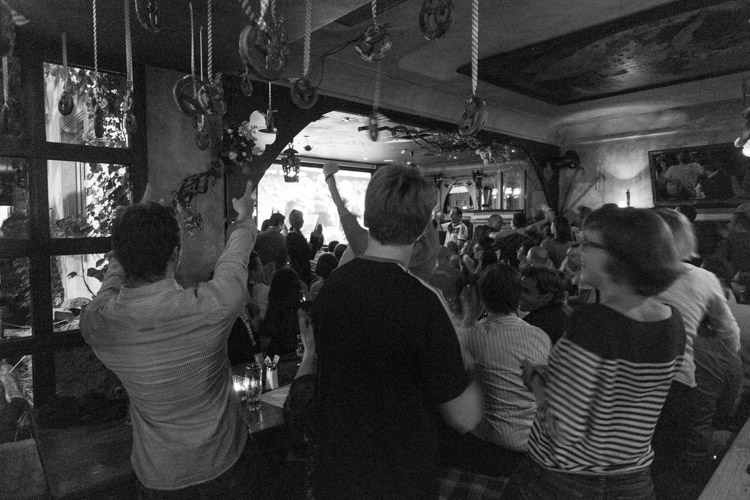 28_10
All smiles: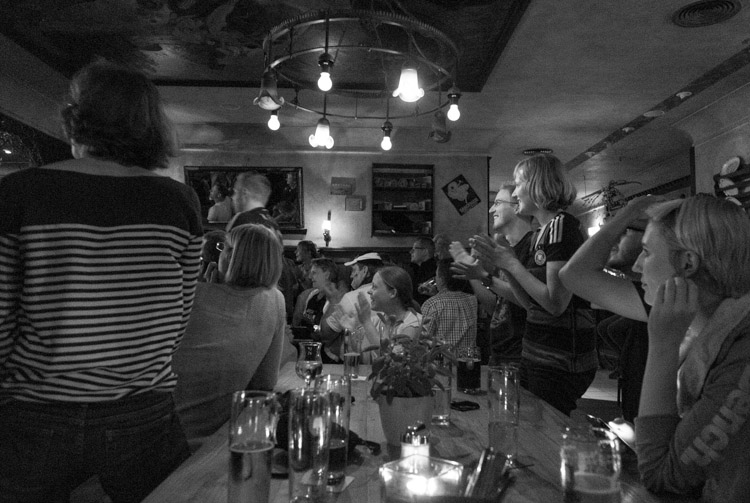 28_11
The match long decided, some people turn to other pursuits: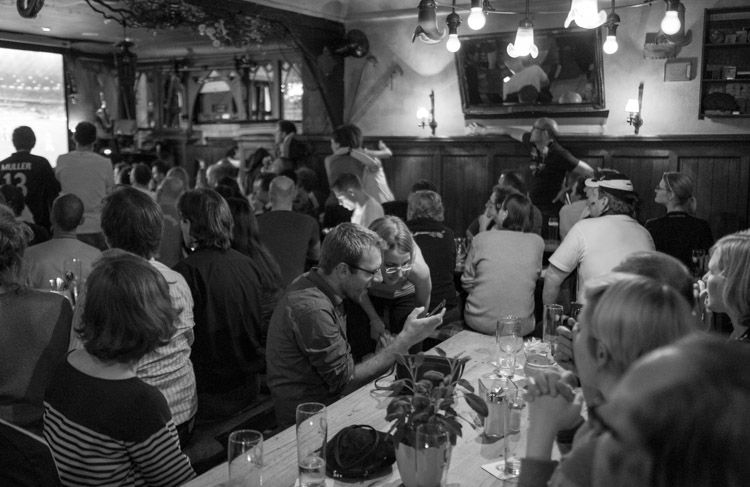 28_12
The next day the other semifinal was played, between the Netherlands and Argentina. This bar put out a sign saying "Who will cry tonight, Messi or Robben?" (referring to the star players of the two teams):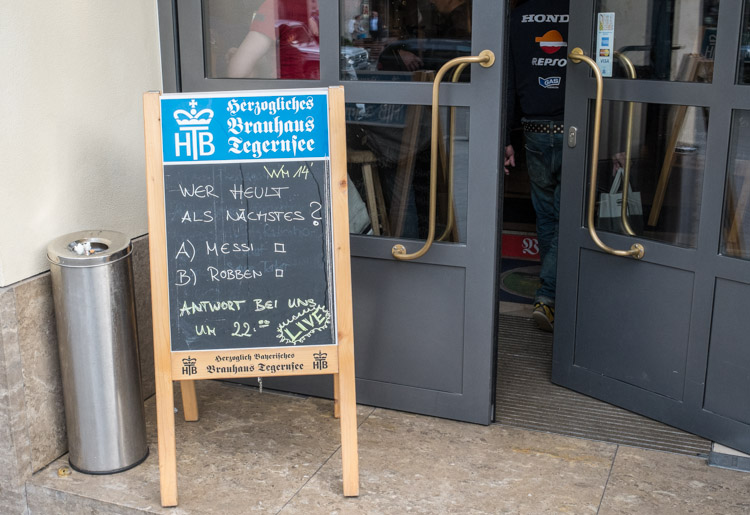 28_13
I did not have much free time in Munich, but of course I had my camera with me while walking from my hotel to the European Patent Office (where my meetings were held):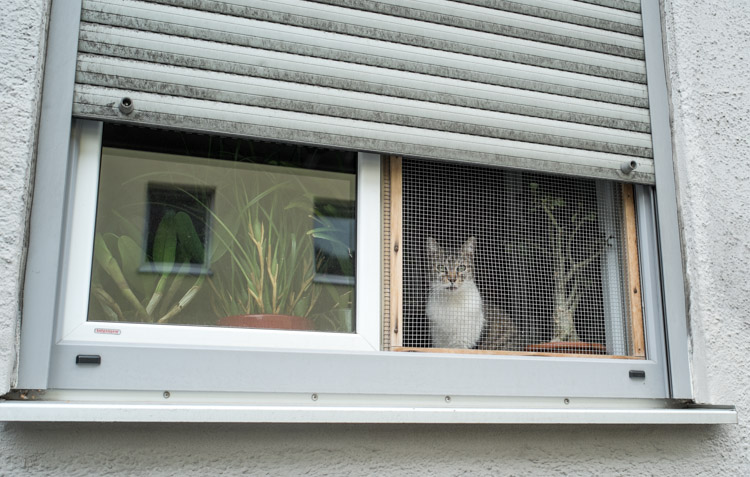 28_14
A selfie in front of the EPO office: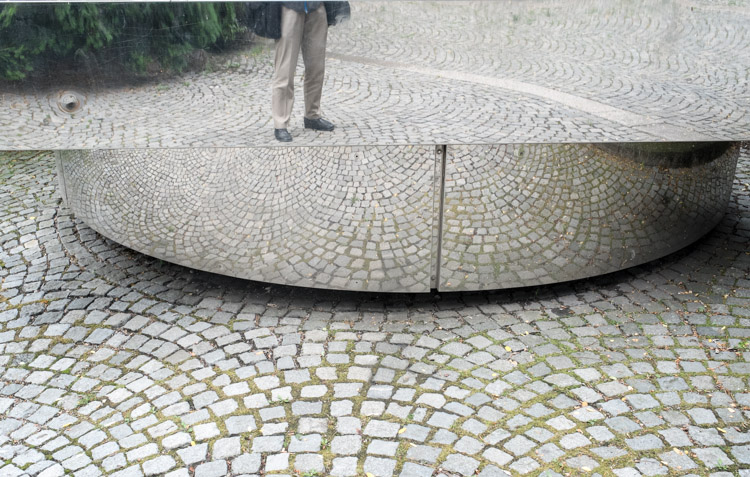 28_15
Many buildings in many cities have plaques honouring important people who were born or lived in them. This one is more elaborate than most, commemorating Schalom Ben-Chorin, an Israeli writer and religion philosopher who was born in Munich in 1913 (and died 1999 in Jerusalem):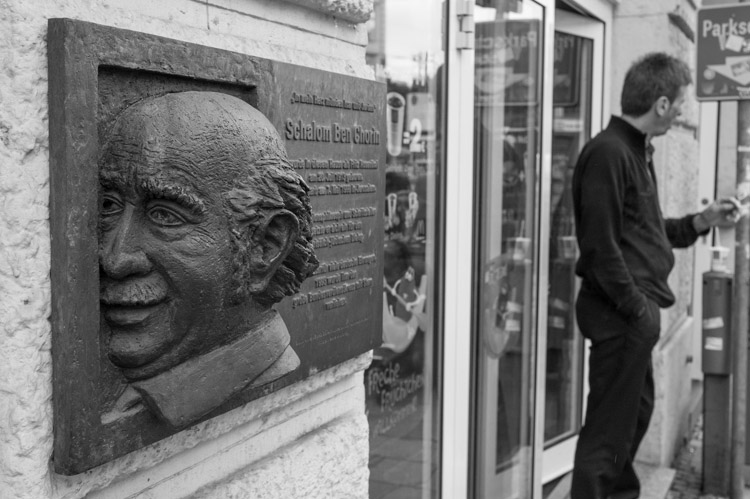 28_16
The main square of Munich, Marienplatz. The column in the middle is called the Mariensäule. It is considered the midpoint of Bavaria, and all distances from other cities to Munich refer to it: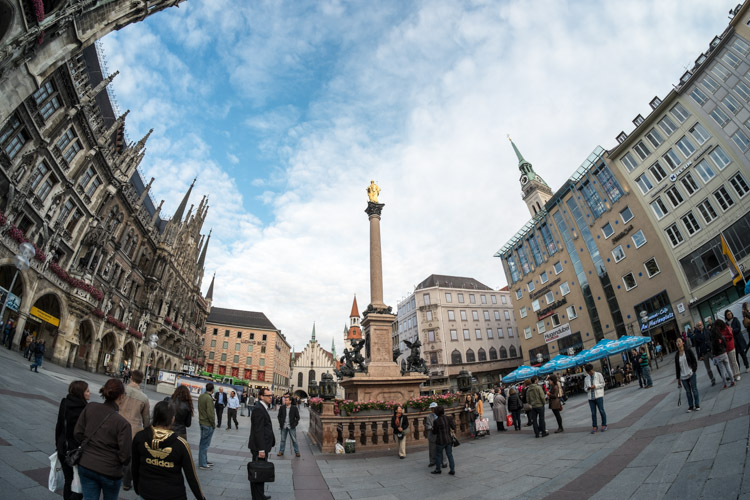 28_17
Old City Hall: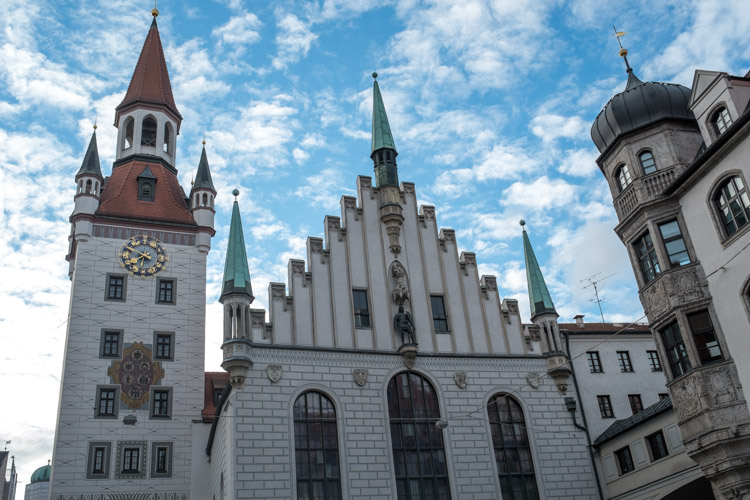 28_18
Statue of a mythical creature called Putto at the foot of the Mariensäule: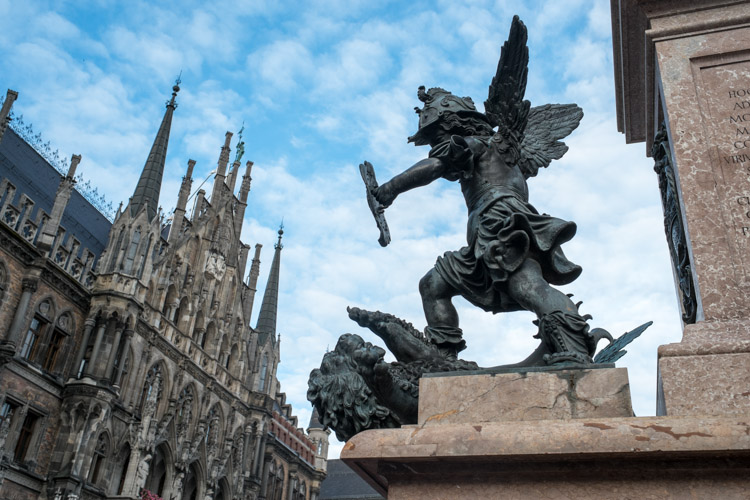 28_19
Fountain, Marienplatz: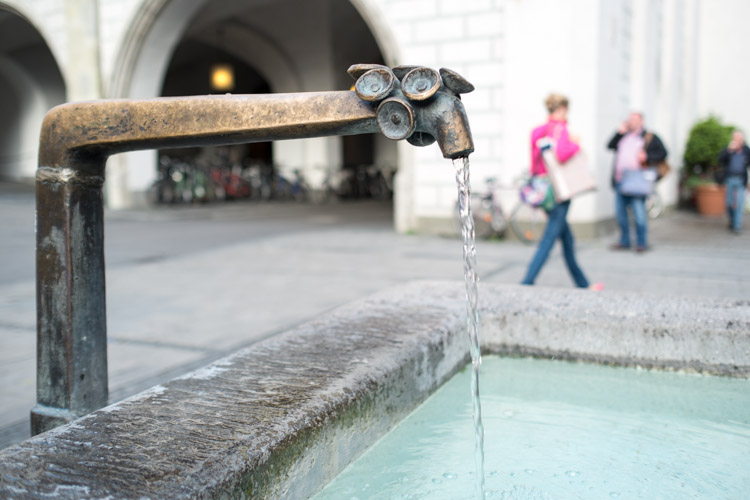 28_20
Inscription in the gate of City Hall, honouring the American troops which occupied Munich in April 1945: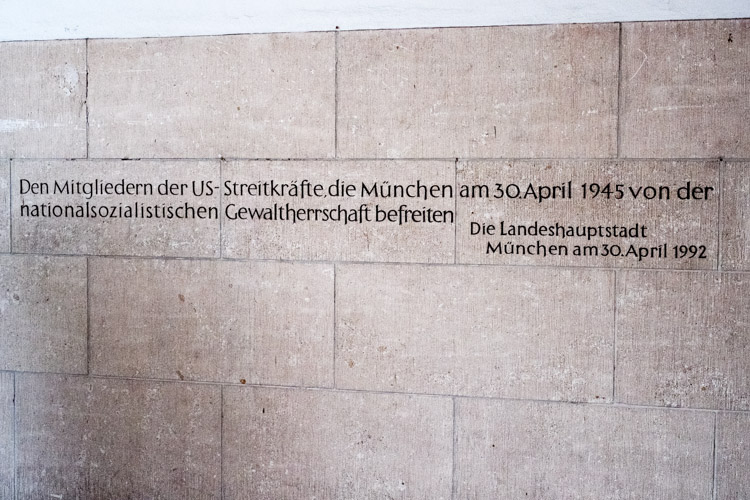 28_21
Afternoon light, near Marienplatz: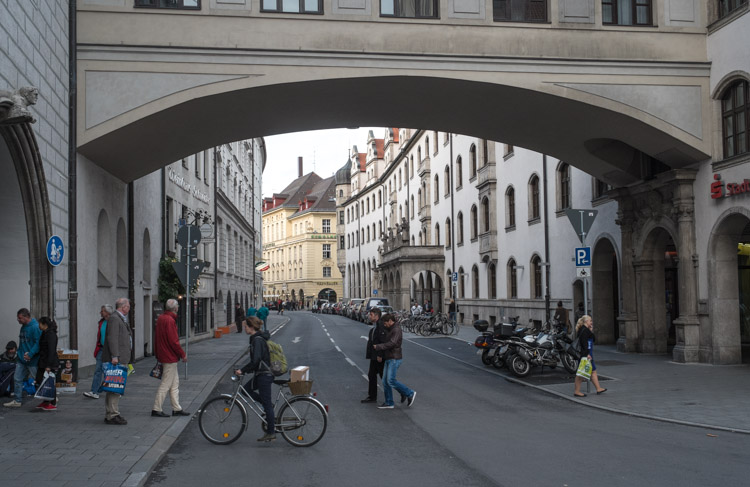 28_22
The setting sun gave me some nice contre-jour opportunities: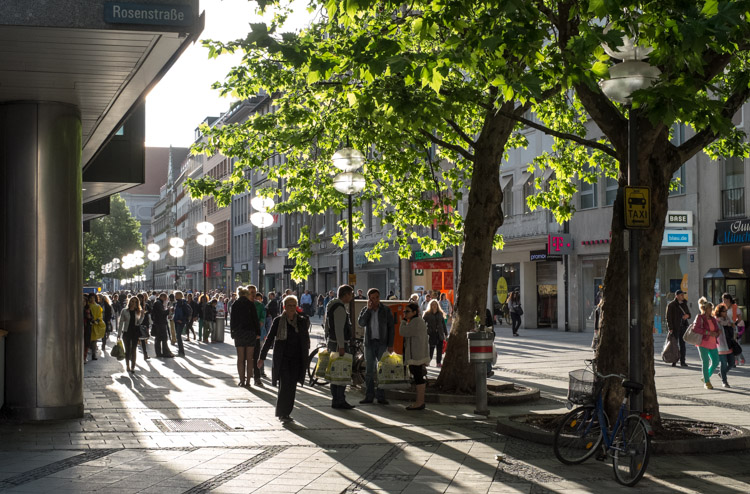 28_23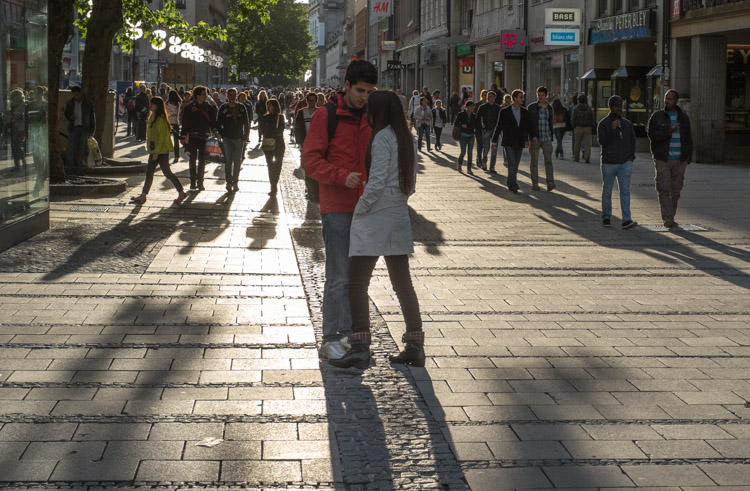 28_24
Waiter in Lederhosen, on Marienplatz. It does not get much more traditional than this, but you also pay for the location: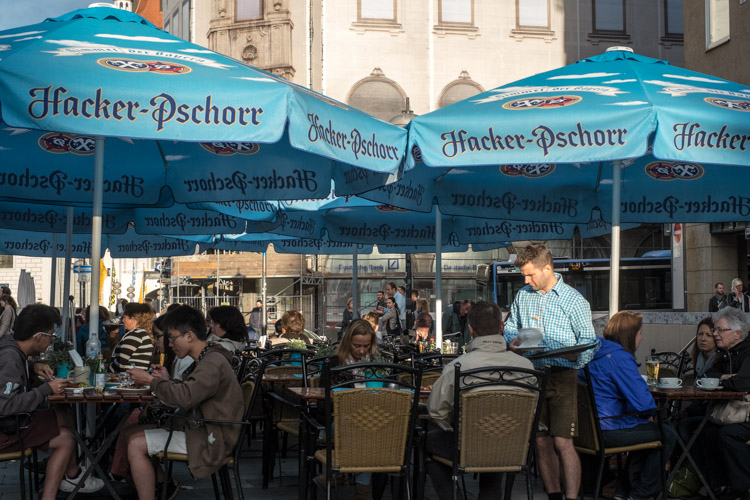 28_25
Tall and narrow: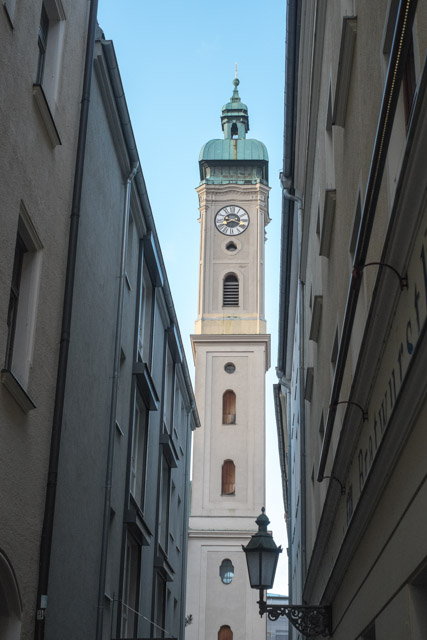 28_26
Graves in church wall: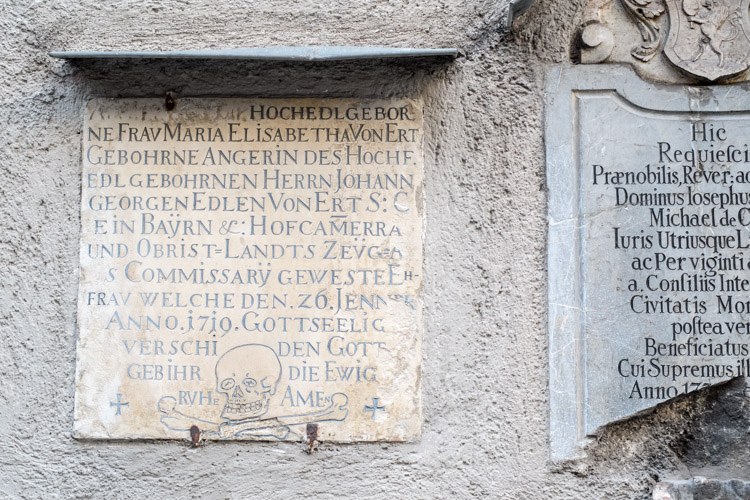 On Saturday we were invited to a birthday party near Benidorm. It was a pool party, with everyone bringing something. The main event, from the food point of view, was the fideua–a local dish similar in concept to paella, but using a special type of pasta instead of rice (see here for more information). The preparation of the dish was, as is usual with this sort of cooking, visually interesting.
28_27
Our Argentine friend Eliot brought an excellent homemade salmorejo, a type of gazpacho from Andalucía: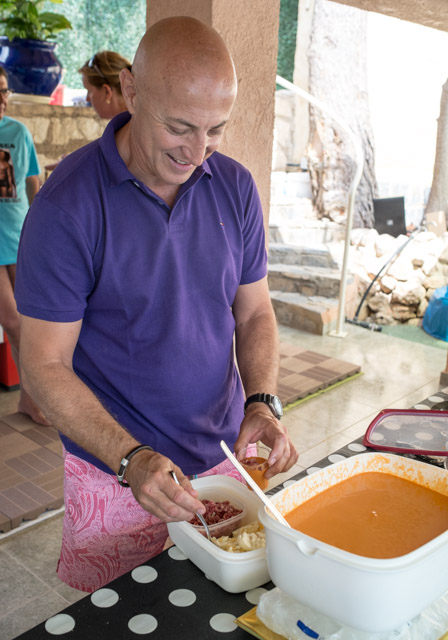 28_28
First step in the preparation of fideua–fry some crustaceans:

28_29
Adding some more seafood and sofrito: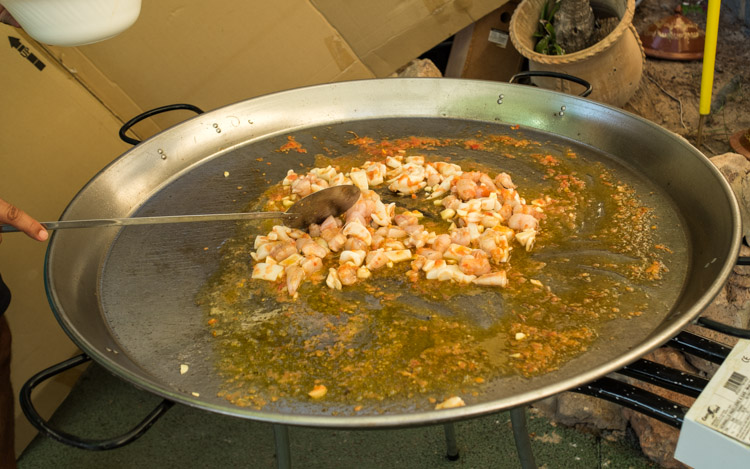 28_30
A critical step–the caldo, or fish broth, is added: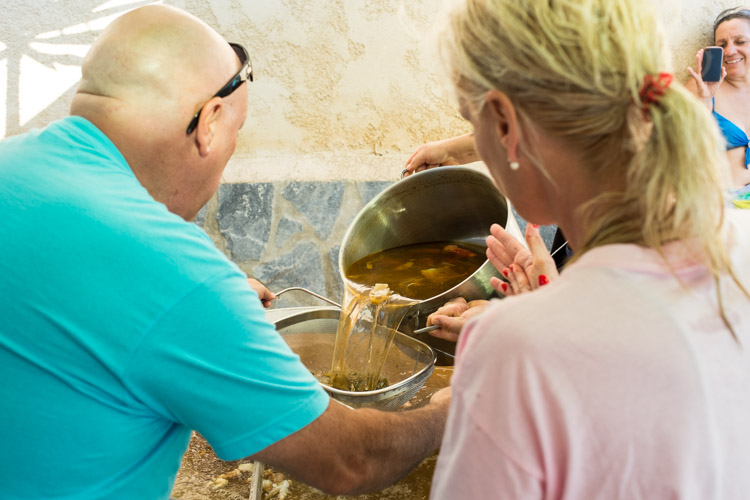 28_31
Stirring the caldo: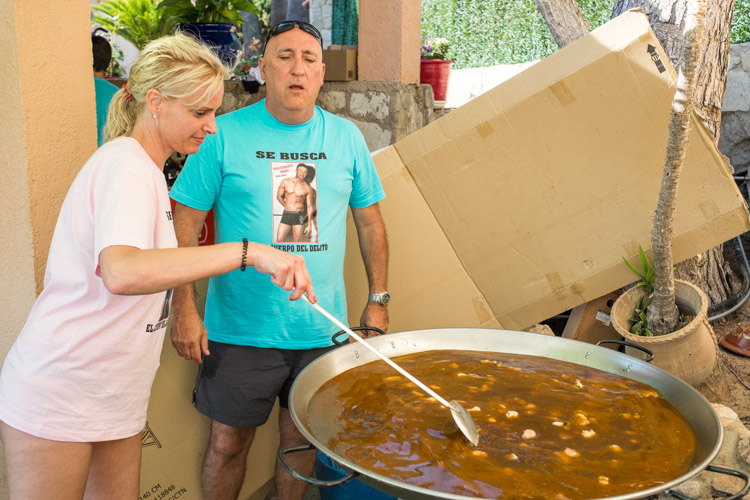 28_32
Once person stirs, the other one adds salt and other seasonings: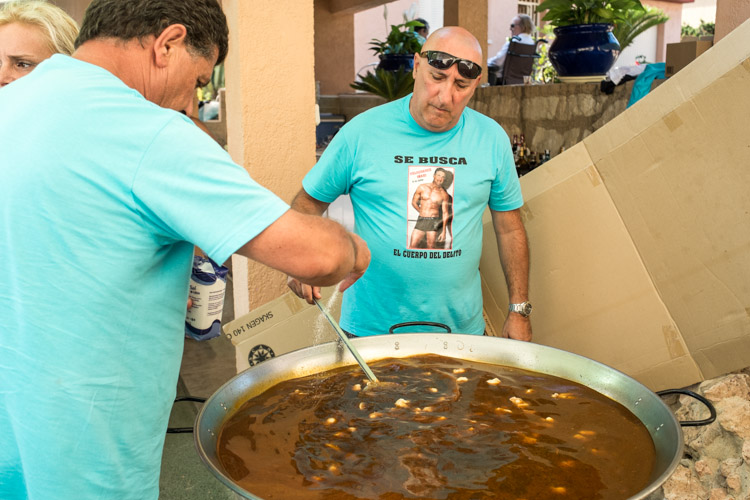 28_33
Serious business now. Does it have enough salt? Such a decision is too important for one person to take, so an ad-hoc committee is formed: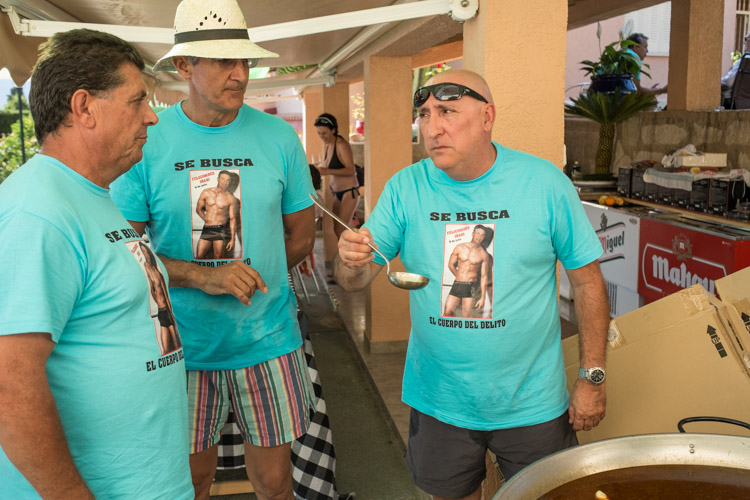 28_34
The last step involves adding the noodles and letting them simmer and soak in the caldo for a while. After than, the hungry can be served: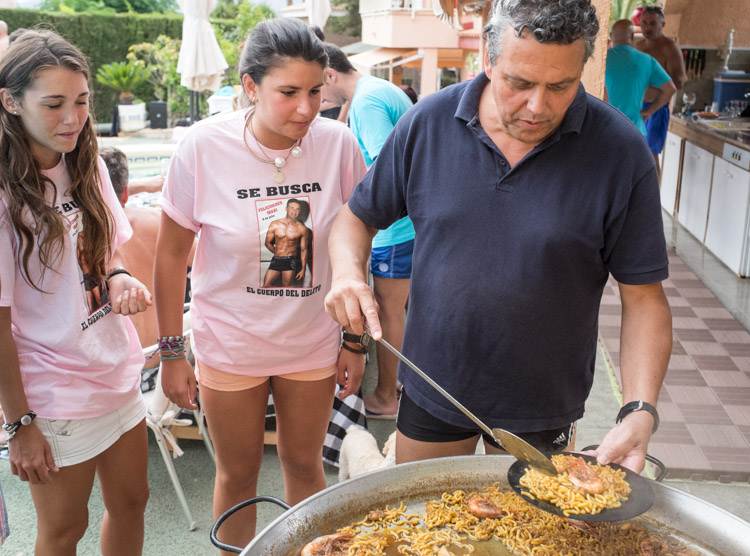 28_35
This is seriously good food: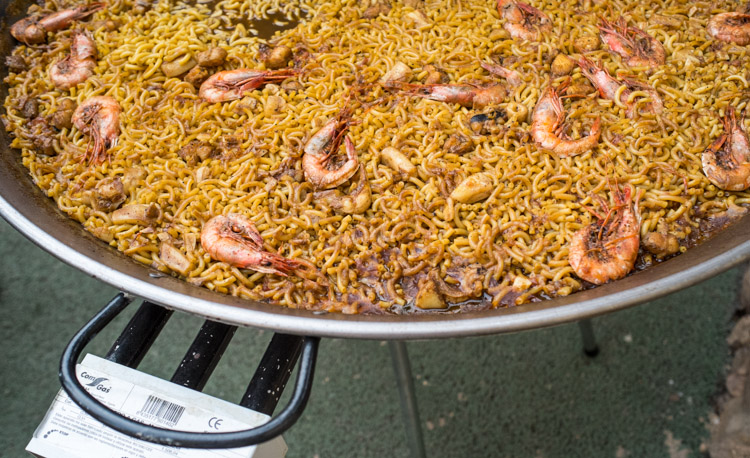 28_36
Sniffing around for scraps (he was successful elsewhere):