The highlight of week 6 was a business trip to Brussels Tuesday-Thursday. I knew that there would not be much time to take pictures, but since I have a camera around my neck even when I go to walk the dog, obviously I took my Domke bag with me.
6_1
But first a couple of pictures from Sunday's bike ride. Somewhat faded signs point to various restaurants on a beach south of Santa Pola. Actually, the restaurant at Hostal Maruja is one of my favourite places to eat, but they are closed for the winter: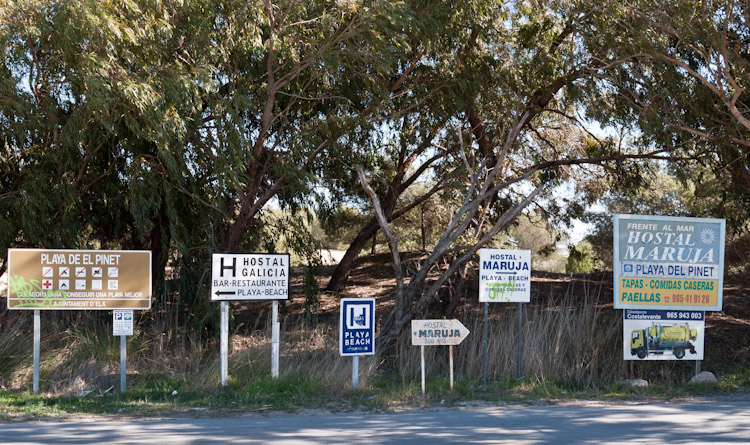 6_2
Exit from a club of dubious repute near Santa Pola: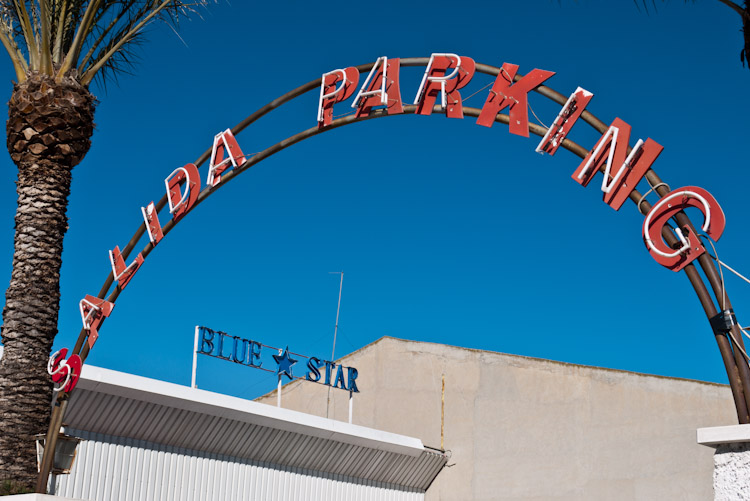 Then we move on to Brussels.
6_3
I went to Brussels with a couple of colleagues. We were going to host some meetings at our Brussels office, located near the EU Commission headquarters. So we stayed in a nearby hotel. Upon arriving, we dumped our stuff in our rooms and set out to look for a restaurant. This being a rainy Tuesday evening, the streets were rather deserted: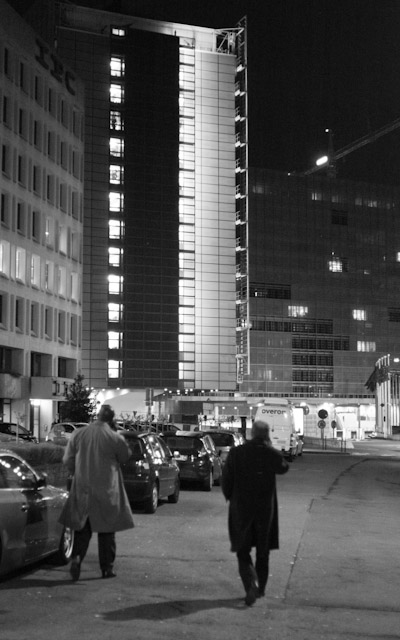 6_4
We ended up in an Italian restaurant, with the pizza chef doing his good work in full view: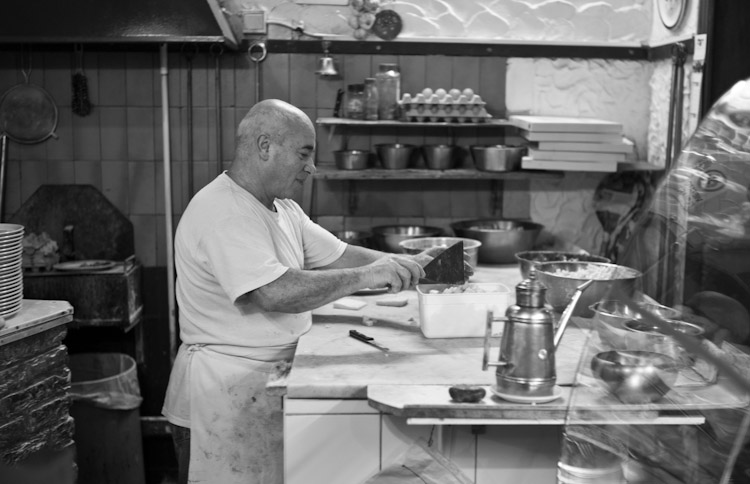 6_5
Boys and toys. The gentleman in the picture is a senior Intellectual Property lawyer at Daimler Benz, and also chairman of Business Europe, one of our major stakeholder organisations. He had driven up to Brussels from his home in Stuttgart in his new Mercedes. To me, a car is a car, just a device with 4 wheels to get around in, but some of my colleagues are "car guys" and they insisted on having a look at the new Merc in the parking garage: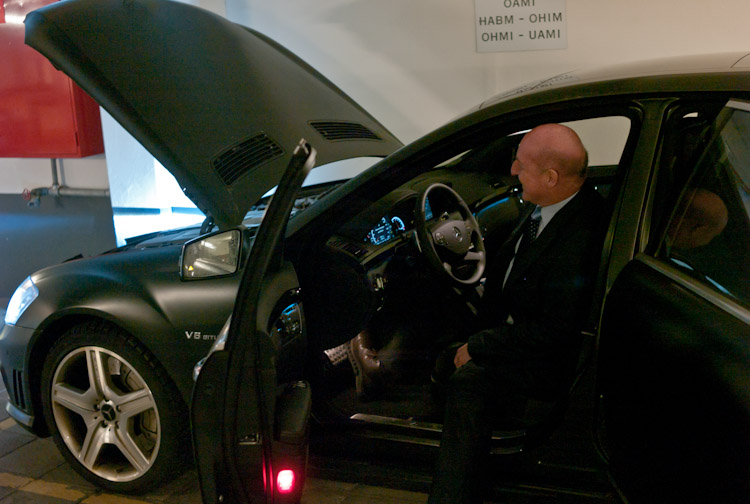 6_6
Patrice Pellegrino is our man in Brussels. Our agency is based in Alicante, but because we need to have someone based in Brussels to liaise with the Commission, Parliament and our stakeholder organisations (most of which are based in Brussels), we have an office there, manned by two staff members, and with good meeting facilities for up to 30 people. As the name implies, Patrice is of Italian origin, but born in Belgium: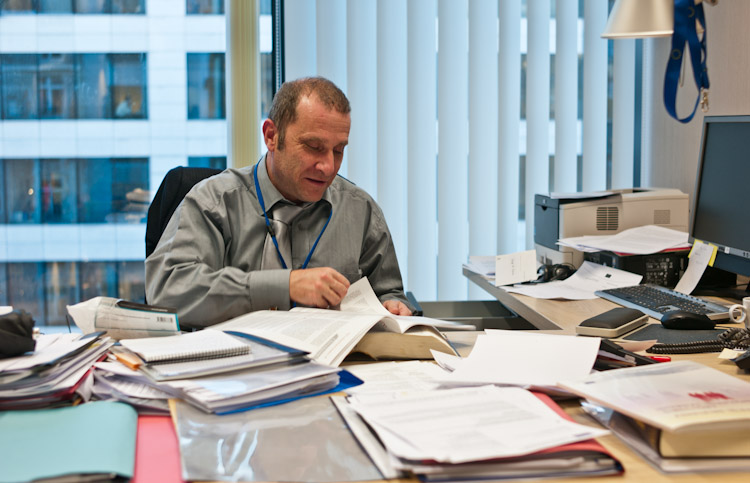 6_7
Patrice at dinner that evening, in another Italian restaurant, of course. Here he is, speaking Italian with the maitre d' while gesticulating vigorously: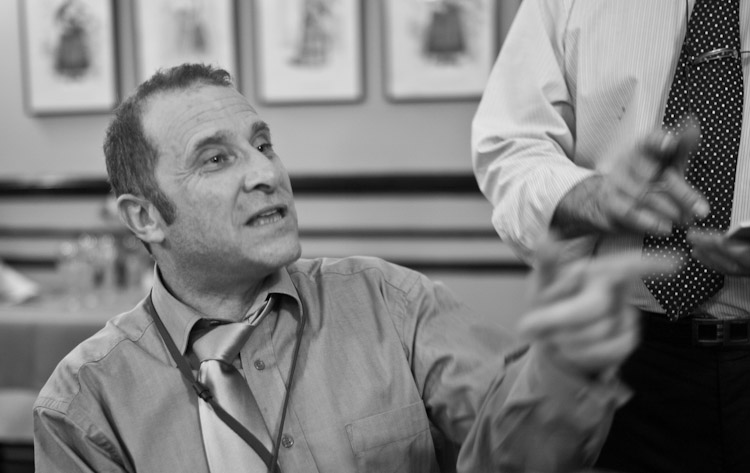 6_8
When I lived in a Brussels suburb from 1995 to 2000, I seldom went to the European Quarter, the part of town where most EU institutions are located. So now when I visit, everything is still a bit new to me. This is a typical street in the area, with old buildings dominated by some modern office building: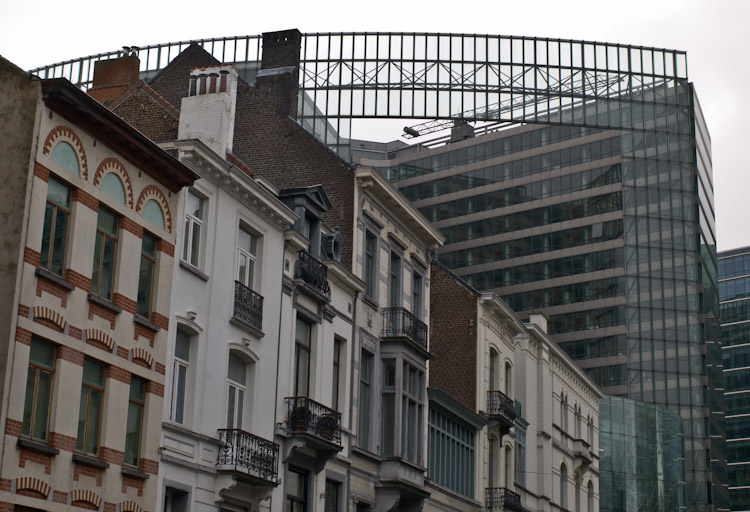 6_9
I finished my meetings around noon on Thursday and had a couple of hours to walk around. I chose to go to Ixelles, a neighbourhood I know well and find interesting. This picture I took for my daughter; the sticker says "there is no such thing as animal-friendly meat":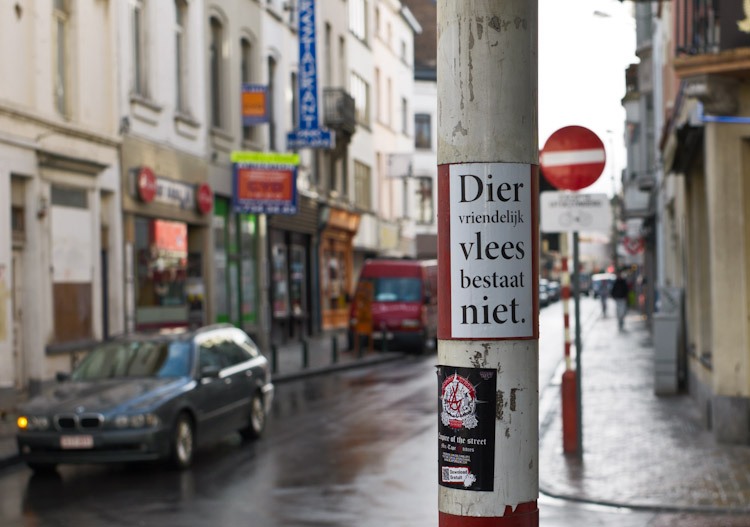 6_10
Campion Photo is a Brussels landmark. It is one of 3-4 Leica dealers in the city, and there is also a very well-stocked second-hand shop. I used to buy film and other supplies there when I lived in Brussels, and like these two men, I spent many hours peeking through the window of the second-hand shop: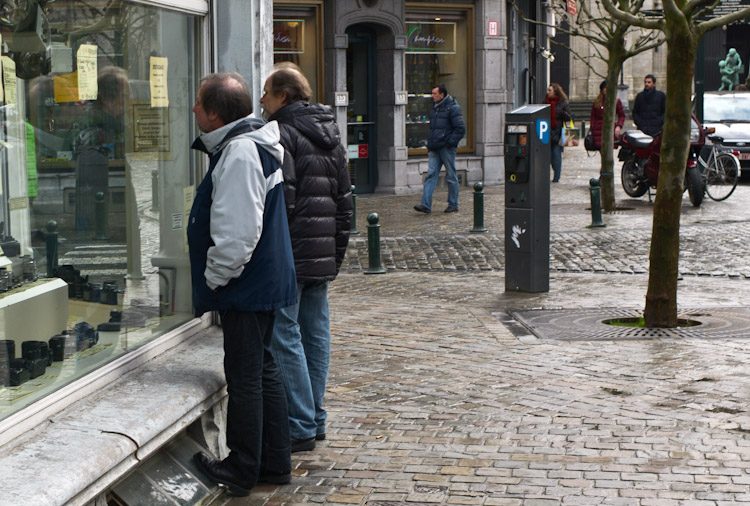 Then back home.
6_11
When I lived in the US, I always found the idea of "Christmas in July" utterly absurd. Well, here in Alicante, we have something equally absurd, Oktoberfest in March (I have no intention of going and supporting this abomination):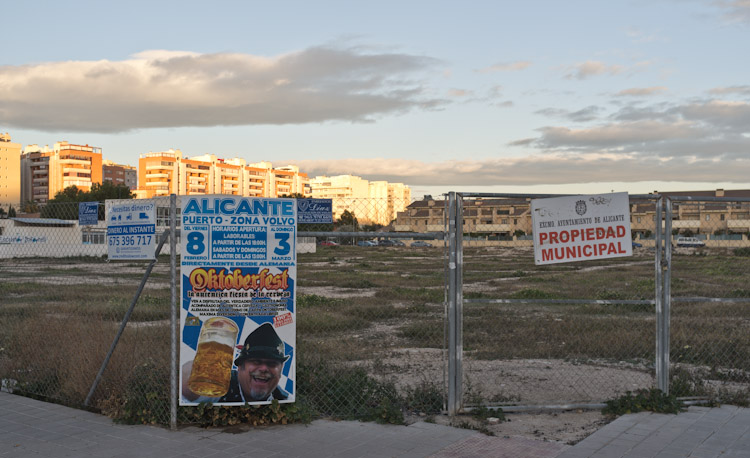 6_12
On Saturday, I went to the Mercado Central to buy a leg of lamb and some veggies to roast with it. Carnival has started, and the square behind the market was full of people drinking and having a good time in the local tapas bars. But I liked this pooch, dressed for winter even though he has fur and the temperature was around 15C–cold for Alicante, I guess: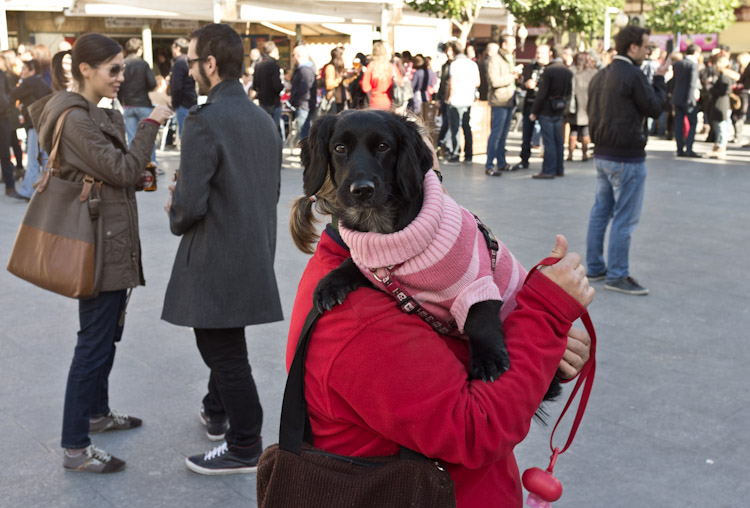 6_13
There were lots of people in various disguises around. At least I hope that this woman's breasts are not real:

6_14
Señoritas making music: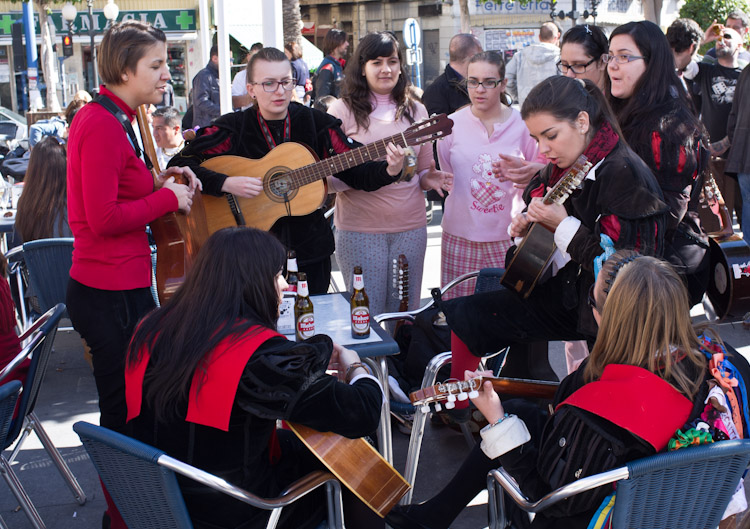 6_15
Señoritas making music, and a local bum (they usually hang out on this square) tries to make conversation: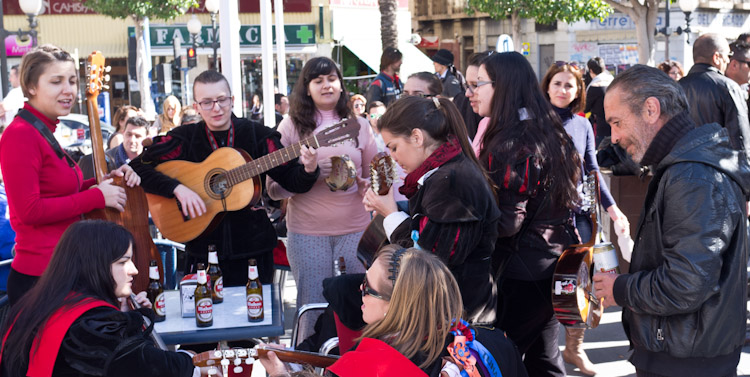 Then I went into the Mercado to do my shopping, but of course also to take some snaps.
6_16
This fishmonger had some interesting-looking fish, apparently not common here because people stopped to ask what they were: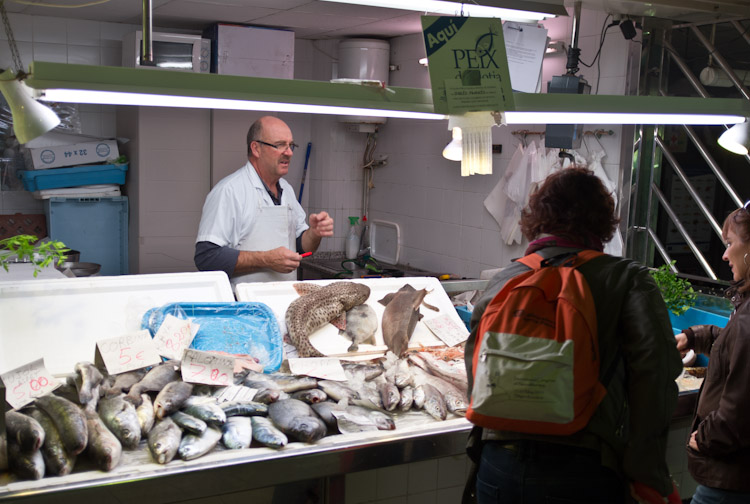 6_17
One of my favourite fruit and vegetable stands: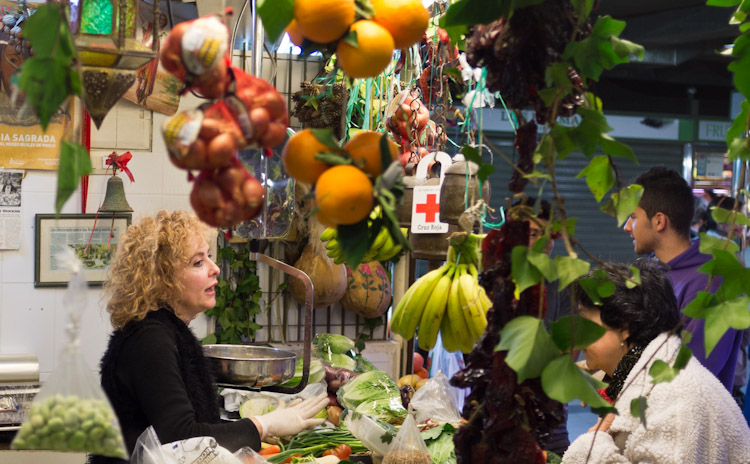 6_18
A baker, serving some funny-looking customers: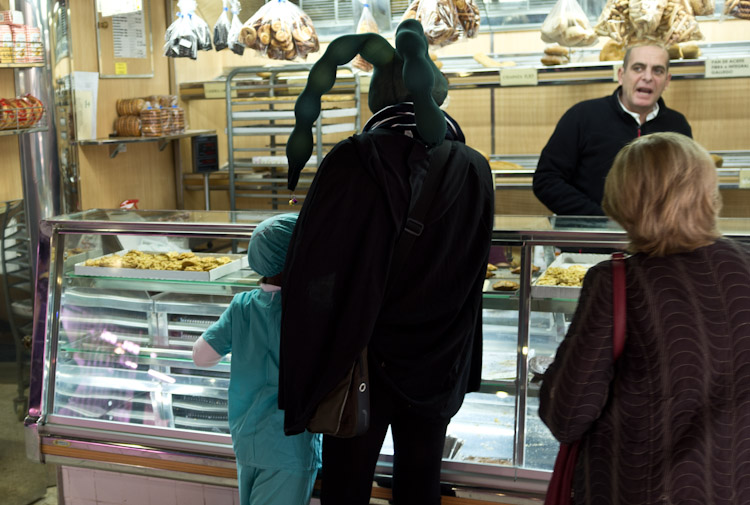 More pictures from Brussels can be found here.