This week was my daughter's last week of freedom. On Tuesday 2 September school starts again. So we spent some extra time with her, going to the beach together and such. Most of the pictures are from those outings. But first three are from near our new house.
Main
I like graffiti when it is (a) funny or creative and (b) not sprayed onto a beautiful building. The graffiti in this image fulfills both conditions. It is written on an ugly concrete wall which guards an empty lot, and it is funny. The wall is always plastered with various posters. Recently, someone wrote "Prohibido fijar carteles", a sign one sees on many walls in Spain, meaning that it is forbidden to stick up posters: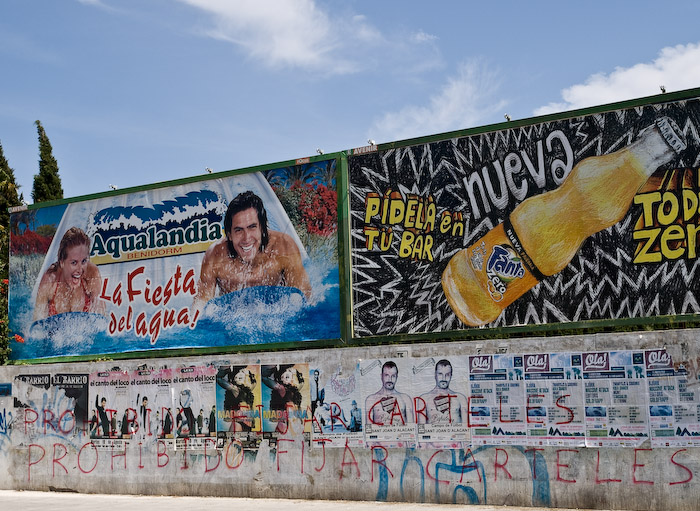 The alternates:
Alternate 1
The Spanish construction industry is in deep crisis, with many projects simply abandoned because of lack of buyers and/or financing. Across the street from our house, a new, large house is progressing, and sometimes I watch the construction workers when I drink my morning coffee. Note the complete absence of helmets and other safety equipment. Those things are required, and at the entrance to the construction site there is a big sign listing them all (hard hats, gloves, boots etc.). It's just that adherence to rules is somewhat optional in this country: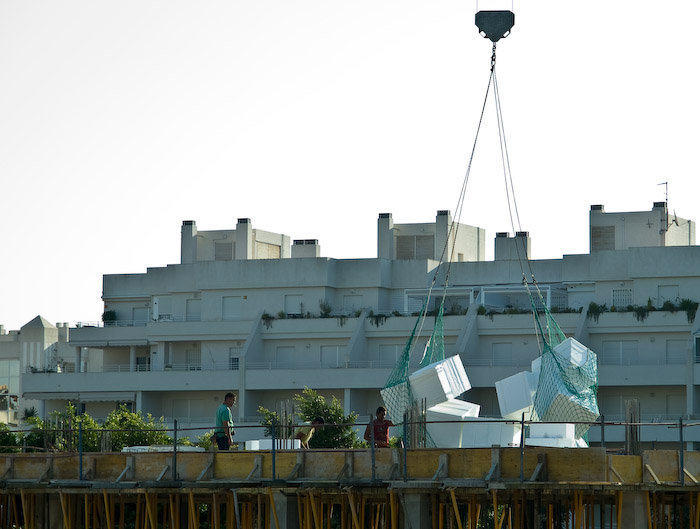 Alternate 2
A large empty plot nearby serves as the local dog toilet, but is also traversed by joggers. I took this picture while walking my dog. If I were to give it a title, it would be something like "Runner in the desert":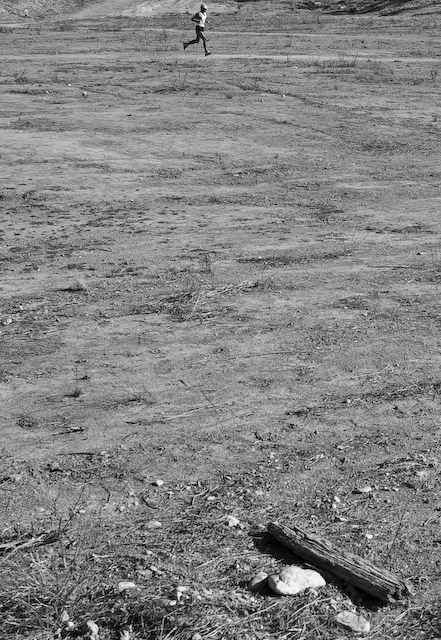 And now to the beach pictures. They come from two separate outings, the first on Wednesday afternoon/evening, and the second on Friday morning. We have our choice of beaches here. On Wednesday we went to Playa Muchavista, close to our previous house, which has the great advantage of containing our beach bar which I have shown a lot during the preceding weeks. On Friday we went to Playa San Juan, closer to the city and to our current residence.
Alternate 3
My wife's diamond-studded sandals (ha!):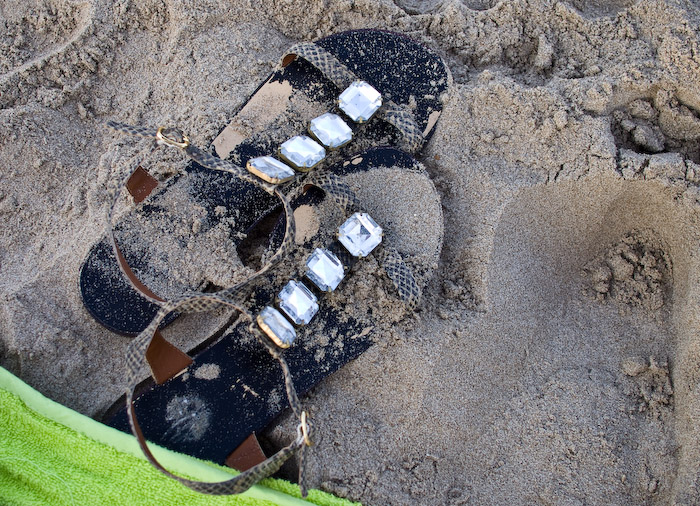 Alternate 4
It is not all pretty young things: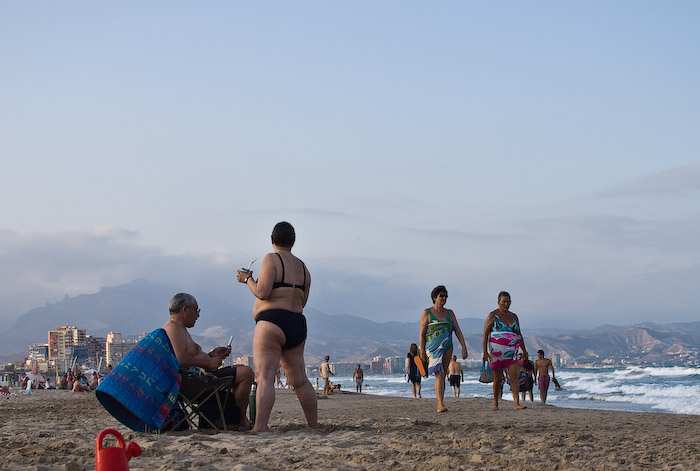 Alternate 5
Just like in the centre of Alicante, the vendors and braiders are all over the suburban beaches as well: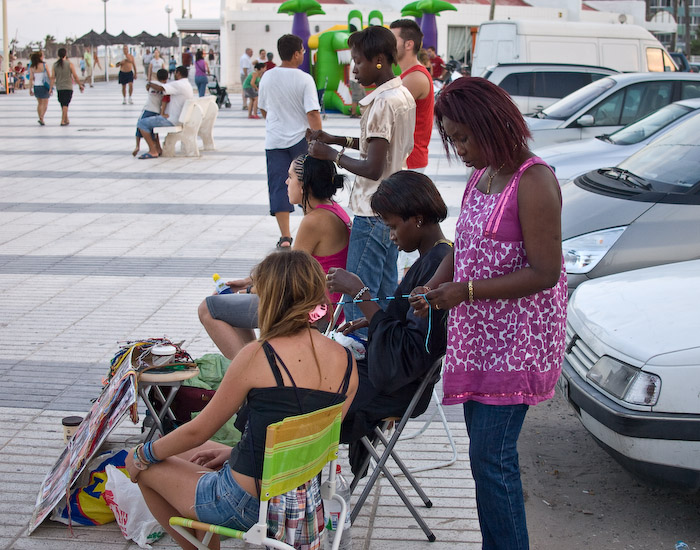 Alternate 6
On the beach promenade, booths are set up, selling various things. Business was slow that evening, so the woman running this booth had time to chat with a passer-by: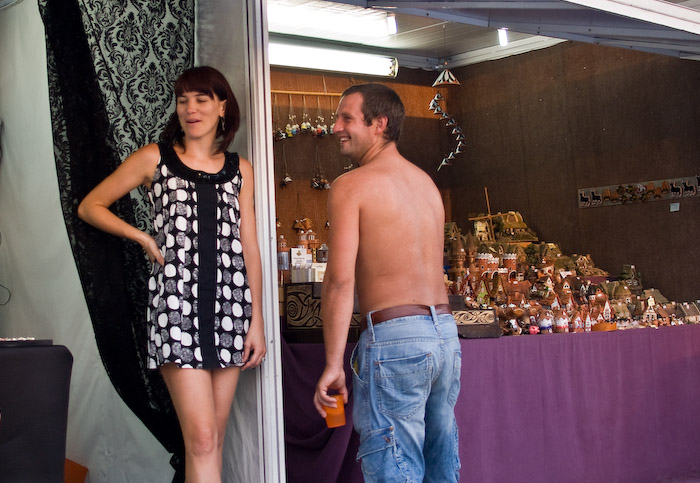 Alternate 7
And of course, no visit to Muchavista can be complete without a drink at the beach bar (which, sadly, will close for the season in mid-September):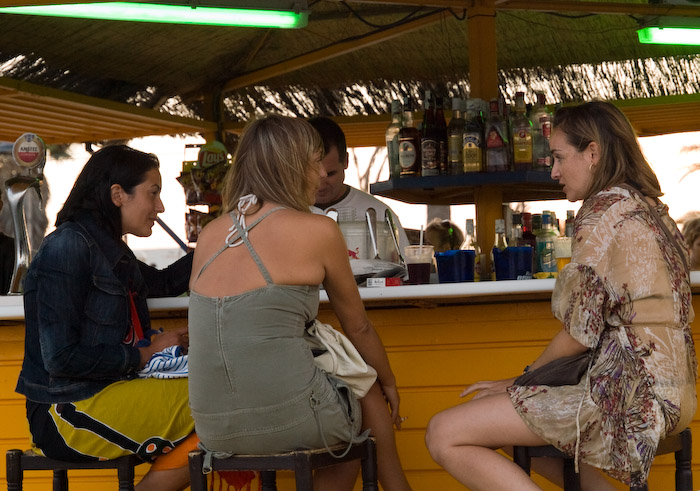 The remaining pictures are from Playa San Juan on Friday morning.
Alternate 8
For 3 Euro you rent a beach chair and umbrella all day, and then you can spend your time enjoying the views from a horizontal position: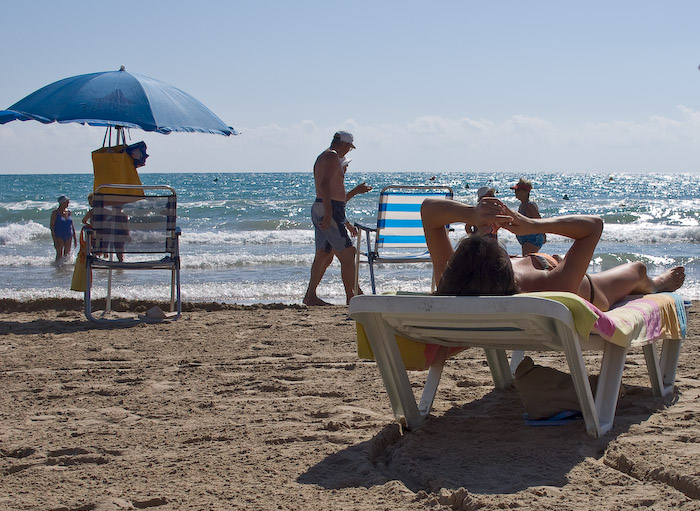 Alternate 9
My daughter reading. This picture is a first for me. I normally hate flash and never use it. But here, it turned out that flipping out the on-camera flash and using it in 1/4 or 1/16 power mode was useful in the bright sunshine: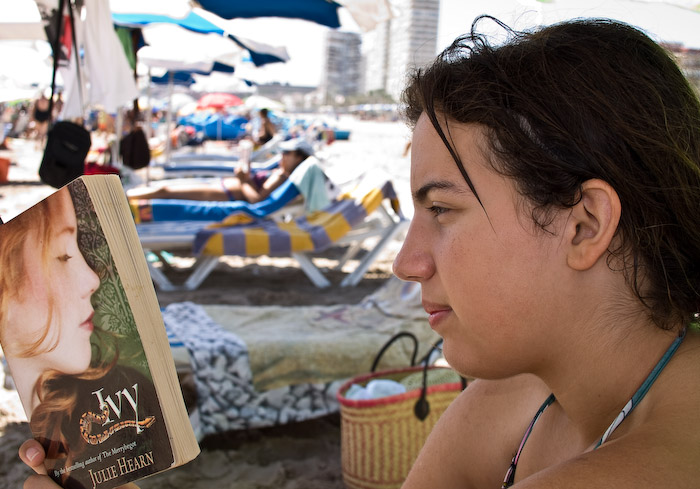 Alternate 10
The African vendors were here too. It must be hard to walk up and down the beach hawking their stuff, but this is presumably a much better life than what they had back home–otherwise they would not risk their lives on rickety boats trying to reach the Canary Islands. And the do sell enough of this cheap Chinese stuff to make a living: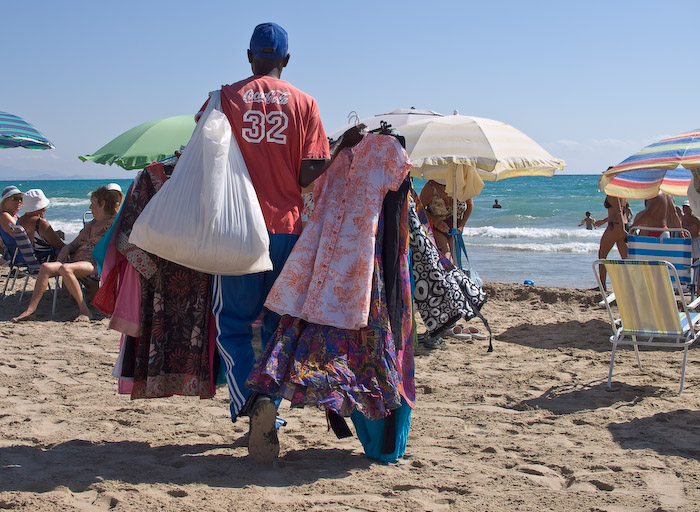 Alternate 11
These guys are selling a more immediately useful item on the day, sunglasses: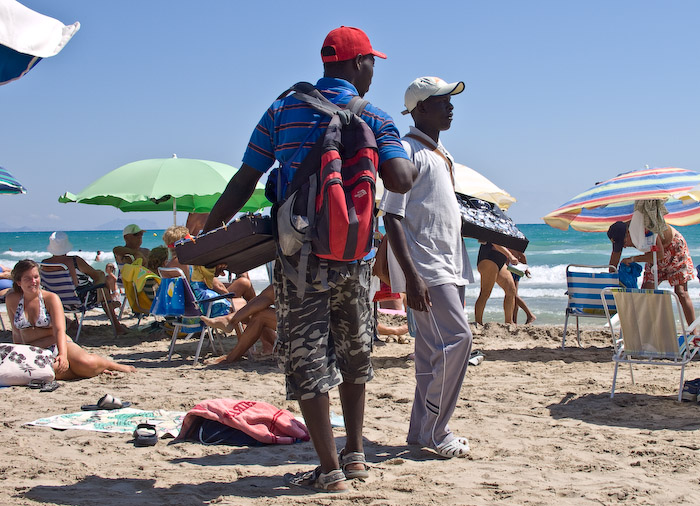 Alternate 12
Just before we left for lunch, a game of football began: