One of our main stakeholders, the European Community Trademark Association (ECTA) had its annual meeting in Copenhagen on June 14th-17th, and I was part of the delegation of our office. An employer-paid trip to Denmark is always a good thing. Of course I did my work there, but I also enjoyed my free time in Copenhagen and stayed for the weekend to visit my hometown Aarhus.
24_1
Since I knew that I was not going to be able to ride my bike for the better part of the week, I decided to make the weekend count. So I did one of my big rides, to the top of the Carrasqueta mountain pass: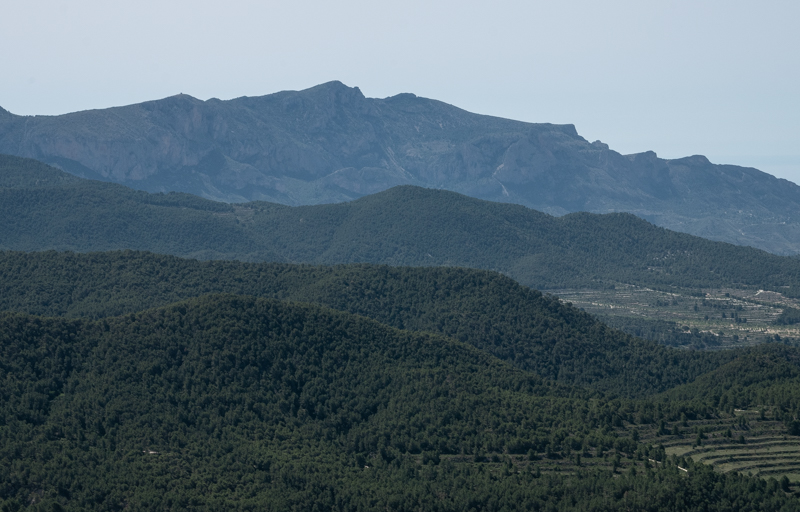 24_2
As always when cycling to the Carrasqueta, I stopped for a refreshment at the roadside bar, Venta Teresa, 6 km from the top. I photographed their "weather station":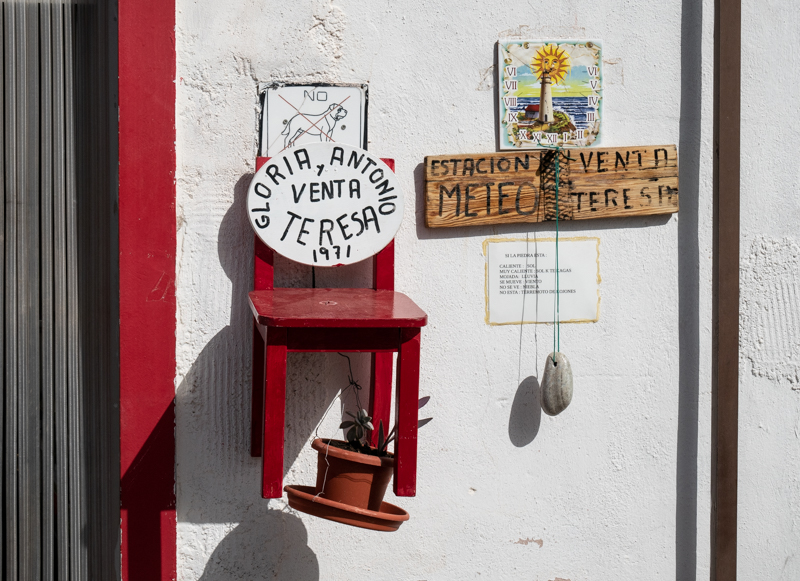 24_3
Translation: "If the stone is hot–sunshine; if it is very hot–sunshine to make you shit; wet–it's raining; moving around–it's windy; you cannot see it–it's foggy; it's gone–fucking earthquake":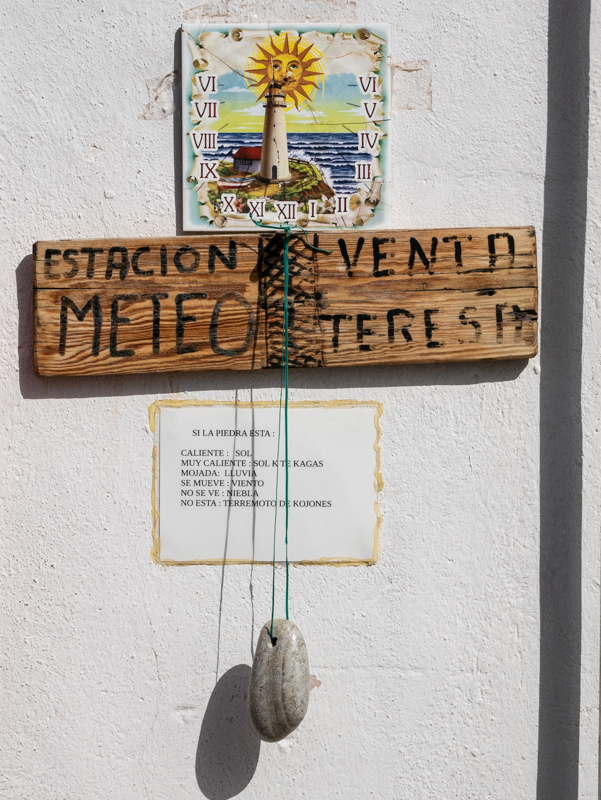 24_4
Then the owner came out to greet me (he knows me well from my periodic visits):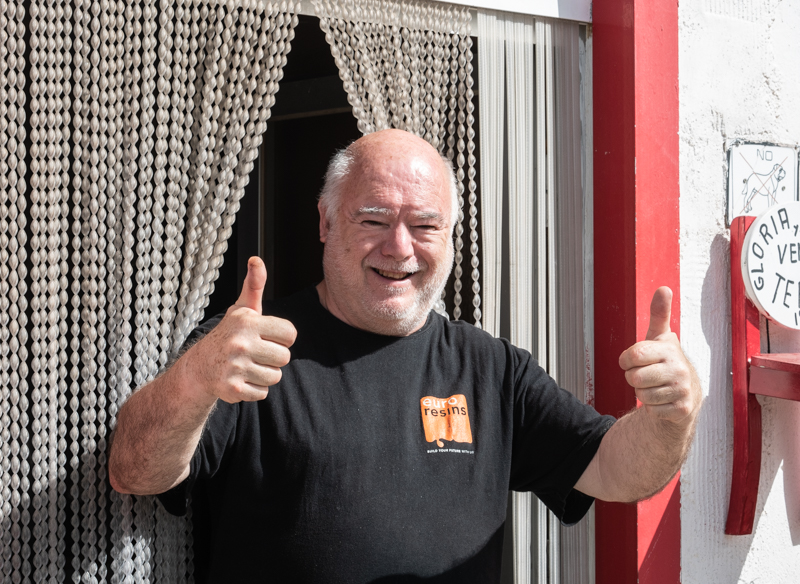 24_5
The road to Carrasqueta is popular among motorcyclists, and some of them overcook the many turns, with sad results: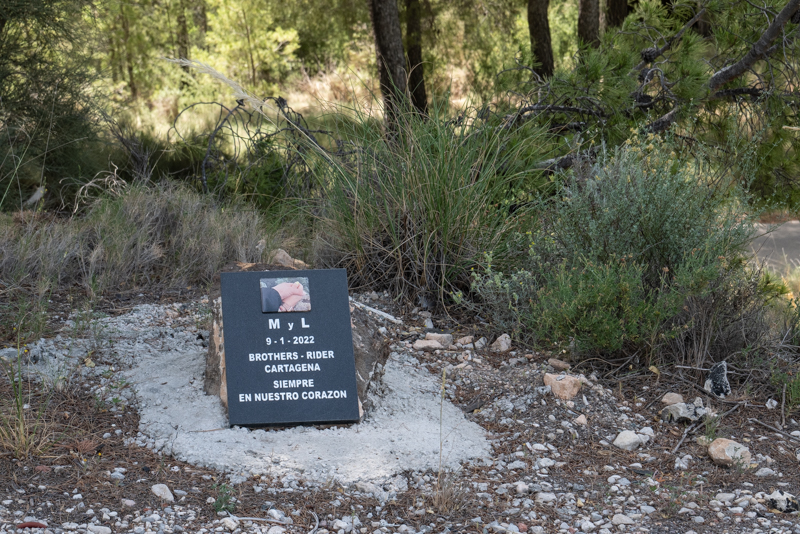 24_6
In the office, our art club WeArt held an auction of works by its members to raise money for humanitarian aid to Ukraine. Eri asked me to photograph her contribution, and as always with her, I happily obliged:

24_7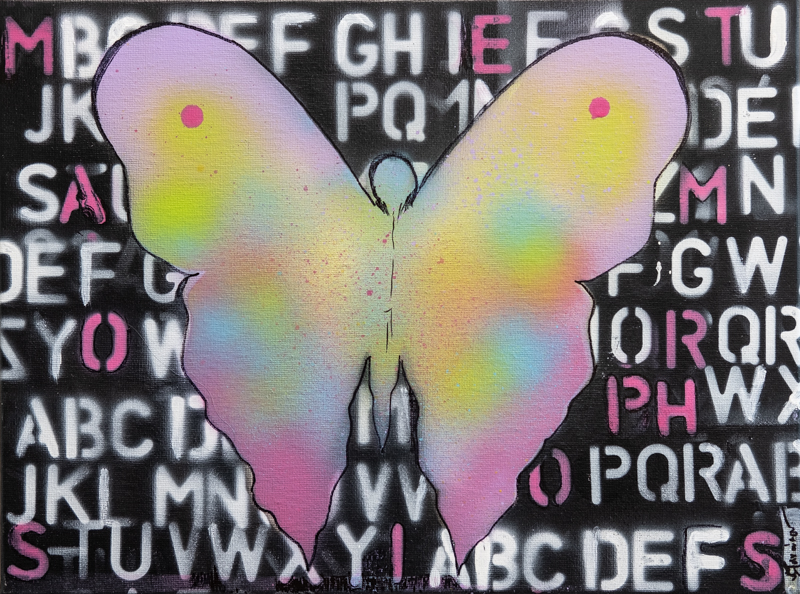 On Tuesday morning I flew to Copenhagen on an obscenely early flight–but the advantage was that I arrived at my hotel around 11 a.m. and had the rest of day free.
24_8
As always when I come to Copenhagen, the first activity is to visit my parents' graves. I always go to my mother's first: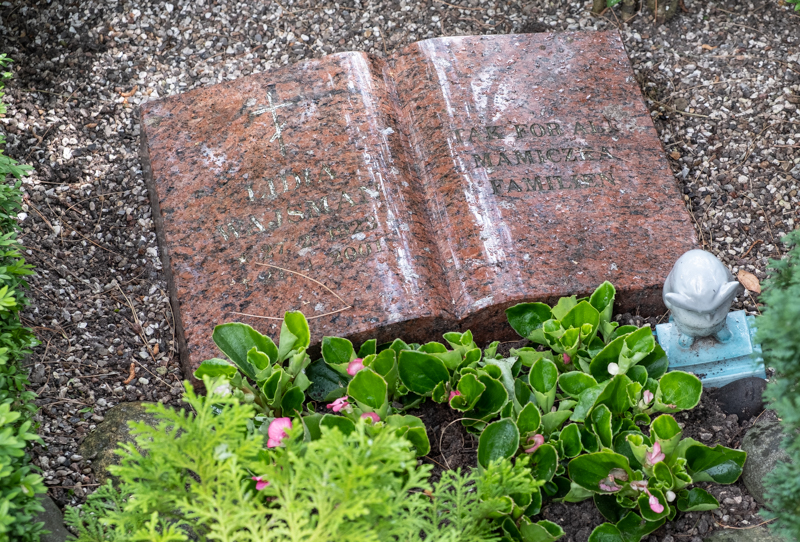 24_9
I take one of the little stones from my mother's grave, and then I go to the adjacent Jewish cemetery and put it on my father's grave there: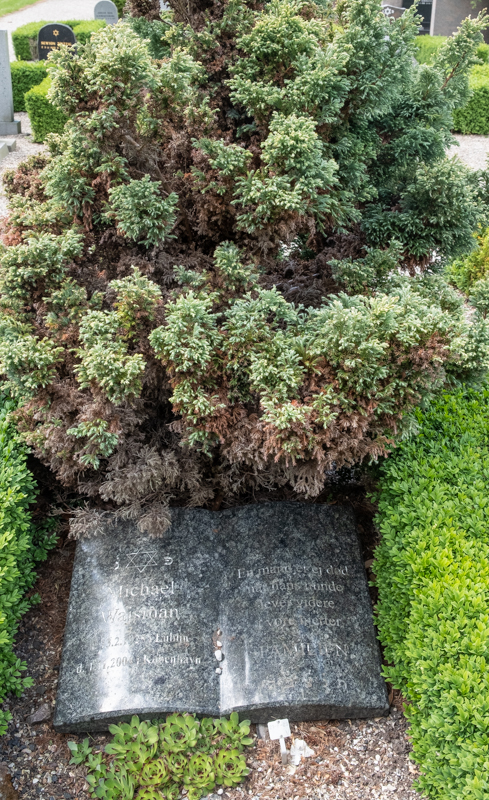 24_10
Afterwards, I made my way back to the centre (just 3 stops on a commuter train). I got off at Nørreport station, a very busy commuter train and metro station. I am always impressed by the organised chaos that is the bicycle parking outside the station: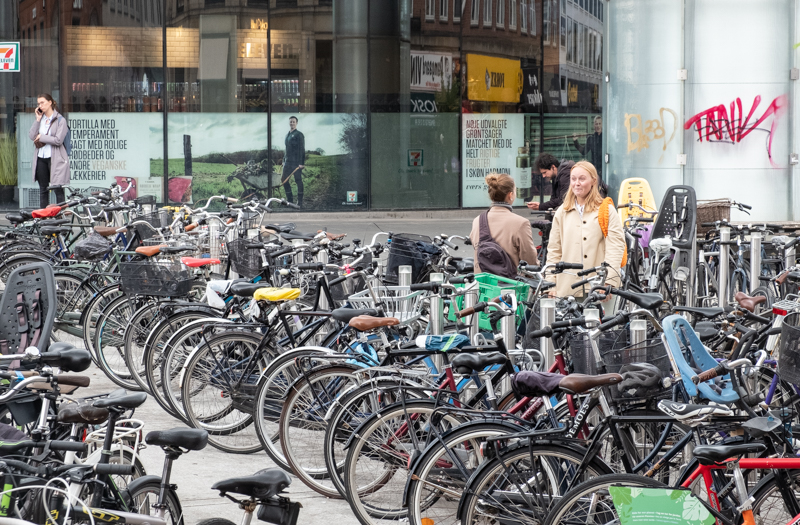 24_11
I had lunch at Ankara, a Turkish restaurant where I used to eat with my father, and then made another kind of pilgrimage, to a northern suburb called Vangede, the origin of beloved Copenhagen writer Dan Turèll, who sadly died at just 47 in 1993. He was the true bard of our city, and in 2011 a fitting memorial to him, called "Letters", was erected in Vangede: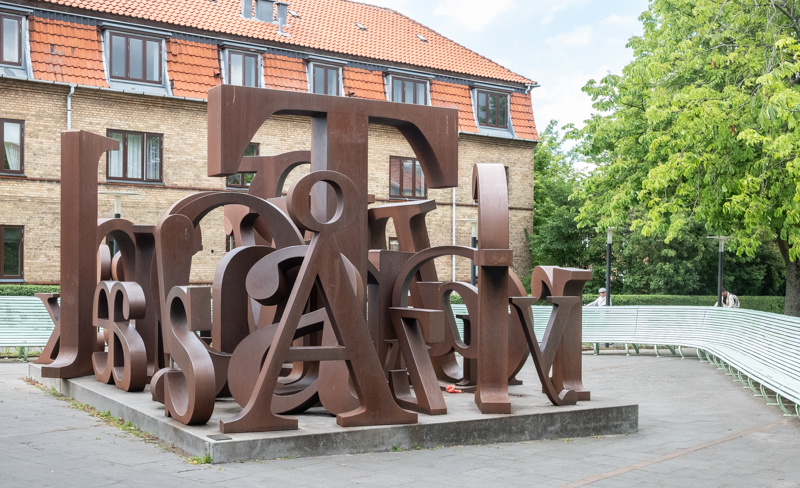 24_12
In late afternoon, I was back in the centre, and met up with my friend Beata in Nyhavn to have a beer and a bite: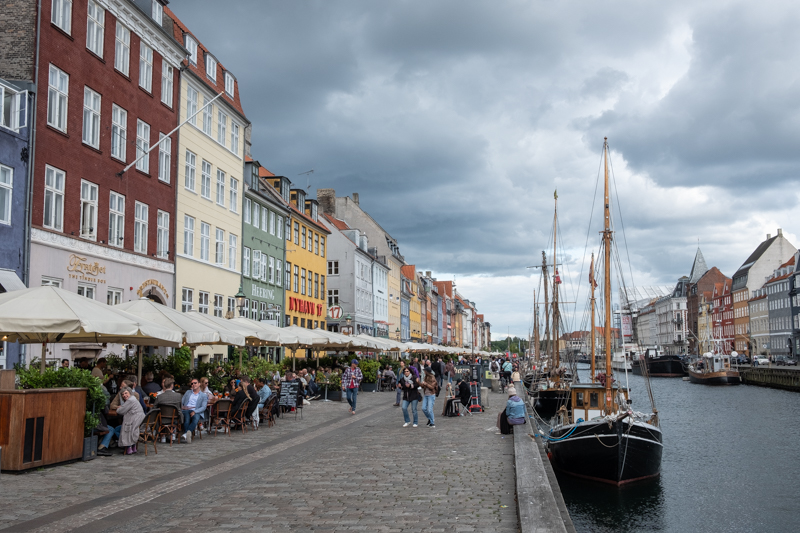 24_13
Even though we Scandinavians tend to be introverts, Nyhavn and sunshine changes things a bit (and Beata and I are not really native Scandinavians, despite my 25% Finnish blood). We got into a conversation with a young Colombian couple living in London who were on a city break in Copenhagen; we talked to them for more than 1/2 hour: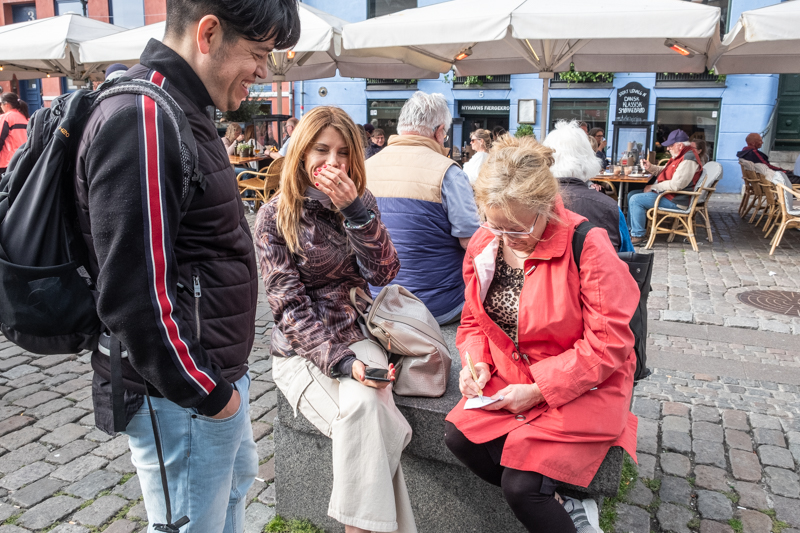 24_14
Wednesday was the first day of the conference I was attending, but the only activity was a dinner in the evening, so I had another day off, basically. I started with a walk in the city. This is the HQ of Denmark's biggest bank, decorated in yellow because the Tour de France was starting in Denmark on July 1st: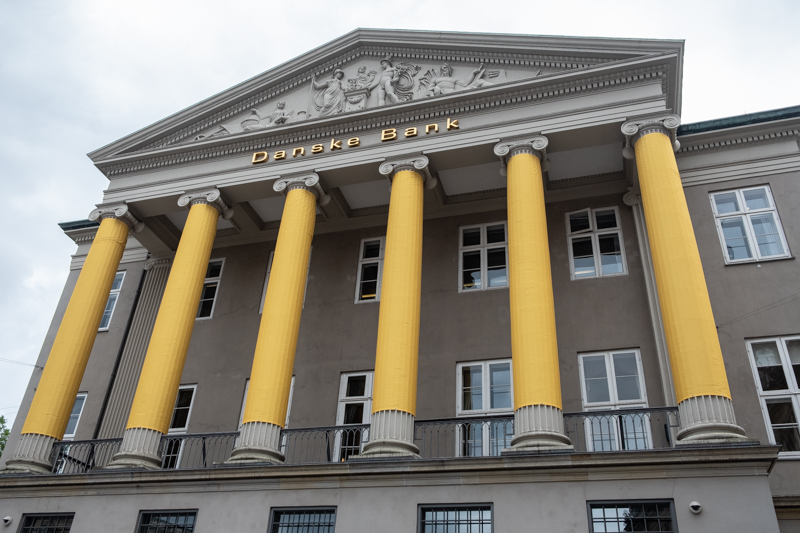 24_15
The upcoming Grand Départ was everywhere: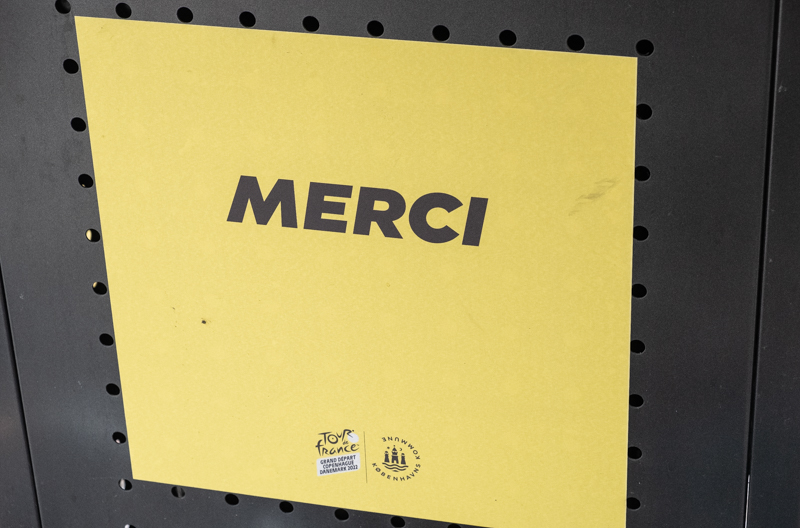 24_16
Outside the Royal Theatre, a writer and a reader (the writer is Ludvig Holberg, a Danish 17th playwright):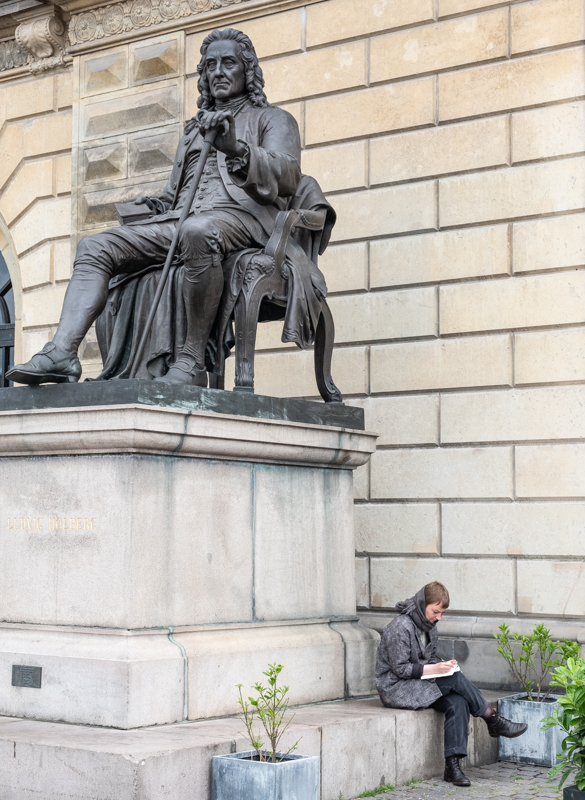 24_17
After my early walk, I took the train to Humlebæk to visit the Louisiana Museum of Modern Art, one of the world's best modern art galleries, located right on the shore of the strait separating Denmark and Sweden, Øresund: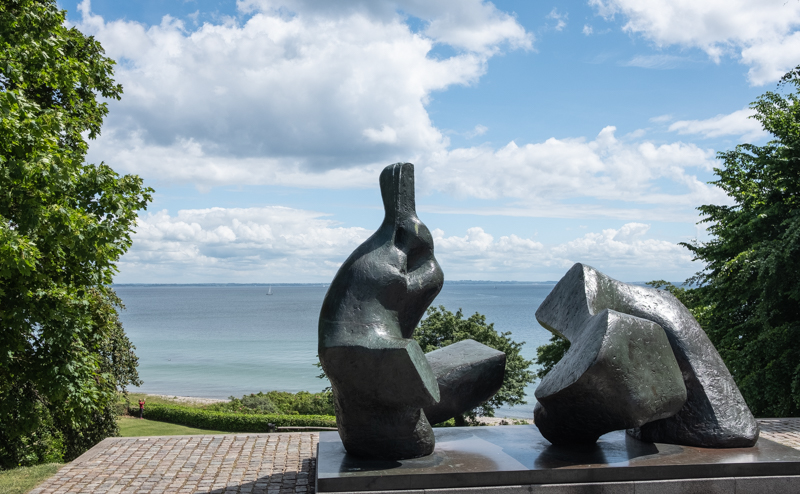 24_18
Down on the beach below Louisiana: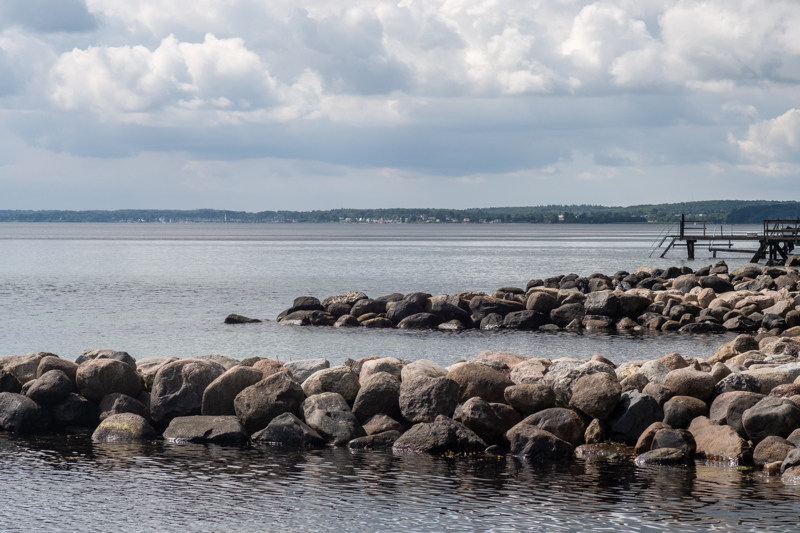 24_19
Inside the gallery, a man looks at a painting of computer scientist Alan Turing (who committed suicide eating a cyanide-laced apple), part of an exhibition of new acquisitions: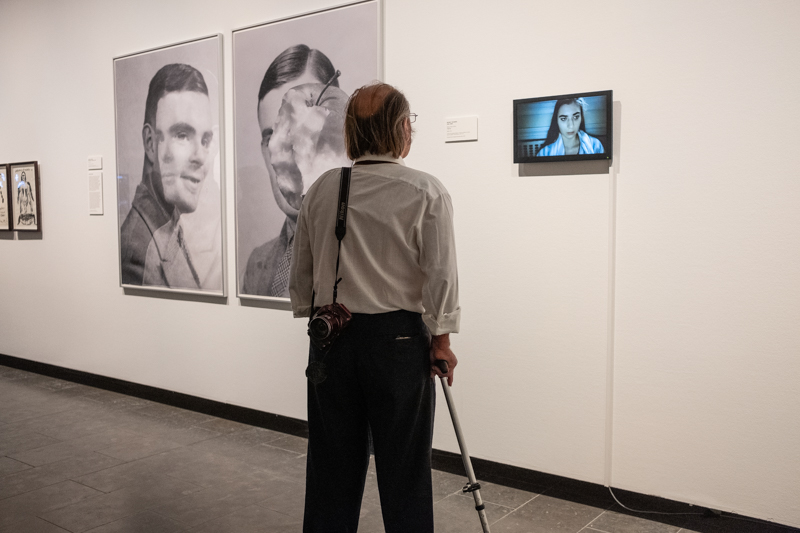 24_20
Another major exhibition was of works by US artist Dorothy Iannone: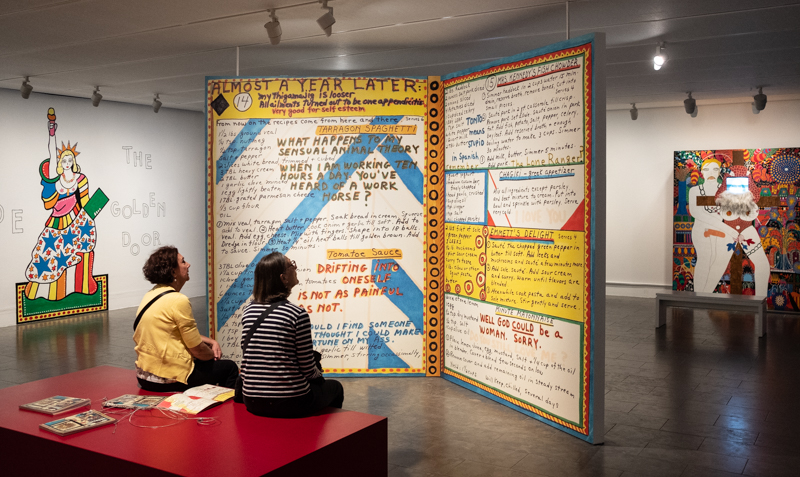 24_21
In the sculpture garden, these boys insisted on posing for me: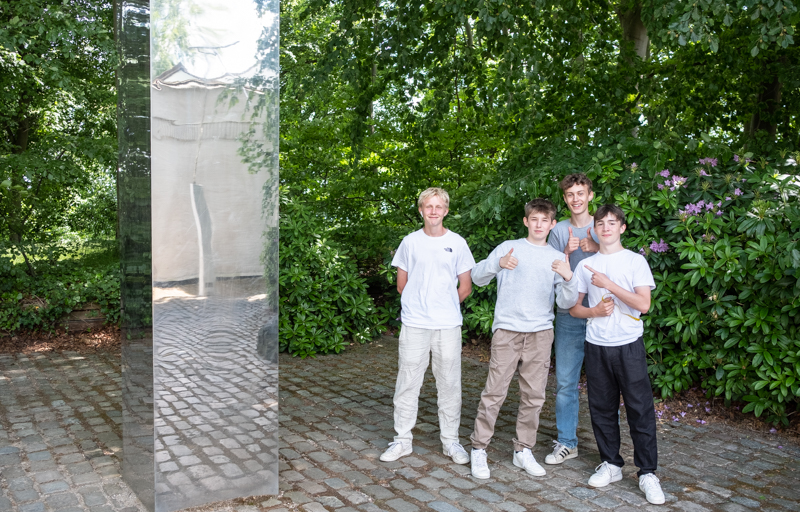 24_22
Back in Copenhagen, I had lunch and then stopped by Pumpehuset (literally: pump house). The building started out as a pumping station for Copenhagen's water supply in the 19th century, but today it is a place with bars and music, somewhat similar to a Budapest ruin bar. A band was rehearsing for a concert later in the evening. I listened to them over a beer, they were actually quite good: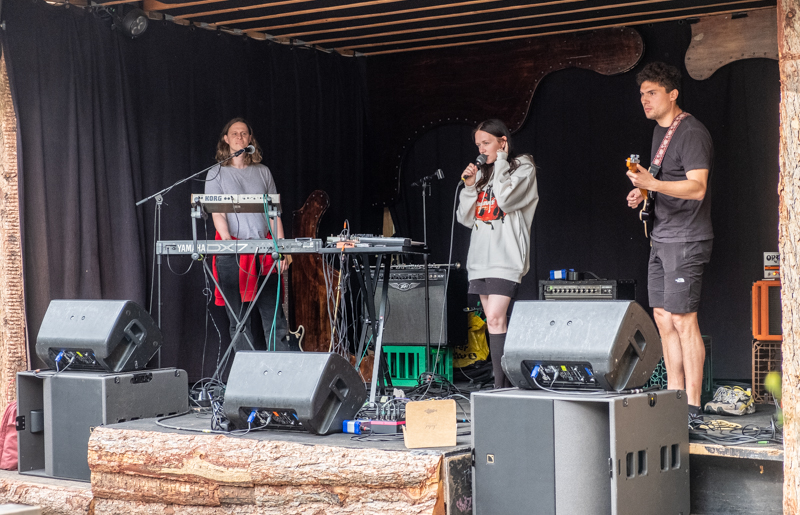 24_23
Afterwards, I made my way to Kongens Nytorv to see some more art. This time I went to Kunsthal Charlottenborg, an 18th century mansion that serves as the headquarters of Denmark's Royal Academy of Art: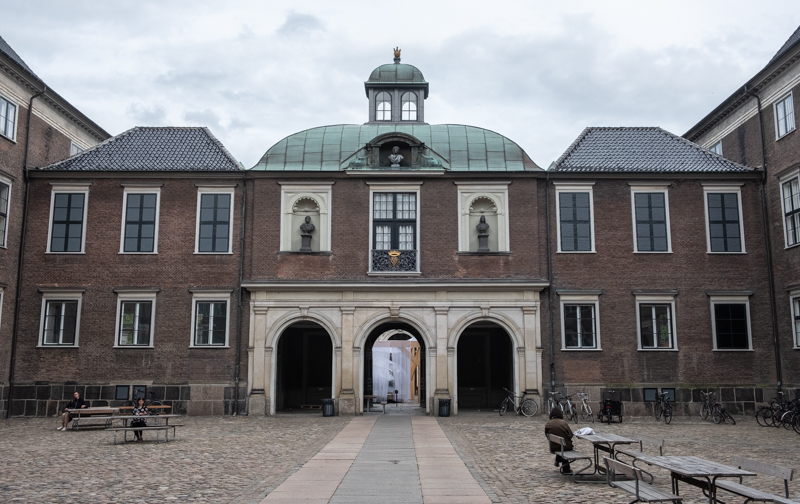 24_24
The exhibitions inside Charlottenborg were very far from traditional "fine art". The main exhibition was by Danish artist Jeannette Ehlers, whose work revolves around Afro-Caribbean themes (she was on the shortlist for the Windrush monument in London's Waterloo Station). This particular work is called "Until the Lion" and refers to an African proverb that Ehlers found tagged on the wall of a Danish colonial-era fort in Ghana, "Until the lions have their historian, the hunter will always be the hero":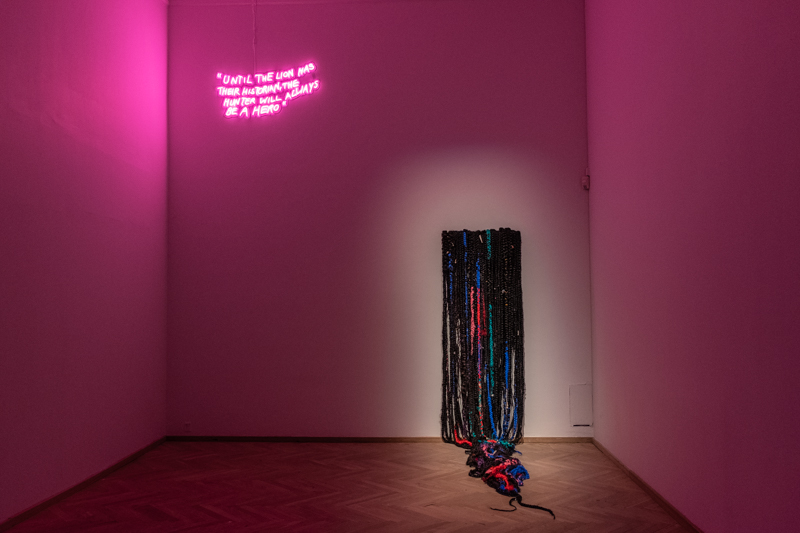 24_25
Another work by Ehlers, "Gle", an Ivorian mask used in rituals, which Ehlers bought during a trip to Puerto Rico earlier this year: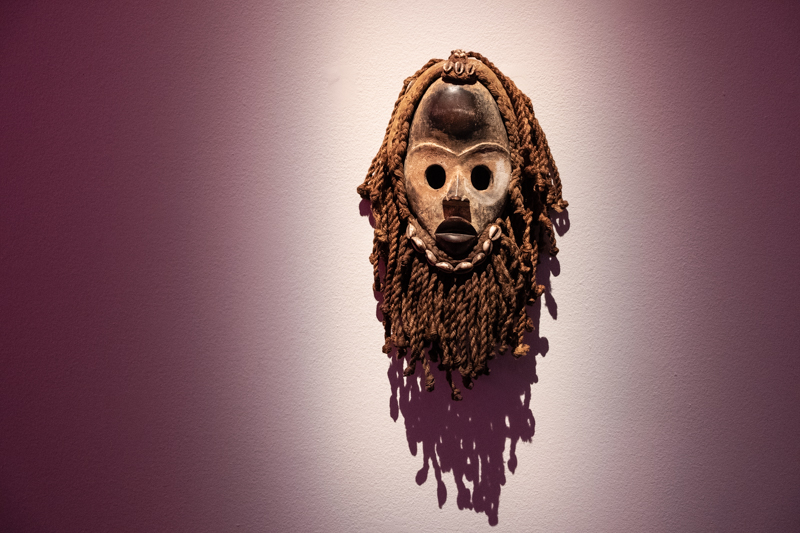 24_26
"Because of the Spirits" from 2015 is a really strange piece. The description in the exhibition catalogue reads as follows: "On the floor is a roll of brown wrapping paper covered in a meticulously handwritten text which sees Ehlers repeat a fictional interview between rappers Tupac Shakur and Kendrick Lamar from Lamar's song Mortal Man from 2015″: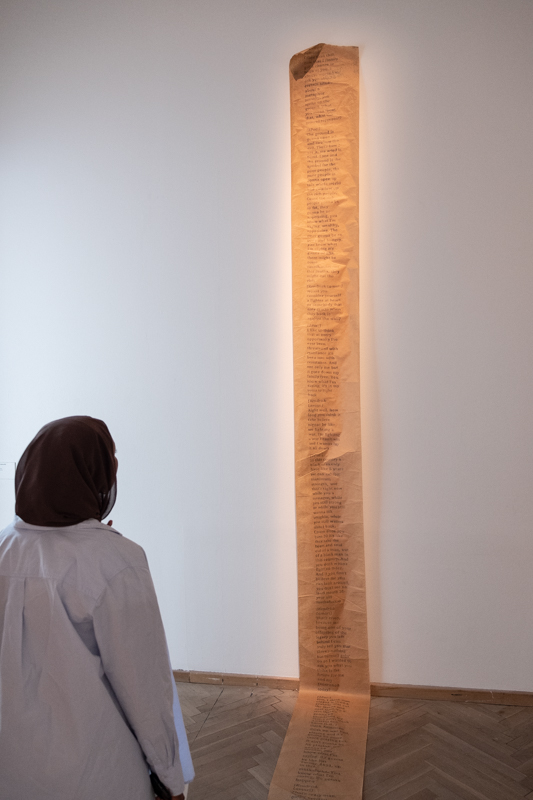 24_27
"Because of the Spirits", a closer view:

24_28
Jumbie Tree, The Flesh of Skin, an installation of stilts originating from Trinidad where they are used during carnival: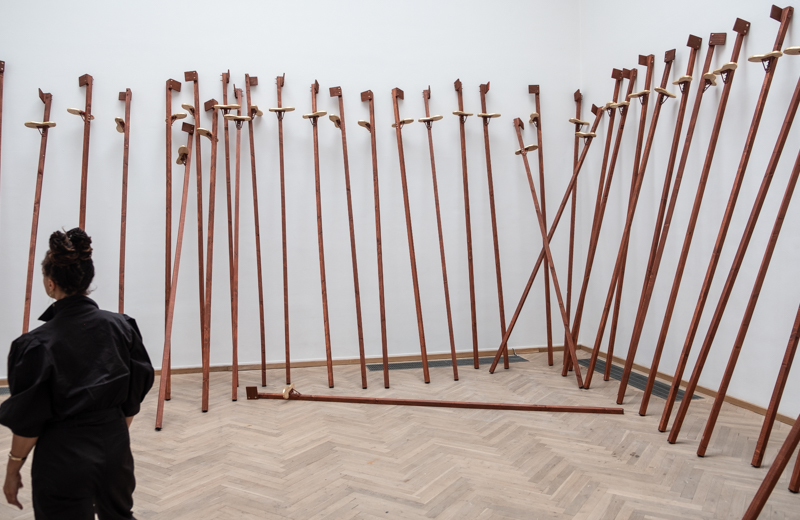 24_29
Having taken in the Ehlers exhibition, I meandered a bit around the other modern art on display at Charlottenborg. As always, some pieces were more interesting than others. This installation from 2020 is by Korean artist Geumhyung Jeong and is called Upgrade in Progress: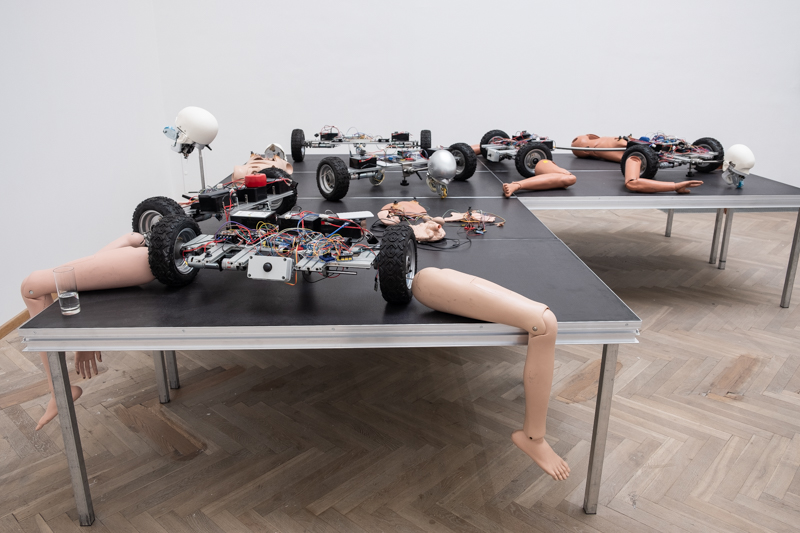 24_30
Another piece on the strange side (artist and title not recorded):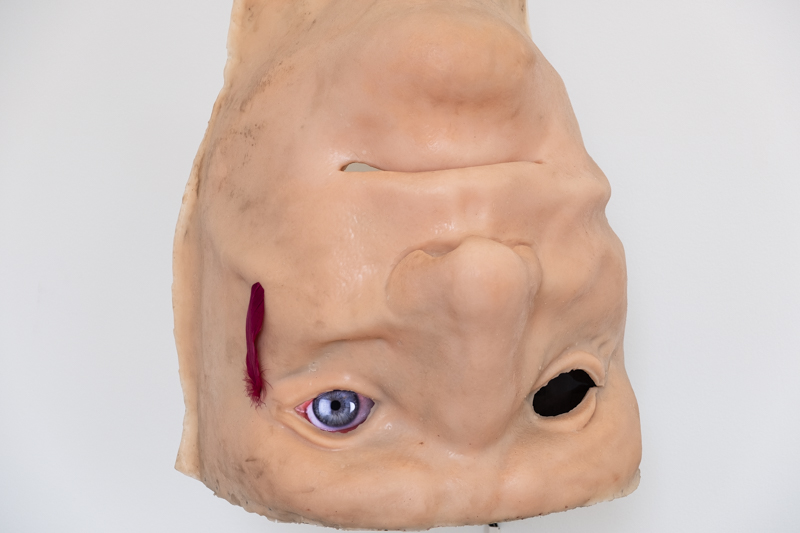 24_31
Outside on Kongens Nytorv there was another exhibition of Danish art, but of a very different kind–Danish design since 1945: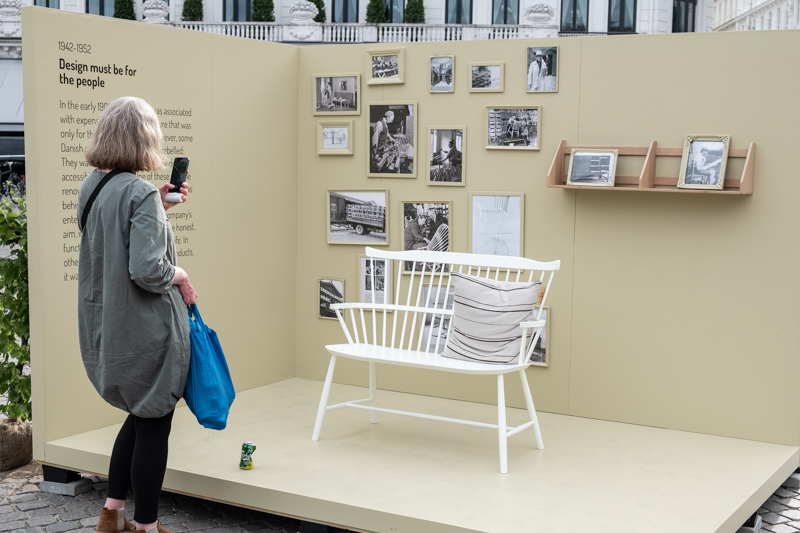 24_32
I took the metro back to my hotel, just a couple of stops but I knew I had some more walking to do that evening. In the metro I caught this funny juxtaposition of mother and child and the advertisements:

24_33
In the evening it was time to go to work. There was an opening reception for the conference I was attending, held at a facility called Langeliniepavillonen, near the Little Mermaid. For the first time in several years I actually walked past the mermaid, on my way from the metro station to the reception. Cheesy tourist photos were being taken: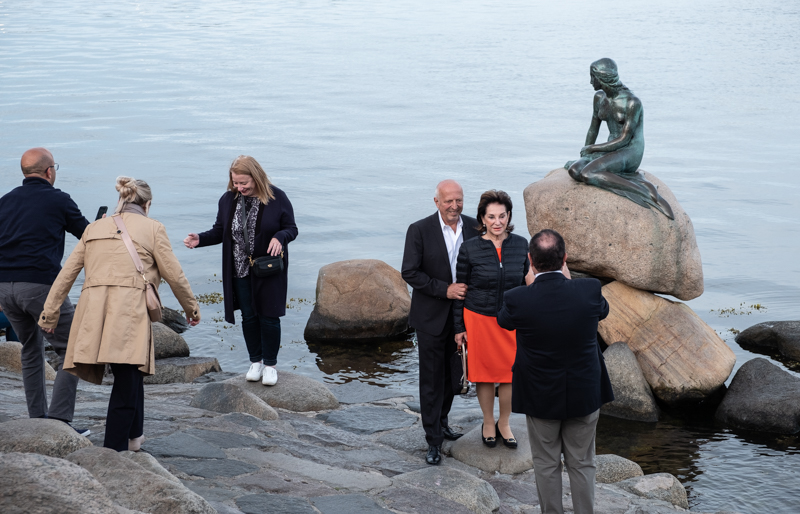 24_34
On Thursday morning it was time for real work, and just before it started, I made this selfie with my Danish tie, "We Stand with Ukraine" pin, and grumpy face: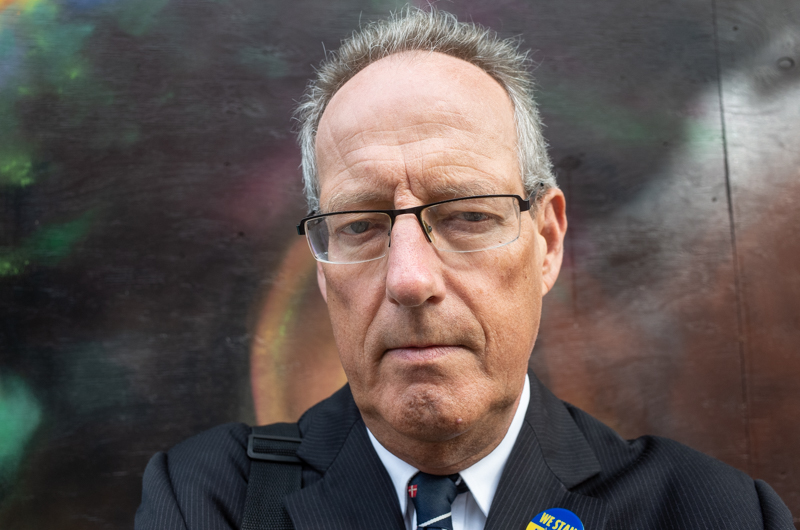 24_35
In the evening I walked back to my hotel, changed, and took the metro to my friend Beata's apartment. She lives in the embassy quarter; among her neighbours are the embassies of the US, UK, Spain and Russia. Across the street from the Russian embassy, a Ukrainian flag with "Enough Already" written in Russian: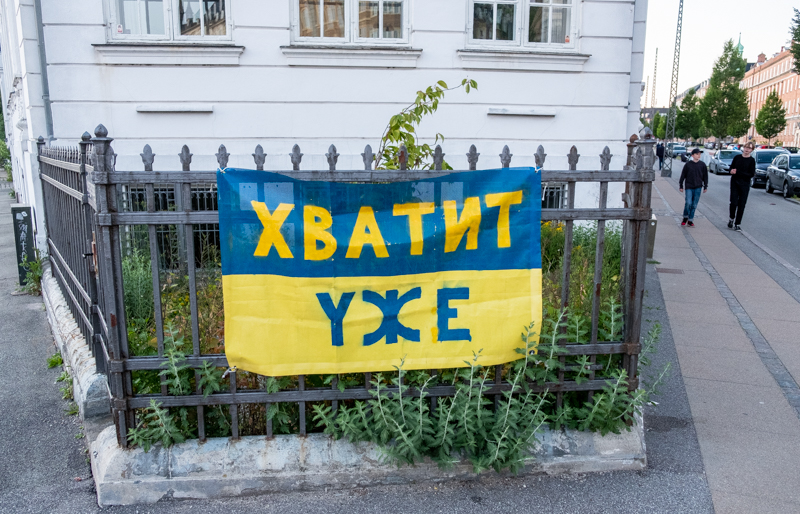 24_36
The conference ended around lunchtime on Friday, and I spent some time in a bookshop on the square in front city hall, and walked around on the square a bit. Here is a thoughtful piece of Danish design, a bottle shelf on the outside of rubbish bins. This way a homeless person can easily take the bottle without having to dig in the bin, and collect the deposit: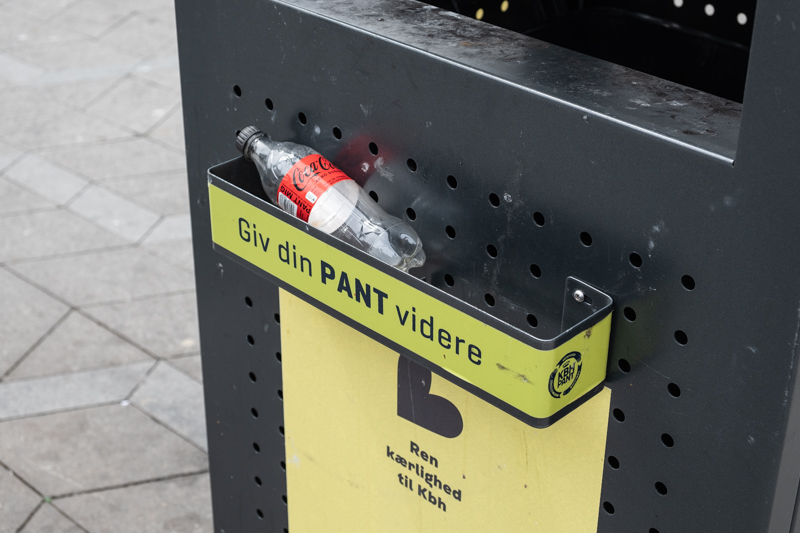 24_37
Countdown clock for the Grand Départ: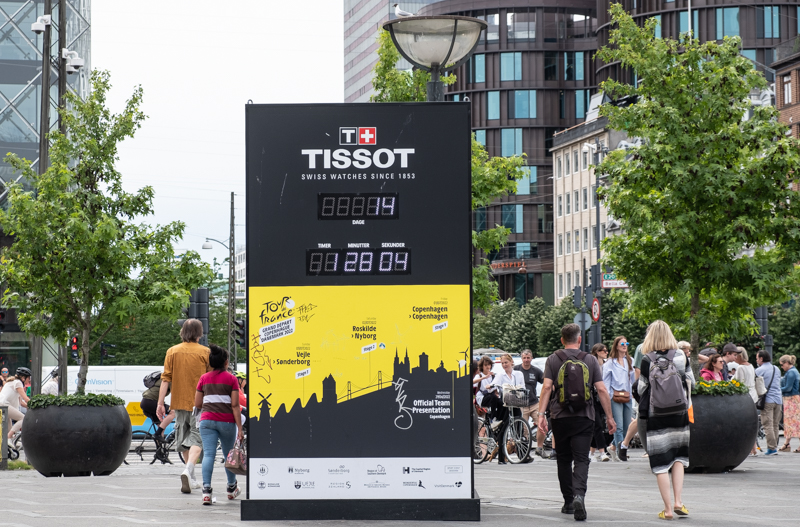 24_38
Ukrainian flags were everywhere, here outside the Confederation of Danish Industry: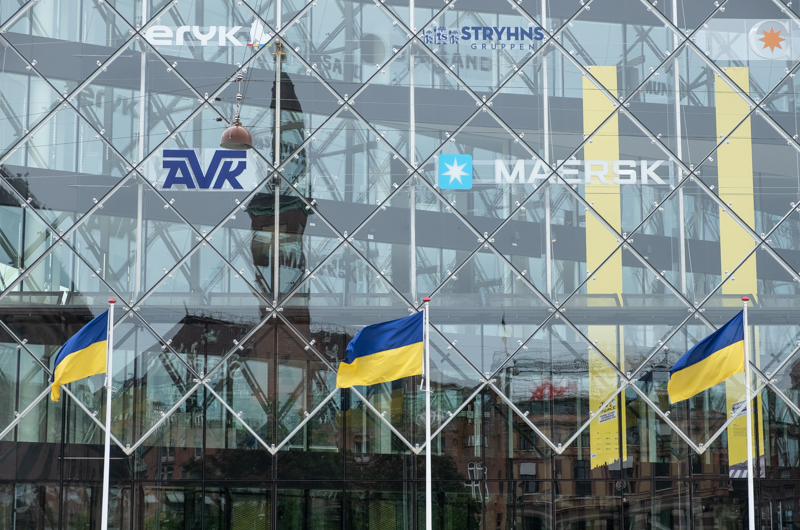 24_39
…and above the headquarters of Denmark's largest media company, Politikens Hus: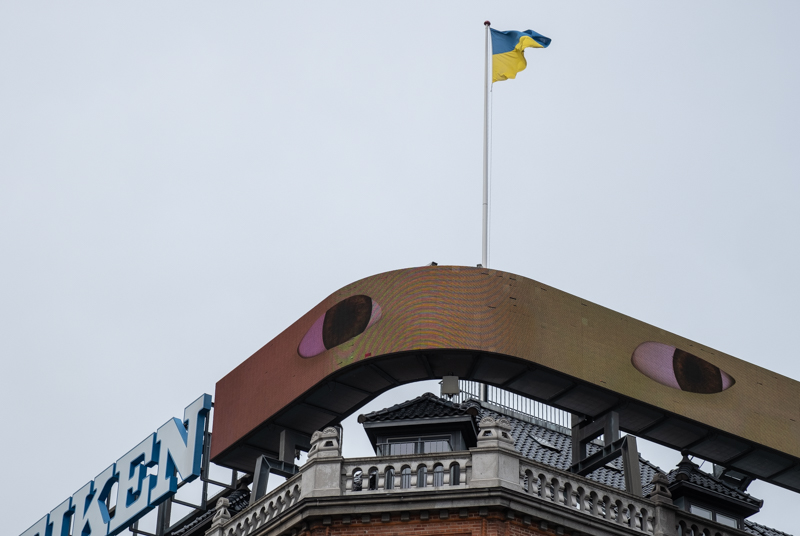 24_40
Later on Friday, I took the train to my hometown Aarhus (where I was going to spend much of the weekend), and 3 hours later my friend Lars picked me up at the train station and we spent the evening eating, drinking and talking. Lars also modelled a newly acquired kilt and a sweater in the colours of the football club from Randers, a nearby town: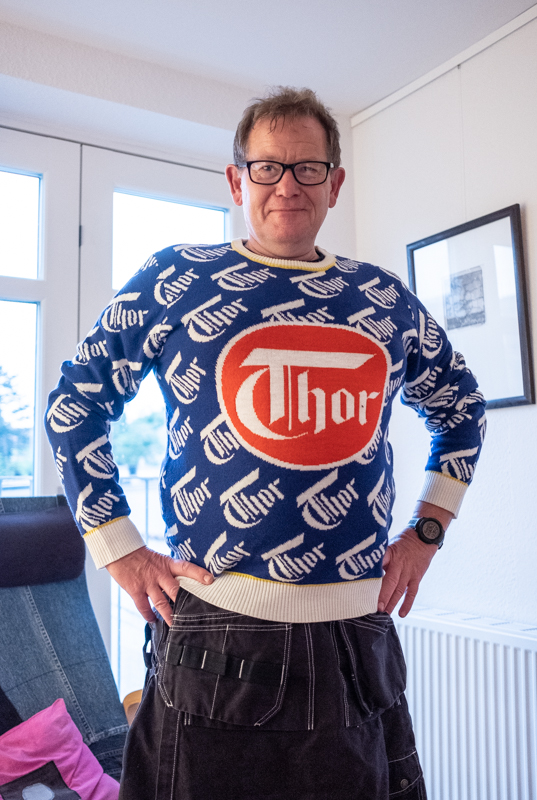 24_41
As always, Lars had some new art on the walls, and I really liked this way of hanging his work: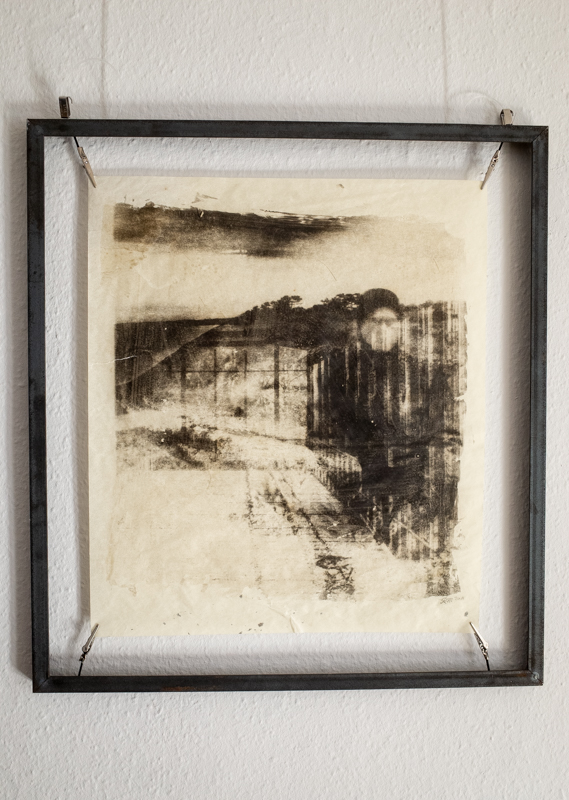 24_42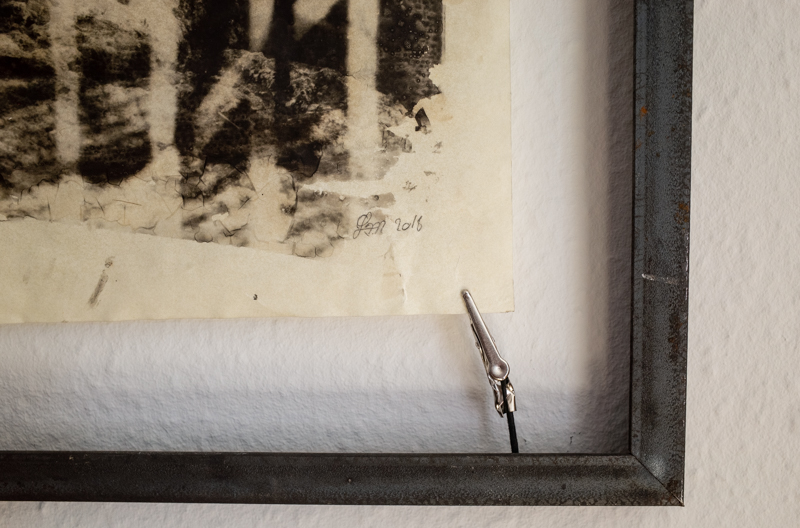 24_43
Lars teaches ceramics at an art school (and photography), and he has lots of lovely stuff: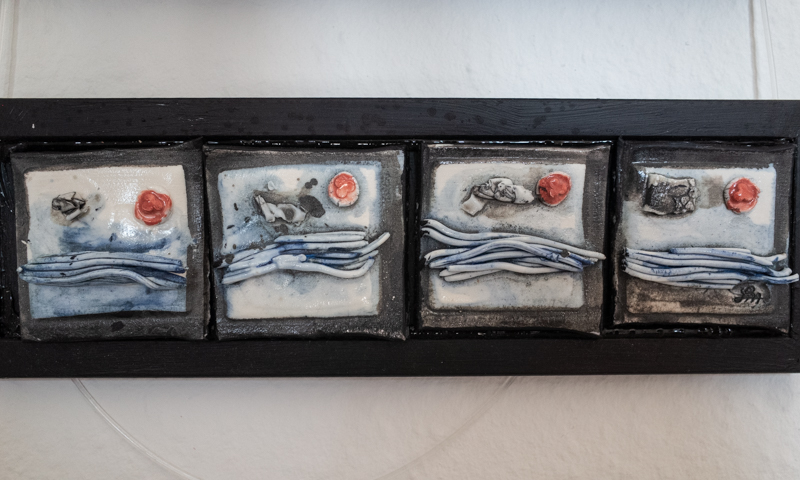 24_44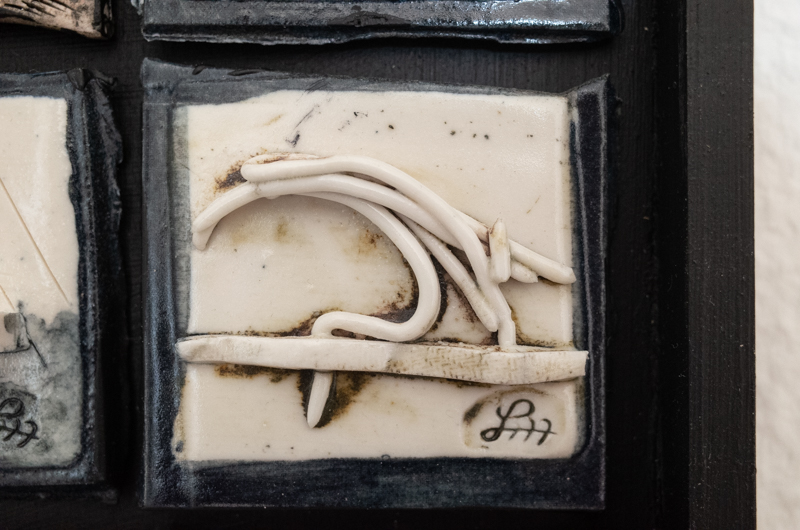 24_45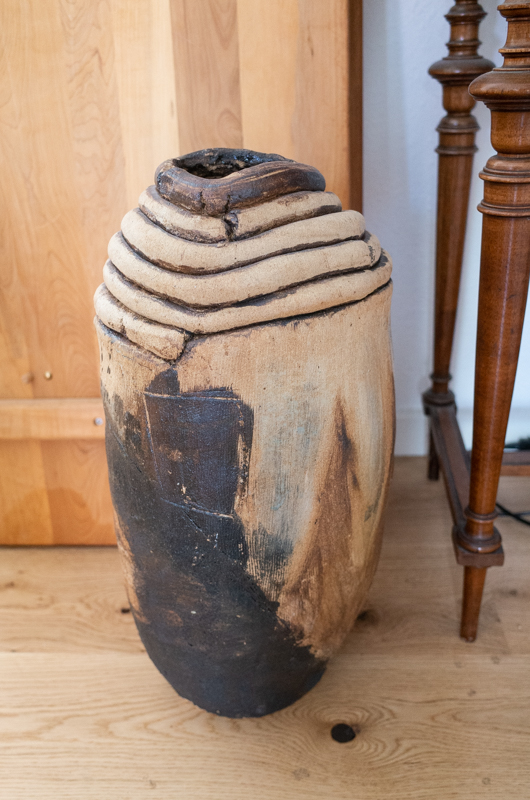 24_46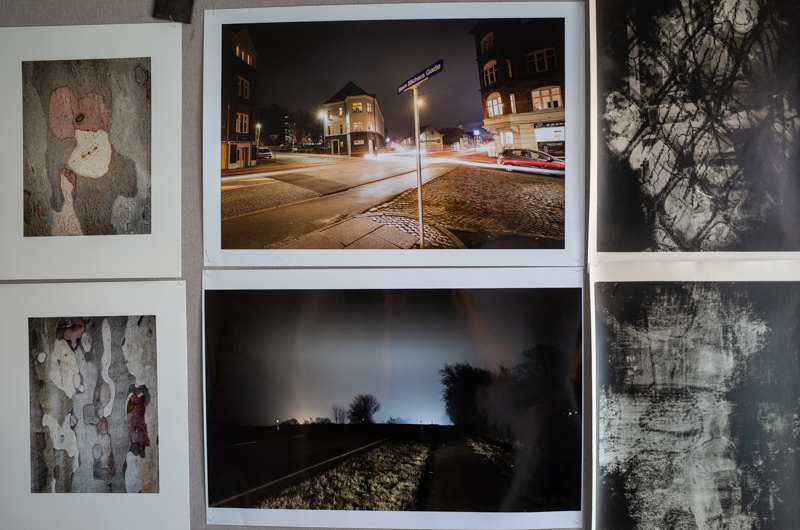 24_47
However, there was an unwelcome addition to his art projects. This spring, Lars was diagnosed with non-Hodgkins lymphoma, and he is currently receiving chemotherapy. Being the person he is, he is turning it into a project. He does not want to be a "victim"; he wants to be a "perpetrator". This is a new experience in our life-long friendship. We became close friends when we were 15-16 years old; now we are 61-62, and we continue to share life experiences, good and bad: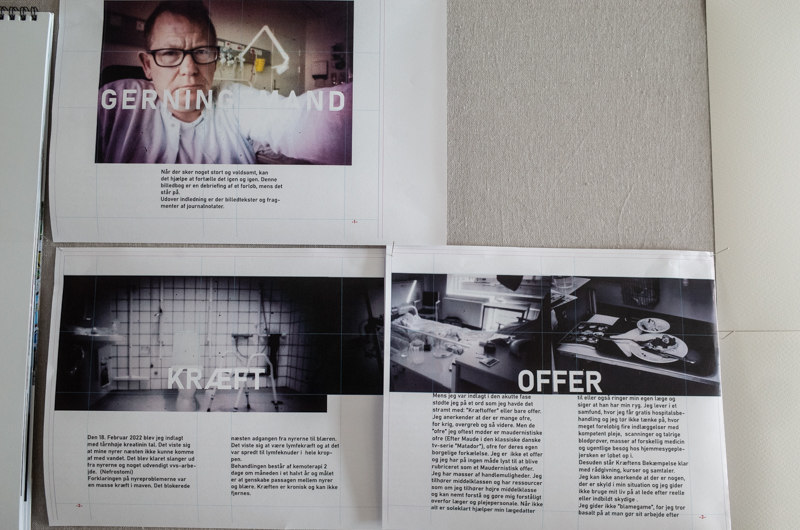 24_48
On Saturday morning, we drove south towards the towns of Odder and Horsens, to visit Lars's daughter Klara and her new baby girl. We stopped at Moesgård Strand, the main beach in Aarhus, from where I have fond memories from my teenage years, involving drinking beer in the sand and looking at topless women: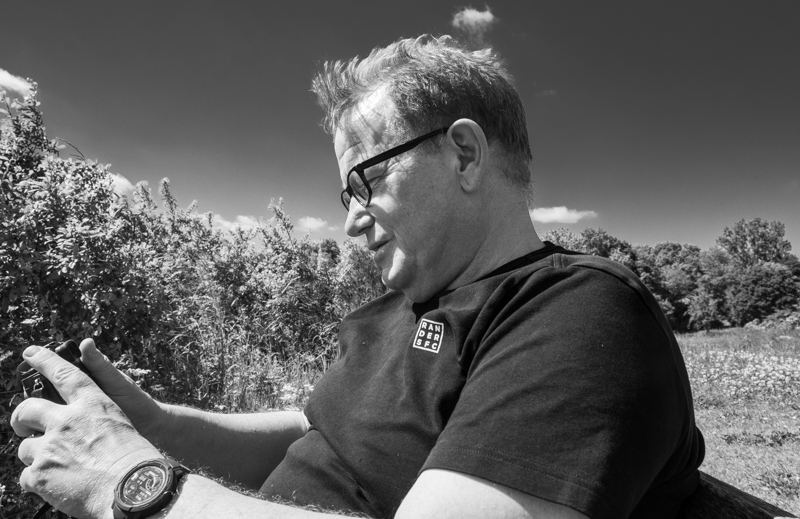 24_49
A bit further south, we stopped to take in this typical eastern Jutland landscape. This is what the Spanish call "mi tierra", my land. It speaks to me like no other place in the world: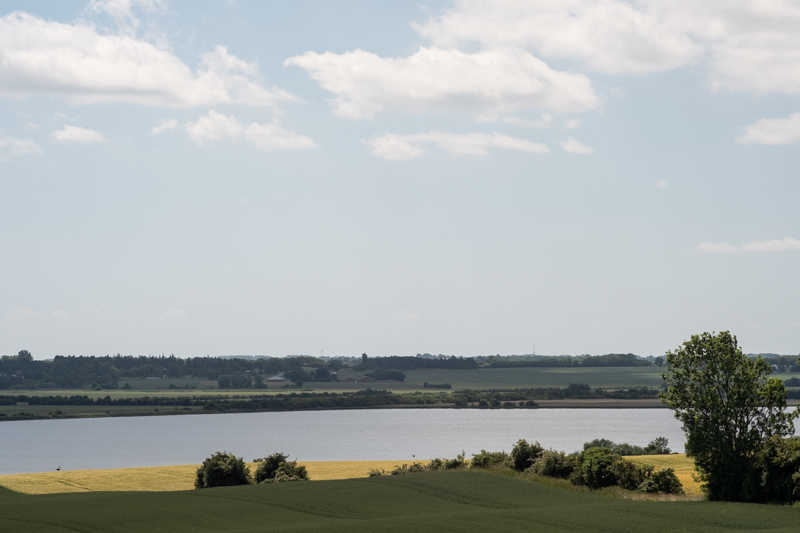 24_50
Near Odder, Lars stopped to let me see an amazing sight. We have no idea what the background it, but my caption of this photo is "long term parking":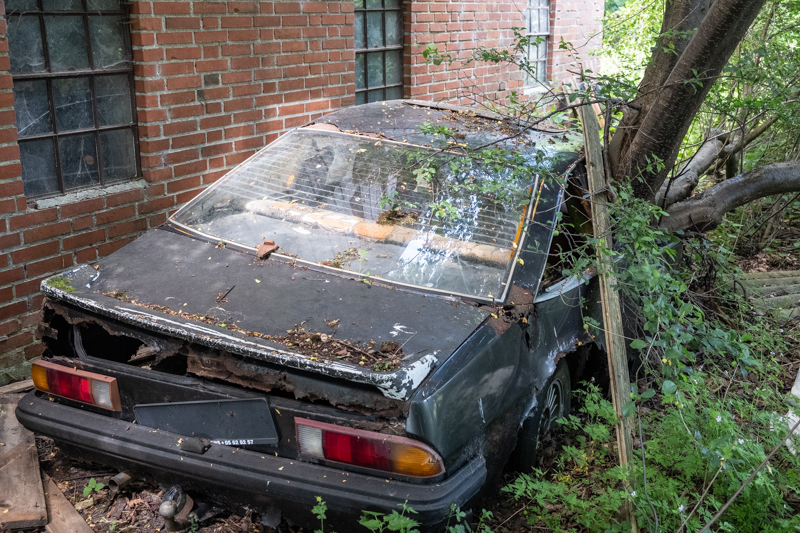 24_51
We stopped at a supermarket to buy some cake and beer to take to Klara. I liked this decoration above the fish counter: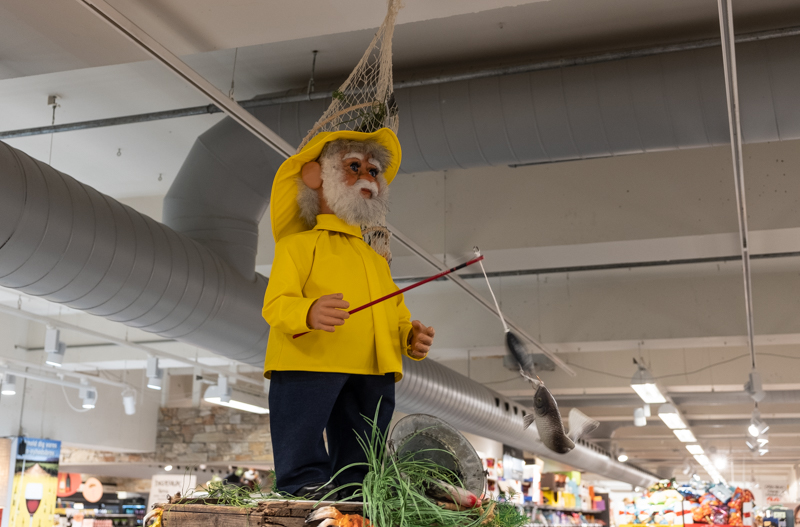 24_52
Klara and her baby: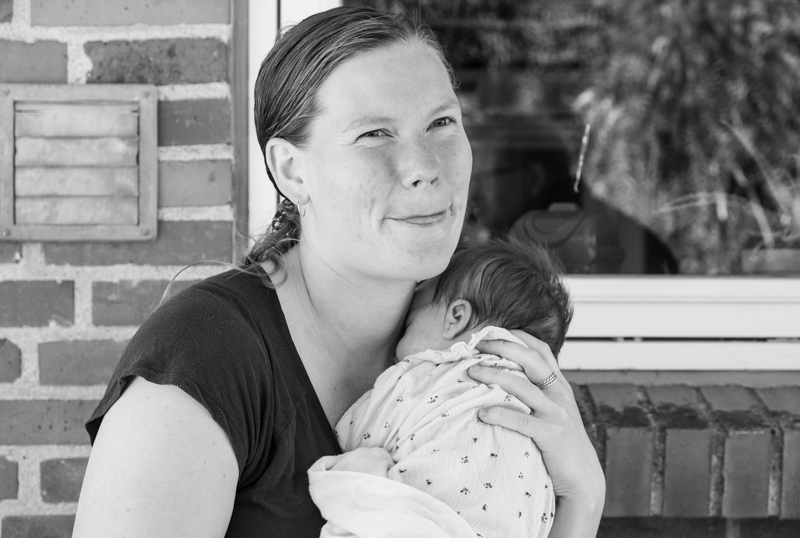 24_53
Lars with his 5th grandchild. The thought that my best friend is a grandfather makes me feel old: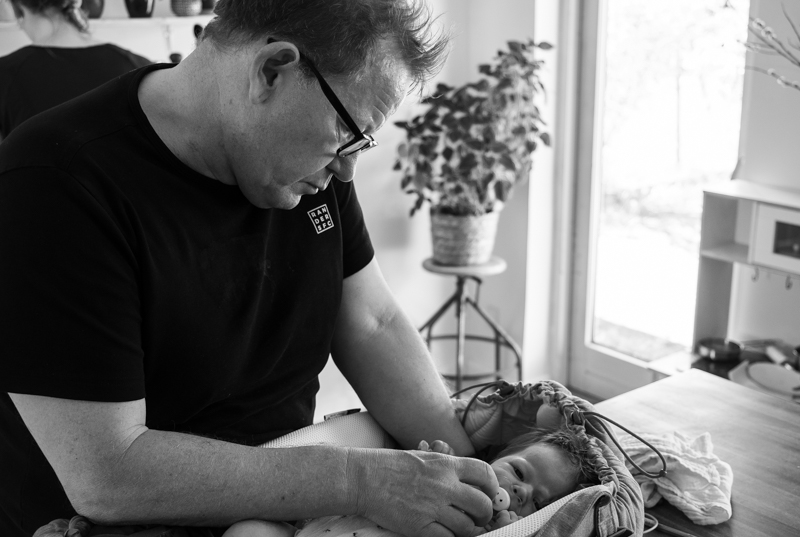 24_54

24_55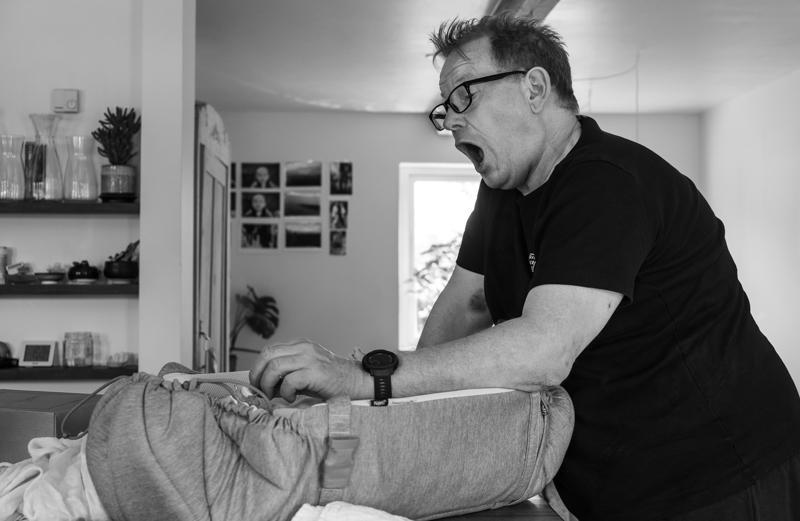 24_56
On Saturday evening, I got together with my primary school classmate Lone. She does not like this picture, saying that it makes her look old, but so what? We are all in the same boat, and as George Burns once said, growing old sure beats the alternative: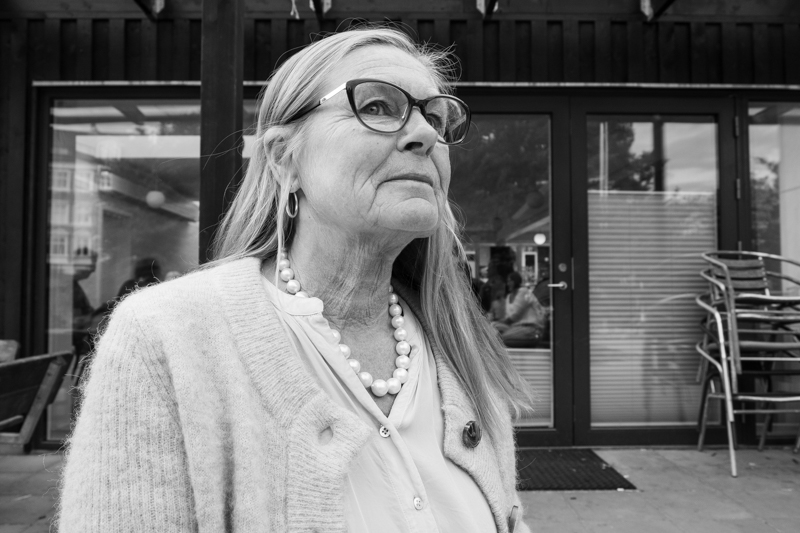 24_57
On Sunday morning, I took the train back to Copenhagen and went to visit old friends Marek and Tamara in the suburb where my parents once lived. We had a long, liberally sprinkled lunch: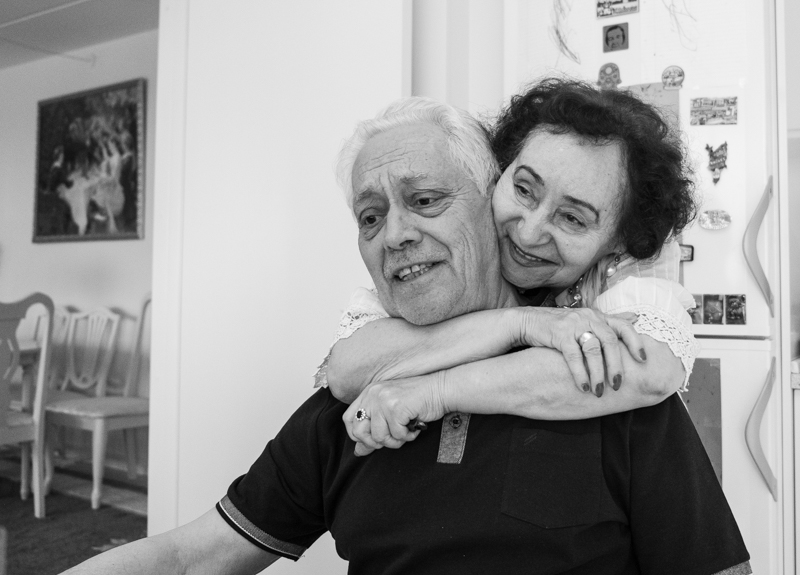 And then I took the train to the airport and flew home to Alicante.
A gallery of my Copenhagen photos is here, and I have also made one of Aarhus.